Cheese Burger Quesadillas Recipe
The recipes I showcase here on Lucy Loves are often stylish, some are nutritious, all of them are delicious. Cheese Burger Quesadillas are neither stylish or massively nutritious, however, they are beyond tasty, quick and a total hit with the family. It's back to school week and spirits are low. George isn't back until Wednesday but I already have the Sunday night fear and am sitting here fighting off the urge to iron a pair of school trousers and to test him on physics equations. Perfect timing then *not just thrown together* for these quick supper or after school wrap/burger based treats.
I rather wished I had shares in wraps the amount the boys have eaten over the summer break. They have almost given up on bread completely, but will eat a packet of wraps in one sitting. These Cheese Burger Quesadillas are a brilliantly delicious dish and so easy to make. If your children are older they could certainly bloody well have a stab at making these themselves. The burger style, lightly seasoned beef is layered with tomatoes, gherkins, cheese and whatever else you fancy. All this is then pan fried between 2 tortillas/wraps until crisp and golden. The only tricky bit comes when you have to flip them over, and it's not even tricky, just potentially messy. If any filling does sneak out the sides *mine did* then just tuck it back in again before anyone notices. The inspiration for these came via the brilliant Plain Chicken, with huge thanks.
These Cheese Burger Quesadillas are hardly haute cuisine, but who cares. Spirits need to be lifted this week with the end of summer feel in the air. And what better way than with carbs, meat and cheese. I am always thinking of you and you may thank me later.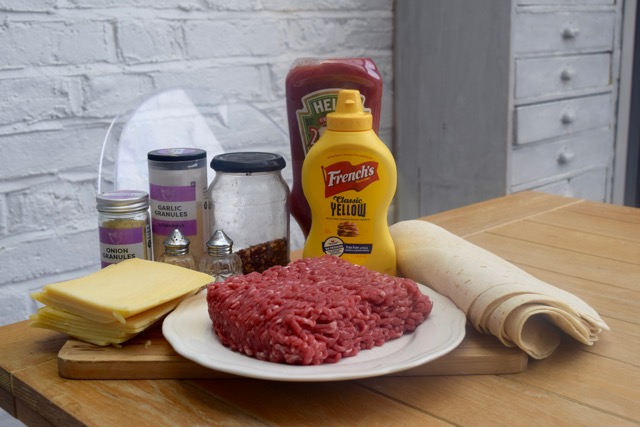 Here's the super simple line up, nothing too alarming here. The garlic and onion granules are readily available and actually brilliant for seasoning all sorts of dishes.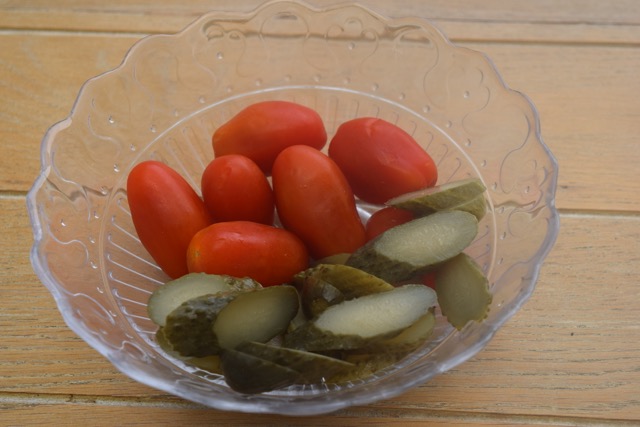 These were my chosen burger accompaniments, although not for George, for whom gherkins and tomatoes are far too alarming. Add your favourite bits and bobs to your Cheese Burger Quesadillas, it's entirely up to you.
Make a start on these with a large non stick frying pan and heating it over a medium high flame. Add the beef mince, breaking it up with a spoon as it browns. You shouldn't need any extra oil but if it's sticking add a drop or two.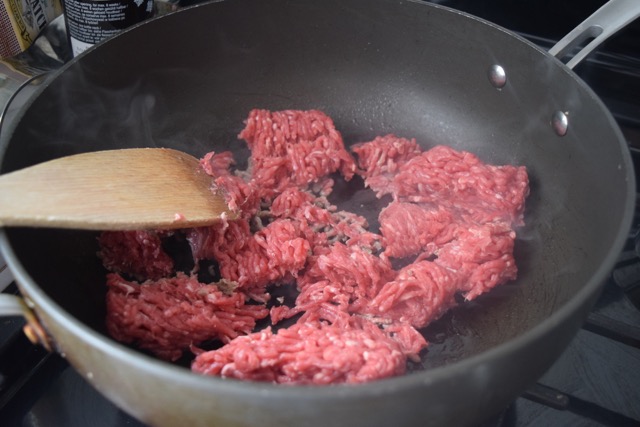 As it starts to cook, measure in the onion and garlic granules and the dried chilli flakes and stir well.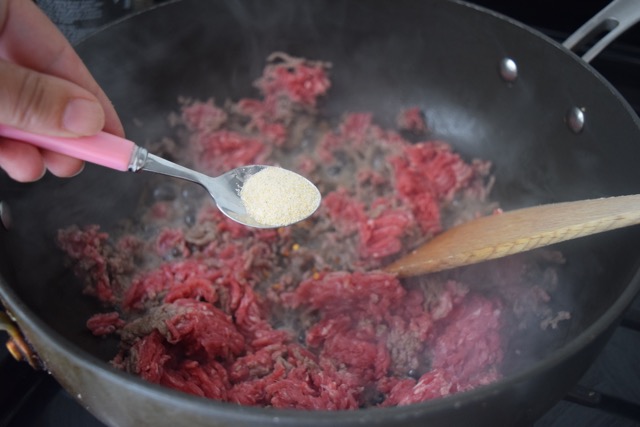 Your beautifully seasoned beef is ready when it's cooked through and is no longer pink.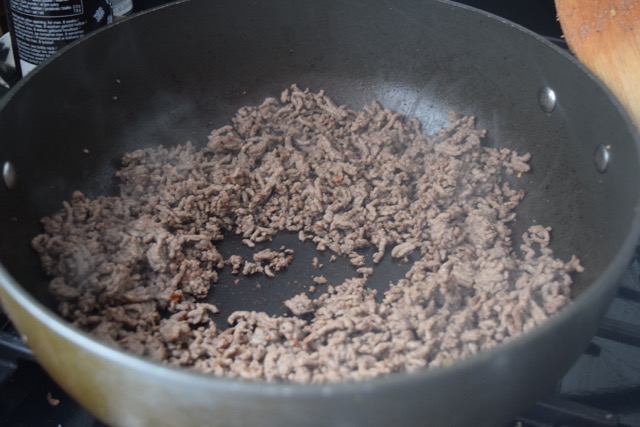 Not hugely appealing at this stage, but bear with me. Keep this filling warm while you assemble the quesadillas. Take a second non stick frying pan and heat over a medium flame. Lay on one tortilla or wrap and add your grated cheese or broken up cheese slices. I had slices to use up, grated gives better coverage.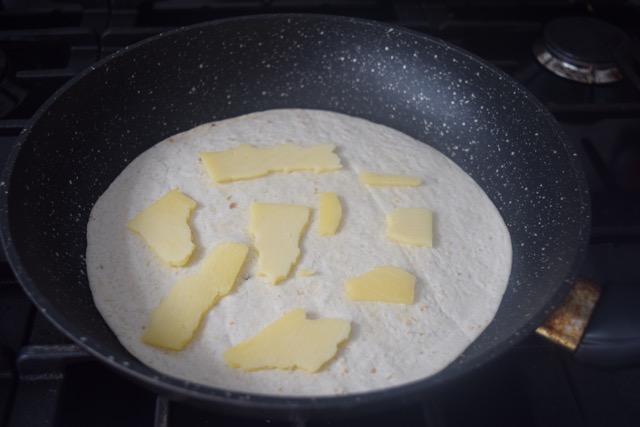 Spoon on a quarter of the beef then top with your burger additions.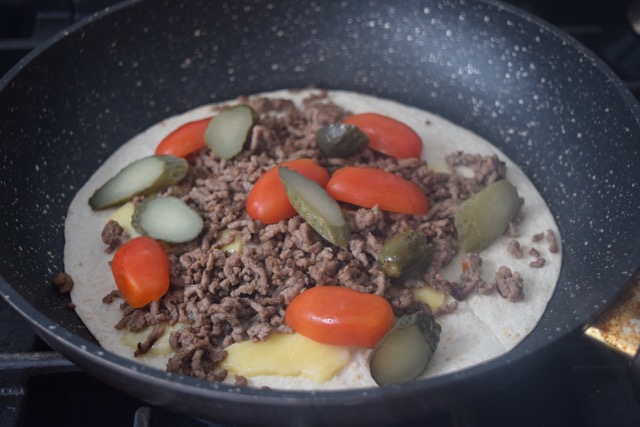 Add a little more cheese then sandwich on a second wrap, pressing down to flatten the ingredients.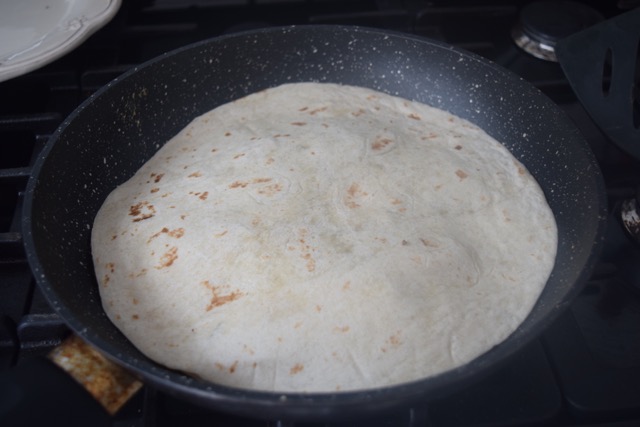 As soon as the underside wrap is crisp and golden, carefully, using a large spatula, turn the quesadilla oven.  Brace yourself for some filling fall out, but don't worry, just tuck it back in with a spoon.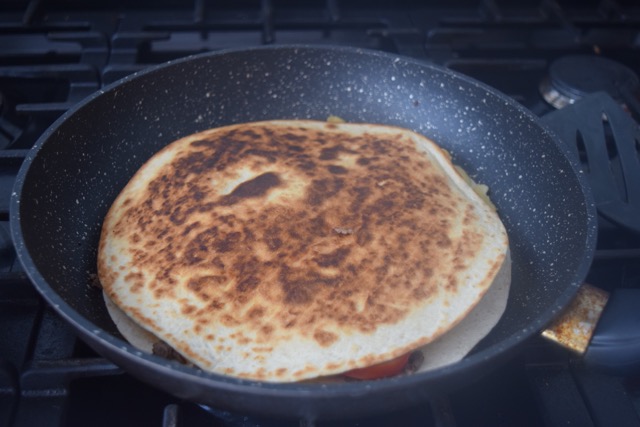 Press down again and cook until the underside is also golden and the filling is melty and hot. Cut them into delicious quarters or wedges and keep warm whilst you finish the other 3 quesadillas.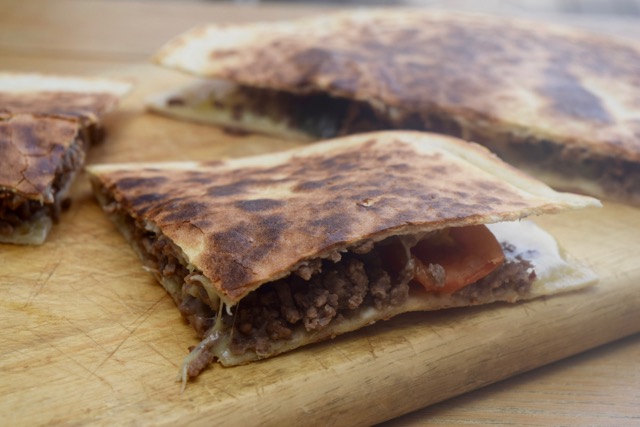 Before serving drizzle these with your favourite burger sauces of choice, embracing your inner Jackson Pollock if you like. Then devour in hot, mouthfuls with cheese potentially dripping down your chin.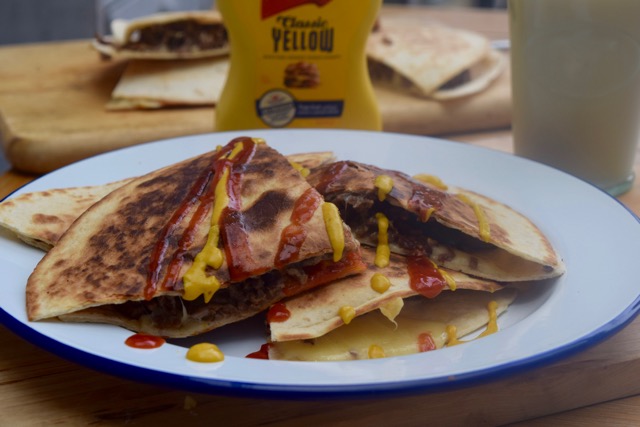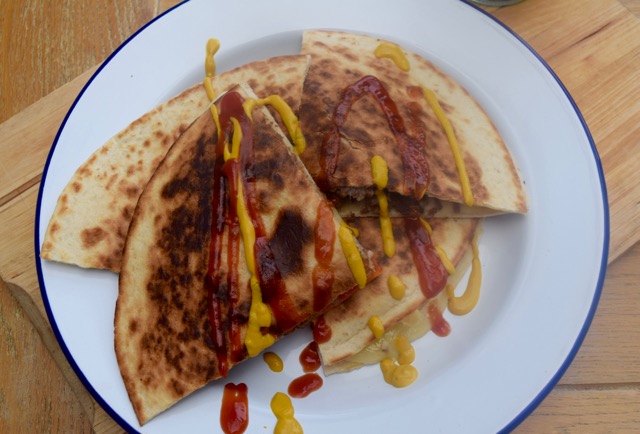 Artistic, yes, elegant, no, delicious, yes, yes, yes. These Cheese Burger Quesadillas are genius snacks and this week these may just be what's needed.
Lucy x
Cheese Burger Quesadillas Recipe
Serves 4
You will just need 2 non stick frying pans
8 soft tortillas or wraps
500g beef mince
1/2 teaspoon onion granules
1/2 teaspoon garlic granules
1/4 teaspoon dried chilli flakes
salt and pepper, to taste
200g cheese, grated, or 8 cheese slices
Tomatoes, sliced, or chopped cherry tomatoes
Gherkins, sliced
Feel free to add any other burger style add-ons such as crispy bacon, lettuce, you choose
Ketchup, mustard, relish and/or mayo to serve
Take a large frying pan and heat over a medium high flame. Add your minced beef, break up into smaller pieces and cook until the pink is starting to disappear. Stir in the onion and garlic granules and chilli and continue to cook until the beef is cooked through. This won't take long. Add additional salt and pepper, to taste. If there is any excess fat, drain this off now and then return to the pan and keep warm.
To assemble the quesadillas, heat another frying pan over a medium flame and add one tortilla. Layer on some cheese then add a quarter of the seasoned beef. Add your sliced gherkins, cherry tomatoes, a little extra cheese and any other bits and bobs you fancy then add another tortilla on top. Press down to flatten the quesadilla, check to see if the underside is golden brown then, carefully, using a large spatula, turn the whole thing over. Don't worry if some bits fall out, just tuck them back in again. Continue to cook until the other side is golden then keep warm on a plate covered with foil. Cook a further 3 quesadillas.
Cut them into quarters, artistically drizzle with the sauce of your choice and devour.