Sweetcorn Pancakes Recipe
I bloody love a pancake. It doesn't matter in what form it presents itself, if it's batter based, I would like to eat it. Regrettably, I really do only get around to making Shrove Tuesday style pancakes once a year, which is shabby really as they are beyond easy to make. To introduce pancakes back into everyday life, I rediscovered my love of these Sweetcorn Pancakes from the old school genius that is, Ainsley Harriott.
I used to make these for the boys when they were half the size they are now. They were a great favourite served as a side with sausages or chicken. For them and their delicate young palettes, I used not to include the chilli and coriander, they preferred them when I added a handful of grated cheese and some parsley. These days, the big lumps that they are prefer a bit of chilli, but I don't just make these for the boys anymore. These Sweetcorn Pancakes make a great breakfast or brunch option topped with some avocado, eggs however you like them and some Sriracha sauce. Or, these are just too versatile, you could make the pancakes slightly more bitesized and serve them as a lovely pre dinner nibble alongside some sweet chilli sauce. They are a lightly spiced nibble which can be made in advance and warmed up just before you need to serve them. Flexible and tasty.
I am sure I say it every year, but I should make more pancakes more often. They are not only easy, they are so yum. You don't have to stick to the traditional lemon or syrup options, treat yourself to pancakes for breakfast, lunch and dinner. And not just on Tuesdays.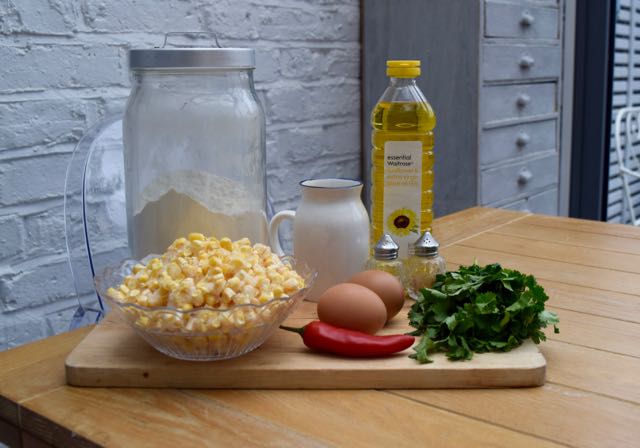 Nothing too testy here, and these are really just a guideline. Add extra bits or take bits away according to your fussy eaters. A handful of grated cheese is nice with parsley or chives or some chopped ham, you decide.
Make a start by taking a large bowl and adding the eggs and milk. Give them a good whisk. If you are using frozen sweetcorn, pour a kettle of water on this now and allow to drain.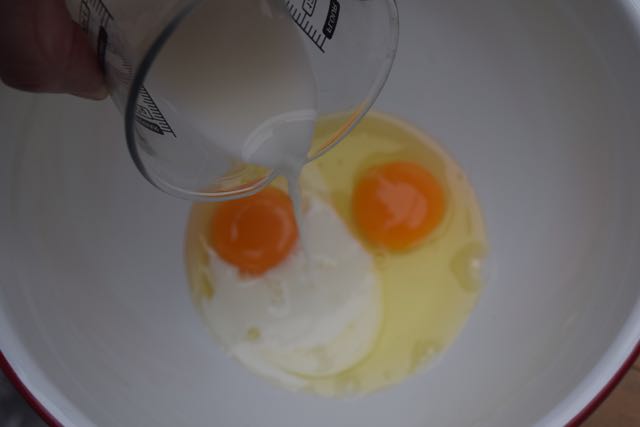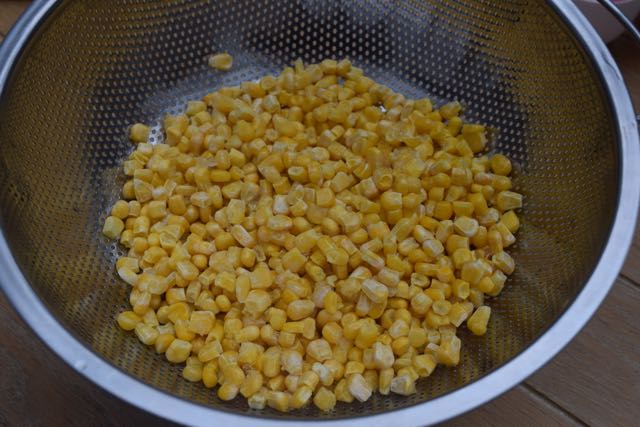 Now, whisk in the self raising flour. Mix until smooth and almost lump free.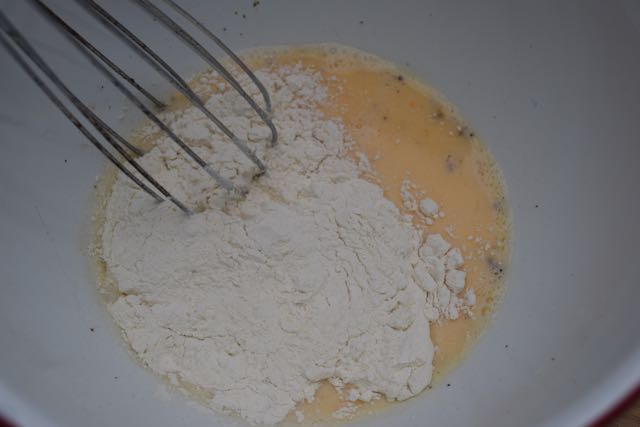 Roughly chop your fresh coriander and half a red chilli then tip this into the batter along with the drained either tinned or frozen sweetcorn.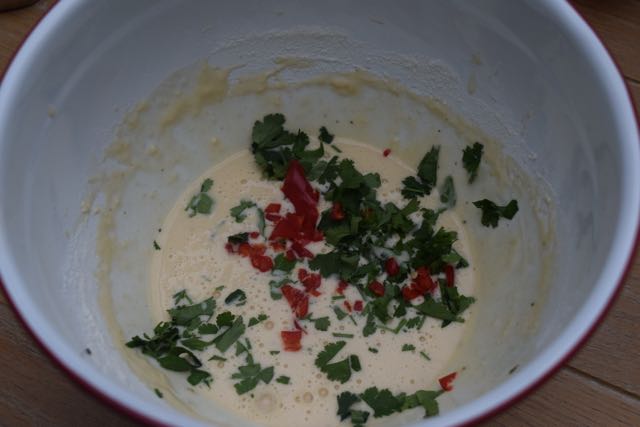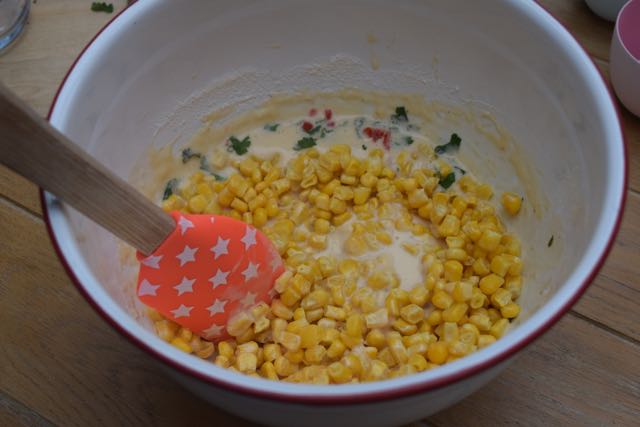 Add plenty of salt and pepper, stir well then it's ready to go. Or the batter can happily sit on the counter covered with cling for an hour, or in the fridge for any longer than that.
Heat a couple of tablespoons of oil in your large frying pan. For larger brunch sized pancakes I would spoon in a heaped tablespoon of batter, for smaller nibbles sized ones, use a teaspoon.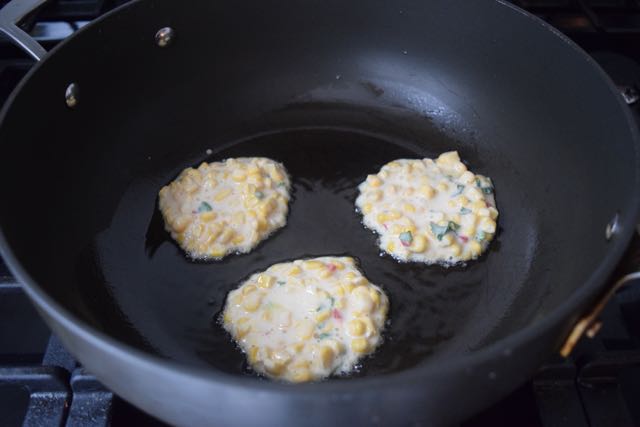 Cook on the first side until bubbles appear on the top then flip with a palette knife. Cook the other side for a further couple of minutes or until golden and crisp. Keep the pancakes warm in the oven while you finish the batch of batter.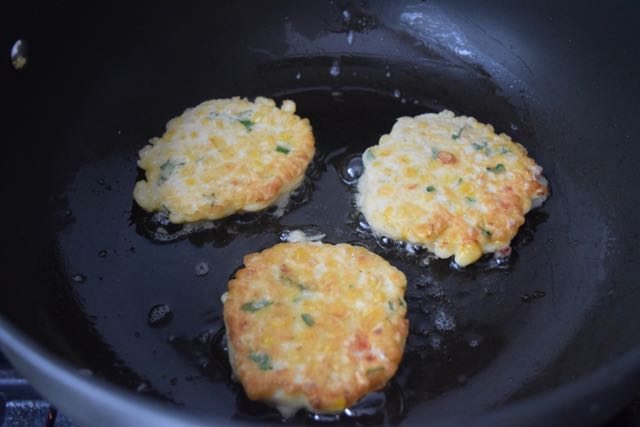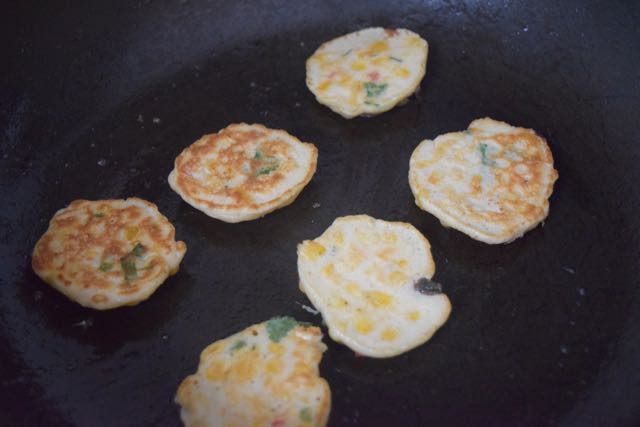 Now you can do what you like with these little beauties. The possibilities are endless. I went modern brunch style with my sliced avocado, soft boiled *although not as soft as I'd hoped* eggs and chilli sauce. You serve them however you please, straight from the pan with burnt fingers is also a speciality of mine.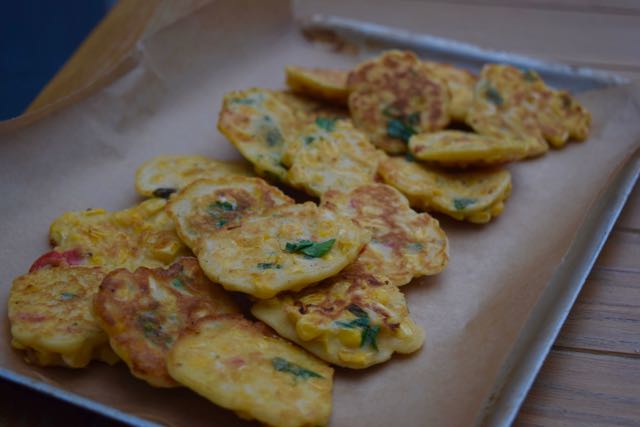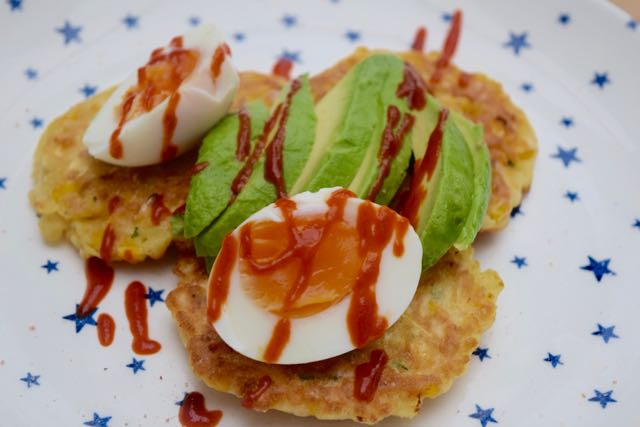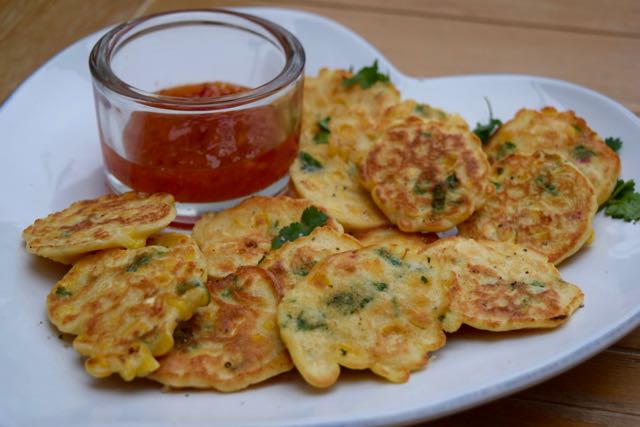 These are rustic *imperfect* but so delicious. We wolfed through the nibble sized pancakes with quite the bucket of Prosecco and some wonderful friends. Clyde single handedly inhaled the brunch portion without so much as a backward glance. There are some advantages to food blogging, but it does mean any chance of weight loss in our family is so not happening.
Lucy x
Sweetcorn Pancakes Recipe
Makes around 10 bigger pancakes or 24 smaller ones
You will only need a big bowl and a good sized frying pan
2 eggs
4 tablespoons milk
75g self raising flour
250g frozen sweetcorn or a drained 326g tinned sweetcorn
1/2 chopped red chilli, more or less if you prefer
2 tablespoons chopped fresh coriander, plus more for garnish
Plenty of salt and pepper
Oil for frying
To serve sweet chilli sauce, Sriracha, avocado, soft boiled or poached eggs, crispy bacon, you decide
Take a large mixing bowl and crack in the two eggs. Beat in the milk and the flour until you have a smoothish batter.
Stir in the sweetcorn, chopped red chilli and fresh coriander, season generously and stir well. Cover and leave to one side until needed. Refrigerate if longer than an hour.
When you are ready to cook the pancakes, heat a couple of tablespoons of oil in a large frying pan and add a tablespoon of the sweetcorn pancake batter for larger pancakes and a teaspoon of batter for bitesized ones. Cook until bubbling on the top side then flip over and cook for another 2 minutes or so on the other side.
Keep the cooked pancakes warm in a low oven while you finish the batch of batter.
For breakfast serve the pancakes with eggs, avocado, crispy bacon or spinach. As a nibble garnished with fresh coriander served alongside some sweet chilli dipping sauce or just serve as a side dish to grilled chicken or sausages.
SaveSaveSaveSave
SaveSave
SaveSave
SaveSave
SaveSave