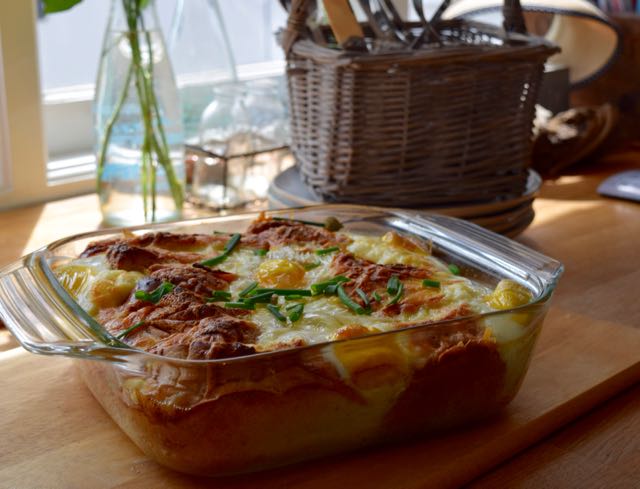 Croque Madame Traybake Recipe
Just when Easter is almost done and dusted, I come at you with one last egg based recipe. I can't help myself. I love eggs, they are a staple in our house and I often ponder what it would be like if my children didn't like eggs. To be fair, they'd starve. Breakfasts and emergency suppers all feature eggs as well as hangover cures for myself and Clyde after any tiny over-indulgences. The recipe I am sharing with you today would cover all those occasions, and many more. Who wouldn't be won over by this Croque Madame Traybake with it's soft brioche, eggs, ham and cheese no matter what time of day or night you serve it.
This one dish traybake makes a brilliant lunch or supper or brunch or breakfast dish. It serves 4 to 6 diners and is so much easier than forking up individual toasties standing over a hot stove for an hour. I chose to use brioche for my Croque Madames because I love it, but if you prefer good old sliced white or brown, then fill your boots. Use a traditional gruyere too if you like, I did, but if you just have some old mouse trap, this creamy, eggy dish will still be amazing. Serve with some salad leaves as a token one of your five a day/some foliage.  Or don't bother and go straight for baked beans or roasted vine tomatoes. This is your dish, serve it how you wish. The inspiration for this comes via the ever helpful Food Network website, with grateful thanks.
I made this crisp, baked dish over the Easter weekend and we tucked in with gusto. The fight for the crispy bits on the edge got quite ugly, quite a forks at dawn type of scenario. I, as the cook, got first dibs on all the best bits and the family/vultures got the rest. There are some perks to being a food blogger and the best bits of a dish are always one of those such perks. The endless washing up and the fat tummy are the downsides, but in the case of a Croque Madame Traybake, they are so worth it.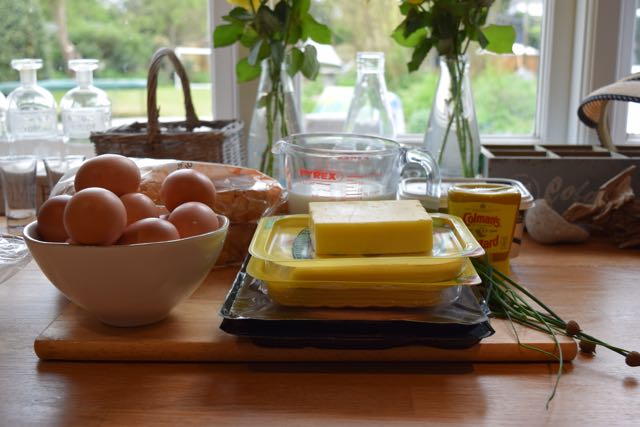 Here I am back in my lovely sister's kitchen on the Isle of Wight. This is one of my favourite places to cook, so peaceful and picturesque. With a huge stash of chives growing in the garden, which I happily pilfered from.
Make a start by pre heating your oven to 160 degrees fan assisted and butter your chosen baking dish. I found the perfect dish in Kate's well stocked cupboard which was around 9 inches square.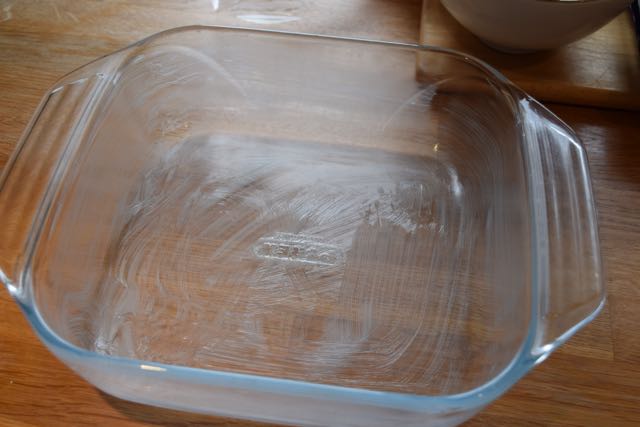 Now take your chosen bread, be it sweet brioche or some grotty sliced white and butter each slice with some soft butter.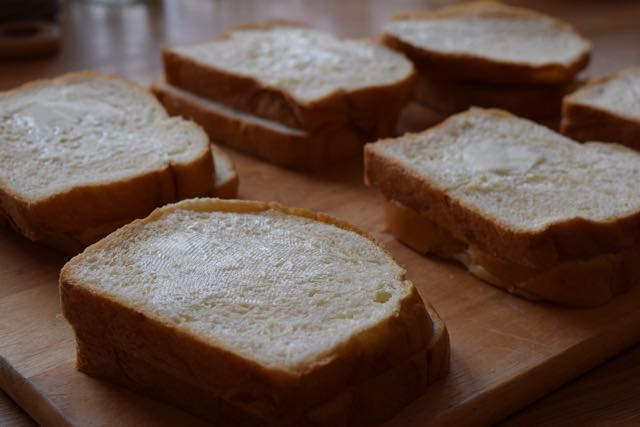 Now, spread 6 of the 12 slices with a tiny slather of English mustard, if mustard is your thing. If not, then leave it out, but it does add a rather lovely piquancy to the dish.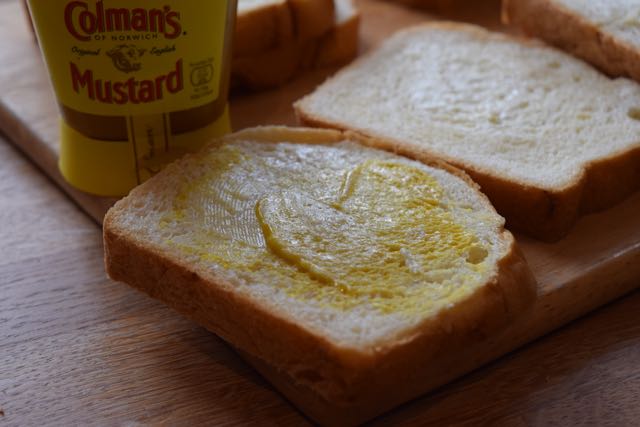 Top each slice with some good strong cheese such as mature cheddar or gruyere then some reasonable quality ham.
Try not to just stuff one of the sandwiches in your mouth on the spot, it's tough, but show some restraint.
Sandwich together the bread, ham and cheese business then cut each sarnie in half with a sharp knife.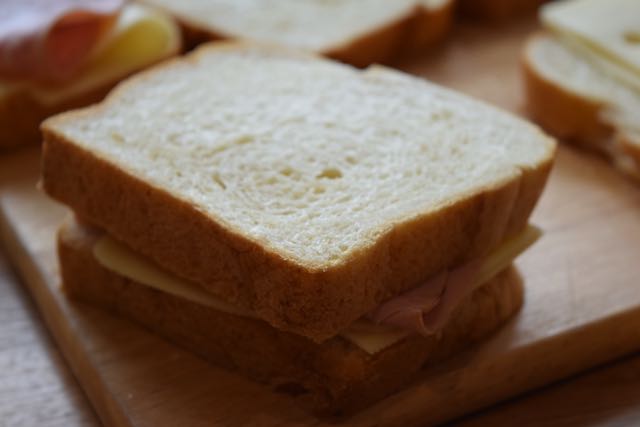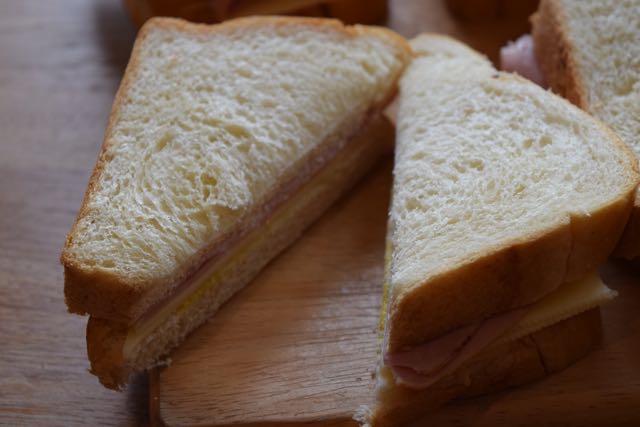 Layer half the sandwiches down one side of the dish, then repeat with the other half. Wedge them all in, it doesn't matter if they are rather packed together.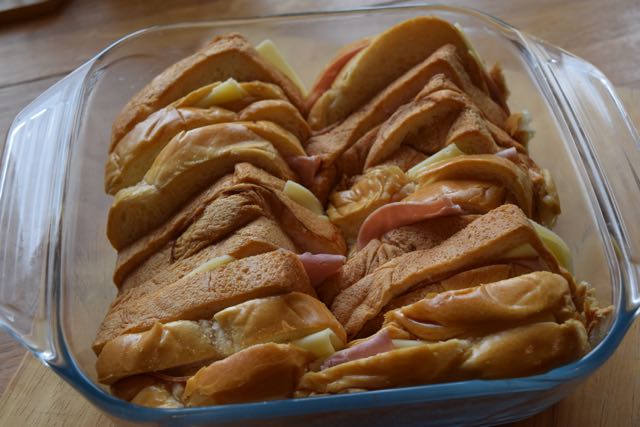 Now take the jug of milk and whisk in 5 eggs and season with salt and pepper.  Pour this over the sandwiches and press down with a fork to ensure the bread absorbs all the liquid.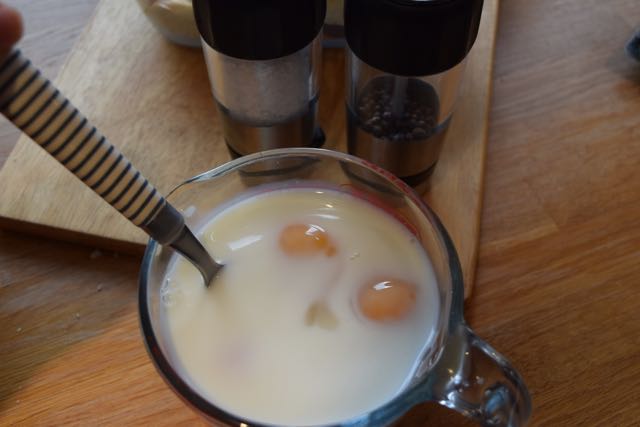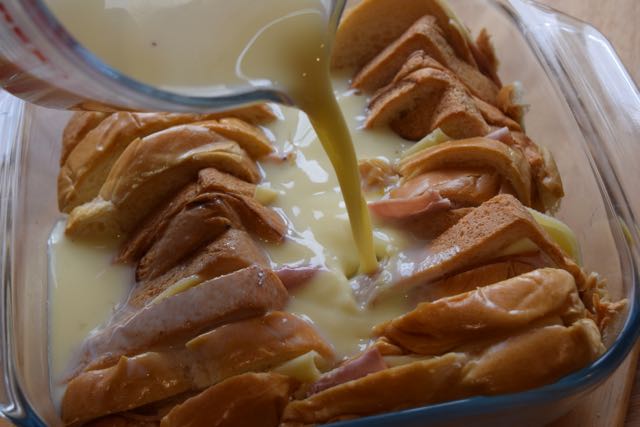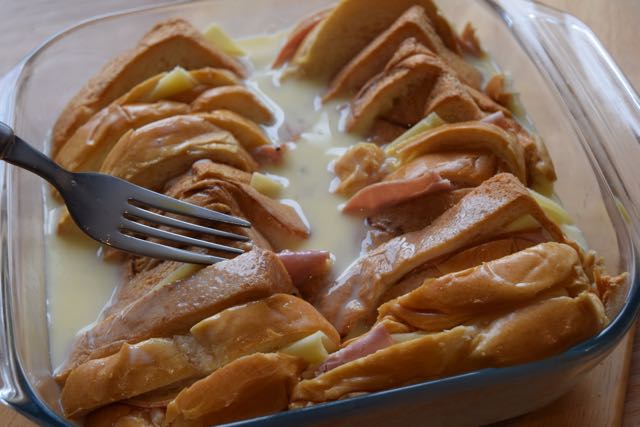 Let this sit for around 5 minutes to settle then sprinkle with the grated cheese.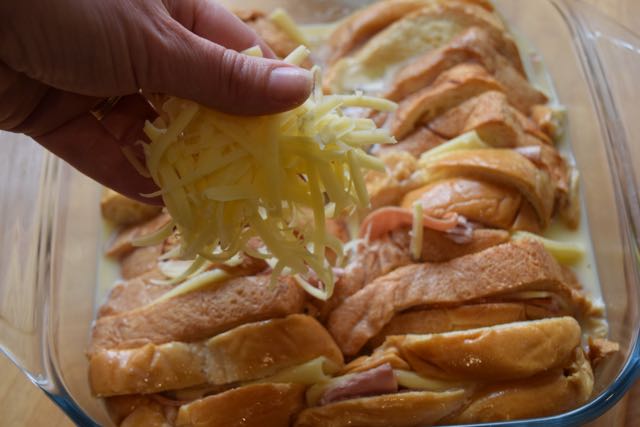 Crack your extra eggs into a cup or glass and fashion tiny recesses into the top of your Croque Madame dish to house the eggs. Tip the eggs on, I allowed one per person so used another five.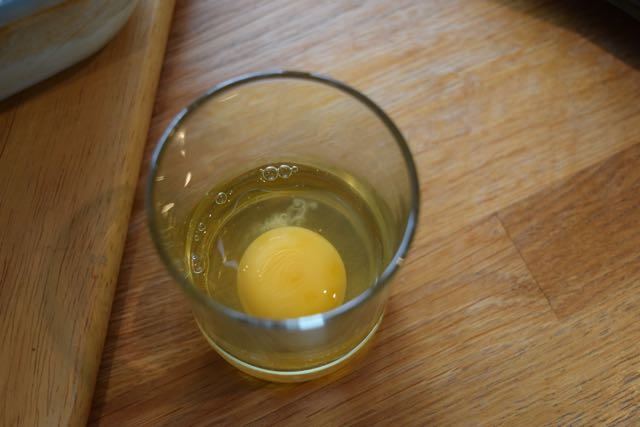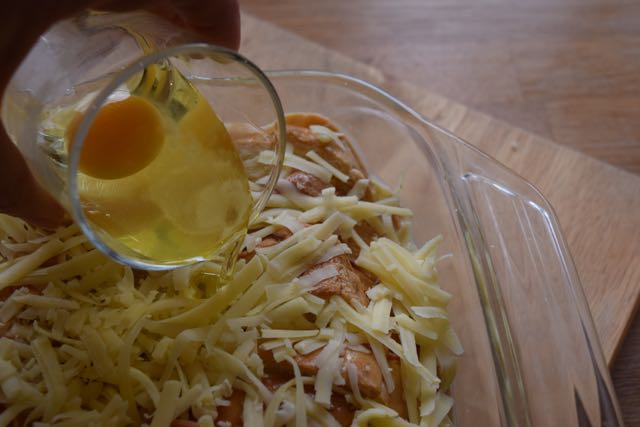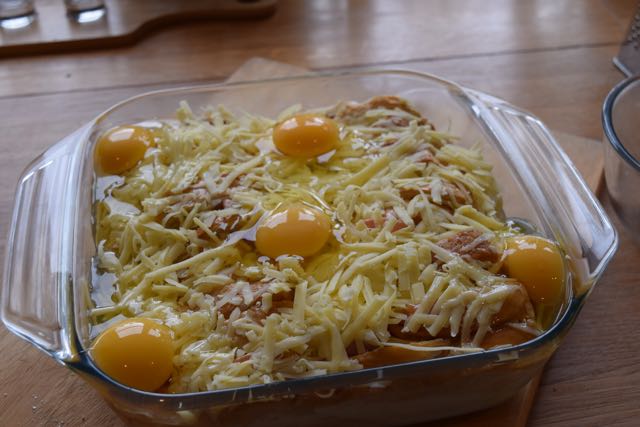 Now pop this tray of deliciousness into the pre heated oven. You want to cook this through but still have slightly soft eggs which is no easy task. I went for 2o minutes in a relatively hot oven, however, I would err on 160 degrees fan assisted for 25 to 30 minutes to ensure it's all thoroughly cooked through.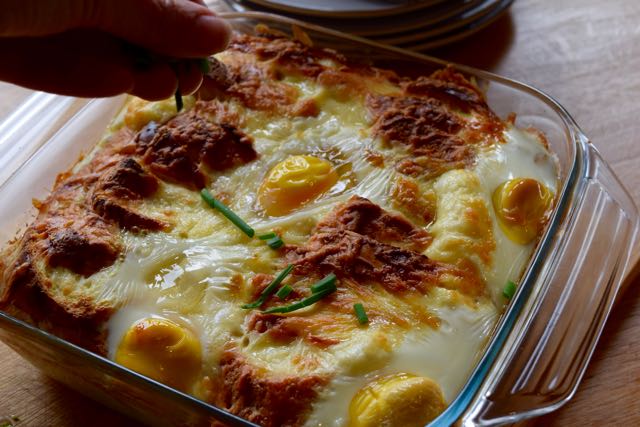 Your final dish will be golden, crisp, bubbling and divine. Garnish with some of my sisters garden fresh chives, or any other herb you have to hand. Serve in giant spoonfuls allocating one egg per person with some leaves if you like.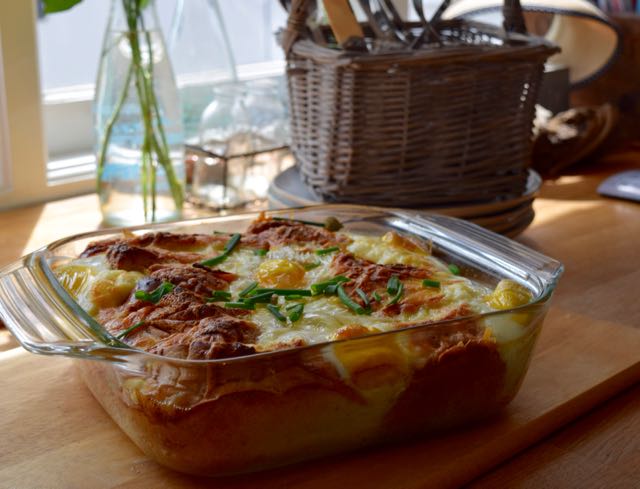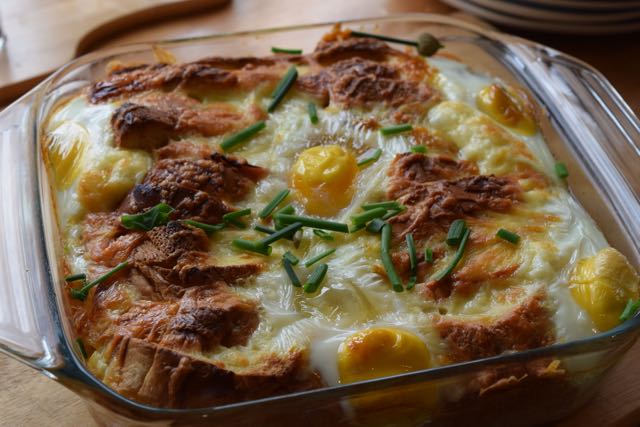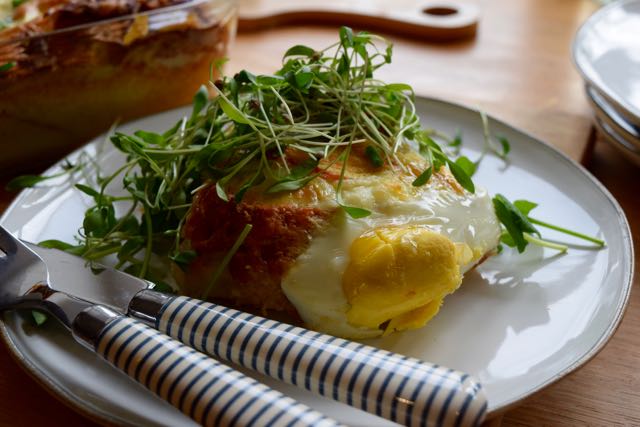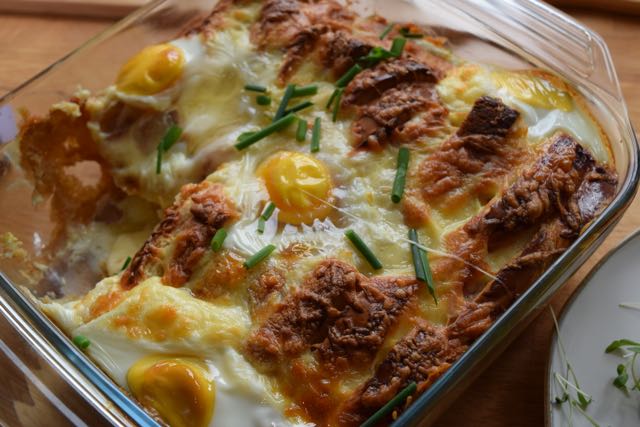 This is a wonderful light dish regardless of the fact it's packed with bread, eggs, cheese and ham. All these classic flavours are just deliciousness personified together and I could have eaten the whole dish myself. I would have rather regretted it, and the ensuing heartburn, afterwards, however, I fear the guilt would have been worth it.
Lucy x
Croque Madame Traybake Recipe
Serves 4 to 6, appetite dependent
You will need a 23cm x 23cm baking dish
400g sliced brioche loaf, or 12 slices of a bread of your choice
soft butter for spreading, around 75g
English mustard for spreading, around 2 tablespoons
6 slices ham
6 slices cheese, I used gruyere
5 eggs, beaten
400ml milk
salt and pepper
100g grated strong cheddar or cheese of your choice
an additional 4 to 6 eggs, dependent on how many guests are eating, allow one per person
Salad leaves, herbs, roasted tomatoes to serve
Pre heat your oven to 160 degrees, fan assisted, and butter your baking dish of choice. Something around the 9 inch square size is good.
Take the bread of your choice and butter the slices then spread six slices with mustard.
Top the mustardy slices with a slice of ham and cheese then sandwich together to create six sandwiches. Halve each sandwich with a sharp knife.
Place half the sandwich slices down one side of the dish then the other half down the other half of the dish. In a jug, beat 5 of the eggs with the milk then season with salt and pepper. Pour the eggy milk onto the sandwiches then press down with a fork so the bread absorbs the eggs. Leave to sit for 5 minutes.
Sprinkle the top of the dish with the grated cheese then make small recesses for each of the additional eggs. Crack the eggs into a small cup or glass then tip into the recesses on the top of the bake. Place in your pre heated oven for 25 to 30 minutes. The cooked bake is crisp, bubbling, golden with the eggs firm.
Sprinkle with chopped chives and serve piping hot with some leaves.