Beetroot and Raspberry Smoothie Recipe
As you know, I do love a food fad, but also I object to a new year, new you scenario. I subscribe to the school of a little of what you fancy does you good. However, I did rather overdo the 'little' of what I fancied over Christmas and am now paying the price with tight waist bands and an uncomfortable bra. I have also vowed to eat more in the way of fruit and vegetables too, and feel a smoothie is an amazing way of packing all these things into one glass. A stir fry is all well and good but not for breakfast and not at every meal time. This Beetroot and Raspberry Smoothie is such an alluring colour, how could this not tempt you to dip your toe into the world of healthy eating.
Beetroot in a smoothie doesn't initially scream delicious, I will admit. However, it does have a earthy sweetness which works so well with the tart raspberries and the ripe banana. Sling in a date for a touch of caramel flavour and some flax seeds for added fibre, B vitamins and antioxidants and you are laughing all the way to a healthier start to 2018. The colour alone is enough to lift your spirits considering the early mornings are still depressingly pitch black. Unlike some smoothies, this doesn't feel like you should be drinking it, you will actually want to drink it. To add to it's colourful appeal, it filled me up until lunchtime, which is really very rare for me. My snacking habits have reached critical level over Christmas and if a breakfast can keep me away from the biscuit tin until at least the afternoon then this is an absolute win. This recipe came to me via Cocoon Cooks, with huge thanks.
I am desperately fighting off any Sunday night feelings of despair at the thought of the first full week back at work after Christmas. With the sight of this Beetroot and Raspberry Smoothie and the prospect of maybe a small glass of wine later on in the week, then perhaps January will not be all bad. Well, let's at least say until Wednesday for that glass of wine.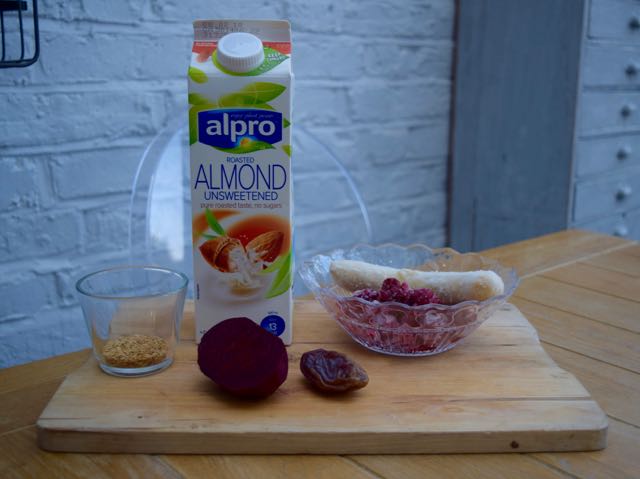 This is quite a meagre line up for such a mega tasting smoothie. In fact it all looks a bit sad laid out like that. Rest assured this is a smoothie with a set of balls and quite the CV full of nutrients.
Make a start on this by revving up your blender or NutriBullet. How small you chop your ingredients is dependent on the powerfulness of your machine. I am so lazy and have a feisty NutriBullet, so I barely bothered to chop at all. Start this power breakfast by adding your peeled, raw beetroot and the date to your blender.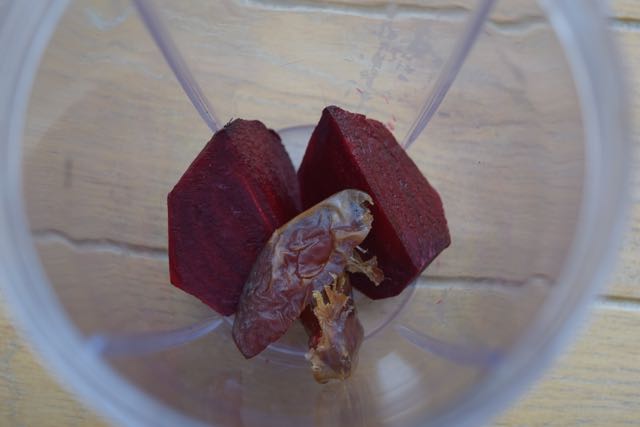 Follow in with your raspberries and banana. Mine were both frozen because fresh raspberries are pretty tasteless and expensive at this time of year and my freezer is full of overripe bananas where no one ever eats them in time in our house.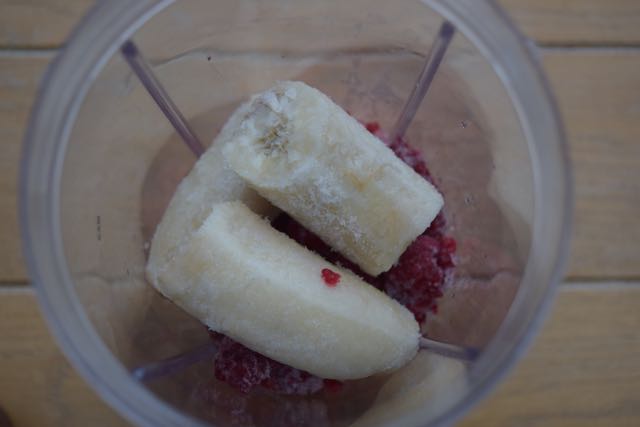 Finish off with the flax seeds and the milk of your choice then you are ready to blitz. I went almond milk because it adds a lovely nuttiness to the smoothie. And if Veganuary is your thing, Almond milk is best for you.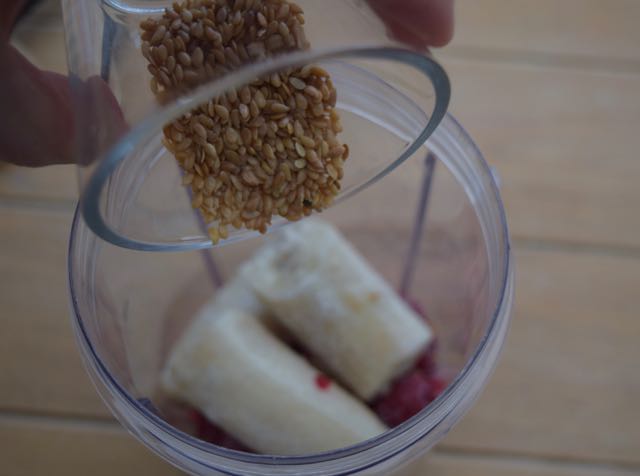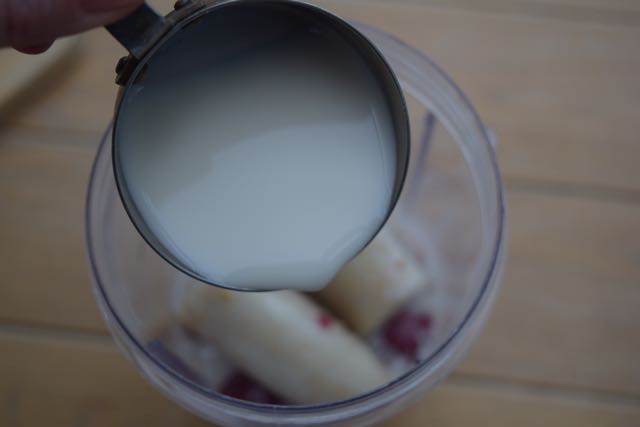 Blitz your smoothie until it's lovely and smooth and all the ingredients are well blended.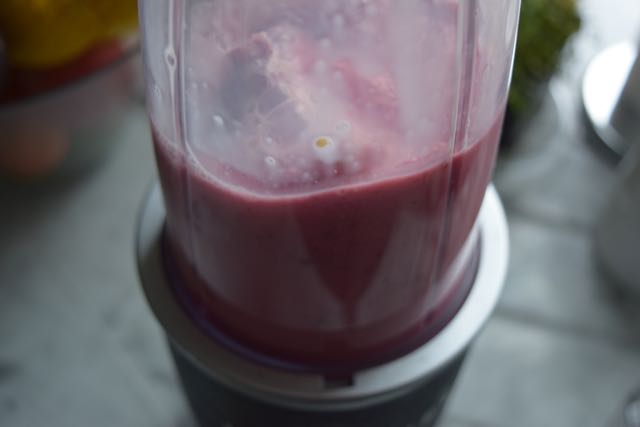 No filter, I promise.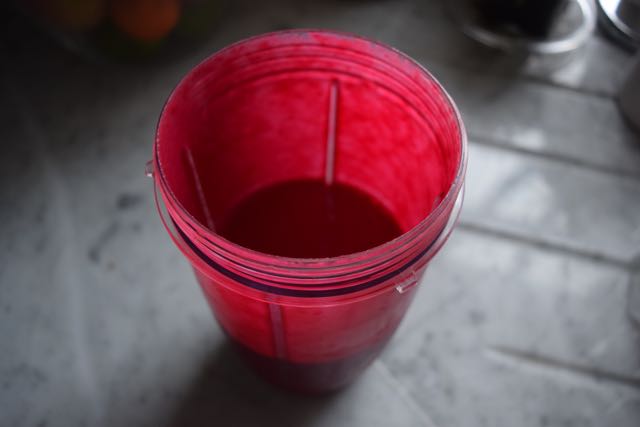 Pour this divine looking  smoothie into a glass and enjoy immediately while chilled and vibrant. As you will be once you've finished it.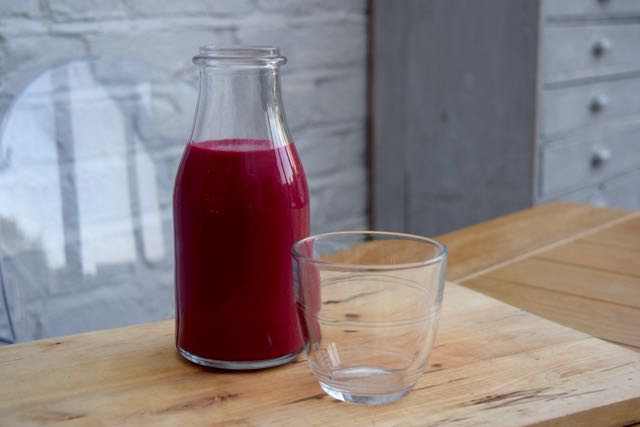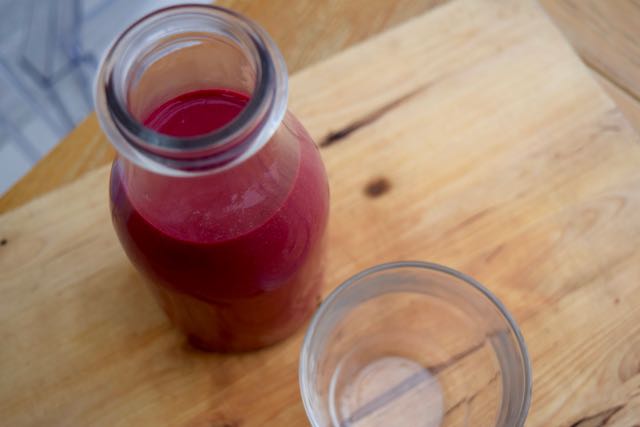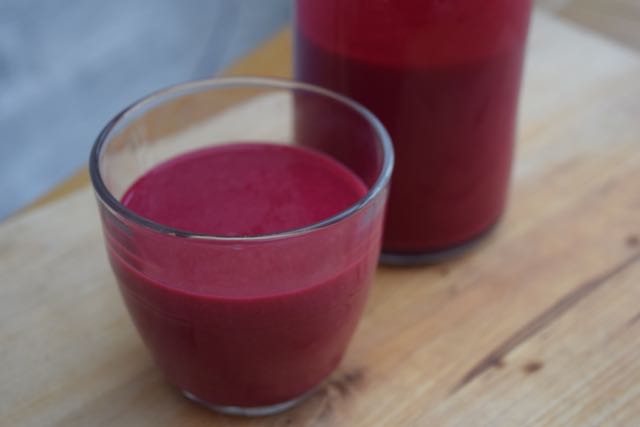 I wouldn't have ever thought to put raw beetroot into a smoothie, but it works so well and not just because of the amazing colour. This is delicious, has an earthy sweetness and it screams, or at least stage whispers 'good for you' with every mouthful.
Lucy x
Beetroot and Raspberry Smoothie Recipe
Makes a generous 1 serving
You will need a blender or NutriBullet
50g raw beetroot, peeled weight
1 ripe banana, frozen works well
60g frozen or fresh raspberries
1 date, stoned, I used a medjool date left from Christmas
250ml milk, almond, full, semi skimmed or skimmed or any other milk of your choosing
1 teaspoon flax seeds or linseeds
Take your blender or NutriBullet and add the raw, peeled beetroot, cubed for easier blending along with the de-stoned date. Follow in with the raspberries and the banana, no need to defrost either if they're frozen.
Finally pour in the milk and add the flax seeds. Blend v well until the smoothie is smooth then pour into a glass and serve immediately.
SaveSave
SaveSave
SaveSave
SaveSave
SaveSave