Black Pudding, Potato and Egg Bake Recipe
This week I have been all about food waste. I am the product of a war child, my Dad, so I have inherited an inability to throw anything away. I can often be heard telling the boys to eat something past it's use by date as long as it isn't green or a bit whiffy. Having received my first OddBox last week, I had a fridge full of odd shaped, but still amazing, vegetables to use up. Add to that a 1.3kg black pudding from Costco which was hurtling towards being on the turn, and it was time to hit up my food hero, Nigel Slater, for some advice. And he came up trumps, as always, with this Black Pudding, Potato and Egg Bake, thank you, Nigel.
We are a family of black pudding lovers. George's staple breakfast at the weekend is the aforementioned in large quantity with a 3 egg scramble. I love it with a fry up too, but it does take a while to get though a 1.3k portion bought in bulk. Which is where this wonderful breakfast or brunch bake comes into play. It is a simple mix of thinly sliced potatoes, chunks of black pudding and eggs. Add some oil to make it a 4 ingredient, beyond tasty dish of delight. You could replace the black pudding for chorizo, if, God forbid, you are not BP fans, although I would halve the olive oil quota as chorizo is quite oily and will produce quite a bit of its own. Clyde and I devoured the whole dish between the two of us, however, we were reasonably hungover. Under normal circumstances this would probably serve at least 3, if not 4. However, it is easily doubled, or more, for a crowd. You don't really need to add anything else to this one pot wonder, although if you're serving it for lunch, some buttered spinach and crusty bread would not go amiss.
Hooray for another Bank Holiday next week, these 5 day weeks are a killer. This Black Pudding, Potato and Egg Bake would be perfect forked up for any visitors or any hangovers you have booked in for the long weekend.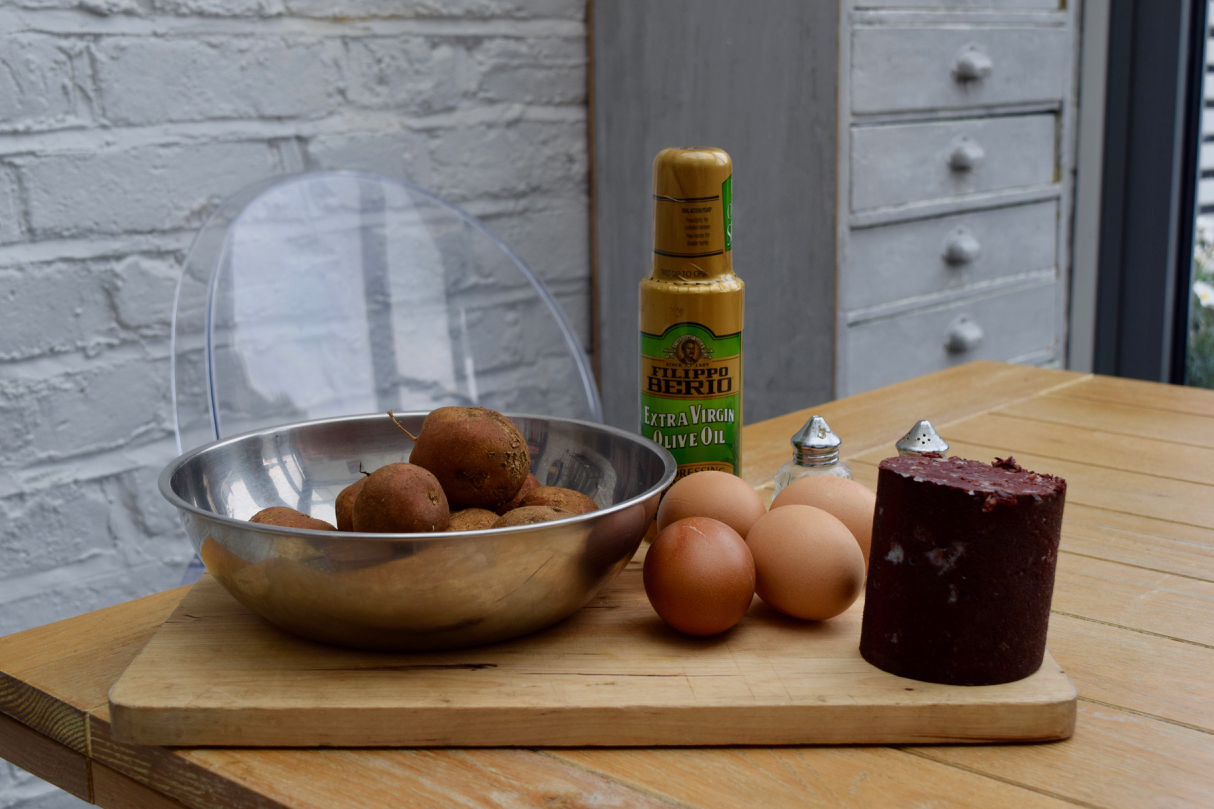 I love the thought of using up things that would ordinarily be thrown away. It's the frugal soul in me. My Oddbox provided me with all sorts of either misshapen, overstocked or ready to be eaten fruit and veg, so it really appealed to me. These potatoes just needed a good wash and peel then they were ready to be the star of this dish.
Start by pre heating your oven to 160 degrees fan assisted and lightly oiling a 20cm square baking dish, or similar. Next, peel your spuds then slice into slices the width of a £1 coin. I managed not to cut my fingers off using the thickest setting on my mandolin. Add the slices to your dish.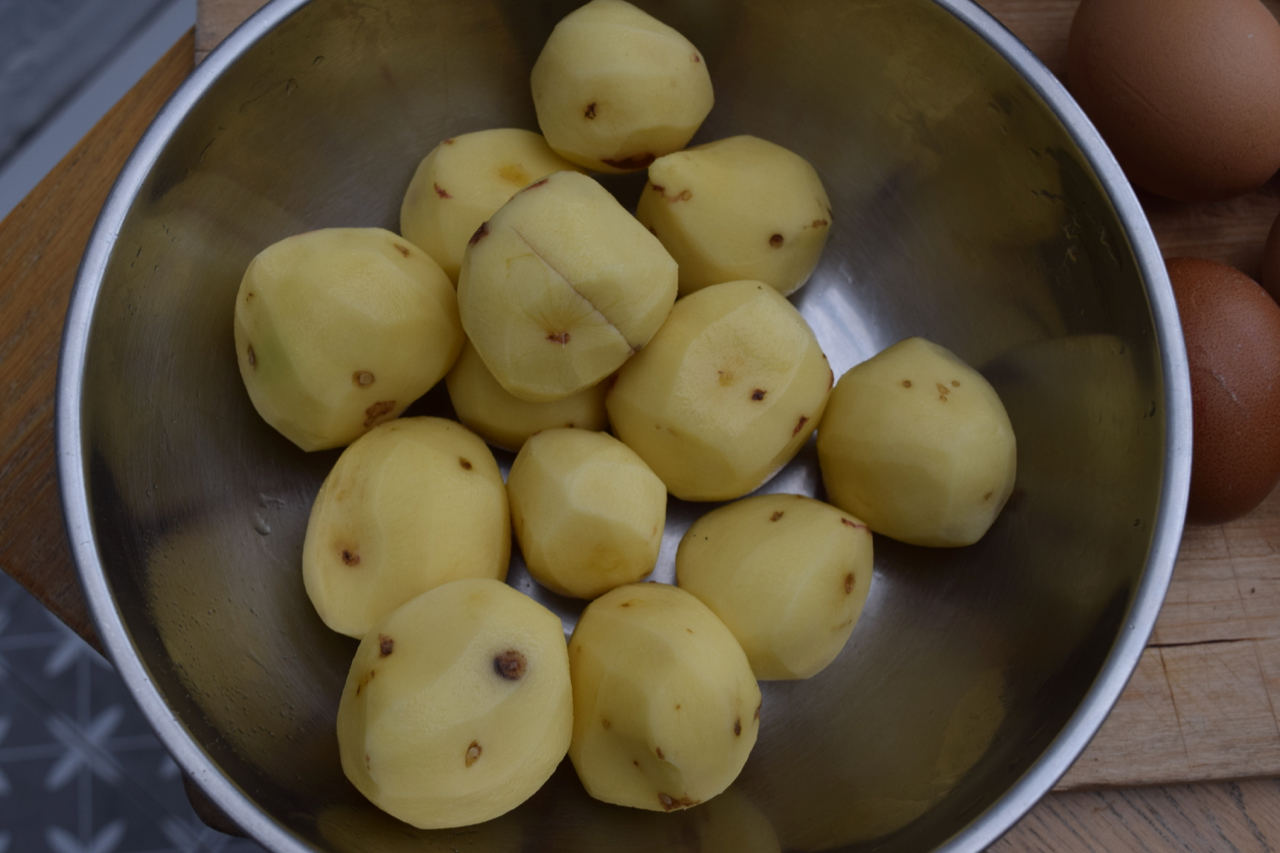 As you can see, I wasn't too thorough with my peeling skills.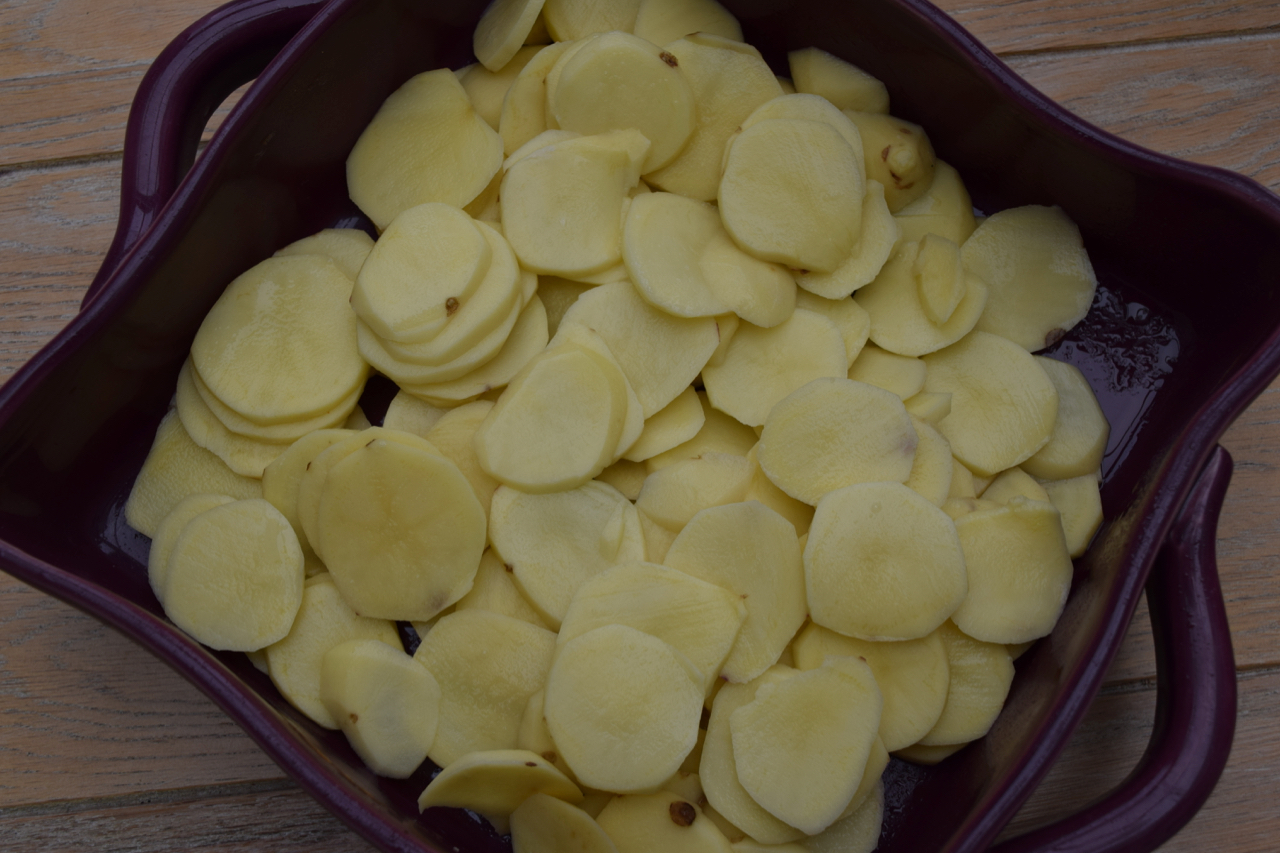 Slice the black pudding thickly, then break into pieces and tuck in between the potatoes.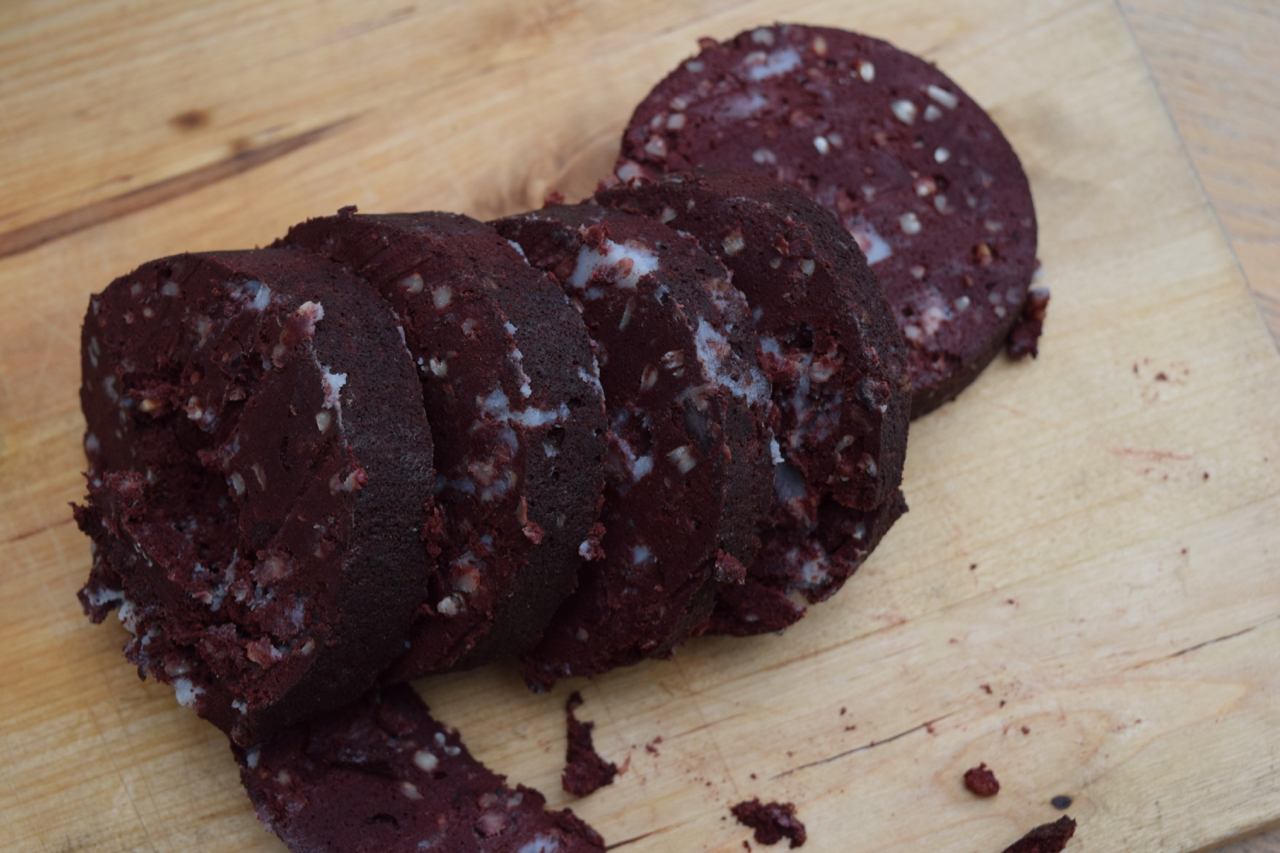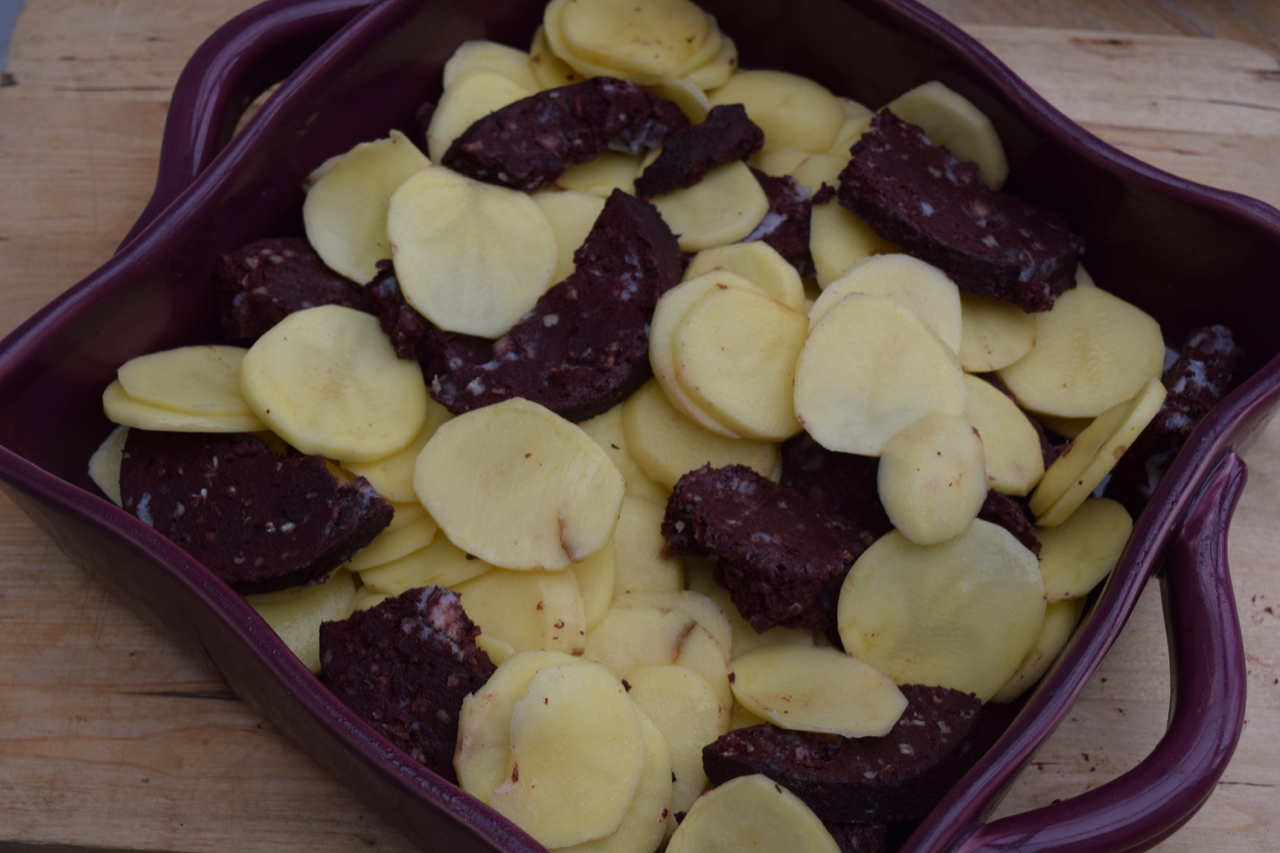 Next, drizzle on the olive oil and season generously with salt and pepper. Then put into your pre heated oven for between 50 minutes to an hour. You want the potatoes to be soft, golden and the black pudding sizzling.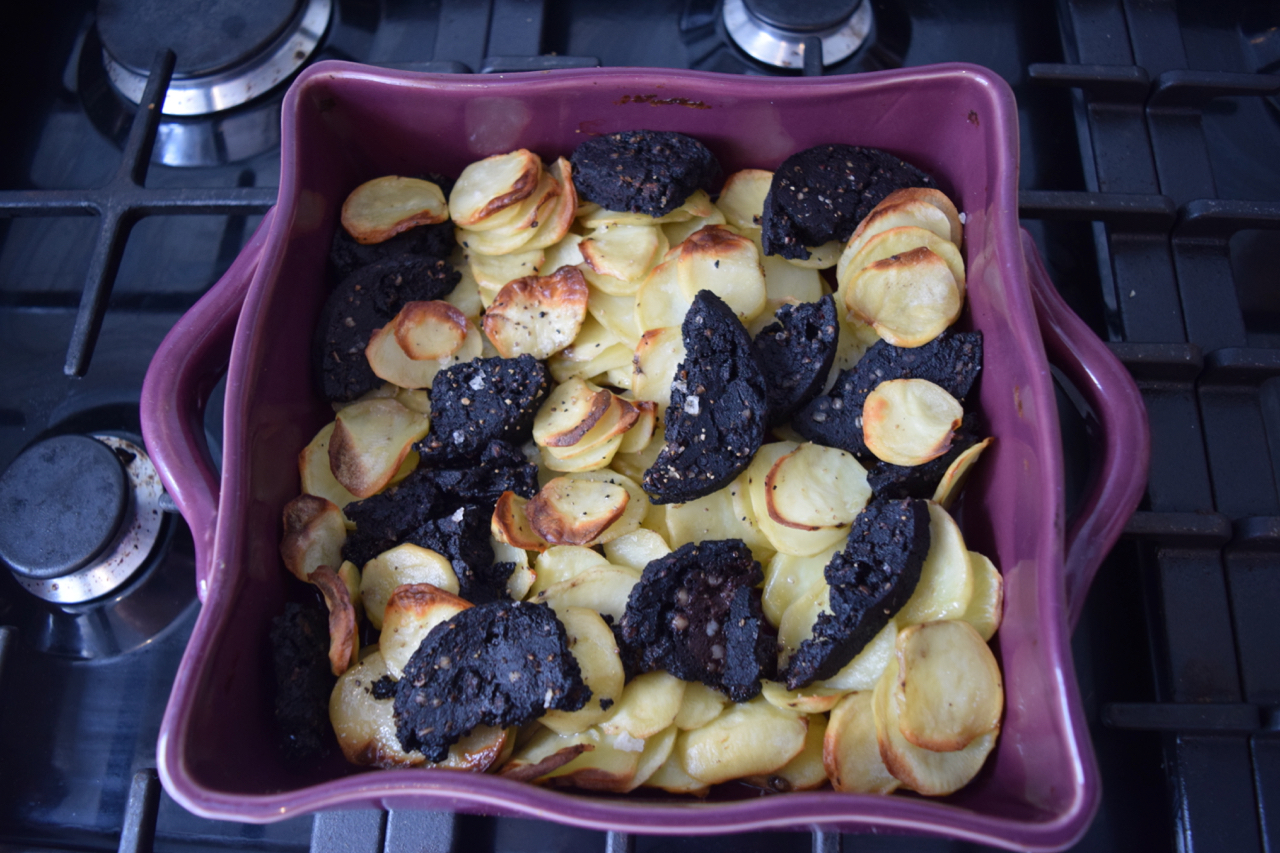 In a final flourish, make 4 recesses in the potatoes and crack in 4 eggs. Place back in the oven for around 5 to 10 minutes, depending on how you like your eggs cooked. I gave mine 8 minutes for set whites and a still soft yolk.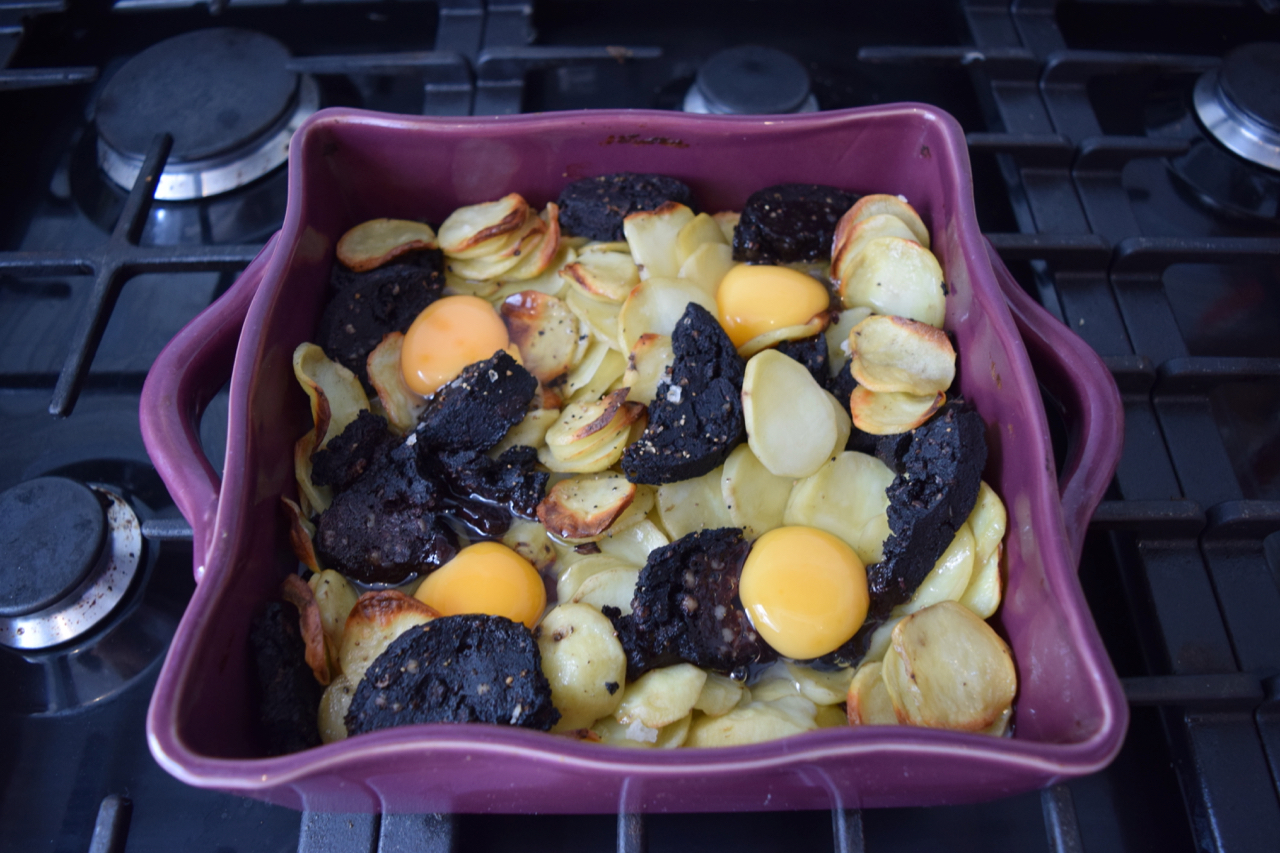 Like so.
Serve this simple, rustic but above all, divine, dish piping hot with a smattering of fresh parsley if you are that way inclined.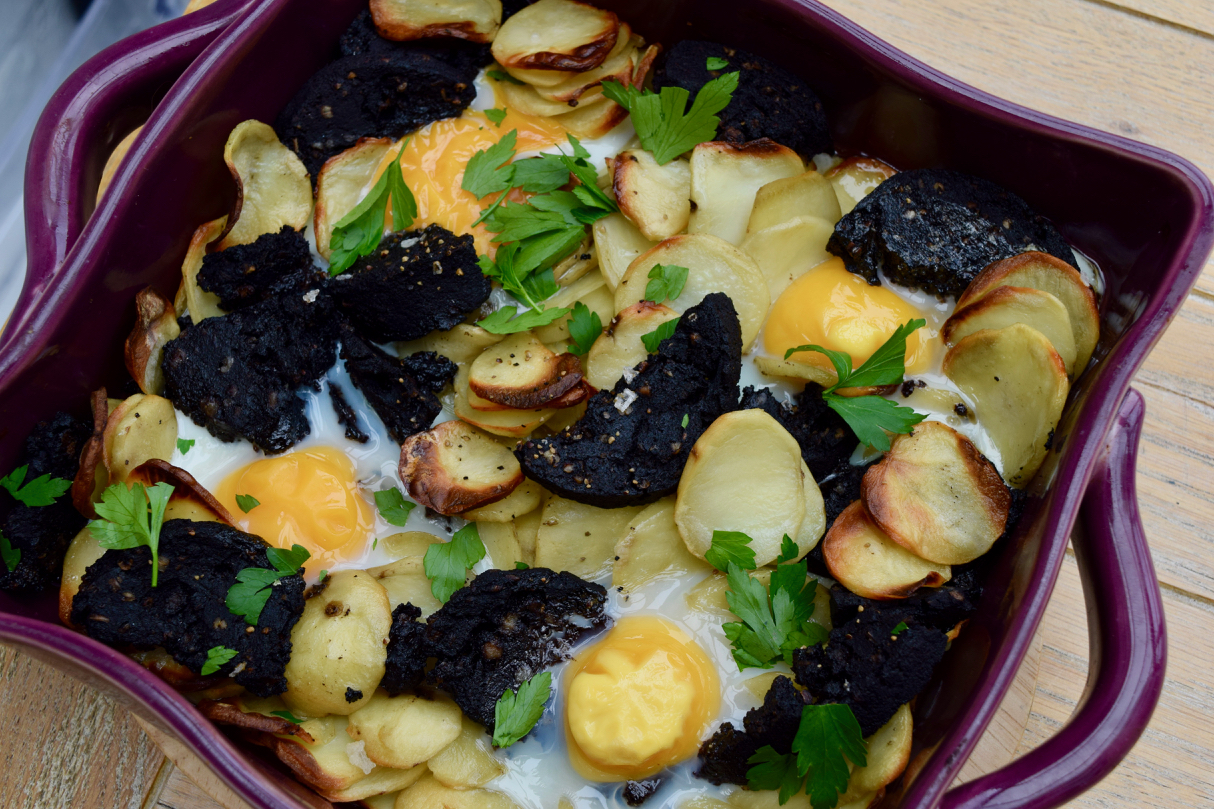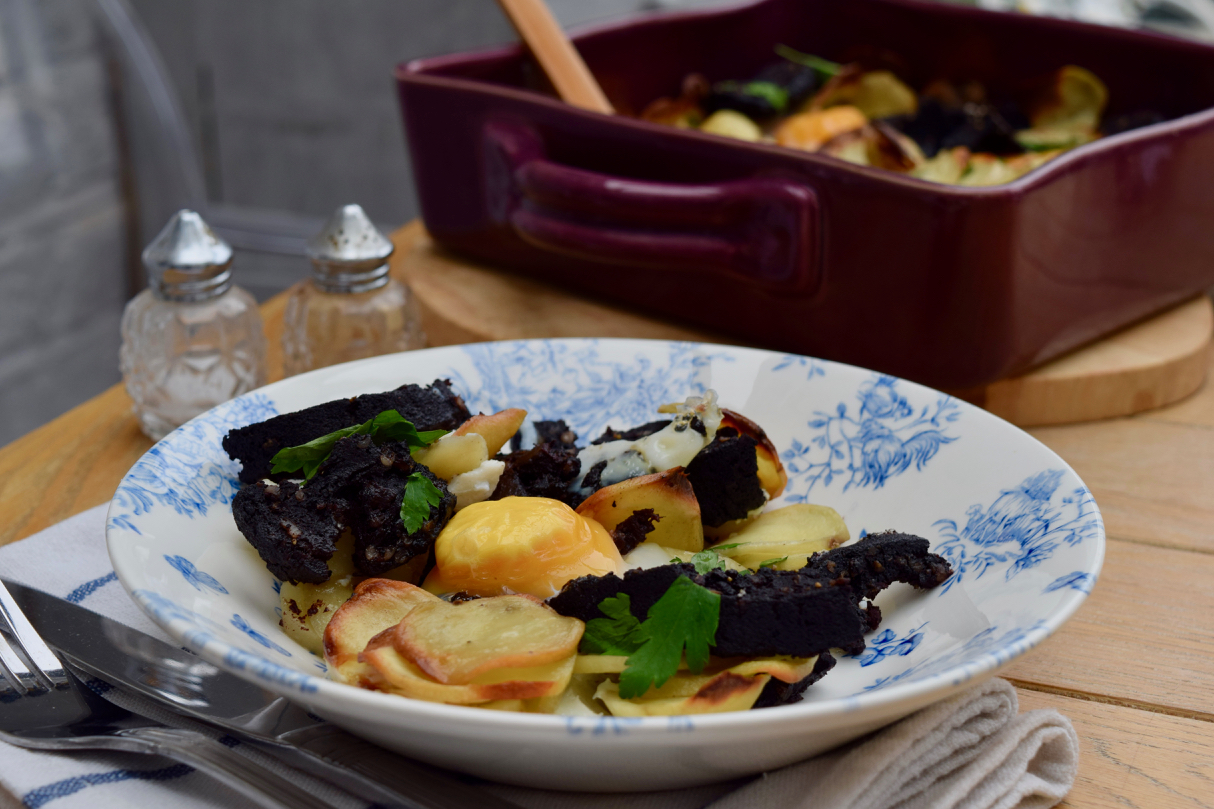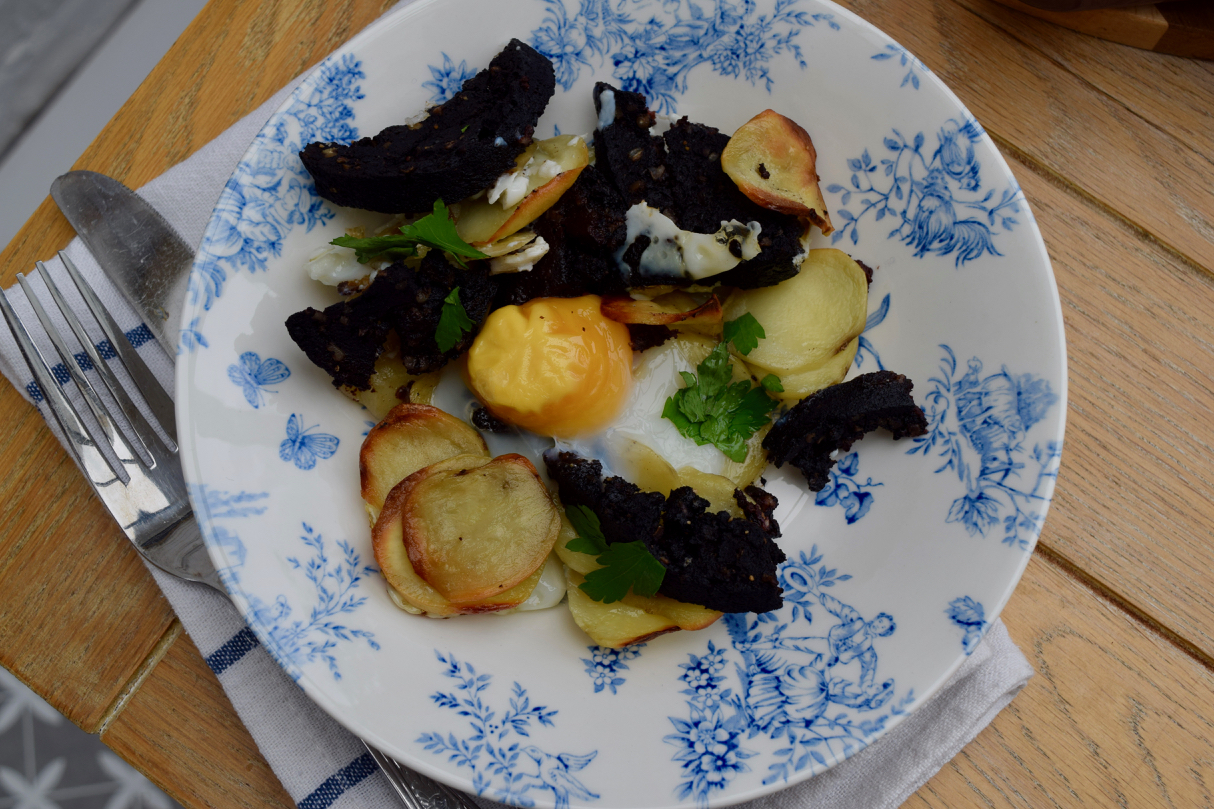 I love a fridge forage and I hate throwing food away. This Black Pudding, Potato and Egg Bake is not only delicious and satisfying to eat, it satisfies my frugal, waste hating ways.
Lucy x
Black Pudding, Potato and Egg Bake Recipe
Serves 2 to 4, dependent on just how hungry you are
You will need a square baking dish
500g peeled potatoes
250g black pudding, or chorizo if you would prefer
4 tablespoons olive oil, you will need slightly less if you use chorizo as it's naturally oily
4 eggs
Salt and pepper
Chopped parsley to garnish
Pre heat your oven to 160 degrees fan assisted.
Take your baking dish and lightly oil. Peel your potatoes and slice to the thickness of a pound coin. I used the thickest setting on my mandolin.
Place the slices into your baking dish. Slice the black pudding then break up and intersperse with the potatoes. Drizzle with the olive oil, season with salt and pepper then pop into your preheated oven for between 50 and 60 minutes.
Once the potatoes are golden and softened, make 4 small recesses in the mixture then break one egg into each space. Put the tray back into the oven for between 5 and 10 minutes, dependent on how you like your eggs cooked.
Remove from the oven, sprinkle with chopped parsley. Eat piping hot in large bowlfuls.