Brown Sugar Mustard Glazed Ham Recipe
I feel a little like a child on a car journey at the moment saying "are we there yet?" Clyde has been thinking it's Easter for  the last month so we are in a constant state of confusion at the moment. At last, however, it is Easter next week so for the next few posts I am going to concentrate on some seasonal treats for the whole family to enjoy. When we were young, back in the olden days, Easter Sunday meant a roast turkey. Basically we had to sit through Christmas lunch all over again, a scant 3 months since we last enjoyed it and all the trimmings. The turkey tradition has tailed off over the last few years and we have feasted on other roasts, but this year I thought I would prepare a Brown Sugar Mustard Glazed Ham to enjoy over the long Easter weekend, and here it is.
The original piece of gammon I ordered from Ocado arrived and was barely just over a kilo in weight. This was duly dispatched off home with my parents, what with it being barely enough to feed two hungry people. I then visited our lovely local butcher, who furnished me with a good 2.5kg piece of unsmoked gammon, just the ham for the job *oh come on*. That alongside my brand new Instant Pot served to make this dish super tender and full of flavour. The Instant Pot has been on my wish list for ages, and I finally relented and treated myself to one this weekend. This Brown Sugar Mustard Glazed Ham was my first outing with it, but it worked brilliantly. It is a sort of multi tasking pressure cooker, slow cooker, rice cooker, yoghurt maker, washing machine, ok I lied about the washing, but it does do loads.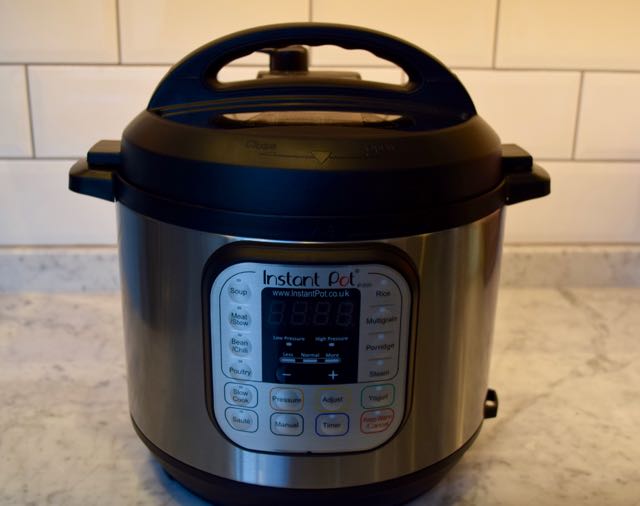 Brace yourself for a few more recipes using my new toy, but for the moment, back to the ham. My wonderful piece of gammon was first pressure cooked, or boiled or slow cooked if you prefer, then slathered in a soft brown sugar and English mustard glaze and given a further baking to crisp up. This is based on the eternally fine work of Hugh Fearnley Whittingstall, with thanks to him.
The finished article is divine. However you wish to serve it. We went for mash, glazed carrots and a little dousing of cooking liquor. Or serve at room temp as part of a cold lunch or as left overs with eggs and hand made oven chips. Or just slather some doorstep white bread in butter and mustard and enjoy the best ever Easter Ham sandwich. Easter is quite the moveable feast in our family and this Brown Sugar Mustard Glazed Ham will make a perfect centrepiece.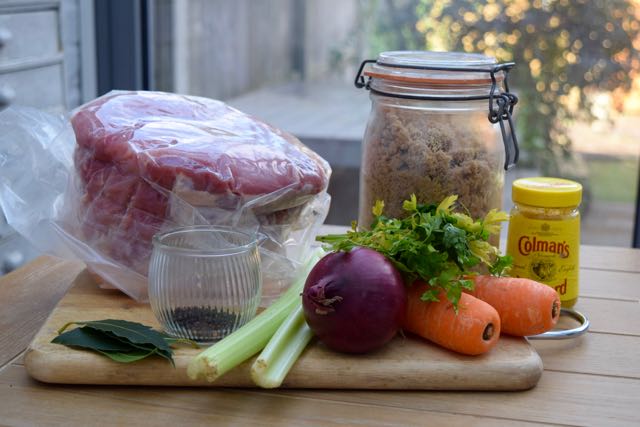 Look at that lovely piece of gammon and all the bottom of the fridge ingredients to fashion it into my Brown Sugar Mustard Glazed Ham. Simple fare, right up my street.
Make a start by deciding how you are going to cook your gammon in the first part of this recipe. Use your Instant Pot, pressure cooker, slow cooker or simply simmer for 3 to 4 hours in a pan until cooked through. My Instant Pot took 55 minutes, allowing 11 minutes per 500 grams. The slow cooker will take 6 to 8 hours on low, but consult your instruction booklets on each of these methods. Add the carrots, celery, onions, parsley, peppercorns and bay leaves to your chosen pot, along with the beautiful piece of gammon.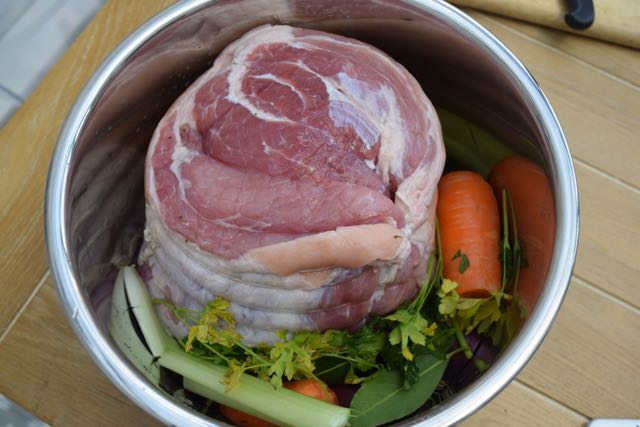 Cook this accordingly, mine took a mere 55 minutes in my fancy new contraption.
Keep the stock and use for soup at some later stage. The wafts of cooked gammon are quite amazing at this stage. Put the cooked ham onto a lined baking tray and remove the skin with a sharp knife leaving a layer of fat. I cut the string off at this point too. Make sure you line the tray or you will be washing up the baking tray for days.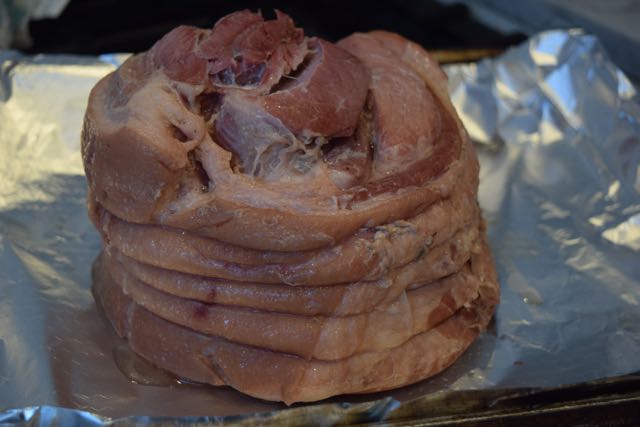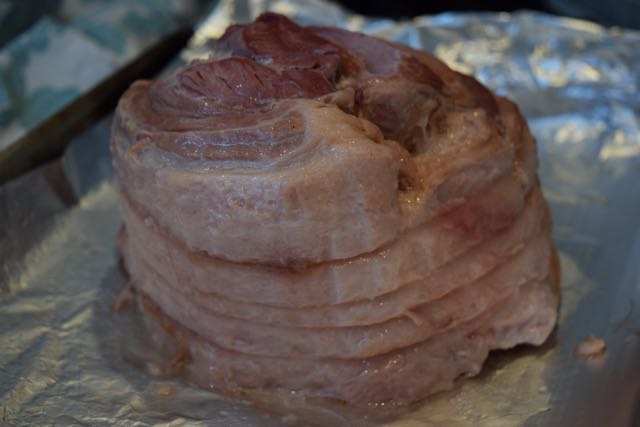 Pat dry the ham *I didn't dry mine enough* then prepare the glaze by mixing together the brown sugar and mustard in a small bowl. It will make a sort of sticky paste.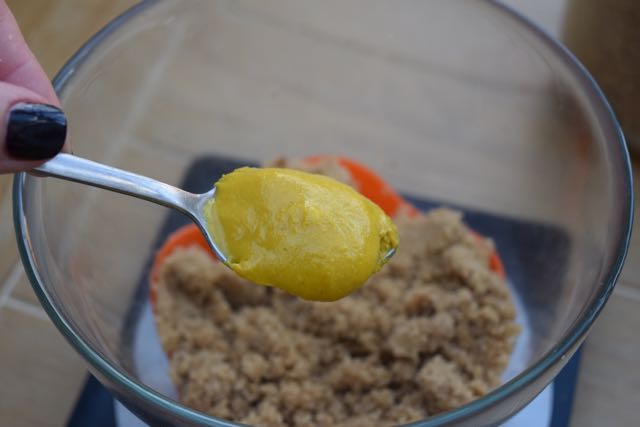 Slather this onto the fat of the ham, pressing it so it sticks. Mine just sort of ran off, so I just spooned more on, until it was well covered. Season with some black pepper.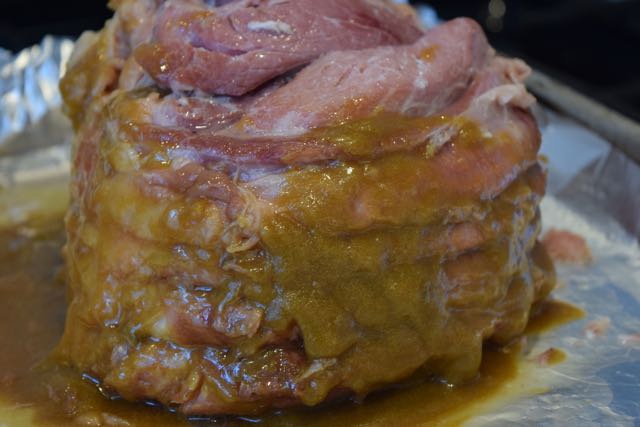 Put this into your hot oven for around 30 minutes or until the ham is browning, crisp and sizzling and smelling beyond divine.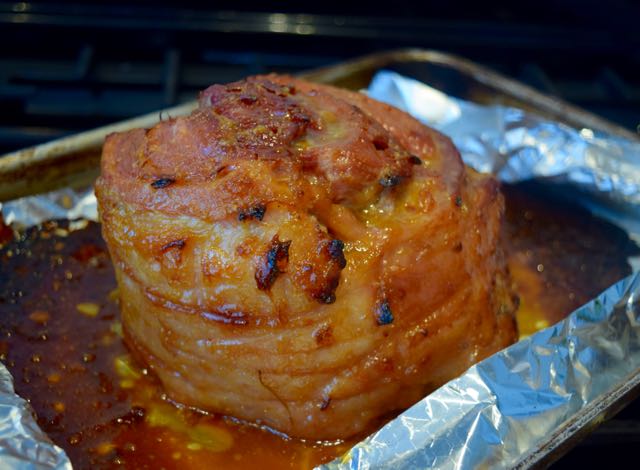 Serve this wonderful sweet, mustard tinged ham however you fancy. I had to stop myself from eating half of it hot from the oven. Thick ham slices with mash using some of the stock as a gravy makes a perfect hot Easter lunch.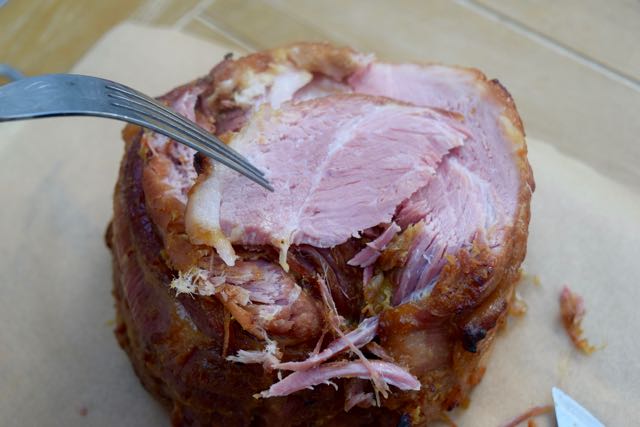 Carving is not my strong point, but thick is good with this amazing ham.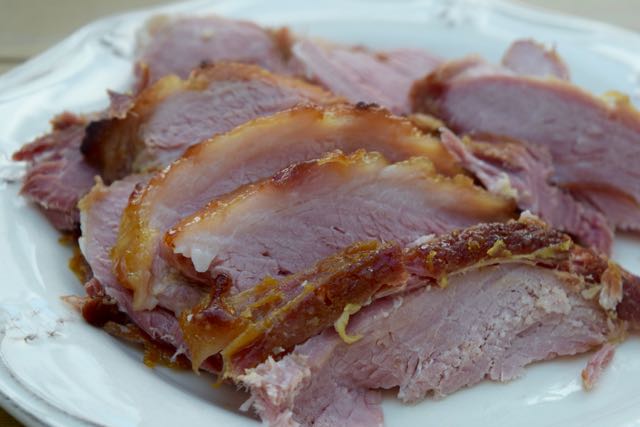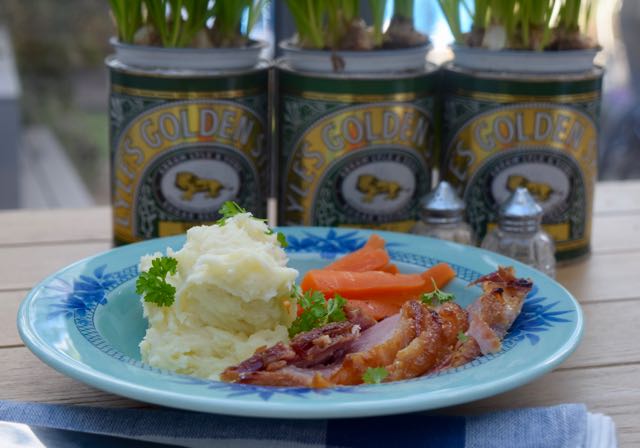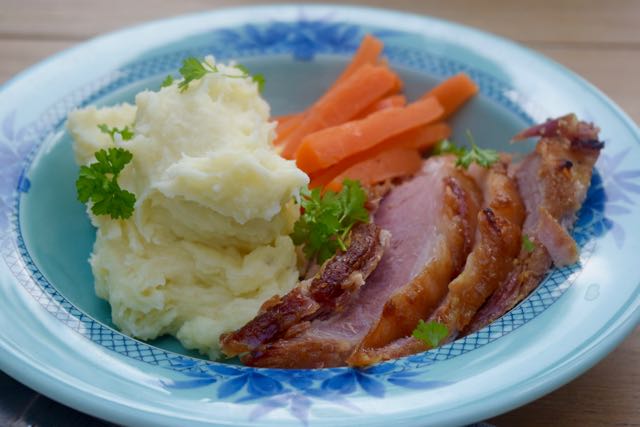 This went down a storm with the whole family. What they fondly term as 'hot ham' always does, however, this brown sugar mustard basted affair was particular popular. Leftovers are like Easter gold too. I for one, almost prefer a hastily prepared ham and mustard sandwich with a cup of tea once all the washing up's done and everyone else is napping.
Lucy x
This post contains an affiliate link to Amazon. If you order your Instant Pot through this link, Lucy Loves, at no extra cost to you, will receive a tiny commission to fund my blog.
Brown Sugar Mustard Glazed Ham Recipe
Serves 6 to 8 at least
You will need a large saucepan, pressure cooker, slow cooker or Instant Pot
Gammon
2.5kg-ish, Gammon, smoked or unsmoked
2 carrots, roughly chopped
2 sticks celery, roughly chopped
1 large onion, halved
a handful of parsley with stalks
1 tablespoon black peppercorns
3 to 4 bay leaves, fresh or dried
Glaze
200g soft brown sugar
1 tablespoon English mustard
Freshly ground black pepper
Serve in various ways, with mash and veg, with poached eggs and chips, on buttered doorstep bread with mustard
Take your large sauce pan or pressure cooker or Instant Pot and add the gammon along with the carrots, celery, onion, parsley, peppercorns and bay leaves. If you are cooking in the pan, bring up to the boil and simmer, lid on, for around 3 to 4 hours or until the gammon is tender and cooked through. If you're using a slow cooker, pressure cooker or Instant Pot cook according to the manufacturers instructions. I cooked my gammon in my Instant Pot for 55 minutes.
Once cooked, drain and keep the stock for soup on another occasion. Place the gammon on a lined baking tray and set your oven to pre heat to 170 degrees fan assisted. Cut the skin away from the gammon, leaving a layer of fat. I removed the string at this stage and I would recommend patting the gammon dry a little so the glaze sticks.
Mix together the mustard and brown sugar to make a sort of paste. Spoon this onto the fat and around the edges of your gammon so you have an even-ish layer. Season with freshly ground black pepper then put in the oven for around half an hour or until the edges are bubbling and turning a lovely golden brown.
Leave to rest for 15 minutes before carving into lovely thick slices and serving with mash and glazed carrots. Or serve cold with poached eggs, with salad or in sandwiches. Use any leftovers for a lovely soup or add chunks to Mac and Cheese.