EasiYo Yoghurt Nut and Seed Breakfast Bowl Recipe
I love a yoghurt based breakfast. It seems like such a wholesome, protein laden option, but still a real treat. So when I was sent an EasiYo Yoghurt maker to try, I was filled with joy at the prospect of fresh yoghurt on hand at all times; I can now have my favourite breakfast whenever I want. Topped with this brilliant Nut and Seed mix, a handful of fresh fruit and just a drizzle of maple syrup, my EasiYo Greek yoghurt was beyond delicious. This Breakfast Bowl recipe is a perfect start to your spring day.
I think we can officially start feeling spring-like now, what with temperatures reaching a bizarre 20 degrees and March is but a few hours away. Time to abandon the porridge for the moment and embrace all things fresh and yoghurt based. This new range of EasiYo Greek style yoghurts are so easy to make and come in tons of different flavours including my all time favourite, Black Cherry. For this dish I went with the unsweetened plain Greek variety, as with the onset of spring, comes the onset of me trying to eat less sugar. As an additional plus, all the EasiYo range contain no artificial nonsense and are both gluten free and vegetarian, if that's your department. The Nut and Seed element of this Breakfast Bowl is a simple, super crunchy, wholesome topper. A blend of pumpkin, sesame and sunflower seeds, a touch of almond and pistachio all brought together with just a pinch of salt and only a teaspoon of brown sugar for luck. I have to admit, I have been eating this as a dessert as well as breakfast, it's way too good to reserve for first thing only.
In true Nigella style, it's gone 11pm and I have just nipped to the fridge for a mouthful more yoghurt. I didn't look nearly as seductive as she does, however, the yoghurt looked bloody amazing.
There's 3 simple steps to this recipe, so let's start with the main event – the EasiYo yoghurt. This is such an easy process, even I couldn't balls it up. Take your jar that comes with the kit and half fill with tepid water – don't use cold water here. Next, tip in your chosen sachet of fresh yoghurt mix, put the lid on tightly and give it a good shake.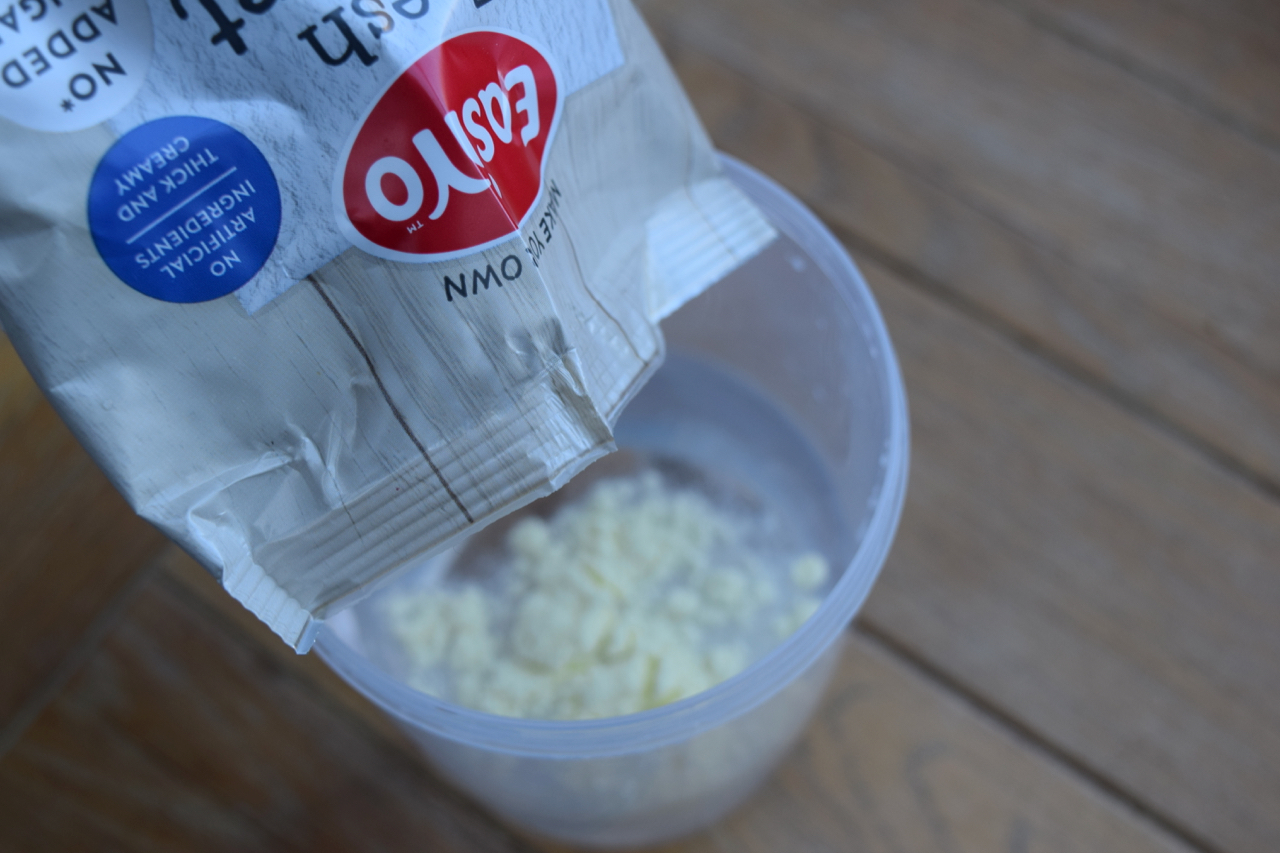 Next, pour in more tepid water up to the top measuring line, and yes, shake again. Your arms are getting a good work out here too as an added bonus.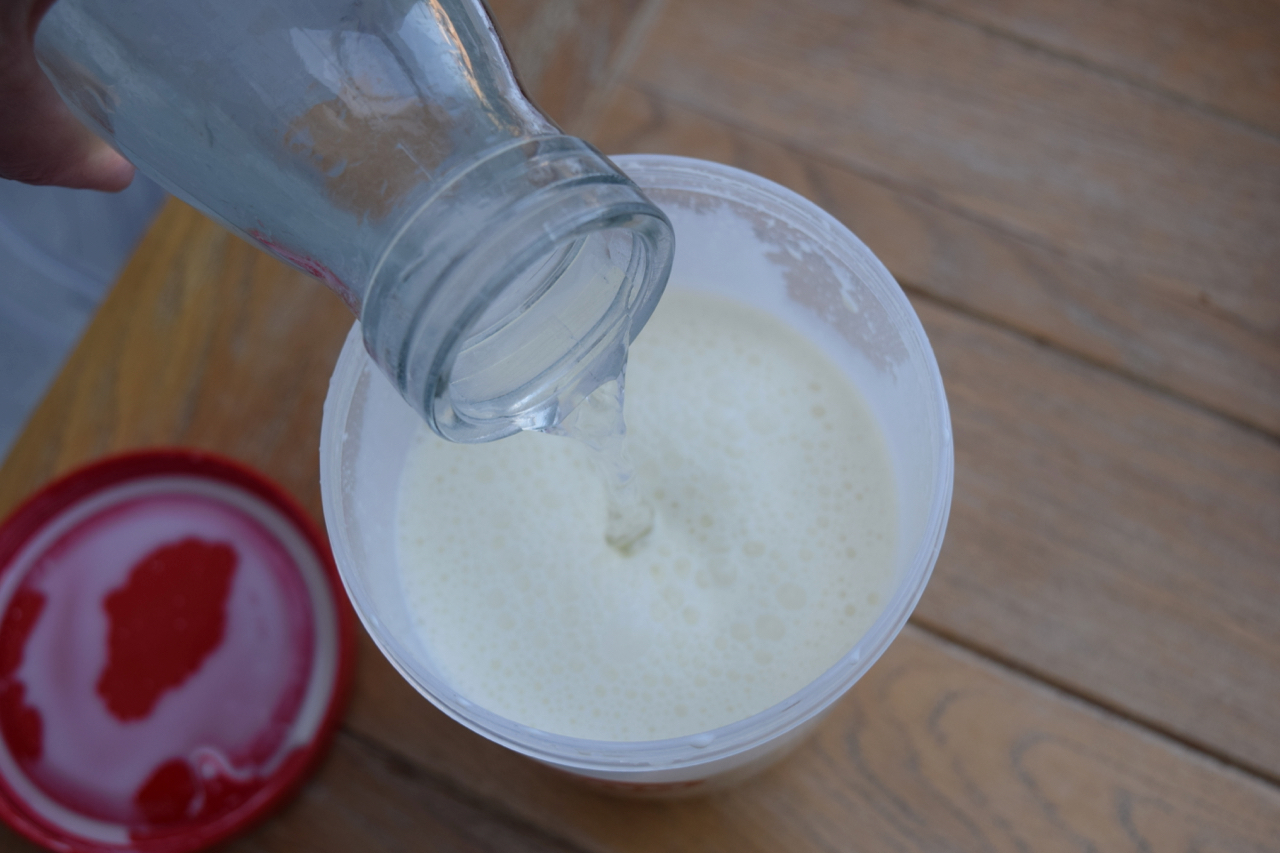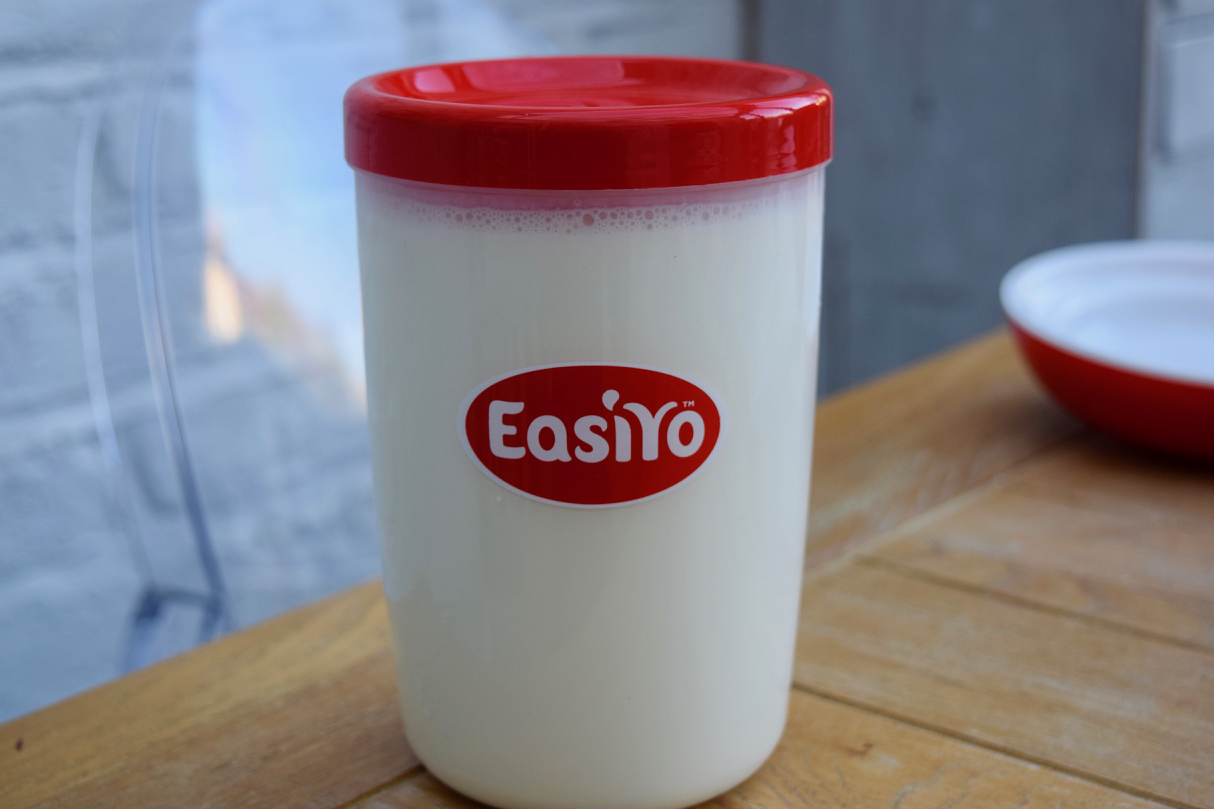 Now pour boiling kettle water into the base of your insulated  yoghurt maker then place your jar of yoghurt in and pop the lid on.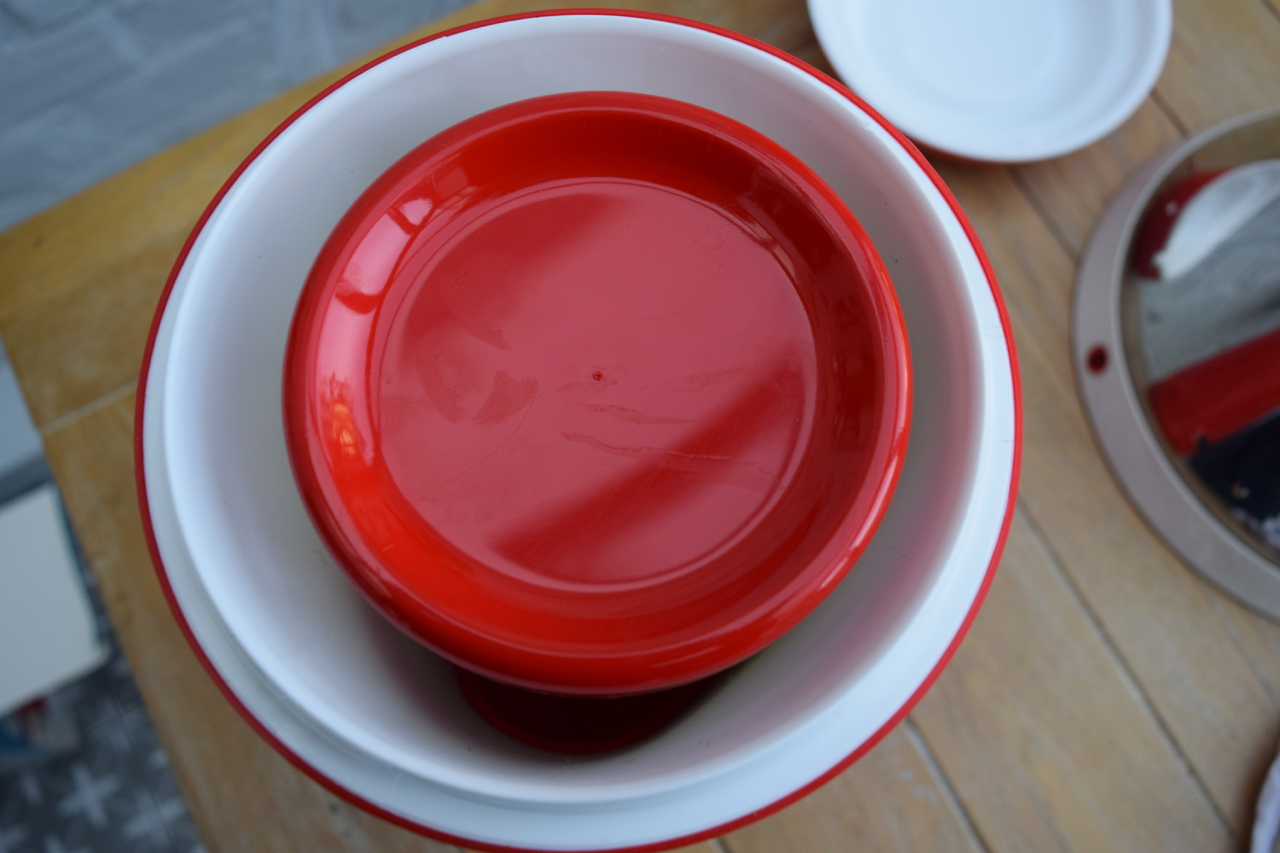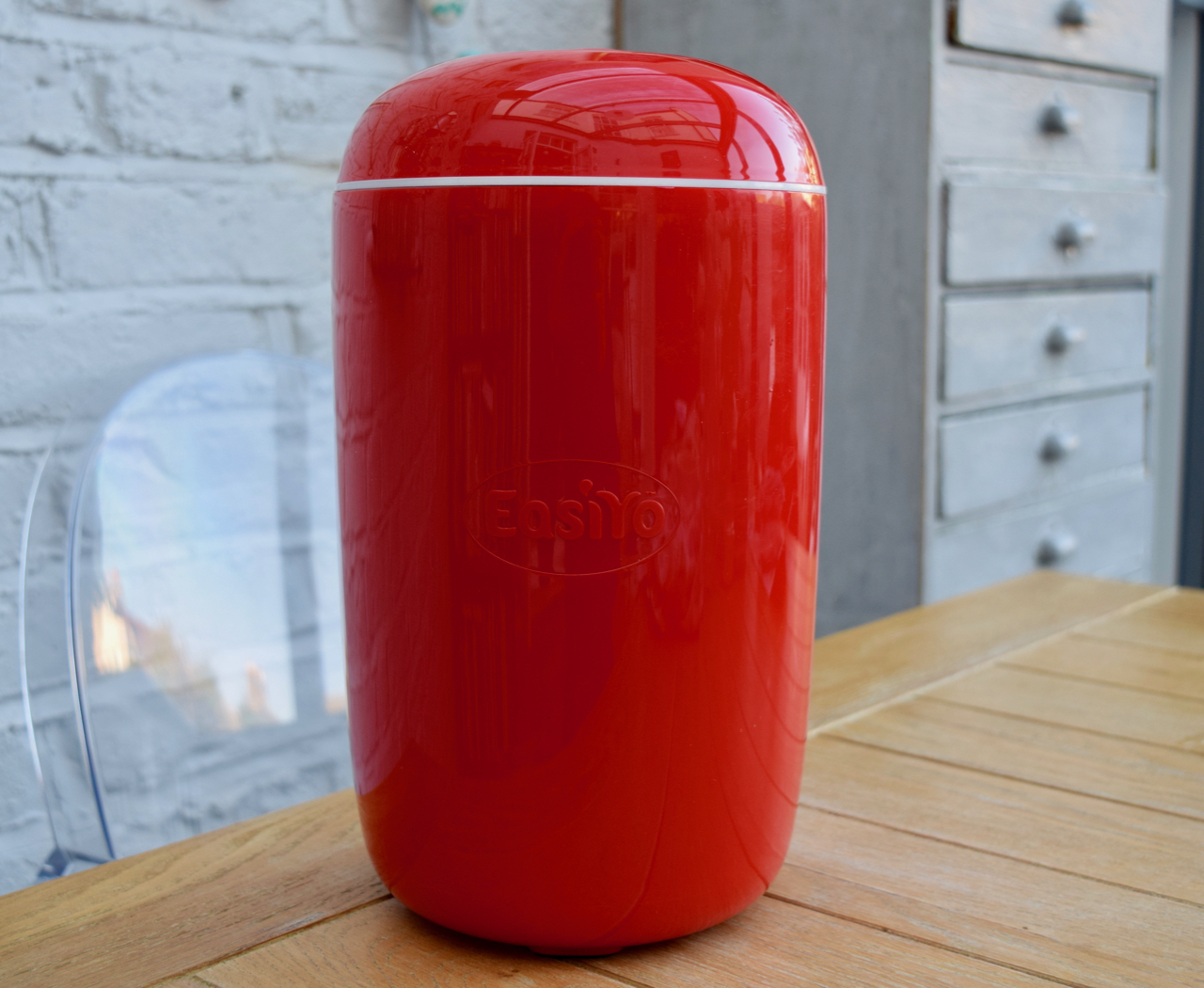 Now, leave this for 8 to 12 hours on the counter for smooth, creamy, rich yoghurt with little or no effort. While this is happening, make your Nut and Seed mix.
Take a small frying pan and tip in your seeds and chopped nuts. My selection is just a guide, you can use whichever you have to hand. I used sesame seeds, pumpkin seeds, some mixed seed mix I had to hand and both almonds and pistachios, to add crunch and colour.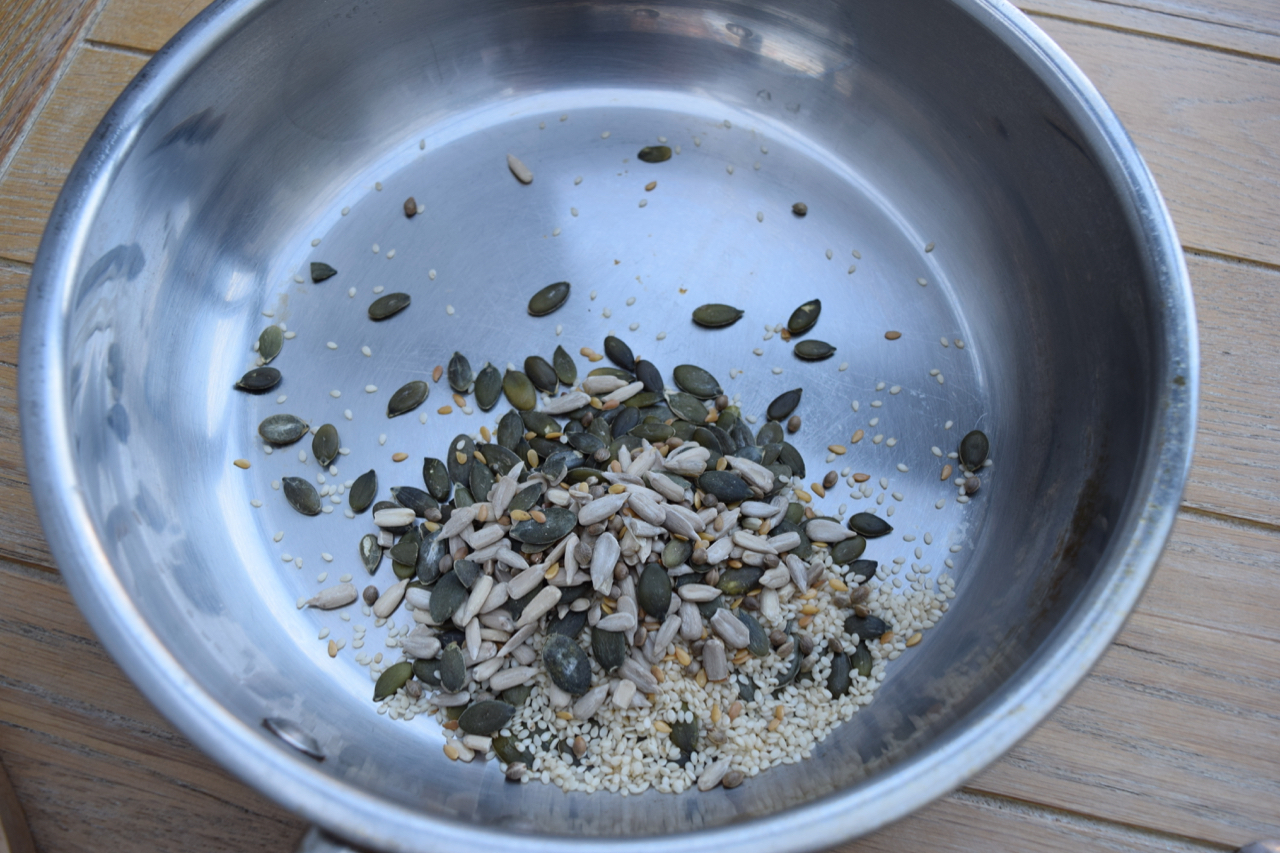 Stir in the brown sugar and a generous pinch of sea salt, then put this over a low heat and keep moving for between 3 to 5 minutes. They will be ready when they smell amazing and the seeds start to pop and just brown.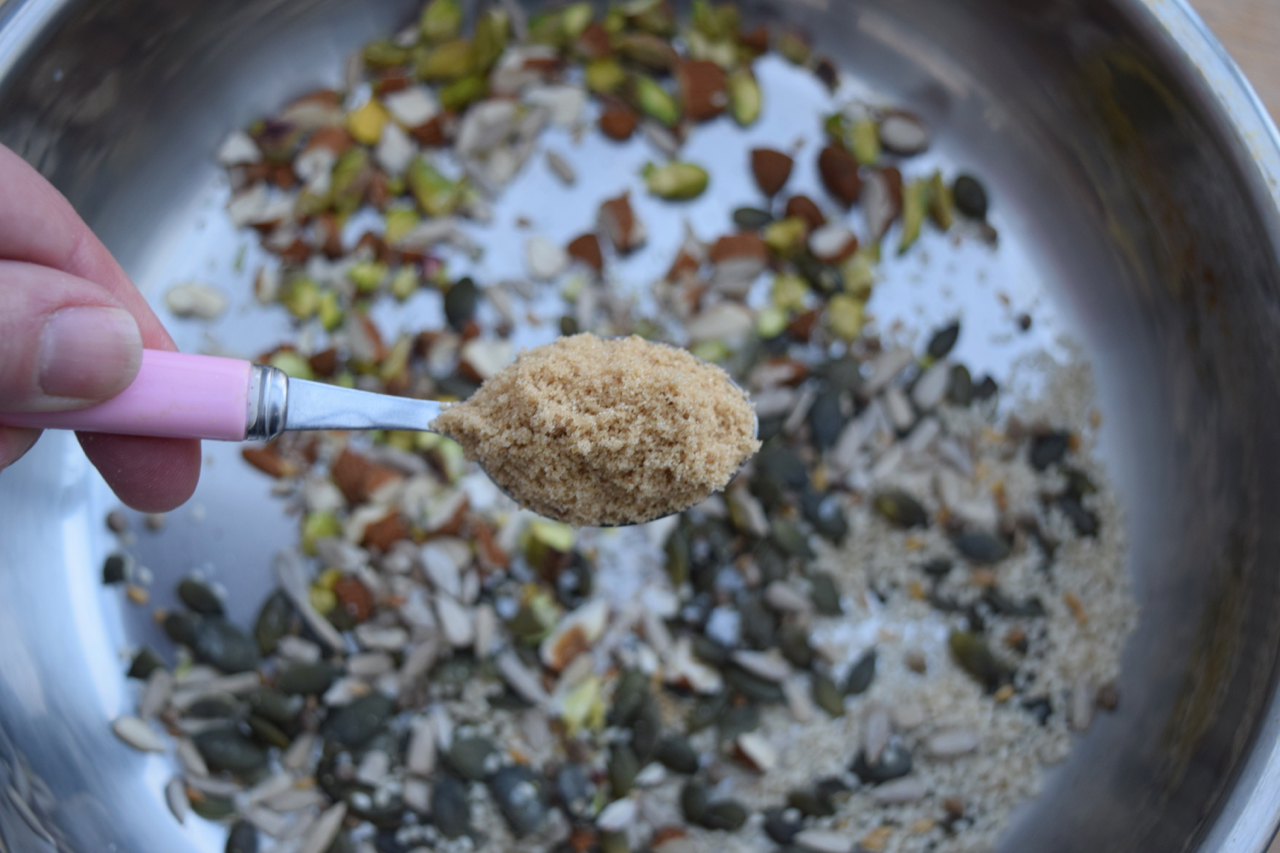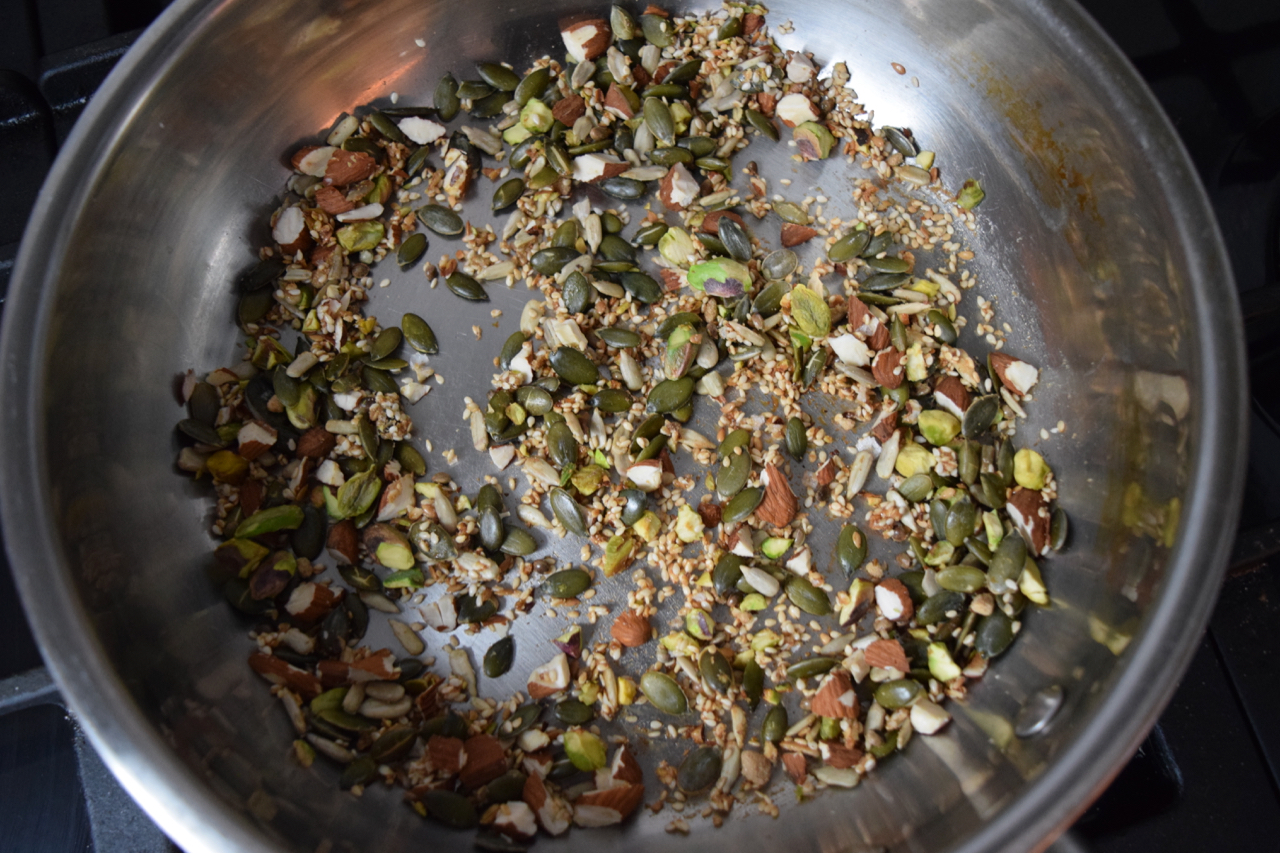 Turn off the heat and allow to cool before storing in a small jar for up to a week. It won't last that long, believe me.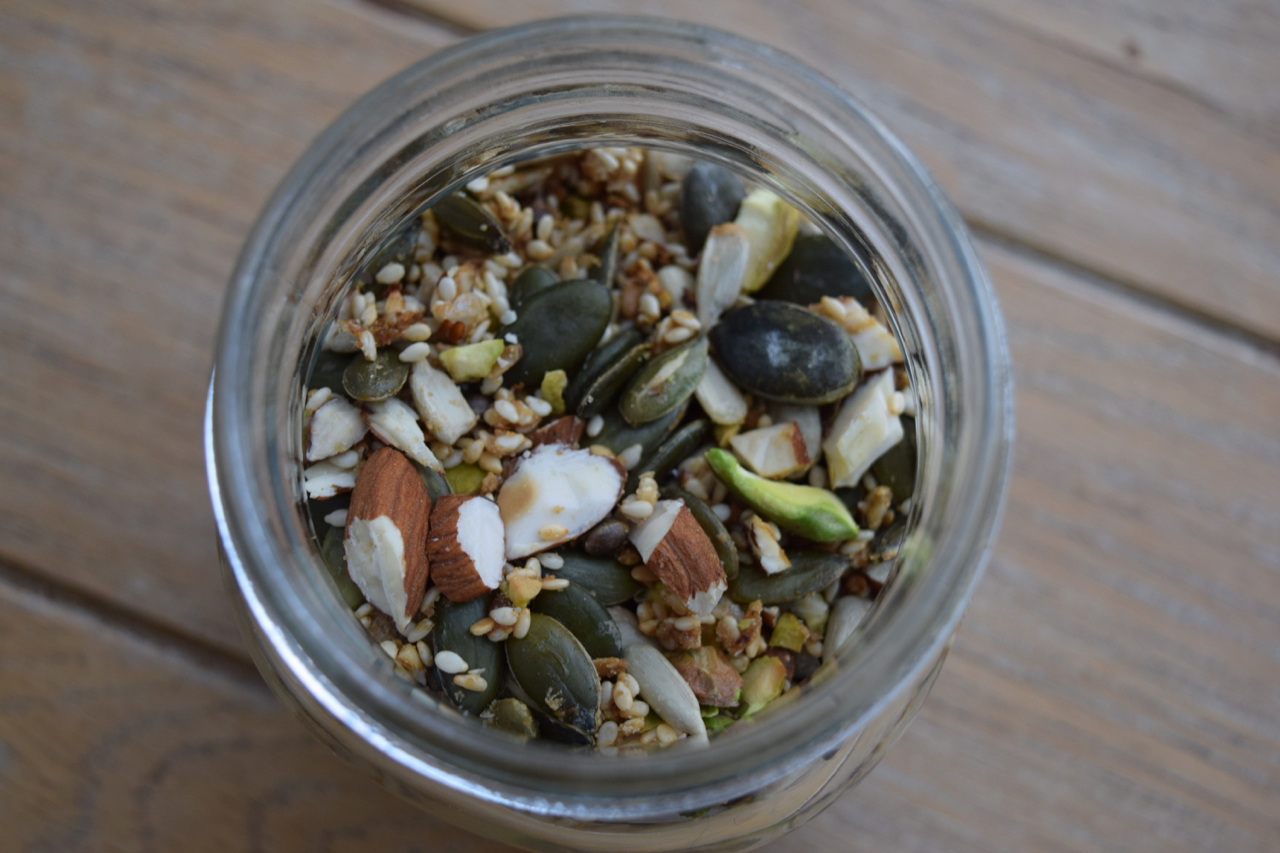 When your EasiYo yoghurt is set, and this can take up to 12 hours, pop it into the fridge to chill beautifully, ready for your breakfast bowl assemble.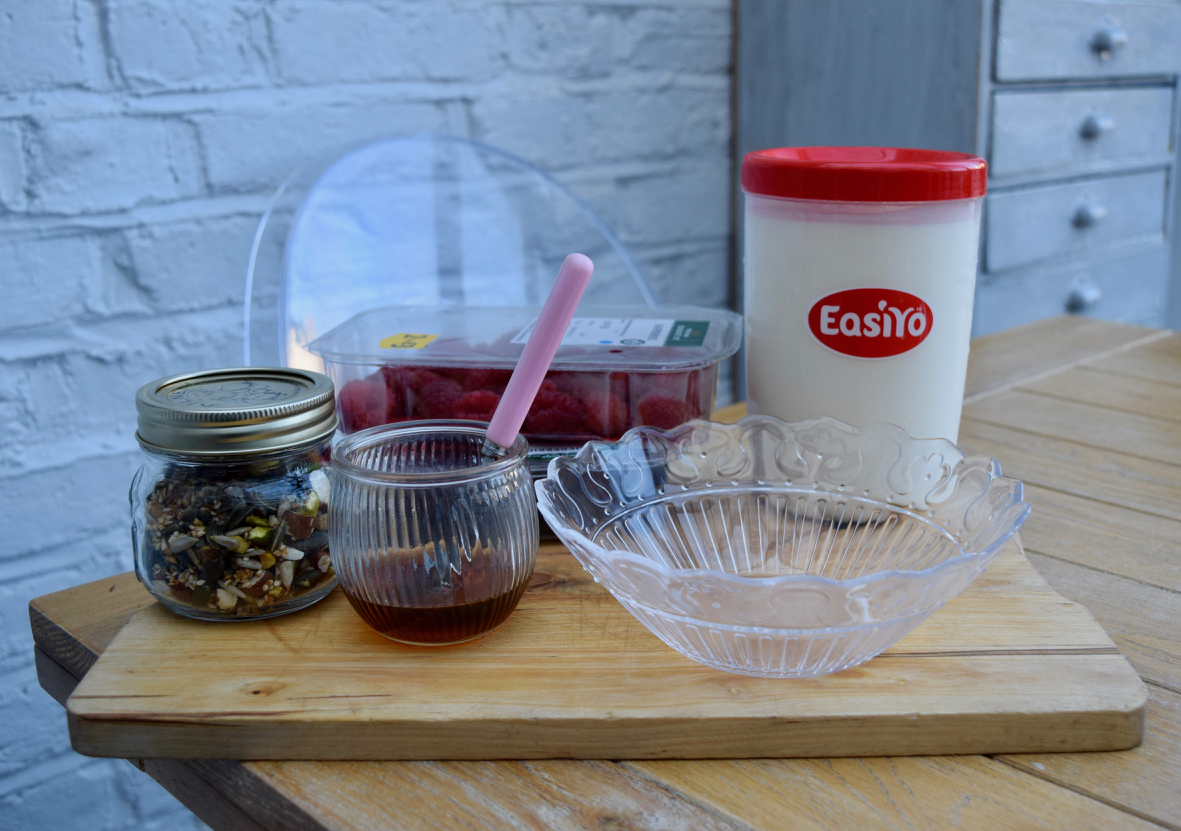 Again, this little line up is just a guide for your breakfast bowl. I love blueberries and raspberries in mine, but dried fruit also works well or some compote from a jar. Just spoon in a generous amount of your Greek style yogurt then top with your chosen fruit, a generous spoonful of your Nut and Seed mix then just a drizzle of maple syrup or honey.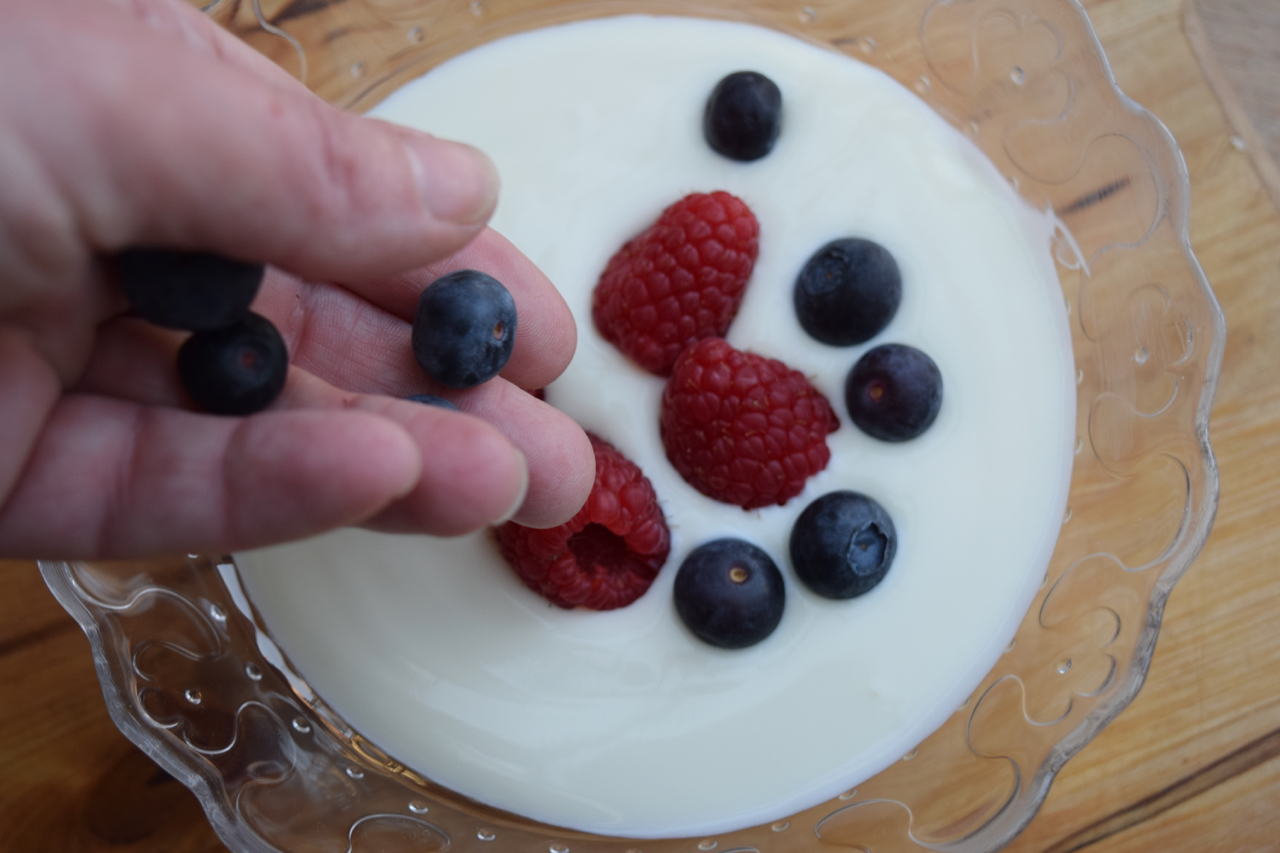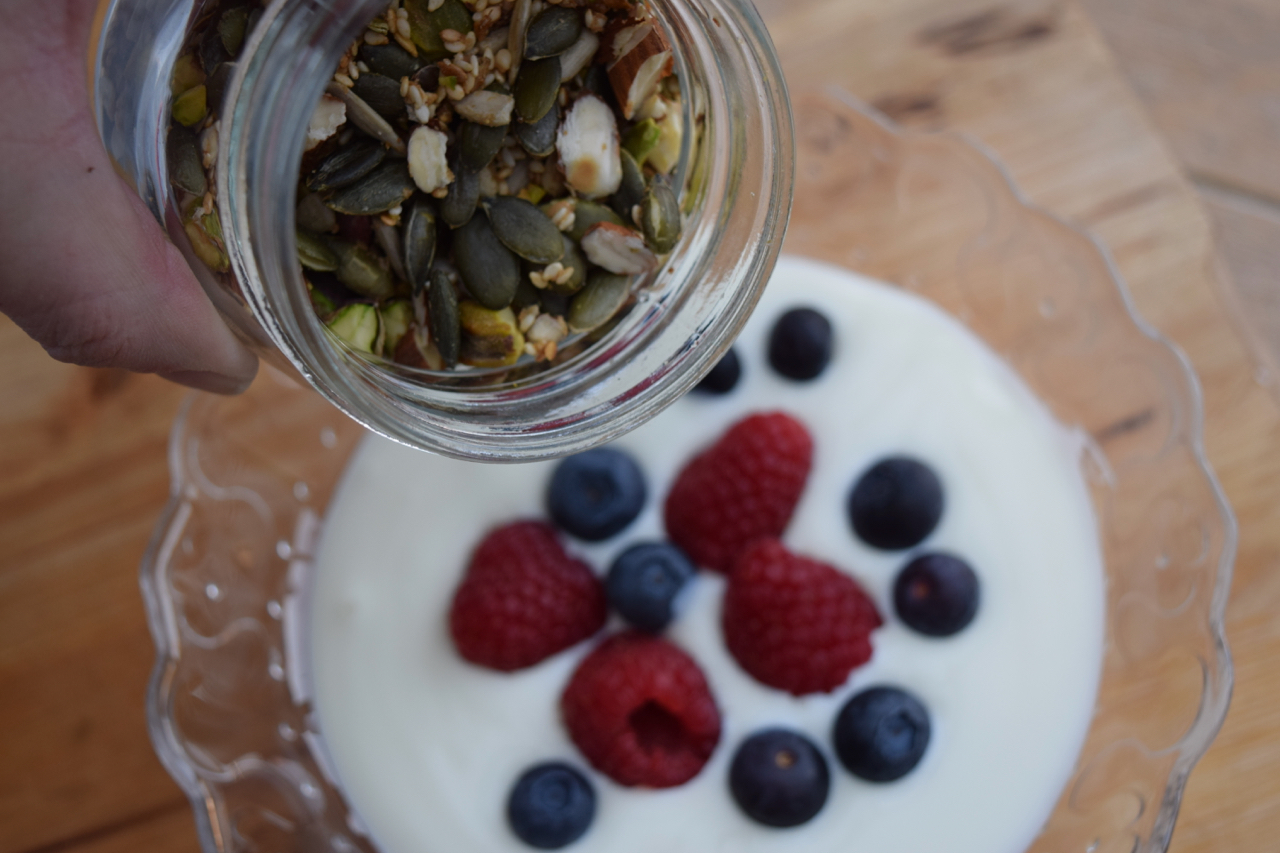 Now you're ready for breakfast, lunch or dinner. I really could eat this all day.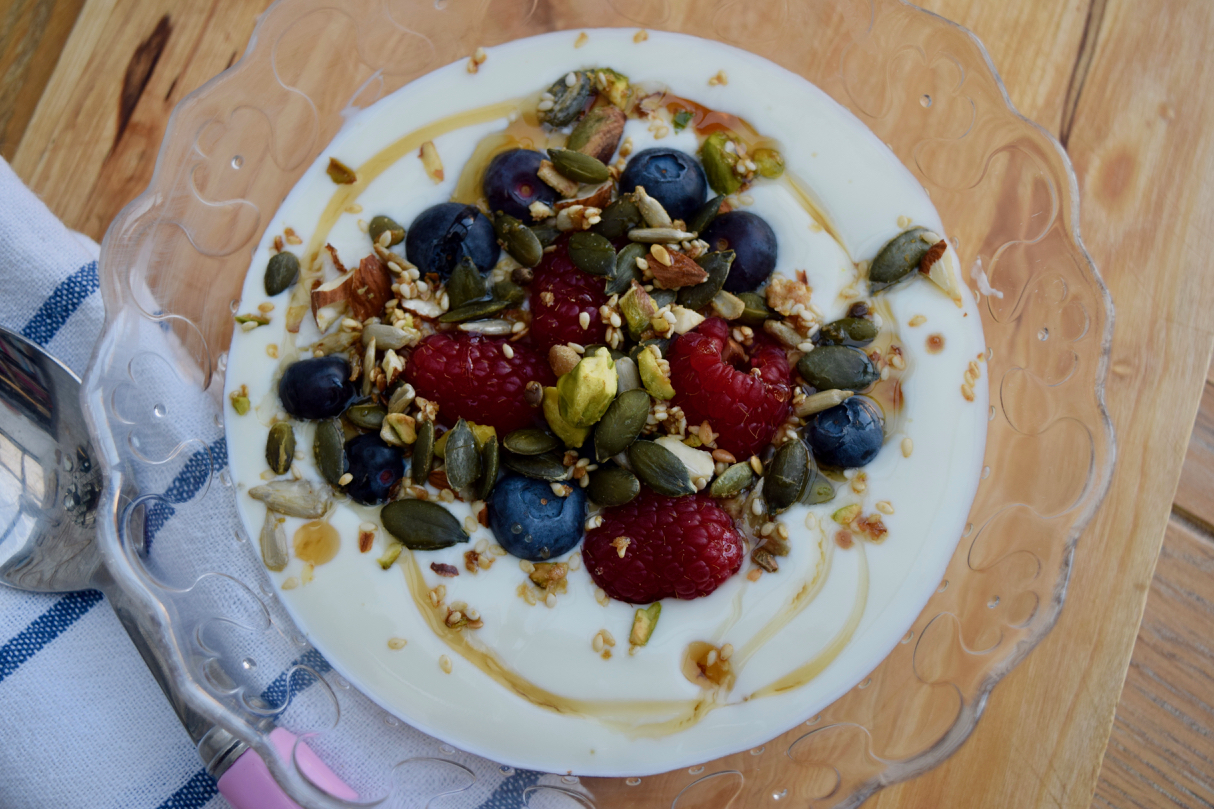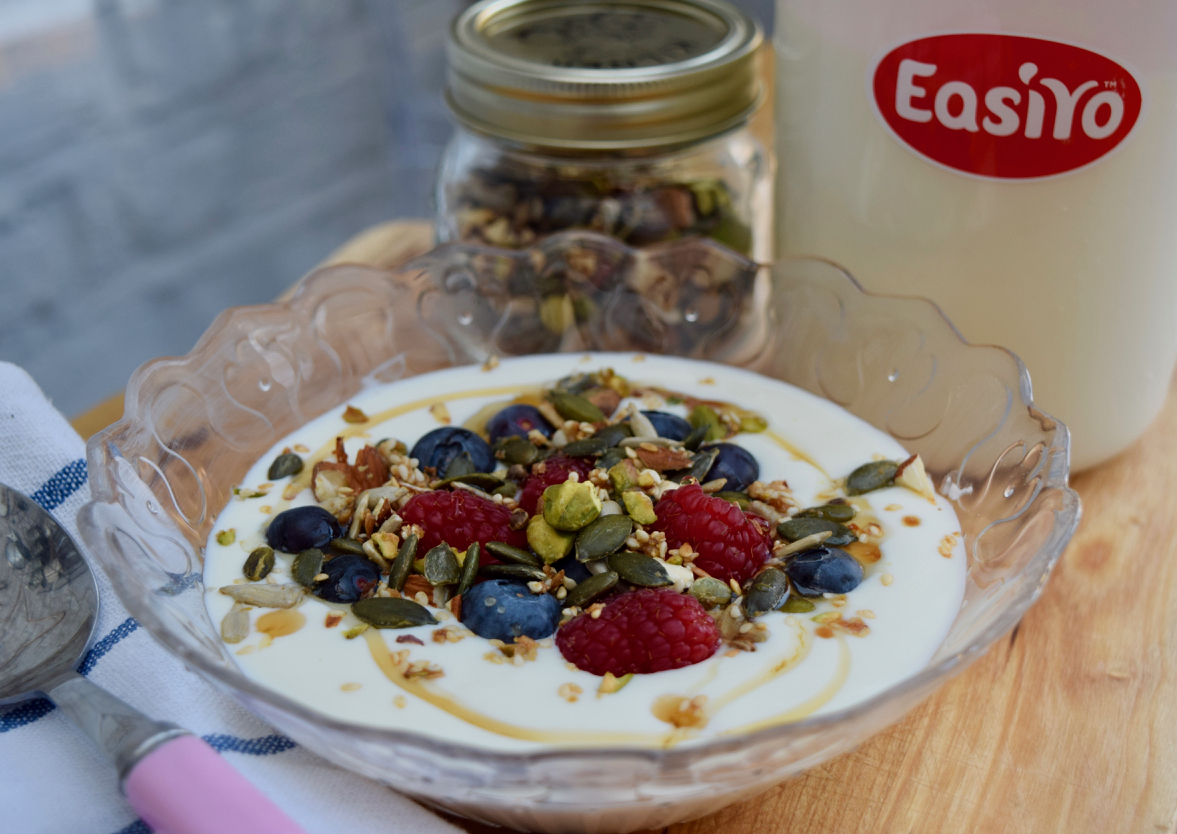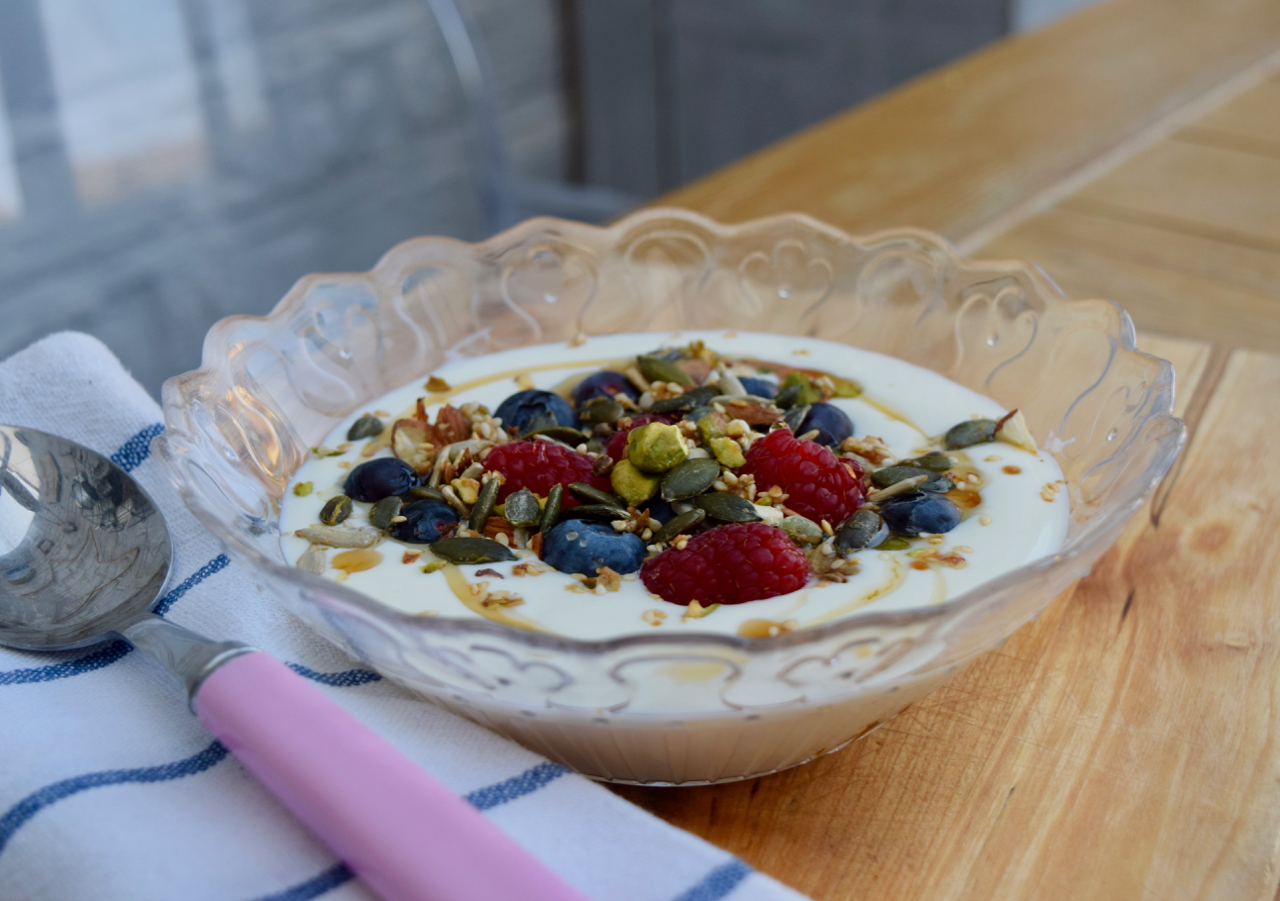 This EasiYo yogurt is smooth, creamy and mild and is perfect for all your cooking and eating needs. You can tart it up with my Nut and Seed mix, soft or dried fruits or just eat it straight from the jar, I'm not judging.
Lucy x
EasiYo kindly sent me their Yoghurt Maker and Greek Style Yoghurt to try, however, all opinions and ramblings, are, as always, my own.
EasiYo Yoghurt Nut and Seed Breakfast Bowl Recipe
Serves 4
You will need this brilliant EasiYo Yoghurt Maker and a frying pan for this
Yoghurt
1kg EasiYo New Greek Style Yoghurt
Nut and Seed Mix
2 tablespoons sesame seeds
1 tablespoons almonds
2 tablespoons pistachio
2 tablespoons mixed seeds, or linseed/flaxseed
4 tablespoons pumpkin seeds
A generous pinch sea salt
1 heaped teaspoon brown sugar
Breakfast Bowl
Fresh fruit such as blueberries, raspberries or dried cranberries or cherries, or the fruit of your choice
Maple syrup or honey, a good drizzle
A generous tablespoon of your Nut and Seed Mix
Take your EasiYo yoghurt maker and half fill the jar with tepid water then tip the sachet of powder into the jar. Shake with the lid on until well blended. Top up with more tepid water to within 5mm of the top of the jar then shake again. Fill the base of the yoghurt maker with boiling kettle water then place the jar of yoghurt into the flask and place the lid on. Leave to stand for between 8 and 12 hours and your yoghurt will be set and ready to go into the fridge. Refrigerate until cool.
For your Nut and Seed mix, take a dry frying pan and place over a medium heat. Chop your nuts, mix them with the sesame, pumpkin and mixed or linseeds. Add them to the pan then stir in the salt and sugar and dry fry for roughly 3 to 5 minutes or until they smell fragrant and some of the seeds are starting to pop and turn golden. Make sure you stir during this time so they don't burn and stick to the bottom.
Take them off the heat, cool, then store in a jar for up to a week.
To assemble your breakfast bowls, spoon a generous amount of your EasiYo Greek yoghurt into a bowl then add some fruit of your choice. Top with a heaped tablespoon of your Nut and Seed Mix then drizzle with as much or as little maple syrup or honey as you like. Dive into the breakfast of your dreams.