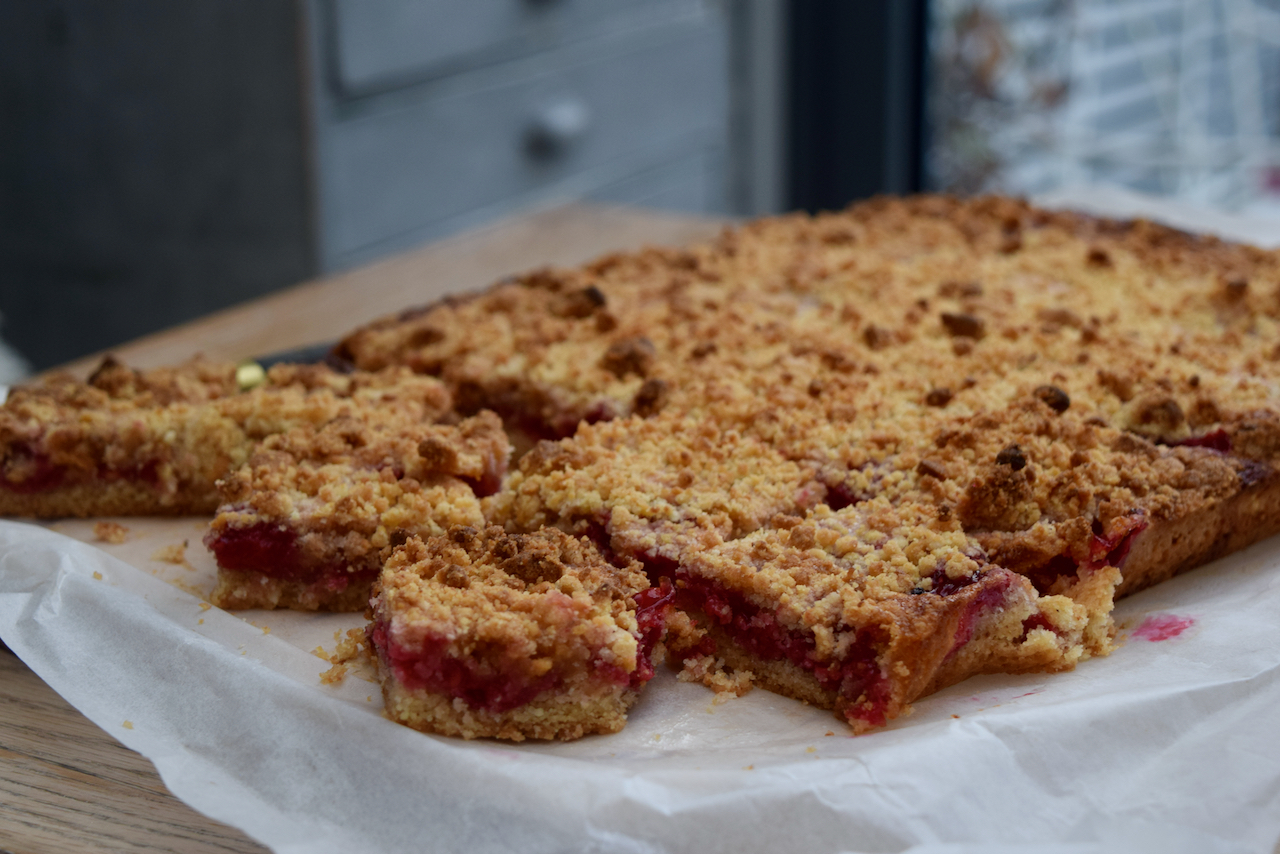 Raspberry Almond Streusel Squares recipe
If you're a regular LL reader, you'll know my general dislike of summer fruits with seeds, raspberries being the biggest offender. That said, once baked raspberries take on a jammy quality and the seeds go almost unnoticed. Add in an almond, marzipan laced crumble top and these Raspberry Almond Streusel Squares are born, and ready to be devoured. Even by non raspberry lovers.
I have an unhealthy obsession with marzipan and keep a slab in the fridge at all times. Finding another recipe which incorporates this almond lovers dream ingredient fills me with joy. These streusel squares are simple, quick and addictive. The base and topping contain almost the same ingredients; the crumble top, however, gets a generous chunk of marzipan mixed through it. The raspberry filling is sweet, but not too sweet, and creates a fruity centre to the bake. You don't have to use raspberries, the original recipe called for blueberries, but I wanted to utilise these seedy seasonal fruits in mine.
Soft, sweet, fruity, these Raspberry Almond Streusel squares can be devoured with a cup of tea, mid afternoon, or slathered in clotted cream or custard for summer dessert heaven.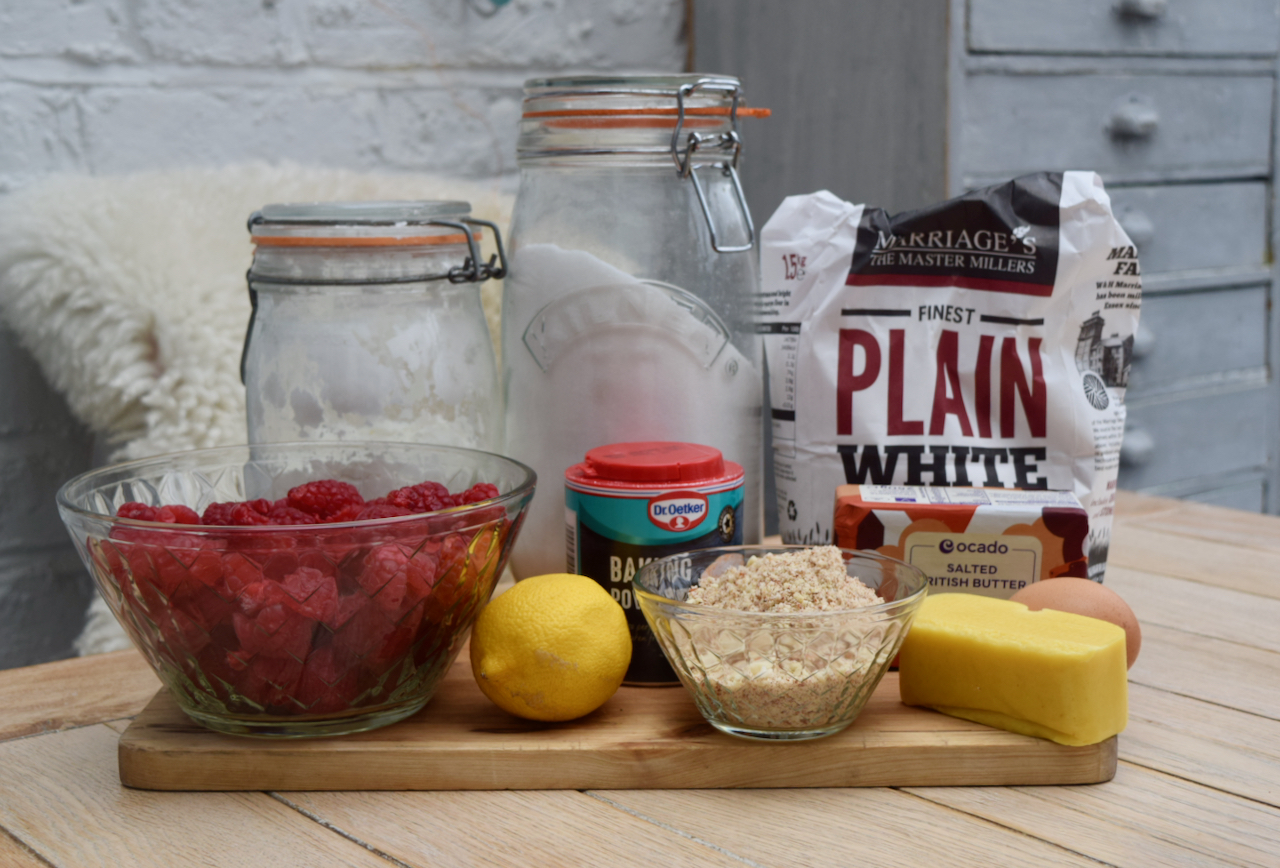 I told you these were simple, mainly store-cupboard based ingredients plus the berries of your choice. I rarely have ground almonds in the cupboard, but keep a large bag of whole almonds in the fridge. These can then be freshly ground in the food processor or a high powered blender.
Make a start by lining a Swiss roll sized rectangular baking tray and pre heating the oven to 160℃. Next mix your raspberries with the cornflour, lemon juice and 100g caster sugar. Stir well to combine.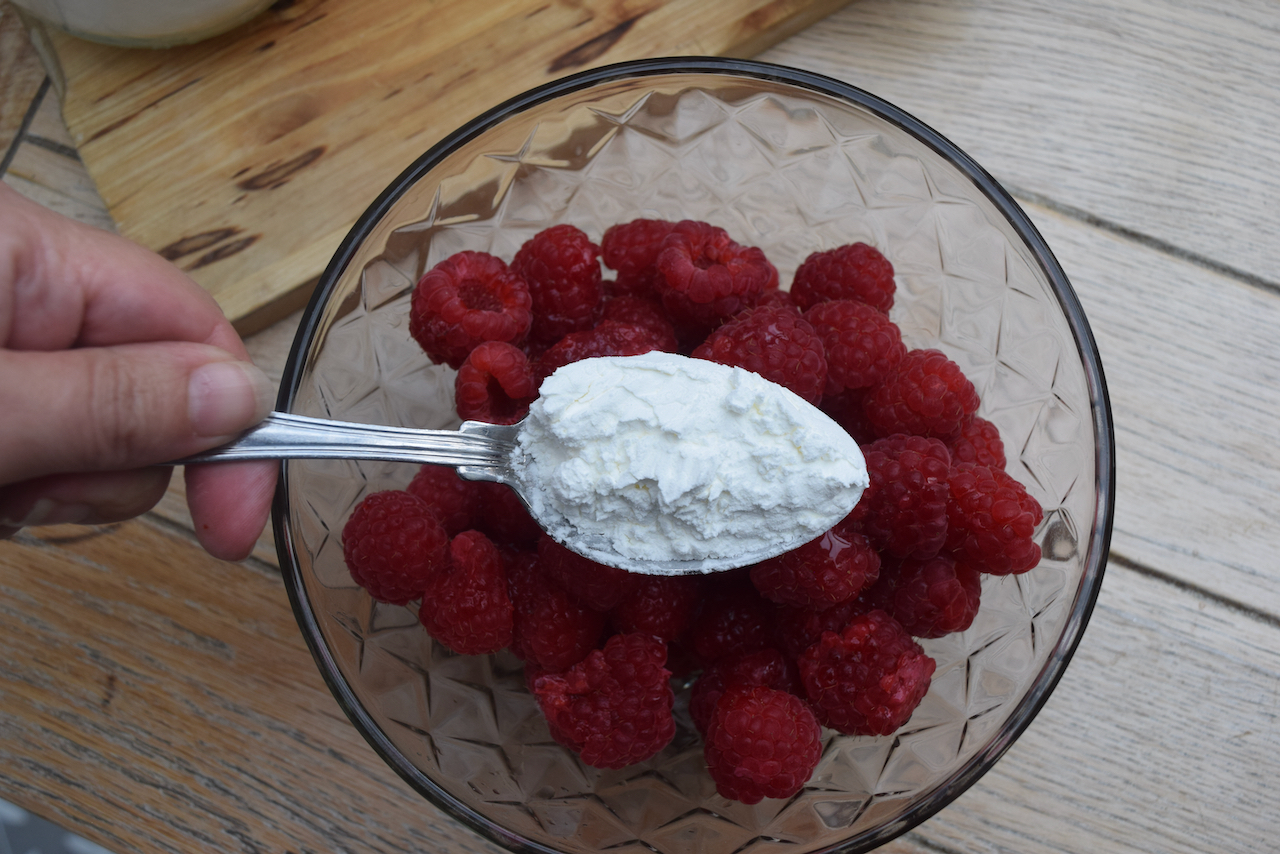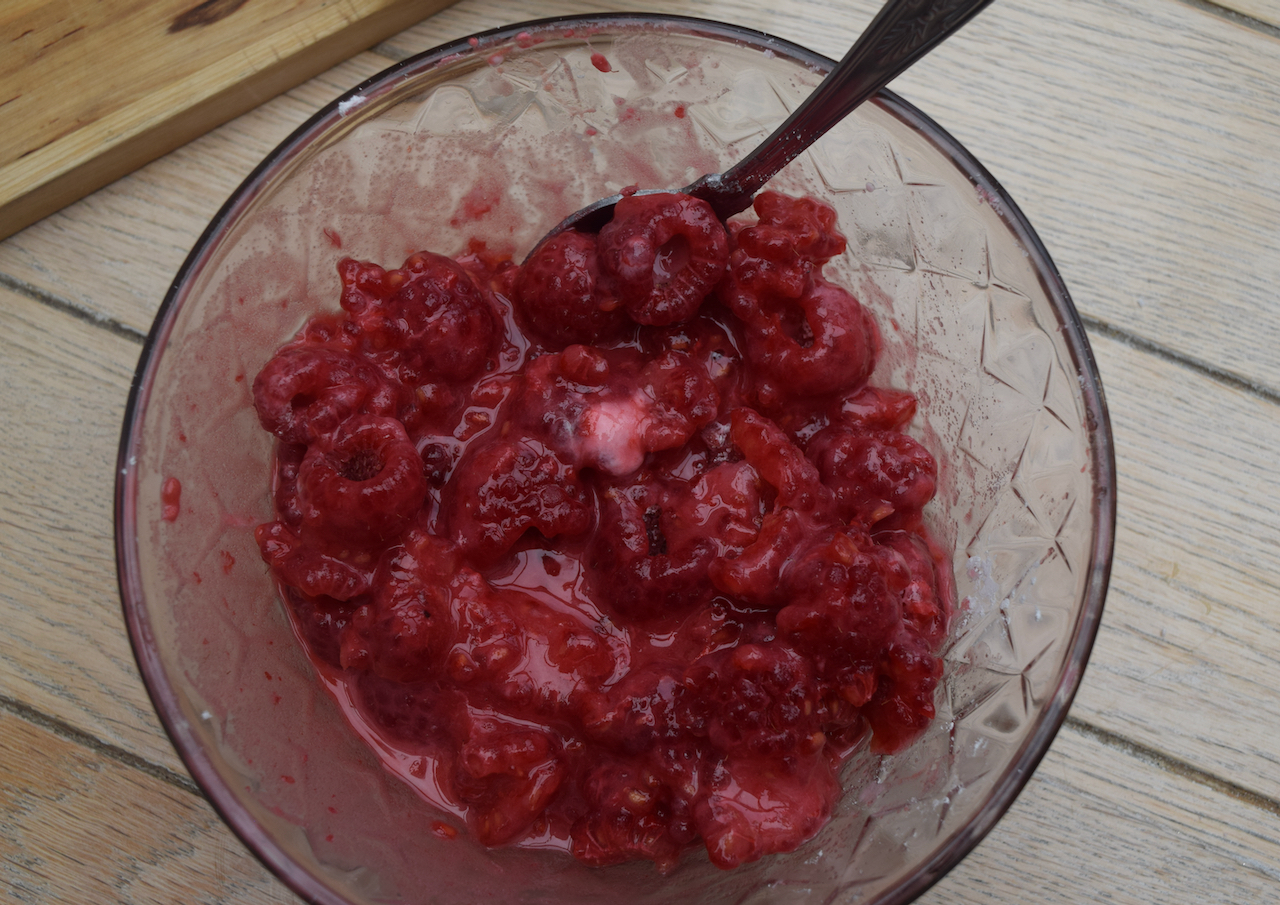 Pop this juicy bowl to one side while you crack on with the base and topping. You can make this by hand, but I went for the lazy food processor option. Add 300g of the plain flour, salt, baking powder, 200g caster sugar and ground almonds and mix together.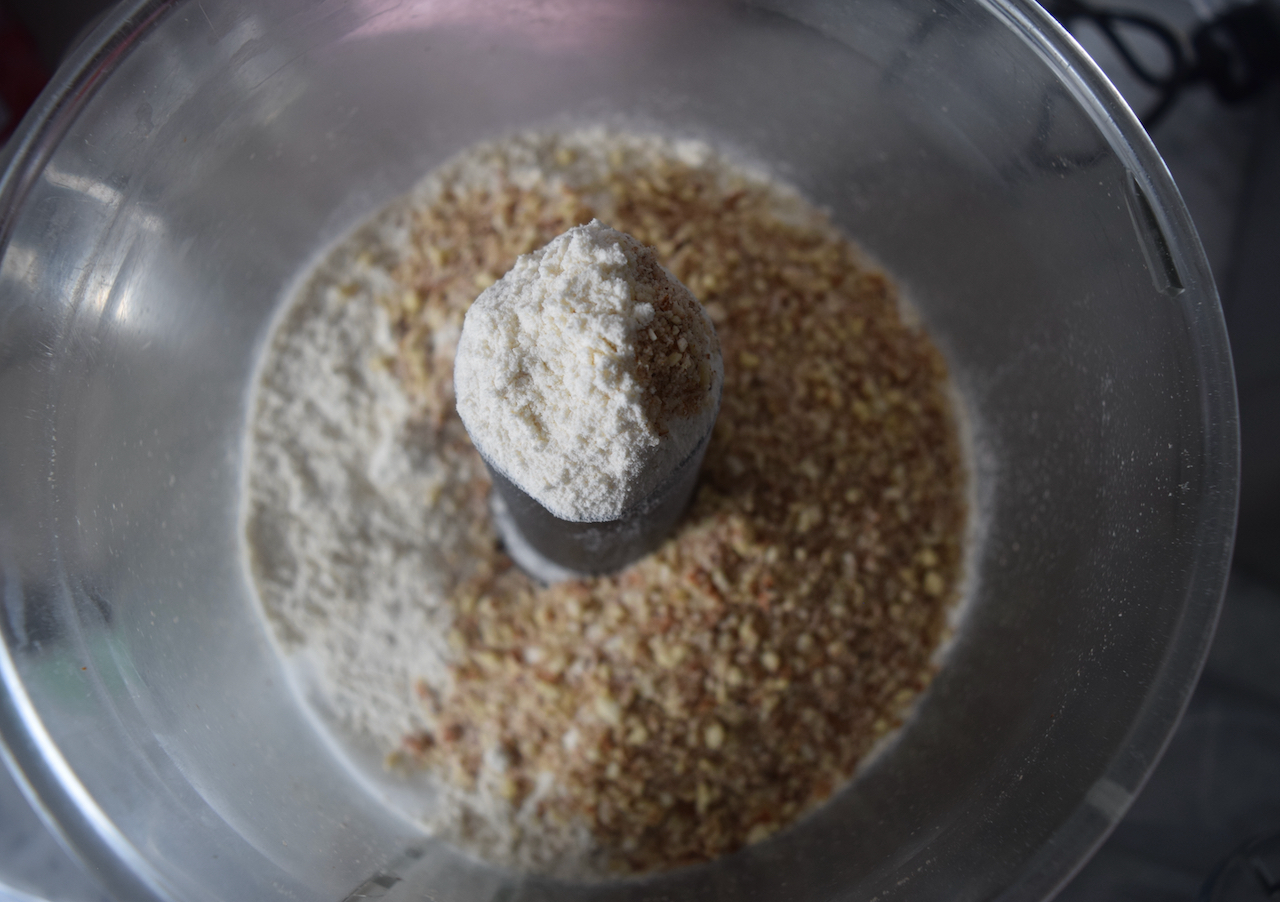 Next, add the egg and chopped, cold butter and process, or rub together until you have a soft dough.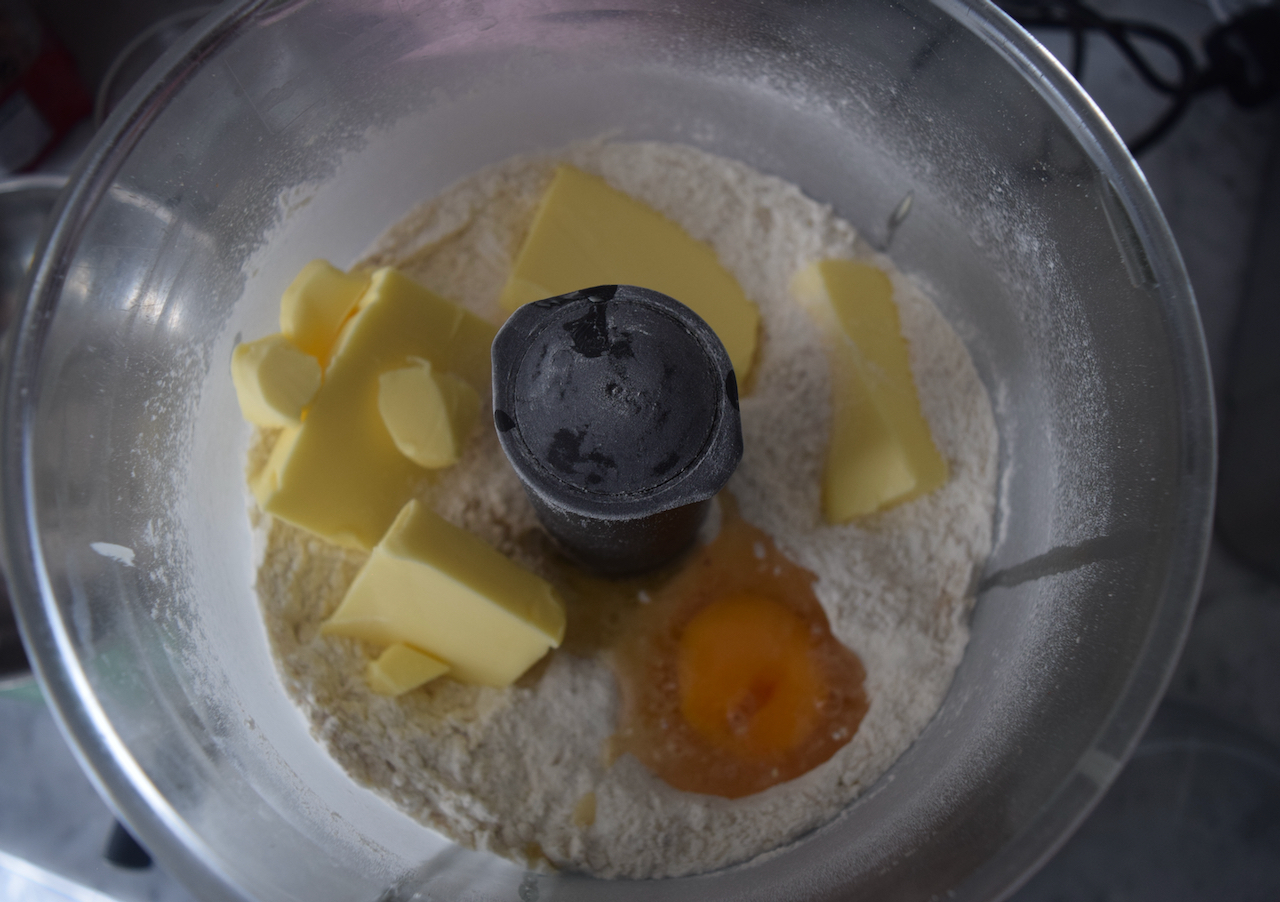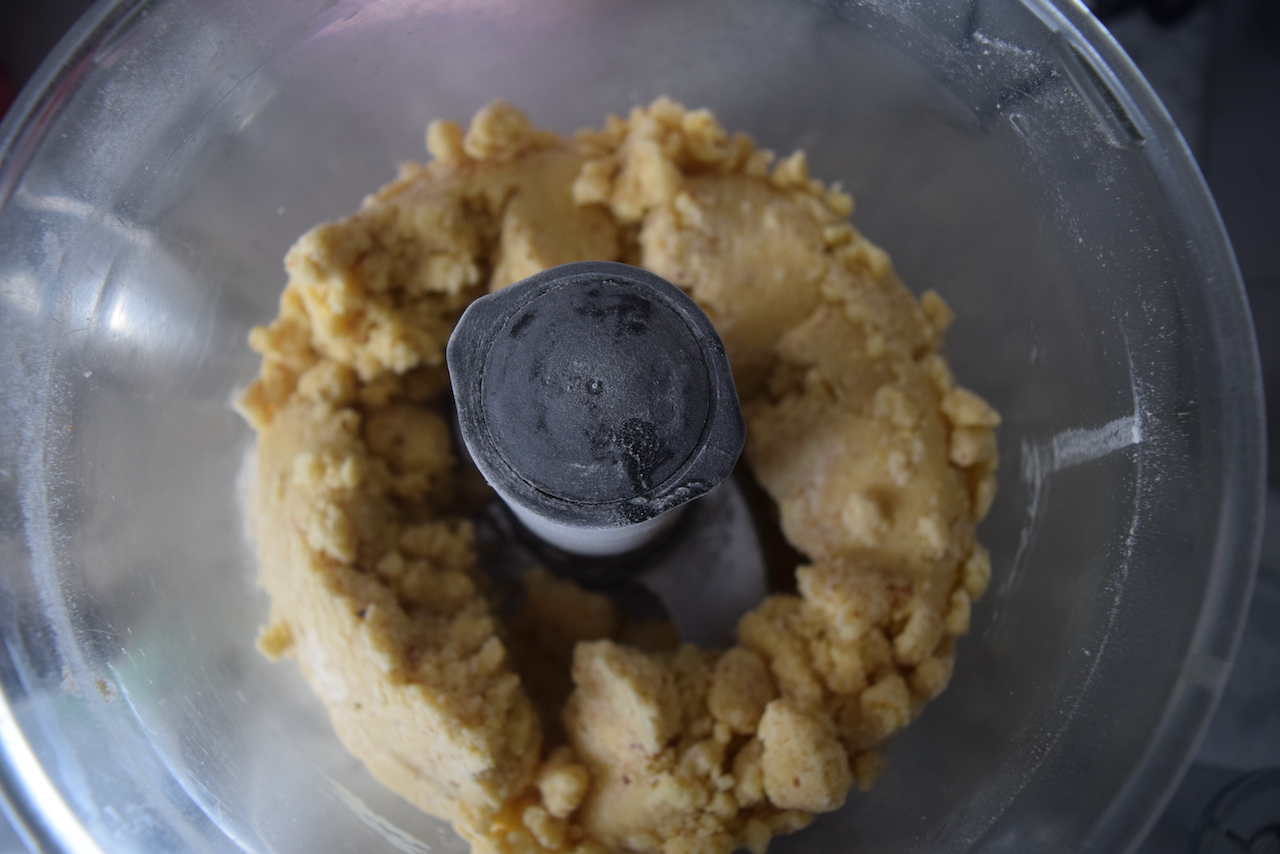 Remove just over half of the dough to the base of your lined tin and press to create an even-ish layer.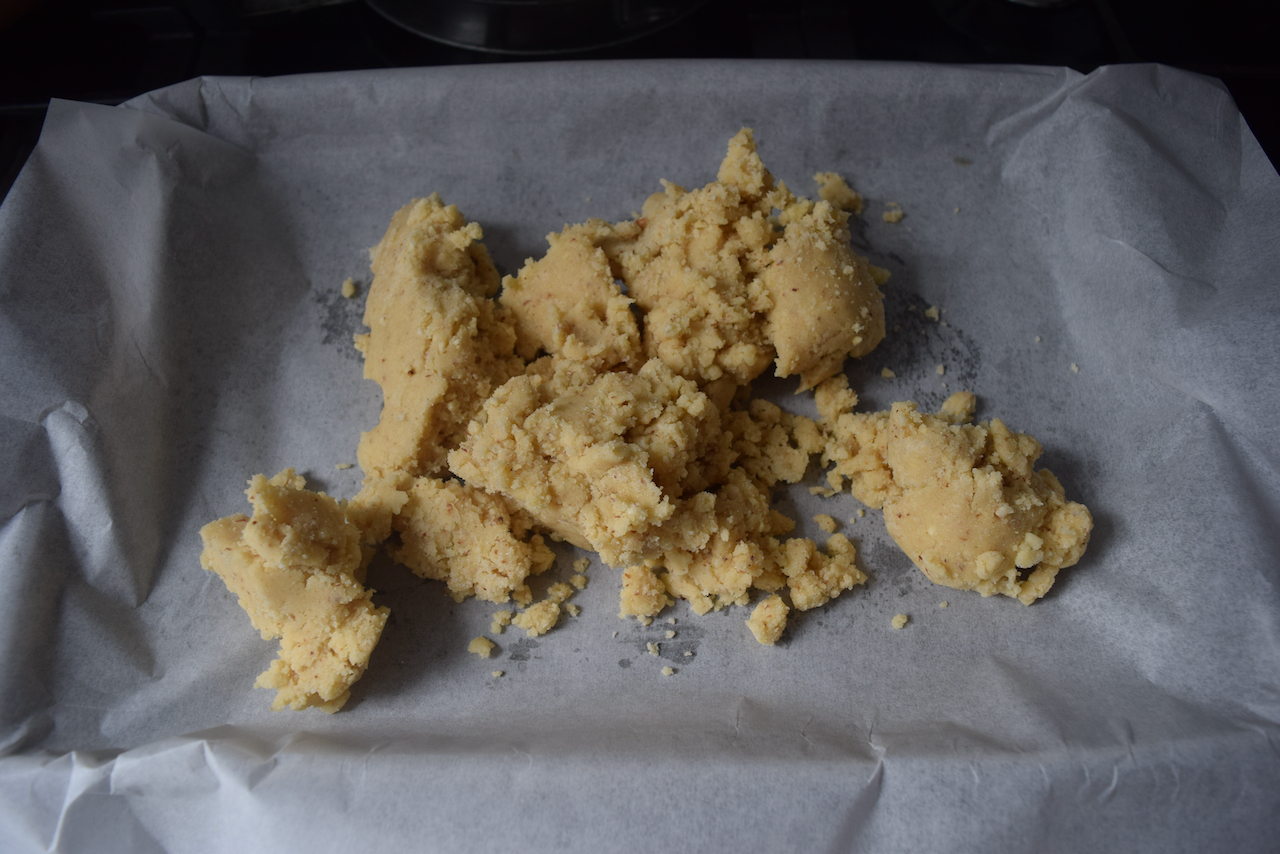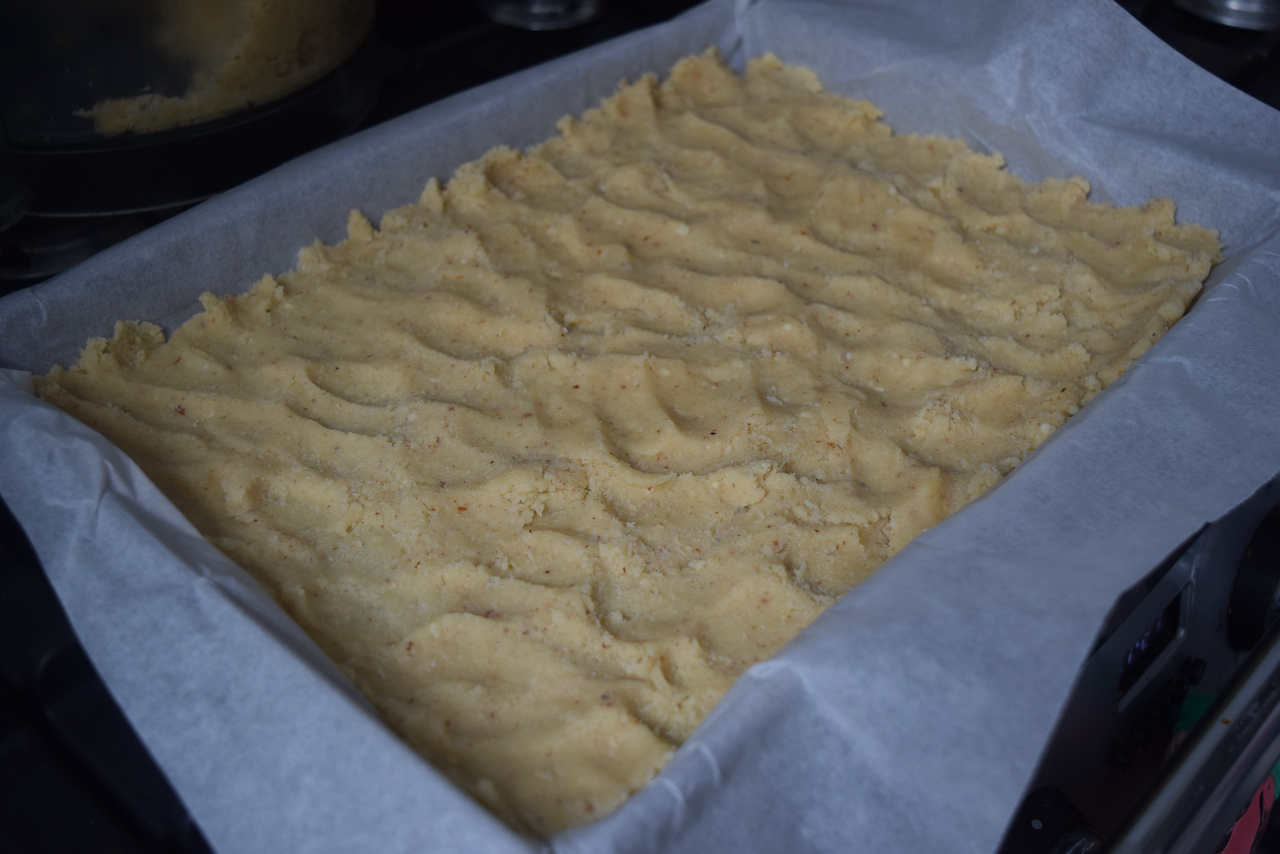 Spread the raspberry mixture, and its juices, over the base and spread to cover.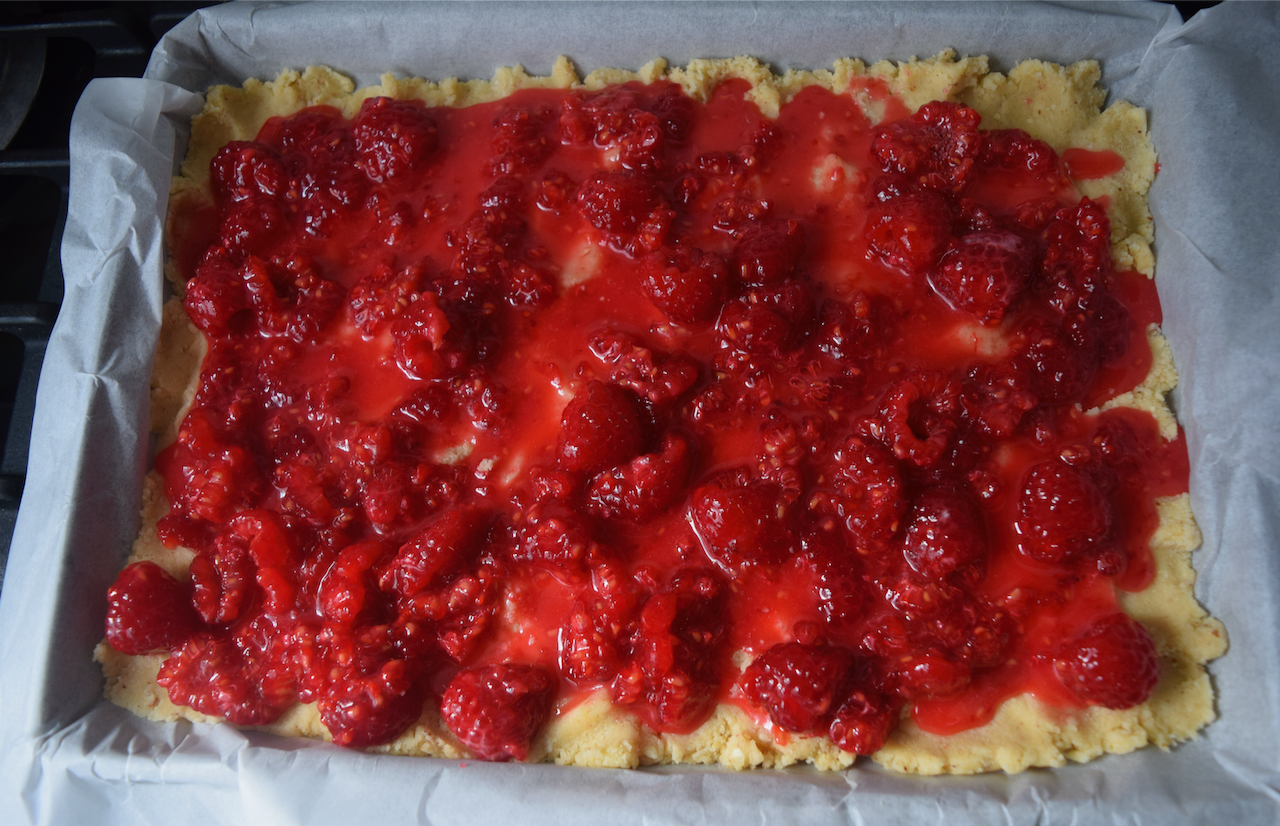 For the topping, add the final 60g of plain flour and the chopped marzipan to the remaining half of the dough. Process, or rub together, until you have a streusel, chunky sand-like texture.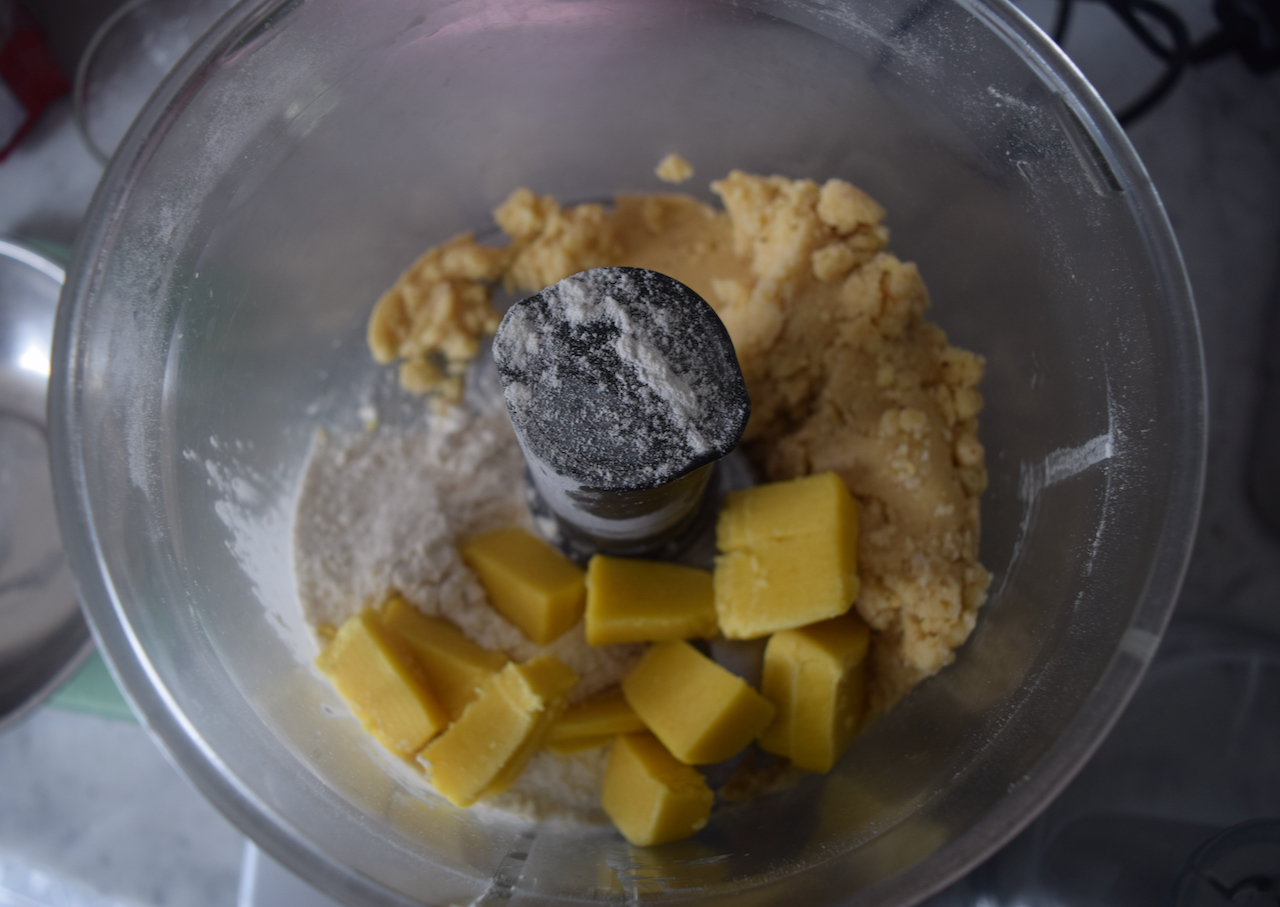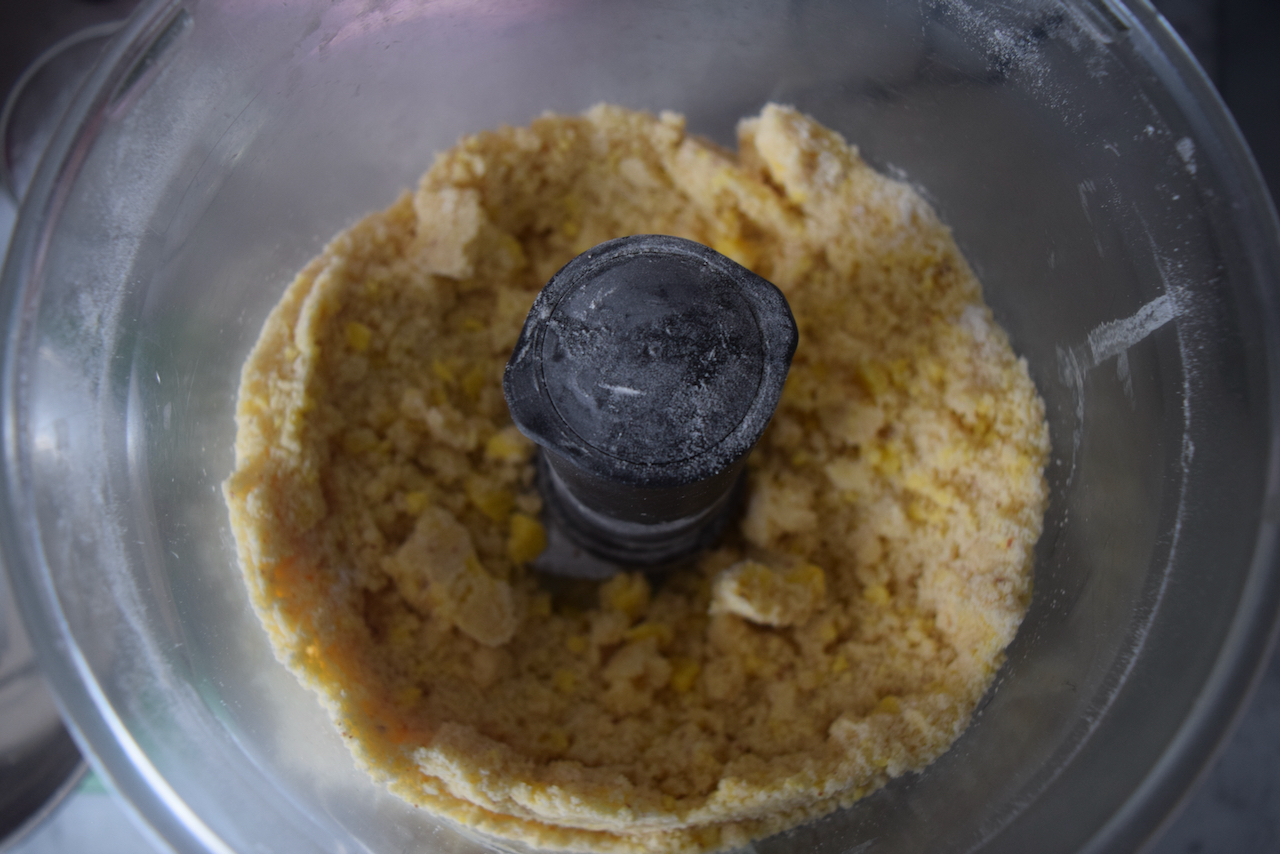 Tip the crumbs over the fruit and distribute to form an even-ish layer.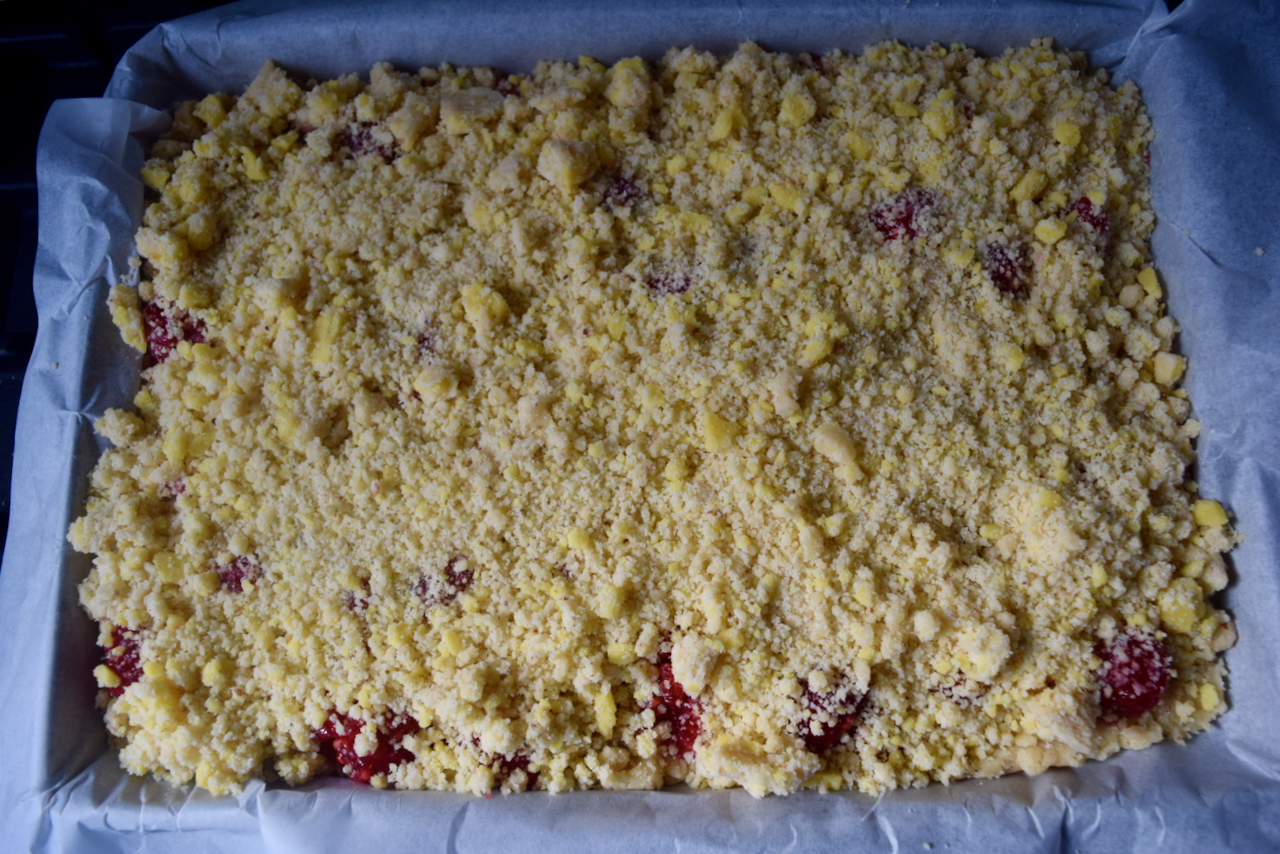 Bake in the pre heated oven for 40 to 45 minutes. Your bake is ready when the raspberries are bubbling, the top is golden brown and the whole business smells bloody amazing.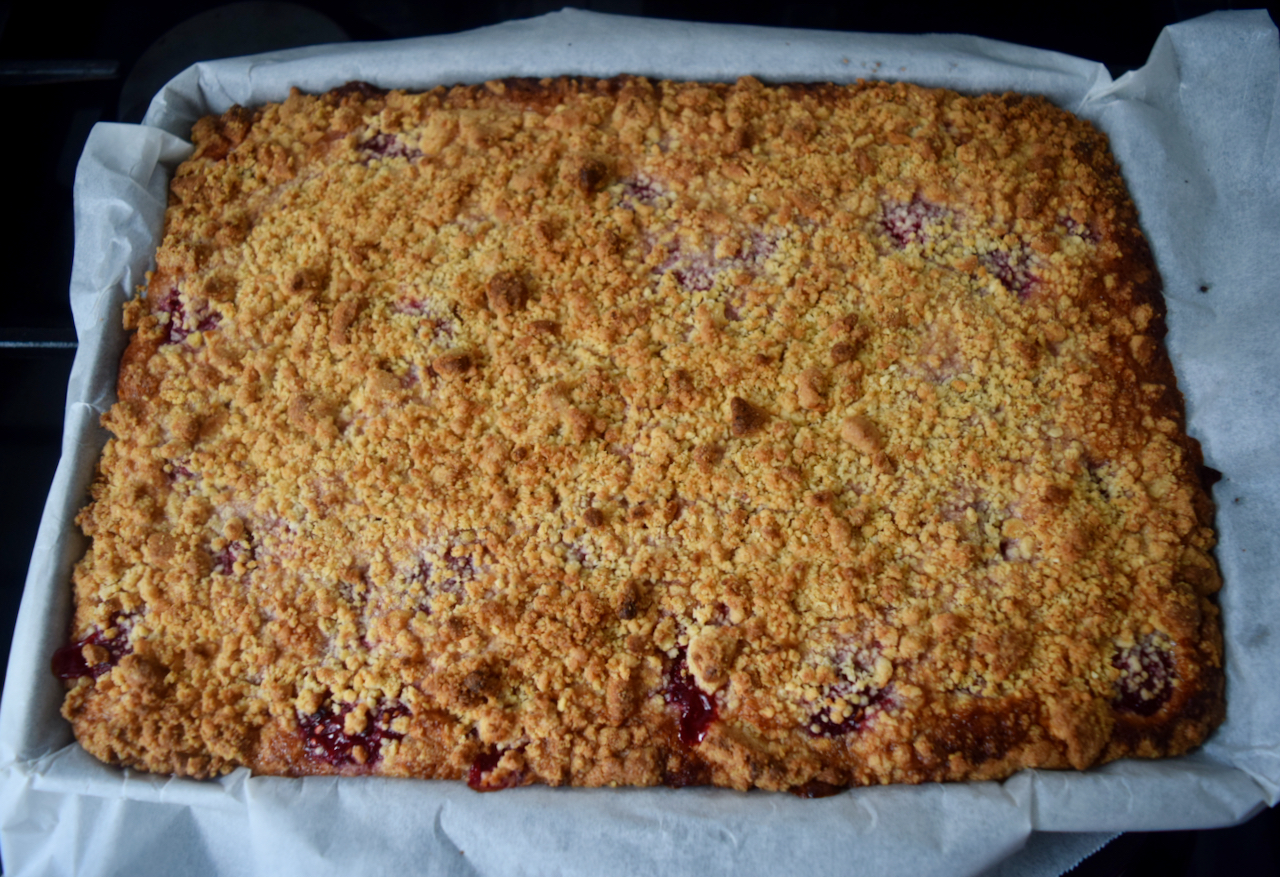 It's worth waiting an agonising hour or so before you remove the cooled bake from the tin; you don't want it to be too soft to slice. Cut into modest squares, or hoofing great big slabs. Devour, brushing streusel crumbs from your chest to remove the evidence.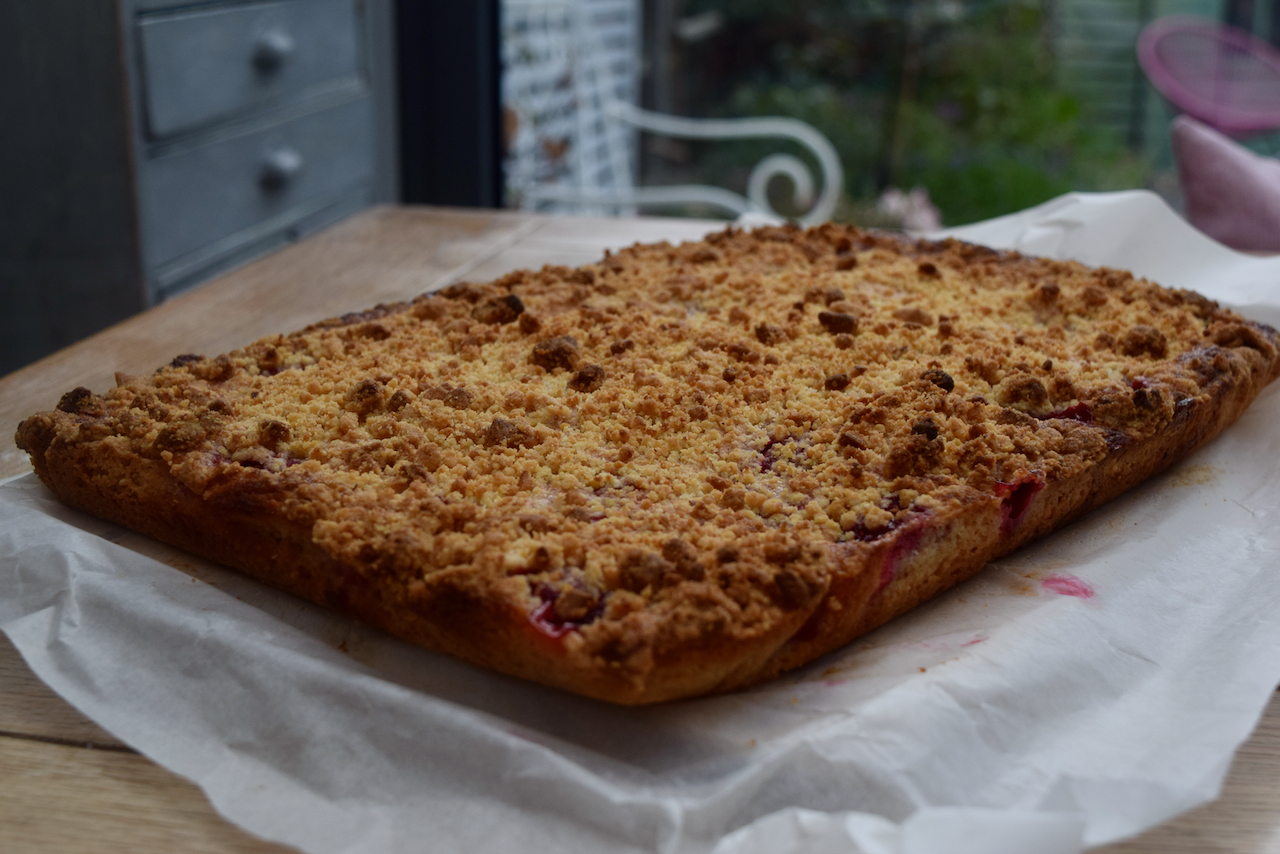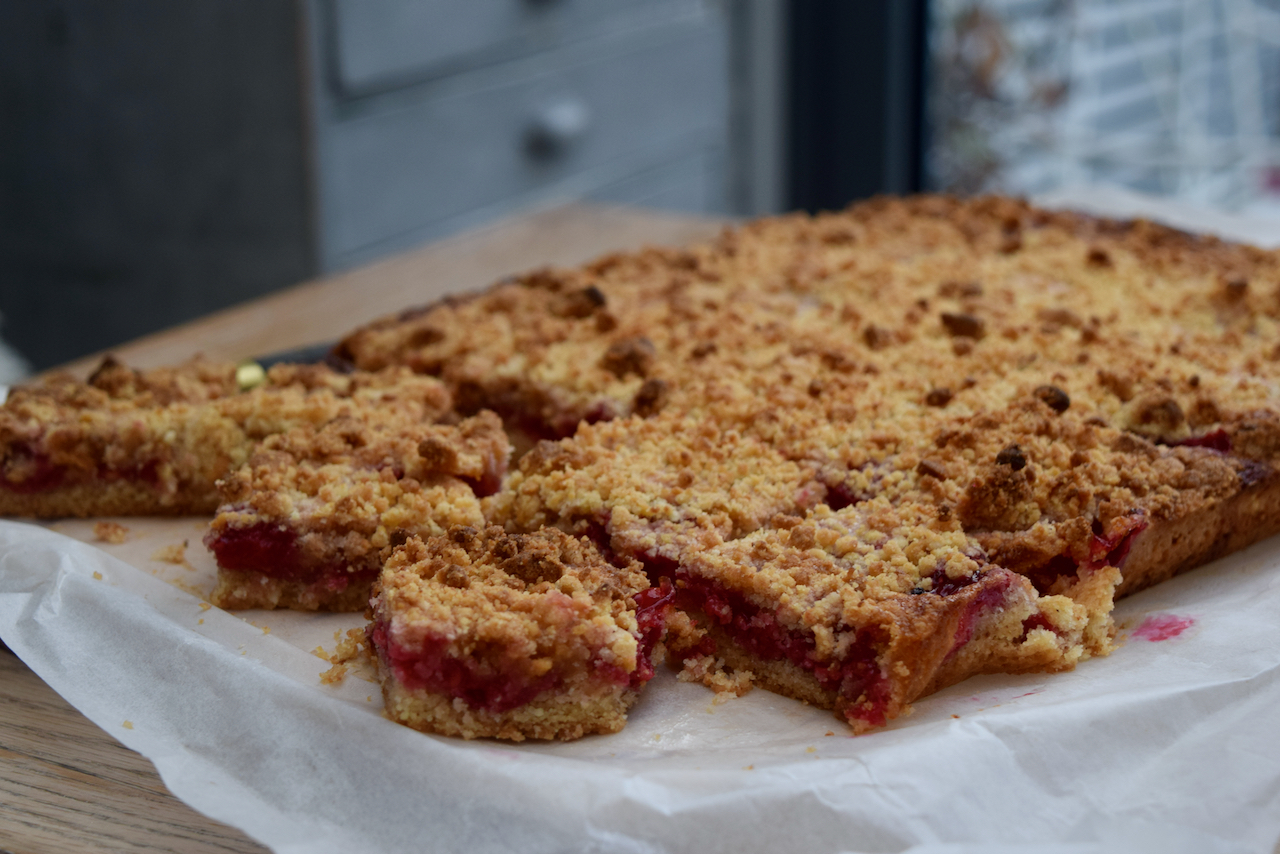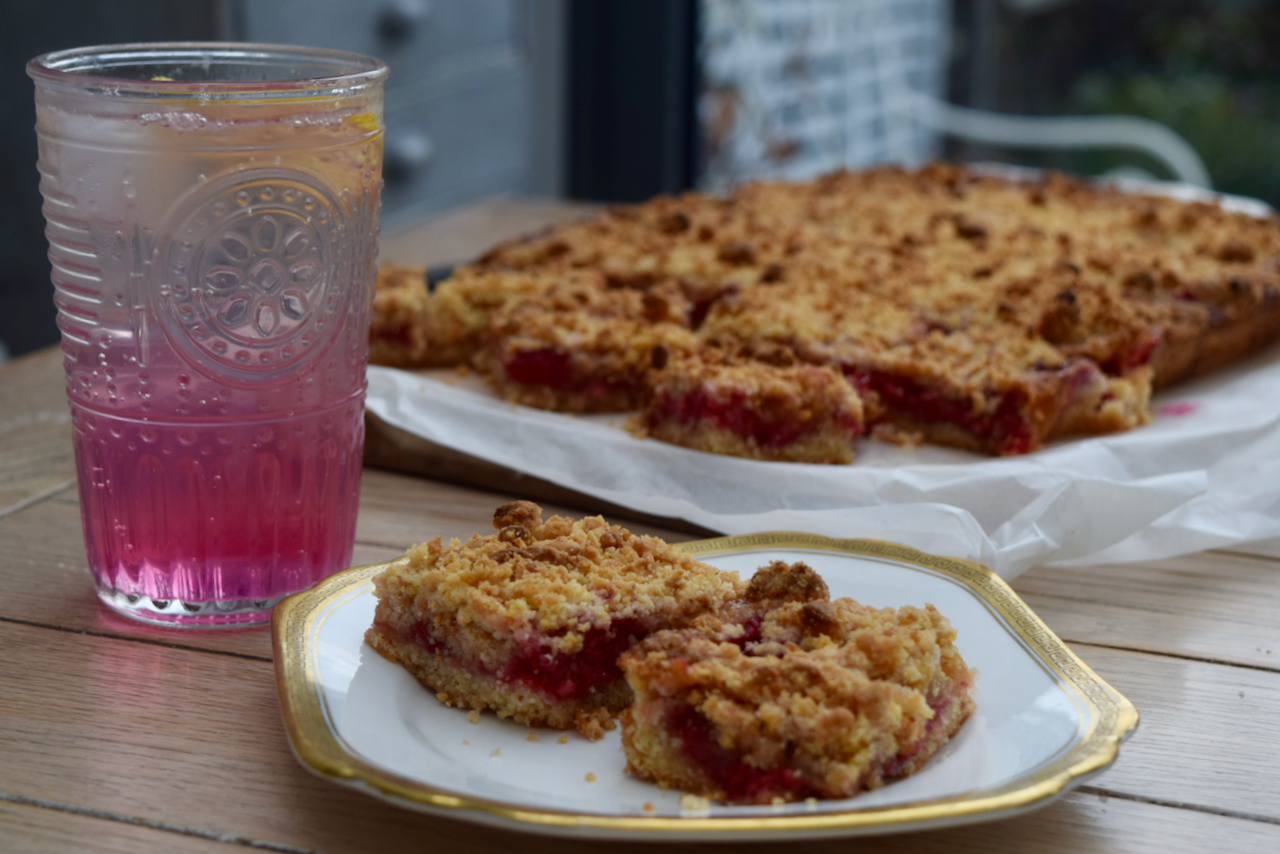 These are picnic perfect or pudding heaven; whether you pack them into a tupperware or slather them in cream, you won't be disappointed. And you'll barely notice my nemesis, the raspberry seeds.
Lucy x
Raspberry Almond Streusel Squares recipe
Makes around 20 to 24 squares
You will need a lined 33cm x 23cm baking tray and either bowls and hands or a food processor
Filling
350g raspberries, or blueberries if you'd prefer
1 1/2 tablespoons cornflour
Juice of a lemon
100g caster sugar
Base and streusel
200g caster sugar
1 teaspoon baking powder
360g plain flour
50g ground almonds
1/4 teaspoon salt
1 egg
225g cold butter, chopped
120g marzipan
Pre heat your oven to 160℃ and line a 33cm x 23cm baking tin with greaseproof paper.
In a small bowl mix together the raspberries with the lemon juice, caster sugar and cornflour until combined. Pop to one side for the moment.
In a food processor, or bowl with your hands, mix 300g of the plain flour, 200g caster sugar, ground almonds, salt and baking powder. Add the egg and the cold, chopped butter and process, or rub, the butter and egg into the mixture until you have a soft dough.
Remove half the dough and press into an even layer in the base of the tin.
Add the final 60g of the plain flour and the chopped marzipan to the remaining dough and process, or rub in, until you have a chunky, crumble style topping.
Spoon the raspberries onto the base layer, with the juices, then roughly spread over the marzipan streusel topping. Bake for 40 to 45 minutes or until the bake is golden, the fruit's bubbling and it smells amazing.
Leave to cool before cutting into generous squares. Serve as a dessert with cream and extra fruit or as an afternoon tea treat.
The squares will keep for around 3 days in an airtight tin, or freeze, well wrapped, on the day.