Parkin Recipe
It's a busy time of year for outdoor celebrations. The Hallowe'en masks aren't even off yet and already I'm turning my attention to the 5th of November activities. I love Bonfire Night, for me it's the start of winter proper. We always go to George's school for their fireworks display; not only does this mean a brilliant selection of pyrotechnics, it means a delicious burger and at least 2, maybe 3, glasses of mulled wine.  I love the sights, the smells, but not the sounds. Poor Ted can't bear the fireworks, from now until mid November when they eventually stop, he'll be shaking and barking. I'll be keeping him calm with my lavender oil infuser and I'll be getting in the mood by baking this Parkin.
Parkin is a traditional Northern seasonal favourite and one I haven't made for years. My first foray into the world of Parkin was at a firework party hosted by my boss. This wasn't a great idea for the following reasons a) he's a chef so making anything for him is scary b) I had never made it before and c) my attempt at Parkin was woeful, you could have used it to lag a loft. Since then Parkin and I had parted ways, even though I loved it, I didn't want to fail again. Until now, when I put my Parkin shame to one side, for the sake of you good people and consulted the legend that is Delia for her words of wisdom. So it is with huge thanks to Mrs Smith for her brilliant recipe and for my Parkin filled belly. It's cakey, but also oaty, but not spongey *am I making any sense here*. Parkin has a sticky, crusty top and a gingery centre which only gets better with age. I added some cut up crystallised ginger for extra tang and I'm glad I did as you get lovely spicy nuggets in each mouthful. It has a long slow cooking time, but do keep an eye on it towards the end as you don't want to over cook your bake and end up with the Parkin shame I suffered on my first outing.
Large squares of Parkin go so well with tea, hot chocolate or mulled wine on the 5th of November. Hot drinks to warm your hands and gingery baked goods to fill you right up. What a special time of the year this is.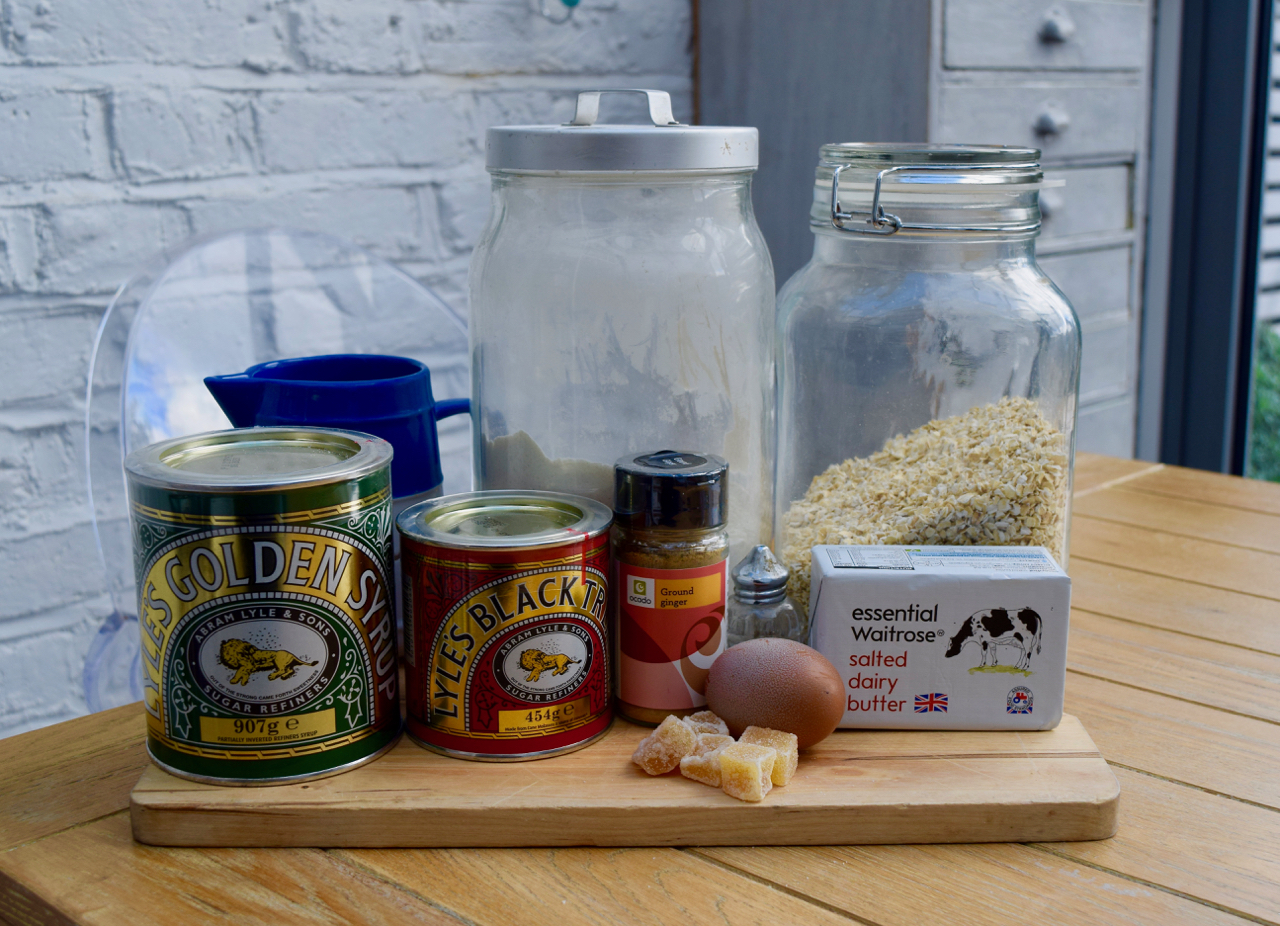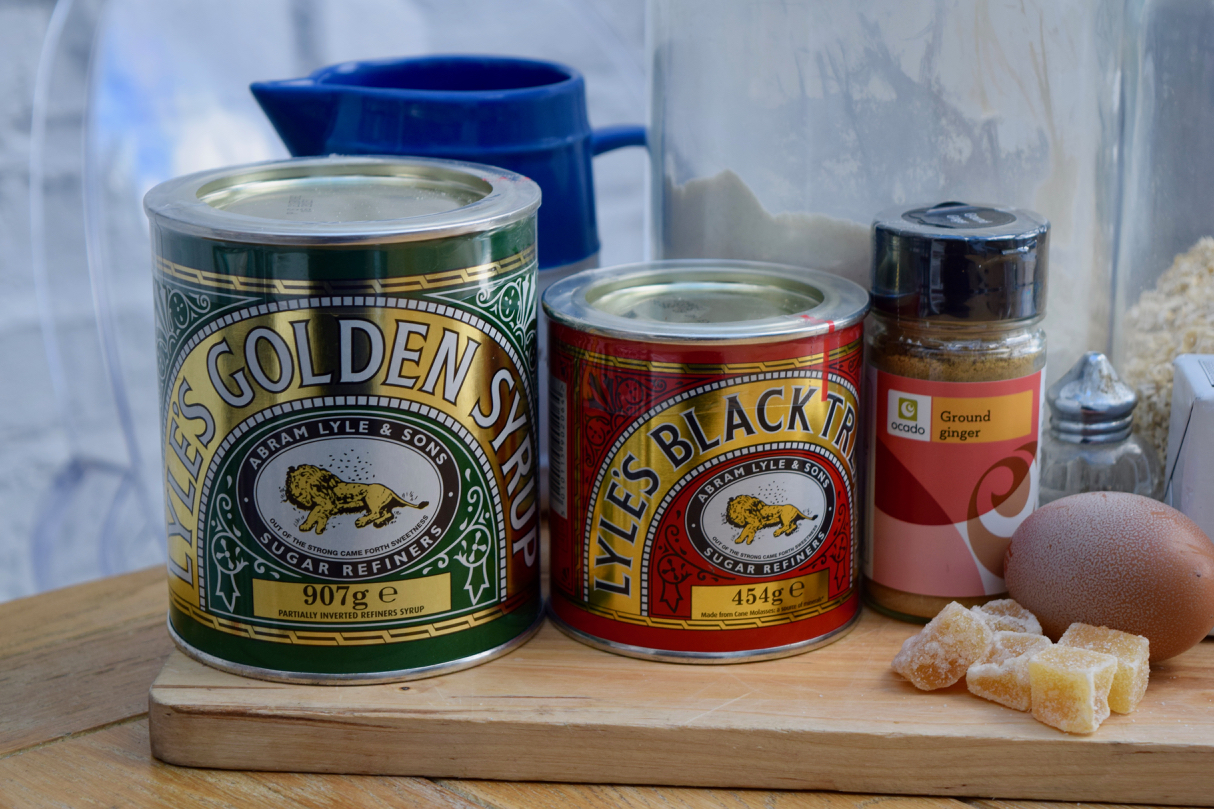 I love the iconic Lyle's syrup tins, I have quite the collection in the shed which Clyde tries to take to the tip every couple of months and I stop him. I added some crystallised ginger to my Parkin because I love it, but if you don't then don't.
Make a start on this super oldie worldy favourite by lining a 20cm square or round tin or buttering it to within an inch of it's life and pre heating your oven to a low 120 degrees fan assisted. You don't want any sticking here. Next take a sauce pan and measure in the unctuous black treacle and golden syrup.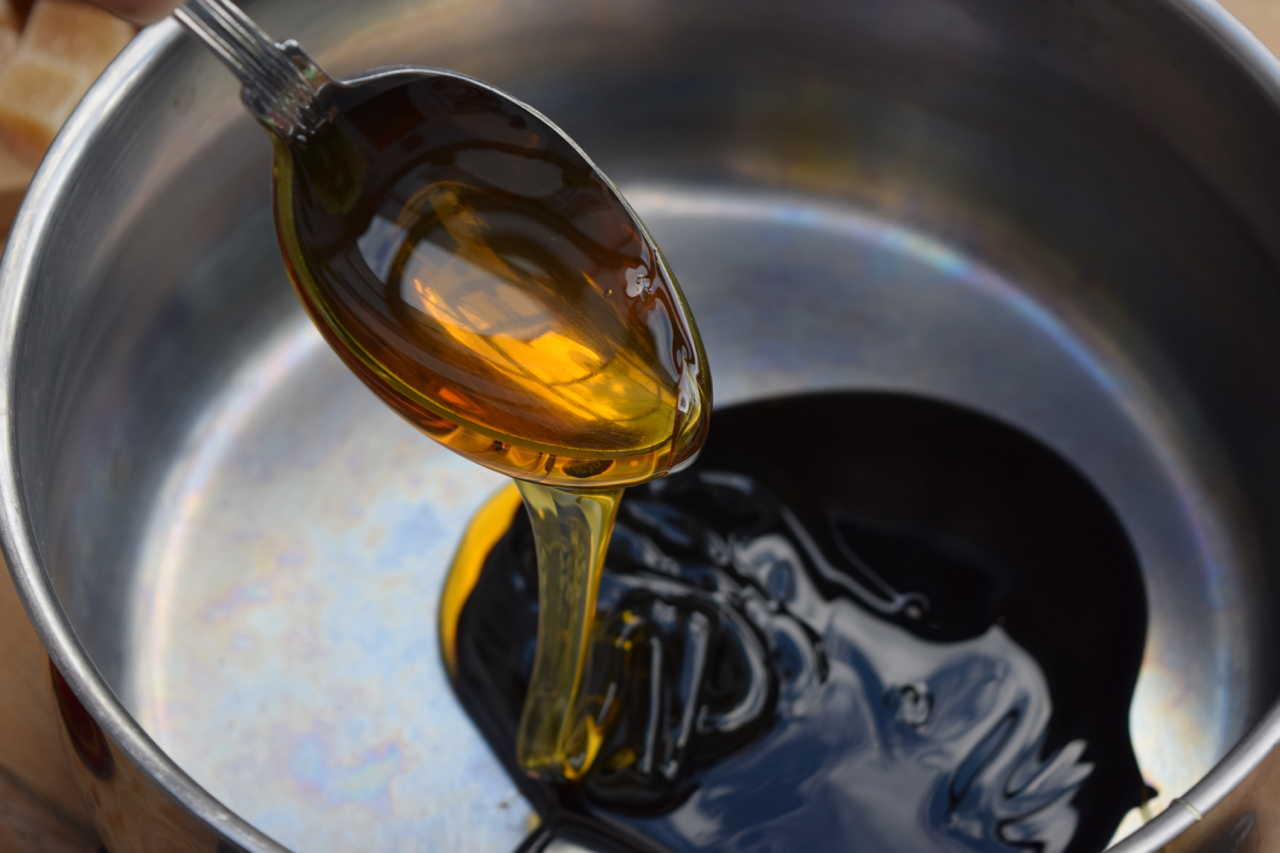 Utter syrup porn. What a time to be a spoon licker.
Next into the pan goes the butter and the dark brown sugar. Then gently heat over a low flame to melt everything. Don't walk away and let it boil *I did*.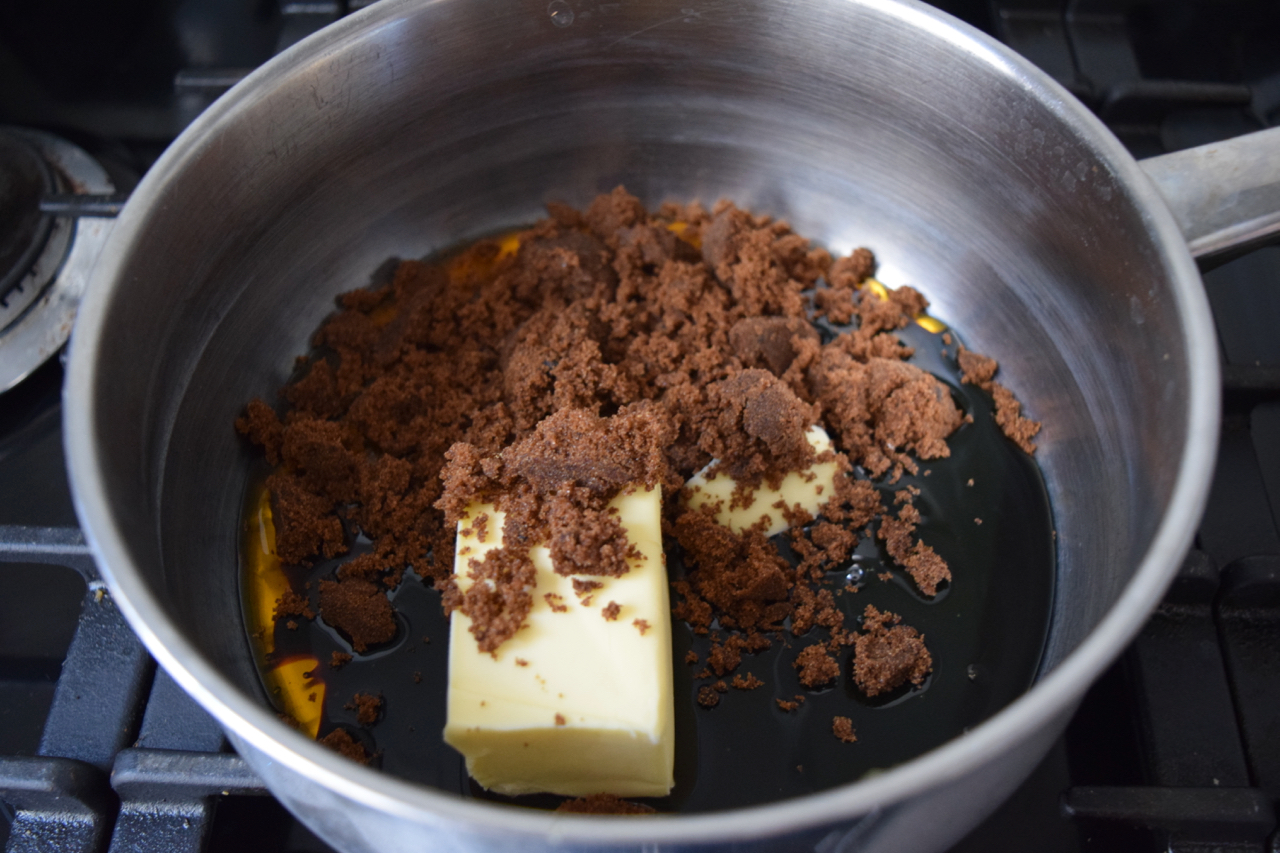 While this is melting gently, measure the oats, self raising flour, ground ginger and salt. Chop your crystallised ginger if using.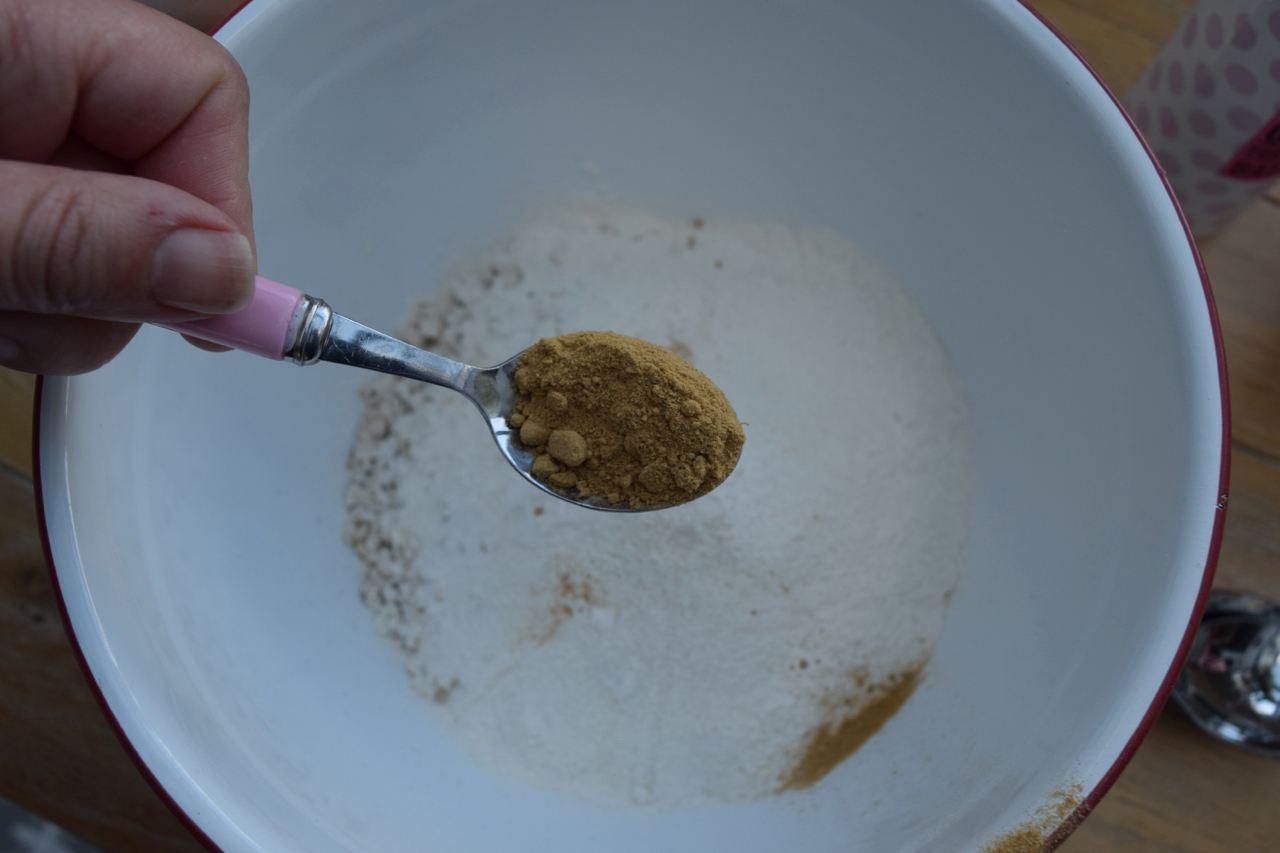 Give this mixture a stir then tip into your now melted syrup sugar mixture and add the crystallised ginger.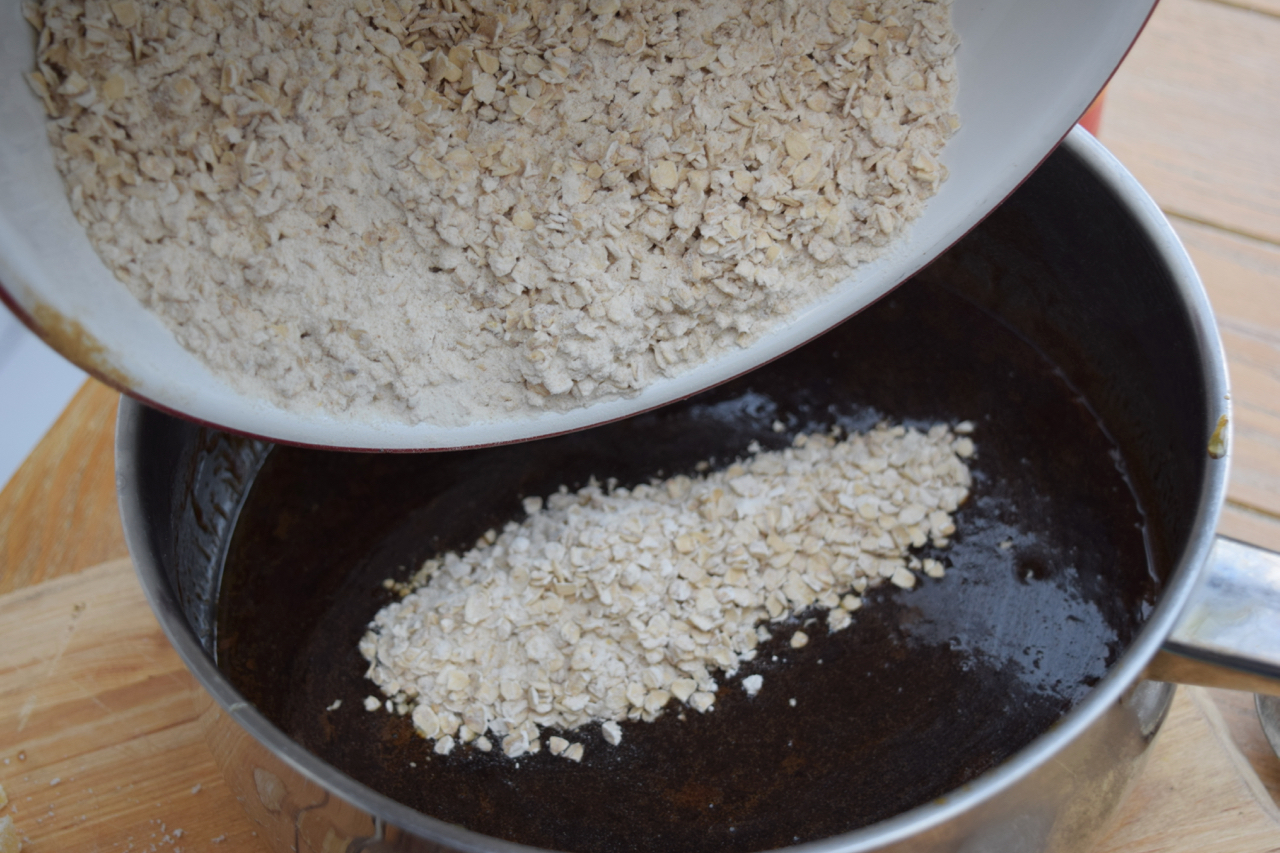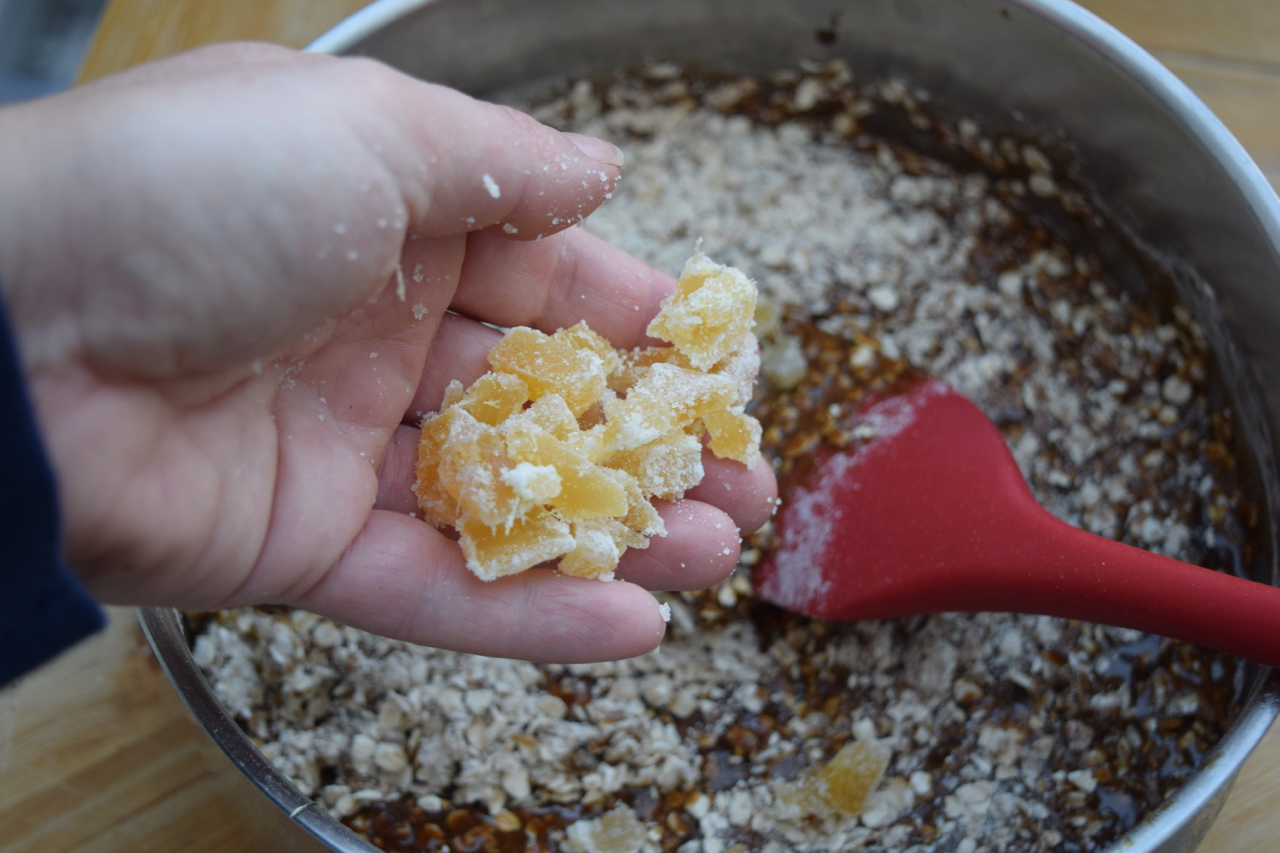 Give it a really good mix then stir in the beaten egg and tablespoon of milk.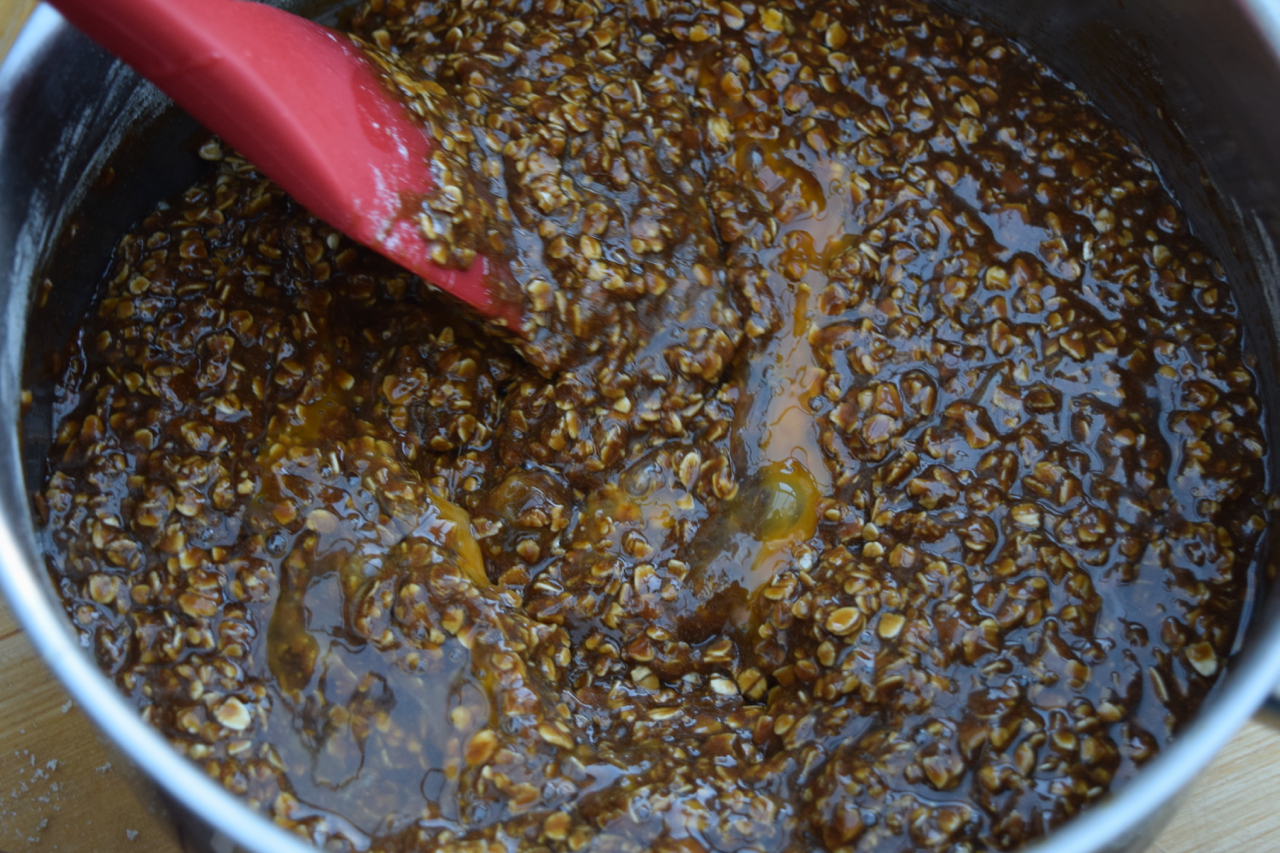 Scrape this spicy, oaty, rich batter into your lined or buttered tin then pop into your low oven for an hour to an hour and 15 minutes. Keep an eye on the bake after an hour, you don't want it to be too brown or to be dry.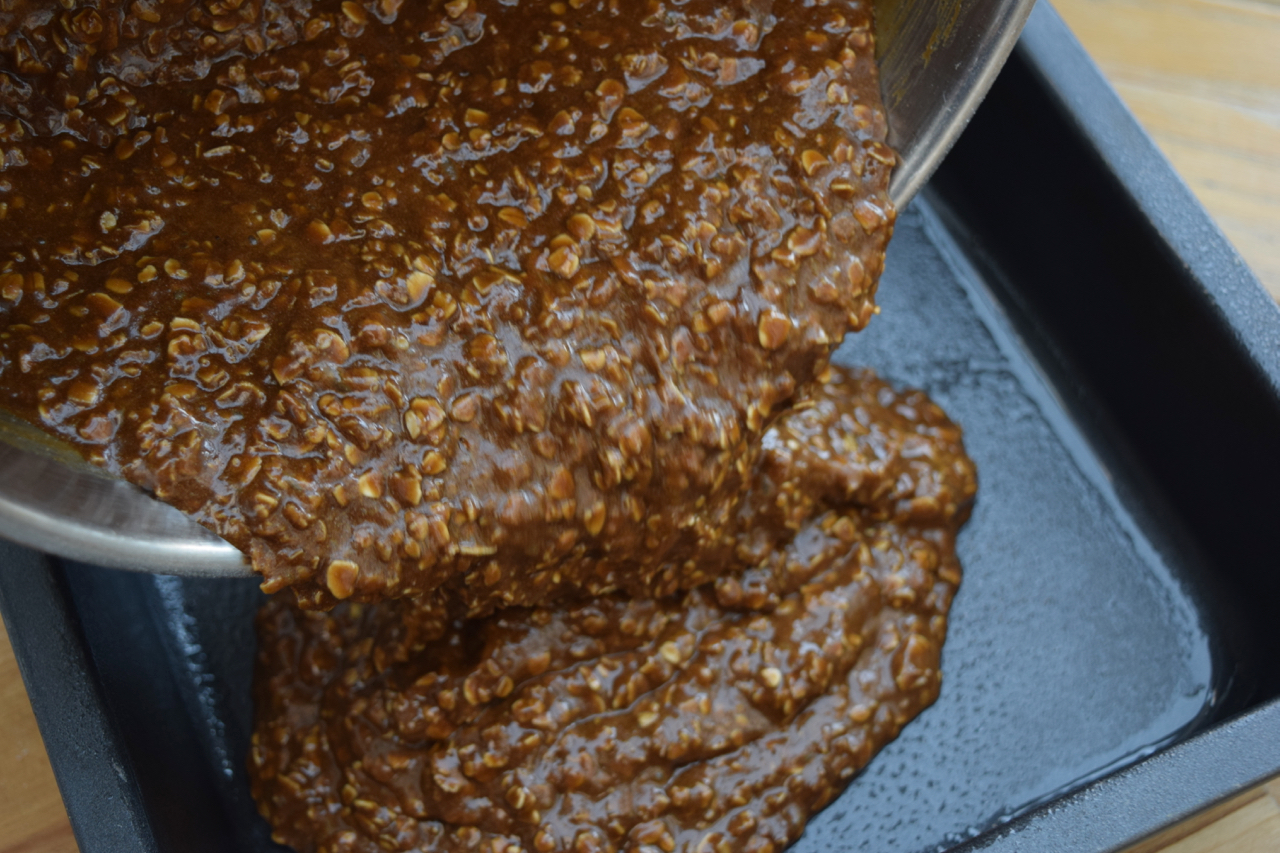 The finished bake is firm, golden and cooked through. And it smells so autumnal it should be bottled. Leave to cool completely then, if you can bear to wait, wrap it in foil for at least a day before eating it.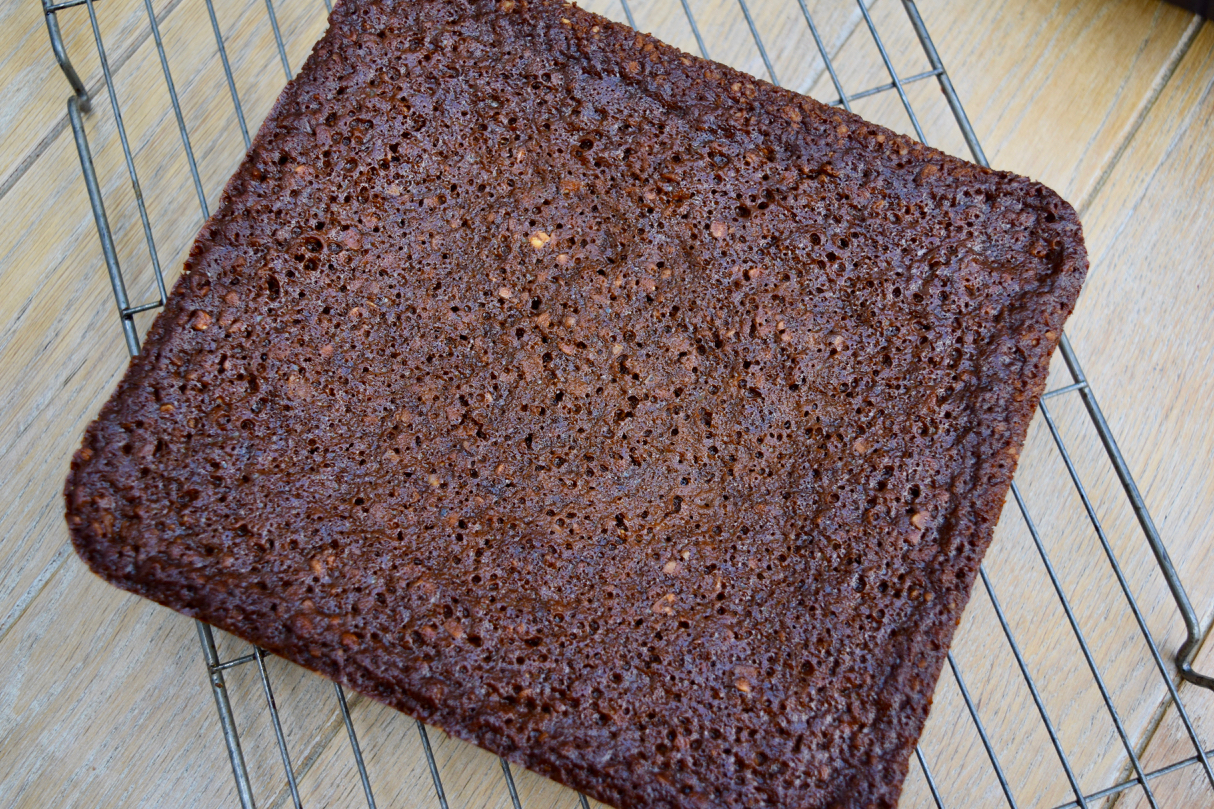 This Parkin only improves with age, but the wait is torturous. When you are ready, devour this treat in bloody great big squares with a cup of tea, of course.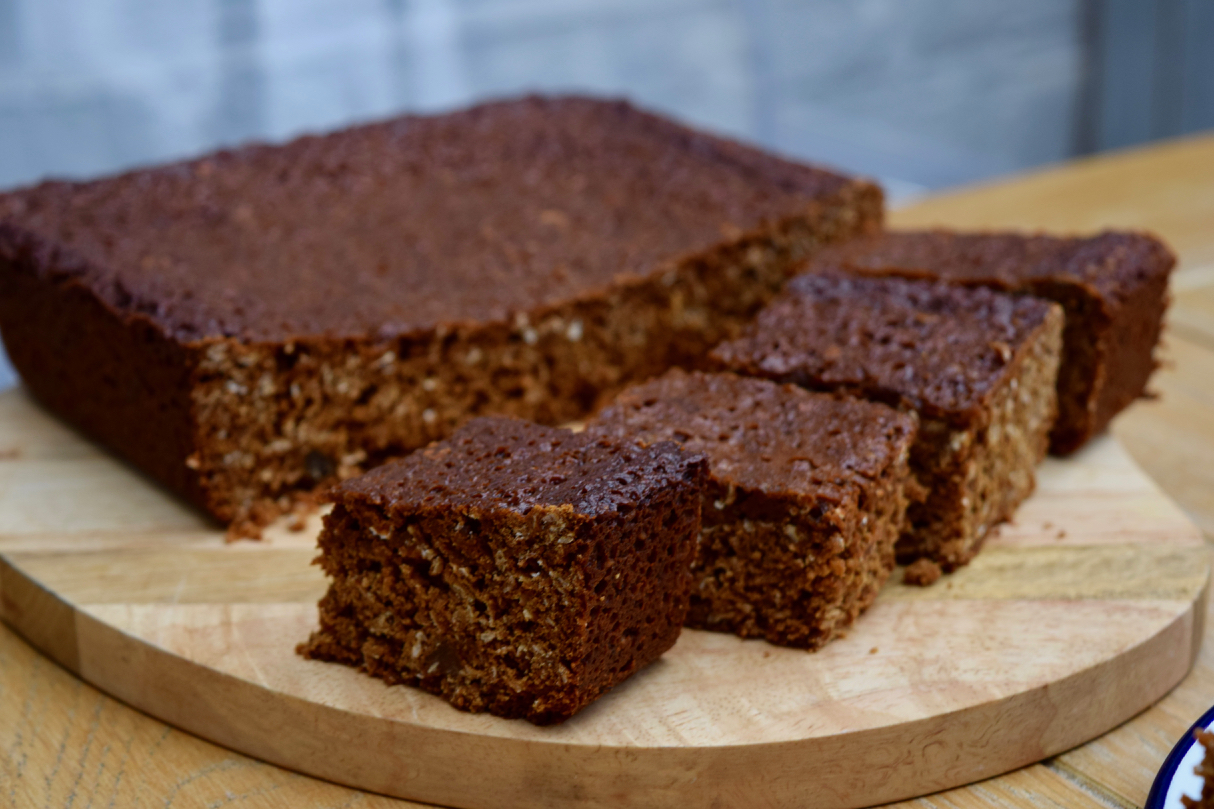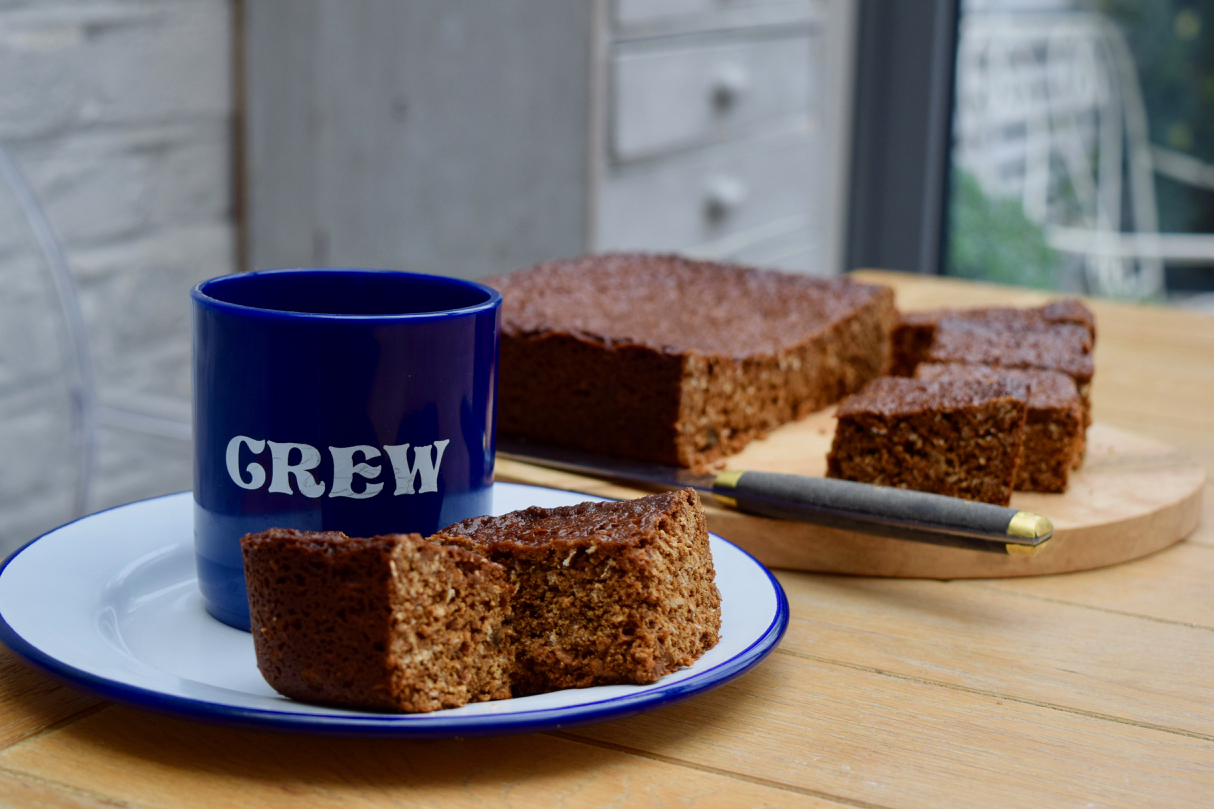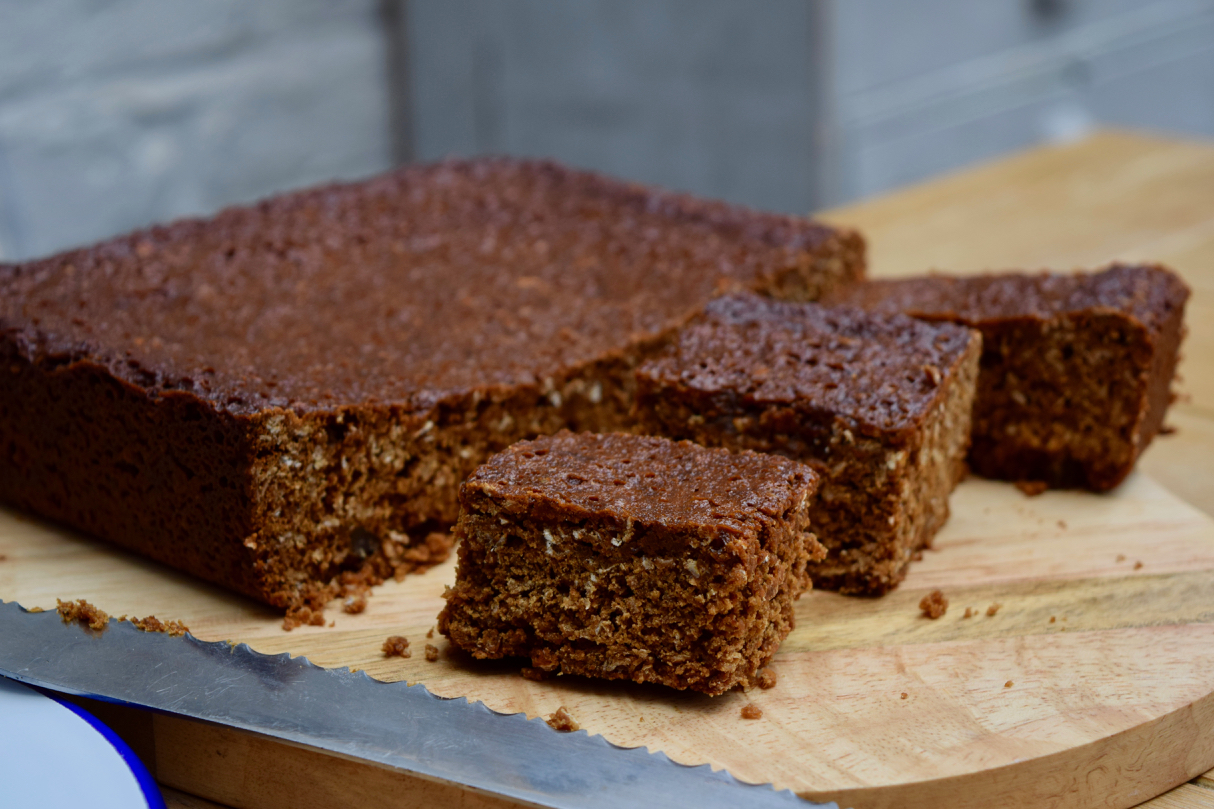 This Parkin is a total keeper, in more ways than one. I won't lie to you, I have eaten a slice of this for supper for the last 3 days. I am trying to convince myself it's just like eating porridge *plus a lot of butter, syrup and sugar*. You can make this and enjoy it for a good 4 to 5 days and it only gets better. Lucy Loves guaranteed.
Lucy x
Parkin Recipe
Makes 16 pieces
You will need bowls and a 20cm x 20cm square tin, lined or well buttered
225g golden syrup
50g black treacle
110g butter
110g dark soft brown sugar
225g oats
110g self raising flour
2 teaspoons ground ginger
A handful of crystallised ginger pieces, chopped
a pinch of salt
1 egg
1 tablespoon milk
Pre heat the oven to 120 degrees fan assisted or 140 degrees regular oven and line or butter your baking tin.
Take a sauce pan and measure in the golden syrup, black treacle, butter and soft brown sugar. Heat over a low flame until the mixture has just melted , don't let it boil. Stir well and pop to one side for the moment.
Measure out the oats, self raising flour, ground ginger and salt. Stir then tip into the syrup mixture and stir through. Add the beaten egg and milk then mix thoroughly.
Scrape this into the lined tin and level the top. Place into your pre heated oven and bake for an hour, to an hour and 15 minutes. It may be ready after an hour, so keep an eye on it. The cooked Parkin is golden brown, firm to the touch and smelling divine.
Leave it to cool completely in the tin before removing it and wrapping the Parkin in greaseproof paper and foil. It only improves over time, so if you can bear to, leave it a day before tucking right in. It will keep for a good week if well wrapped.