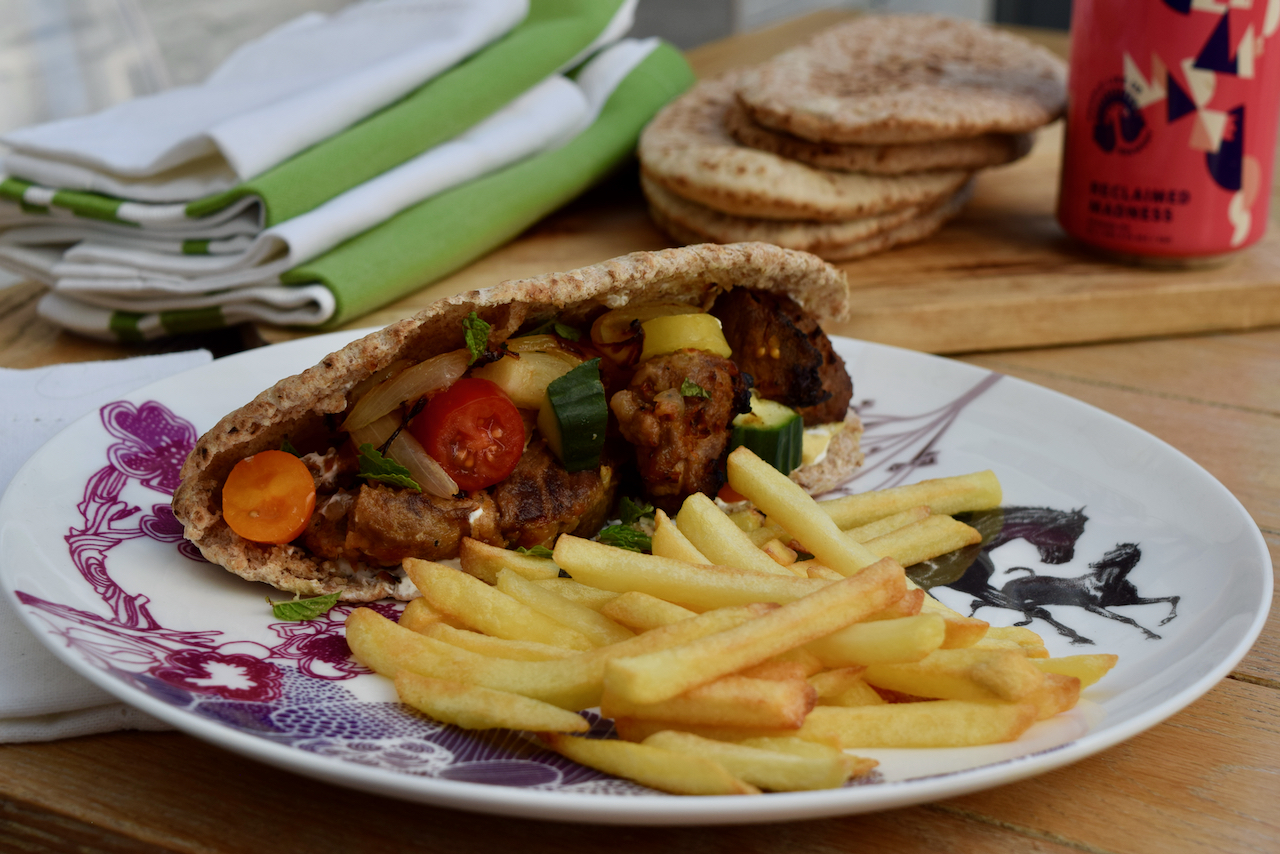 Pork Gyros Recipe
We, as a family, are really late to the Greek party. I spent many summers in Mallorca as a child then spent many more there with our own children. Then a couple of years ago we discovered the joys of Greece and all it has to offer. It has sun, crystal clear seas, breathtaking landscapes and OMG, I love the food. Crispy lamb chops, more feta than you can shake a stick at and delicious gyros. These mostly pork or chicken kebabs are bloody amazing and great summer food for a crowd. If we can't go to Greece this summer, then let Lucy Loves bring a little Greek to you.
I always imagined Gyros had to be made using the large leg sized piece of meat you see through the kebab house window. But no, all you need is a lovely piece of pork shoulder and some wonderful flavours. The thinly sliced pork is marinated in garlic, fresh oregano, tomato, lemon and paprika. Leave it overnight if you are far more organised than I am, if not an hour will do. The pork is then is simply roasted until starting to crisp and char a little on the edges. You can stuff it into your pitta with a myriad of bits and bobs. I went for houmous, tzatziki, cherry toms, cucumber and mint with some traditional fries on the side. It's up to you, stuff away with all your kebab based favourite fillings. Thank you once again to the New York Times Food for the inspiration.
In the next couple of weeks the UK is going to be allowed to roam free again. If you fancy interacting with someone other than your family, then feeding them with Pork Gyros will have them never wanting to leave.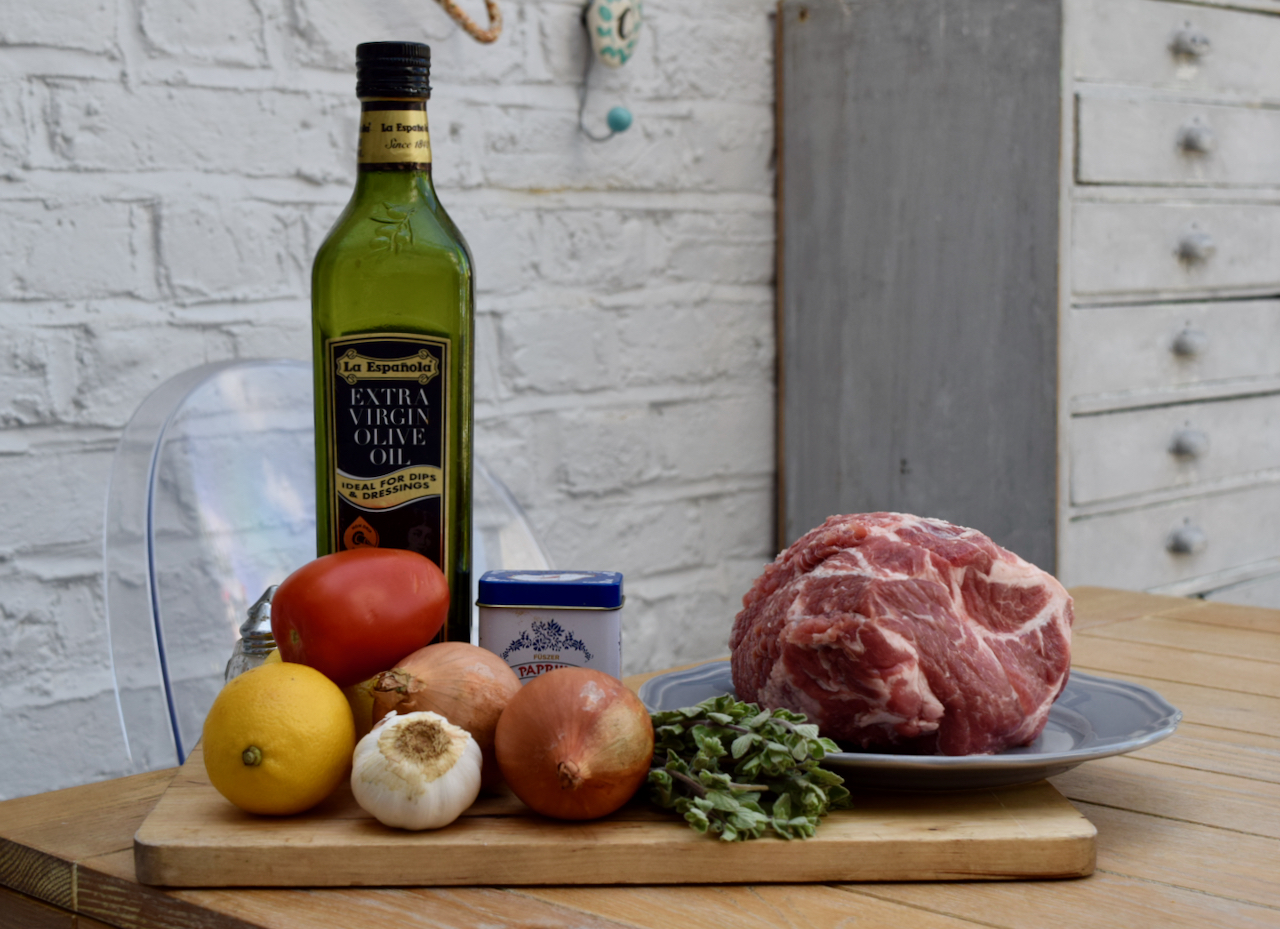 What a wholesome line up today, like a trip to the farmers market right there. I got a huge piece of pork, so halved it for this recipe. Fresh oregano is a bonus, I'm sure dried would be ok at a push.
Start by popping your pork into the freezer for an hour. This will make it easier to thinly slice. After the hour you're looking for half inch slices, cut against the grain of the meat with a sharp knife.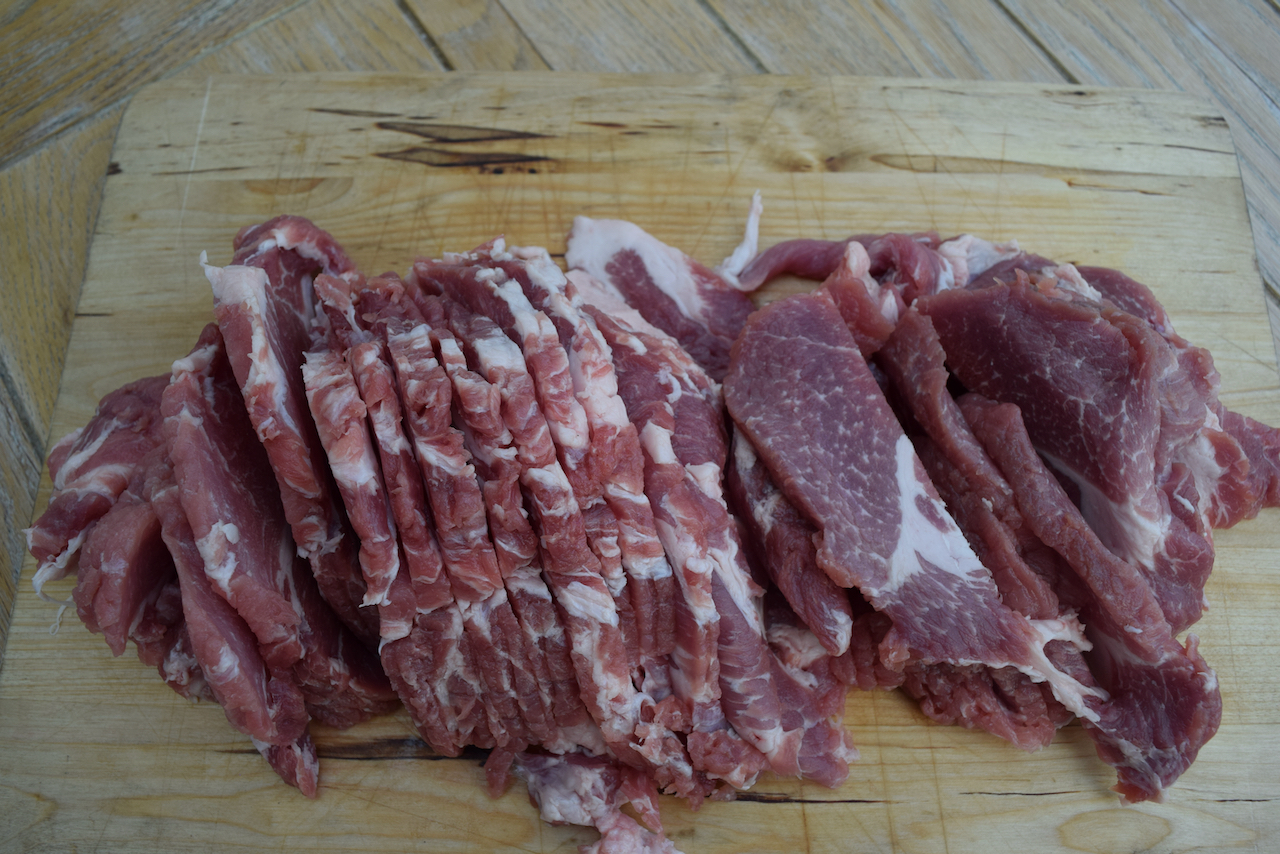 Next, you have chopping choices. You can grate your onion and tomato if you're feeling energetic, or use a tiny chopper like I did. I added my garlic cloves too as was feeling particularly lazy, but you could crush them instead.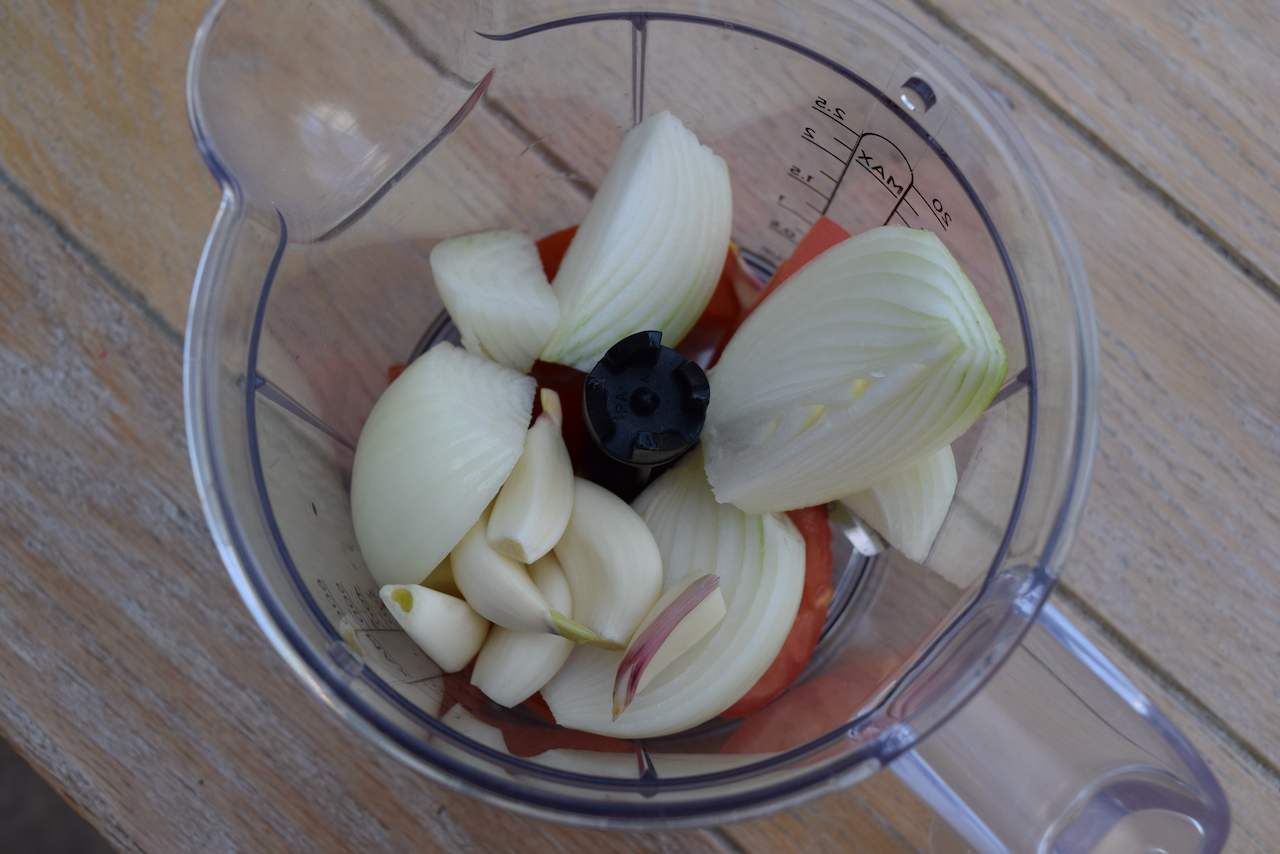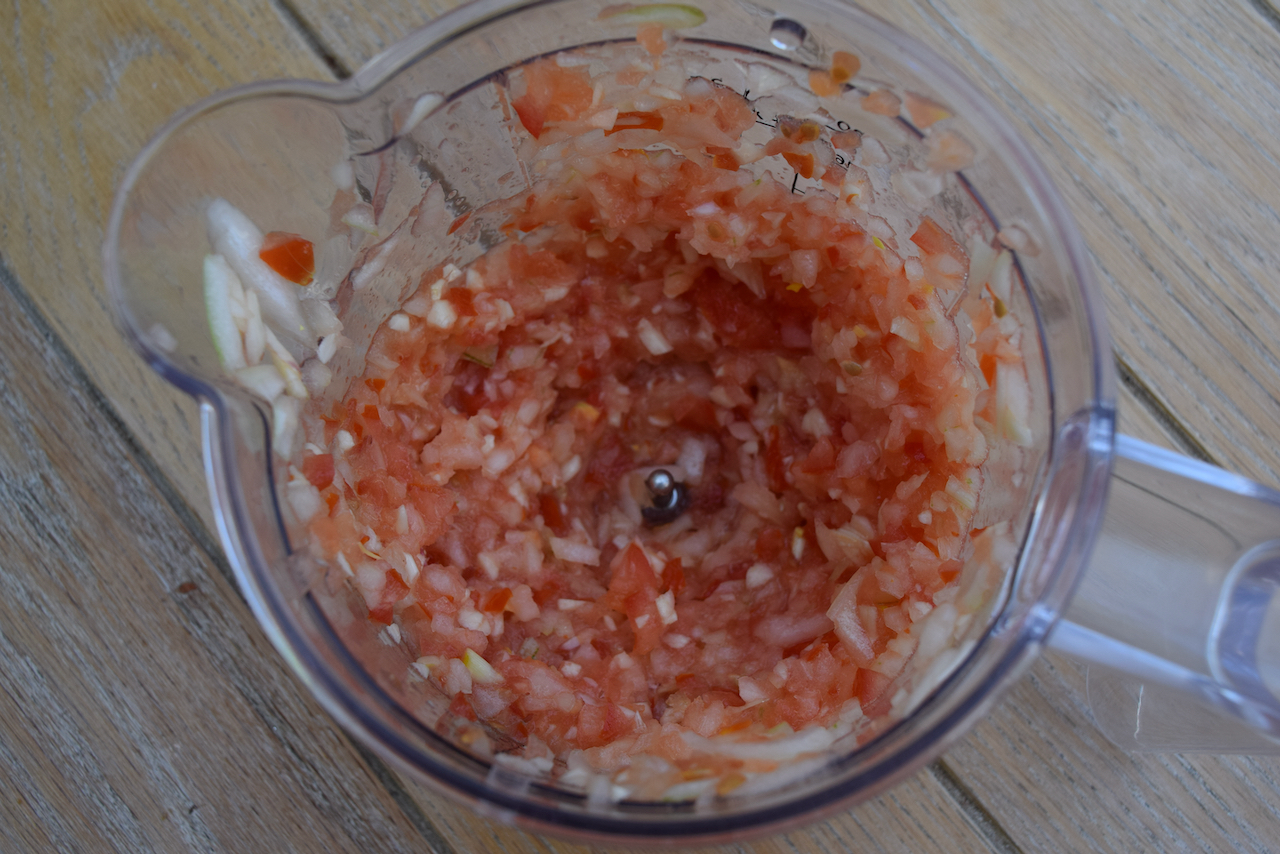 Tip this fragrant mixture into a large food bag or bowl. Add the oregano, olive oil, paprika, lemon juice and salt and pepper.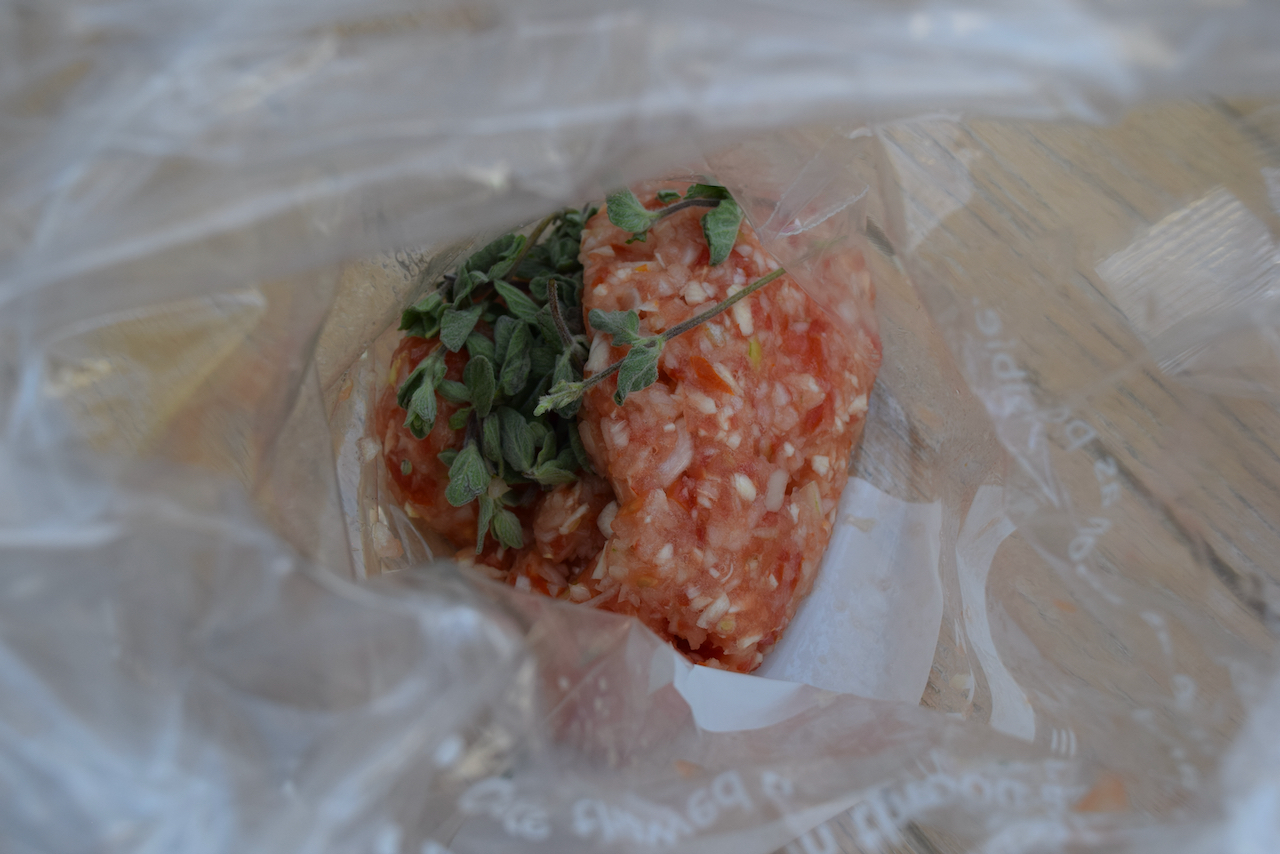 Give it a good mix then add your sliced pork.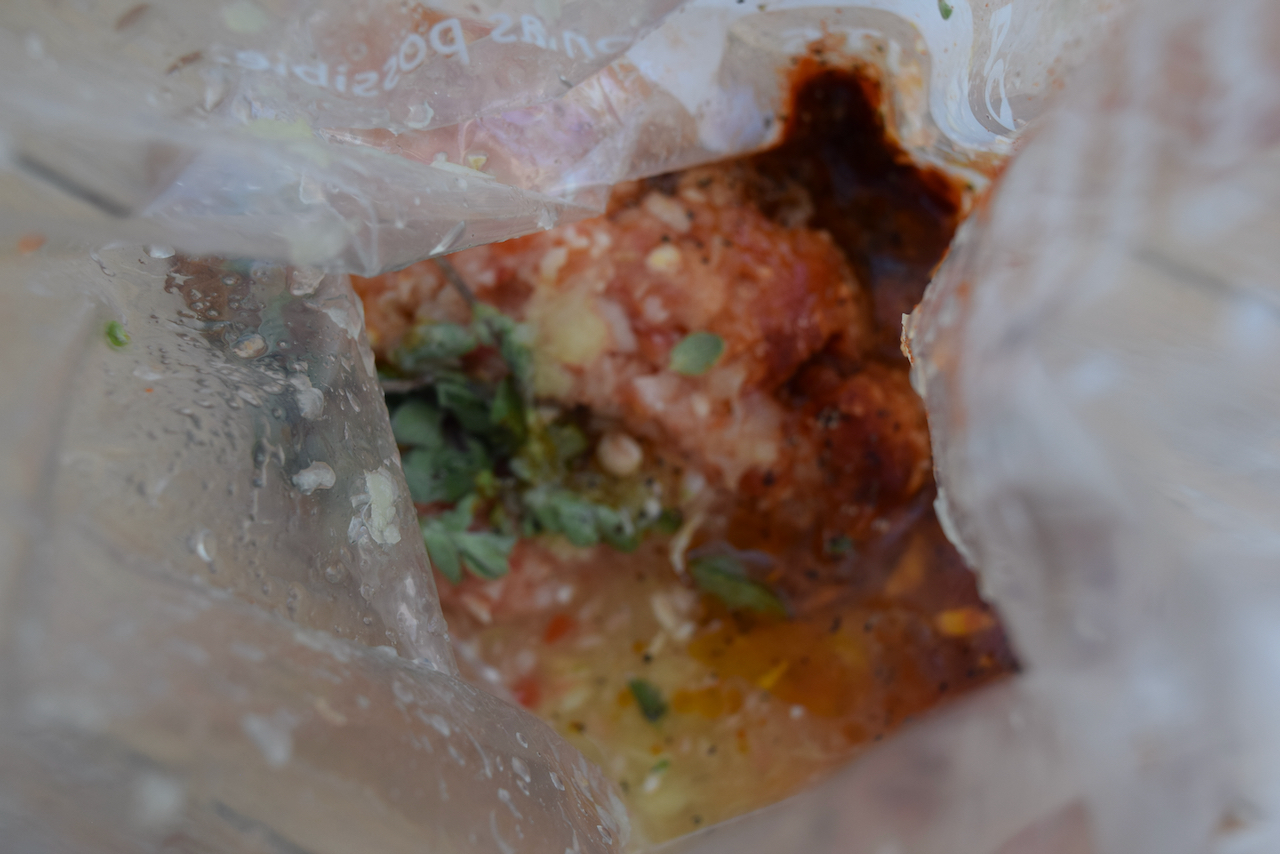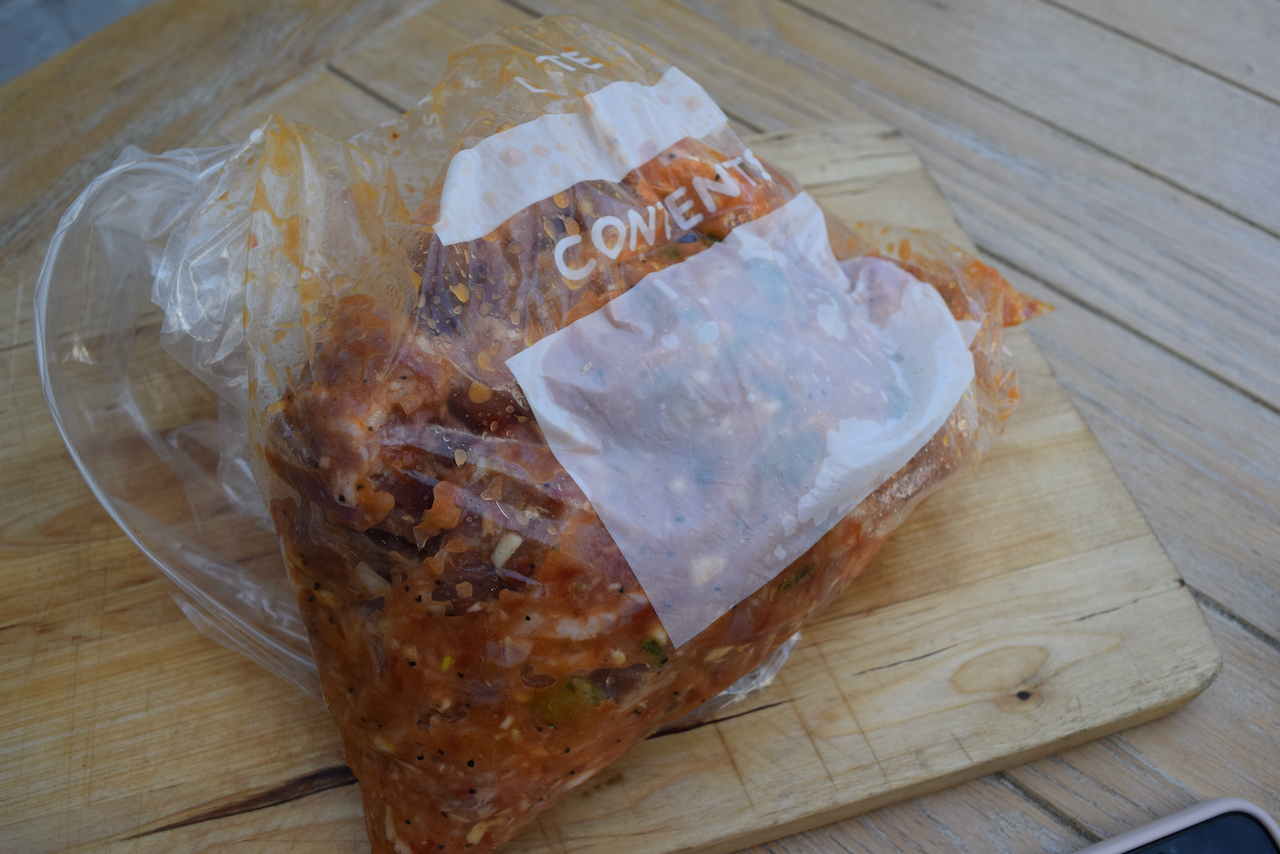 Squidge the bag to ensure the pork is coated in the marinade then put in the fridge for at least an hour or overnight if you're organised.
When the wait is over, pre heat your oven to 200 degrees fan assisted and pour another tablespoon of olive oil into a large roasting tin. Chop the second onion into thick slices and add to the pan.
Remove the pork from the marinade and add to the onion and give it all a good stir.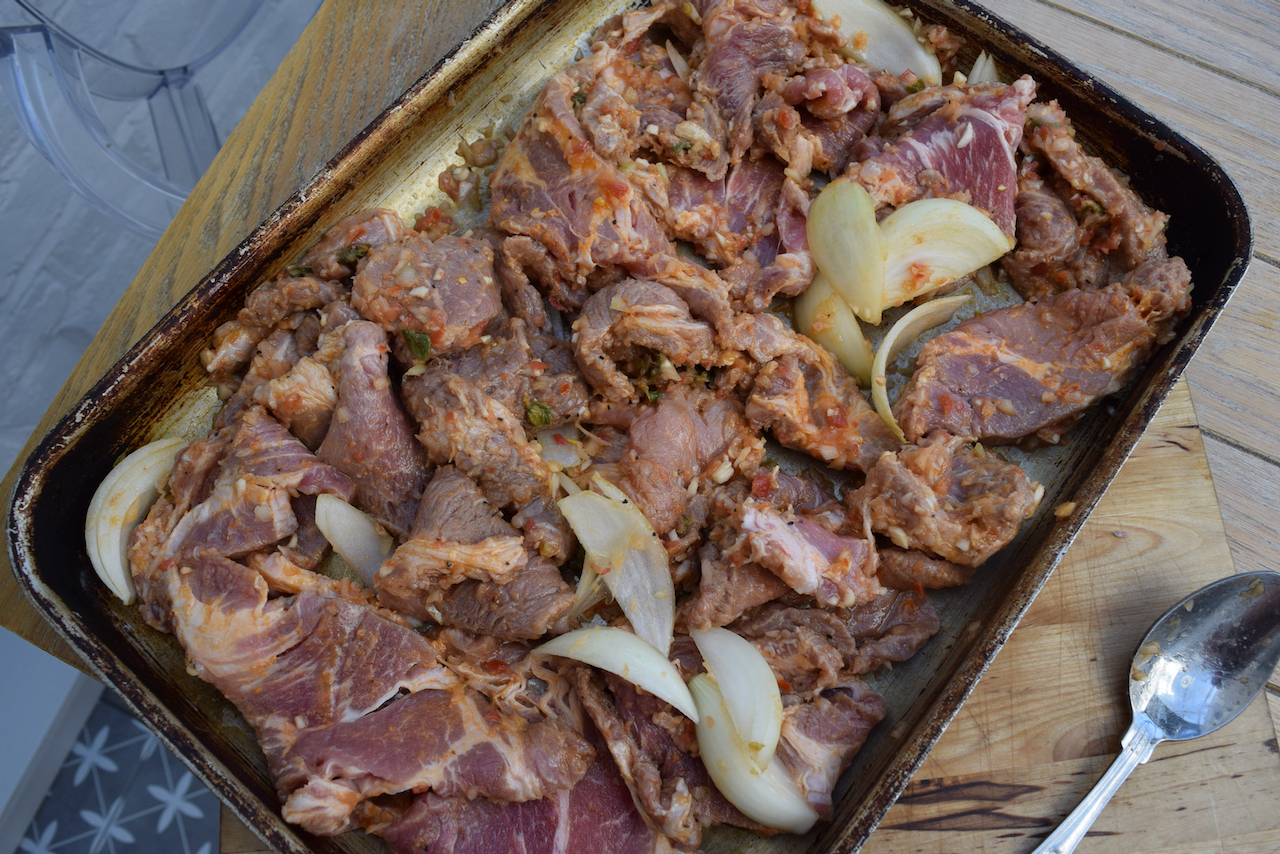 Put the pan into your hot oven for 30 to 40 minutes. After about 20 minutes, have a look and if there's too much liquid, spoon some off. The pork is ready when it's tender, crisp and starting to char at the edges.
Now it's time to prepare your pittas and fillings. I went for wholemeal breads for a whiff of health and slathered mine with tzatziki and houmous then packed in some cherry tomatoes, cucumber and some fresh mint.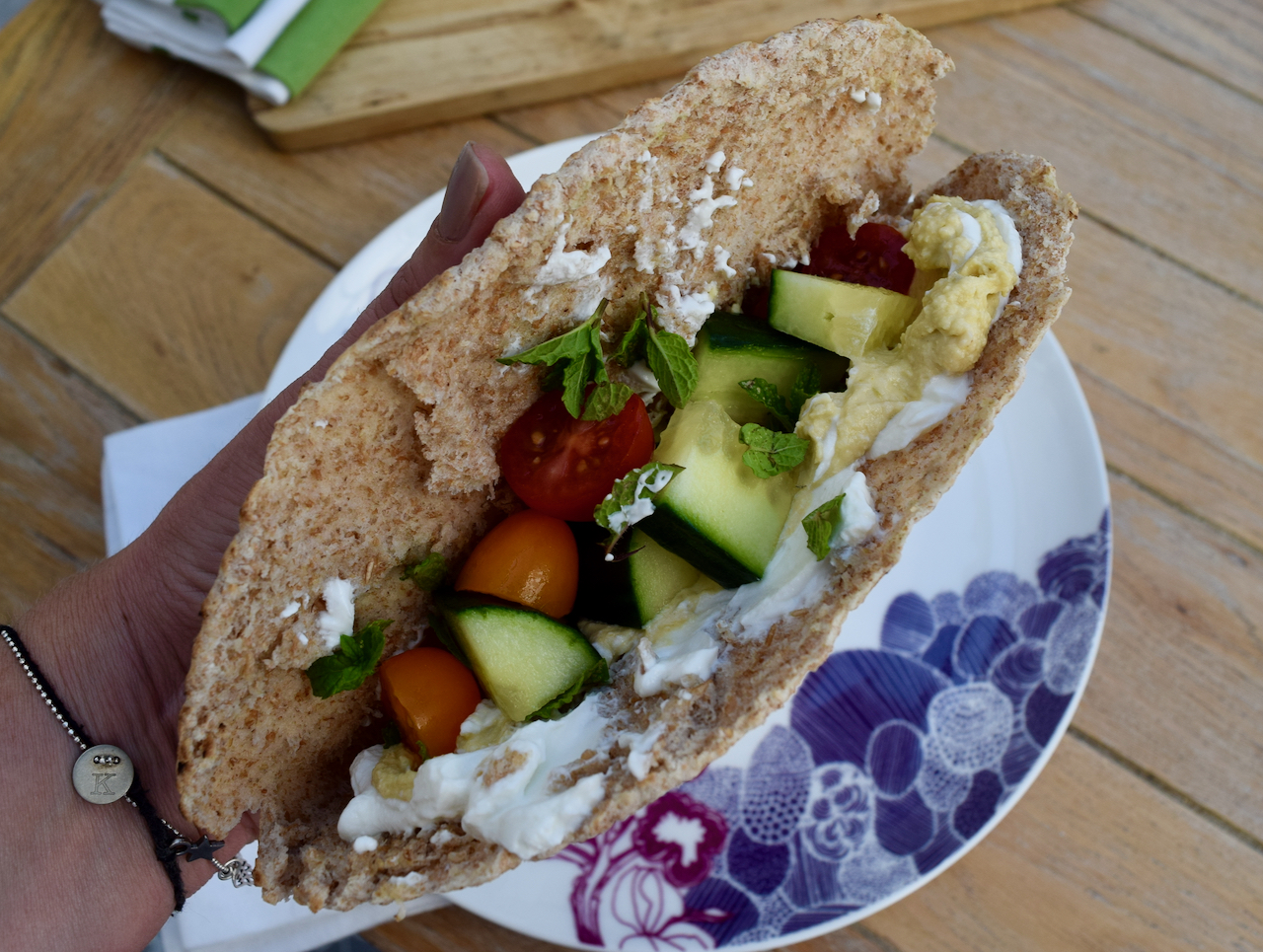 Pile in your piping hot, beautifully flavoured pork and roasted onions. If you've got room, you could always pop your fries in the pitta too. Then dig in, with a pile of napkins on hand. Then make another, there's plenty to go around.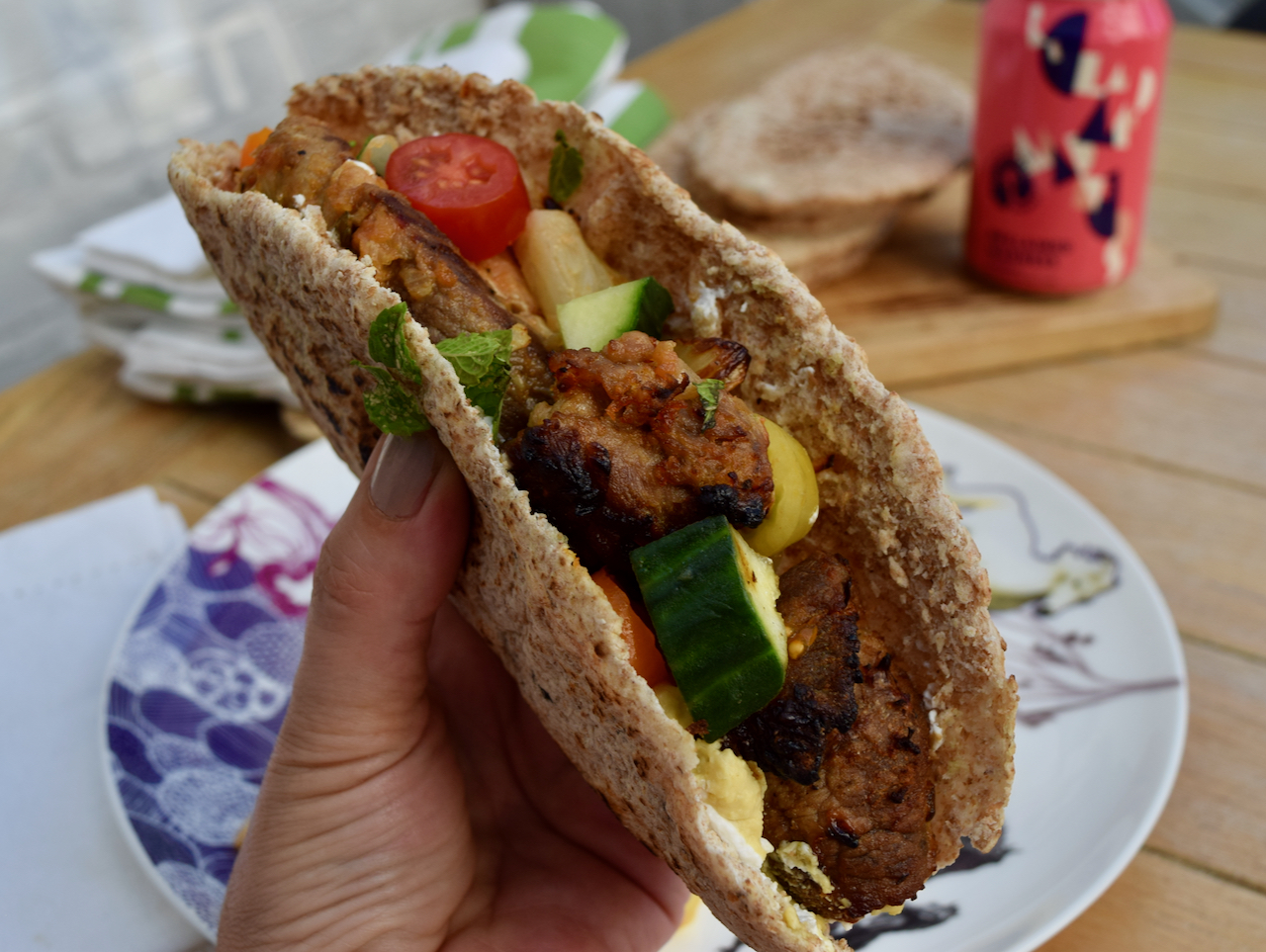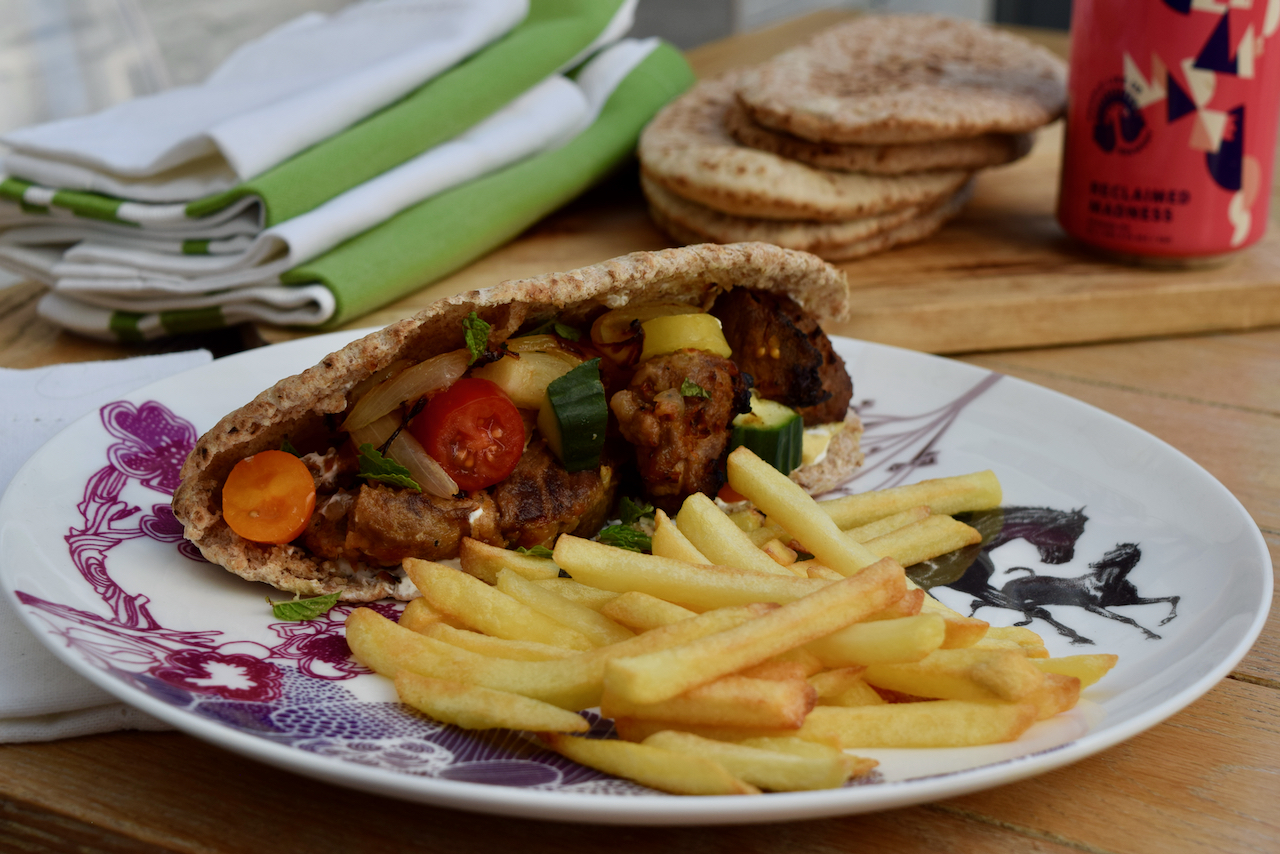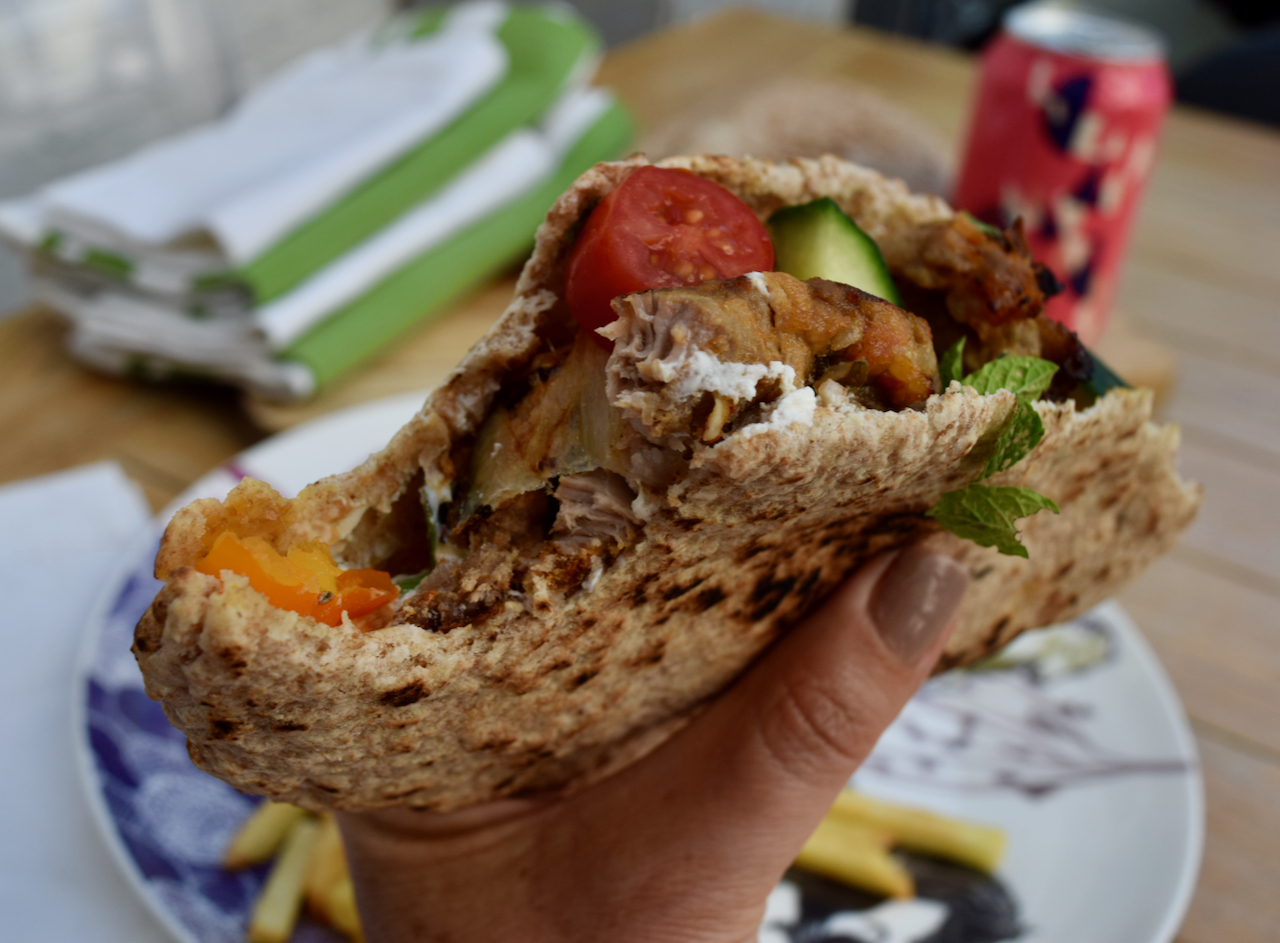 This is street, holiday food at it's finest. We inhaled this batch, but I would imagine in real life, it would feed quite the crowd. It's rustic, bloody delicious but really hard to photograph.
Lucy x
Pork Gyros Recipe
Serves 4 to 6, dependent on appetites
You will just need a roasting pan for this
1kg pork shoulder, or pork shoulder steaks
6 cloves garlic, peeled
2 onions, one for the marinade and another for roasting
1 good sized tomato
Juice of 2 lemons
4 tablespoons olive oil, plus more for the roasting tin
2 tablespoons fresh oregano, I'm sure 1 of dried would be fine, at a push
1 tablespoon paprika
1/2 tablespoon salt
2 teaspoons black pepper
Toasted pitta breads, cherry tomatoes, cucumber, fresh mint leaves, tzatziki, houmous, yoghurt, fries or any number of additions, to serve
To make it easier to thinly slice your pork, pop it into the freezer for around an hour to firm up. Once the time's up, slice the meat into thin slices, cutting against the grain.
For the marinade either grate one of the onions and the tomato, or process in a small chopper with the garlic cloves. Tip this into a large food bag along with the lemon juice, olive oil, oregano, paprika and salt and pepper. Squidge the bag around to mix the marinade then add your thinly sliced pork. Give it another good squidge then pop in the fridge for at least an hour, if not overnight.
When you're ready to cook the pork, pre heat your oven to 200 degrees fan assisted. Take a large roasting tin and add a tablespoon of olive oil. Take the second onion and chop into chunky pieces. Add to the pan then remove the pork from the marinade and add this too. Mix the whole lot together and then pop into your pre heated oven.
Roast for 30 to 40 minutes. After 20 minutes check on the pork, draining off any excess liquid, then return to the oven. The pork is ready when it's crisp, tender and golden with some charred edges.
For your Gyros, toast your pittas then spread with houmous, tzatziki or sauce of your choice, then pack with the roasted pork and onions and some chopped cherry tomatoes and cucumber with fresh mint leaves. Or any of your favourites. Fries on the side optional, but tasty.