Blueberry Muffin Tray Bake Recipe
As I write this lovely post, I am on my first day of giving up added sugar for Lent. This decision led to hearty laughter from just about everyone I told. What about your sweet tooth and your love of all things cake based they chortled? Sod off, I retorted. I am just going to try and not eat or drink things with tons of added sugar for the next, what seems like, 1 billion days, or until Good Friday. I will report back on my terrible detoxing, crying, shakes and progress over the coming weeks. But, that doesn't mean Lucy Loves will be sugar free, God no, why would I want to inflict my fads onto you lovely readers. So today, I am sharing my delicious and effort free Blueberry Muffin Tray Bake.
It's half term in our house, which these days means me going to work, as normal, and George spending a week playing PS4 while I nag him to do some work, read or get out and do something more challenging. Ben doesn't even get a reading week, so it's pretty much business as usual apart from the need for extra food in the house for constant grazing. This is where my Blueberry Muffin Tray Bake comes into it's own. This can be whipped up in just over 30 minutes and is simple and not packed with sugar. You don't have to use blueberries for the filing, although randomly, they are a fruit quite enjoyed by George. Feel free to add chocolate chips or dried fruits if you and your family would prefer. Instead of buggering around filling paper muffin cups, this tray bake is made in a rectangular tray, sprinkled with a touch of Demerara for a bit of crunch on top then cut into generous squares for devouring. This keeps nicely in a tin for 2 to 3 days, which keeps snaffling hands busy and away from the crap for a while. This is based on a wonderful recipe from my super favourite site Food 52, I love them.
Entertaining your offspring when they're at home is tedious enough, so keep things on the simple side with this Blueberry Muffin Tray Bake. If you don't have drains-on-your-emotions at home this week, then this tray bake is a lovely post-work treat, or tucks nicely in a lunch box for you to enjoy during the day. And without even having to faff around peeling away a muffin paper, where I always seem to lose half the muffin, so it's a win win bake.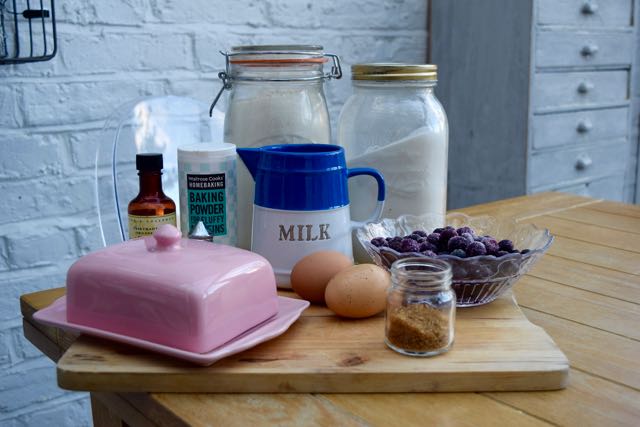 Easy peasy, lemon squeezey. Yes, I am still a child at heart.  I used frozen blueberries as they are great value and don't go off in the bottom of the fridge like fresh often do.
Make a start by lining your rectangular Swiss Roll style tray and pre heating your oven to 160 degrees fan assisted. Next, mix together the dry ingredients. Go into a large bowl with the plain flour, caster sugar, salt, baking powder and optional touch of cinnamon. Whisk these all together.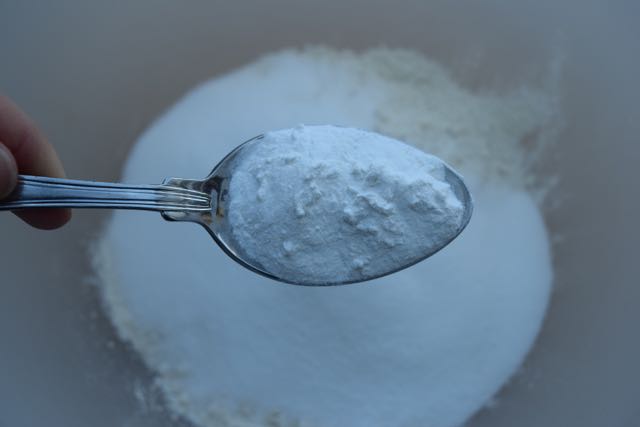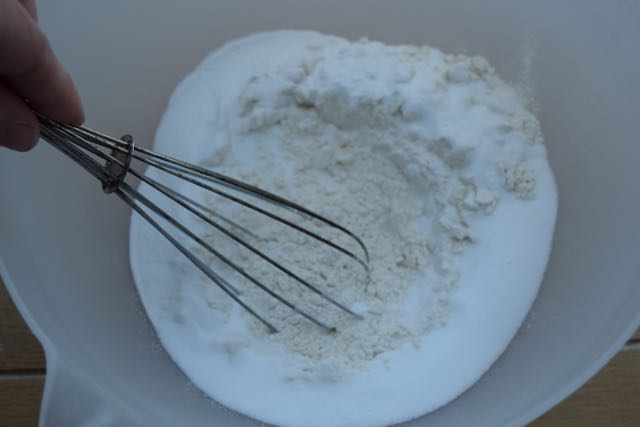 Now for the wet ingredients. In a bowl or large jug mix the melted butter, eggs, milk and vanilla extract.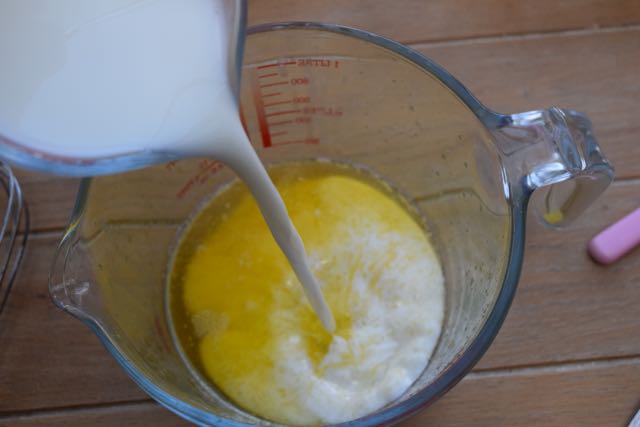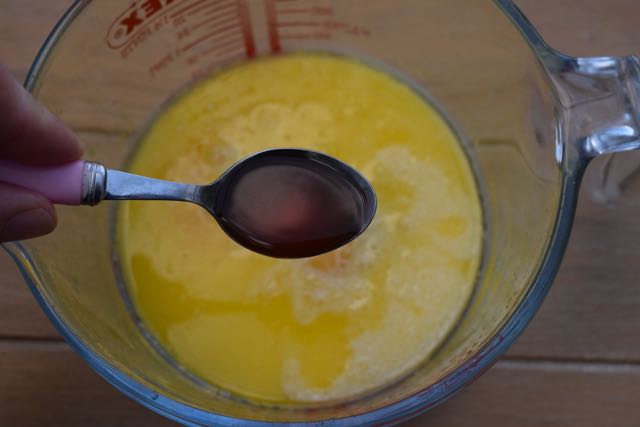 Pour the milky eggy business into the dry ingredients and fold together. Don't over mix here, just make sure there are not any pockets of flour in the mixture.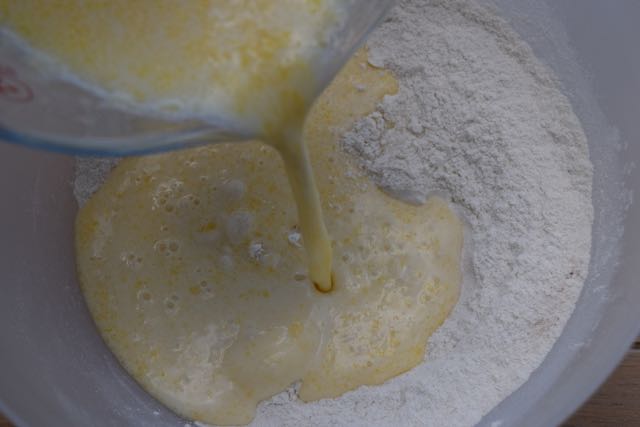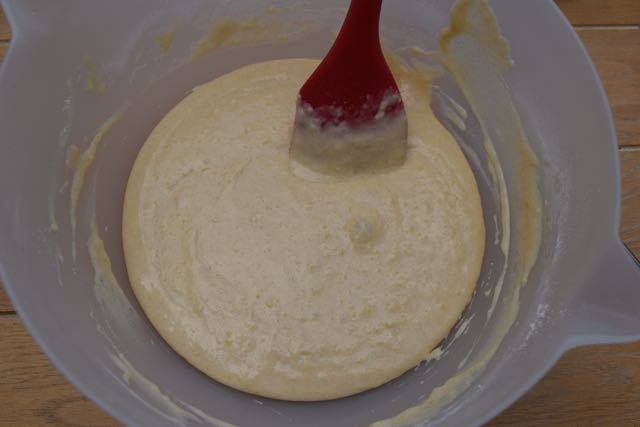 Finally fold through the blueberries, frozen or fresh then pour the mixture into the lined tin.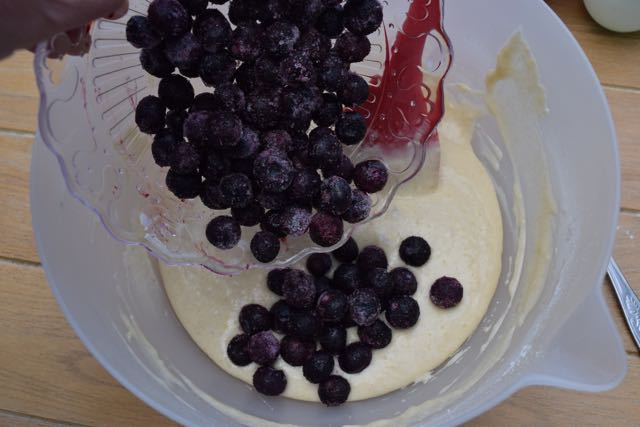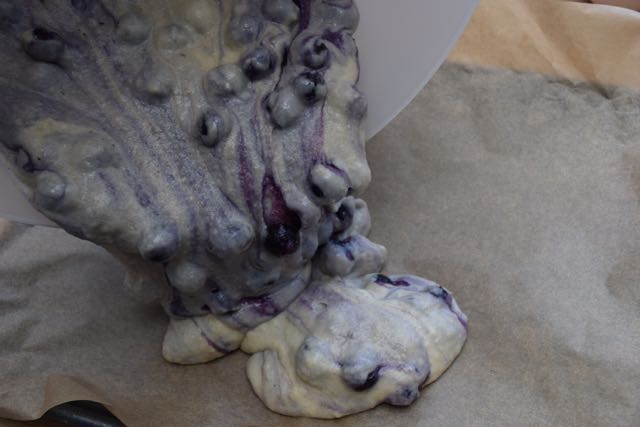 Level the top as best as you can then sprinkle with the Demerara sugar to create a sort of crisp top.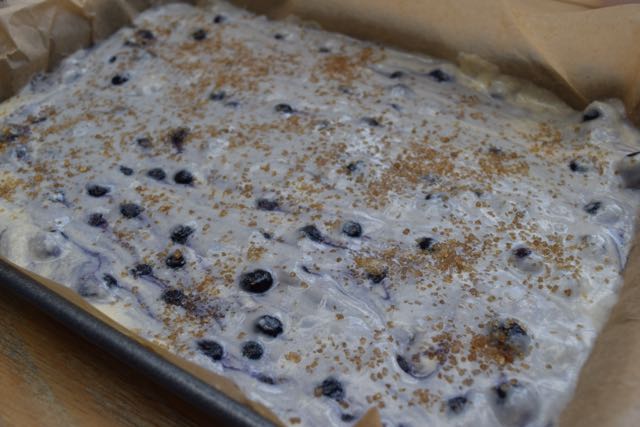 Pop this in your pre heated oven for around 20 minutes or until your tray bake feels firm to the touch and is fragrant and golden.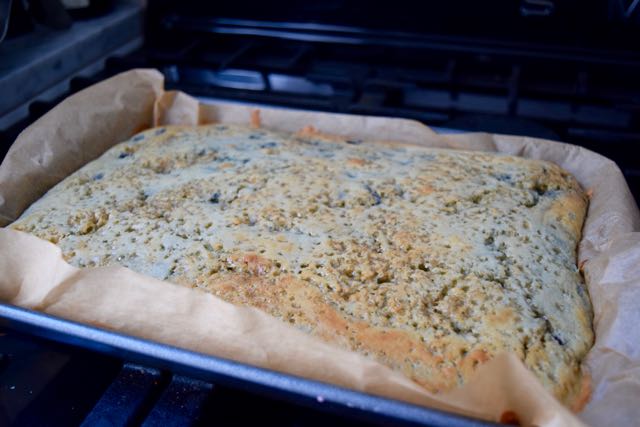 Leave your bake to settle for 10 minutes or so before cutting into lovely generous squares and devouring with greedy hands.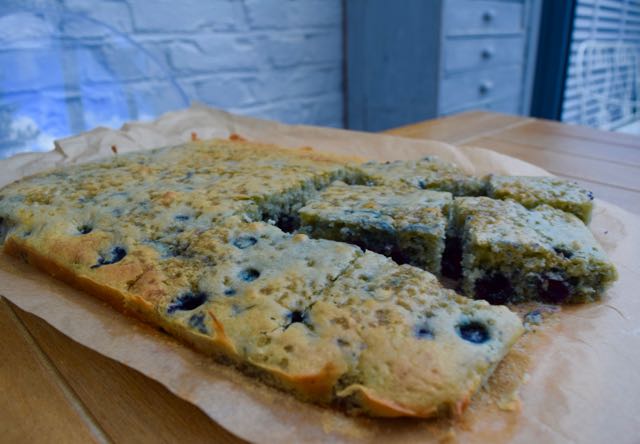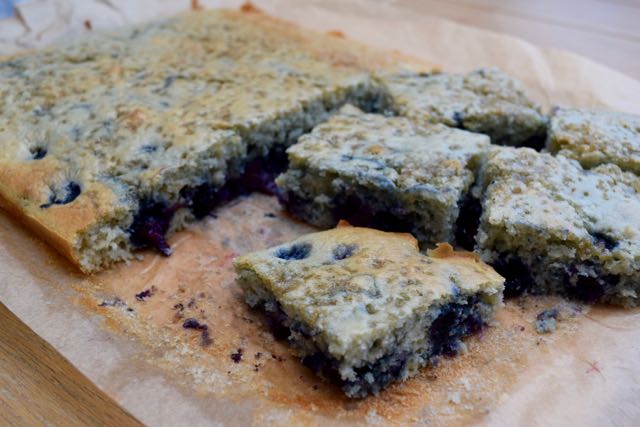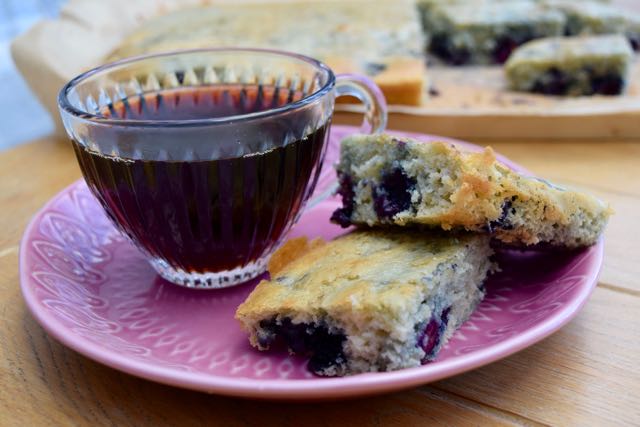 This tray bake offers all the advantages of a muffin with but extra crusty top bits, everyones favourite bit of the muffin. It also has plenty of blueberry studded bottom bits too, which don't get stuck to the paper. For me, this is the perfect muffin based bake and it's ready in barely 30 minutes, so it can hit the spot within the hour.
Happy half term, or Happy damp week in February, tick where applicable.
Lucy x
Blueberry Muffin Tray Bake Recipe
Makes a big tray full, around 24 squares
You won't need any challenging equipment just a Swiss Roll size baking tin
260g plain flour
100g caster sugar
1/2 teaspoon salt
1 tablespoon baking powder
1/2 teaspoon cinnamon (optional)
50g butter, melted
2 eggs
250ml milk, whole or semi skimmed or buttermilk if you like
2 teaspoons vanilla extract
200g fresh or frozen blueberries
1 tablespoon Demerara sugar for topping
Line a Swiss Roll style pan with baking paper and pre heat the oven to around 160 degrees fan assisted.
Take a large bowl and mix together the flour, caster sugar, salt, baking powder and cinnamon, if using.
In another bowl whisk the melted butter, beaten eggs, milk and vanilla. Pour the wet ingredients into the dry and fold together. Don't over mix, just make sure there are no floury pockets. Finally fold in the blueberries then pour the mixture into your lined tin. Smooth the top then sprinkle with Demerara sugar.  Cook in your pre heated oven for around 20 minutes until just firm and golden.
Leave to cool for 10 minutes before cutting into large squares. This will keep, covered, in a tin for 2 to 3 days.
SaveSave
SaveSave
SaveSave