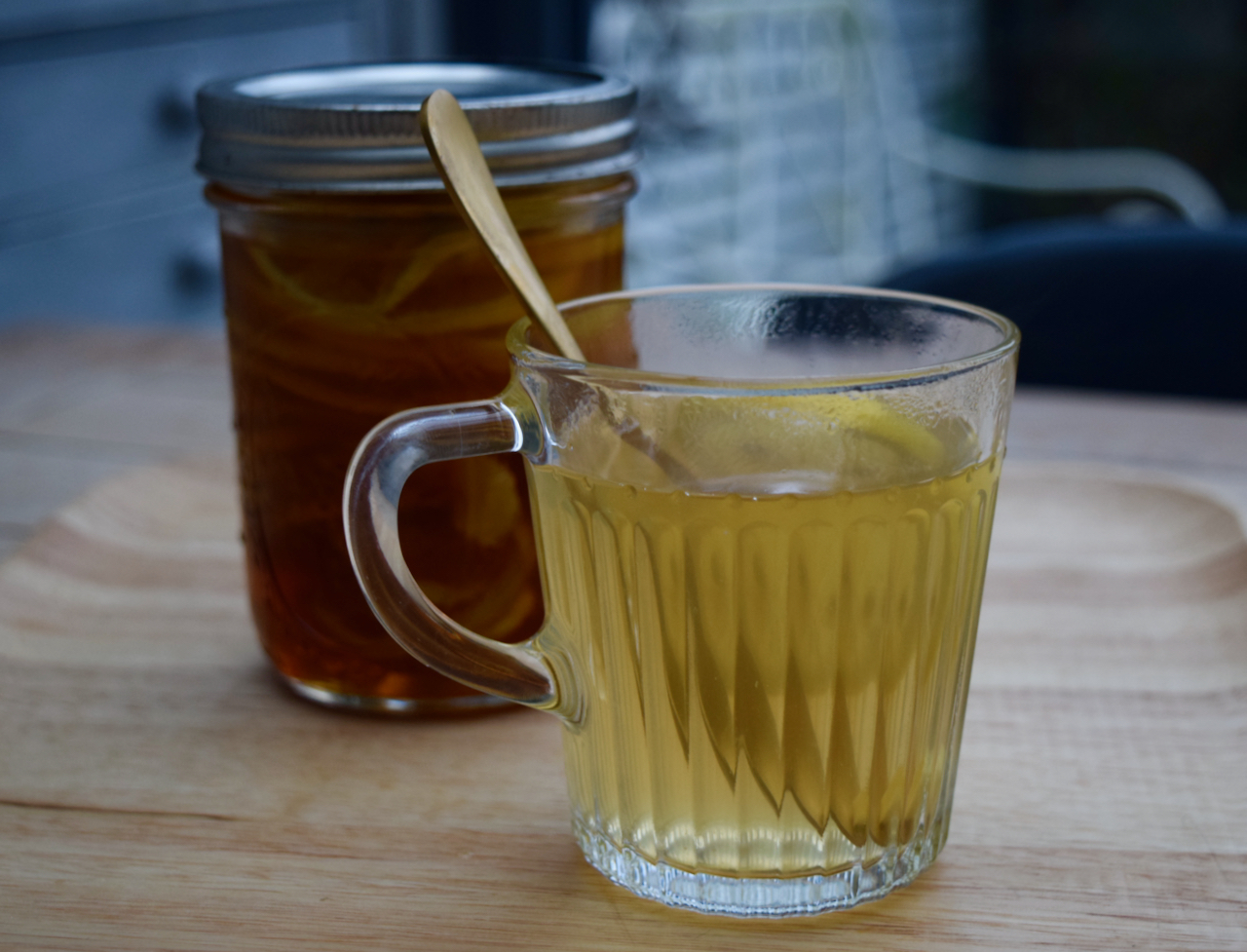 Hot Lemon, Honey and Ginger recipe
Ooh, everyone's ill at the moment; not the C word, just coughs and colds and a feeling of general malaise. And it's STILL bloody January. Now I'm no doctor but my Hot Lemon, Honey and Ginger will soothe, comfort, and if you add just a tot of whisky, may well make you feel human again.
As a child, my Mother's answer to all coughs and colds was a mug of honey and lemon. This recipe means you have a jar ready whenever a sniffle starts, but with a touch of ginger for warmth. Slice unwaxed lemons and the fresh ginger and pop in a jar; pour over honey, let it settle, then keep in the fridge for up to 2 months. Two tablespoons of this elixir in a mug with boiling water will soothe and offer vitamin C; and if, like me, you fancy adding a tot of whisky to yours, they'll be a touch of extra warmth. If you've got a sore throat, I've had a straight tablespoon from the jar for a delicious soothing remedy.
I can't promise this Hot Lemon, Honey and ginger is a miracle cure, but it tastes amazing and, as it's still bloody sub zero, the mug will warm your hands nicely.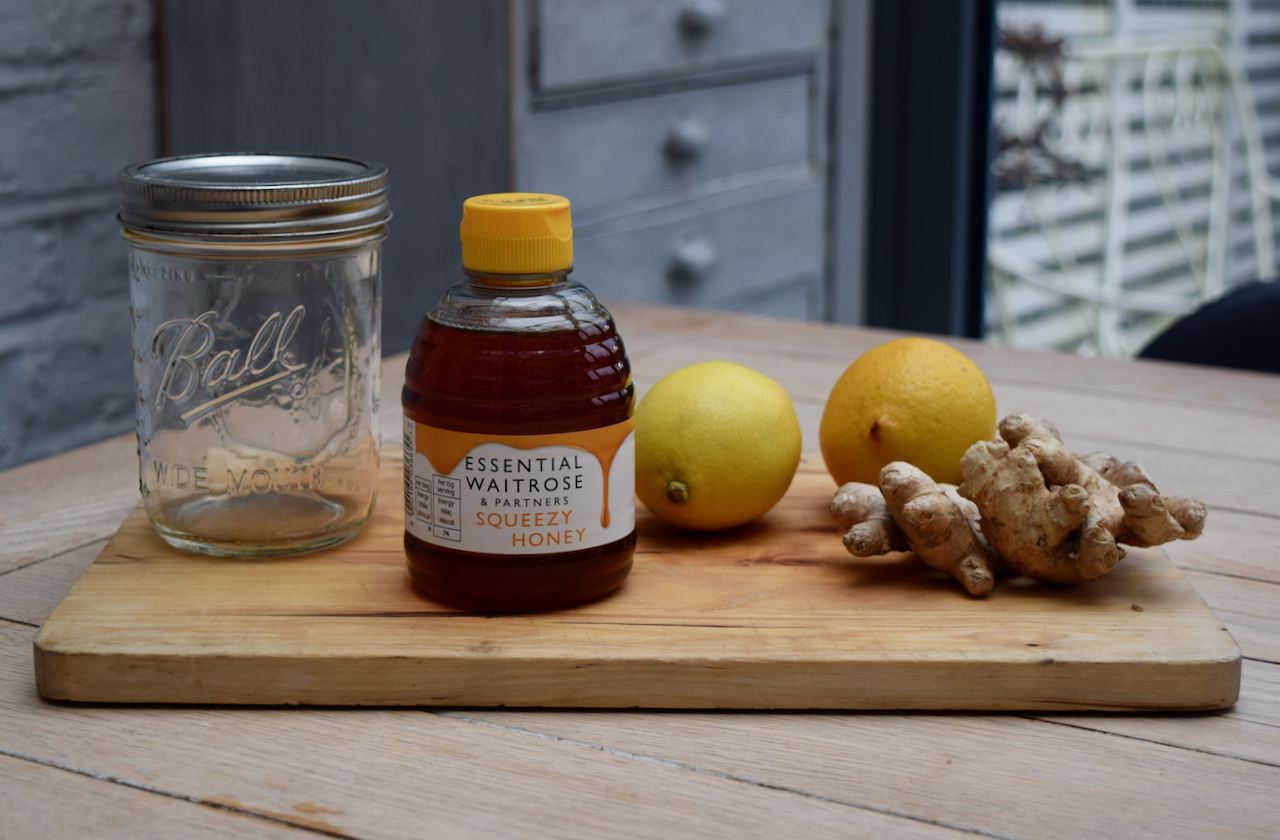 This is a three ingredient special, so make them good ones. Your lemons should definitely be unwaxed, and organic if you have any money left at this stage in January. My honey was basic, and one of about three bottles in the cupboard; just use what you have to hand. The ginger's a bugger to peel, but if you use a teaspoon to scrape the skin off it makes the job a lot easier.
Make sure your 500ml jar is clean and sterilized, a quick trip through the dishwasher will sort this out. Now thinly slice the lemons, peel the ginger then slice that too.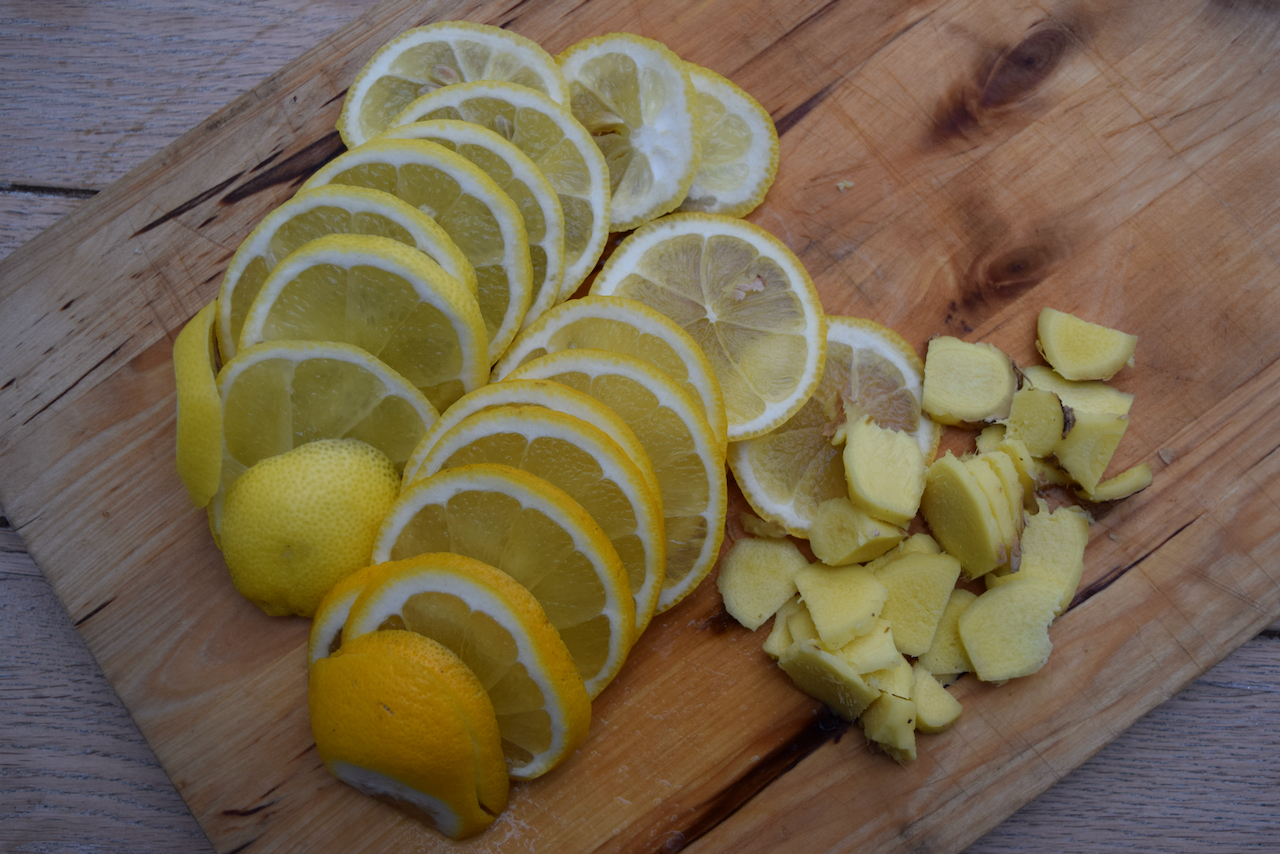 Layer up the lemon and ginger slices in the jar then pour over the honey.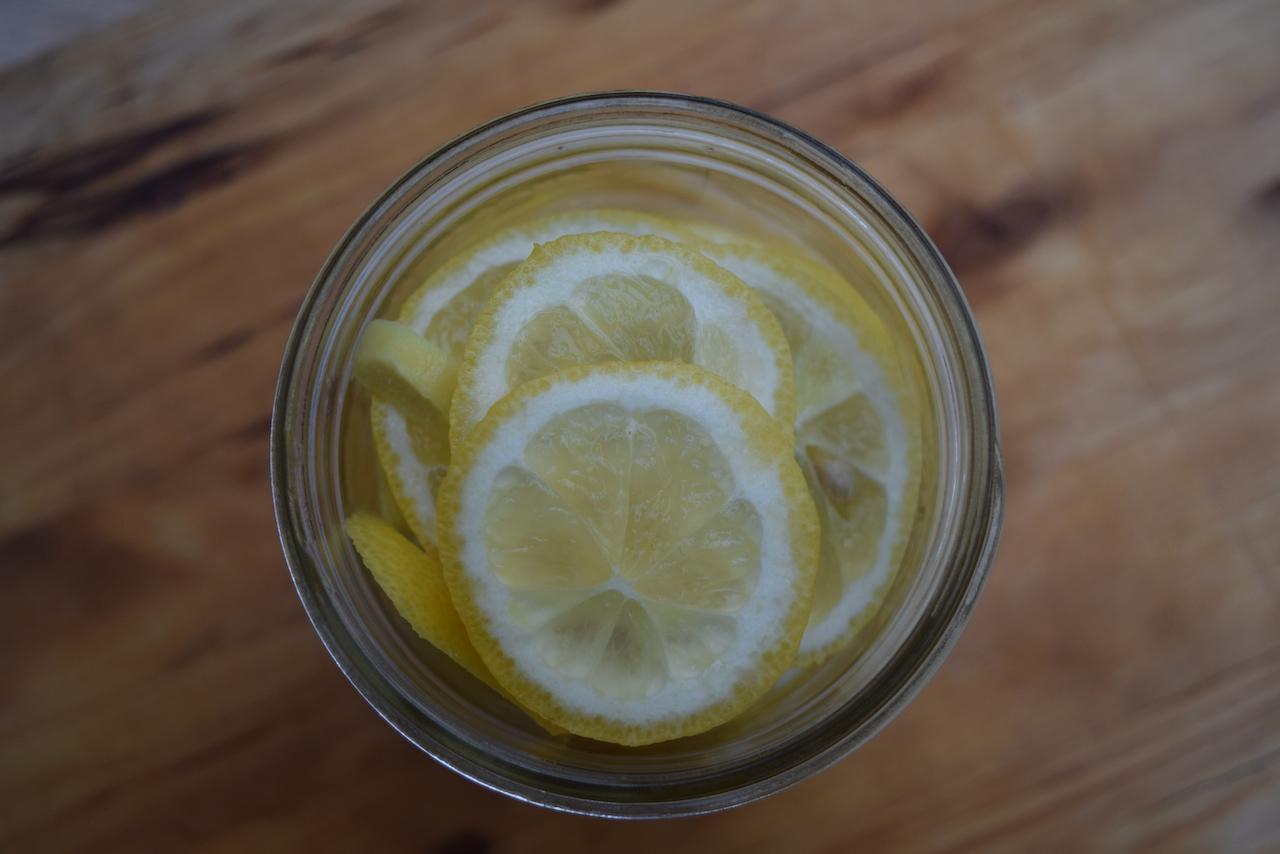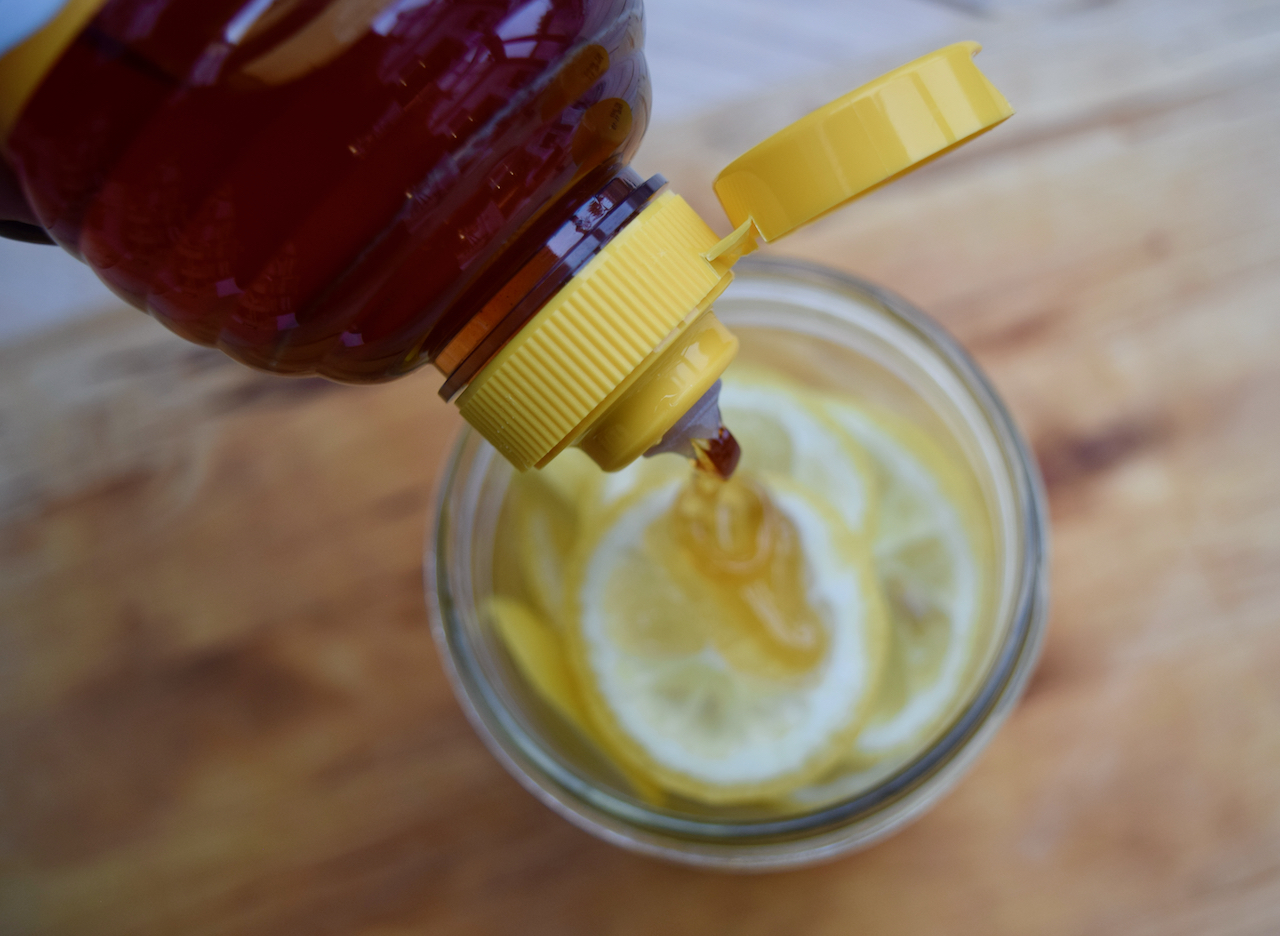 Tap the jar occasionally, to make sure the honey is reaching the bottom and covering the lemon and ginger.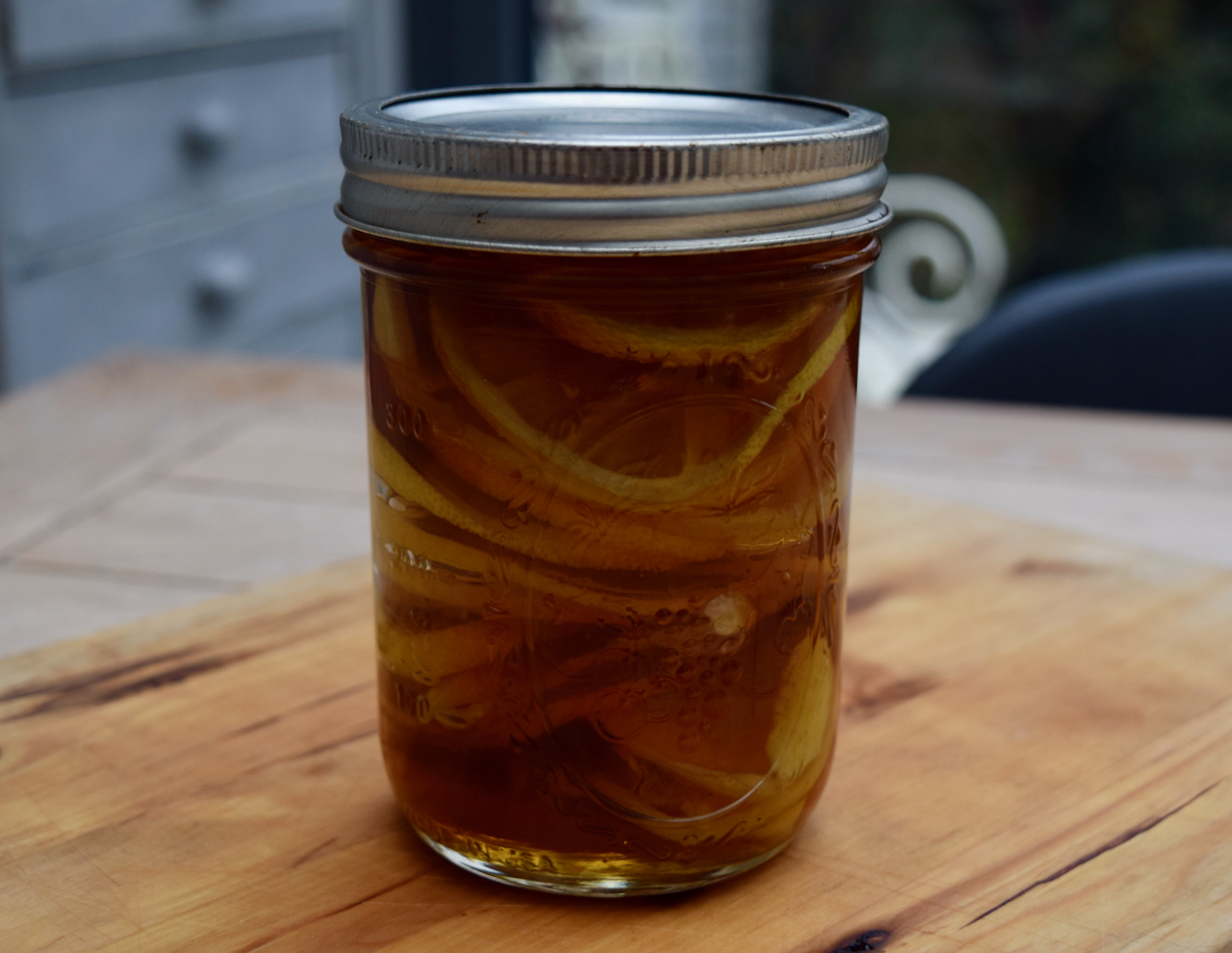 You can use this straight away, or store in the fridge until you're poorly or just in need of a soothing boost. When that time comes, spoon two tablespoons of the infused honey into a mug, adding a slice of the lemon and ginger for luck.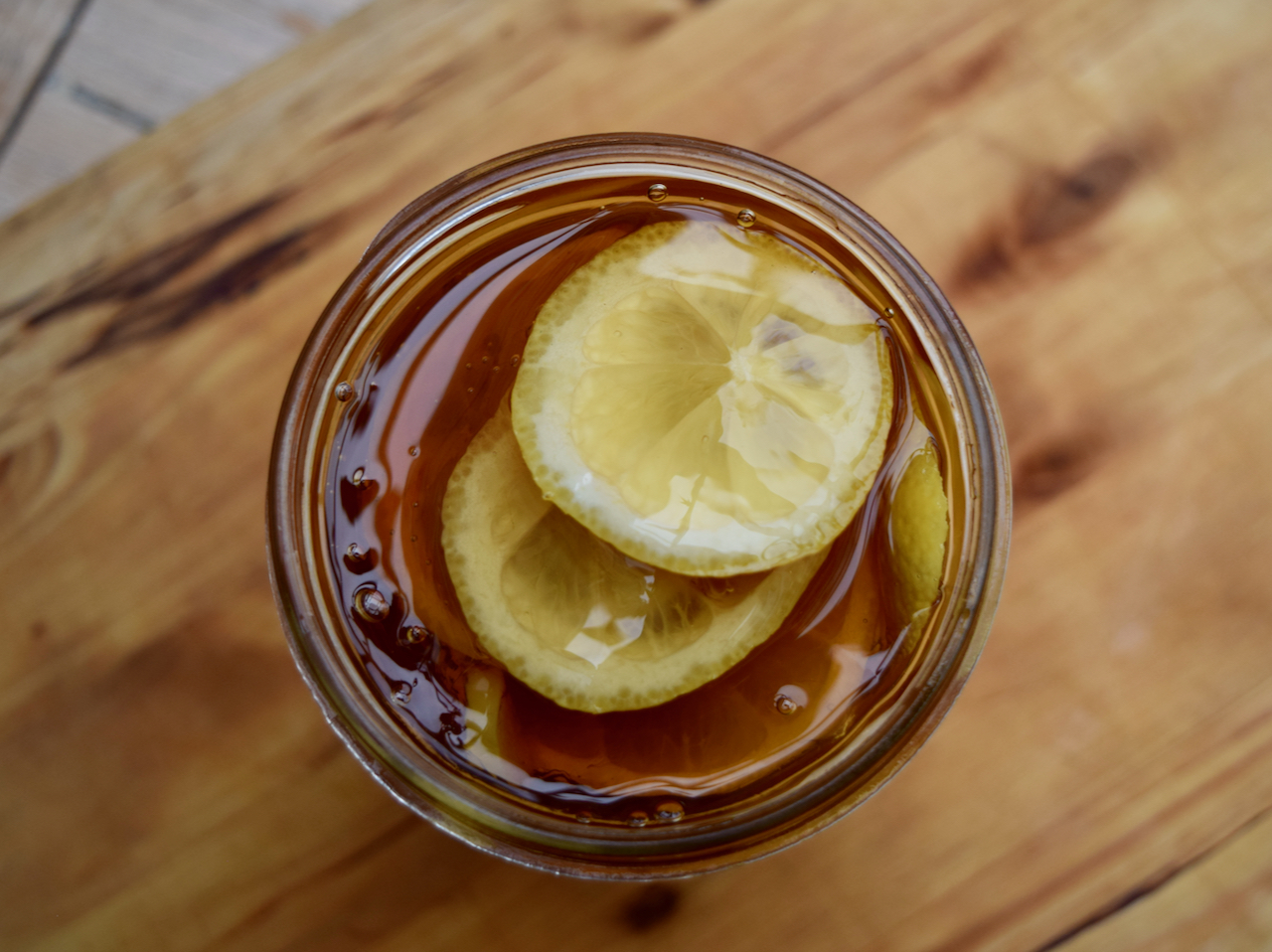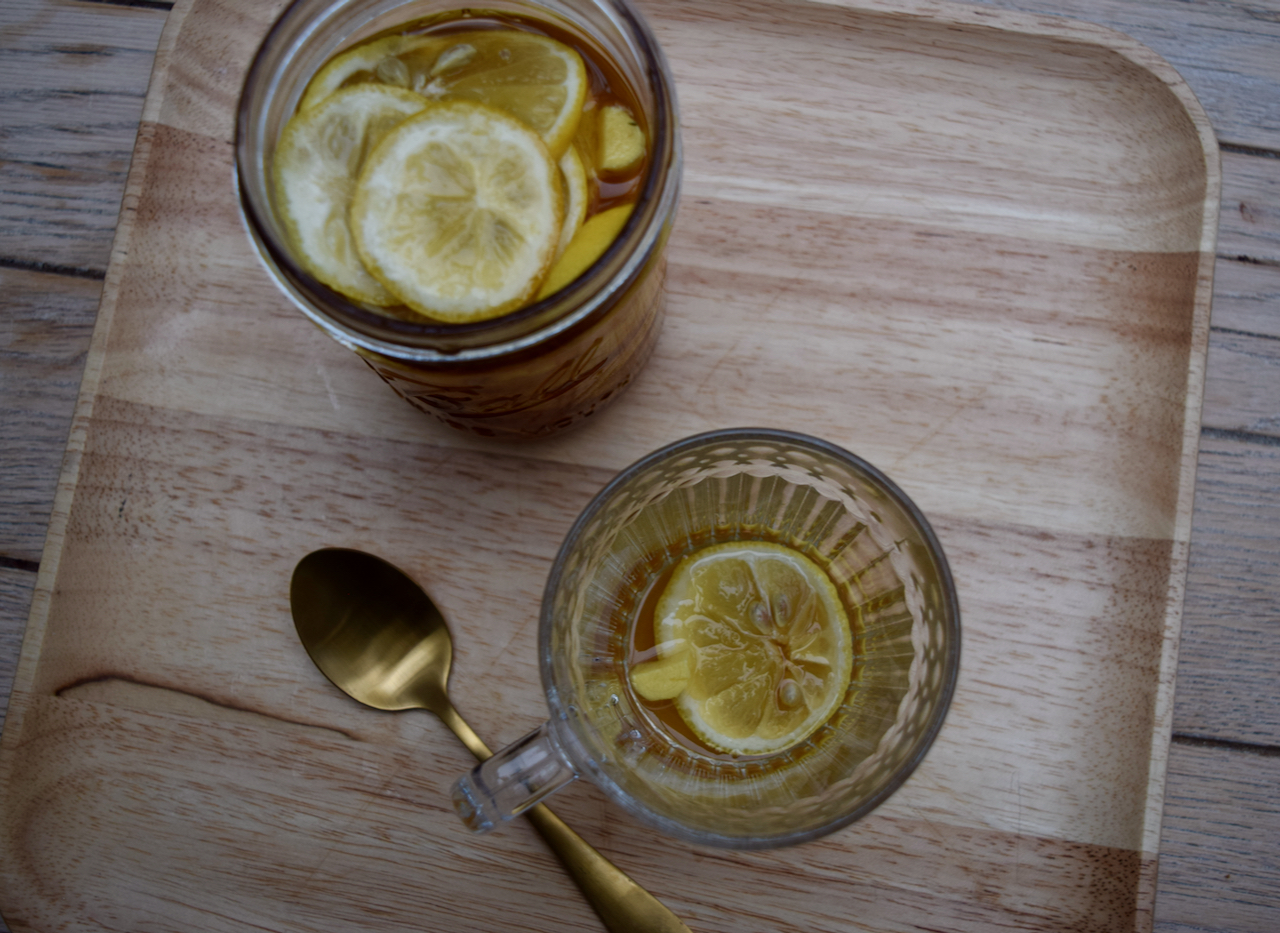 Pour over boiling water, and a tot of whisky if you like, then stir.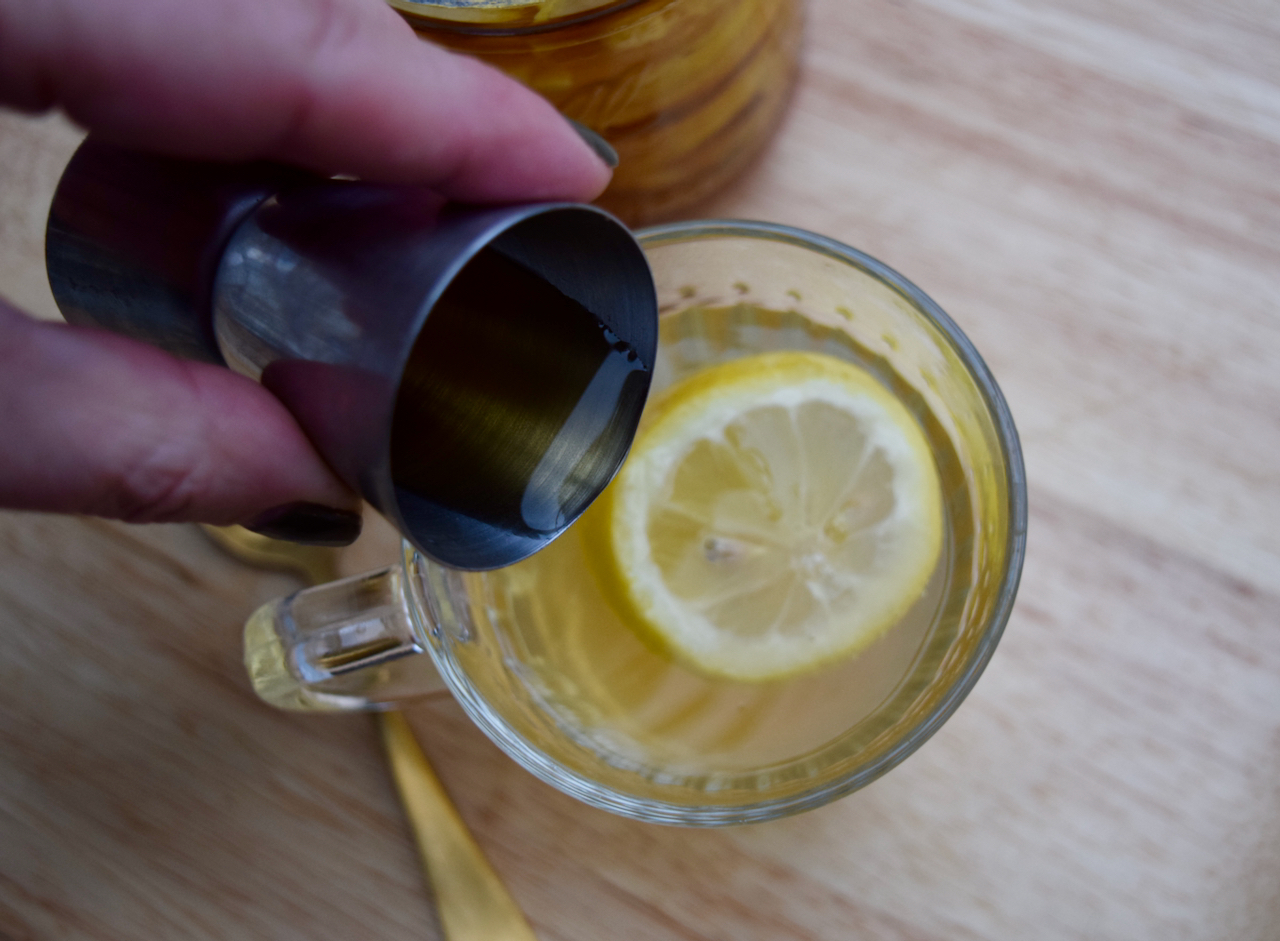 Feel soothed and cosy, and just a tiny bit tipsy if you've added whisky.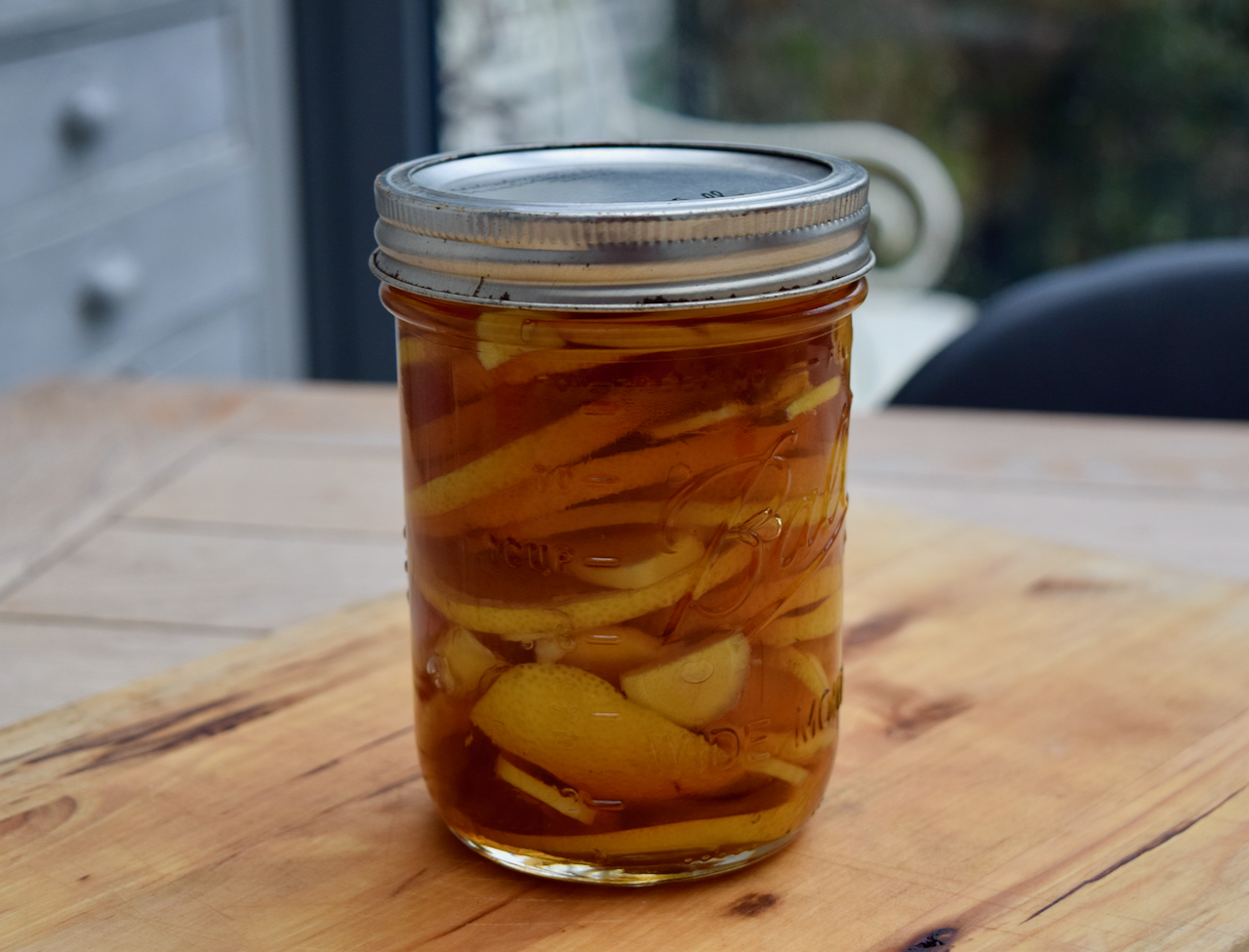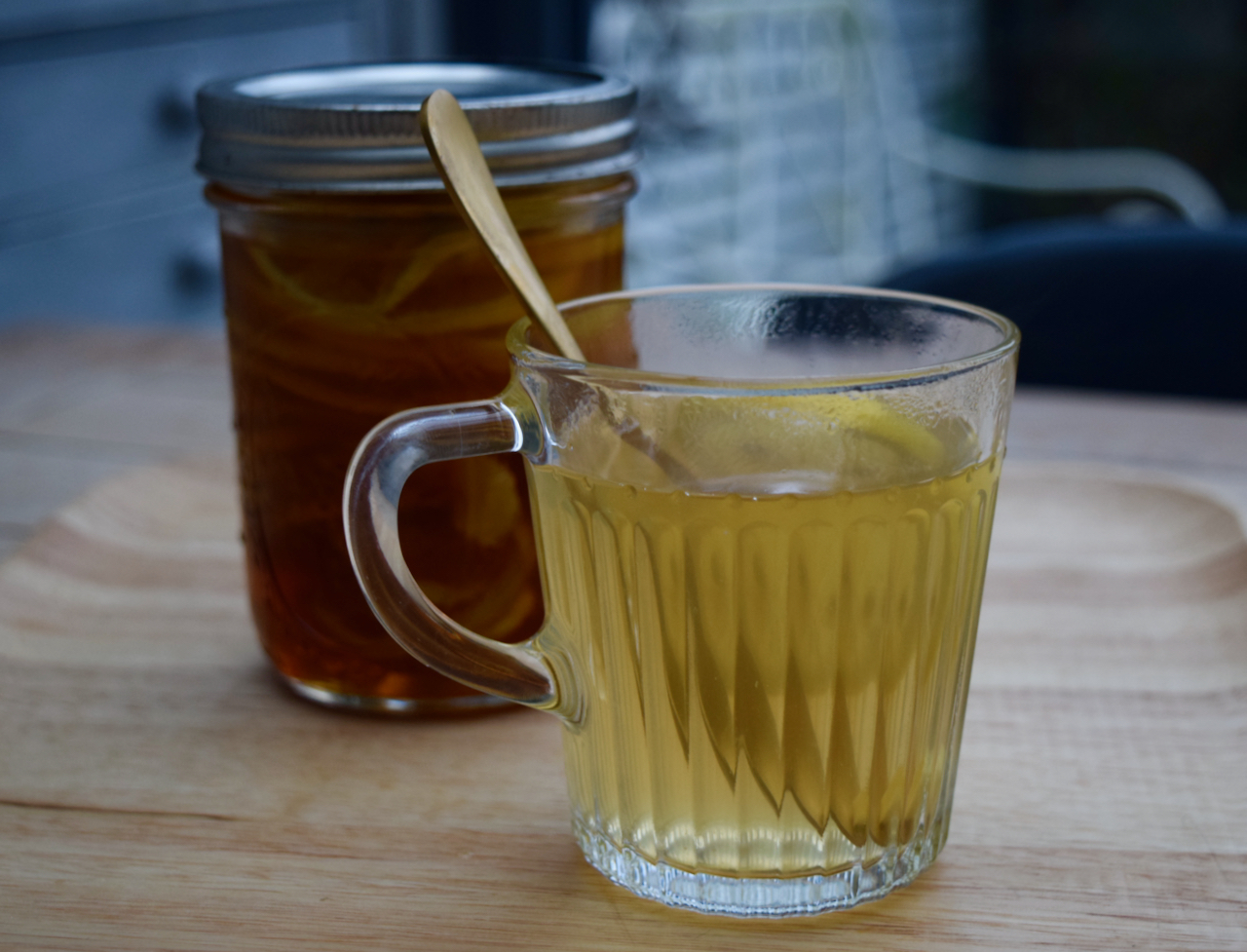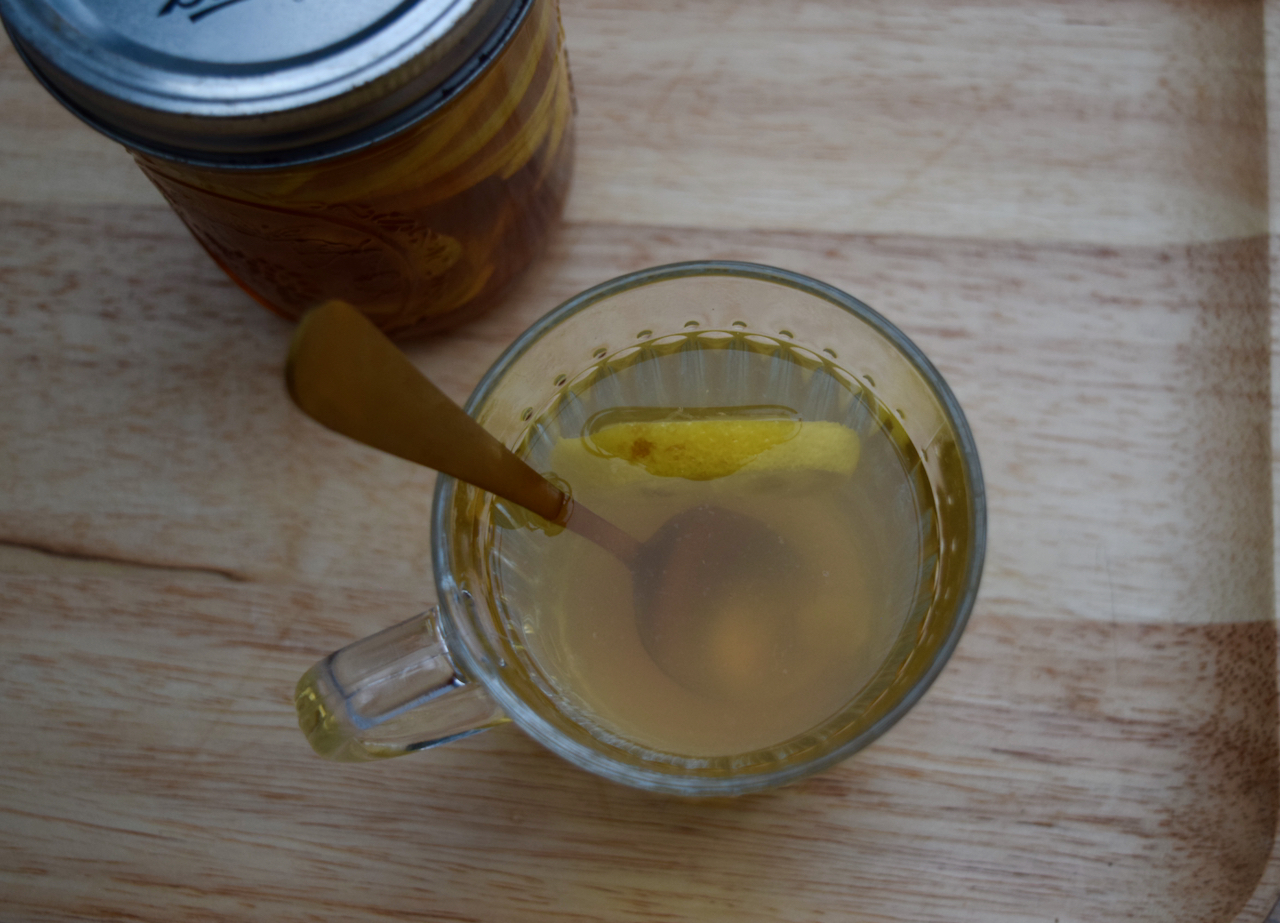 This isn't my usual Friday cocktail, but some *stronger willed than me* people are still enduring dry January. Minus the whisky, this Hot Lemon, Honey and Ginger makes a warming drink, along with a little whiff of health.
Lucy x
Hot Lemon, Honey and Ginger recipe
Makes an approximate 500ml jar
You will just need a clean, sterilized jar
2 lemons, unwaxed are good here
2 inches fresh ginger, peeled
300ml honey
Optional splash of whisky, to serve
Wash your lemons then slice thinly. Peel the ginger, using a teaspoon makes quick work of this, then thinly slice too.
Layer the lemon and ginger slices in your jar then pour on the honey, moving the jar around to ensure it covers all the slices. Pop a lid on and keep in the fridge until needed.
To serve, add 2 to 3 tablespoons of the honey, add a lemon slice and a piece of ginger or two into a mug and stir in boiling water. Add a splash of whisky, if you're anything like me.
The lemon and ginger honey will keep in the fridge for around 2 months.