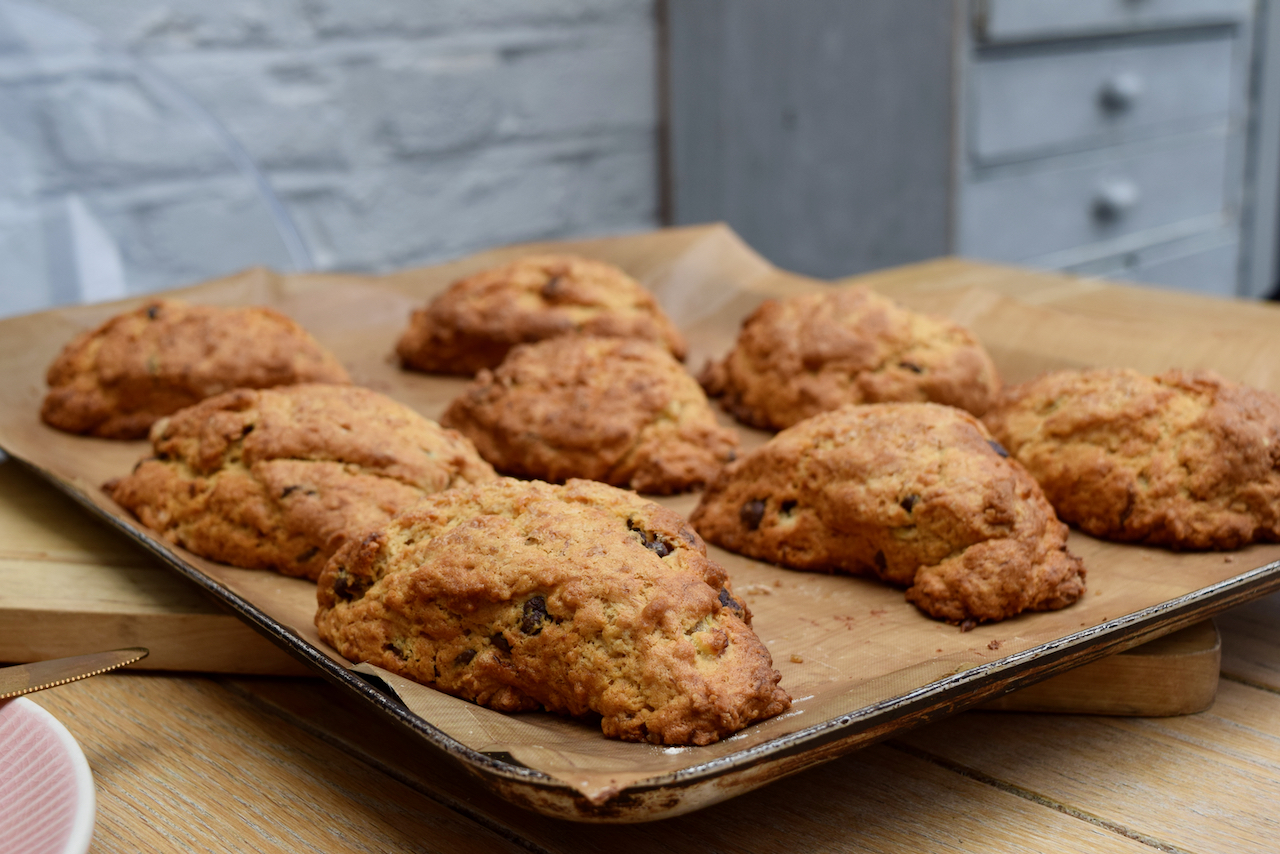 Brown Sugar Banana Scones recipe
Day 100 of lockdown and I'm still baking. The Banana Bread frenzy has been and gone and I have the weight gain to prove it. But, as always, I still have at least a ton of brown bananas in my freezer/fruit bowl. Quite often recipes made to use up your over ripe bananas taste as though they were made just for the purpose of using up over ripe bananas *am I making any sense?* Not so these Brown Sugar Banana Scones. They are inexplicably delicious and will be, henceforth, my favourite banana based bake.
These scones are not a regular cream tea style scone. They're based on a wonderful American recipe from Food 52 and are more of a breakfast or mid morning offering. I think it's perfectly acceptable to eat a scone for breakfast, especially a really buttery one, soft with a hint of banana and studded with chocolate chips. These are so good warm, slathered in butter with a big cup of coffee. You can make them in advance, freeze and then pop straight in the oven from frozen if you are that kind of person. I'm not, so would make them from scratch at the last minute. They are quick to make and even quicker to eat.
Breakfast or tea time, I don't mind when you eat them, I just recommend you eat them pretty soon.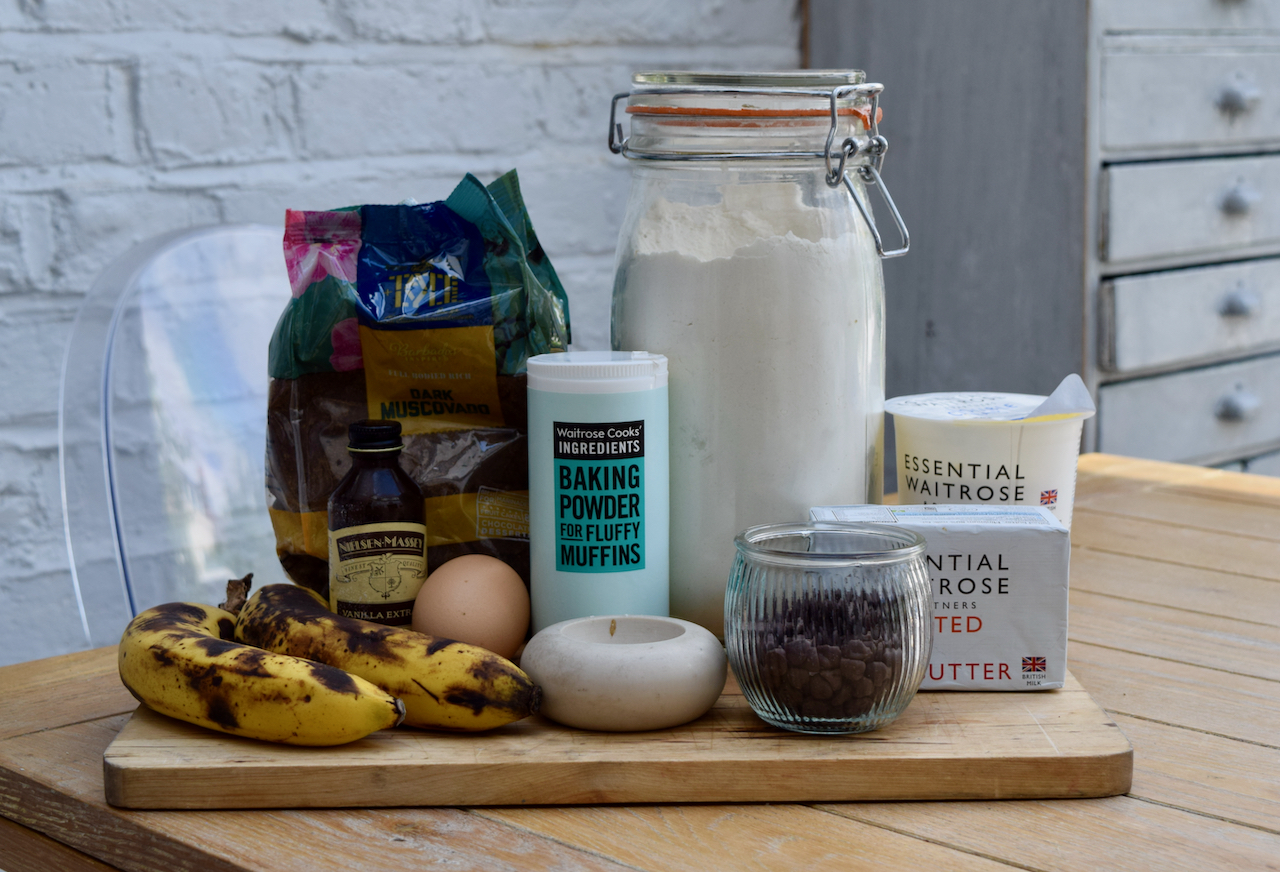 I was overly optimistic as to how many bananas I would need for these scones. Sadly, this batch only utilised one of my stash, however, I will be making these again at least 3 times a week, so stores will soon be depleted.
Make a start by lining a baking sheet and pre heating your oven to 160 degrees fan assisted. Next, take a jug or bowl and measure in the 80ml of cream, egg, vanilla and one medium sized mashed banana. Whisk to mix.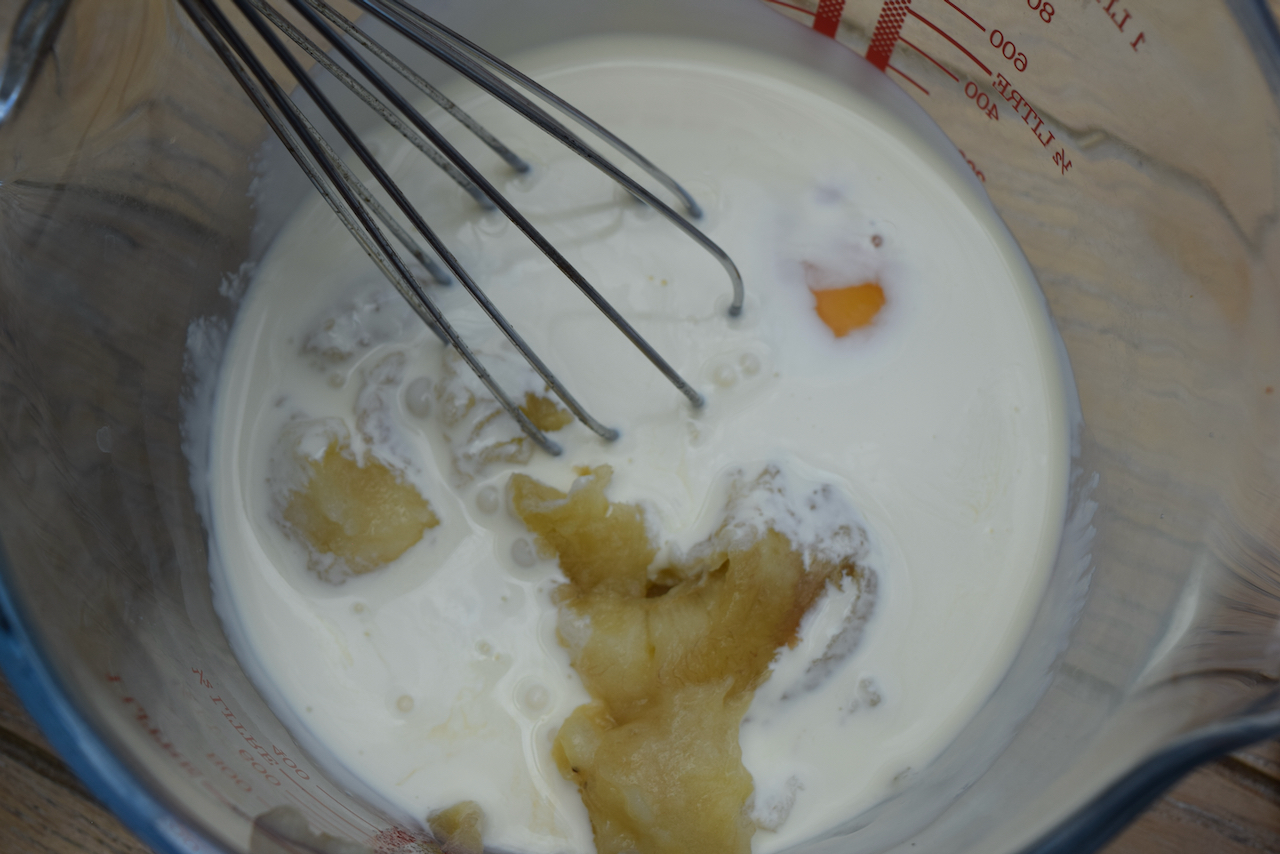 In a large bowl measure in the flour, dark brown sugar, baking powder and salt.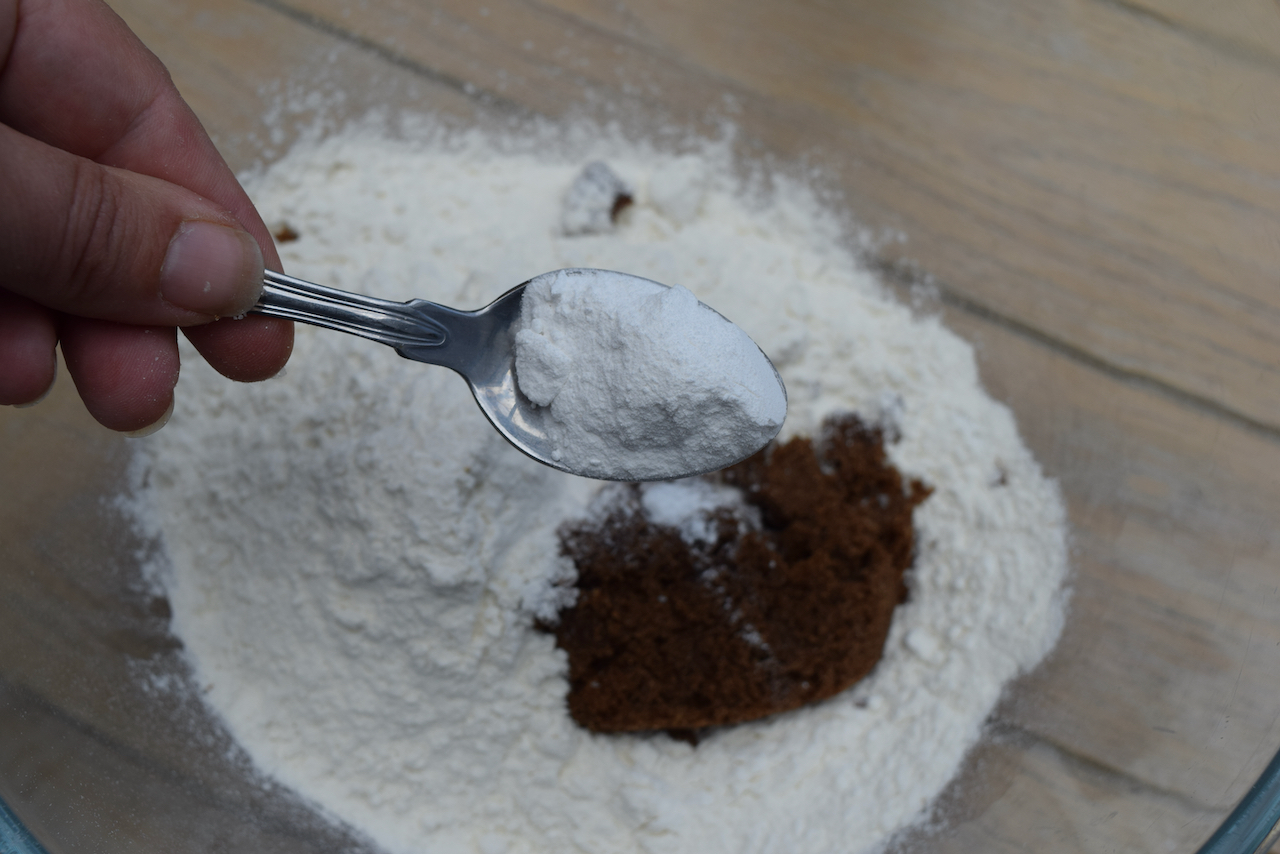 Mix briefly then add the cubes of cold butter. Rub in with your fingers or use my new favourite pastry cutter, to create a rough breadcrumb like texture. Try and leave some bigger bits of butter to make for flakier scones.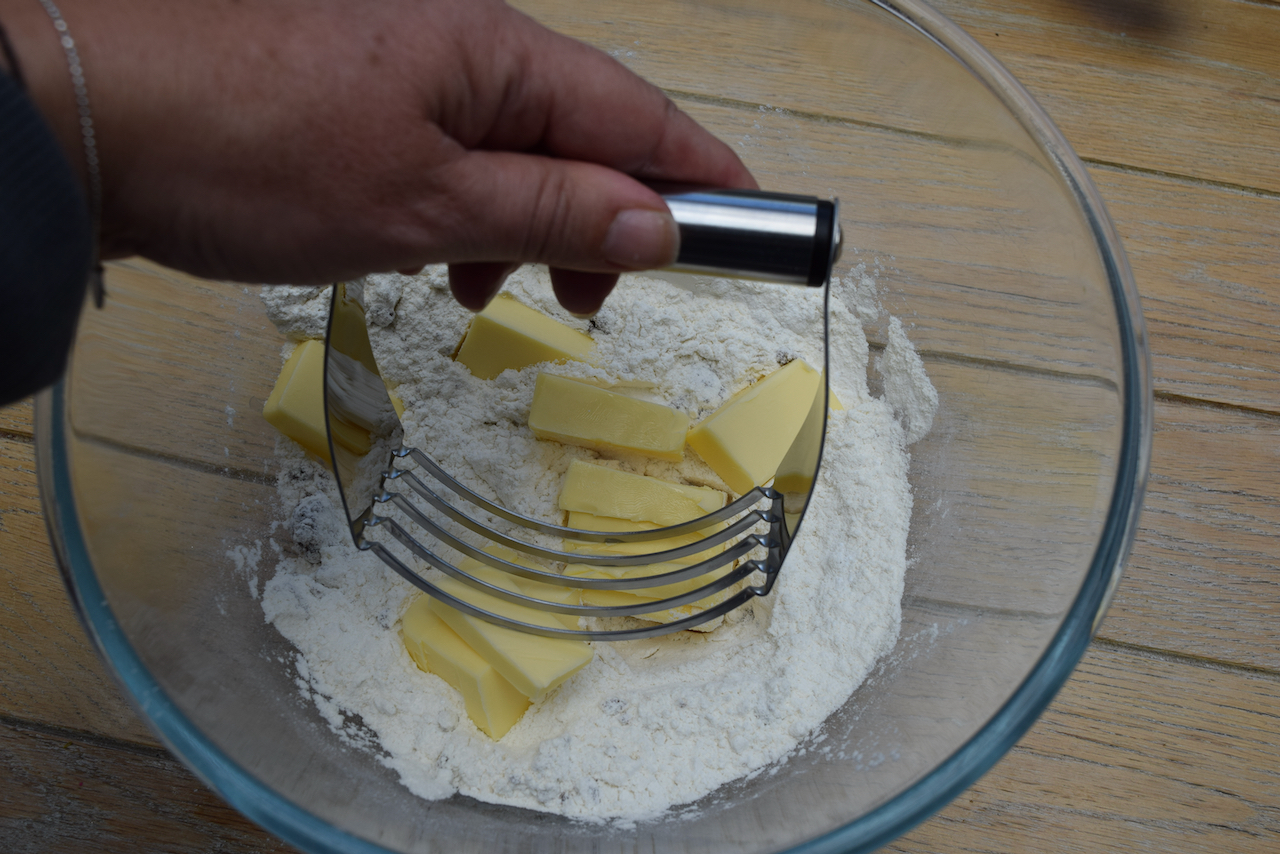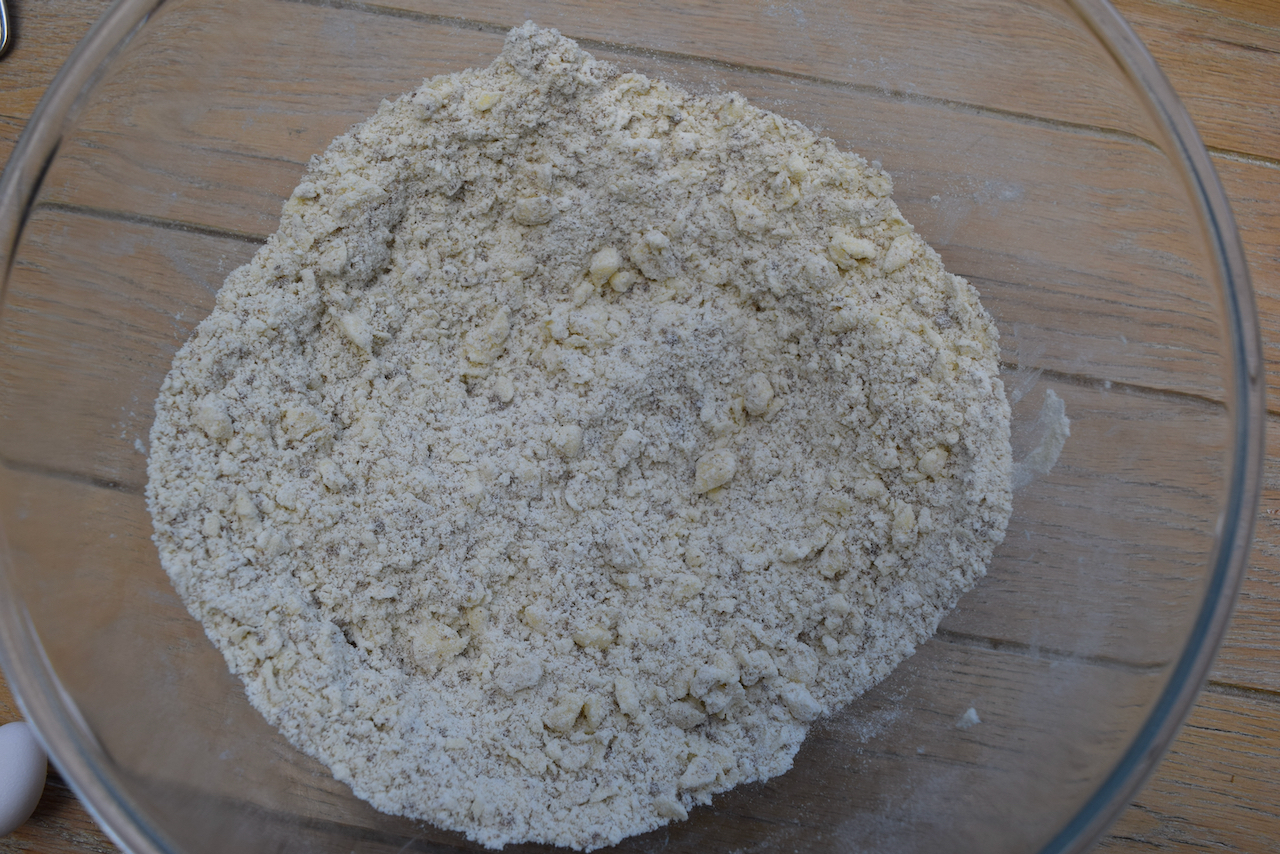 Stir in the chocolate chips, then pour on most of your cream/egg mixture. Keep a little back as you may not need it all. The dough will be wet, but not soggy.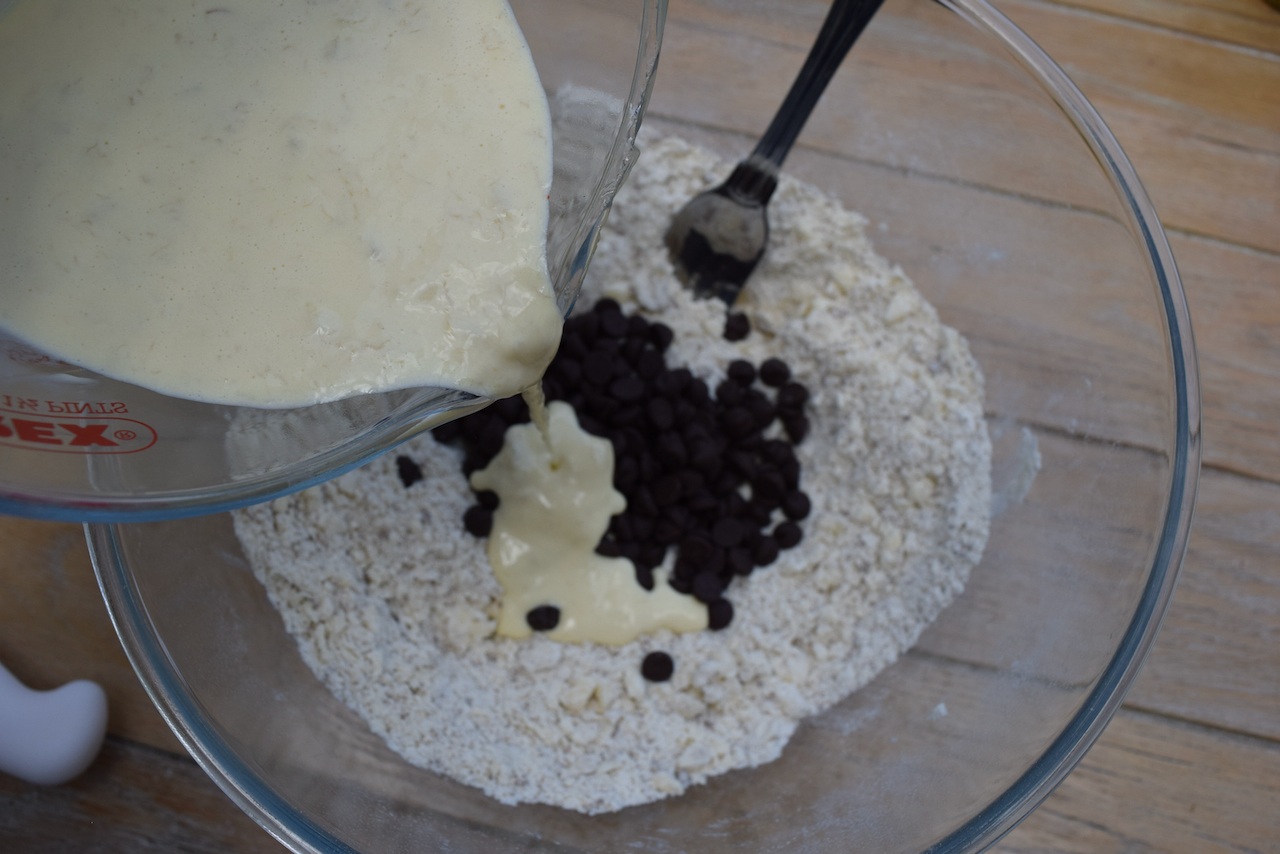 Mix using a fork to create a shaggy dough.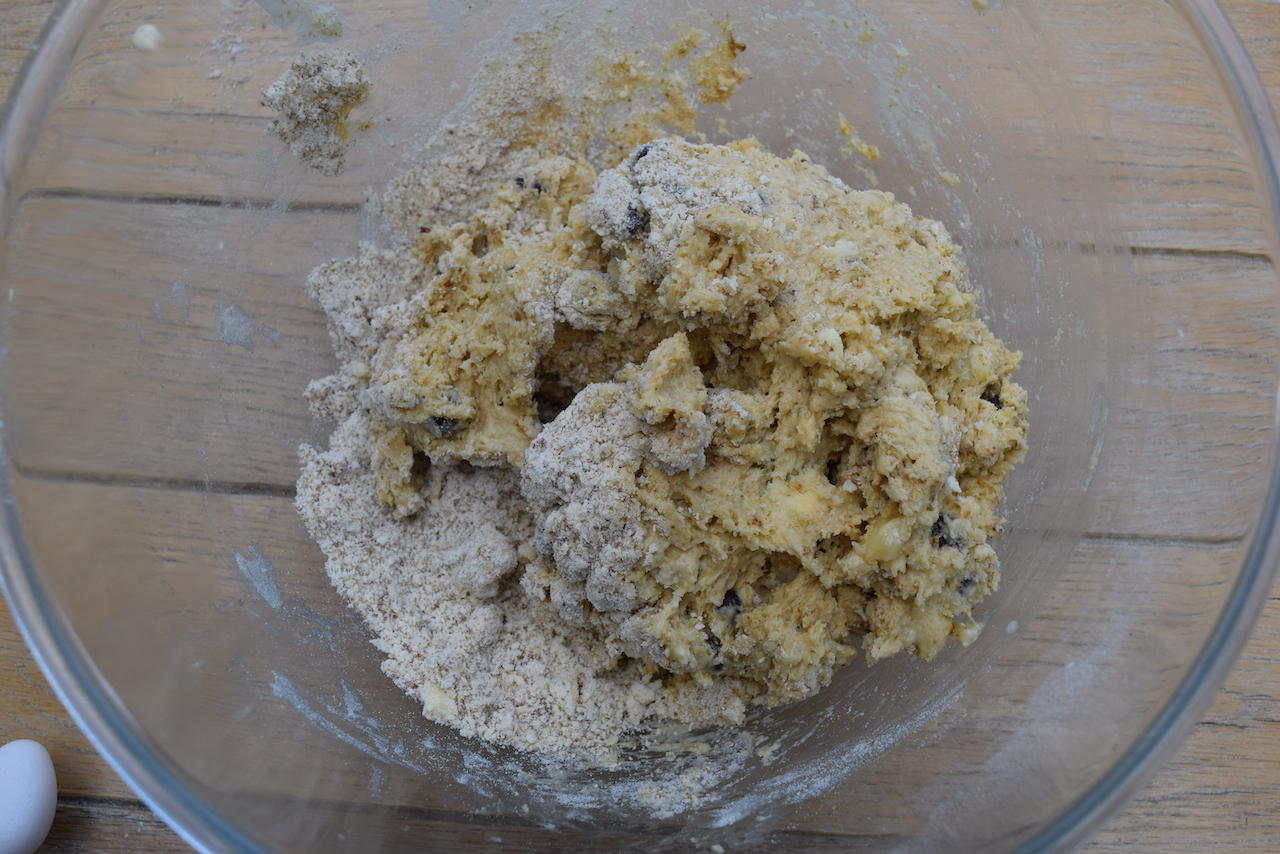 Turn the dough out onto a floured work surface, bring it together, and gently, as the dough will be on the wet side, fashion into a 6 inch circle.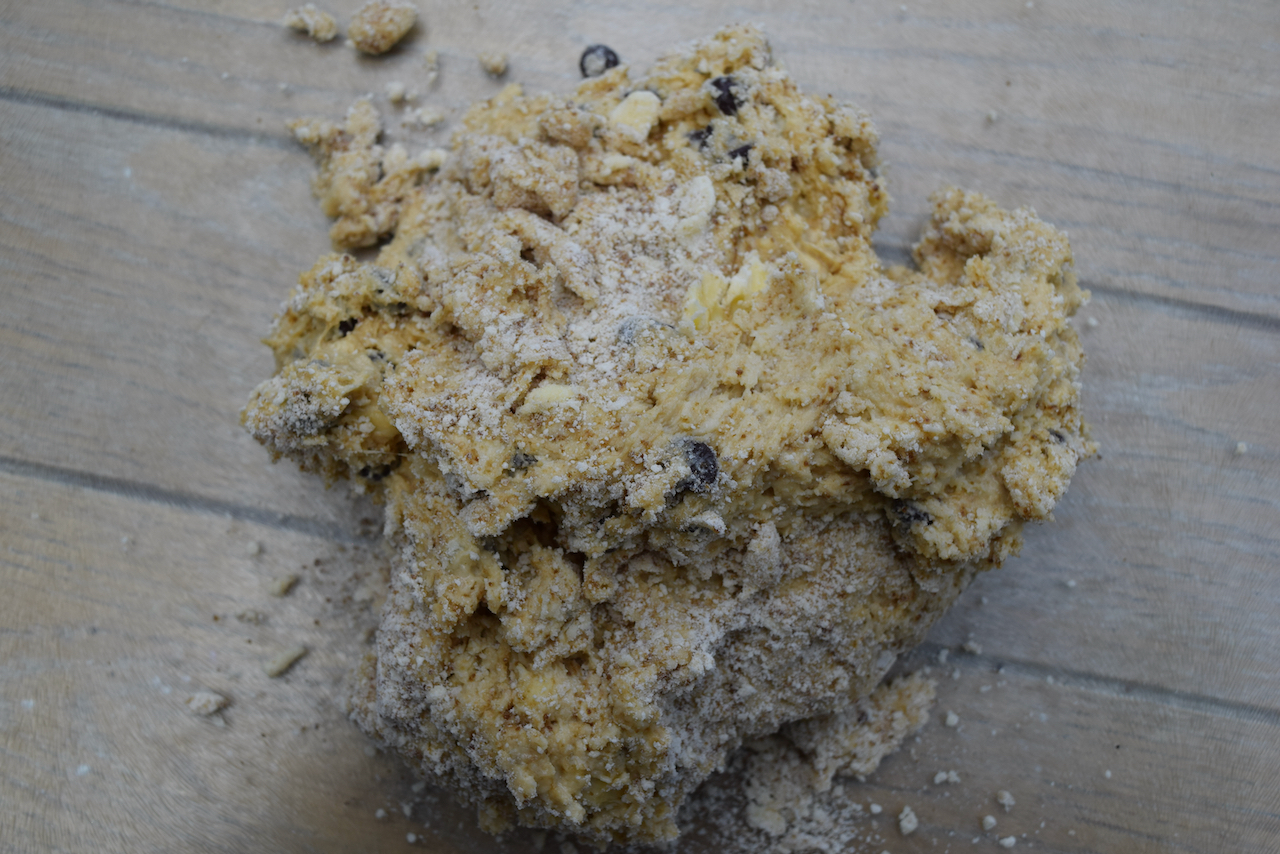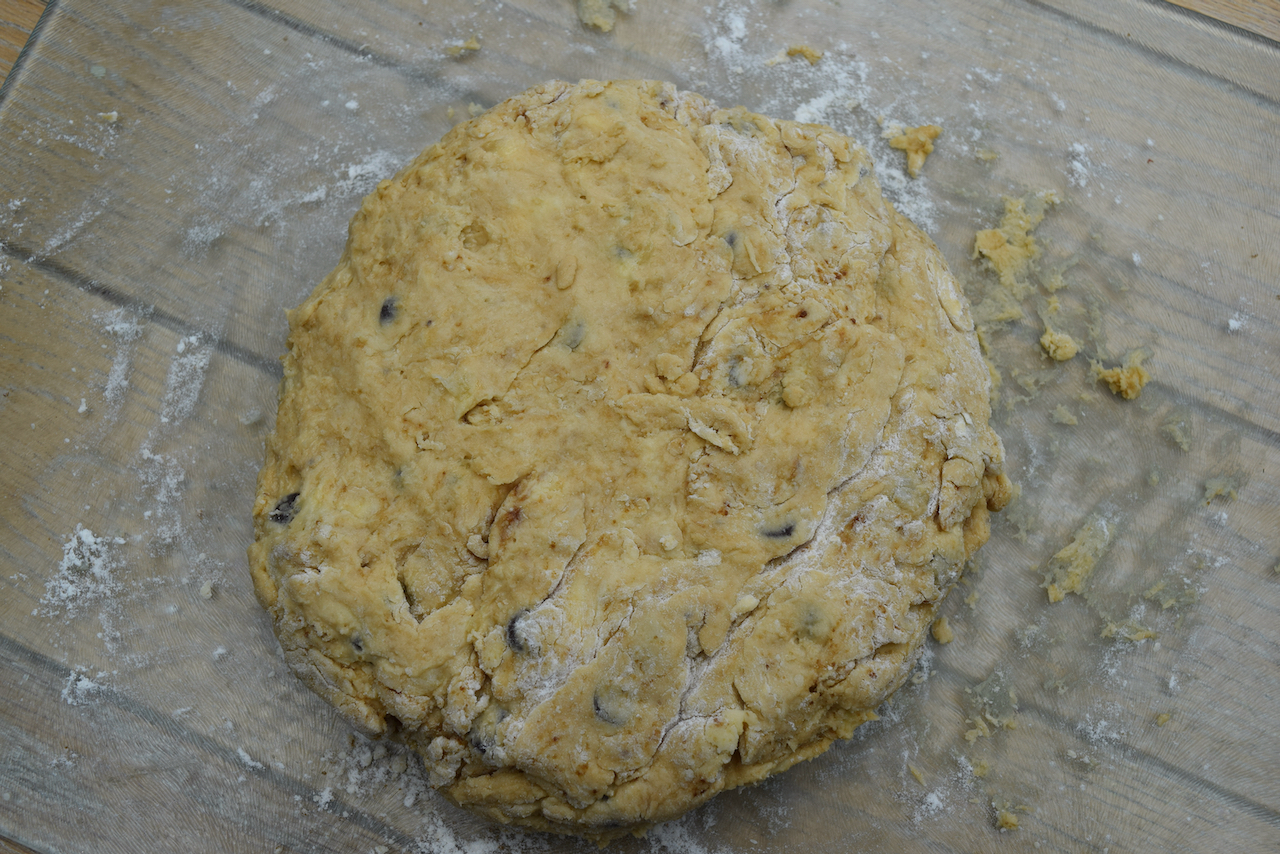 Using a pizza wheel or floured knife, for ease, cut the circle into 8 wedges then place onto your lined baking tray.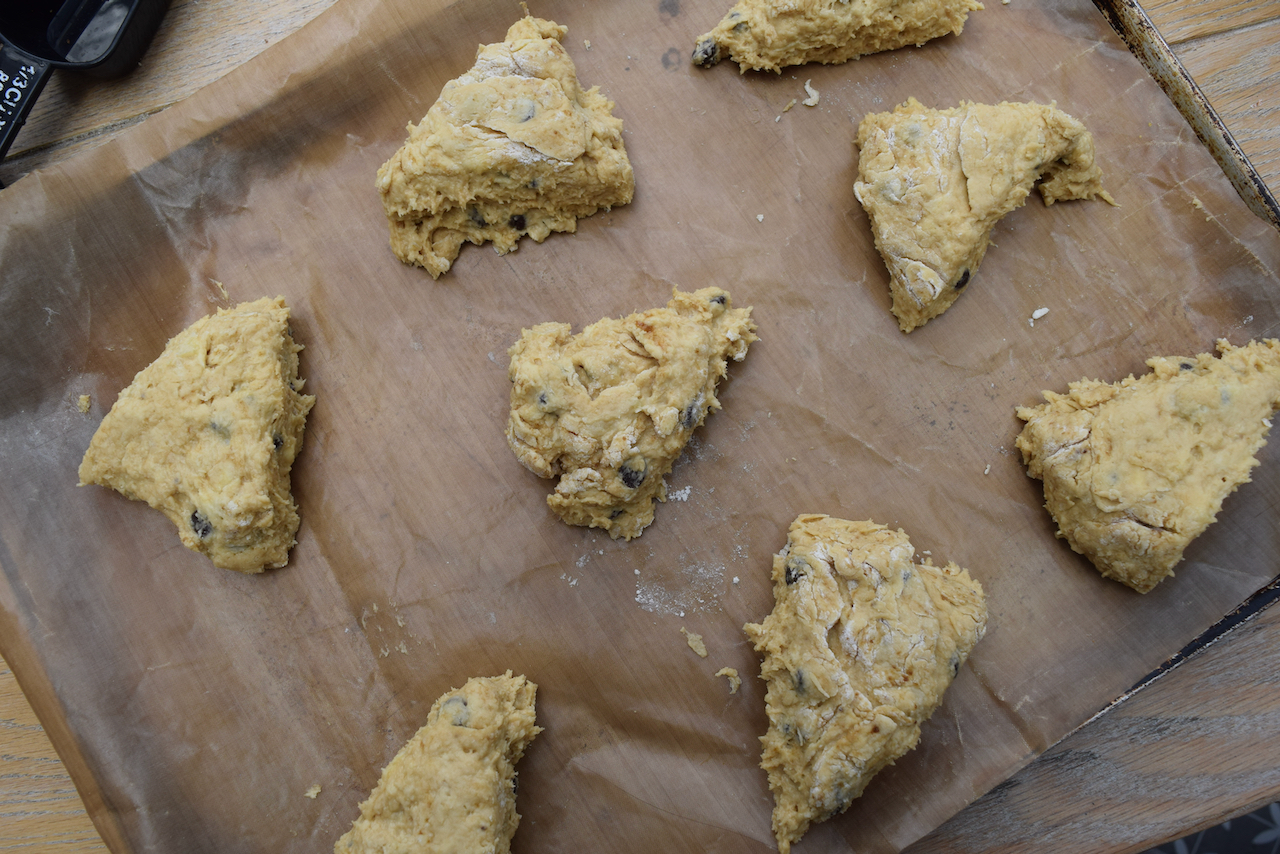 They are rustic scones *messy*, so don't worry about even shapes too much. Brush the tops with a little more cream and then sprinkle with demerara sugar.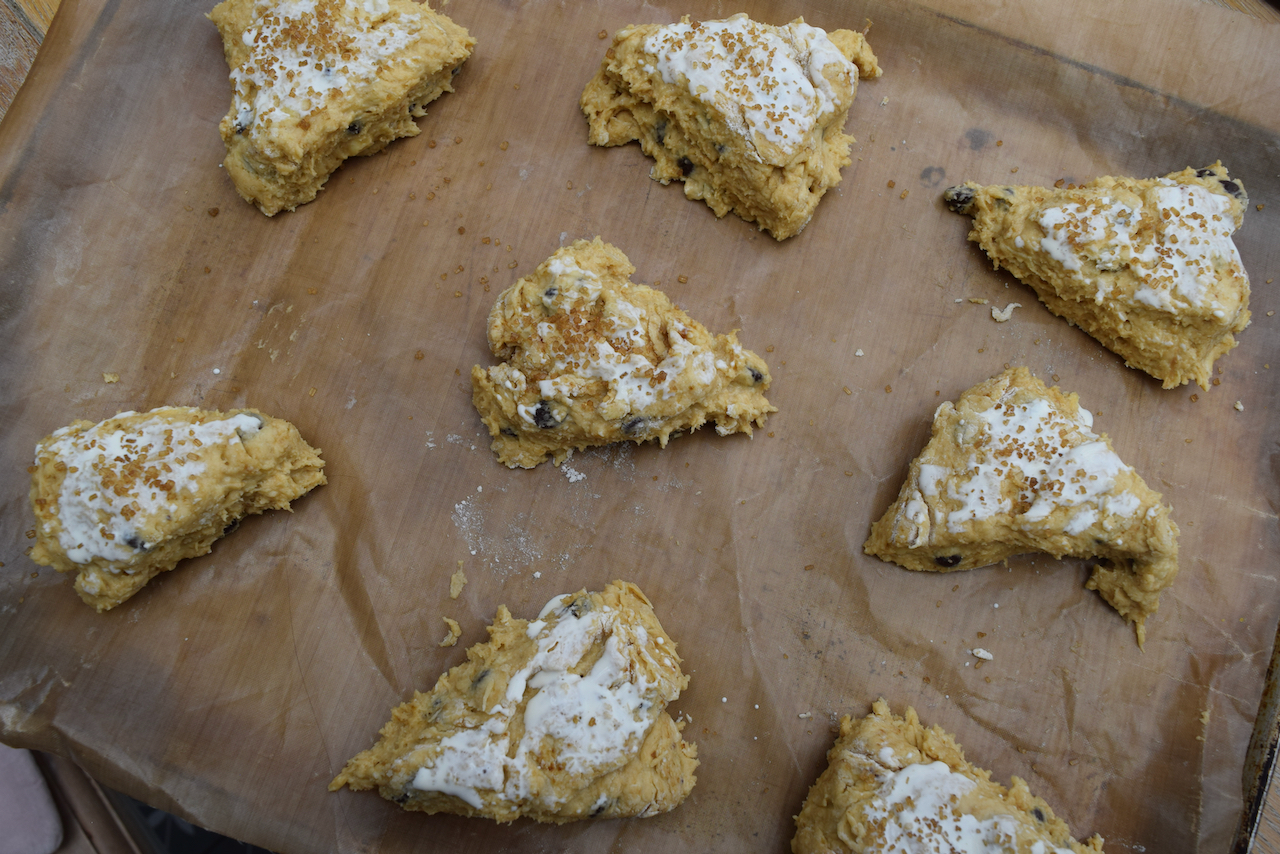 Bake your wonderful creations for between 18 and 22 minutes. Mine took around 20 minutes. They are ready when they're golden, smelling amazing and a skewer comes out clean when poked in the middle.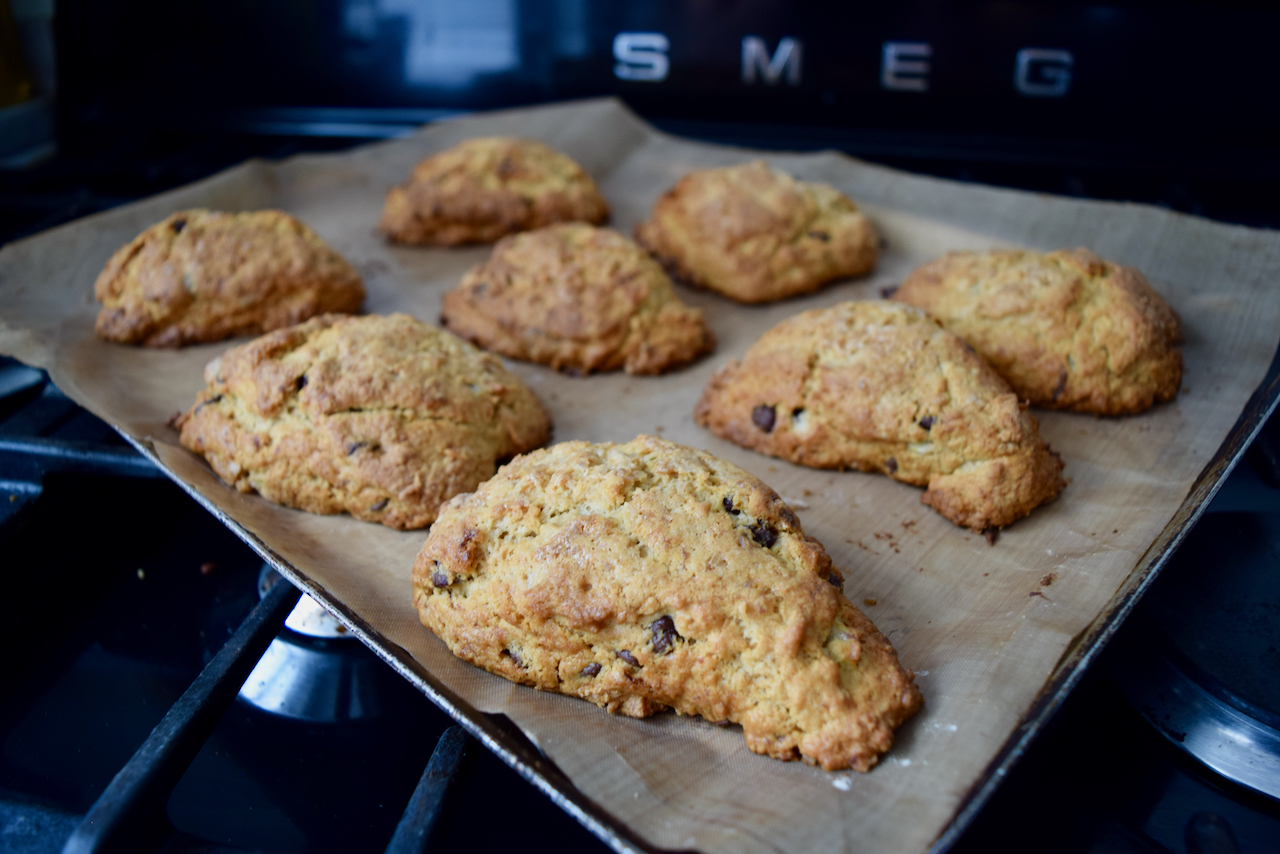 Try and restrain yourself from scoffing one straight from the tray, and let the banana scones cool briefly. Serve them, still warm, with an obscene amount of butter slathered on them. Hot beverage, optional.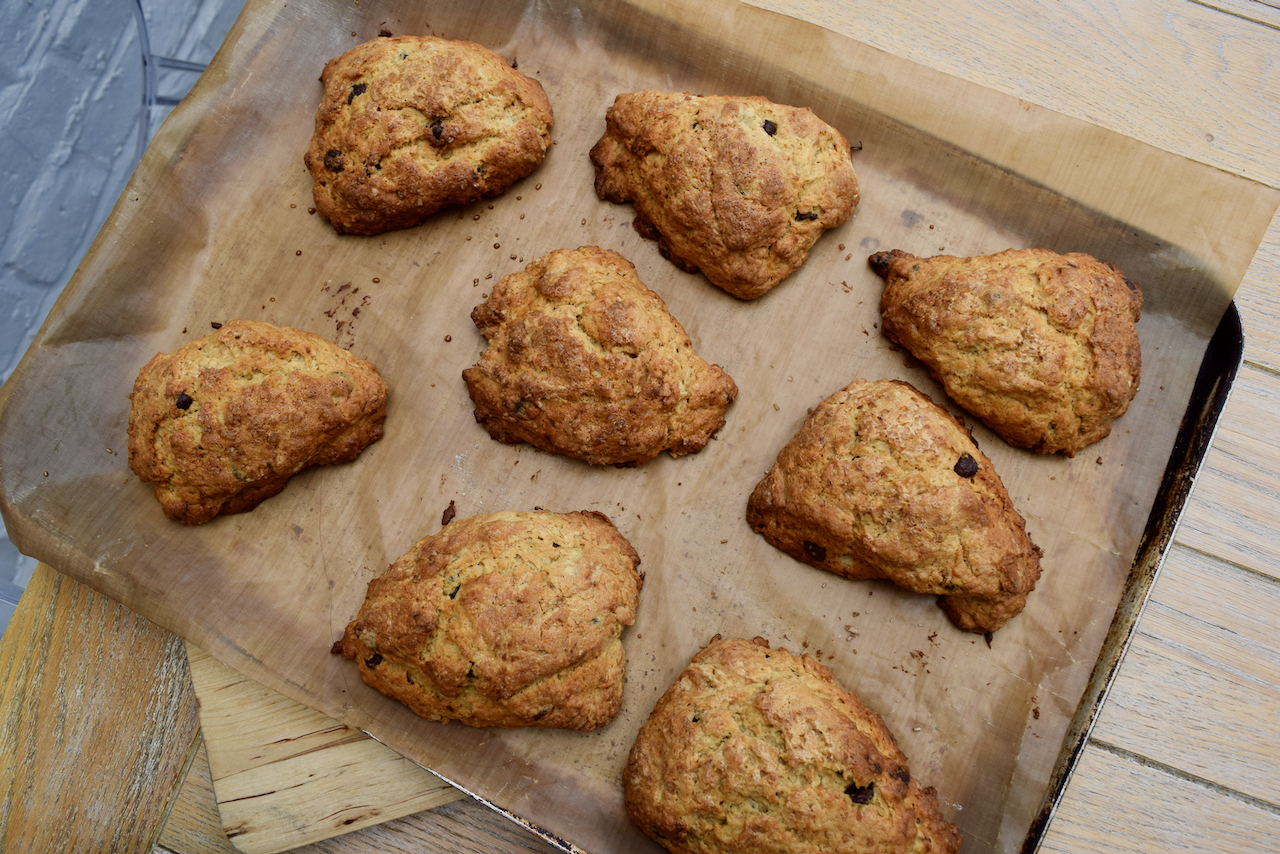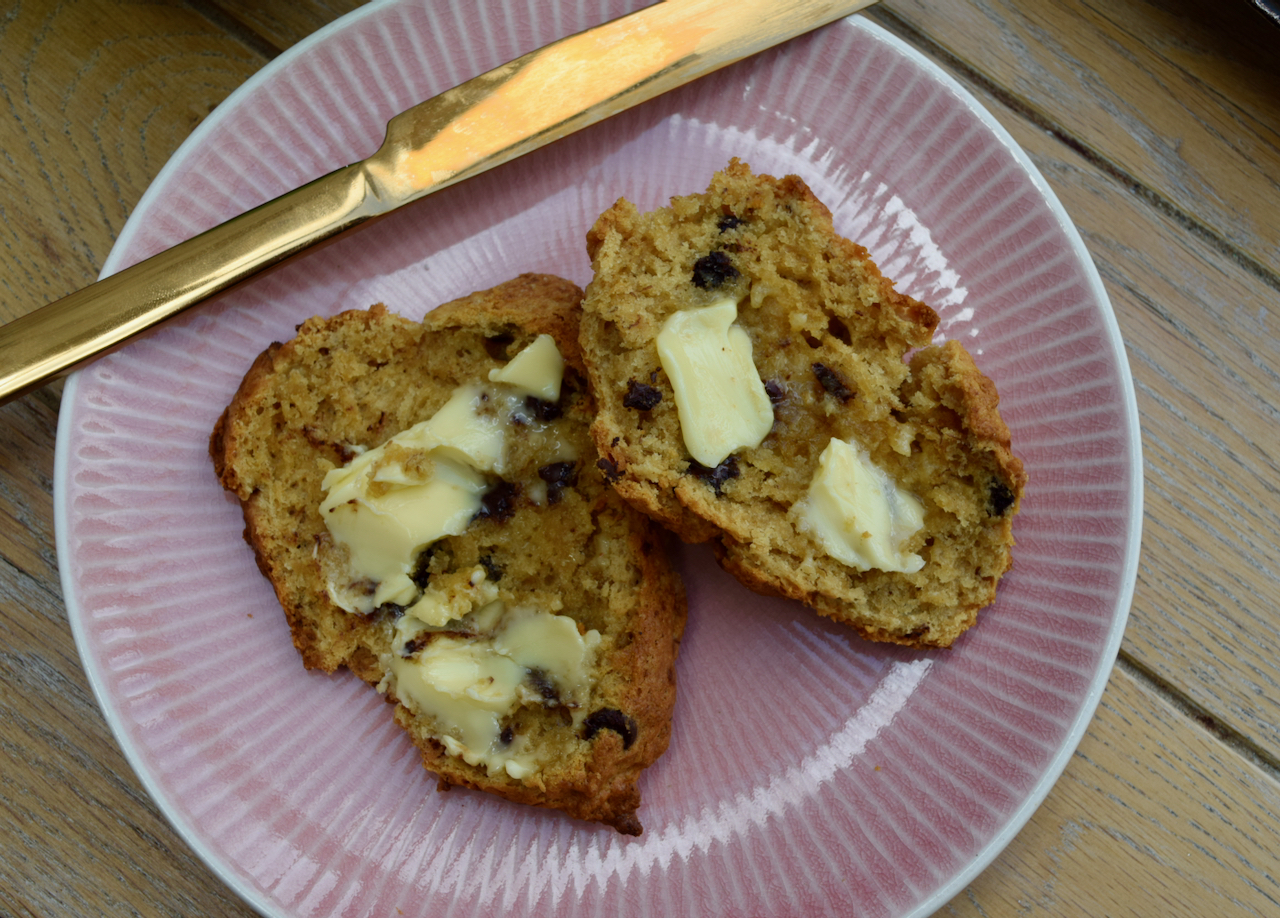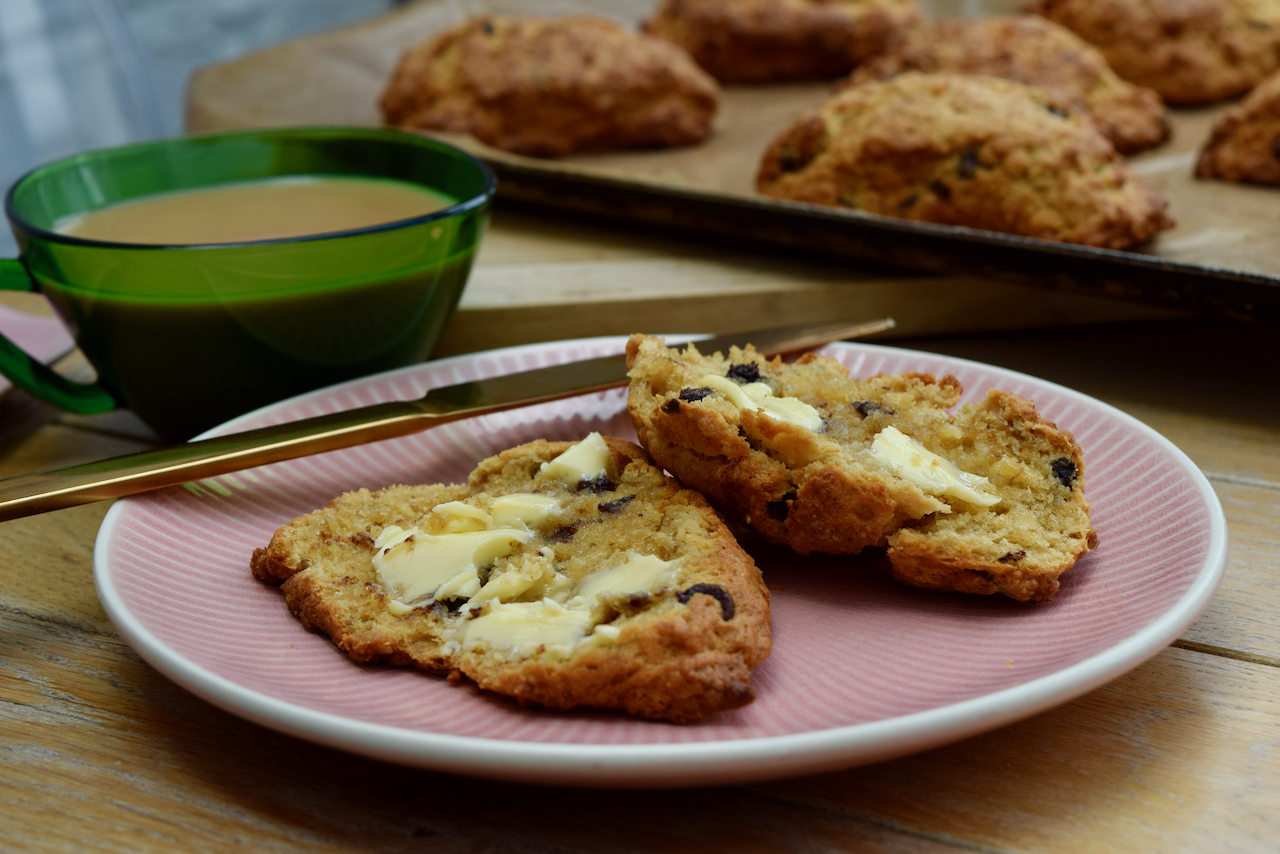 Breakfast scones should definitely be a thing. In fact I'm making them a thing. After 100 days of lockdown Brown Sugar Banana Scones are one of the best reasons to get out of bed in the morning.
Lucy x
This post contains an Amazon affiliate link. Should you choose to buy via this link Lucy Loves will make a tiny commission, at no extra cost to you. With thanks.
Brown Sugar Banana Scones recipe
Makes 8 wedges
You will just need a bowl and a baking tray for this, although you could use a food processor if you wanted to
1 medium very over ripe banana, mashed
80ml double cream, plus a splash extra for glazing
1 egg
1 teaspoon vanilla extract
240g plain flour
65g dark brown sugar
2 1/2 teaspoons baking powder
1/2 teaspoon salt
115g butter, cold and chopped into chunks
75g chocolate chips
A splash of cream and a sprinkle of demerara sugar to decorate
A lot of butter, to serve
Pre heat your oven to 160 degrees fan assisted and line a baking tray.
In a jug whisk together the cream, vanilla, egg and banana.
In a large bowl, measure in the plain flour, dark brown sugar, baking powder and salt. Drop in the cold butter cubes and gently rub these into the flour mixture. It will look like chunky breadcrumbs when it's ready, leave some bigger pieces of butter if you can for flakier scones.
Stir in the chocolate chips. Pour in the cream mixture, holding back a couple of tablespoons, as you may not need it all. Fold the ingredients together, gently, until you have a shaggy dough.
Turn out onto a floured board and pat into a rough 6inch circle. Don't panic if it's a bit wet, just flour your hands. Using a pizza cutter or a floured knife, carefully cut into 8 wedges and place them onto your lined baking sheet. Brush with a touch of double cream and sprinkle on some demerara sugar.
Cook for 18 to 22 minutes or until golden and firm. A skewer will come out clean when poked in the middle. Leave to cool briefly on the tray before splitting and serving warm, slathered in butter. These are best eaten on the day, however, you can toast or re-heat over the next couple of days.
You could also freeze these, wrapped, prior to cooking, and bake from frozen, adding a couple of minutes onto the cooking time.