Honey Jalapeno Cornbread Recipe
I have a random obsession with Cornbread. That's not a phrase you hear everyday. I only discovered the joys of this delicious side dish recently, when a dear friend made a batch at a barbecue. I embarrassingly ate almost the whole batch and have been badgering her for the recipe ever since. My friend is such a wonderful baker she never really follows a recipe so I had to base my Honey Jalapeño Cornbread on one from the lovely Sallys Baking Addiction, with thanks to Sally. And I think I have finally nailed it, after weeks of research this is the winning recipe.
If you have never eaten Cornbread, it's probably not what you were expecting. It's an old Native American recipe and is served as a side dish with such joys as my Spiced Beef Chilli or with barbecue dishes. My version is slightly sweet, cakey in texture and wonderfully spiced with the addition of some jalapeño peppers from a jar. The original recipe suggests adding such extras as chopped crispy bacon, grated cheese, chilli flakes or even dried cranberries. I will be trying these add ins just for a bit of variety as I seem to be making a batch of this a week at the moment.
This Honey Jalapeño Cornbread is soft, sweet but not cloying, it has a slight crumble and is bloody addictive. It took me a while to perfect this recipe, but I am super happy with this version. I think my Cornbread induced weight gain is evidence of just how happy I am with it.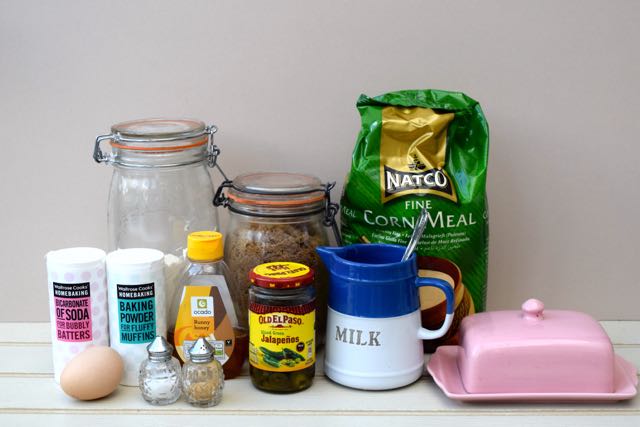 Nothing terribly taxing here. I have used polenta before, but this fine cornmeal gave the best results and was readily available from Sainsburys. I chose jalapeños to add to my Cornbread but as I mentioned, sling in anything you think would work for you and your family.
Make a start, as usual, by pre heating your oven to 160 degrees fan assisted and then by lining your 20cm x 20cm square baking tin. Next, take a large bowl and add the cornmeal, plain flour, baking powder and bicarb and salt.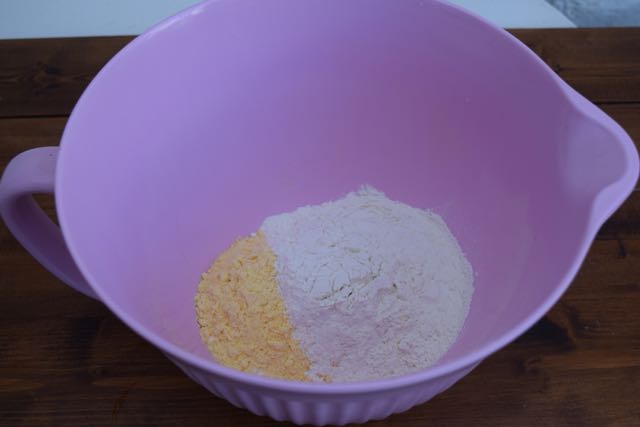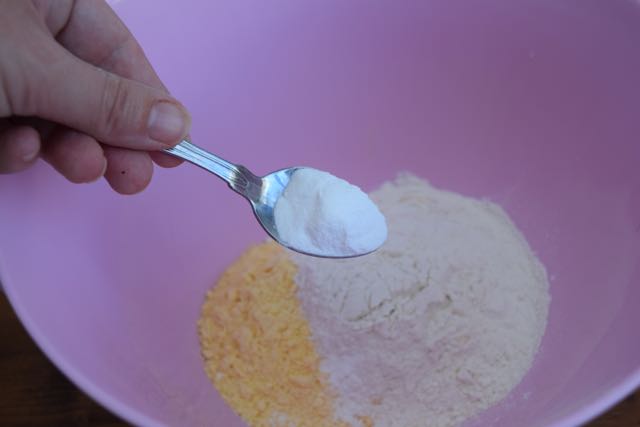 Mix well then pop to one side while you deal with the wet ingredients.
In another bowl or large jug, melt the butter.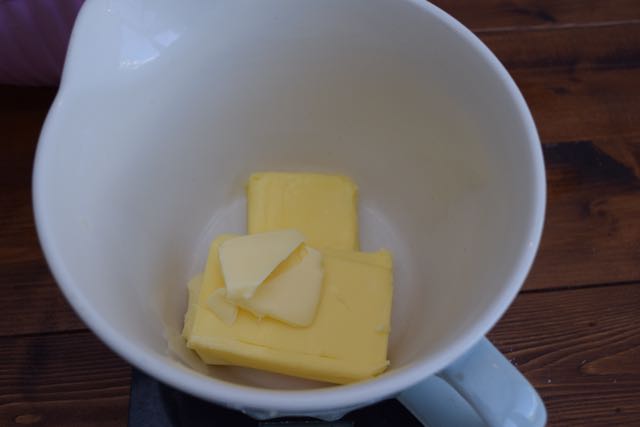 Add the brown sugar, honey and egg then give this a little whisk. I reduced the amount of sugar and honey from the original recipe as I didn't want my Cornbread to be overly sweet.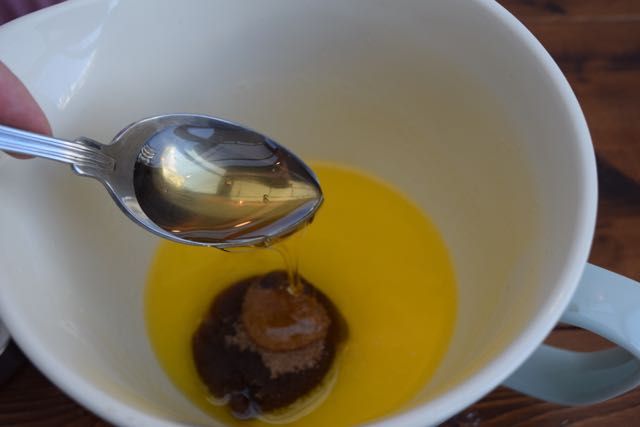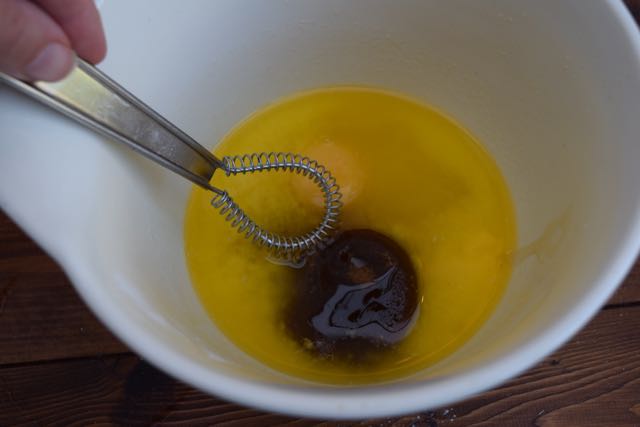 Now pour in the buttermilk. If you don't have buttermilk to hand, just measure out 225ml of milk then stir through a tablespoon of lemon juice or vinegar, leave to stand for 10 minutes before using.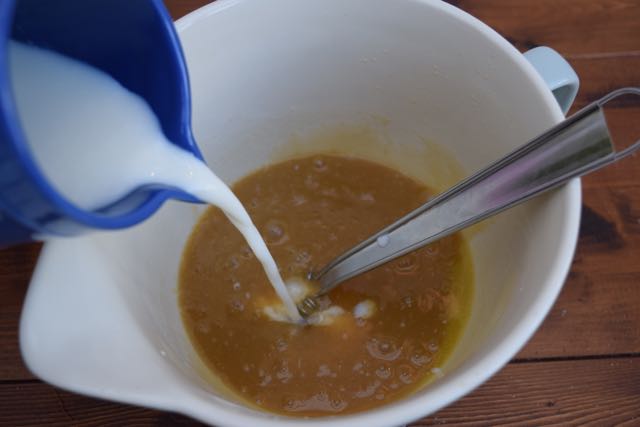 Whisk then add your chopped jalapeño peppers to add morsels of spice and warmth.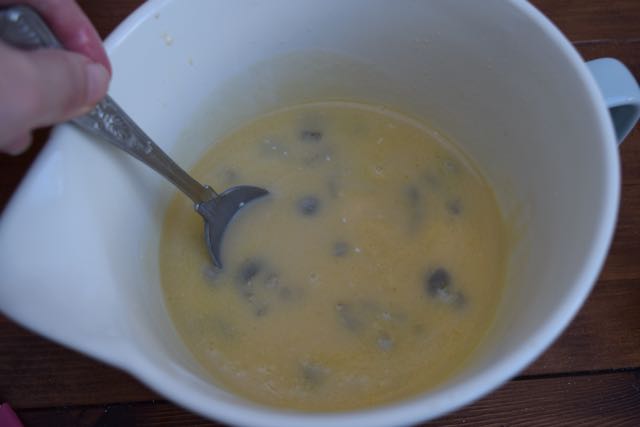 Pour the wet into the dry ingredients and mix well, but not too well, use a light hand here.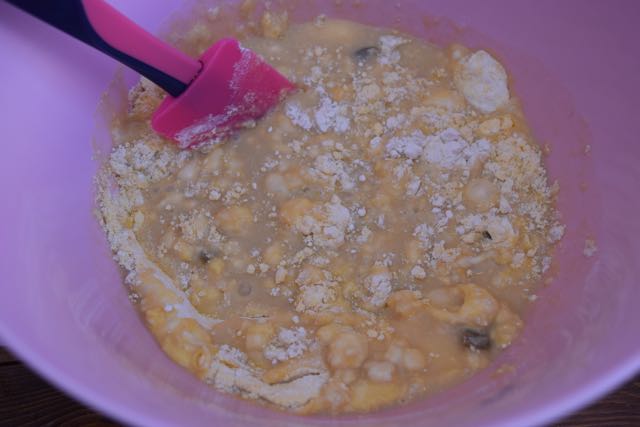 Pour the golden mixture of my dreams into your lined tin, smooth the top then put in the oven to bake.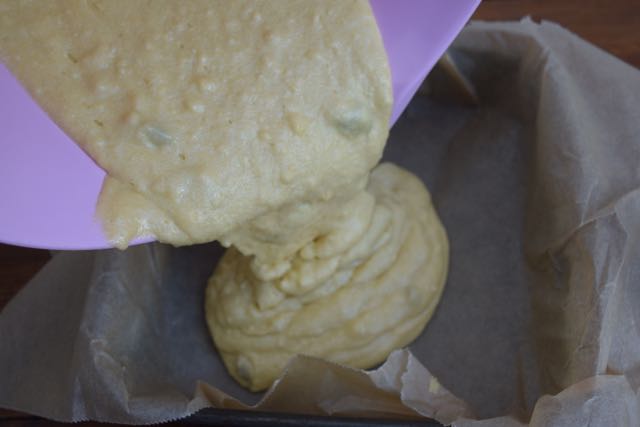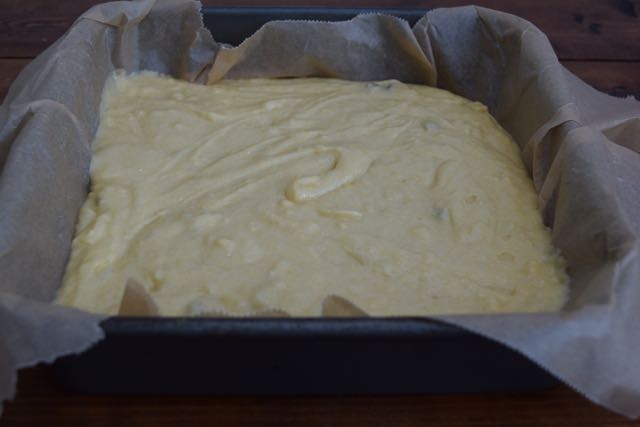 This spiced Cornbread is ready for you to devour after around 20 to 25 minutes and when golden, firm to the touch and cooked through.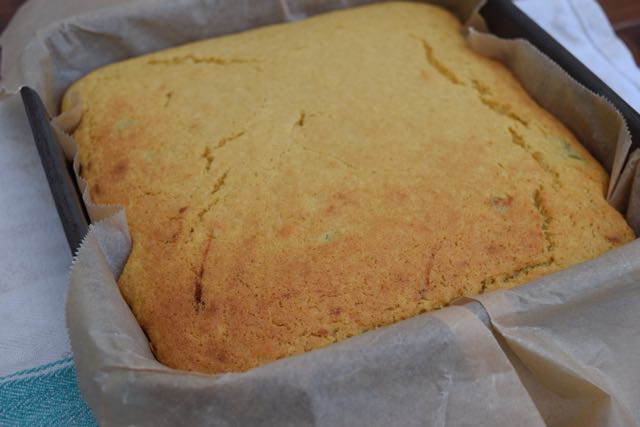 Enjoy the wonderful baked fragrance of this Honey Jalapeño Cornbread for a further ten minutes while it cools slightly, before burying your face in it, or serving in hearty slabs.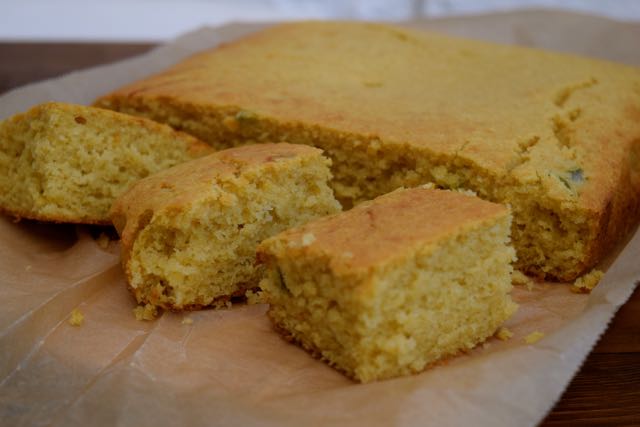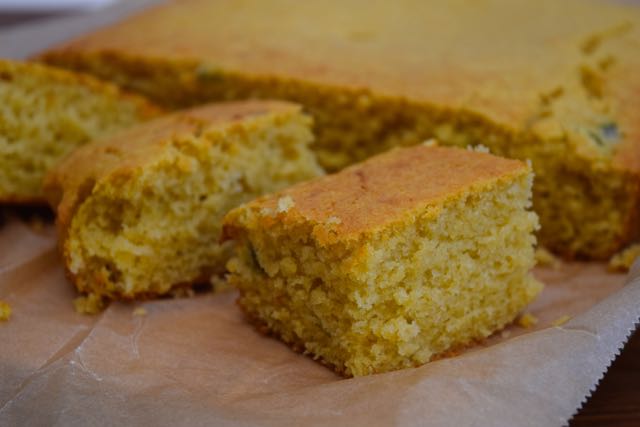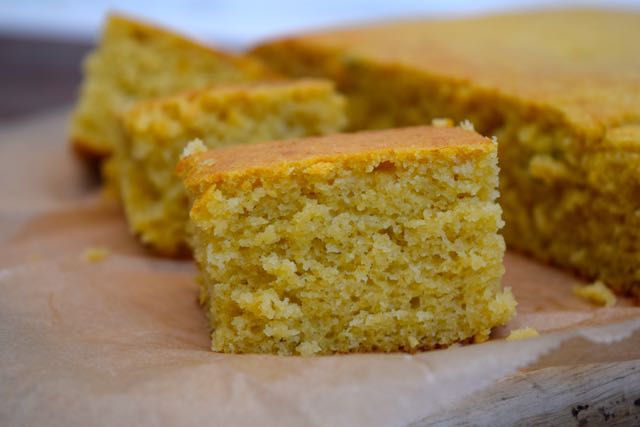 Serve with some of my chilli for extra enjoyment.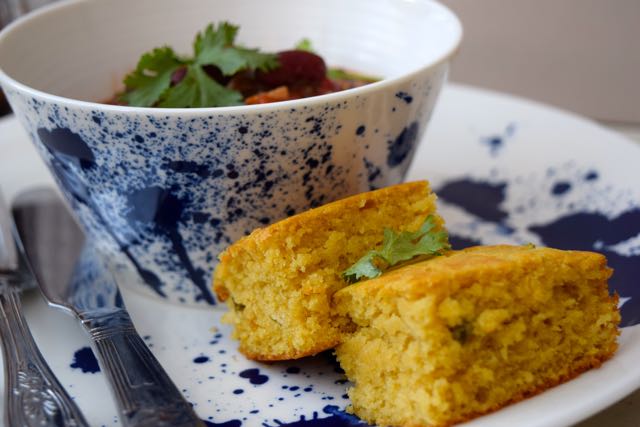 In my current oven-less state I am feeling slightly panic stricken that I am unable to make Cornbread willy nilly. If you live near me, prepare yourself for my arrival on your doorstep clutching the wherewithal for a batch of this golden, corn based treat. I promise I will share it with you *I'm lying*.
Lucy x
Honey Jalapeno Cornbread Recipe
Makes a 20cm x 20cm square tin full
You will not need any exciting equipment
120g cornmeal or polenta
125g plain flour
1 teaspoon baking powder
1/2 teaspoon bicarbonate of soda
1/4 teaspoon salt
115g butter, melted
50g brown sugar
1 tablespoon honey
1 egg
240ml buttermilk, or use 230ml milk with a tablespoon lemon juice or vinegar added and left to sit for 10 minutes
2 tablespoons chopped jalapeños from a jar
Optional add ins are some cooked crispy bacon, grated cheese, chilli flakes, sweetcorn or any other bits and pieces of your choosing
Pre heat your oven to 160 degrees fan assisted and line your baking tin with greaseproof paper. Take a bowl and measure out your cornmeal, flour, baking powder, bicarbonate of soda and salt. Mix then put to one side.
In a jug, melt the butter then stir through the sugar, honey, egg and buttermilk. Mix in your jalapeños if using or any other bits and bobs.
Pour this into the dry ingredients, mix well, but not too well, then pour in your lined 20cm x 20cm baking tin. Put in the oven for 20 to 25 minutes or until golden, springy and cooked through.
Leave to cool slightly before serving in giant slabs or modest squares. This makes a great accompaniment to chilli, soups or just buttered as a treat. This is best eaten on the day, but also keeps for a couple of days well wrapped in a tin.