Teddy's Pupcakes Recipe
Hooray it's Teddy's 6th Birthday this week. He is the first dog we have ever had, having always been cat people when I was growing up. Having a dog is a bit like having a third child, but one that actually loves you. He is such a sweet dog, if a little needy, sitting on my lap on the rare occasions I actually sit down. Teddy is a King Charles Cavalier/Poodle cross so he has a ridiculous breed name which ends in Poo. We love him and are total dog converts having had his sad puppy eyes in our life for 6 years. I can barely keep up with putting various meals on the table every night, baking for birthdays and George's rowing events let alone baking for the family pet. But hey, it's his birthday so I thought the least I could do was bake for the one person who seems to love me unconditionally. So today's post is for Teddy's Pupcakes *what a ridiculous but mildly amusing name*.
These Pupcakes are actually quite edible for humans, not just dogs, peanut allergy dependent, as there's no dog meat in them. Teddy's Pupcakes are, amongst other bits, a mixture of bananas, peanut butter, honey and oats, not even a hint of Chum. Clyde remembers the dog birthday cakes from Blue Peter when we were growing up and to this day is still convinced they were made with dog meat and buttercream. The egg and peanut butter are great for the dogs coat and the oats are good for their digestion so these could almost be classed as a health food. However, everything in moderation, which is much how I live my life *oh dear that's a huge lie*. This brilliant recipe came via The Happy Foodie and the Primrose Bakery with thanks.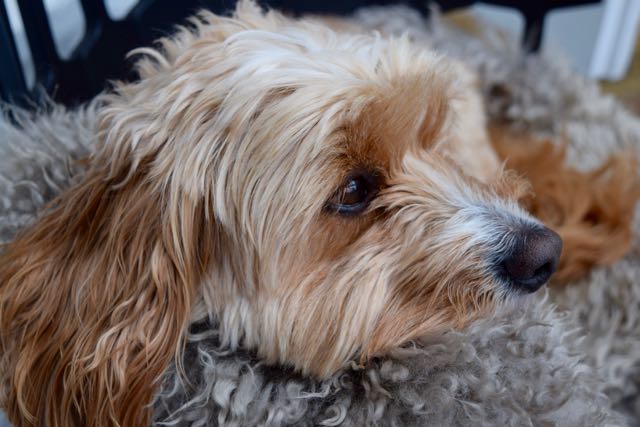 Ted really should have done catalogue work with that 'stare off into the distance' look.
Lucky Ted, he's eaten quite a few of these and is loving them. He does run to fat though so he will have to have extra walks to burn off the birthday calories. Poor bastard, I know how he feels, I am still having to have extra walks to get rid of my Christmas weight gain.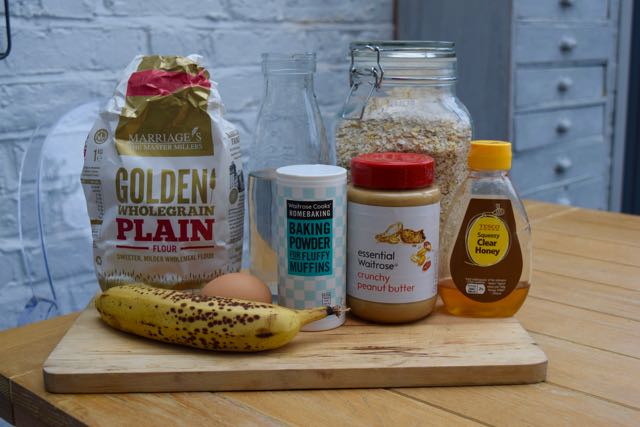 Nothing offensive here, just wholesome ingredients for our lovely Teddy. These taste quite nice as, of course, I had a mouthful of the mixture just because I could. The original recipe called for smooth peanut butter, but I only had crunchy which didn't seem to make much difference, they were still inhaled by Ted.
Make a start, of course, by pre heating your oven to 160 degrees fan assisted and by buttering or oiling 2 x 12 hole mini muffin tins. Then in a medium sized bowl, add the honey and egg.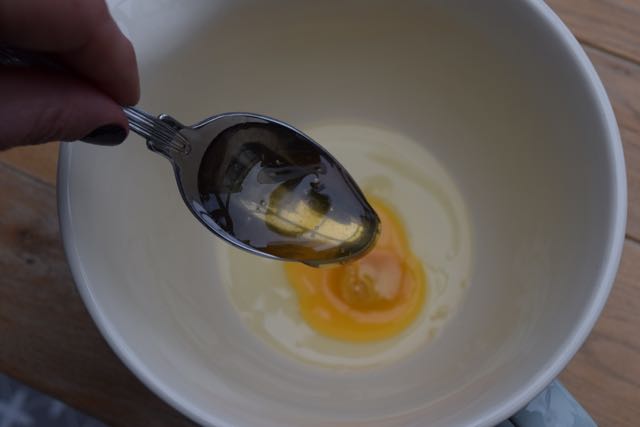 Add the overripe banana and mash with a fork.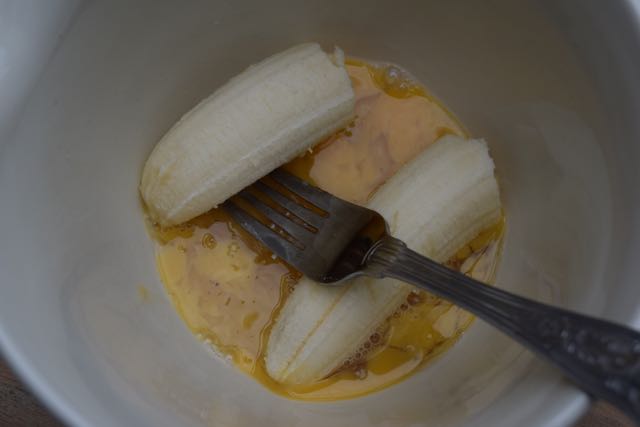 Now add the peanut butter and fashion the mixture into a sort of paste. Mine was a lumpy sort of mess, so don't worry too much.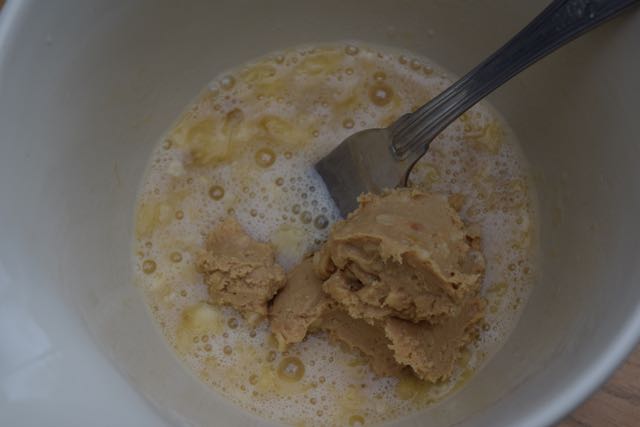 Now fold in the wholemeal flour, oats and then finally the water.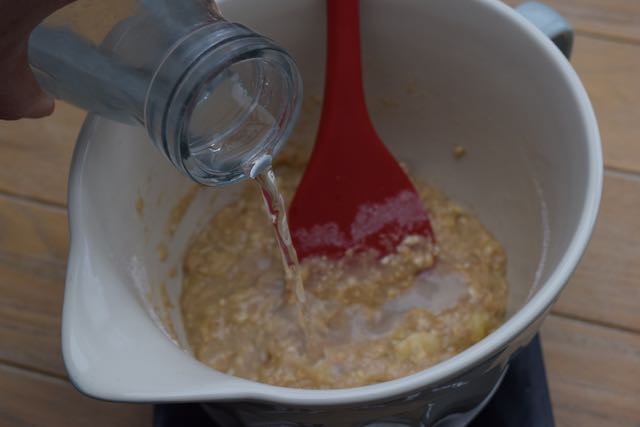 Give the sloppy mess a good stir then leave to sit for 15 minutes, giving it an occasional stir. I missed this part out due to my inability to read a recipe correctly due to far too much red wine at a school quiz the previous night. It didn't seem to make much difference to the final product, but may be worth doing in future, when maybe I won't have a rancid hangover.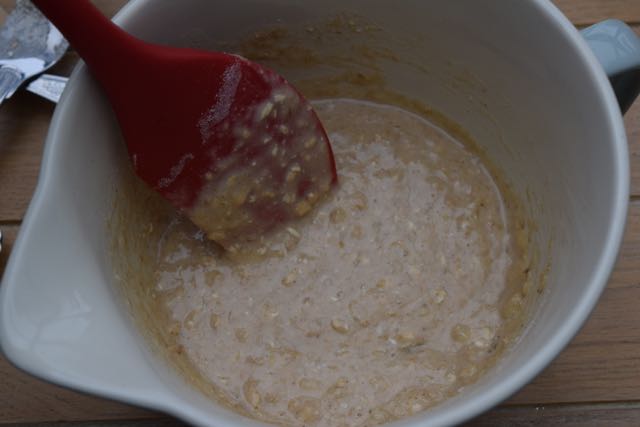 Spoon heaped teaspoons of the mixture into your mini muffin tins then place in your pre heated oven for 12 to 15 minutes. The finished Pupcakes are ready when they are golden brown and firm to the touch.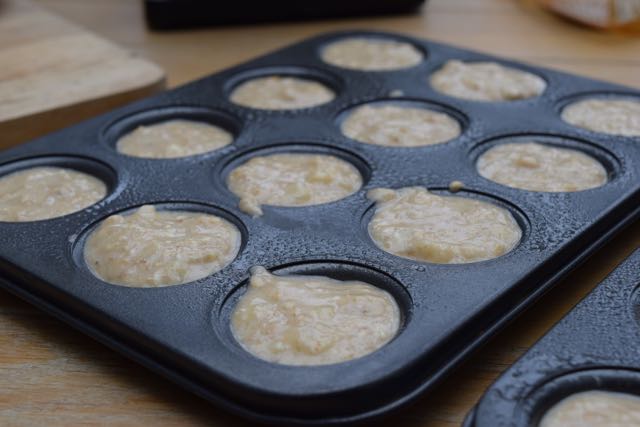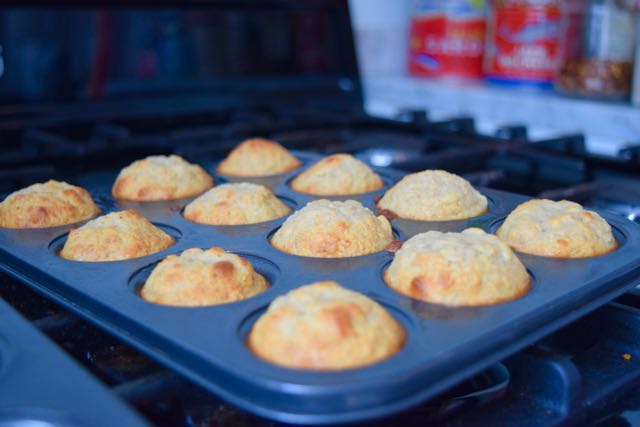 Store these extra special birthday dog treats in an airtight container, give in bags to other dog chums or freeze for treat giving at some later stage.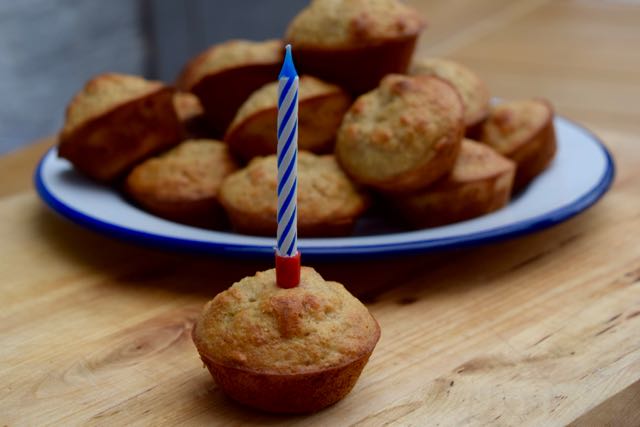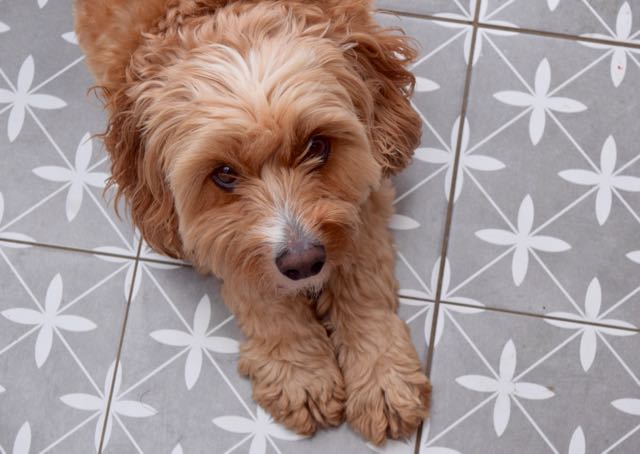 Happy Birthday Ted. You bring us all much love and joy and we love you. Even if you do have the saddest eyes and permanently look as though we are about to take you to Battersea Dogs Home.
Lucy x
Teddy's Pupcakes Recipe
Makes 18 to 20
You will need 2 x 12 mini muffin tins and a bowl
1 egg
2 tablespoons honey
1 ripe banana
80g peanut butter
40g wholemeal flour
45g oats
1/2 teaspoon baking powder
60ml water
Pre heat your oven and butter or oil your mini muffin tins.Take a medium sized bowl and add the egg and two tablespoons honey and mix. Add the banana and mash then whisk in the peanut butter to create a paste.
Fold in the flour, oats and baking powder. Pour in the water and mix well.  Leave the mixture to sit for 15 minutes, stirring occasionally then spoon heaped teaspoons of mixture into your muffin tins.
Bake for 12 to 15 minutes or until firm and golden brown. Keep in an airtight tin for 2 to 3 days or freeze and remove when needed. Treat your dog on their birthday or just when they are being their usual lovely selves.
SaveSave
SaveSave
SaveSave
SaveSave