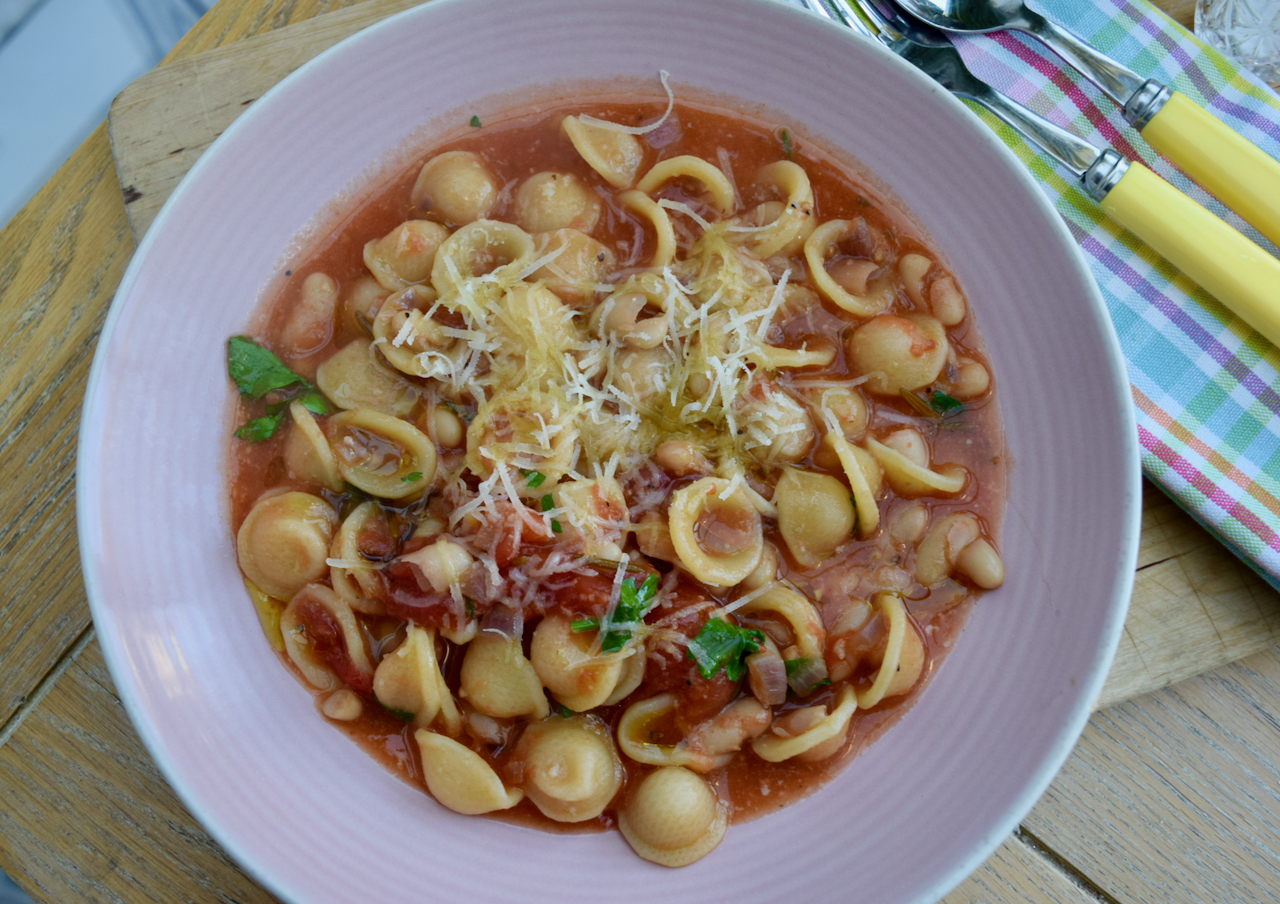 Tomato Brothy Pasta with Beans recipe
Welcome to our new world of strangeness. One where we can no longer go to the pub, hug or buy loo roll. We are fully embracing self isolation, having lost my Dad, our main focus is keeping our lovely Mum safe and well. So, the four of us, with Teddy, are hunkering down and staying safe. However, we still need to eat and I have a constant supply of hungry mouths to feed now. Having spent an afternoon clearing out my food cupboards and the freezer, brace yourself for some store cupboard cooking at it's finest.
This Tomato Brothy Pasta with Beans not only has a catchy title, it's bloody delicious. It predominantly features ingredients from my cupboards, however, this recipe is really a template for the bits and bobs you've found at the back of yours. This heart and soul warming dish is a tasty cross between a soup and a bowl of pasta. For me, it features a tin of Cannellini beans, but yours could feature chick peas, butter beans or any other rogue pulse you have to hand. Add some bacon if it's vegetarian nature offends you. If you don't have Parmesan to add, use another strong cheese. No parsley – add dried Italian herbs. Huge thanks to Bon Appetit for the inspiration.
Cooking is a brilliant distraction, so over the coming days, weeks and months, stay with me while I try and raise your spirits *often with spirits* and keep you well fed and watered.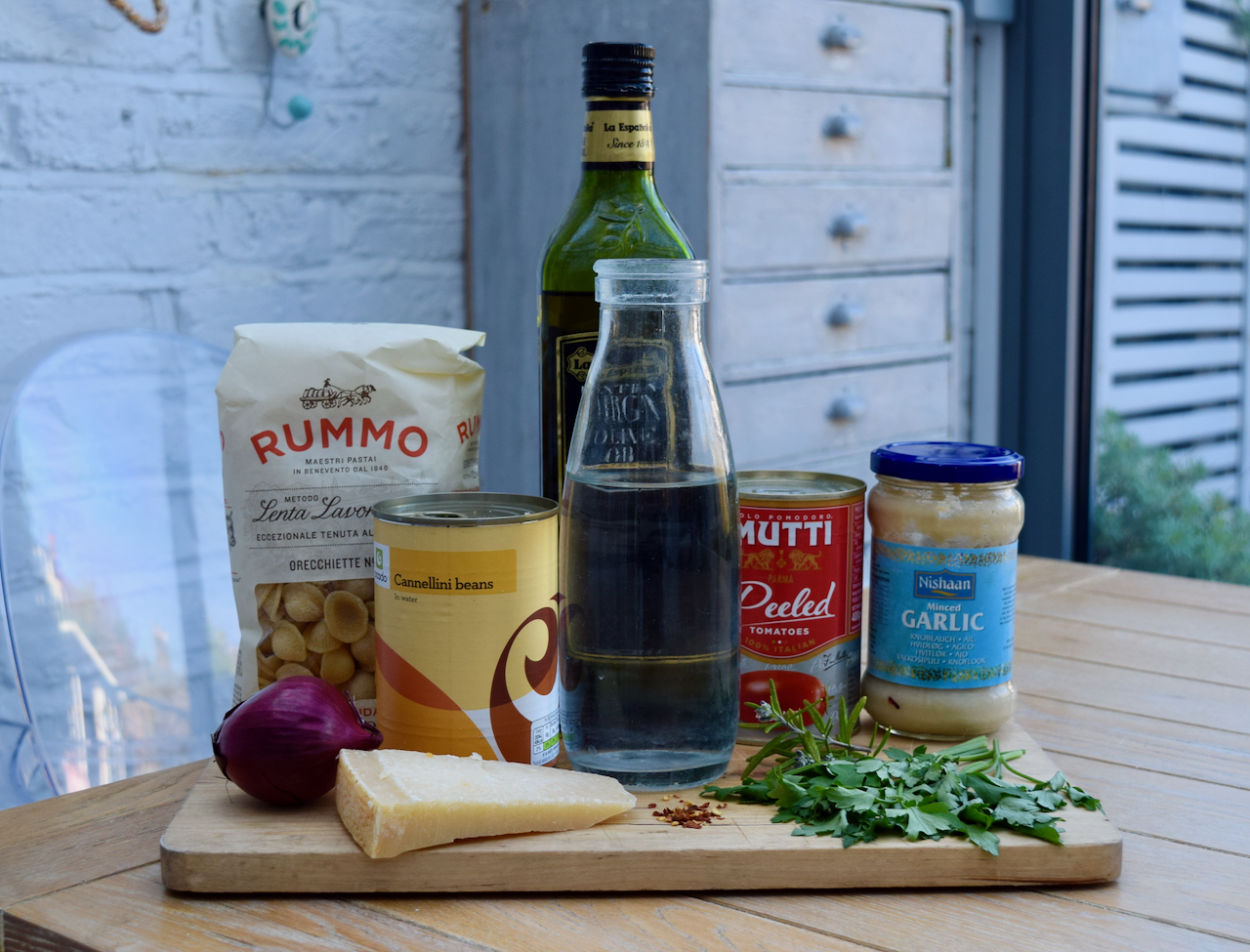 The depth of my cupboards and a bit of a Waitrose and garden forage furnished me with all these lovely ingredients. All of them delicious and pretty much all of them you may have to hand.
Make a start with a large high sided frying pan or a big saucepan. Add a couple of tablespoons of olive oil and heat over a medium flame. Add a finely chopped onion and cook until starting to soften and get a touch of colour on it.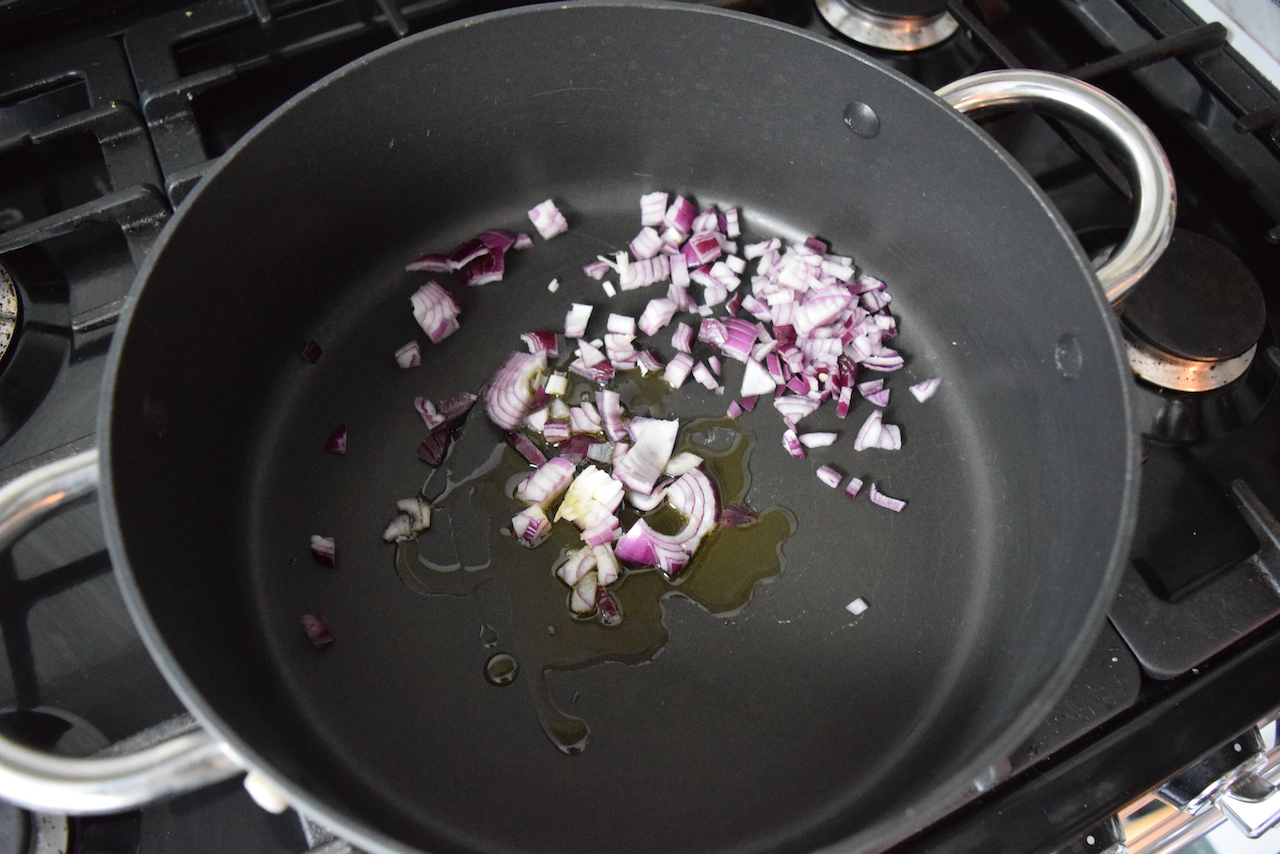 Next, add the garlic, lazy or fresh, and cook for another couple of minutes. Then add the rosemary sprig, should your garden have such a thing, and some dried chilli flakes, stir and cook for another minute.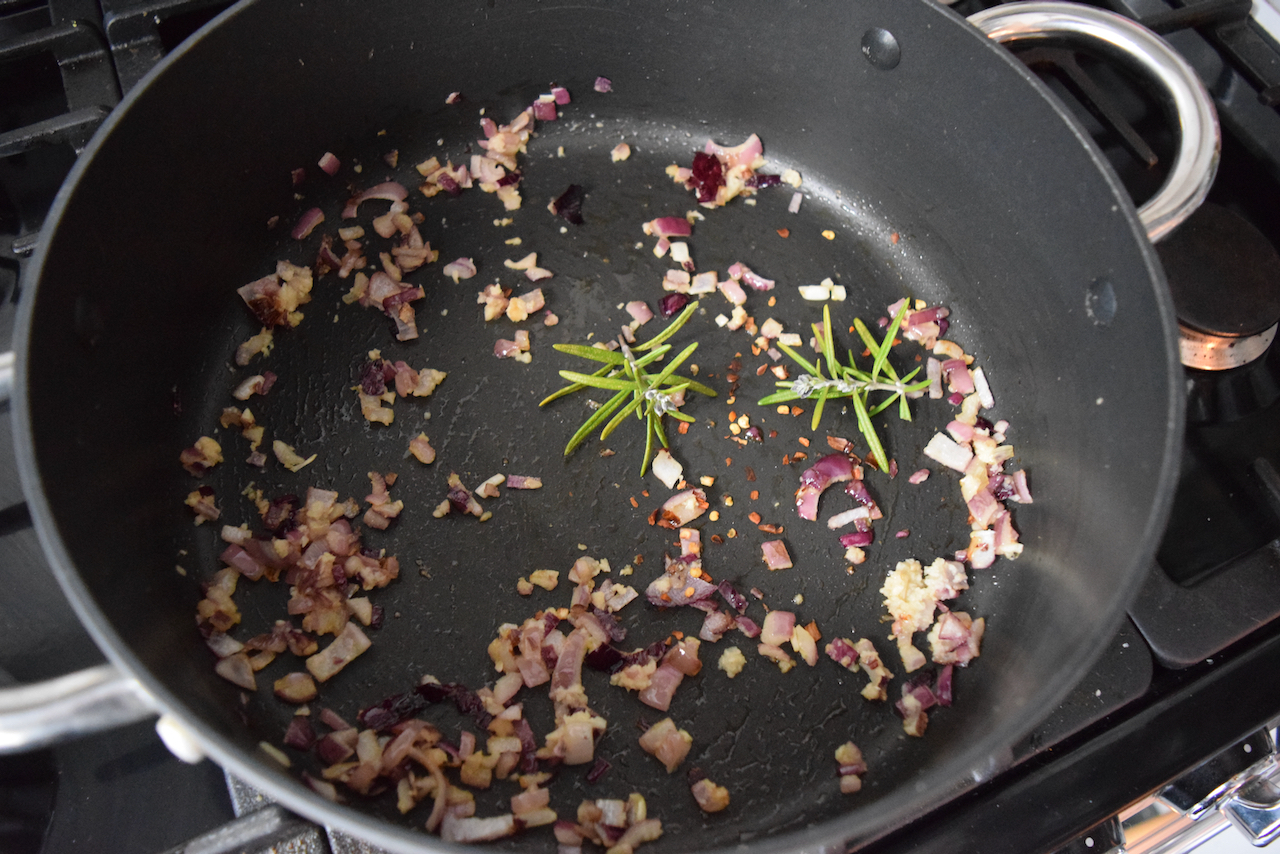 Drain and rinse your beans then add these to your pan along with the tinned tomatoes. If your toms are whole, not chopped, then give them a mash with the back of a spoon to break them up.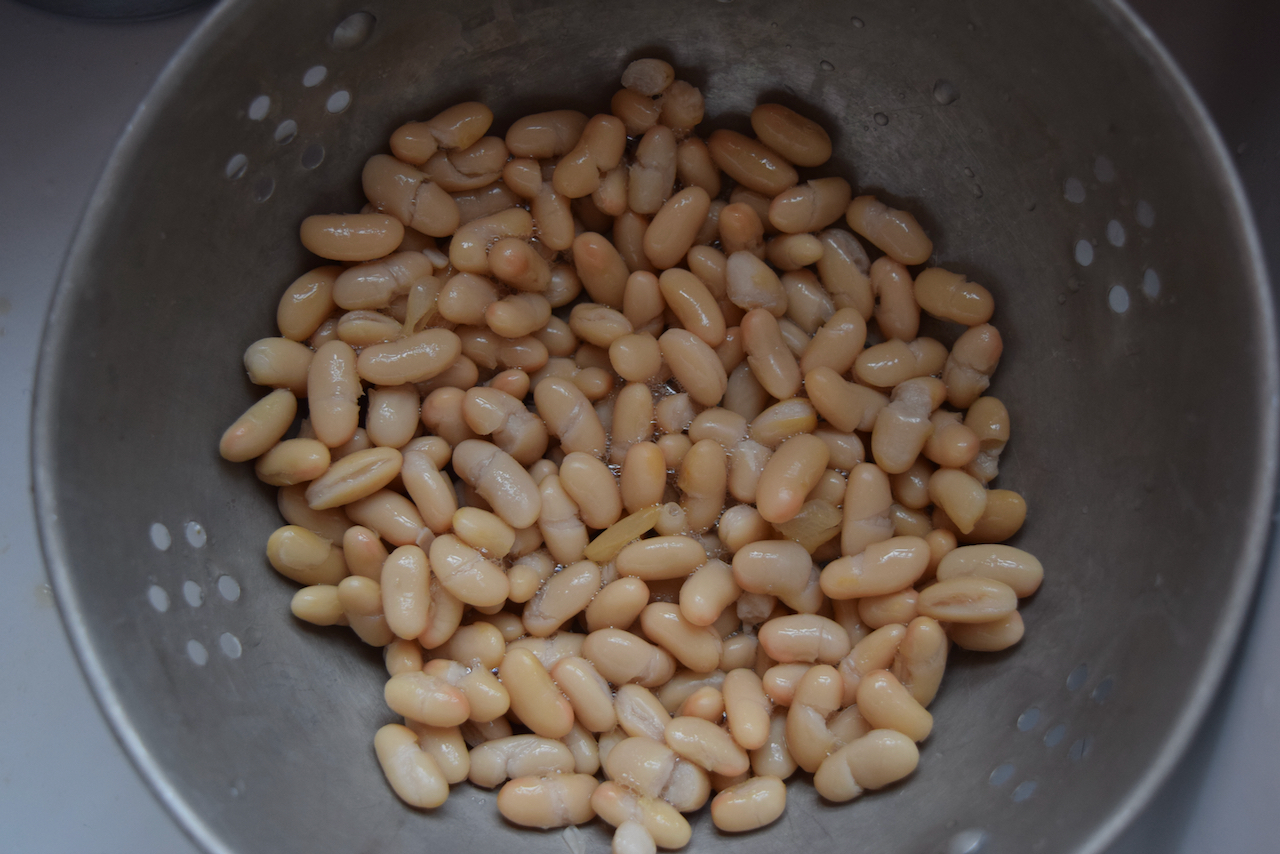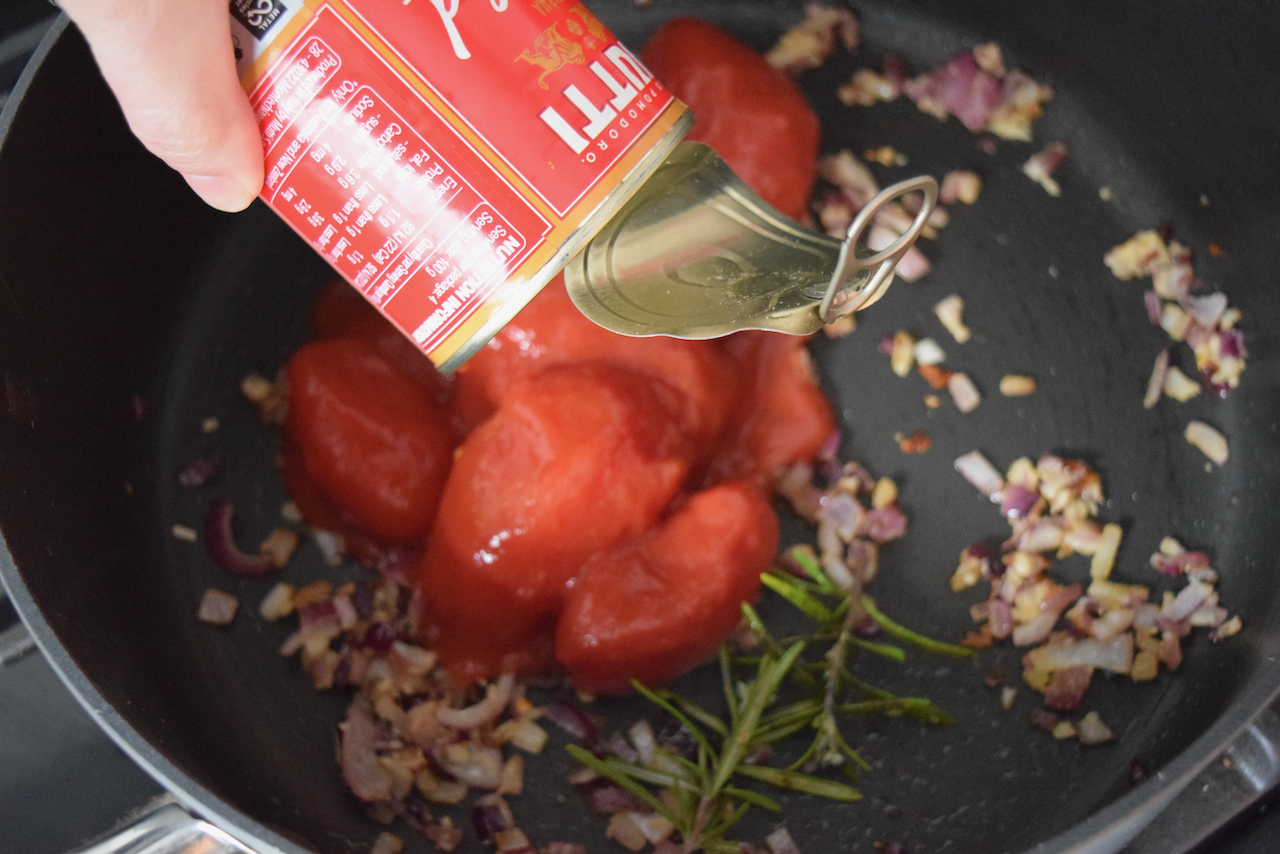 Stir the whole lot together, cook for around 5 minutes to thicken slightly, then pour in the water. You'll need 900ml which is 2.5 tomato tins worth.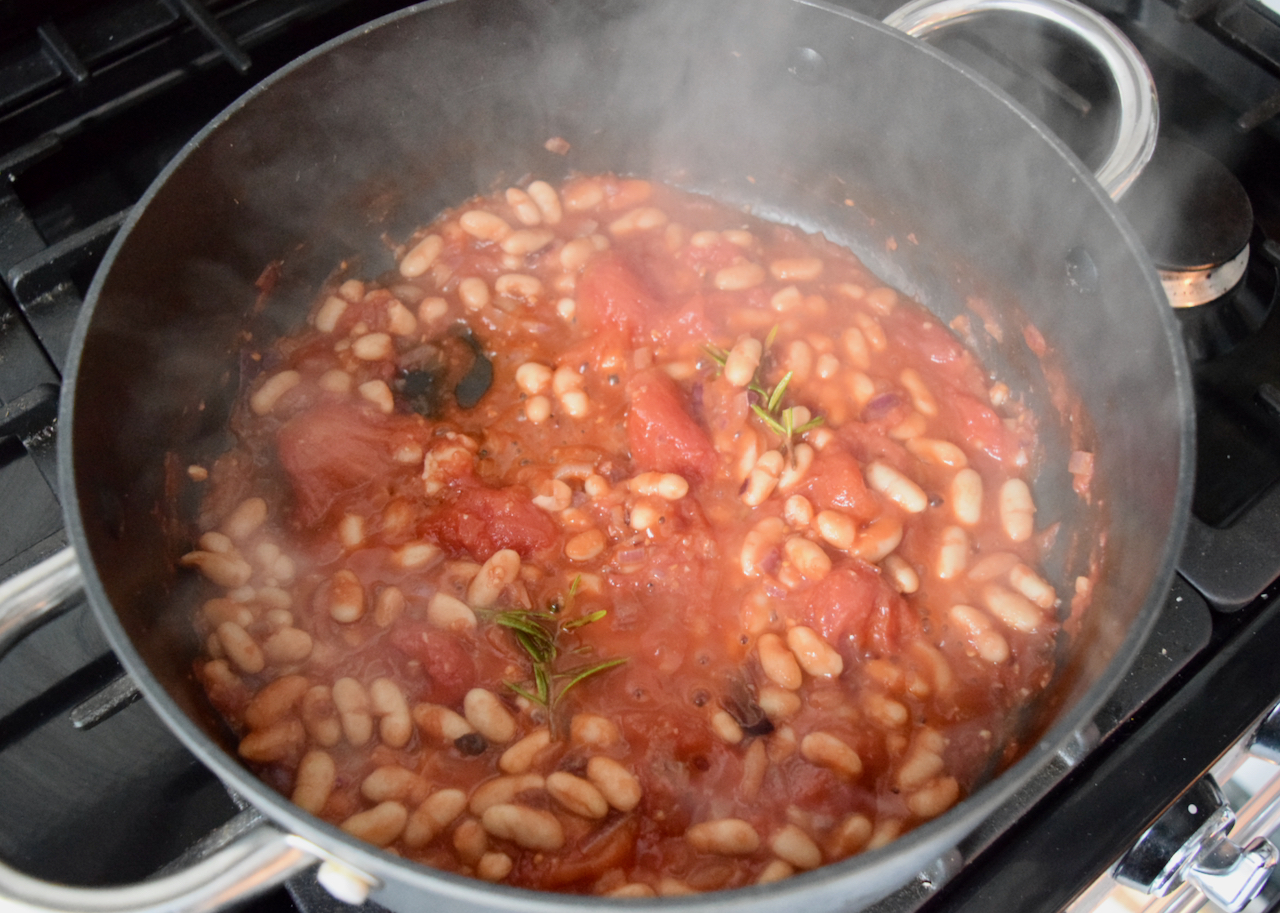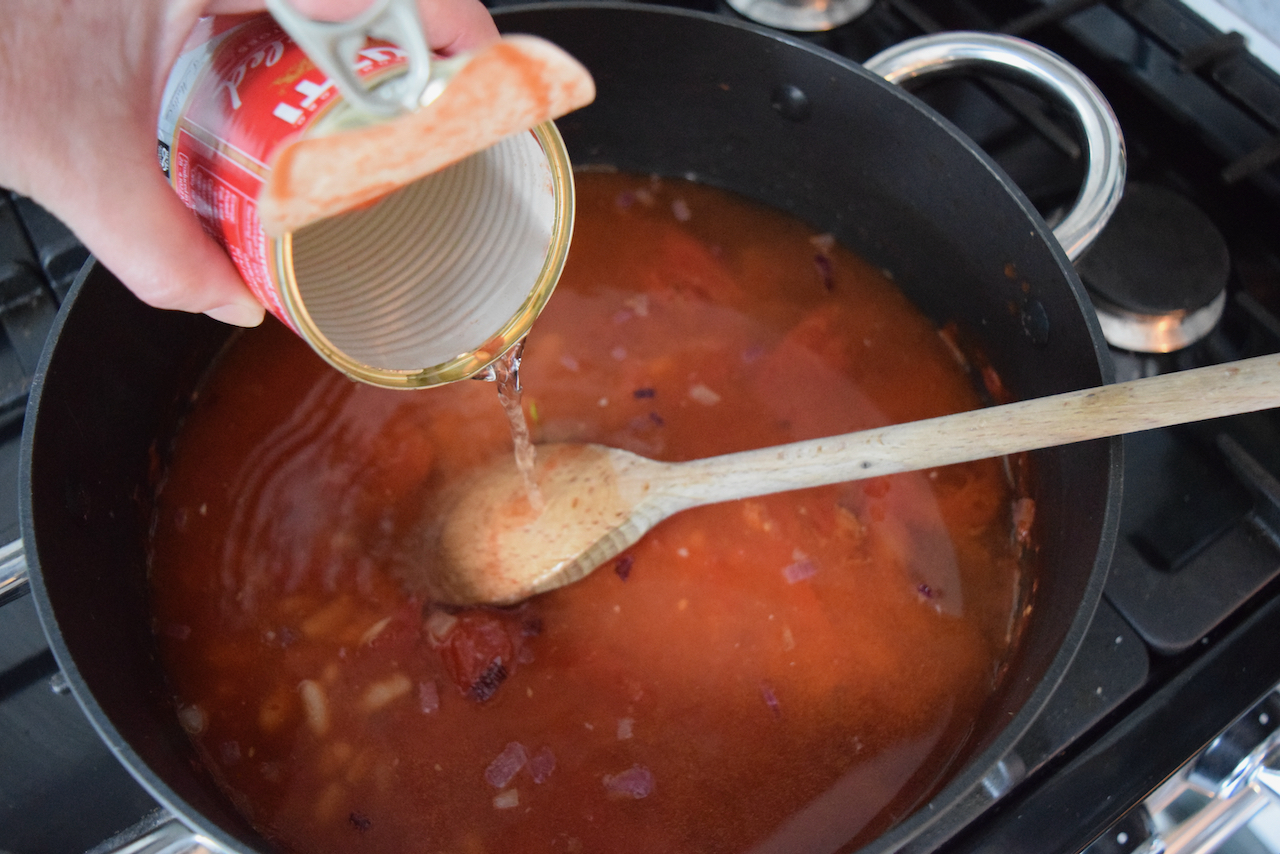 Add the pasta then bring up to the simmer.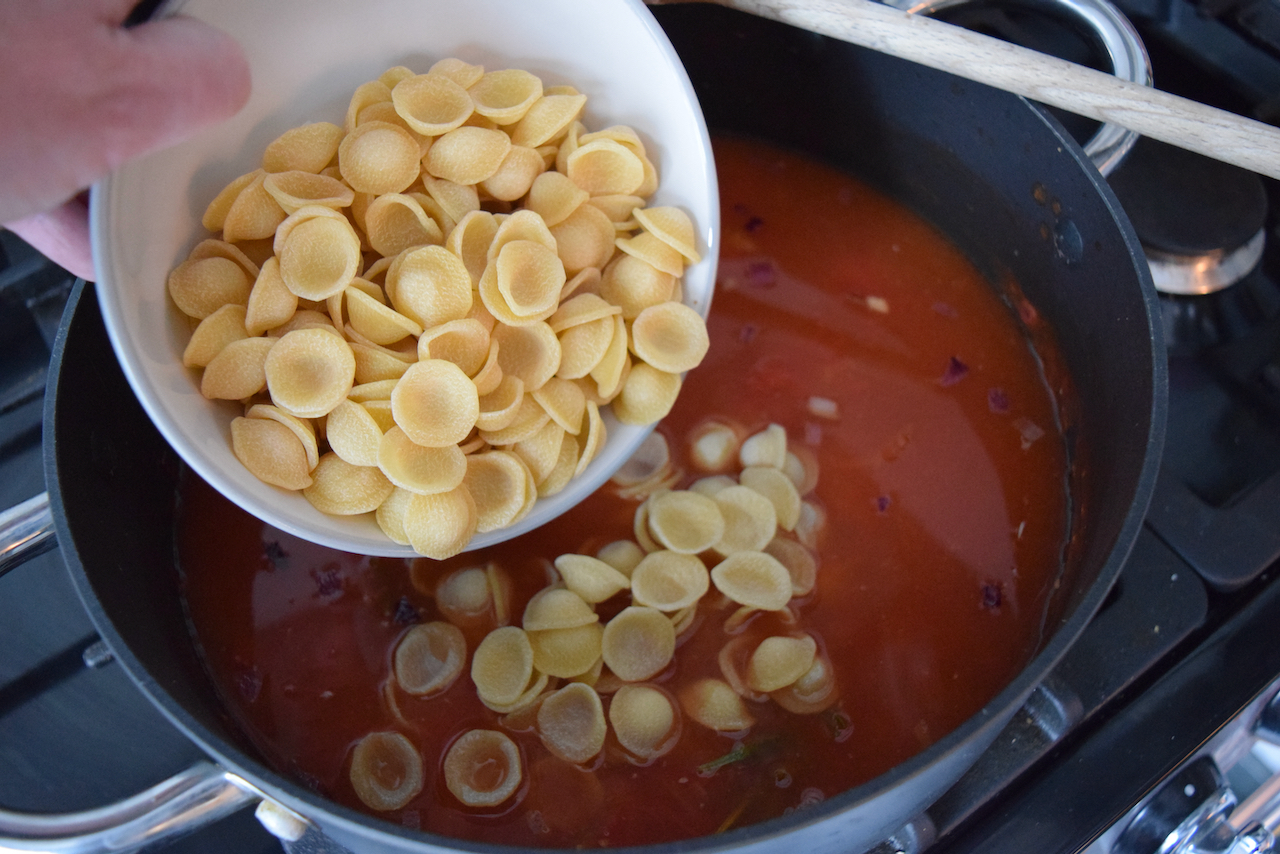 Cook for around 12 to 15 minutes or until the pasta is al dente, or cooked just how you like it.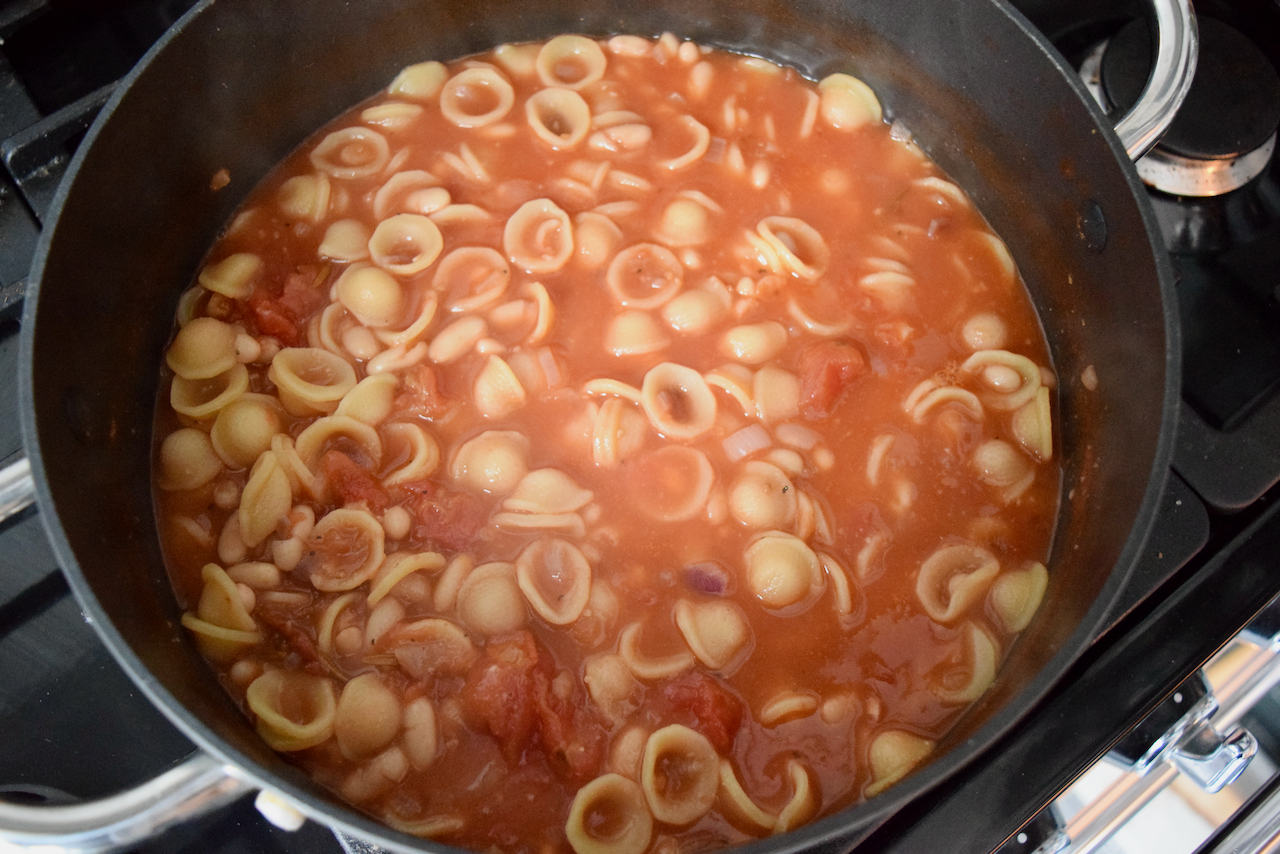 Stir in 3 tablespoons of grated parmesan and some freshly chopped parsley, leaving enough of both for garnish and for serving.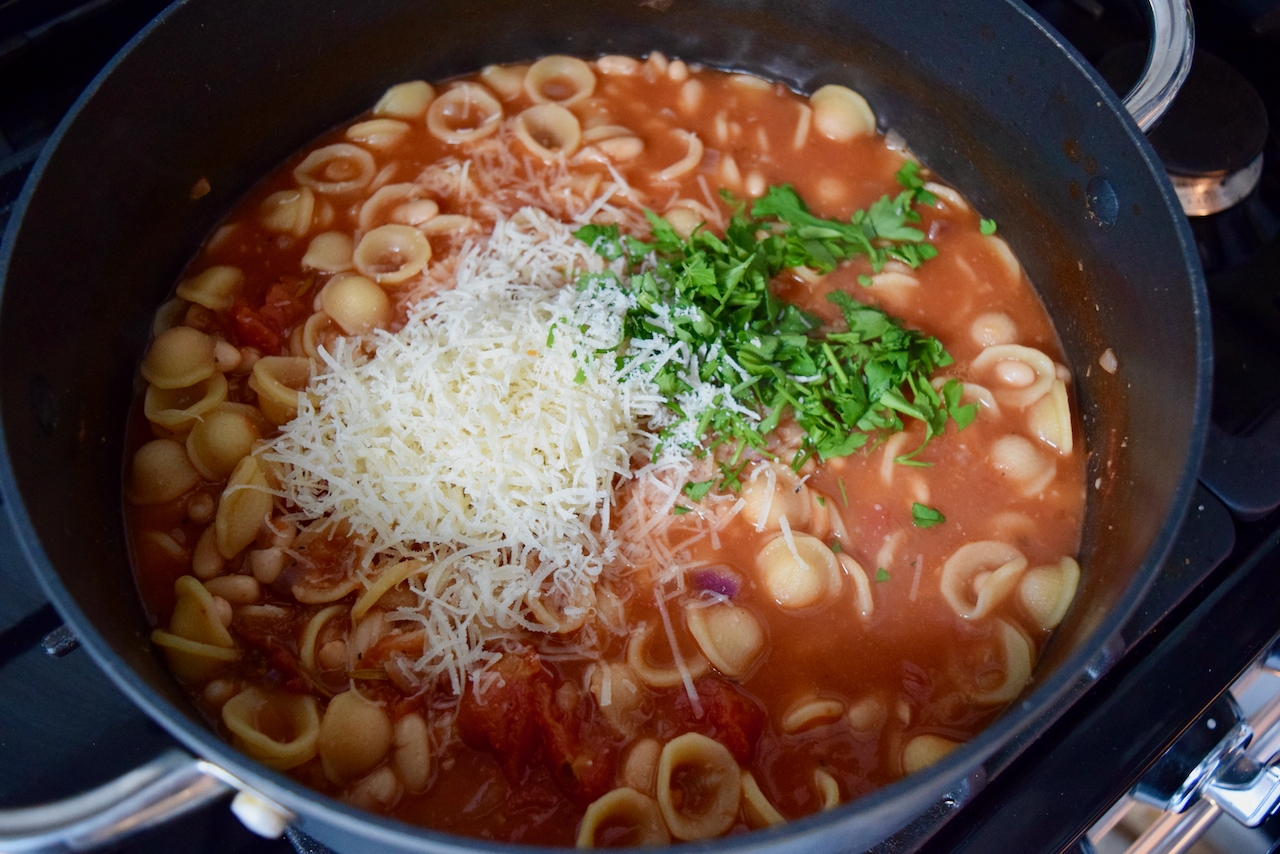 And that's it. Serve piping hot in big bowls with the extra grated parm and parsley.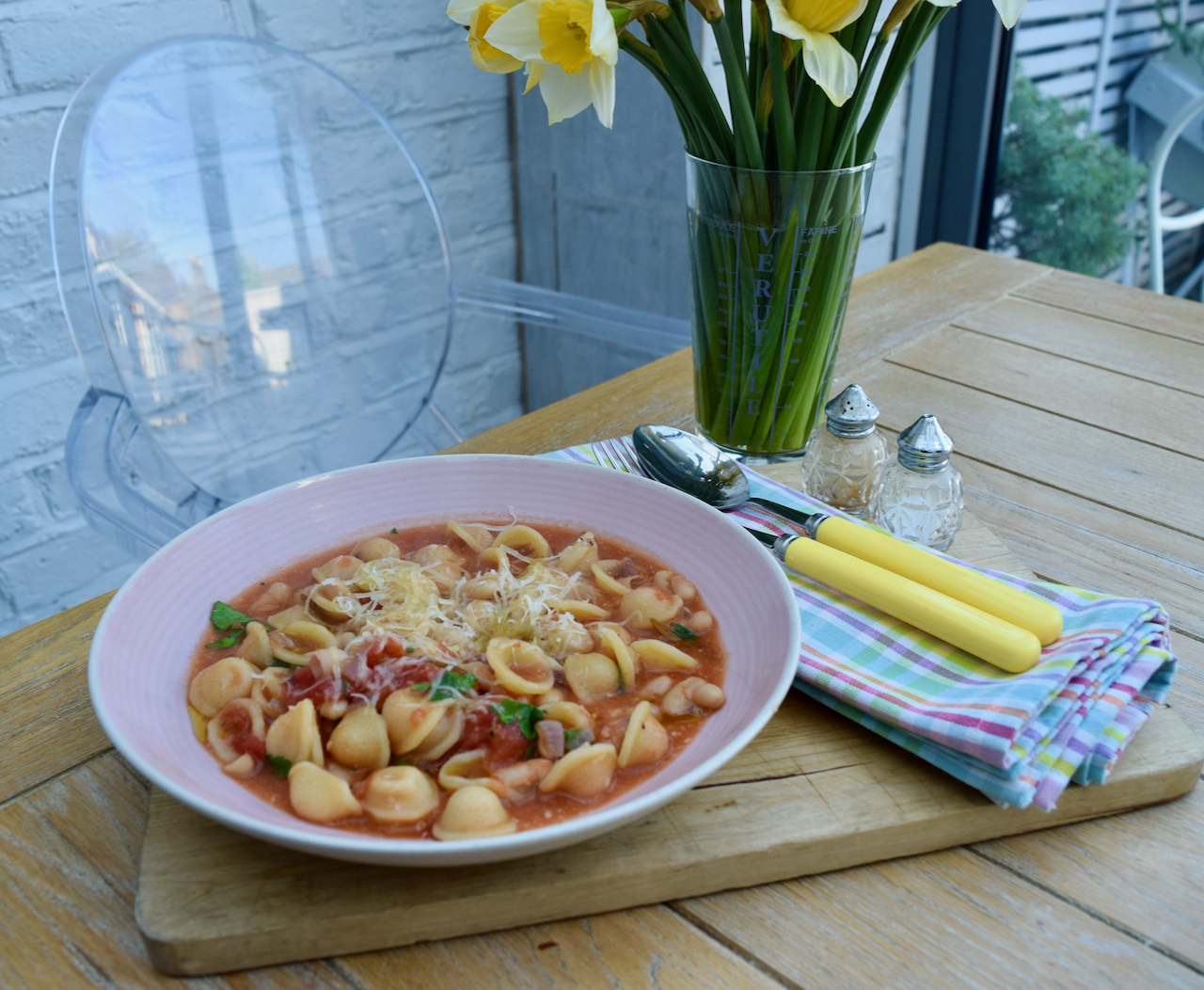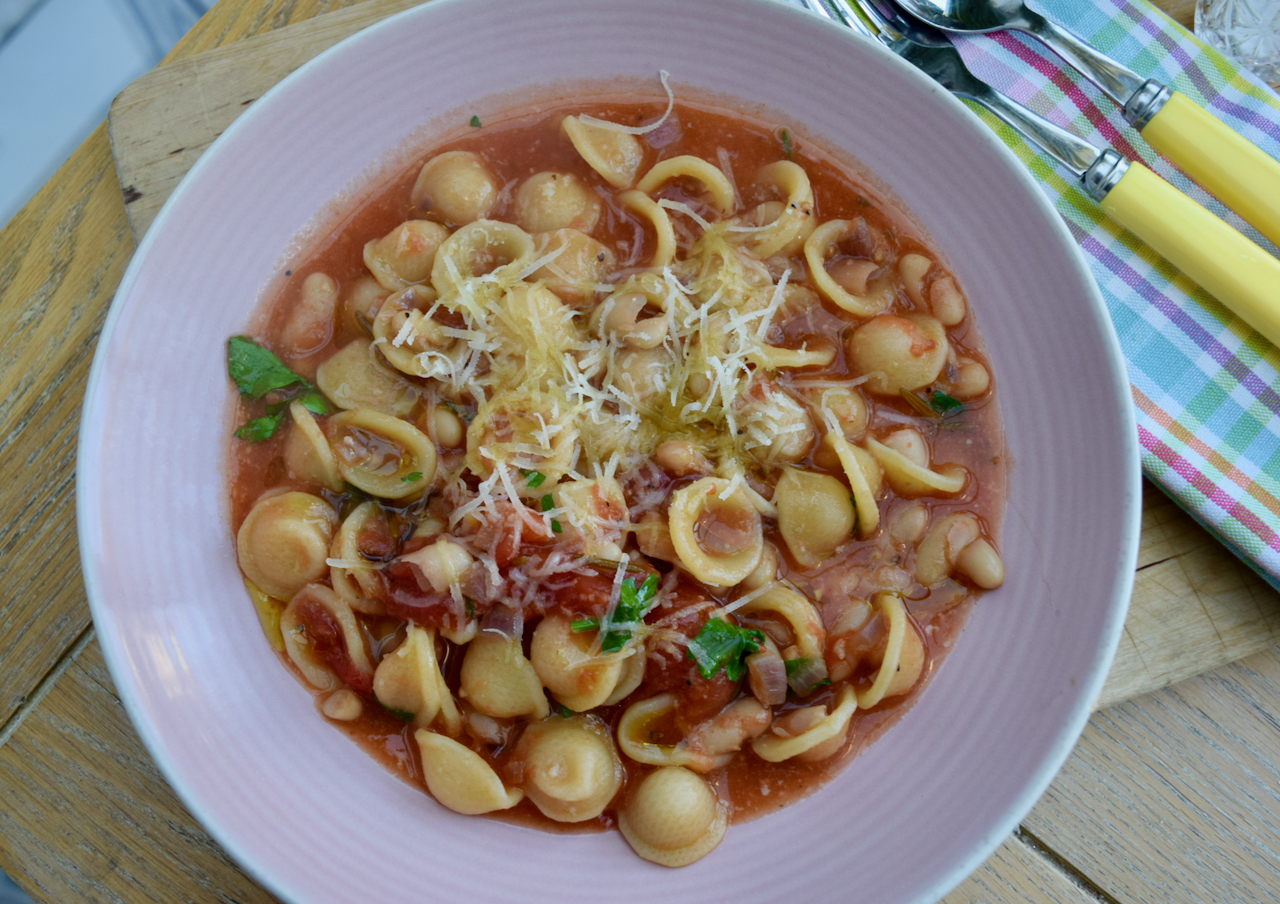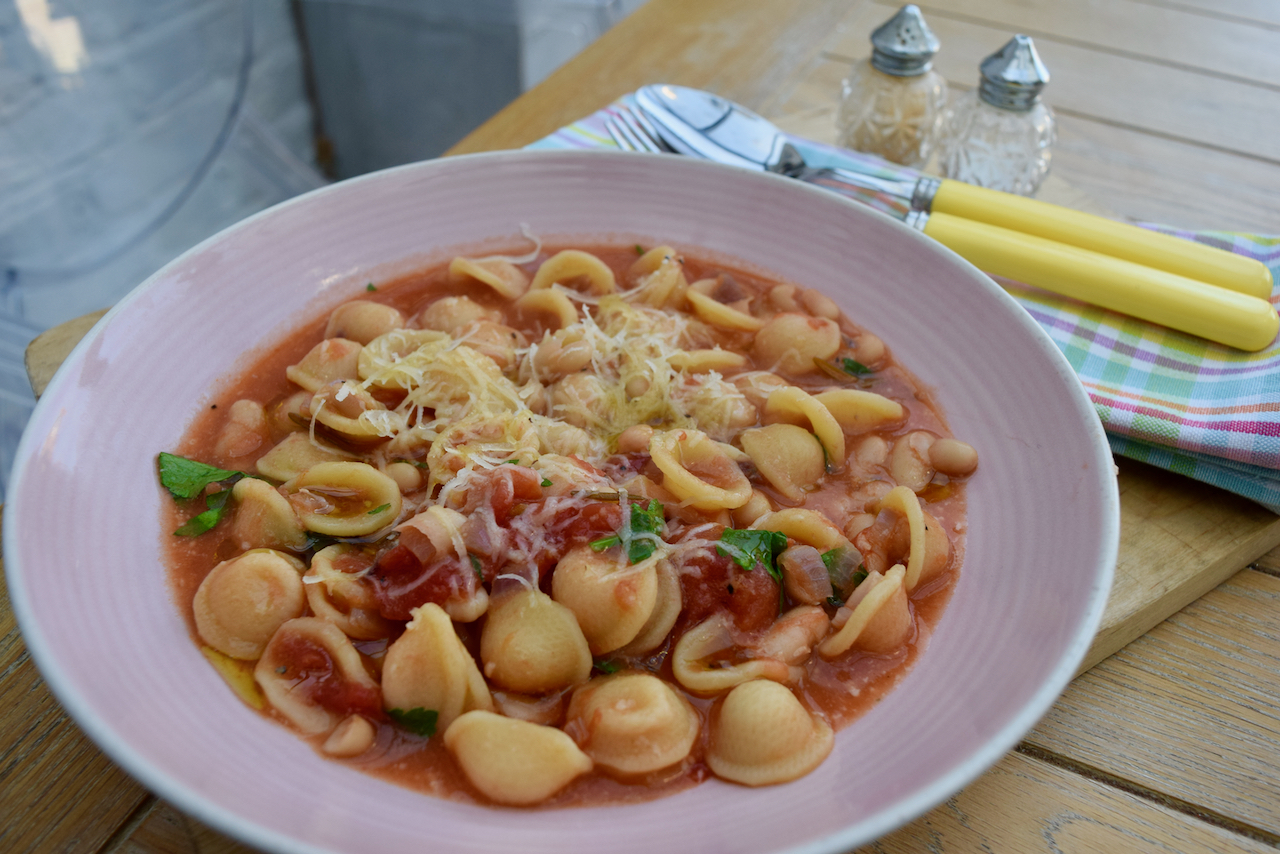 Given the update from Boris tonight, we're going to be spending a lot more time together in the next 3 weeks. My family are at their best when they're eating, so I suggest you get amongst your kitchen cupboards now and see what foraged treats await you.
Stay safe. Lots of love to you all
Lucy x
Tomato Brothy Pasta with Beans recipe
Serves 3 to 4, dependent on hearty appetites
2 tablespoons olive oil, plus extra to serve
1 onion, finely chopped
2 garlic cloves, or a teaspoon of garlic from a jar
A large sprig rosemary, if you have it
1/4 teaspoon crushed dried chilli flakes
A 400g tin cannellini beans, or butter beans or chick peas, or something pulsey you have in your cupboard, drained and rinsed
A 400g tin tomatoes, whole is best, chopped is fine, with juice
250g pasta, whatever shape you have
900ml water
Fresh parsley, a handful, chopped, plus extra for garnish
3 tablespoons grated parmesan, plus extra to serve
Salt and pepper, generous amounts
Take a large pan and heat two tablespoons of olive oil over a medium heat. Add your finely chopped onion and cook until softened and starting to colour. Add the garlic and cook for a further couple of minutes. Add the rosemary sprig and the chilli flakes and cook for a minute.
Drain and rinse your chosen beans or pulses and add to the pan with the tin of tomatoes. If yours aren't chopped, crush them using the back of a spoon. Cook for around 5 minutes until the tomatoes start to thicken. Then pour in the water. I just added the water to my tomato tin 2 and a half times to make up the 900ml. Add the pasta. Stir and bring up to the simmer.
Turn down then cook for around 12 to 15 minutes or until your pasta is al dente, or cooked to your liking. Season generously with salt and pepper then stir in the 3 tablespoons of grated fresh parmesan and the chopped fresh parsley.
Serve, piping hot, with some more parmesan and more parsley, if you like. Any leftovers reheat beautifully.