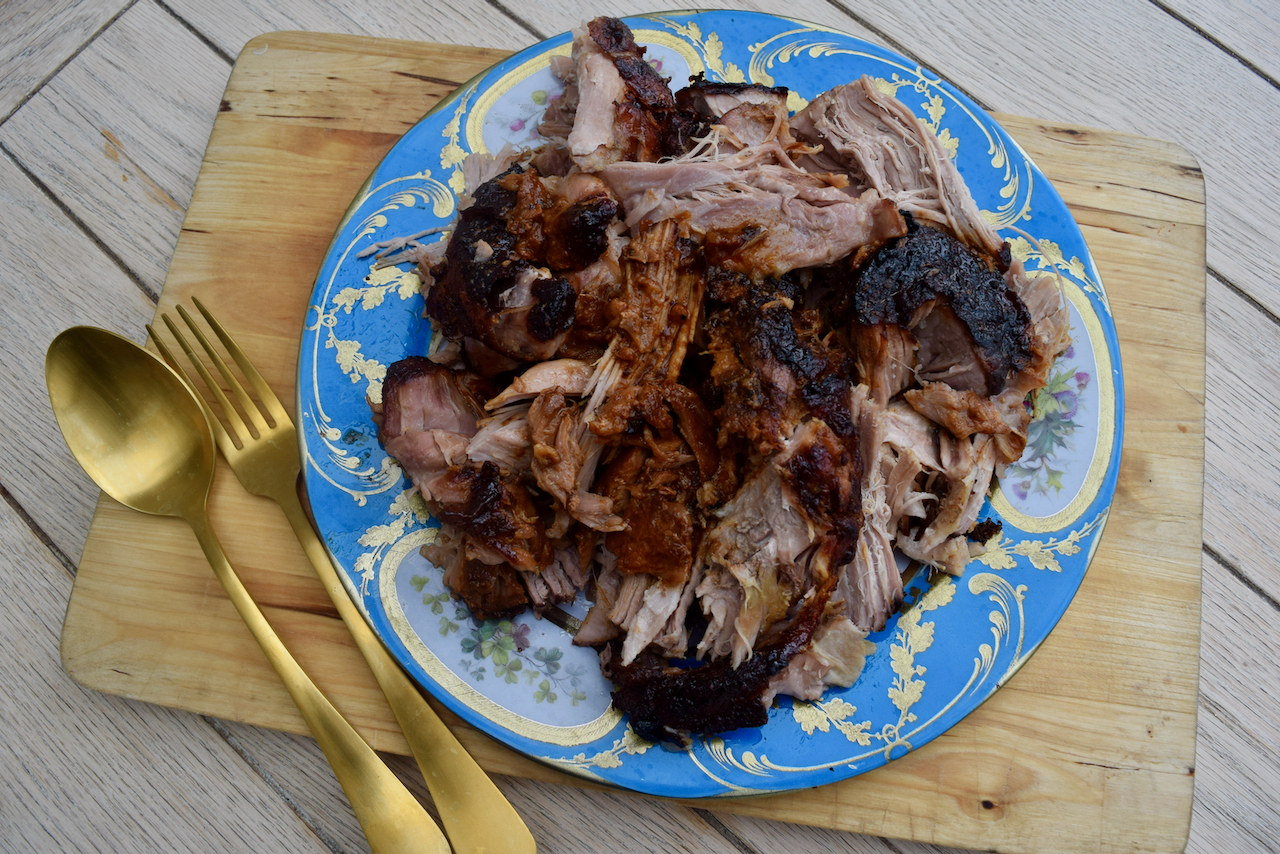 Overnight Slow Roast Pork recipe
In June, the thought of leaving the oven on all day would have filled me with utter horror. But now, at the end of July, it's feeling autumnal and temperatures, as well as price of electricity, has dropped sufficiently enough for me to share this brilliant Overnight Slow Roast Pork recipe with you.
There's nothing I love more than cooking for friends and family, but no one wants to be slaving over the menu all day whilst your guests chug your share of the Aperol Spritzes. This slow roasted pork recipe is bloody genius; it cooks for 6 to 8 hours, at a super low temperature so can be popped in before you go to bed, or as you get up, and be ready for any occasion, even if you're still in your dressing gown. The large piece of pork shoulder is swathed in a mix of maple syrup, brown sugar, mustard, smoked paprika and garlic, to name a few. What you do with this meat feast is up to you; I went for my favourite potato salad *recipe to follow when I get around to writing it up*, but you can pop this in a brioche roll, add some coleslaw, there are endless pork based opportunities to be had. Big thank you to Food 52 for the inspiration.
If you're entertaining this weekend, or just feeding the usual hungry family members, let this pork do the work, while you wonder where the summer sun has buggered off to.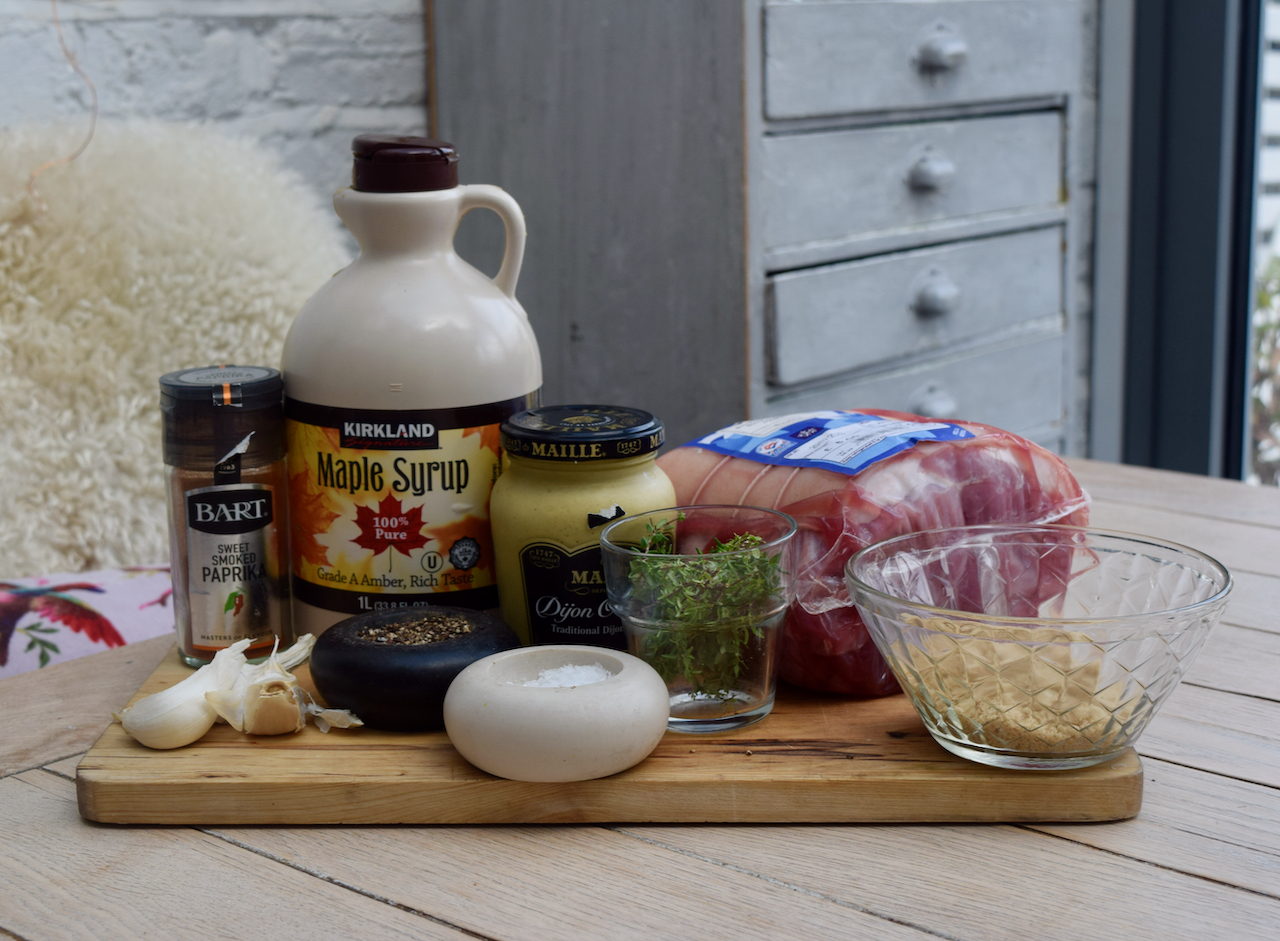 This is such a storecupboard treat, minus the pork, of course. I had everything to hand, I even had fresh thyme growing in the garden which makes me sound way more wholemeal than I actually am. The pork was a 1.5kg piece of shoulder but this recipe works for up to 2 kilos.
Make a start with the aforementioned pork; put it into a snug fitting, foil lined baking tray *you'll thank me later when you're washing up*. Rub a few pinches of salt (around a teaspoon by my reckoning) into the pork and let it stand for an hour to come to room temperature.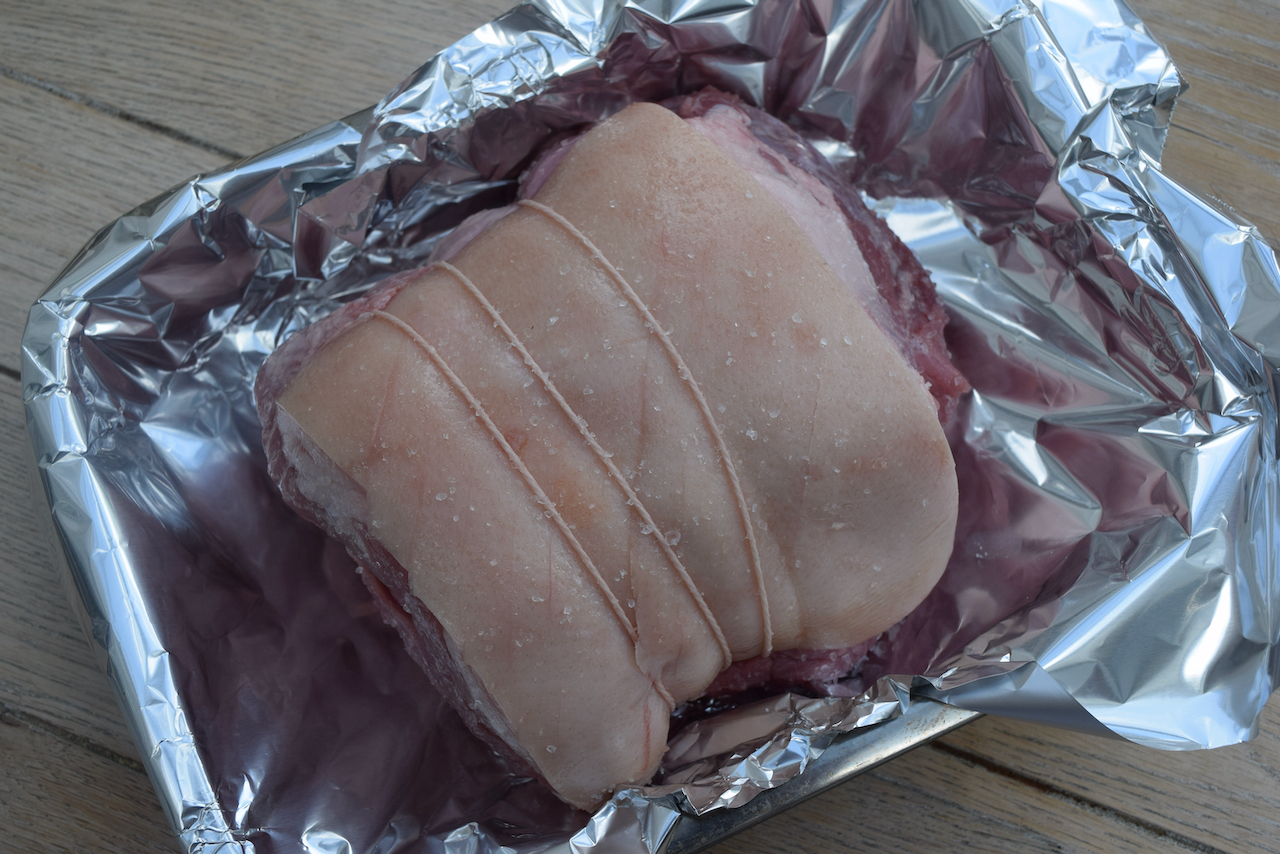 While the pork sits, mix up the glaze/marinade/coating. In a small bowl, stir together the maple syrup, soft brown sugar, dijon mustard, thyme, garlic, smoked paprika and black pepper.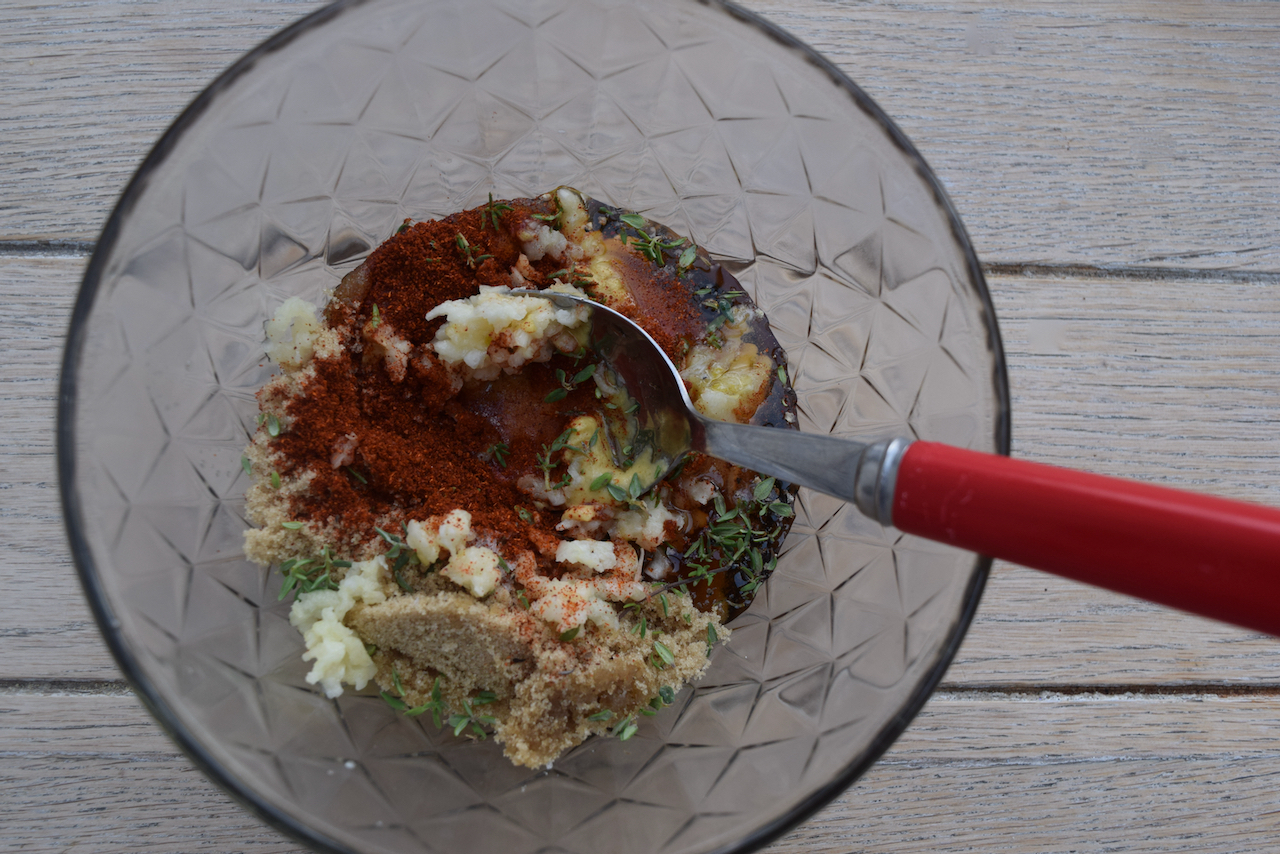 Stir together until you have a smooth paste. Once the pork has sat for the hour, pre heat your oven to 220℃ fan assisted, then slather it with all the paste, making sure every nook and cranny is covered in this sweet and savoury sauce.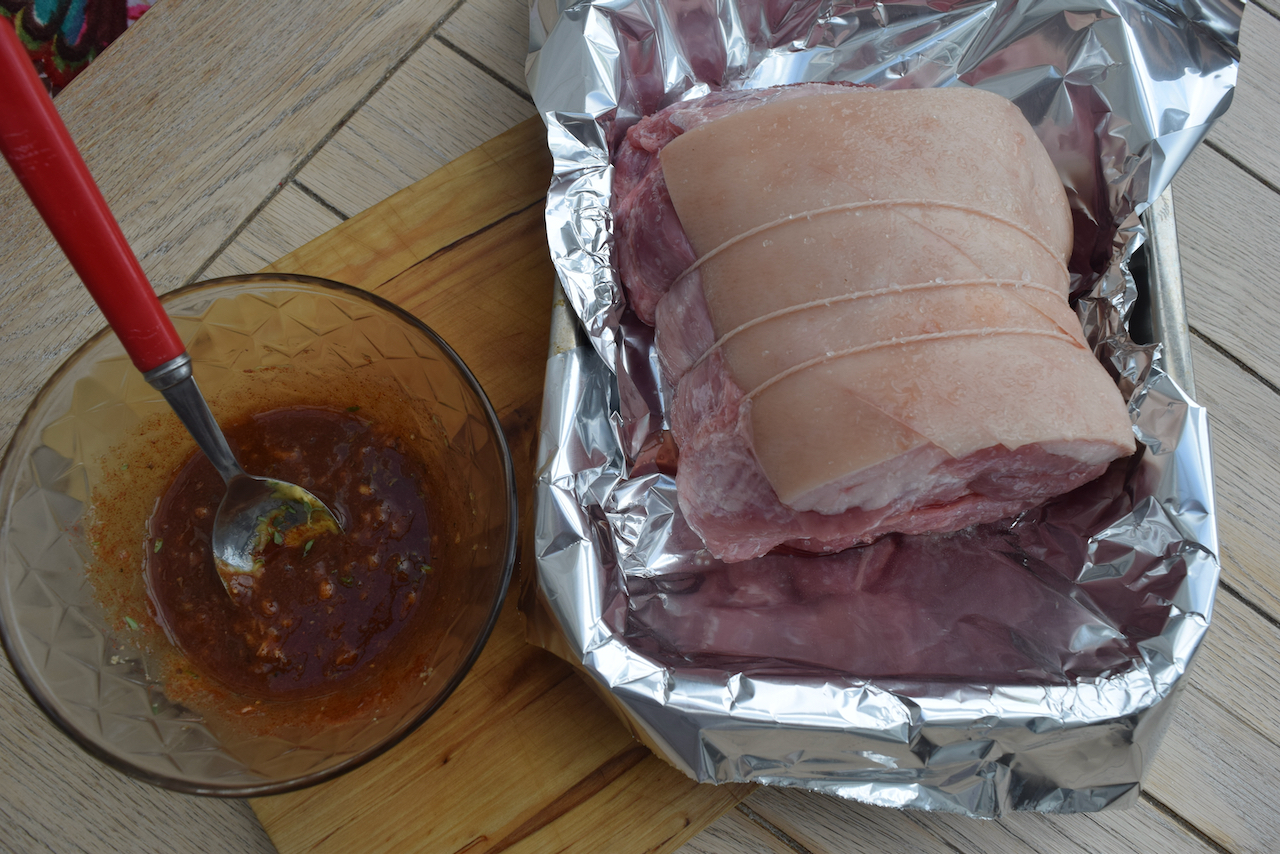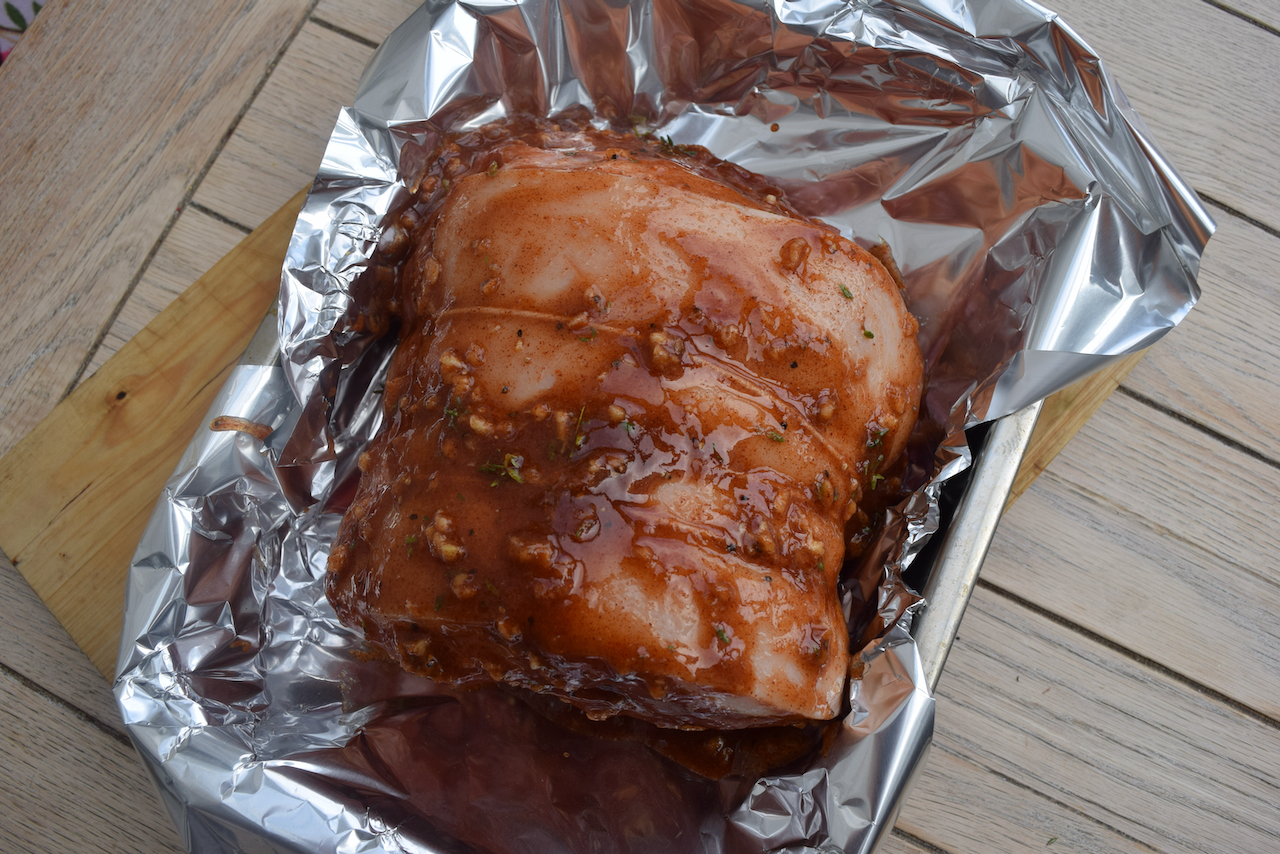 Put this into your piping hot oven for 15 minutes. When the time's up, you'll be able to smell everything caramelising.
Now, there's no picture of this stage, because you're not allowed to open the oven. Turn the temperature down to 100℃ fan assisted (yes, that's low) and leave the pork to quietly and fragrantly cook (uncovered) for 6 to 8 hours.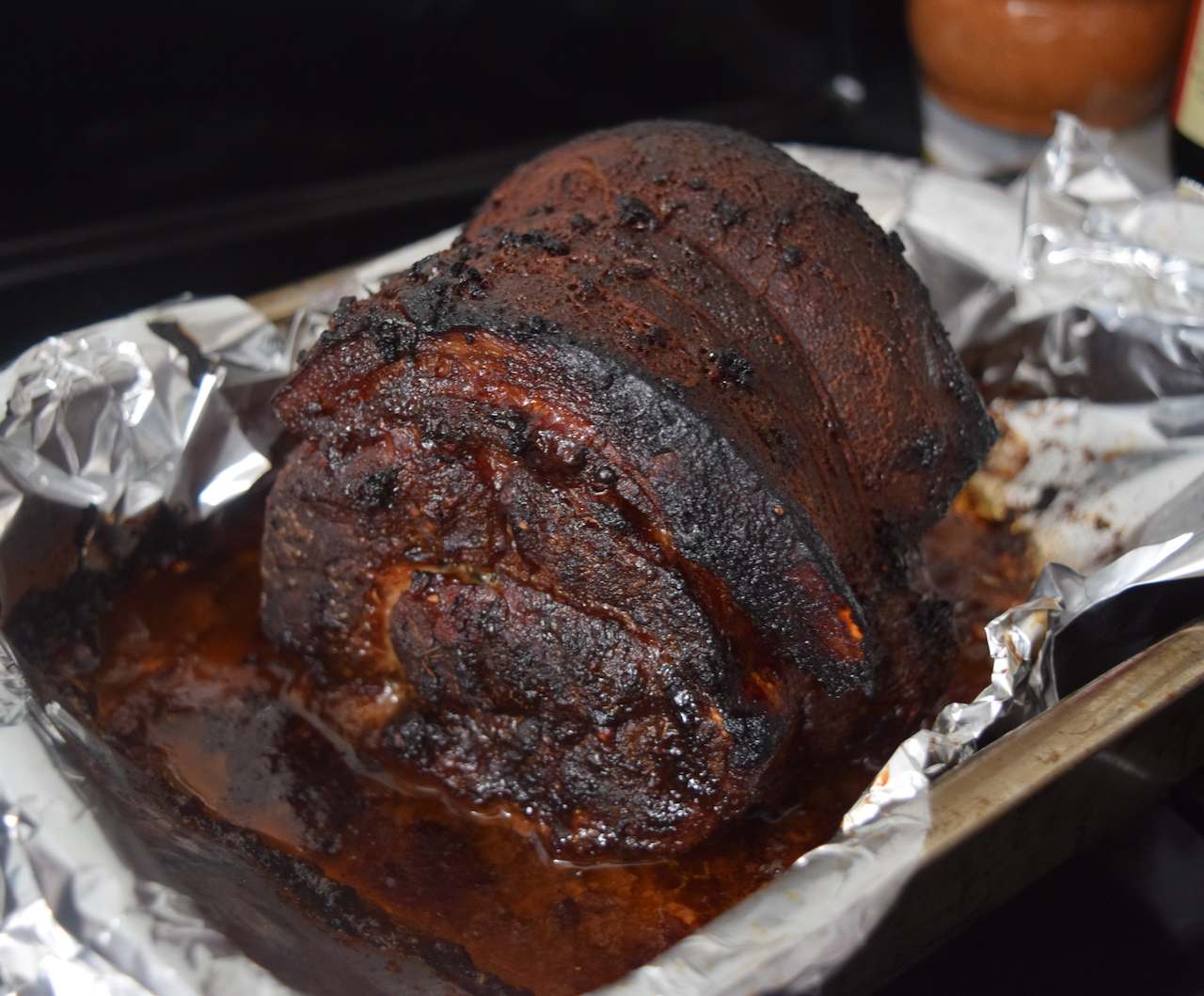 The pork is pull apart tender, so flavourful and so versatile. Drizzle the meat with some of the pan juices, then serve it piping hot, any way you fancy; stuffed into a roll, with some coleslaw or with a green or potato salad, or just straight from the tray in juicy mouthfuls *my favourite option*.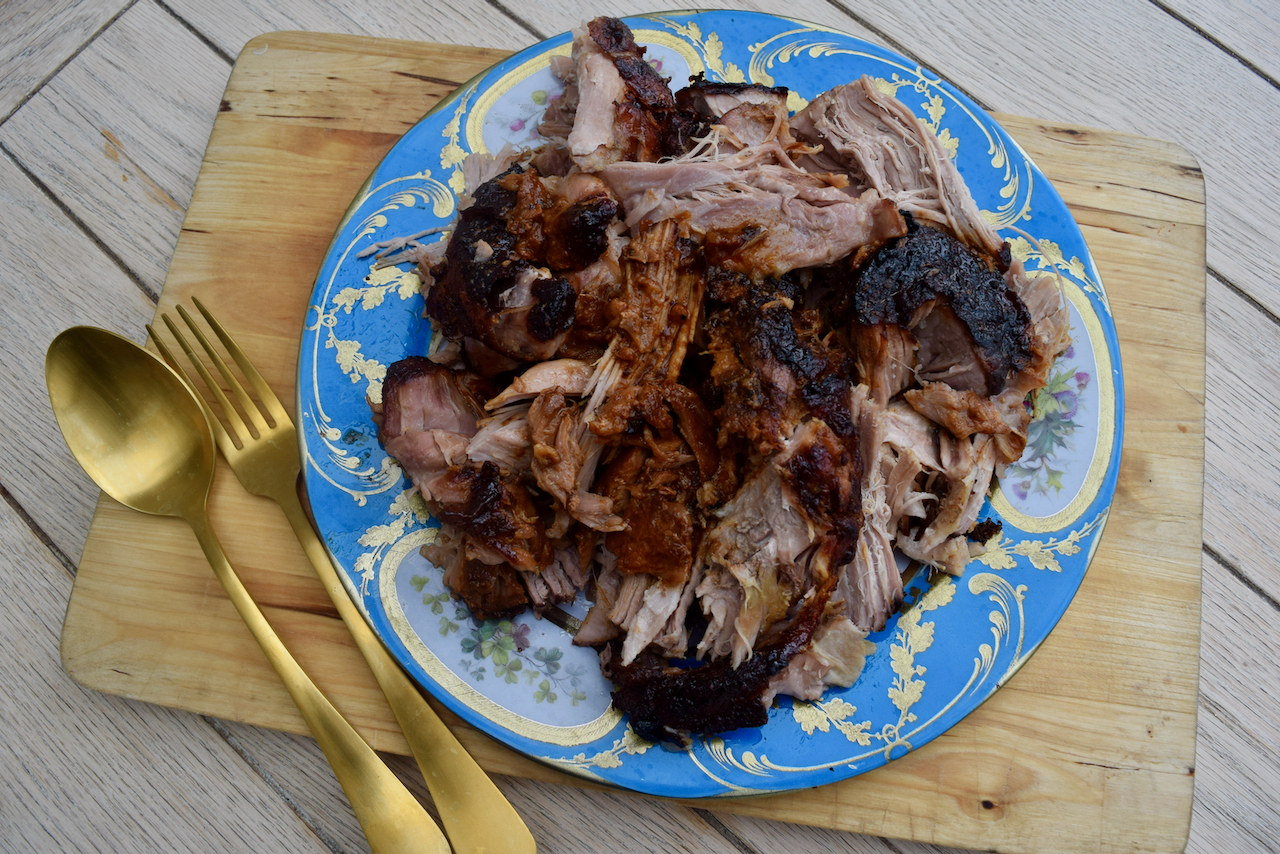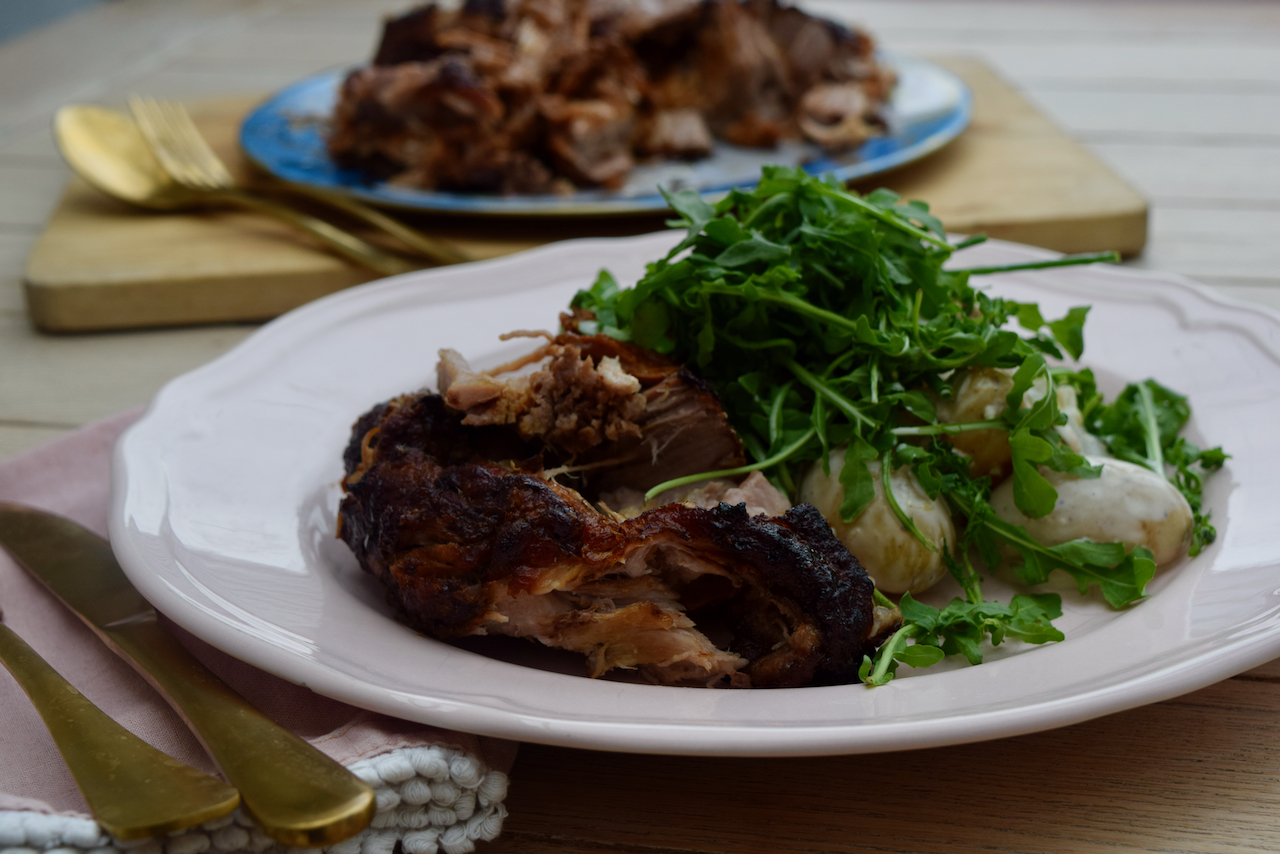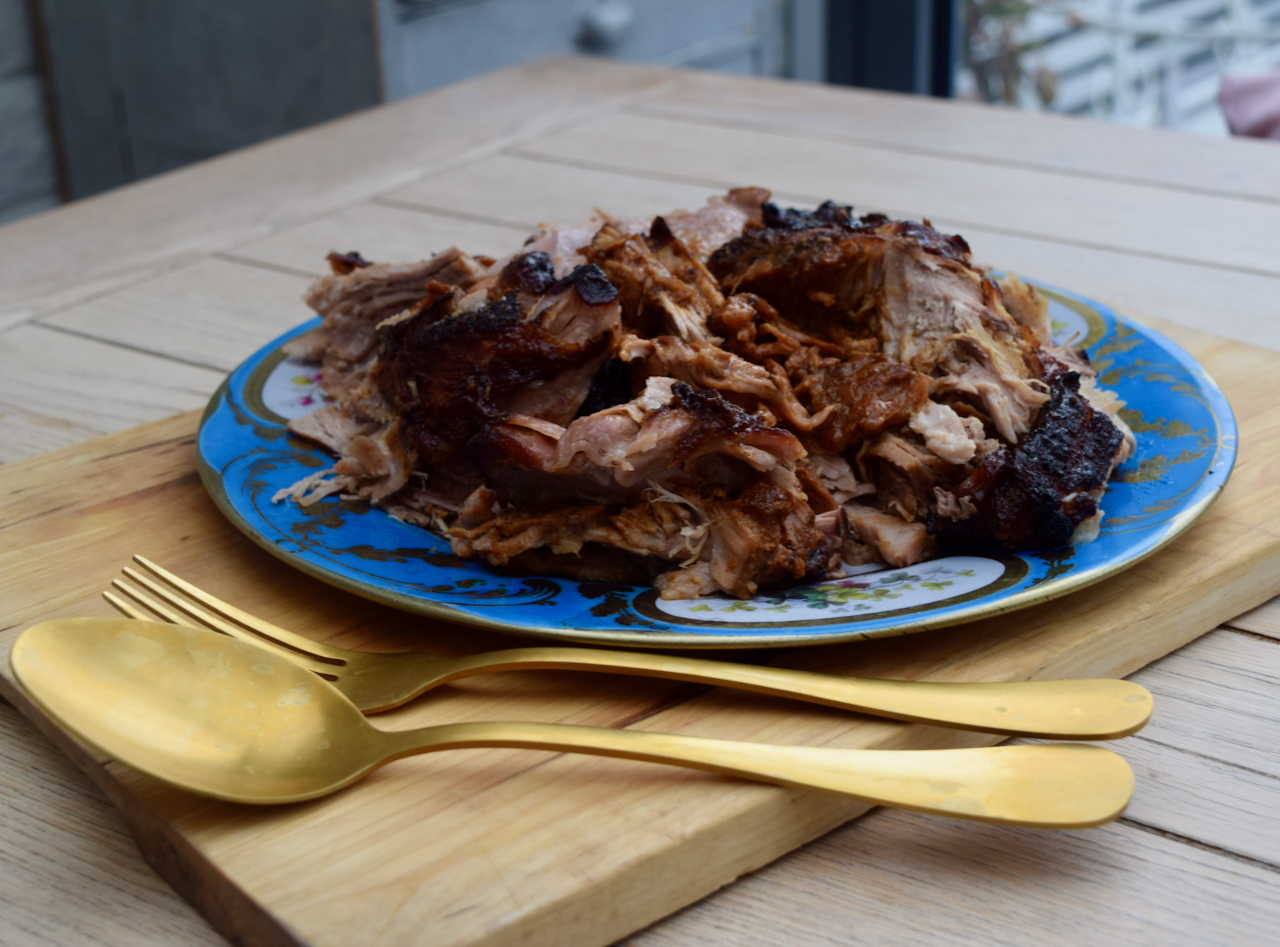 This cooks-itself-dish coincided brilliantly with a busy Sunday for me. While it did its thing I walked the dog, make some homemade mayo and watched one of the best Wimbledon Mens Singles finals ever. Topped off with a bloody great big plateful of this pork, I'm living my best slow roasting life.
Lucy x
Overnight Slow Roast Pork recipe
Serves at least 6
You will just need a lined baking tray for this, one which fits the pork snuggly
1.5kg to 2kg piece pork shoulder, tied to hold it together
1 teaspoon salt
2 tablespoons maple syrup
45g soft brown sugar
1 tablespoon Dijon mustard
2 teaspoons fresh thyme leaves
3 cloves garlic, crushed
1 teaspoon smoked paprika
1/2 teaspoon ground black pepper
Take your piece of pork and place into the lined baking tray. Sprinkle with a teaspoon of salt and rub all over the pork. Let it sit for an hour to come to room temperature.
For the seasoning, in a small bowl mix the maple syrup, brown sugar, mustard, thyme, garlic, ground black pepper and smoked paprika until you have a smooth-ish paste.
Heat your oven to 220℃ fan assisted. Once the pork has had it's hour sitting, slather the whole piece all over, with the maple mixture. Place into the hot oven for 15 minutes, until you can smell the sugar and garlic starting to brown. Turn the oven down to 100℃ fan assisted, without opening the oven door, and then leave the pork to cook, slowly, for 6 to 8 hours.
When your pork is pull-apart tender, remove from the oven, and serve shredded, drizzled with some of the pan juices, with potato salad, rolls, coleslaw, it's up to you. The cold pork will keep for 2 to 3 days in the fridge for an amazing sandwich filling.