Dustbin Cookies Recipe
It's half term for us this week, so it's time for baking and eating. And cooking, of course. I have donned my chefs hat and apron and am on duty for making three meals a day plus treats. My shopping list reads like a chapter from Mr Greedy and I am swearing as much as Gordon Ramsey as there is plenty of Fortnight being played and no mocks revision being done. I am finding peace, as usual, in the kitchen, just me and my stand mixer for company. Together we have been making sweet baking music in the shape of these slightly unappealing sounding Dustbin Cookies.
I used to make these cookies a lot when the boys were younger; a batch of cookies always seemed a therapeutic way of keeping everyone happy, including me, whilst I hid in the kitchen making them. They are effortless and can include anything and everything you have in your cupboards. They are based on a couple of recipes, the main one being from the Today website, with thanks. These cookies, and their dustbin nature, contain crisps, pretzels, chocolate chips along with a touch of coffee grounds for added flavour. They are packed out with some crumbled Digestives and oats, but feel free to drop in any other bits and bobs you have to hand.  They are sweet, but not horribly so, soft in the middle and they have a wonderful tang from the added salty snacks. This recipe makes a brilliantly large batch too, which is handy, as they will fly off the baking trays while still warm.
Baking a batch of cookies quite often makes me feel like mum of the year. A much needed attribute to counteract the constant half term nagging, swearing and moaning.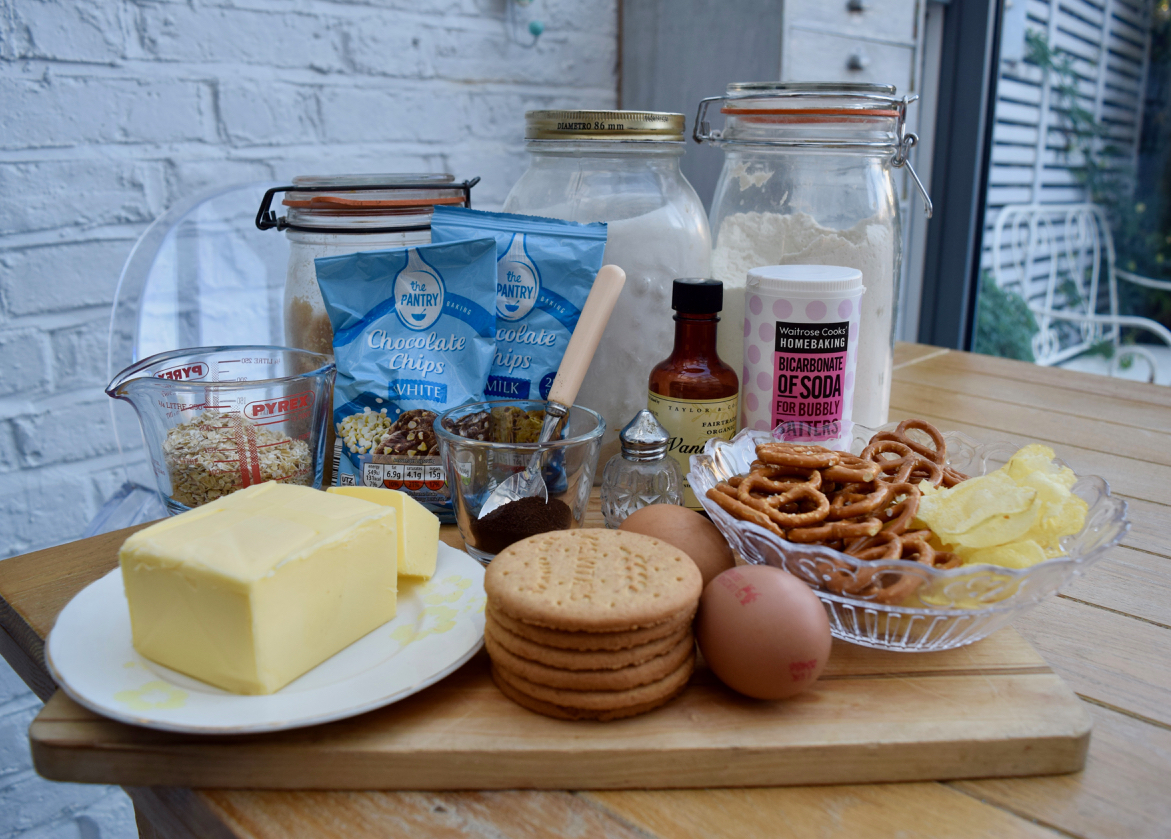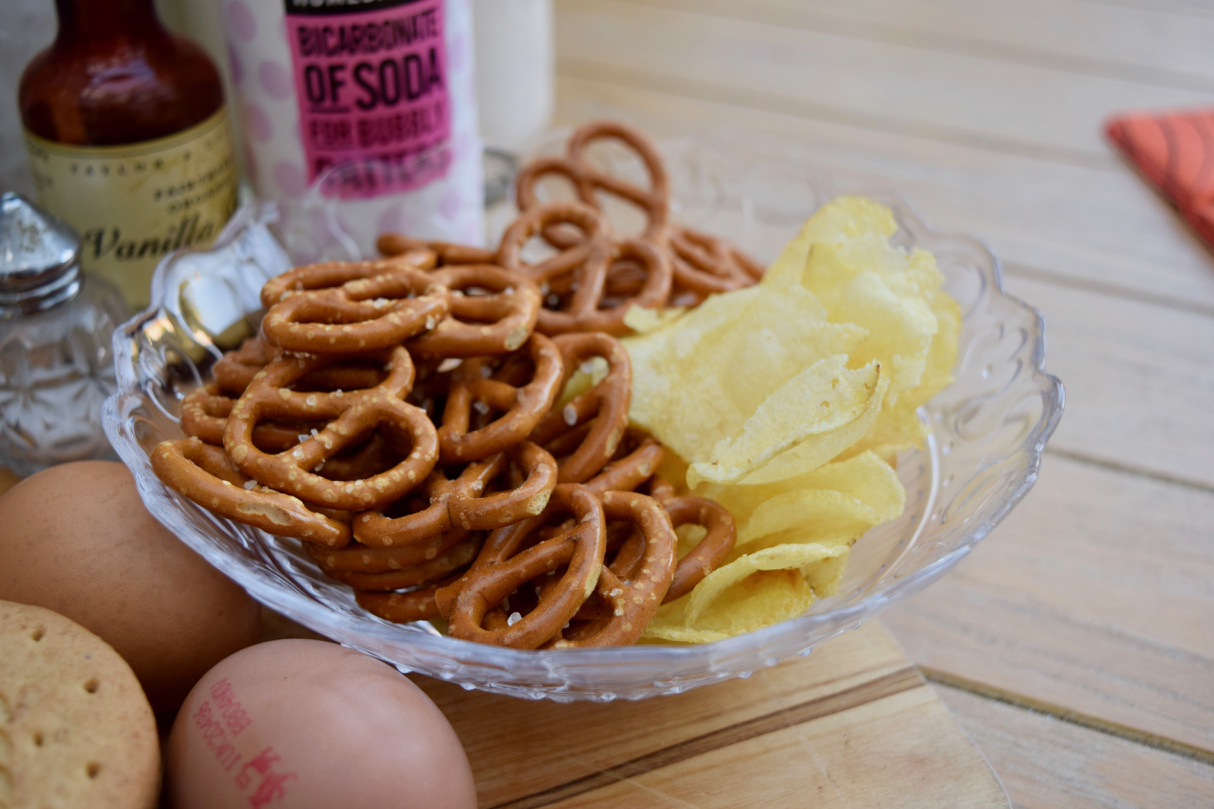 The crisps and pretzels really are the stars of the show for me, salty and sweet together make for the perfect bake. Don't leave out the coffee either, unless you can't abide it, it just adds a whiff of coffee, these aren't predominantly coffee based.
These are simple, so make a start by lining two or three large baking sheets with greaseproof paper and pre heating your oven to around 180 degrees fan assisted. Measure out the flour, salt and bicarb and pop to one side for the moment. Next, take your soft butter and both the caster and light brown sugars and beat them either in a bowl by hand or in your stand mixer.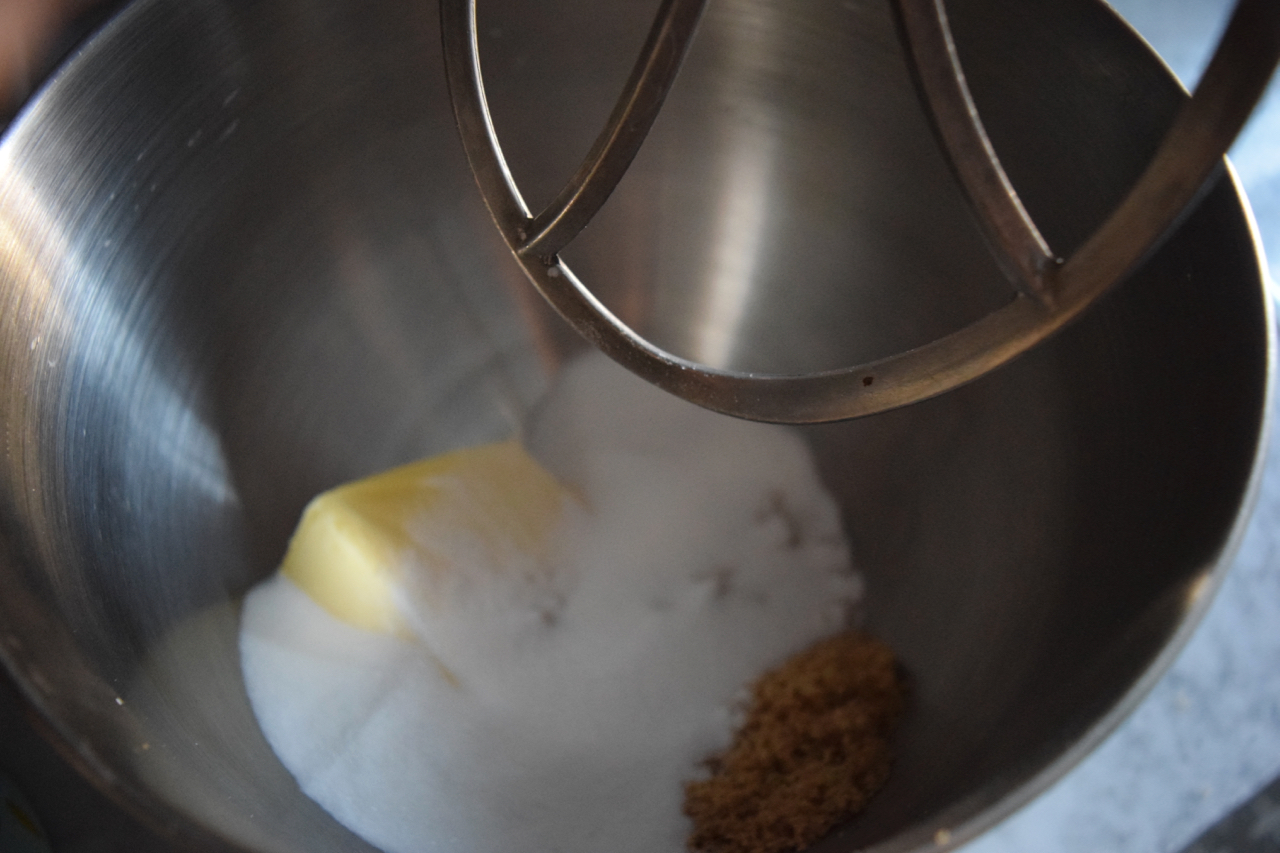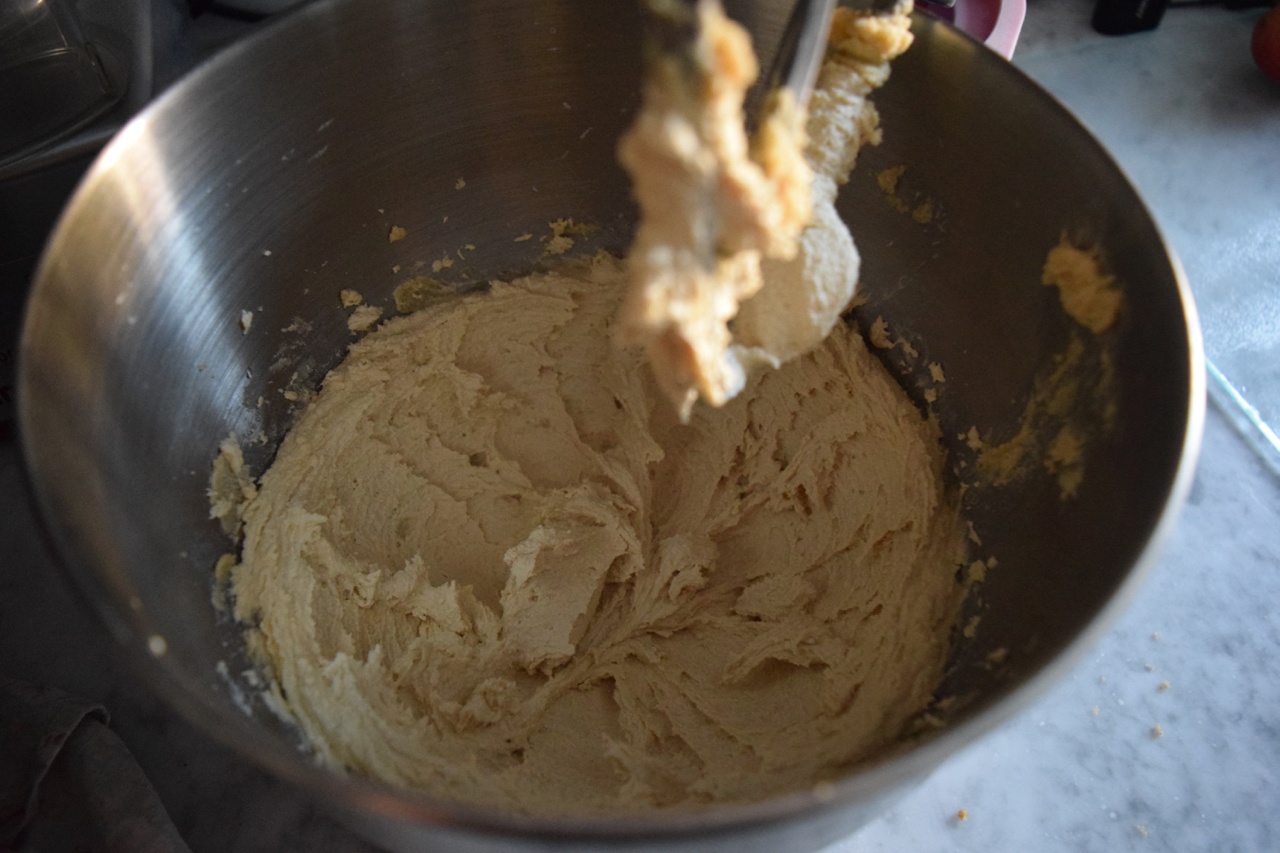 Next, add the two eggs and the vanilla extract and beat again. Don't worry if it looks a bit curdled, all will be resolved when you add the flour mixture.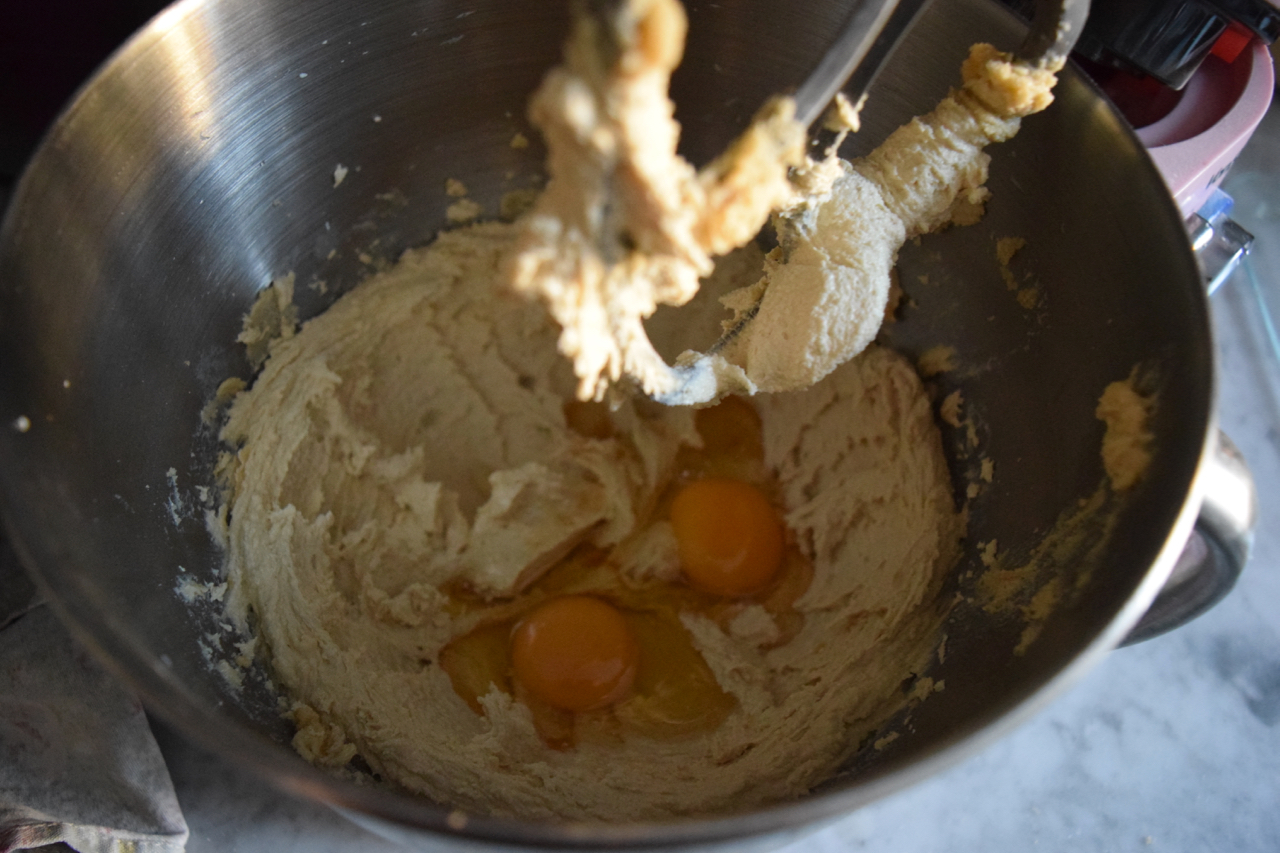 Fold in the flour until you have a rather delicious soft dough then fold in the oats and Digestives. Gently crumble the Digestives as you add them, just into crumbs, not dust please.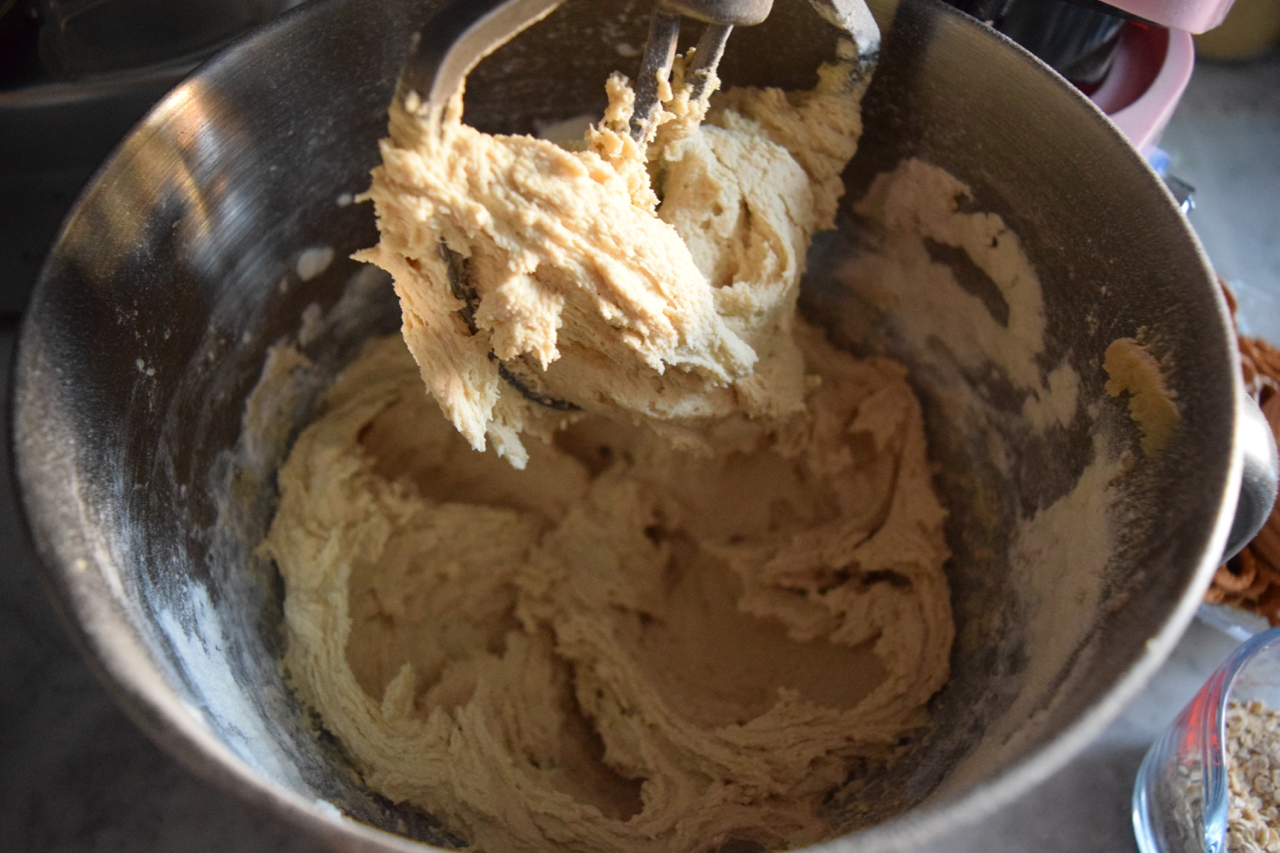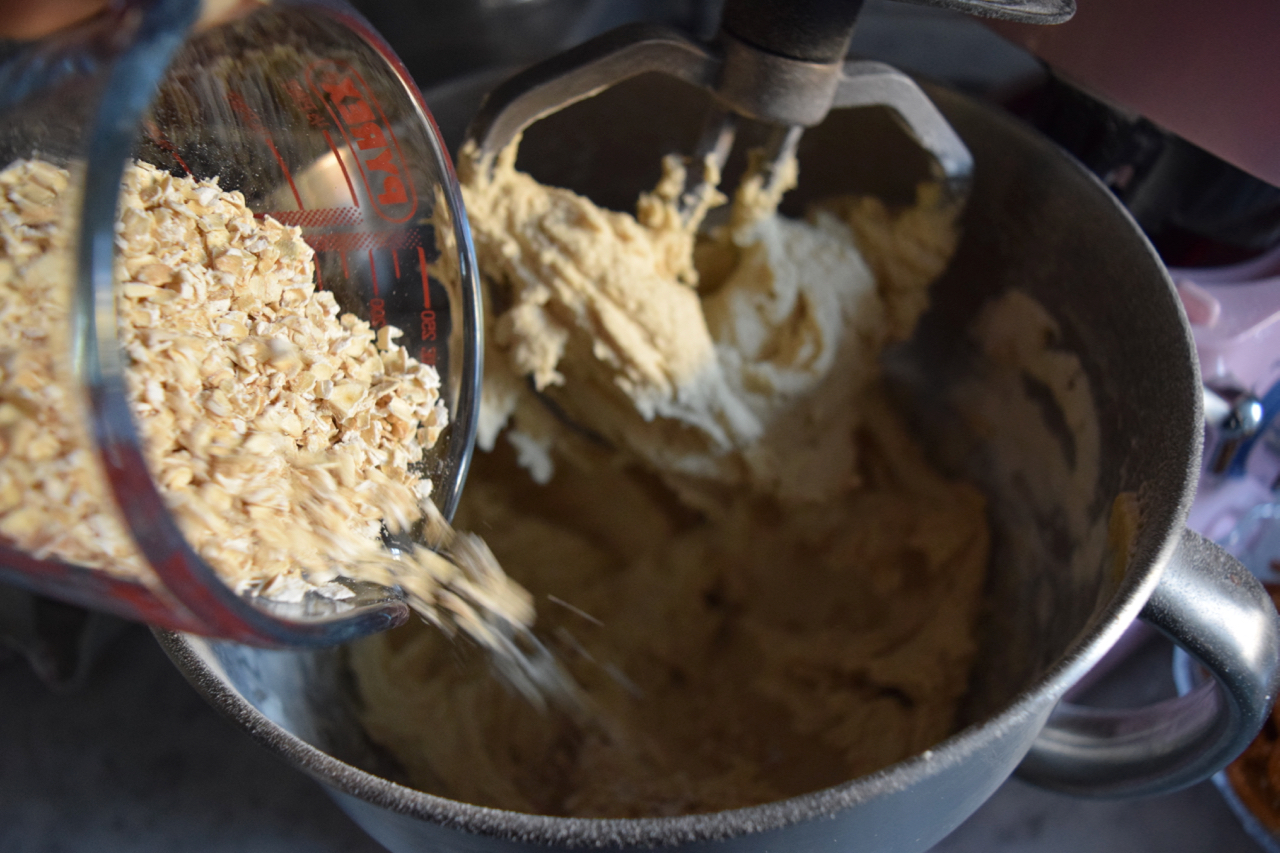 Now it's time to add the series of dustbin ingredients. Add the chocolate chips, coffee grounds, salted crisps and pretzels.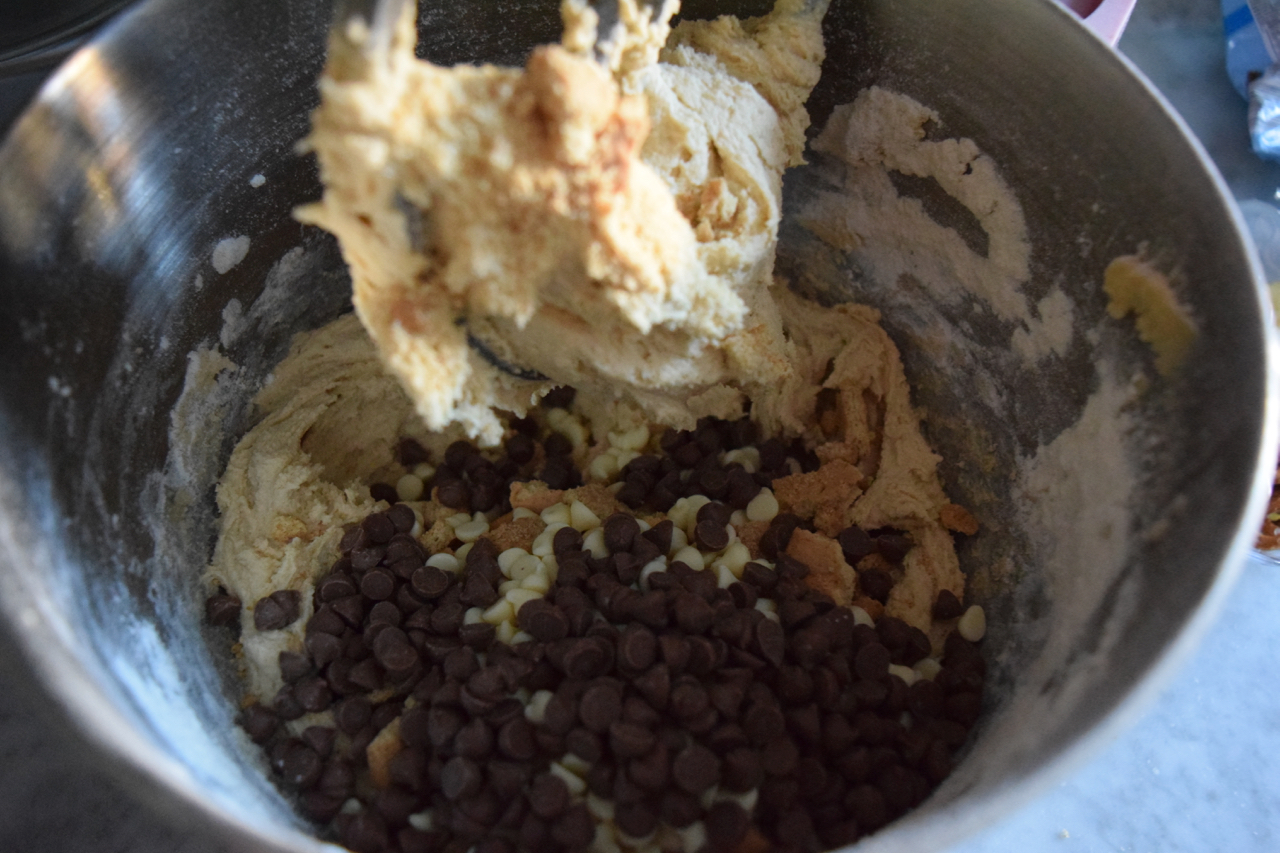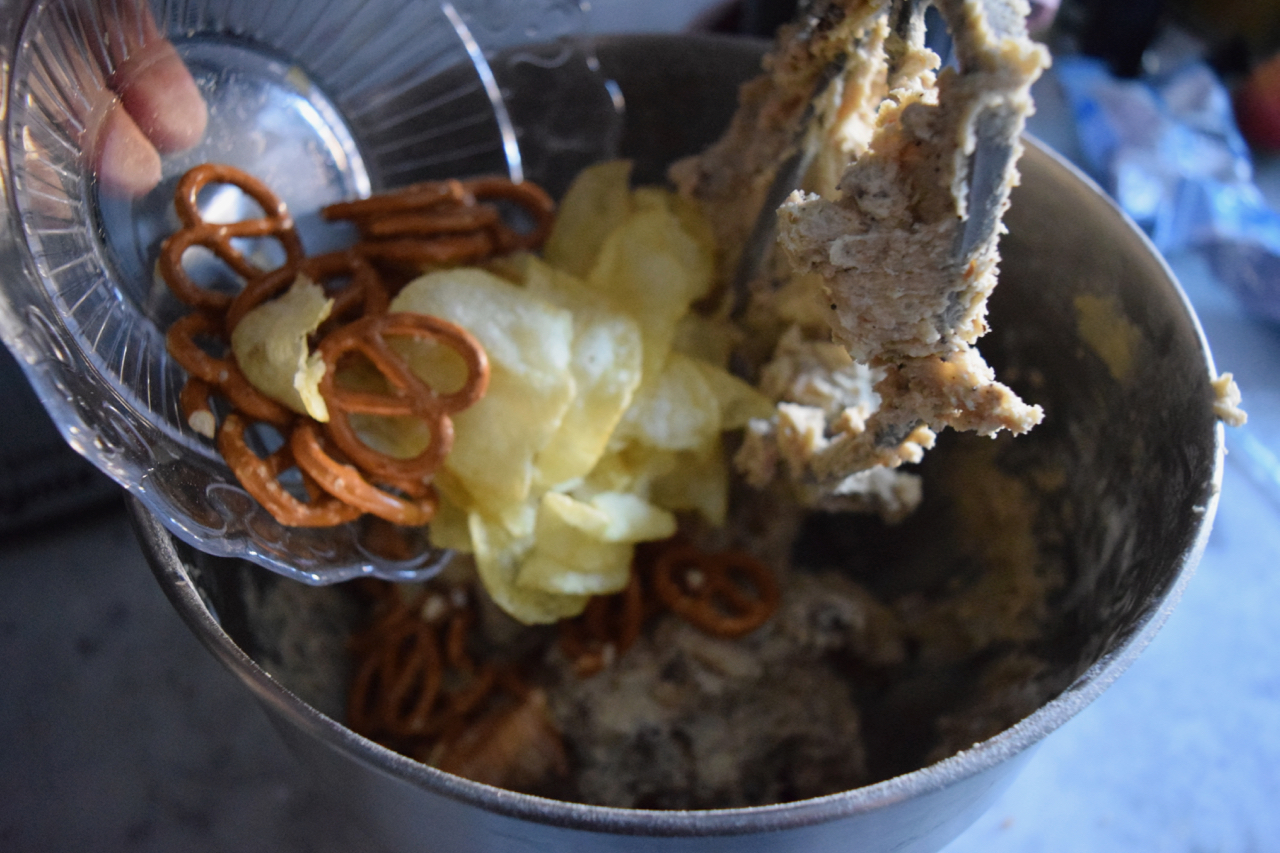 Don't over mix the dough, you want to have some visible pieces of crisp and pretzel in your cookies.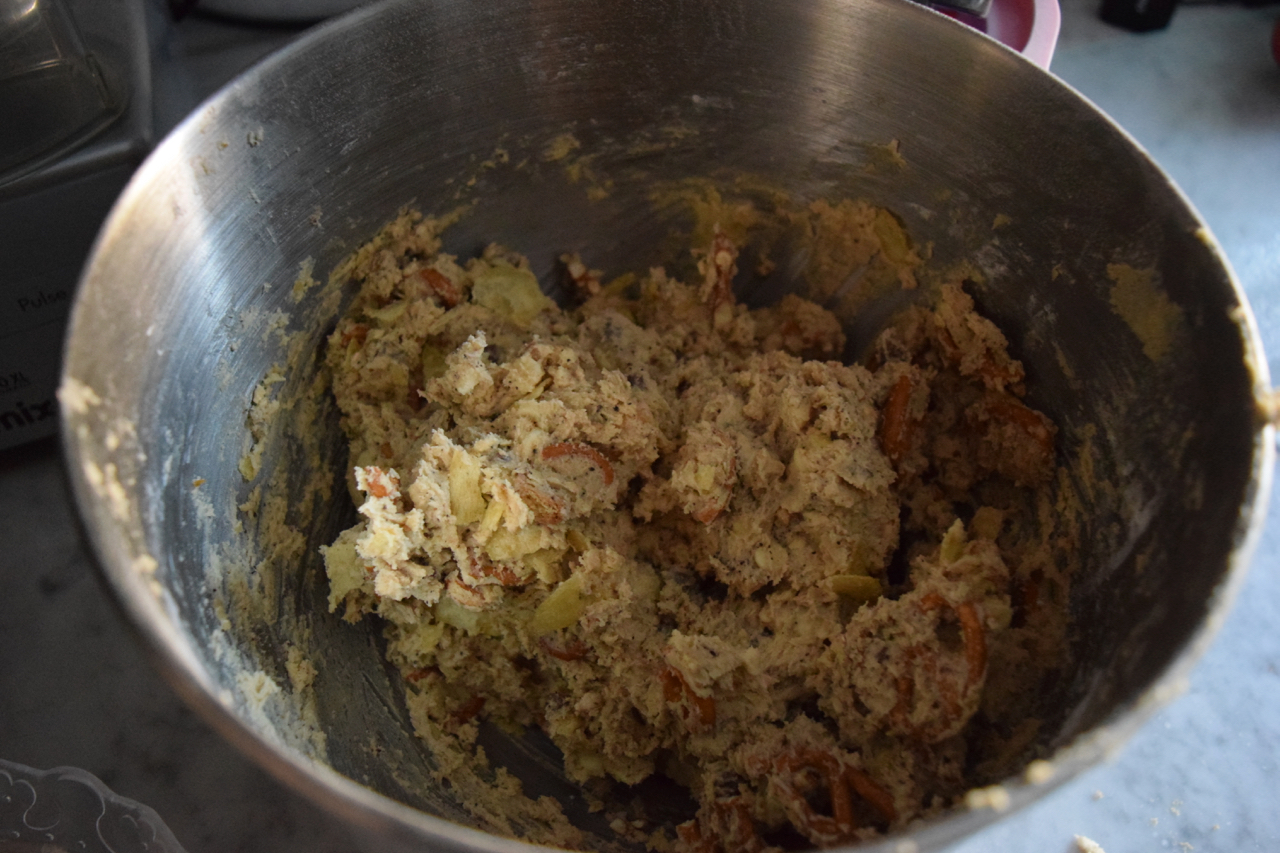 Now, trying not to eat huge mouthfuls, put tablespoons of this wonderful, loaded mixture onto the lined baking sheets. They will spread so leave a bit of space in between each one. You should get a generous 36 cookies, so this may take a couple of loads. Of if you have a modicum of restraint, you could freeze some of the cookie dough for later.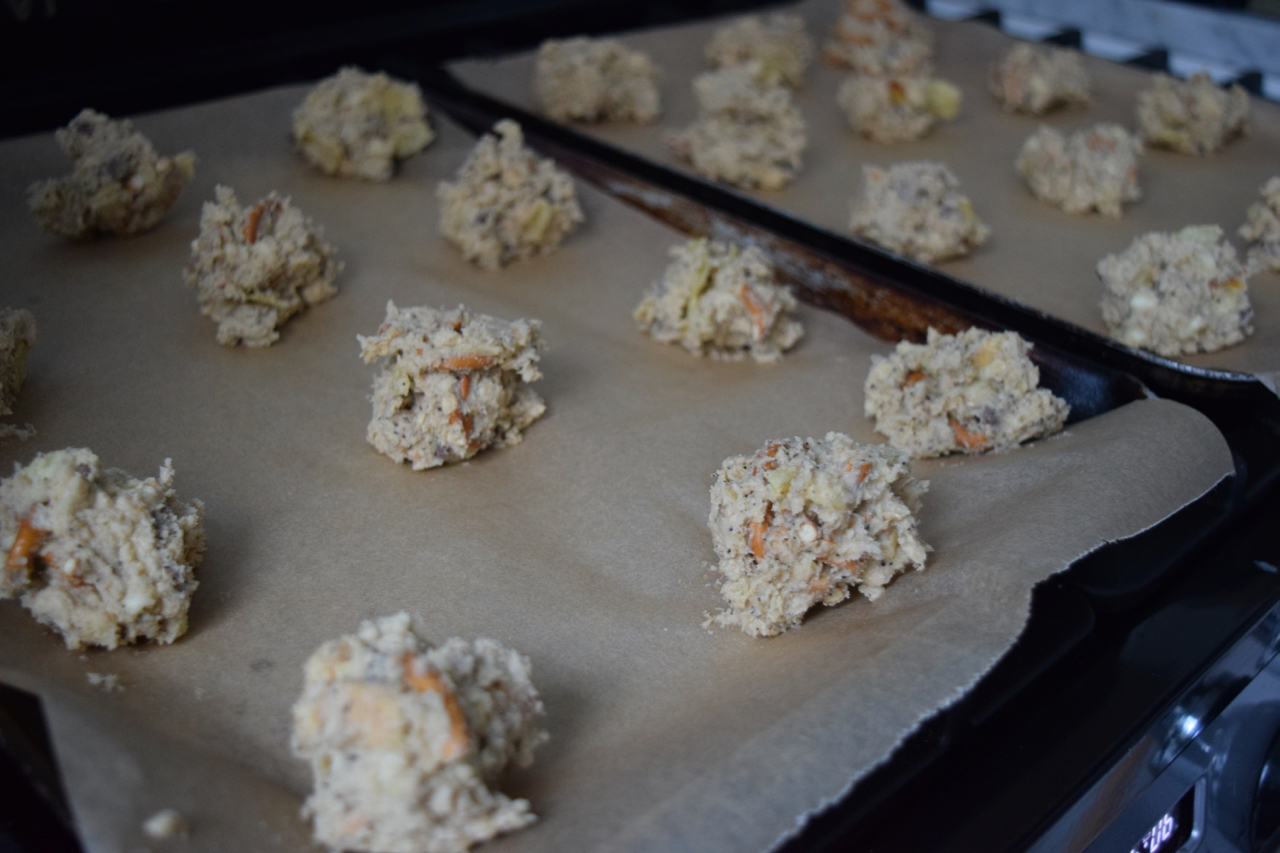 Pop these in the oven for a scant 10 to 12 minutes. You want your cookies to be just golden at the edges while still soft in the centre.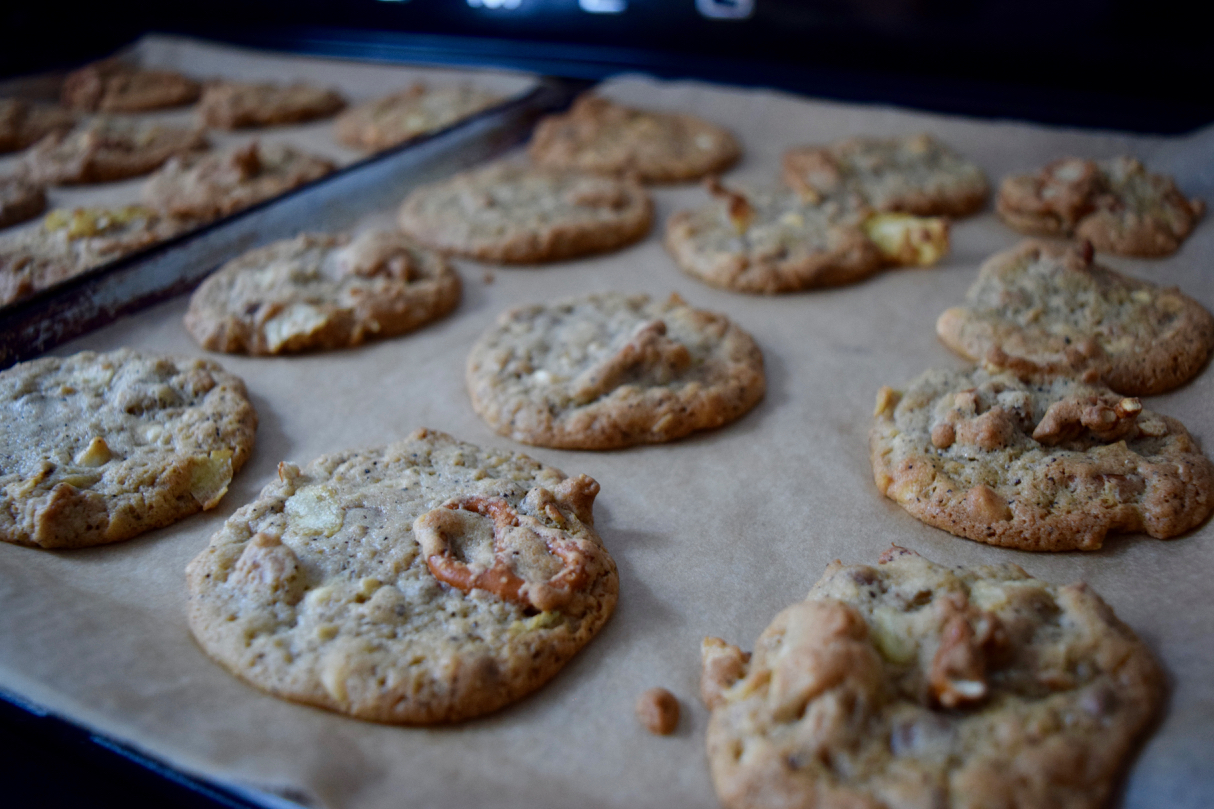 Keep your hands behind your back and well away from the tray until they have at least cooled for a couple of minutes. Then you are free to tuck right in.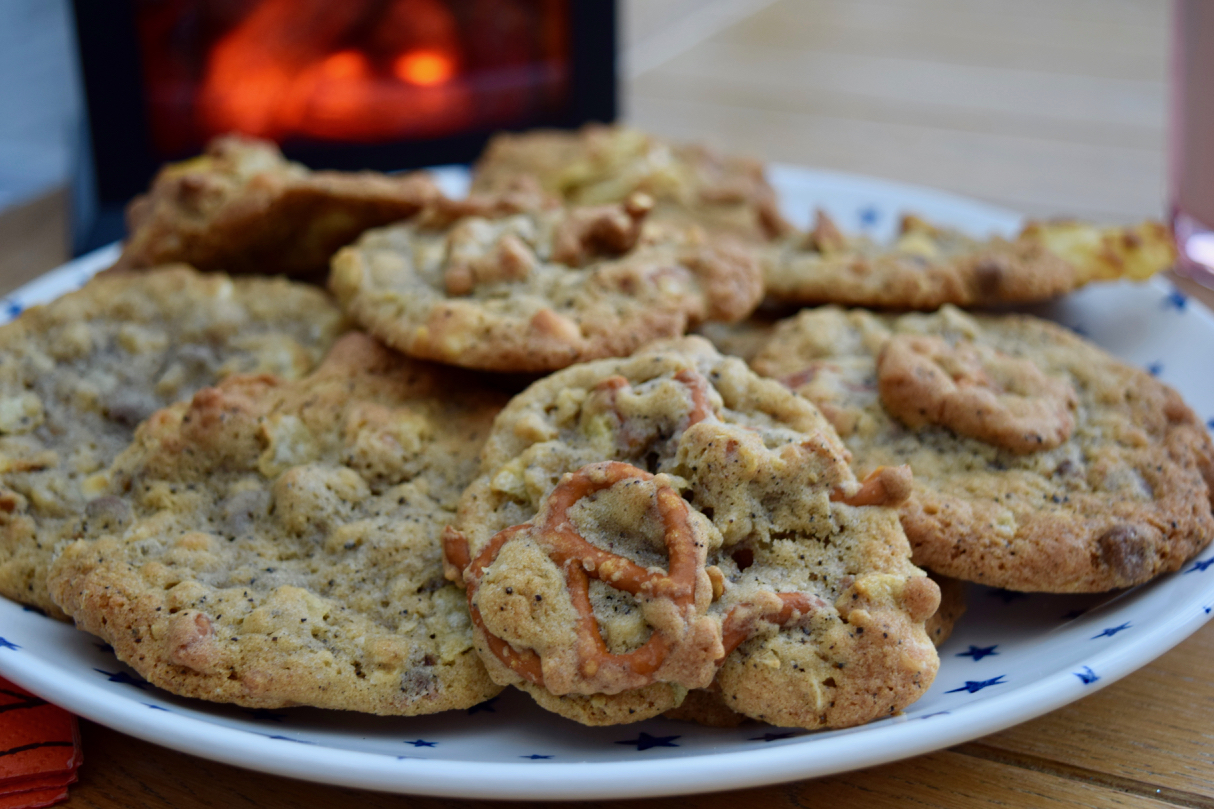 Please admire my lovely lantern from the ever brilliant Aldi Specialbuys, I feel it gave my biscuits quite a warming, Hallowe'en like glow.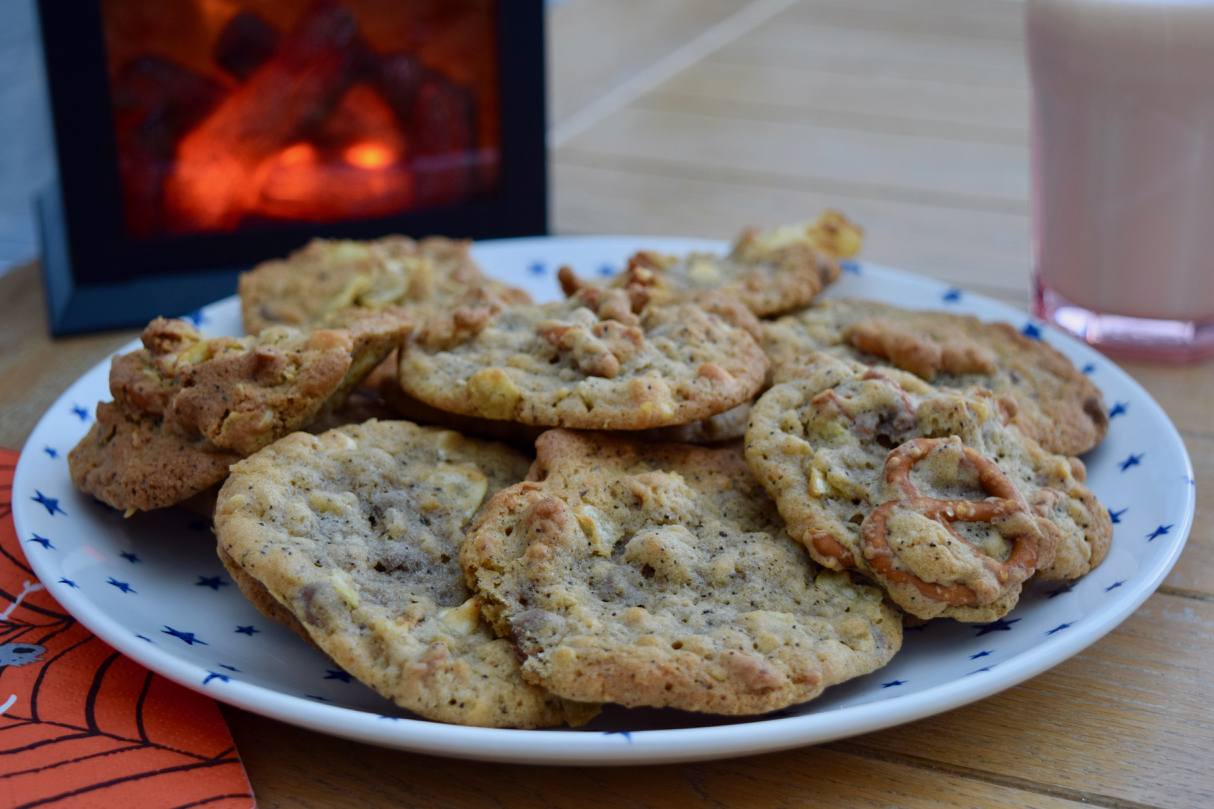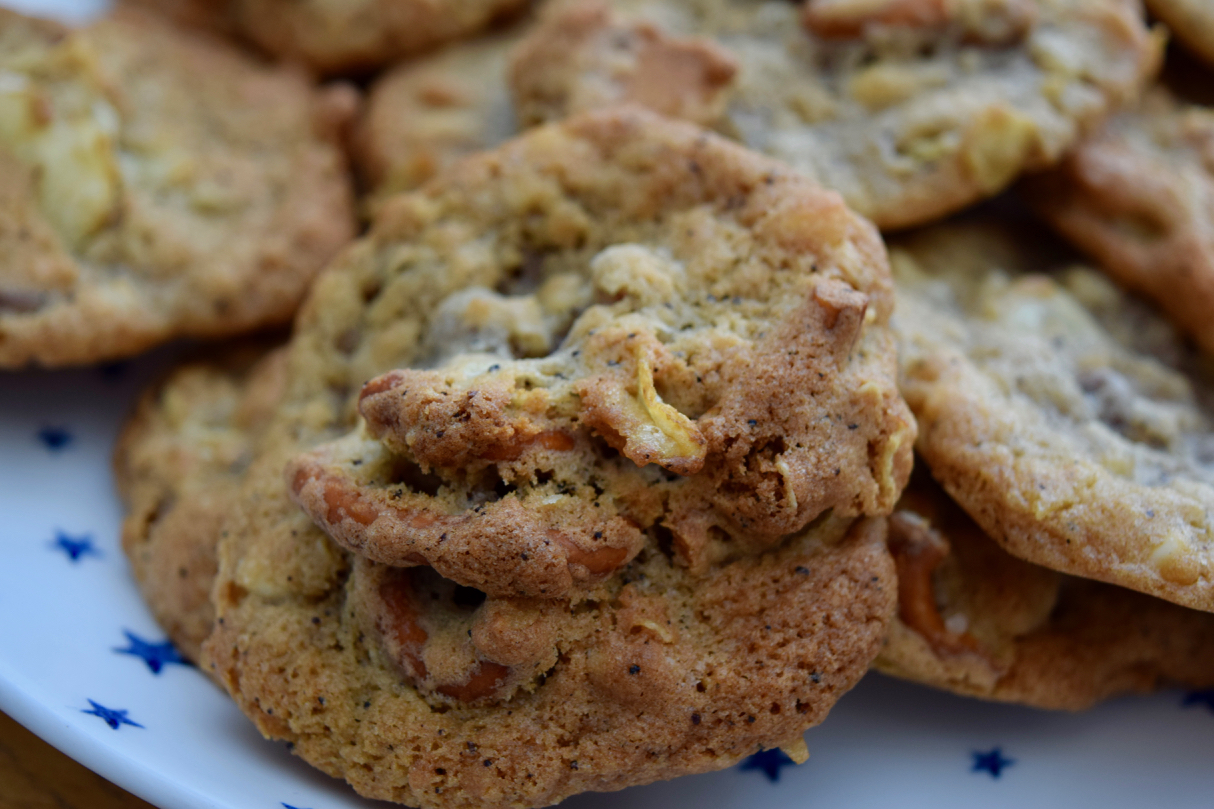 This batch flew out the door, mainly because I gave a lot of them away to George and his friends to stop me from eating the whole bloody lot in one sitting.
Lucy x
A big thank you to Aldi for my treats from their Luxury Winter Specialbuys range.
Dustbin Cookies Recipe
You will need a stand mixer or a bowl and a wooden spoon and two large lined baking sheets
Makes around 36 cookies
290g plain flour
1 teaspoon bicarbonate soda
1/2 teaspoon salt
225g soft butter
150g soft brown sugar
170g caster sugar
1 teaspoon vanilla extract
6 Digestive biscuits, crumbled, or you could use whichever biscuits you have to hand
100g white chocolate chips
100g milk or dark chocolate chips
40g oats
2 teaspoons coffee grounds, dry, not used, and not instant coffee
25g salted crisps
50g pretzels
Pre heat your oven to 160 degrees fan assisted and line your baking trays with greaseproof paper.
In a bowl, measure out your plain flour and add the bicarb and salt, stir, then leave to one side.
In a bowl or the bowl of your stand mixer, beat the soft butter and both brown and white sugars until the mixture is lighter in colour and texture. Scrape down the sides then add the vanilla and the eggs and mix again until smoothish.
Fold in the flour mixture until you have a soft dough then add the oats, chocolate chips and crumbled biscuits. Give this a good mix to combine then add the coffee grounds, pretzels and crisps. Mix again, but only gently as you don't want the crisps and pretzels to become dust.
Spoon tablespoons of the dough onto your lined trays and bake for a scant 10 to 12 minutes or until the cookies are well spread and turning golden. I like mine to err on the soft and slightly under cooked side. Leave to cool completely on the tray before devouring.
These will keep for 3 to 4 days in an airtight jar or tin, depending on how hungry your children are. Or do feel free to freeze the dough for use another day.