Salted Caramel Brownies
These are delicious. I have eaten my fair share of brownies and if I'm honest, they are not usually my first baked goods choice. These, however, are everyones first choice when they are in our tin. The actual brownie itself is soft and rich and could even be made without the filling. But when you marble them with soft caramel swirls, they enter a new realm of scrumptiousness.
Its up to you if you sprinkle a few flakes of Maldon salt onto the caramel or not.  The whole salted caramel thing is everywhere now, but I do think it works here if thats your thing.
The original recipe is from Bakerita, and what a lovely recipe it is too. I found it when I had opened a tin of Carnation Caramel instead of Carnation condensed milk and wanted to make something other than Banoffee Pie. I am so glad I found it, as these rich, sweet brownies have become a regular feature in our house.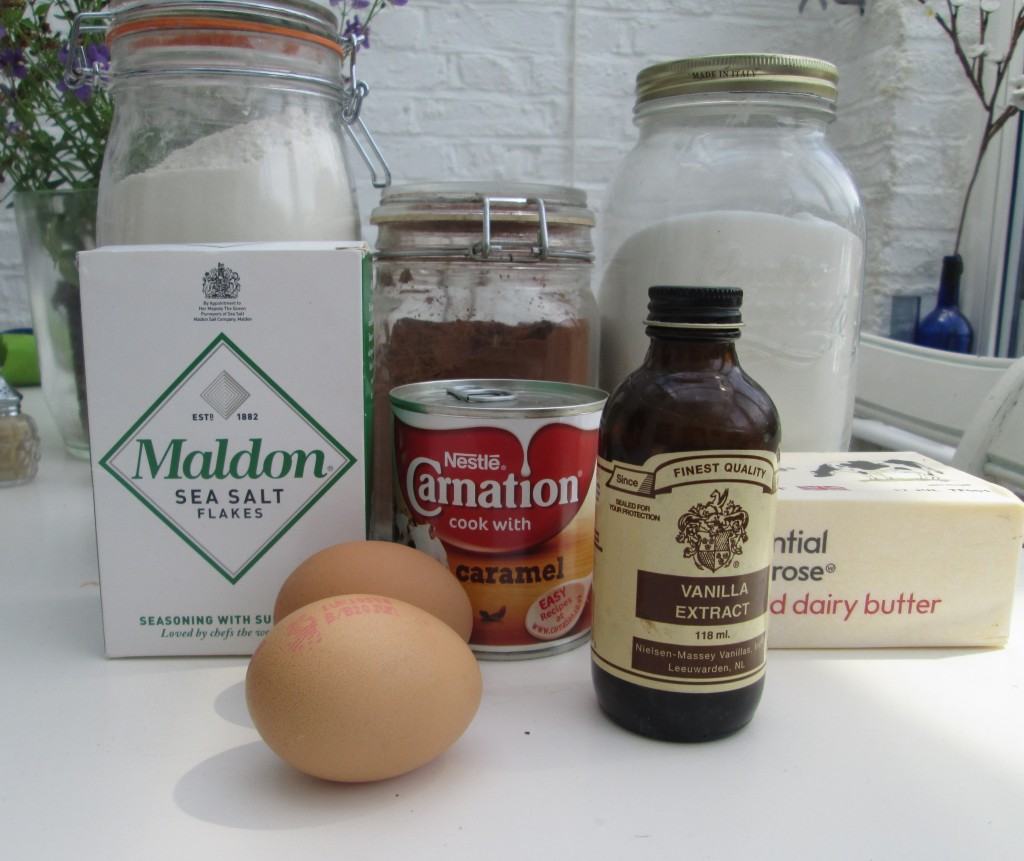 When I was a teenager, my mother would, rather frighteningly, boil unopened tins of Carnation condensed milk for hours to create a delicious thick caramel for Banoffee Pie. I carried on that tradition, until, those kind people at Carnation started to sell the caramel ready cooked, bless them. Here we only need half a tin, unless you want to double this recipe quantity, its not as if they won't get eaten.
Line a square baking tin and put your oven on to 170 degrees fan or equivalent. Then put the butter, sugar, cocoa and pinch of salt in a microwaveable bowl. If you don't have a microwave, put the bowl over a pan of simmering water, etc, etc, you know the score.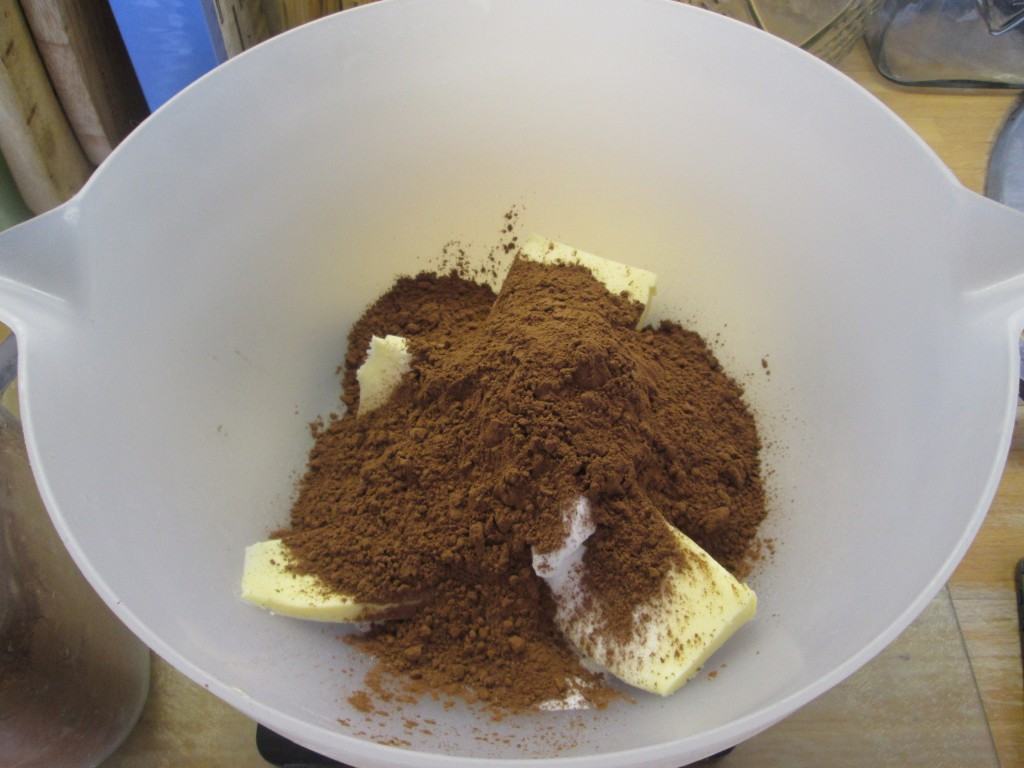 Put the bowl in the microwave until the butter has melted, mine was ready after a minute and a half. Stir the rather unpromising looking mixture until everything has melded together. It will look a touch strange and grainy.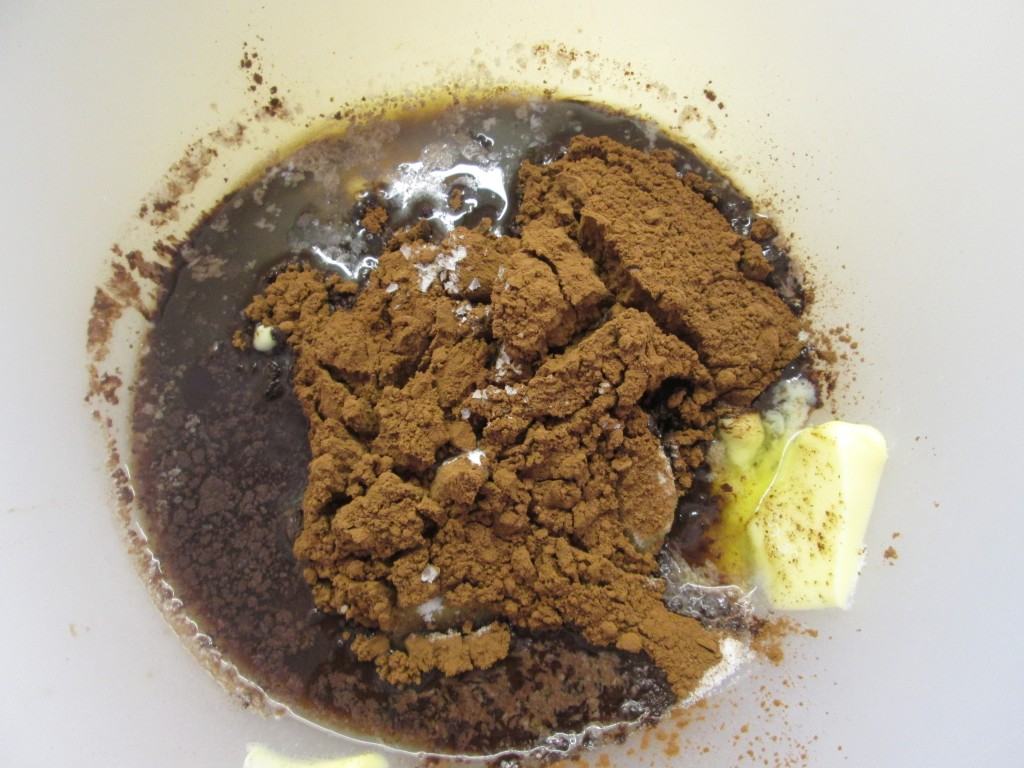 Pour in the vanilla extract then whisk in the two eggs, one at a time.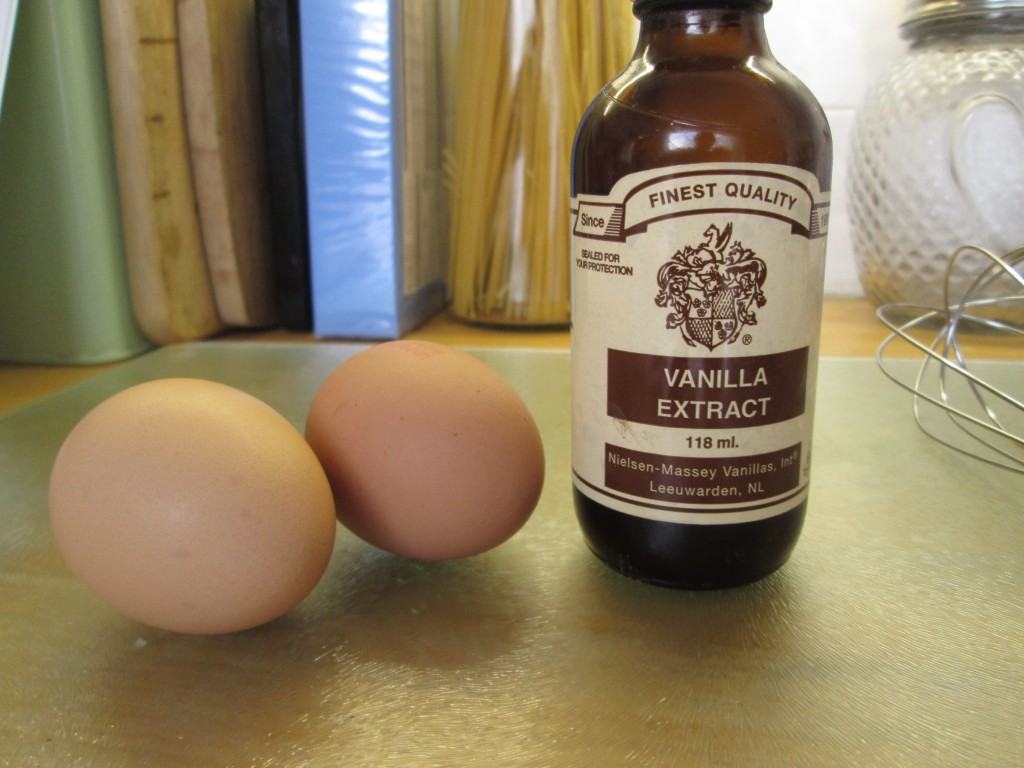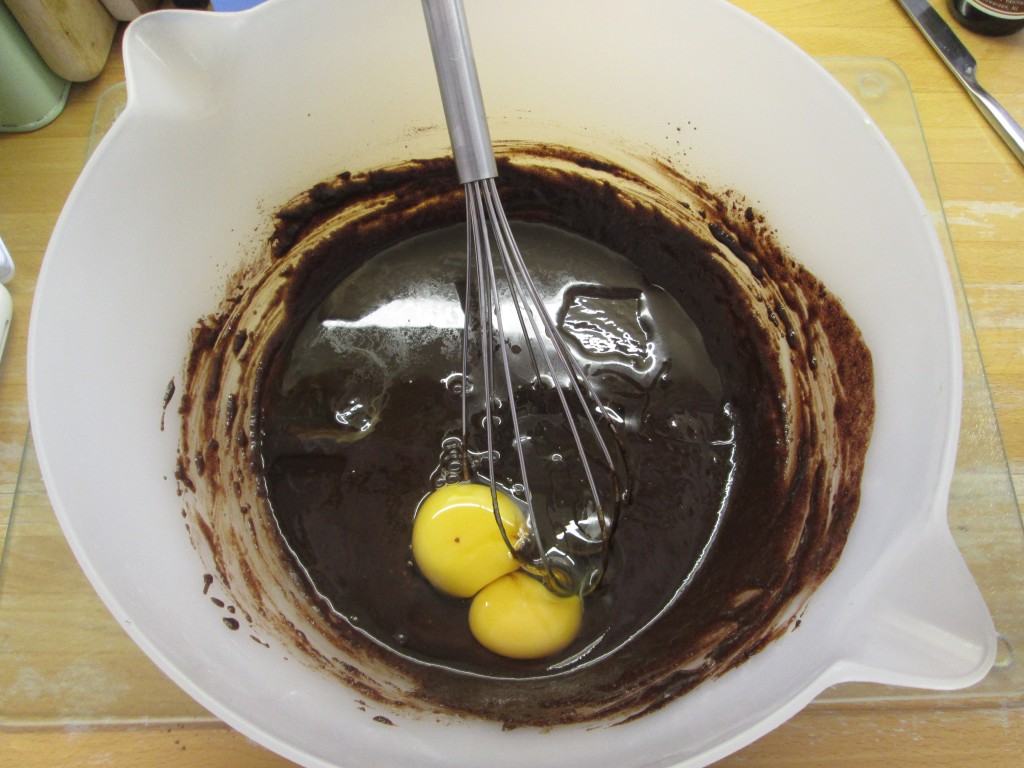 Fold in the flour, until no flecks are showing then beat well to ensure the chocolately loveliness is well mixed.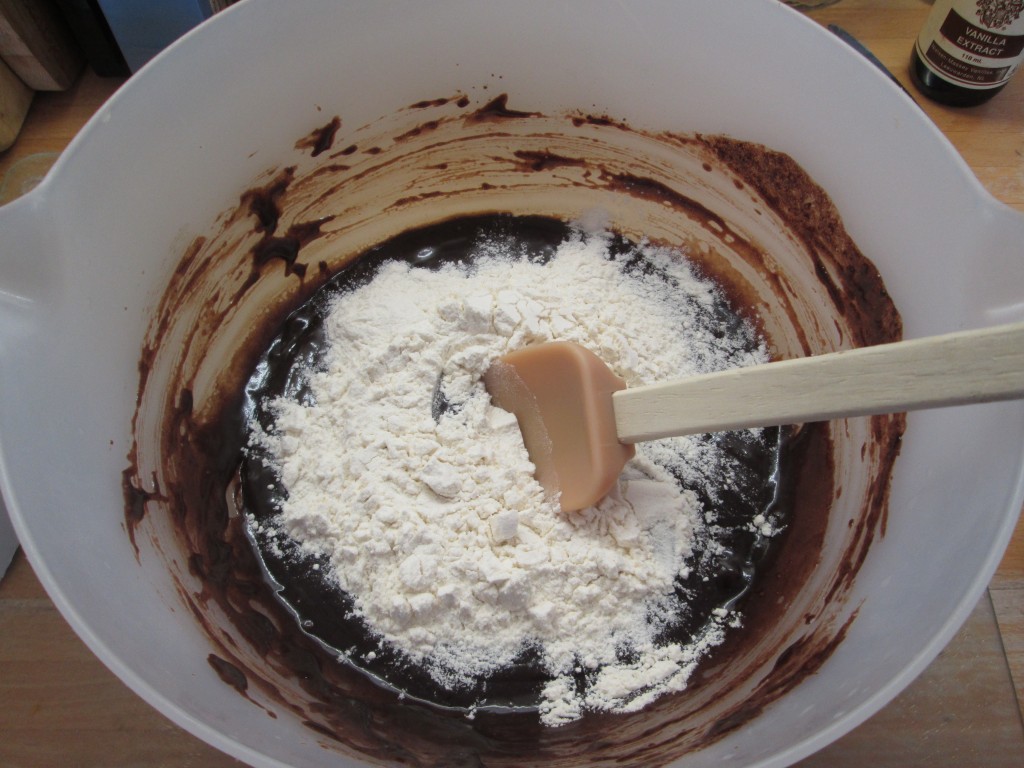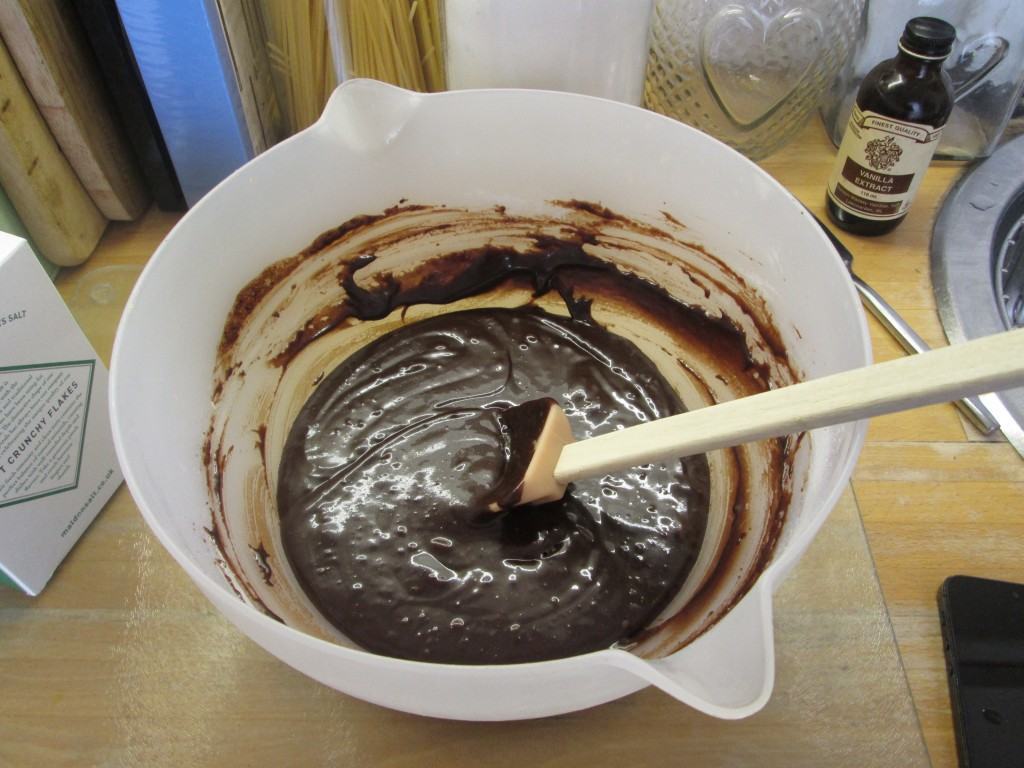 Pour half the fudgy chocolate mix into your 8 x 8 inch (20cm x 20cm) tin.  It will form quite a thin layer, but spread it out until the mixture covers the base of the tin.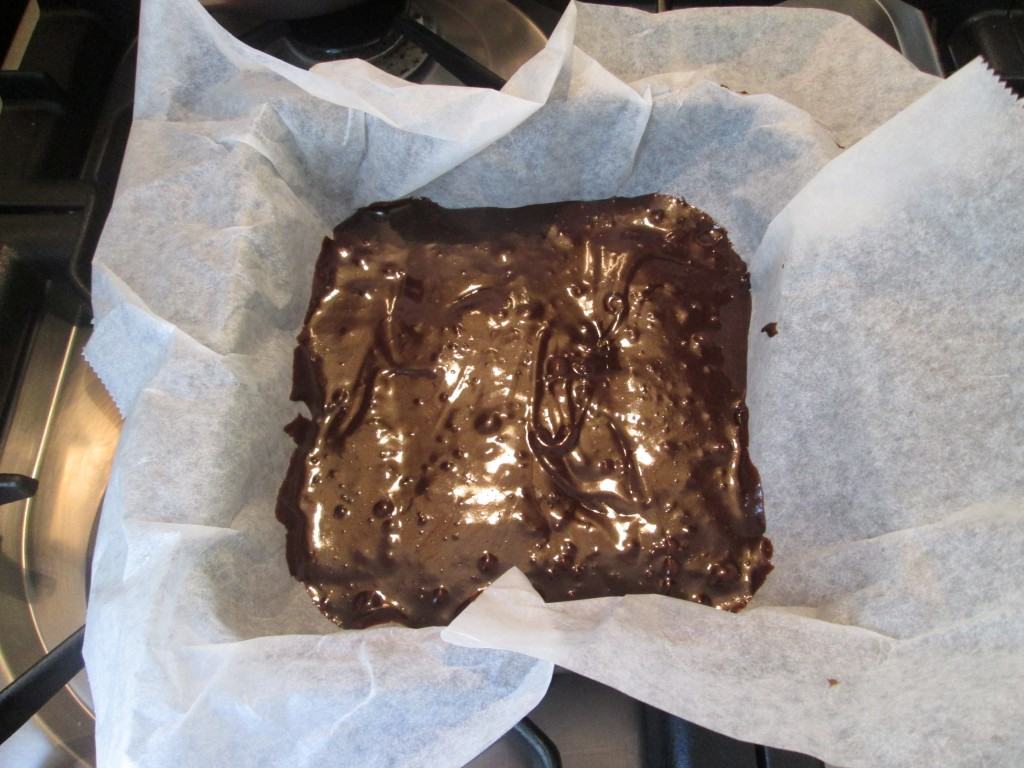 Then comes the caramel part. You will only need half the tin here, but the other half will keep covered in the fridge until you make another batch (feel free to scrape the empty tin with a spoon, yum).
Spoon blobs of the thick caramel onto the chocolate mixture, keeping a couple of spoonfuls back for the top. Be generous here, no less is more with these.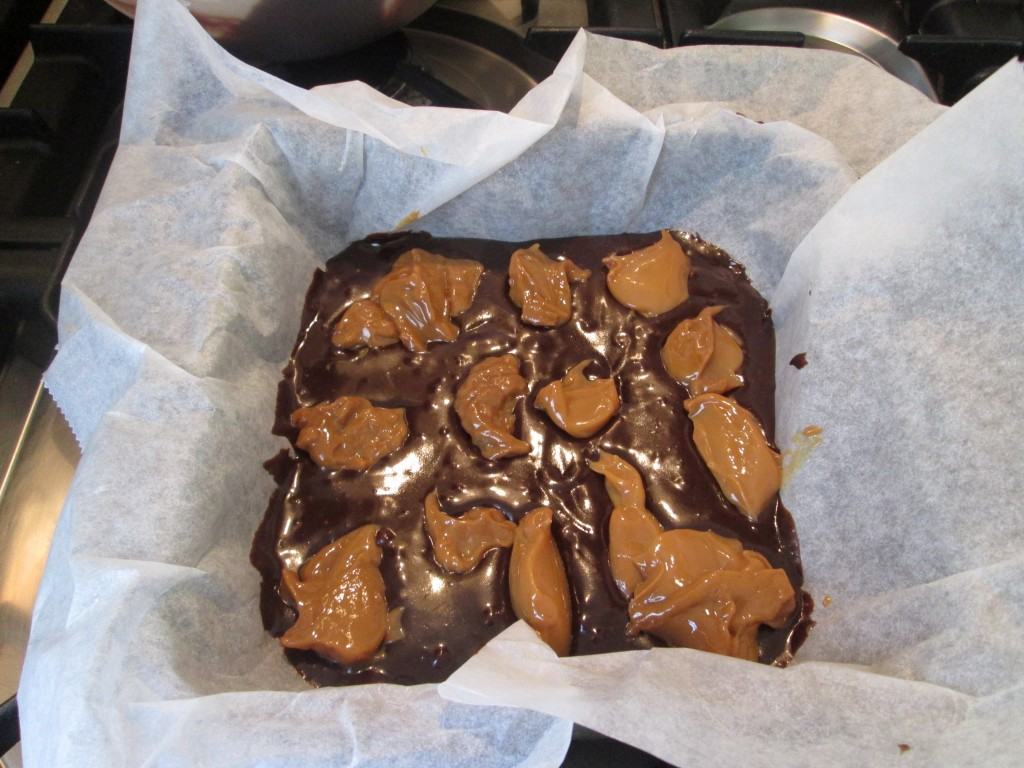 At this point, you can add a sprinkling of Maldon or sea salt over the caramel. Just a pinch or two, if you are that way inclined, works perfectly. Then cover the caramel with the remaining brownie mixture and then add the final blobs to the top.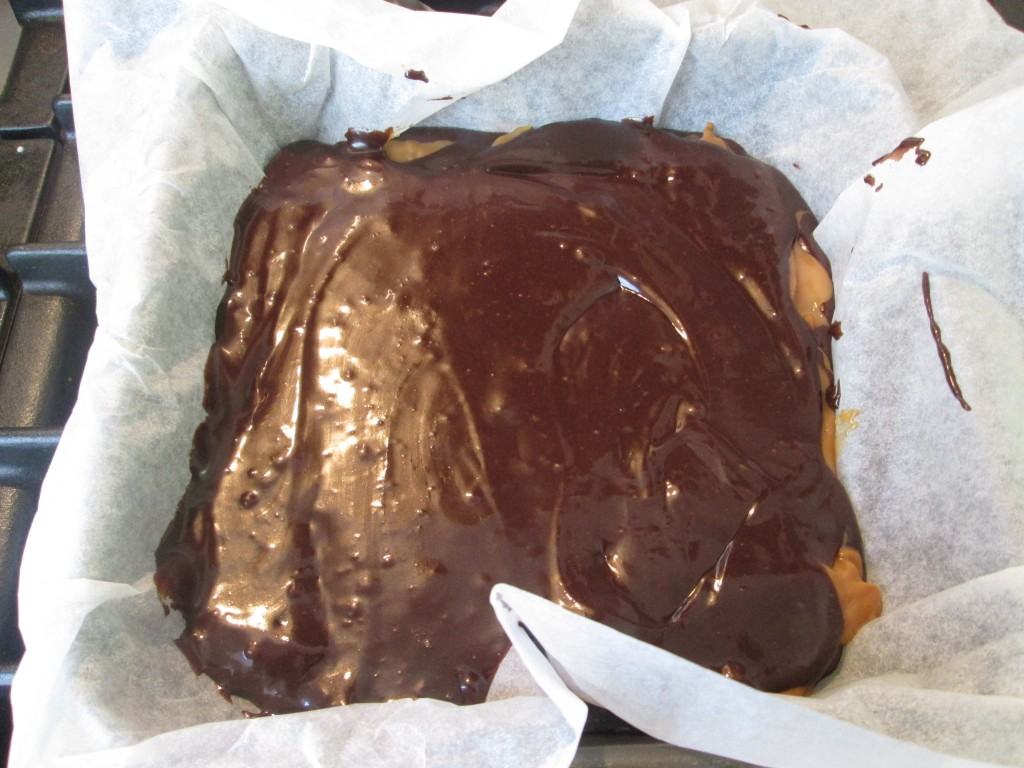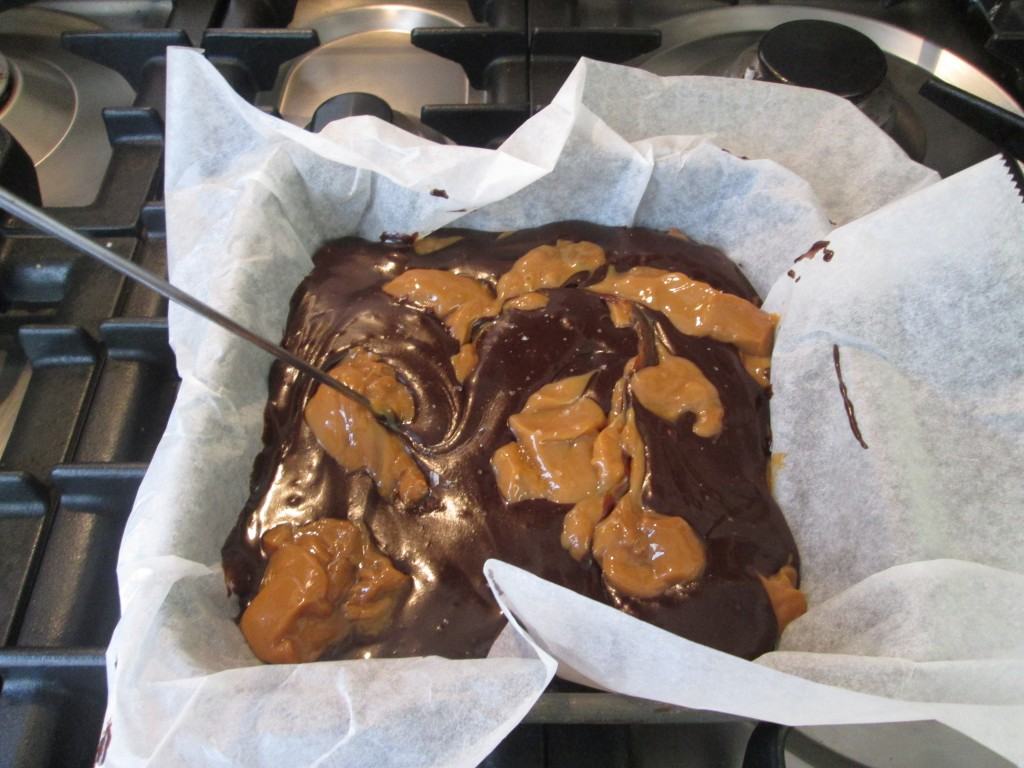 These photos only emphasise what a messy cook I am, sorry about that. At least theres no sign of my hands here.
Once you have used up all the caramel, elegantly swirl the two mixtures together with a skewer or knife to create a marbled effect.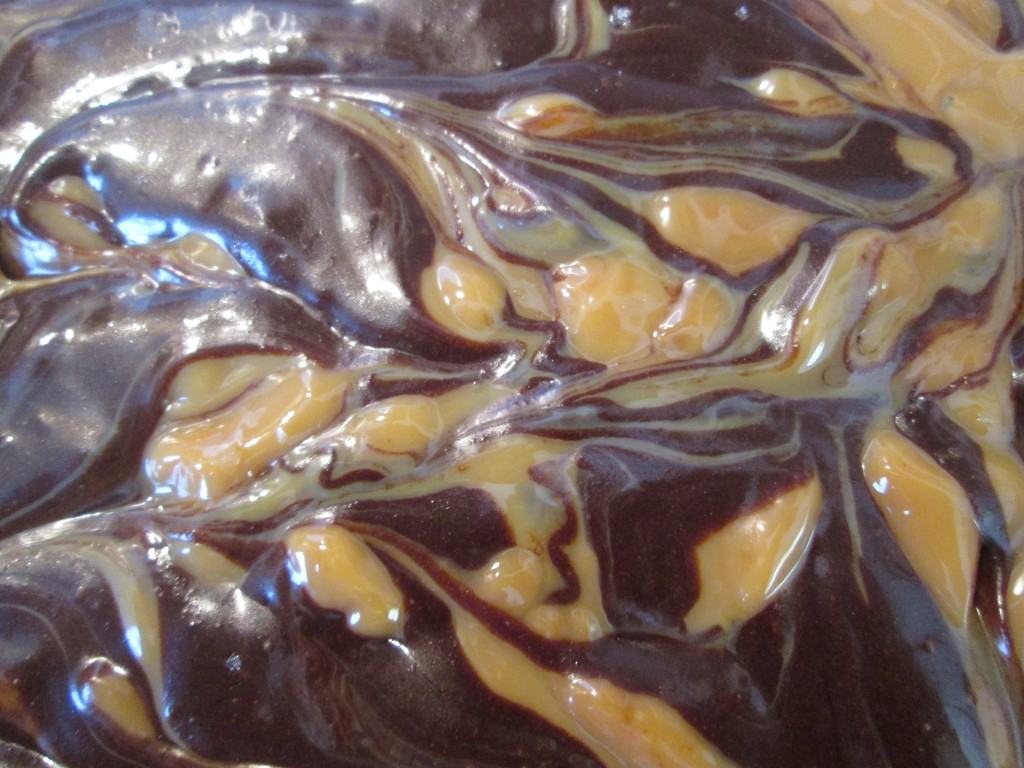 My stomach has just growled with caramel lust.
Put the tin in your pre-heated oven for 18 to 25 minutes. I kept an eye on mine at 20 minutes then put them in for another 5 minutes. They should be under rather than over cooked, as per the brownie norm, so don't go over 25 minutes unless your oven is particularly slow. Take them out and leave to cool somewhere safe away from picking hands (or the dog).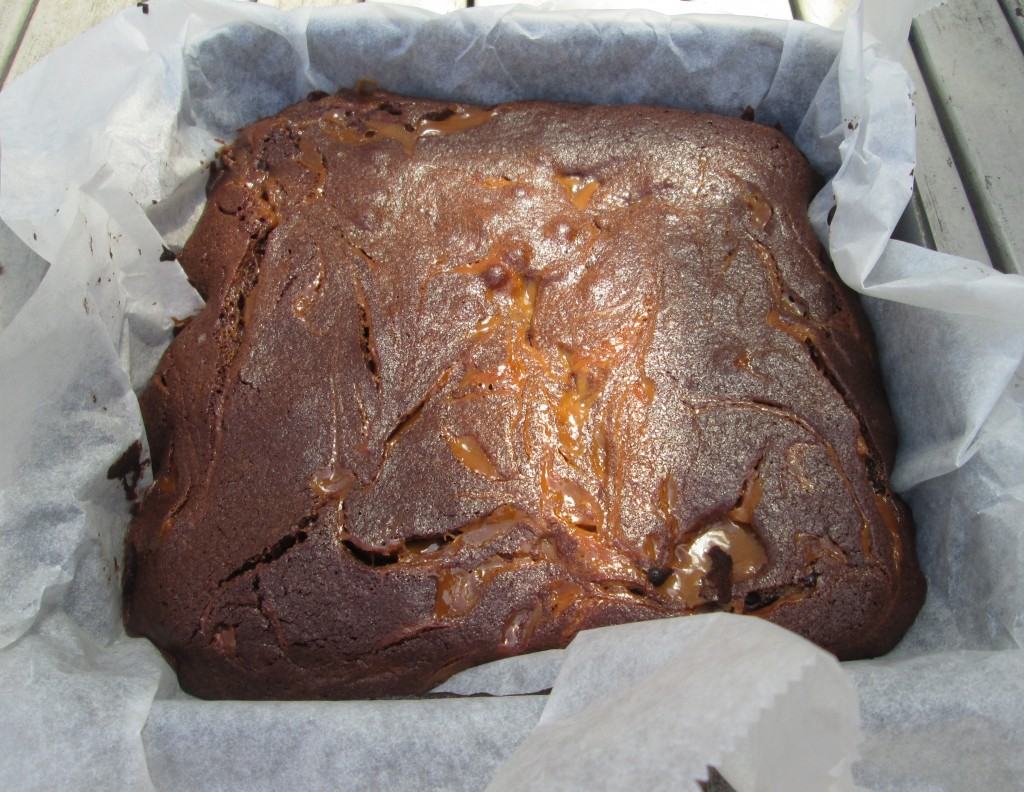 Once they are completely cool, cut into smallish pieces and eat them all, I mean, generously share them with your friends and family.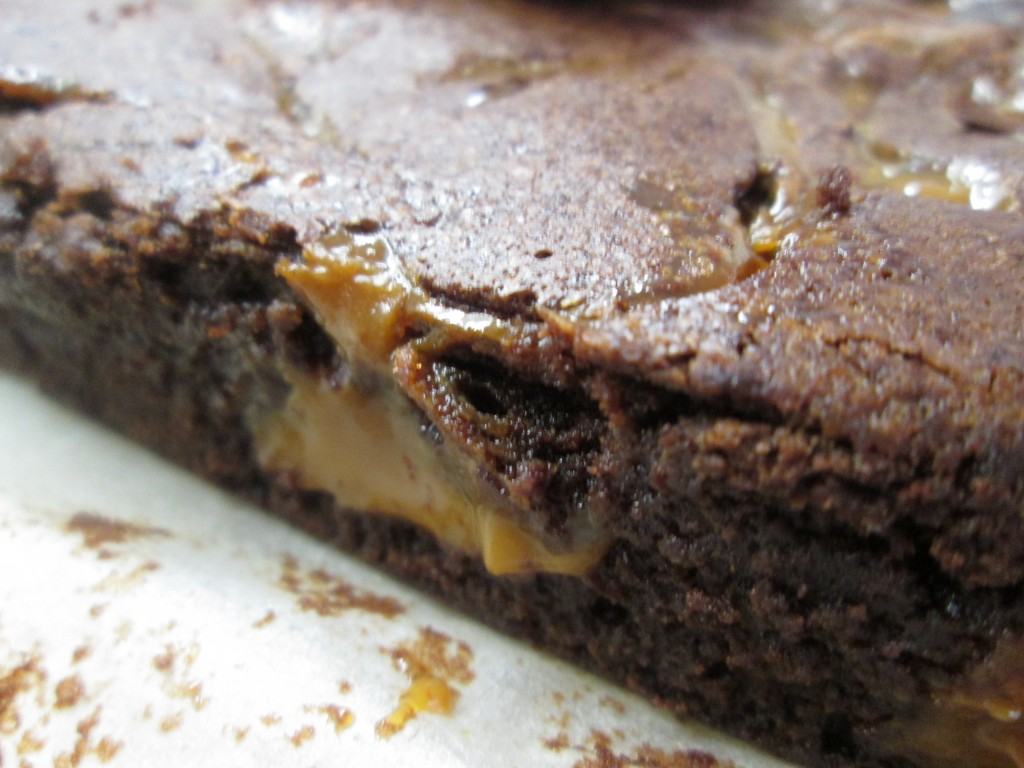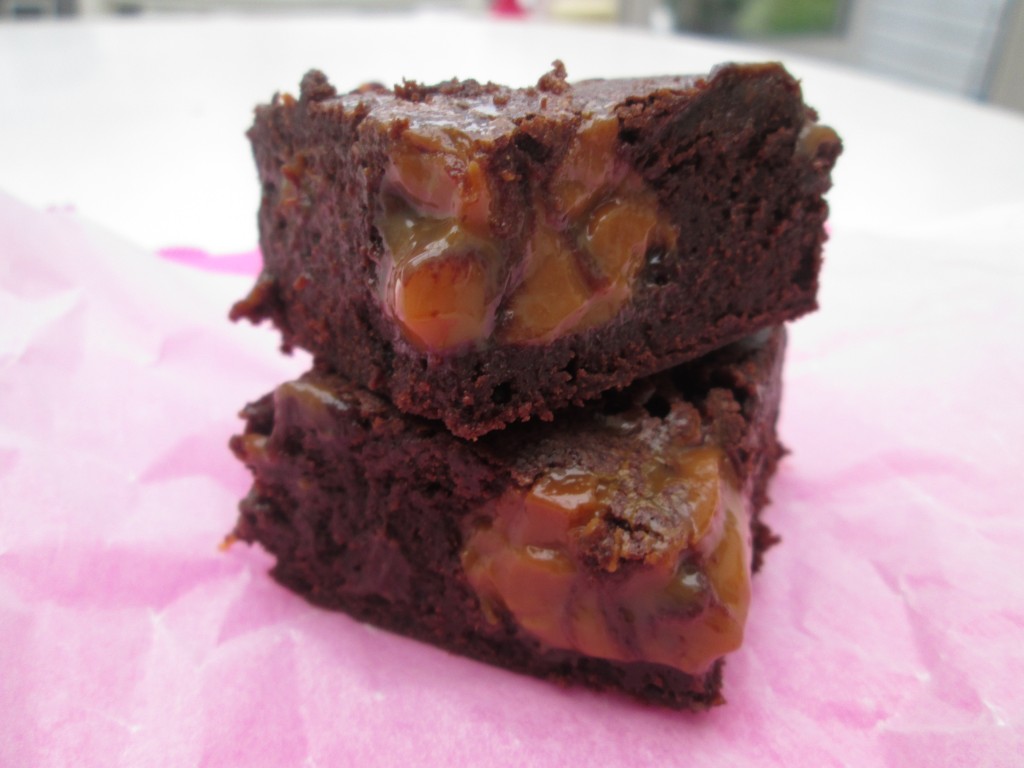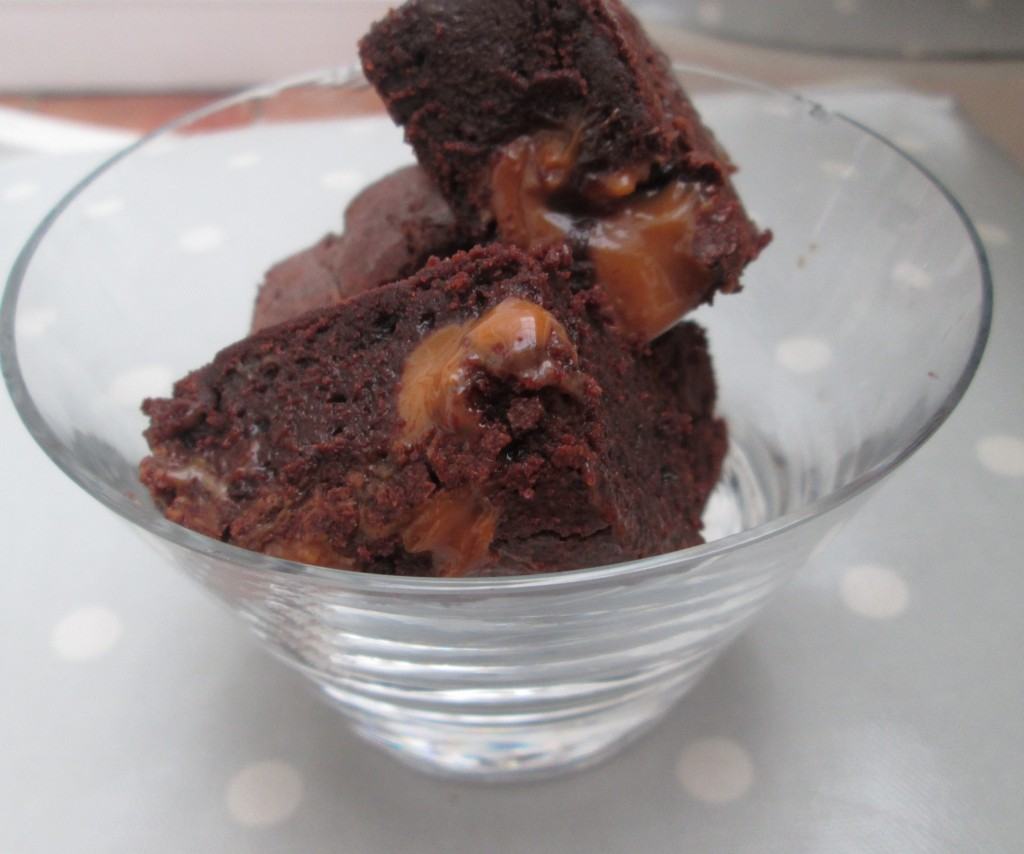 They are oozingly rich, soft and delicious, with a hint of salt, or not.
Lucy x
Salted Caramel Brownie Recipe
Adapted from American Cup measurements
150g Butter
250g caster sugar
60g cocoa powder
1/4 teaspoon table salt
1 teaspoon vanilla extract
2 eggs
65g plain flour
half a tin of Carnation Caramel (approx 200g)
Sprinkling of Maldon or sea salt
Line an 8 x8 inch tin with baking paper and pre heat the oven to 170 degrees fan assisted
Take a microwaveable bowl and add the butter, sugar, cocoa and table salt. Heat in the microwave for around a minute and a half until the butter has melted. Stir so all these ingredients meld together. Add the vanilla extract then whisk in the eggs one at a time. Fold the flour into the mix then give it a quick beat to ensure everything is well mixed.
Pour half the brownie mixture into a thin layer in the bottom of your lined tin. Spread so it covers the baking paper.Blob all but around two or three tablespoons of the dulce de leche onto the brownie. If you like, sprinkle a couple of pinches of Maldon or sea salt on the caramel at this stage. Then cover this with remaining brownie mixture and blob the rest of the caramel on the top. Take a skewer or knife and swirl the caramel through the brownie creating a marbled effect. Put in the oven for between 18 and 25 minutes, taking it out when the mixture is just cooked through, but not overcooked.
Leave to cool and cut into squares. Keep in a tin or jar for up to 3 or 4 days.