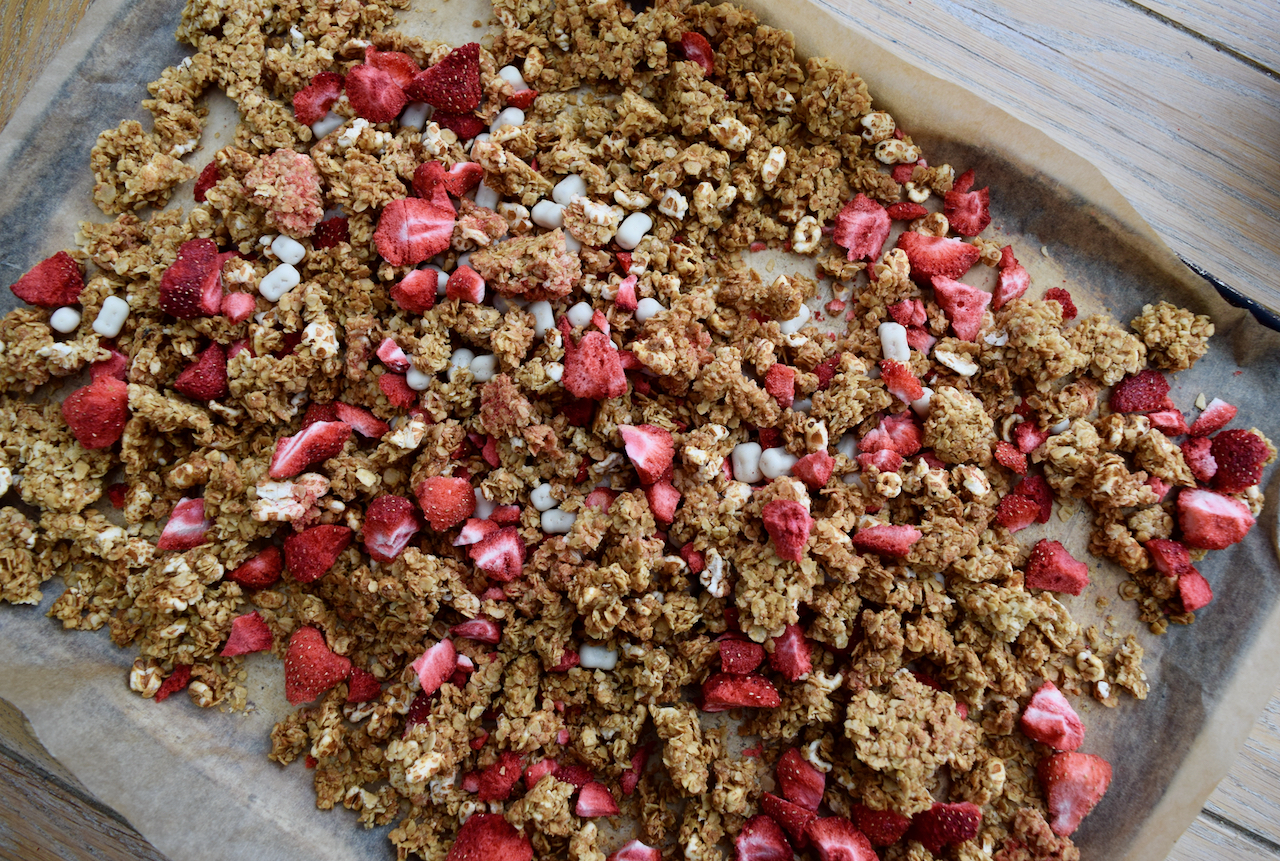 Homemade Strawberry Oat Crisp recipe
A few years back a cereal based diet was all the rage. Some nonsense involving replacing two of your three meals a day with a bowl of cereal. I gave this a go, it didn't work as there's only so many bowls of bran flakes you can eat in a week. I really wanted the diet to include my favourite Strawberry Crisp cereal, but sadly this sugar laden treat was strictly off limits. Now, however, my Homemade Strawberry Oat Crisp may just scrape into the healthy category, but not if you eat it in huge bowlfuls like me.
My Strawberry Oat Crisp is beyond good. This is not me being uncharacteristically show-offy, it really bloody is. I made this jar today and it's already been decimated. The base is a mixture of oats and in my batch, puffed spelt as I had some lurking, coconut oil, honey and vanilla. Add some seeds or nuts if you like, make this cereal to suit you. The must-have ingredient is freeze dried strawberries. Ocado sell the Giving Tree brand, but you can also get larger bags from Amazon. I went the extra mile with some yoghurt covered strawberry flakes too; these are sold in supermarkets in tiny bags meant for little hands *not my greedy trotters*. Yoghurt cranberries or raisins may be easier to come by. The whole granolaesque business together is a brilliant, slightly healthier version of the not so healthy boxed cereal; not too sweet with a sour hit of strawberry.
Enjoy this with ice cold milk or top a bowl of thick yoghurt with a frugal tablespoon or two, to make the jar last longer than a day.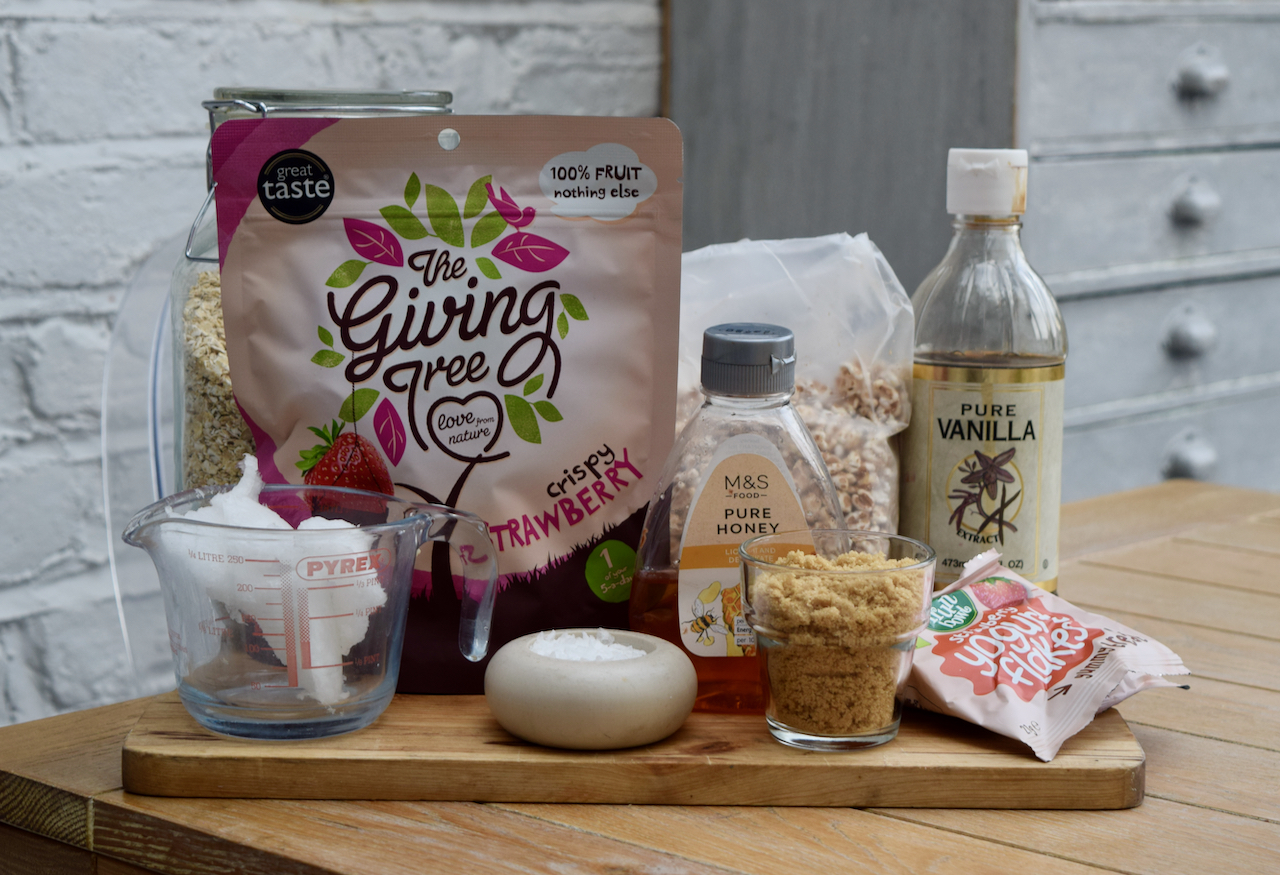 A pretty and wholesome line up and only 3 tablespoons of sugar in the whole recipe. Plus the honey of course, but that doesn't count because it's a natural sugar *I like to fool myself*. The freeze dried strawberries are a genius ingredient; these are super by themselves, on ice cream or melt some white chocolate then sprinkle the top with the chopped strawberries for your own fruity chocolate bark.
Make a start on this quick and simple recipe by pre heating your oven to 130 degrees fan assisted and lining a large baking sheet with greaseproof paper. Next, melt the coconut oil with the honey in the microwave or a small pan until it's just melted. Stir in the vanilla extract.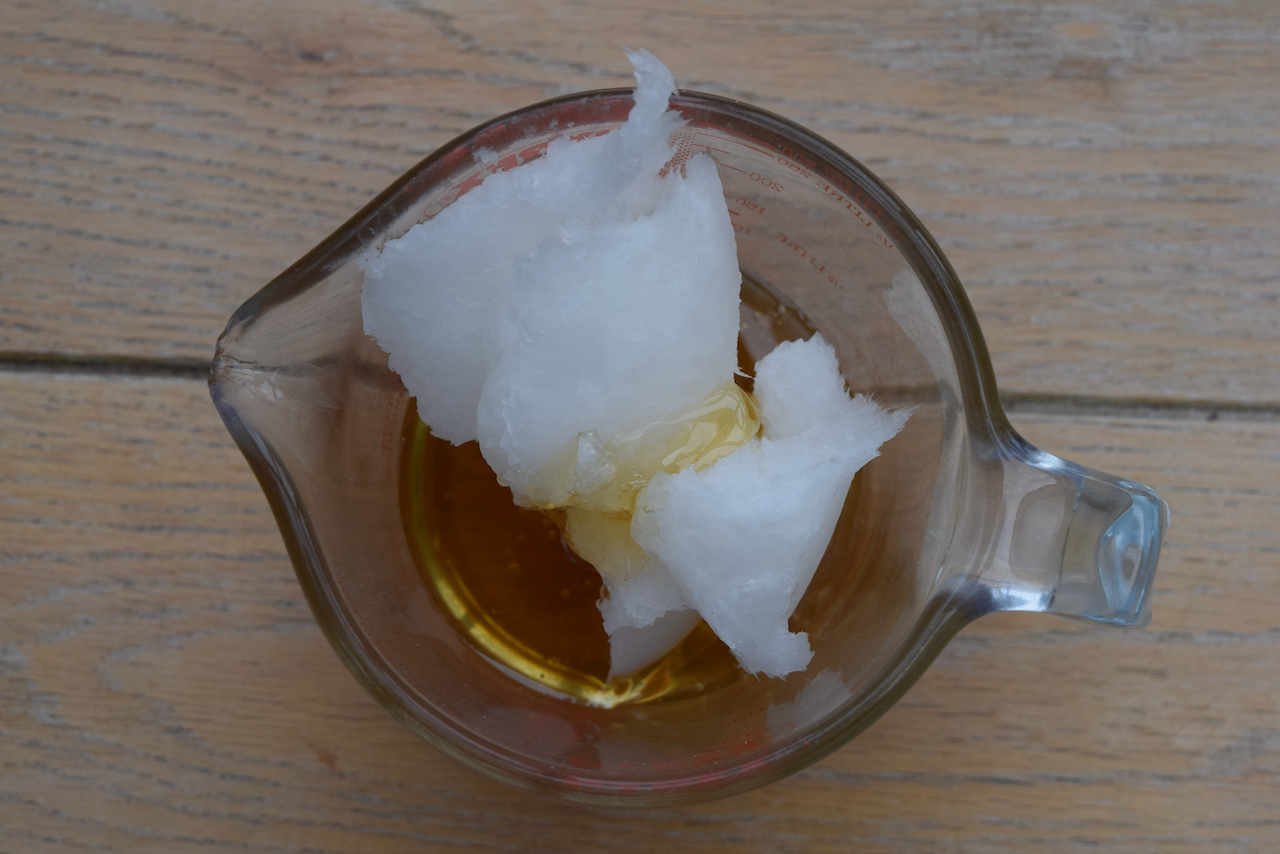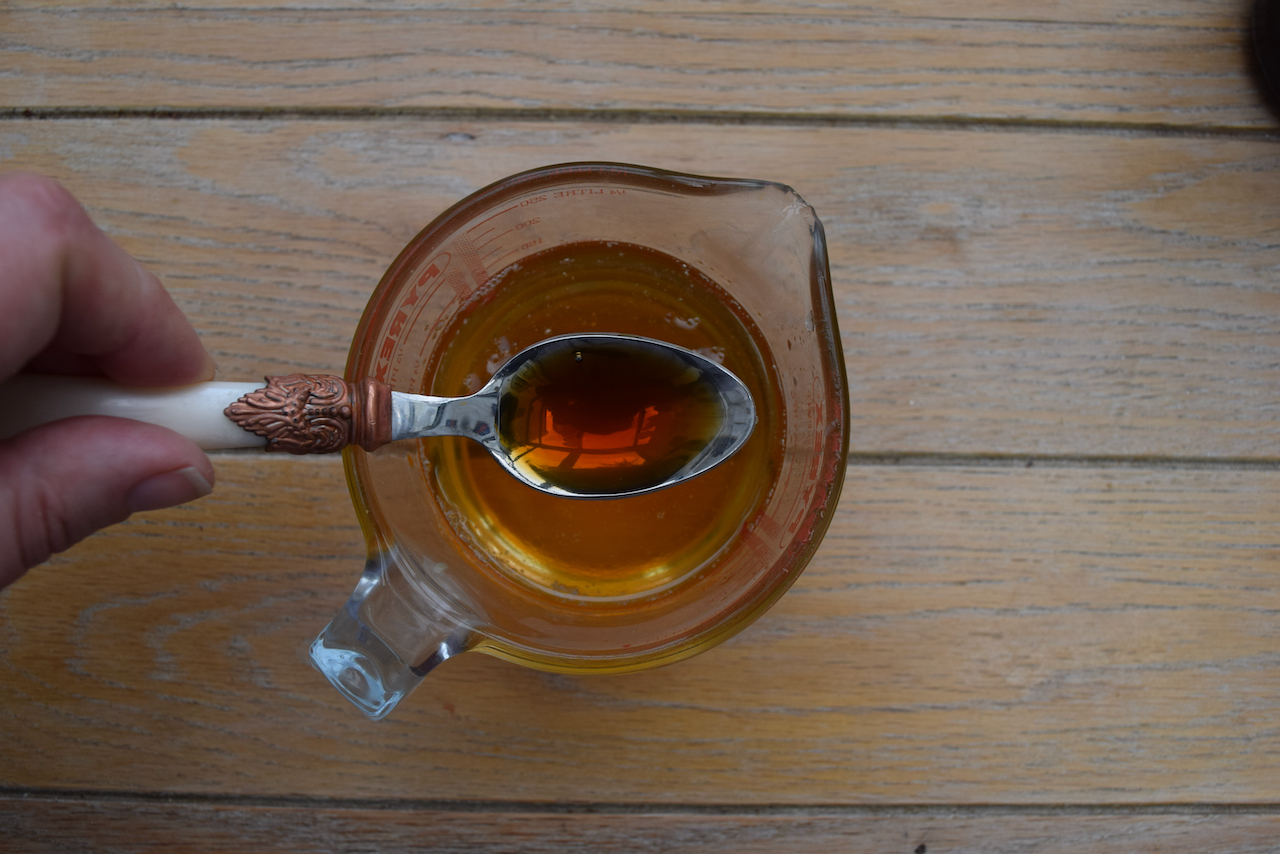 Pop this to one side for the mo. Take a large bowl and measure in the oats and puffed spelt or other puffed cereal of your choice. If not replace with a handful of nuts or seeds.
Tip in the soft brown sugar and add the pinch of salt, stir well then pour in the honey and coconut oil mixture.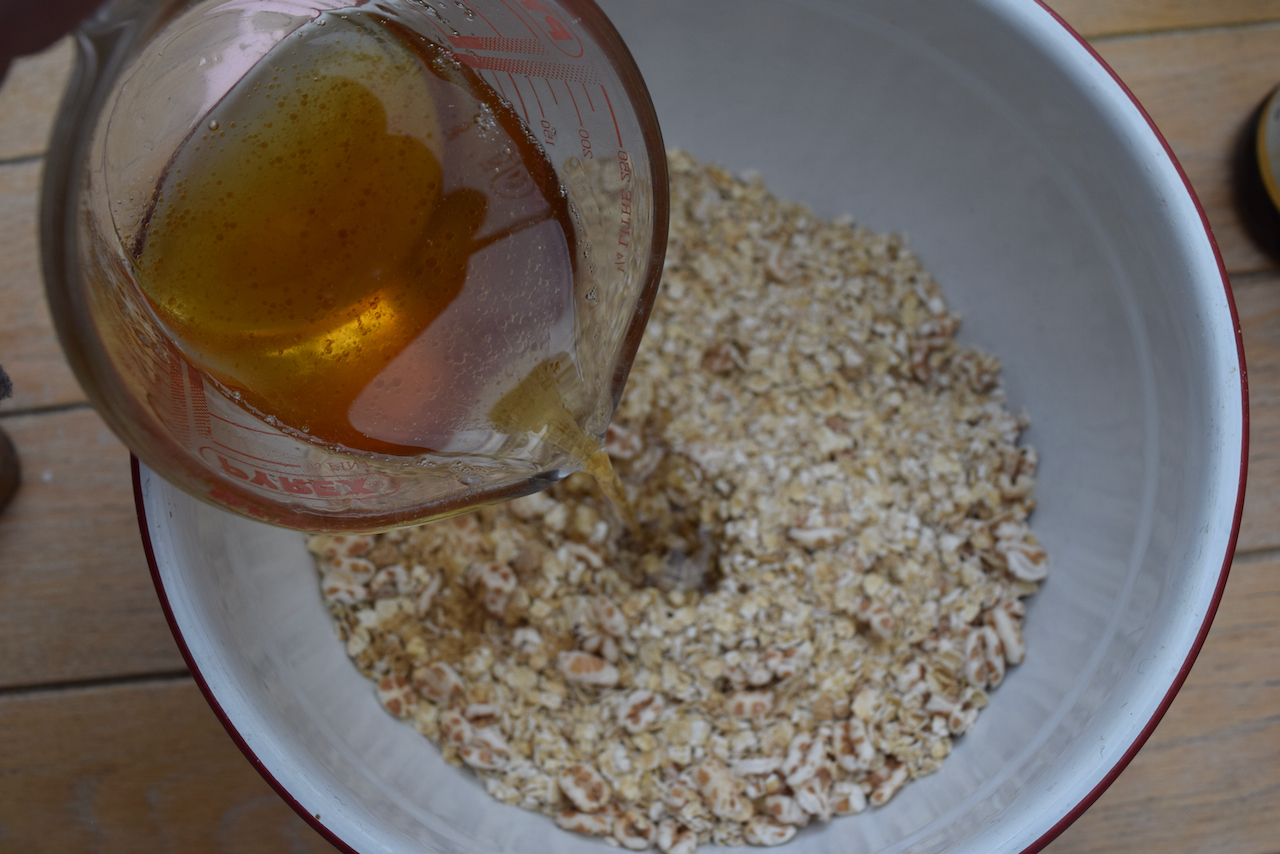 Stir well to ensure the mixture is well coated then tip onto your lined baking sheet.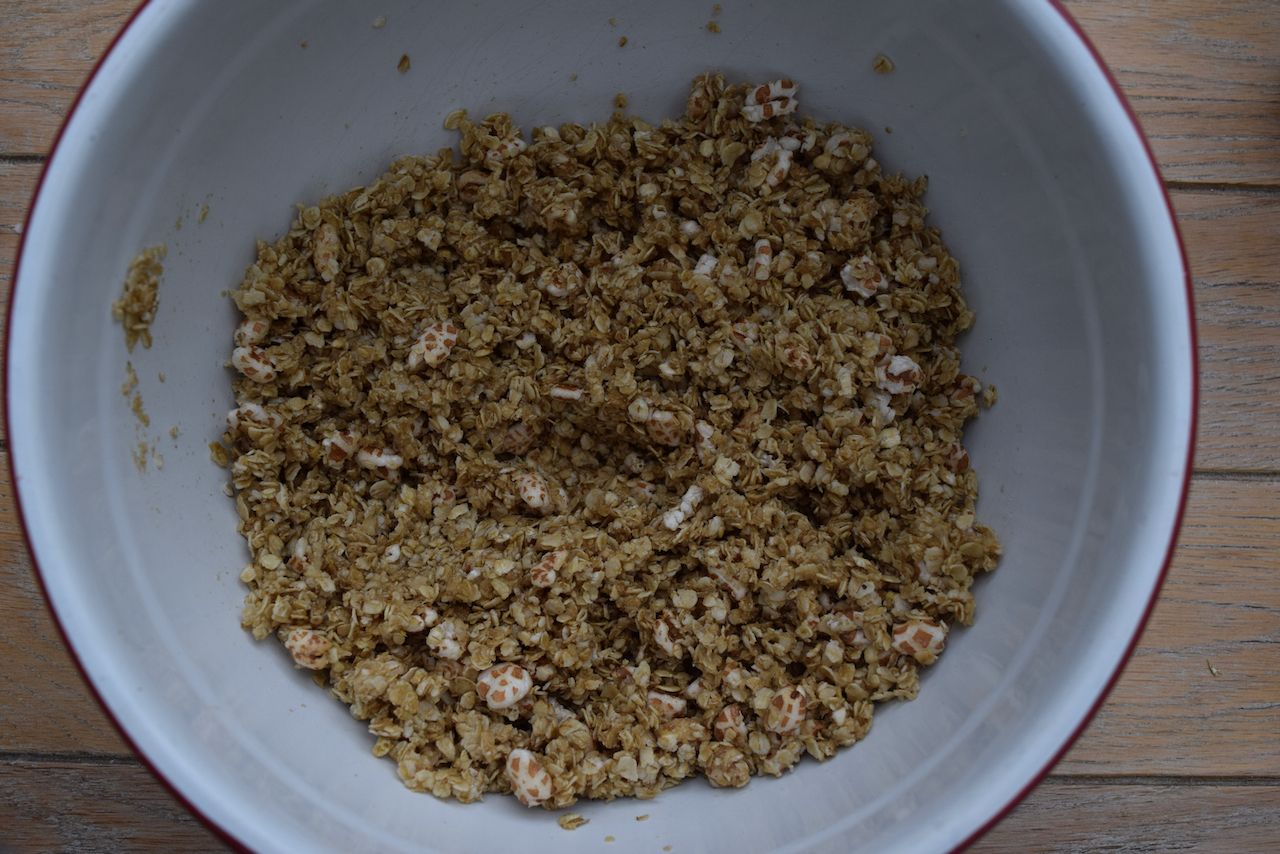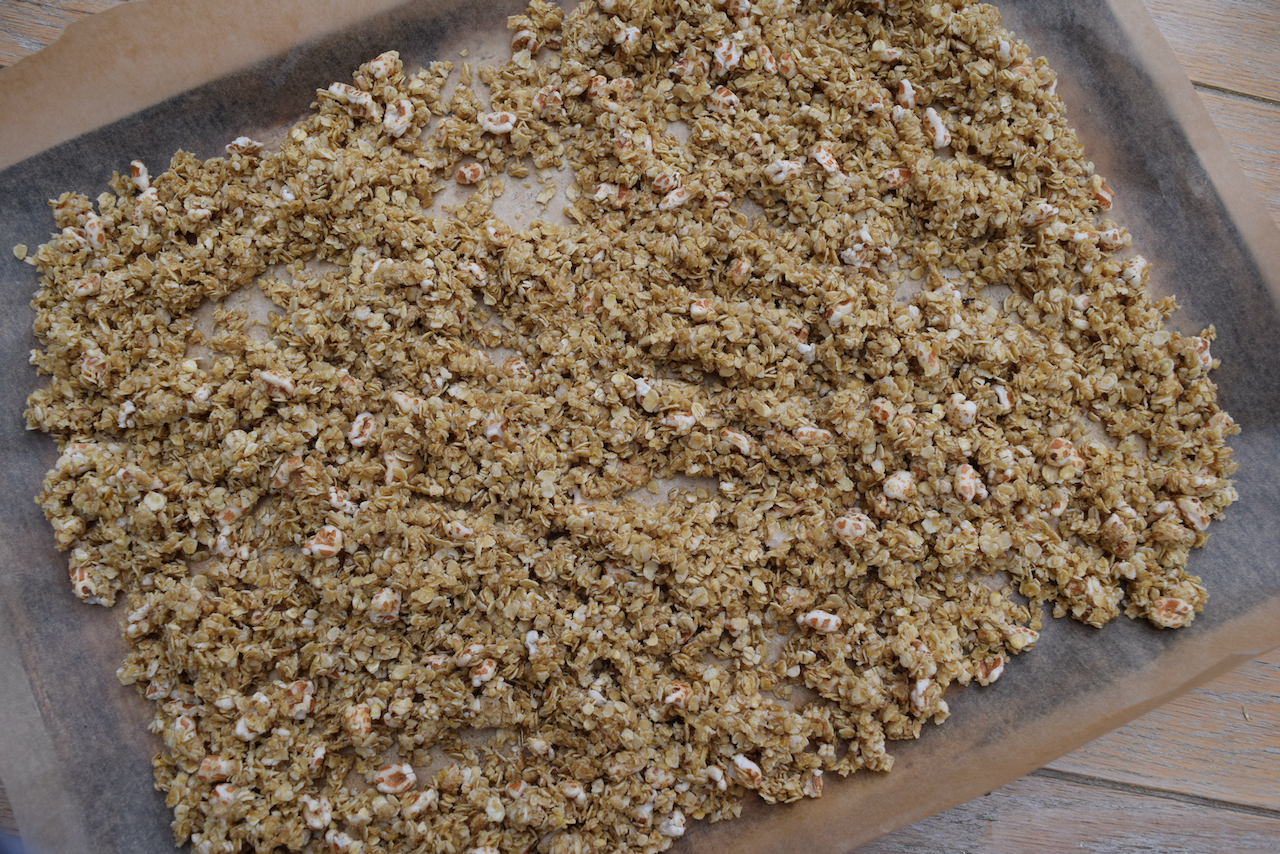 Bake for 20 to 25 minutes or until just turning golden and crisp.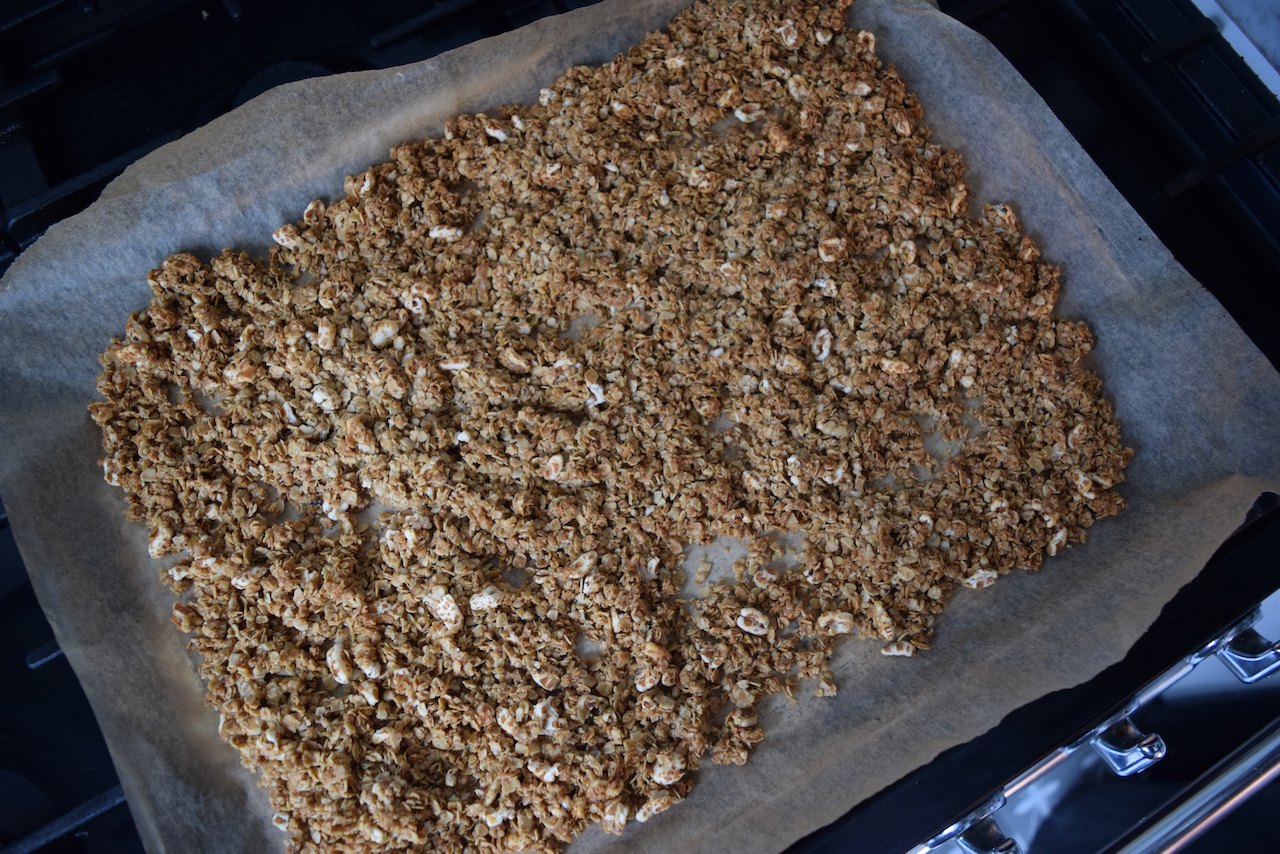 Leave the wonderful smelling oaty business to cool completely on the tray without disturbing it. While it cools, chop the freeze dried strawberries into bite sized pieces.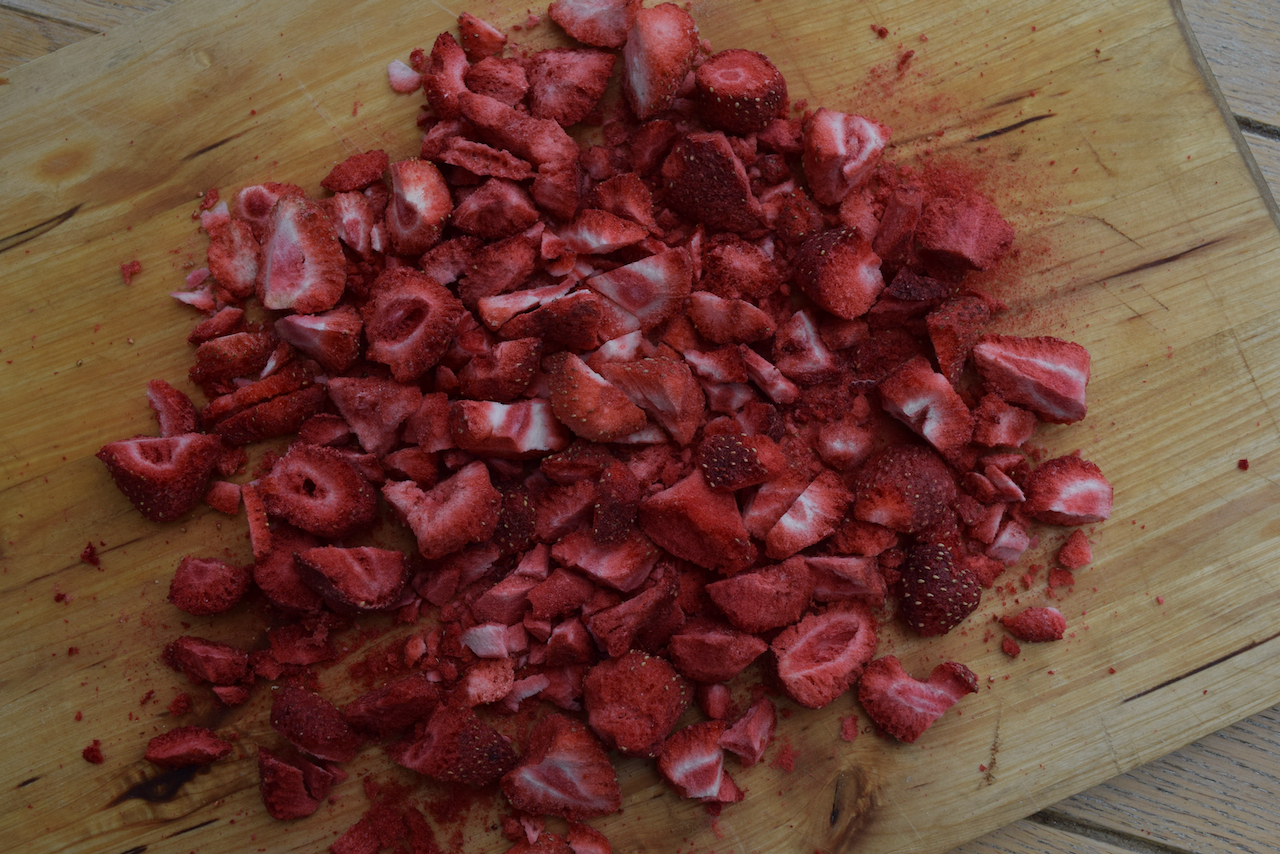 Once the mixture has cooled, break up into clusters.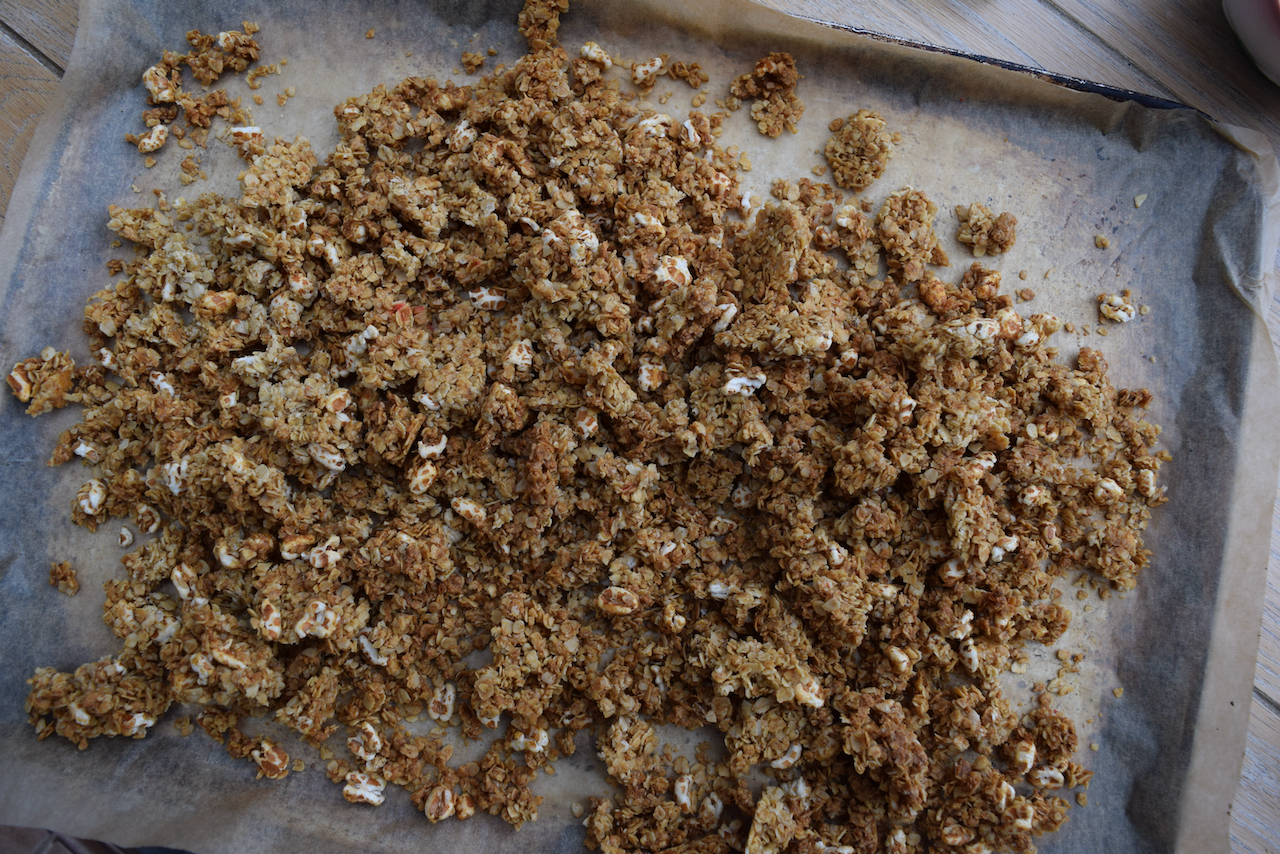 Now tip the strawberries and yoghurt coated fruit into the mix and stir.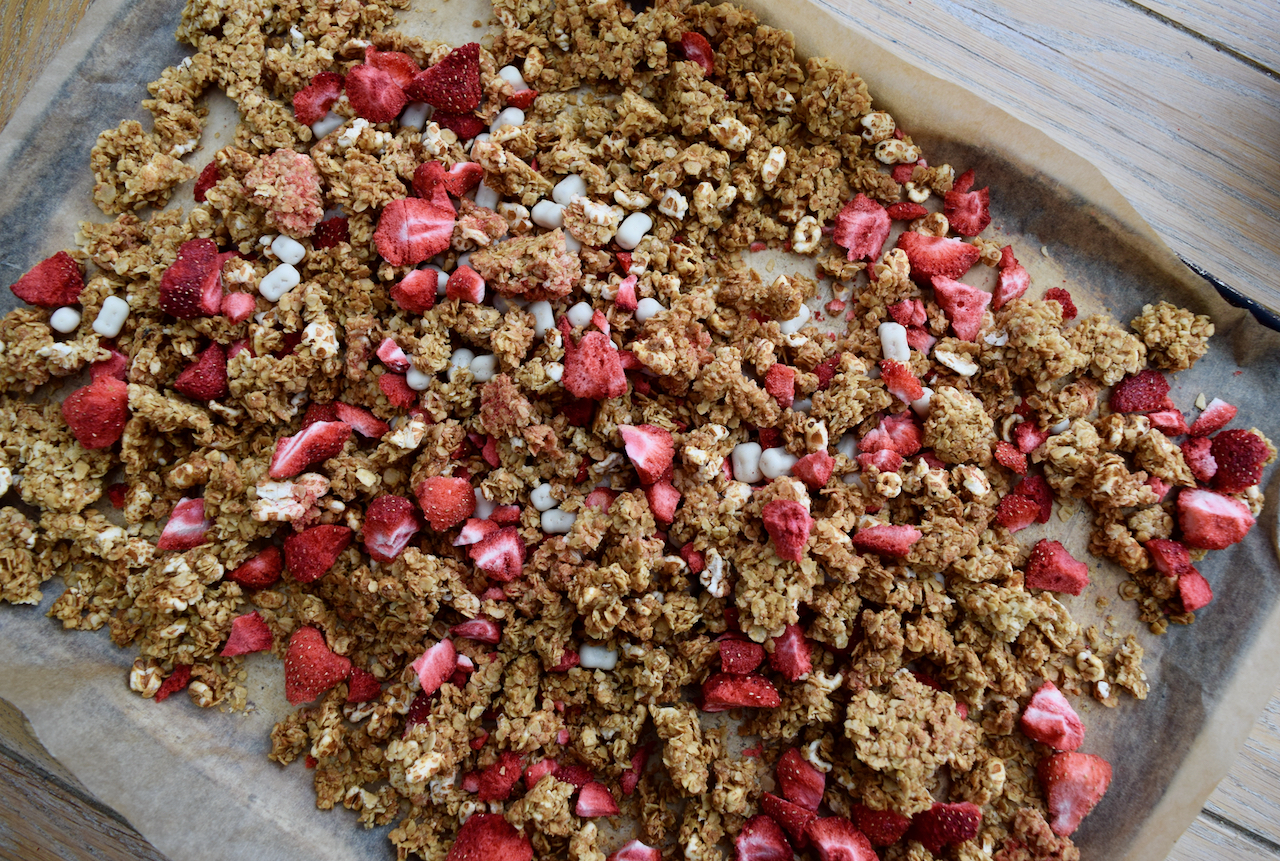 Store this homemade Strawberry Oat Crisp in a jar if you don't eat it straight from the tray with a spoon.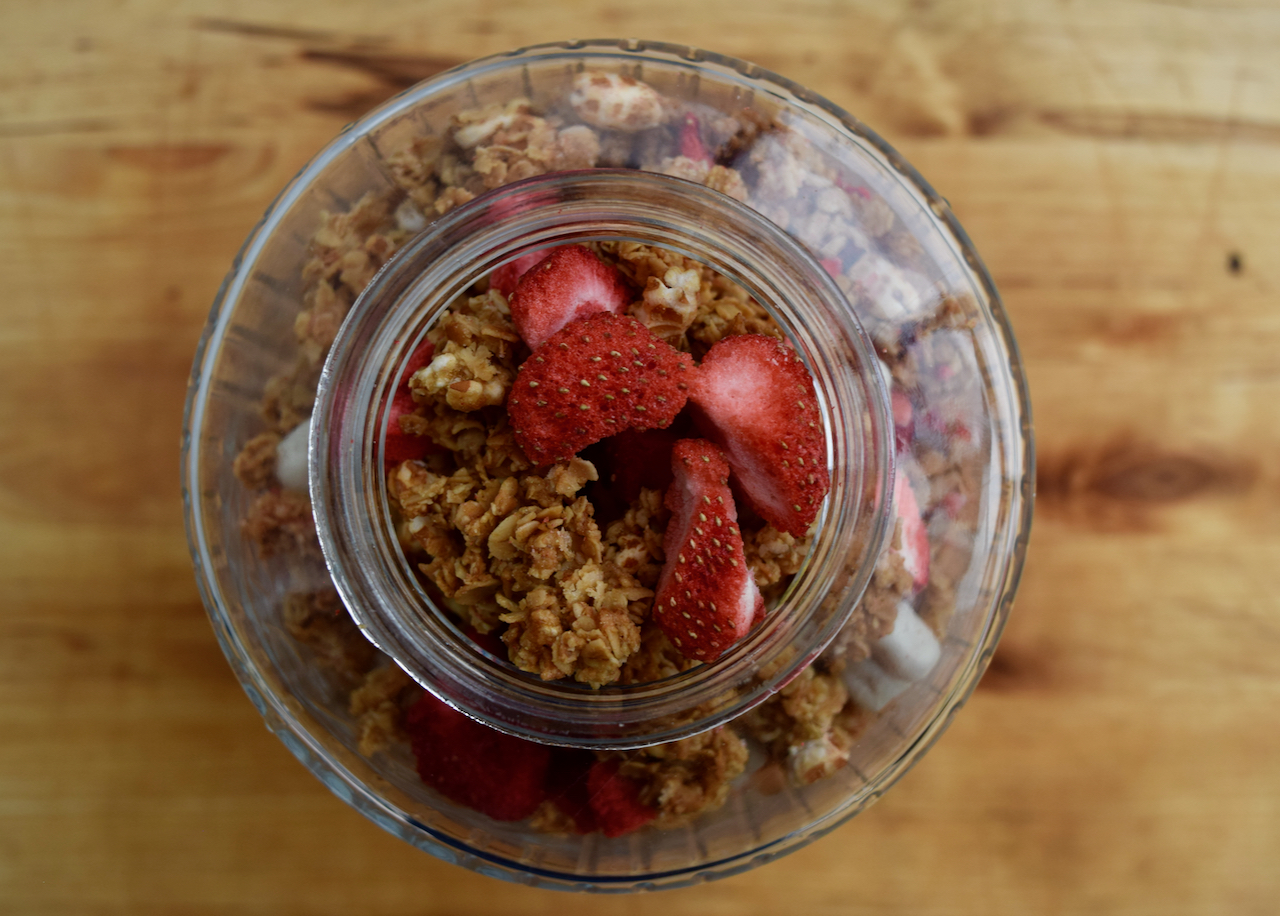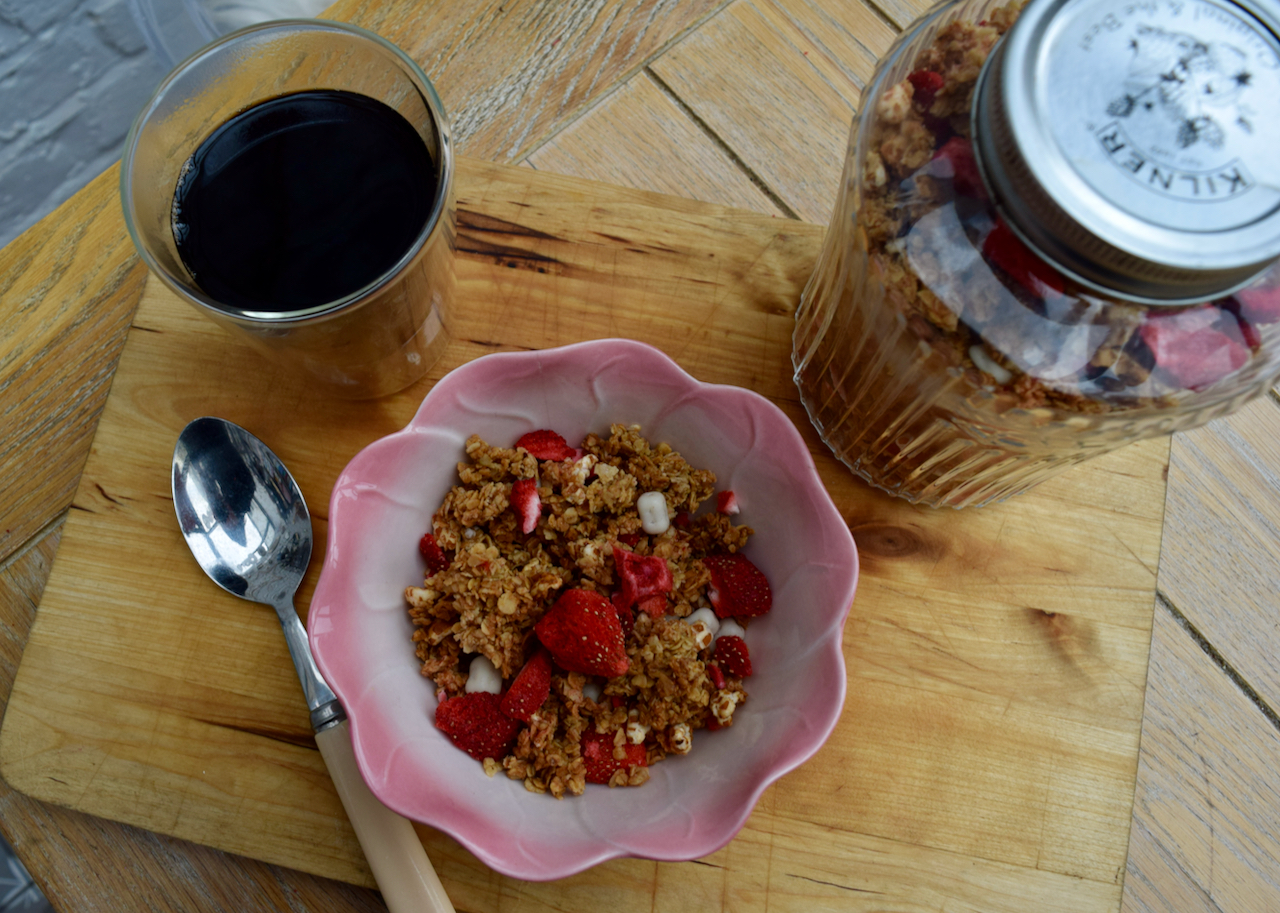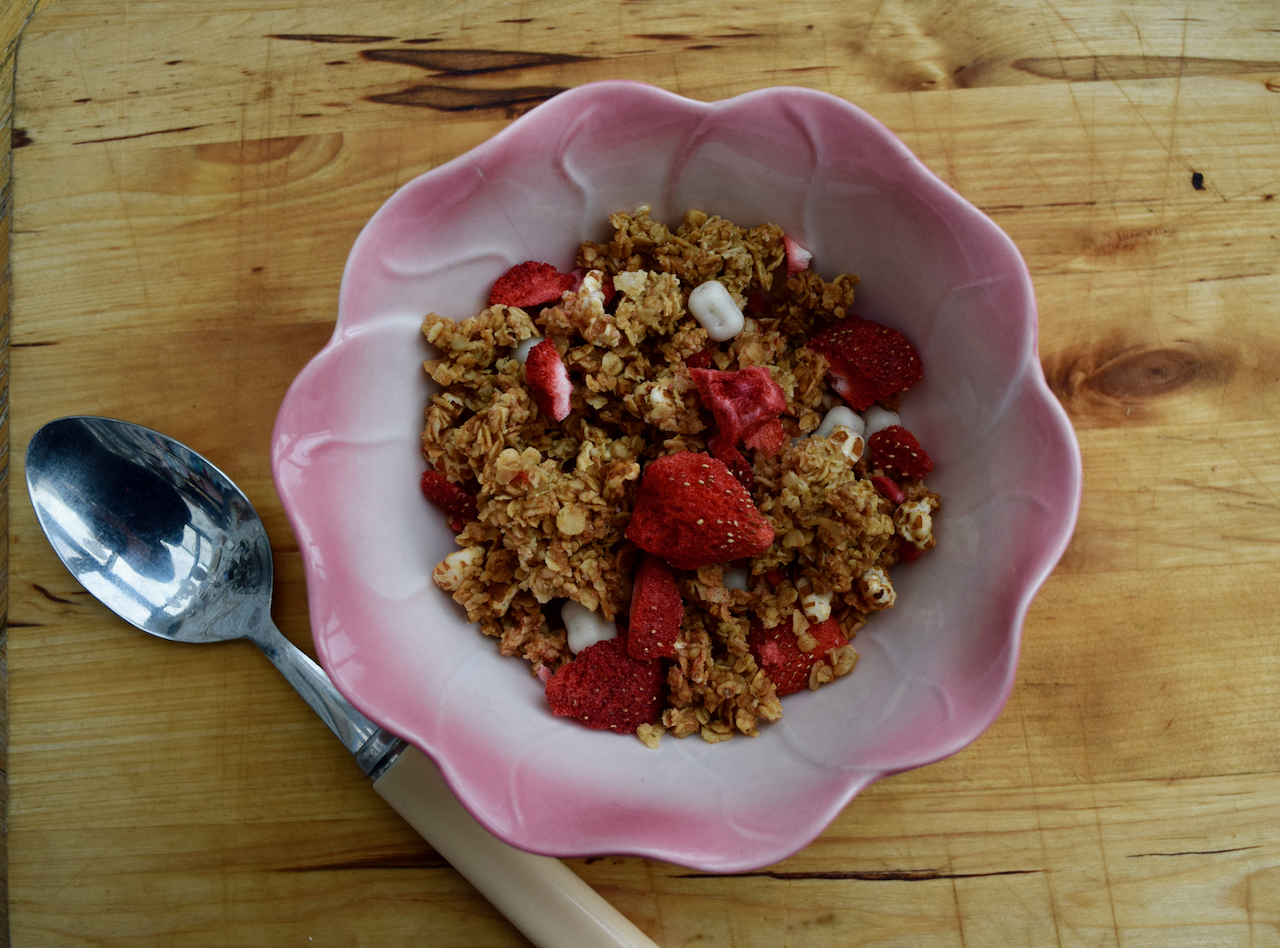 Strawberry Oat Crisp consumption update. George has already eaten a huge bowl, Clyde has topped some yoghurt with his and I had a trough load with ice cold milk for breakfast. I have hastily added more strawberries to my Ocado as this recipe is certainly a keeper.
Lucy x
Homemade Strawberry Oat Crisp recipe
Makes a good sized jar full which won't last long
You will just need a bowl and a large baking tray, lined, for this recipe
200g oats
15g puffed rice or puffed wheat or spelt
3 tablespoons soft brown sugar
A big pinch sea salt
80ml honey or maple syrup
60ml coconut oil, melted
1 teaspoon vanilla
38g bag freeze dried strawberries, chopped
60g yoghurt coated strawberry flakes, or yoghurt cranberries or raisins
Milk or yoghurt to serve
Pre heat your oven to 130 degrees fan assisted and line a large baking sheet with greaseproof paper.
In a small jug, heat the coconut oil and honey until the oil has only just melted. Stir in the vanilla extract.
In a large bowl mix the oats, puffed cereal, soft brown sugar and salt until well combined. Pour the honey coconut oil mixture into the bowl and mix until the oat mixture is completely coated.
Tip onto your lined baking sheet and cook for 20 to 25 minutes or until just golden and starting to crisp. Remove from the oven and cool completely.
Break up the oat mixture into large clusters then stir through the chopped freeze dried strawberries and yoghurt coated fruit. Store in a jar for a couple of weeks *good luck it won't last 2 days once your family find it*.