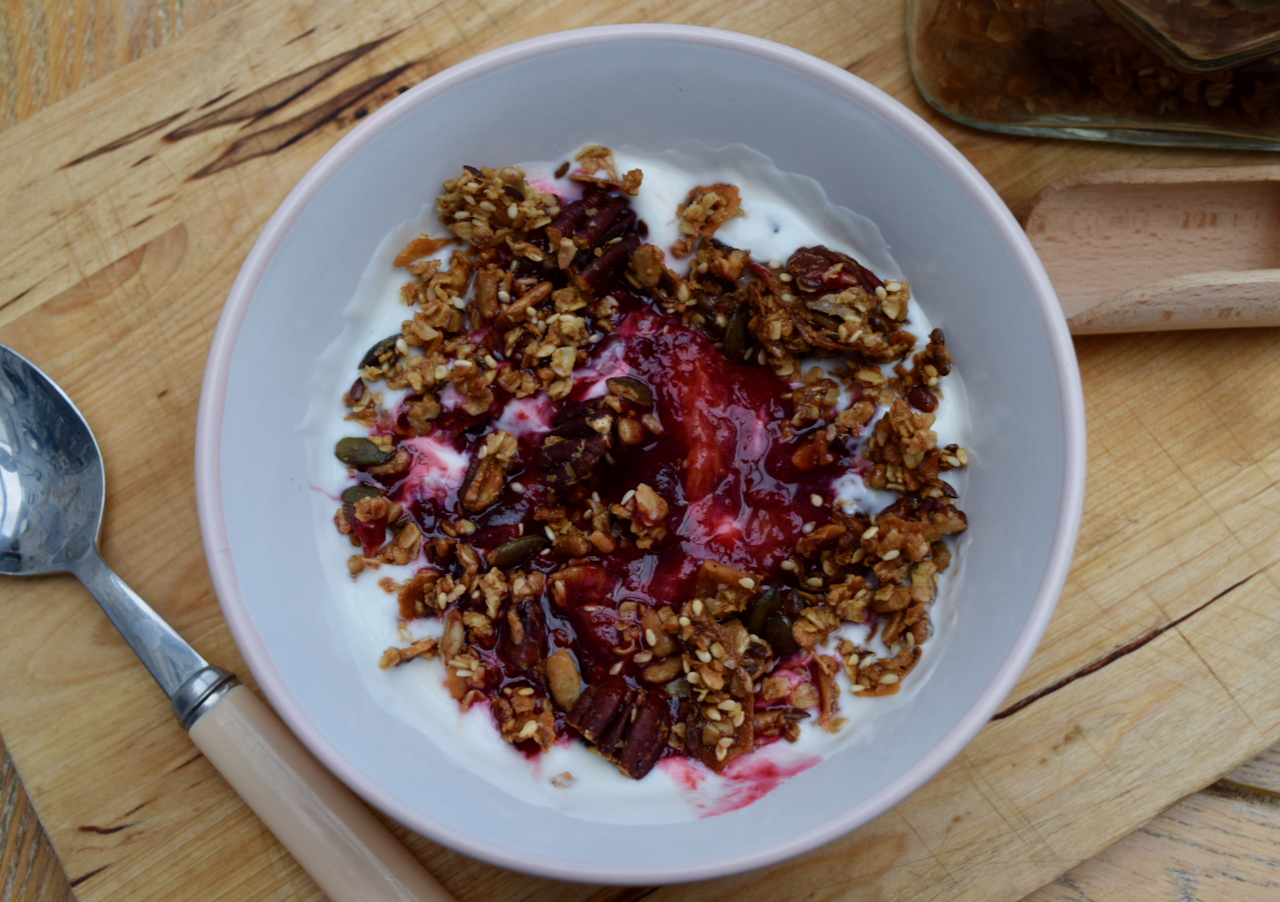 Maple Pecan Granola Recipe
Homemade granola is one of the most popular bakes in our house. Not a batch of chocolate brownies or a cake slathered in buttercream, no, a batch of granola. As fast as I can make this Maple Pecan Granola, it disappears. George will eat half a batch in one sitting with milk whilst Clyde loves it generously sprinkled on Greek yoghurt. I think this is a house favourite due to it's semi healthy nature, little do they know quite how much maple syrup goes into the making of this divine, oaty treat.
I don't think this Maple Pecan Granola should be limited to breakfast alone. This nutty, not overly sweet crisp granola makes a super topping for rich Greek yoghurt. I had mine with some aging plums I rescued from the fruit bowl and stewed with a little black cherry jam. I have never been a huge breakfast fan, but homemade granola is something I can always get down me. Making my own has become part of my cooking routine and it's certainly not an arduous task. Just some simple stirring and that's about it. The wonderful original recipe from Food 52 suggests using olive oil, however, I've gone with coconut oil as I love the flavour, but I will be trying the former soon. This recipe, as always, is a template for you to meddle with, so do add any of your preferred fruits and nuts, as you please.
This recipe makes a lovely big batch, two full jars, but be prepared, you will be making this at least once a week once your family get a whiff of quite how tasty it is.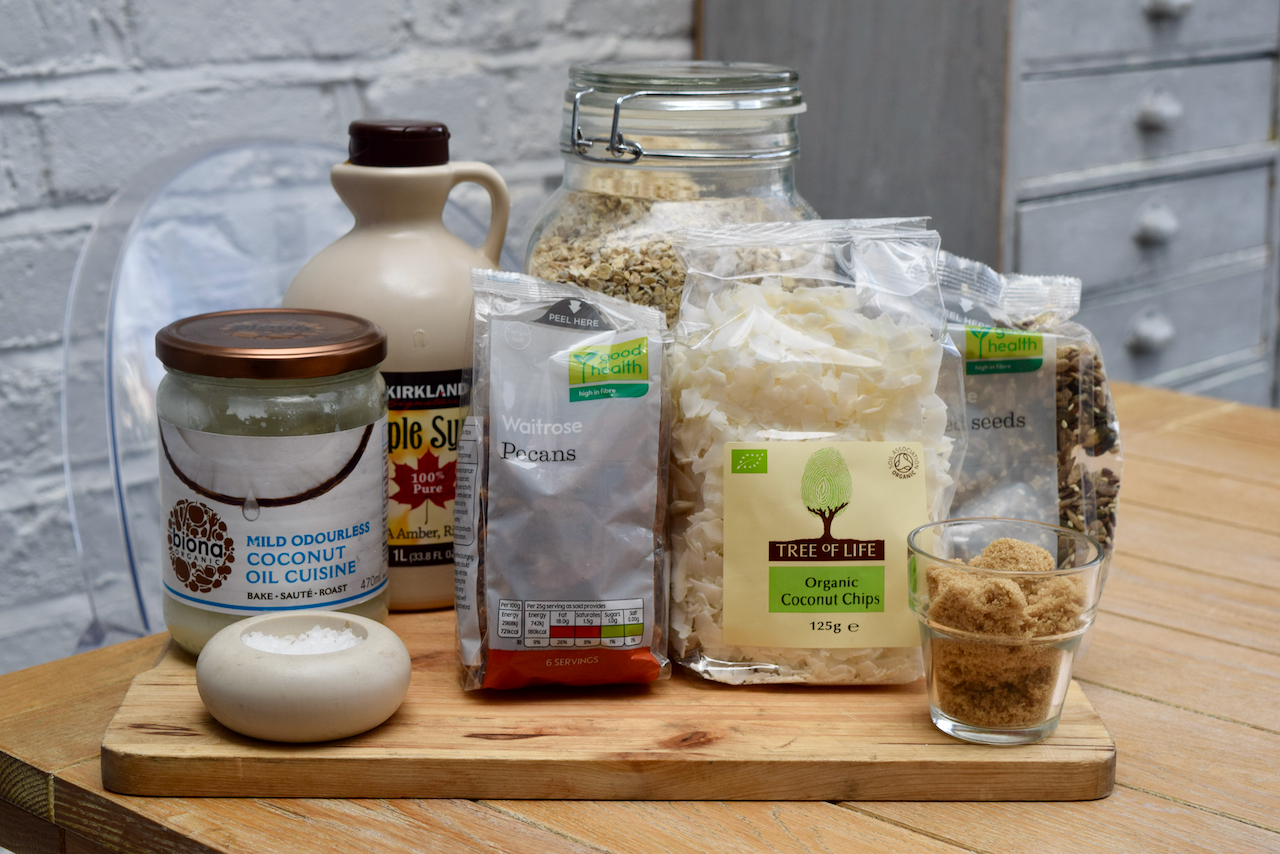 Here's my choice ingredients for this Maple Pecan Granola. I stock pile good maple syrup from Costco, but Ocado does now do a good value larger bottle too. These coconut flakes were on offer and add a lovely bit of crunch, but desiccated coconut works just as well, and it's loads cheaper.
Make a start by lining a huge baking sheet with baking paper and pre heating your oven to 140 degrees fan assisted. Next, if you're using coconut oil, heat it through to liquify it.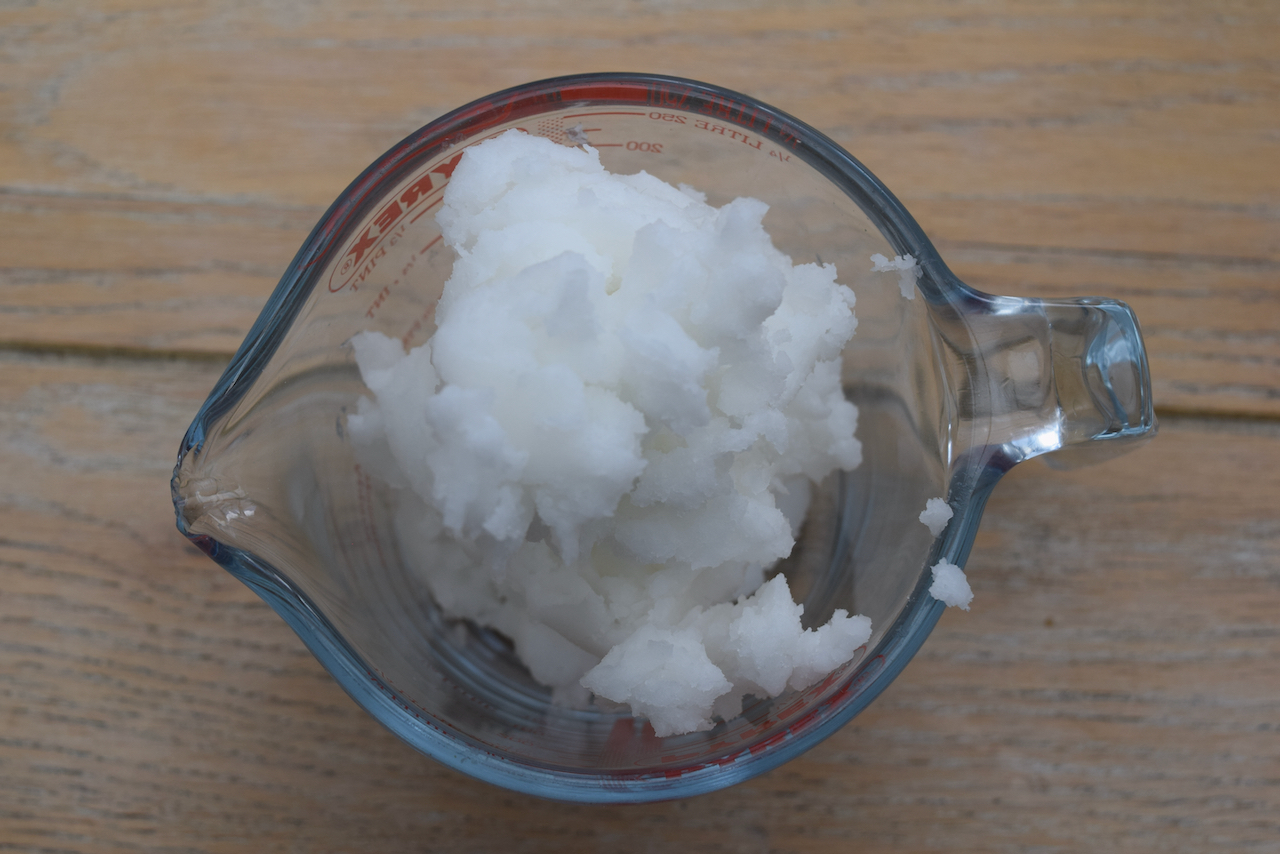 Leave that to one side for the moment, while you mix the dry ingredients. Take a large bowl and measure in the oats, seeds of your choice, coconut flakes, and chopped pecans.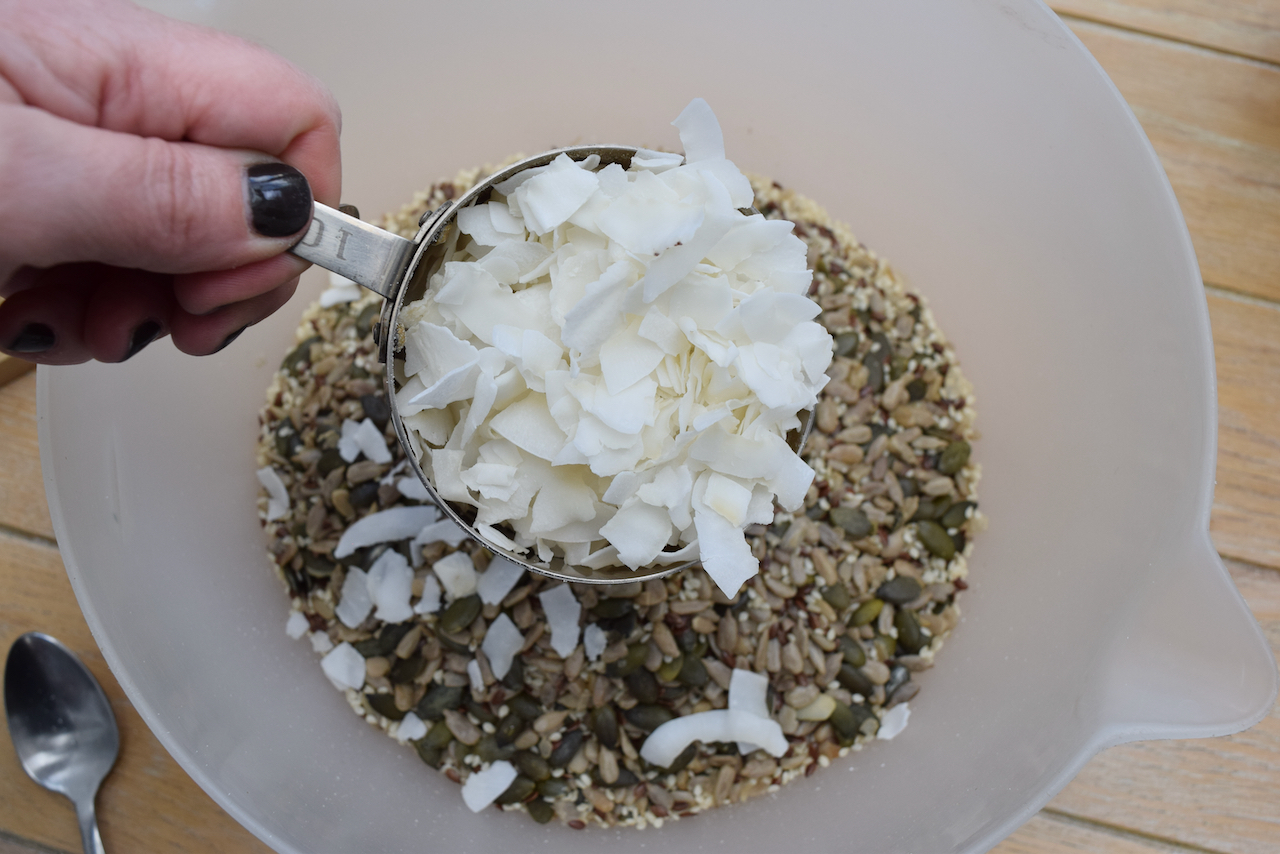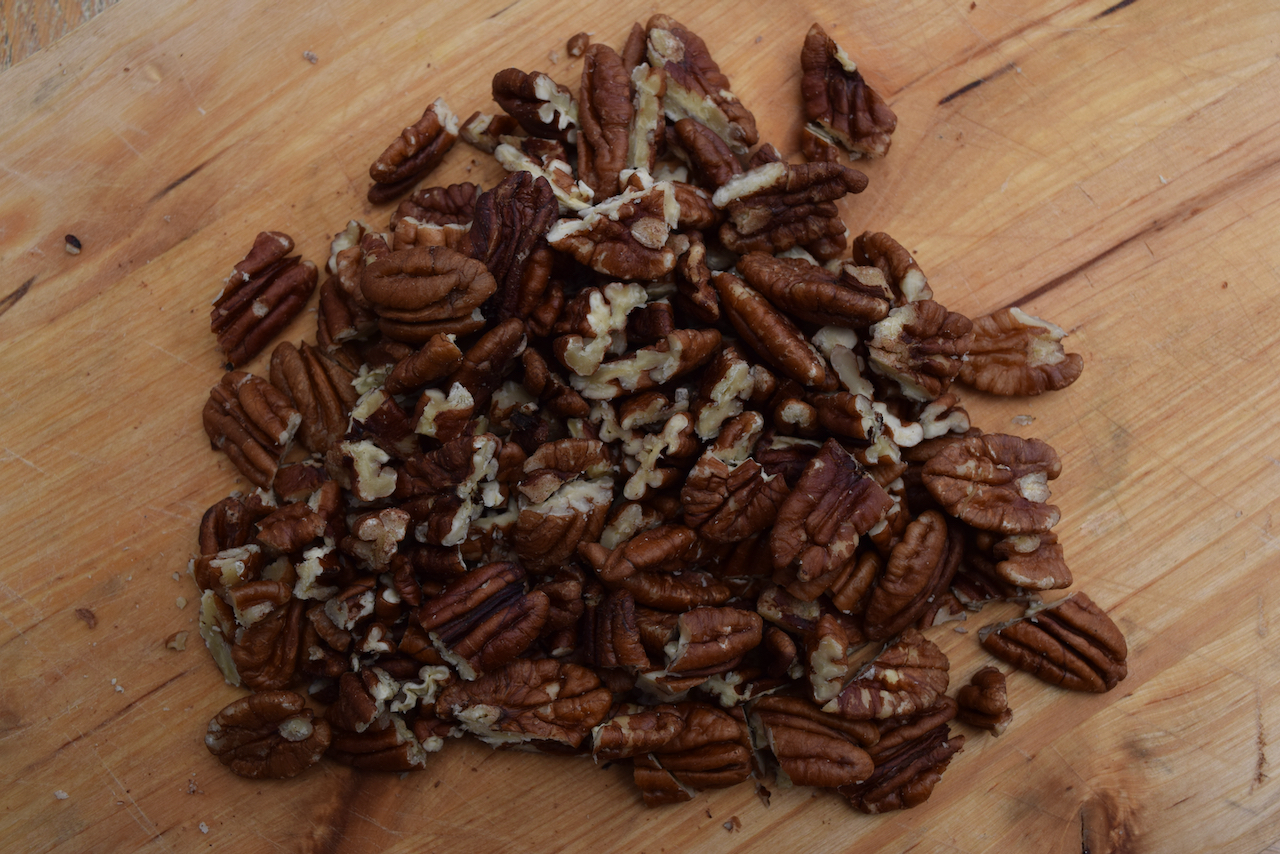 Add the soft brown sugar and salt then give the whole business a bloody good stir.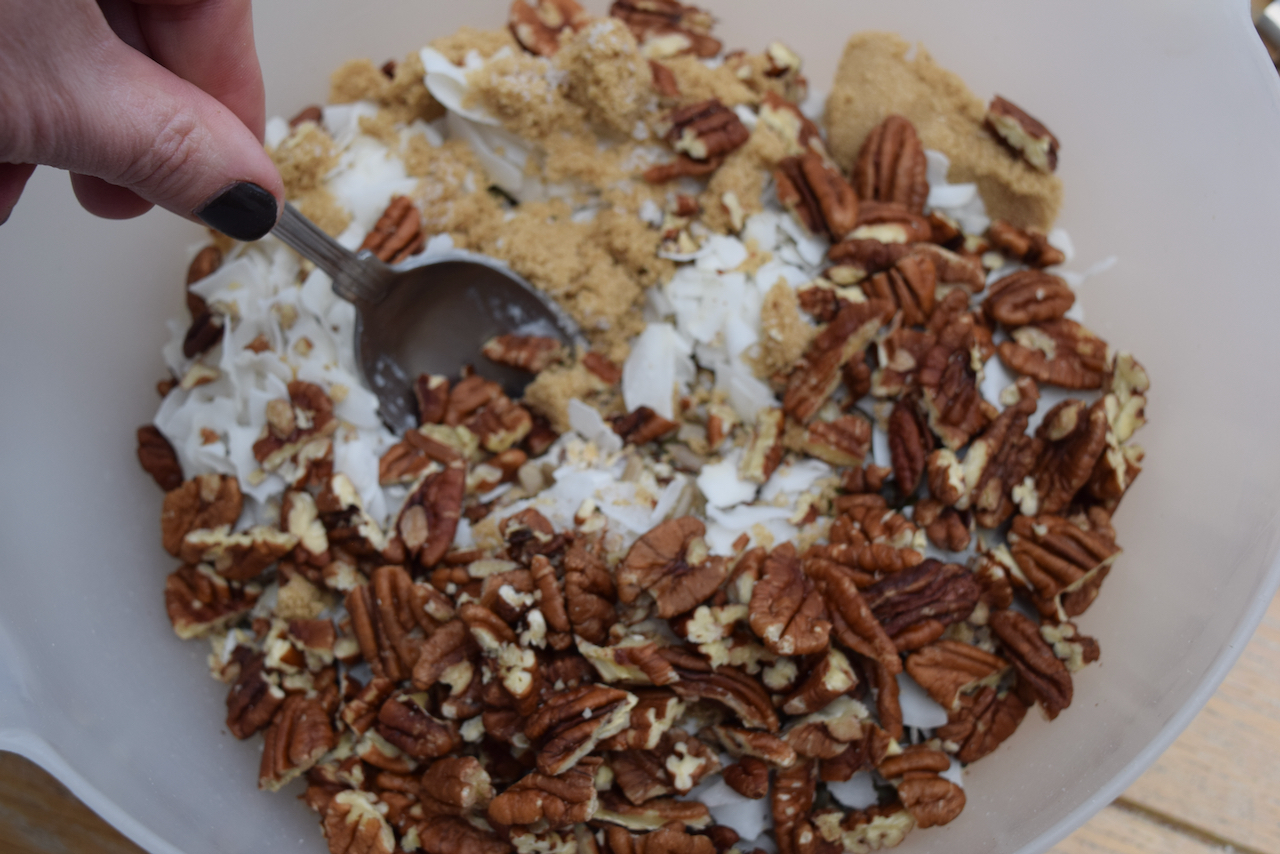 Now pour on the oil of your choice and the maple syrup and then stir again. Ensure everything is well coated for maximum clumpage, you don't want granola dust.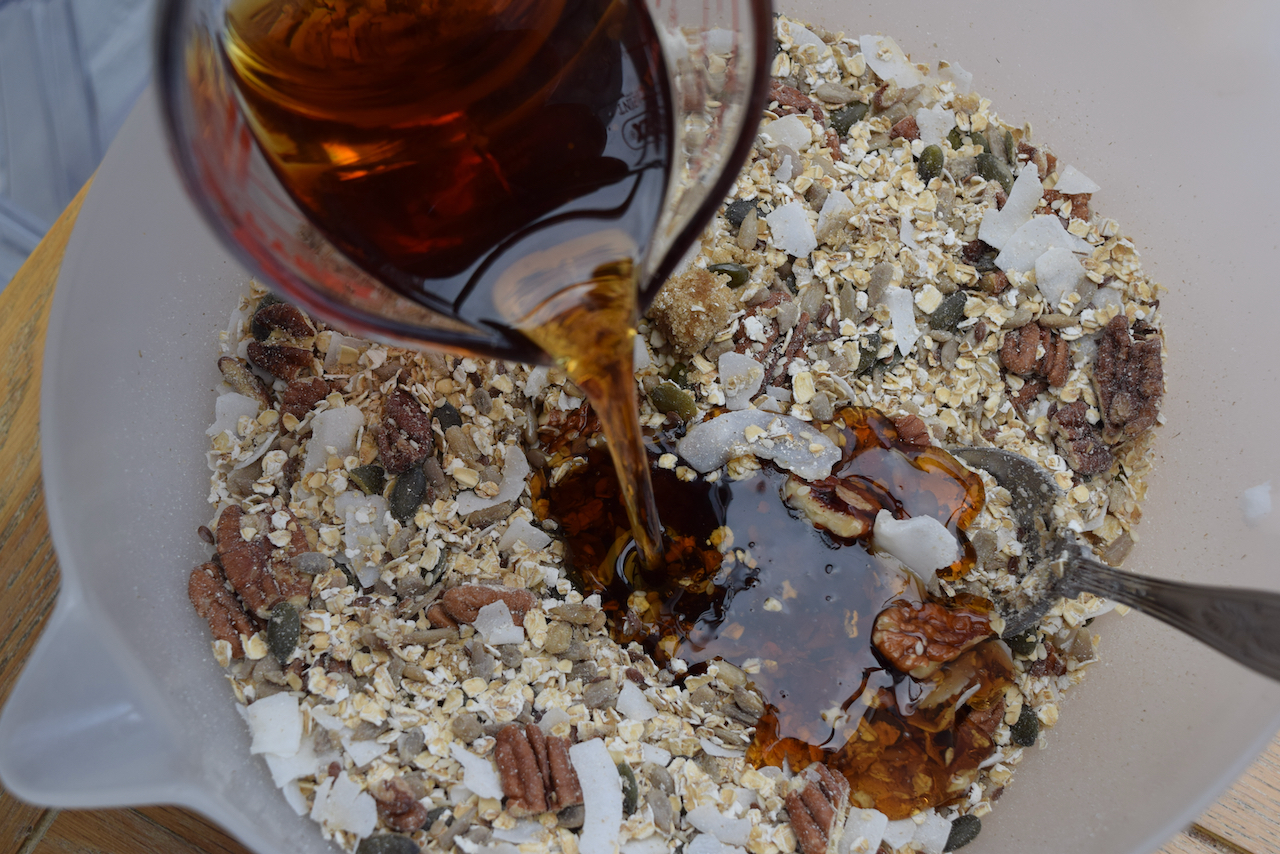 Tip the glorious combination of goodies onto your lined baking sheet and spread out into an even layer.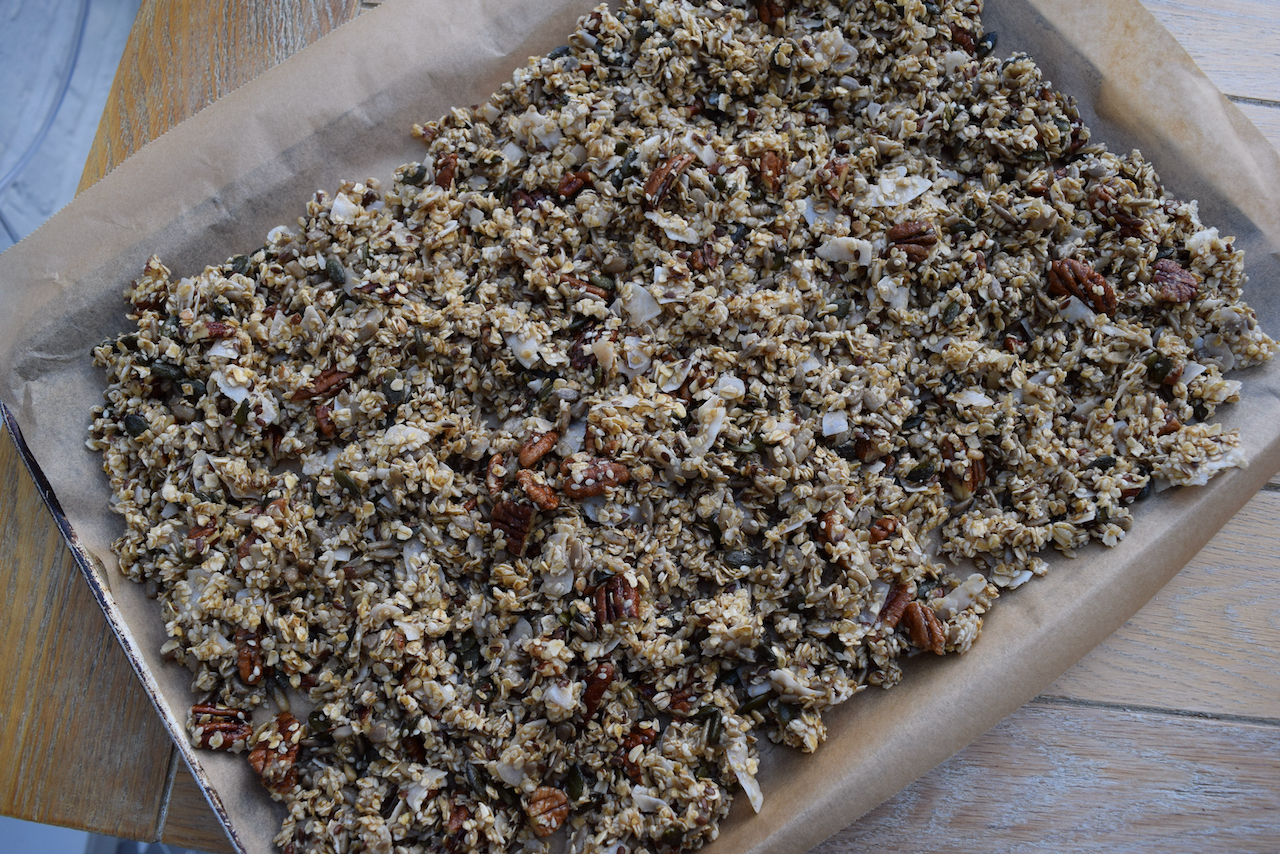 Pop the tray into your oven for 15 minutes at first. Then take it out and give it a good stir, moving all the browned edges into the middle.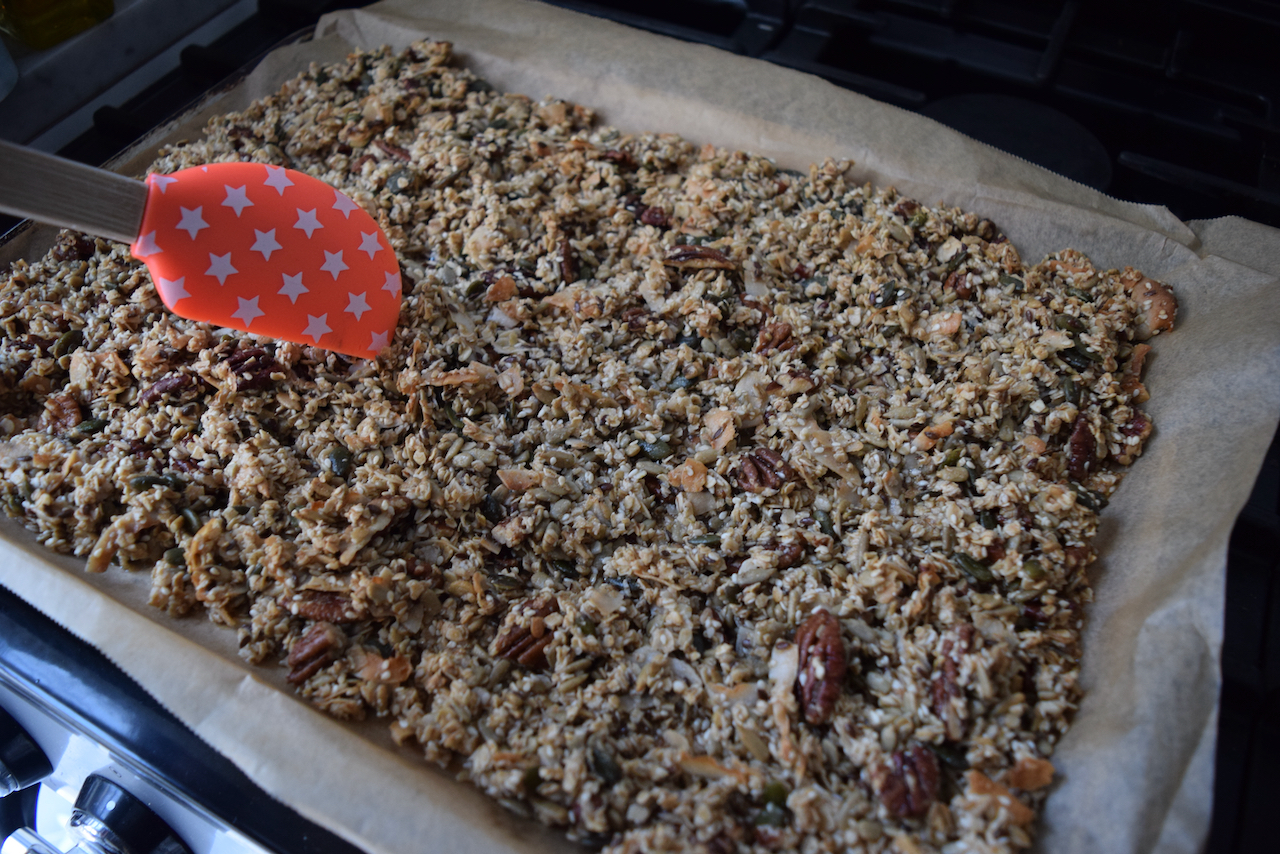 Put it back in for another 15 minutes, stir again, then put back for a final 15 mins, making 45 in total. The cooked Maple Pecan Granola will be golden, crisp and smelling so good.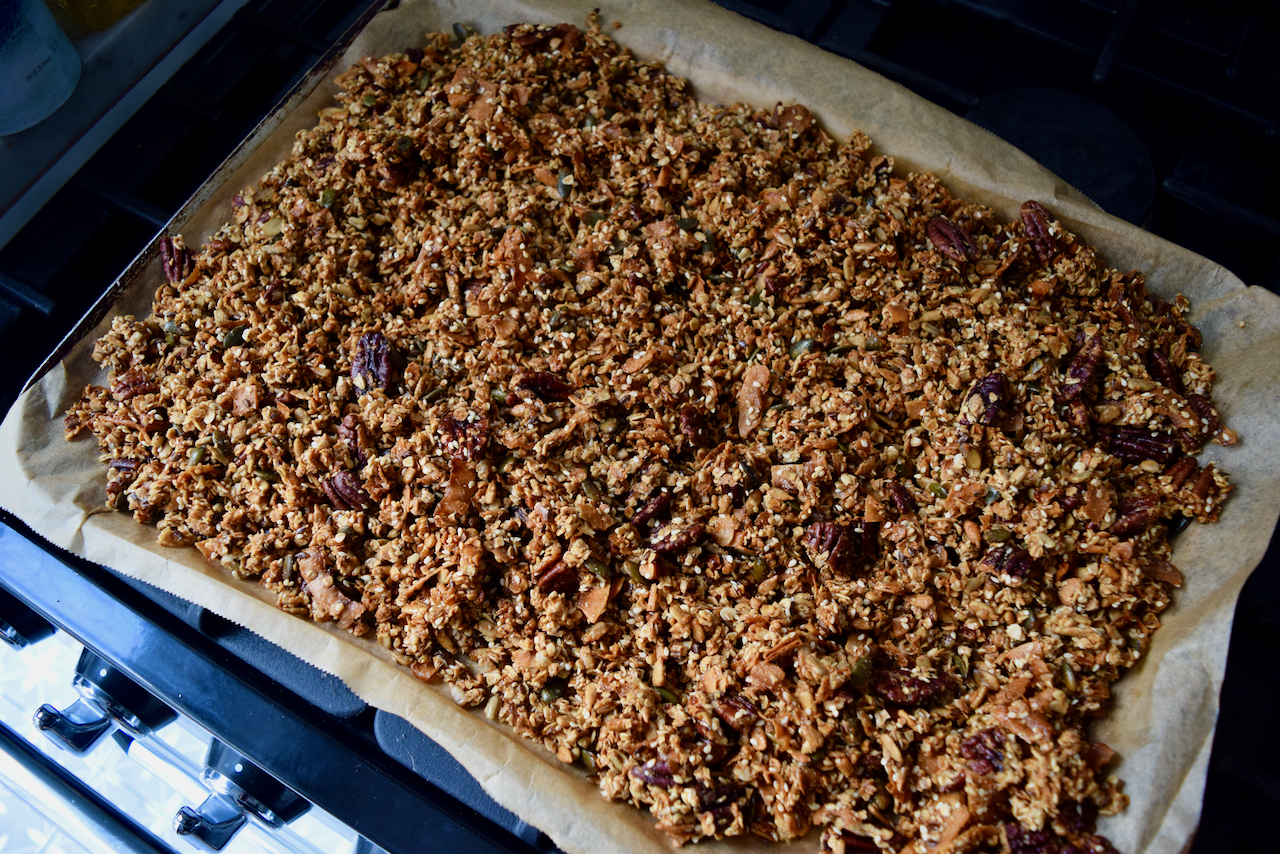 The granola firms up as it cools, so leave it alone until it's cooled right down. Break up the granola into bits and pieces and pack into airtight jars. Then await the stampede of your family racing to eat it.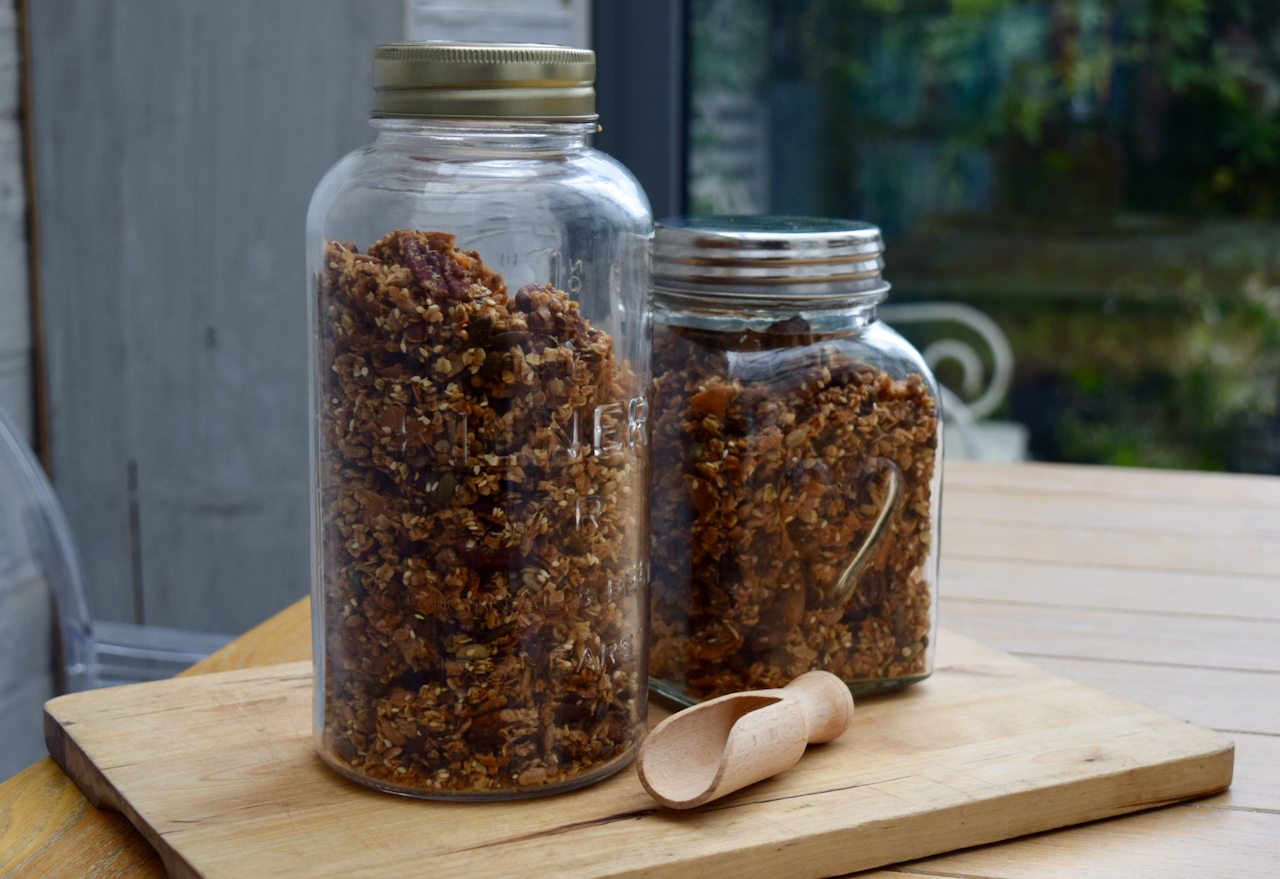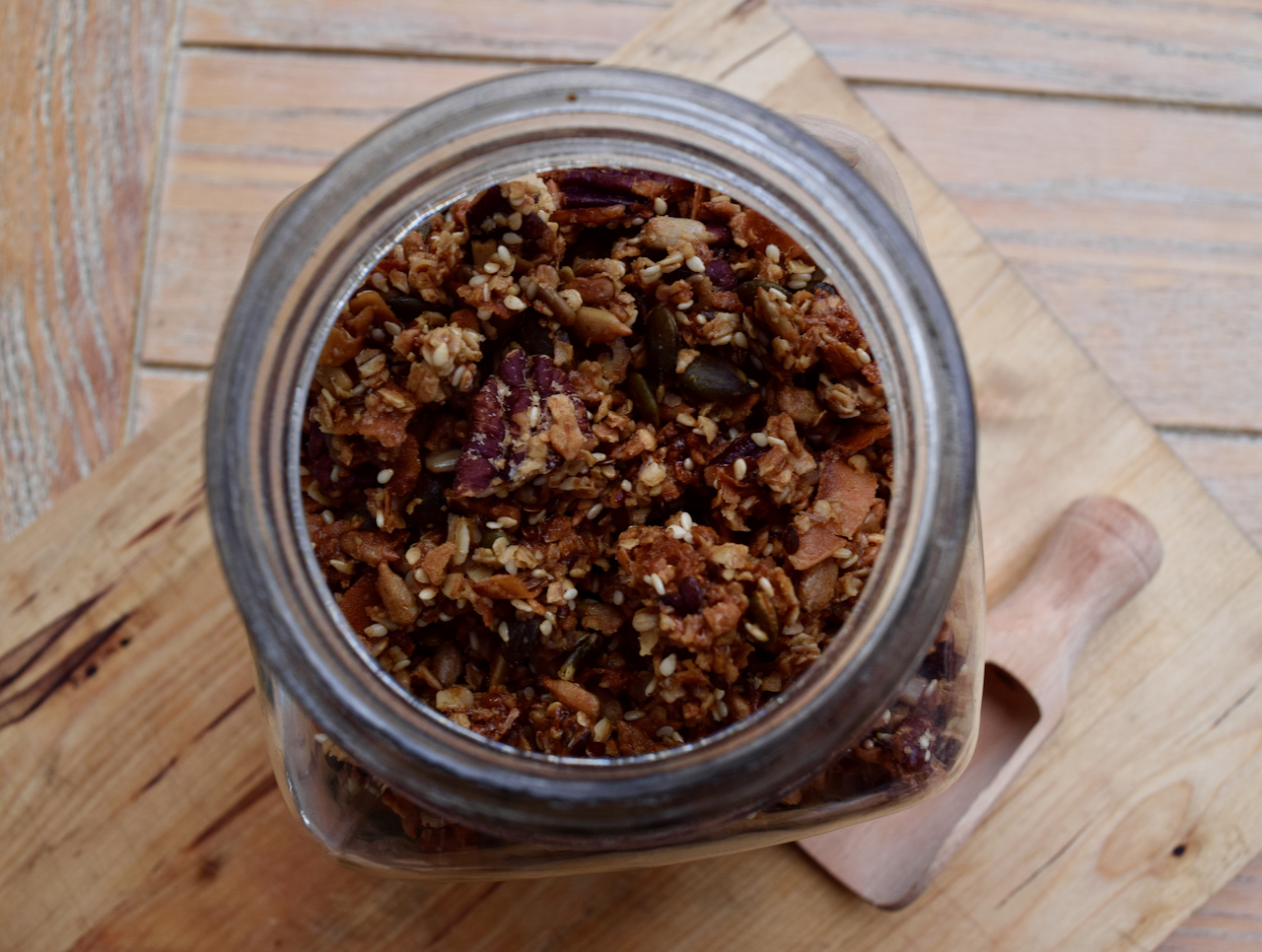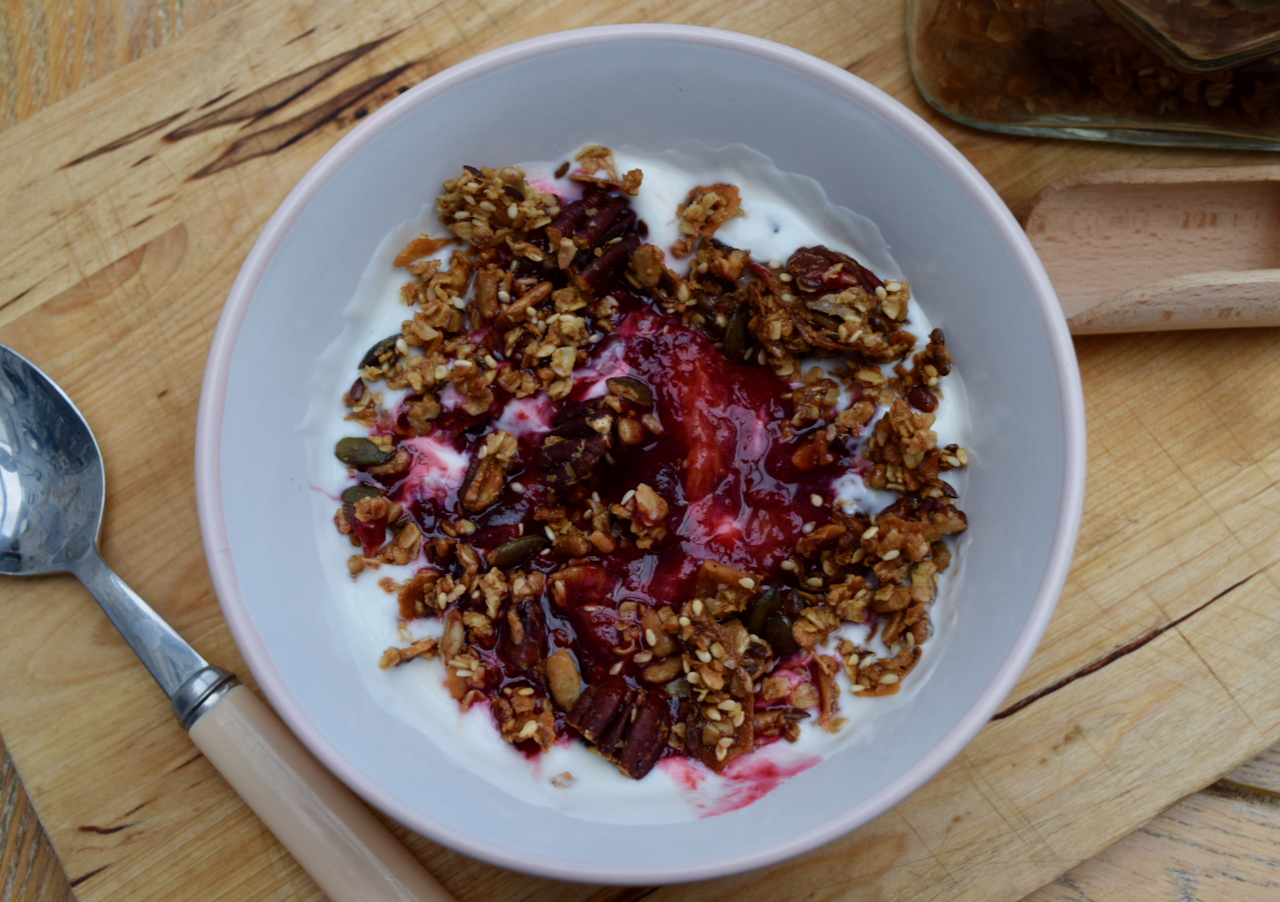 Making your own granola, I can guarantee, will make you feel like quite the domestic goddess. Get used to that feeling, as you will be making this again and again and again.
Lucy x
Maple Pecan Granola Recipe
Makes a good couple of jars worth
You will only need a big lined baking sheet and bowls for this
300g oats
200g mixed seeds, I buy a pre mixed bag but you can use any combo you like
75g coconut, desiccated or the lovely coconut shavings
125g pecan nuts, roughly chopped
50g soft brown sugar
1/2 teaspoon flaky salt
125ml coconut oil, or you could use olive oil according to the original recipe
180ml maple syrup, use the best quality you can afford
Add dried fruit to taste such as dried cherries, cranberries or raisin
Yoghurt, milk or stewed fruit, to serve
Make a start by lining a large baking sheet with baking paper and pre heating the oven to 140 degrees fan assisted.
If you're using coconut oil, melt in the microwave or a small pan until liquid. Leave to cool slightly.
In a large bowl measure in the oats, seeds, pecans, coconut, brown sugar and salt and mix well. Pour on the oil of your choice and the maple syrup and stir well until everything's well coated.
Scrape the mixture onto your lined baking sheet and bake for 15 minutes. Once the time is up, give it a good stir to ensure an even colour, then put back into the oven for a further 15 minutes then repeat. Set the timer for a final 15 minutes making 45 minutes in total by which time your granola should be crisp, golden and smelling amazing.
Allow to cool on the tray during this time it will firm up. Once cooled, break into chunks then spoon into two airtight jars. Serve with milk, yoghurt or some poached fruit.
This will keep in a jar for a good couple of weeks.