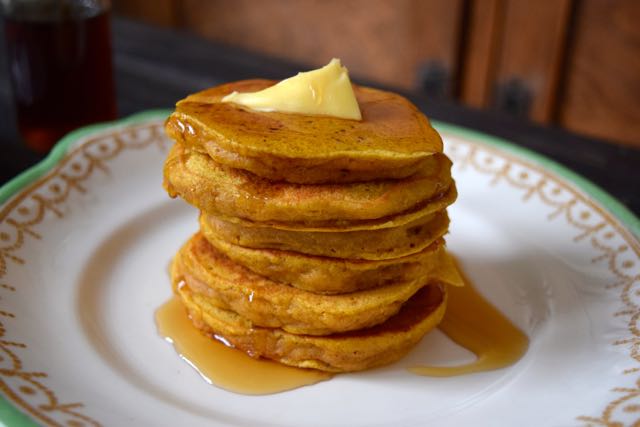 Pumpkin Pancakes Recipe
Over the last week or so I have been wracking my brains thinking of what to cook to mark Thanksgiving 2016. Without an oven. A tough ask under normal circumstances but the no oven thing really tested me. I love American recipes and with Thanksgiving being the biggest deal in the US calendar, Pinterest is awash with new, seasonal and delicious ideas. Most of these ideas being pumpkin based so I decided to go along with this theme, mainly based around the fact I had a rogue tin in my cupboard. Pumpkin cake, muffins, bread, snickerdoodles, all these were cast aside as they are baked offerings. So I finally went with these beautifully spiced, breakfast Pumpkin Pancakes.
And thank God I did, they are bloody wonderful. They contain all your favourite pumpkin spiced flavours including cinnamon, ginger and just a touch of cloves. The batter is quick and simple to make and the end results are fluffy, light autumn coloured pancakes. Clyde and I devoured this batch drizzled *drowned* in maple syrup with just a tiny knob of butter. This tasty recipe comes courtesy of the Queen of American cooking, Martha Stewart, thank you for everything, Martha.
In a very un-American way you could also eat these pancakes in an afternoon tea scenario, as pumpkin spiced drop scones. They would be as delicious slathered in butter and jam as they were dripping in maple syrup. They are simple and quick to make and the perfect way to wish our American friends a very happy and peaceful Thanksgiving. And bloody good luck with your new President.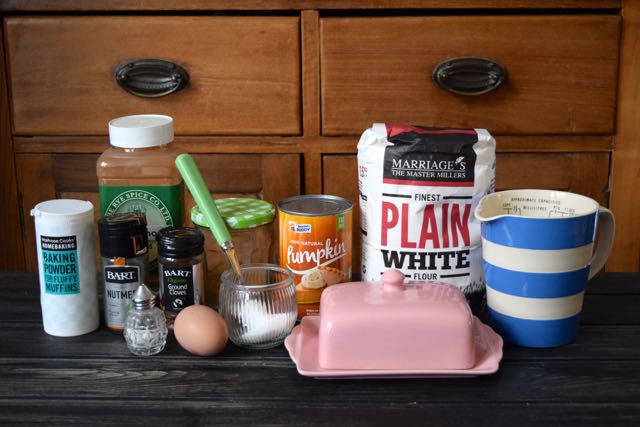 Quite a spice heavy line up today, lots of tiny jars and there's that rogue tin of pumpkin bought with making a Pumpkin Pie in mind, but without an oven, it's no use to anyone. Until now…..
Take a large bowl and measure in your flour and sugar.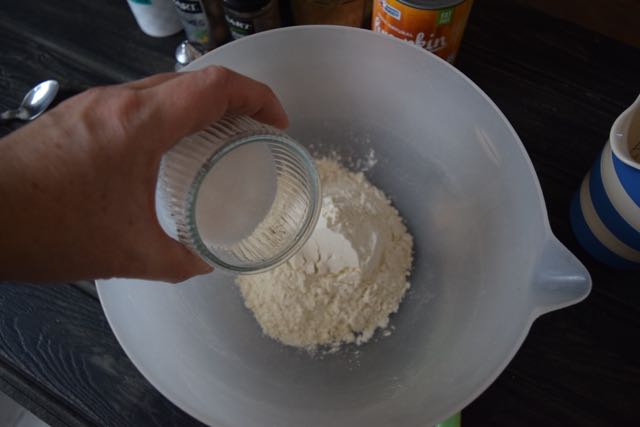 Agh, hand alert.
Next, measure in the baking powder, cinnamon, ginger, salt, nutmeg and cloves. This sounds like a lot of spices, but I had them all lurking in a box in our spare room aka our kitchen.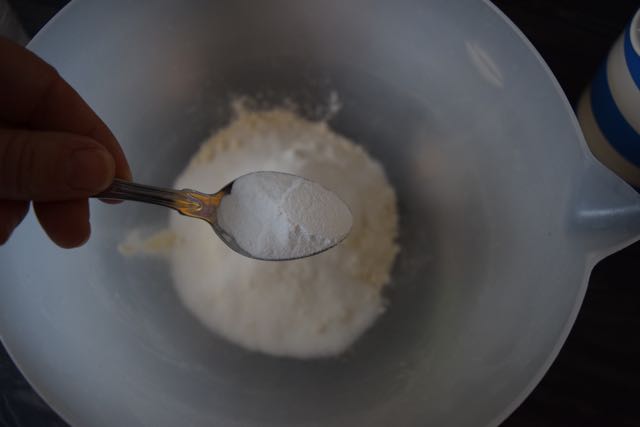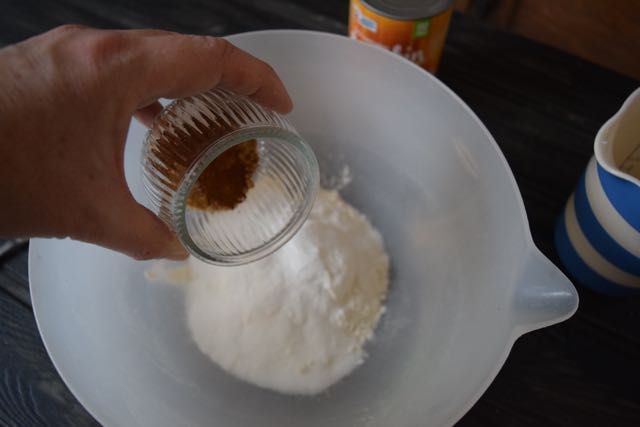 Mix the dry ingredients together then make a start on the sloppy ones.
In a jug in the microwave or in a small saucepan, melt the butter. Then pour in the milk.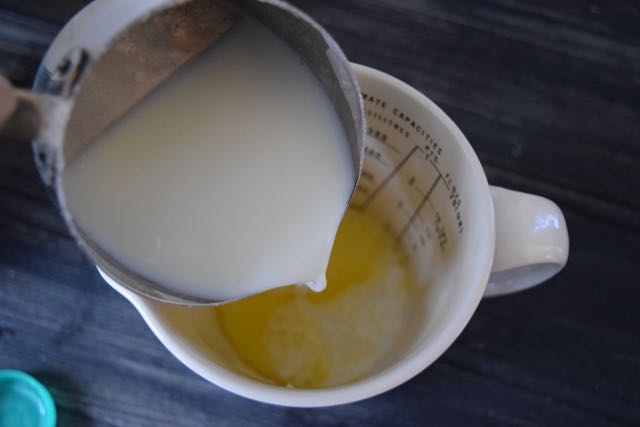 Next, whisk in the vibrant pumpkin puree and the egg.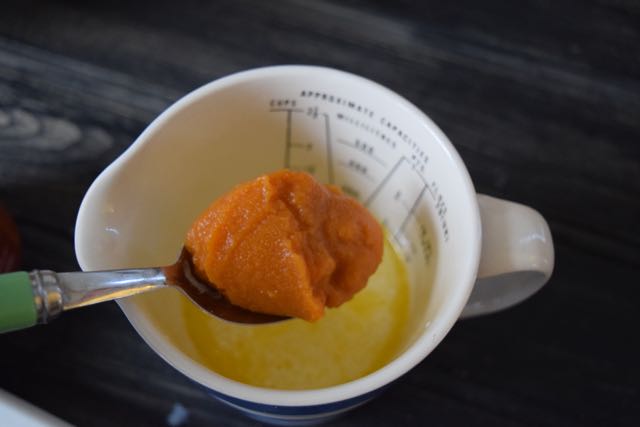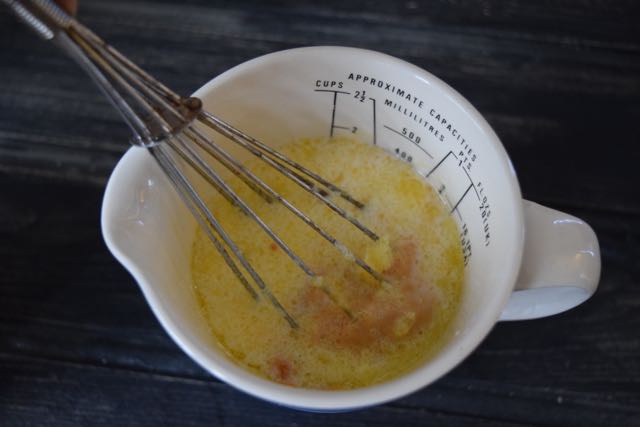 Whisk the pumpkin mixture into the dry ingredients until they are just mixed. Don't over mix the batter or your pancakes will be tough.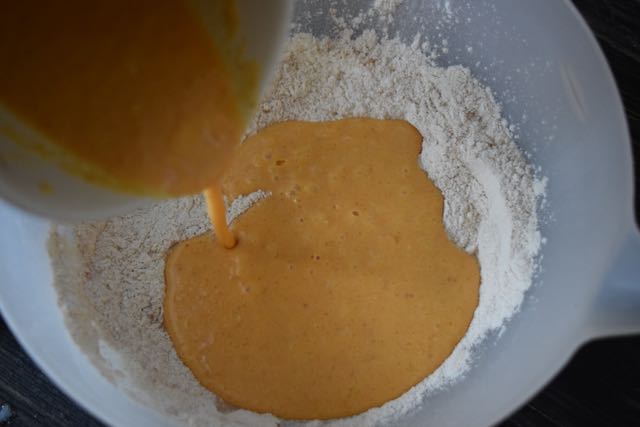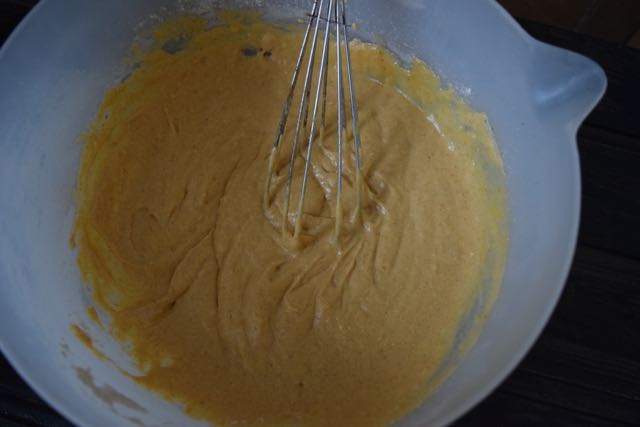 Heat a medium sized frying pan and add a little oil and a touch of butter, roughly a teaspoon of each. Once melted, add heaped tablespoons of the spiced batter to your frying pan.
Cook for around 3 minutes on each side, turning them over once the tops start bubbling up.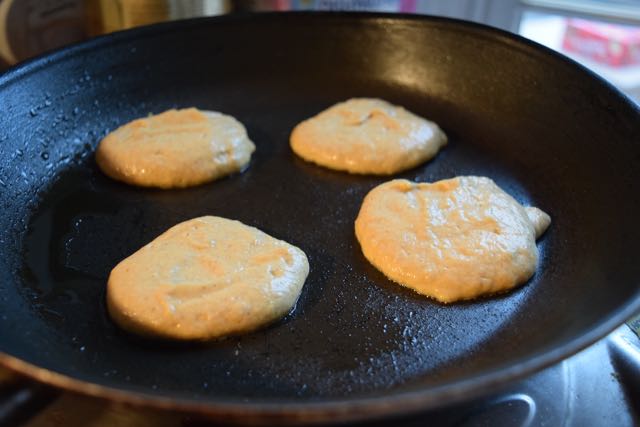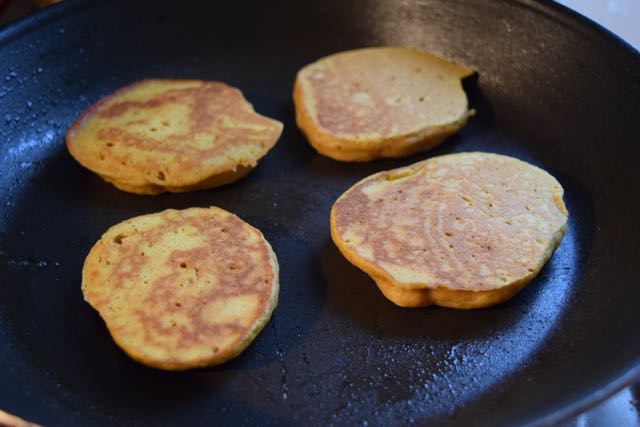 These smell divine, and taste even better. Once golden, remove from the pan then keep each batch warm while you finish cooking the rest of the pancakes.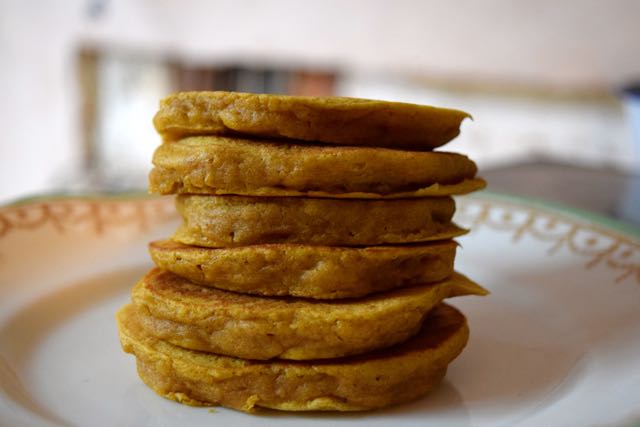 Inhale these warm, spiced treats slathered in maple syrup and topped with a knob of butter.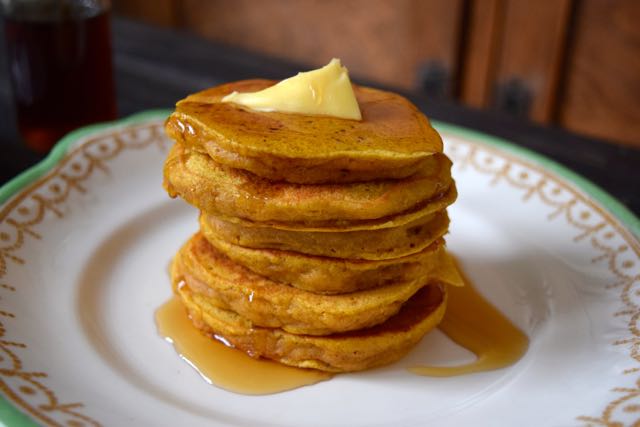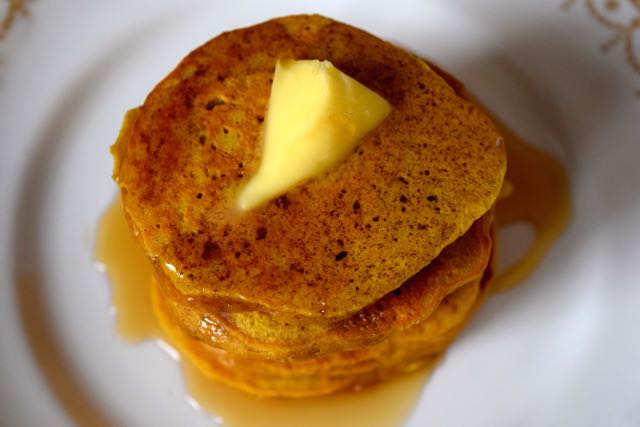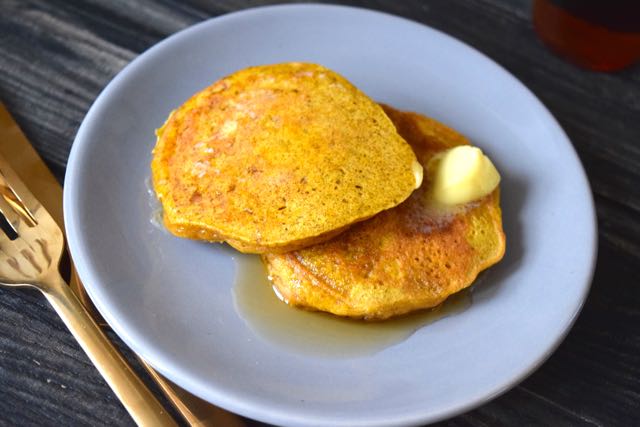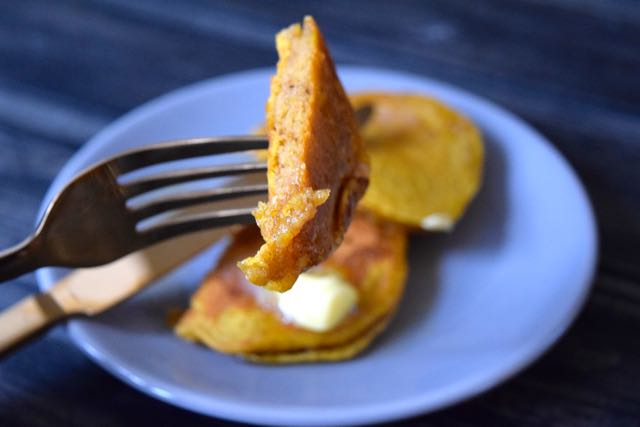 Light, soft and delicious. Americans are clever with their wonderful pumpkin based recipes. I am not entirely sure of the connection between Thanksgiving and pumpkin but this year, I am thankful for these pancakes and all other batter based breakfast items.
Lucy x
Pumpkin Pancakes Recipe
You will only need 2 bowls and a frying pan
Makes around 10 to 12 pancakes, size dependent
190g plain flour
2 tablespoons caster sugar
2 teaspoons baking powder
1/2 teaspoon cinnamon
1/2 teaspoon ground ginger
1/2 teaspoon salt
a little grating fresh nutmeg
a pinch of cloves
1 egg
6 tablespoon pumpkin puree
30g butter, melted
240ml milk, whole or semi skimmed
Oil and/or butter for frying
Butter and maple or golden syrup to serve
In a large bowl mix together the flour, caster sugar, baking powder, salt and selection of spices.
In another bowl or jug melt the butter in the microwave or in a small pan. Add to the melted butter, the milk, egg and pumpkin puree and whisk.
Pour the pumpkin mixture into the spiced flour mixture and whisk together until smooth.
Heat a medium sized frying pan and add a little olive oil and a touch of butter. Spoon heaped tablespoons of the pancake batter into the hot pan and cook for 2 to 3 of minutes, or until the top of the pancake starts to bubble. Turn over and cook for another 2 to 3 minutes. Keep warm until you have finished frying off the whole batch.
Serve these warm, drenched in maple syrup with a knob of butter.