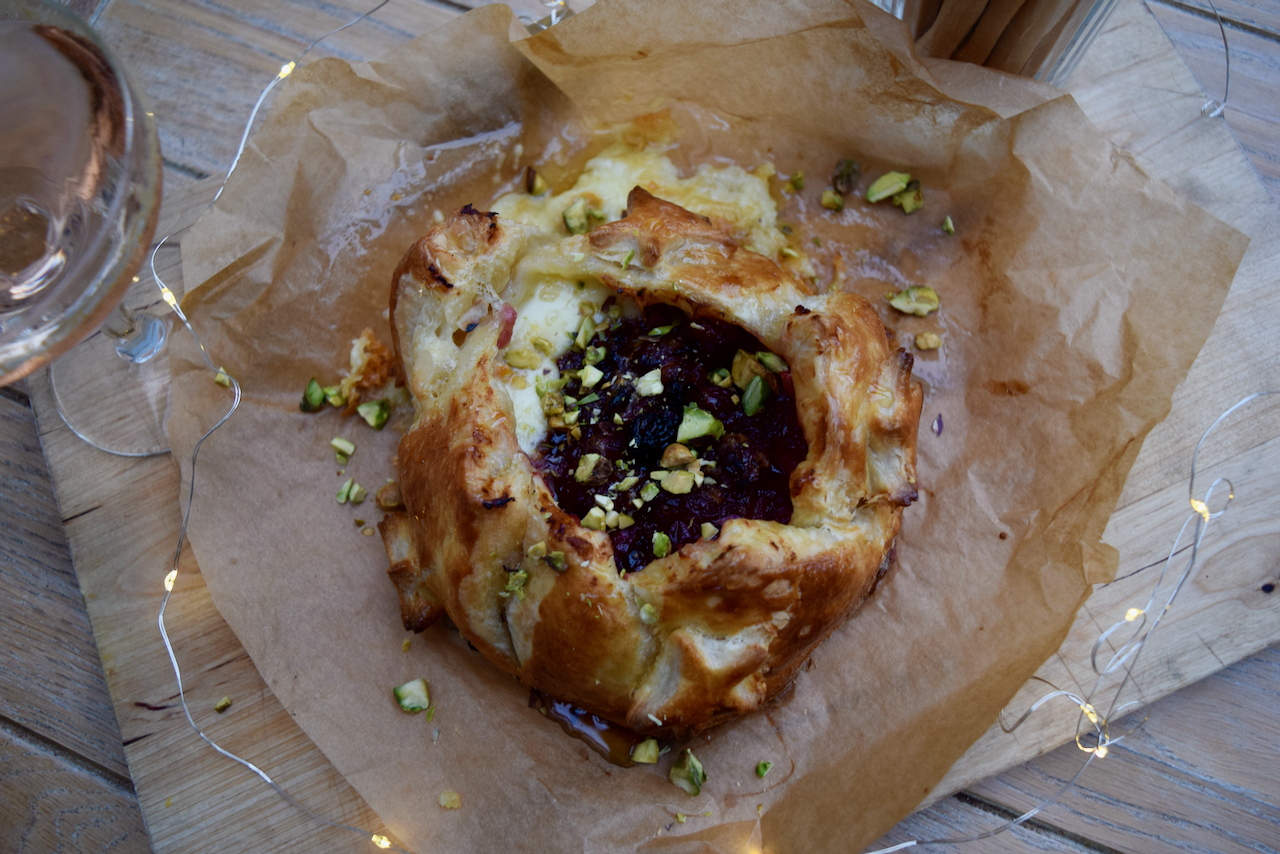 Baked Brie with Cranberry Jam recipe
Ok, so you have my permission to start panicking a little about Christmas now. We're on a 2 week countdown and it's balls to the wall time. As is the same every year, I promise I won't fill my diary, then every year I fill it right up. That and the endless lists; lists of presents, lists of cards to write *am I the only one who still writes cards?*, lists of food to buy and lists of food to make. But moaning aside we have some Christmas lights up outside now and I'm feeling a tiny bit more festive at least. That and the fact I spent an hour this afternoon making *and eating* this delightful Baked Brie with Cranberry Jam.
Christmas is surely the time for eating pastry based items. Well, it's the time for eating all the food, but pastry and cheese do seem to feature heavily on festive menus. This Baked Brie with Cranberry Jam makes a brilliant first course or sharing nibble. It's low on effort but huge on taste and the cranberry jam part of the recipe makes enough for delicious leftovers and is just a matter of simmering some simple ingredients. The pastry is bought, but do get the all butter variety, it's worth it. Then you just fashion this into a cheese parcel, glaze, bake and devour. Eat this with some breadsticks for dipping or bread for spreading. Or cut into wedges and eat with a fork and napkins for the hot, melty cheese. Huge thigh expanding thanks to the New York Times for the recipe inspiration.
I fully intending to just eat a modest slice of this Baked Brie with Cranberry Jam when I made this batch earlier. But my 'sod it, it's Christmas' attitude has already started and Clyde and I devoured the lot in hot, cheesy portions. And I don't regret a single mouthful.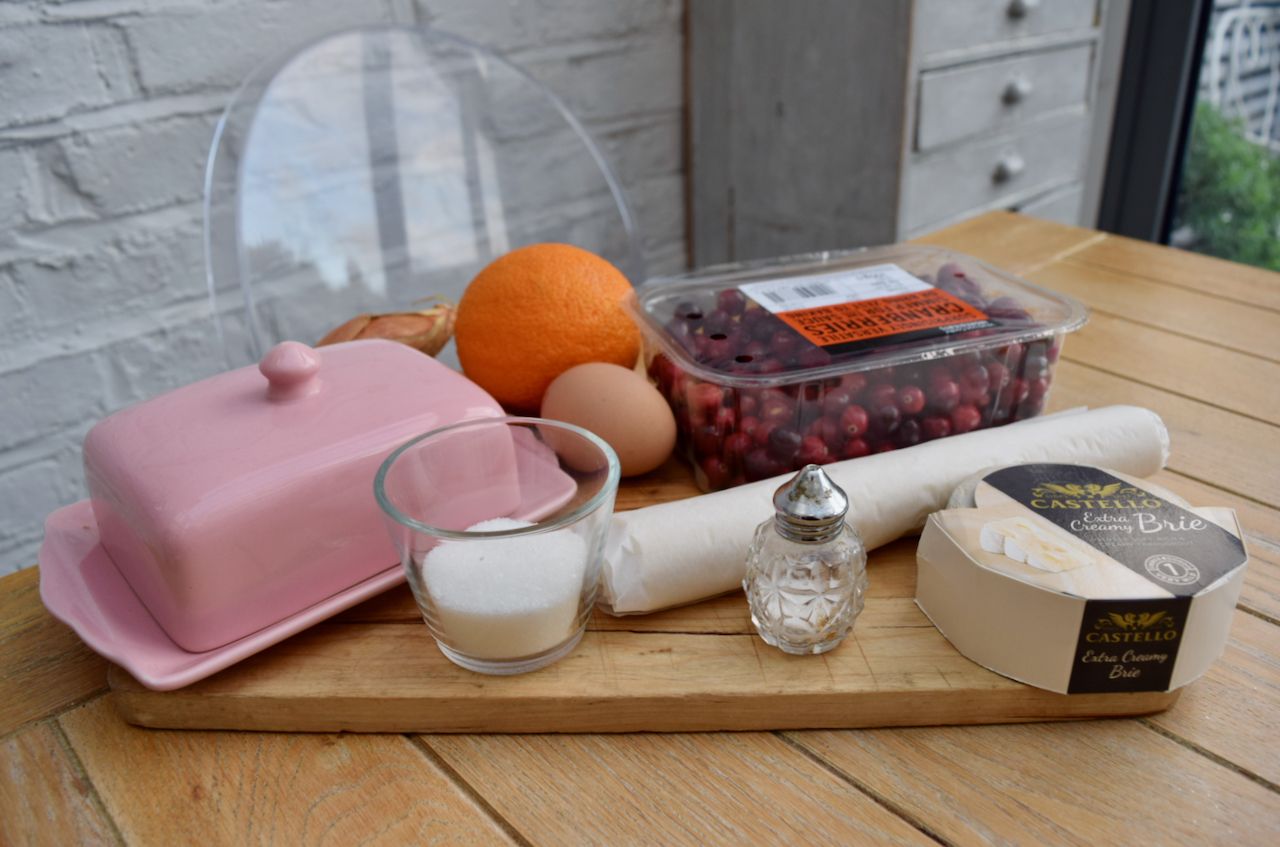 Bloody love this recipe, I can't tell you how delicious it is. I found this perfectly sized Brie on Ocado, just make sure you get a whole round. Other than that, it's all pretty simple. Fresh cranberries are readily available at the moment, if not frozen are just fine.
Start on this recipe with the jam. Take a saucepan and add the butter. Heat over a low flame until melted. Add the chopped shallots and cook until softened and starting to caramelise. This will take around 5 minutes.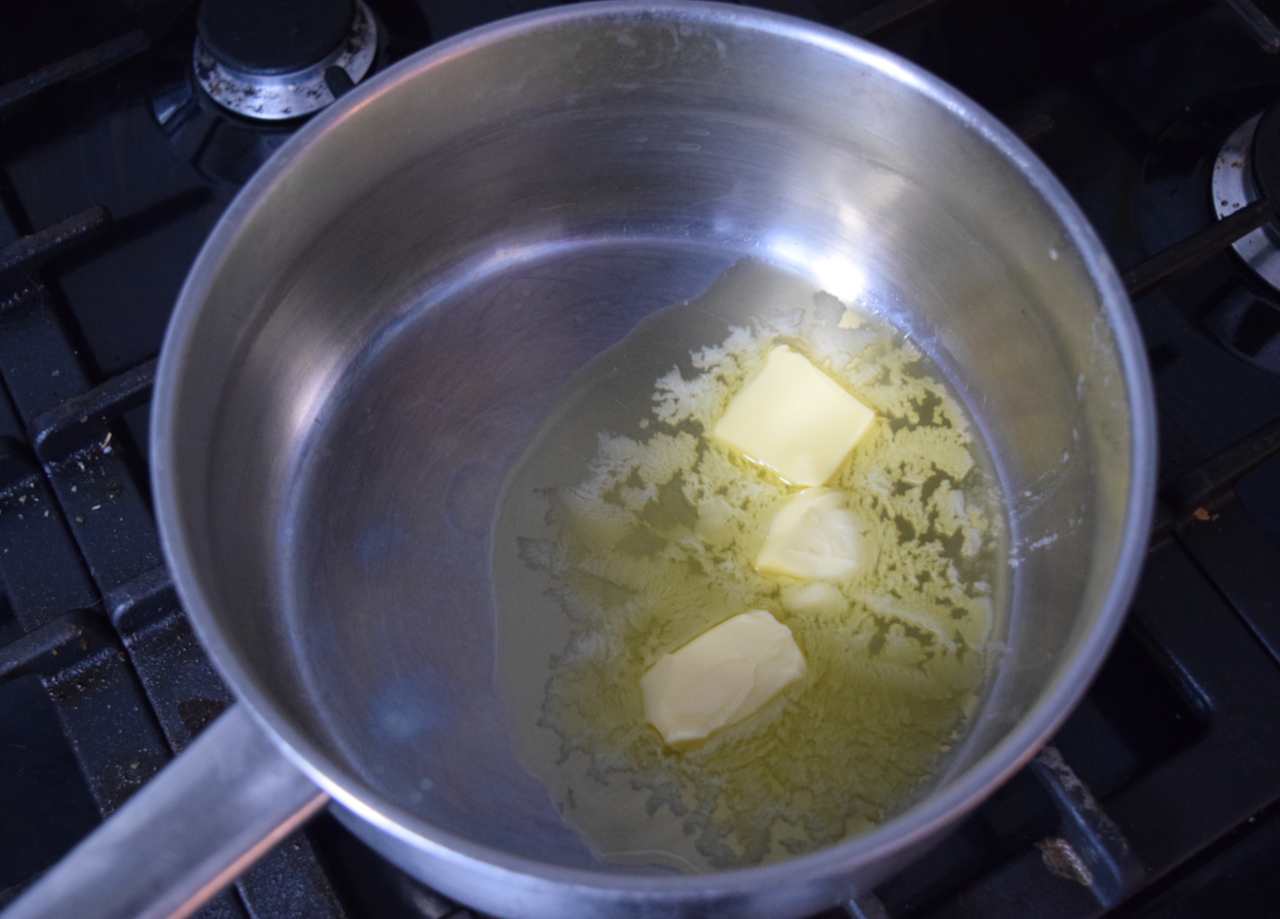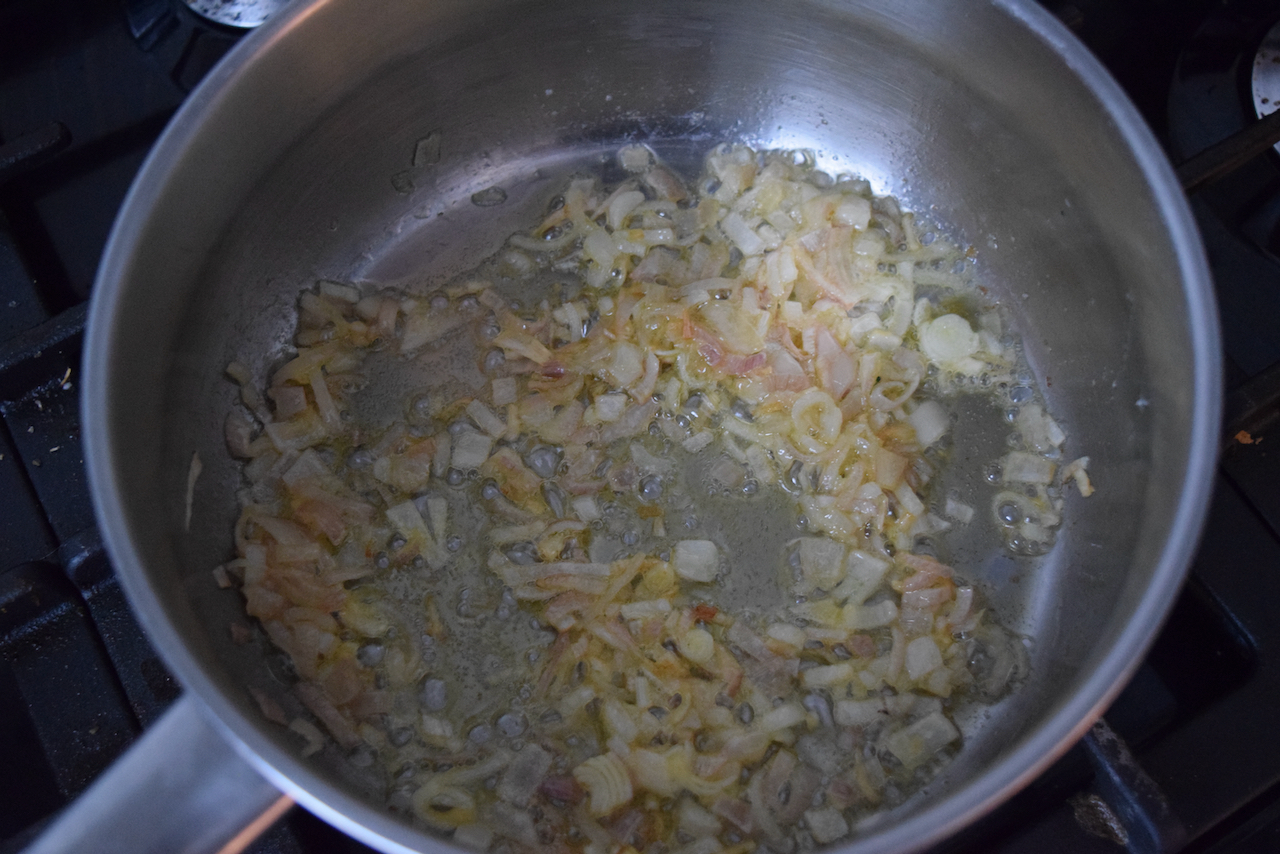 Next, mix the cranberries with the orange zest and juice, the sugar and the salt.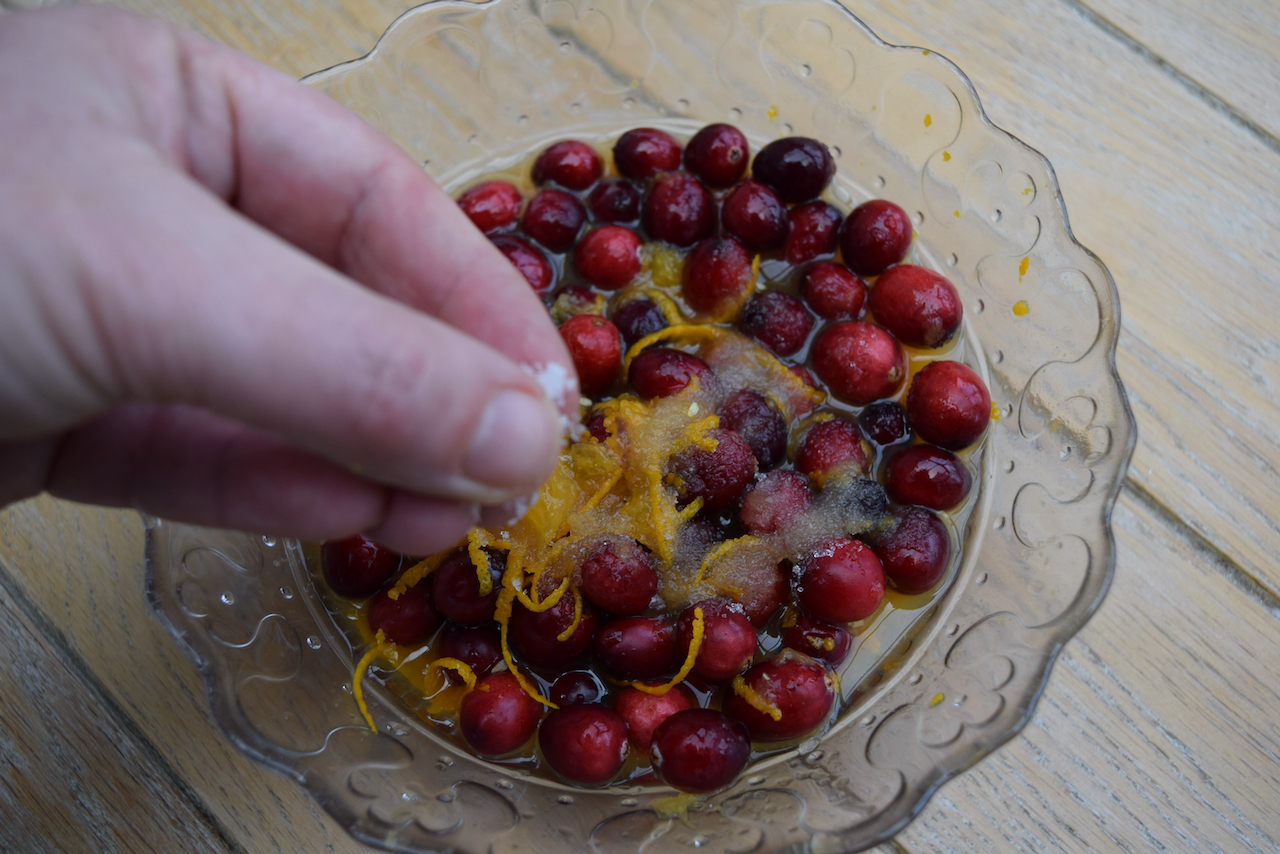 Tip this very seasonal bowl of goodies into the pan of shallots and bring up to the simmer.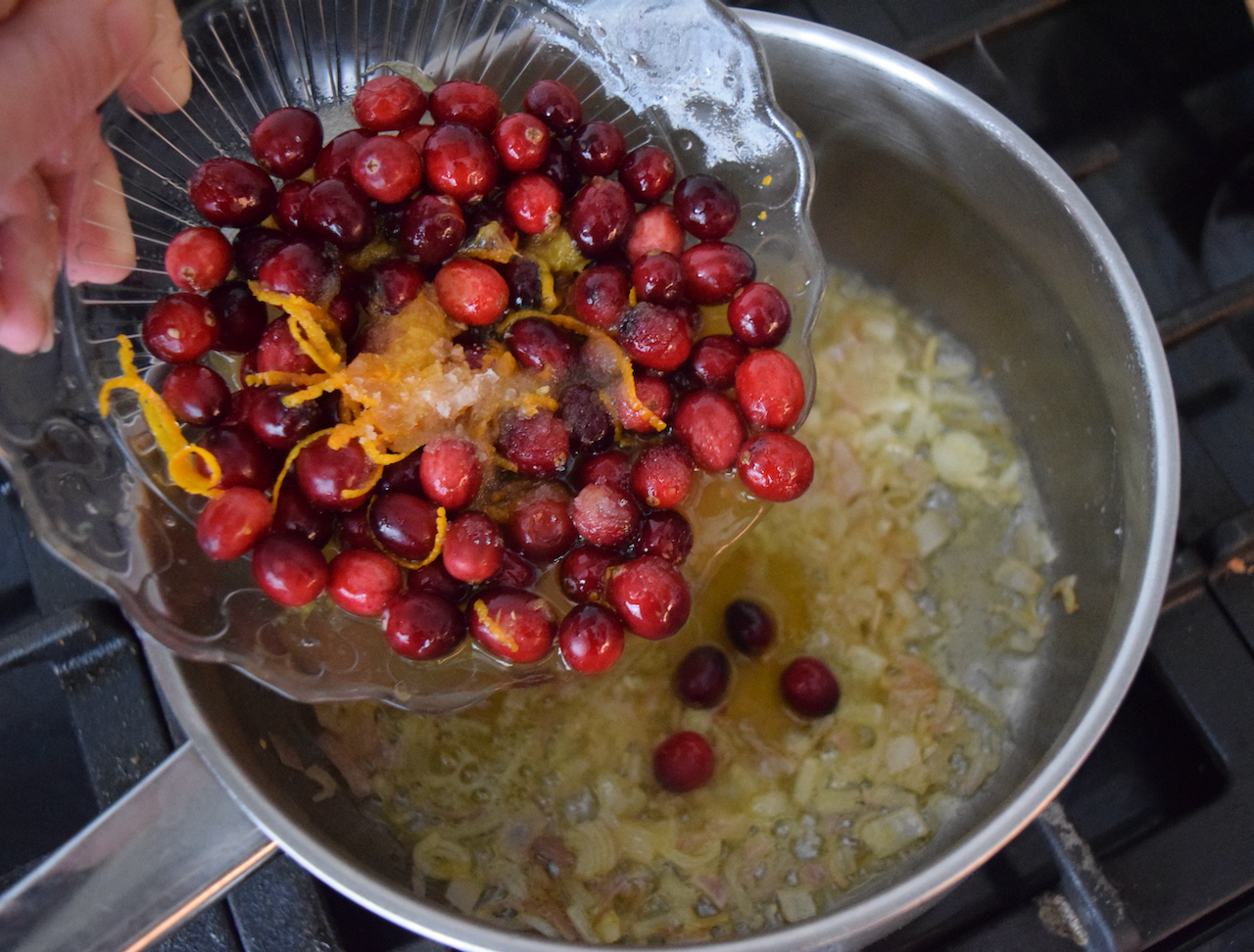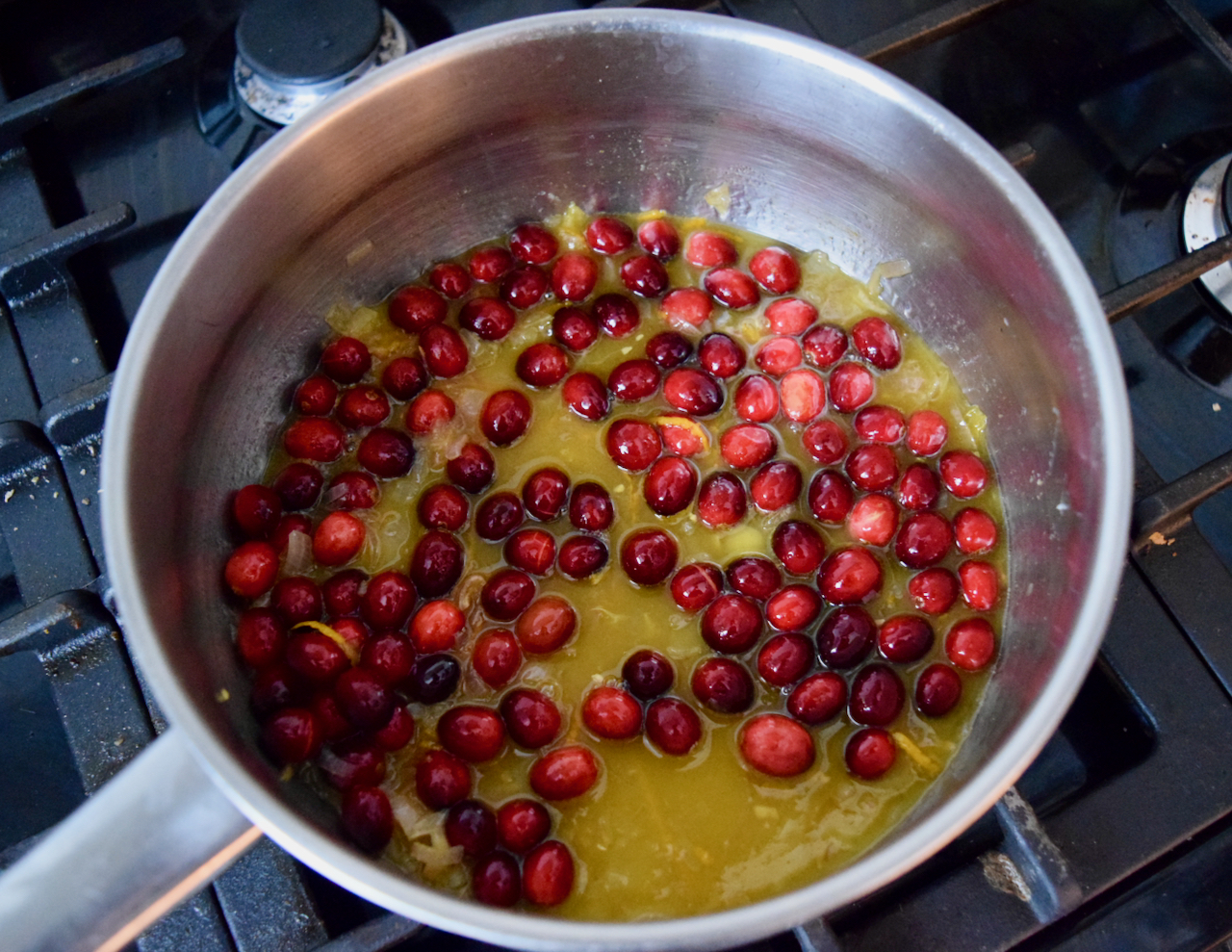 Cook for around 10 to 15 minutes over a low heat until the jam has thickened.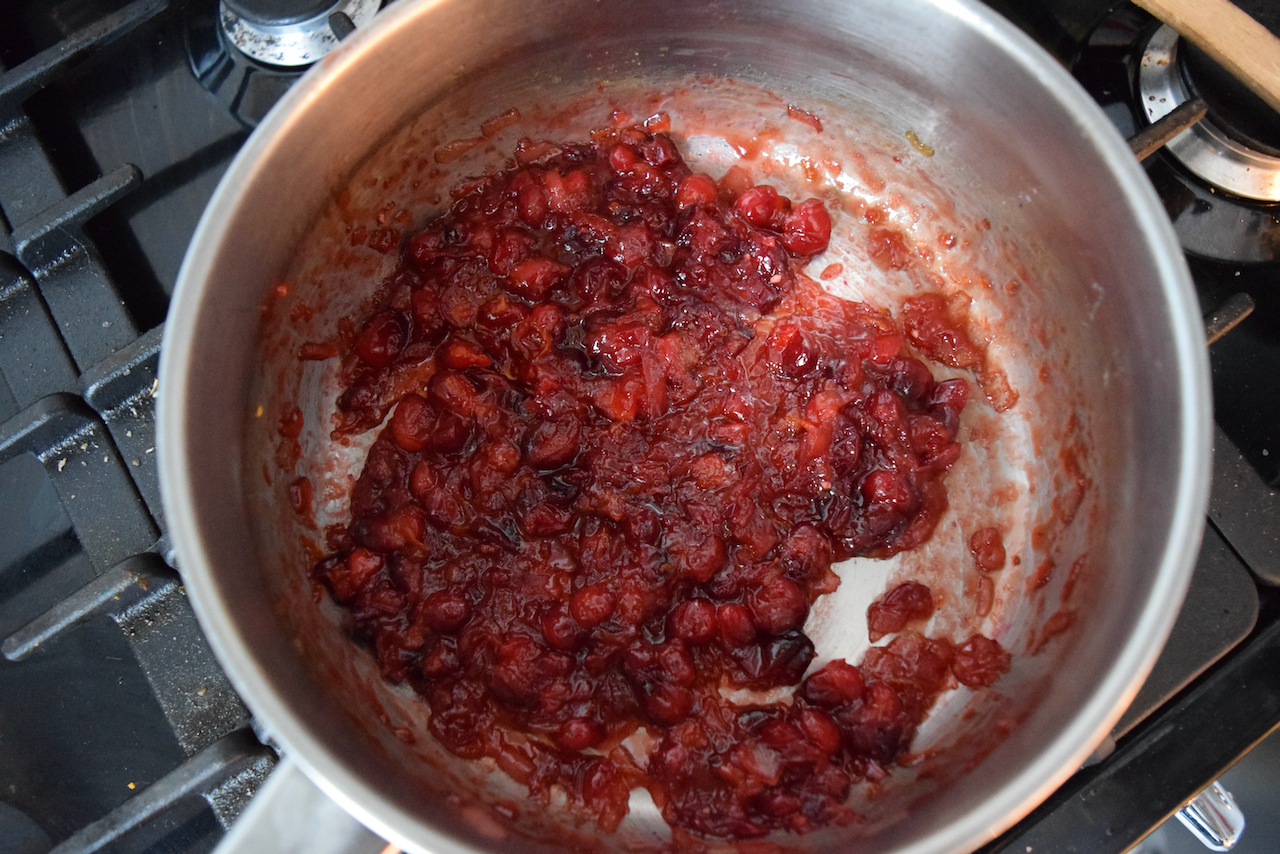 Scrape the jam into a bowl and leave to cool completely.
Now for the main event. Line a baking tray with greaseproof paper and pre heat your oven to 180 degrees fan assisted. Next, take your pastry and lay onto a floured board. Roll out the sheet of pastry until it's roughly a 28cm square.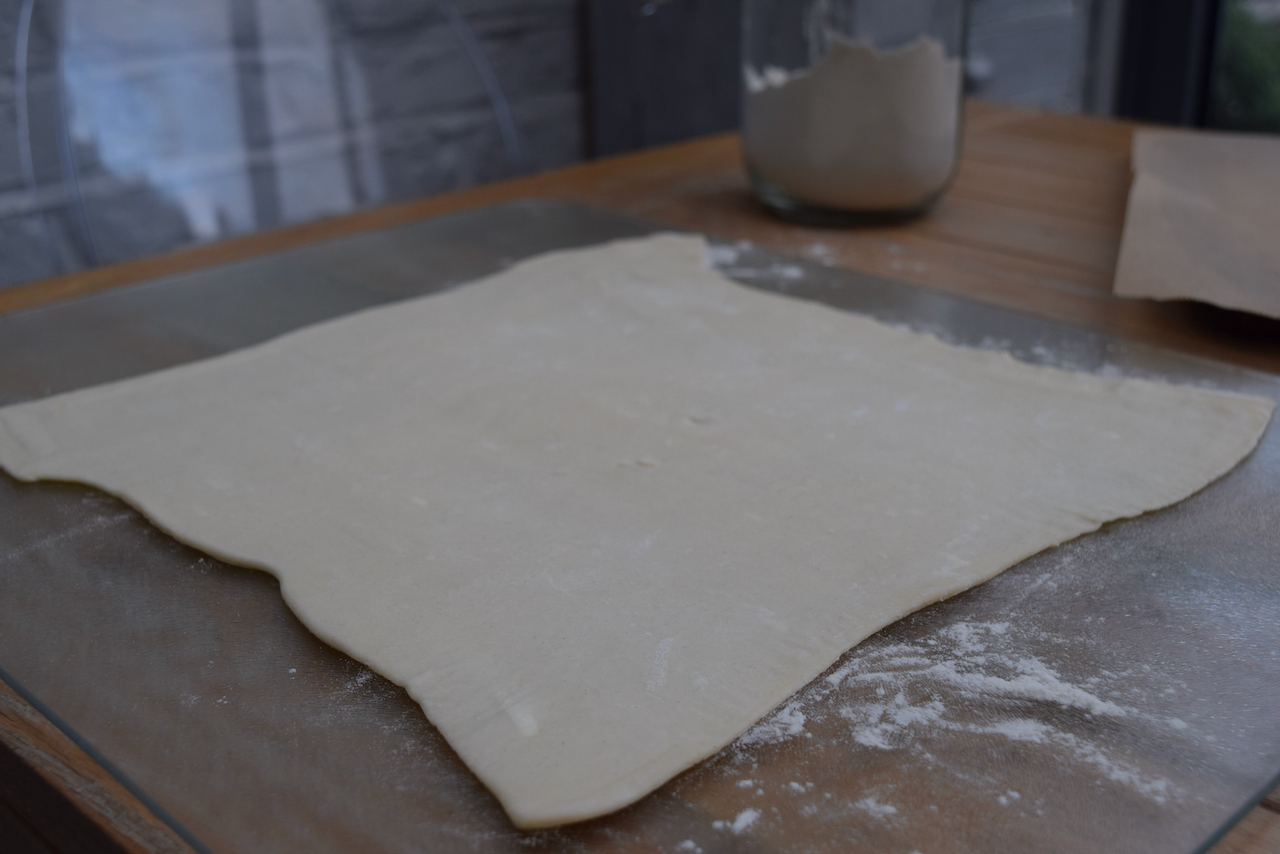 Pop your Brie into the centre of the pastry square then trim leaving a 10cm border around the edge of the cheese.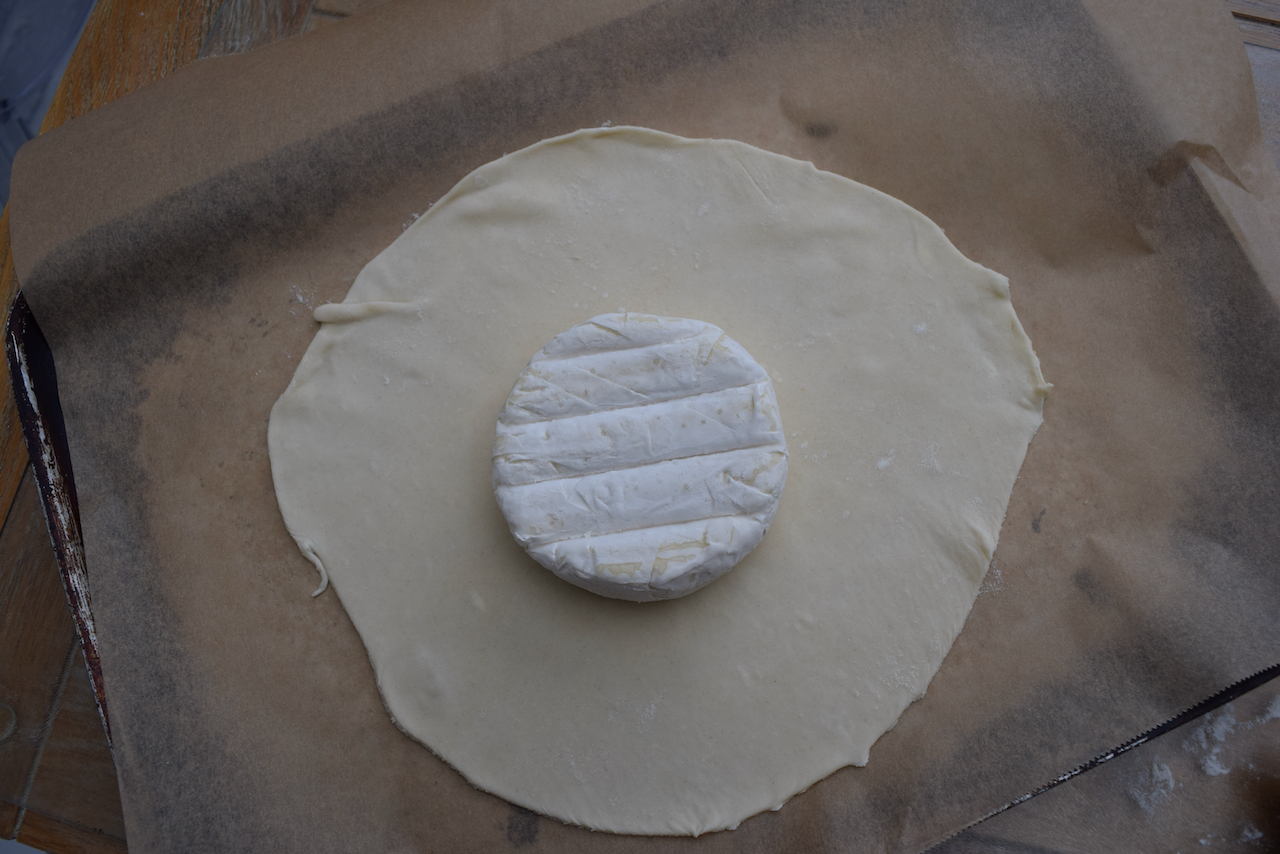 Use the trimmings to stamp out some pastry stars if you are feeling festive. Beat the egg for sealing and glazing.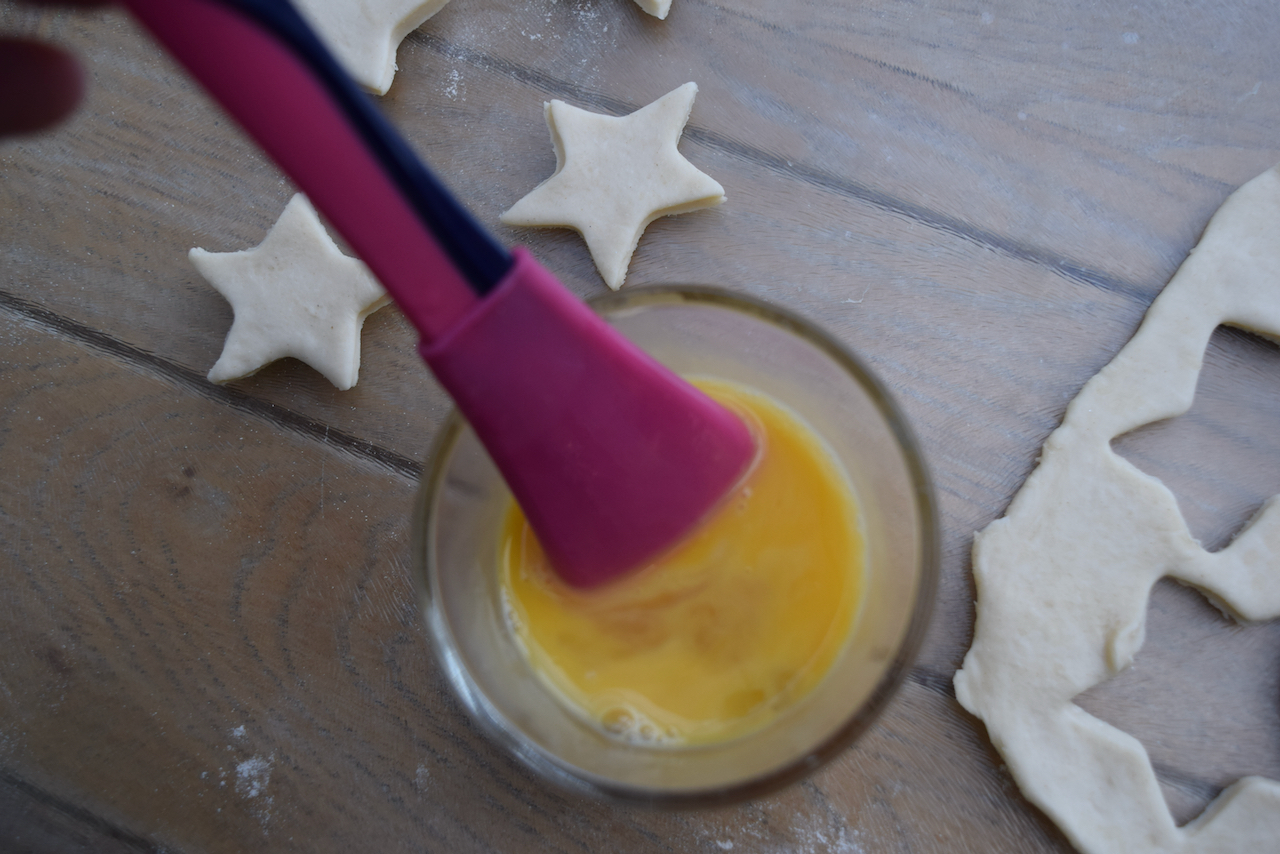 Brush some of the egg around the border of the pastry then spoon some of the cranberry jam onto the middle of the Brie. You won't need all of it, just fashion a layer about 2cm high.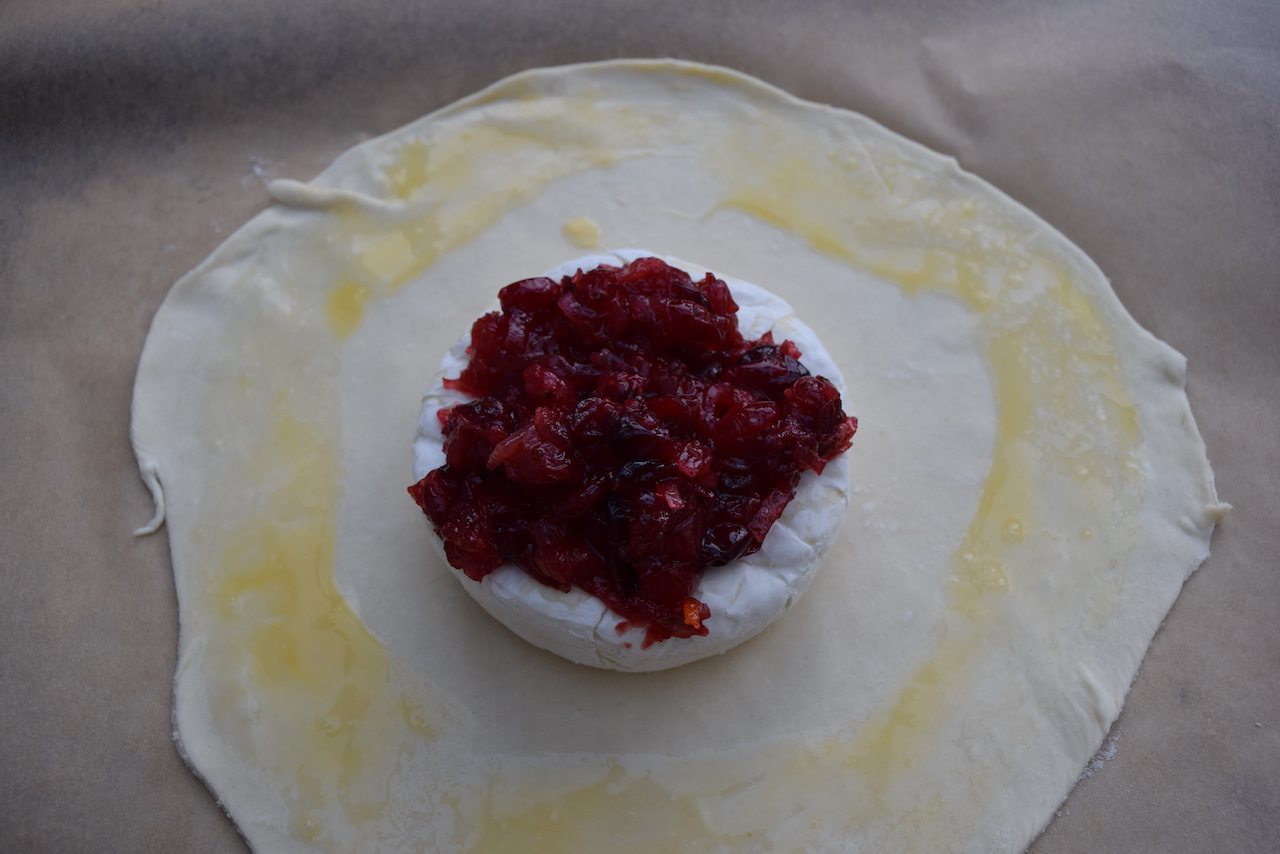 Now, wrap the pastry around the cheese in a sort of parcel. Be careful to seal the parcel as you don't want too much cheese leakage going on.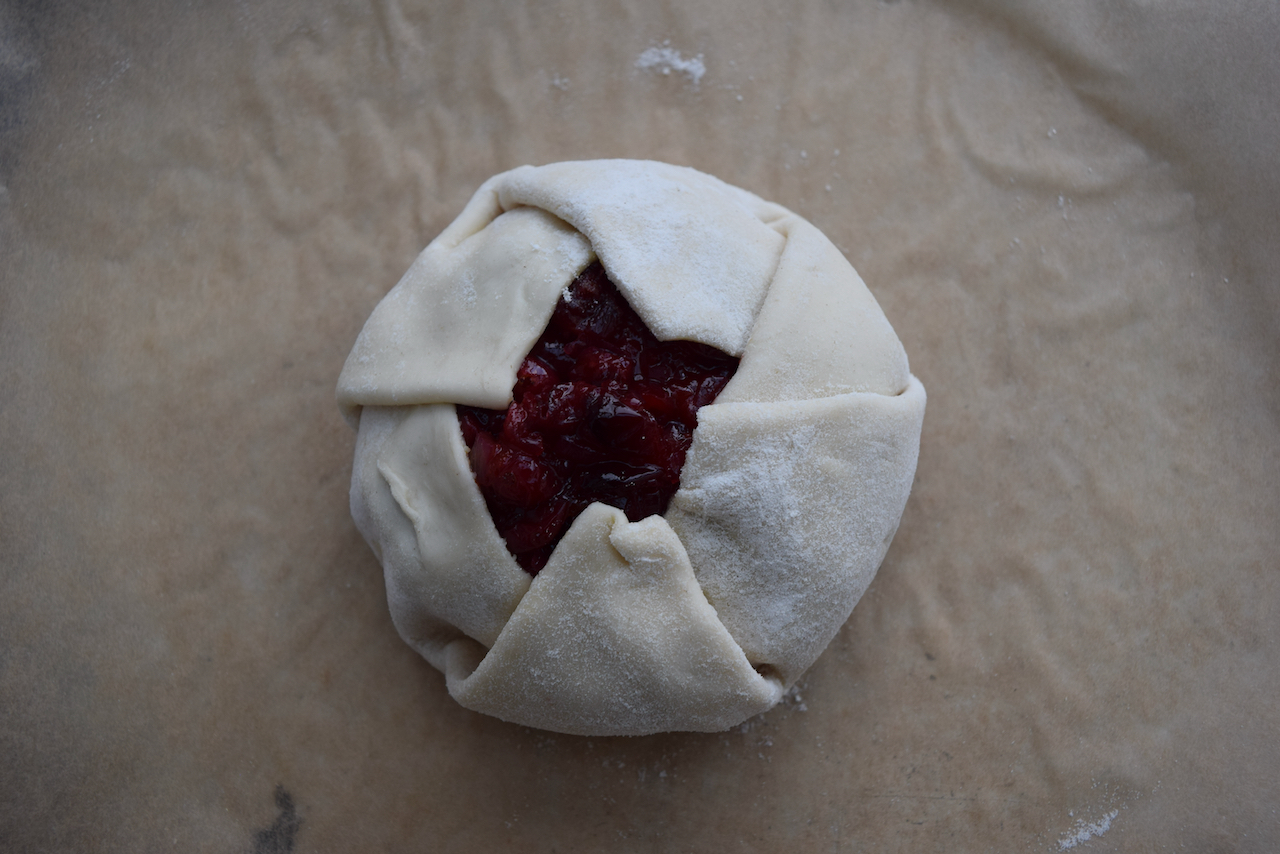 Egg wash the pastry then stick on the stars, if using, and brush with more egg.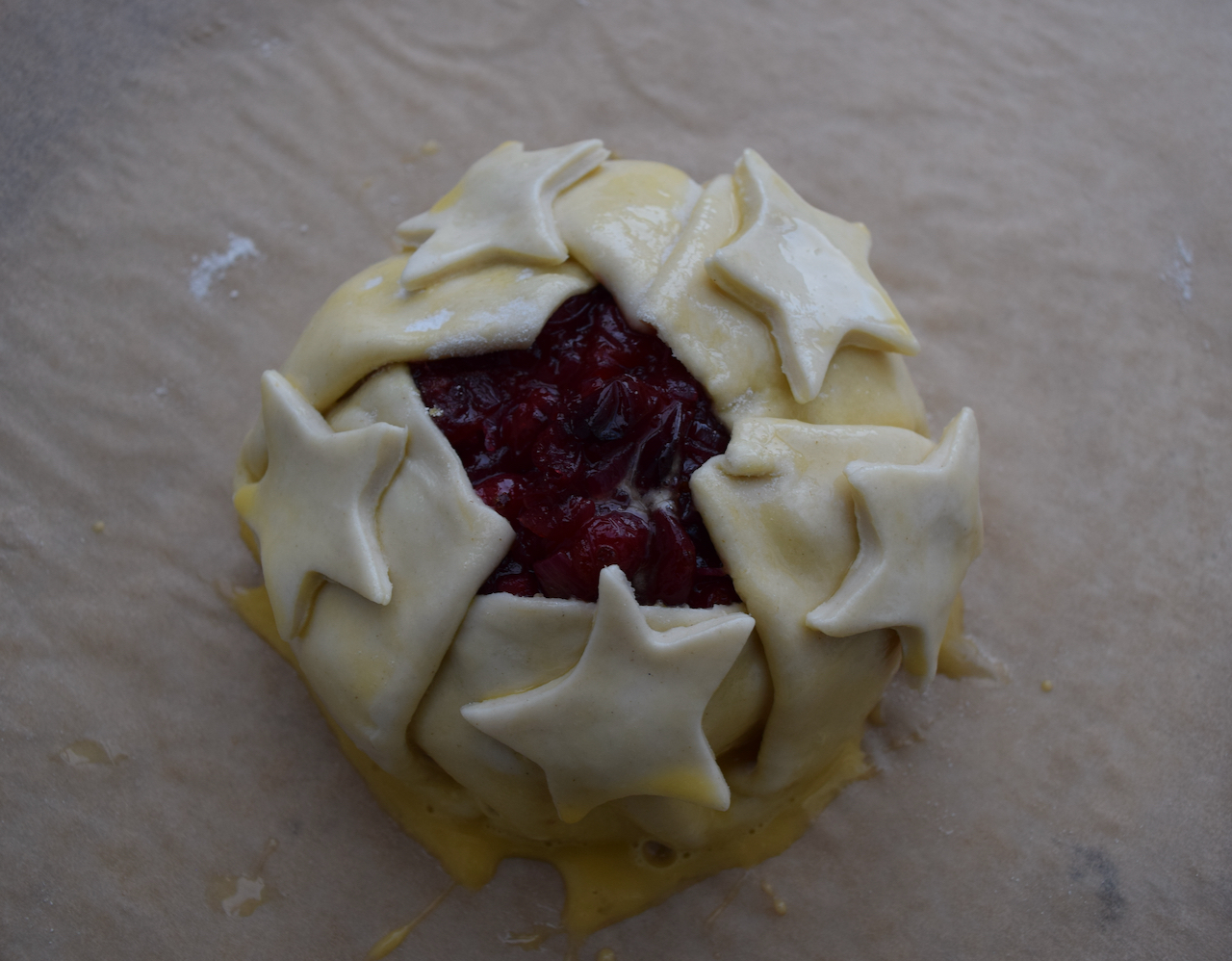 Place the pastry wrapped Brie into your hot oven and bake for around 30 minutes. Your golden treat is ready when it's crisp, oozy and smelling divine.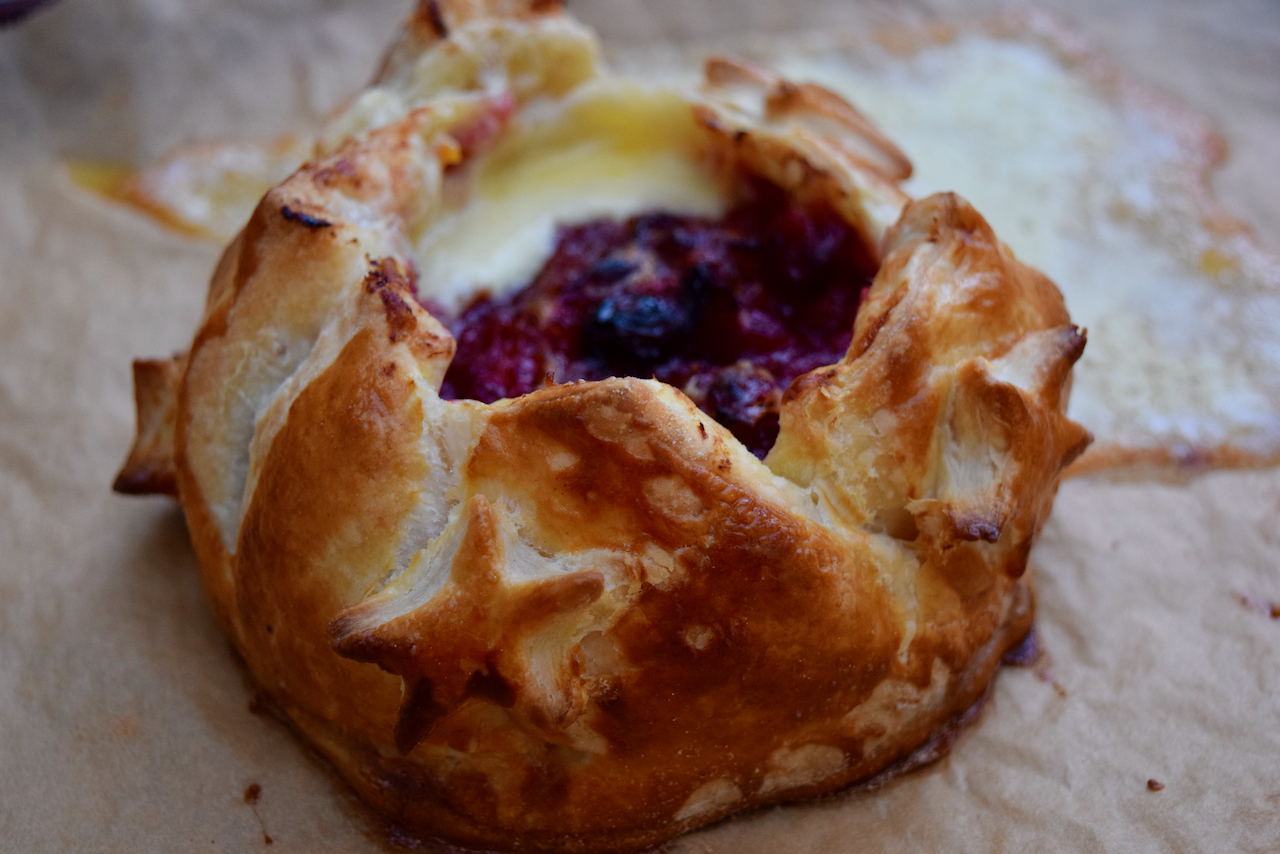 Don't worry if you have some escaped cheese, it adds to the rustic charm *that's my excuse and I'm sticking to it*.
Drizzle your masterpiece with some honey, mine was posh and truffle infused, and serve strewn with a handful of chopped pistachios.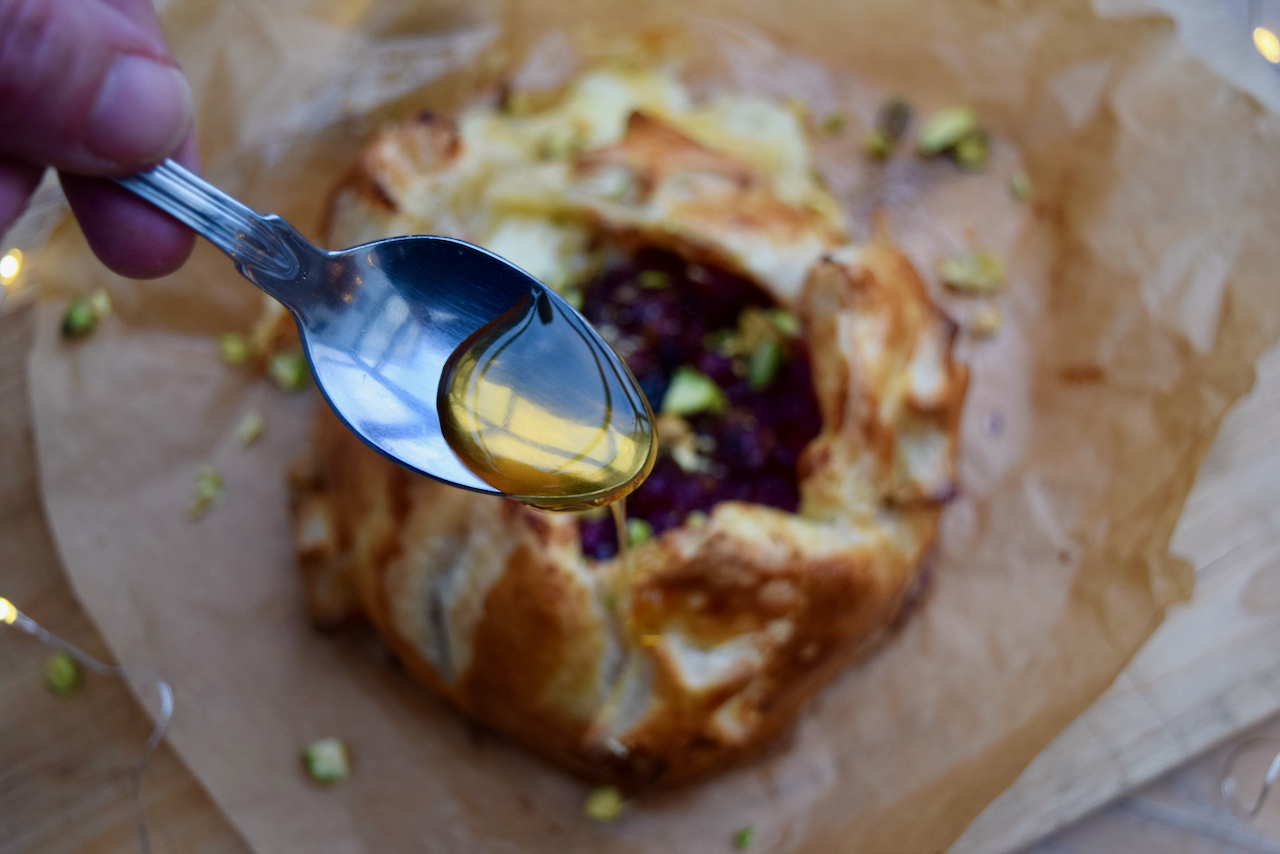 How you and your family *or just you* eat this is up to you. But do wait 10 to 15 minutes before serving to allow the Brie to firm up a tiny bit. Either dip in with the carb of your choice or serve in wedges and eat, with some stringy cheese stuck to your chin.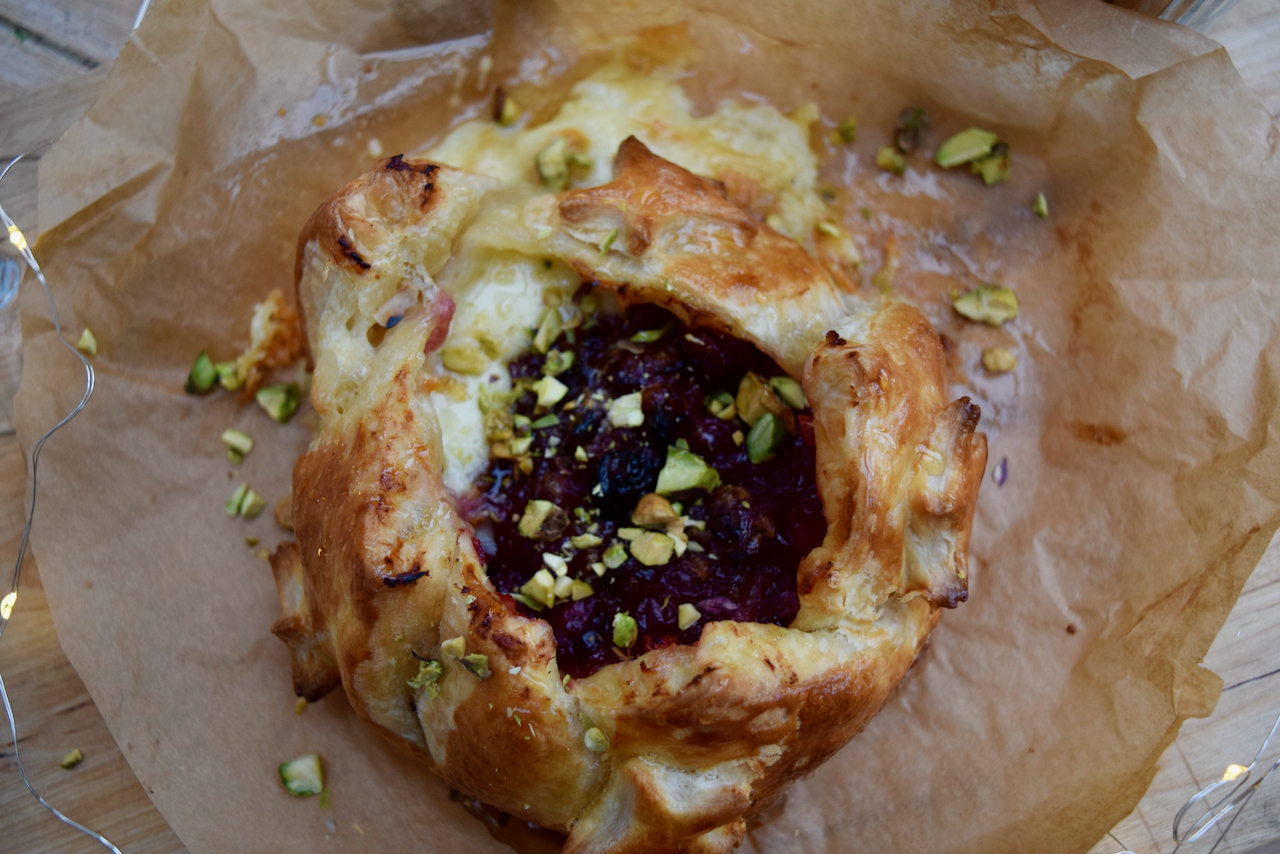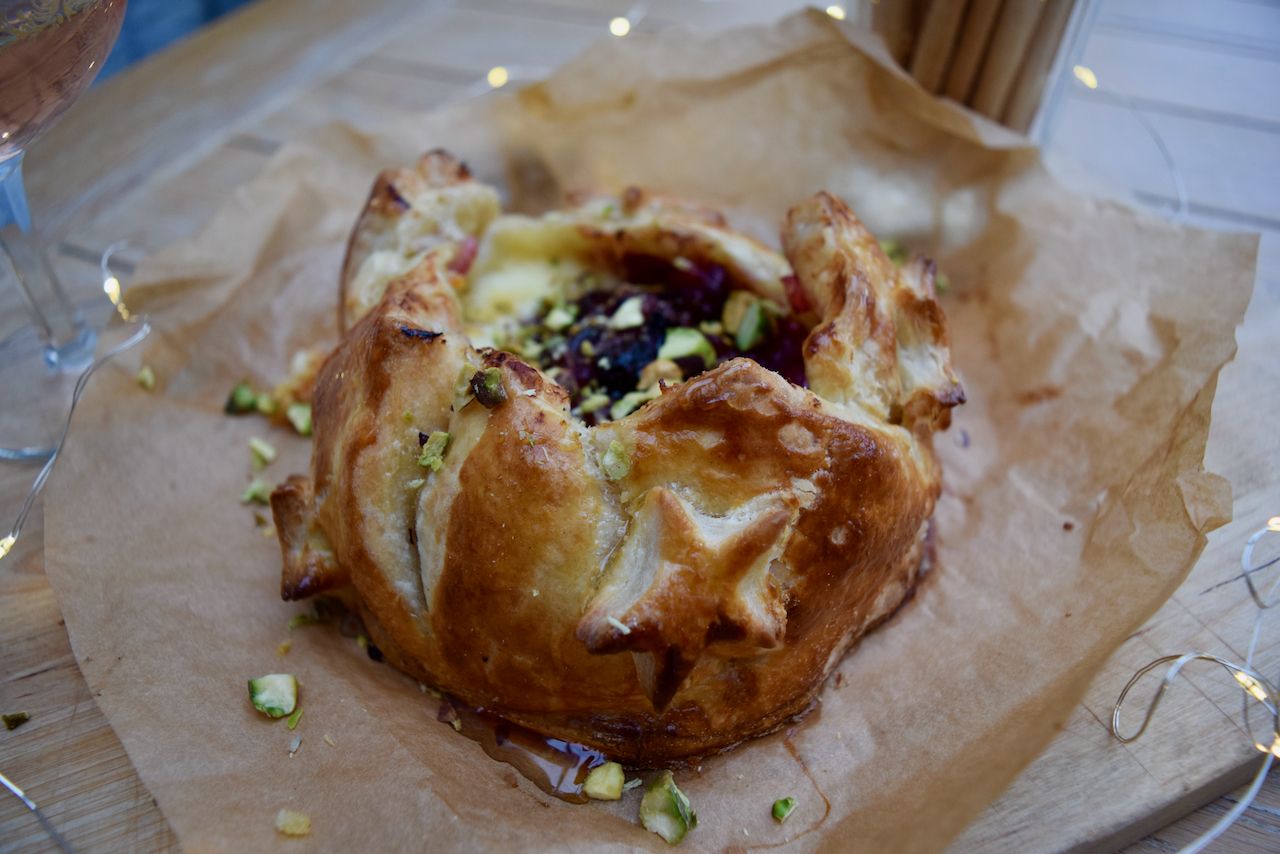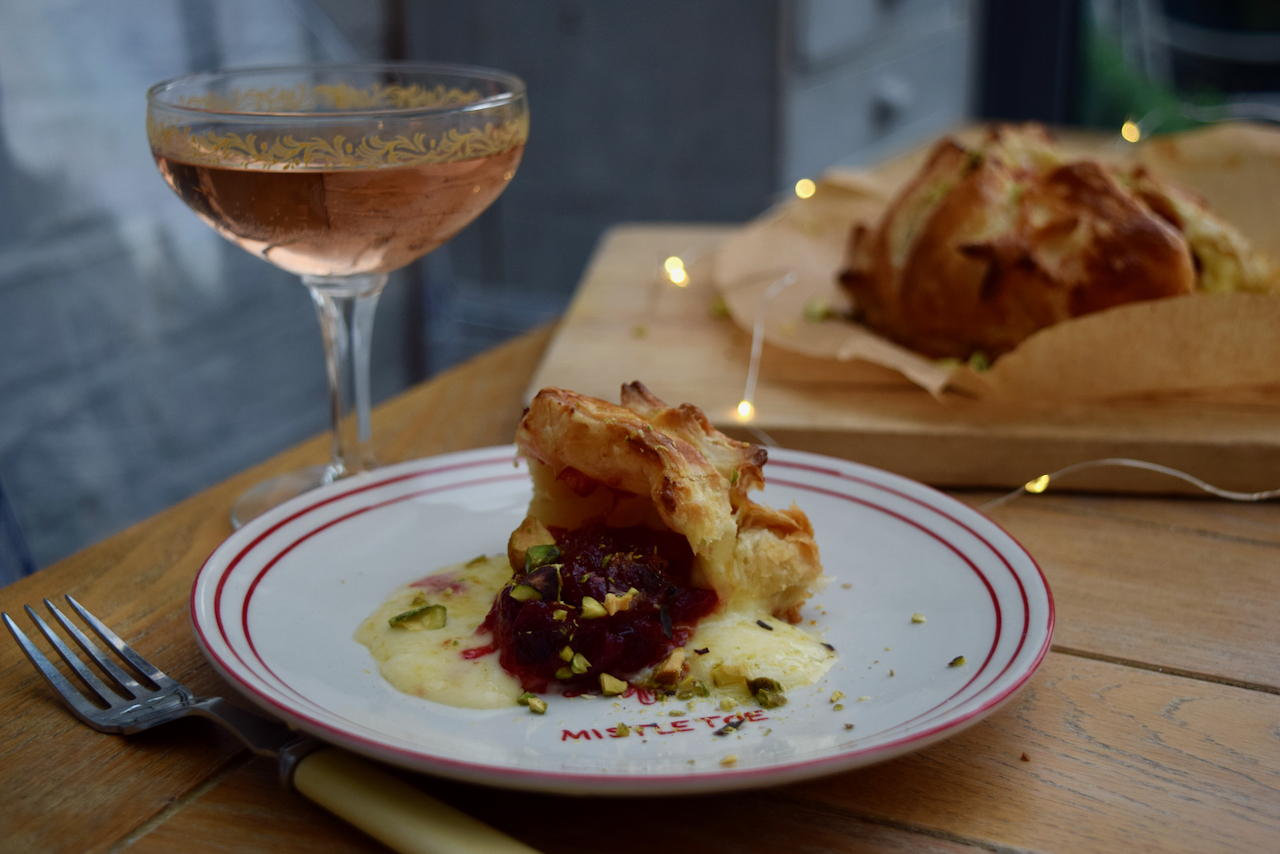 This Baked Brie with Cranberry Jam is your new Christmas best friend. It can be prepped in advance and baked when your guests arrive. You can easily double it too, for bigger numbers. Judging by my sister's response to my mention of this recipe earlier, I am going to be trebling it for my porky family.
Lucy x
Baked Brie with Cranberry Jam recipe
Serves 4 to 6, or 1 if greedy
You won't need any exciting equipment for this
Cranberry Jam
A good sized knob butter
1 large shallot or 2 smaller, or a small onion, finely chopped
100g fresh or frozen cranberries
Zest and juice of an orange
3 tablespoons caster sugar
A good pinch salt
Baked Brie
1 sheet all butter puff pastry, around 200 to 220g, defrosted if frozen
200 to 250g small whole brie, skin on
1 egg, beaten
Chopped pistachios and a drizzle of honey to garnish
Breadsticks, crackers, bread or crostini to serve
Pre heat your oven to 180 degrees fan assisted and line a small baking tray.
For the cranberry jam, take a small saucepan and melt the butter over a low heat. Add the finely chopped shallot and cook for around 5 minutes or until softened and just caramelising.
Mix the cranberries, sugar, orange zest, juice and salt and add this to the shallots. Bring up to the simmer then turn down and cook for around 10 to 15 minutes or until starting to thicken. Turn off the heat and pop in a bowl and leave to cool.
Take the sheet of pastry and place on a floured work surface. Roll out the pre rolled pastry to a square measuring around 11 inches or 28cm. Place the brie in the middle and cut the pastry leaving a border around the cheese of around 10cm. Keep the trimmings. Beat the egg and brush some around the edge of the pastry.
Spoon some of the cooled cranberry jam on to the top of the brie, a layer of around 2cm, you will not use all of it. Keep the rest in the fridge for another day.
Fold the pastry up around the cheese, making sure it is well sealed, in a sort of parcel. Use the trimmings to make pastry stars if you are feeling festive. Egg wash the pastry then stick the stars on and egg them too.
Place in a pre heated oven for around 30 minutes or until the pastry is golden and the cheese is oozing. Leave to cool for around 10 to 15 minutes before serving. Drizzle with some honey and a handful of chopped pistachios. Use breadsticks, bread or crackers for dipping or cut into wedges and eat with a fork or your hands, with plenty of napkins.
If you are making this in advance, you can pop the pastry covered cheese, without eggwash, in the fridge for at around 24 hours.