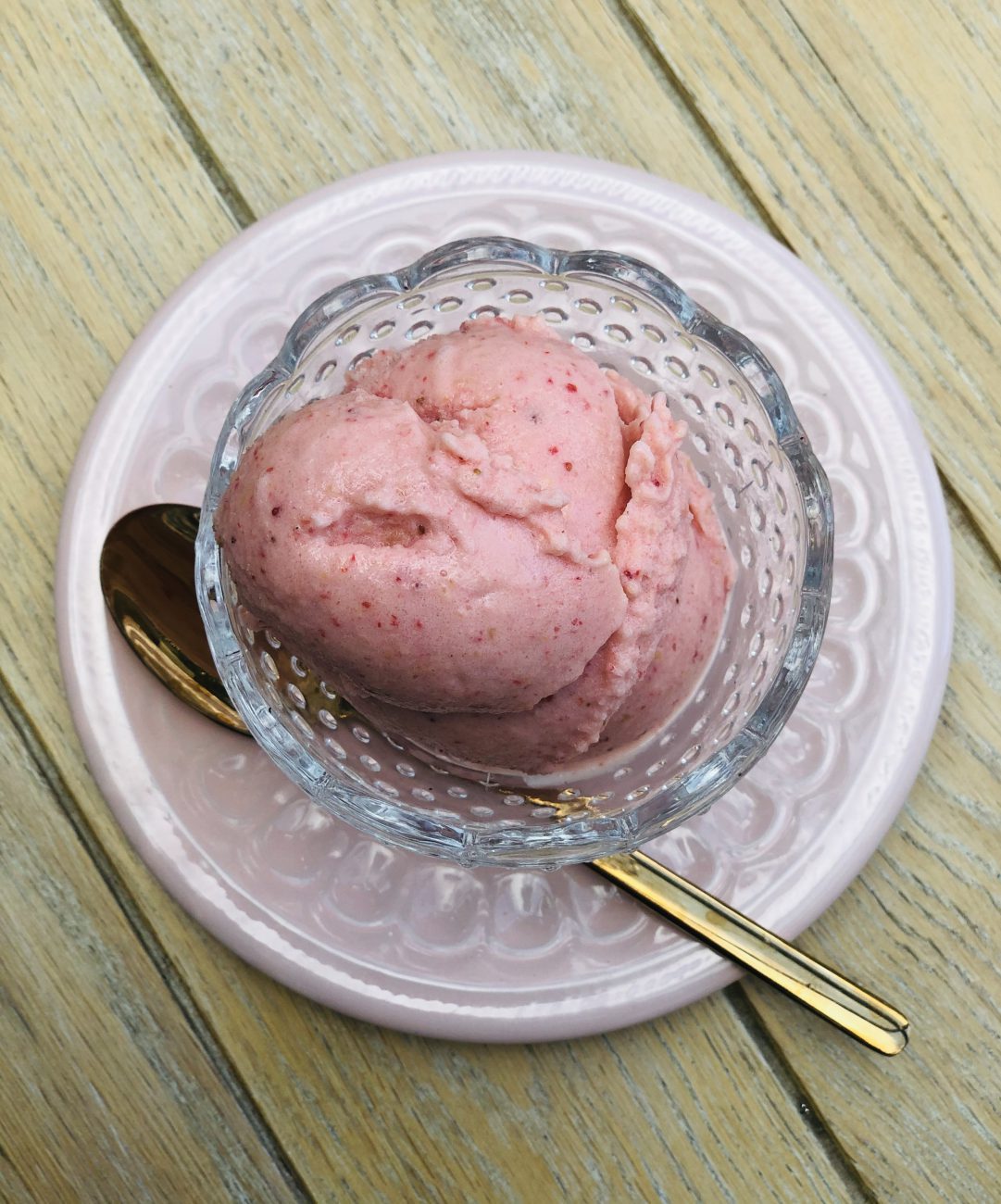 Super Quick Frozen Fruit Yoghurt Recipe
I am filling my days trying to satiate the appetites of 3 hungry men. Apparently puddings are expected now too, so if you're in the same boat as me, this Frozen Fruit Yoghurt is an almost instant dessert and tastes amazing.
So far since lockdown we have eaten like Princesses. Two course dinners every night with some fairly gourmet lunches too. That said, we've just lurched through week two, so next week may be a different story. Clyde said he's more than happy if I want to move onto Fray Bentos steak and kidney pies and tinned potatoes *rude*. This Frozen Fruit Yoghurt can be made with pretty much any yoghurt you have in your fridge and any selection of frozen fruit you have in your freezer. I had a rogue bag of frozen nectarines and some strawberries and these tasted fab together. I also have cranberries, but fear they are not quite right for this as they are so sour. Frozen bananas are also super; if you added a couple of tablespoons of peanut butter to the mix, no one would judge you.
Here's the video of me making it, but if you can't be arsed to watch it *please watch it and subscribe to my channel, don't make me beg*, here are the ingredients and other guff for your delectation.
Super Quick Frozen Fruit Yoghurt Recipe
Serves 4, or one if you don't tell your family it's in the freezer
You will need a food processor or fairly sturdy blender
250ml yoghurt, I used plain Greek yoghurt but I imagine any old yoghurt would do
350g to 400g frozen fruit, I have endless half bags in my freezer but choose any you have like bananas, strawberries, nectarines, pineapple, etc, etc
4 to 6 tablespoons maple syrup or honey, depending on the tartness of your fruit
1 teaspoon vanilla extract
Add the yoghurt, fruit (I used half frozen nectarines and half strawberries), maple syrup and vanilla to your food processor. Process or blend until you have a sorbet like consistency. Scrape down the sides and process one last time until everything is well blended and reasonably smooth.
Spoon the frozen yoghurt into a freezer proof container. You can either eat it straight away for a soft serve style dessert or freeze for an hour or so to firm up. If you're freezing it for any length of time, then it will need to soften out of the freezer for about 15 to 20 minutes before serving.