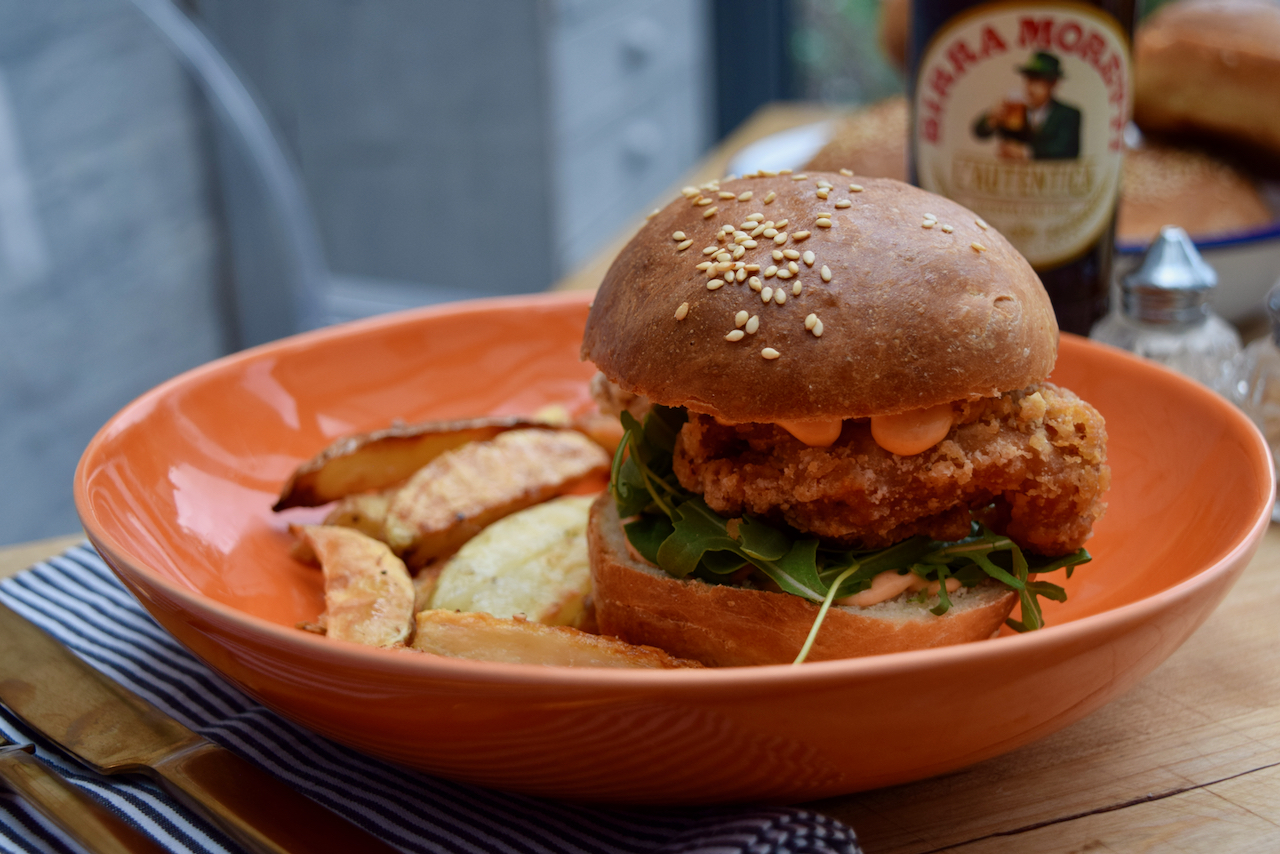 Crispy Fried Chicken Burger Recipe
I am becoming a total lockdown bore. Like the rest of the world, we're talking about nothing else. We are also adapting the way we live to suit the current restrictions. Some of them good, some of them not so good. I am doing a lot of Zoom based workouts, I am reading so many books, I'm blogging and taking long walks with the dog. On the down side I am worrying about the future, about my family and eating and drinking for Britain. And the food I want to eat is not healthy salads and stir fries, it's Crispy Fried Chicken Burgers.
With more time on my hands we're literally eating like Princesses in our house. Baked goods on tap, puddings after most meals and hardly any more dustbin pasta suppers. These Crispy Fried Chicken Burgers were born out of our love of a weekly takeaway. This brilliant Bon Appetit inspired recipe is so simple, it won't seem at all dramatic to make. Simply marinate the boned chicken thighs briefly while you prepare your burger add ons. I over achieved and made my own burger rolls, but then I was too lazy to go and queue at the supermarket. Mix up some Sriracha mayo, chop up some lettuce then coat your chicken in corn flour and fry. Not as far to walk and so much more delicious than a takeaway.
We do make some healthy choices in our house, just not every night. We all need tiny victories in life, particularly at the moment, and this Crispy Fried Chicken Burger is most certainly one of those.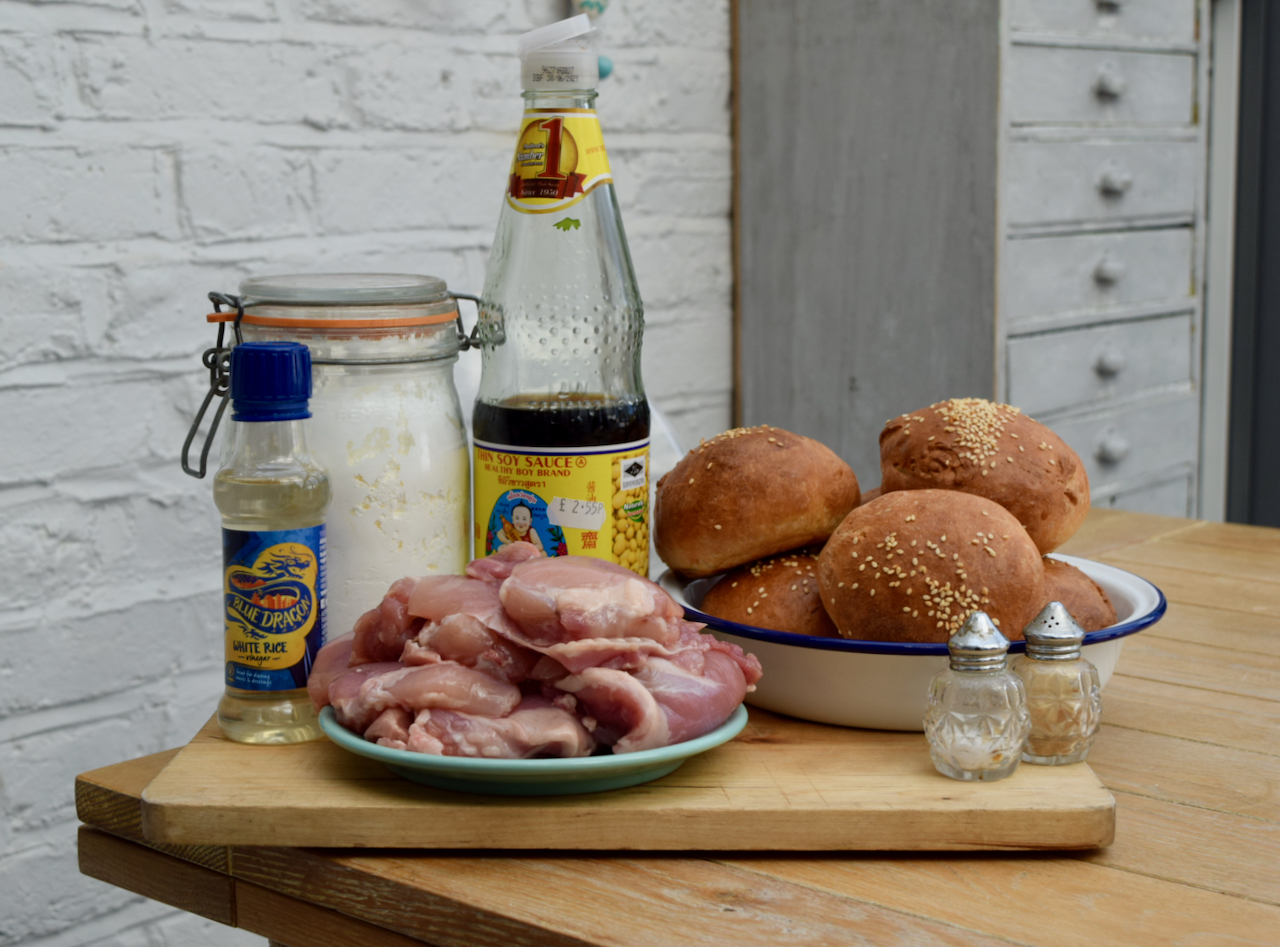 So little to achieve Crispy Fried Chicken heaven. Don't feel you have to make your own buns, shop are also good. If you did want to, however, and have the yeast to spare, I am totally in love with Nigella's dinner rolls recipe.
Start by pre-heating your oven to keep the chicken warm later. Then take a sealable food bag and measure in the soy and rice vinegar. Pat your boned chicken thighs dry with some kitchen paper, then add them to bag. Season with salt and pepper.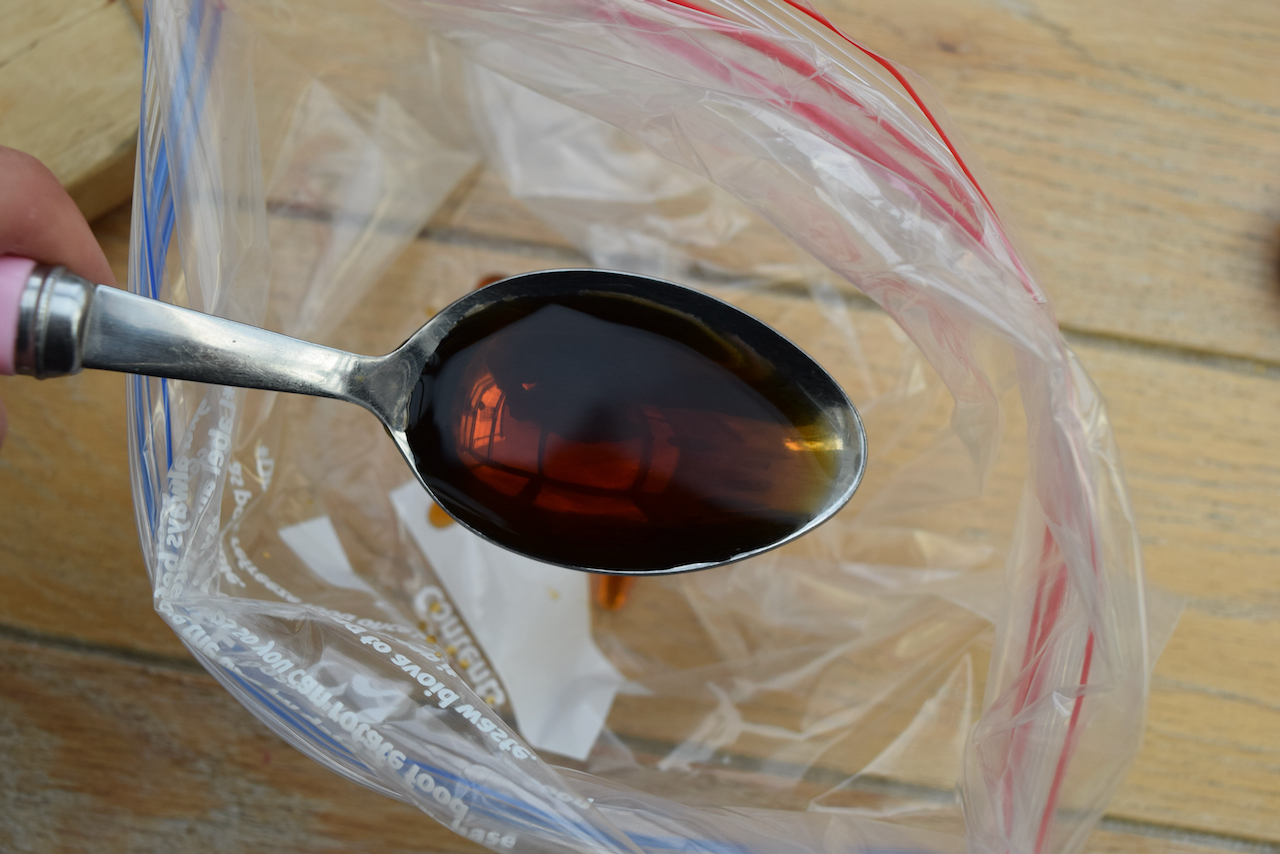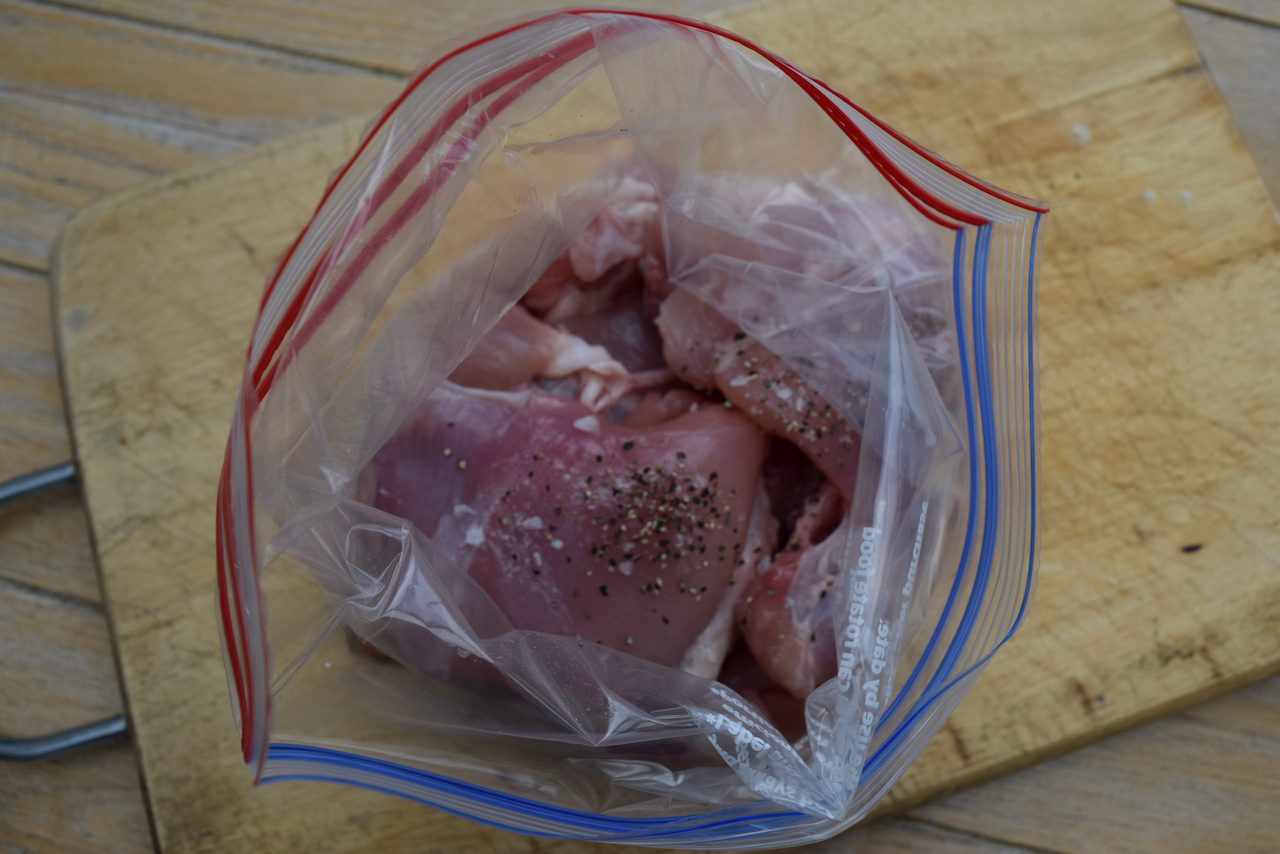 Let the air out of the bag, seal, then squidge everything around to coat the chicken. Pop this to one side while you heat the oil and prep your sides.
For the Sriracha Mayo, simply stir the two ingredients together.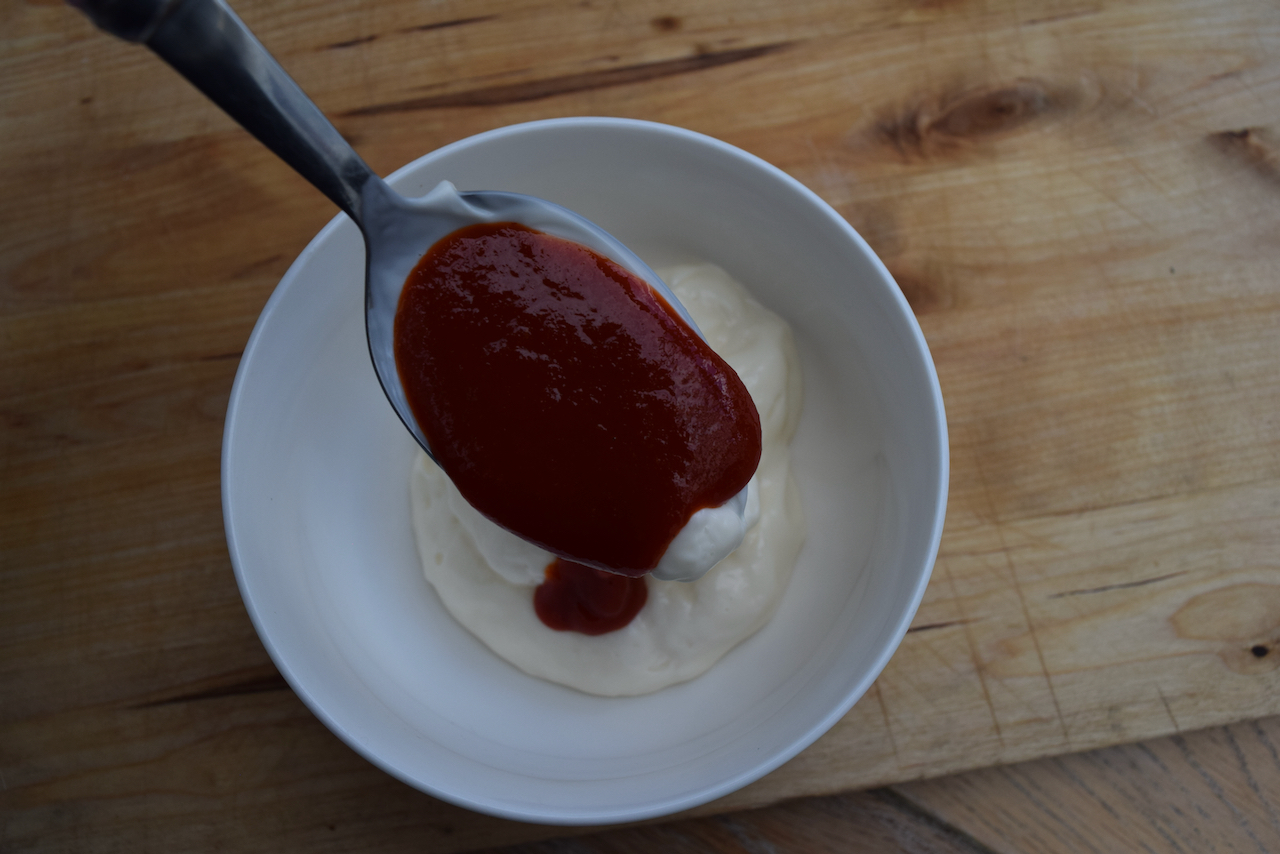 Split your buns, forage in the fridge for some leaves then put the oil on to heat up. About an inch and a half in a deep saucepan should be fine. Keep an eye on it whilst it comes up temperature. The oil is hot enough when a breadcrumb sizzles when you drop it in.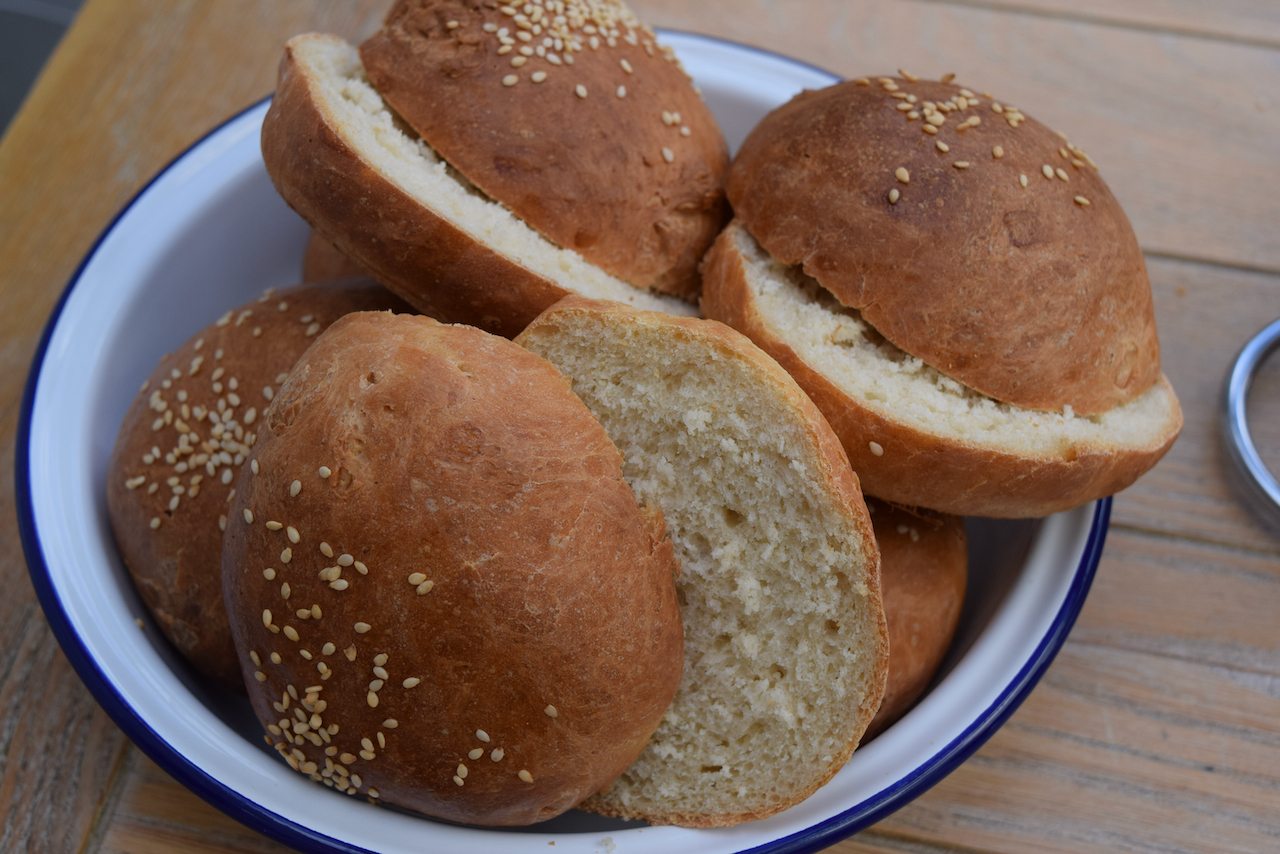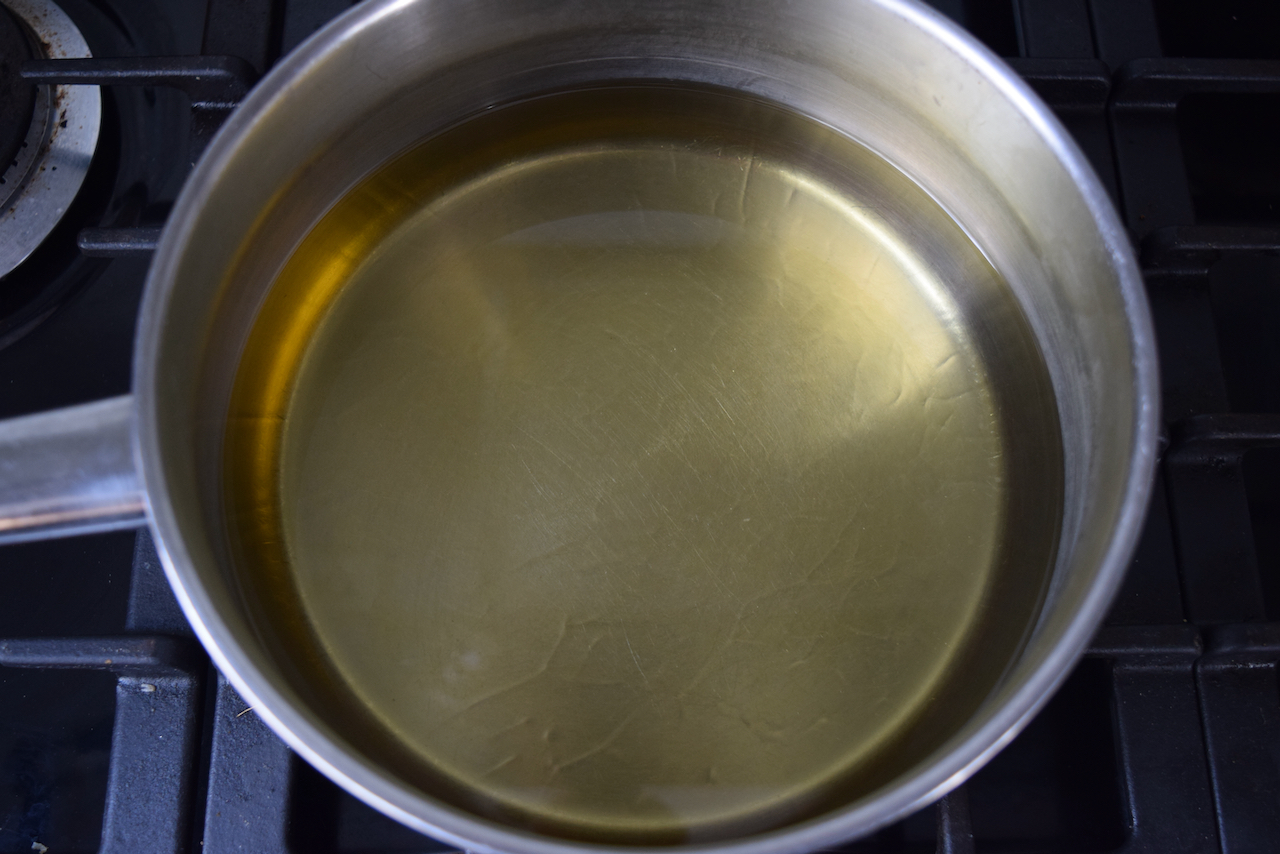 While this heats up, using tongs to shake off any excess marinade, remove the chicken from the bag and put into a bowl.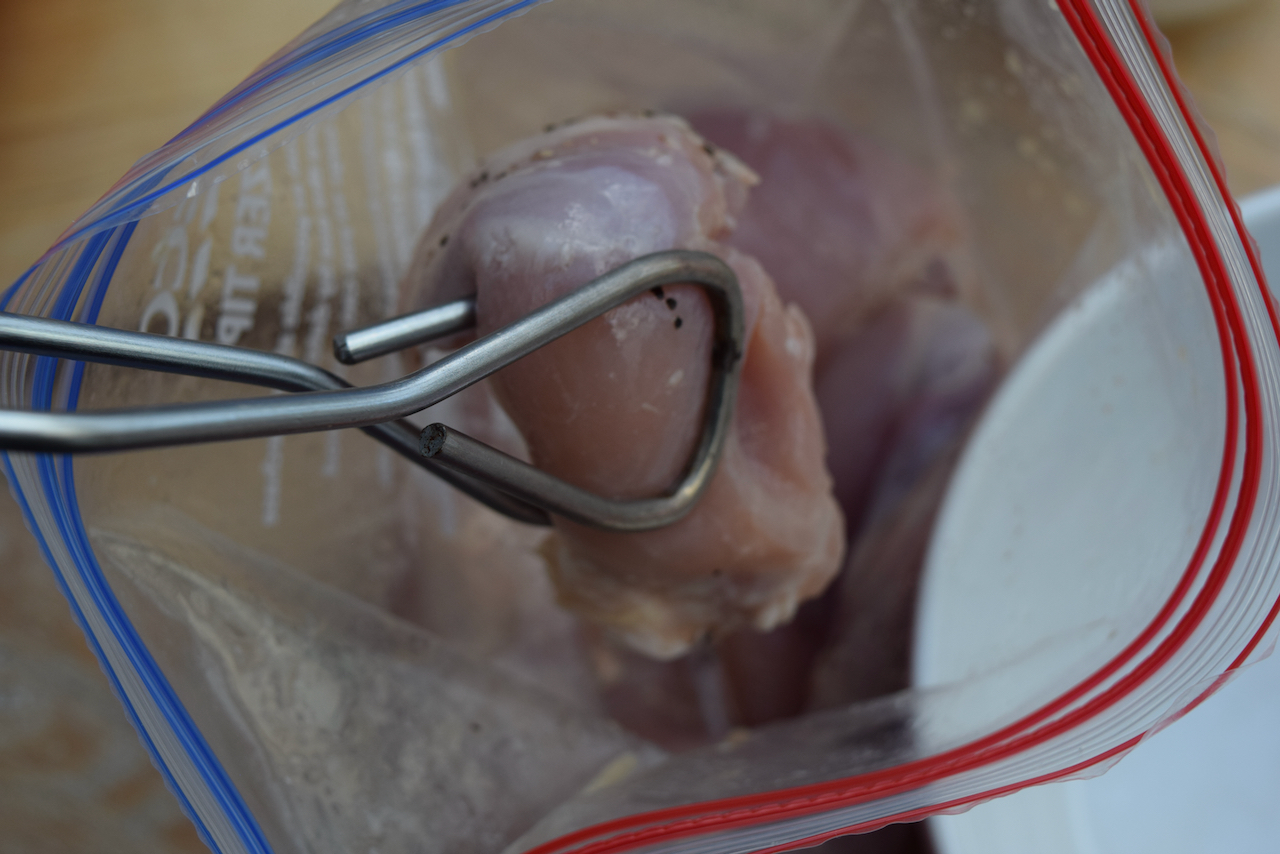 Sprinkle on the cornflour then toss around to ensure the chicken is coated.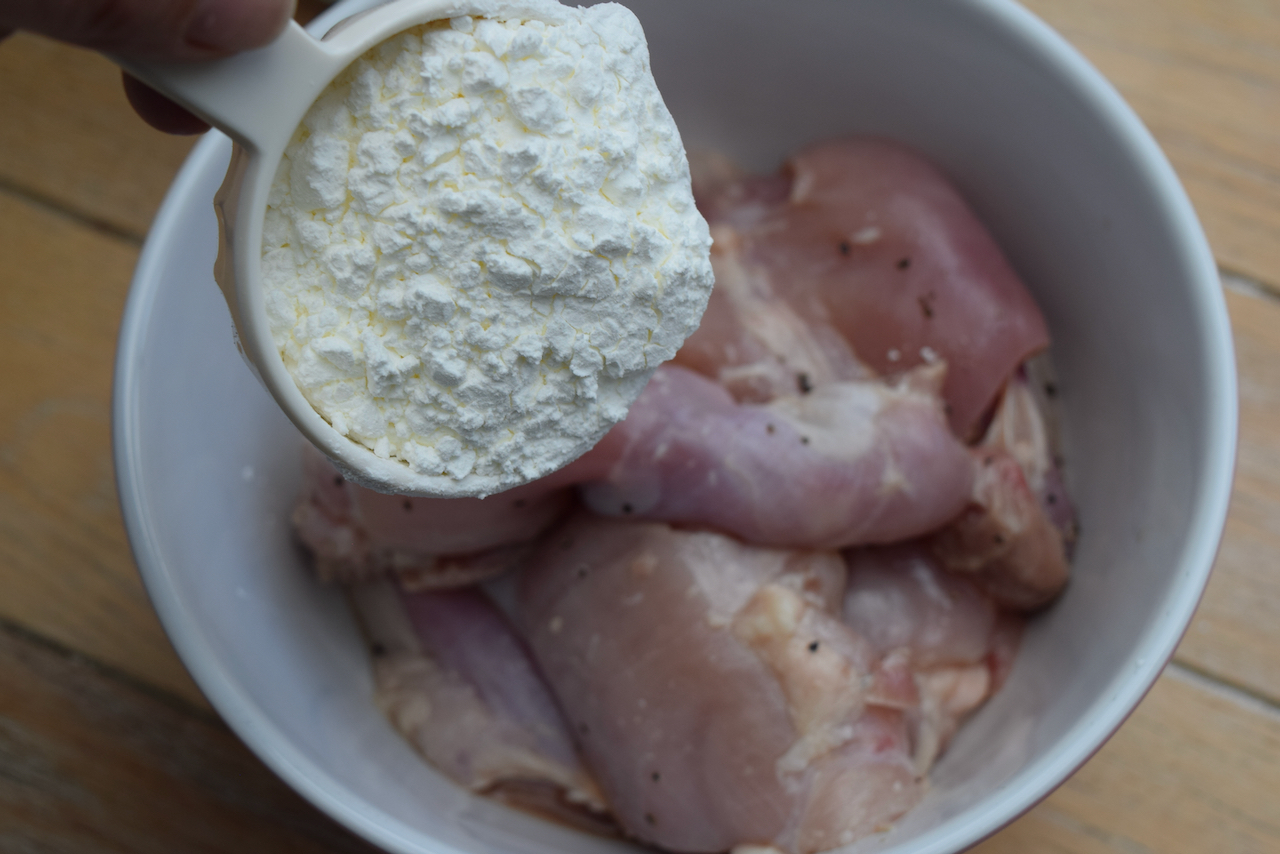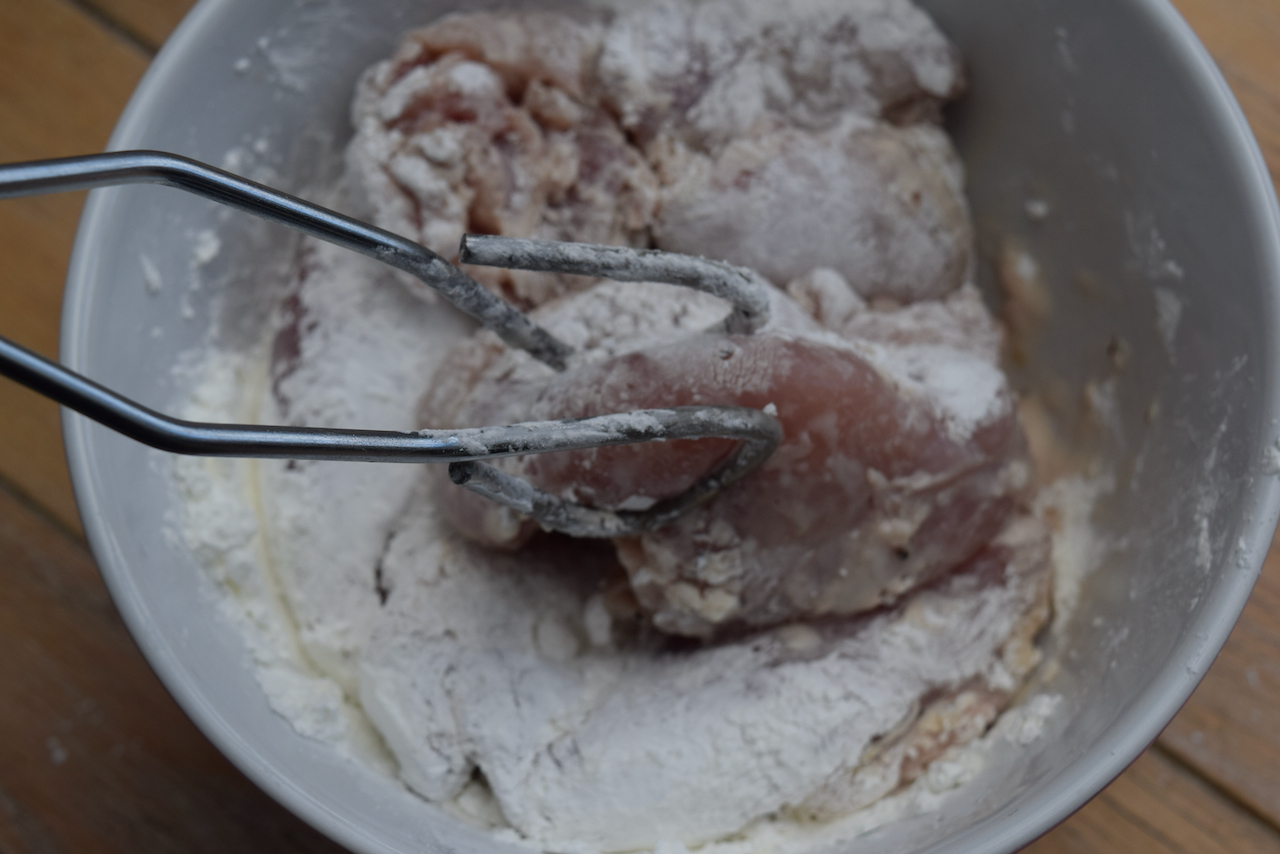 When your oil is hot, carefully place your chicken in the oil, a couple of pieces at a time.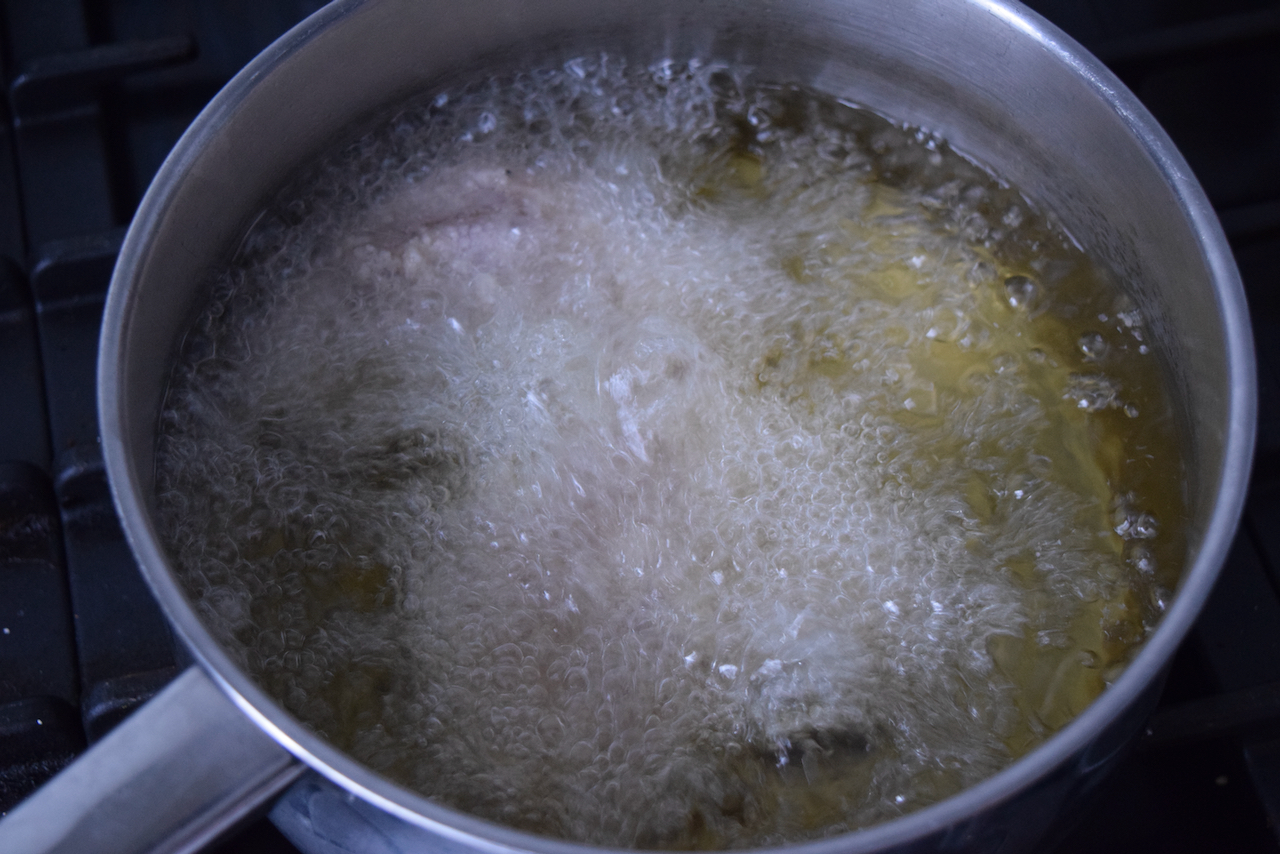 Keep turning the chicken as it cooks, so you get an even, crisp, golden brown. This will take between 5 and 8 minutes. Not unlike myself, I had odd shaped thighs, so the timings will vary.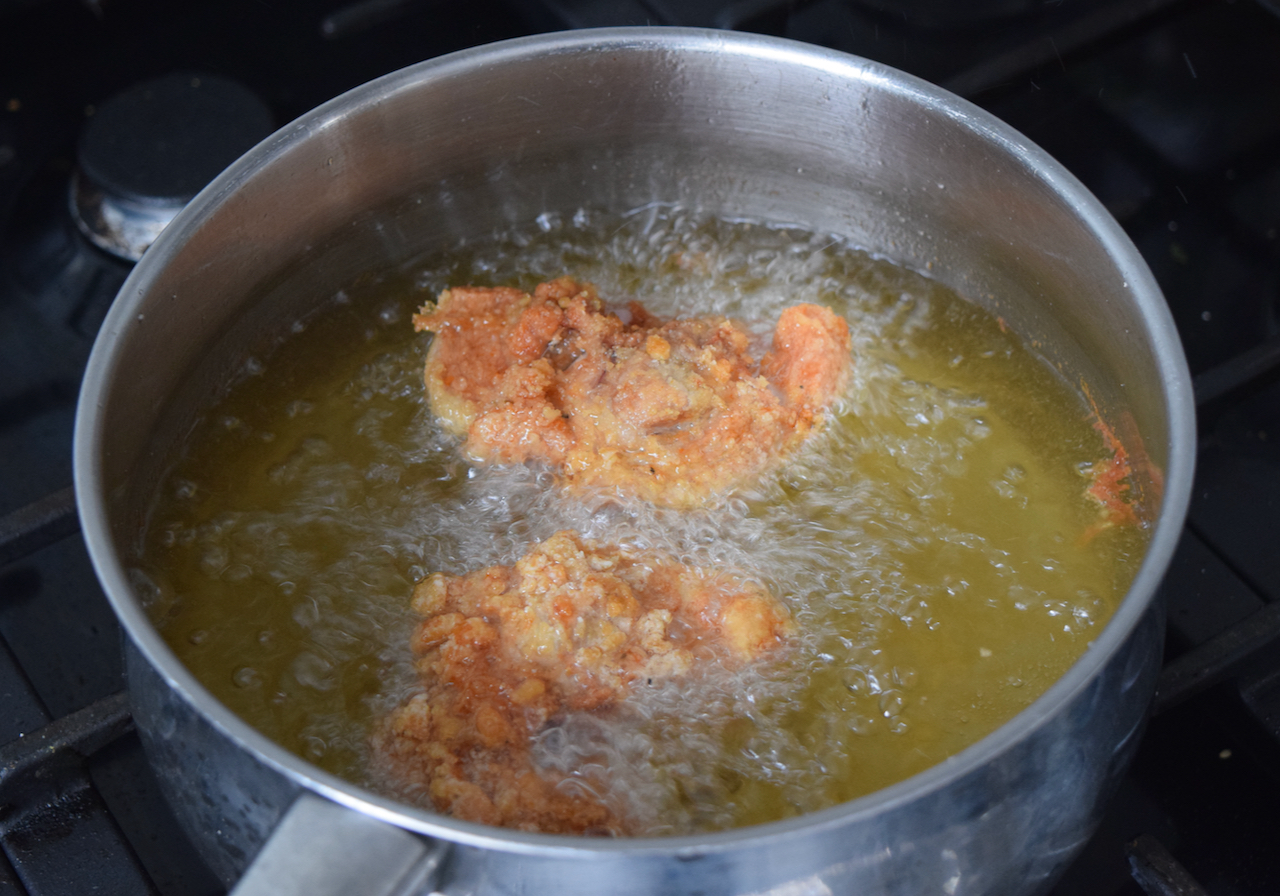 Place your cooked chicken in the oven on a wire rack to keep warm while you finish frying the rest.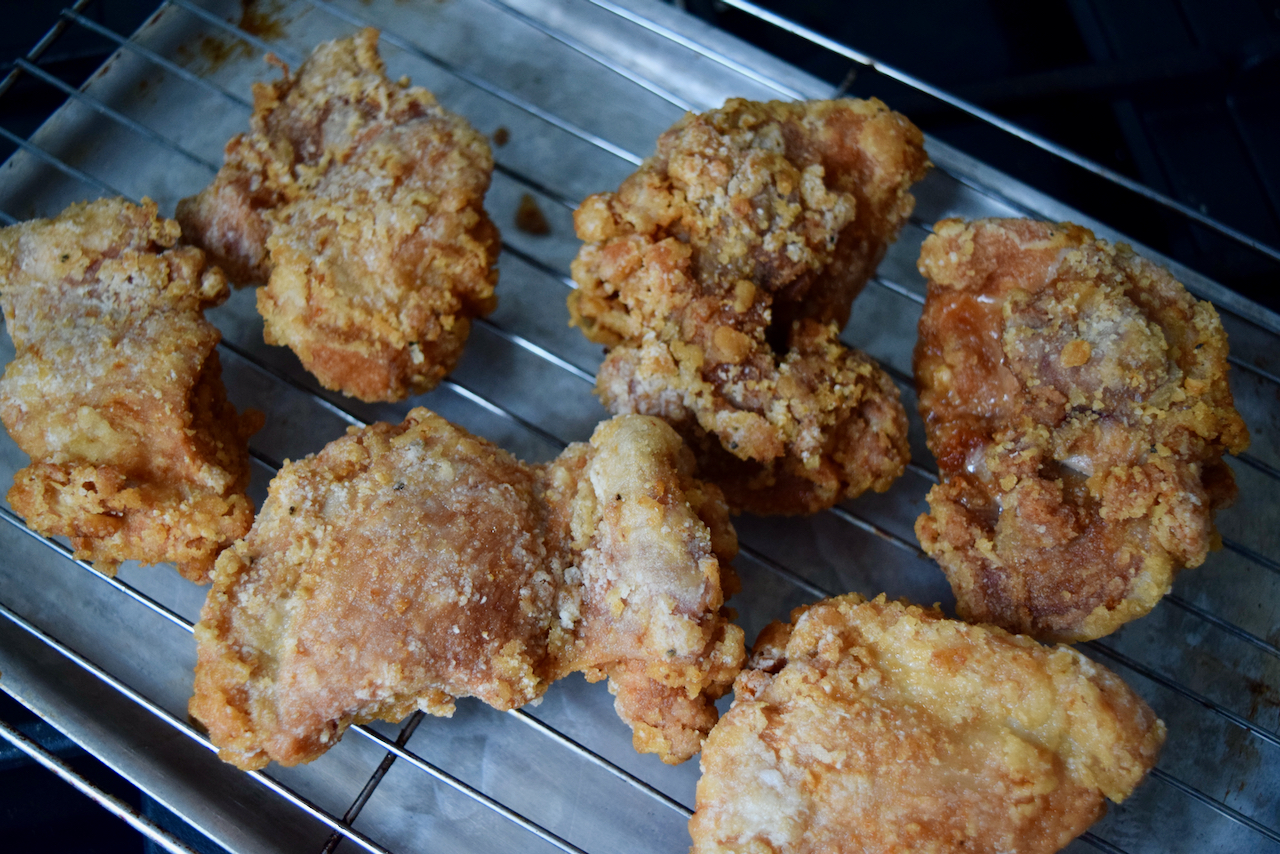 When all your thighs are golden and crisp you're ready to assemble these masterpieces. Slather your buns with Sriracha mayo and add some foliage.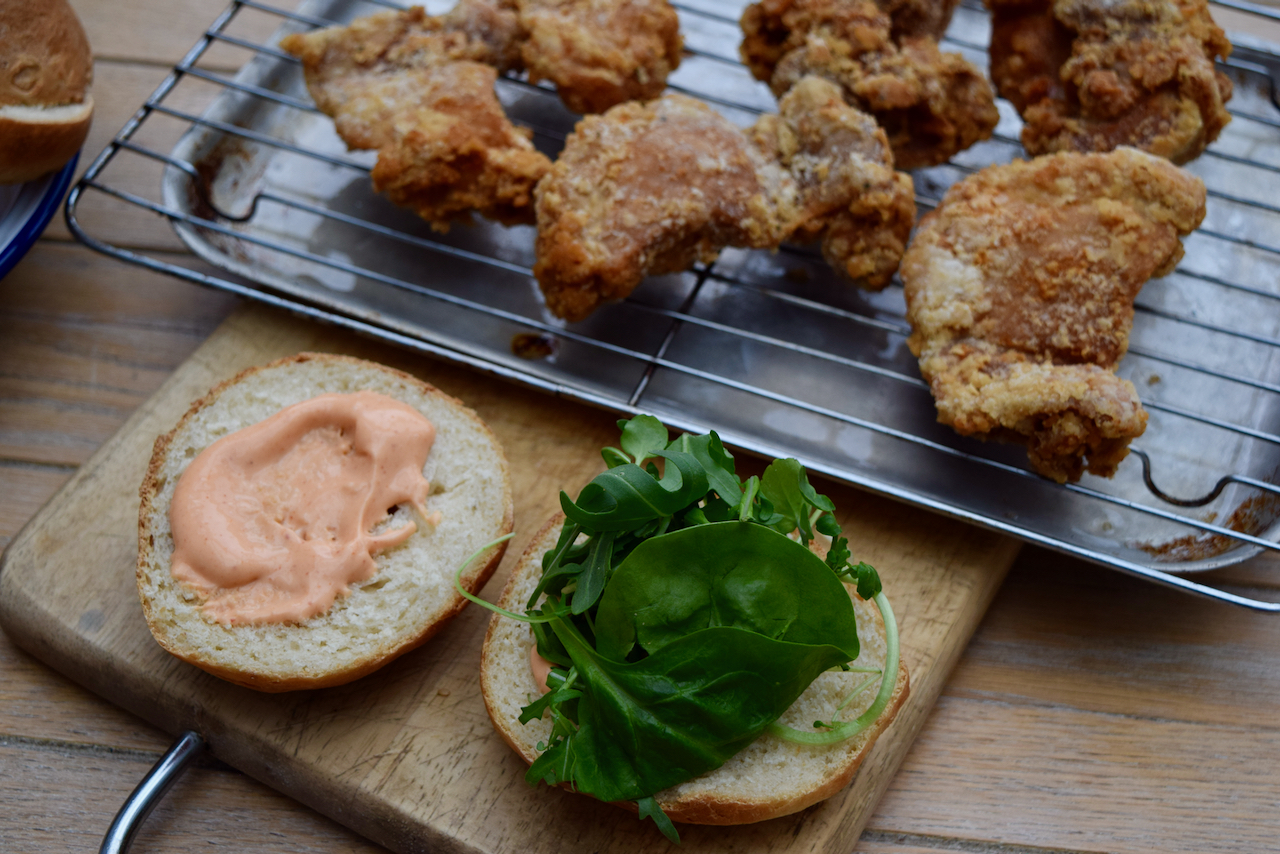 Tuck in and fall in love with the crispiest chicken burger ever.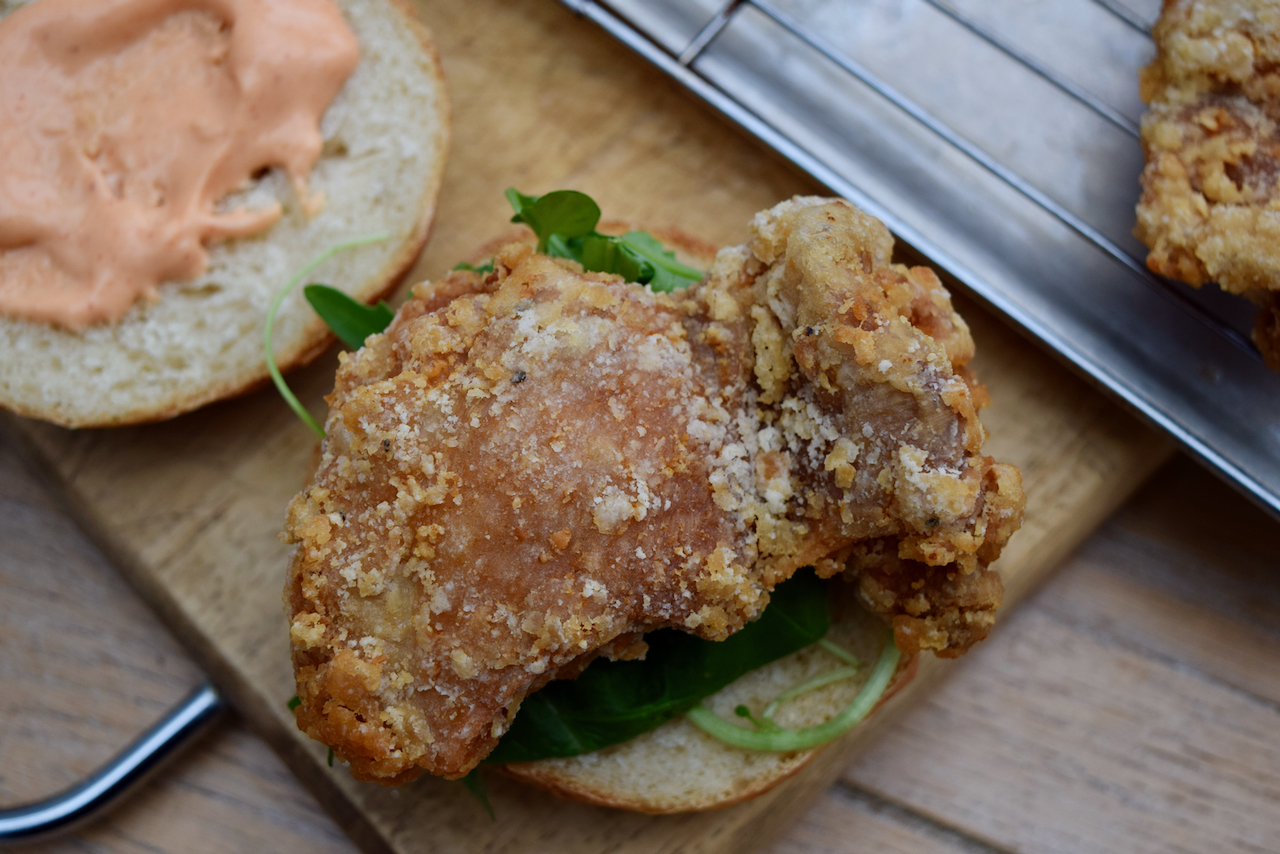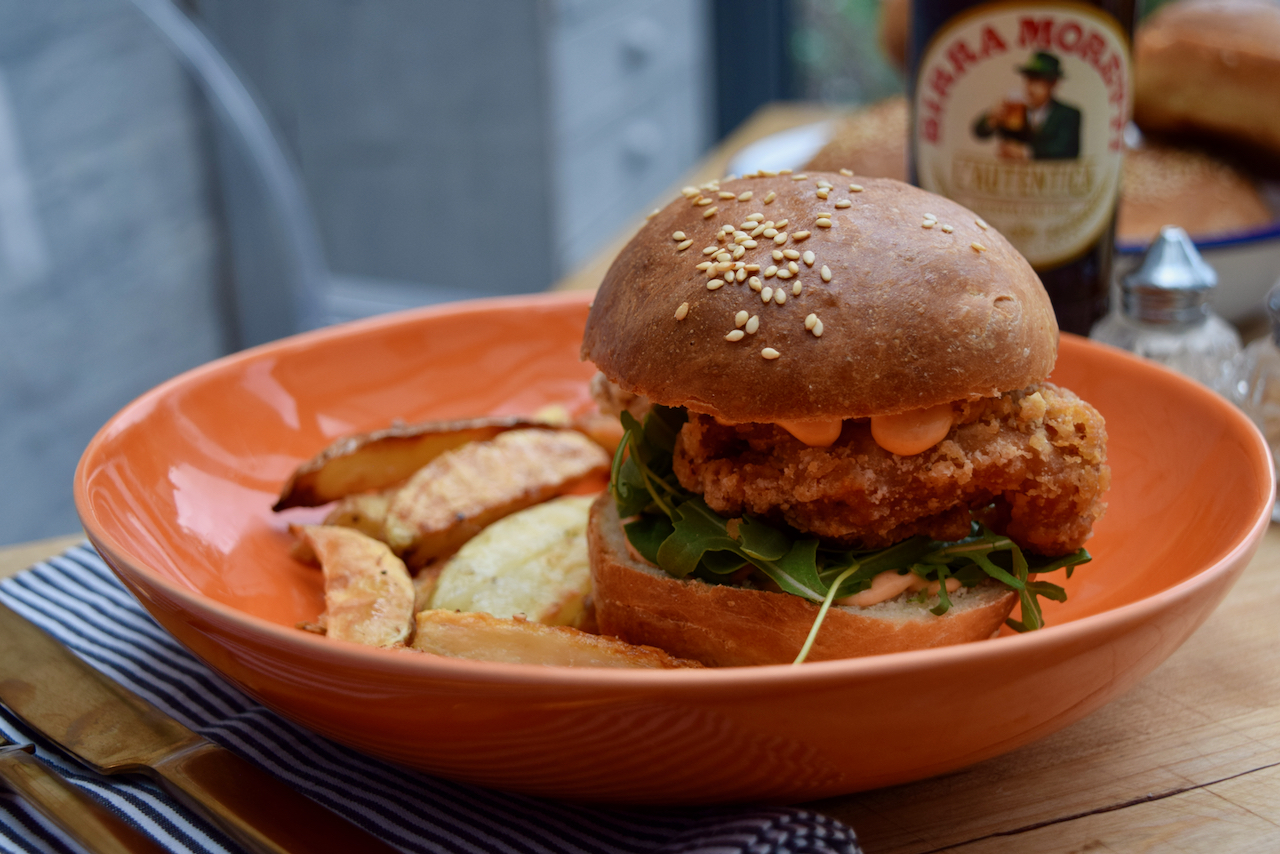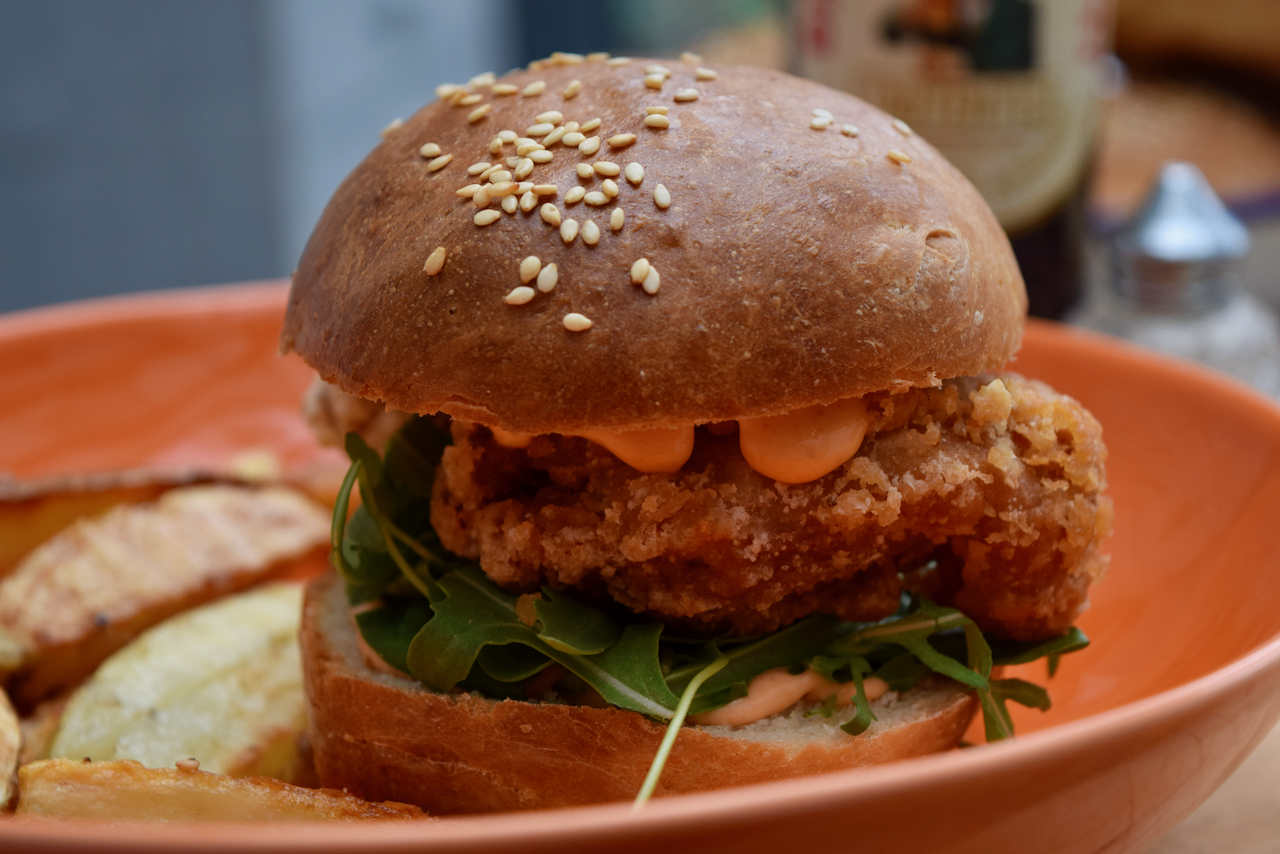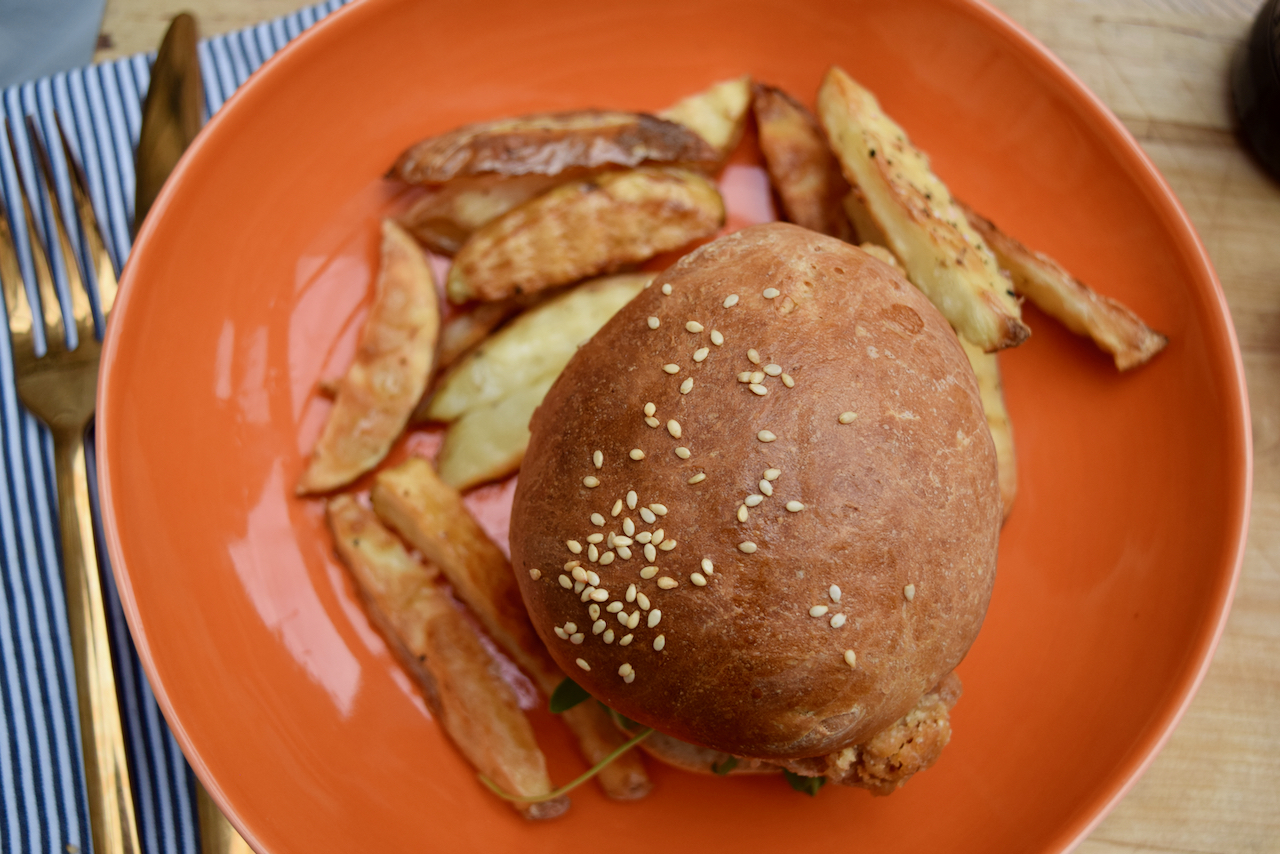 I do spend most of my time thinking about what we eating for our next meal. It's comforting and is something we can all look forward to at a time when things to look forward to are a little thin on the ground.
Lots of crispy fried chicken love to you all.
Lucy x
Crispy Fried Chicken Burger Recipe
Serves 4 to 6, appetite dependent
You will need a deep pan for deep frying
6 boneless chicken thighs
3 tablespoons soy sauce
2 tablespoons rice vinegar
salt and pepper
65g cornflour
Vegetable or sunflower oil for frying
Sriracha Mayo
125ml mayonnaise
2 tablespoons Sriracha
Burger rolls, lettuce, cheese and or sauces of your choice and chips, to serve
Pre heat your oven to 100 degrees for keeping your chicken warm later.
Take a food safe bag and measure in the soy sauce and rice vinegar. Pat your boneless chicken thighs dry then add these to the bag. Add salt and pepper to season then, letting the air out, seal the bag and squidge the thighs around. Leave this to marinade whilst you prepare the rest of your meal.
For the Sriracha Mayo, mix the mayonnaise and Sriracha until well blended. Pop to one side. Pop some chips in the oven and split your burger rolls. Have some lettuce to hand.
Take a large saucepan and pour in around a couple of inches of oil. Heat over a medium flame until a breadcrumb sizzles when dropped in. Keep an eye on the oil whilst heating, don't leave unattended.
When you're ready to fry your chicken, remove from the food bag with tongs and drop into a large bowl. Sprinkle on the cornflour and toss to coat each piece of chicken.
When your oil is up to temperature, place each piece of chicken in the hot oil, I cooked 2 pieces at time, for around 5 to 8 minutes, dependent on the size of your thighs. Keep the chicken moving to ensure it's browning evenly. Once the pieces are golden, crisp and cooked through, remove to a wire rack on a tray and keep warm in your pre heated oven. Continue with the rest of the chicken.
Assemble your burgers with a slathering of spicy mayo on the top and bottom of your roll, add leaves, if you like, then pop in a piping hot piece of fried chicken. Tuck in.