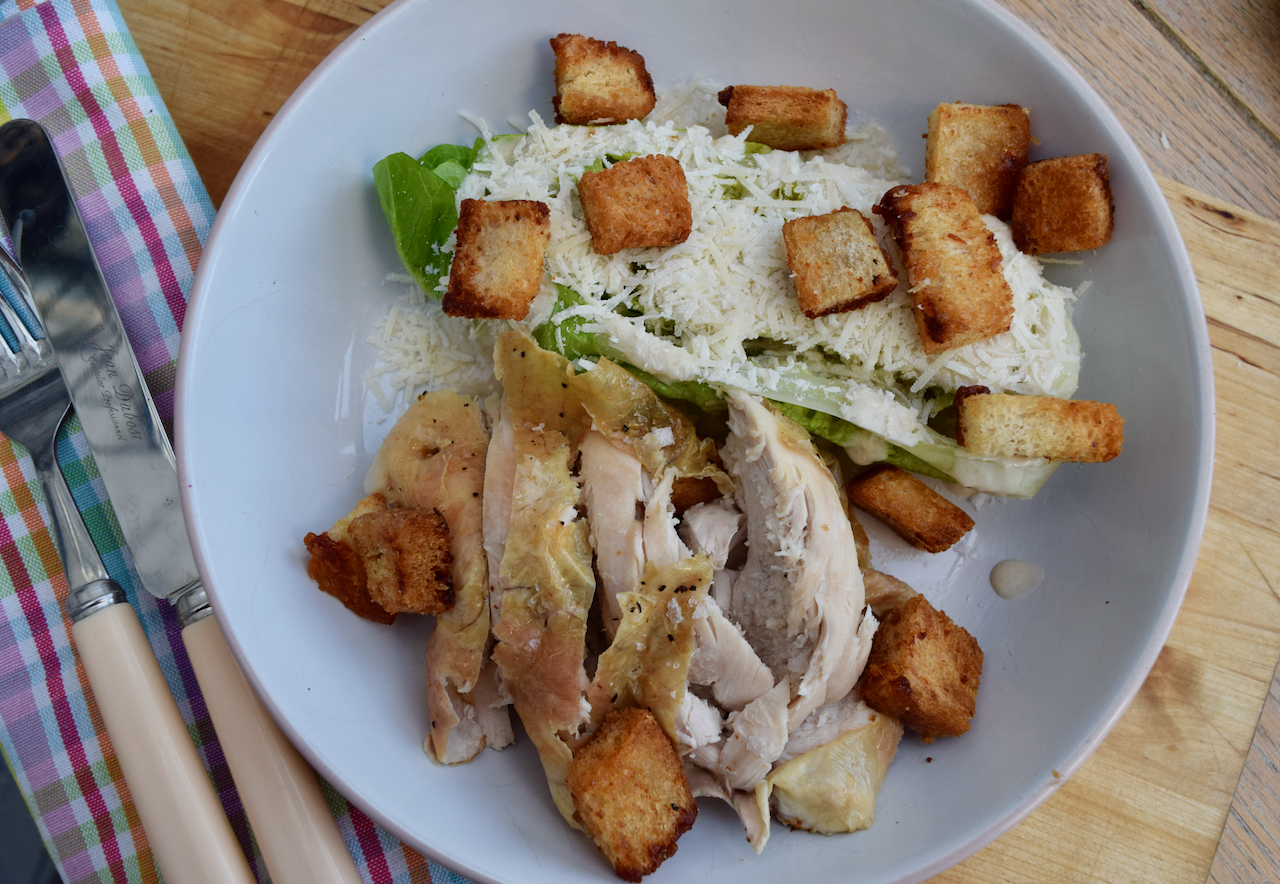 Roast Chicken Caesar Salad Recipe
Yet again, this post is a-something-out-of-nothing style recipe. Last weekend, faced with another chicken for our Sunday supper, I decided to go off piste. Admittedly it's the arse end of salad season but in my mind, there's always time for a Caesar Salad. And when you make one where the croutons are roasted around the chicken so they are crisp and full of chicken goodness, it's suddenly salad season all year round.
I posted a mediocre photo of our supper on my Instagram stories, but the mere mention of chicken fat croutons got plenty of drool based emojis. This Roast Chicken Caesar Salad is utter simplicity. Don't panic at the thought of making your own Caesar dressing; it's mayo based, with some garlic, grated parmesan and I keep a little tube of anchovy paste in my fridge just for this very recipe. You can whisk the dressing up while the chicken roasts, and other than that there's just a bit of lettuce arrangement. The croutons are tossed in the chicken juices around your roast and crisped up in the final 15 minutes. Make a lot of them, you can never have enough chicken fat croutons in your salad.
Ok, so George didn't eat the salad part, but you can't please everyone. He was happy enough with the chicken and the croutons. This simple dish is really all about the croutons. And a lot of them.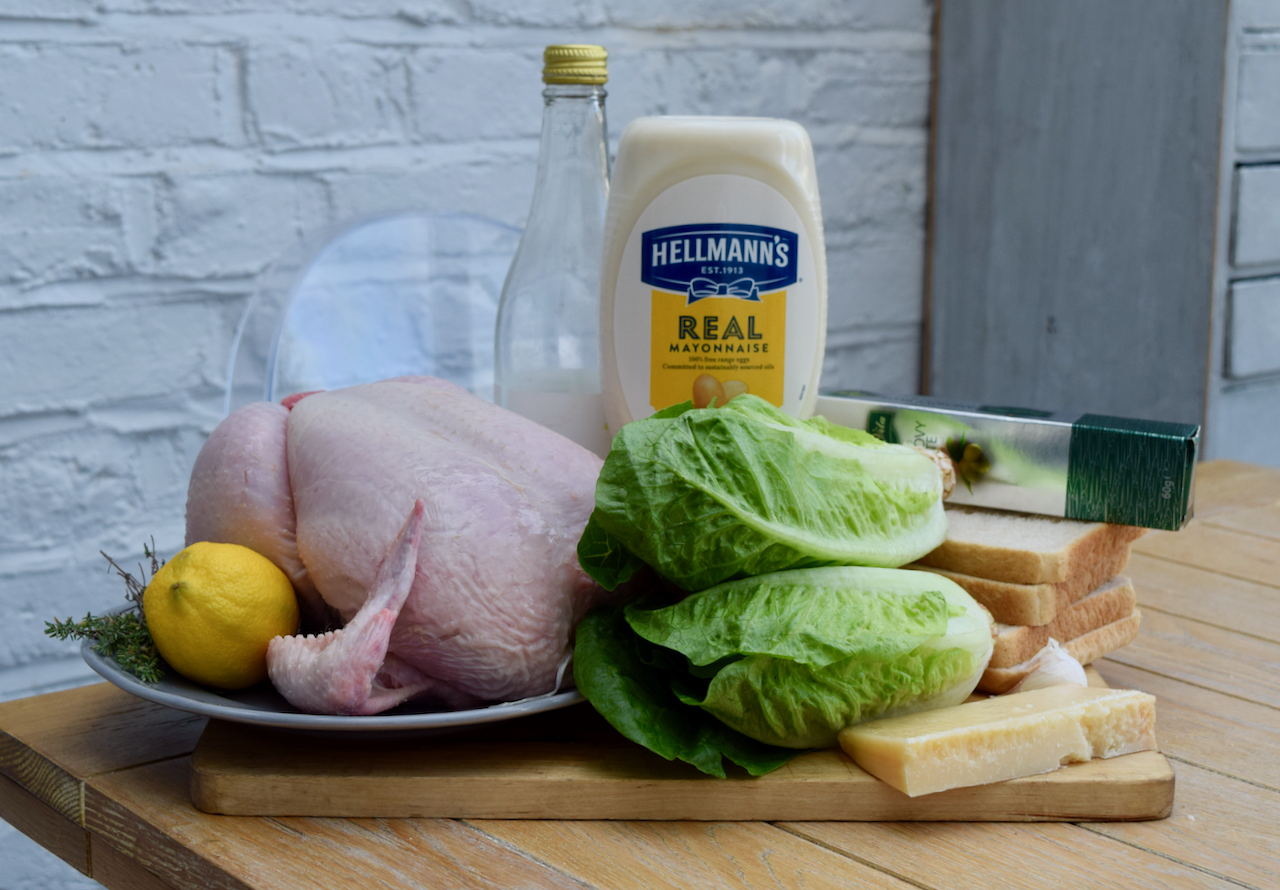 Here are the stars of my salad show. A lovely great big chicken to start with. I roasted mine in my usual way; herbs and a lemon up it's arse with plenty of olive oil and salt and pepper. You can cook yours the way you like if you'd prefer.
Make a start with the chicken, so pre heat your oven to 170 degrees fan assisted and pop your chosen bird into a roasting tin. If you're going with the herbs and lemon option pop these into the cavity, douse with olive oil and season generously with plenty of salt and pepper.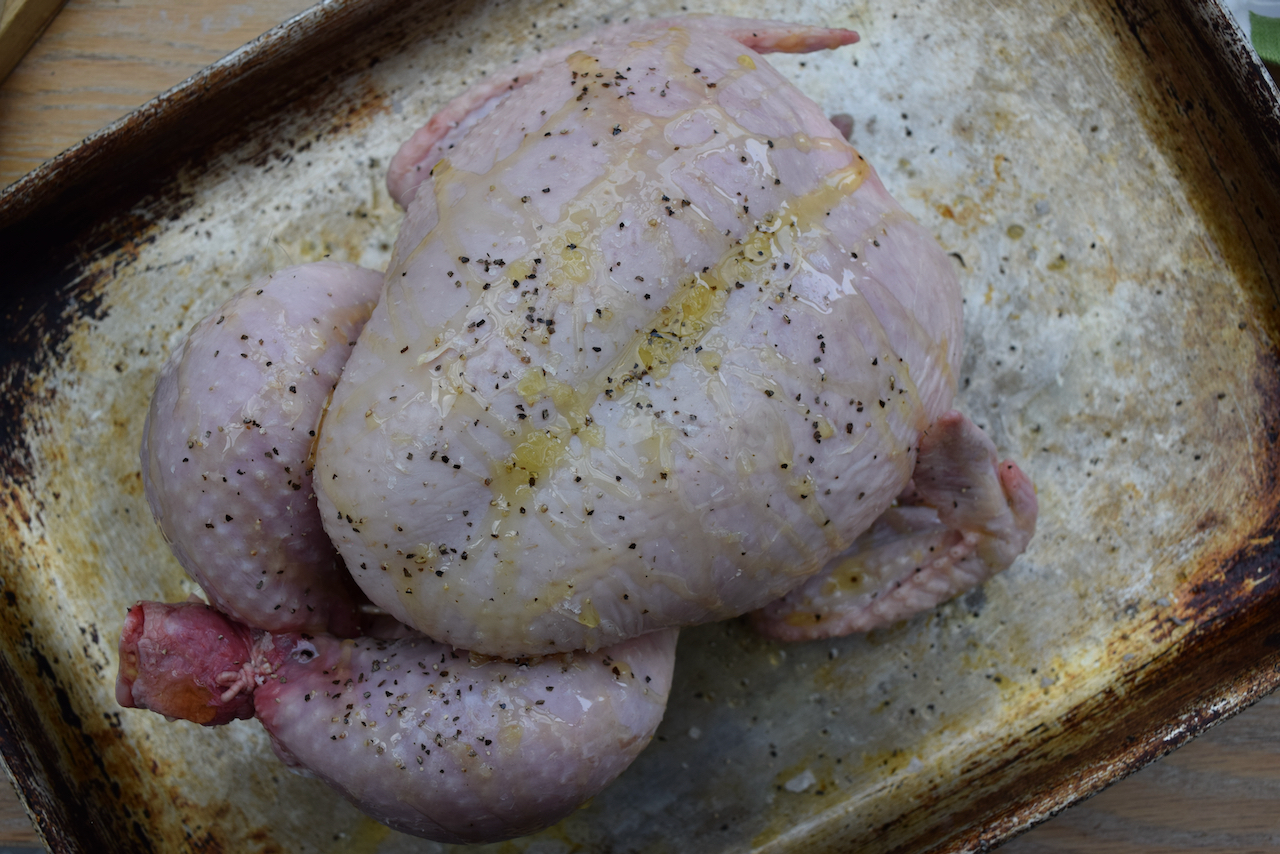 Pop the chicken in the oven for an hour and fifteen minutes. While this is cooking, crack on with the croutons. Chop or tear your generous 4 slices of bread into crouton sized pieces and put in a bowl for later.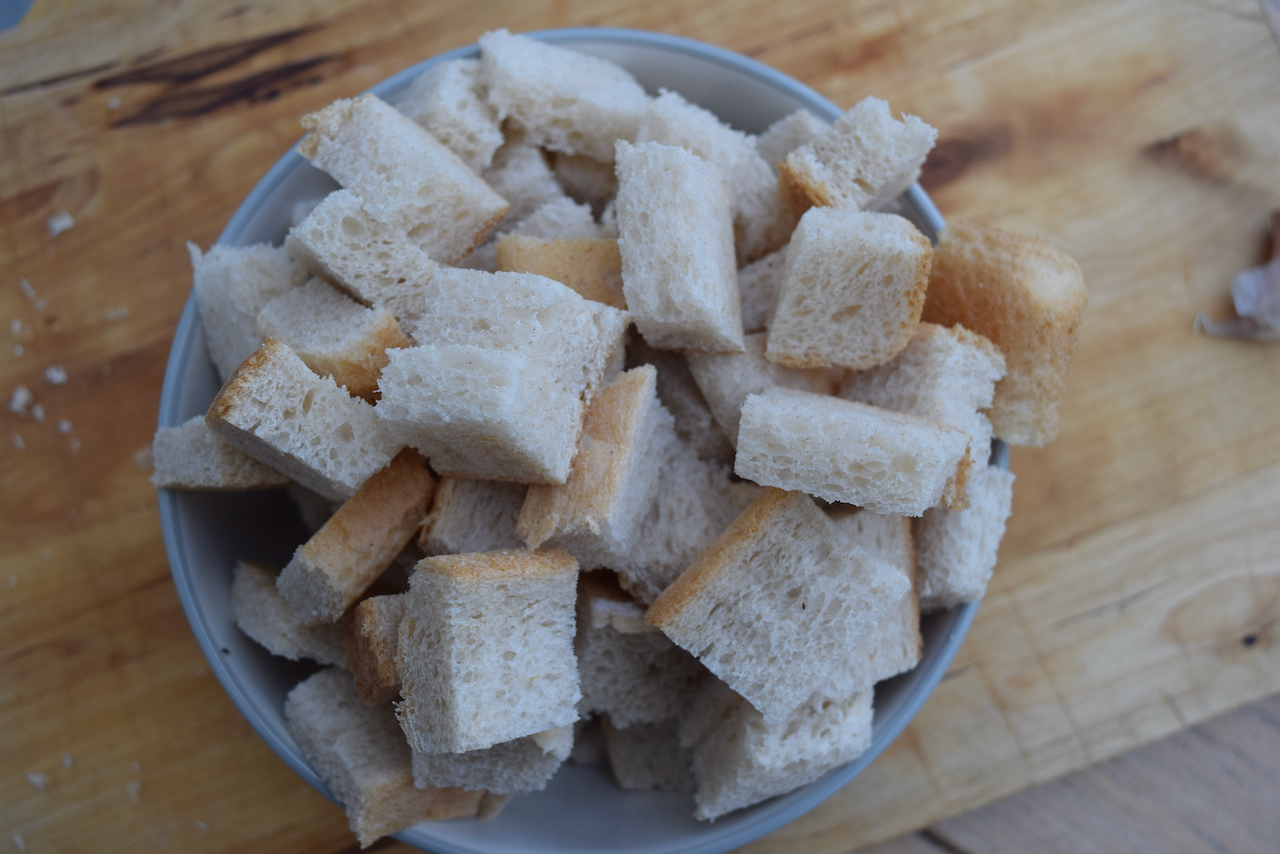 Now for the minimal effort dressing. Add the mayo to a jug along with white wine vinegar, a squeeze of anchovy paste (or two chopped anchovies from a tin if you'd prefer) and the crushed garlic. Give it a little whisk then add the parmesan and stir through.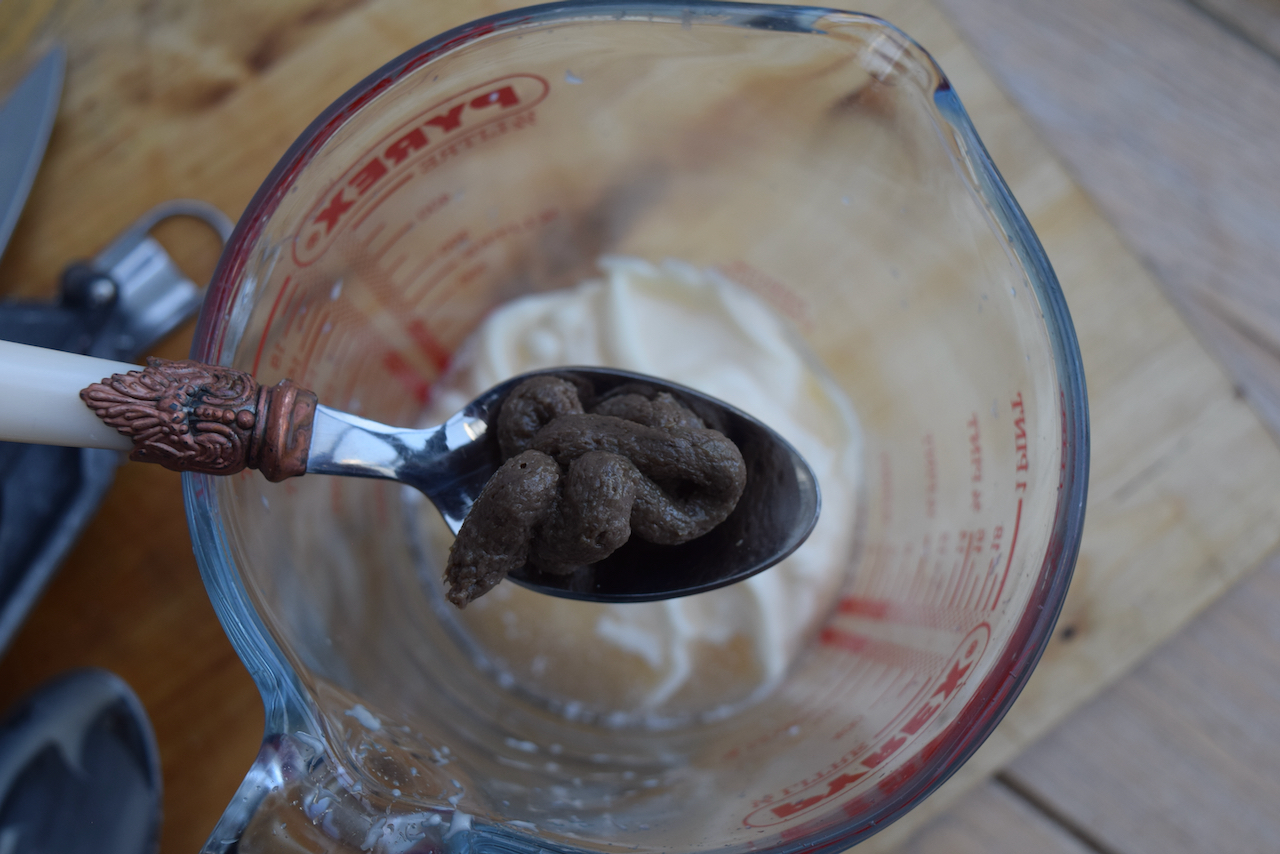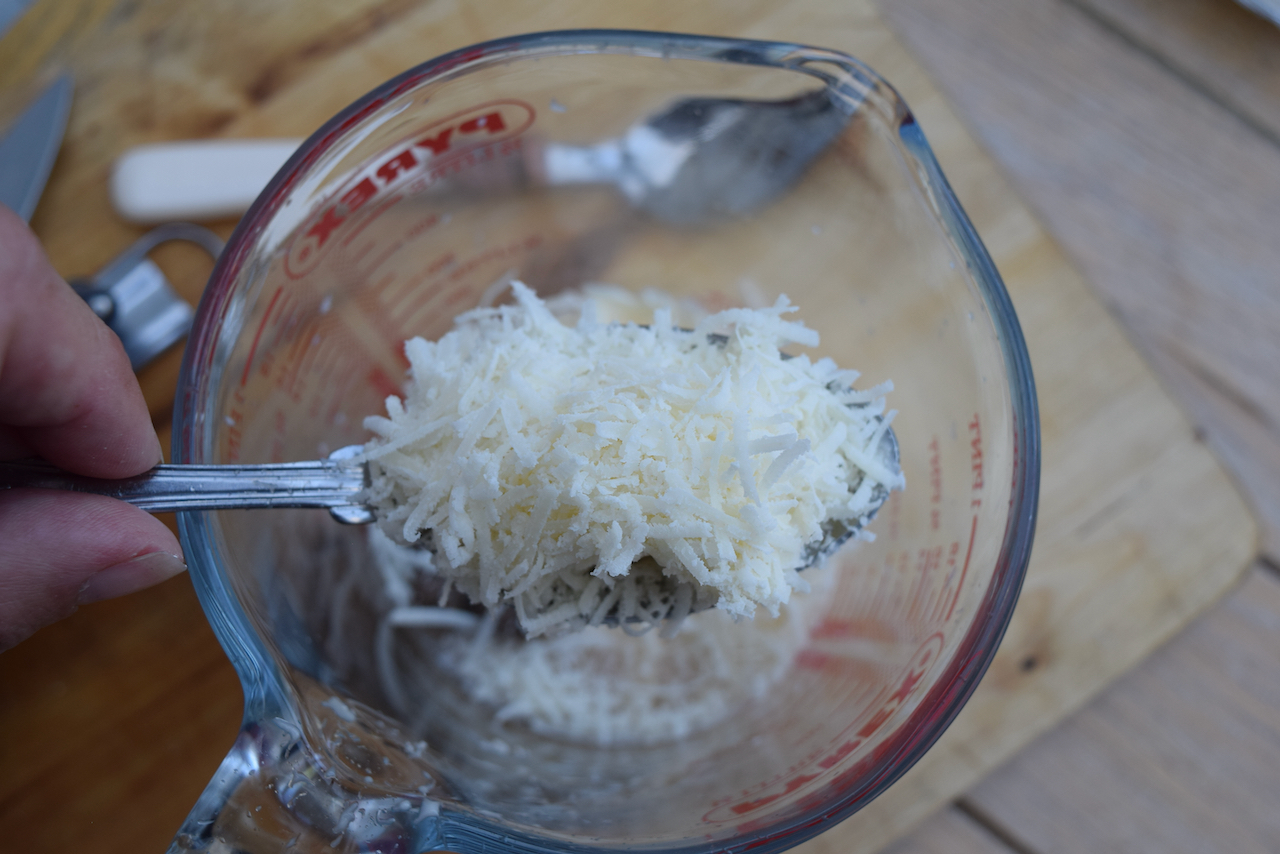 The Caesar dressing should have the consistency of thick cream, so add a tablespoon or so of water if it's too thick. Chill until needed.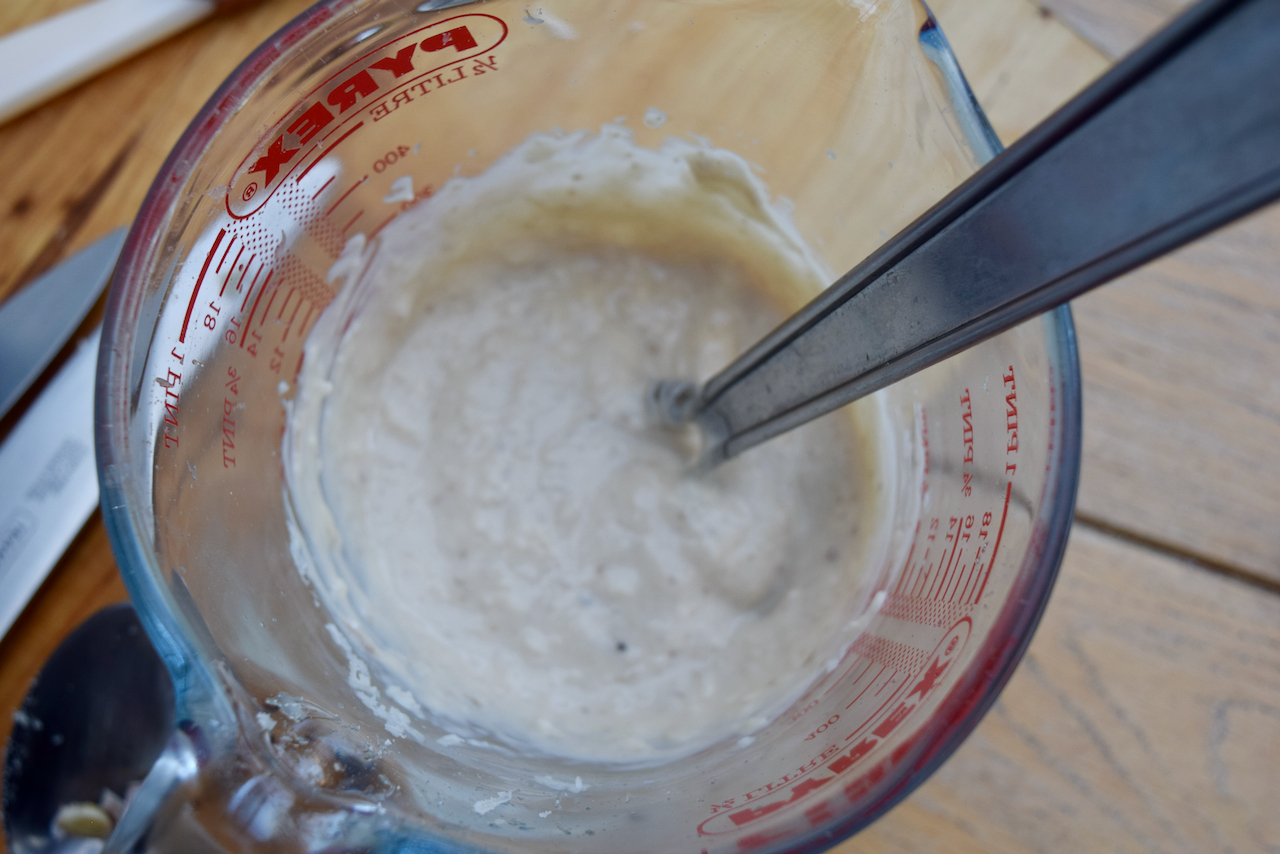 When the initial chicken roasting cooking time is up, take it out of the oven and give the tray a bit of a tilt to distribute all the delicious juices. Tip the chopped bread into the tray around the chicken and toss them in said juices. If the croutons are looking a touch dry, drizzle on some olive oil. Season well with salt and pepper then pop the chicken back to finish off for a final 15 minutes.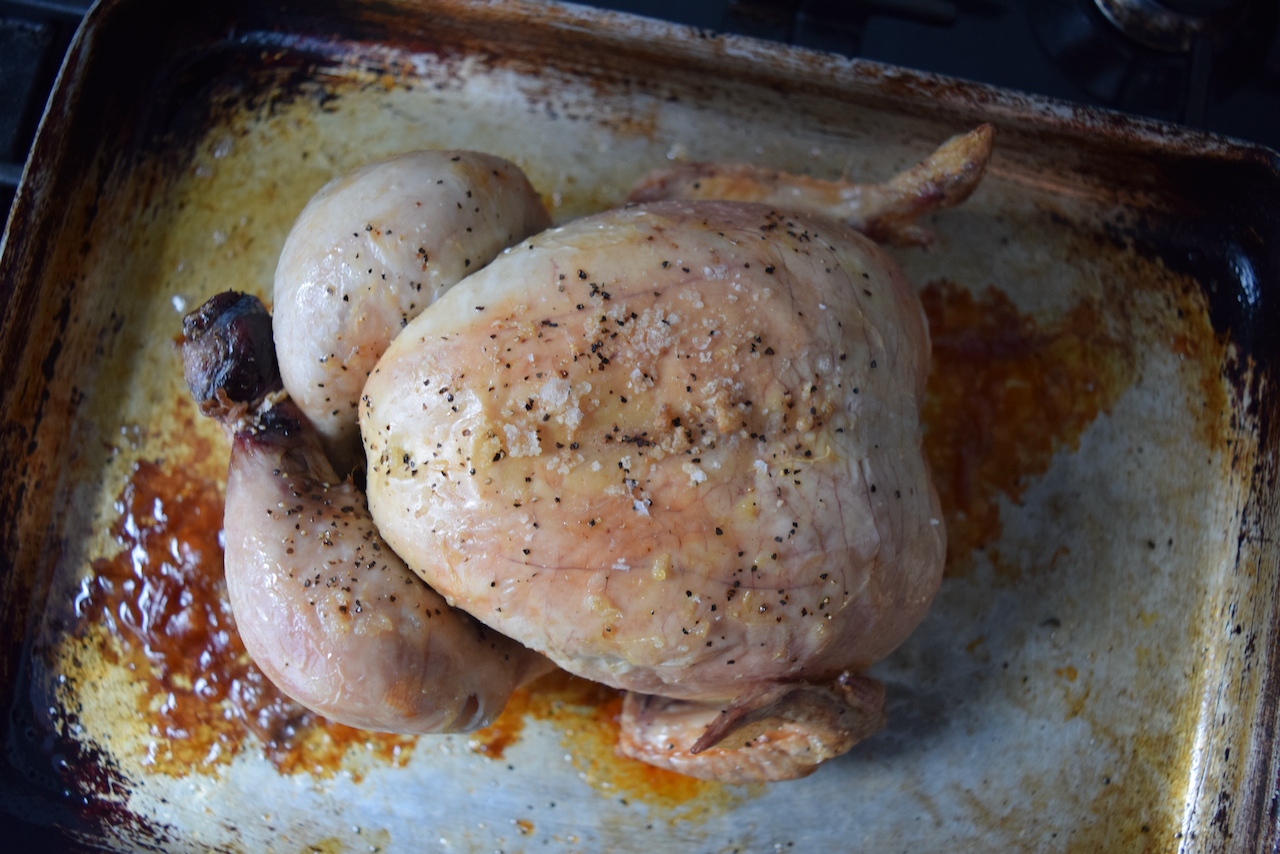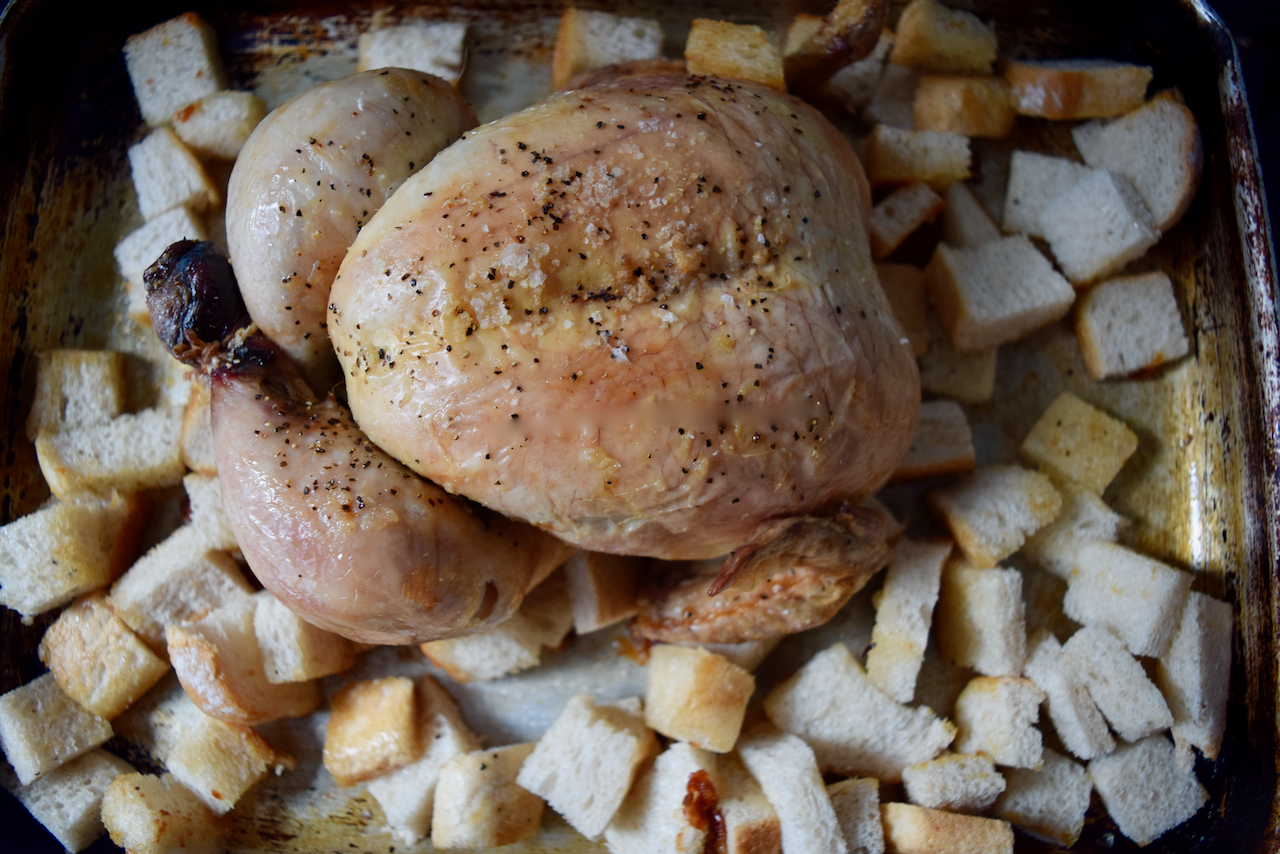 Prepare your salad leaves while the croutons crisp. I had a belated birthday lunch out last week and ordered the chicken Milanese with a Caesar salad. It was served with the Romaine lettuce simply cut in half and dressed; so I've emulated this for more of a wedge salad affair.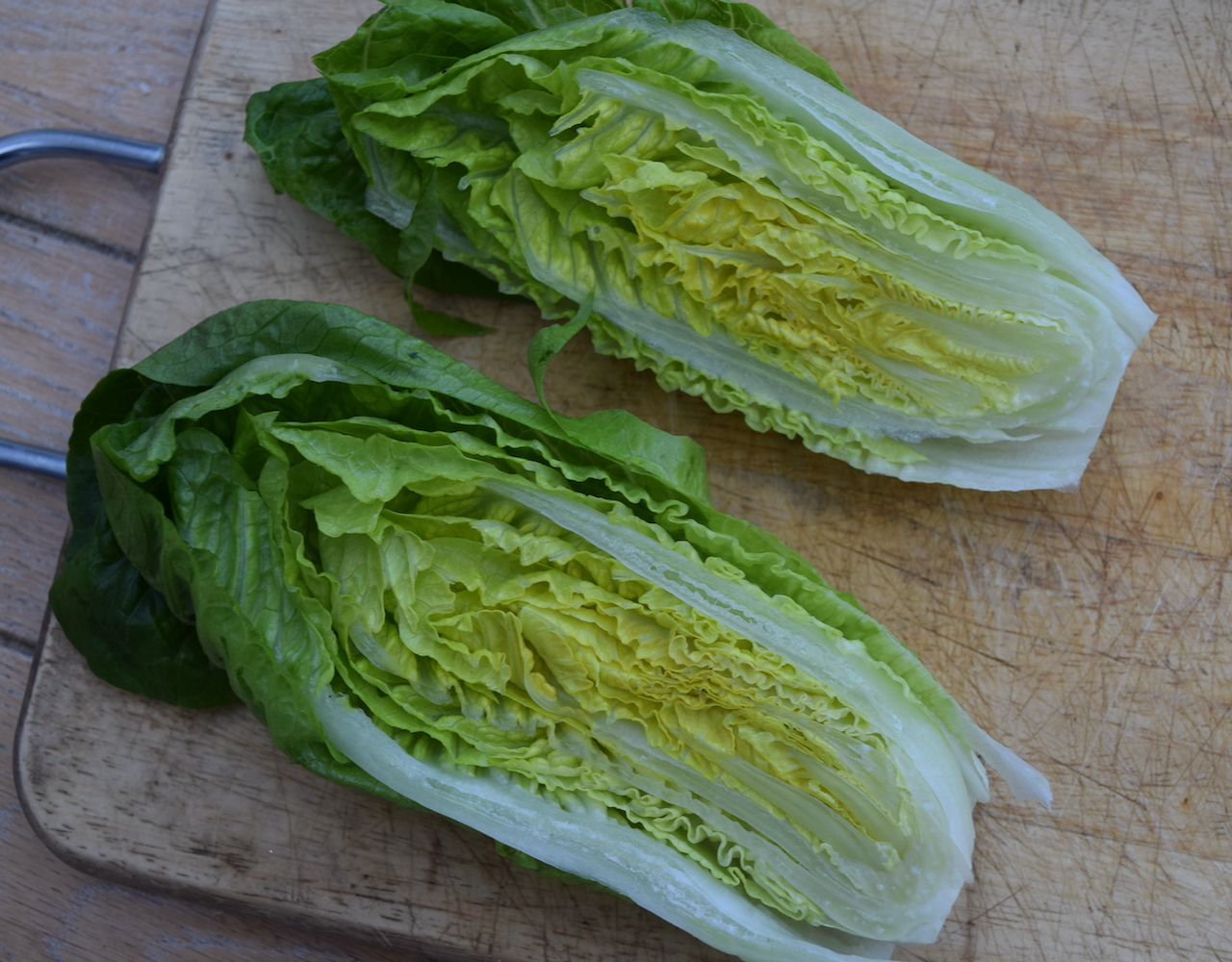 My Romaines were smaller so I served a full half per person, if yours are bigger then go with a quarter.
When the timer goes off, whip your chicken and delectable croutons out of the oven. Give them a final toss in the juices then spoon the crisp morsels into a bowl while you carve *make a mess of* the chicken.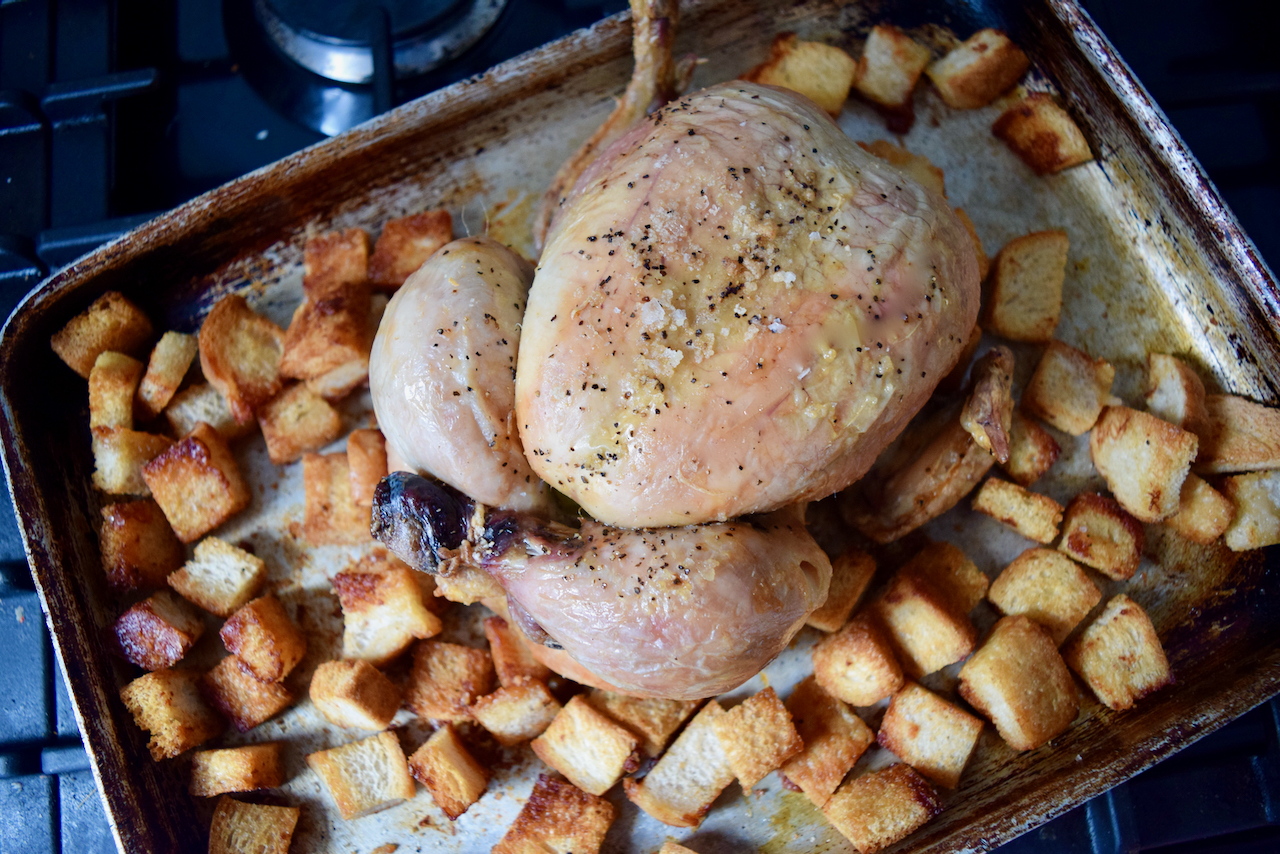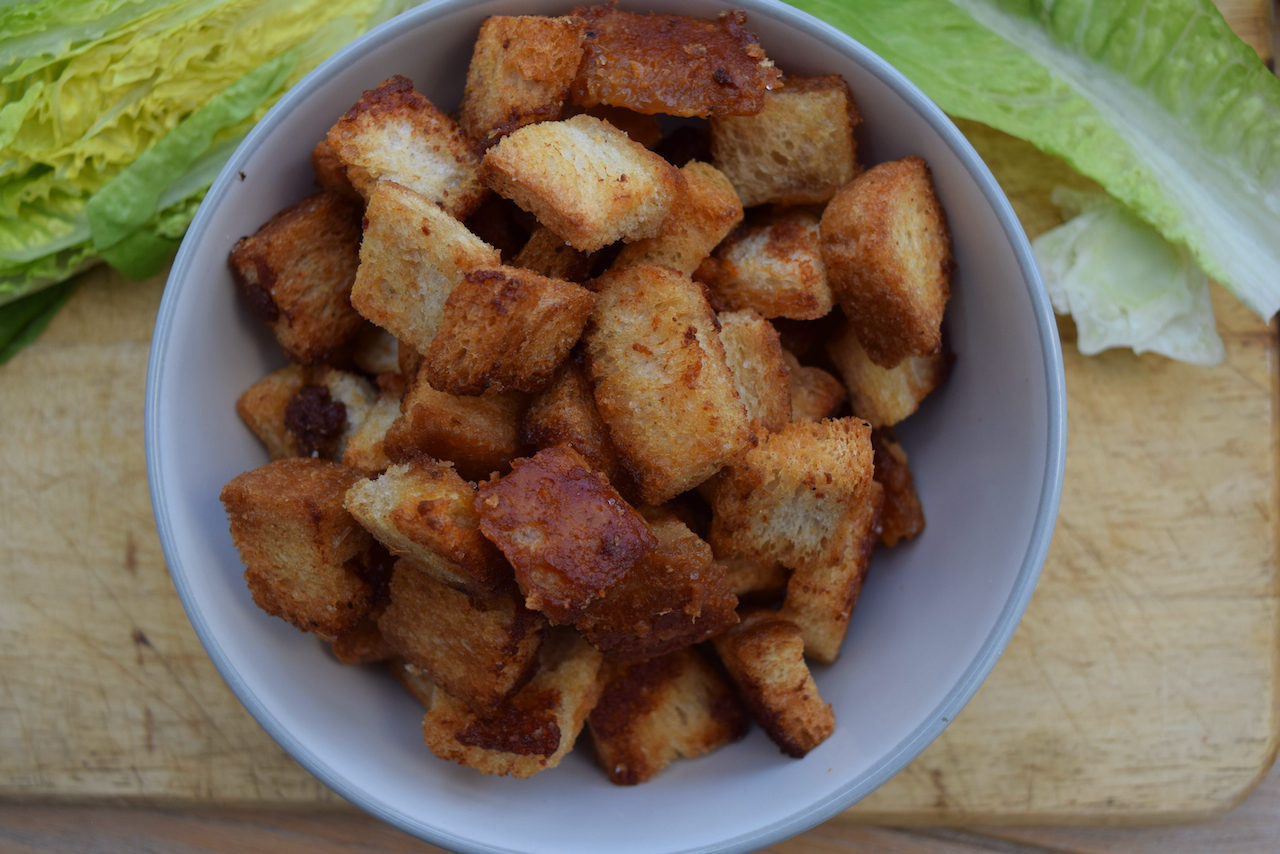 Slap any thieving hands away from these whilst you carve. I can't carve, something of which I am ashamed, given my darling late Dad was a carving genius. So, I hacked the chicken into pieces, making it barely able to feed four, and popped it onto the plate with the lettuce, abundant dressing and handfuls more of finely grated parmesan. And the chickeny croutons. Everywhere. All over the plate.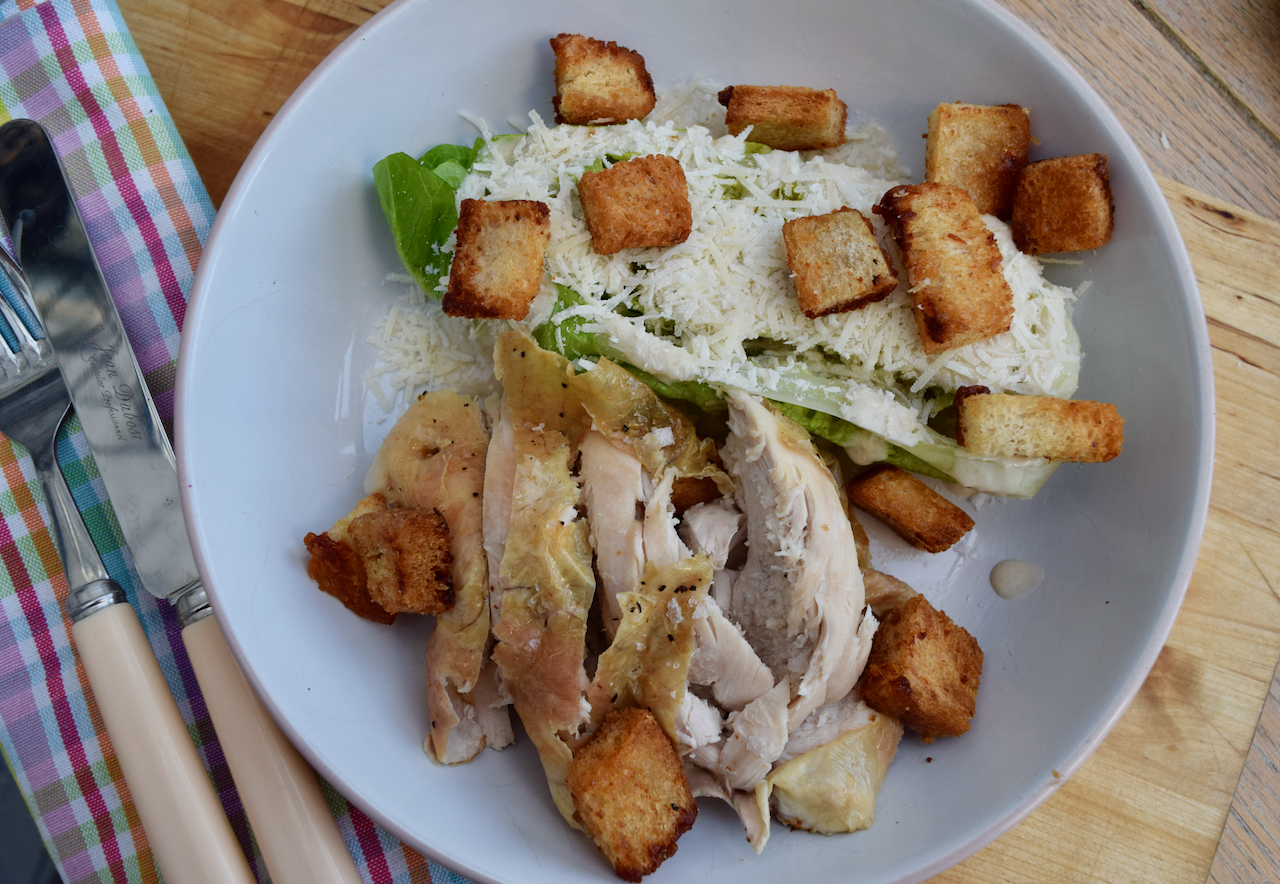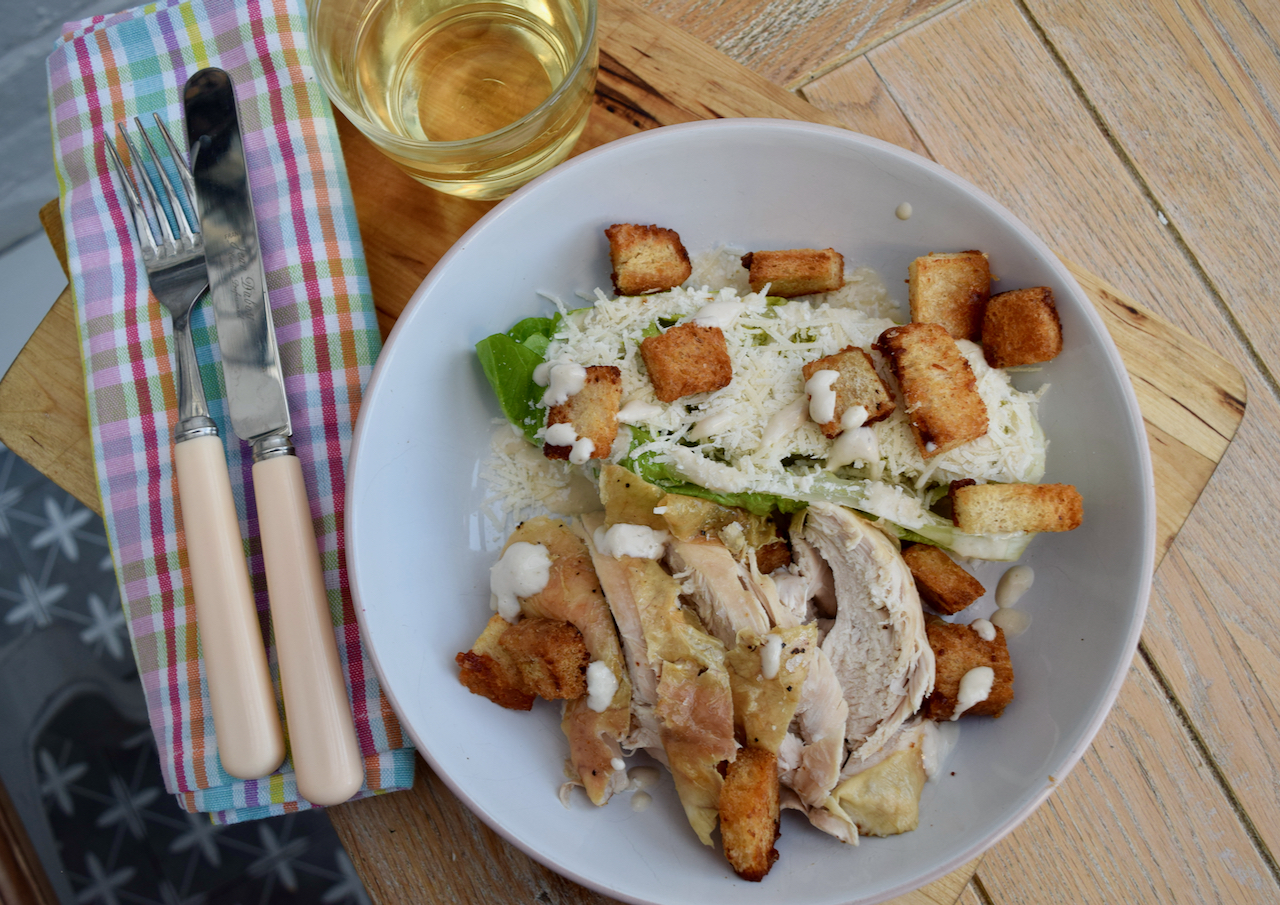 We used to eat a lot of Caesar salad when we first moved in together, albeit the sort that came in a bag with all the bits you need pre prepared. I know this recipe isn't revolutionary, but sometimes you need a reminder of just how good simple things can be. Or just eat the croutons, they're bloody amazing.
Lucy x
Roast Chicken Caesar Salad Recipe
Serves 4
You will only need a roasting tin and bowls
Roast Chicken
Olive oil
1 good sized chicken
Salt and pepper
1 lemon
Bunch fresh herbs, I had some tatty thyme left in my herb box
Croutons
4 slices thick bread, sour dough would be nice
Salt and pepper
Olive oil to drizzle
Caesar Dressing
5 tablespoons mayonnaise
1 tablespoon white wine vinegar
1 garlic clove, crushed
1/2 teaspoon anchovy paste, or 2 small chopped anchovies
2 heaped tablespoons grated parmesan
Salad
2 small Romaine lettuces, or 1 larger one
More grated parmesan
Pre heat your oven to 170 degrees fan assisted and oil a large roasting tin. Place your chicken into the tray then halve the lemon and put into the chicken's cavity along with the bunch of herbs; I used thyme. Season the chicken generously with salt and pepper then drizzle with olive oil.
Put the chicken in the pre heated oven and roast for 1 hour 15 minutes.
While the chicken roasts cut or tear the bread into cubes/chunks and pop to one side.
For the Caesar dressing measure the mayo into a jug and whisk in the vinegar, garlic, anchovy paste and finely grated parmesan. Once combined the dressing should have the consistency of thick cream, add a splash of water if it's too thick.
Once the 1 hour 15 minutes is up, take the chicken out of the oven. Stir the chopped bread in the chicken juices, making sure they're all pretty much coated. If the croutons are looking a bit dry, drizzle with extra olive oil. Season well with salt and pepper, then pop the whole business back in the oven for another 15 minutes to finish cooking the chicken and crisp the croutons.
Check the chicken is cooked through and your chicken fat croutons are crisp and golden. Remove the croutons to a bowl and leave the chicken to rest for 10 minutes, covered in foil.
To assemble your salad, trim the ends and any tatty outer leaves from the Romaine lettuce then cut in half through the middle. If you have a large lettuce, cut each half in half and place one on each plate. Drizzle with plenty of the dressing, sprinkle generously with parmesan and scatter over a lot of chicken croutons. Carve the chicken and serve with the salad.
Devour, then go back to finish off any spare croutons.