Chocolate with Almonds, Cherries and Sea Salt Recipe
Instead of being a slow month of quiet contemplation and abstinence, we have been quite the party animals this January. We have had a couple of friends to stay and been out almost every weekend so have hardly been sat on our arses nibbling kale. With February about to appear, at long last, I am looking forward to a quieter, less sociable month ahead and perhaps a few meals off for good behaviour. When we do have people to dinner, one of my favourite things to make is something chocolatey or sweet to have with coffee. It's usually unnecessary as we will have already eaten to excess, but I do think it's nicer to produce something homemade rather than a box of Ferrero Rocher. My Chocolate with Almonds, Cherries and Sea Salt is a much more delicious way of spoiling your guests.
If making another course for a dinner party seems like a step to far, then don't be alarmed by this. This isn't even really a recipe, just a guideline with quantities. Your resulting chocolate treat is rather like one of those fancy Hotel du Chocolat bars, but without the price tag. I chose half milk and half dark chocolate for the base of my bar, but you choose, if you would prefer all milk or all dark. This is then marbled with some melted white chocolate and studded with almonds and sour, dried cherries. A final sprinkle of sea salt for added sweet and salty amazingness. I had smoked sea salt which is one of my new favourite things, but simple sea salt is just as tasty here. This is all then popped into the fridge to set then super roughly chopped and served alongside coffee, teas or all alone in a quiet room without having to share it with a single person.
If your guests aren't really pudding types *what is the matter with them* then you could just go with a cheese course and this chocolate for an effort free, but impressive end to your dinner. I, on the other hand, am happy to swerve all the other courses and just eat the chocolate, but then I am often quite naughty.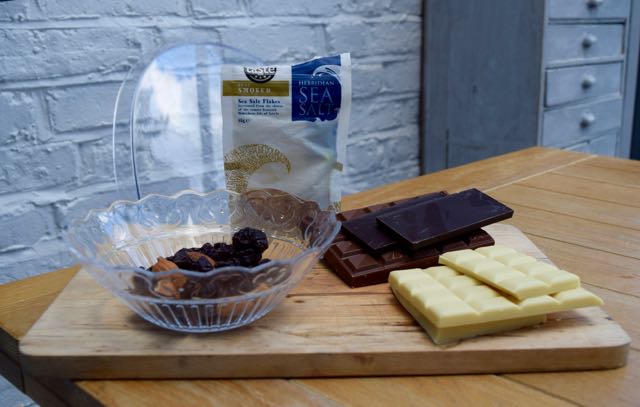 A shamefully easy line up for this chocolate, post dinner/afternoon treat. There's my sea salt and that bowl is housing my beloved dried cherries and some almonds. I am lucky enough to go to Costco on a pretty regular basis where they sell a big bag of dried cherries which is amazing value, however, they do sell them in smaller bags in regular supermarkets and they are worth it. If you can't get them, dried cranberries are also good. While we're on this, use your favourite nuts, I love almonds, but pecans, walnuts or cashews would also be delicious.
Make a start by lining a rectangular Swiss Roll style tin with baking paper. Spray it with spray oil or lightly butter the paper to ensure no sticking. Now, melt your choice of milk and/or dark chocolate in a bowl either in the microwave or over a pan of simmering water.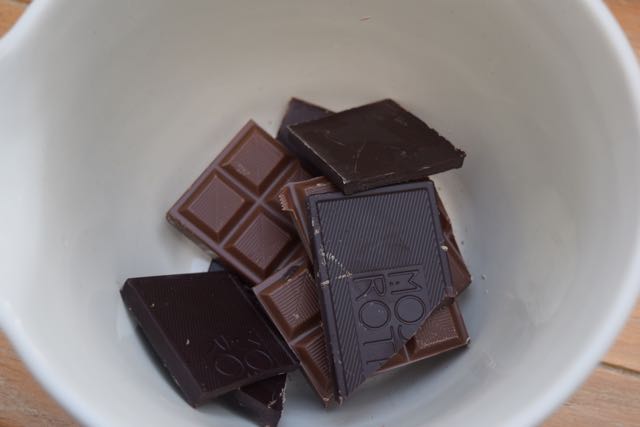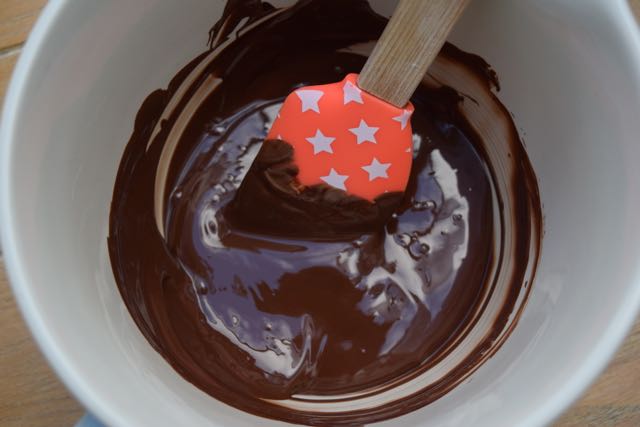 Now melt the white chocolate in the same fashion.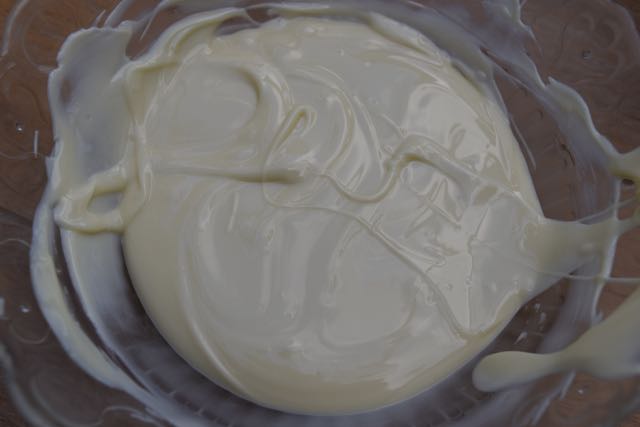 Take the milk/dark chocolate mixture and spread onto your buttered baking paper. Create a sort of even-ish chocolate rectangle.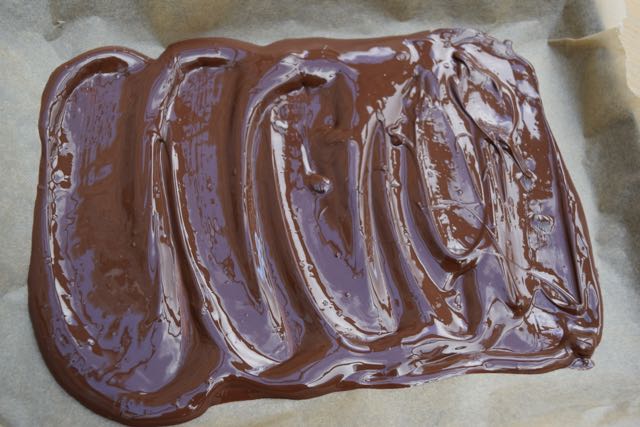 Now pour on the white chocolate and marble it through with the tip of a knife or a skewer. Don't over-mix, you want to muddy the chocolates.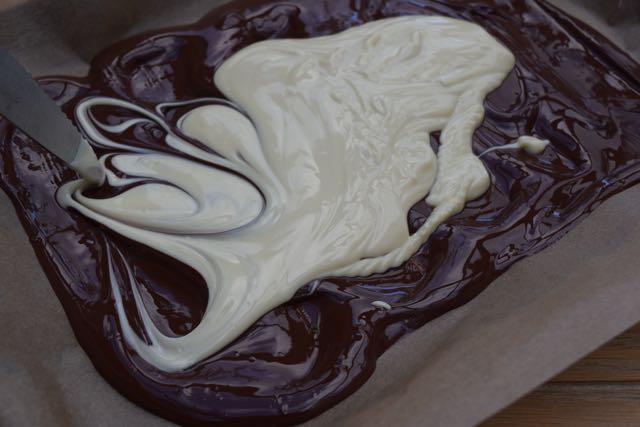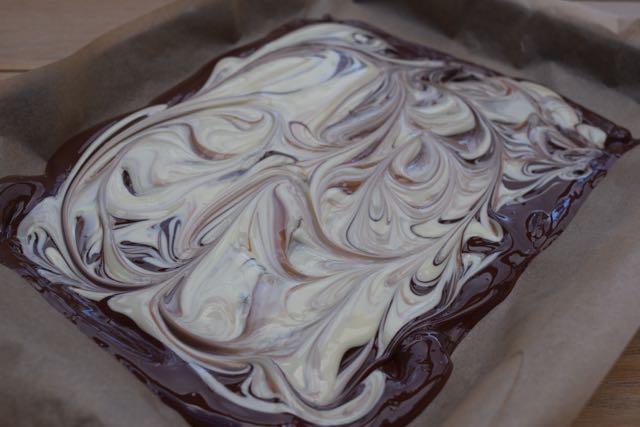 Now sprinkle on your roughly chopped almonds and dried cherries then sprinkle on a good pinch of either smoked or regular sea salt. Press down on the fruit and nuts a little to make sure they're embedded in the melted chocolates.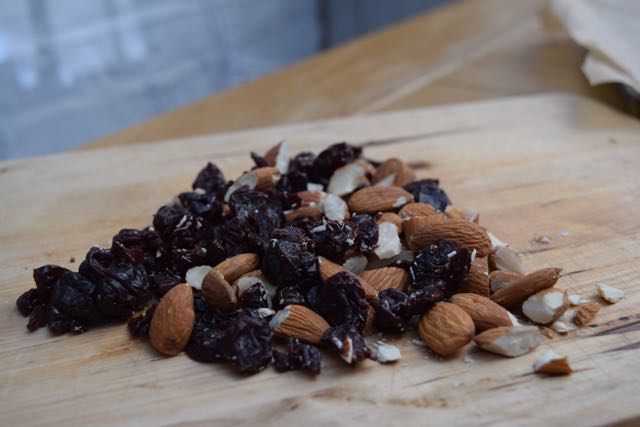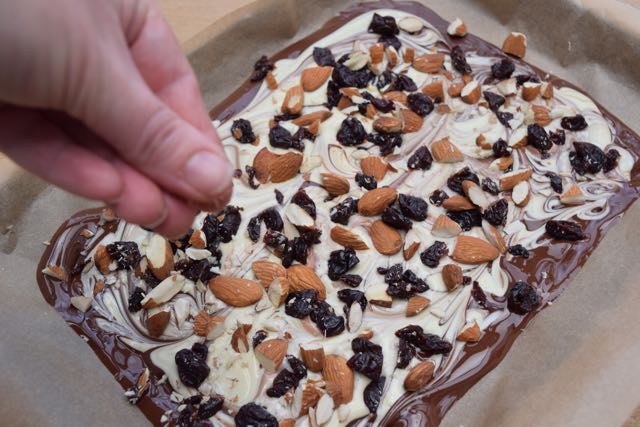 Leave in the fridge for at least an hour or so to set then after the tortuously long wait, chop into rough pieces and serve wherever and whenever you like. I like mine, post dinner with a cup of coffee. Clyde likes his for breakfast.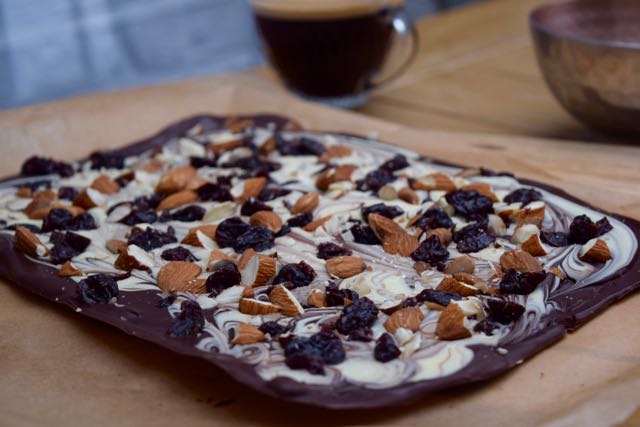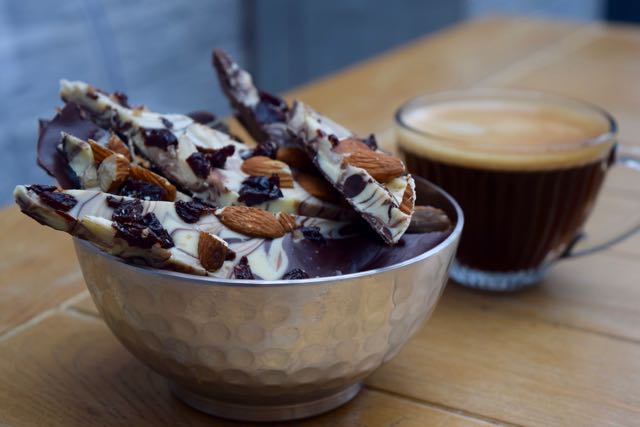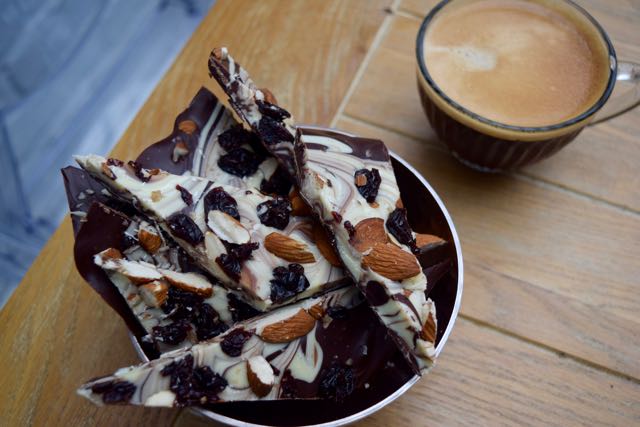 It doesn't really matter when you eat this fruit and nut studded chocolate. It just feels perfect whenever you eat it.
Lucy x
Chocolate with Almonds, Cherries and Sea Salt Recipe
Makes a lovely slab, enough for 4 to 6 after dinner
You will need nothing more than a lined rectangular baking tray and a couple of bowls
200g milk or dark chocolate or a mixture of both
200g white chocolate
50g dried cherries, roughly chopped
50g almonds, roughly chopped
a couple of generous pinches of sea salt, smoked if you have it
Take you Swiss Roll style rectangular baking tray and line with baking paper. Spray this with flavourless spray oil or add a thin layer of melted butter to ensure the chocolate doesn't stick.
Add your milk and/or dark chocolates to a bowl and melt in the microwave or over a pan of simmering water until just starting to meld together. Repeat with your white chocolate in a separate bowl.
Roughly chop the cherries and almonds and keep to one side for the moment.
Pour the melted milk and/or dark chocolate onto your lined baking tray and spread out into an even-ish rectangular layer.
Pour the melted white chocolate on top of the milk/dark chocolate then marble the chocolates together using the tip of a knife or a skewer until you have a pretty marbled effect.
Sprinkle on the chopped cherries and almonds and press down lightly to ensure they are embedded in the melted chocolate. Finally, dust the whole chocolate business with a generous sprinkling of sea salt, smoked is delicious if you have it. Put the chocolate into the fridge for at least an hour to chill.
Once the chocolate is set, cut into rough sized pieces and devour. This will keep in the fridge for a week or so, longer if you have a modicum of will power.
SaveSave
SaveSave
SaveSave