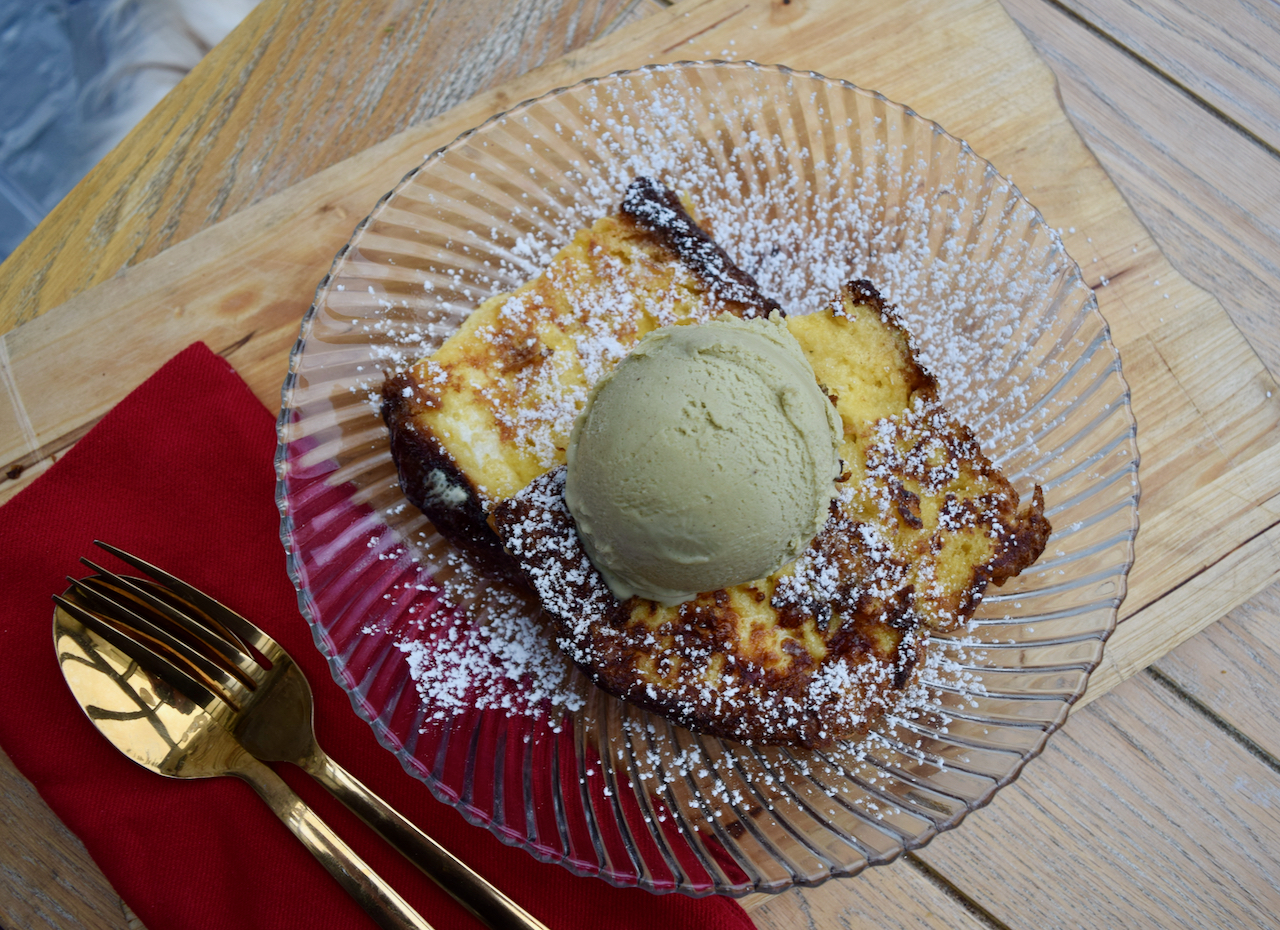 Panettone Pain Perdu recipe
Today I'm waving farewell to Christmas one last time. The decorations are down, I've got pine needles stuck in my socks and I've shoehorned down the last Quality Street. There is still, however, a tiny slither of panettone left. For me, Panettone and the festive season are the best of friends and I love, love, love it. We are so lucky to have the wonderful Gelatorino on our doorstep who sell the most beautiful Panettone, literally 5 minutes from our house. Theirs is made using a traditional recipe with simple ingredients which give it that distinctive and unmistakable flavour and softness. I used their pistachio variety for my Panettone Pain Perdu *posh French toast* and served it with a truly divine scoop of Gelatorino's pistachio ice cream. Lucky, lucky me.
Gelatorino's Panettone really needs nothing more than a big knife to cut it into soft, fragrant slices, however, if you do have a couple of slices left, then Pain Perdu is the way forward. Pain Perdu is French for 'lost bread'; my panettone was anything but lost, but with most of it heading towards my stomach I did think I should share it with my family. This brilliant dish can be breakfast or dessert, you decide. Serve it with some divine gelato, or if it's breakfast and you feel you'll be judged for eating ice cream before midday, then go for a drizzle of maple syrup and some fruit. Just whisk milk, eggs and vanilla, dip your panettone, fry briefly in butter and it's ready for inhaling.
After spending so much time in the kitchen over Christmas this quick, delicious recipe may well be like unwrapping a hidden gift, found when you take the tree down.
I made my Pain Perdu before I sat down and pretty much ate the whole thing myself, as leftovers are a rarity in our house. And the other bits and bobs you should have to hand. As I mentioned, this can be breakfast or pud, it's your call, or both, if you have enough panettone left.
Be it breakfast or supper time, this is a quick recipe so can be made to order. Make a start by taking a large plate and pouring on your milk and vanilla, cracking in the eggs and adding a pinch of salt.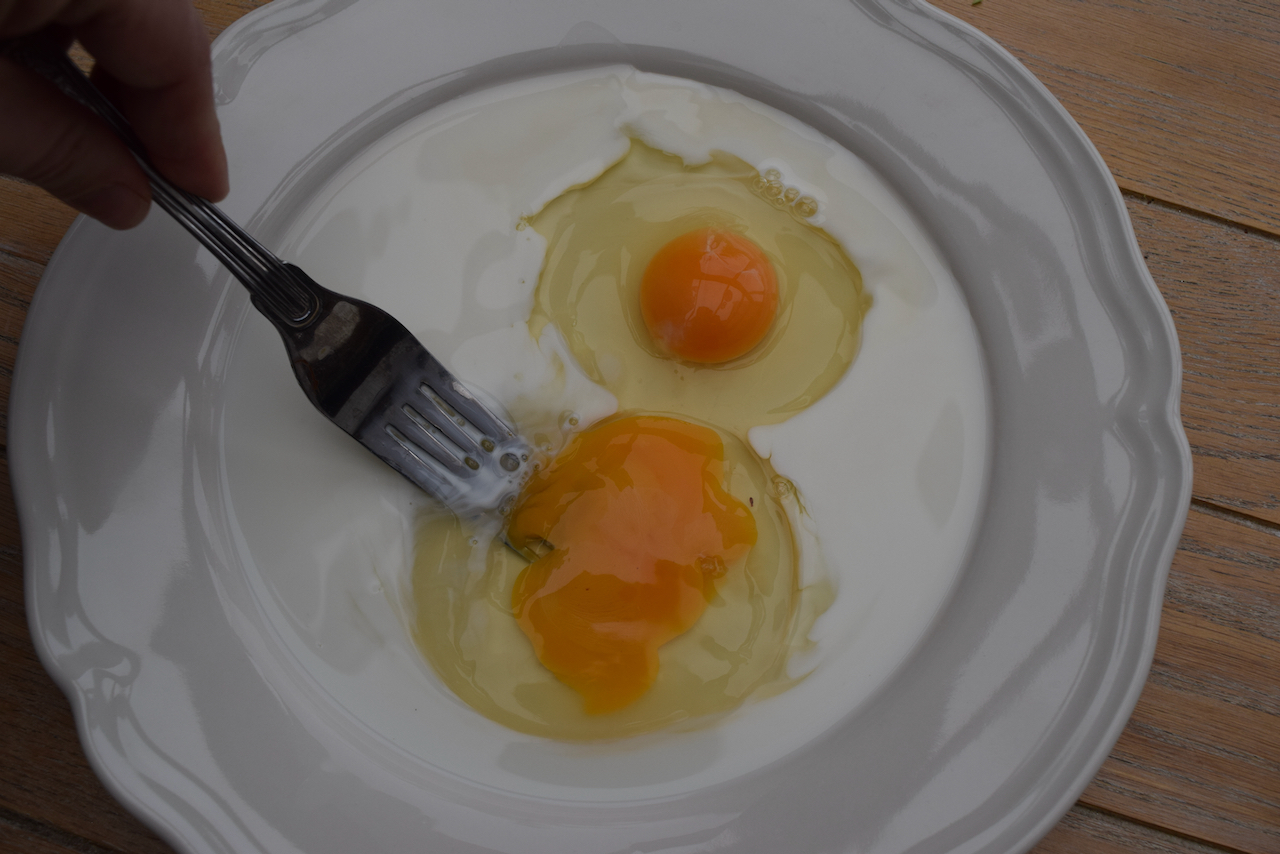 Give it a little whisk with a fork until blended.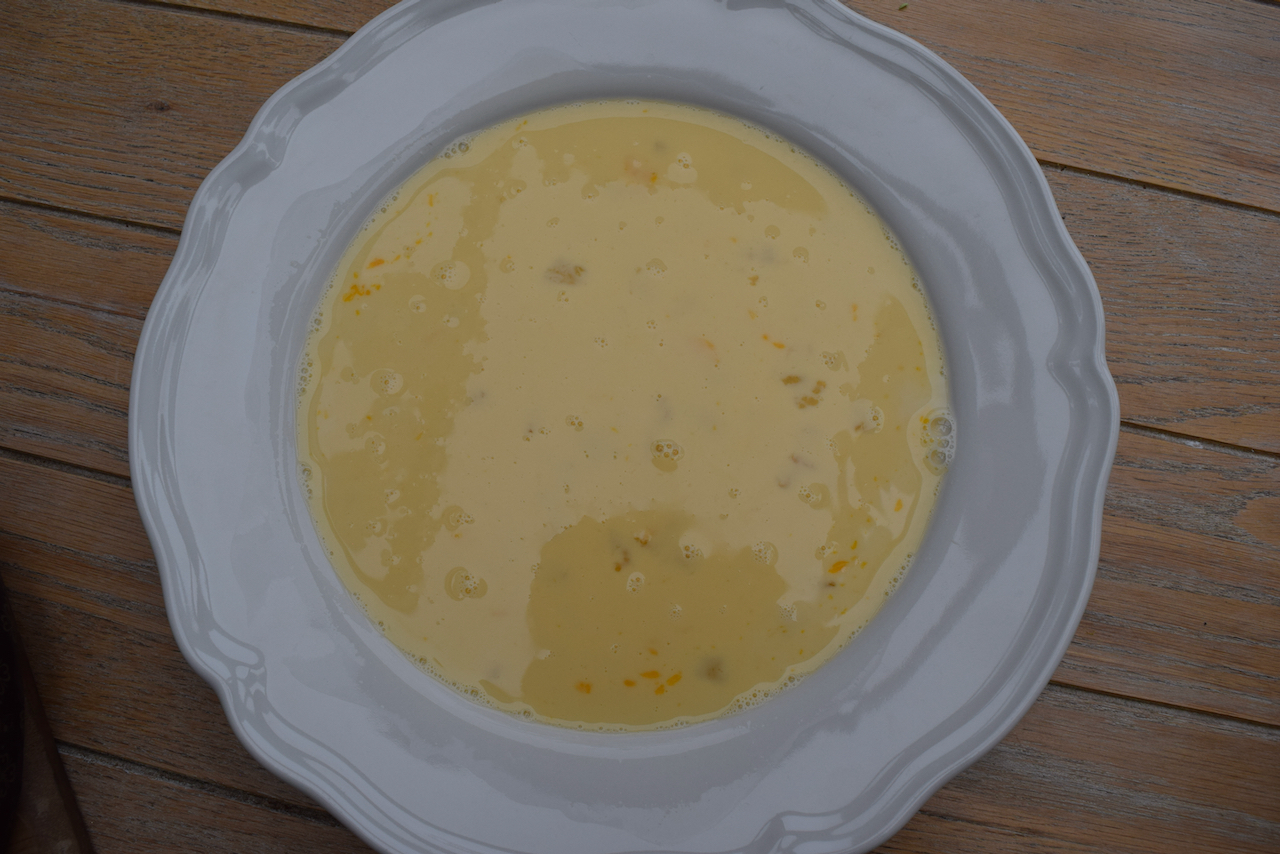 Next slice your panettone. I had great big slices so I cut them in half. You want them to be quite thick so they don't fall to pieces when they're dipped.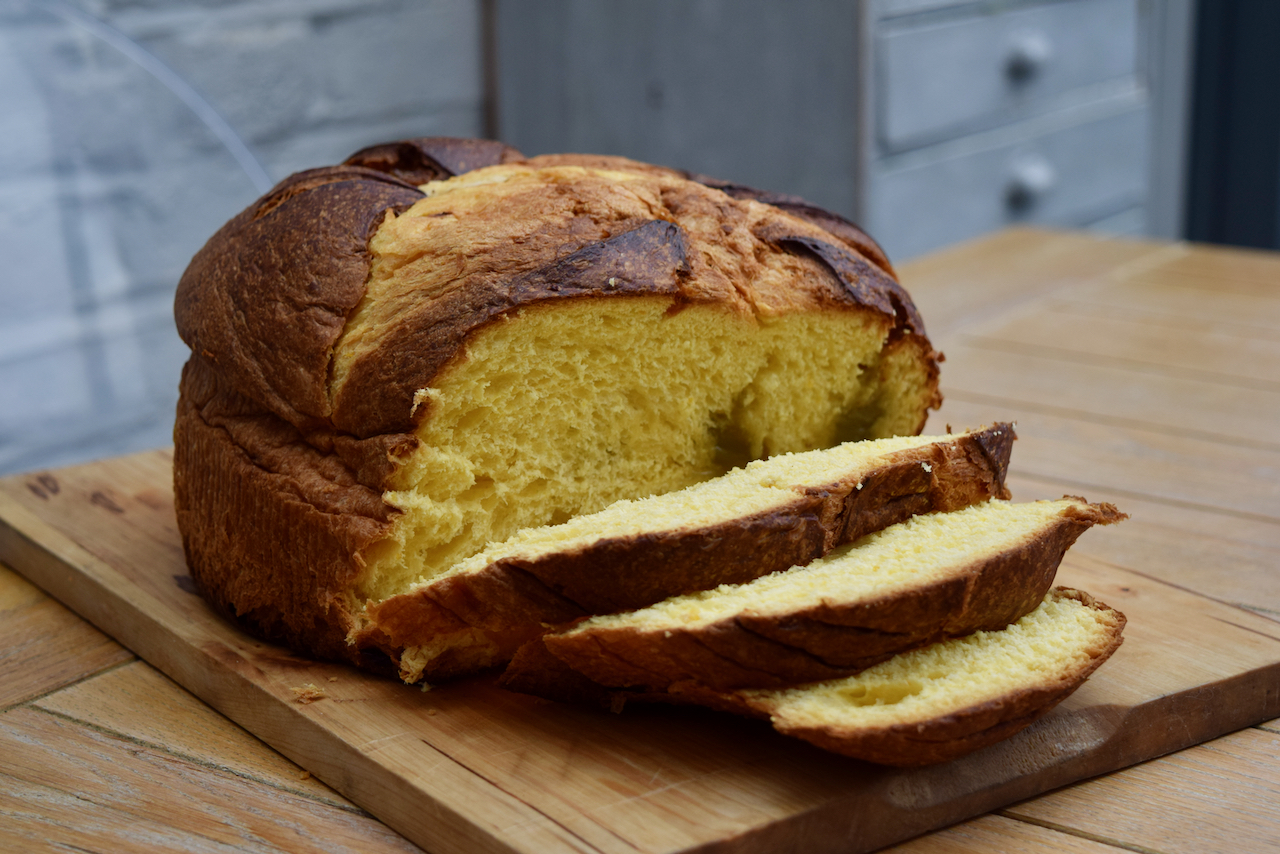 Take a large sturdy frying pan and add a good knob of butter. Heat over a medium high flame until the butter is just sizzling.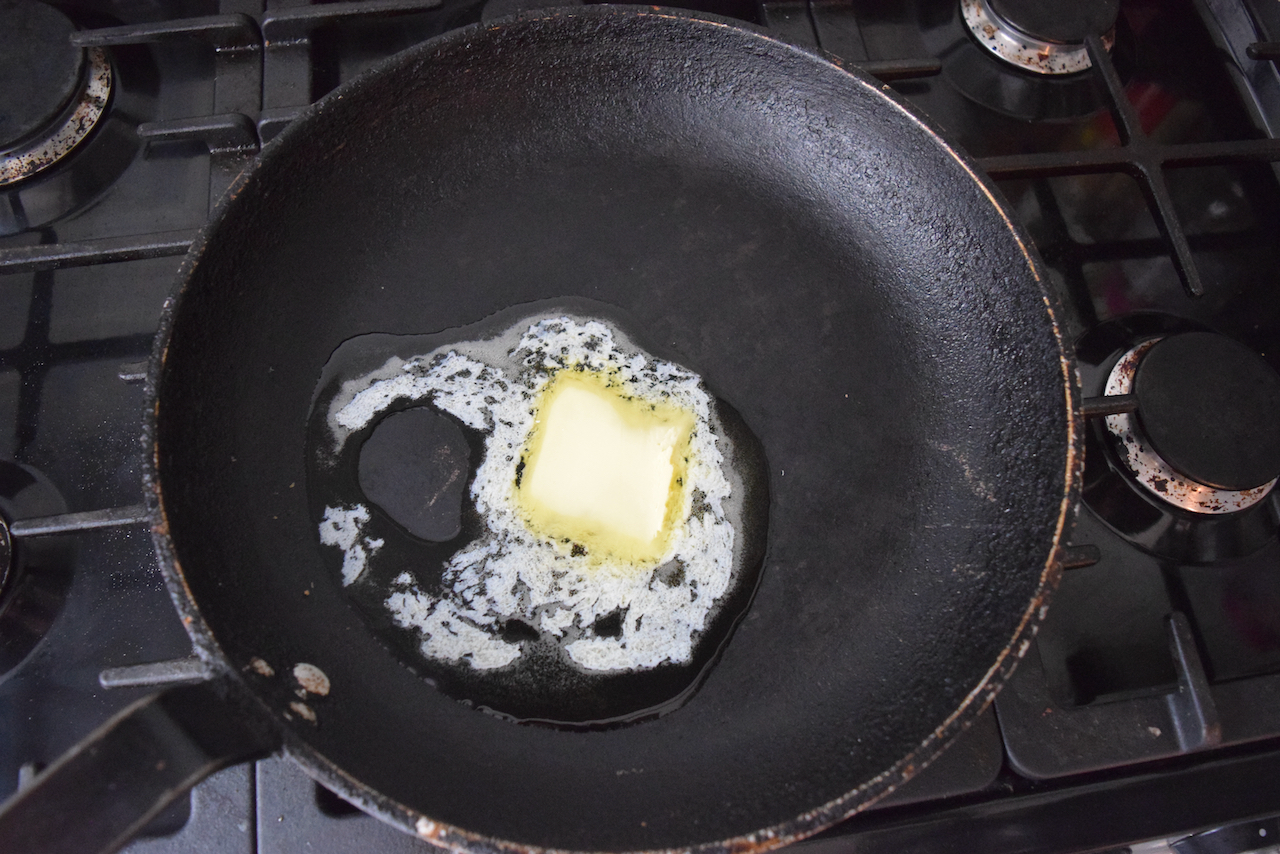 Now take your slices and dip into the egg and milk mix. Dip briefly but thoroughly on both sides then pop into the sizzling butter.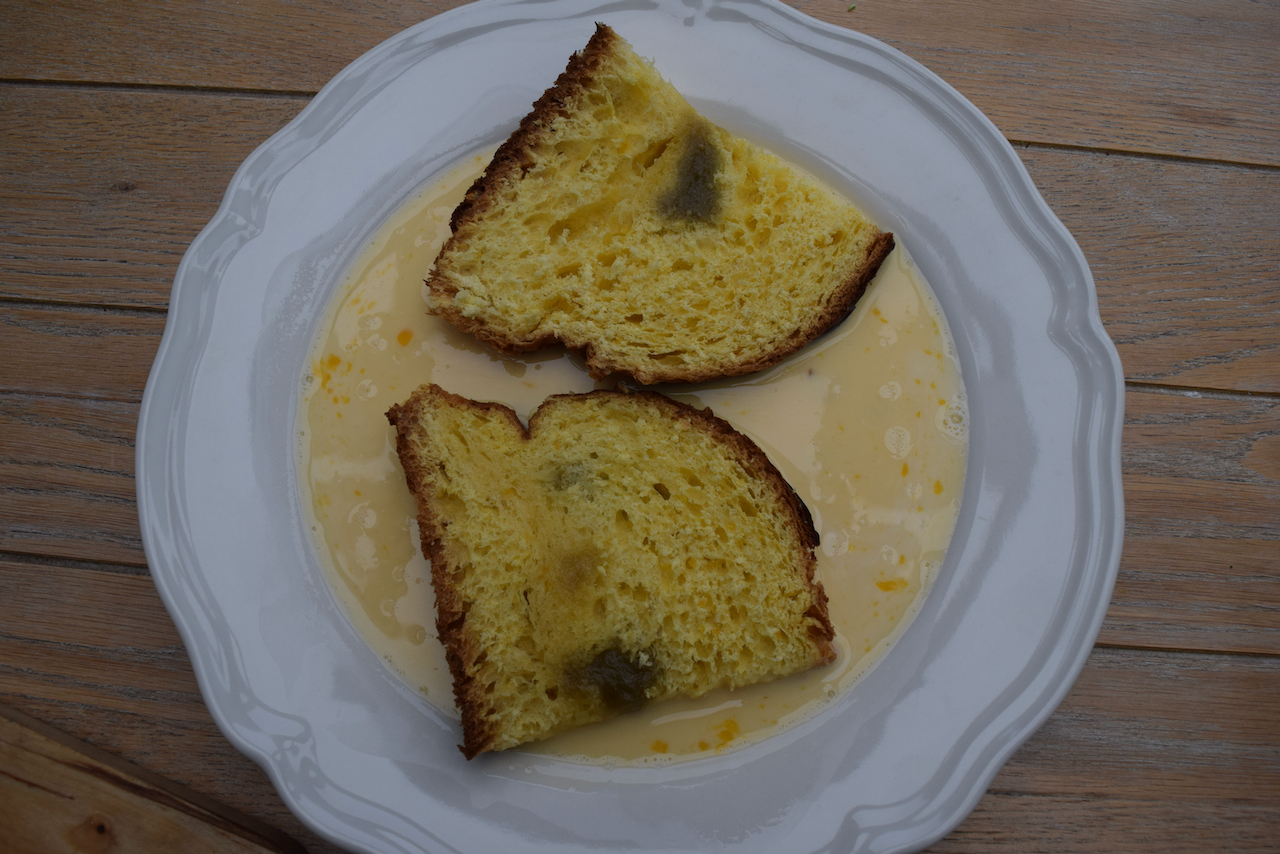 Don't let the bread linger or it will become a little flabby *like me post Christmas*.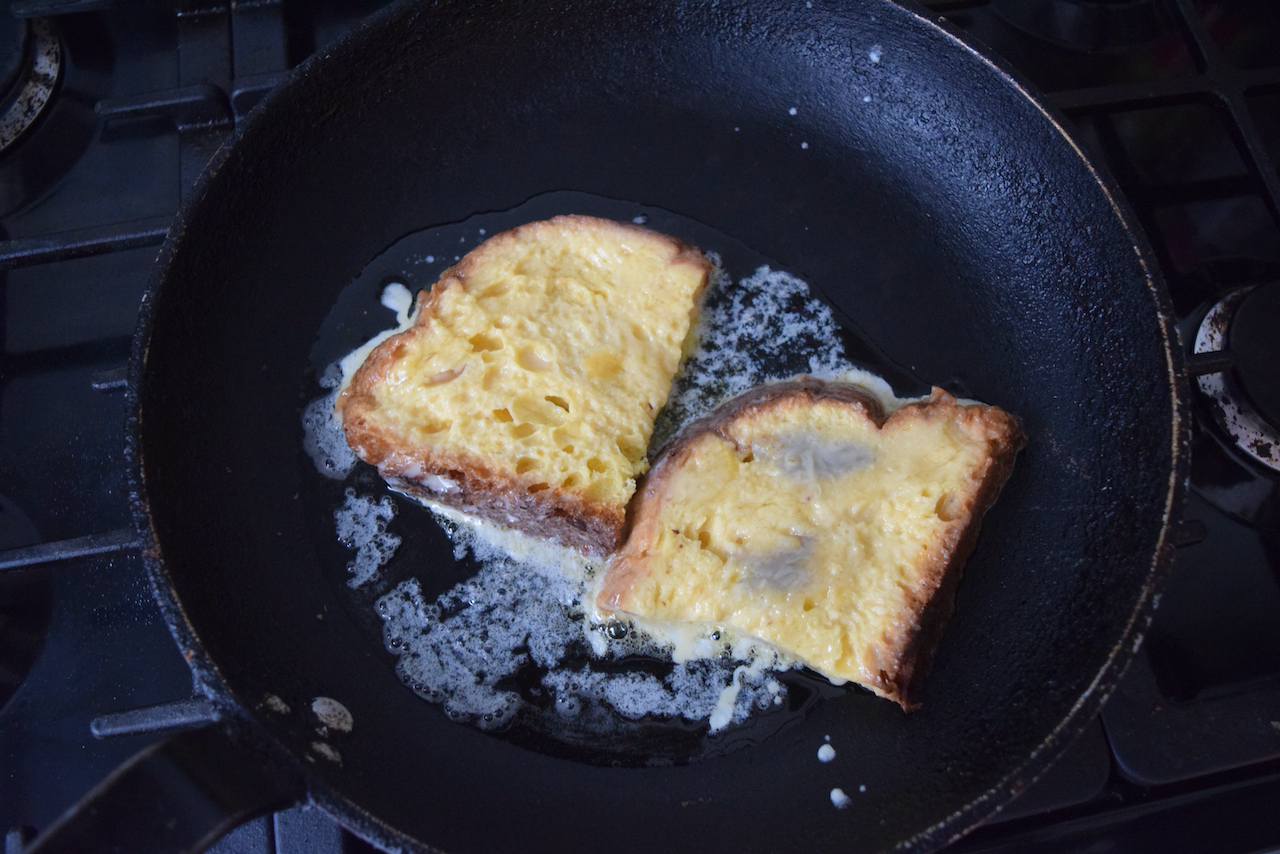 Fry the posh French toast for 1 to 2 minutes on each side or until golden and smelling amazing.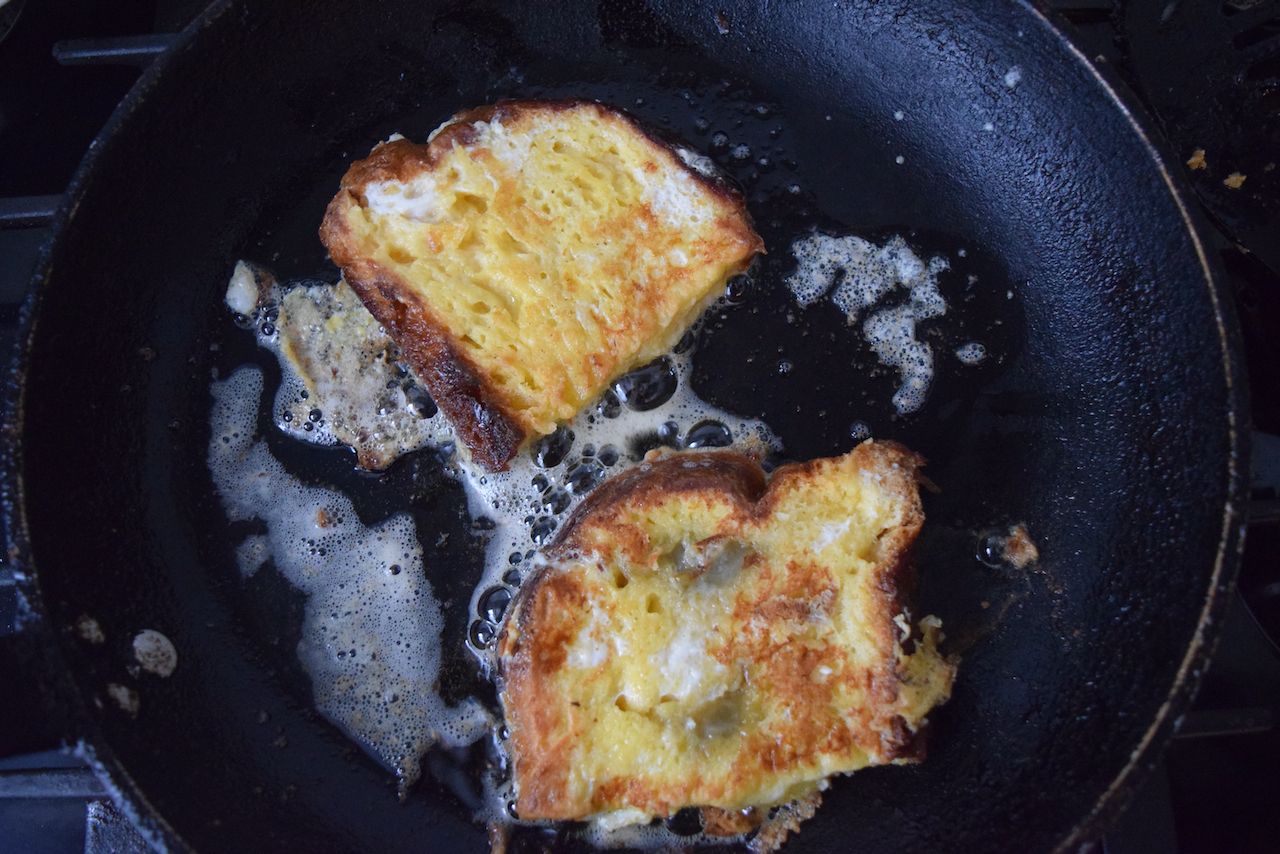 And that's that. Just a dusting of icing sugar and some ice cream and dessert is served. If you're feeling a bit self conscious about eating ice cream for breakfast, serve with some berries to ease your conscience.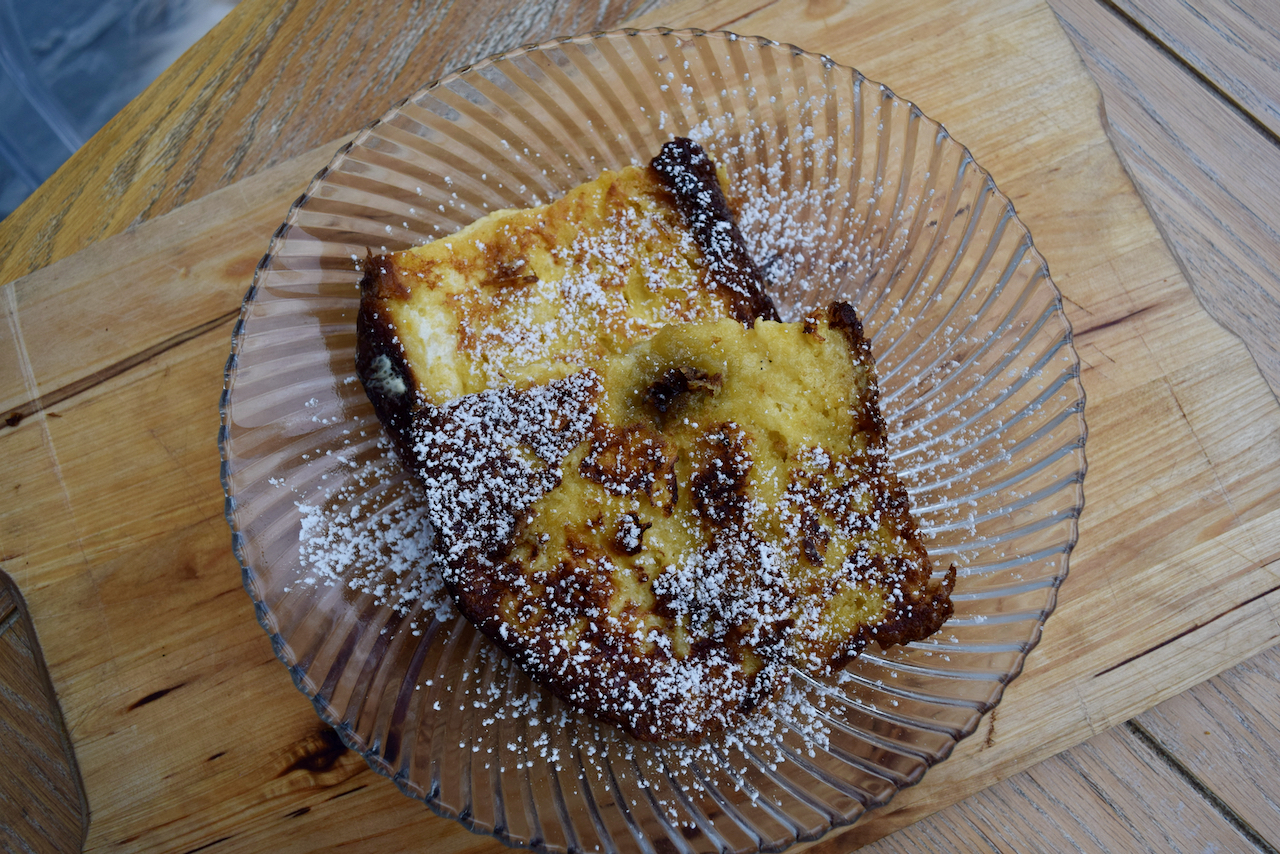 I was lucky enough to have some of Gelatorino's wonderful pistachio gelato to bury my face in/ serve with my pain perdu.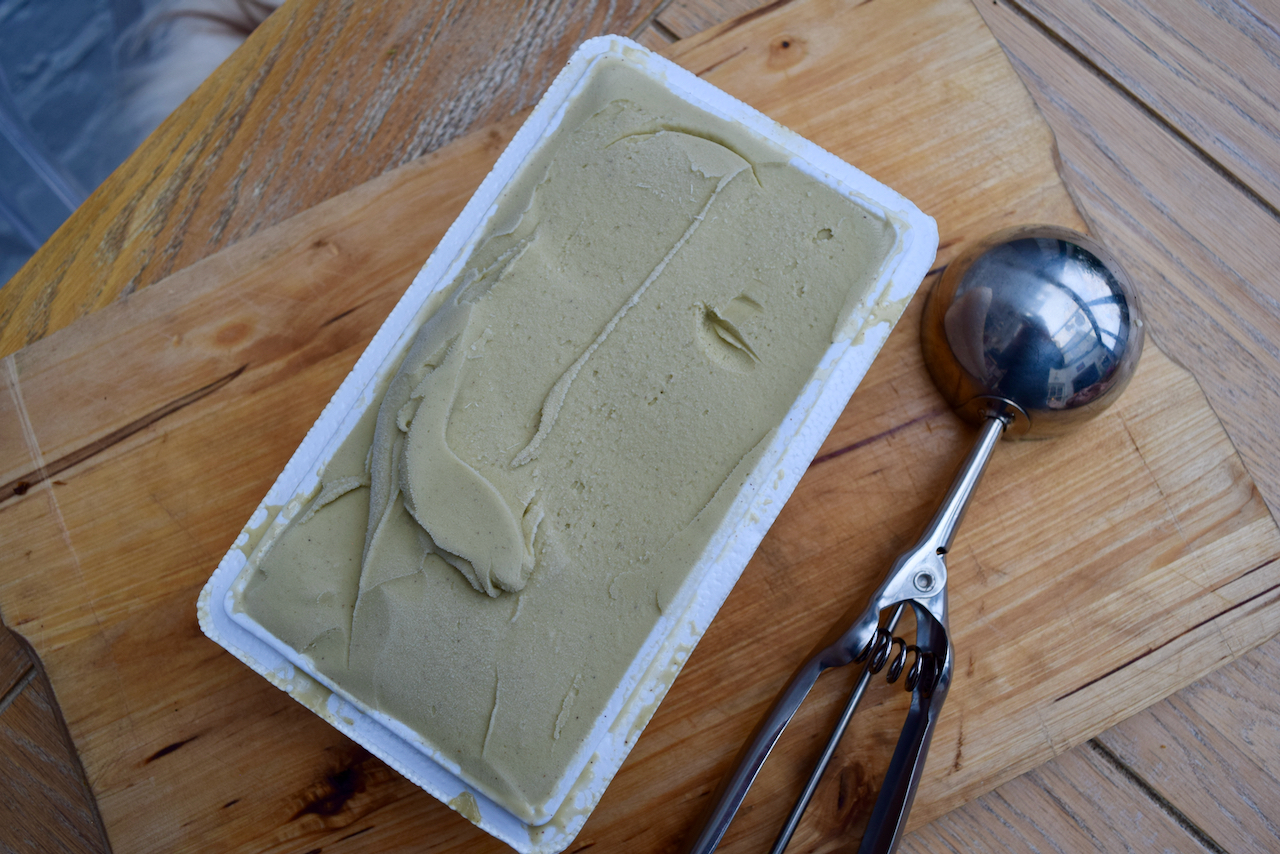 This is hot, sweet, crisp and delicious; I hope for your sake you have leftover panettone to hand.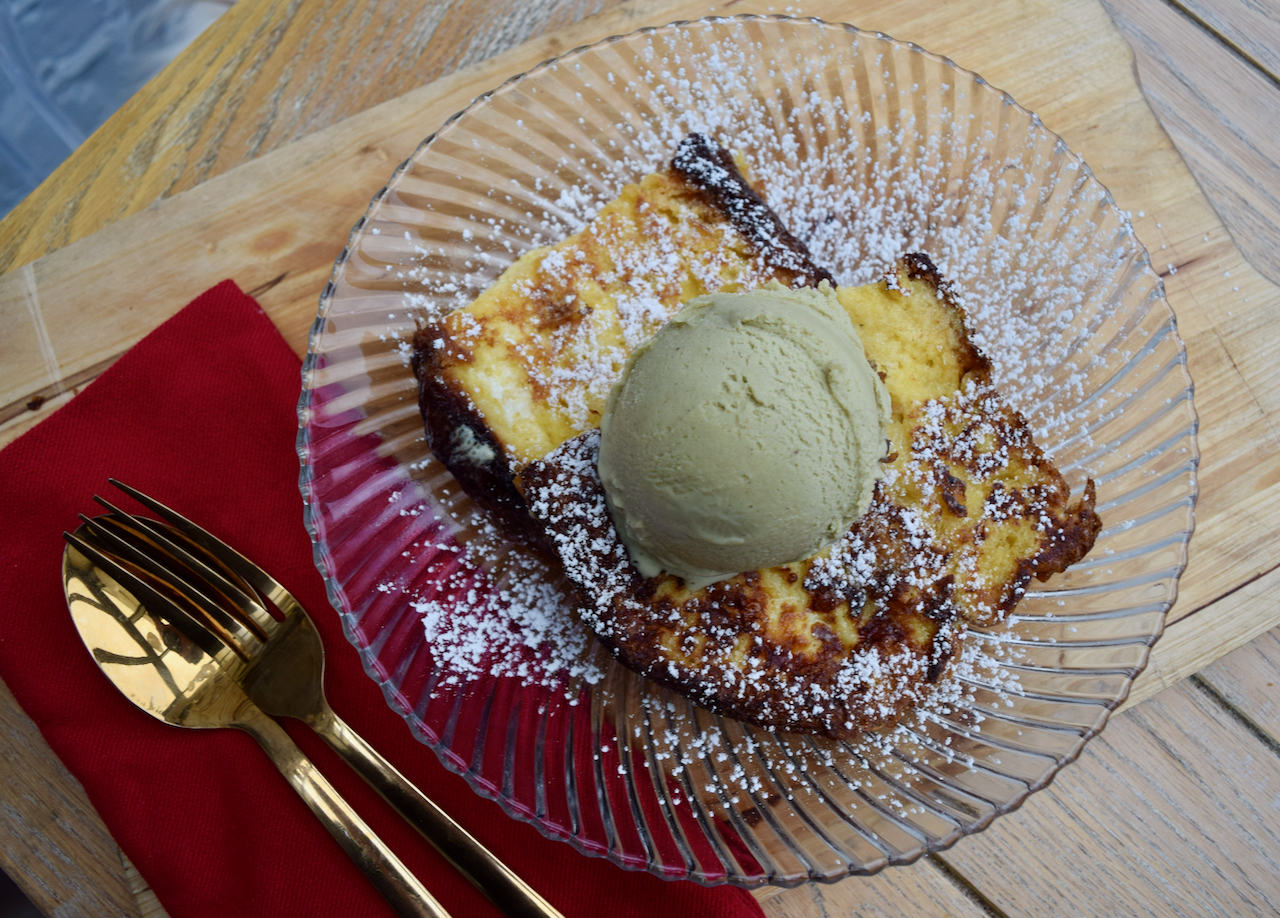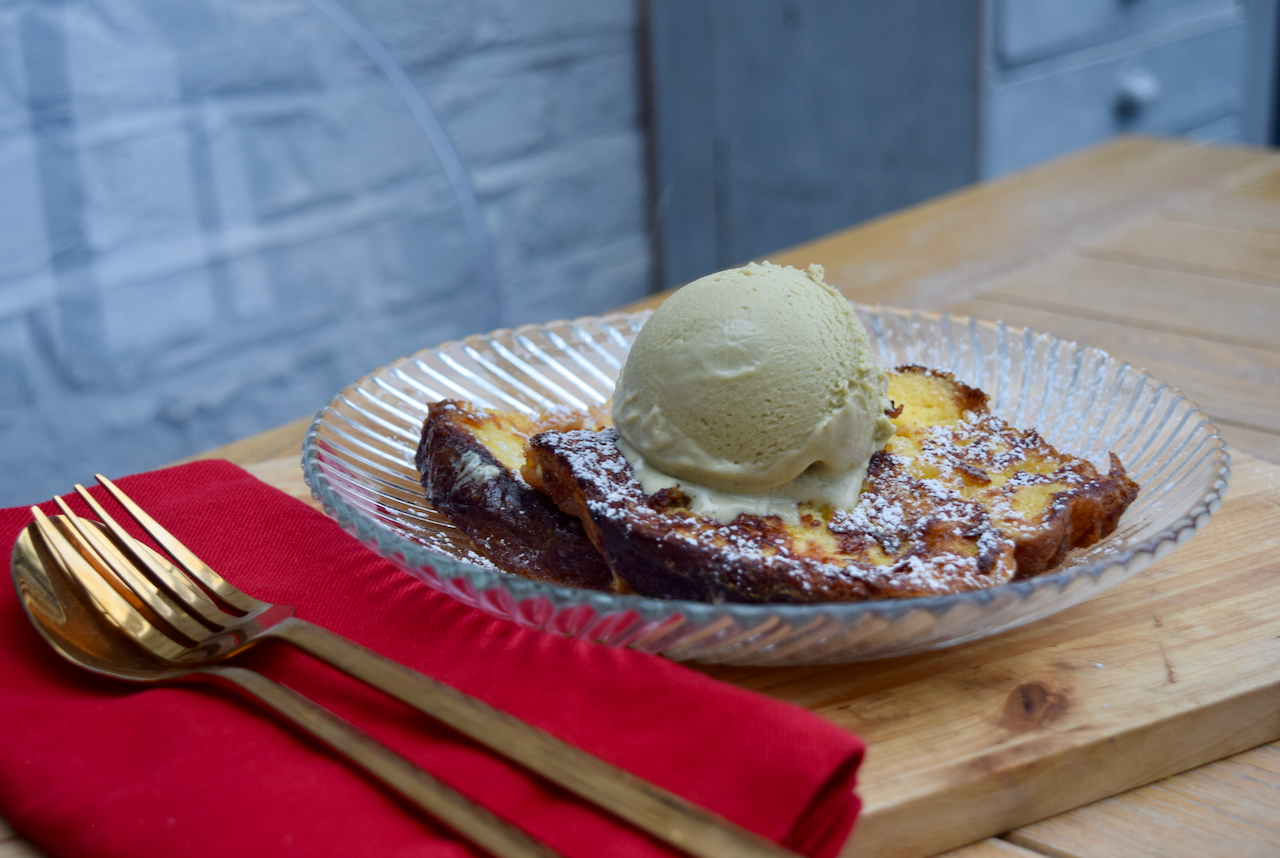 It's too cold and too depressing to even think about cutting back on all things delicious for January. Don't bother, especially when you can essentially eat fried cake for breakfast.
Lucy x
All the information you need about buying your Panettone, gelato, artisan pastas, honey, jams, sauces and much more are available at the Gelatorino website.
Panettone Pain Perdu recipe
Serves 2
You will just need a pan for this
2 thick slices Panettone, cut into 2 if large
2 eggs
90ml milk
1/2 teaspoon vanilla extract
a pinch salt
A generous slice of butter for frying
Icing sugar to dust
Ice cream to serve, or if serving for breakfast, maple syrup and fruit if you like
Take a large plate and pour in the milk, eggs, vanilla extract and the pinch of salt. Whisk to combine.
Slice your panettone thickly and then cut in half if the slices are long. Take a heavy bottomed frying pan and add the butter. Heat over a medium high heat until sizzling. Dip the panettone briefly into the custard mixture on both sides.
Carefully place the soaked panettone into the hot pan and cook for 1 to 2 minutes on each side or until golden and smelling divine.
Serve, piping hot, dusted with icing sugar with a scoop of wonderful ice cream. If your Panettone Pain Perdu is breakfast, drizzle with maple syrup and dot with some fruit of your choice.