Tonkatsu Pork Recipe
As a family we love anything breaded. I fear I would eat a rat if it had been egg and breadcrumbed and fried *and probably have at dubious chicken outlets*. There's something so tasty about the crisp crumb and it always seems like a treat. We eat Katsu Chicken on a regular basis so when I discovered there was such a thing as Tonkatsu Pork, I positively yelped with joy. Tonkatsu is a type of Japanese barbecue sauce and when served with crunchy, sesame laced pork, it's a tasty, tart contrast. Whenever I decide to breadcrumb anything, in my head it seems like a kerfuffle, but in the real world, it only takes 10 minutes. And believe me when I say, to create this tempting dish, it's time well spent.
Pork is lean, cheap and flavoursome, so it's right up my street. When coated and shallow fried, it can often be a far more *eek* moist choice to the usual chicken option. My Tonkatsu pork has some sesame seeds, black and white if you have them to hand, which add a nuttiness to the crumb. The pork is then shallow fried and finished in the oven whilst you mix together the Tonkatsu sauce mixture. It may look like a lengthy list of ingredients, but there's nothing too mysterious, they are all store cupboard standards. The sauce has a lightly spiced, sweet and sour flavour which hugely compliments the rich pork. I served mine with some sticky rice and steamed pak choi as these go so well with this simple dish. My pork and sauce combo is a mixture of recipes from both the William's Sonoma blog and Serious Eats, with huge inspirational thanks.
Tonkatsu Pork is a great family staple, but also quite delicious enough to serve for guests. To be fair, anyone would love to be served this dish regardless of if they are ungrateful, hard to please children or your charming friends being treated to a home cooked supper. Lucky, lucky things.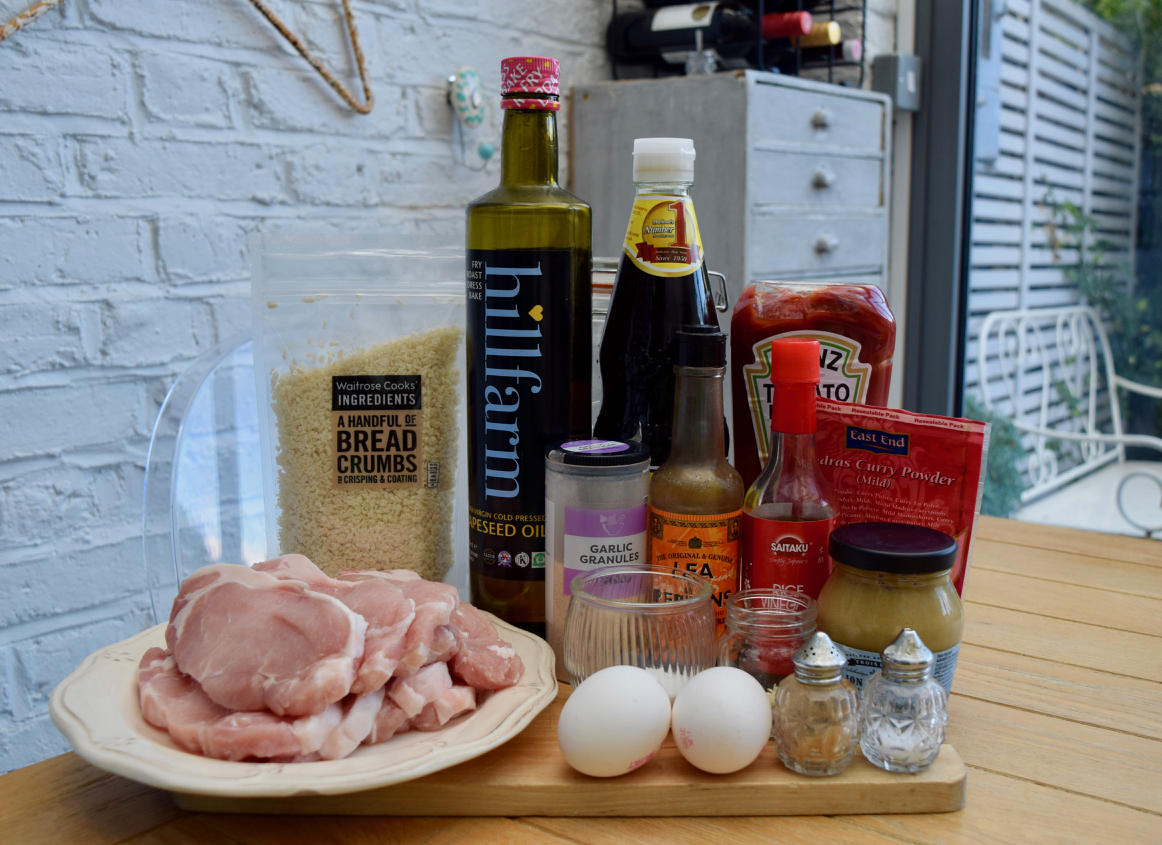 As I mentioned, this looks like a lot of ingredients, but it's not really. I have most of these snaffled away in the back of my over stocked herb and spice cupboard. I had both black and white sesame seeds to hand, but if you only have white that's just as good, just less colourful. Also, I usually use panko breadcrumbs but these standard ones were just as good, and cheaper, can I just point out.
Make a start by pre heating your oven to 160 degrees fan assisted and placing a rack on a baking tray, ready for the pork. Take 2 plates and measure out the breadcrumbs and sesame seeds on one and beat 2 eggs on the other.
Next, measure the flour into a large food bag and season well with salt and pepper.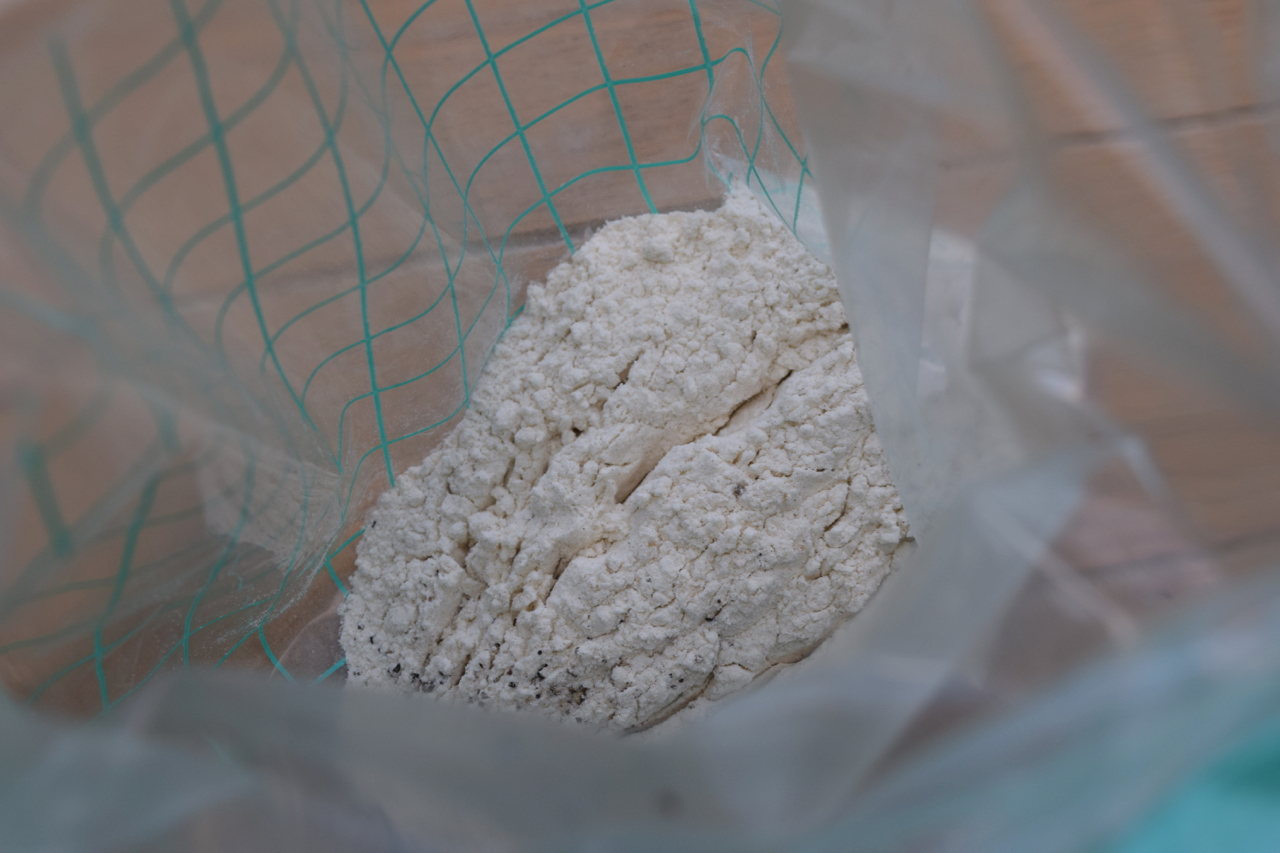 Take your pork steaks and 2 at a time, coat them in the flour in the bag and place on a plate. Once they're all lightly floured, dip each side into the beaten egg, then into the breadcrumb and sesame mix.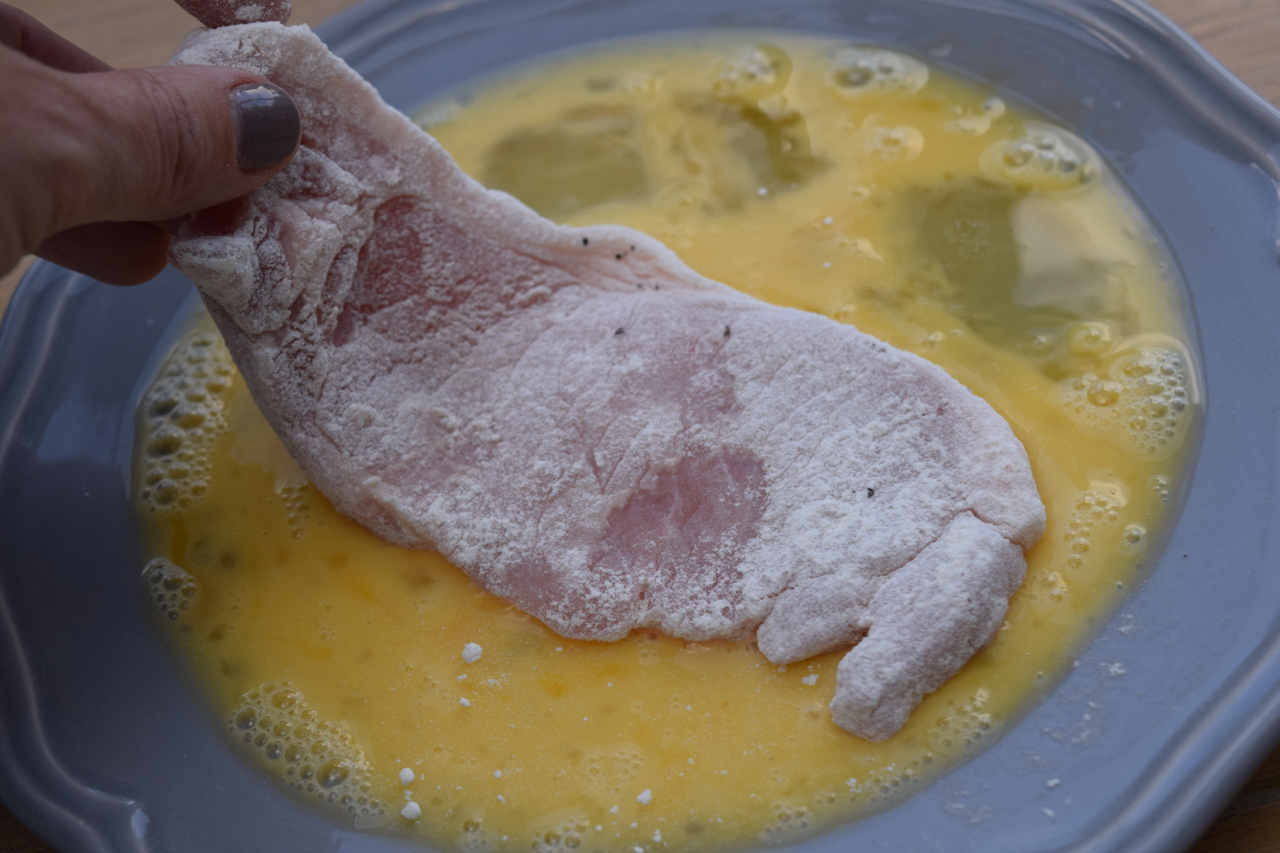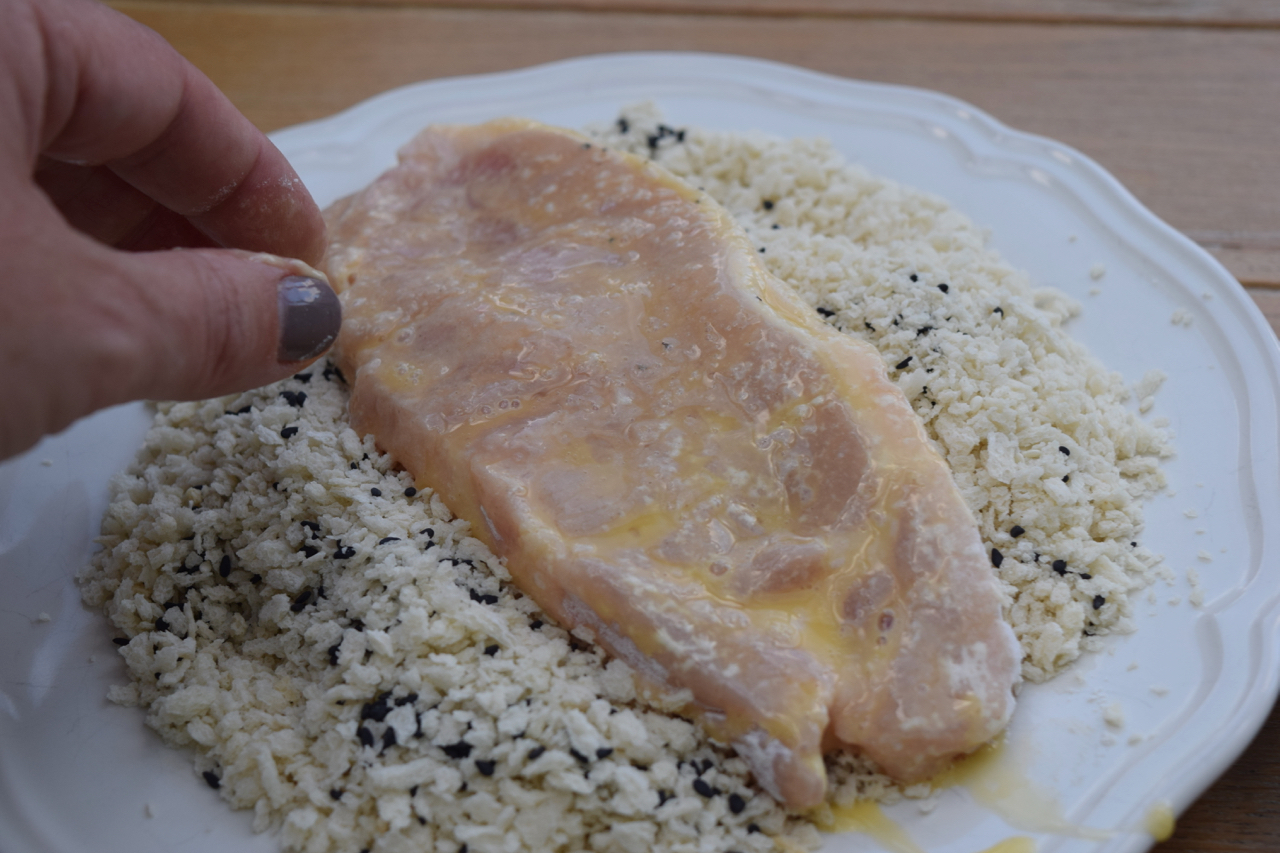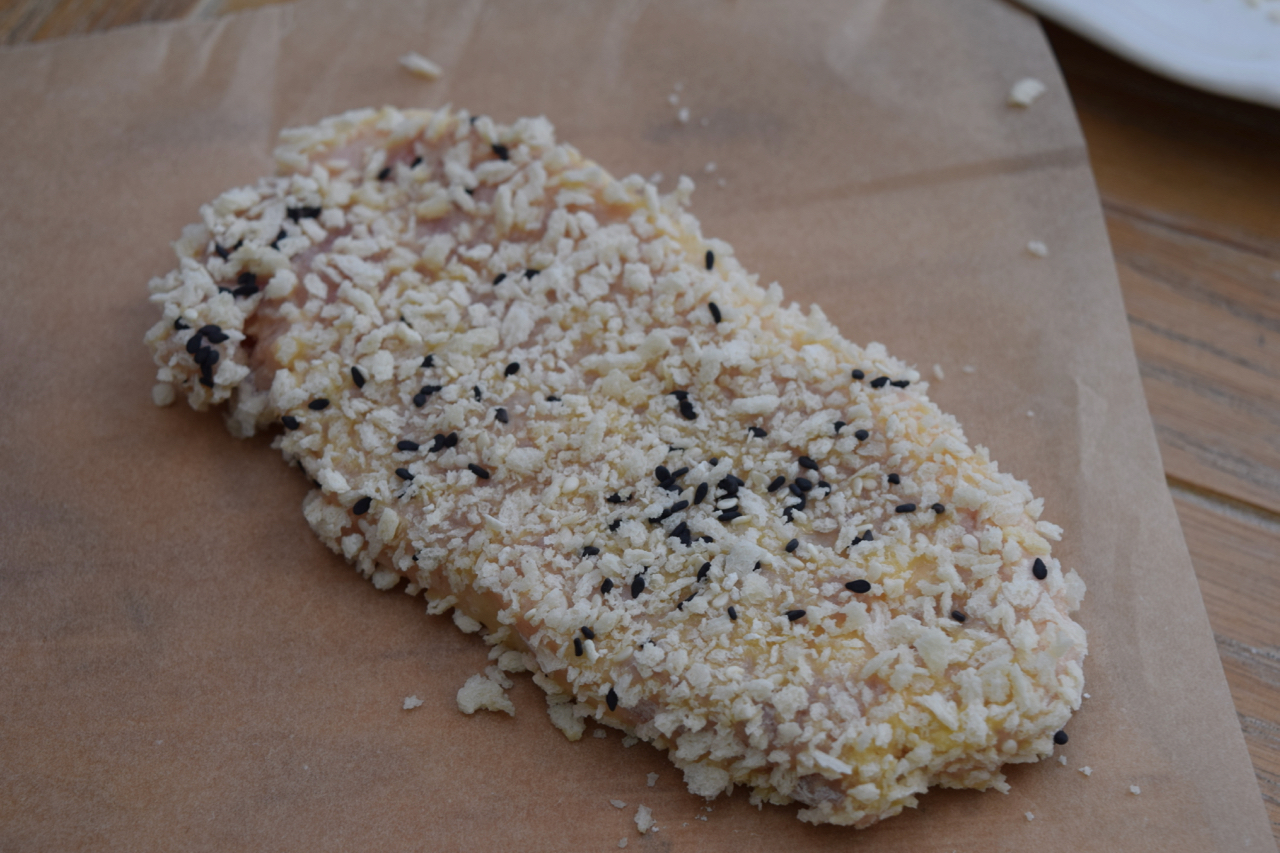 When you have coated all the pork in flour, egg and crumbs, take a relatively high sided frying pan and add around an inch of oil. I used Rapeseed, because that was what I had. Once the oil is hot enough, and you can test by adding a breadcrumb to it and if it sizzles and browns, it's ready, then add the pork, two pieces at a time.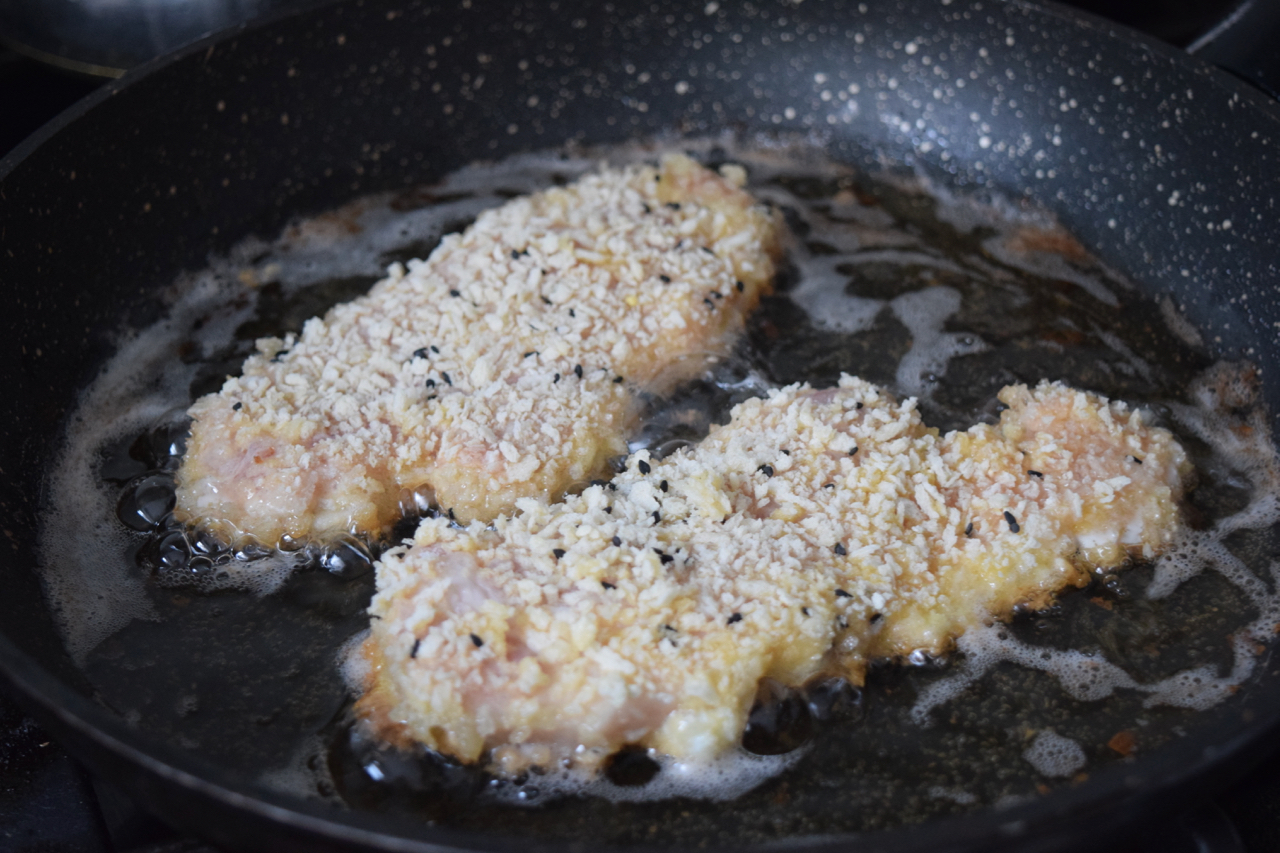 Cook for around 3 minutes, until crisp and golden, then turn over and cook on the other side.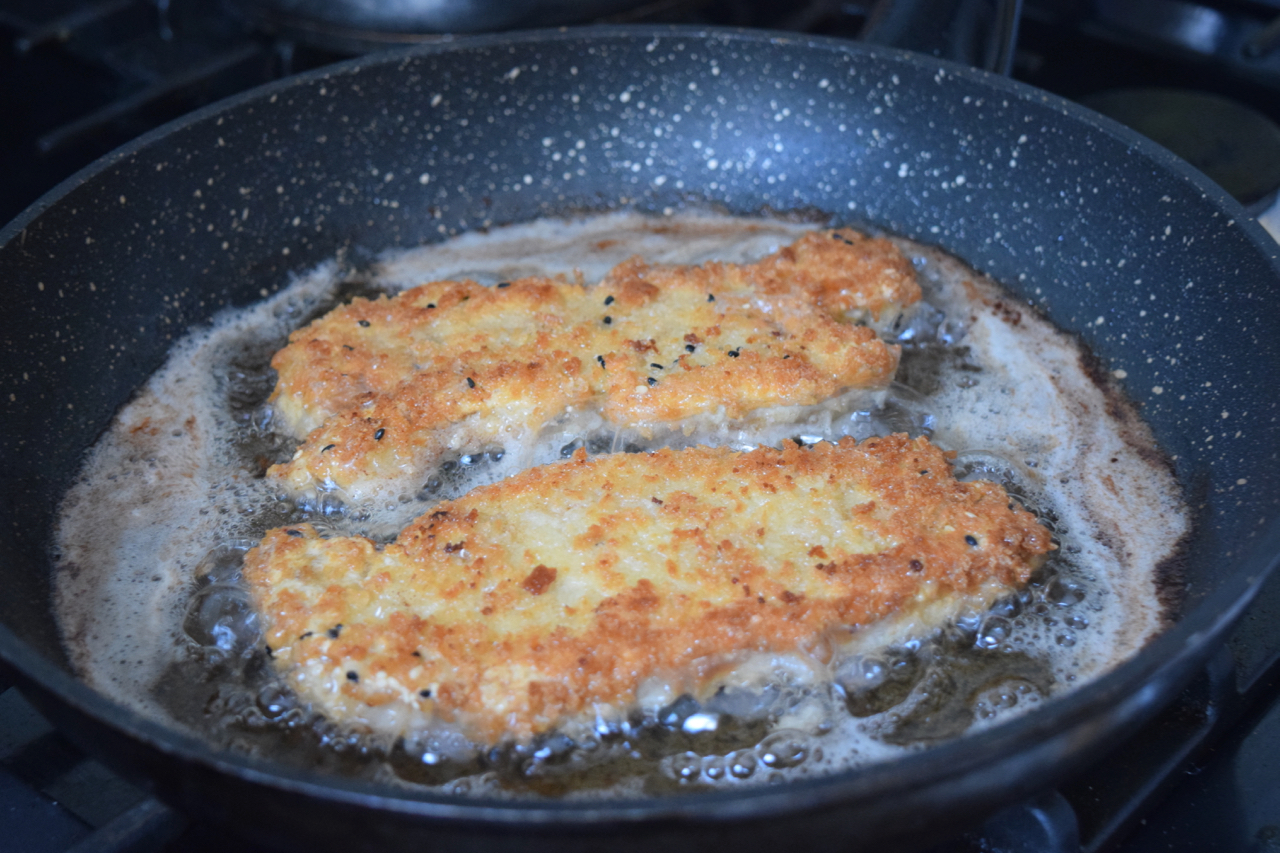 Place the golden pork onto the wire rack and leave to one side while you brown the other pork steaks.
Place these in your pre heated oven for around 10 to 15 minutes or until sizzling, golden and cooked through.
While they are finishing off, prepare the Tonkatsu sauce. In a bowl or jug, measure in the ketchup, Worcestershire sauce, soy, rice vinegar and sugar.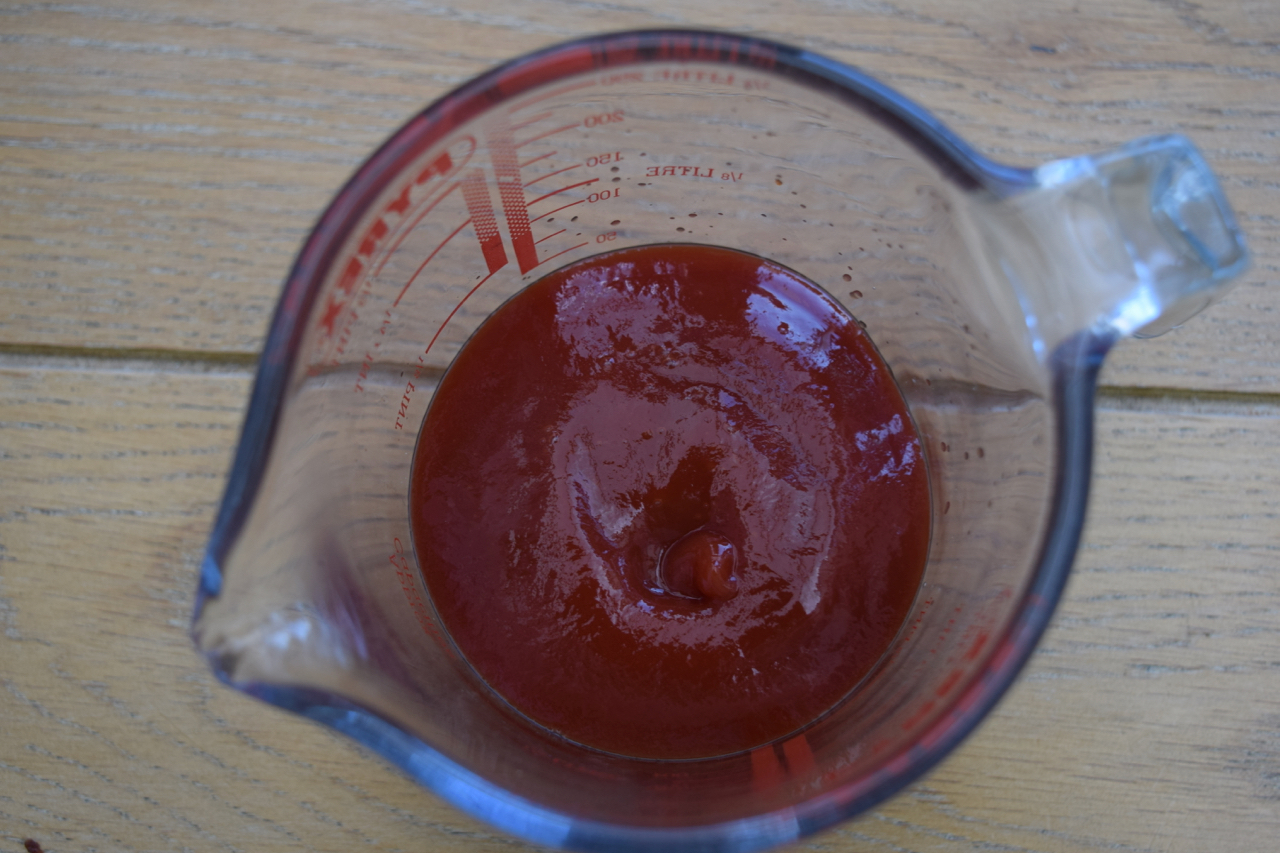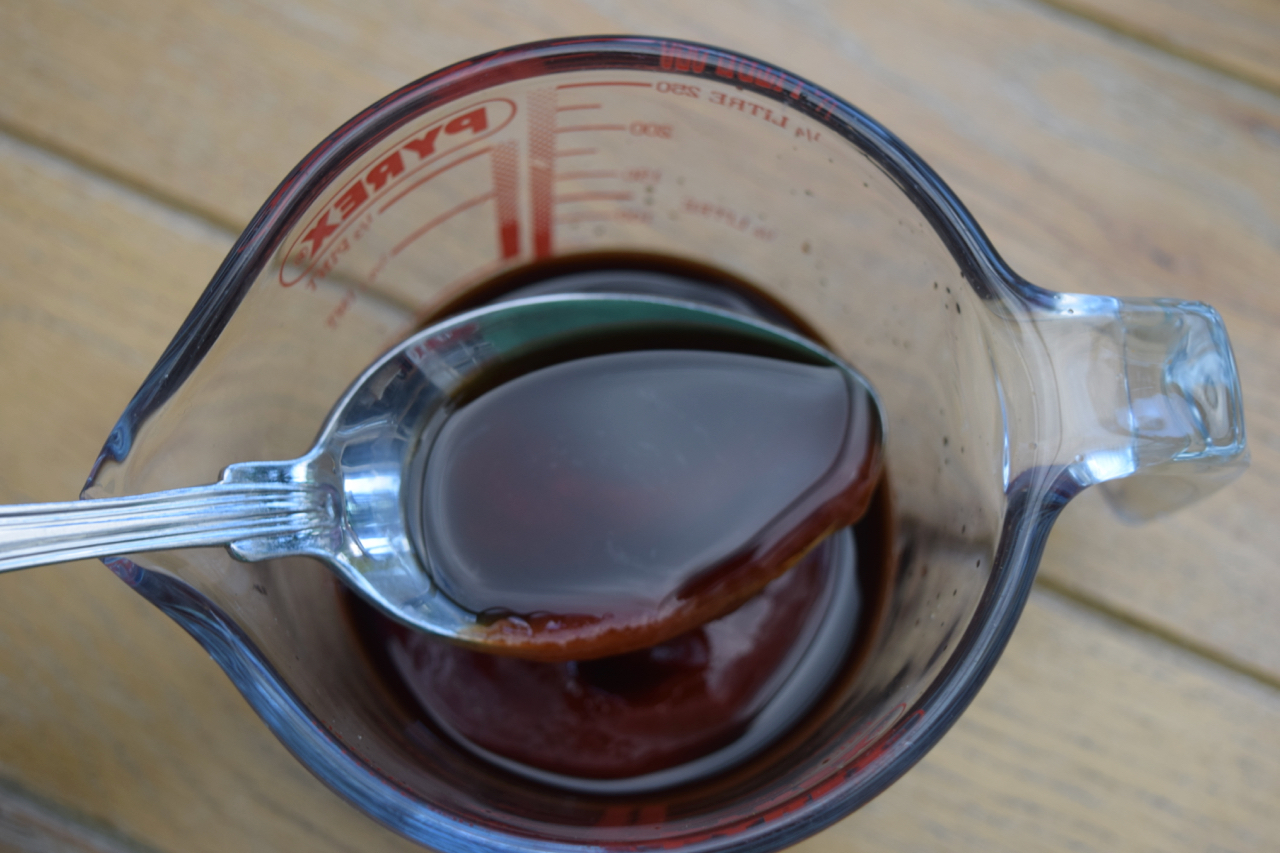 Finally stir in the mustard, garlic granules and curry powder and mix until you have a smooth sauce.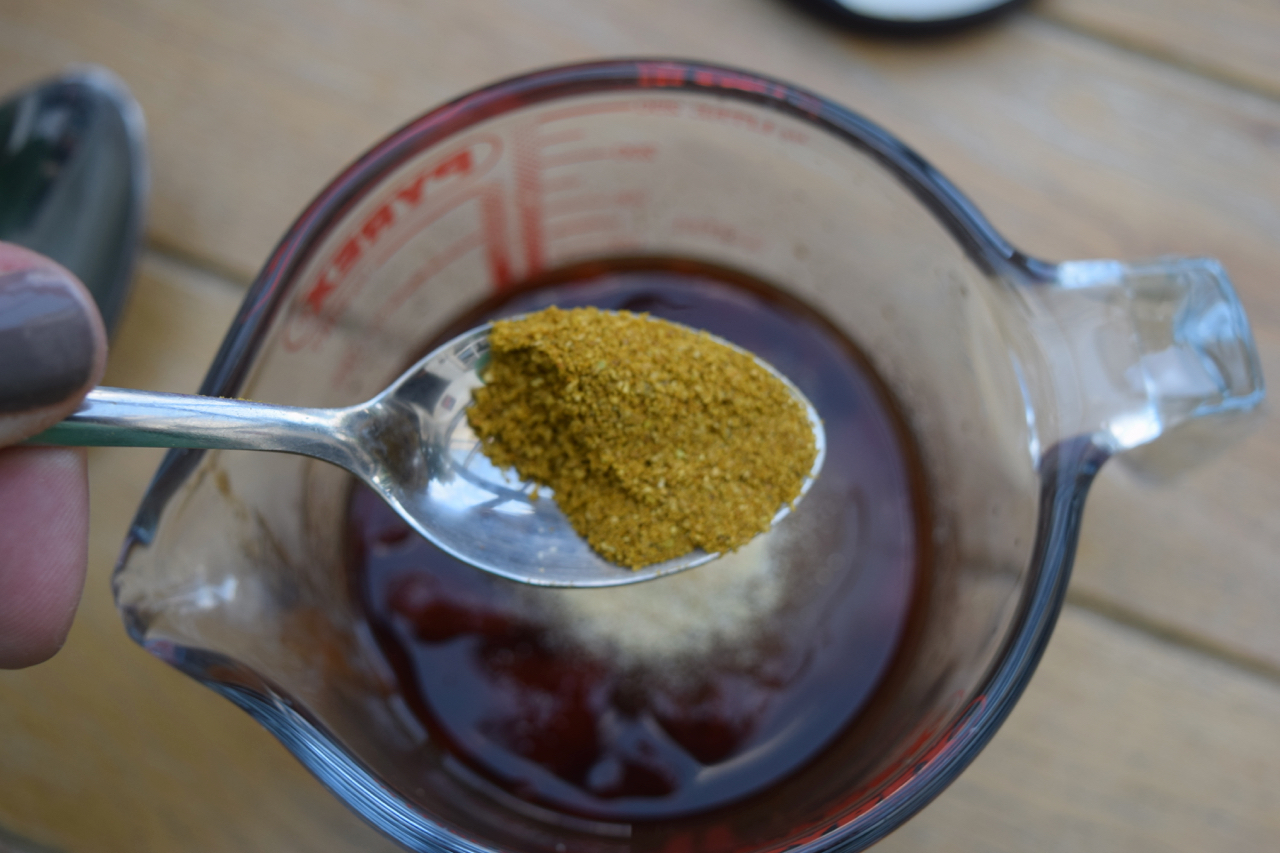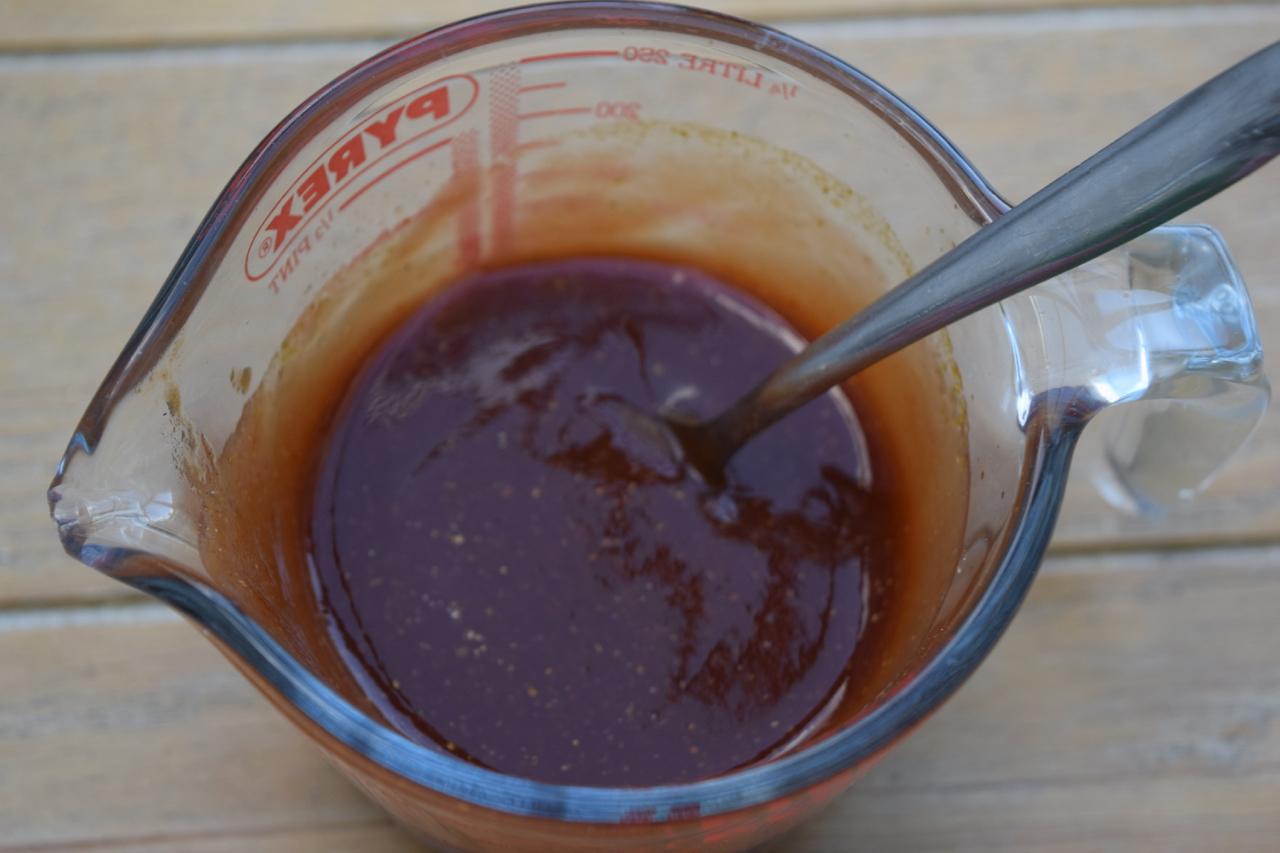 You are now ready to plate up this brilliant dish. Providing you have cooked some rice and steamed some greens, that is. Serve the crisp pork with the aforementioned sides, drizzled with the Tonkatsu sauce with some extra served on the side in a bowl for added adornment later. Garnish with fresh coriander too if you like.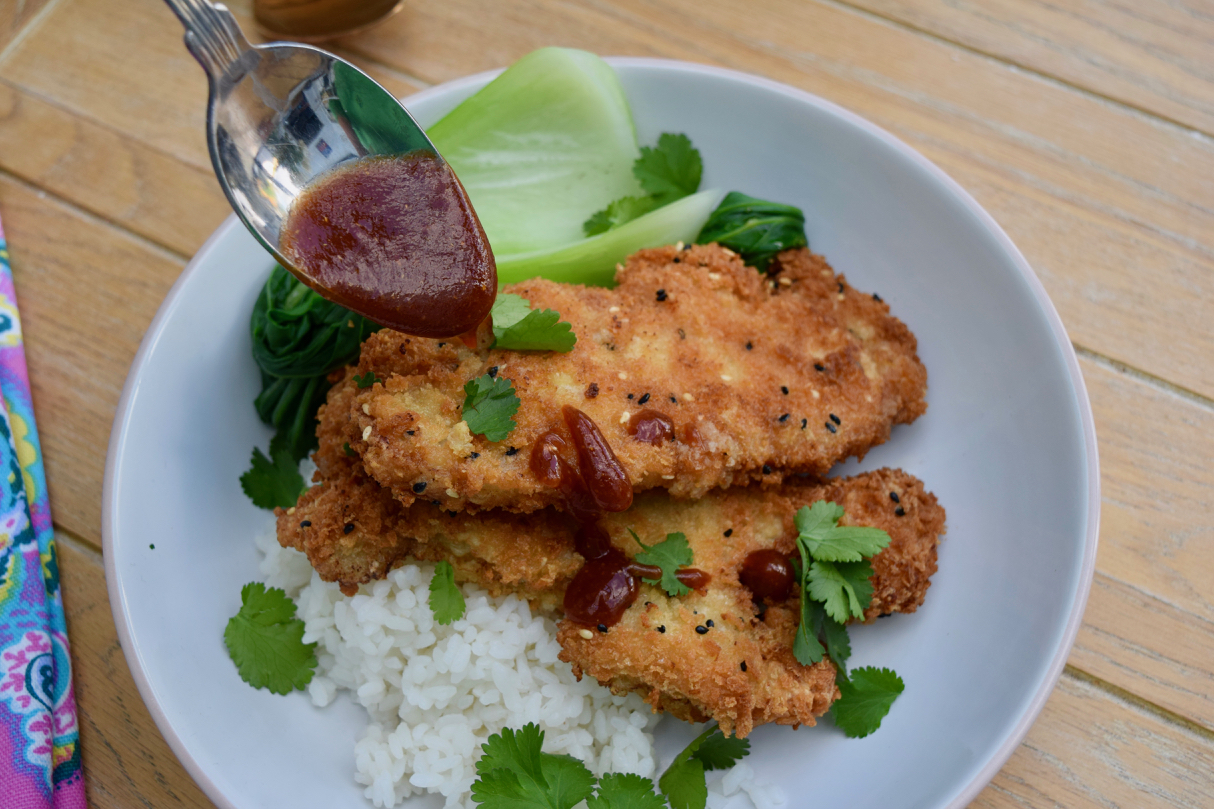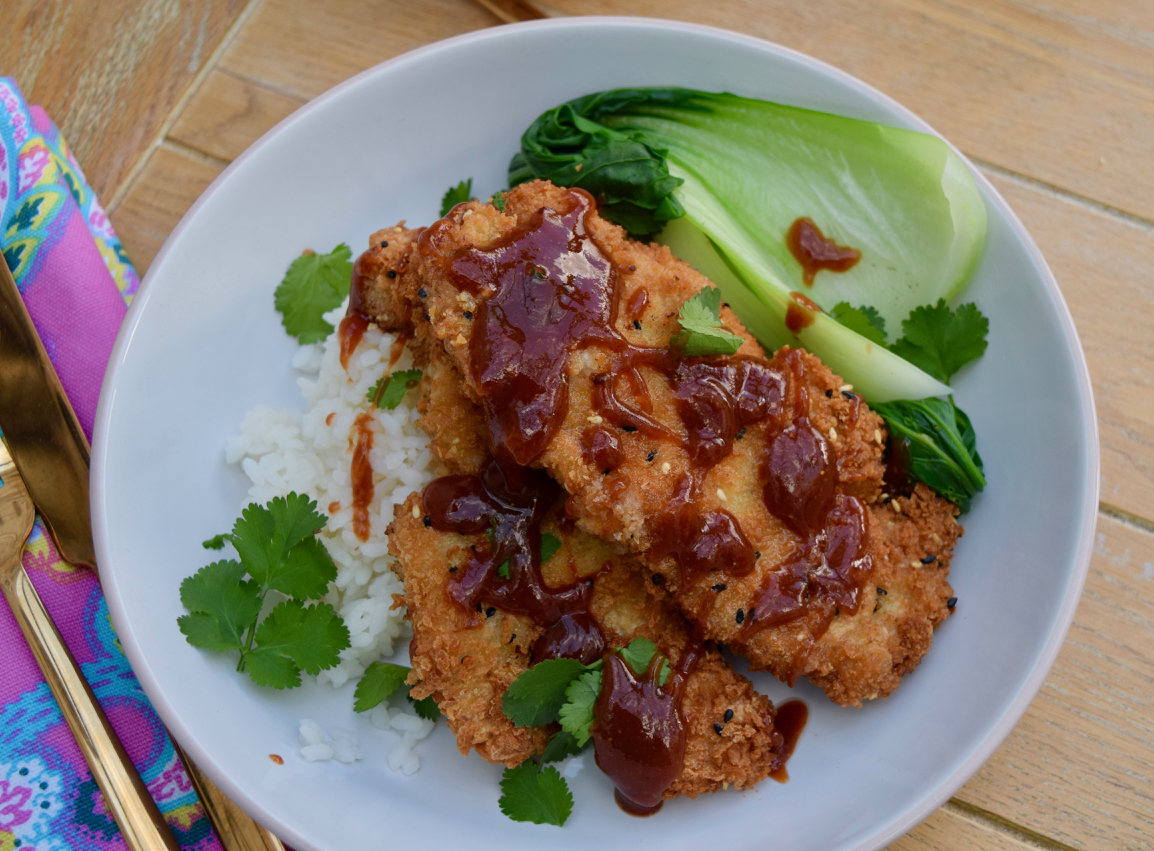 I have just run around for an hour in the cold in a vain attempt to tone up my 48 year old body.  I could murder a plate of Tonkatsu Pork right now, in all it's crisp, comforting glory. Instead I've had a bowl of granola and a cup of green tea. Which was good, but it's no Tonkatsu.
Lucy x
Tonkatsu Pork Recipe
Serves 4, comfortably
You will need no exciting equipment
Pork
800g pork loin steaks, thin-ish
75g plain flour
2 eggs, beaten
100g panko or normal breadcrumbs
2 tablespoons sesame seeds, black and white if you have them
salt and pepper
Oil for shallow frying
Tonkatsu Sauce
80ml ketchup
2 tablespoons Worcestershire sauce
1 tablespoon soy sauce
1 tablespoon rice vinegar
1 teaspoon sugar
1 teaspoon mustard, I used Dijon
1/4 teaspoon garlic granules
1/2 teaspoon curry powder
Rice, steamed pak choi and some fresh coriander to garnish
Pre heat your oven to 160 degrees fan assisted and place a wire rack on a baking tray.
Take 2 plates and on one beat the two eggs and on the other mix the sesame seeds with the breadcrumbs.
Take a large food bag and measure in the flour, season with salt and pepper. Add the pork steaks, two at a time, to the bag and ensure they are lightly coated with the seasoned flour. Place them on a plate. Continue with all the pieces of pork
Next, dip the floured pork into the egg, coat on both sides, then coat with the sesame breadcrumbs. Place on a plate and continue until you have egg and breadcrumbed all the pork.
Take a high sided frying pan and add an inch of vegetable oil. Heat over a medium flame until a breadcrumb sizzles and browns instantly when dropped into the oil. Add two pieces of pork at a time and cook for around 3 minutes on each side, turning over once the first side is crisp and golden. Place the pork on your wire rack and continue to cook the other pieces of breaded pork. Once you have browned all 8 steaks, place them in your pre heated oven to finish cooking for around 10 to 15 minutes or until cooked through and piping hot.
While these are finishing, prepare the Tonkatsu sauce. In a small bowl mix together the ketchup, Worcestershire sauce, soy, rice vinegar, sugar, mustard, garlic granules and curry powder. Give it a whisk until smooth.
Once your pork is cooked through, serve with some sticky rice, steamed greens of your choice and a garnish of fresh coriander and then drizzle the pork with the Tonkatsu sauce. Serve with extra sauce on the side. Devour whilst piping hot.