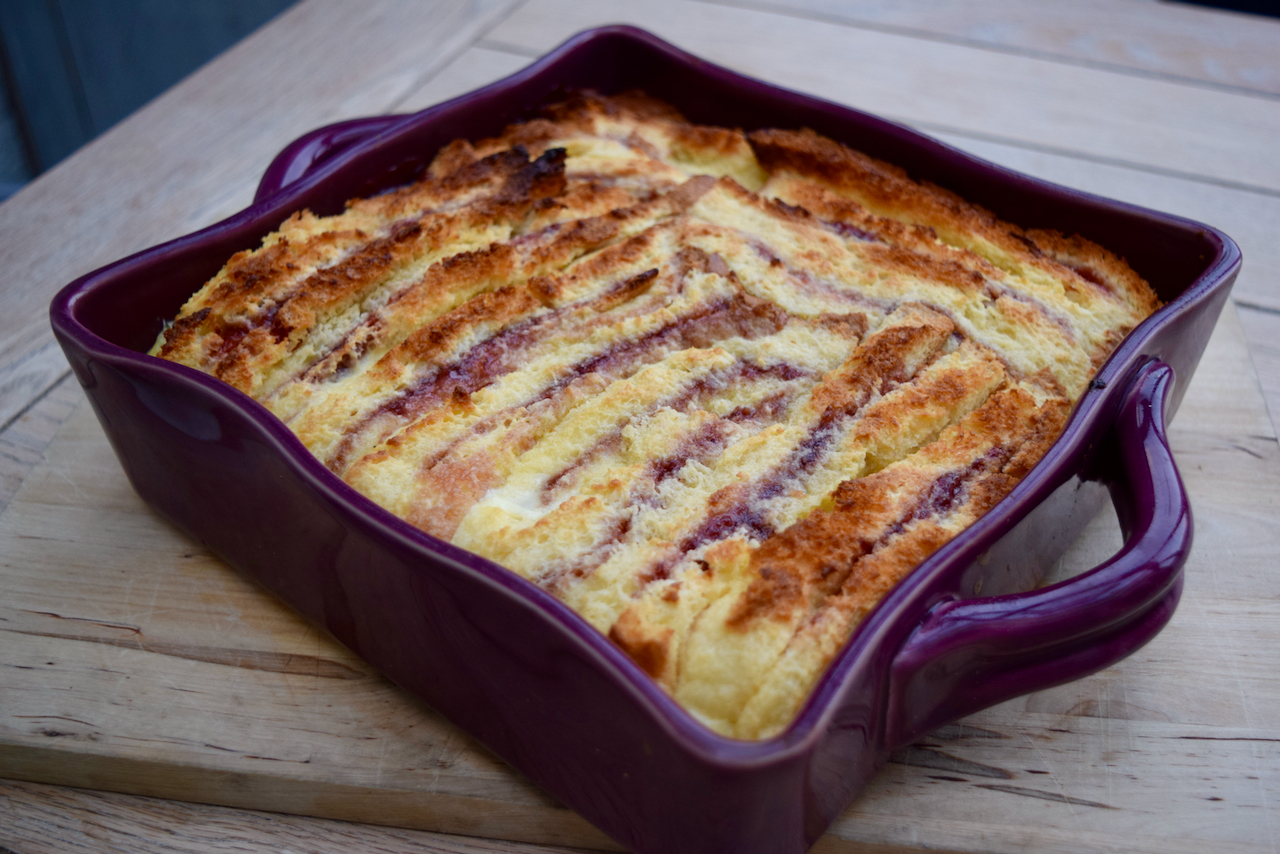 Bread, Jam and Butter Pudding recipe
As you can tell from my recent posts, I'm still not quite there with my new year healthy eating program. And it's February. Realistically, I'm sticking with my policy of everything in moderation and eating, in moderation, bloody great big bowls of this Bread, Jam and Butter Pudding.
We love a special pud on a Sunday in our house. However, I've usually been cooking for most of the day, so by the time supper rolls round inclination is low on the dessert making front. Enter stage left my Bread, Jam and Butter Pudding. It's so bloody easy, basically, a dish full of brioche jam sandwiches baked in a creamy custard. The jam adds sweetness to the creamy butteriness; I chose strawberry, mainly as I had three jars in the cupboard, but this would be as amazing with apricot jam or even lemon curd if you're that way inclined. Once baked you have a hot mess of creamy baked, jam infused amazingness with very little effort.
Balls to a new year, a new me; it's a new year, with the same old pudding eating me and I'm perfectly happy with that.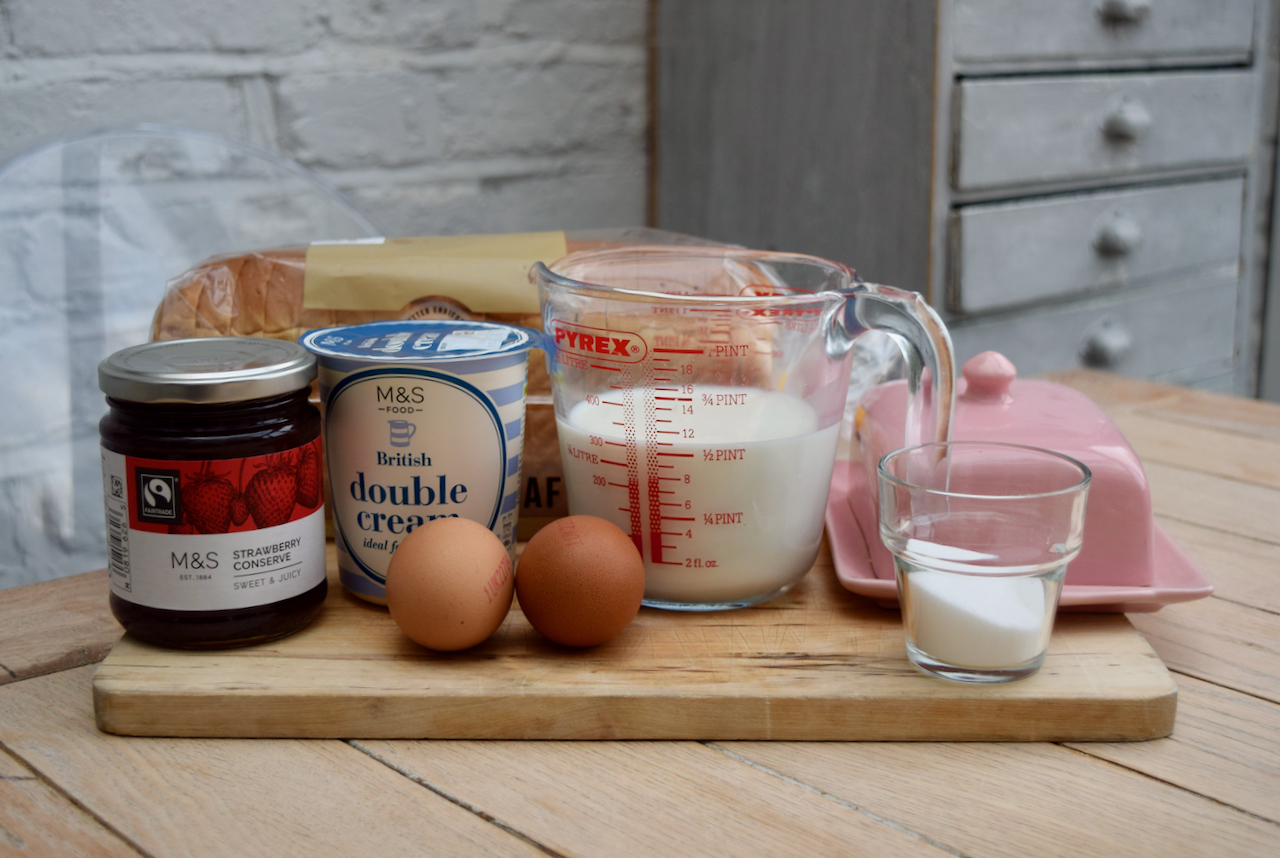 Hidden behind the custard ingredients is a lovely loaf of sliced brioche. You don't have to use this for your pudding though, cheap thick sliced white or even leftover festive panettone would be just as tasty. The rest is simple and very handily used up some of the litres of cream I always seem to have in my fridge.
Start by buttering your chosen baking dish, mine was 20cm square, and pre heating your oven to 160 degrees fan assisted. Next, spread the bottom of the dish with 4 tablespoons of your chosen jam.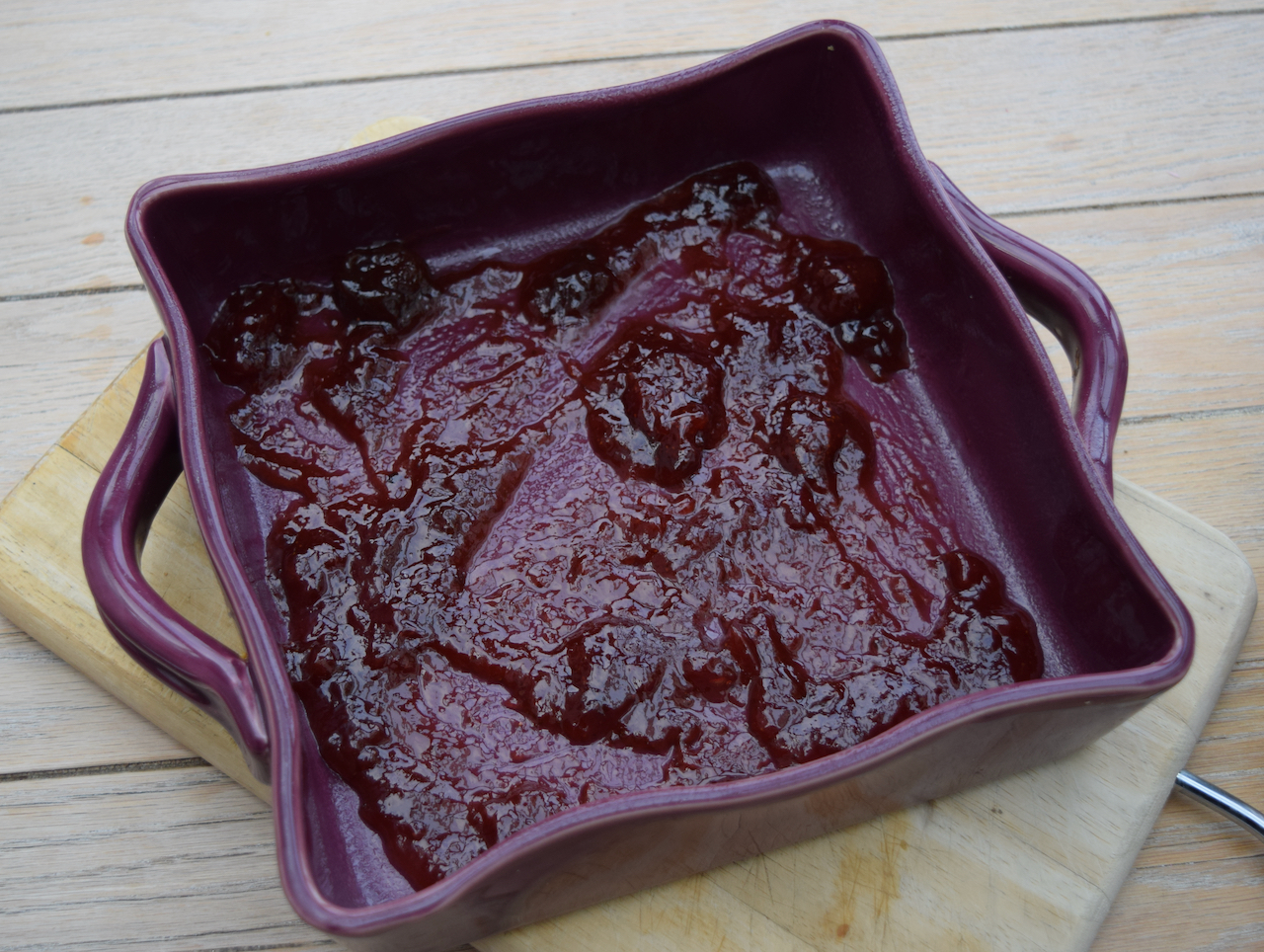 Now take your slices of brioche, or other bread based business, and roughly butter one side of each slice.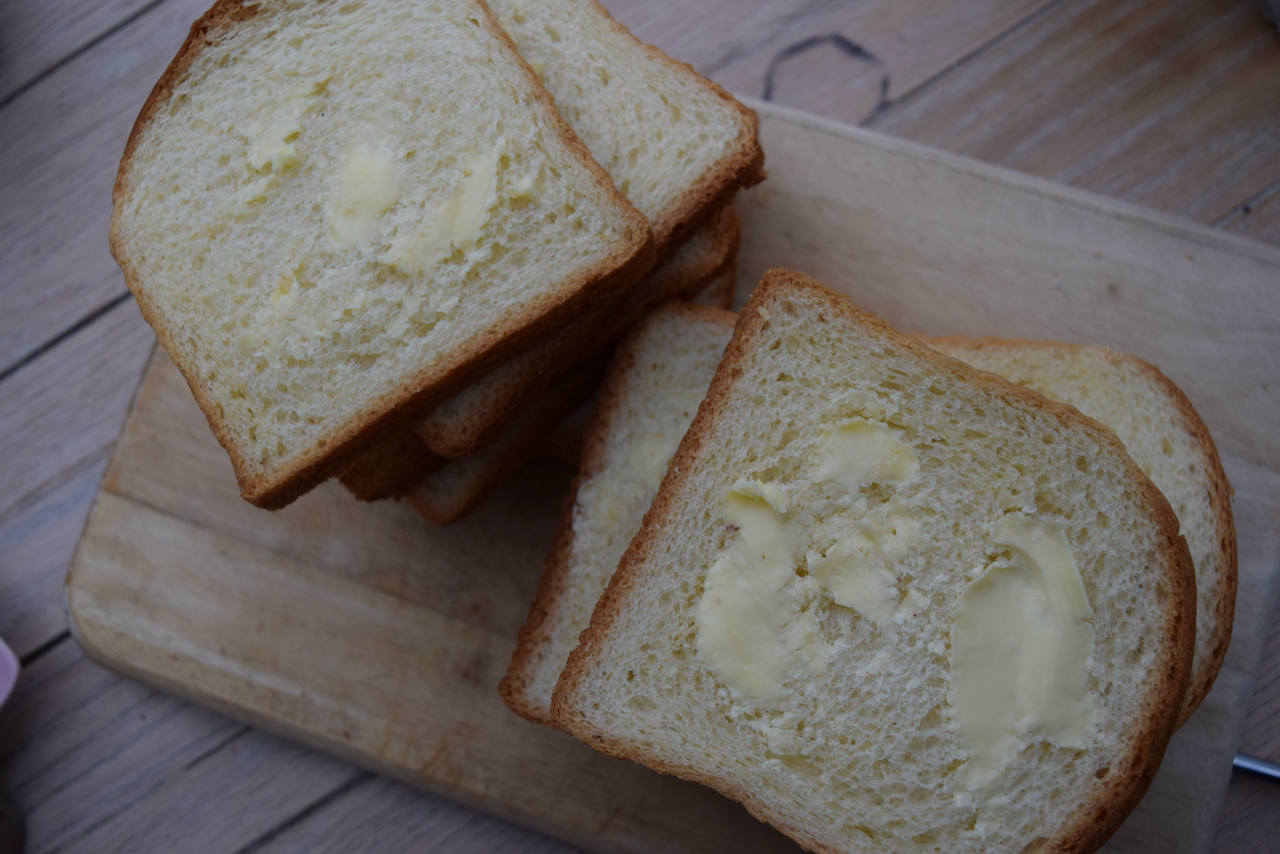 You could cut the crusts off to remove the slightly rustic nature of this pud, but I'm afraid I'm just not that person. Spread the unbuttered side with jam then sandwich the bread together into 7 sandwiches with the butter on the outside.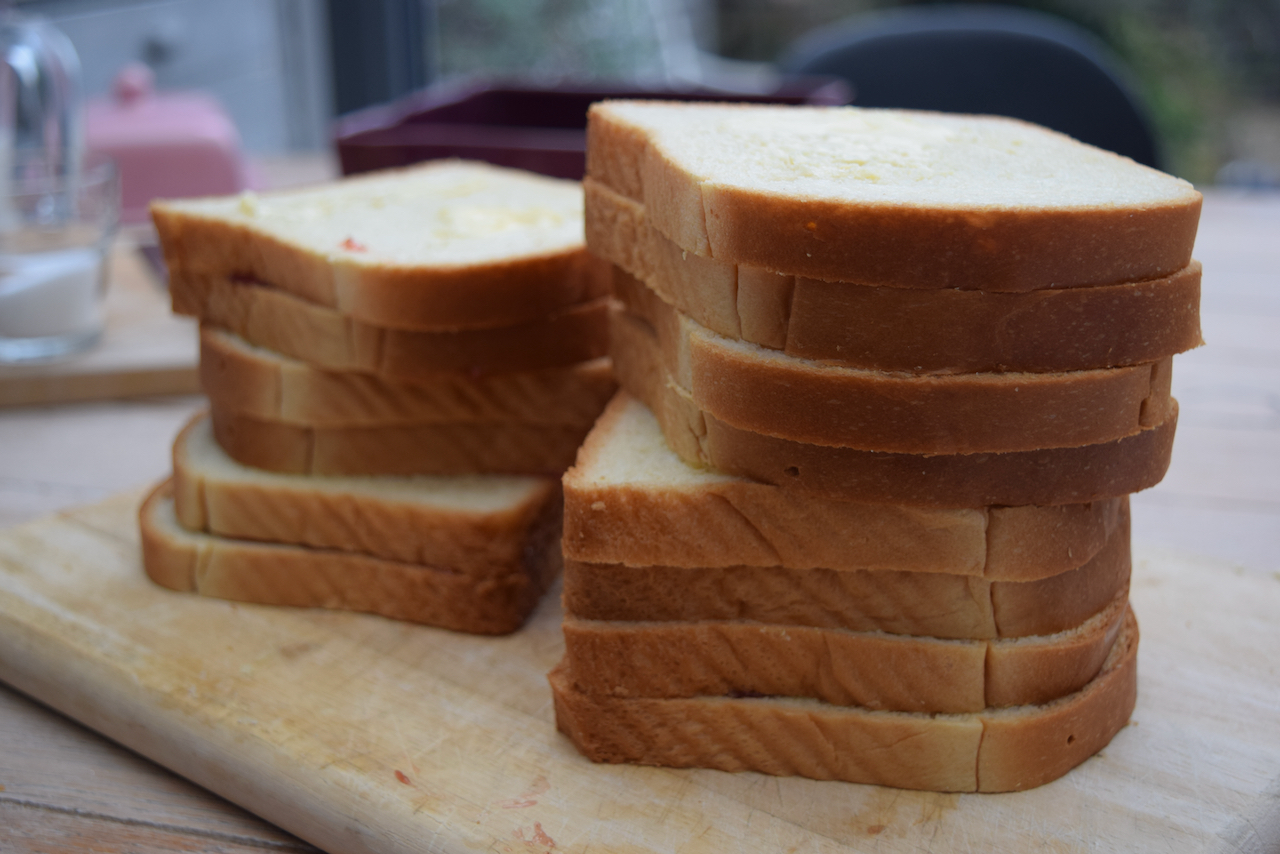 Cut each sandwich in half and pack them into the dish. It will be a squeeze, but don't panic, this is a rustic pud, no precision needed here.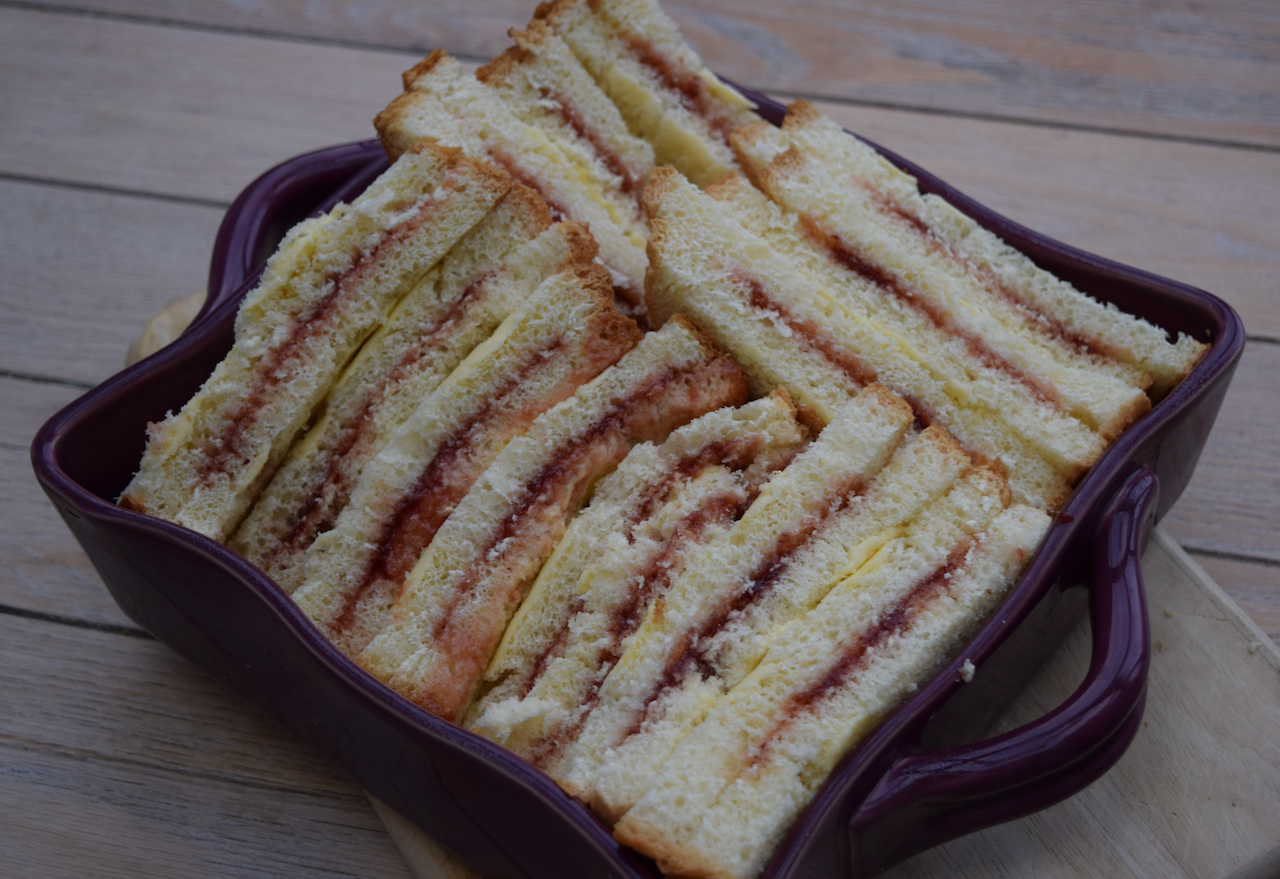 Pop this to one side while you make the simple custard. In a large jug, simply whisk together the cream, milk, eggs and sugar.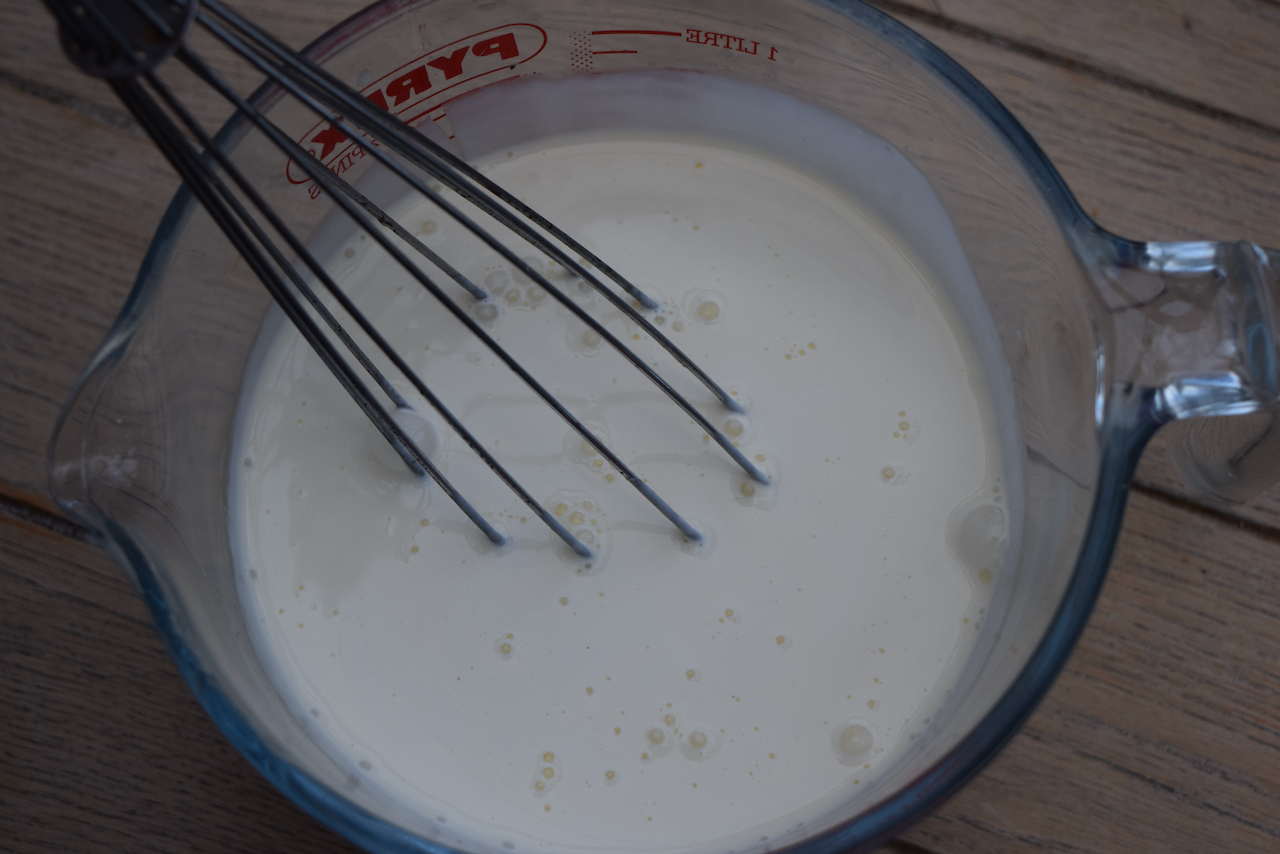 Pour this over your jam sandwiches, making sure all the bread is well covered. Then press down with a fork to encourage the bread to absorb the custard mixture and to create an even-ish top.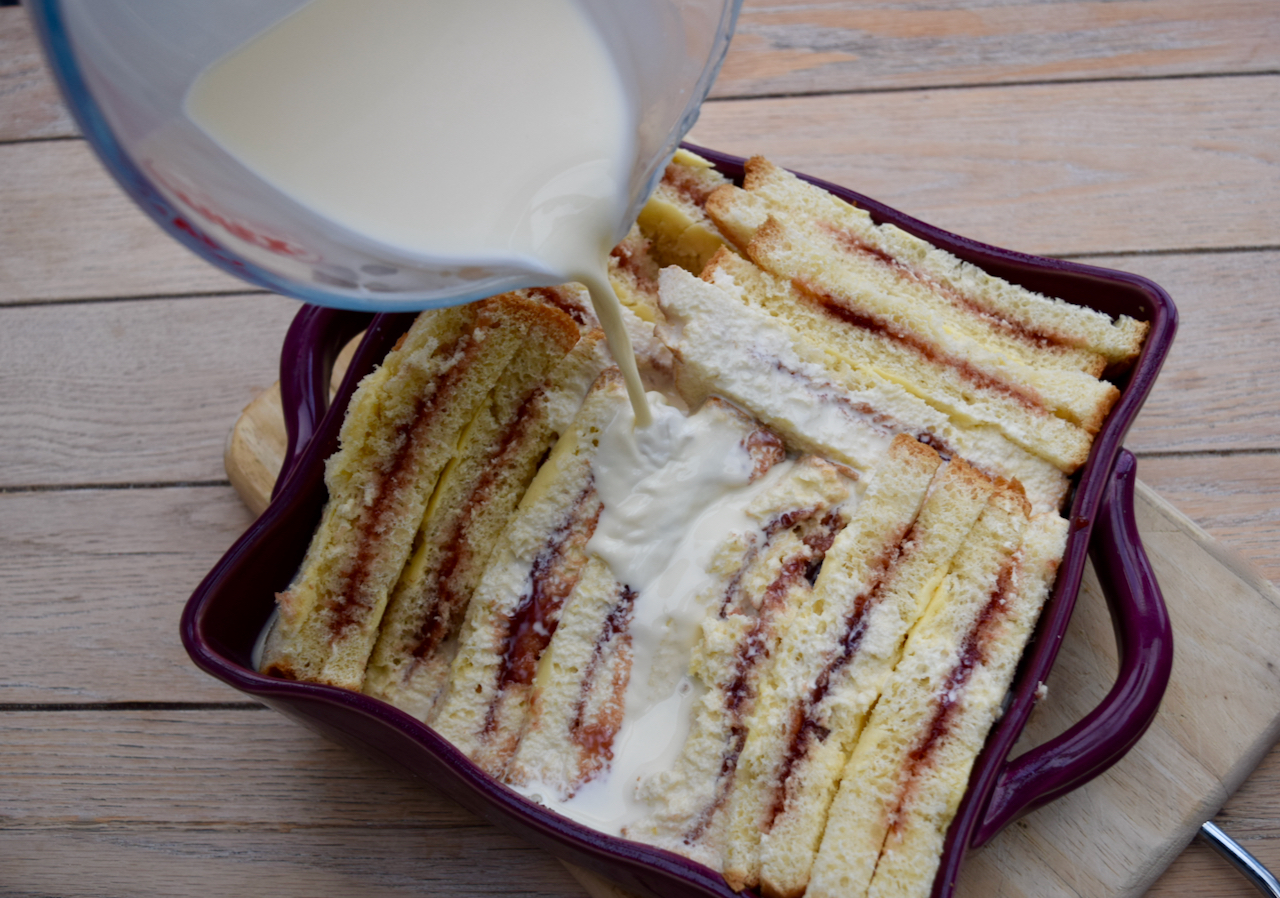 At this point, you could pop the dish into the fridge, covered in cling, for baking later. Or bake it straight away, uncovered, in your pre heated oven. It will take around 25 minutes and is ready when the top is crisp and golden and it's smelling unbearably delicious.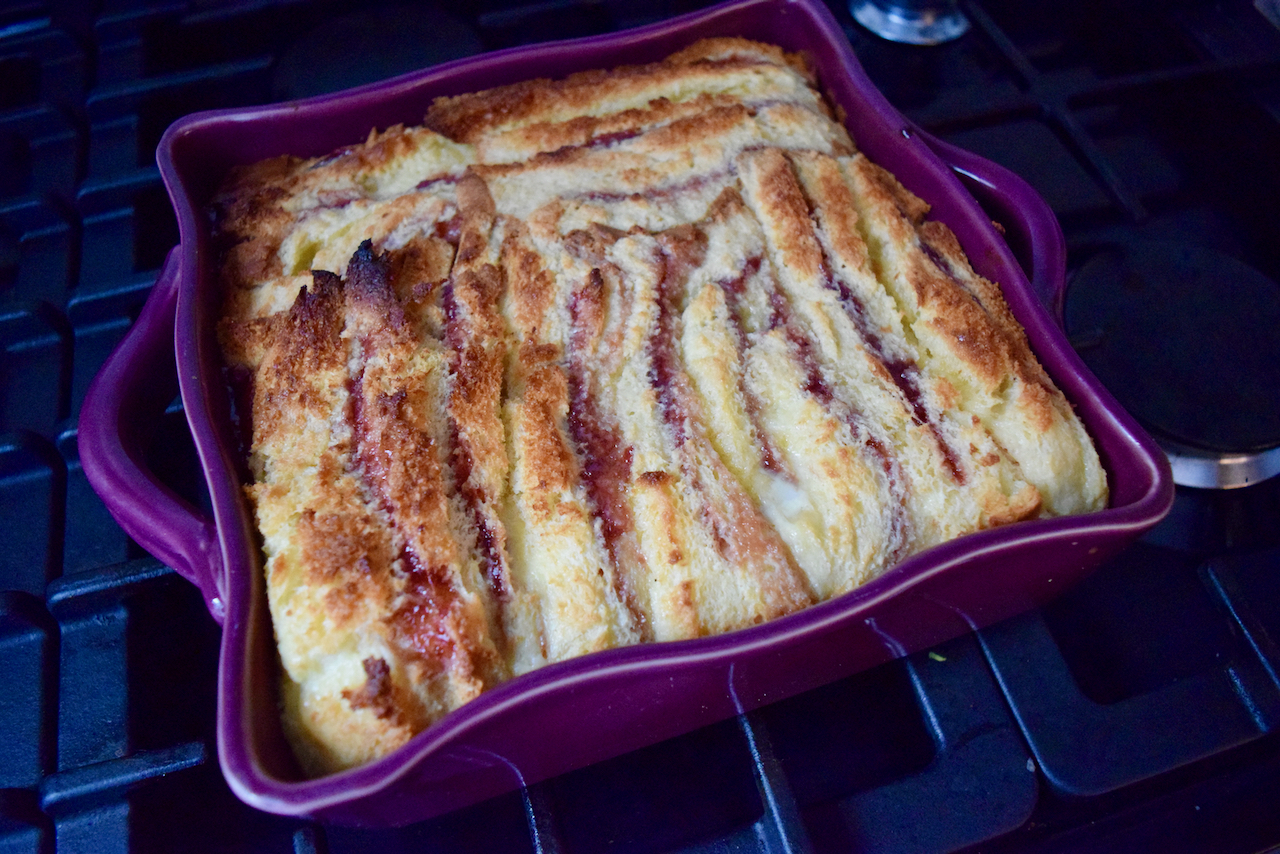 Let your pudding sit for 5 minutes before serving, in whopper portions, with an obscene amount of cream.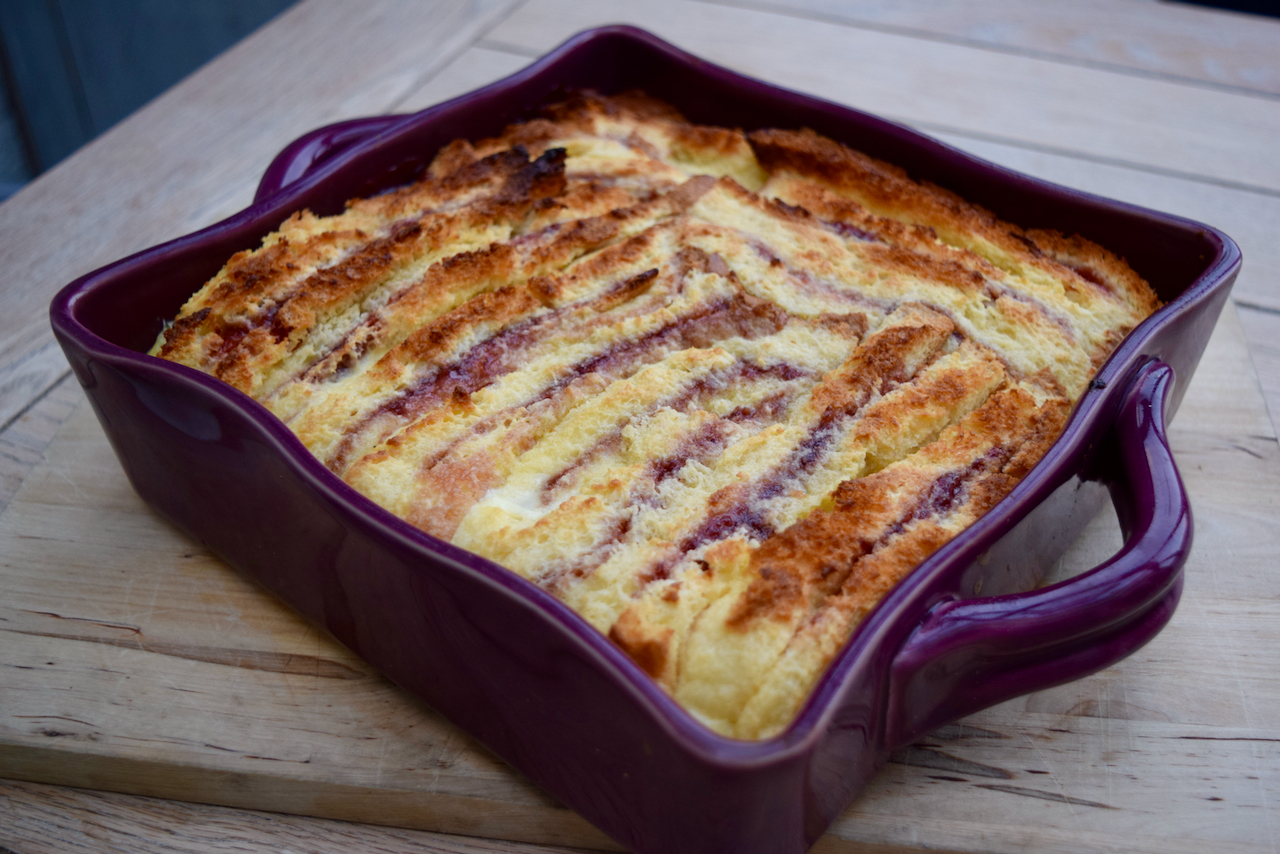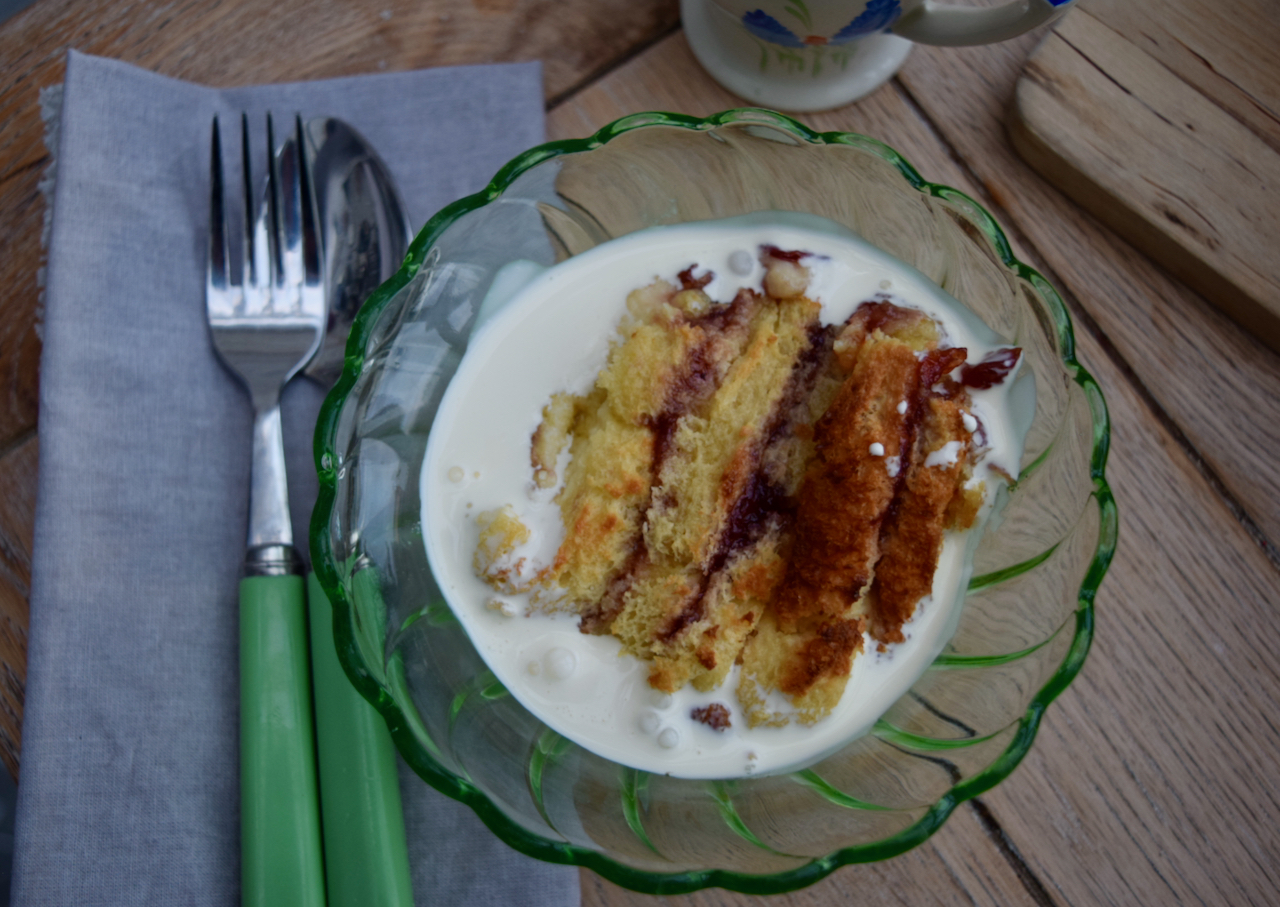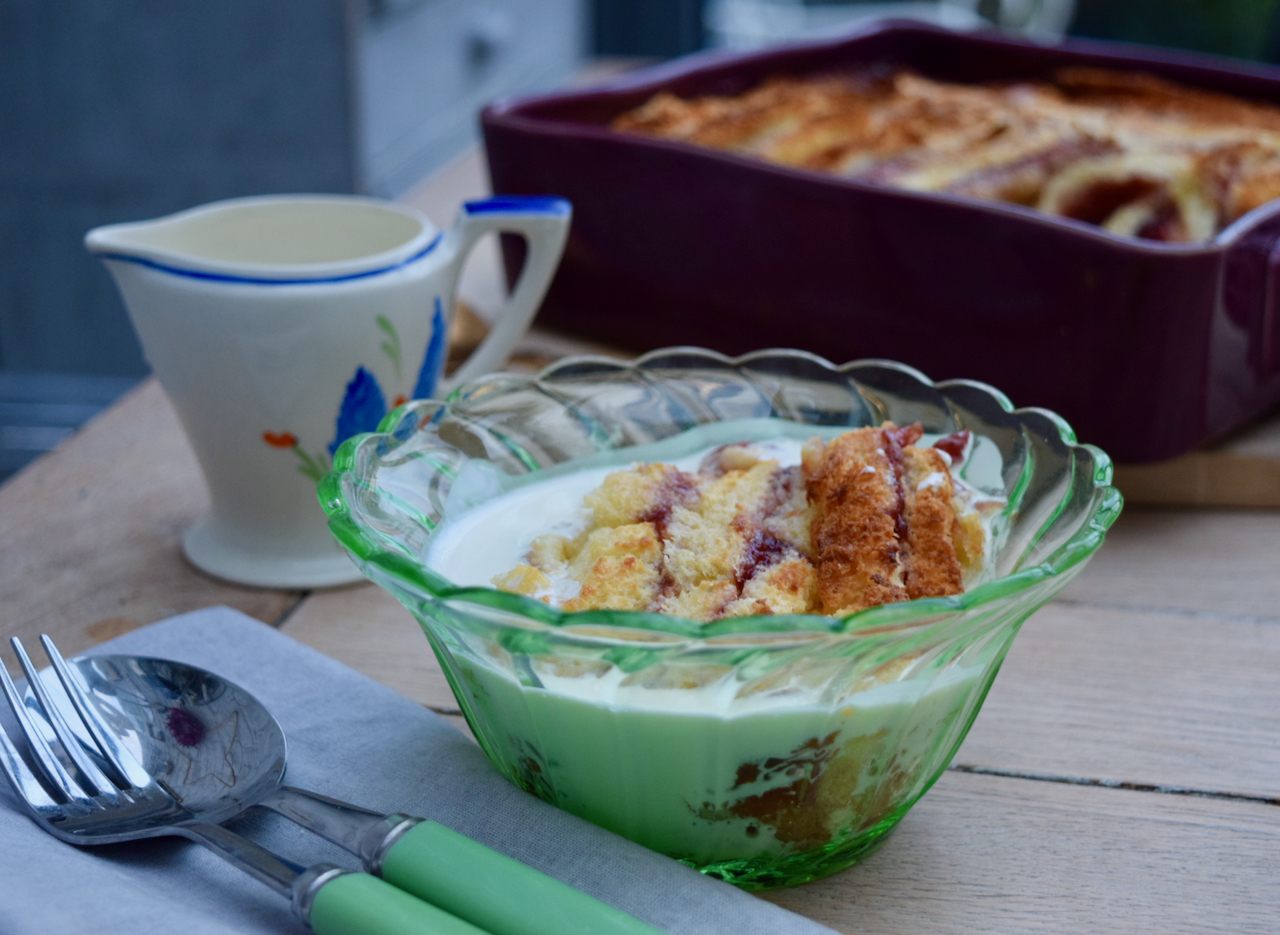 Crisp brioche with sweet jam and a custardy soft centre. This is nursery food at it's finest and the perfect antidote to a grey February day.
Lucy x
Bread, Jam and Butter Pudding recipe
Serves a generous 6, or more, appetite dependent
You will need a well buttered 20cm square baking dish
A jar of your favourite jam, I used a 340g jar of strawberry jam
1 x 400g sliced brioche loaf, I used 14 slices
Soft butter for spreading, around 50g
300ml milk
200ml double cream
2 eggs
2 tablespoons caster sugar
Plenty of double cream or custard, to serve
Butter your baking dish well and pre heat the oven to 160 degrees fan assisted.
Spoon in 4 heaped tablespoons of your chosen jam and spread over the base of the dish. Next, spread the slices of brioche with soft butter on one side. Spread the other side of the brioche with jam and sandwich the slices together to make seven sandwiches, with the butter on the outside. Cut them in half and fit them into the baking dish, not worrying if they're wedged in.
In a large jug whisk together the cream, milk, eggs and sugar. Pour this over the jam sandwiches, ensuring the custard covers the bread; press down on the brioche with a fork to help it absorb. Put the dish in the oven and bake for around 25 minutes or until the top is golden, crisp and smelling amazing. Leave to cool for 5 minutes before serving in generous scoops with a lake of double cream.
Any leftovers can be reheated or served cold over the next 2 to 3 days.