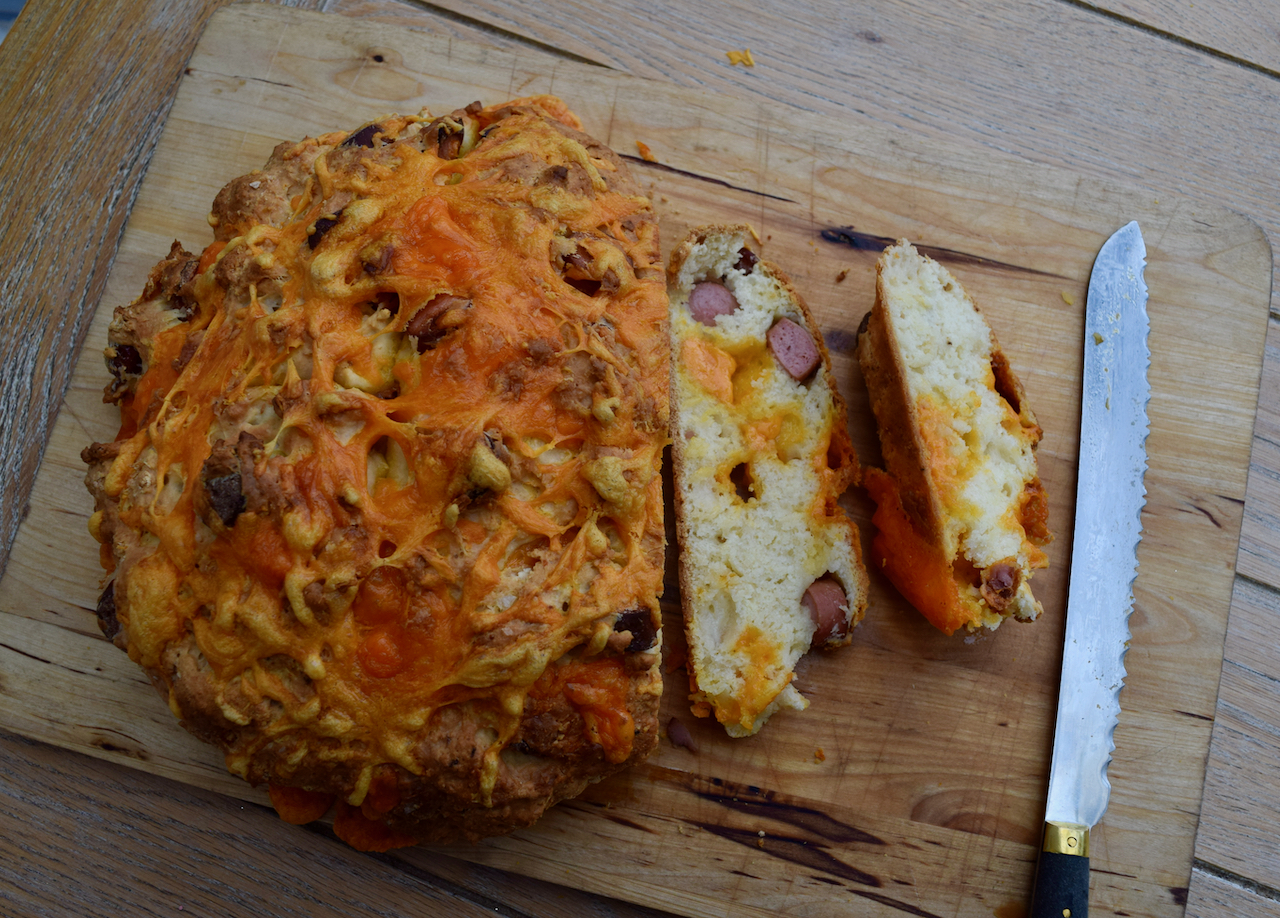 Hot Dog Soda Bread recipe
I want to say I'm back and I'm refreshed after a lovely break over Christmas but I'm not really. Our Christmas, as I'm sure yours was too, was a bit of a damp squib and really rather heartbreaking not being able to spend our first one without Dad, away from Mum. We ate and drank to excess but it was tinged with sadness. No one's really in the mood to hurtle head on into January, least of all me, so I'm easing myself back in with this simple, child friendly Hot Dog Soda Bread.
As I write, the UK has just been put into a third national lockdown. Oh joy of all joys. George is trying to look upset about the prospect of not sitting his A levels whilst my attempts at not drinking during the week have disappeared into thin air. Schools being closed mean more eating at home, which makes this Hot Dog Soda Bread bloody well timed. It's so easy to make, no knead, one bowl; these words are music to my ears. This bread has a delicious bite of frankfurter and melting cheese in every mouthful; it barely has a chance to cool down in our house before it's been devoured. Get small hands to help you mix this cheesy sausage bread, they've got bugger all else to do.
My boys have always loved a frankfurter, so I created this bread recipe especially for them. Annoyingly, they are loathe to share it with me, so I may just stop making it for them.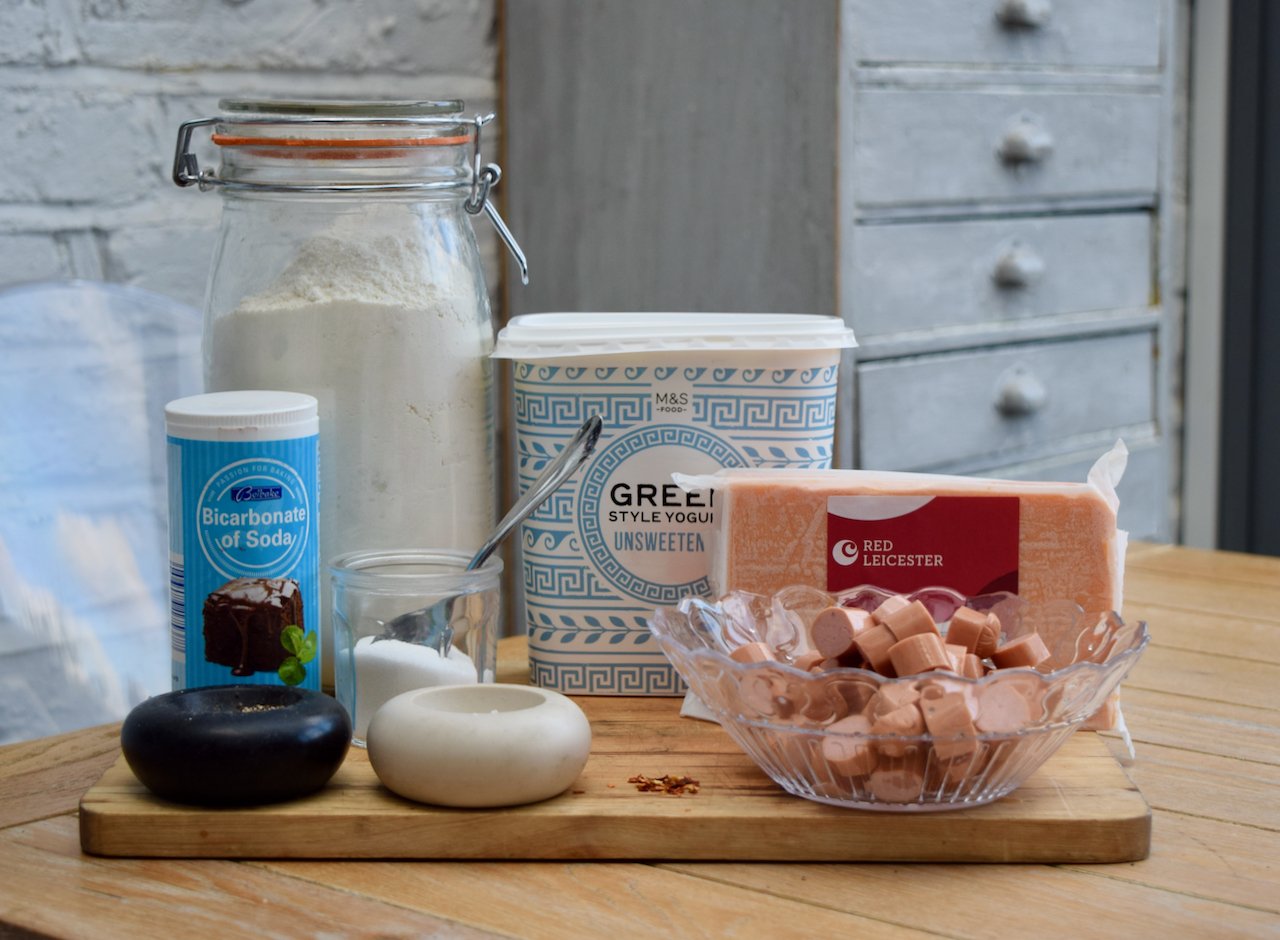 Frankfurters and Red Leicester, embarrassingly two things we pretty much always have in our fridge. Oh and the yoghurt, but that's much more acceptable. I used the yoghurt in place of buttermilk in this soda bread and it was brilliant. The Greek version is quite thick, so I added a little more to my dough, you may need less if using thinner yoghurt or buttermilk in yours.
Make a start by pre heating the oven to 170 degrees fan assisted and lining a large baking sheet. Next take a large bowl and measure in the plain flour, bicarbonate of soda, salt, pepper, sugar and dried chilli flakes.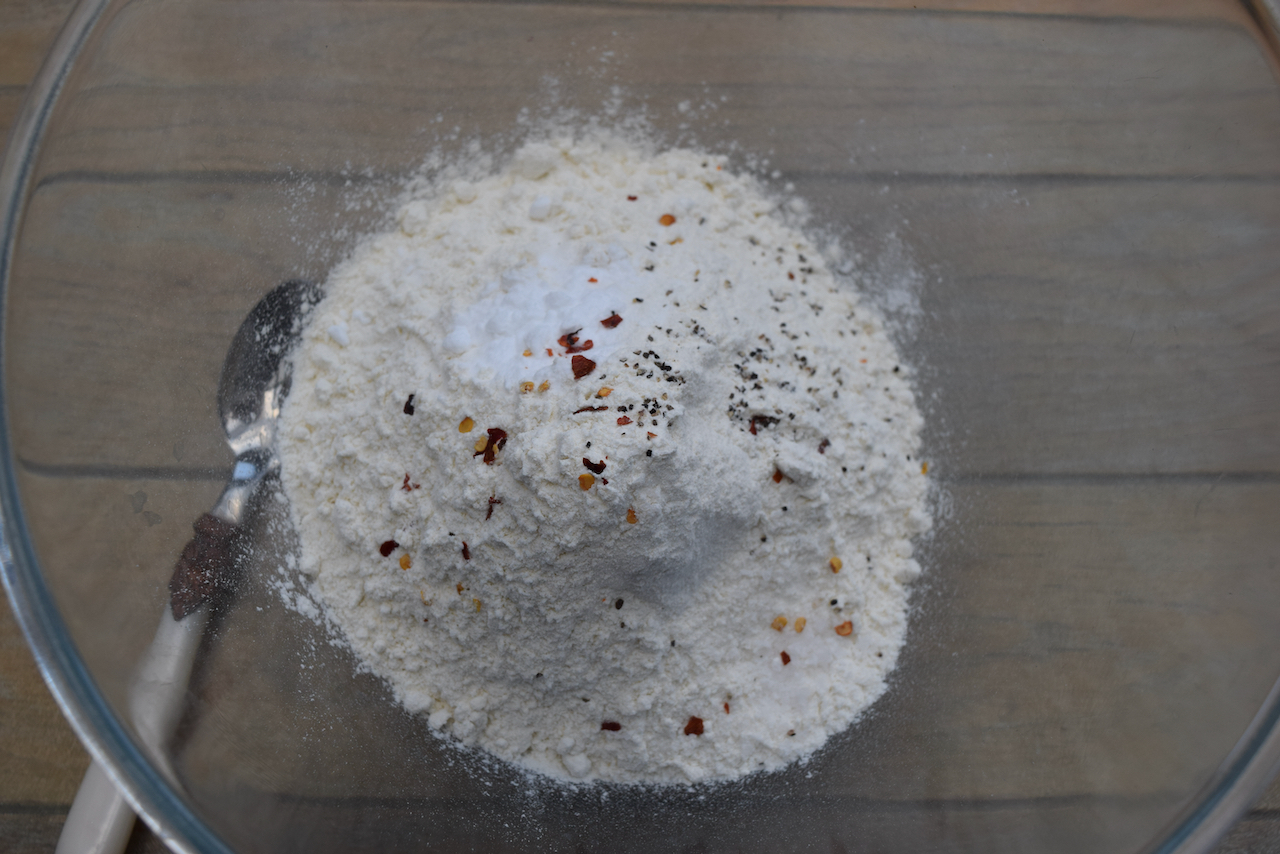 Give this a little whisk to mix. Next, cube your chosen cheese. It had to be Red Leicester for my loaf, but it's post Christmas, use any cheese you have leftover from your festive board. And slice the franks into small discs.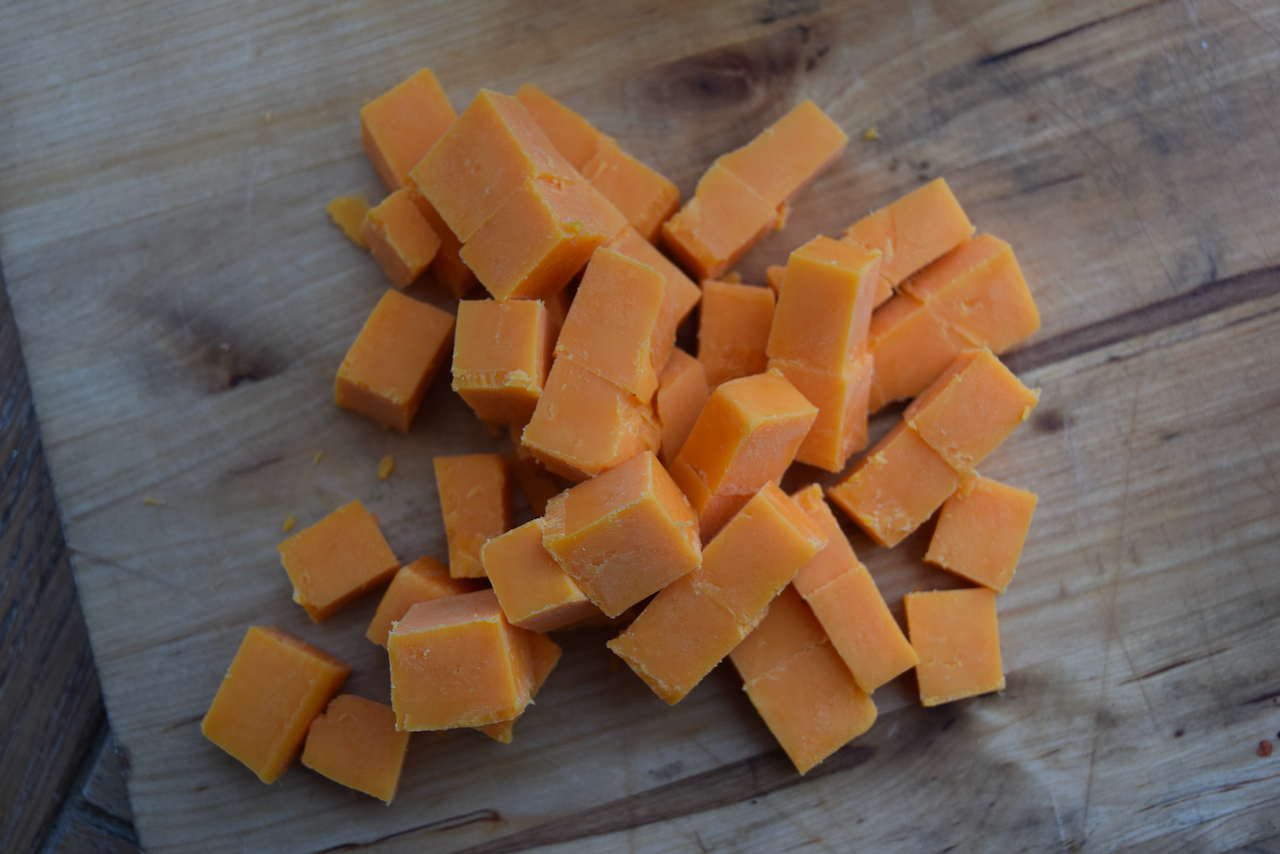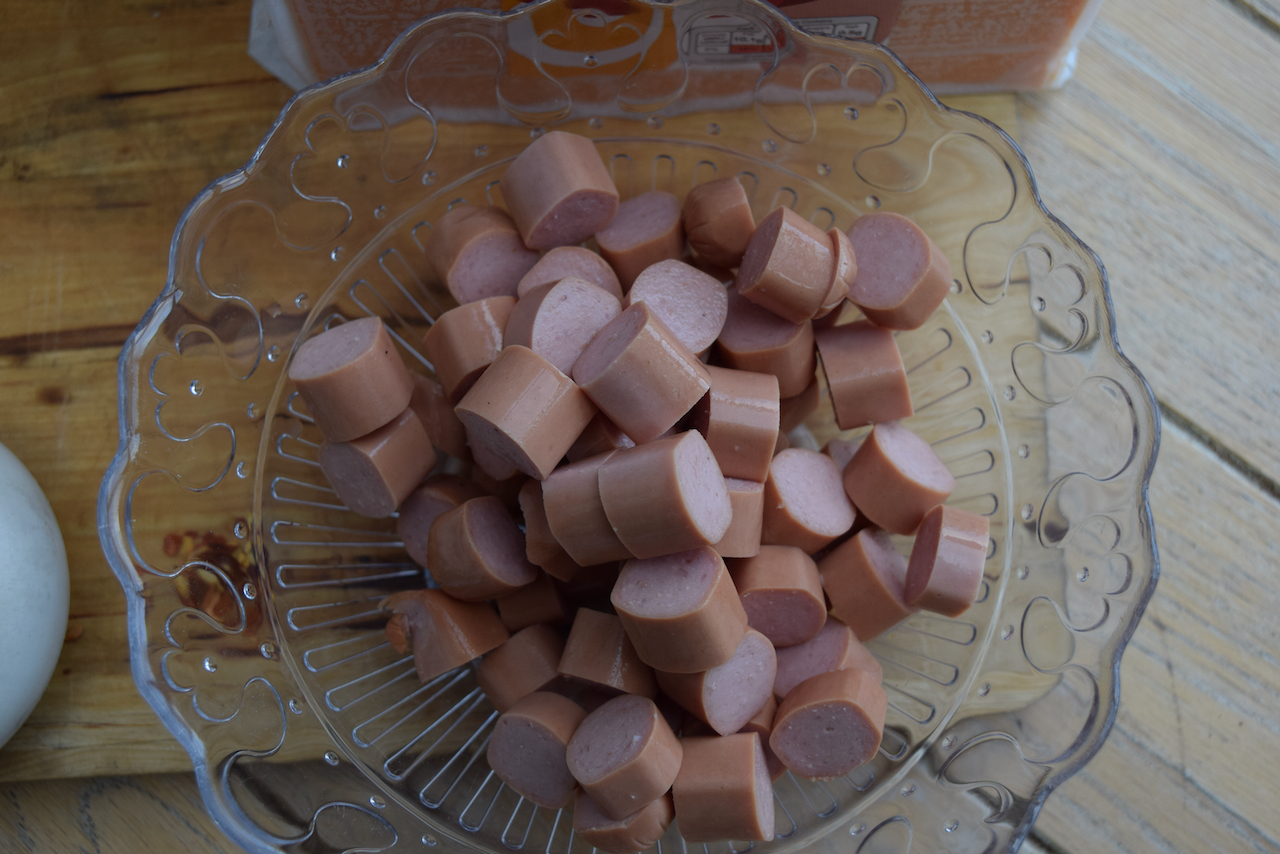 Add these two to the flour mix and stir.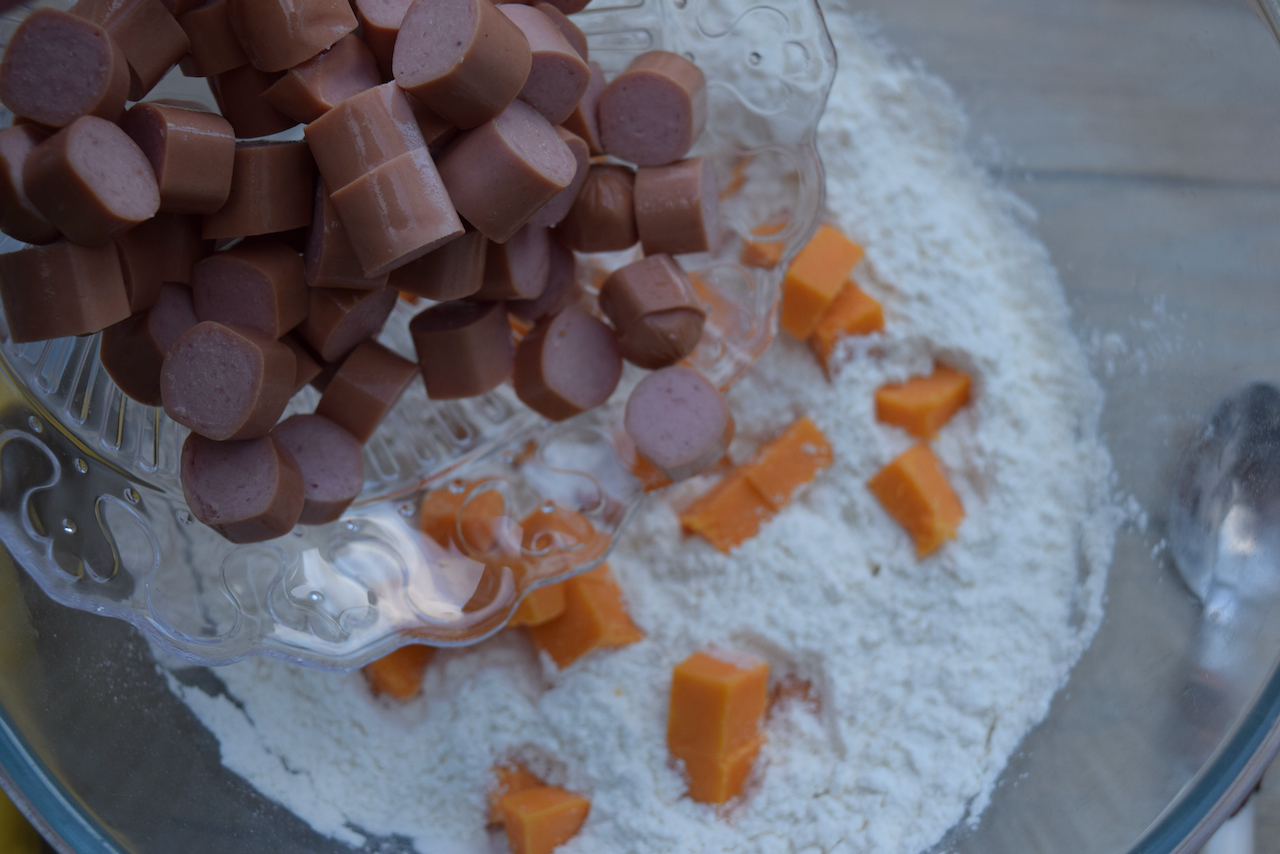 Now, stir in the yoghurt or buttermilk. My Greek yoghurt was pretty thick so I used around 225ml, you may need less if your yoghurt is thin or you're using buttermilk, so don't add the whole amount at once.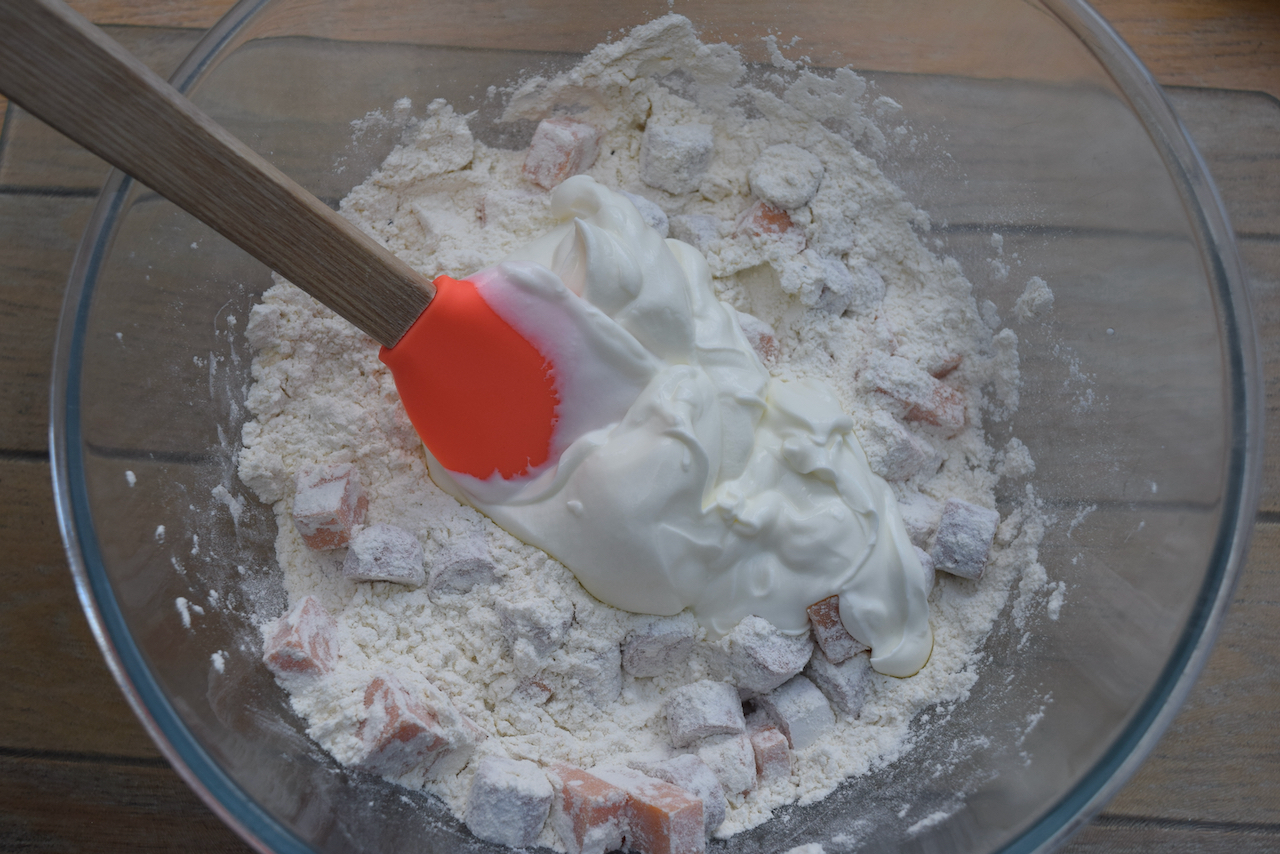 You want a soft dough, almost on the wet side. Stir to bring the dough together then turn out onto a floured surface and lightly knead. Shape into a thick disk and place onto your lined baking tray.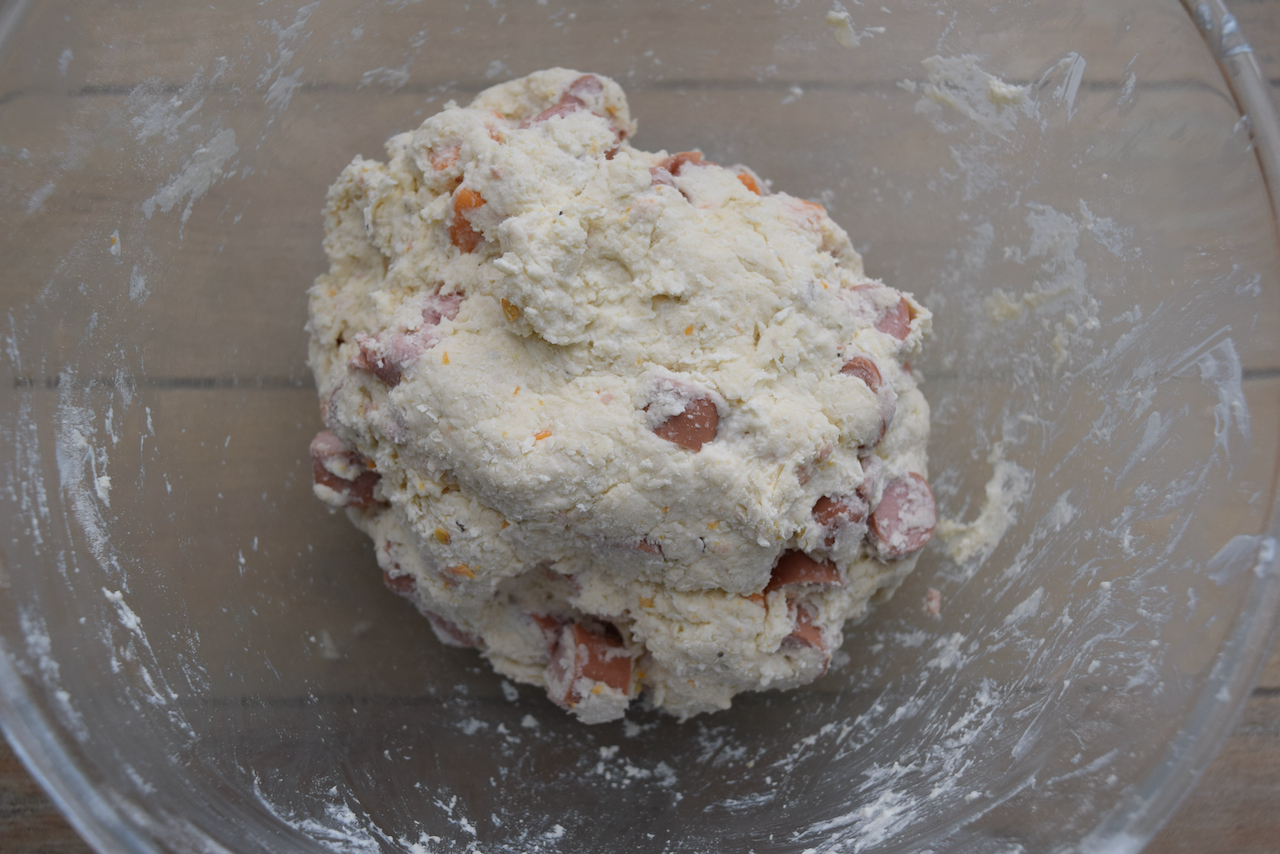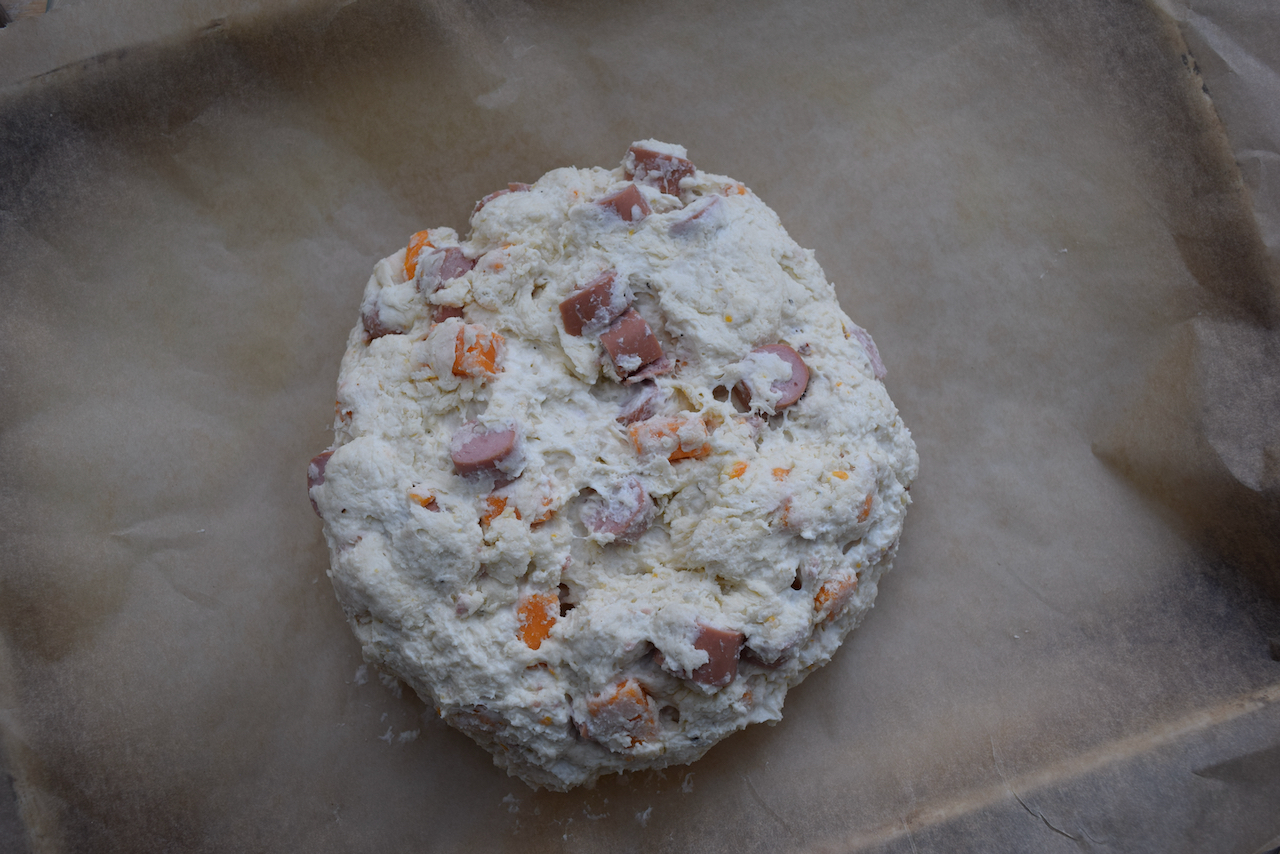 Cut a deep cross in the top of the loaf then sprinkle with some extra grated cheese.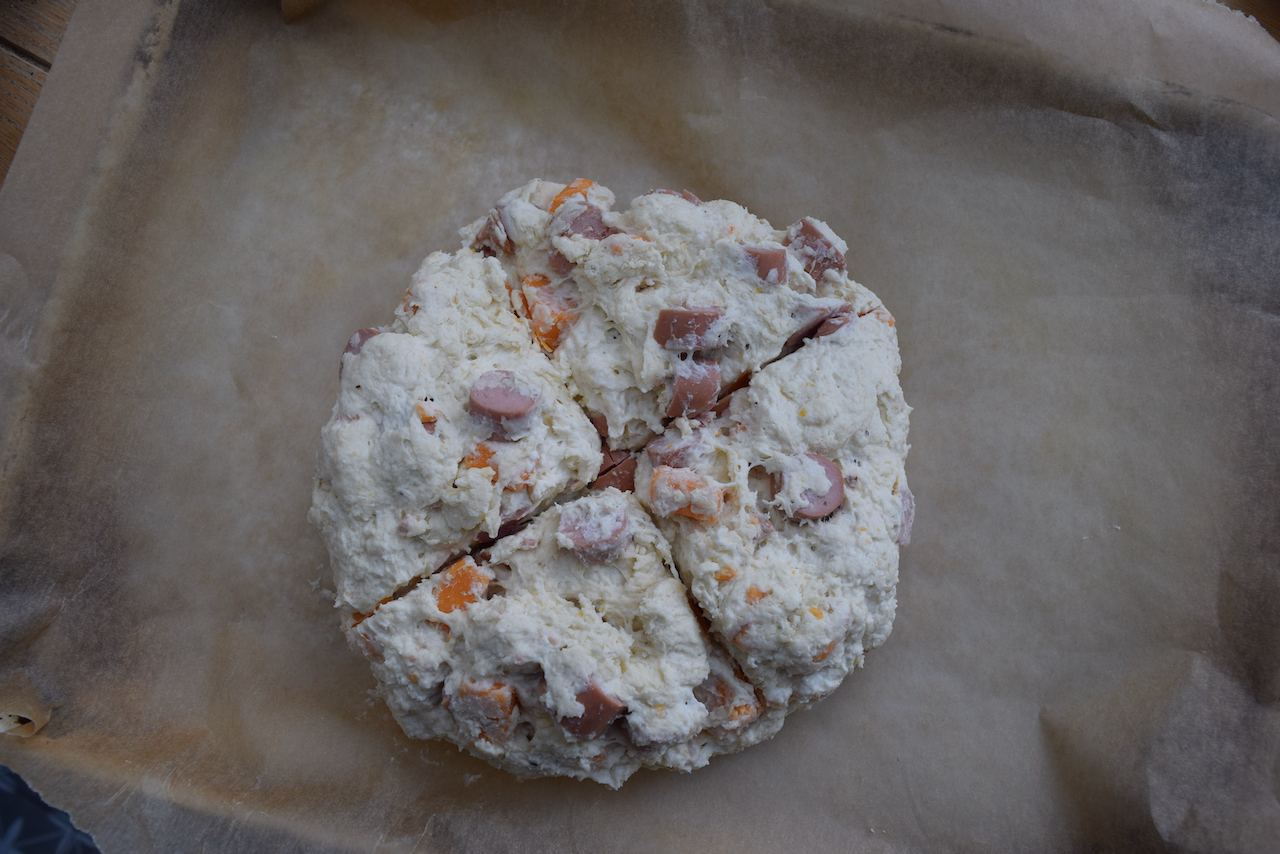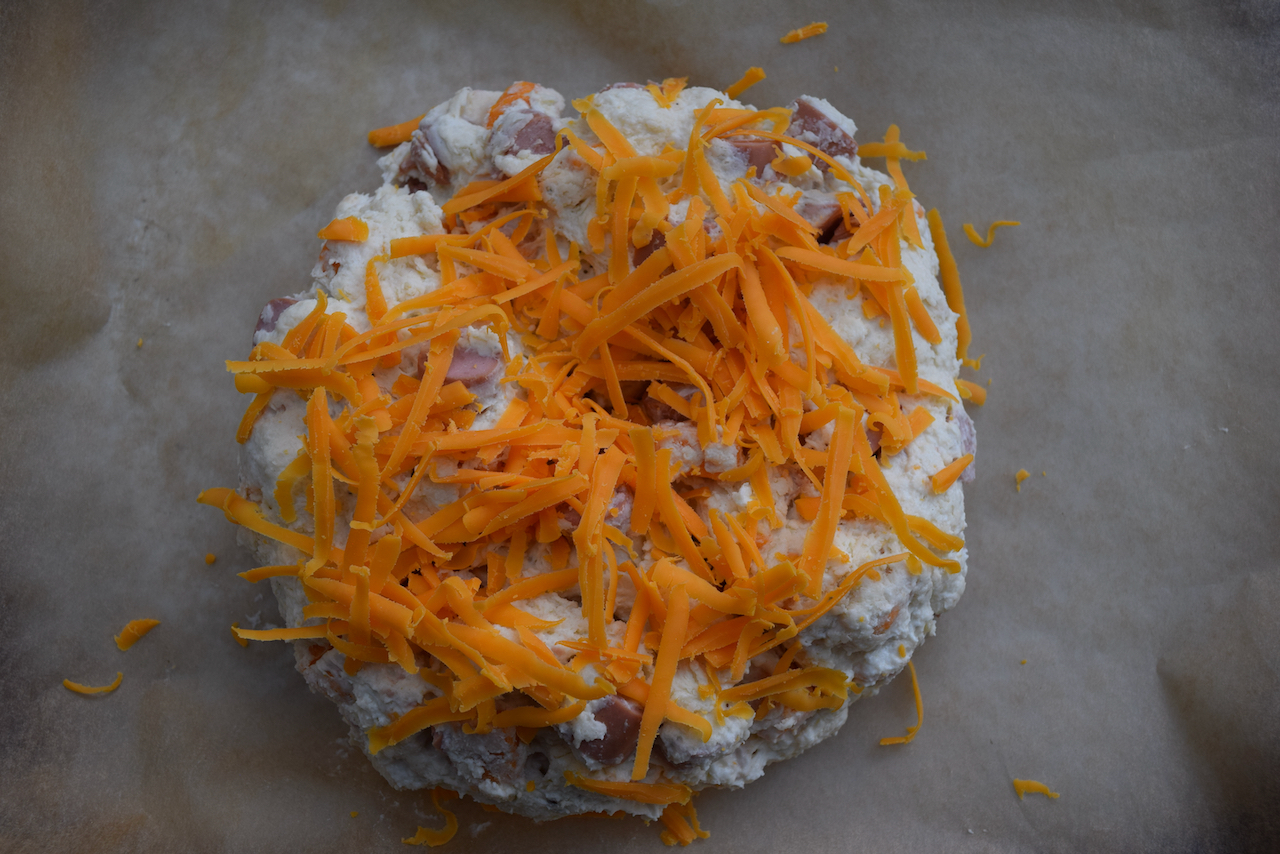 Bake your soda bread for around 25 minutes or until the loaf is golden, cheesy and smelling amazing. It will also sound hollow when you tap the underside of the bread.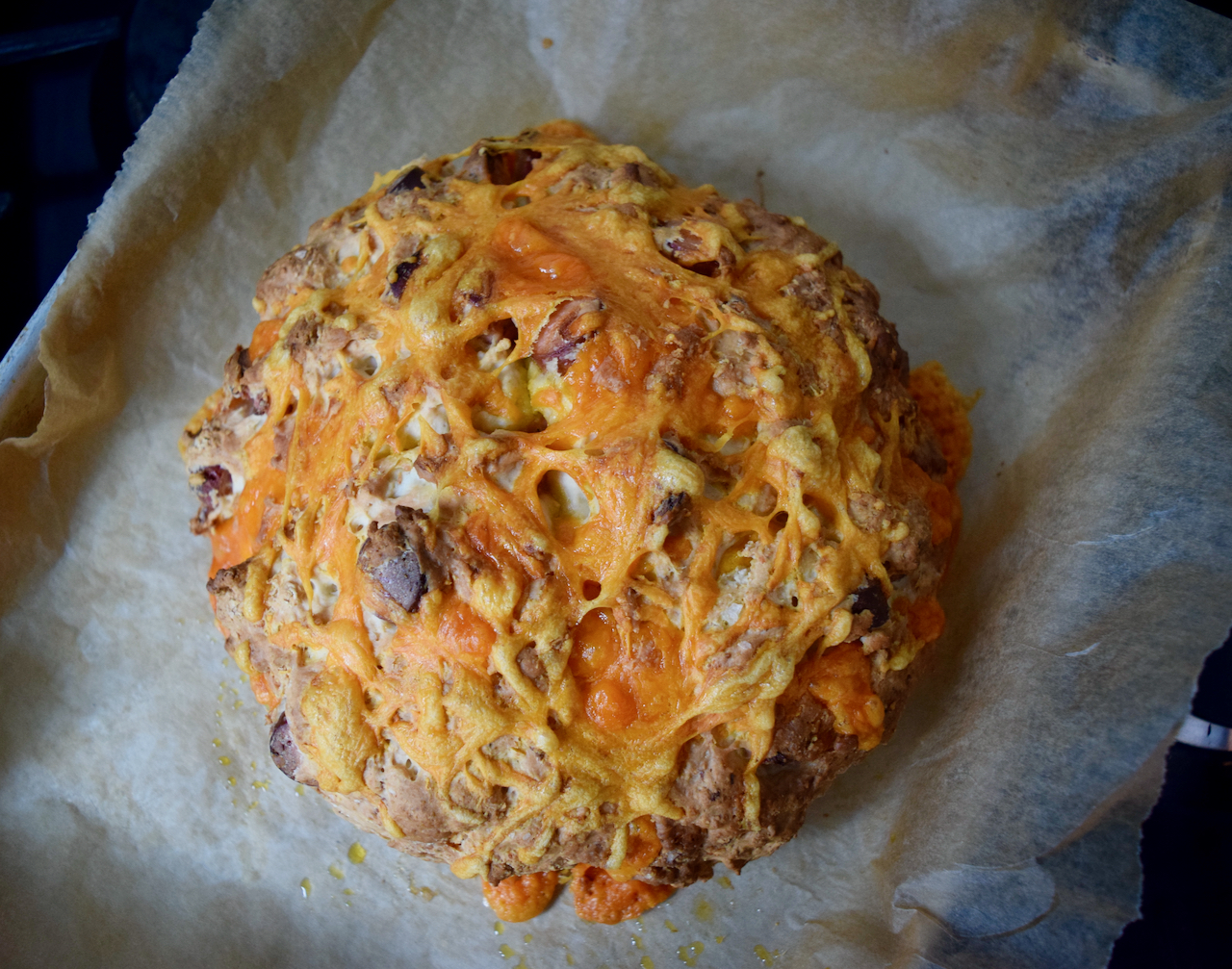 Do try and show a modicum of restraint and allow the Hot Dog Soda bread to cool a little before serving slathered in butter. Top with baked beans or a fried egg for a total lunchtime experience.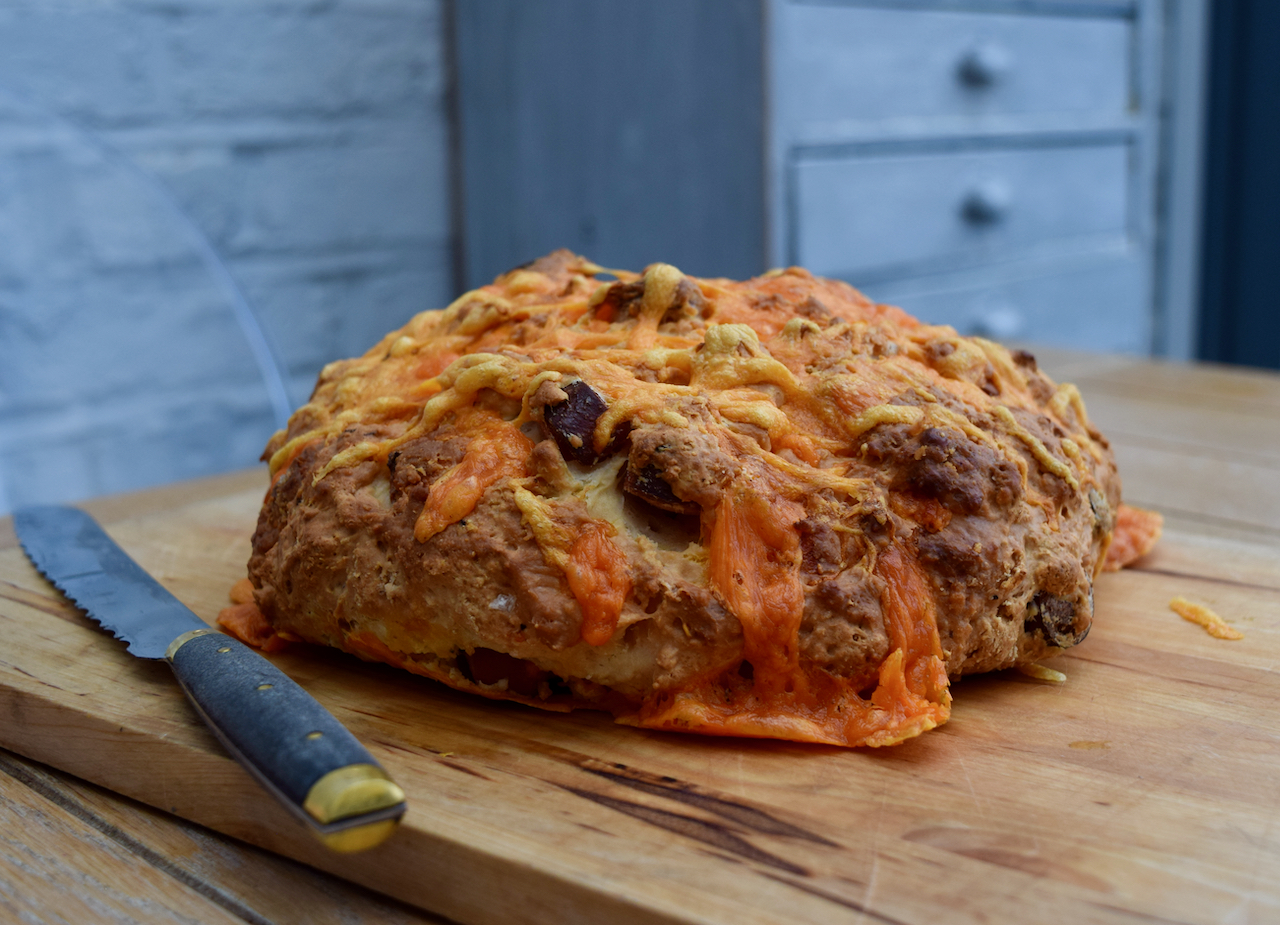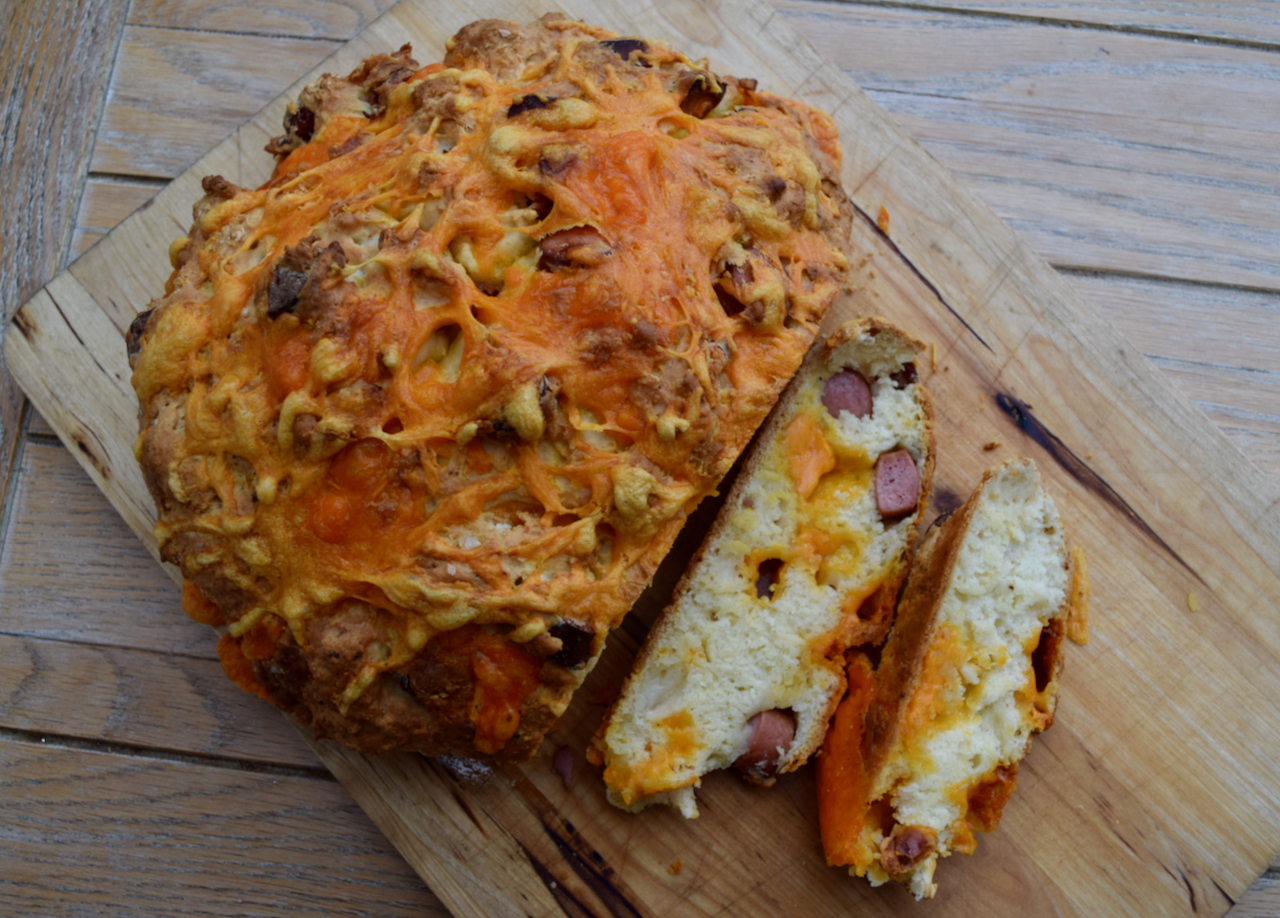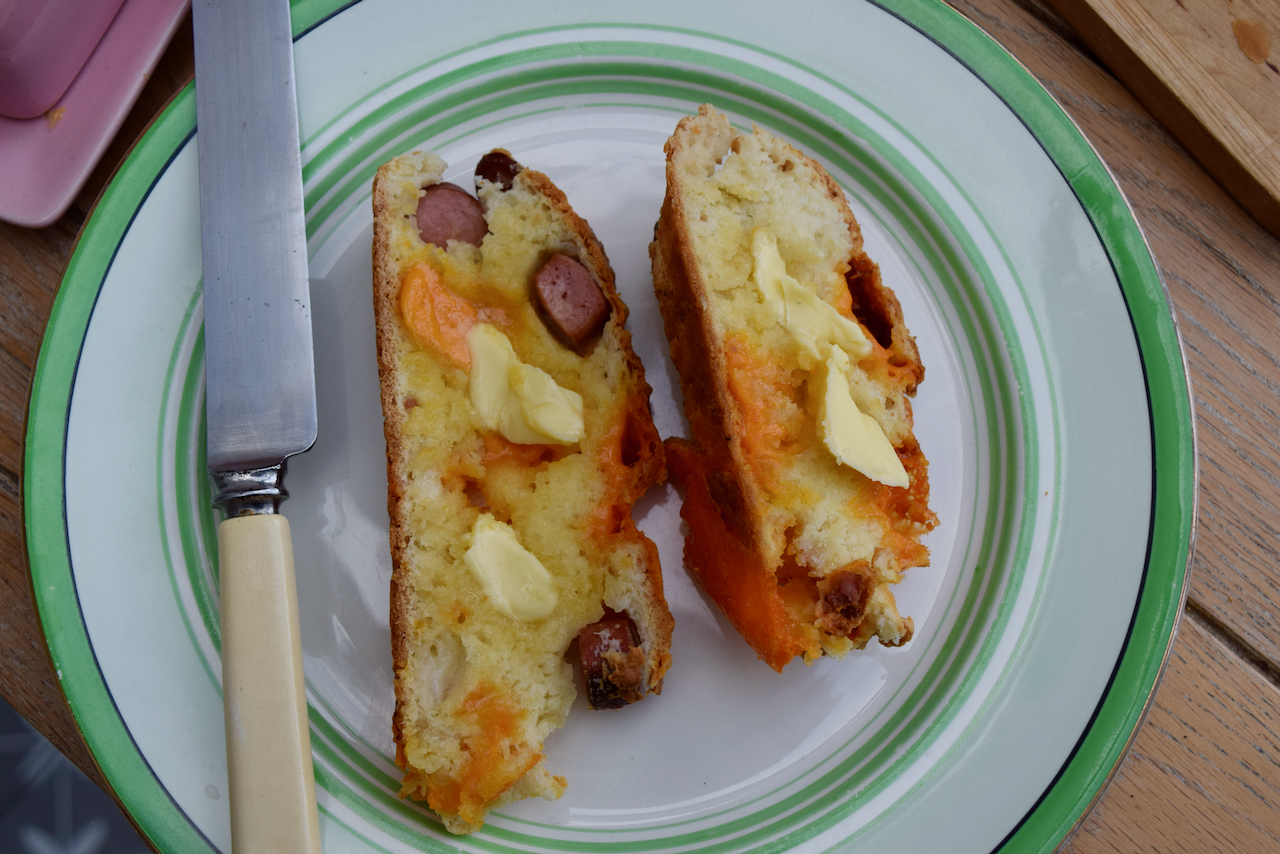 Ok so this isn't the classiest of bakes but I'm all good with that. This Hot Dog Soda Bread is a delicious hot cheesy frank based dream and I don't care who knows it.
Lucy x
Hot Dog Soda Bread recipe
Makes a small loaf, serving 1 to 4, the 1 being me, that is
You will just need a bowl for this and a lined baking tray
300g plain flour, plus a dusting for kneading
1/2 teaspoon bicarbonate of soda
1/2 teaspoon salt
good pinch black pepper
1/4 teaspoon dried chilli flakes
1/2 teaspoon caster sugar
100g cheese, cubed, plus a little extra grated for the top. I went for Red Leicester as it's the boys favourite
5 frankfurters, chopped
200ml to 225ml yoghurt, buttermilk, or milk with a teaspoon of vinegar or lemon juice added
Lots of soft butter for serving
Pre heat your oven to around 170 degrees fan assisted.
If you're using homemade buttermilk, measure out your milk and stir in a teaspoon of vinegar or lemon juice. Leave for at least ten minutes.
In a large bowl, measure out your flour, bicarbonate of soda, salt, black pepper, chilli flakes and sugar, stir together. Cut the cheese into small cubes and chop your frankfurters into small slices and add this to the flour mixture and stir again. Add the yoghurt/buttermilk to the bowl and mix until you have a soft dough. If it's too stiff or dry, add a little more yoghurt.
Tip the dough onto a floured work surface, knead for a minute or two then shape into a small round loaf. Place the loaf onto a floured baking tray and make two half inch deep cuts in the top to form a cross. Sprinkle the top with a handful of grated cheese of your choice. Bake for around 25 minutes or until golden brown and the loaf sounds hollow when tapped on the bottom. Serve warm in thick slices, slathered in butter.
This loaf is best eaten on the day it's made, however, it toasts up nicely for the next day or two if you have any left.