Peach and Raspberry Biscuit Crumble Recipe
I love this warm spell, it feels like summer is really here and has done for the last couple of weeks.  This will, of course, curse the rest of the season, so apologies in advance for any ensuing downpours. My point is, however, sunshine is not conducive to food blogging. This afternoon, for example, the sky was blue and sun blazing and I was meant to be indoors cooking up lovely dishes for your perusal. However, I found every reason not to be anywhere near the kitchen and ended up 'researching' recipes in the garden with a tiny glass of rosé. This divine recipe for a Peach and Raspberry Biscuit Crumble was enough to lure me back inside and barely interrupted my Lucy Loves research *boozing* time at all.
When I found this dish on the amazing Bon Appetit site, with thanks, I instantly fell in love and knew it would be my new favourite summer dessert. It's simple, fruit based – so healthy *ish*, made in advance and assembled at, or near, the table, so pretty much yours and my new dream recipe. The peaches, or nectarines, are pan fried with some butter and brown sugar, the raspberries are crushed then the whole affair is topped with salted, buttery biscuit crumb and cream. The recipe makes tons of crumbs, so if you have any leftover, I would recommend sprinkling them on anything and everything. They would be amazing on Greek yoghurt with some lemon curd blobbed on the side. Likewise, feel free to vary the fruits, depending on what's available. Peaches are still a bit scarce/pricey, so I used nectarines, but come the autumn, plums would be so good with this.
Less time in the kitchen, more time in the sunshine or spent sipping rosé with your friends. I am so thrilled with this recipe, if you are coming to dinner with me in the next couple of months, expect to have this for pud. Or breakfast, I can't stop eating it now.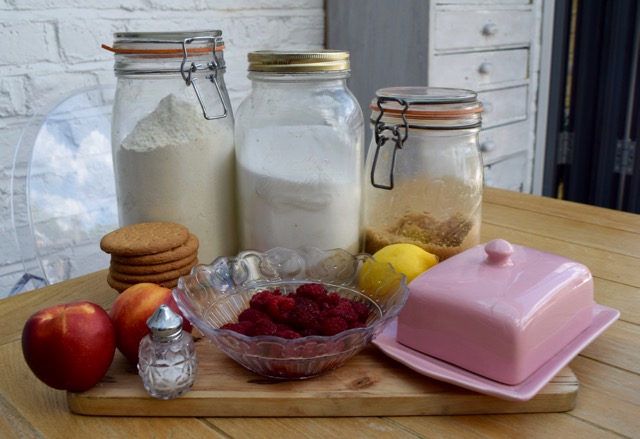 Nothing too taxing here, lovely simple ingredients. I actually ended up using 4 nectarines, as 2, as the recipe suggested, didn't seem enough. My raspberries were frozen as fresh are still not amazing, and besides, as you are mushing them down, they don't have to look perfect.
Start with the crumb, as this needs to be baked, so pre heat the oven to 160 degrees fan assisted and line a rectangular tray with high sides. Crush the biscuits in your food processor, along with the flour, salt and caster sugar, or in a bag if you don't have the appropriate machinery.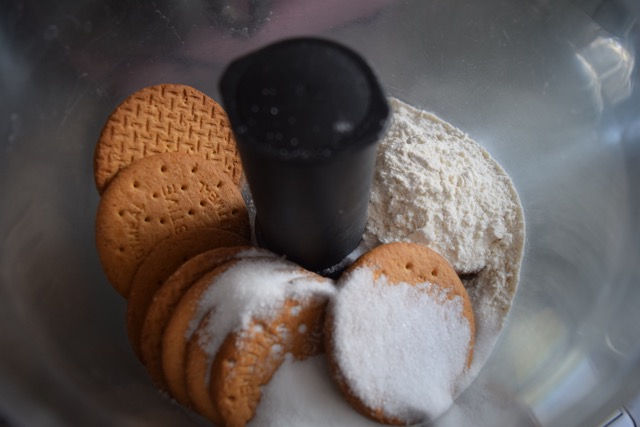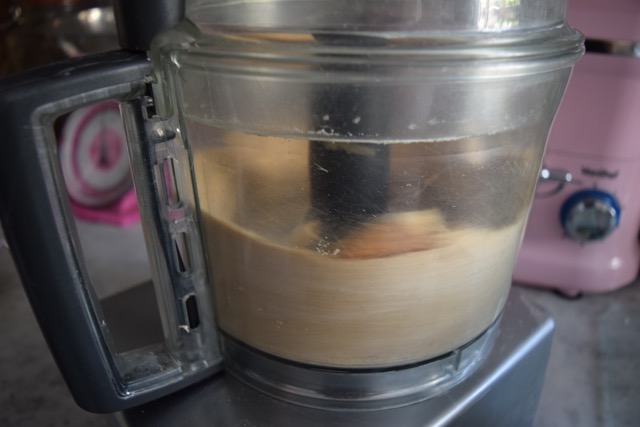 Pour in the melted butter and process, or mix in a bowl until you have *eeek* moist crumbs.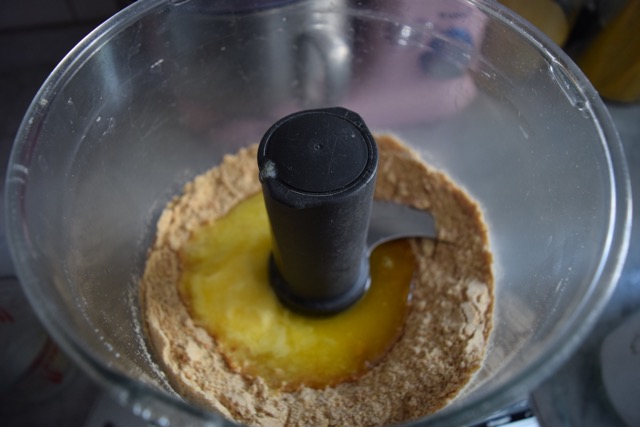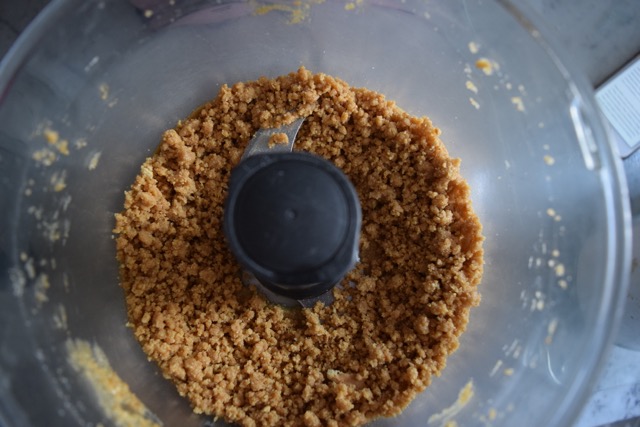 Tip these crumbs onto your lined tray and bake for 15 to 20 minutes until just golden, firm and smelling irresistible.
Leave the crumbs to cool while you crack on with the fruit element of this simple dish.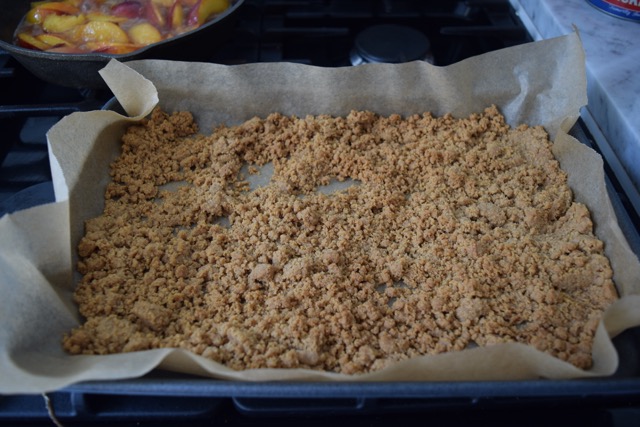 Try not to eat giant handfuls of this while you potter around the kitchen *I did*.
Remove the stones and cut the peaches or nectarines into wedges then mix in the brown sugar and lemon juice, then stir.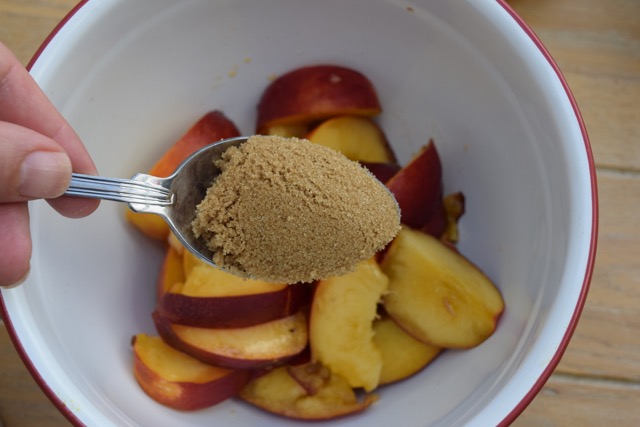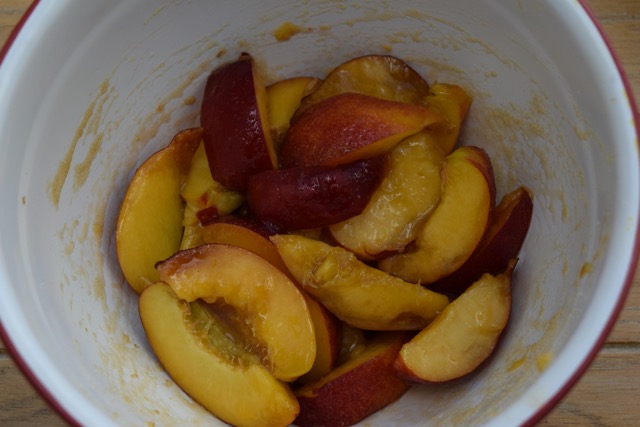 Heat the butter in a heavy bottomed saucepan then tip in the peaches. Toss around and cook for around 5 minutes until the sugar has dissolved and the juices are thickening.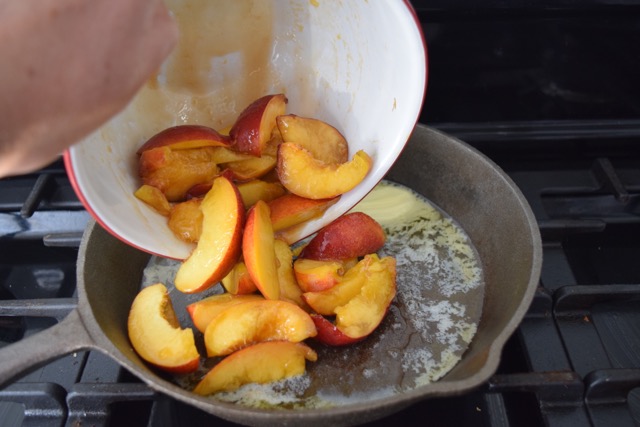 Arghh just out of shot ugly hand alert.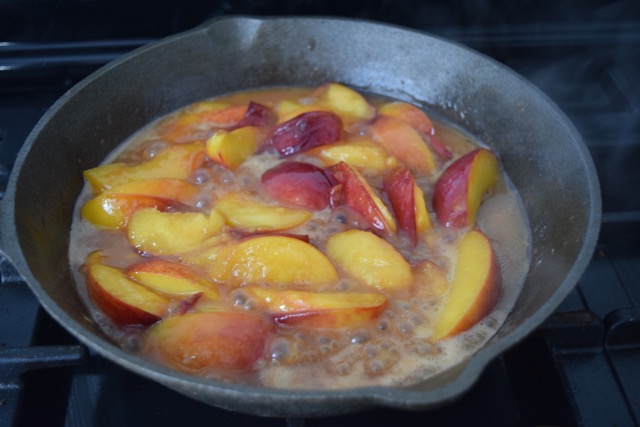 Turn the heat off and let the peaches or nectarines cool. For the raspberries, pop them in a bowl and mash them with the back of a spoon with the teaspoon of caster sugar and lemon juice.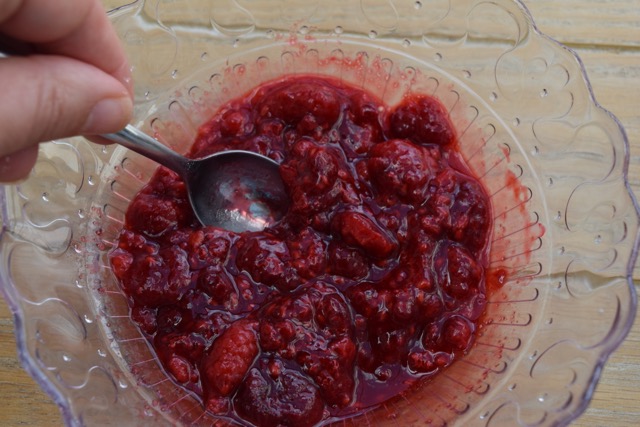 When you are ready to eat, get all your bits ready along with some whipped double cream and assemble away.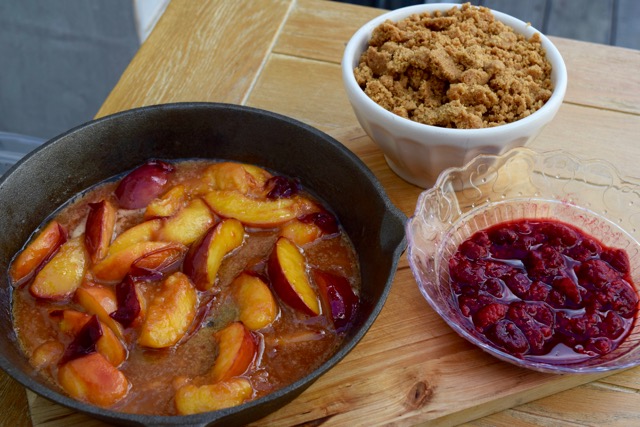 Spoon some peaches into your bowl and then add a generous tablespoon or 3 of whipped cream. You could use Greek yoghurt here if you wanted, or clotted cream. It's up to you and your thighs.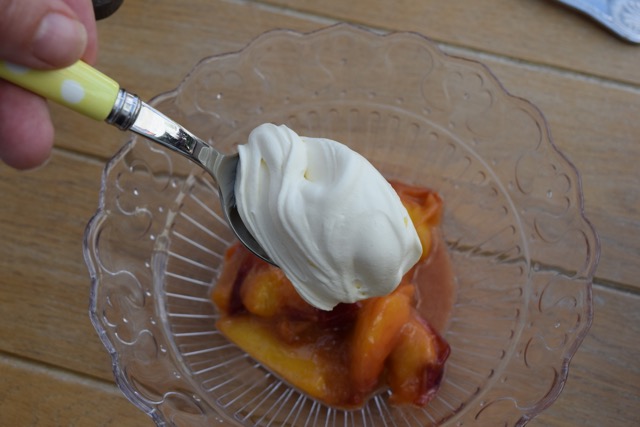 Spoon on the crushed raspberries then generously add handfuls or spoonfuls, if your hands are unattractive, of the salty crumbs.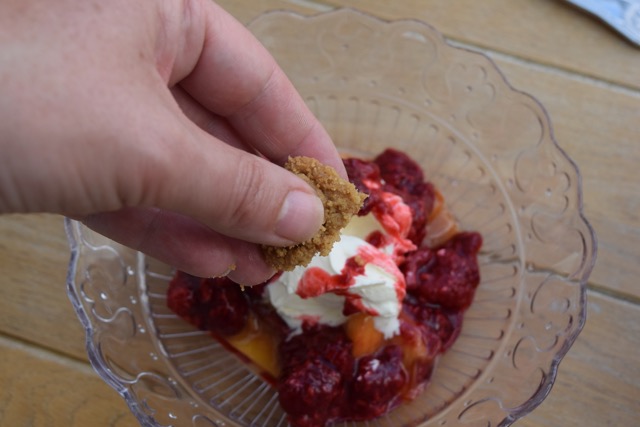 Devour in big mouthfuls then help yourself to seconds, you will so want to.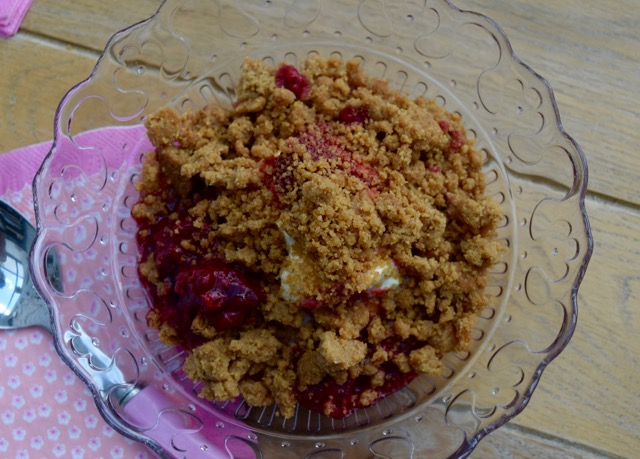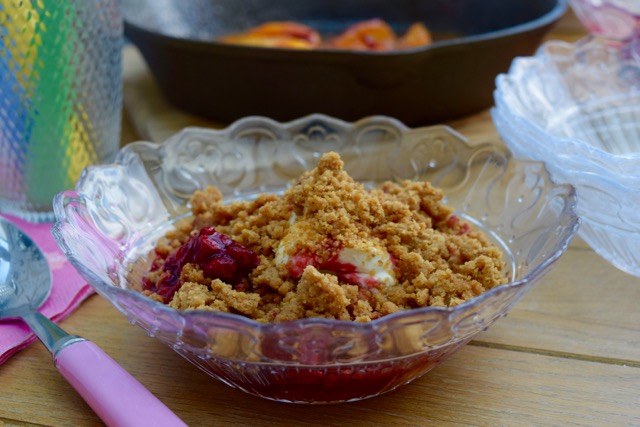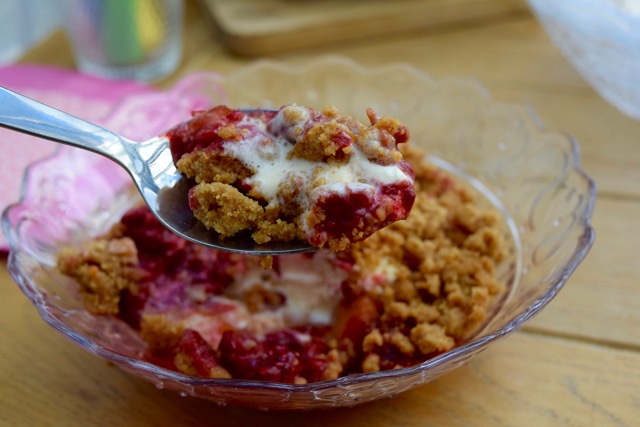 I do loathe the word 'deconstructed' as it implies lazy or a crap version of something. However, this Peach and Raspberry Biscuit Crumble is a self assembly dessert like no other I have ever made. The salted, buttery crumb with the tart fruit and cold cream is sublime, but simple. This is summer in a bowl, so eat it now, while it's still warmish or you will have to wait until it's warm again and who knows when that will be.
Lucy x
Peach and Raspberry Biscuit Crumble Recipe
Serves 4
You won't need any particularly challenging equipment
Crumbs
130g Digestive biscuits
40g plain flour
50g caster sugar
1/2 teaspoon salt
90g butter, melted
Peaches
4 peaches or nectarines, cut into thick wedges
2 tablespoons soft brown sugar
30g butter
1 tablespoon lemon juice
Raspberries
150g fresh or frozen raspberries
1 teaspoon lemon juice
1 teaspoon caster sugar
To serve 250ml double or whipping cream, lightly whipped, or thick yoghurt if you prefer
Pre heat your oven to 160 degrees fan assisted. In your food processor add the digestive biscuits, flour, 50g caster sugar and salt and process until sand like in texture. If you don't have a food processor crush the biscuits in a sealed bag then mix these with the other ingredients.
Pour in the melted butter and process until you have a chunky crumble like texture. Spread this out on a lined baking tray and pop in the oven for 15 to 20 minutes, giving it a stir half way through the cooking time. The cooked crumbs will be golden and just firm. Leave to cool in the tray before giving it a stir and popping into a bowl until serving time.
Take a heavy bottomed frying pan and add the 30g butter and melt over a medium heat. Take the peaches or nectarines, cut them into wedges then add to a bowl with the brown sugar and lemon juice. Stir well then tip into the pan of melted butter and cook, stirring, until the sugar has melted and the sauce/pan juices have thickened slightly, this will take around 5 or so minutes. Leave to cool a little.
For the raspberries, add them to a small bowl with a teaspoon of sugar and lemon juice then mash slightly with the back of a spoon and leave to meld for 5 minutes. Lightly whip your double cream or just leave as pouring cream.
When you are ready to serve your dessert, spoon the peaches or nectarines into 4 serving bowls. Add a generous dollop or slug of cream then spoon on the raspberries and a big heap of biscuit crumbs. Devour accordingly.
You may have left over crumbs to sprinkle onto yoghurt or other fruits, these should keep for a couple of days, in an airtight tin.