Cherry Bourbon Fizz Recipe
Now I know I say this a lot, but bloody hell it's been a long week. The fact I thought it was Thursday on Tuesday was never going to end well for me. I am in the limbo that is the time between George's birthday and Christmas which is quite a stressful period for me. I feel I can't fully commit to preparing or even mentioning the festive season until George's birthday is out of the way at the end of November. It's then full steam ahead from there on in with Christmas cake making, sausage rolls, mince pies and so much more. But let's not get ahead of ourselves. There are still plenty *can't be arsed to count* of Friday's from now until Christmas so let's focus on getting some cocktails down us before the madness sets in. Today's end of week celebratory beverage of choice is the Cherry Bourbon Fizz.
I love Bourbon, with it's woody warmth, and despite the cherries, this is a lovely seasonal drink. The Cherry Brandy is a festive favourite too and it's well worth getting a bottle in now as there's always time for a splash of cherry brandy to be added to your Prosecco for a bit of oomph. To add to the two spirits in this, either ginger beer, ginger ale or even just a touch of soda makes this into a longer, fresh tasting affair.
This wonderful Cherry Bourbon Fizz was inhaled by Clyde, the chief Lucy Loves Cocktail Taster. Bourbon is one of his faves, as is ginger beer, so this cocktail was like his birthday all over again. The tiny sip I was allowed was delightful and I will be adding this to my list of festive cocktail favourites. As you can imagine, it's a bloody long list.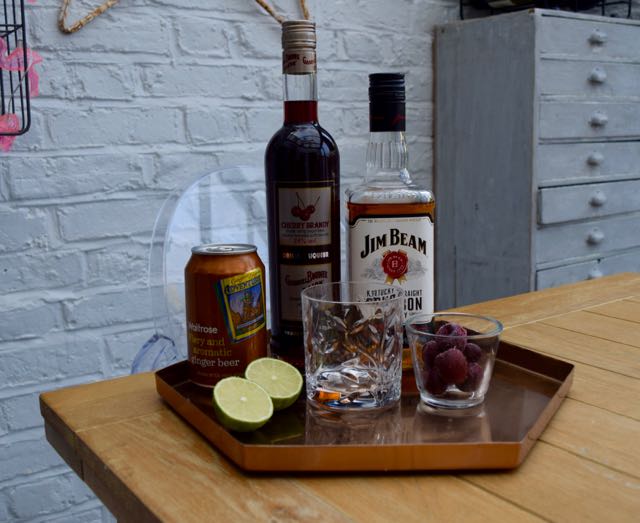 What a lovely little festive selection. I had a bag of frozen cherries to hand so used these, but tinned or fresh, if you can ever get them, would be fab. The cherry brandy is warming and tasty, and readily available at this time of the year.
Make a start with your cocktail shaker, as is a well trodden Friday cocktail path. Add the cherries and both the bourbon and the cherry brandy.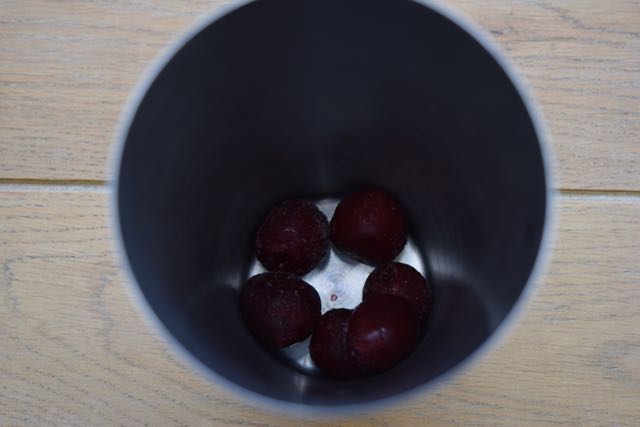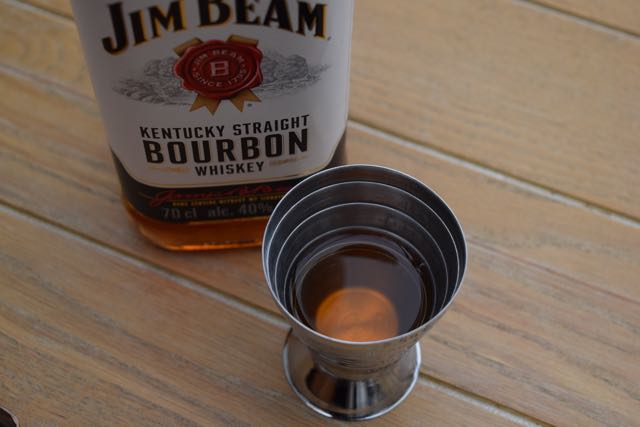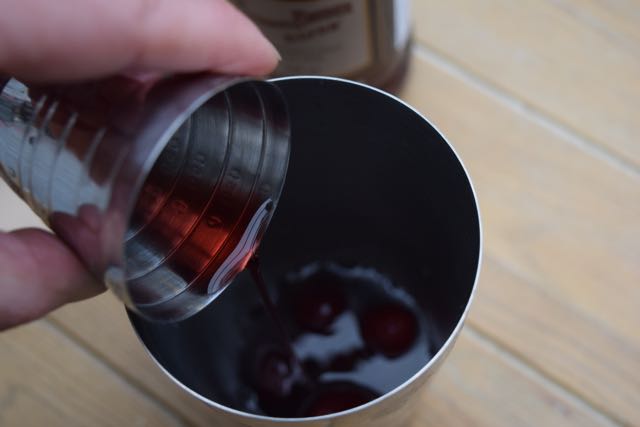 Now, add the juice of half a fresh lime for zesty goodness then muddle these ingredients using a special muddling implement or just the back of the spoon.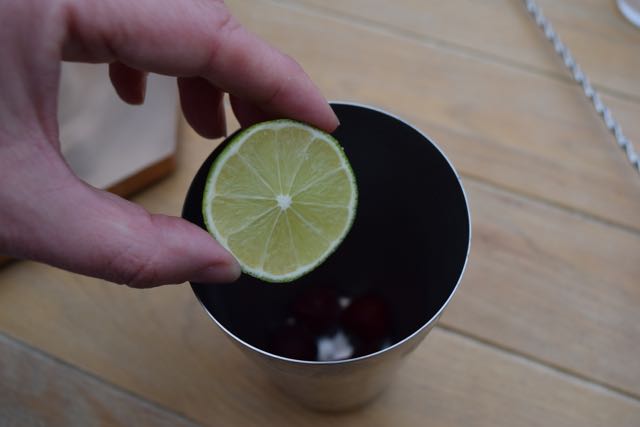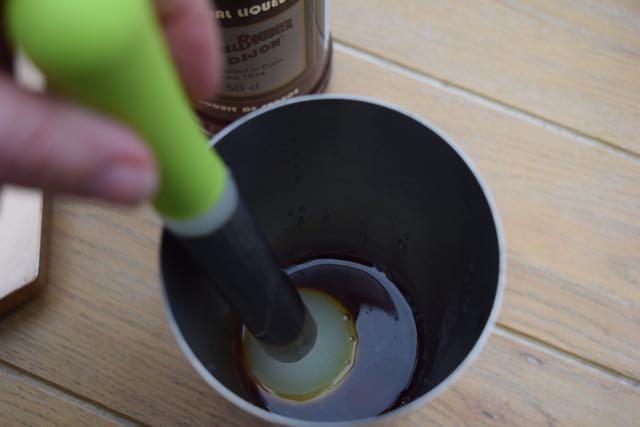 Sling in a big handful of ice and shake your cocktail shaker until it's super chilled.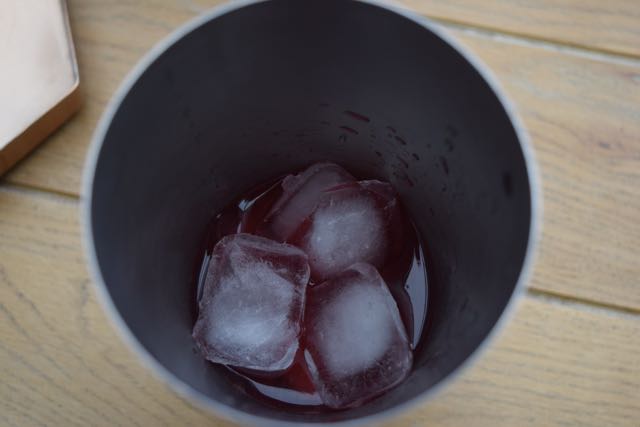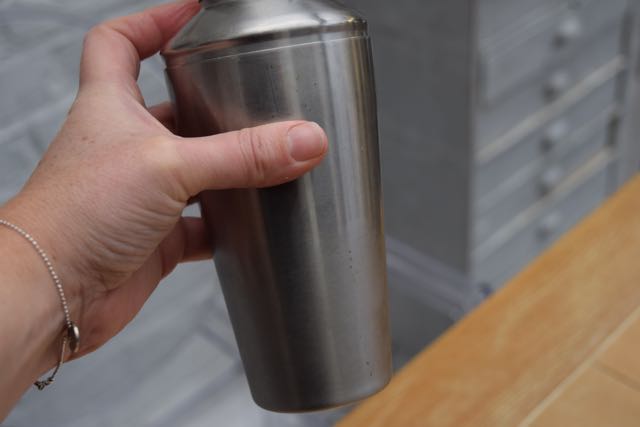 Strain the cherry cocktail base over some more ice into your tumbler.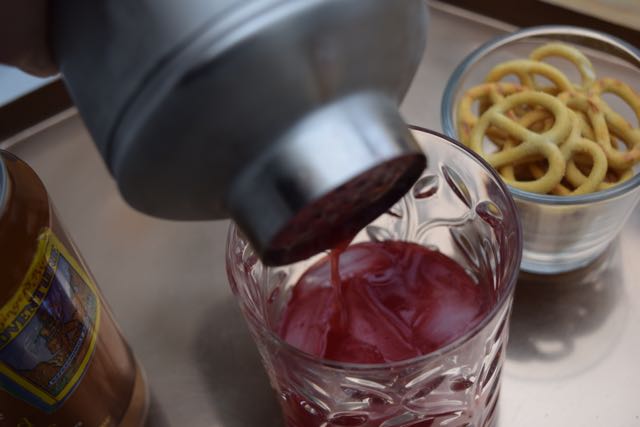 Top up with your chosen fizz, be it ginger beer, ginger ale or soda.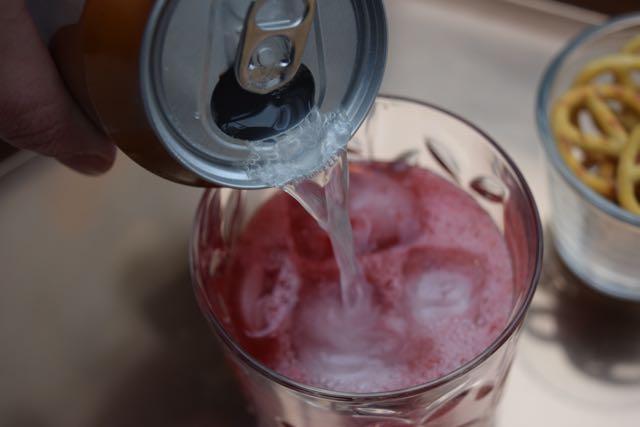 All that's needed now is a final cherry garnish. Oh, and a tiny bowl of salty snacks, as a given. Sip and love.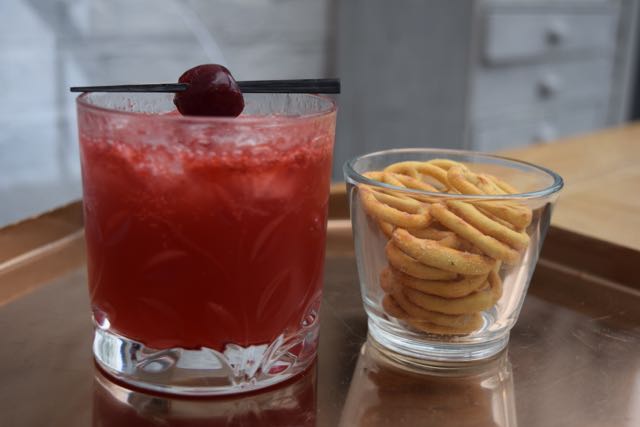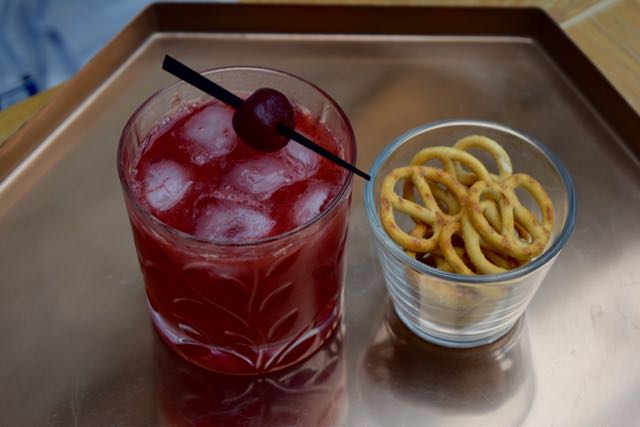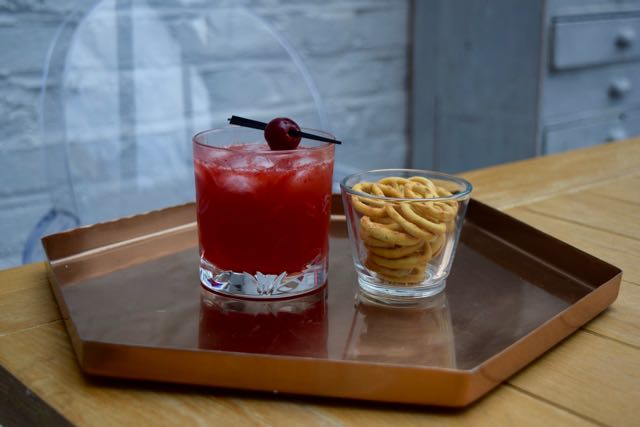 As I write, the temperature has dropped by quite a few degrees so the warmth element in this Cherry Bourbon Fizz is much needed. Don't resort to a cup of tea to warm your hands, upgrade to this berry bourbon based drinkie this Friday.
Have a restful weekend.
Lucy x
Cherry Bourbon Fizz Recipe
Makes 1
You will need a cocktail shaker and a lovely tumbler
Ice
5 Cherries, fresh, frozen or from a tin
40ml Bourbon
25ml Cherry Brandy
Juice of half a lime
Ginger beer, ginger ale or soda water to top up, around 100ml
An additional cherry to garnish
Take your cocktail shaker and add 5 cherries, bourbon, cherry brandy and the juice of the lime. Muddle these ingredients with a muddler or back of a spoon to release the cherry juices. Add a good handful of ice then put the lid on and shake until super chilled.
Pour over some more ice into a tumbler then top up with ginger beer, ale or soda or fizzy water. Garnish with another cherry then sip and love.
SaveSave
SaveSave
SaveSave