Woodford Wilson Cocktail Recipe
For any of you who may have forgotten, let Lucy Loves serve as a reminder service – it's Fathers Day this Sunday. Don't say I haven't warned you, you could still get a card in the post today to arrive in time, so on your head be it if you forget. Fathers Day to me is a time to buy three cards including one for my own Dad, Clyde's card from the boys and one for his Dad, so it should, in theory, be called Card Manufacturers Do Well Out of Lucy Day. Cynicism aside, hooray for Dads young and old, past and present, let's celebrate them and treat them like the princesses we know they are.
With this strangely named, Woodford Wilson, I will be spoiling Clyde early this Cocktail Friday. He loves a bourbon based cocktail, albeit I did use his special stash to make this one, and this drink is a new and fresh beauty. This shaker based drink involves muddling some pineapple, fresh lime juice and topping up with chilled ginger ale. Nothing not to like here. The bourbon is warming but the fruit adds refreshment, much needed on a balmy June night *it's pissing down as I type*.
I can't seem to decipher why this is called a Woodford Wilson, although Woodford is a brand of American bourbon, I don't know who Wilson is? Let's just imagine he was a wonderful kind Dad, and this cocktail was made for him to celebrate Father's day.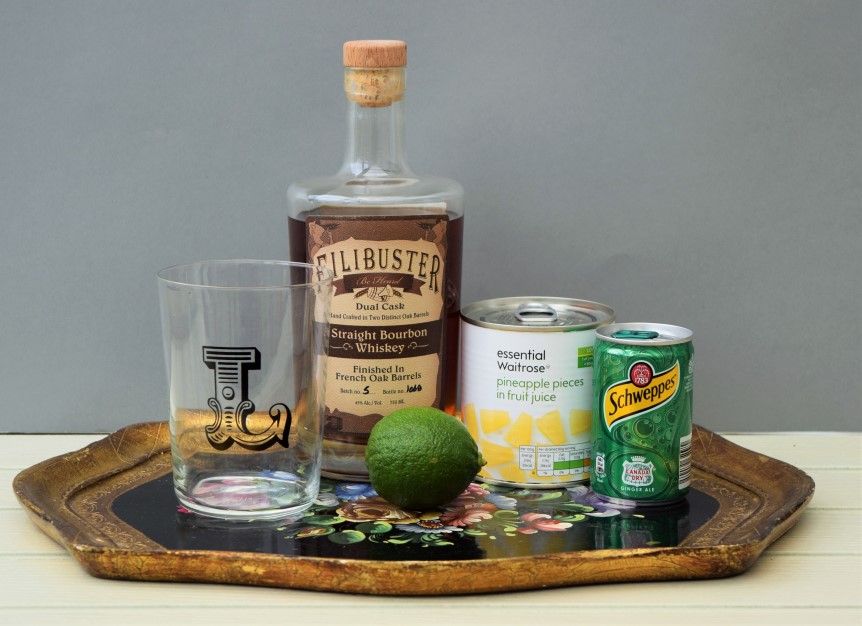 Hooray for my stylish tray, new glass and Clyde's super fancy Filibuster bourbon, it's delicious. I went for some old school tinned pineapple but I am sure fresh would be perfect here.
Make a start by adding the aforementioned pineapple to your cocktail shaker. Give it a muddle with a special muddling implement like the one my lovely Mum bought for me or just use the back of spoon.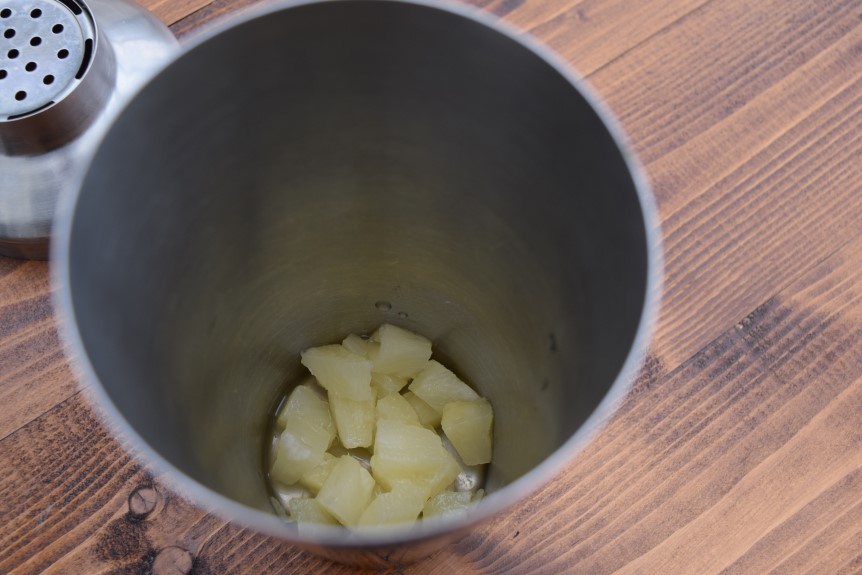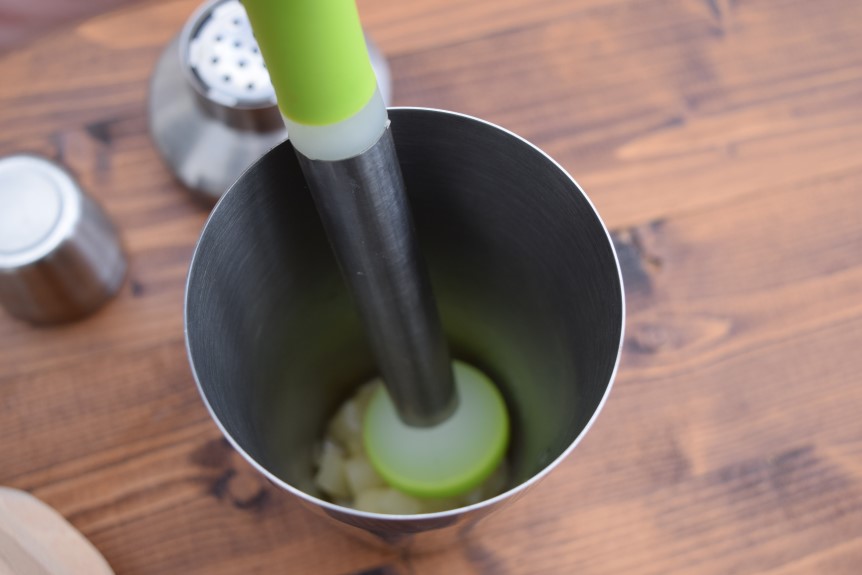 Next, pour in your fancy, or not so fancy bourbon and then squeeze in a tablespoon of fresh lime.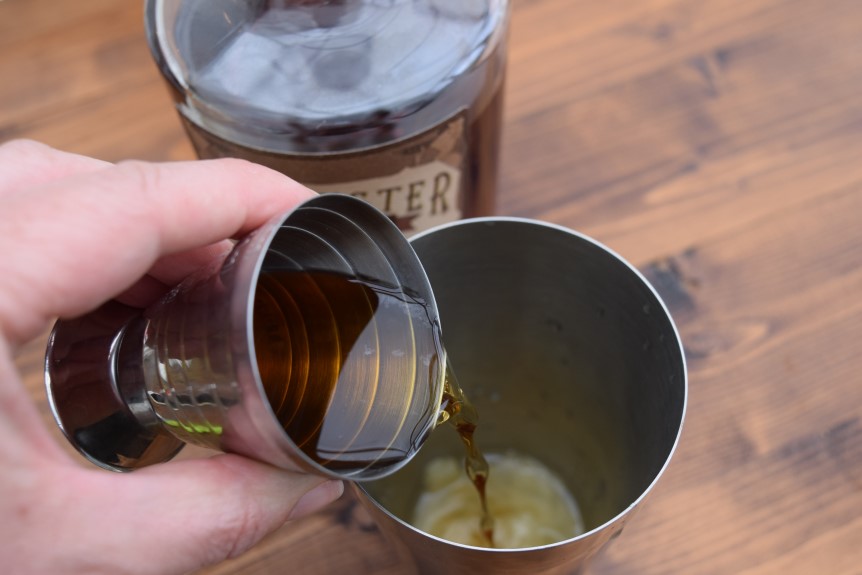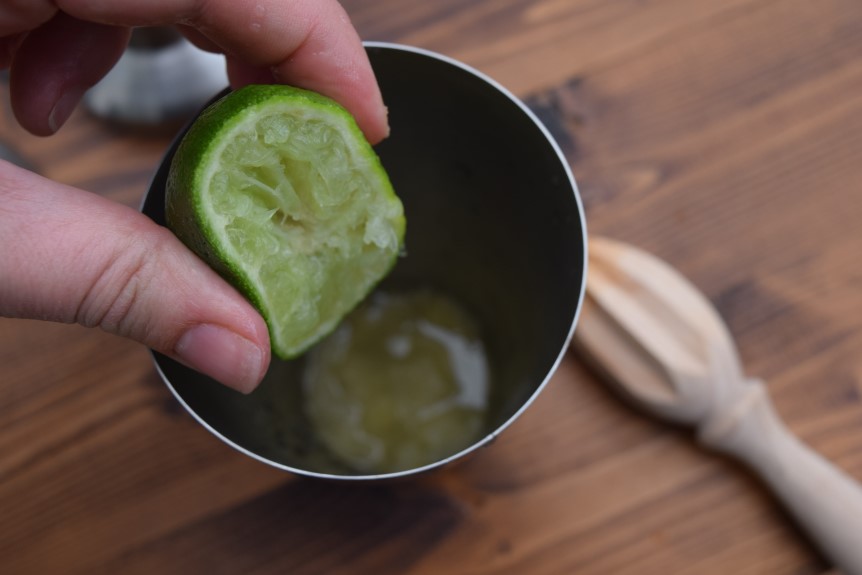 Then all that's left is a handful of ice then shake until well chilled.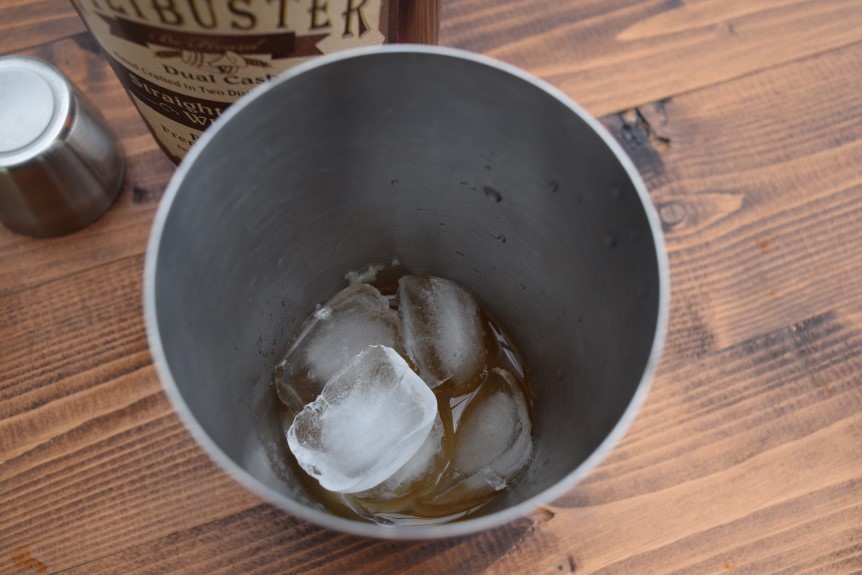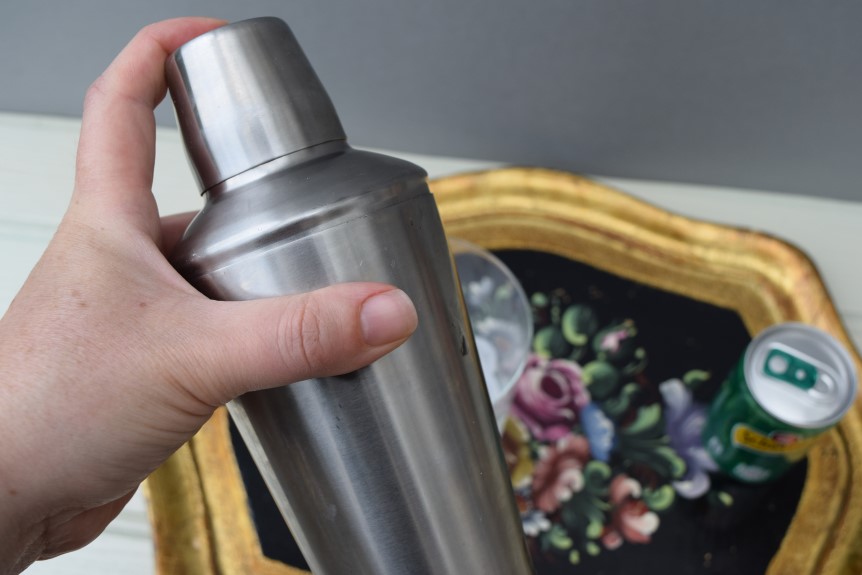 Pour this lovely cocktail over more ice into a large tumbler and top up with ice cold ginger ale.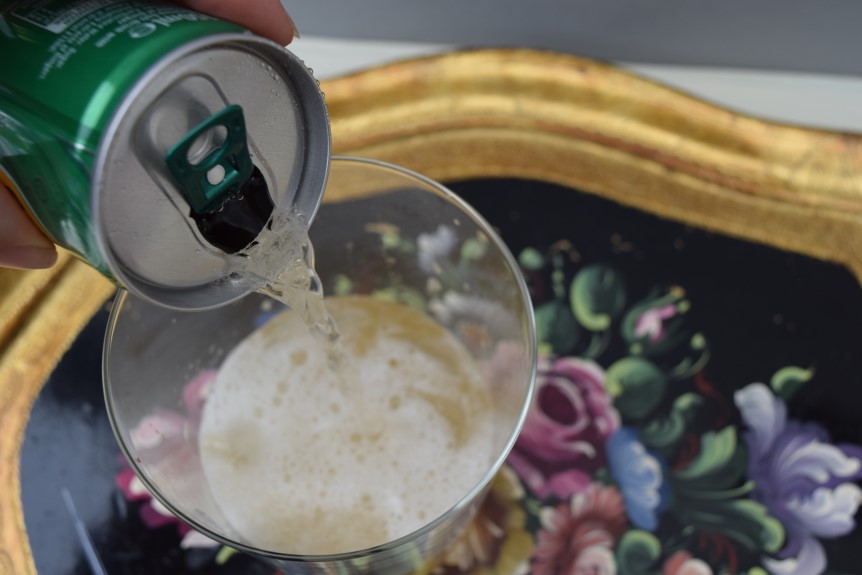 Garnish with a super retro cherry and pineapple skewer, 70's style.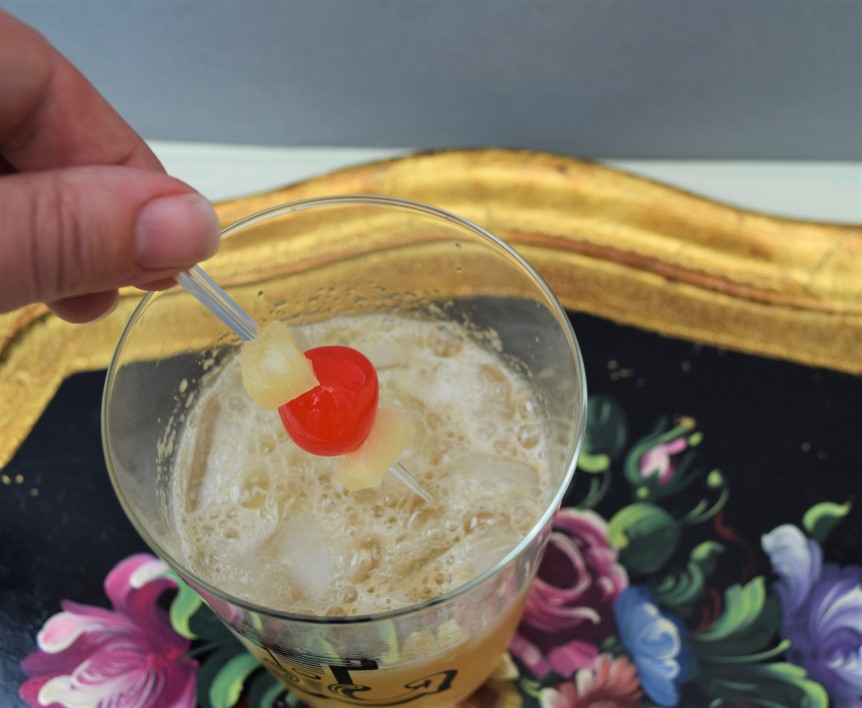 Sip, enjoy and share this with the Dad in your life, if you must.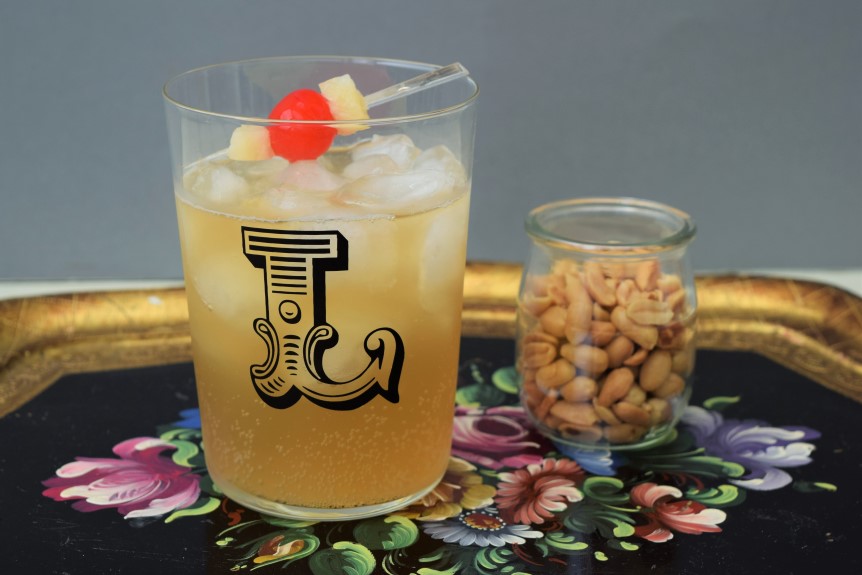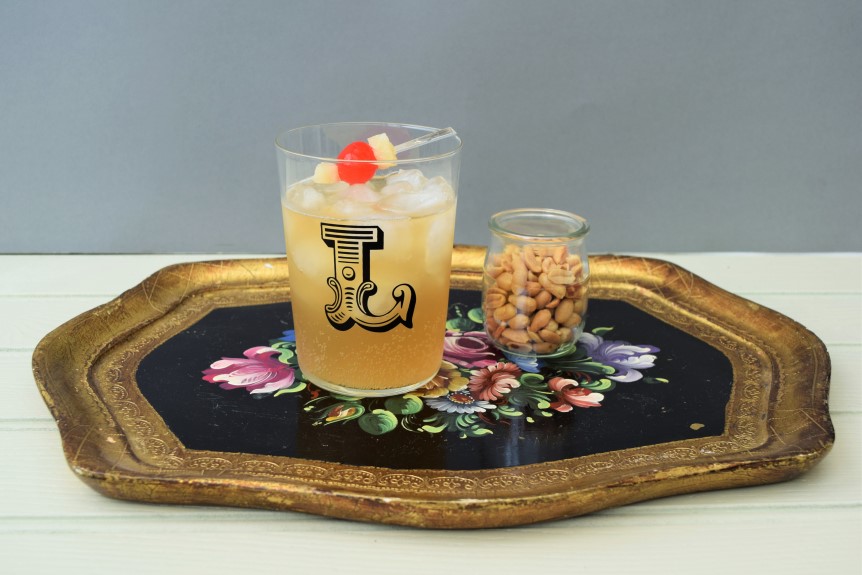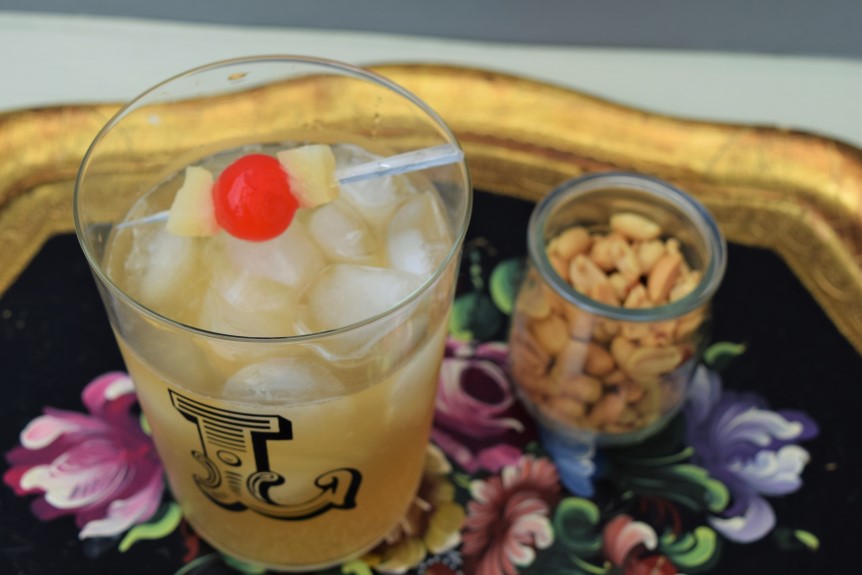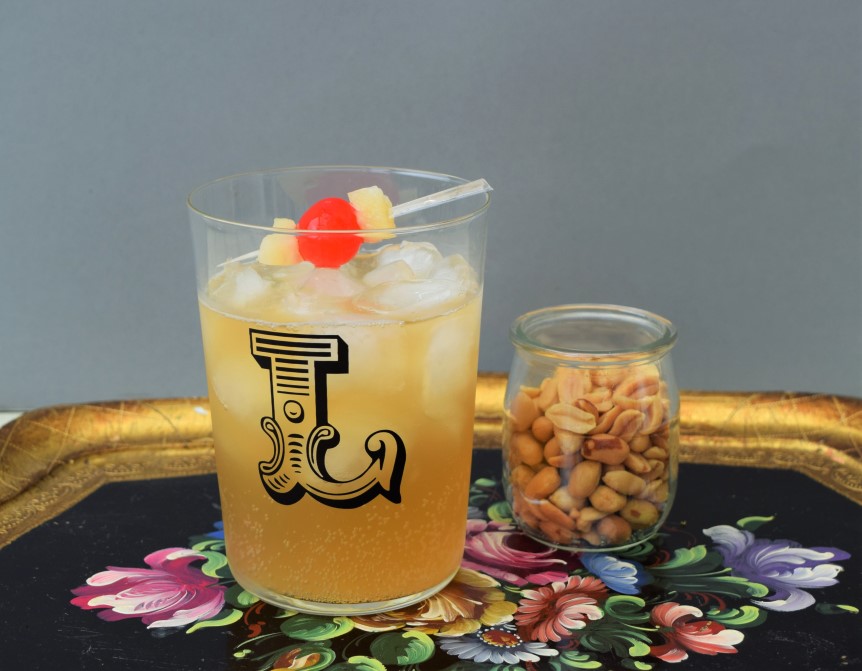 This is delicious, the sample glass was hoovered up by Clyde in a matter of seconds, before I even got a look in.
Happy Cocktail Friday to you all and my love to you and the Fathers and Father figures in your lives.
Lucy x
Woodford Wilson Cocktail Recipe
You will need a cocktail shaker and a tumbler
Makes 1
3 chunks pineapple
40ml Bourbon
1 tablespoon lime juice
approx 100ml ginger ale
Ice for the shaker and the glass
A cherry and extra pineapple to garnish
Take your cocktail shaker and add the chunks of pineapple. Muddle them with a spoon or muddler to release their flavours. Pour on the bourbon and squeeze in the fresh lime juice. Add a handful of ice then shake until chilled. Pour over more ice in your tumbler then top up with chilled ginger ale. Garnish with a cherry and more pineapple on a cocktail stick. Try not to guzzle.