Prawn Nasi Goreng Recipe
Give me a big bowl of comforting rice and I'm happy. The end. Oh ok, I suppose I'd better ramble on some more, but basically rice, in some way shape or form does make me happy. Add a few bits and bobs, herbs, spices, if you like but really it's all about the rice. George with his plain and simple tastes would literally live on boiled white basmati, but, the need for vitamins and minerals stops me from letting this happen. This Simple Prawn Nasi Goreng recipe is a comforting rice dish at it's finest. Quick, a hint of spice, prawns, saltiness, now the oddly warm weather has turned, this is just what I would like to be eating from now on, please and thank you.
I used to have an old book of recipes compiled by Blue Peter competition winners from the 70's. I loved it and actually bought a second hand copy not long back from Amazon. There was a Nasi Goreng recipe in this book, which now I think about it, seems very forward thinking for that period when I thought a pepper was foreign. It's an Indonesian recipe by origin but I am sure my version is suitably bastardised. It uses mostly store cupboard ingredients and I even included rogue prawns from my freezer, but these could easily be subbed for chicken, tofu or even pineapple, as per the original recipe from the Good Food Magazine, with thanks. This is so comforting and, for me, contains the ultimate garnish – a crispy fried egg. I've said it before and I'll say it again, I would probably eat a rat if it had a fried egg on top. Cook the egg with the yolk still runny so it mingles with the rice to create the ultimate comfort food.
I am always on the look out for quick deliciousness, and this Prawn Nasi Goreng is just that dish. It feeds a generous 4, or a bloody starving 2, in on a Saturday night with a bottle of red wine. Naming no names *me and Clyde*.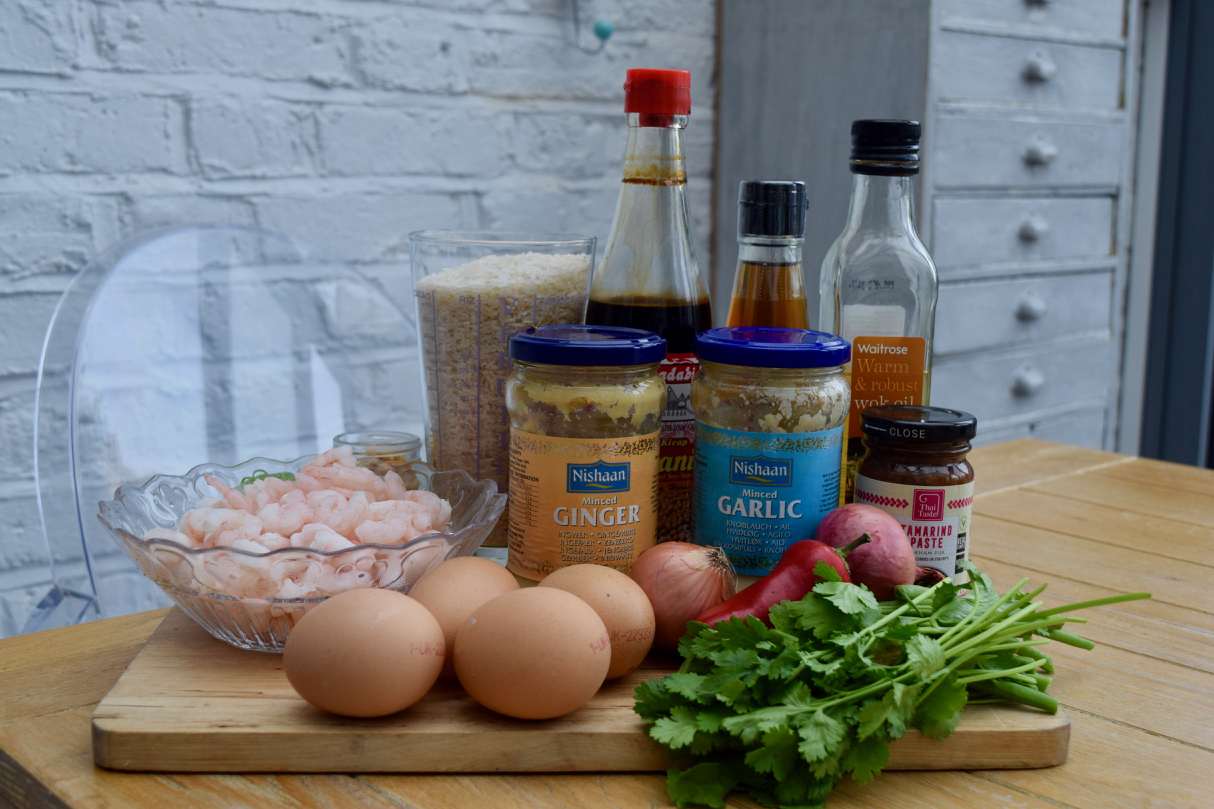 This is a full line up, with quite a few ingredients hiding such as the Kecap Manis, fish sauce and green beans. I was too lazy to peel and chop ginger and garlic, so used my jars. Feel free to be more energetic than me.
This is quite a speedy affair so have everything ready to go. Make a start by cooking your rice. I added mine to a large pan with plenty of boiling, salted water and simmered for around 10 minutes or until just cooked. Drain and leave to cool, covered with a tea towel, while you crack on.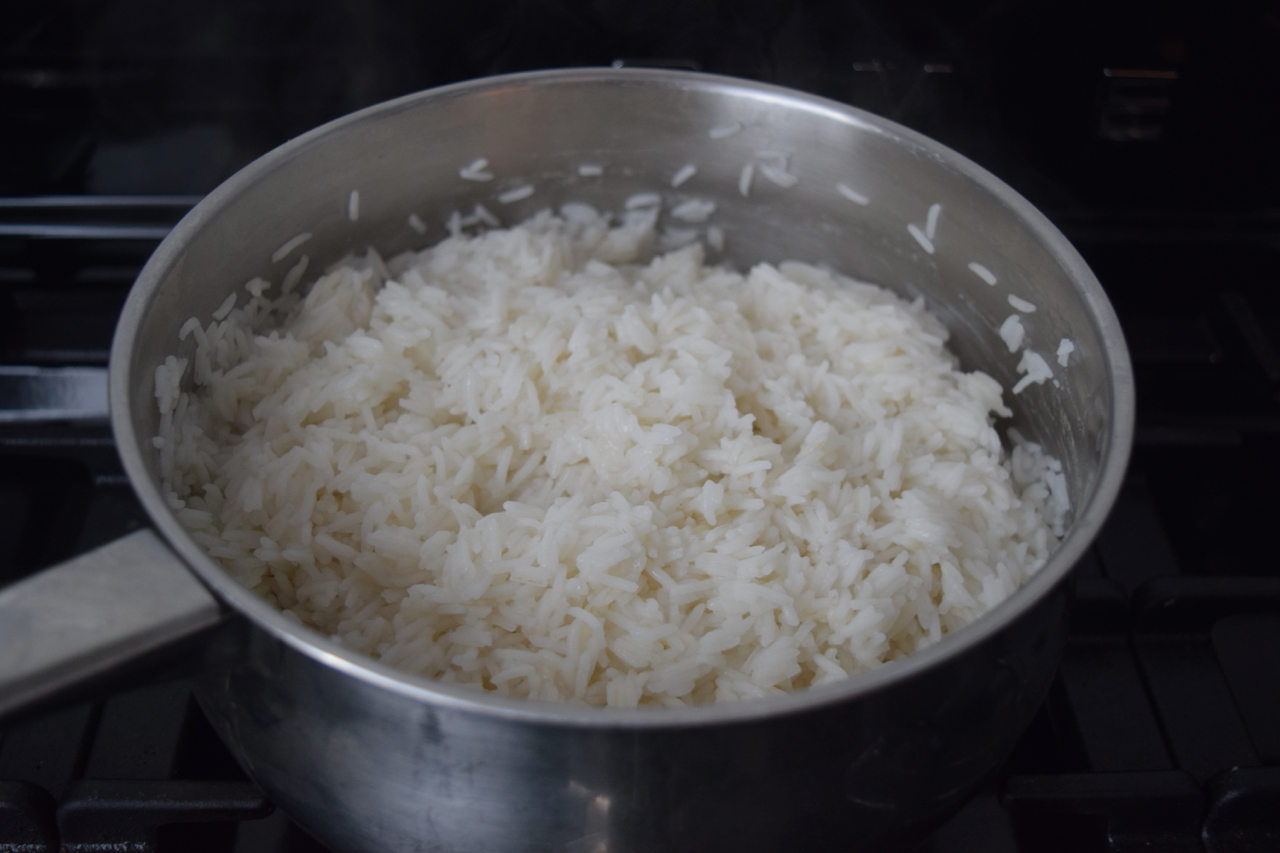 In a small chopper, food processor or by hand, chop the 2 shallots, just the coriander stalks, garlic and ginger. Process or hand chop until everything is finely chopped.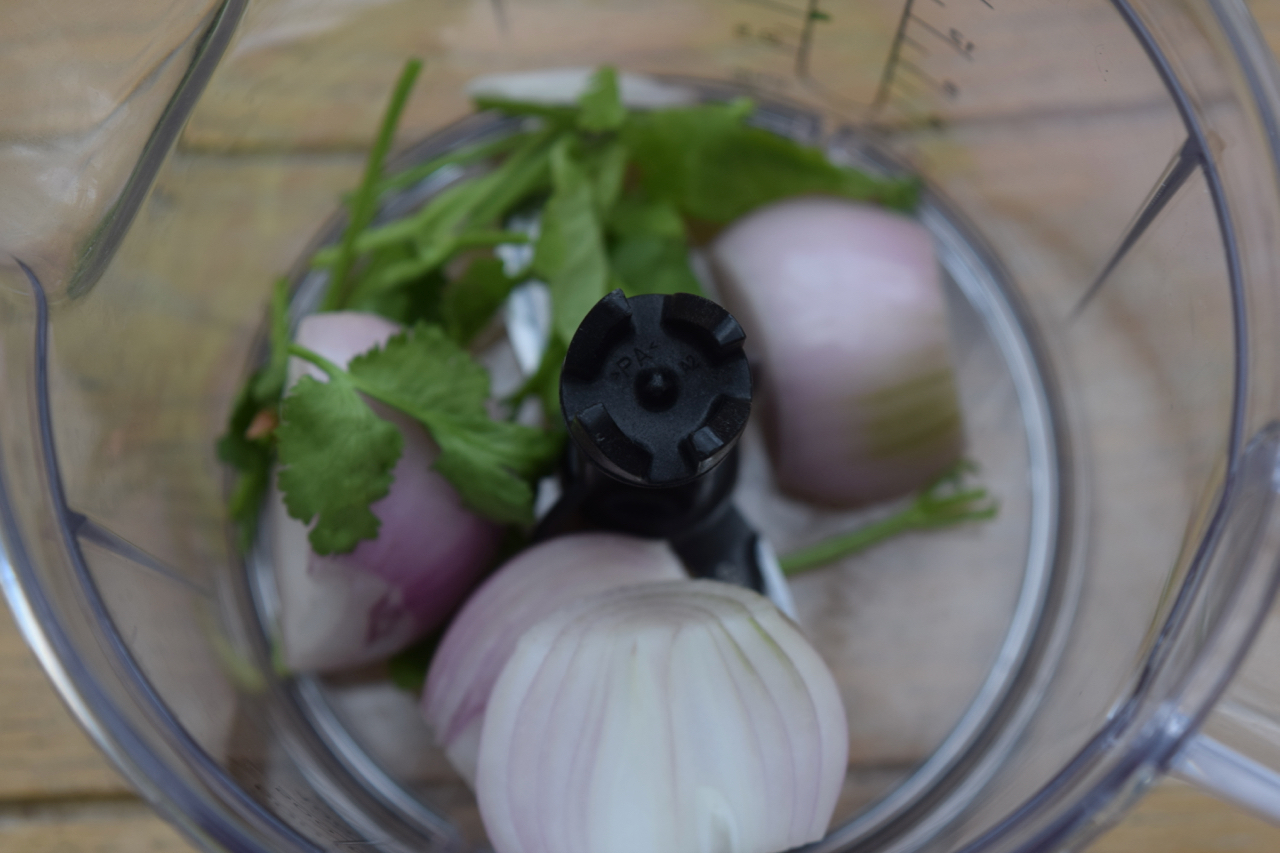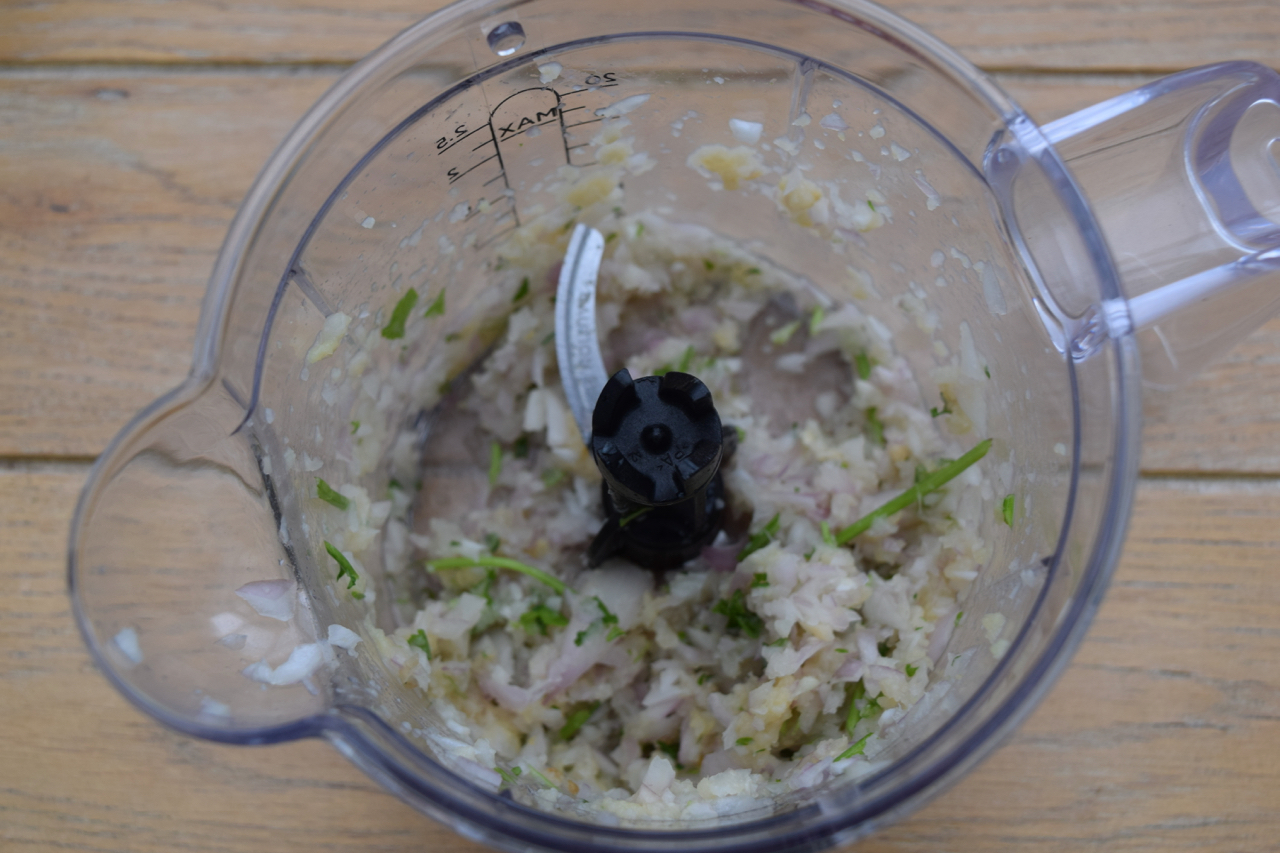 Take a large frying pan and add a tablespoon of oil, I used some fragrant Wok oil. Heat over a medium flame then add the shallot, garlic, ginger mixture along with the sliced red chilli.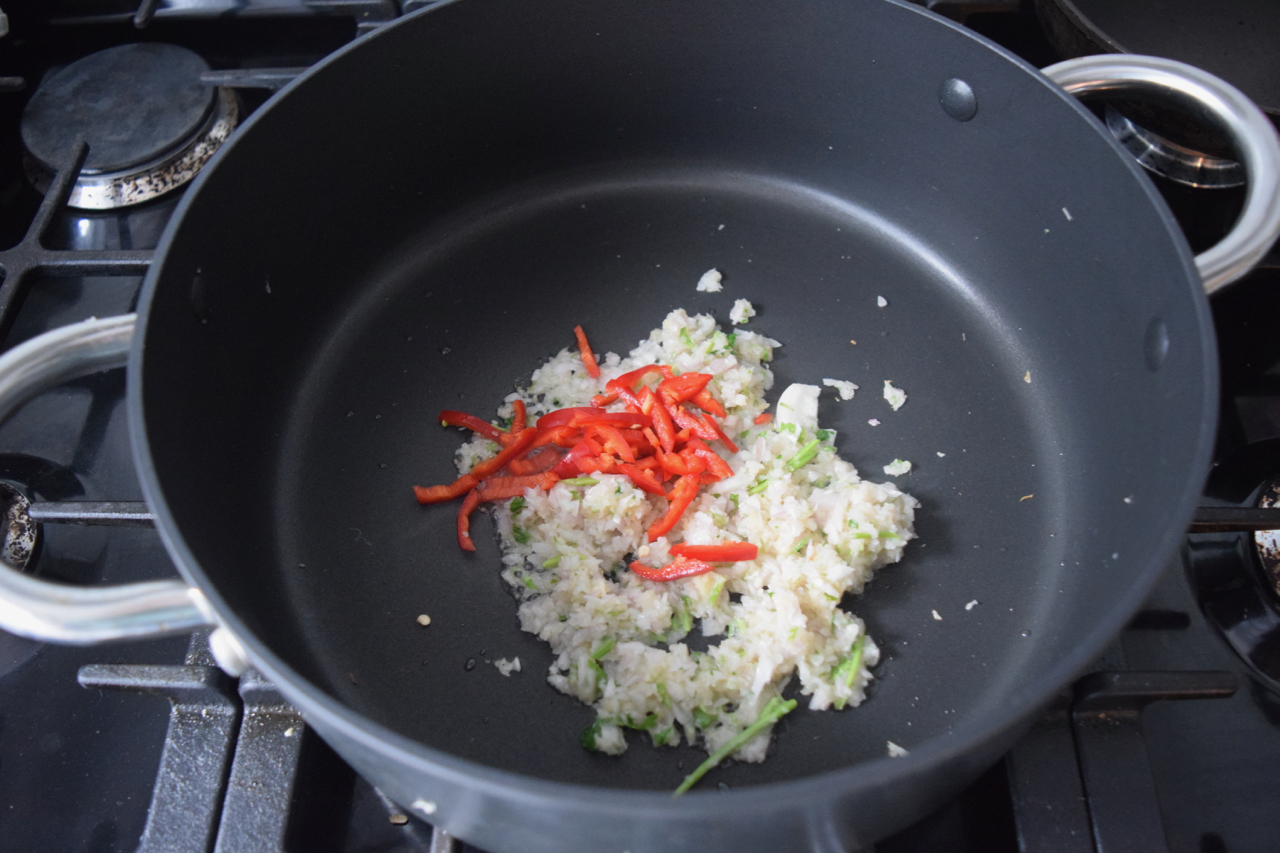 Cook for a couple of minutes until fragrant and just starting to turn golden. Next tip in the prawns and chopped green beans and stir fry for another minute or two.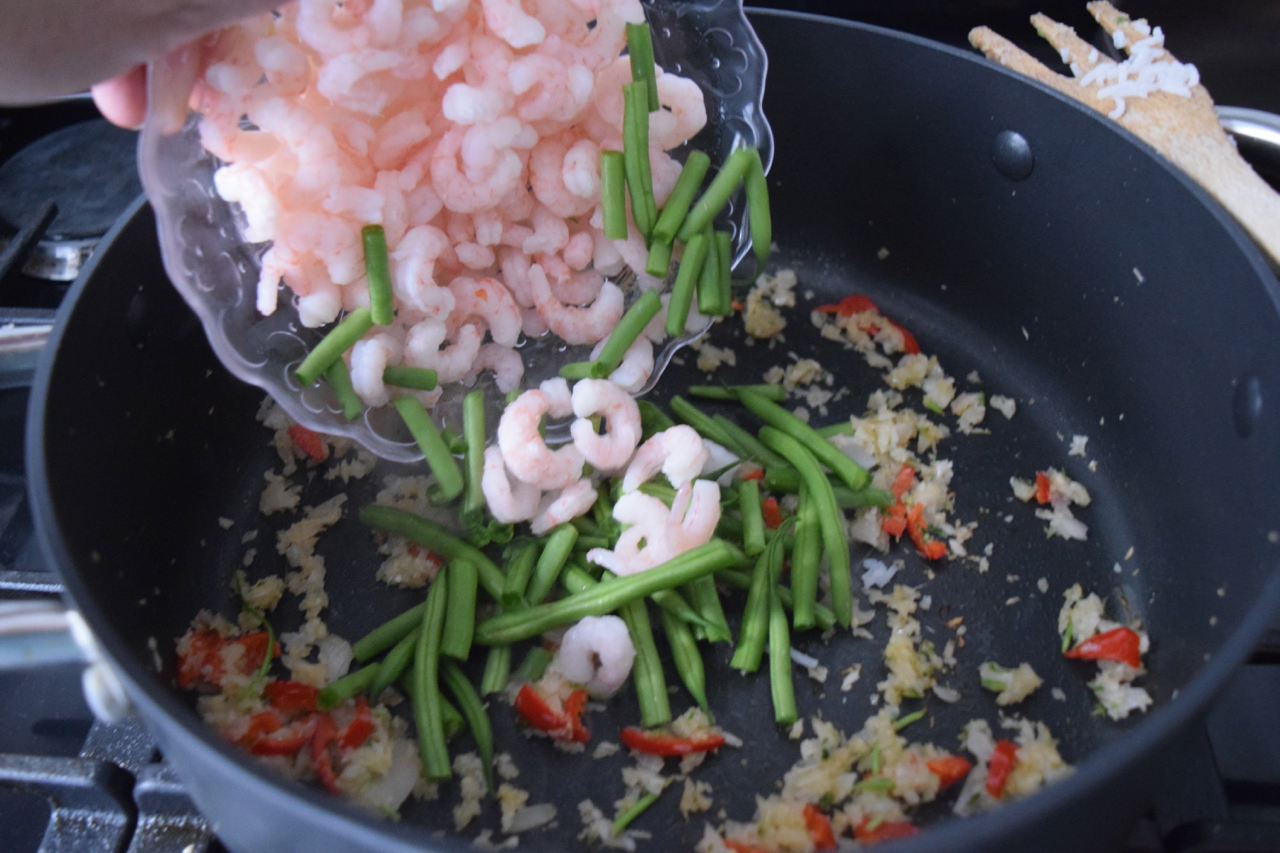 In a small jug or bowl measure in the tamarind paste, sweet soy sauce – Kecap Manis – and fish sauce. Give it a good stir.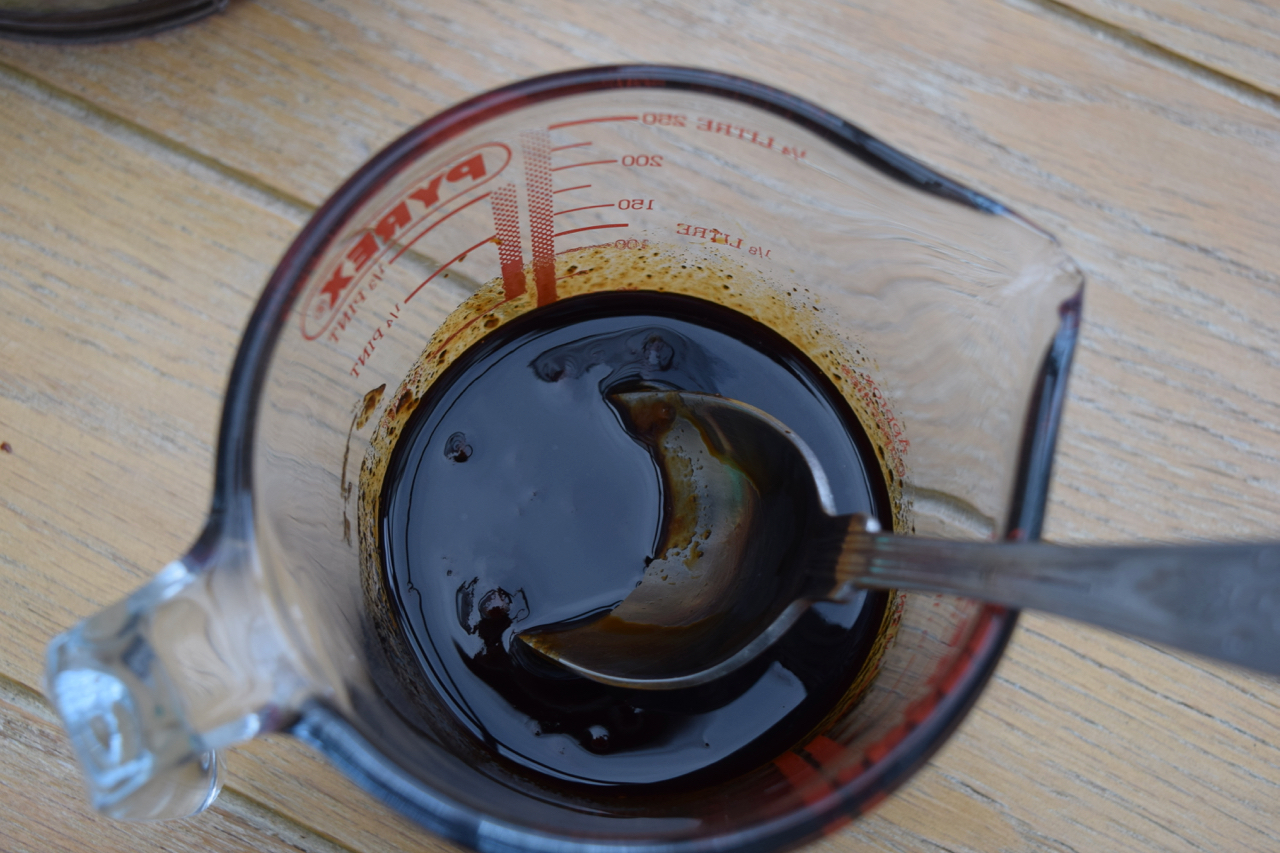 Back to the pan of dreams, or prawns, if you like. Tip in the cooked rice and stir well to ensure it's coated with the ginger and garlic and prawns.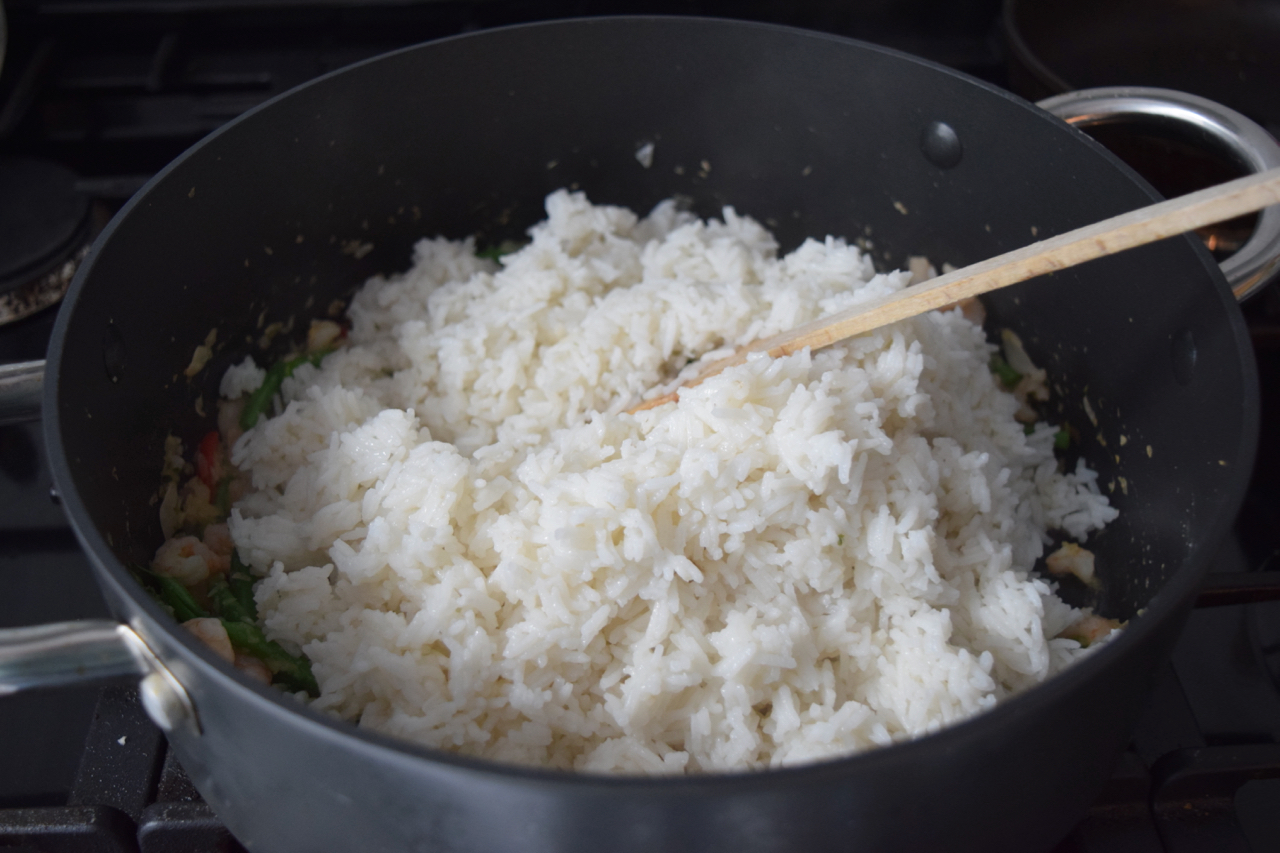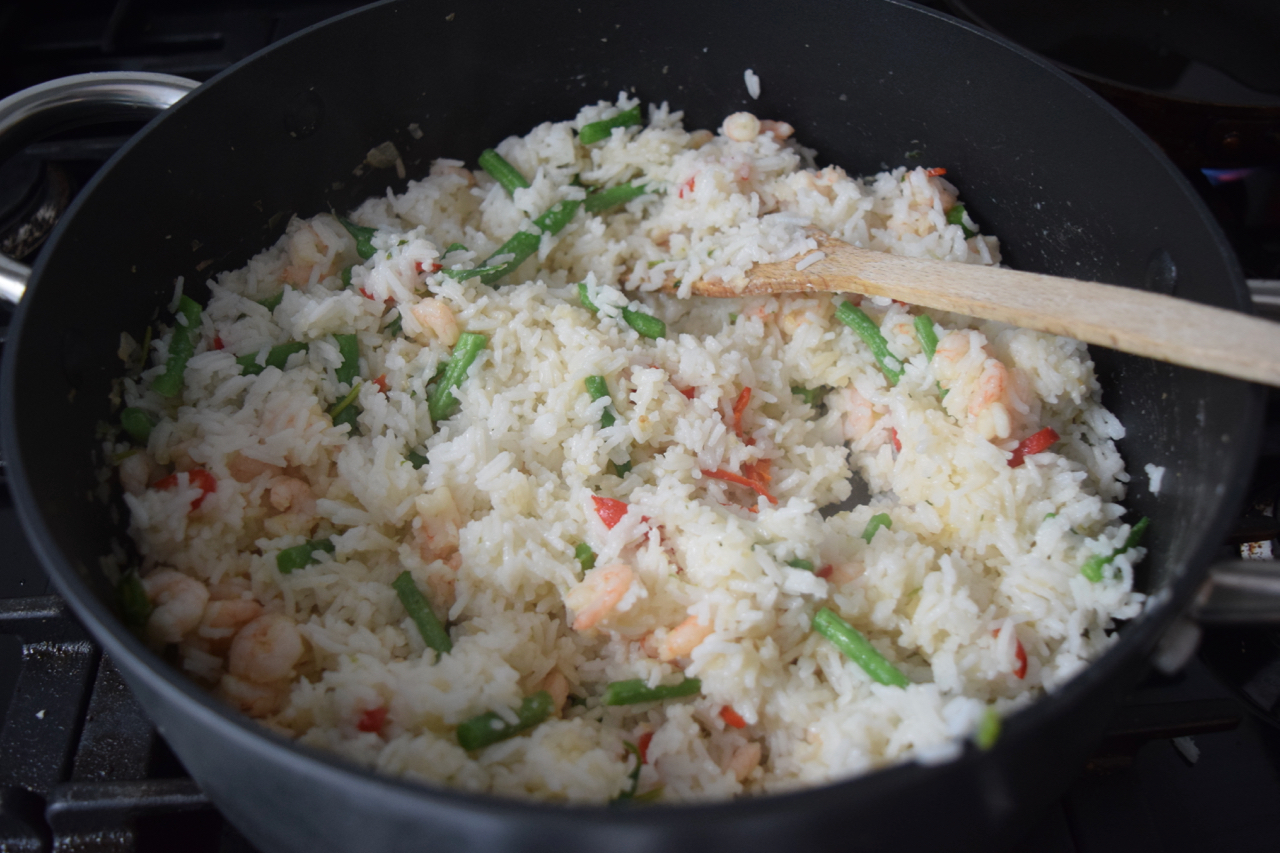 Pour in the tamarind mixture and mix to coat. Try a couple of big mouthfuls to check to see if it needs any extra salt and pepper.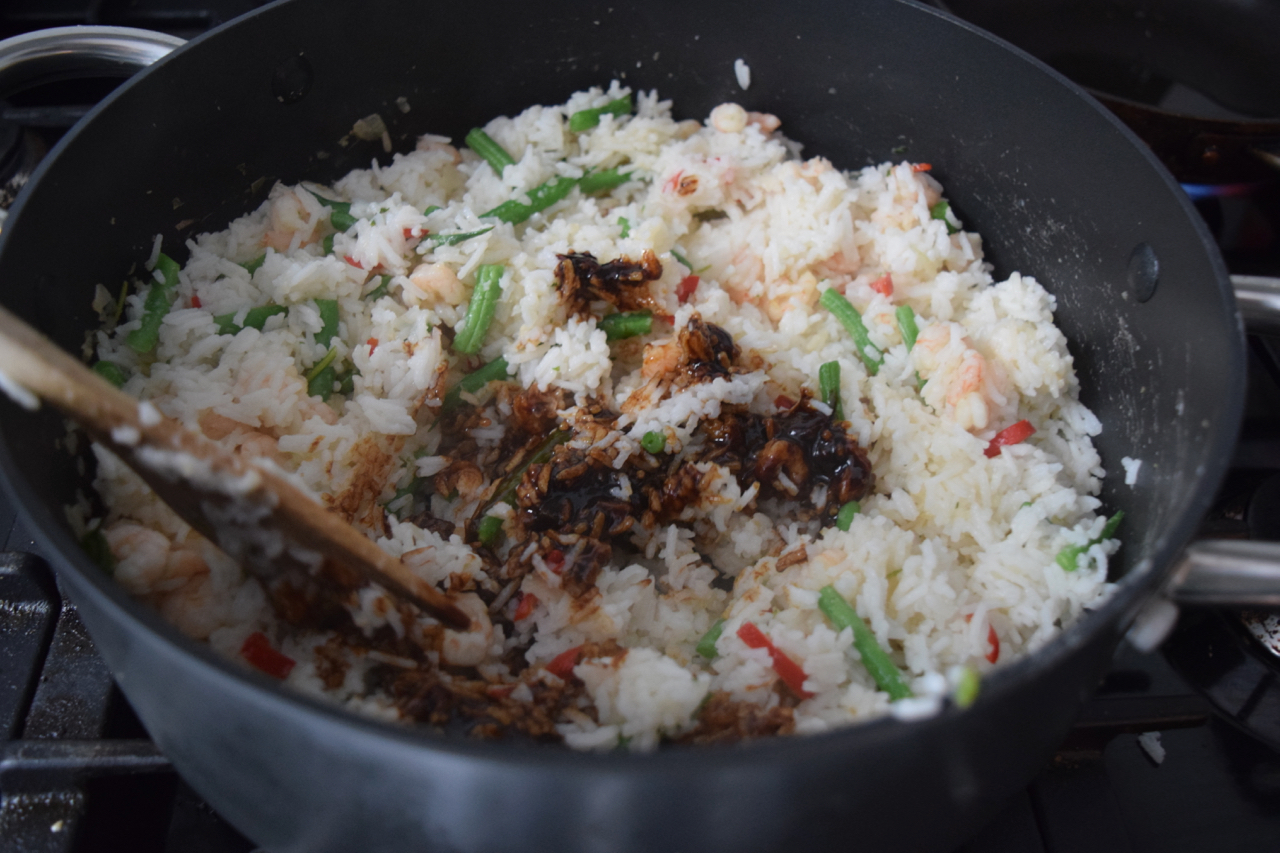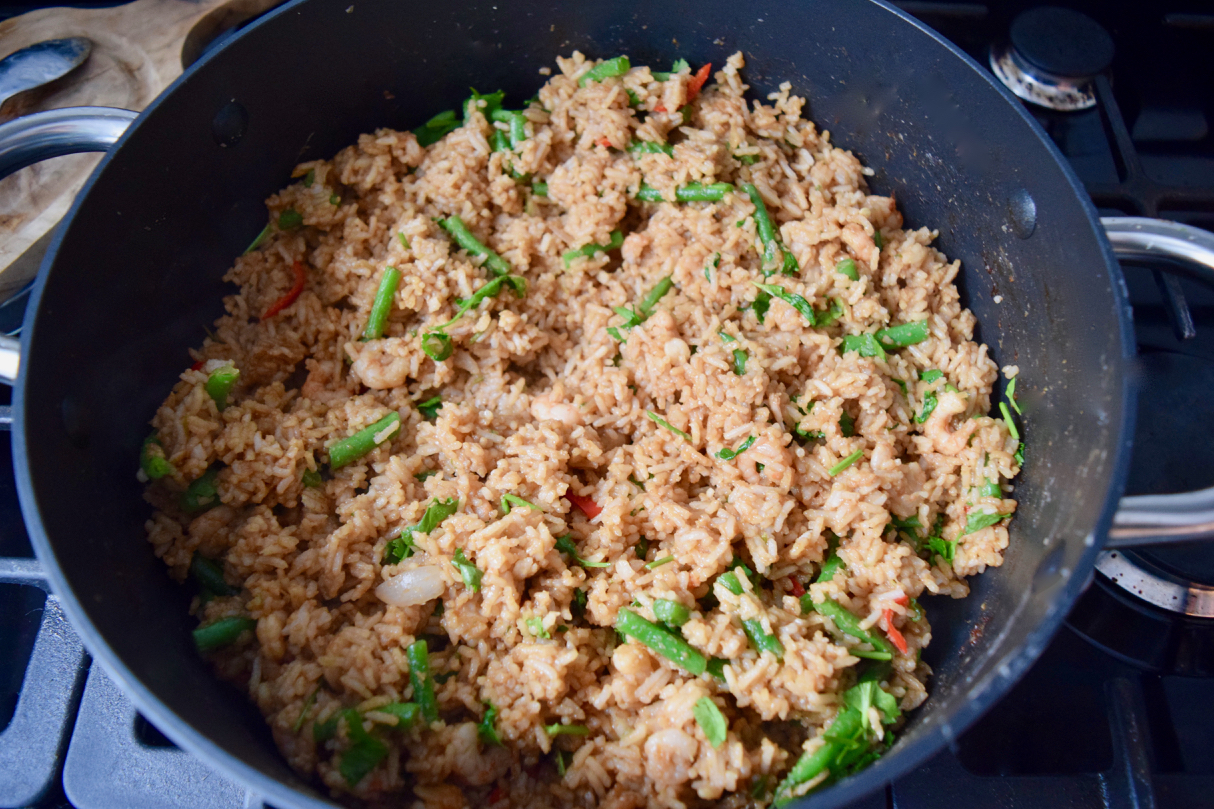 Add the chopped coriander leaves then leave for a moment while you fry your eggs in hot oil. Make sure they have runny yolks but crisp, golden edges. My favourite. Make one fried egg per person, or 2 if that person is Clyde.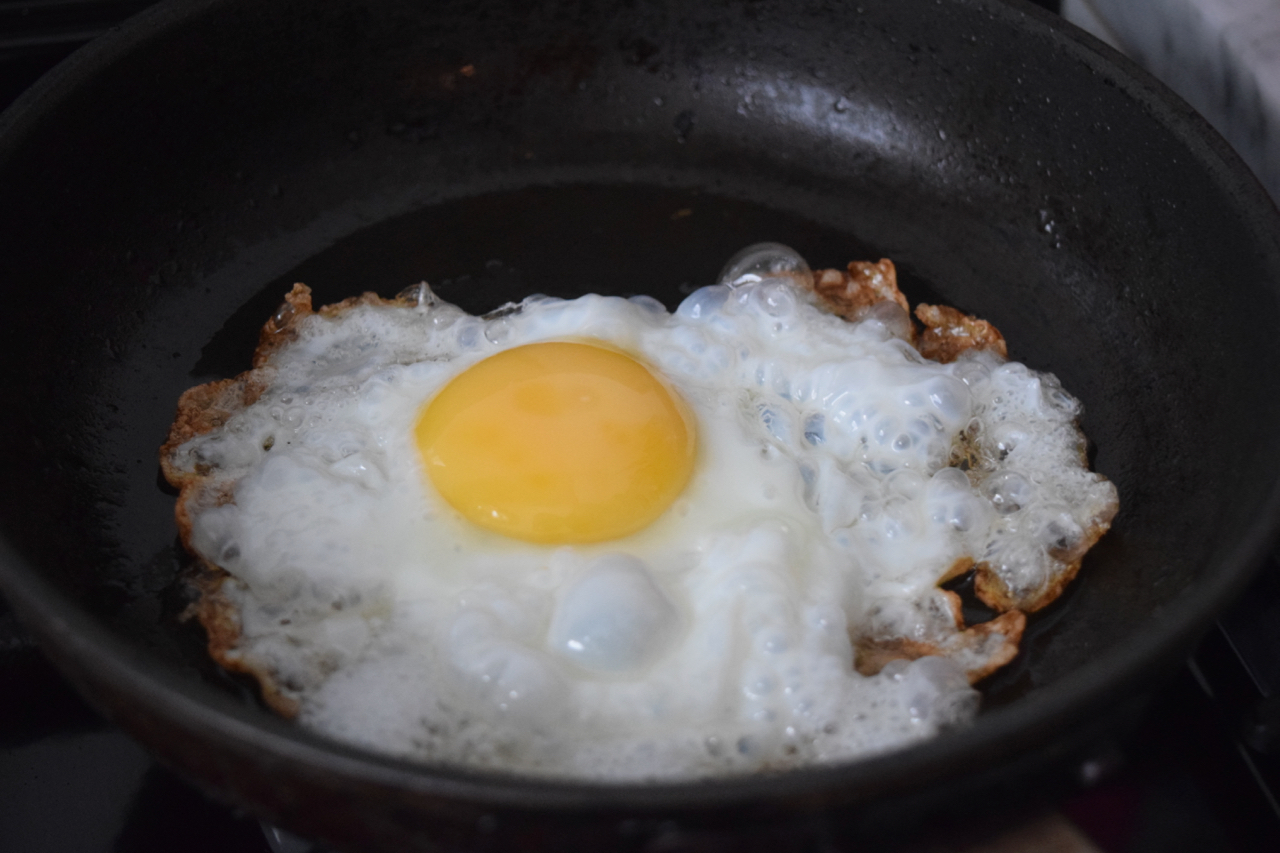 Serve the prawn studded, spiced rice topped with the frilly egg and all sorts of garnishes of your choice.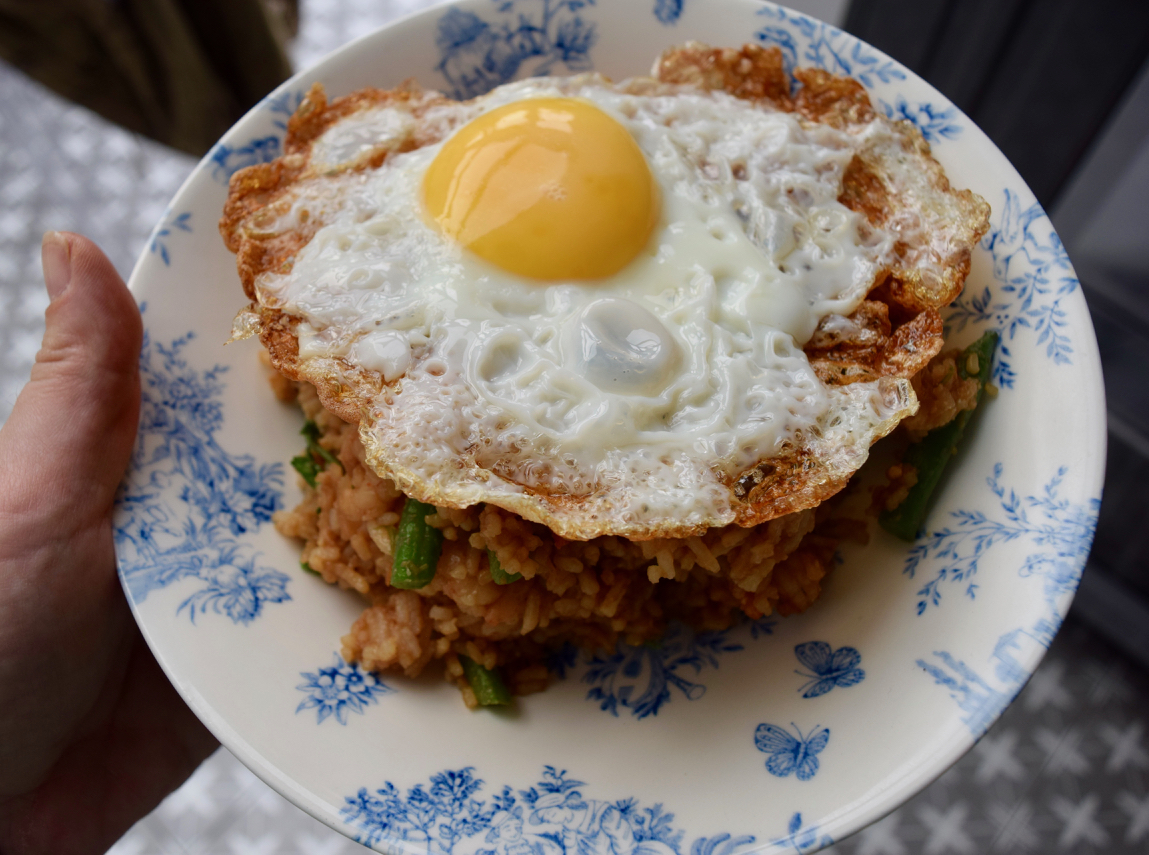 Try some chopped coriander, salted peanuts, Sriracha, lime wedges, crispy onions or shallots. Some or all of these are amazing. Then tuck in with a large spoon and a bib. Or a fork if good manners prevail.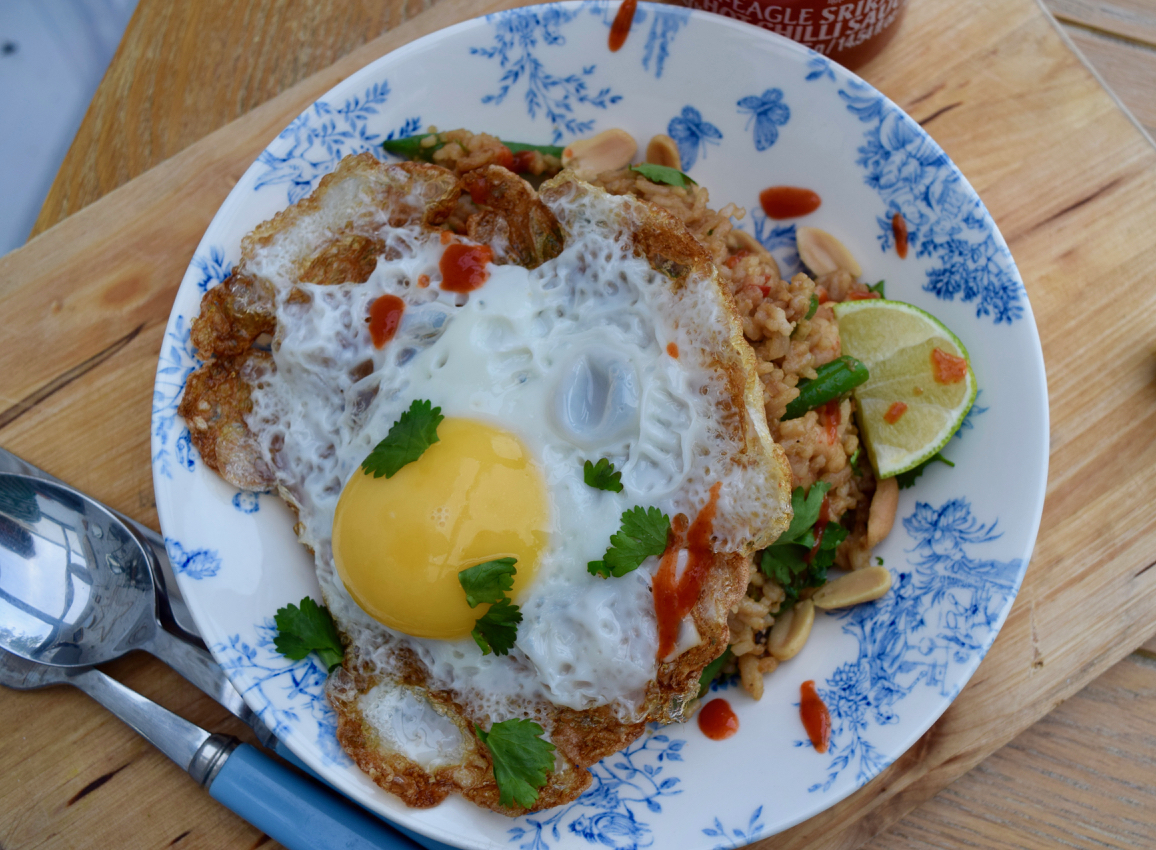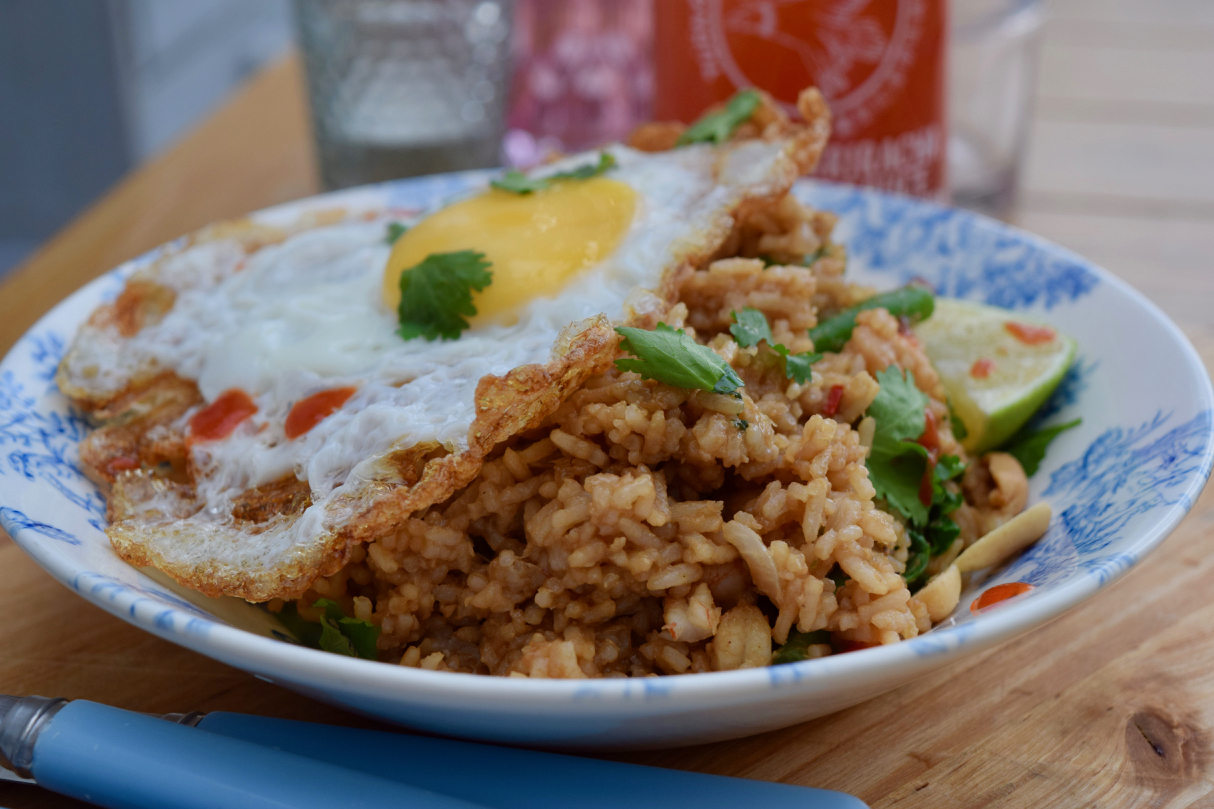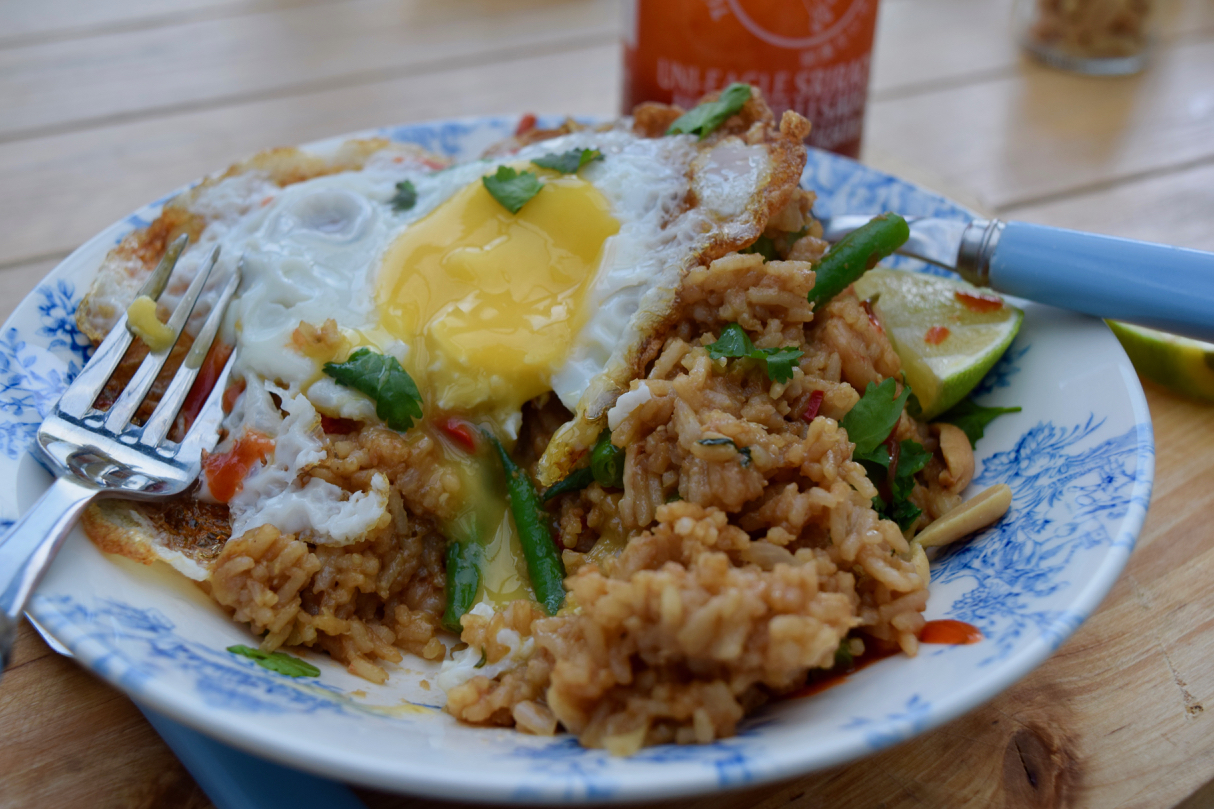 I literally tucked right into this Prawn Nasi Goreng the minute I put the camera down. I couldn't help myself, I wasn't even hungover, although I had done an early exercise class so this was well earned. Any bloody excuse.
Lucy x
Prawn Nasi Goreng Recipe
Serves 4 at least
No exciting equipment needed, just pots and pans
400g basmati rice, or brown rice if you prefer
salt
1 tablespoon tamarind paste
4 tablespoons kecap manis or sweet dark soy sauce
1 tablespoon fish sauce
2 cloves garlic, crushed, or 1 teaspoon lazy garlic from a jar
2 shallots or a small onion, chopped
Handful fresh coriander, stalks and leaves separated
1 inch ginger, peeled
1 tablespoon oil, olive oil or I used flavoured Wok Oil
I small red chilli, sliced, de-seeded
200g prawns, I used frozen cooked ones, defrosted and drained
100g green beans, chopped into thirds
Salt and pepper to taste
4 eggs for frying
Oil for frying eggs
Lime wedges, fresh coriander, crispy shallots or onions, peanuts, Sriracha, to serve
Make a start by cooking your rice according to the instructions on the packet. I boiled mine for around 10 minutes then drained and left to one side, covered with a tea towel.
In a small chopper or food processor, add the shallots, halved, the garlic, the peeled ginger and the coriander stalks. Blend until finely chopped. Take a large frying pan and add the one tablespoon of oil and heat over a medium flame. Scrape in the shallot blend with the chopped chilli and fry until just starting to turn golden, around 2 to 3 minutes. Add the chopped green beans and the prawns and cook for a further 2 minutes.
In a small jug, mix the tamarind paste, kecap manis and fish sauce, then stir.
Tip the cooked drained rice into the frying pan and mix well. Add the tamarind mixture and stir well, ensuring the rice is coated in the sauce. Add the chopped coriander leaves.  Turn the heat off and pop a lid on or cover with a tea towel while you fry the eggs.
Take a small frying pan and add another tablespoon or two of oil. Heat over a high flame and add one of the eggs, fry for a couple of minutes until the edges are crisp and the yolk is still runny. Repeat with the other 3 eggs.
Serve in large bowlfuls, topped with the crisp fried egg. Garnish with fresh coriander, peanuts, crispy shallots, Sriracha sauce, lime wedges, it's up to you.