Barbecue Ribs Recipe
I have always been a bit phobic of barbecues. Not because I fear under cooked meats and the potential consequences involved. What I fear is Clyde cremating expensive meat, beautifully marinated by me, and us ending up eating my lovely salads in a vegetarian turn of events. But since the purchase of a gas barbecue, those days are over. Clyde is now the King of the faux charcoal and we can barbecue at the drop of a hat. With the advent of the gas based wonder, I was keen to master more outdoor cooked dishes and after extensive *brief Pinterest browsing* research, these are my Ultimate Barbecue Ribs.
My usual barbecue specialities such as burgers and sausages pilfered from the freezer are never greeted with much enthusiasm so to up my game, these Ultimate Barbecue Ribs really are delicious. I lied about the research, I let the Guardian do it for me, with huge thanks. Their combination of brown sugar, smoked paprika and ketchup is boosted by Marmite of all things. It's salty, savoury taste really adds a set of balls to the marinade without being at all obvious. So if you are, God forbid, a Marmite hater, don't be at all put off by this recipe. These ribs are super tender, crisp on the outside after a little spell on the barbecue, or under the grill if you are not the King of the Coals, and so full of flavour. As you can see by the brief recipe, they are also crushingly easy. They're slow cooked in the oven so can be forgotten about whilst you whip up a little tricolore salad to accompany them.
This glorious, if a little sweaty, spell of weather we are having cries out for more outdoor cooking. So if you are looking for a new barbecue dish, these ribs are the future. And if you are reading this in the winter, still crack on, as rest assured, now I have fashioned these Ultimate Barbecue Ribs, I will be eating them whatever the season.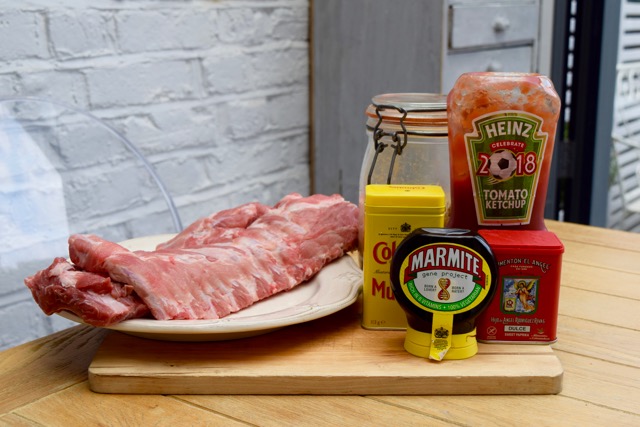 Quite a scenic line up for these ultimate Barbecue Ribs recipe. Some total classics including the likes of Colmans, Heinz and Marmite if you please. Vis a vis the ribs, I went for two racks of pork loin ribs from Waitrose, they're not too pricey and good and meaty.
This is super simple, but make a start well in advance as these will need to marinate for at least 2 hours, ideally 4. Take a large baking tray and make the marinade in this to save washing up another bowl. Mix the mustard powder, or ready made mustard, with the Marmite and the super fragrant smoked paprika..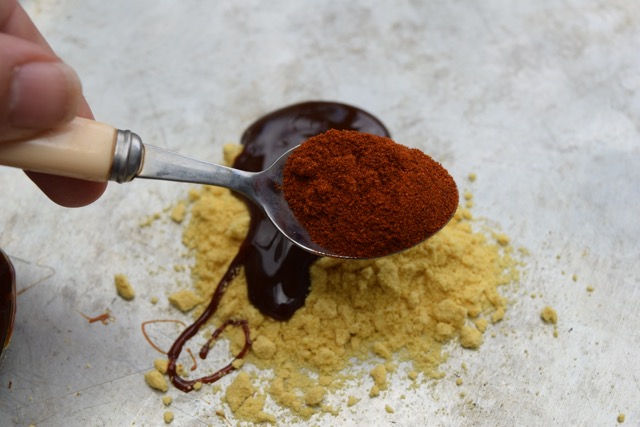 Add in the brown sugar, whichever you have, dark or light and then the tomato ketchup.
Mix the whole lot together to fashion a really delicious *I tasted a big spoonful of it* barbecue sauce and slather your racks in this, both top and bottom. Ensure the sauce gets into every crevice.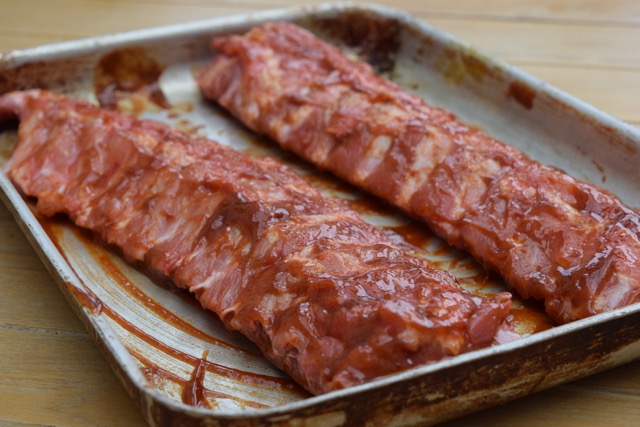 Cover these beauties and pop them in the fridge for around 4 hours. I only had 2 to hand, and that seemed just fine, however, the longer the better. When your marinating time is up season with salt and pepper, cover the tin, tightly, with foil, then bake for 2 and a half hours at 140 degrees fan assisted. Remove from the oven after an hour and give them a good baste, then put them back, covered again for the remaining time.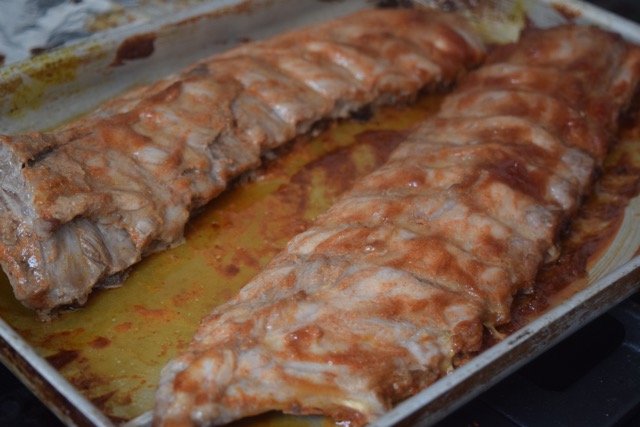 Once the rib racks are ready, they will be tender and smelling oh so good. Remove them from the baking tray *giving it a bloody good soak* and either pop on the barbecue grill or under your own grill for a couple of minutes for a bit of crisping and a touch of char grilling.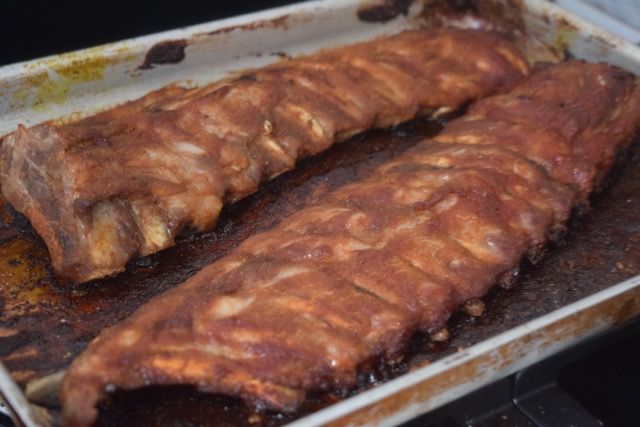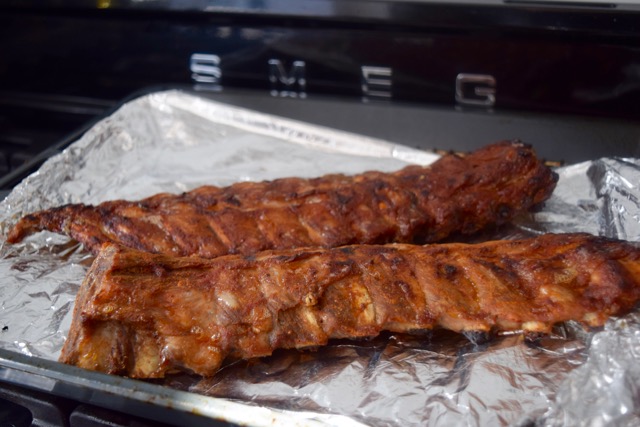 And that's that. Your ultimate Barbecue Ribs are now ready for you to devour, with your hands, regardless of how sticky you are getting, it's so worth it.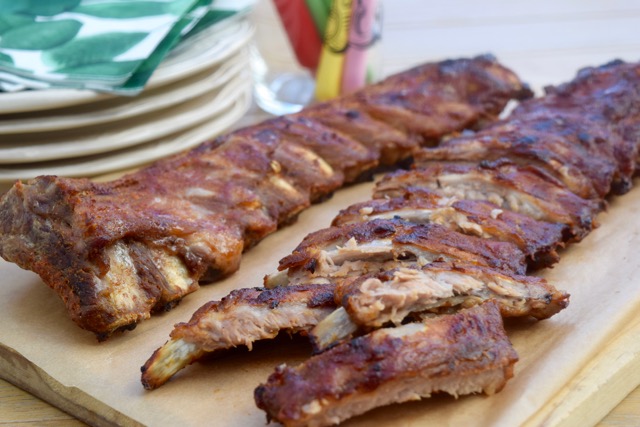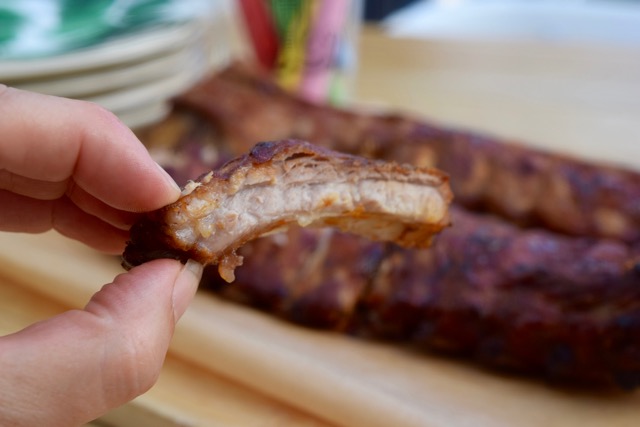 We finally finished tarting up our little garden this weekend *that's the Royal we btw* and ate these ribs with the sun on our backs, admiring 'our' handiwork.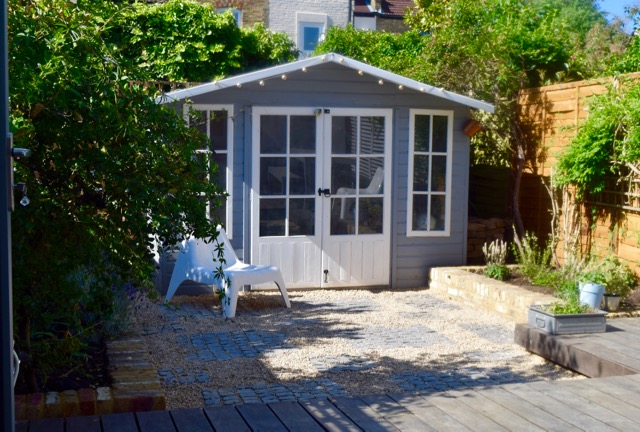 Make hay while the sun shines, or, in a update to this lovely old saying, make ribs while the sun shines. We have our staycation coming up, so prepare for the weather to break shortly, so barbecue while you can, before you'll need to bring out the brollies.
Lucy x
Barbecue Ribs recipe
Serves 4 hungry people
You won't need any exciting equipment
2 racks of pork ribs, mine weighed around 1kg in total
1 tablespoon Marmite
1 tablespoon English mustard, I couldn't find my jar so used Coleman's mustard powder
1½ teaspoons smoked paprika
2 tablespoons tomato ketchup
2½ tablespoons dark muscovado sugar, couldn't find the dark sugar either so used light brown
Salt and pepper
Serve with bread, salads and other barbecue treats
Take a large baking tray and stir together the marmite, mustard, smoked paprika, ketchup and either dark or light brown sugar. Mix well then take your racks of ribs and slather in the barbecue sauce. Ensure they are coated on both sides then cover the tray and leave in the fridge for between 2 and 4 hours.
When you are ready to bake these, pre heat the oven to 140 degrees fan assisted. Give the ribs another mix in the marinade, season with salt and pepper, then cover the tin tightly in foil and place in the pre heated oven. Cook for 2 and a half hours, basting half way through this time.
Once the ribs are tender and smelling amazing, pre heat your grill or light your barbecue and place the ribs on or under the grill for another couple of minutes until starting to crisp.
Serve the ribs piping hot, with your favourite barbecue sides, getting all sticky and mucky using your hands.
SaveSave
SaveSave
SaveSave
SaveSave
SaveSave
SaveSave