Beef Stroganoff Recipe
It's beginning to look a lot like Christmas, so the song says. And so it bloody well should do as I have been slaving my backside off cooking, shopping, decorating, singing and wrapping. I am now moving at full speed at all times and during the next three days I do not have a single moment to spare. I am trying to enjoy the run up to Christmas, but at the moment I am just lurching towards the end of the week when I will sit down with the most enormous Baileys in my hand. On Christmas Eve, my family and I will all be together and this, to me, feels like such a special evening before the slight drama of Christmas Day. There will be 10 of us and we will all be sitting down to enjoy my new found favourite, Beef Stroganoff.
I used to make Clyde and I Beef Stroganoff when we first moved in together. In fact, it was pork based as we were *still are* poor and couldn't stretch to beef. It has always felt quite a treat-like supper, regardless of the slightly naff 70's dinner party connotations. This particular recipe comes via a great article from the Guardian which compares several chef's Stroganoff recipes and comes up with the perfect dish. And perfect it is. I couldn't stop noshing it straight out of the pan and I had to slap Clyde's hand away from the dish I was photographing on numerous occasions. The sauce is so savoury and tasty with just enough sour from the cream and mustard.
This Stroganoff uses fillet or sirloin steak, budget dependent. I used sirloin and it was perfect. Two large steaks fed four of us generously even though I didn't think it would. The innovative recipe ensures perfectly cooked beef by cooking the steaks whole then thickly slicing them afterwards and adding them to the lovingly prepared sauce. This gives a robust dish with the beef cooked perfectly to medium. I can't sing this dishes praises enough. To be fair, me singing praises is probably much better than me singing Last Christmas, which I enjoy doing, at the top of my voice, whilst cooking. Sorry if you have overheard me at all.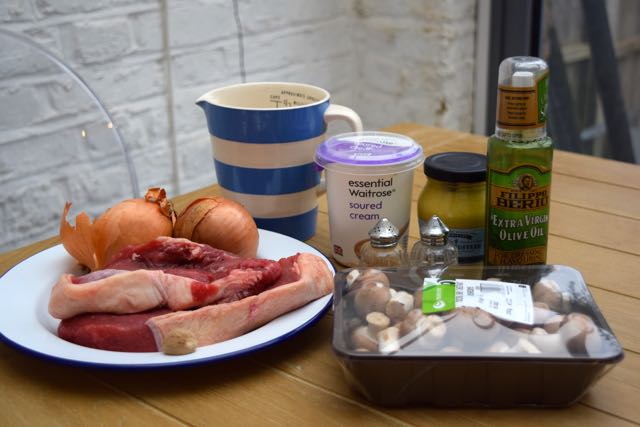 Simple, elegant, delicious and missing the butter, sorry about that, I have too much on my mind. My steaks were just shy of 600g and still there was loads to go around. It's a rich dish and super filling and feels super spoiley enough to be served on a special occasion.
Make a start a little in advance, if you remember, by seasoning both your steaks with salt and either nutmeg or black pepper. I used nutmeg as it's such a wonderful flavour.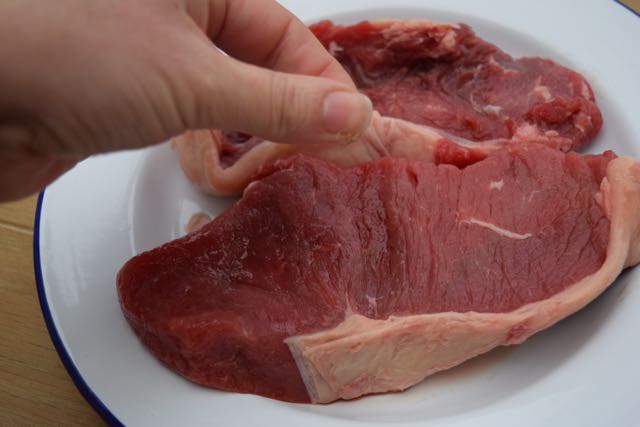 Pop this to one side for around an hour if you have time. If not, just leave it to sit while you prepare the sauce.
Thinly slice the onions then fry in 25g of the butter with a dash of oil until soft, golden and sweet.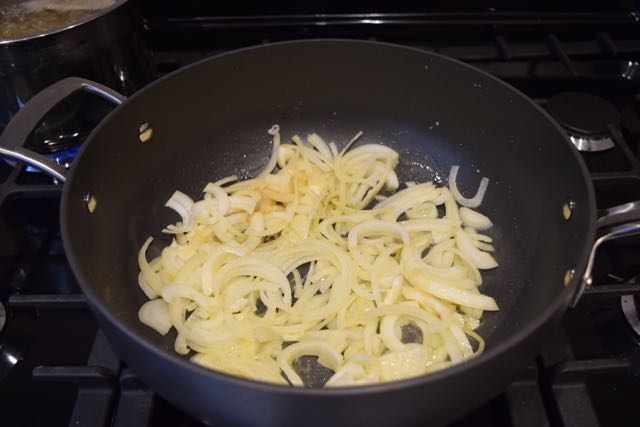 Pop these onto a plate whilst you fry the mushrooms. I used button chestnut mushrooms and didn't bother to slice them as they were nice and small. Fry these, in more butter and oil, until they are soft, browning and smelling amazing then add to the onions on a plate.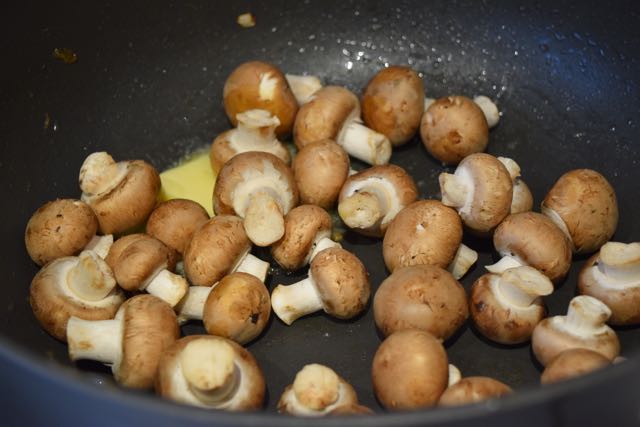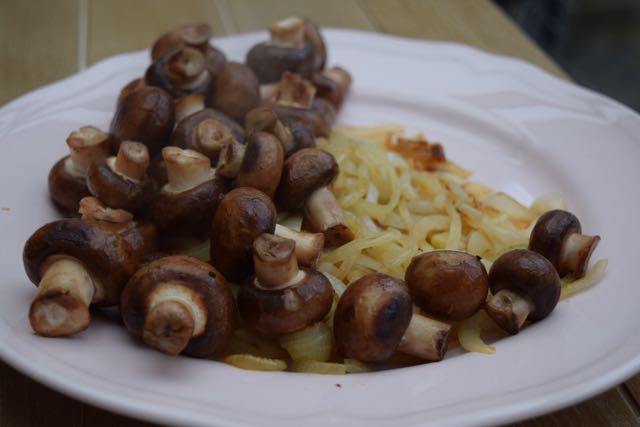 Now, it's time to sear the wonderful sirloins, or fillets if you have won the lottery. Heat the same pan again, this time with olive oil, to a high heat and add the steaks. Cook for around a minute and a half on each side, until they have a wonderful brown crust.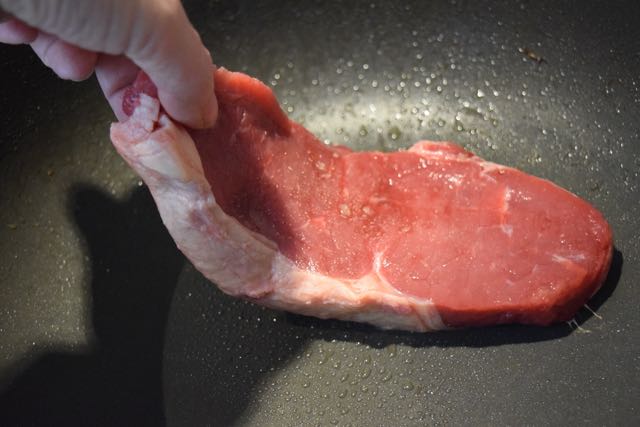 Sorry about the shadow, I haven't quite mastered the lighting in our new kitchen. It's a little all or nothing at the moment.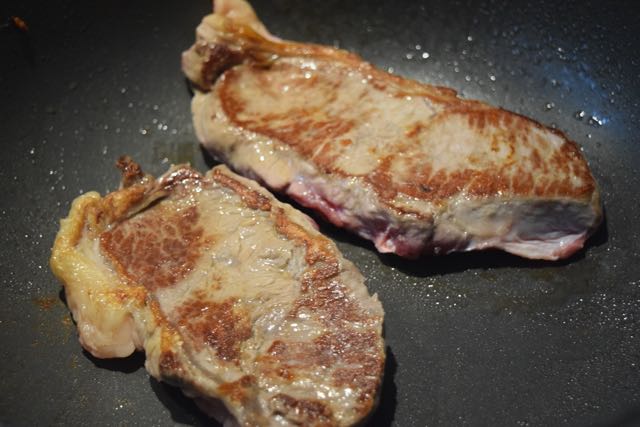 Place these bad boys on a board and leave while you complete the sauce. Using the same pan again, this is such a washing up shy recipe, I have almost bought you an extra half an hour in your day. Pour in the sour cream and pop in a tablespoon of mustard.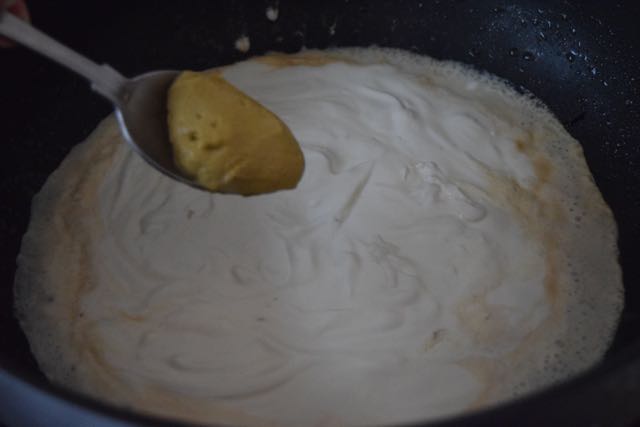 Stir well and don't worry if it looks a bit curdly, it will be fine. Gradually whisk or stir in the beef stock then return the onions and mushrooms back to the pan.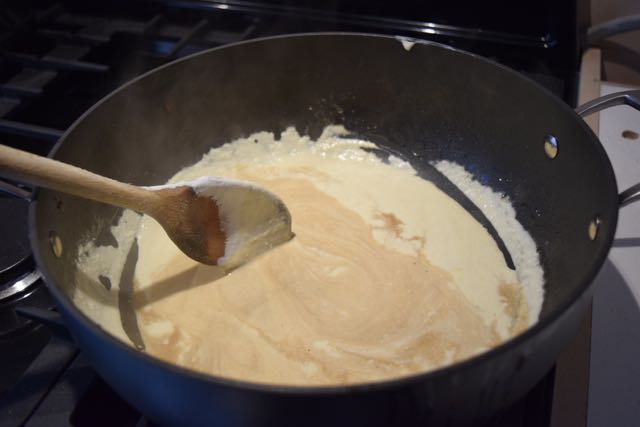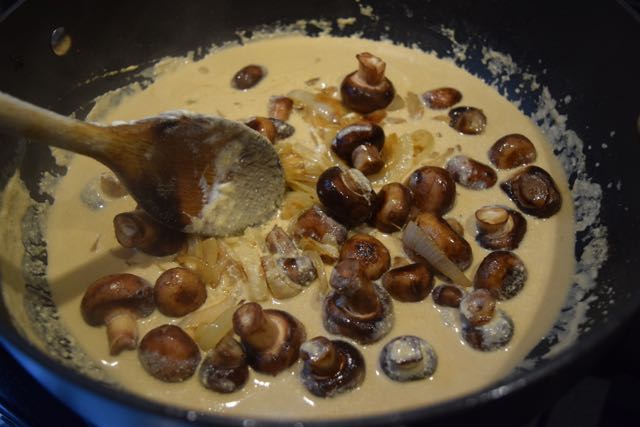 I am drooling at the sight of this, it's so tasty.
Finally, thickly slice the steaks and add them to the sauce along with any flavour laden juices.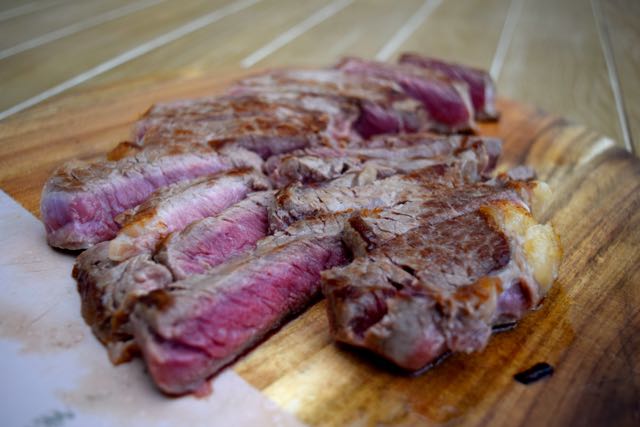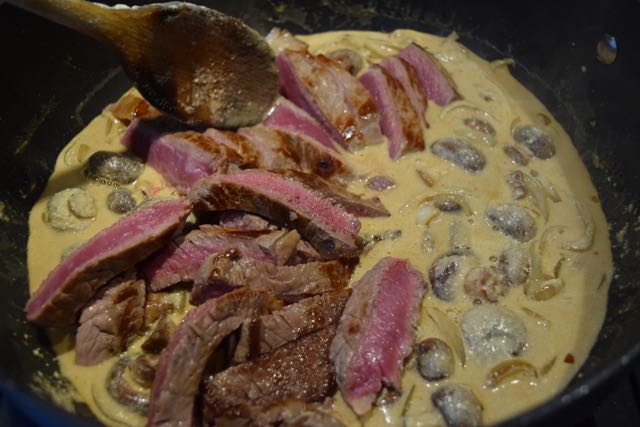 Stir well and simmer for a further 10 minutes for maximum sauce intensity.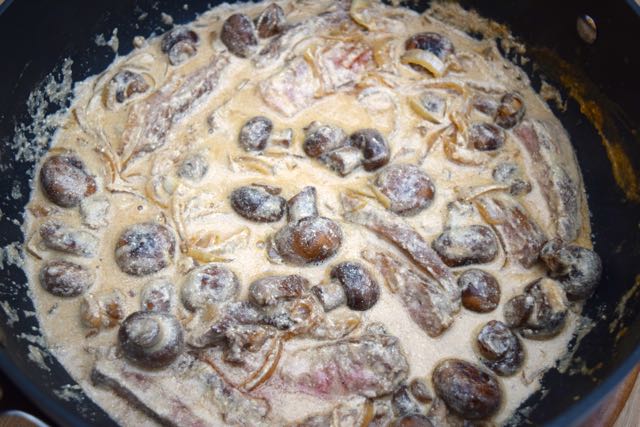 Sprinkle liberally with fresh parsley and serve alongside some rice, buttered noodles or sautéed potatoes.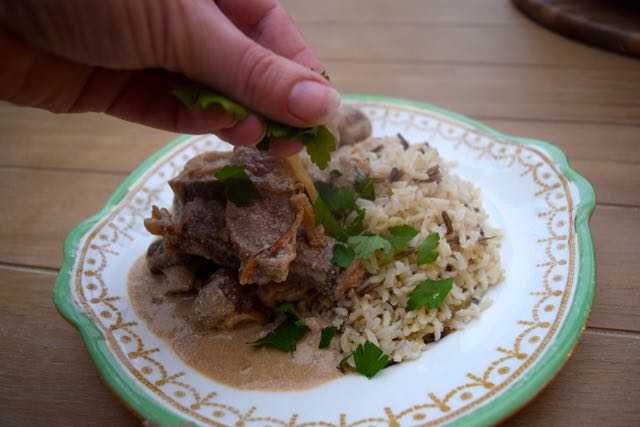 Sit down, pour yourself a celebratory glass of fizz and enjoy this incredibly delicious supper.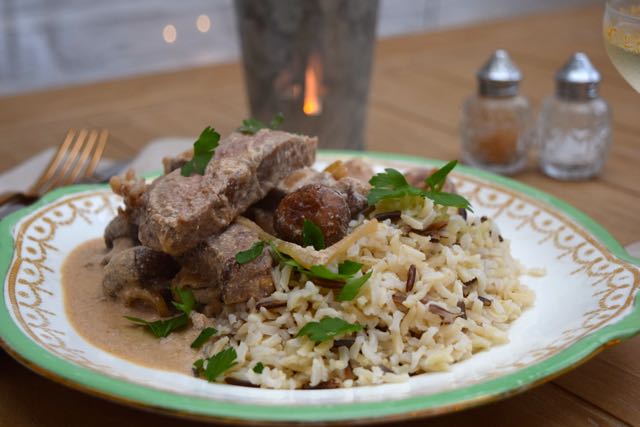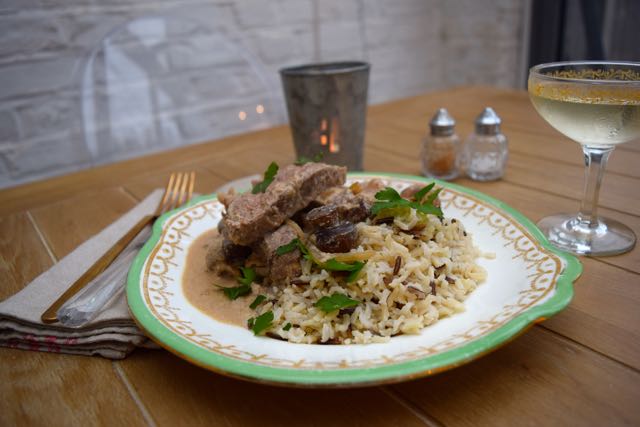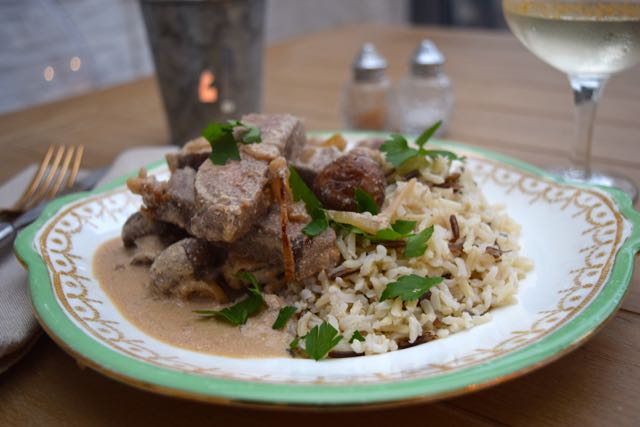 You will have enough to do on Christmas Eve, so you don't need to be slaving over a hot stove all evening. I am doubling this for my family and it will be on the table in less than half an hour. Allowing more time for drinking, games of post-it-note-on-the-head *not sure what the game's actually called*, relaxation and just enjoying the calm before the turkey based storm.
Good luck this week with your final preparations.
Lucy x
Beef Stroganoff Recipe
Serves 4
You won't need any challenging equipment
600g sirloin or fillet steak, leave whole
A good grating of nutmeg or sprinkling of black pepper
salt
2 large onions, thinly sliced
50g butter, divided into 25g each
2 tablespoons oil, plus 2 extra splashes
300g mushrooms, I used chestnut button ones which were small enough not to slice
300ml sour cream
1 tablespoon mustard, English, Dijon or whatever you have to hand
150ml beef stock
Salt and pepper to taste
Rice, noodles, sautéed potatoes to serve, chopped parsley to garnish
Take your steaks, leaving them whole, and season well with salt and grated nutmeg or black pepper. Set to one side for around an hour if you have time.
In a large frying pan heat 25g of the butter and a splash of olive oil and heat over a medium flame. Add the thinly sliced onions and cook until softened and starting to colour slightly. Remove from the pan to a plate and put to one side.
In the same pan, add another 25g butter and another splash of oil and add your mushrooms. Cook until starting to brown and soften. Put on the same plate as the mushrooms.
Add the two tablespoons of olive oil to the same pan again, and heat over a high flame. Put in the seasoned steaks and cook for around a minute and a half on each side, until brown with a lovely crust. Pop them onto a board to rest while you fashion the sauce.
In the same pan again, pour in the sour cream and add the mustard. Stir, then gradually stir/whisk in the beef stock. Return the onions and mushrooms to the sauce and bring to the simmer.
Slice the steak into thick strips then add this to the pan with any juices. Stir, then simmer, lid off, for 10 minutes.
Serve piping hot with rice, sautéed potatoes, buttered noodles, garnished with some chopped fresh parsley.