Braised Chicken with Parsnips Recipe
I have decided this week to focus a little more on grown ups food. Life can't all be multi coloured chocolate and meatballs, well it can be, but sometimes you need to add a touch of style to meal times. Entertaining is obviously off limits in our house at the moment, unless you would like to come round for scrambled eggs with a side order of plaster dust, so three course dinners couldn't be further from my mind. However, I do still want to eat delicious food, and here's where this weeks Braised Chicken with Parsnips comes into it's own.
This is a dish with rustic charm, it's not haute cuisine, but what it is, is bloody tasty. Crisp, golden chicken thighs, braised in white wine and paired with sweet parsnips. It's a winter dish, full of flavour and warmth. I would happily serve this to guests with a pile of mash and a large glass of the wine you've opened to create this supper. I made this for the family and it was super well received by George, who rates a parsnip as one of his most favourite things. This wonderful recipe comes via the hugely dependable Food and Wine website with thanks to them for the inspiration.
This Braised Chicken with Parsnips is one of those dependable recipes, you can leave it to bubble away while you chat to your guests then bring it to the table in the dish you've cooked it in. You'll need no more than some greens, mash or crusty bread to complete the deliciousness.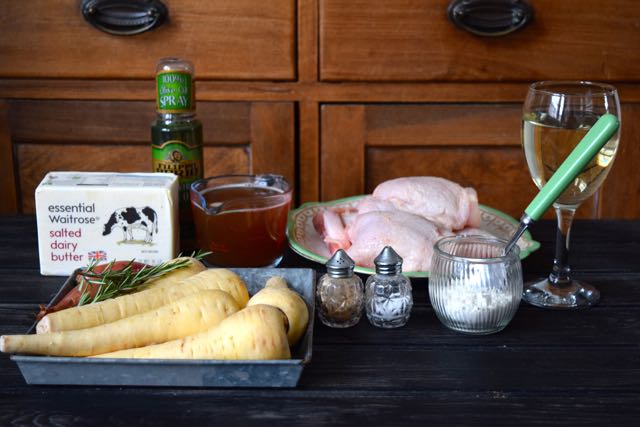 Quite the masterpiece of ingredients for this simple grown ups dish. I only had five chicken thighs in my packet, but this recipe works with 6 to 8 if you are feeding more of a crowd.
Make a start by pre heating your oven to around 170 degrees fan assisted. Next, mix the flour, salt and pepper and lightly dredge your thighs. Not your actual thighs, the chicken thighs.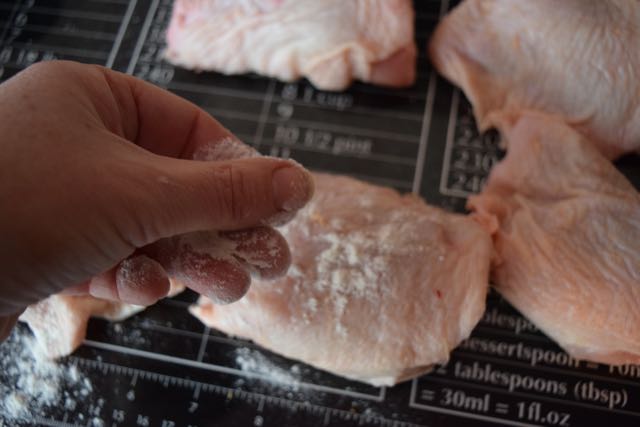 Put a hob and oven proof dish on the hob over a medium heat and add your butter and oil. Once it's foaming, add your seasoned chicken skin side down.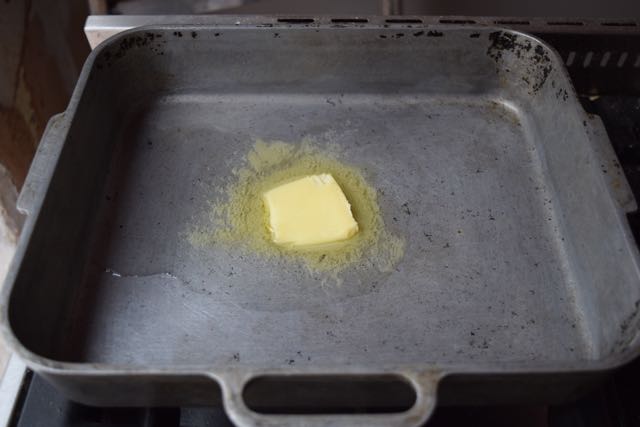 Cook the chicken until the skin is golden and crisp, turning it once, this should take around 5 to 6 minutes.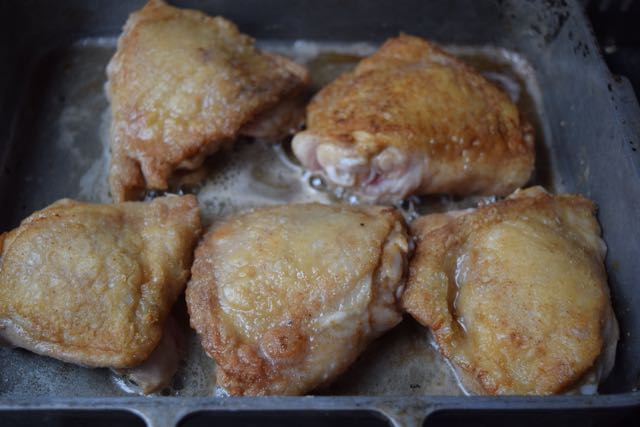 Remove the chicken from the pan and put on a plate. Meanwhile, peel and baton the parsnips and chop the shallots or onion.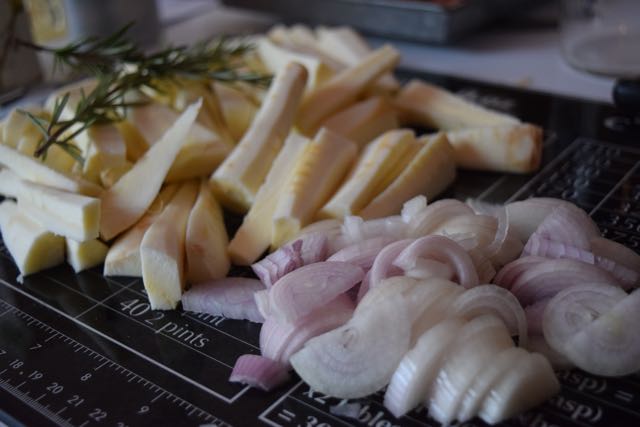 Add these super flavourful items to your chicken pan along with the large rosemary sprig and cook for a couple of minutes until coated in the juices and starting to brown.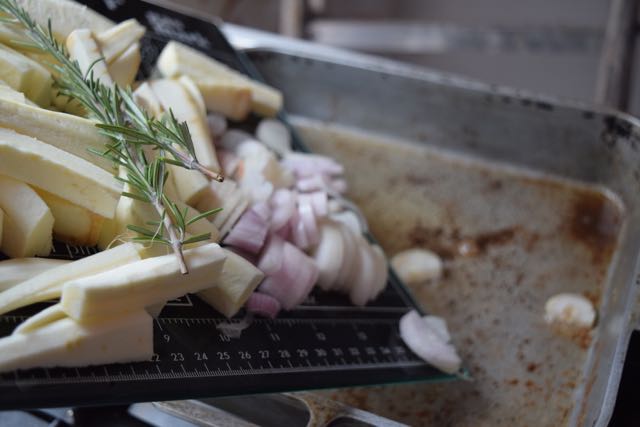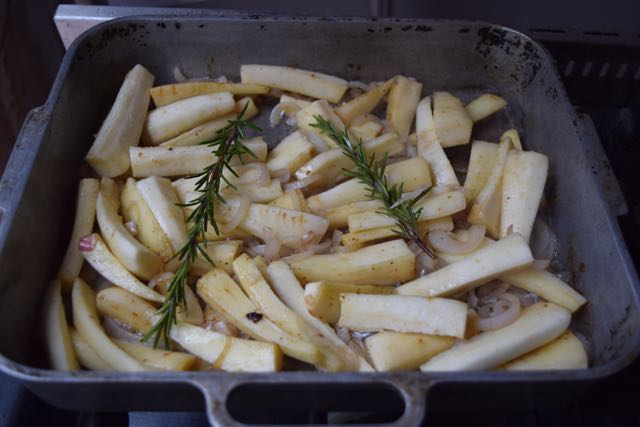 Next, pour in the glass of white wine and simmer for 3 minutes or so, to reduce the wine down by half.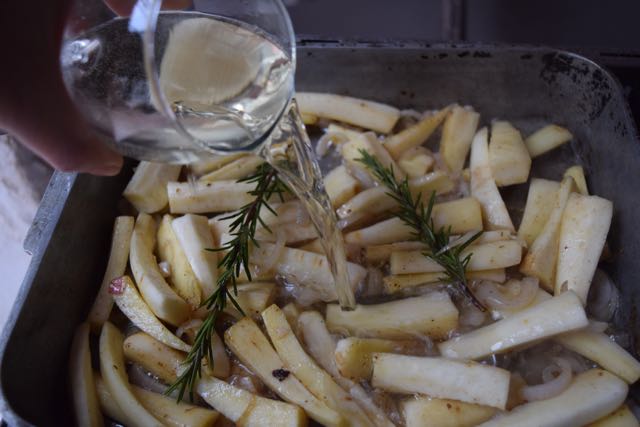 Add in the chicken stock, simmer for another minute then nestle the chicken back in, skin side up, between the parsnips. Pour in any chicken juices left on the plate too.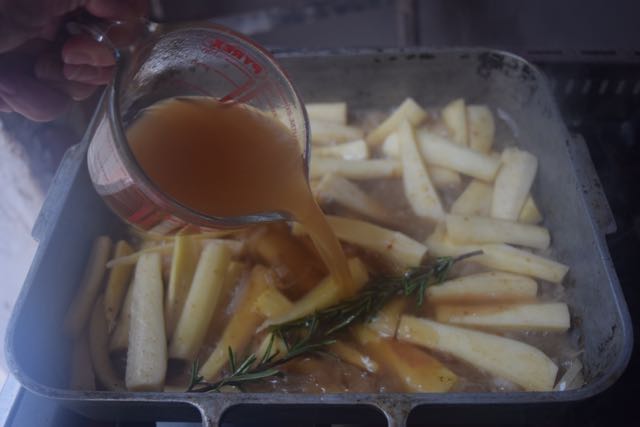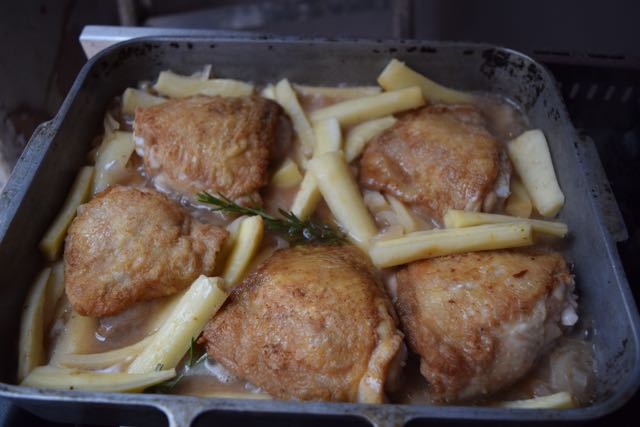 Pop this dish, uncovered, into the oven for around 25 minutes or until the chicken is cooked through. Then, turn your grill on, remove the rosemary and give it another 3 to 5 minutes to add a whiff of colour and added crispiness.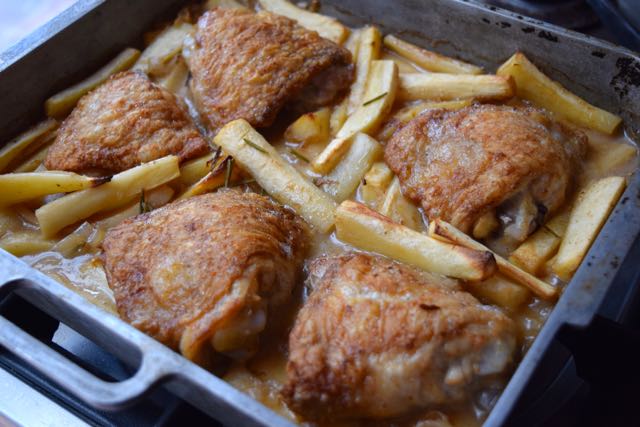 Add a sprinkle of parsley and devour by the bowlful whilst piping hot.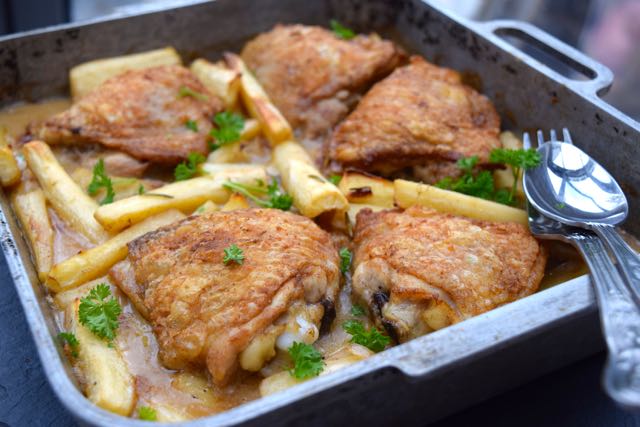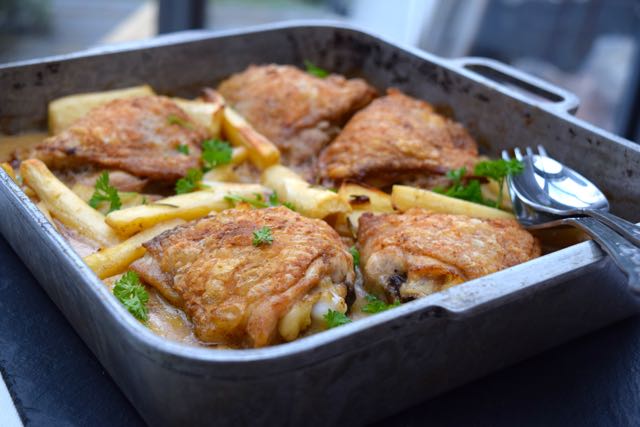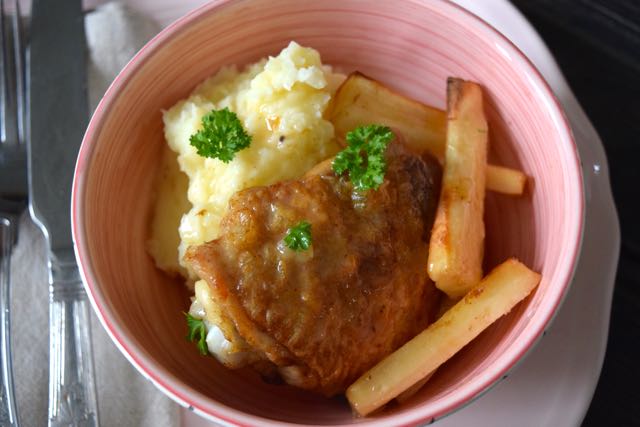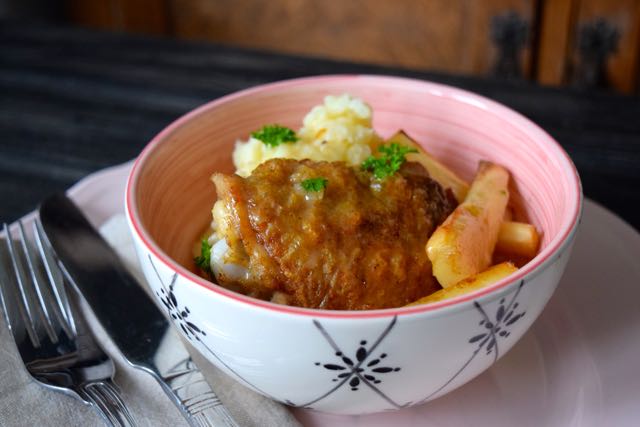 I can hardly hear myself think over the sound of my tummy rumbling. This is comfort food at it's finest with wine adding just a hint of class. Treat your friends and family to this for supper soon.
Lucy x
Braised Chicken with Parsnips Recipe
Serves 3 to 4, appetite dependent
You won't need any challenging equipment
6 to 8 chicken thighs, bone in and skin on
25g/a small knob butter
1 tablespoon olive oil
2 tablespoons plain flour
salt and pepper
2 to 3 shallots, or 1 onion, peeled and chopped
400g parsnips, peeled and cut into batons
a large sprig fresh rosemary
250ml dry white wine
375ml chicken stock
Chopped parsley to garnish, green veg, mash or crusty bread to serve
Pre heat your oven to 170 degrees fan assisted.
Mix the flour, salt and pepper then lightly dredge your chicken thighs in this flour. Then take a medium sized oven and hob proof baking tray and put on the hob over a medium to high heat.
Add the butter and oil to your hot baking tray and once foaming, add your chicken thighs, skin side down and cook until golden brown, turning once. This should take around 5 to 6 minutes.
Remove the chicken from the pan and place on a plate. Peel and chop your parsnips into batons and chop your shallots or onion. Add these to hot pan, along with your rosemary sprig, and cook, turning occasionally for a minute or so. Pour on the white wine, bring it to the simmer, then let it reduce by half for around 3 minutes. Add the chicken stock, bring the whole pan back up to the simmer then return the chicken to the pan, nestling it, skin side up, between the parsnips and shallots, adding any juices from the chicken plate.
Put this, uncovered, in the oven, for around 25 minutes or until the chicken is cooked through. Turn on the grill, remove the rosemary, and return the pan to the oven for a couple of minutes to add a tinge of colour to the chicken and parsnips.
Serve immediately with mash and or a green vegetable, sprinkled with some freshly chopped parsley.