Cauliflower Cheese Soup Recipe
My endeavour to find comforting winter food which can be made without an oven continues. This weekend I have faced my biggest challenge thus far as I waved goodbye to my oven and the kitchen really is nothing but a shell. I blog in a fly-by-the-seat-of-my-pants kind of fashion, whereby I rarely have time to plan too far in advance. Especially given the current kitchen refurb, I never know what to expect when I get home each night.  As advance planning is out of the question, this week's post simply coincides with a) my need to eat less carbs b) no bloody kitchen and c) my addiction to buying cookery books. So à propos of nothing really, here's my Cauliflower Cheese Soup Recipe.
Who would have thought Cauliflower Cheese Soup could be a healthy option but this recipe came to me via Davina's Smart Carbs: Eat Carbs and Still Lose Weight book. Cauliflower is a super popular low carb choice and when coupled with cheese, it becomes such a tasty option. I love Cauliflower Cheese, so to fashion this into a soup is perfect. It's velvet smooth and just right for dipping some crusty bread in, if you don't care about carbs, that is. If not you could dip a piece of ham into it, for example.
This was so quick and simple to make. In fact, I made this in my living room using a one ring electric hob, so I can imagine this would be even simpler being made in your lovely kitchens at home. This soup is warmth and coziness in a bowl, you can really bury your face in it. Figuratively speaking that is.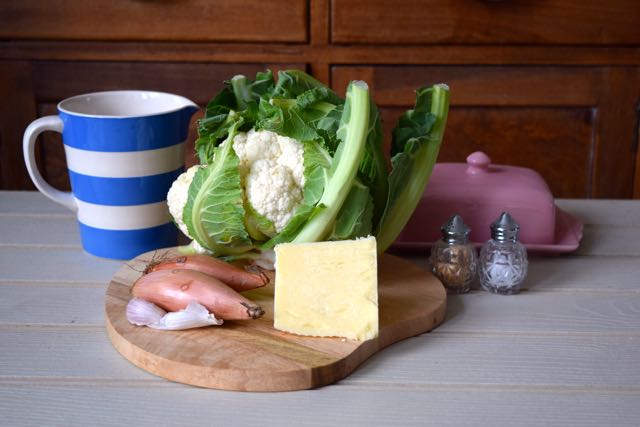 Quite the masterpiece of an ingredients line up again this week. Any one for a quick still life session? In a pretentious turn of events, I used shallots as I didn't have any onions,  just use what you have to hand. This wonderful soup can also be vegetarian if you use vegetable stock, it is just such a giving dish.
Make a start by heating your butter and a touch of oil, to stop the butter burning, in a large saucepan.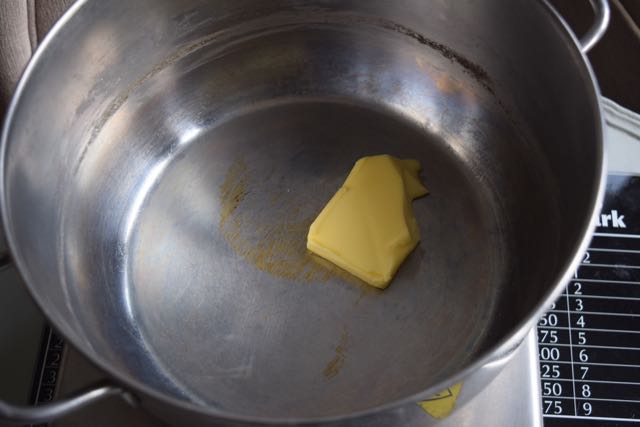 Next, add the shallots, or onions, garlic and cauliflower florets and give them a good stir around.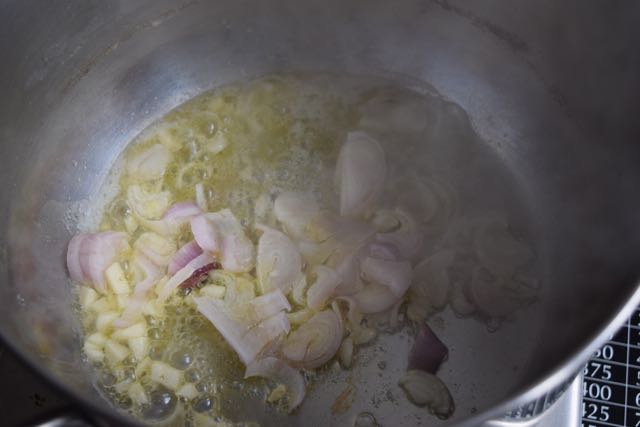 As you can see, I didn't bother to chop the shallots too finely as the end soup is going to be pureed anyway. Or I am just lazy and crap at finely chopping, you decide.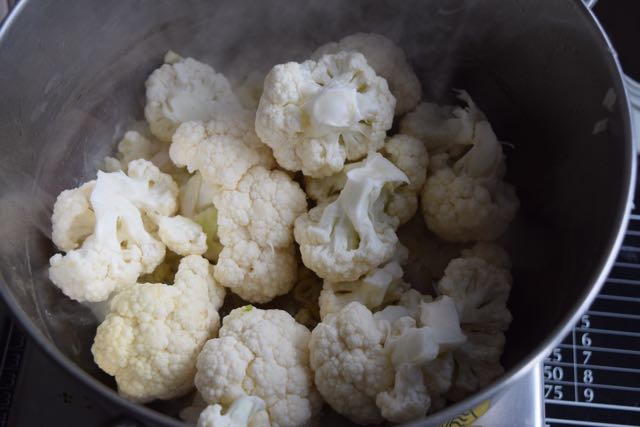 Pop the lid on for 5 minutes to cook the vegetables down and concentrate the flavours.
When the five minutes is up, pour in the stock of your choice, season, then leave to simmer for 15 minutes, lid off.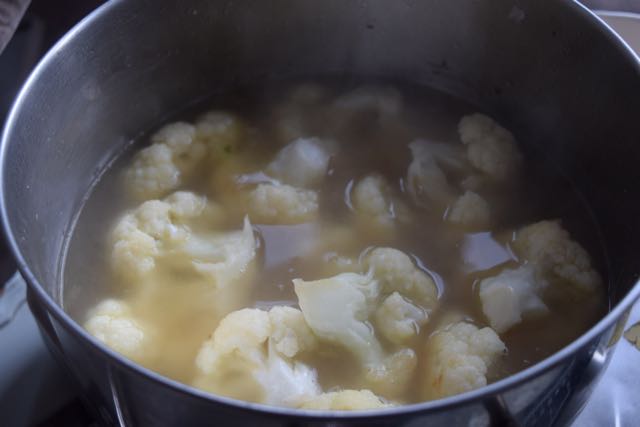 This flavour laden soup base is ready when the cauli is cooked through. Grate your cheese, keeping some back for the garnish, then add the bulk of it to the soup.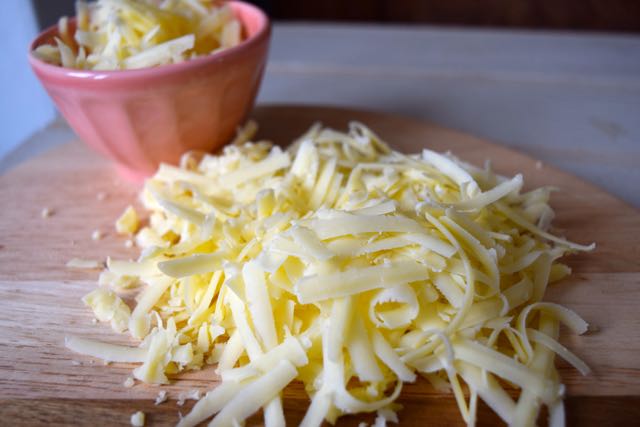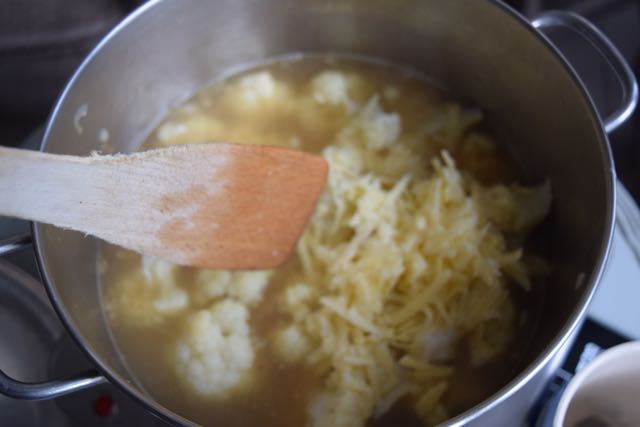 Stir it all together until the cheese is melted then turn off the heat and allow to cool for a moment. Next, add the soup to your food processor to puree or blitz it with your hand blender.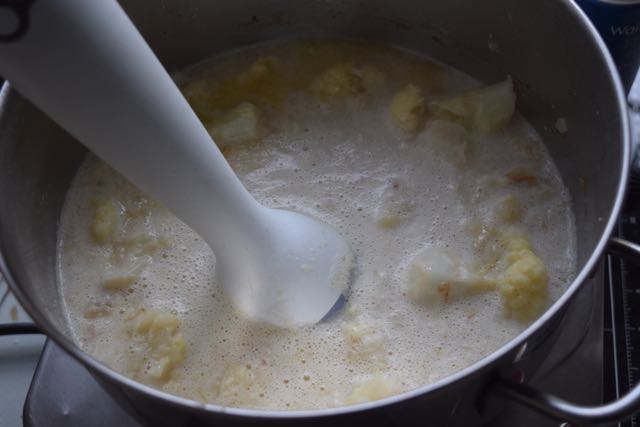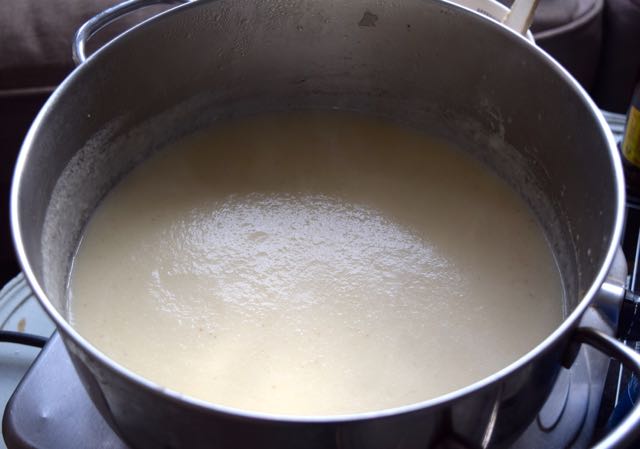 The end result is as smooth and cheesy as some old chat up lines. Serve piping hot garnished with the reserved grated cheese.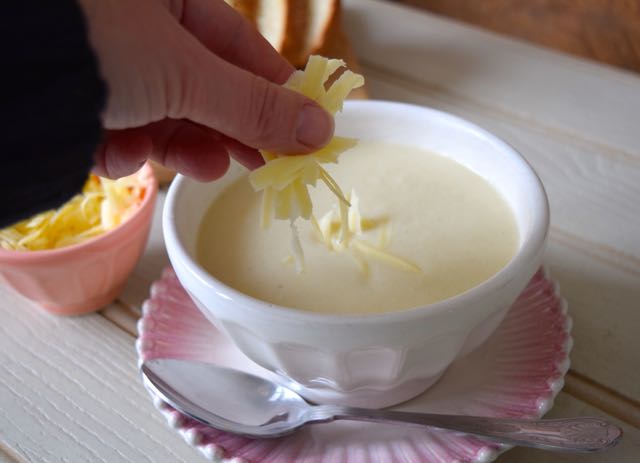 Enjoy with some crusty bread, if carbs are your thing, they are mine, I had 3 slices.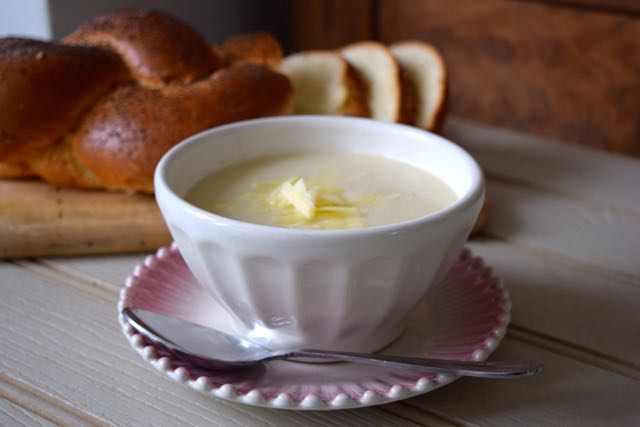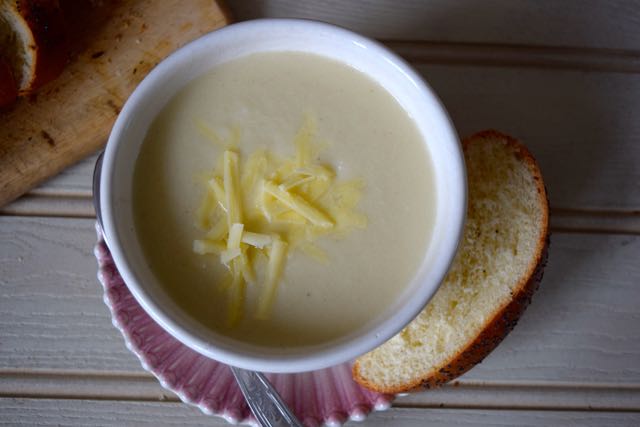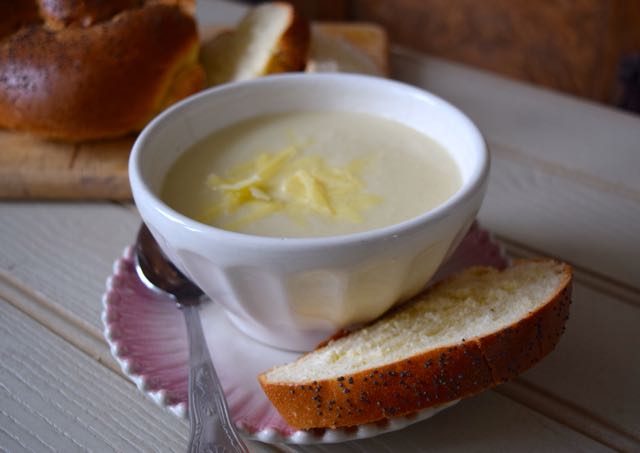 We wolfed this batch of soup down, even Clyde who is slightly phobic about vegetables. The addition of cheese won him over and the fact it's totally tasty. If no carbs are your thing, you will love this soup, and if carbs are your thing, you will also love this soup.
Lucy x
Cauliflower Cheese Soup Recipe
Serves 4
You will need a big saucepan and a hand blender or food processor
10g butter
A tiny splash olive oil
1 large onion or 2 shallots, finely-ish chopped
1 clove garlic, chopped
1 large cauliflower, around 800g, broken into florets
1 litre chicken or veggie stock
100g strong cheese, e.g. cheddar, grated
Salt and white pepper
Extra grated cheese to garnish, an optional dollop of grain mustard
Take a large saucepan and add the butter and a tiny splash of olive oil. Heat over a medium flame until the butter is bubbling then add the onion or shallot and garlic along with the cauliflower.  Stir well, turn down to low, then pop a lid on and cook for 5 minutes.
Pour in the stock of your choice, bring up to the simmer and cook, lid off, for a further 15 minutes or until the cauliflower is cooked through. Add most of the cheese, leaving some for garnish. Then leave to cool for a moment or two before blitzing with your hand blender or in the food processor until smooth.
Return to the pan to re heat. Serve piping hot with an extra sprinkling of grated cheese and a dollop of grain mustard if you fancy.
This post contains an affiliate link to Amazon which helps in a tiny way to fund Lucy Loves.