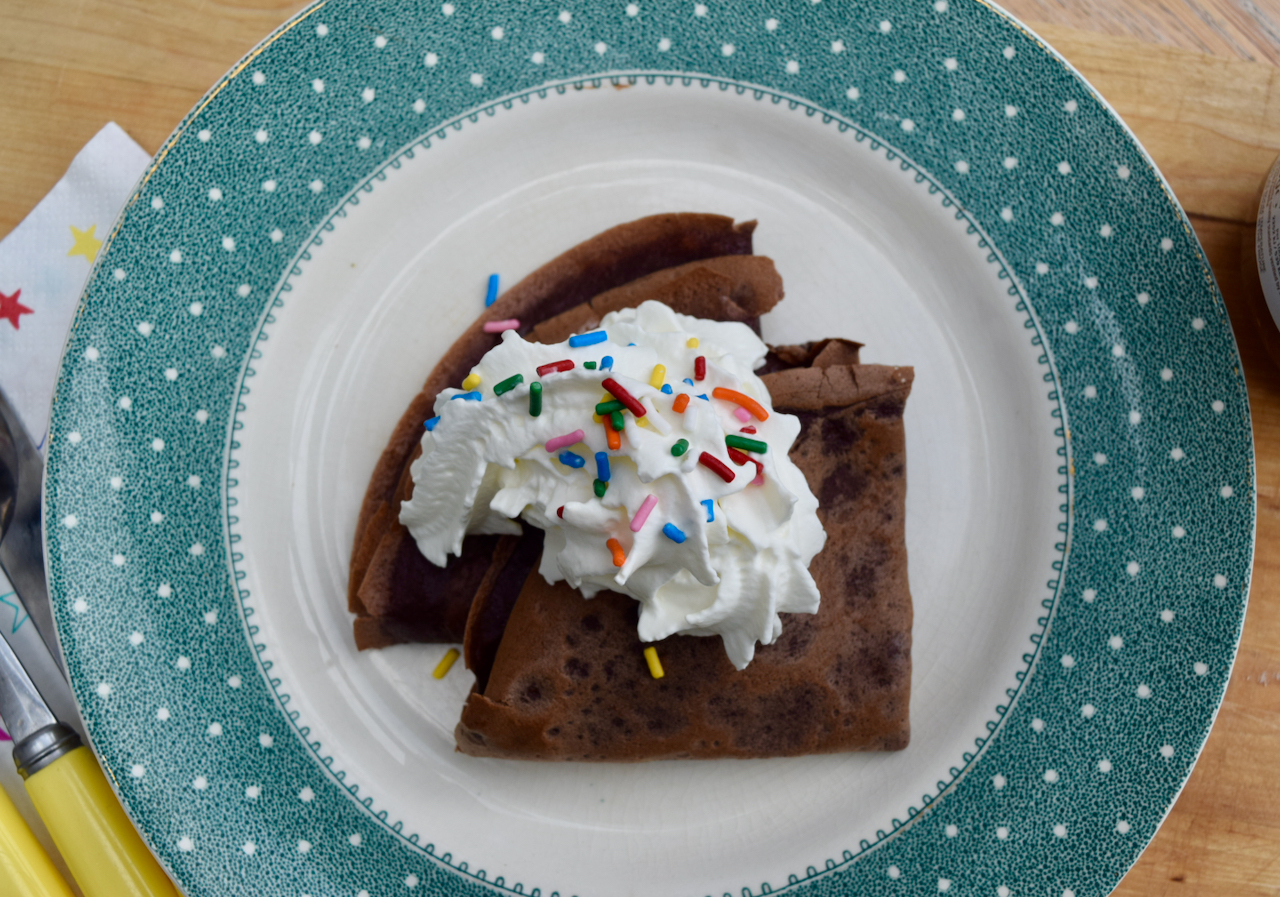 Chocolate Pancakes recipe
George's most used Lucy Loves recipe is pancakes. He never feels the need to wait until Shrove Tuesday for a batch and will whip them up at a moments notice. Who can blame him, they're super easy, amazing slathered in syrup and he very rarely shares them with anyone. But it's time for a change so this Shrove Tuesday, George will be making a batch of Chocolate Pancakes and still not sharing them with anyone.
There's nothing challenging about making these Chocolate Pancakes. These are just a simple mixture of milk, eggs, vanilla mixed with flour and cocoa. There's just a touch of sugar, but these aren't overly sweet so you can add the sweetness with your toppings. Mine were slathered with Nutella, generously topped with whipped cream and then topped with some lurid sprinkles. You can add chocolate chips, caramel sauce, chopped fruit, whatever the 'George' of your family loves. This recipe makes a good 12 pancakes, however, I did eat a couple as I went along; especially as the first two are often a little misshaped *deliberately so I could eat them*. A big thank you to Super Golden Bakes for the inspiration.
Shrove Tuesday is, in a barren wasteland of things to look forward to, something to look forward to. I, for one, can't wait to spend the evening with Nutella slathered around my face.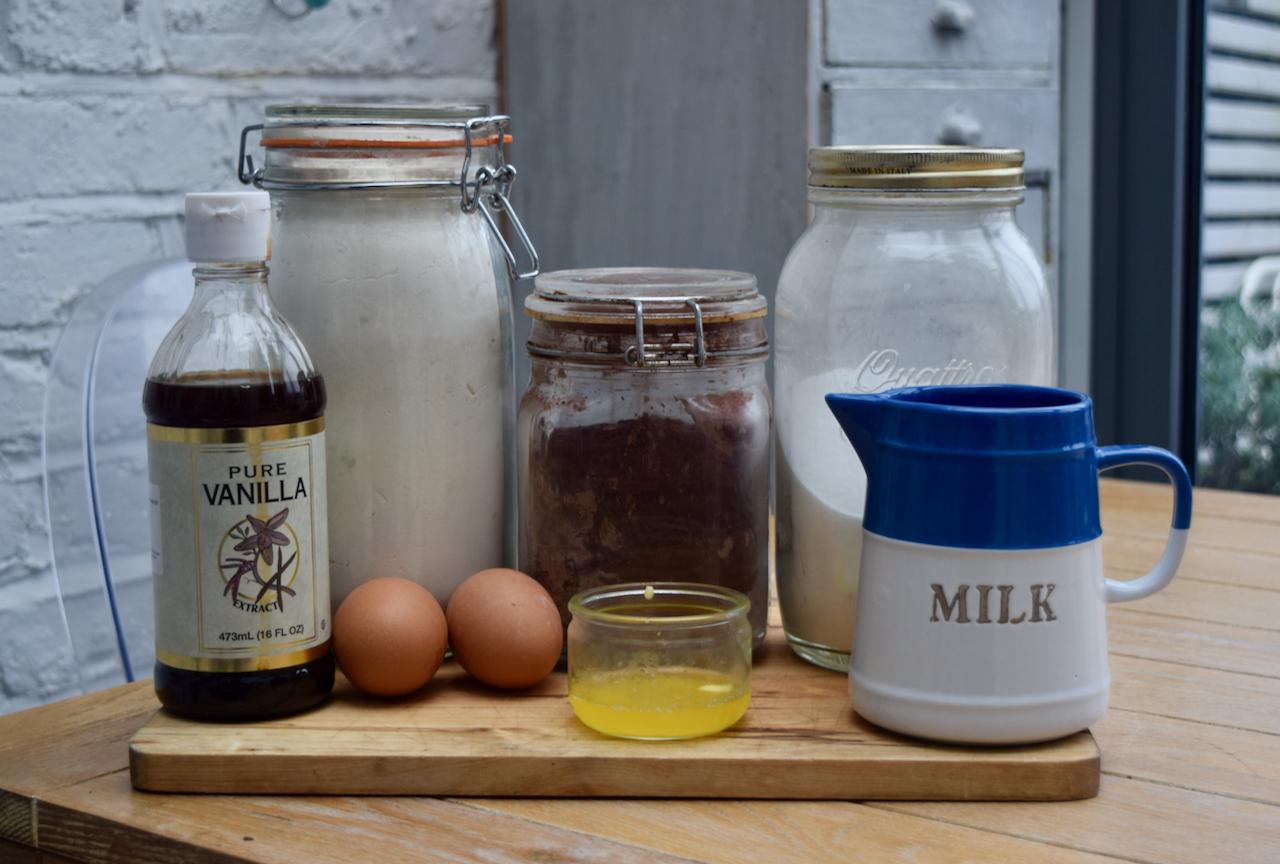 Pure and simple pancake fodder, with the addition of cocoa and vanilla for a delicious, chocolate based change. What's missing here is all the toppings, sprinkles and sauces. These are up to you but I can hugely recommend an obscene dollop of Nutella for maximum chocolatey overload.
Make a start with the liquid ingredients. Whisk the milk, vanilla, melted butter, egg and sugar until they're light and fluffy.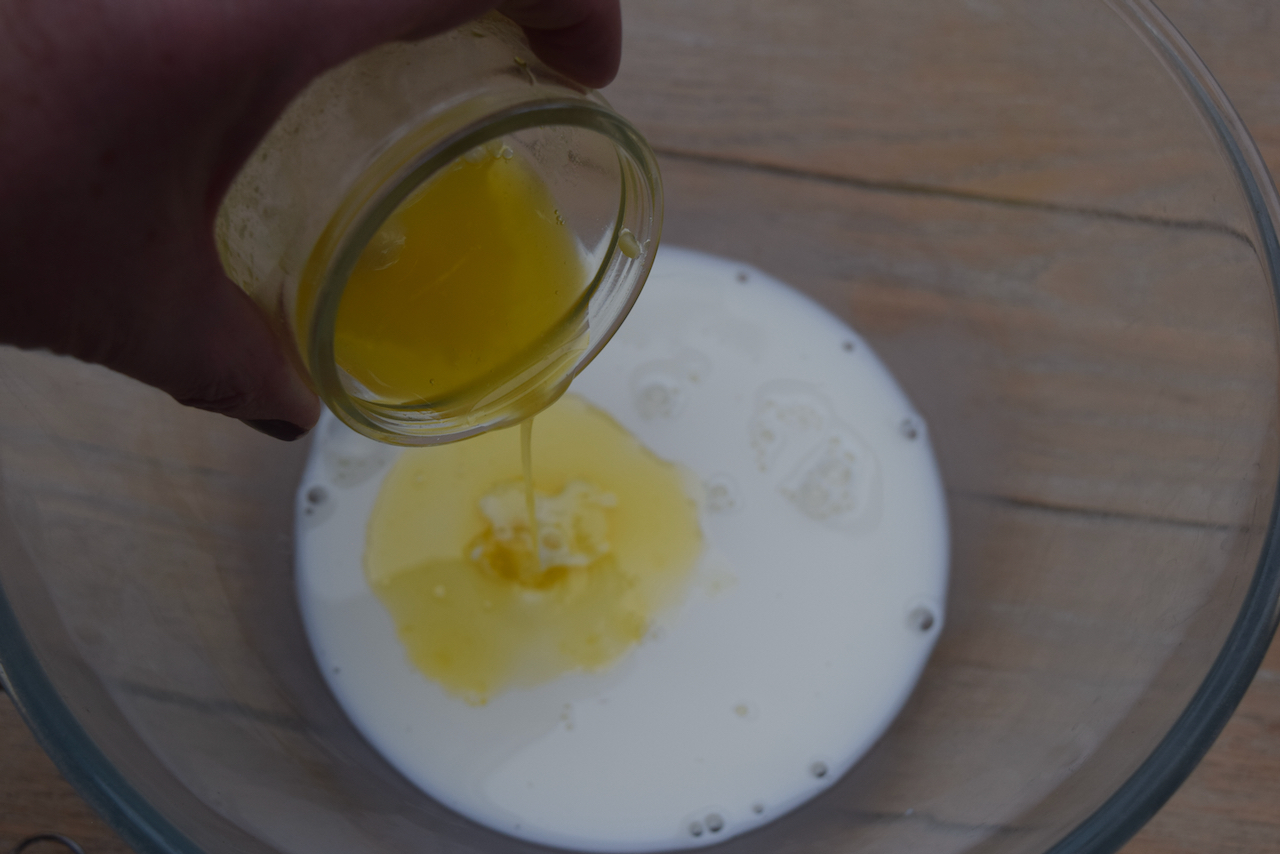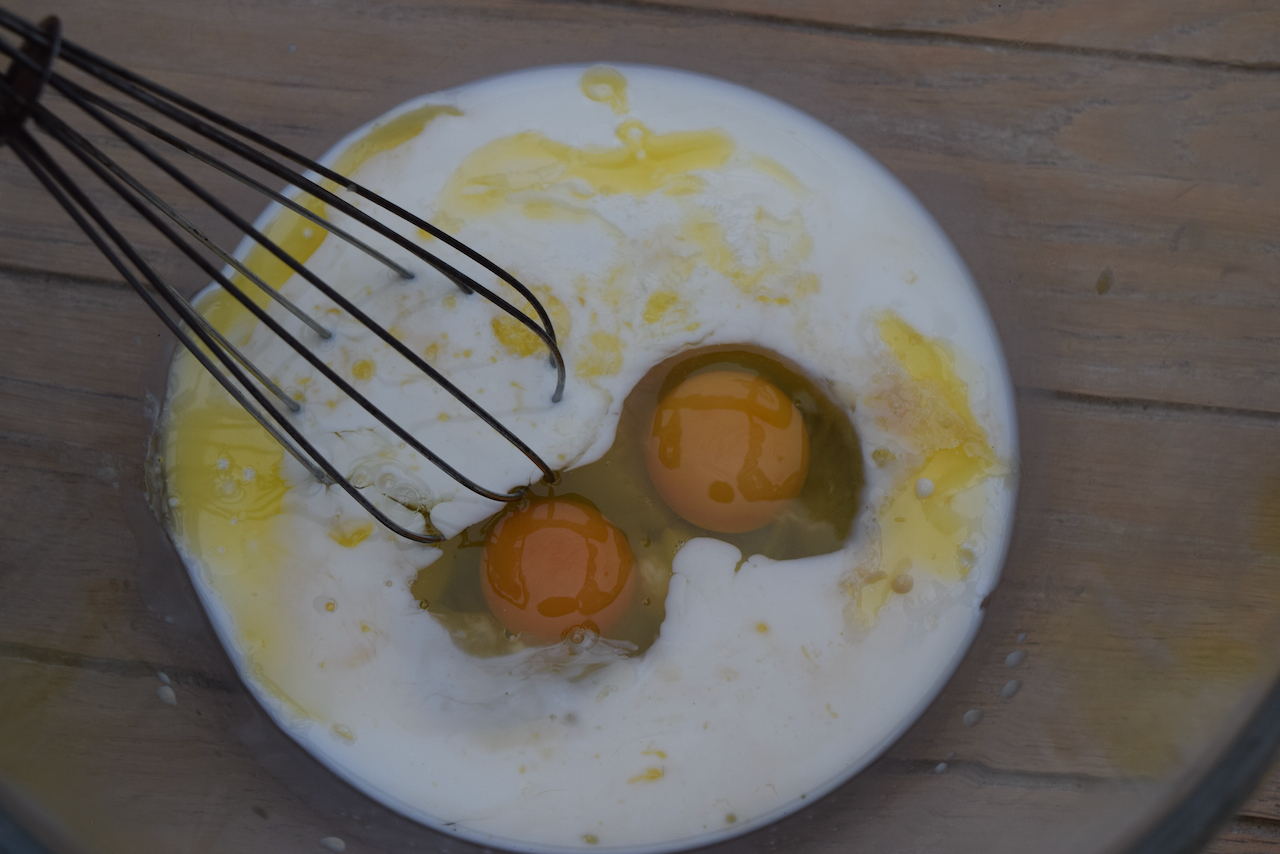 Make sure your melted butter is still warm, as mine had cooled and went a little lumpy when added to the cold milk. You could also use oil instead of melted butter, btw. Once fluffy, sieve in the flour and cocoa powder.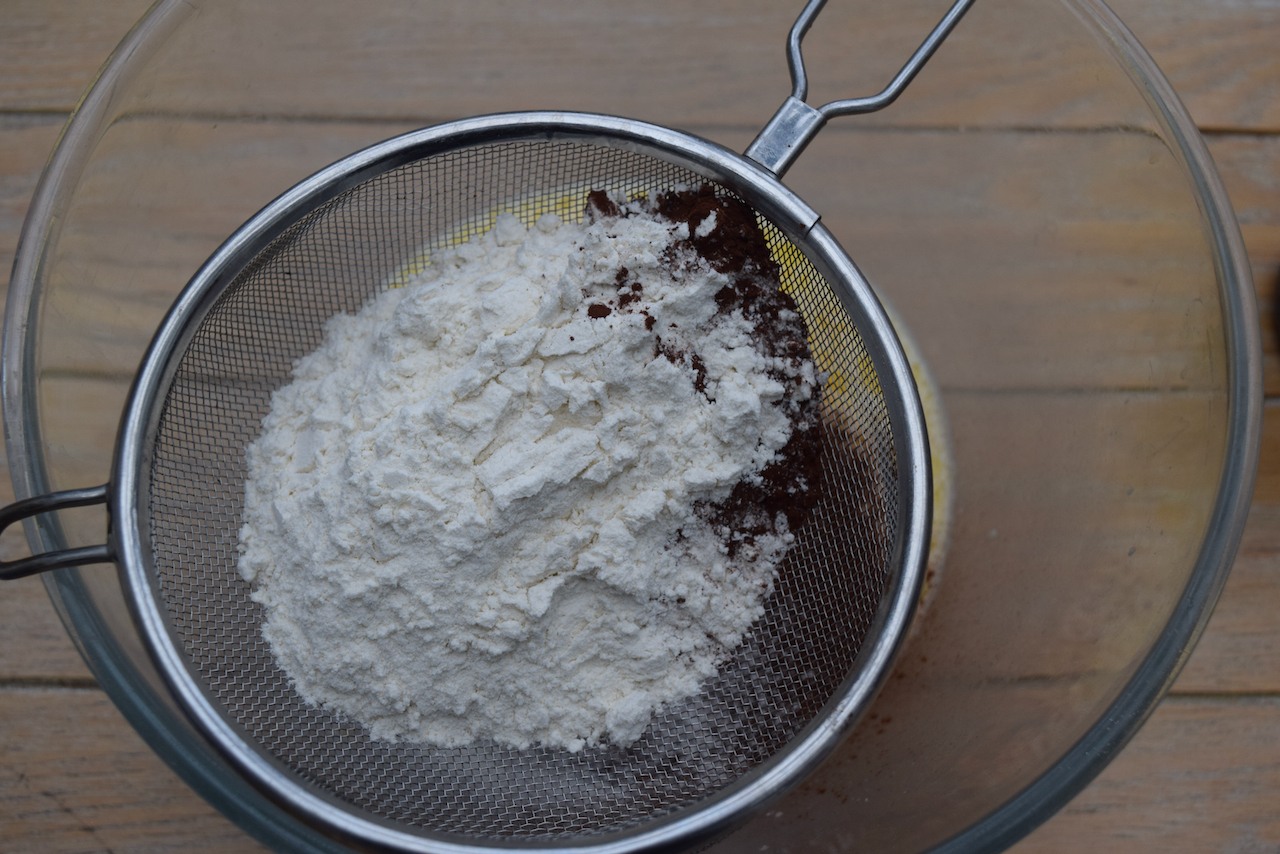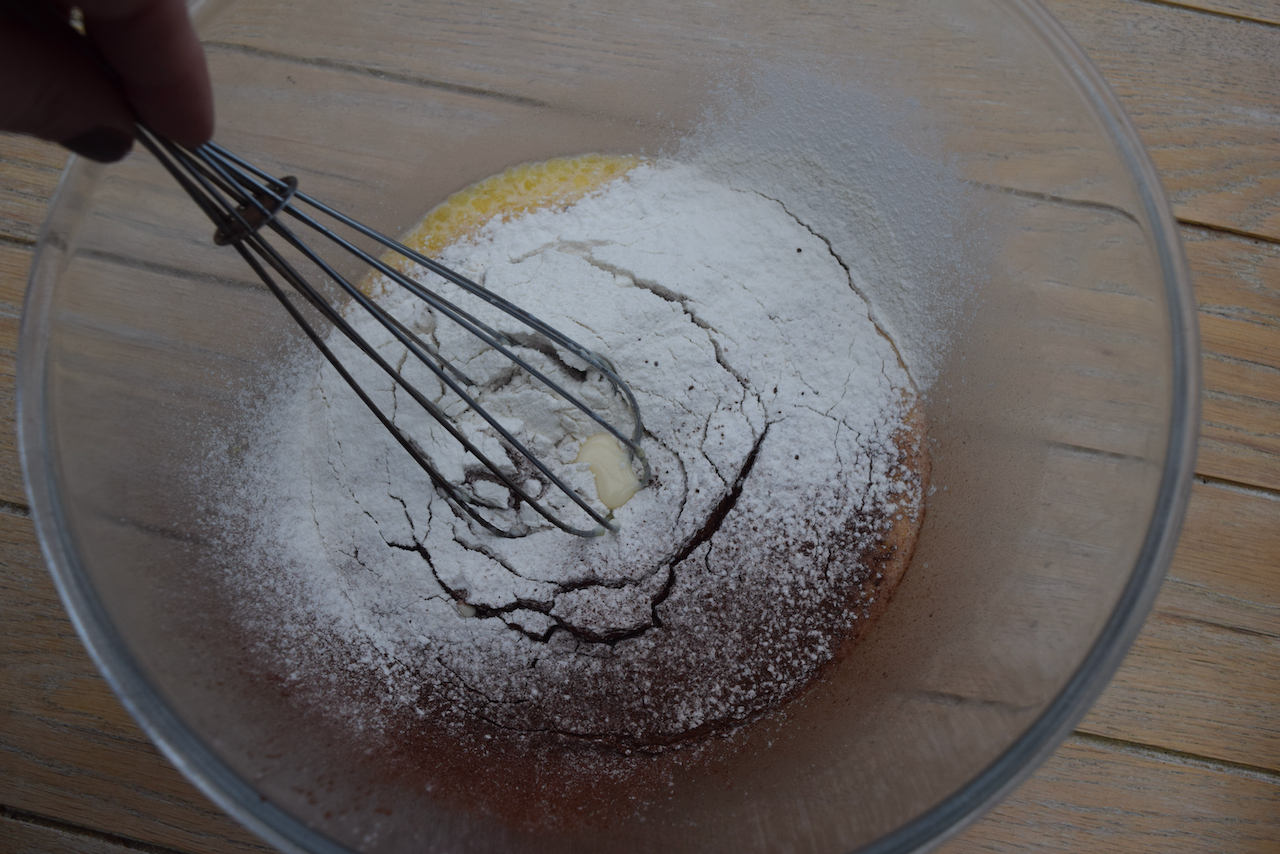 Whisk until you have a smooth, chocolate batter, about the consistency of single cream. Pour into a jug and leave to rest for around 30 minutes.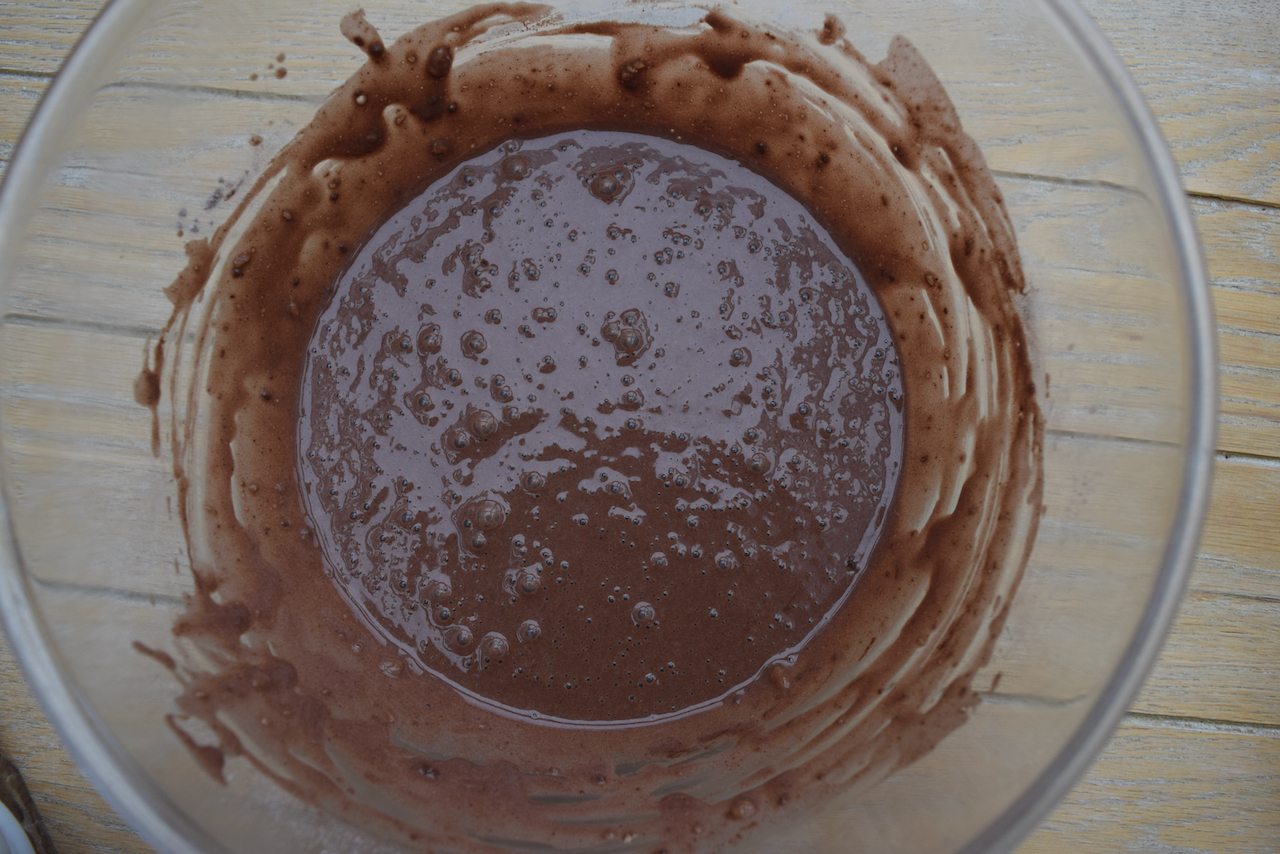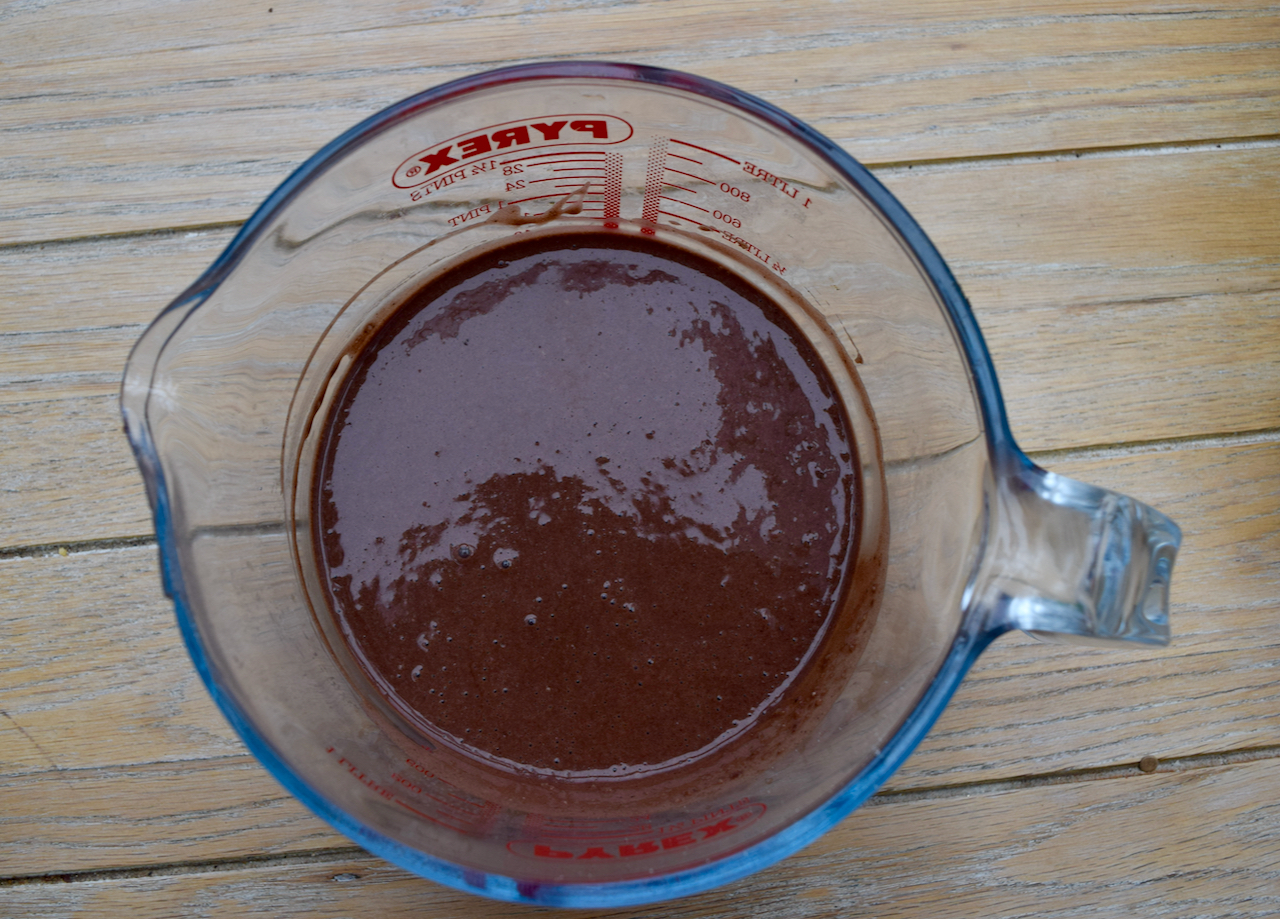 When you're ready to make your pancakes heat a small pan over a low to medium flame and add a tiny knob of butter, drop of oil or spray oil.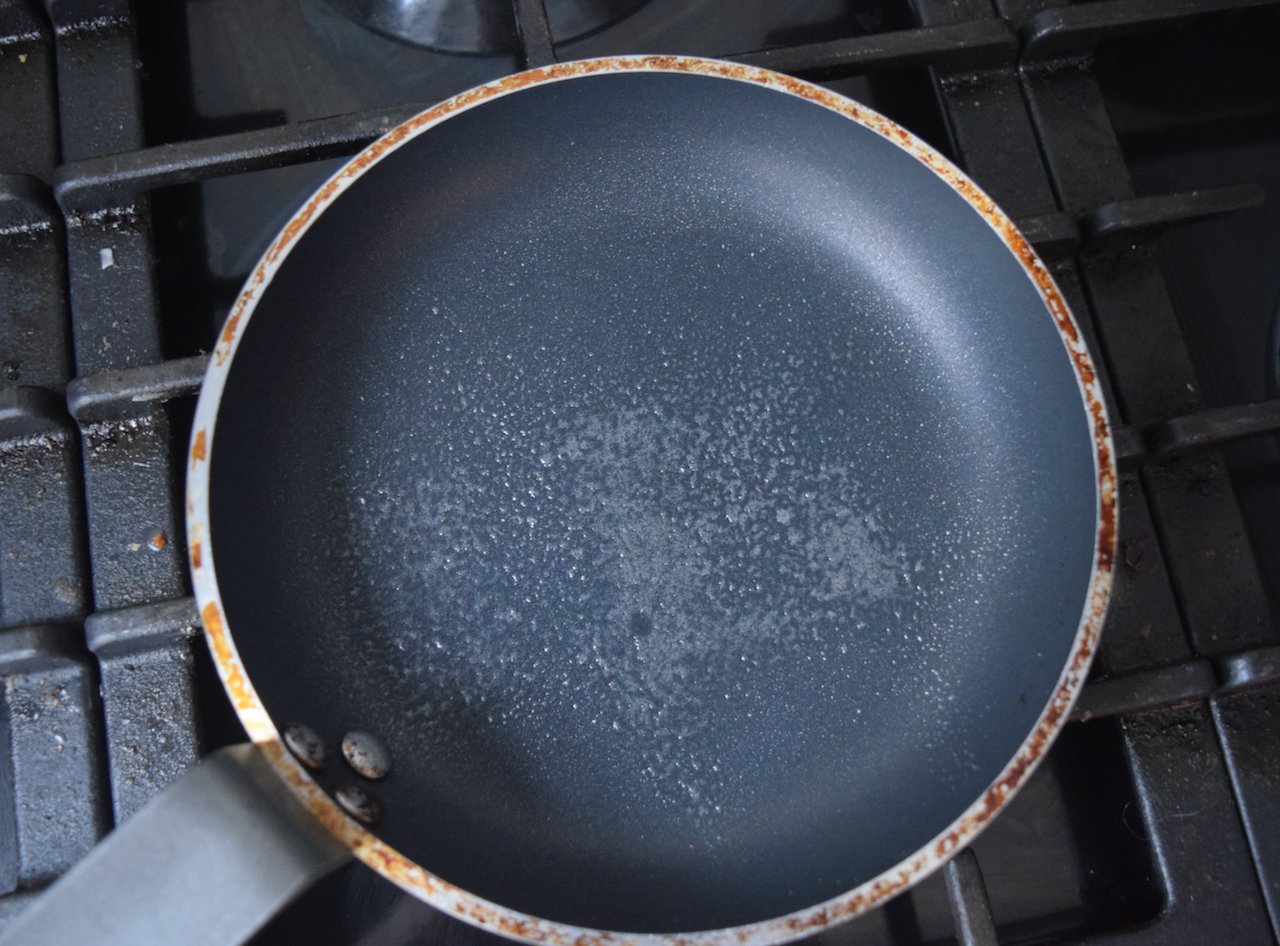 Pour a small amount of batter into the pan and swirl around until the base is coated. Cook the pancake for around a minute on one side or until bubbles are showing on the top.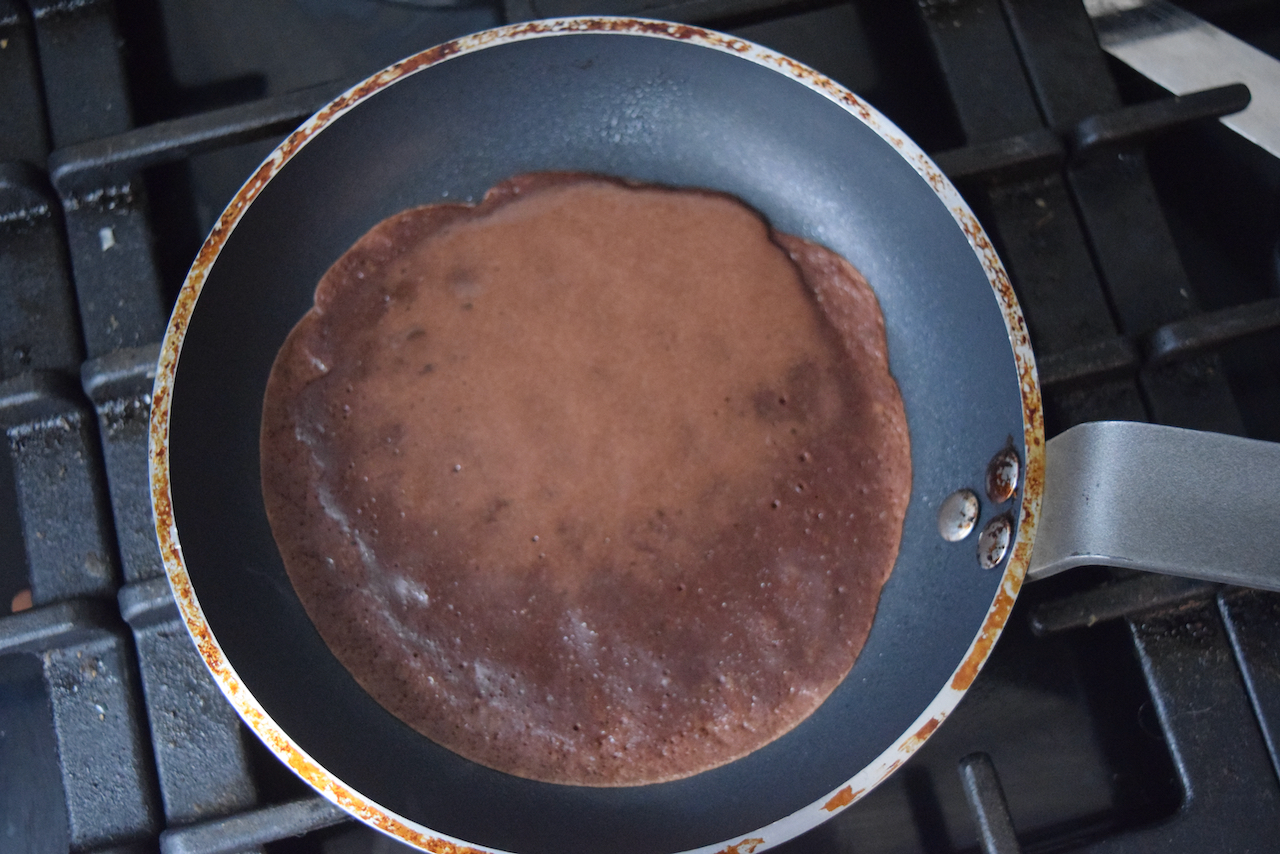 Then flip or toss, if you're feeling adventurous, and cook on the other side until the chocolate pancake is crisp and cooked through.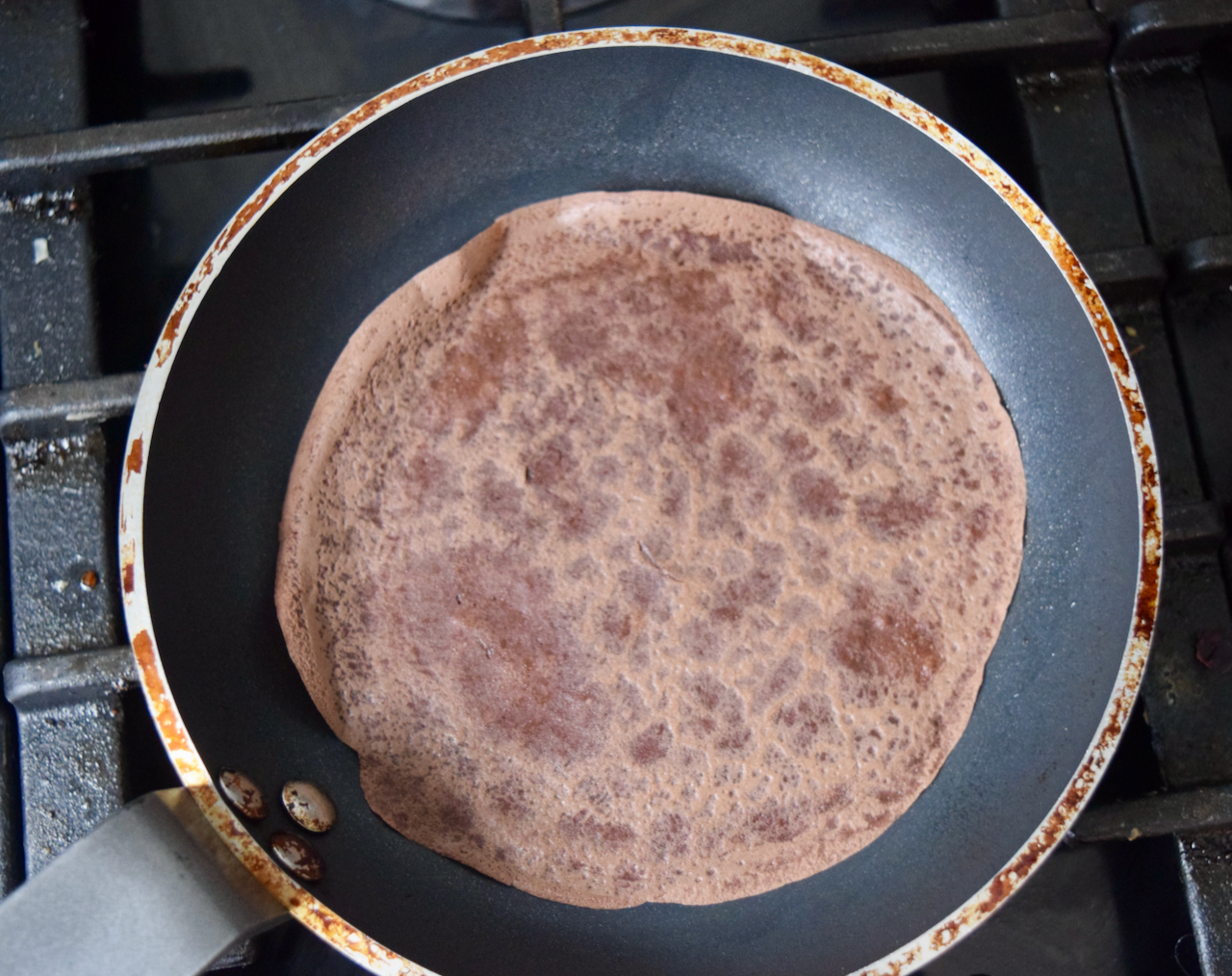 Repeat until you've used all your batter, keeping the others warm while you do so. Or in my case, George will start eating them while you slave over the hot stove.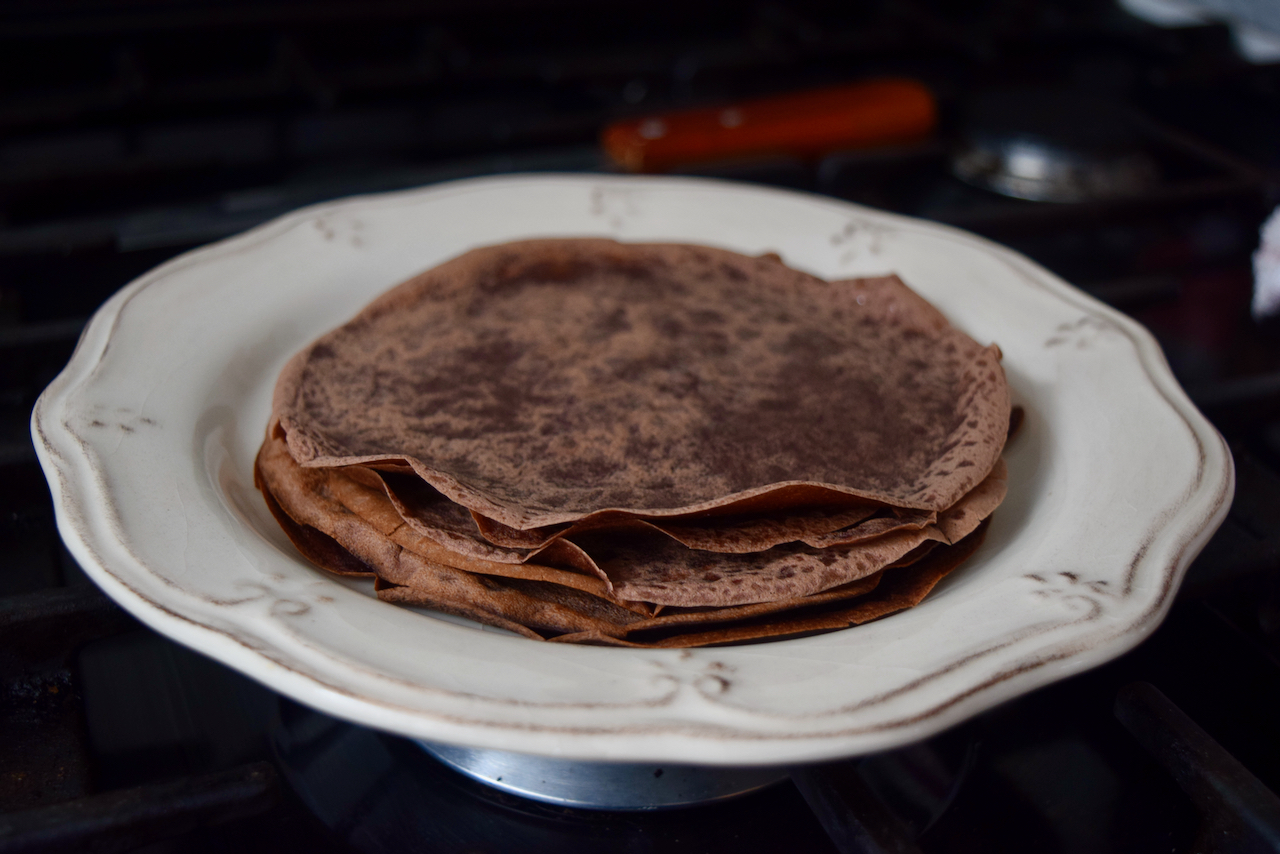 Serve your chocolate pancakes however you like. We went for a full coating of Nutella, posh squirty cream and sprinkles. And they were bloody lovely.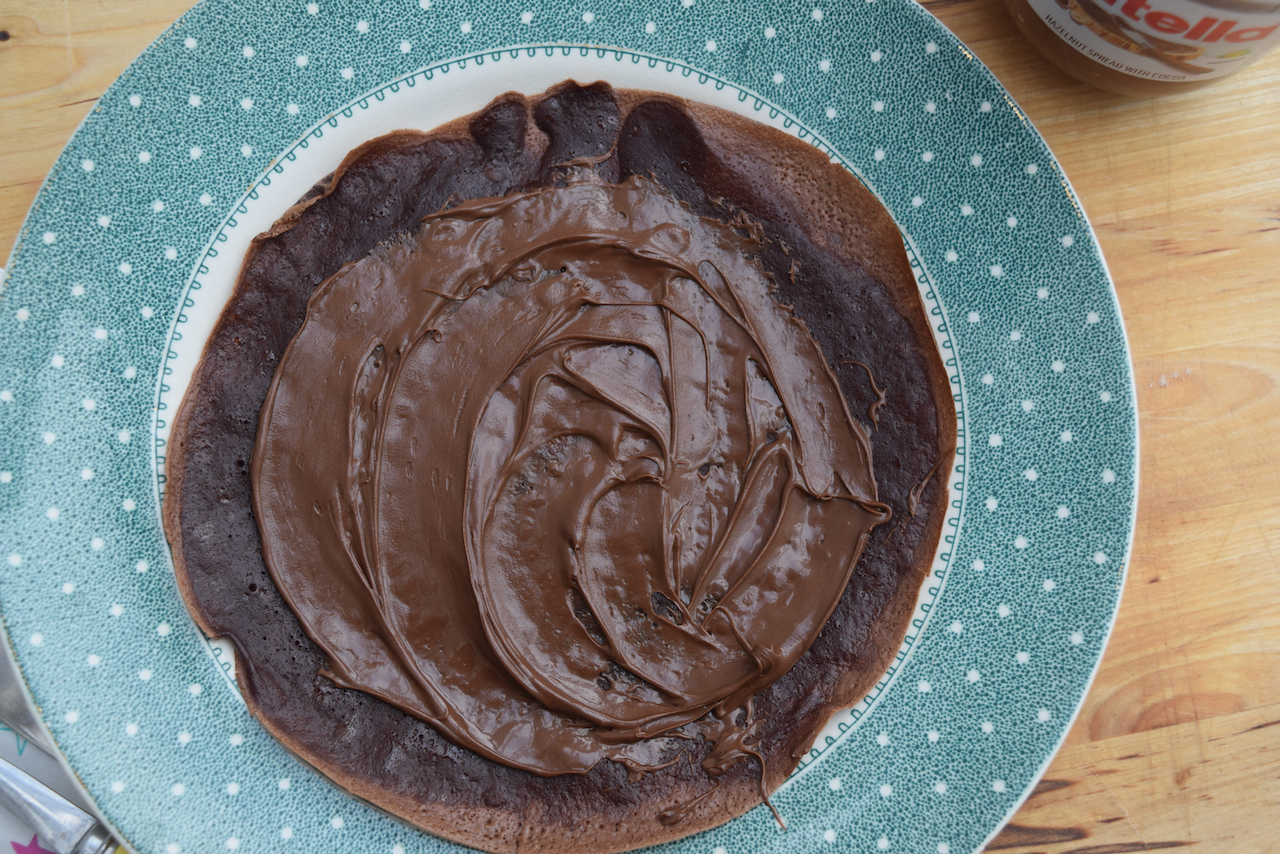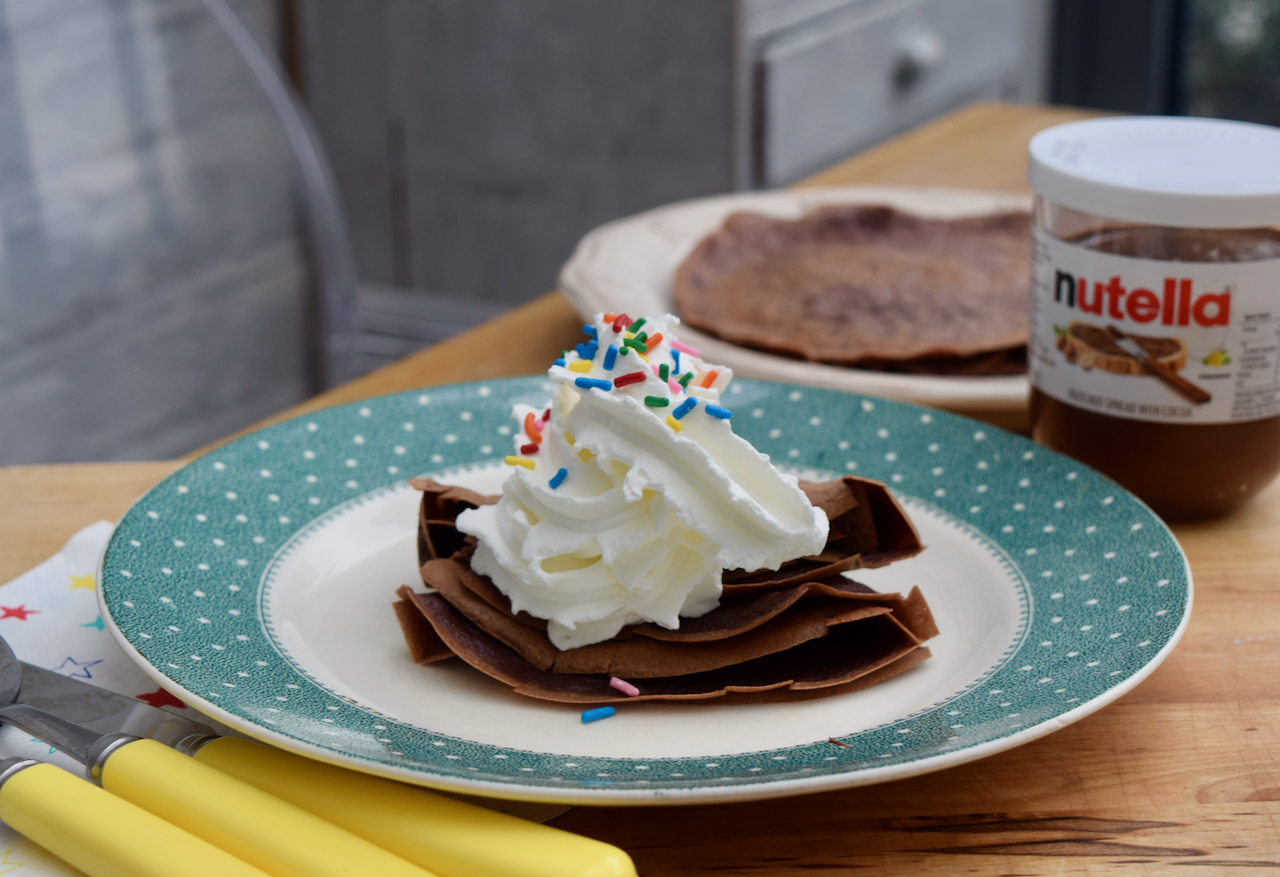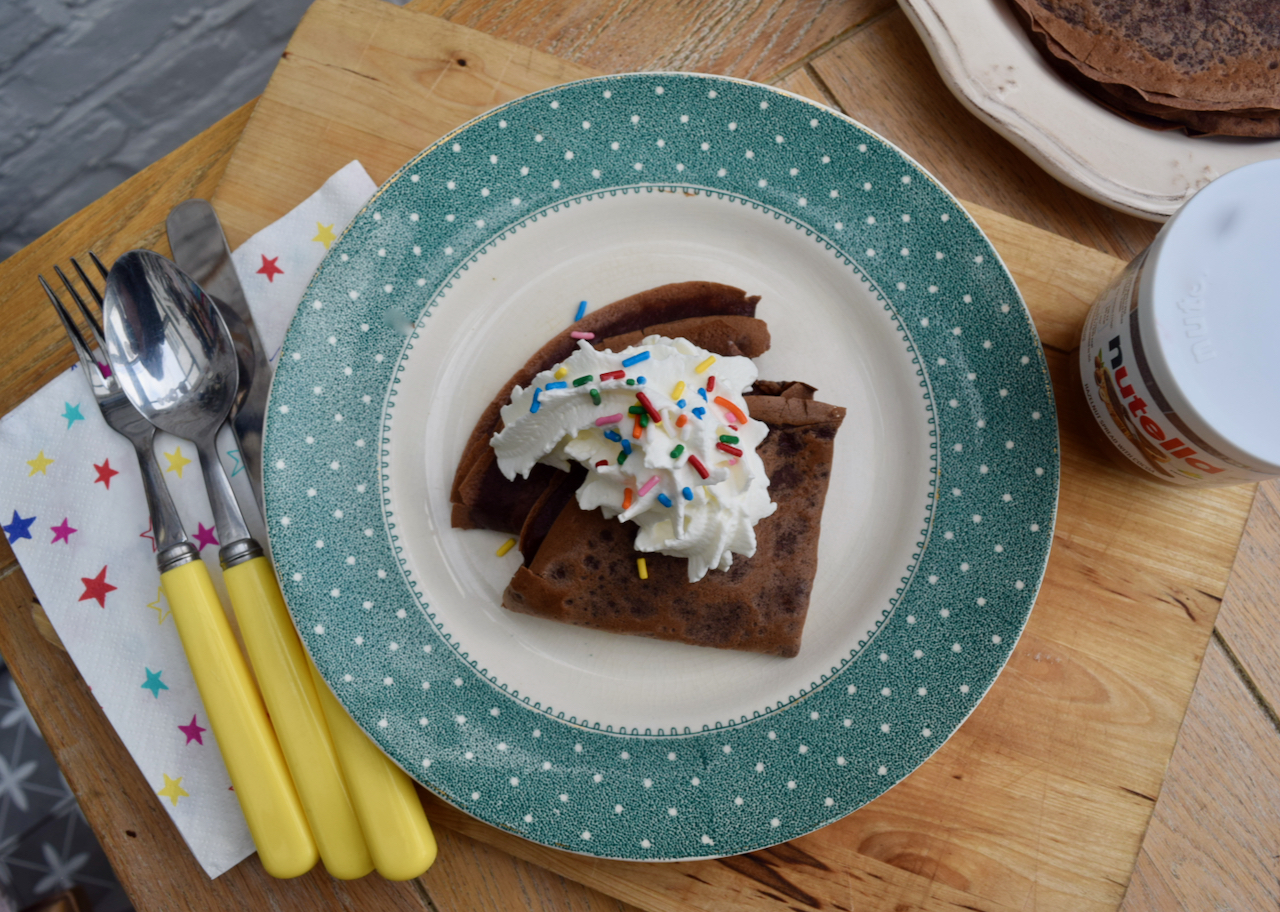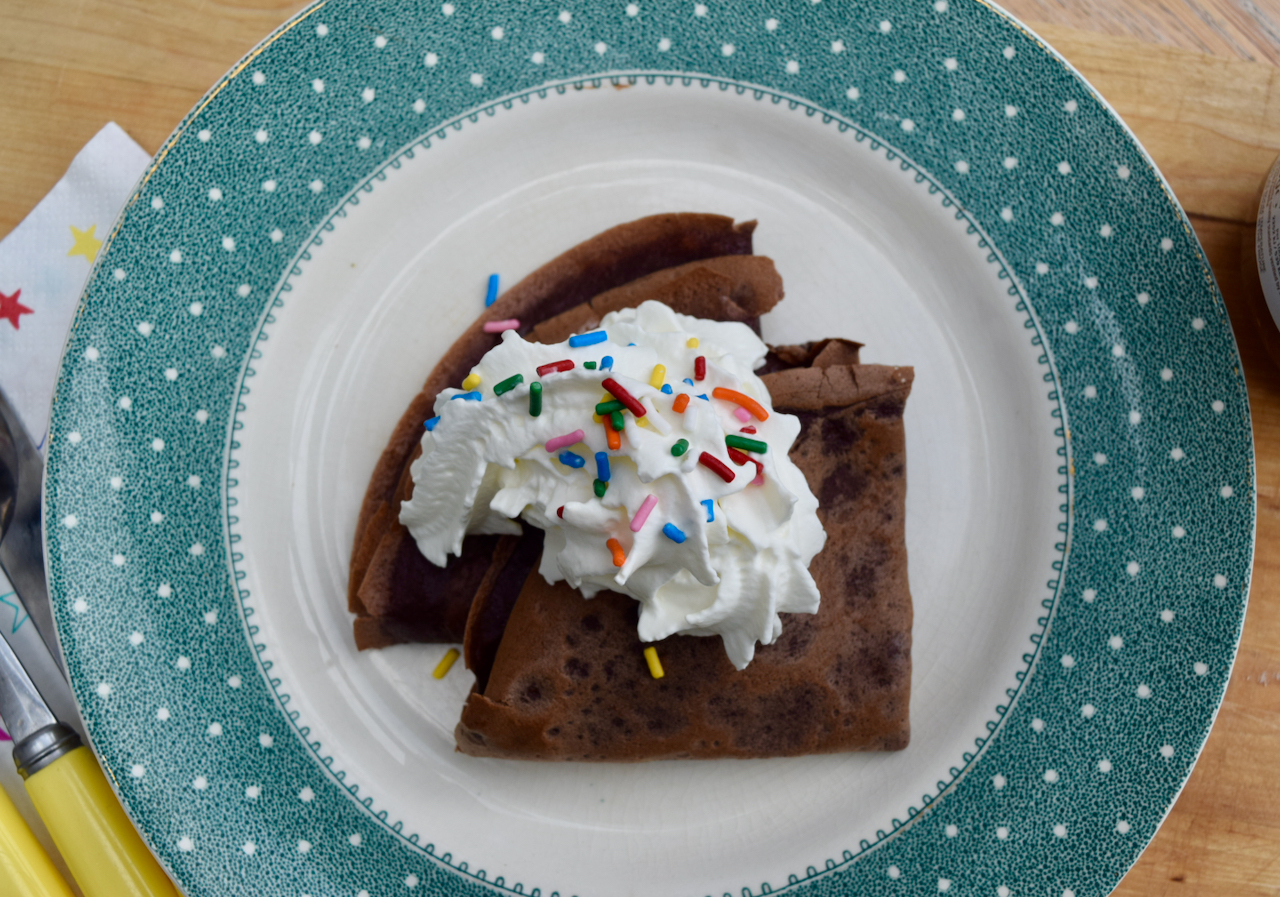 Please feel free to add a hint of fruit to healthy these up a bit; but you'll notice no fruit was harmed in the making of this post.
Lucy x
Chocolate Pancakes recipe
Makes about 12, dependent on the size of your pan
You will just need a bowl and a small frying pan for these
220ml milk
1 teaspoon vanilla extract
1 tablespoon melted butter, or you could use oil
1 tablespoon caster sugar
2 eggs
95g plain flour
2 tablespoons cocoa
Oil or butter for frying
Nutella, whipped cream, sprinkles, chocolate chips, fruit, to serve
In a large bowl whisk together the milk, vanilla, melted butter, sugar and eggs until frothy and well blended.
Sift in the flour and cocoa and fold in until you have a smooth batter. Pour into a jug and leave to rest for half an hour in the fridge, or just on the side unless it's really warm.
When you're ready to cook your pancakes, add a tiny knob of butter, oil or spray oil and ensure it covers the bottom of your pan. Pour in a small amount of chocolate pancake batter and swirl around to coat the pan. Cook until the underside is just cooked, around a minute or so, flip or turn with a palette knife then cook the other side for another 30 seconds to a minute. Keep warm on a plate while you cook the rest of the pancakes.
Spread each warm pancake with chocolate spread, fold, and add a dollop of whipped cream and a handful of sprinkles or chocolate chips. Chopped strawberries or frozen cherries would also be lovely as would chocolate or caramel sauce. The possibilities are endless.