Chocolate Peanut Butter Bark Recipe
Oh god, it's all about Ben this week. I am being particularly sappy and feeling super teary about him leaving for university on Saturday, but am just about holding it together. I am distracting myself in several ways. a) shopping for lovely things for Ben to take away with him to make a snuggy nest in his halls b) listening to sloppy songs on the radio c) baking tasty things to fill a tin for Ben to take away and woo new friends with. He won't need any help making friends or making his room lovely, as long as he is usual charming self and has a large photo of his girlfriend/me/the dog in his room, he'll be fine. But if opening gambits are proving difficult what better to lure new friends into your life than with a large jar of Chocolate Peanut Butter Bark.
I asked Ben what he would like to take with him to uni and he said this Chocolate Peanut Butter Bark. Along with a large batch of Peanut Butter and Jam Slice *greedy pig* you can see a theme occurring here, Ben, like the rest of the house, bloody love peanut butter.  I know peanut butter is not for everyone, so you could always sub with another nut butter here, but for us, it's heaven. This bark, is, like my other barks, incredibly simple to make, just some melting, crushing, pressing and chilling. Oh and waiting, that's the dull and hard part, waiting for your bark to chill before you chop it into random shapes and chomp a lot of them. I dotted my Chocolate Peanut Butter Bark with crushed salty pretzels and tiny peanut butter cups, but you can choose whatever you like. Chocolate buttons, salted peanuts or crisps, chopped Snickers or Mars, quite literally fill your boots, or bark. I was inspired to make this having seen a recipe on This Grandma Is Fun website, with huge thanks.
Thanks to his mum writing a food blog, Ben shouldn't, in theory, starve at uni. He has plenty of simple recipes to hand and is perfectly capable of making most of them. However, he may spend all his money on beer and have to live on Pot Noodles, but that will be his problem, not mine. I will be on hand when he comes home with intravenous spinach and more Chocolate Peanut Butter Bark for a boost of vitamins and chocolate, peanut based motherly love.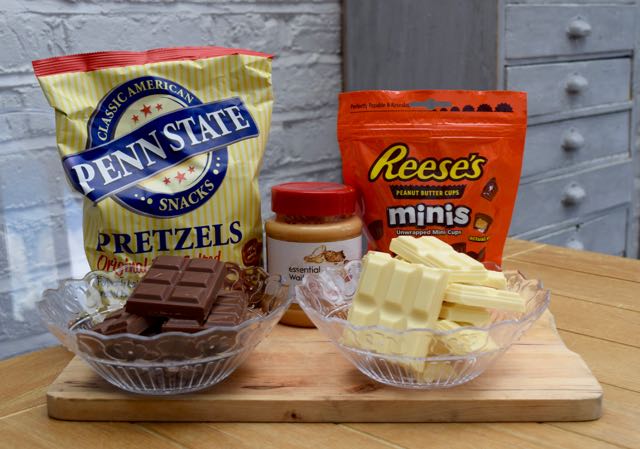 Oh dear, what a health conscious array of delights this week. Not. But all completely wonderful when melted together and crushed  and chilled.
Make a start on this spoiley treat by lining a rectangular baking tray and spraying it with non stick spray if you have it. Now, take the milk or dark chocolate of your choice, or both and melt in the microwave or over a pan of simmering water. Mine took 1 minute 30 seconds in the microwave.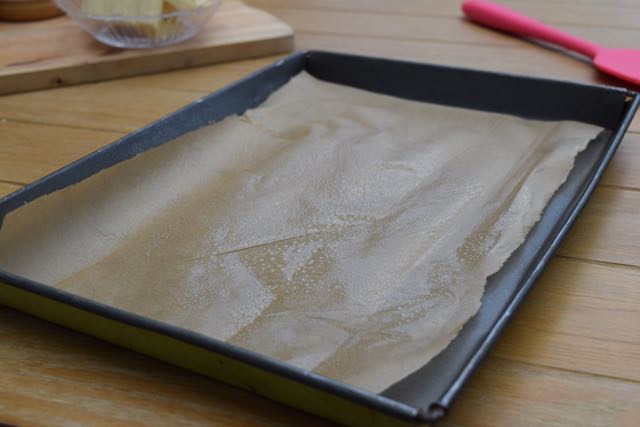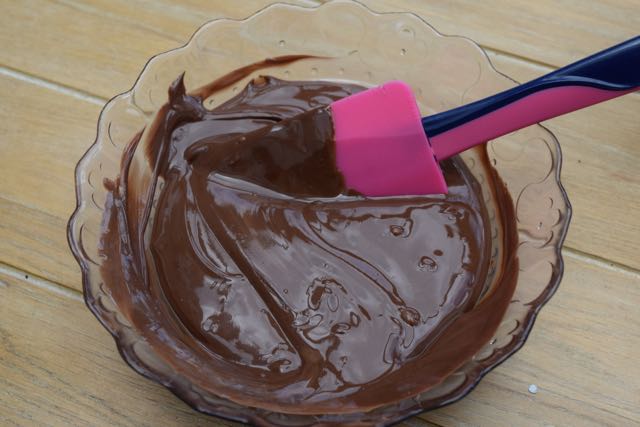 Pour the melted dark/milk chocolate combo onto the lined tray and smooth it out so it forms a rough rectangle.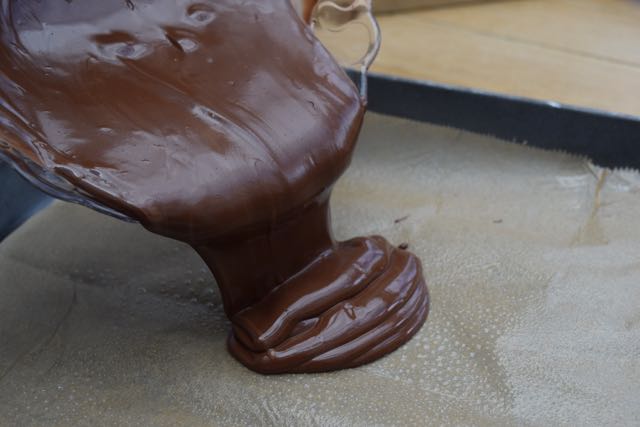 Sprinkle a handful of crushed, salted pretzels onto the melted chocolate then, melt the white chocolate in at the same way as the milk.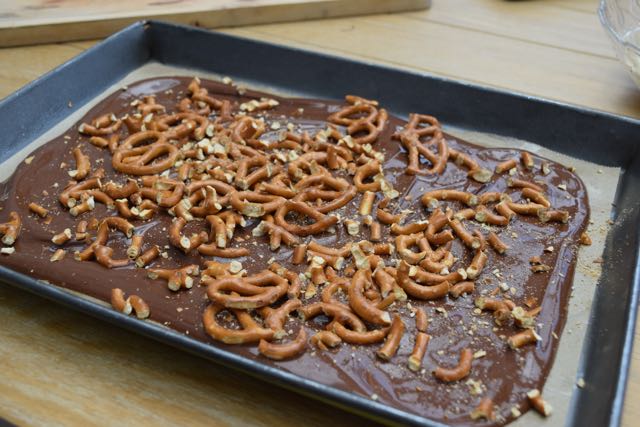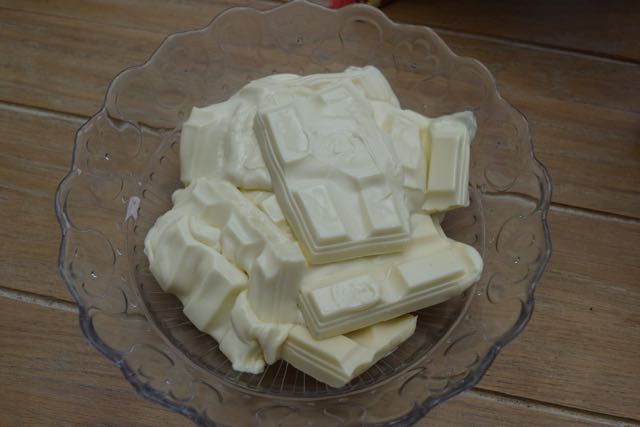 Stir the white chocolate until it's smooth then pour only half of it onto the milk chocolate and pretzel layer.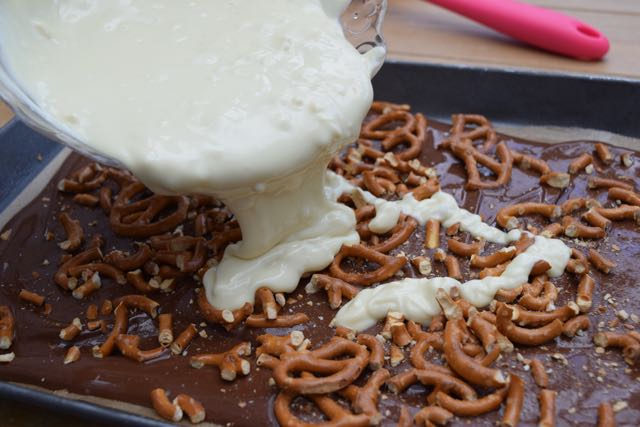 Add the 60g, approximately 4 tablespoons, of peanut butter into the remaining white chocolate and stir well. I used chunky as it added extra texture, but use smooth peanut butter if you would rather. Then pour this onto the rest of the chocolate base.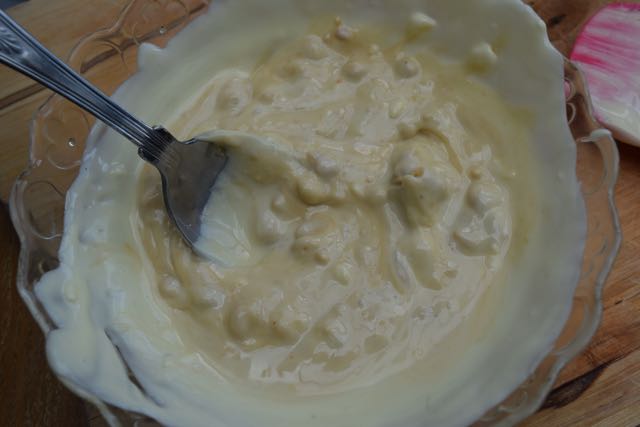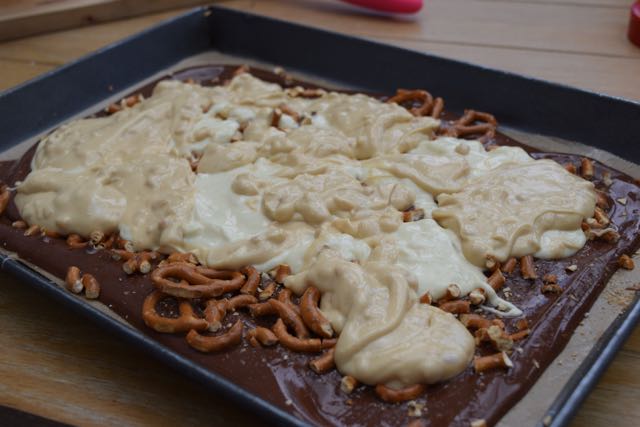 Swirl all the different chocolates together with a skewer or the point of a knife to create a marbled effect then dot on the mini peanut butter cups and some more crushed pretzels if you like.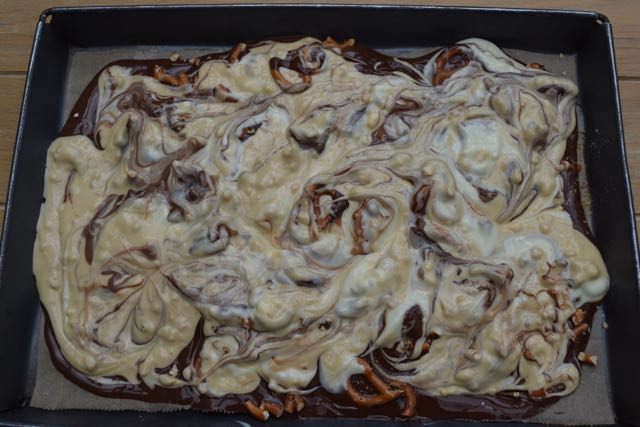 Not that attractive at this stage, but bear with it.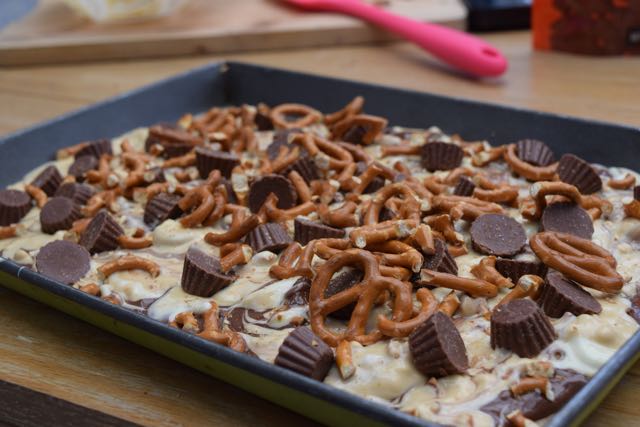 Now, you need to wait a rather tortuous couple of hours while your bark chills and sets in the fridge.
Once the bark's set, remove from the tin and cut, with a sharp knife, into random sized chunks. Luckily there will be crumbs which naturally occur and have to be eaten by someone *me*, so by the time I had finished cutting up the whole slab, I did feel slightly queasy.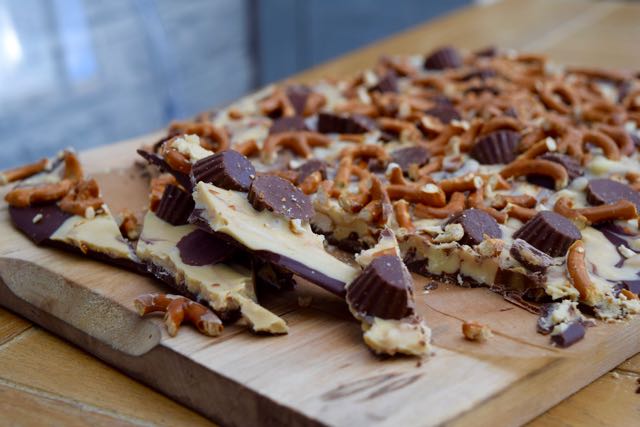 Store in a jar for as long as you can keep it away from grabbing hands. Or at least a week in the fridge or a cool place.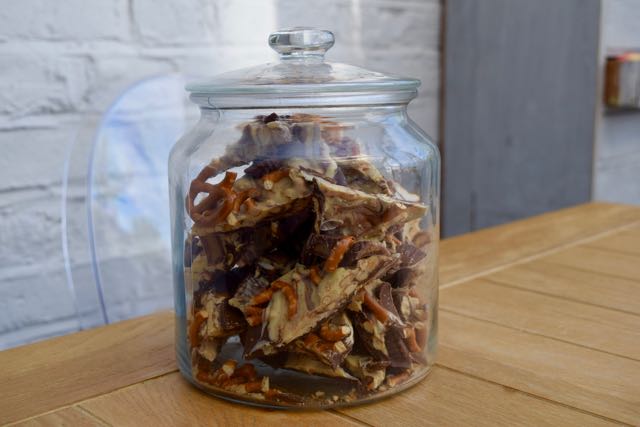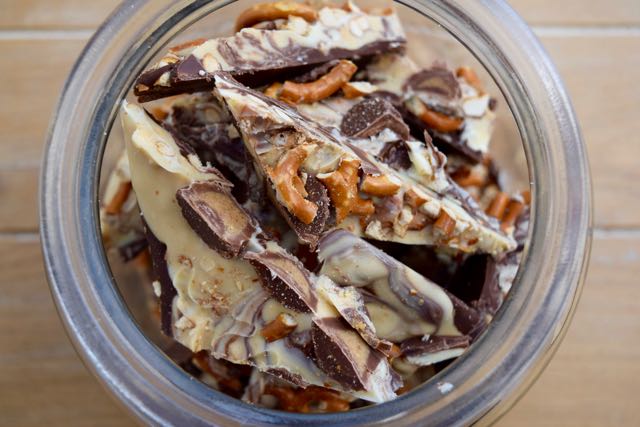 Any excuse to make something peanut butter/chocolate/pretzel based, so you could say I am using Ben as a misery eating scapegoat. I do spend a lot of time baking treats to keep the whole family happy, it just turns out that it's Ben's turn for spoiling this week. This jar disappeared over a super short window, so rest assured, we will be misery eating this Chocolate Peanut Butter Bark until well after Ben's graduated.
Lucy x
Chocolate Peanut Butter Bark Recipe
You will need a rectangular Swiss Roll style tin, lined and various bowls
Makes a big jar full
300g milk chocolate or a mixture of half milk and half dark or all dark chocolate
300g white chocolate
60g peanut butter, smooth or crunchy, both are delicious
Approximately 100g salted pretzels, crushed
Approximately 150g tiny Reeces peanut butter cups, or normal ones chopped or a couple of Snickers, chopped
Take your rectangular baking tray and line with greaseproof paper. I sprayed mine with non stick baking spray too as an extra precaution so use this if you have it.
Take two medium sized bowls and add the milk/dark chocolate to one and the white chocolate to the other. Either melt in the microwave or over pans of simmering water until just starting to melt. Leave to settle for a moment before stirring each bowl separately until the chocolates are smooth and lump free.
Pour the milk/dark chocolate onto the baking tray first and roughly spread out to cover the bottom of the paper. Next, sprinkle the crushed pretzels onto the chocolate and press down a little. Now, pour over half the melted white chocolate in a drizzling sort of fashion.
Stir the 60g peanut butter into the remaining white chocolate then spoon/pour this over the white and milk chocolate. Swirl everything around with a skewer or the point of a knife then artistically drop on the mini or chopped peanut butter cups or Snickers bars. Press these into the chocolates then pop in the fridge for a couple of hours or until set firm.
Once set, remove from the tin and chop into random chunks, and store in a jar in the fridge until needed. This will keep for over a week in a cool spot or in the fridge.
SaveSave
SaveSave
SaveSave
SaveSave