Chorizo Bolognese Recipe
Bolognese, which it turns out I have been spelling wrong for years, is classic supper fodder. It features in some way in our house at least once a fortnight in it's usual guise or in the form of lasagne. This lovely recipe also continues on the theme, this week, of food which is simple to prepare and unlikely to break the bank. That said, I am v excited to share this Chorizo Bolognese with you.
This is super tasty and super quick. A great one, again, for those lucky people heading off to university or to pastures new. This paprika-ish twist on the classic bolognese will keep you warm when you're missing your home comforts, or have just had one too many at the student bar.
I love finding exciting new recipes and Donna Hay is the queen of such ideas, so thank you to her for being brilliant. This is a warming, lightly spiced, version of  the Anglo Italian favourite using delicious chorizo instead of minced beef. Once sautéed the chorizo releases its unique flavours into the sauce which is enhanced by a pinch of chilli and the fresh flavour of basil. Serve with creamy mozzarella and this is destined to become one of your favourite new autumn suppers. Plus, I have bought one too many cookery books on Amazon, so funds are low, therefore, I too am looking for cheaper dishes to see me through until payday.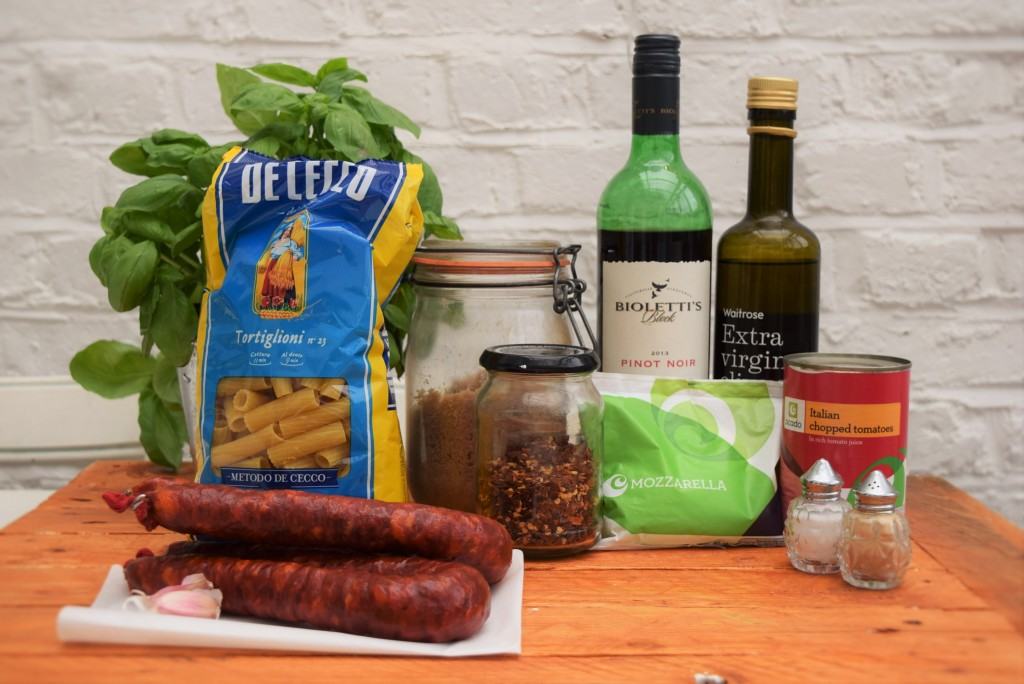 So here's the off piste Chorizo Bolognese line up. All super straight forward. Use whichever pasta you have to hand, the recipe called for tagliatelle, but I had this lovely Tortiglioni. The recipe suggests Buffalo Mozzarella but in yet another Middle Class Problem scenario, Waitrose was all out, so it was standard Mozzarella for me.
Before you get going, put the kettle on for hot water for the pasta. Then, take your fragrant chorizo, chop into manageable sized pieces then either blitz to a porky rubble in your food processor or cut, by hand, into super small pieces.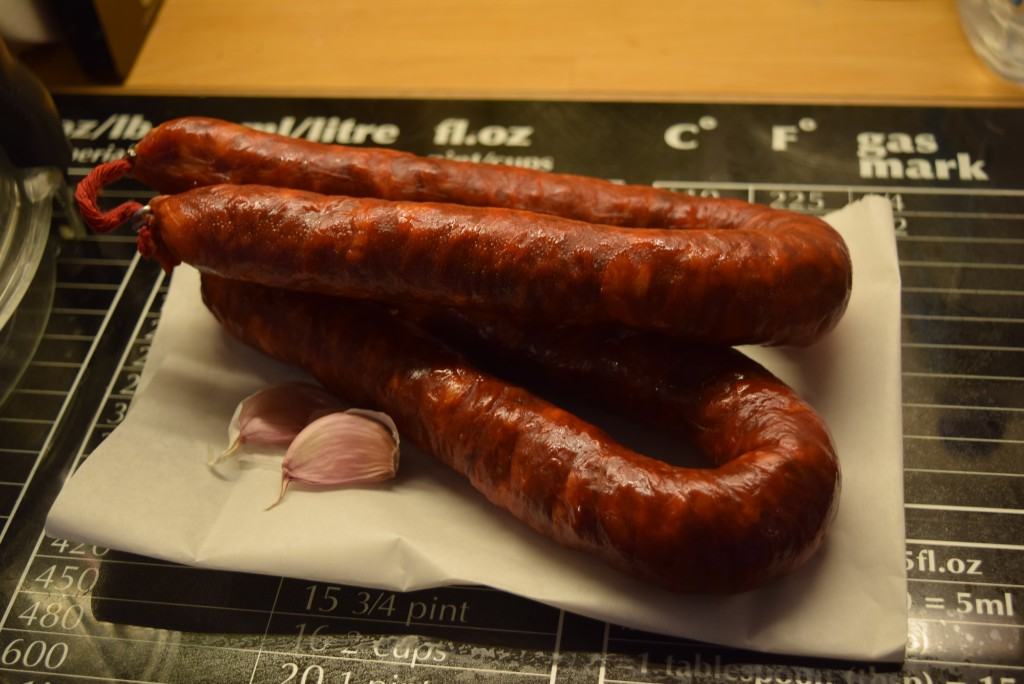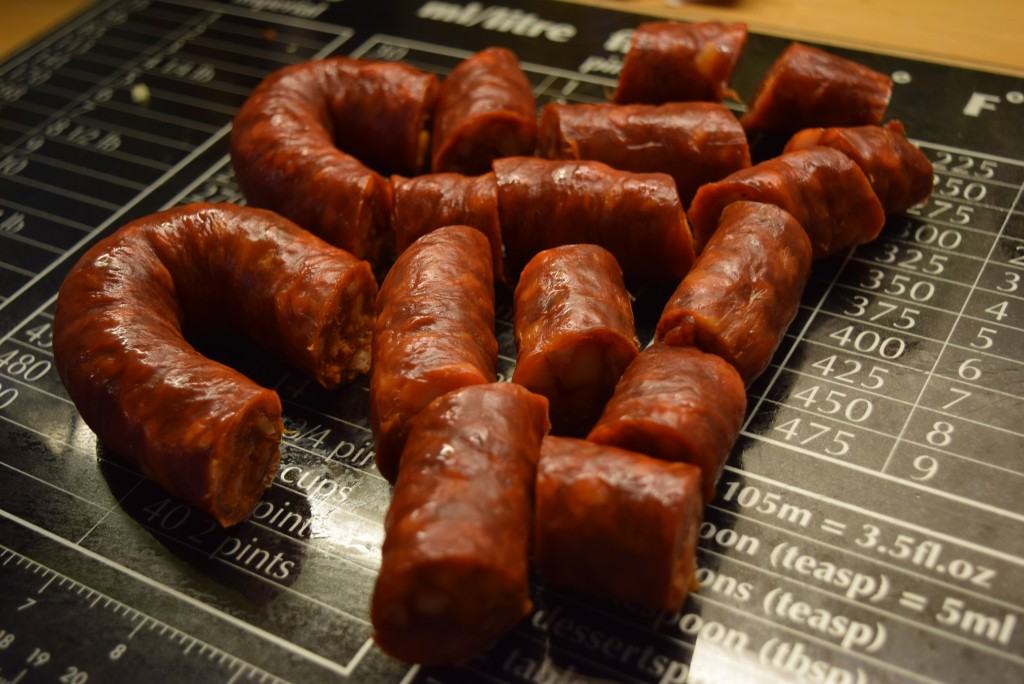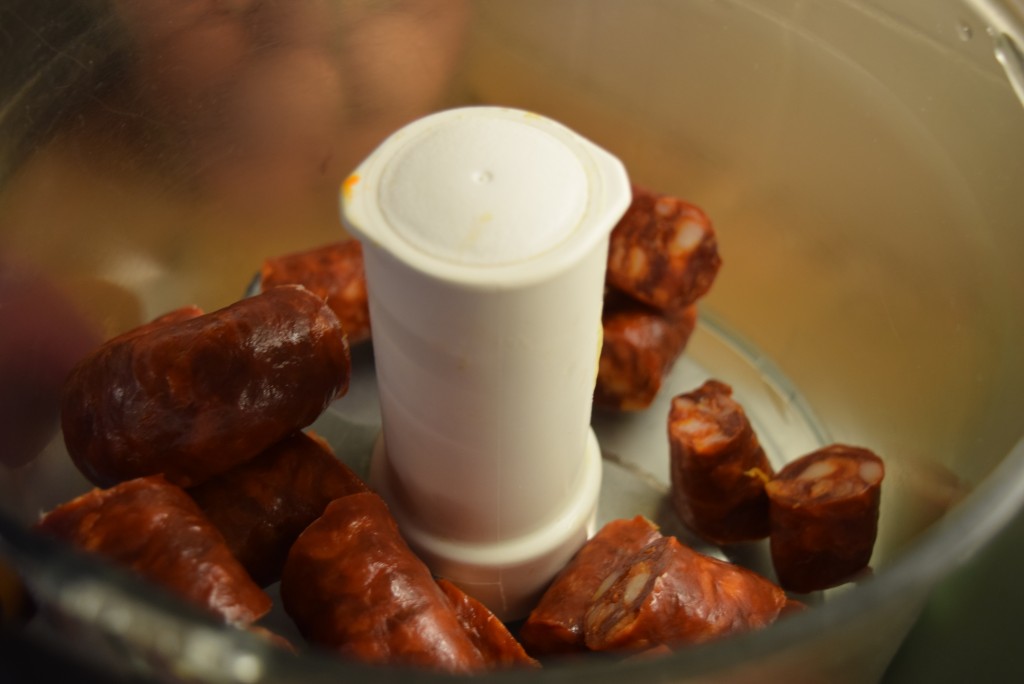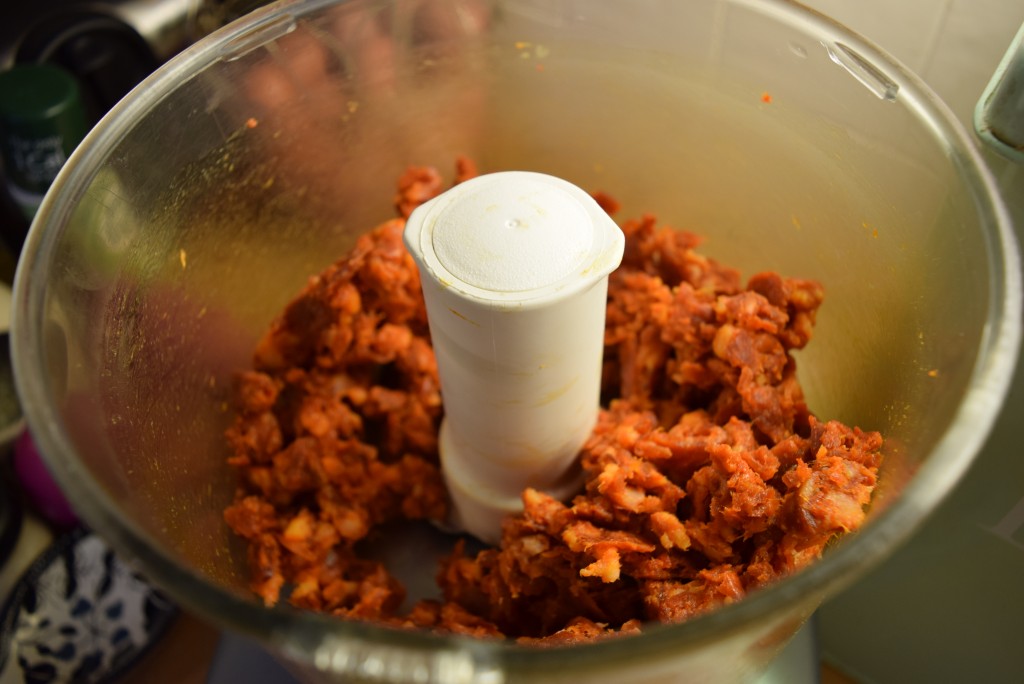 Heat a good sized frying pan with a tablespoon of olive oil, then tumble in the piquant spiced Chorizo and start to brown.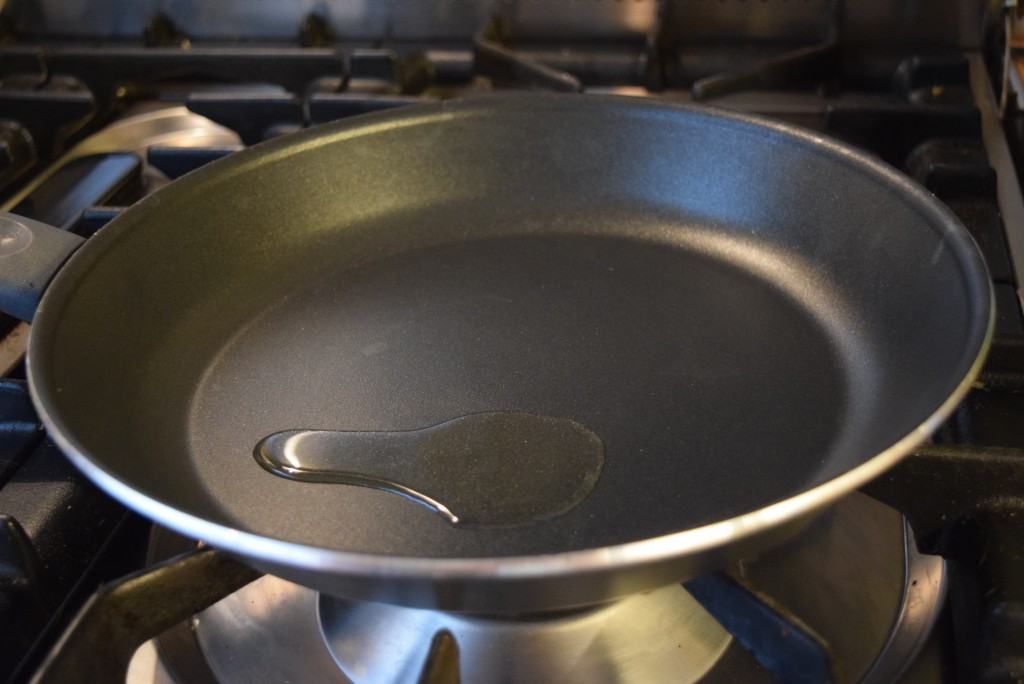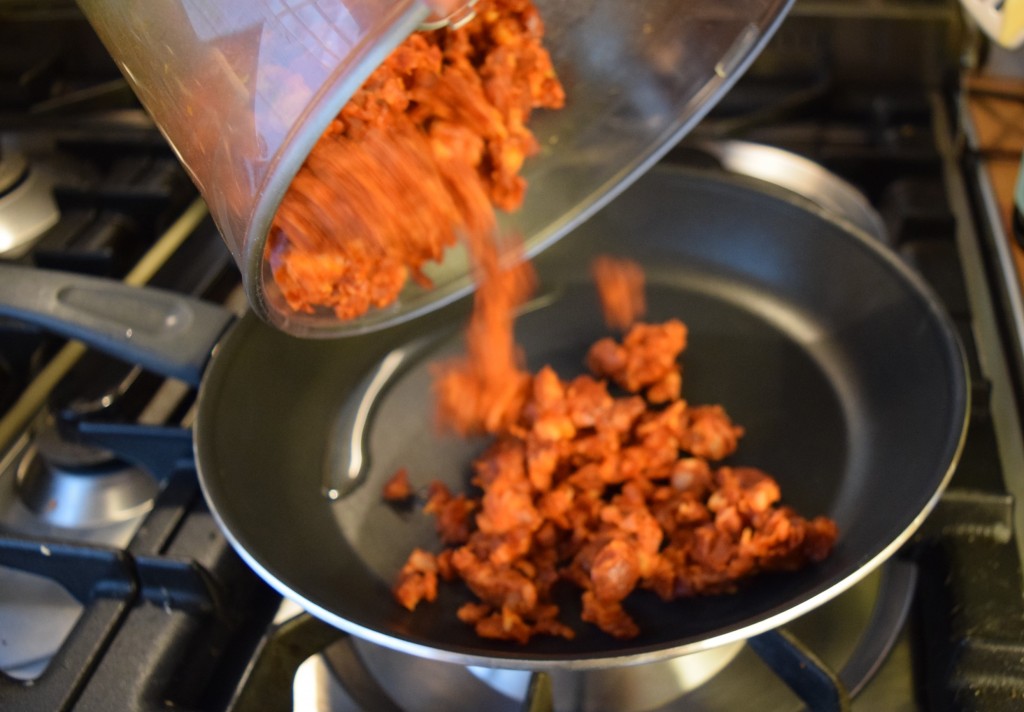 After a couple of minutes browning, add a pinch of chilli flakes, chopped garlic and good quantities of salt and pepper. Give this all a good stir.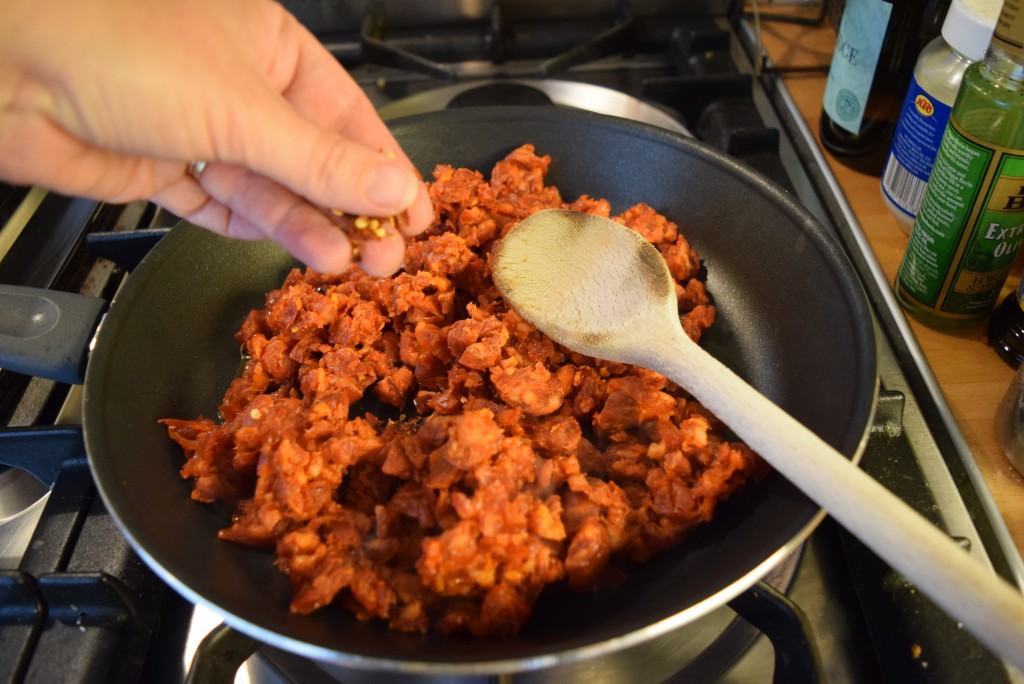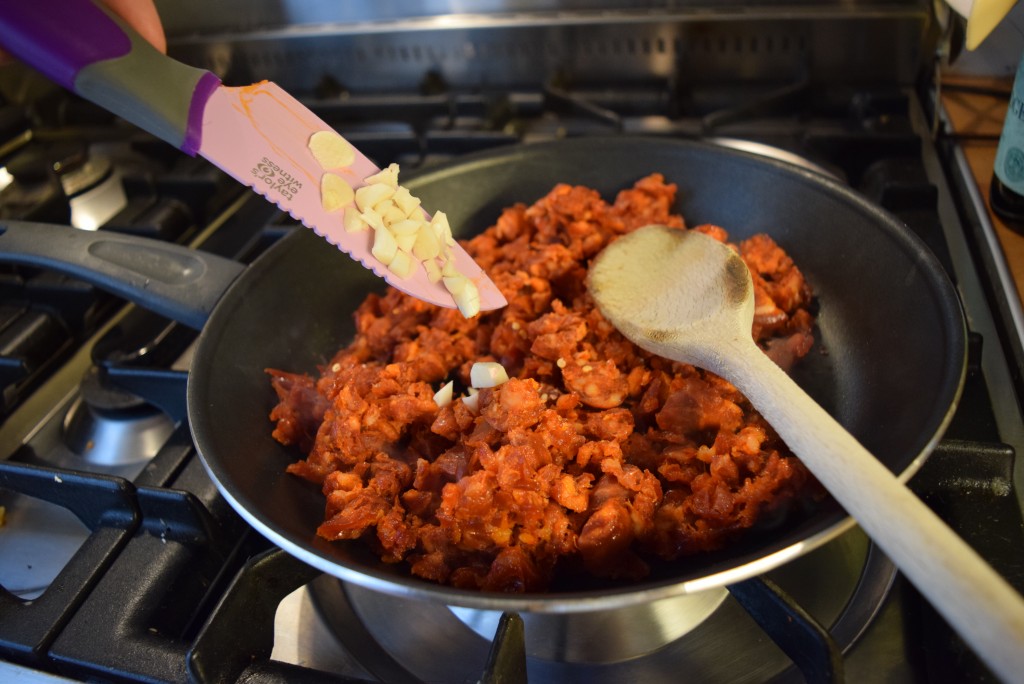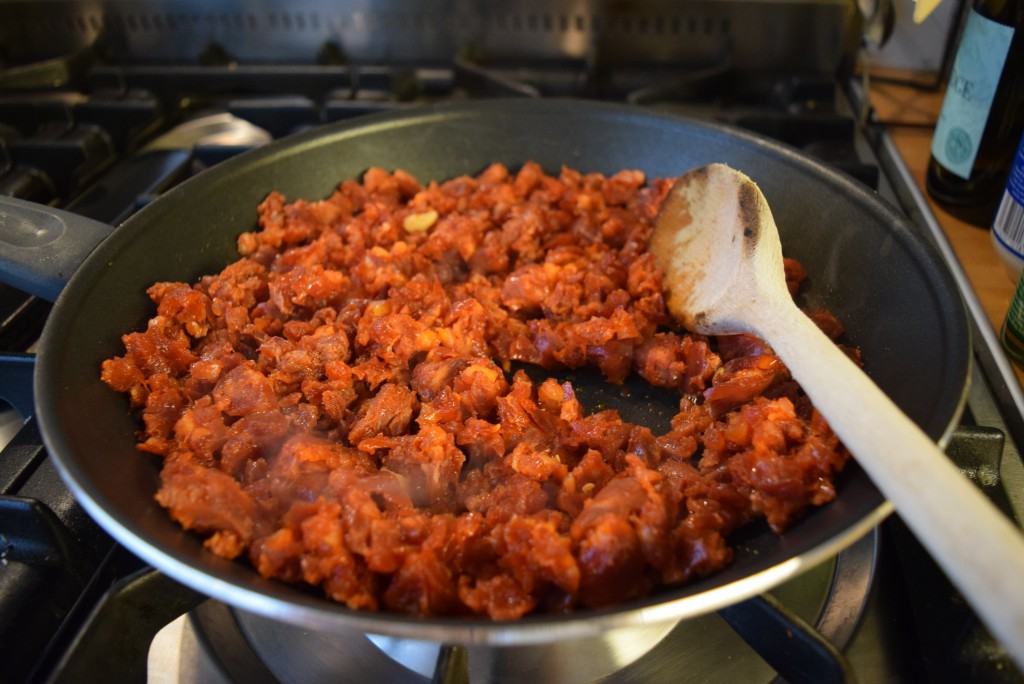 Cook this for another 3 to 4 minutes until good and crisp, then pour in the red wine, and cook this off for another minute.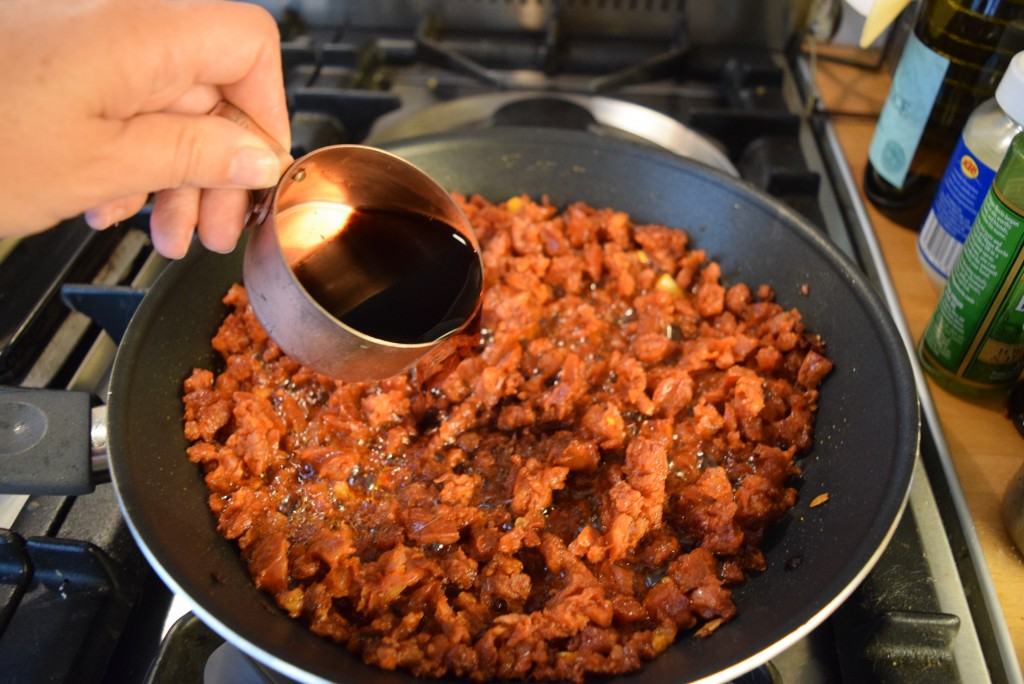 Next to go into this wonderful rich sauce are the sugar, tinned tomatoes and fresh basil. Be prepared to be overwhelmed by the utterly beautiful wafts coming from the pan.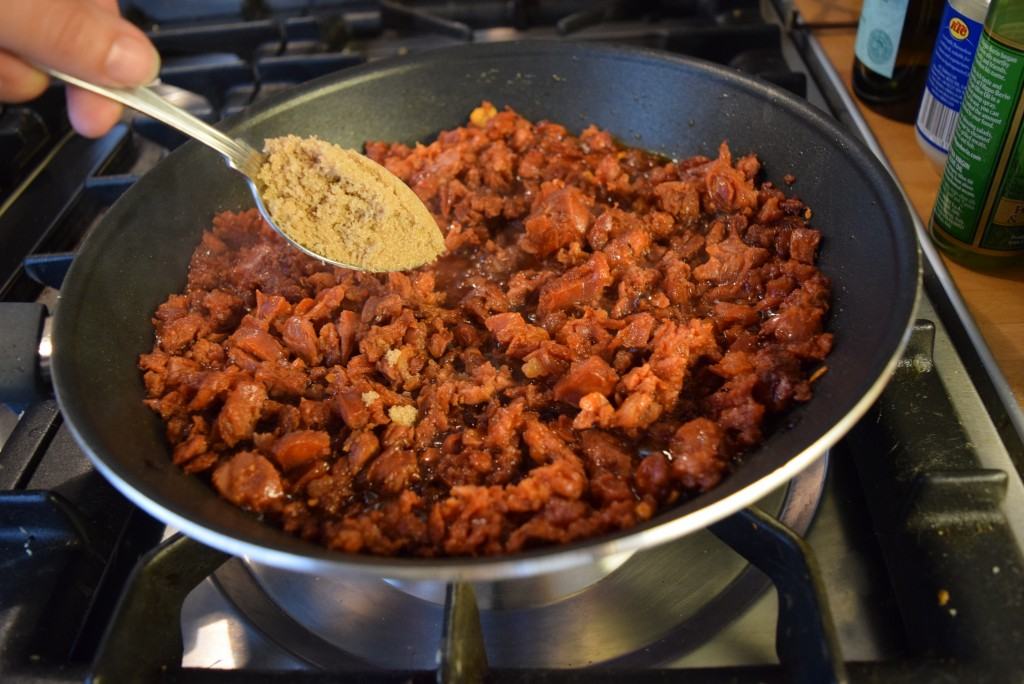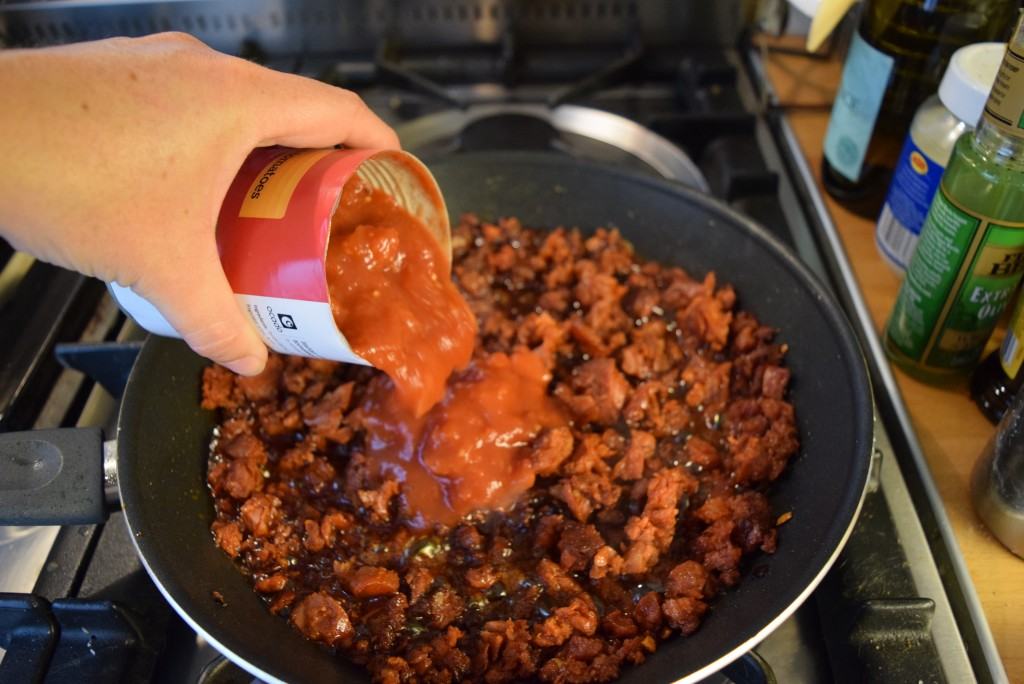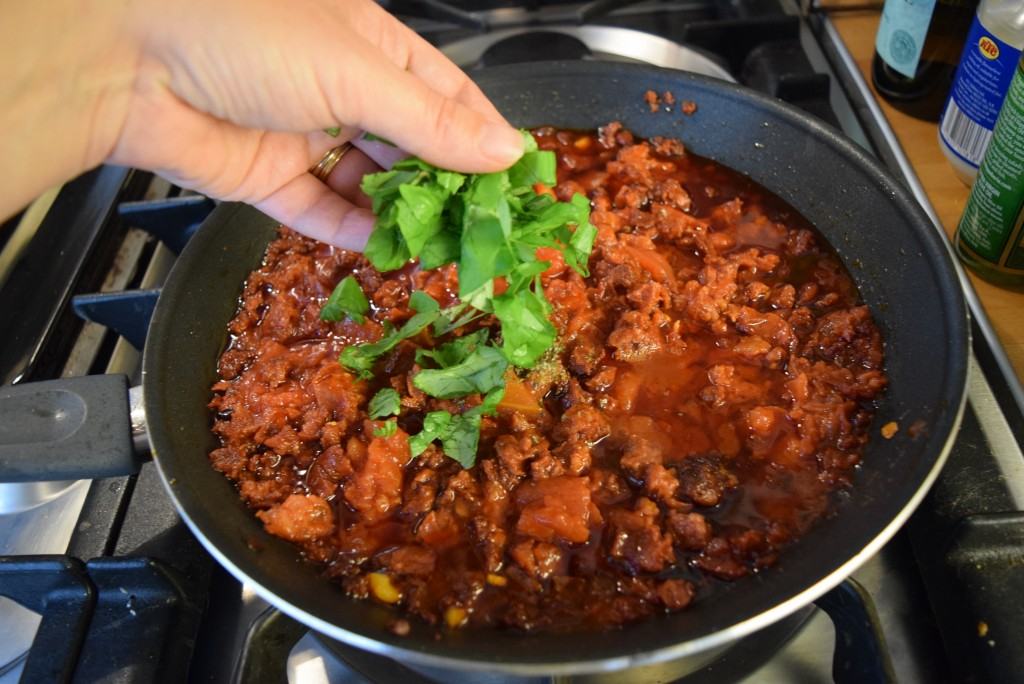 Check for any further seasoning then turn down and simmer, with a lid on, for a further 10 minutes or so while you cook your chosen pasta.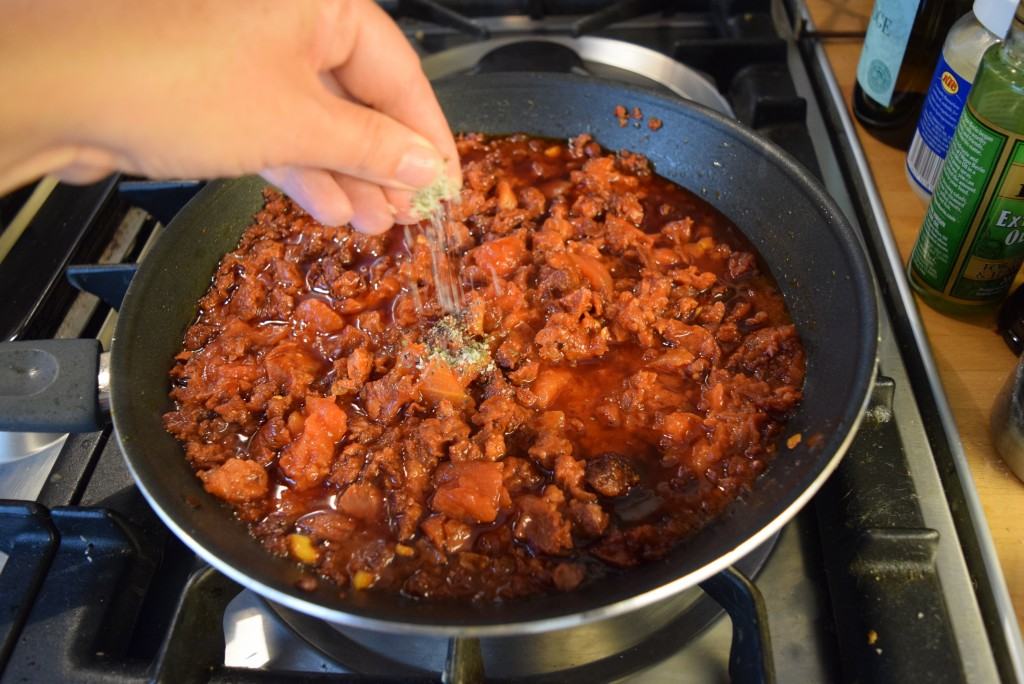 Just before you drain the pasta, remove approximately 125ml of the pasta cooking water and pour into the chorizo sauce and stir. Then you are ready to assemble this super simple, incredibly tasty dish.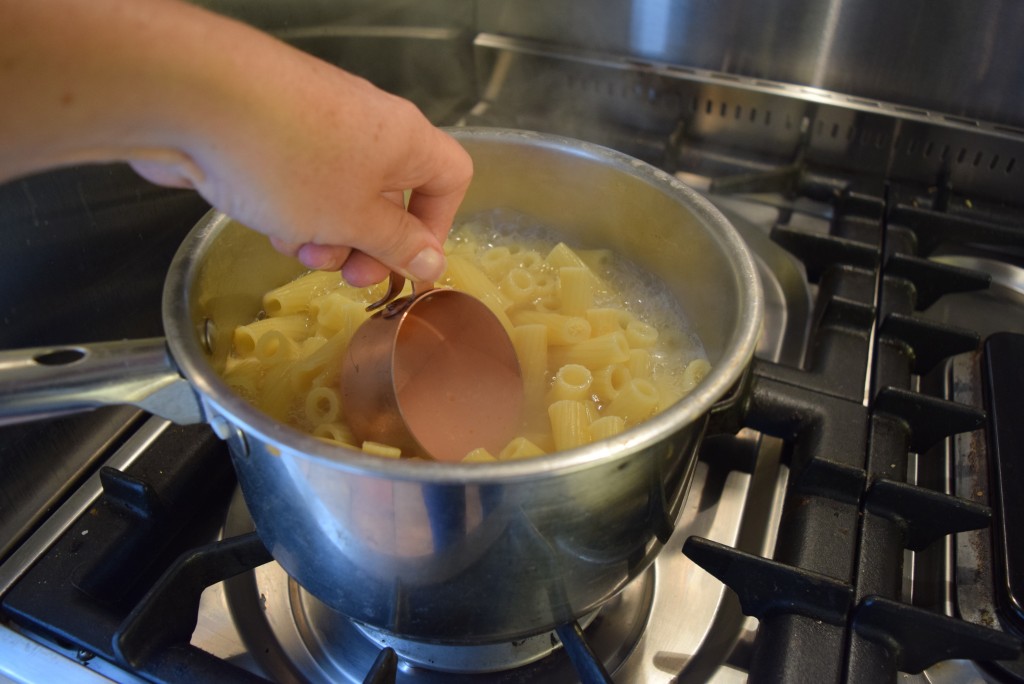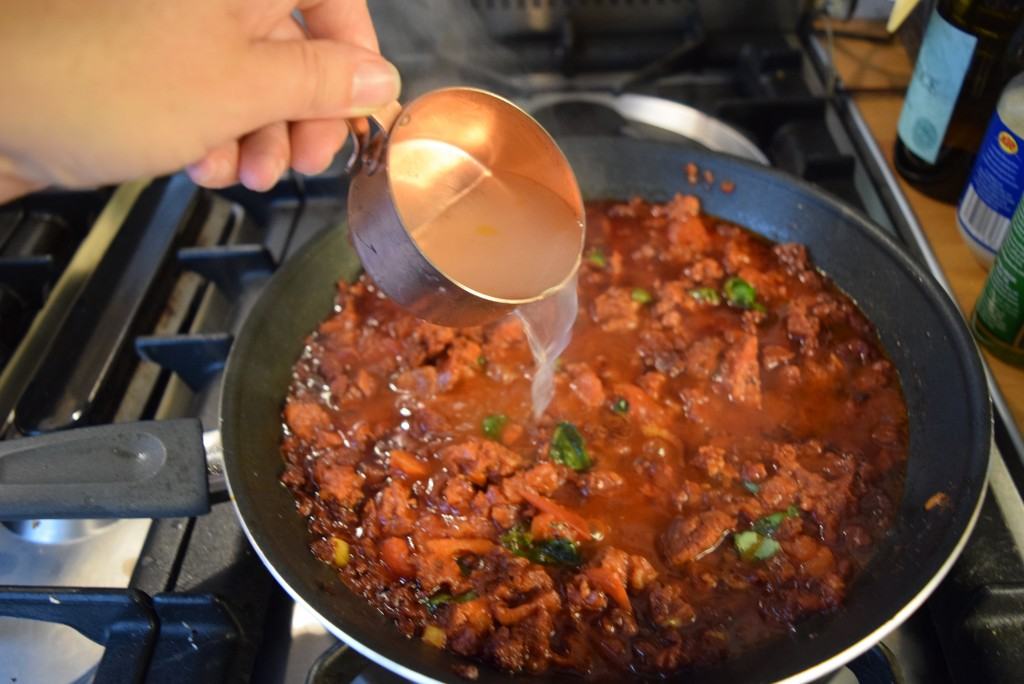 Drain the mozzarella and plate up some pasta. Spoon on the rich Chorizo Bolognese and finish with torn mozzarella and garnish with more fresh basil.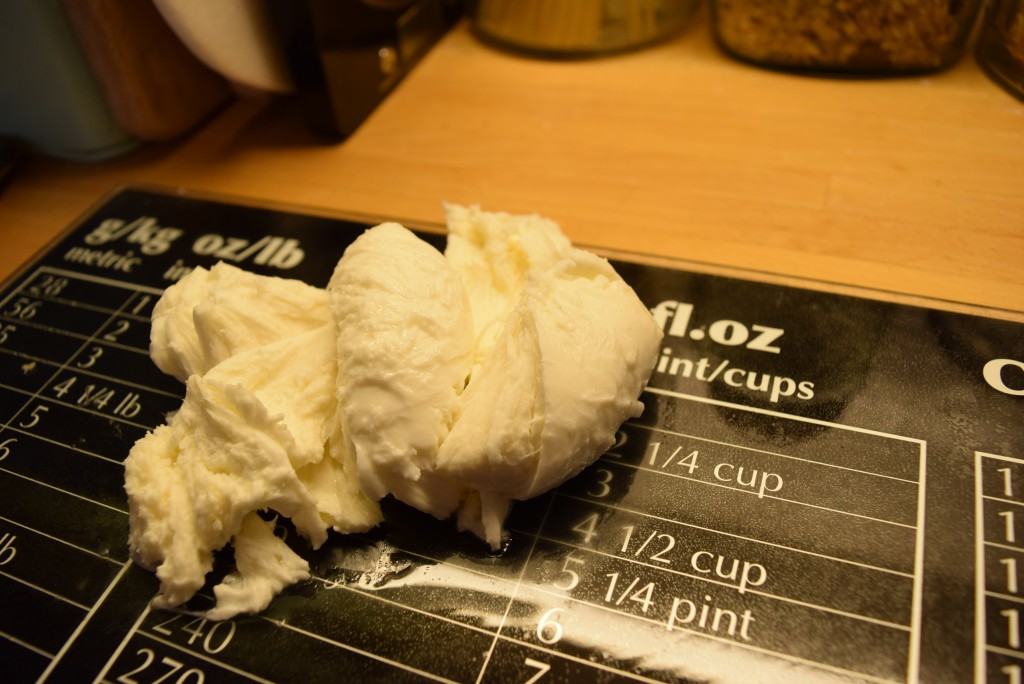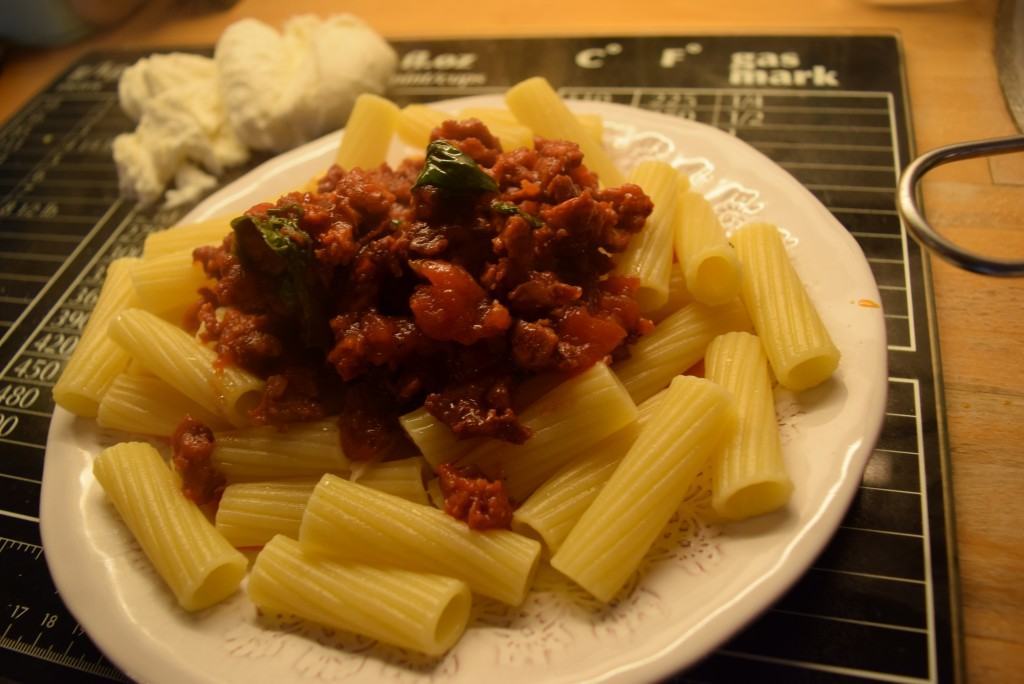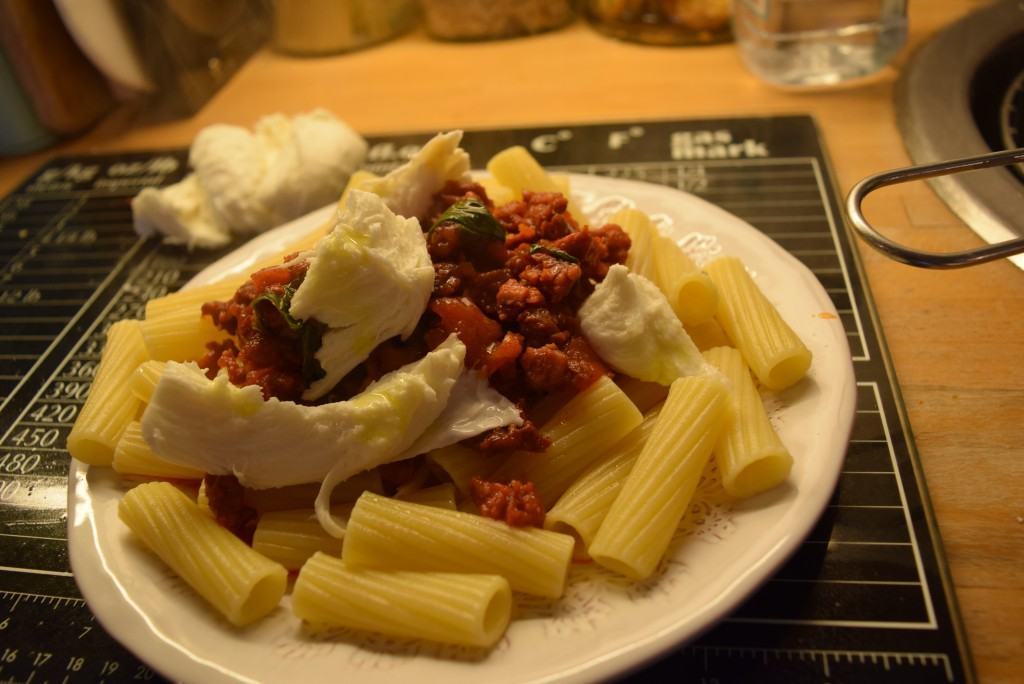 Enjoy this rustic but correctly spelt Chorizo Bolognese with a big glass of red wine, in huge mouthfuls.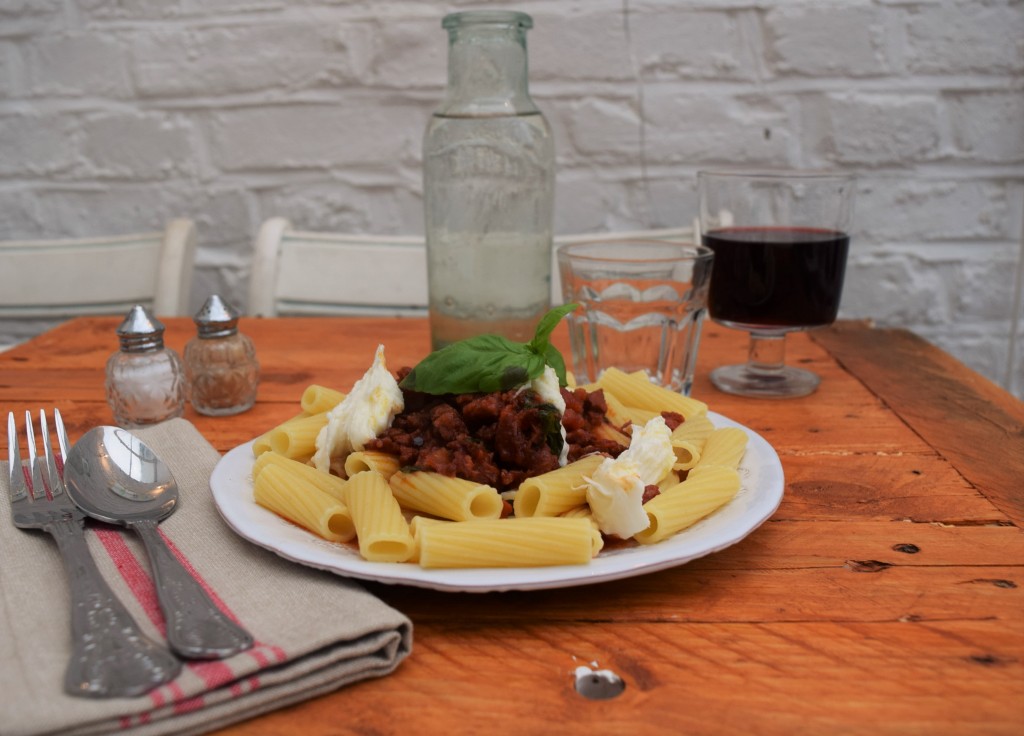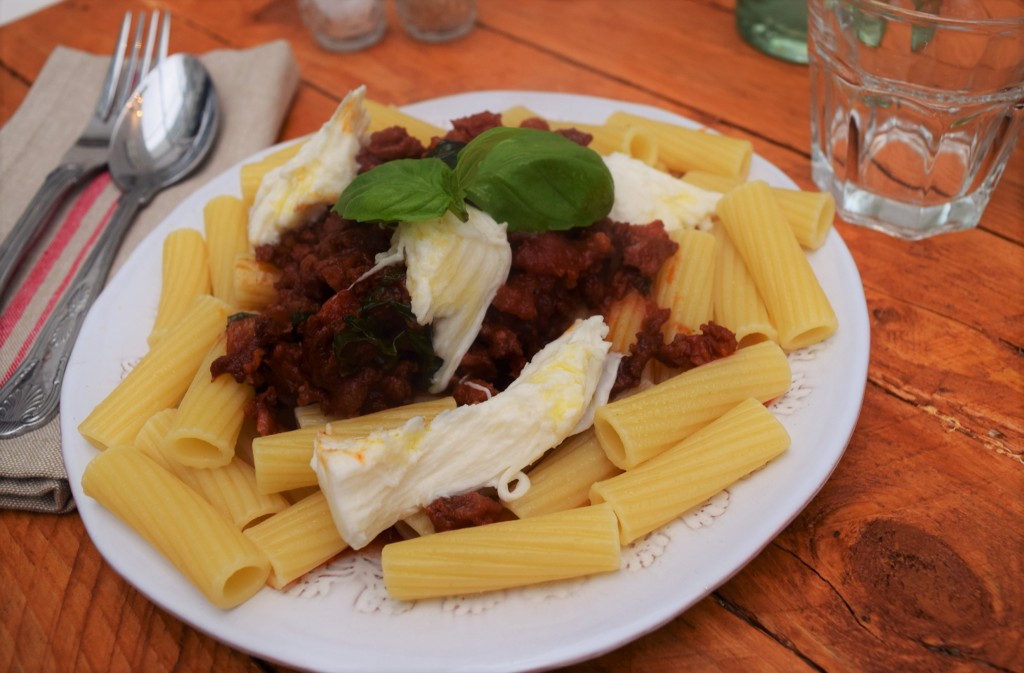 The creamy mozzarella is a perfect contrast to the paprika scented sauce.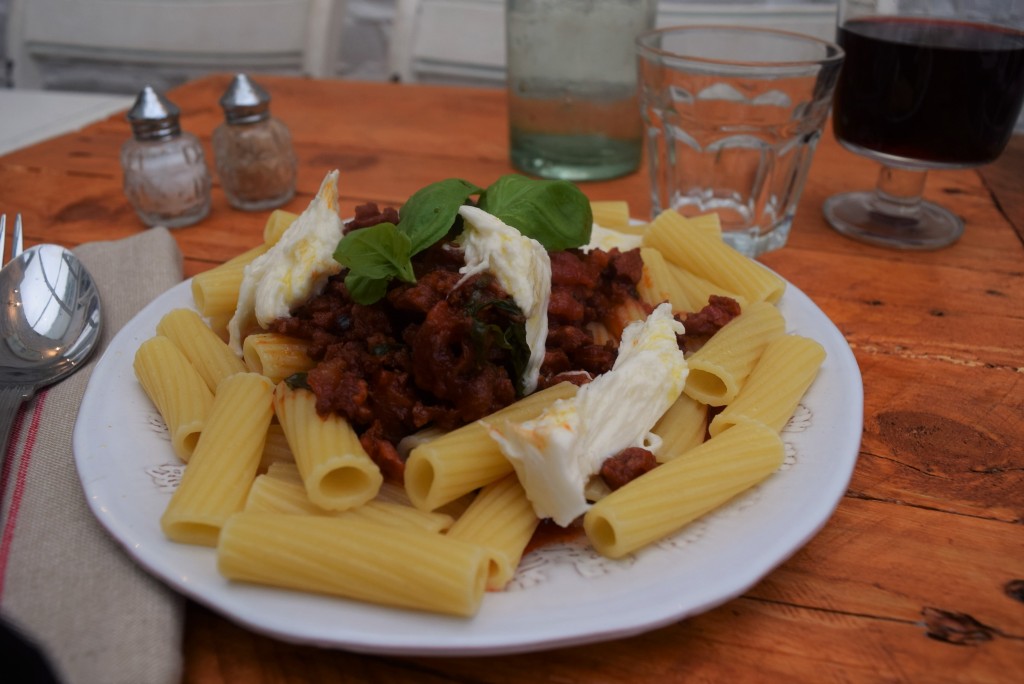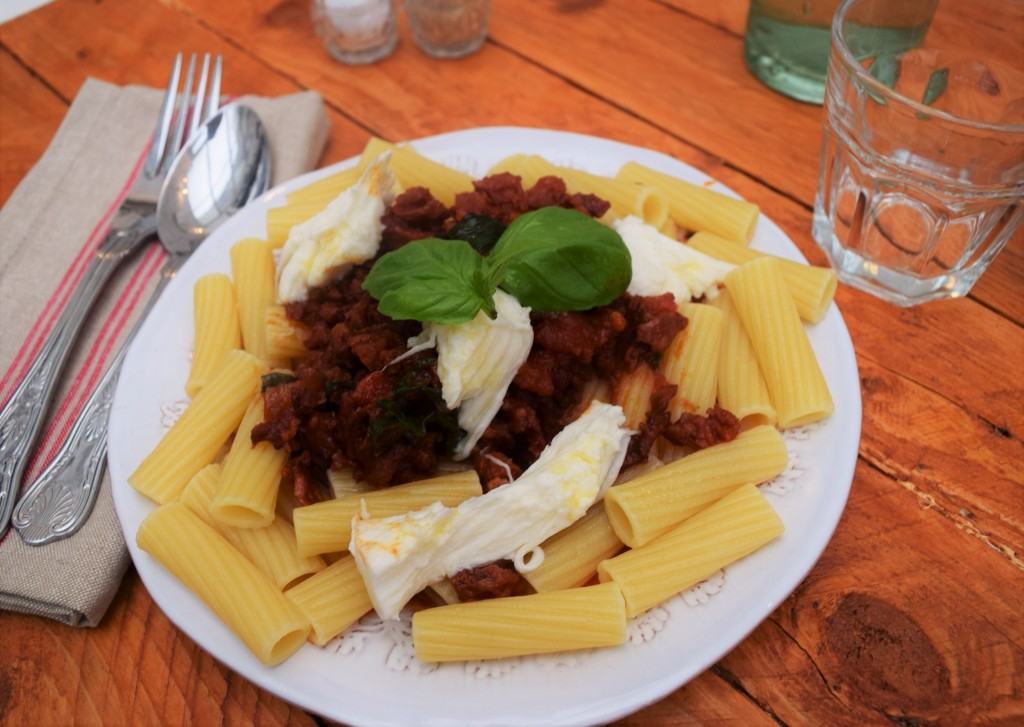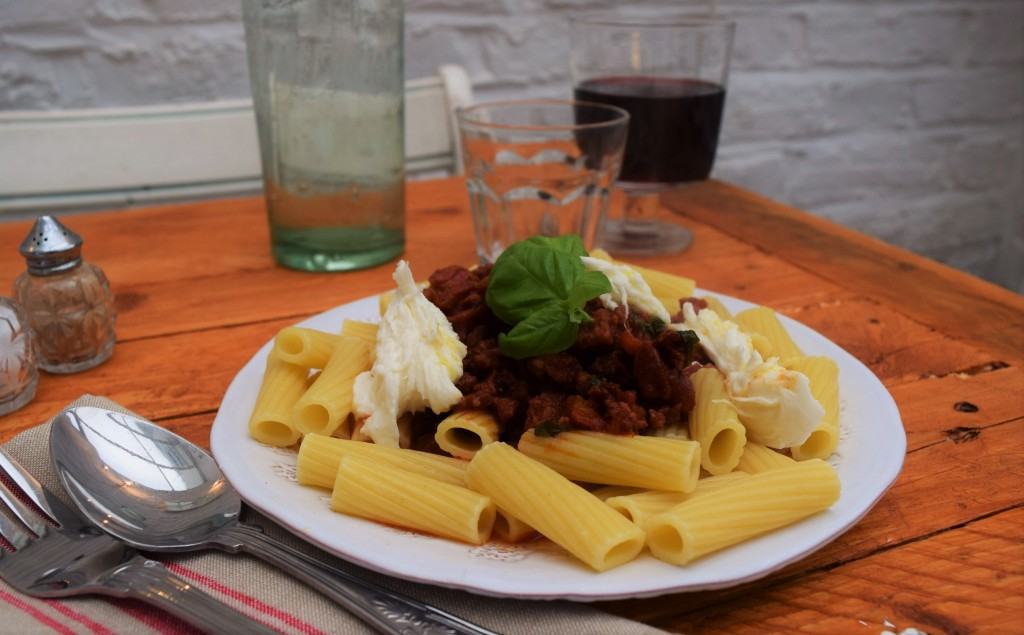 This is comfort food at it's finest but still elegant enough to serve for friends. This Chorizo Bolognese is a warming, filling supper, perfect for chillier autumn days. Which I am looking forward to, as it's bobble hat time again, hooray.
Lucy x
Chorizo Bolognese Recipe
You will need a frying pan, nothing more exciting than that, oh and a food processor but only if you have one
Serves 4 quite nicely
500g Chorizo, chopped into a fine-ish dice or processed in your food processor
A good pinch dried chilli flakes
2 cloves garlic, finely chopped
salt and pepper
125ml red wine
1 heaped tablespoon brown sugar
400g tin chopped tomatoes
2 tablespoons chopped fresh basil
approx 125ml pasta cooking water
400g (dry) pasta of your choosing, to serve
250g buffalo mozzarella or any mozzarella you have to hand
More fresh basil to garnish
Boil a big kettle of water for your pasta while you get started on the bolognese.
Take your frying pan and heat over a medium flame. Cut your chorizo into manageable sized pieces then either chop to a mince-like consistency in your food processor or cut by hand. Add the chorizo to the hot frying pan and start to brown it off. Add the chilli flakes, garlic and salt and pepper and cook for 3 to 4 minutes until everything is browning further and smelling fragrant. Add the red wine and let bubble away for a minute. Add the brown sugar, chopped tinned tomatoes and fresh basil, check for any extra seasoning, stir well then put a lid on the pan and let simmer for 10 minutes or so.
While this is bubbling away, put the pasta onto to cook.
When the pasta cooking time is up, drain, but reserve 125ml of the cooking water and add this to the bolognese. To serve, top the hot pasta with the chorizo sauce, add torn mozzarella and more fresh basil. Hoover up the whole lot, barely pausing for breath.