Spaghetti Cacio e Pepe Recipe
February seems to be really dragging it's bloody heels. I thought this week was the last week in Feb but no, there's still another half a week of darkness after this one. The thought of it being March soon, however, fills me with spring-like joy with it's promise of the clocks going forward and a full range of bulbs showing their faces. My inspiration for cooking is as low as my mood at the moment. I am lacking in imagination and tending to just churn out my stock dishes on a weekly basis. Sometimes, however, you don't need to be in the kitchen all day to achieve greatness. This relatively effortless Spaghetti Cacio e Pepe recipe is the utter incarnation of simple is often best.
I have been meaning to try this pasta for ages. I have pinned it numerous times and ogled the Momofuku version with a fried egg on the top more times than I care to mention. Now I have tried Spaghetti Cacio e Pepe, it will become my comfort food of choice, and I really must try it with the fried egg on top, impending weight loss permitting. The recipe I followed from Serious Eats, with thanks, is quite involved and details plenty of helpful tips when fashioning this dish. The end result is al dente spaghetti coated in a warming combination of pecorino cheese, freshly ground black pepper infused olive oil and just a touch of butter. Uncomplicated flavours which were wolfed down by the ever hungry men in my life. The key here is to grate your cheese on the finest side of your grater or on a microplane. You need the cheese to melt quickly and evenly into the oil and butter and to blend with some extra pasta cooking water to ensure a creamy sauce. I think mine did exactly that, but even if it doesn't what's not to love about cheesy peppery pasta with butter?
This classic Roman pasta dish is elegant simplicity in a bowl and would make a lovely supper for guests or your family to love. And it's vegetarian, so should you have a last minute non-meat eater, this is the almost instant answer to your prayers.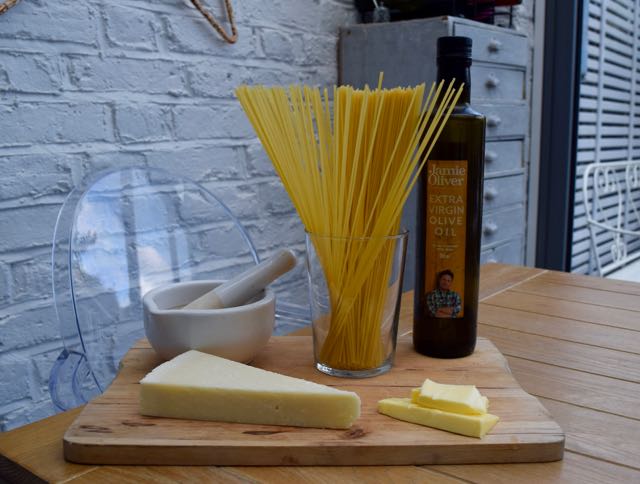 Other than some forgotten salt and the pasta cooking water, this is the modest line up for such a flavour filled dish. Pecorino is best for this although parmesan would also work. I ground my own peppercorns for the black pepper addition but you could just use your grinder.
This is such a quick and simple recipe, make sure you have everything ready and to hand before you start. Take a medium sized high sided frying pan and add 3 tablespoons of your olive oil. Next, add some black pepper, freshly ground if possible.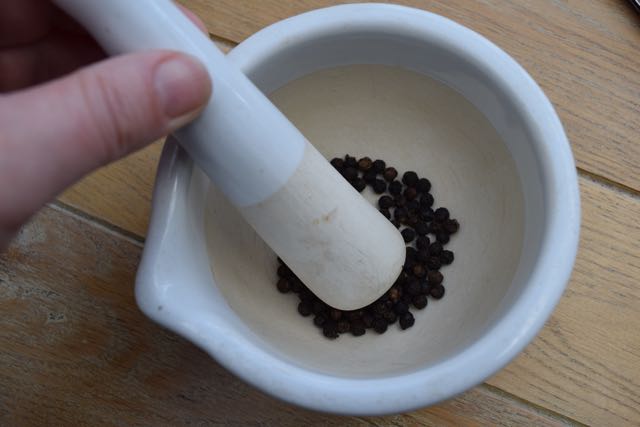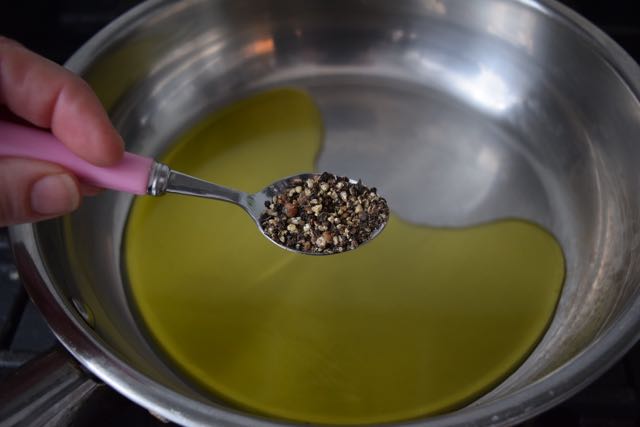 Heat the oil over a gentle heat until just fragrant and warmed through, then turn off the heat and pop this to one side.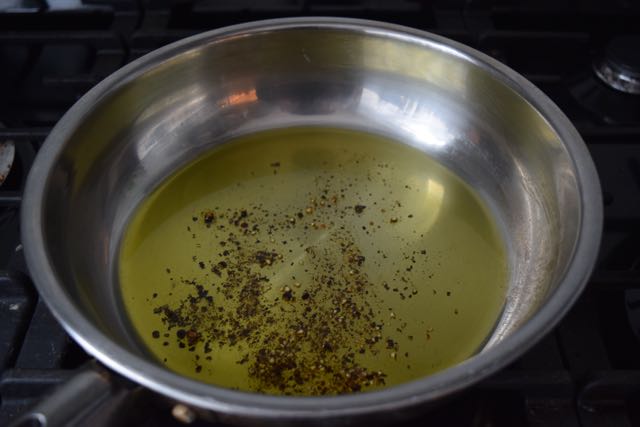 Now for the pasta. Take a larger high sided frying pan and bring some salted water to the boil. Add the spaghetti and cook as per the instructions on the packet, or until just al dente.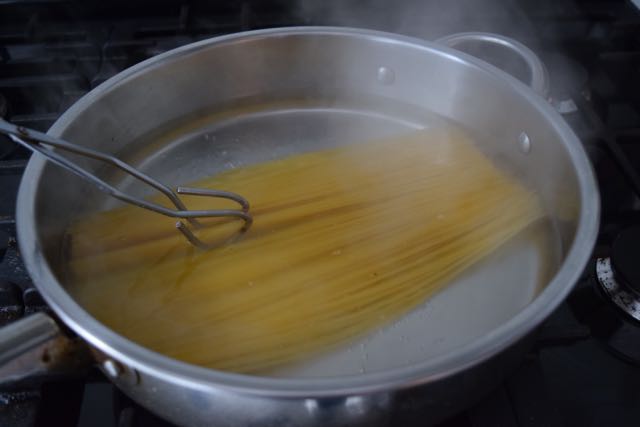 Keep the pasta moving in the water so it doesn't stick together. While it's cooking, grate your cheese very finely and weigh out your butter.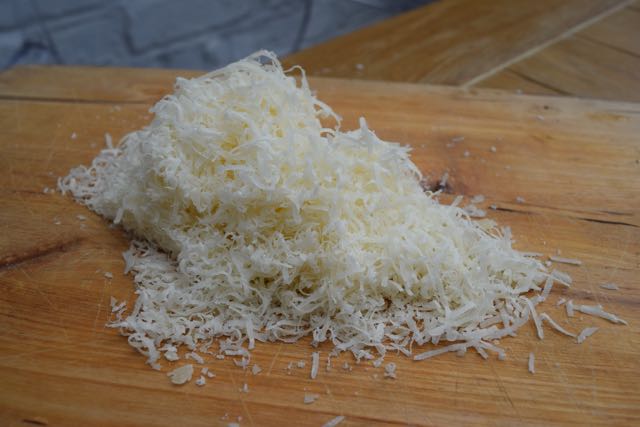 Now, once your pasta is cooked it's all systems go.  Take the pasta off the heat. Take your pepper infused oil pan and add 2 to 3 tablespoons of the pasta cooking water into the oil along with the 30g of butter.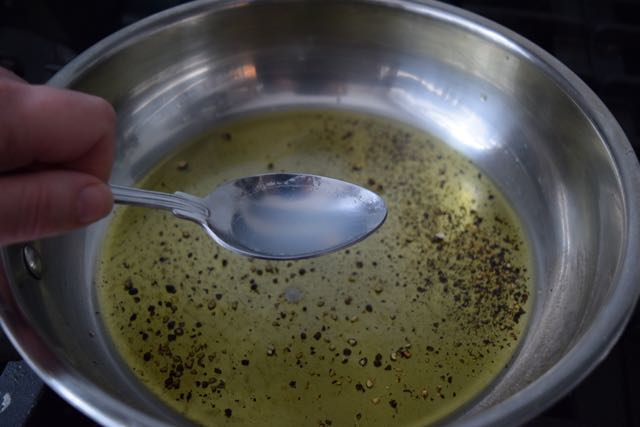 Stir this together then lift the pasta from the cooking water using tongs or a pasta spoon and place it in the oil.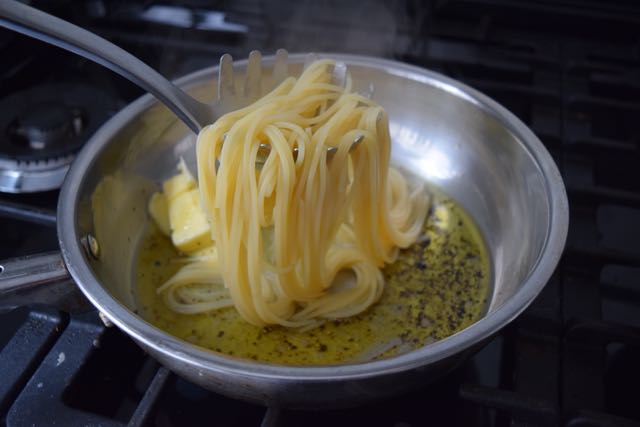 Add the finely grated cheese, final tablespoon of oil and using a fork, mix the pasta, oil and cheese together until you have pasta coated in a cheesy sauce.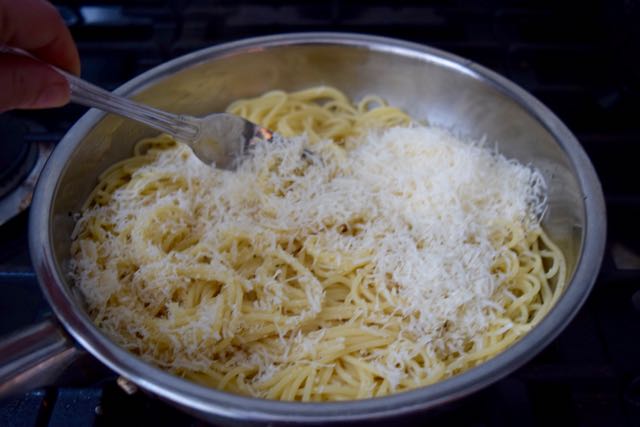 Add more of the pasta cooking water, as needed, to ensure your sauce covers the pasta beautifully.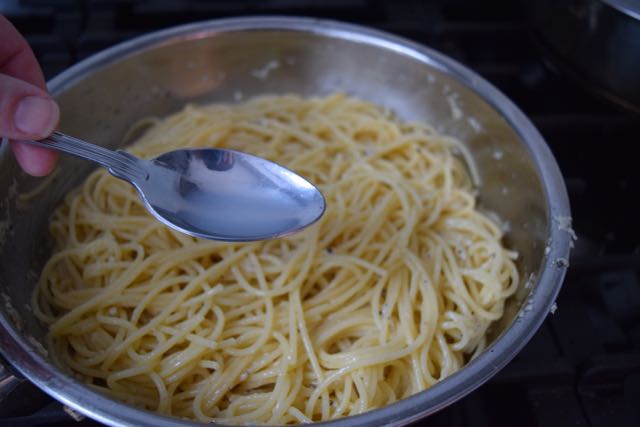 You can also turn the heat back on low under the pasta, but don't over heat or the sauce will split.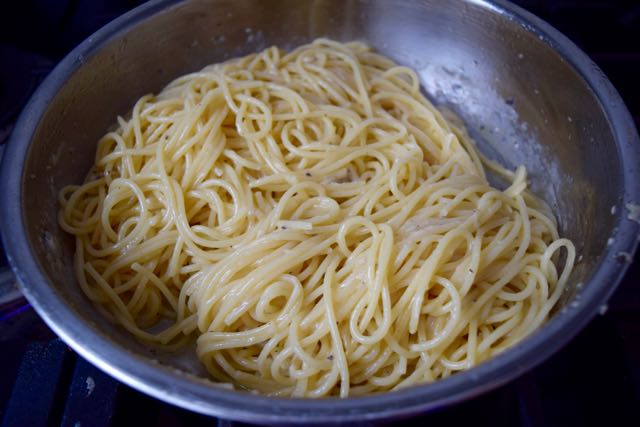 Serve this beautiful, simple dish with some extra grated Pecorino at the table and some extra freshly ground black pepper. Inhale whilst fresh and piping hot.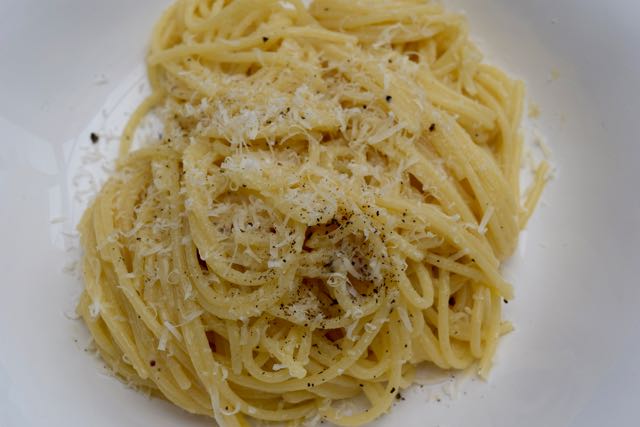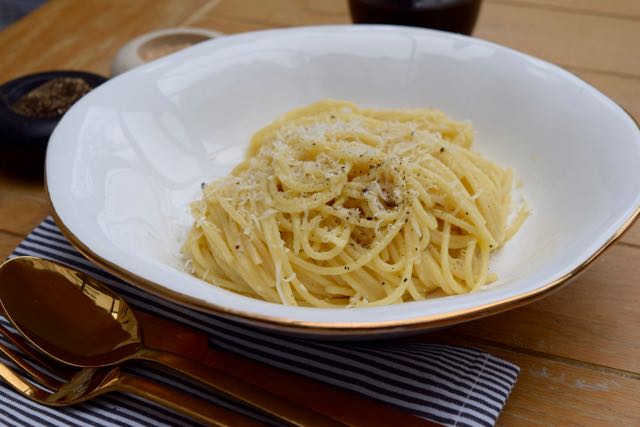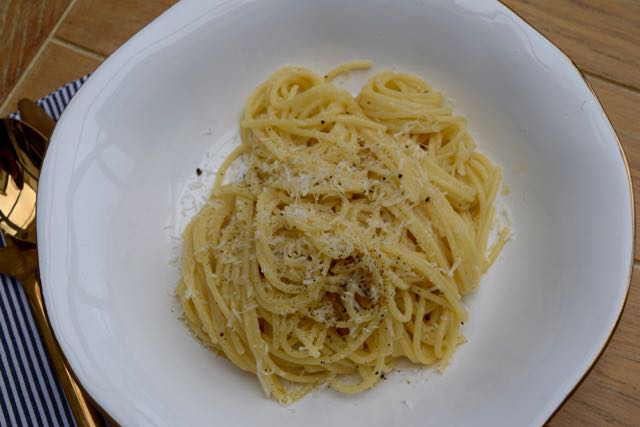 This may just look like a plate of spaghetti, but the flavours and simplicity of this dish are it's best qualities. When it's cold and grey and drizzling all you want is a bowl of warming pasta. This Cacio e Pepe is that very bowl of pasta.
Lucy x
Spaghetti Cacio e Pepe Recipe
Serves 2 to 3, appetite dependent
You will need to largish high sided frying pans
4 tablespoons olive oil
1 teaspoon black pepper corns, crushed in a pestle and mortar, or use a teaspoon of ground pepper
250g spaghetti
2 tablespoons butter
60g finely grated pecorino or parmesan cheese
salt and freshly ground pepper
Extra grated parmesan for serving
Take a medium sized high sided frying pan and add 3 tablespoons of the olive oil. Add 1 teaspoon of your freshly ground black pepper to the oil and turn the heat on to medium and heat the oil and pepper until just starting to smell fragrant. Turn the heat off and pop to one side for the moment.
Take another larger high sided frying pan and add boiling salted water. Add the spaghetti and cook until al dente – mine took 8 minutes.
Grate the pecorino or parmesan on the finest side of your grater or on a microplane.
Add the butter and 2 to 3 tablespoons of the pasta cooking water to the olive oil and pepper combo and stir to melt. Lift the spaghetti from the water using tongs or a pasta spoon and place into the oil mixture. Add the cheese along with the final tablespoon of olive oil and stir consistently using a fork until the cheese, oil, butter and water have formed a creamy sauce. Add more pasta water if it's too dry and not quite saucy enough. Reheat gently on a low heat if needed.
Serve immediately with extra grated parmesan and more freshly ground black pepper.
SaveSave
SaveSave
SaveSave
SaveSave