Crab Linguine Recipe
I feel I have been mainly concentrating on everyday dishes recently, the emphasis being on cheerful and erring on the cheap. So today, Lucy Loves is treating you to a romantic dinner for two. Well I say two, and by two I mean Clyde and I. Which is probably three normal people, but that doesn't make for a very romantic scenario.
This spoiley dinner for two features my Crab Linguine. I love crab, if I was rich I would eat a crab sandwich every day. I would be fat, but I would be happy. On a recent trip to the Isle of Wight, the Ventnor Haven Fishery, introduced me to the divine world of crab on chips. This local delicacy is literally as it sounds, a huge mound of freshest white and brown crab meat on thick fish and chip shop chips. I think I can safely say, this is the most divine thing I have ever eaten. I don't usually have particularly extravagant tastes in food, I can unashamedly list salad cream and corned beef as two of my top 20 favourite foods. But crab hovers near the top of the list every time.
This Crab Linguine as a romantic supper would certainly be the way to woo me, just in case anyone's asking. The al dente pasta is dressed in a lightly spiced crab sauce with just a hint of lemon and parsley. So fresh, not too heavy, it would also make a perfect first course to serve four. I based the recipe on one from the ever informative BBC Good Food website, with thanks to them. So, if you are wanting to treat someone you love, or if you are just making this for yourself, do try this Crab Linguine. It's tasty, spoiley and couldn't be any less trouble to make if it tried.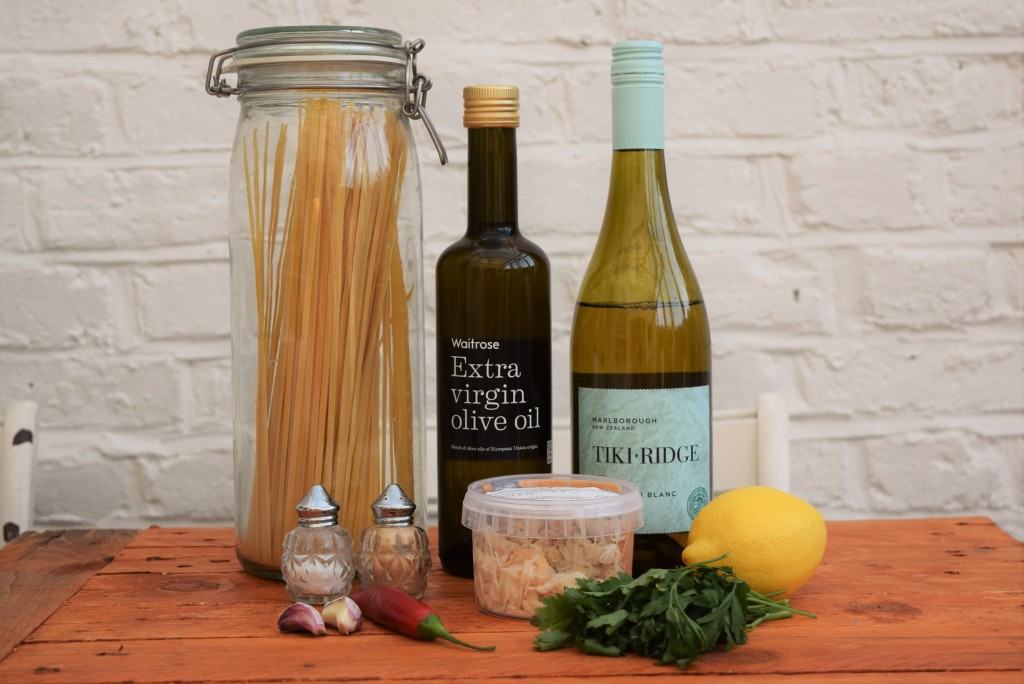 Here's the pasta line up, simple, but with such fresh, tasty ingredients. The original recipe called for 100g brown crab meat and 200g of white, but this 150g pot of a half and half mix of both was just right, and, of course, was on offer on Ocado, so hooray.
Start by putting your linguine on to boil.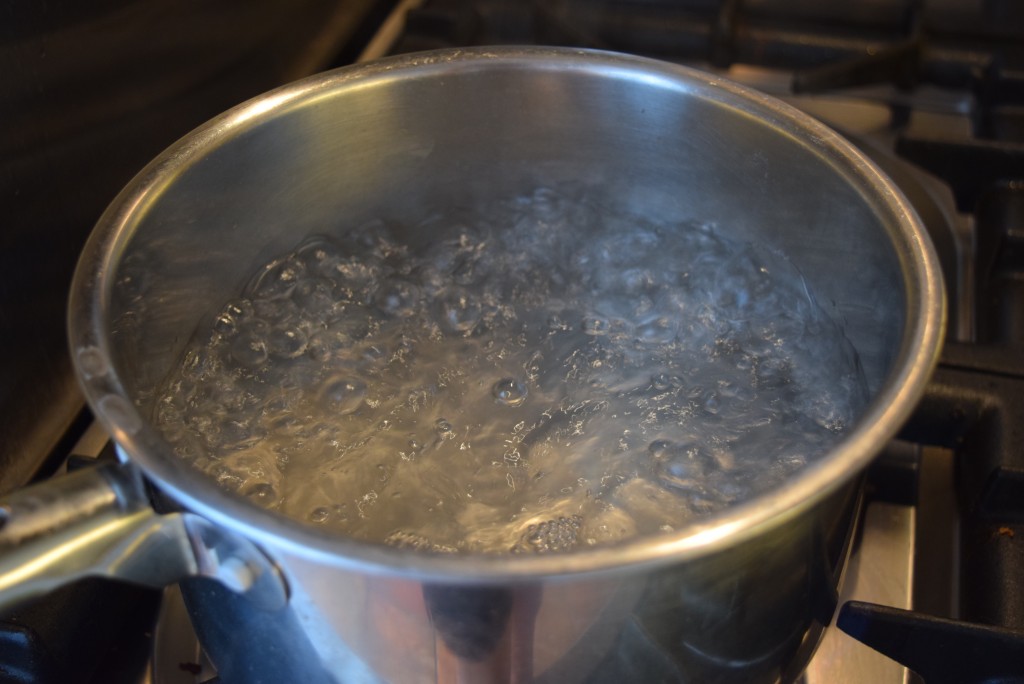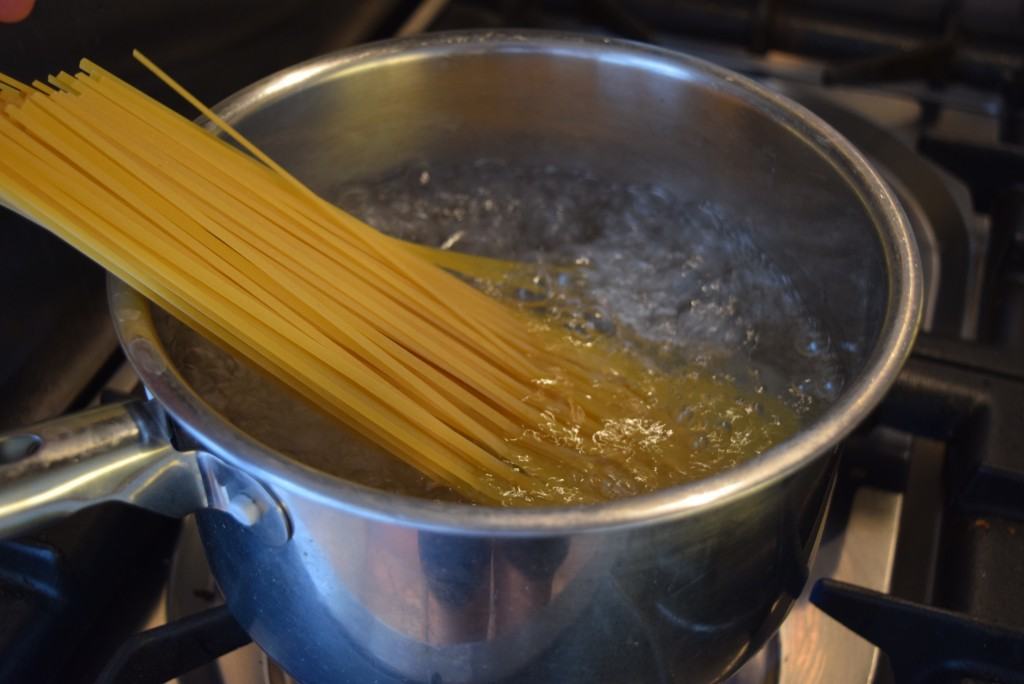 While this is simmering away, chop and deseed the red chilli and chop the garlic. In a large frying pan, heat two tablespoons of good olive oil over a low heat.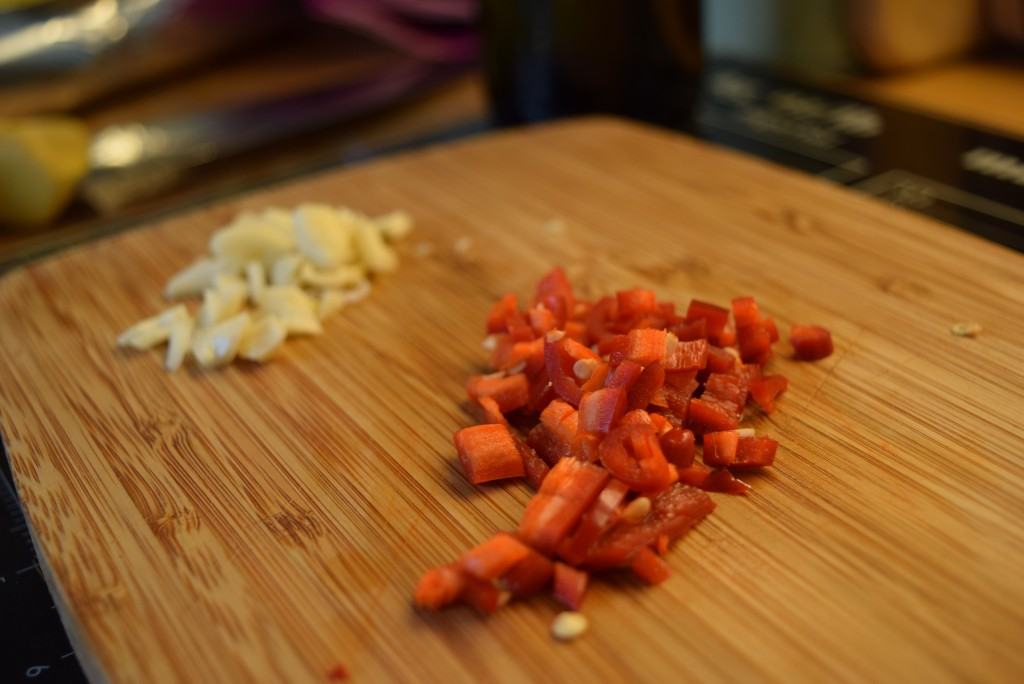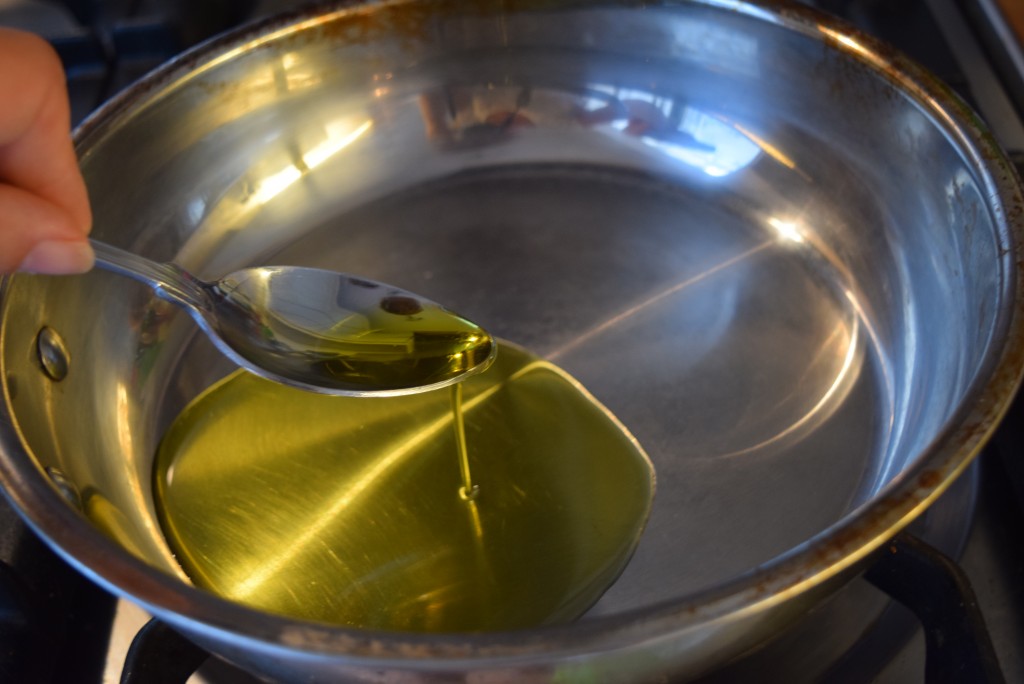 Add the chilli and garlic to the oil and let it sizzle, soften a little and turn just golden.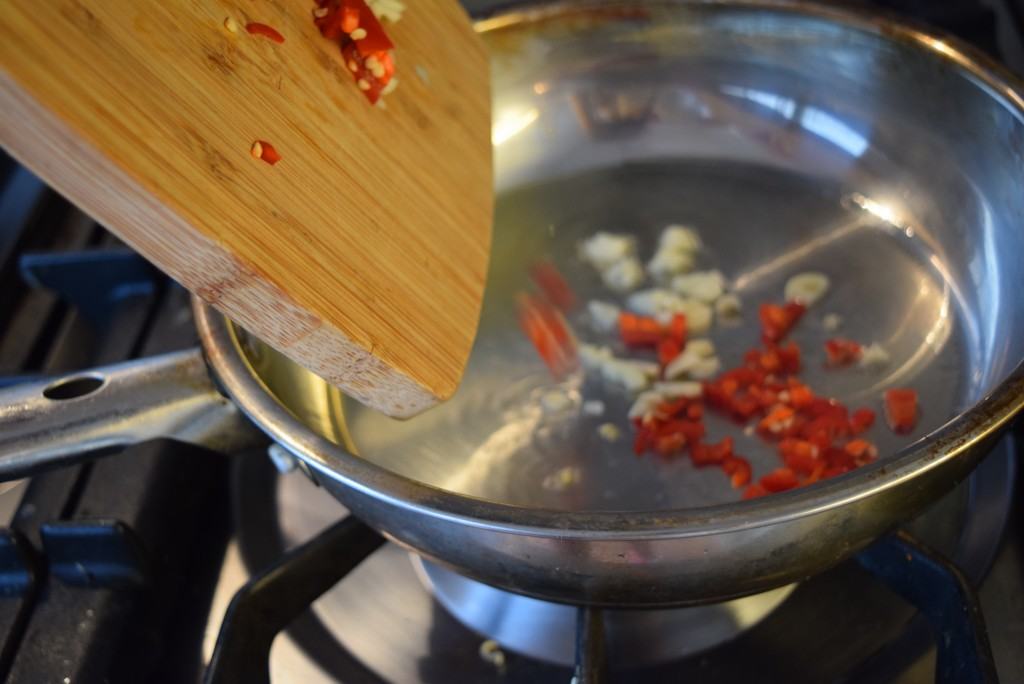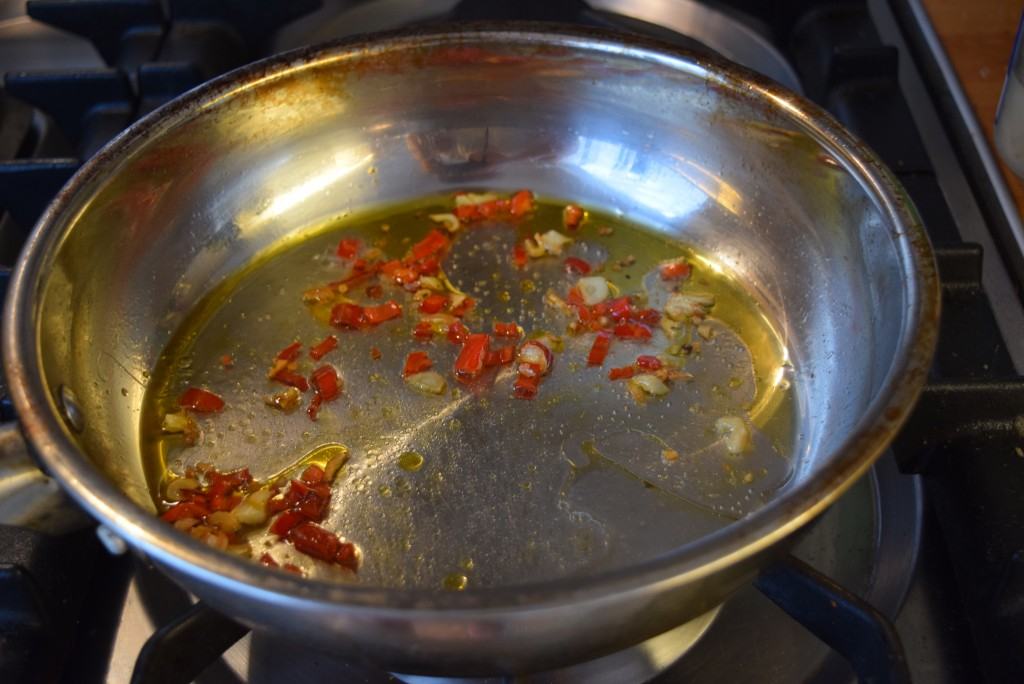 Spoon in the white wine and let this mingle with the oil, chilli and garlic.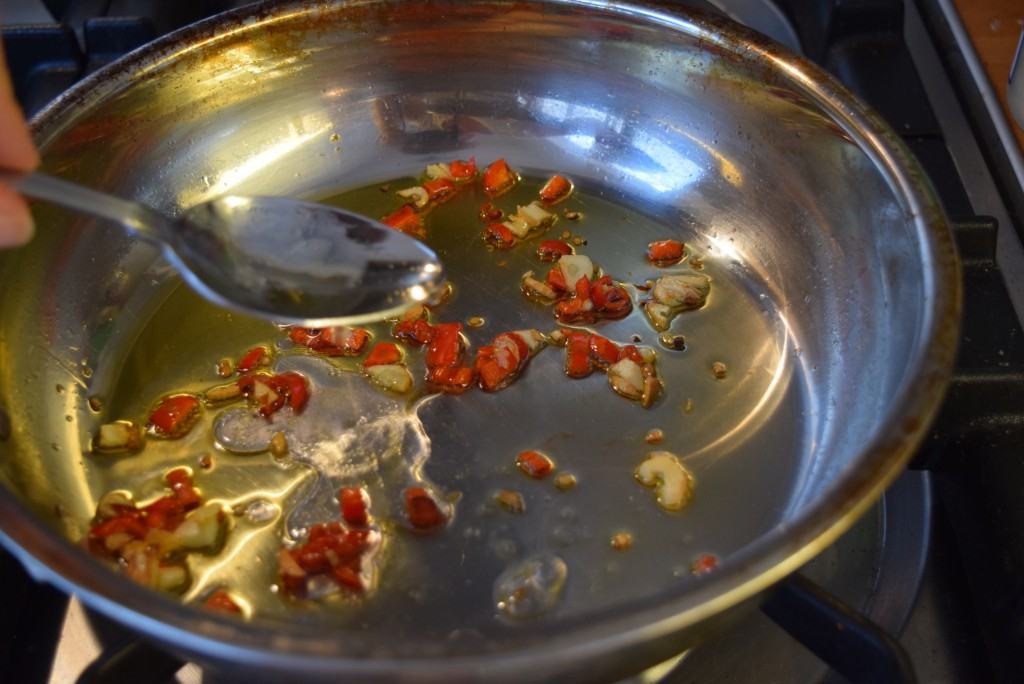 Separate your brown and white crab meat as best you can, remove the pan from the heat then fork the brown meat into the sauce. Blend it into the pan until you have a thick smooth mixture.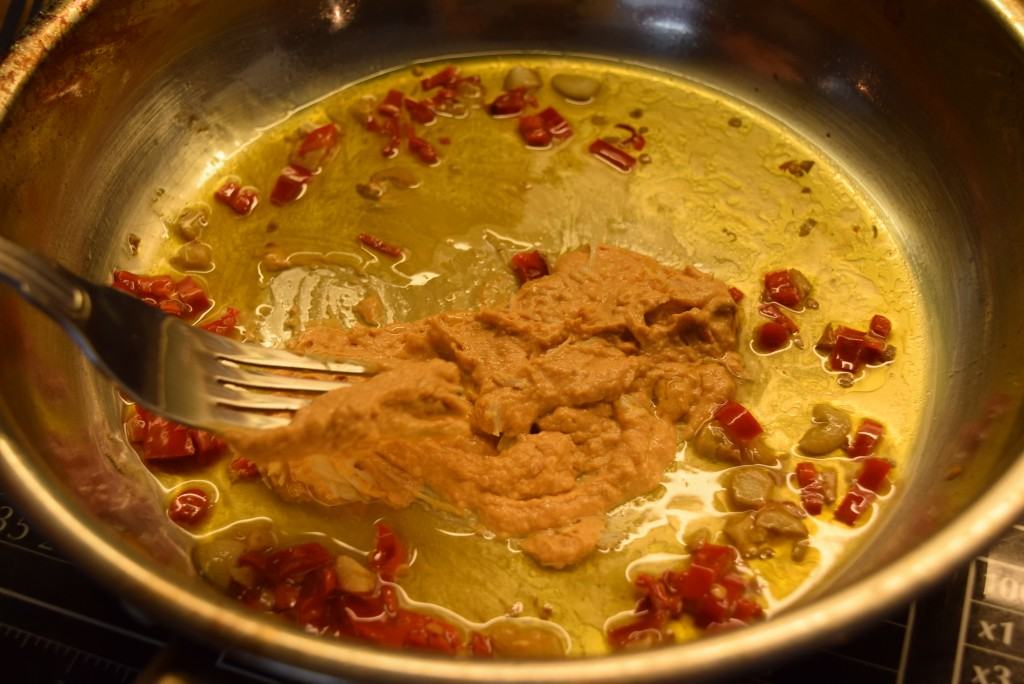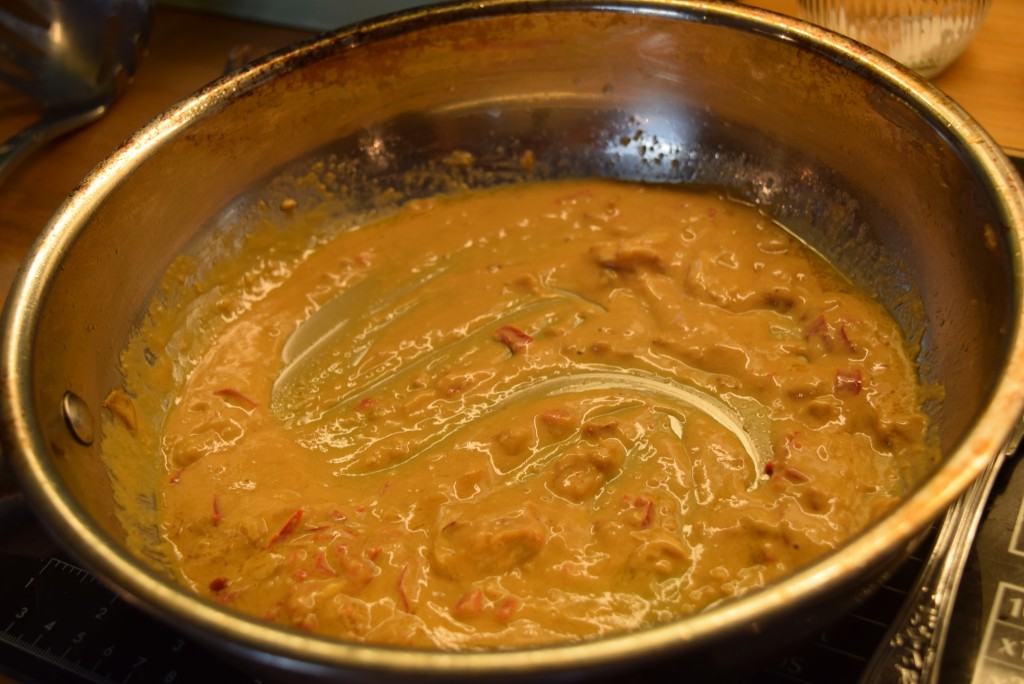 Now, drain the al dente pasta, reserving a little of the cooking water, and add this to the wonderful spiced crab sauce. Stir well to ensure good crab to pasta coverage ratio.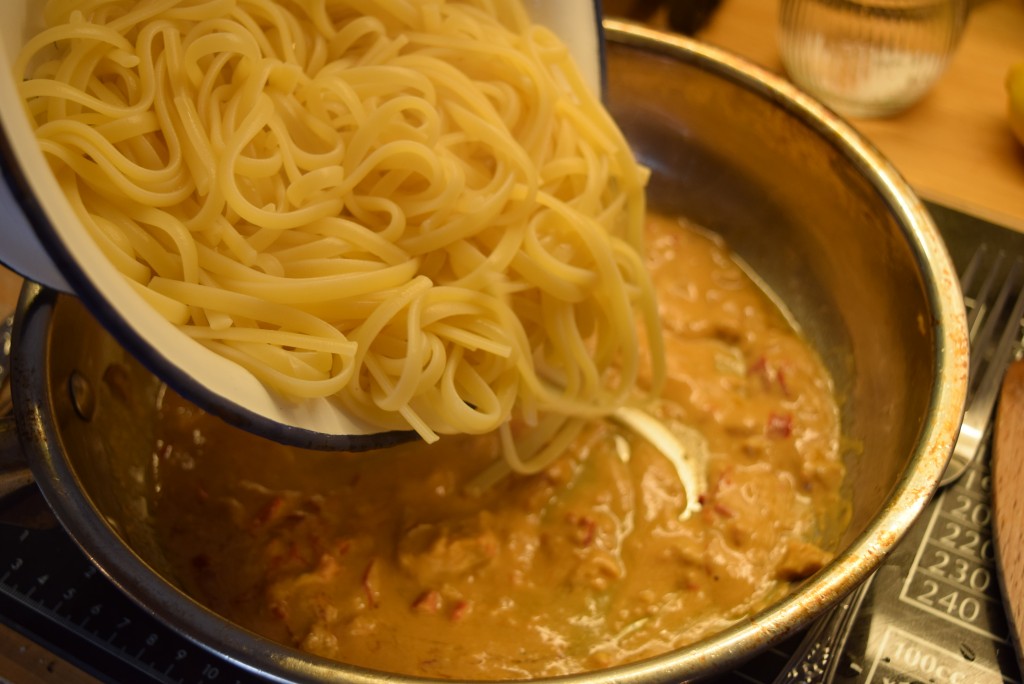 Literally drooling.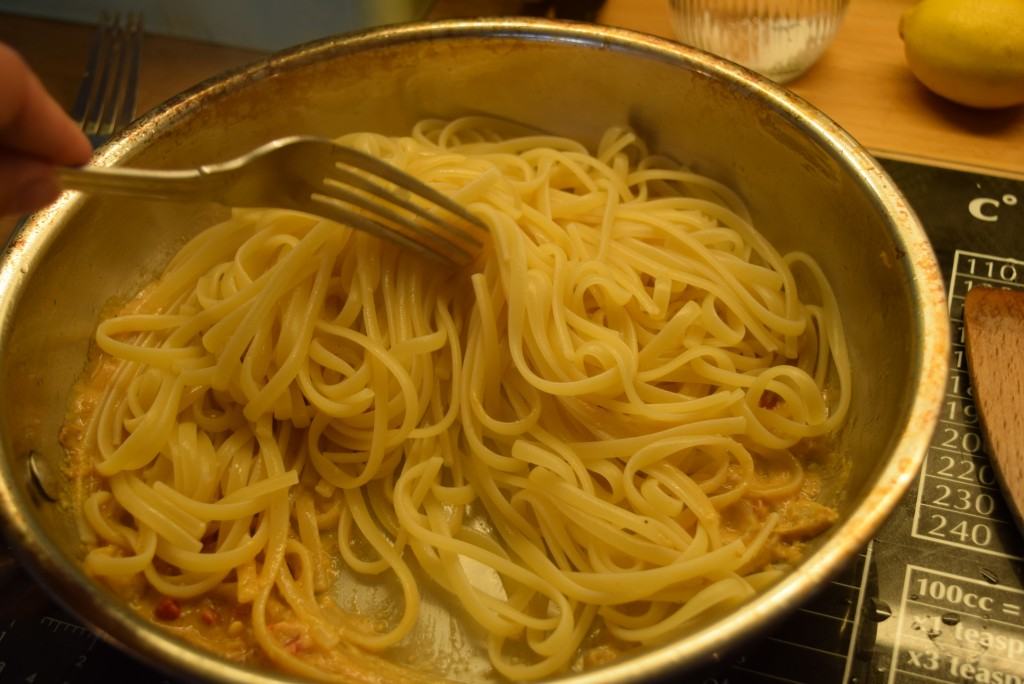 Next add the white crab meat, parsley, a healthy squeeze of fresh lemon juice and check for additional salt and pepper needs.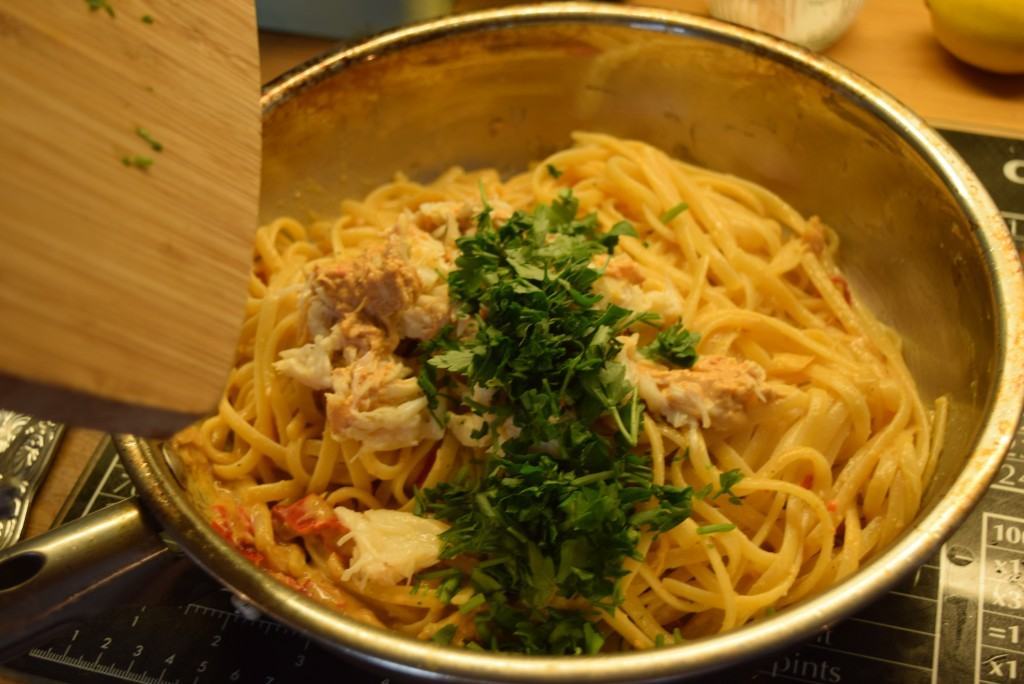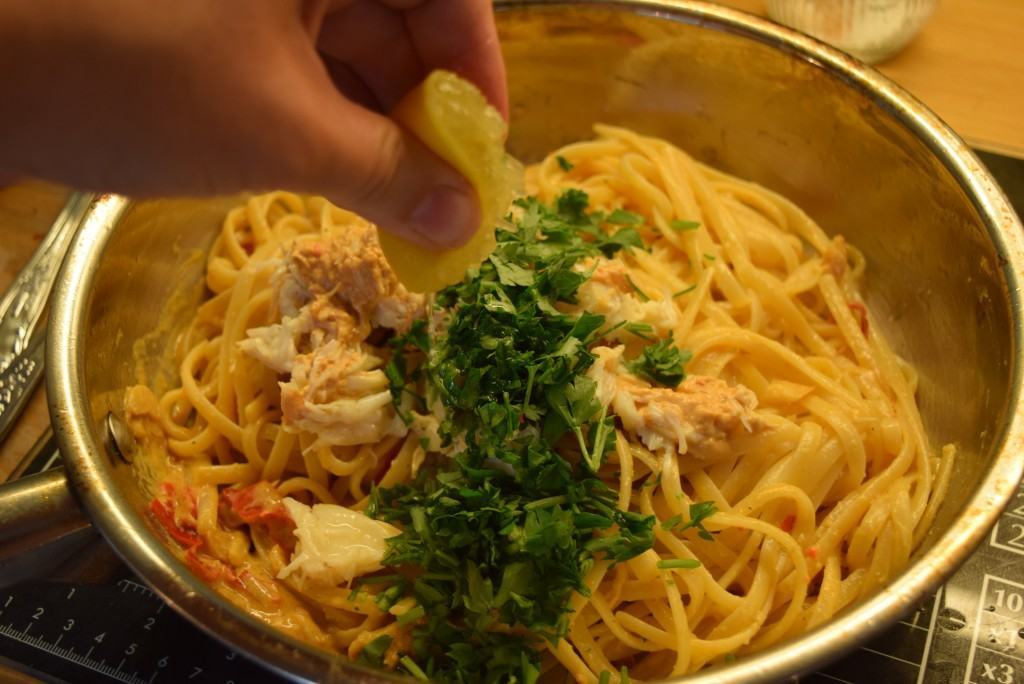 I did quite a bit of 'checking for additional seasoning'.
If the mixture is looking too thick, add an extra tablespoon or two of pasta cooking water. Pop the pan back on the heat for a minute or two, drizzle with an extra tablespoon of olive oil then you are ready to serve this fresh, flavour filled dish.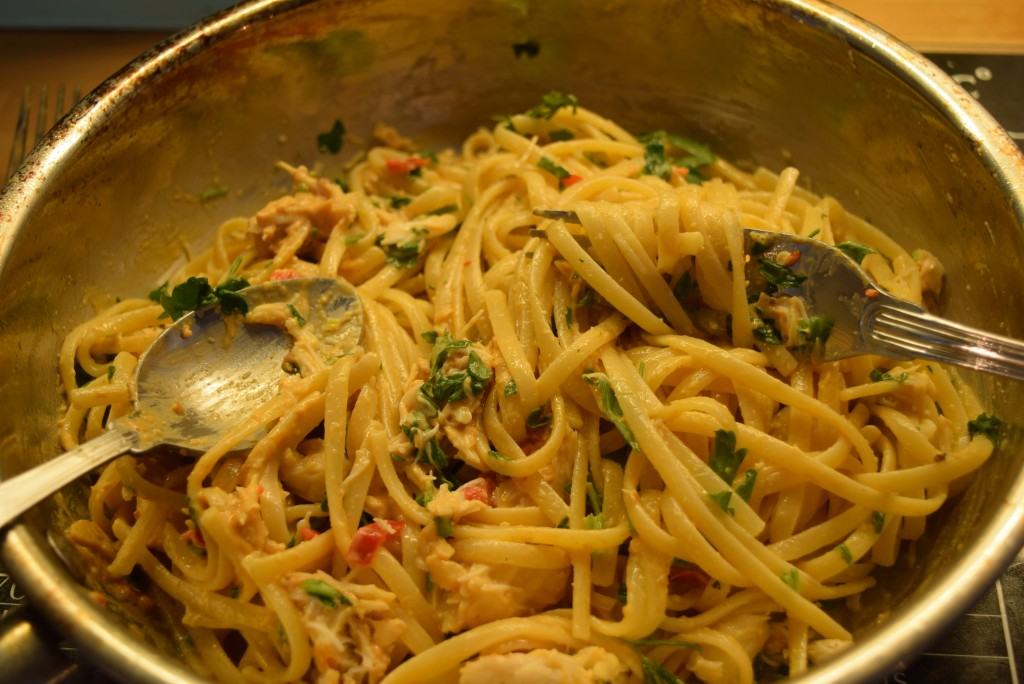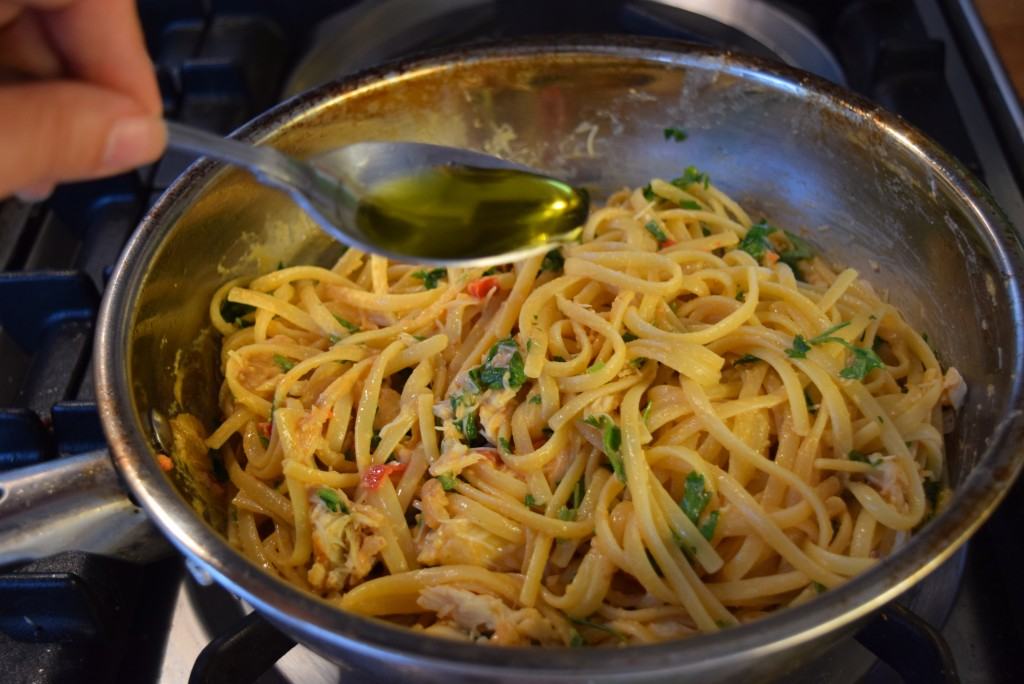 Serve as a generous and love filled main course, or the perfect first course for four.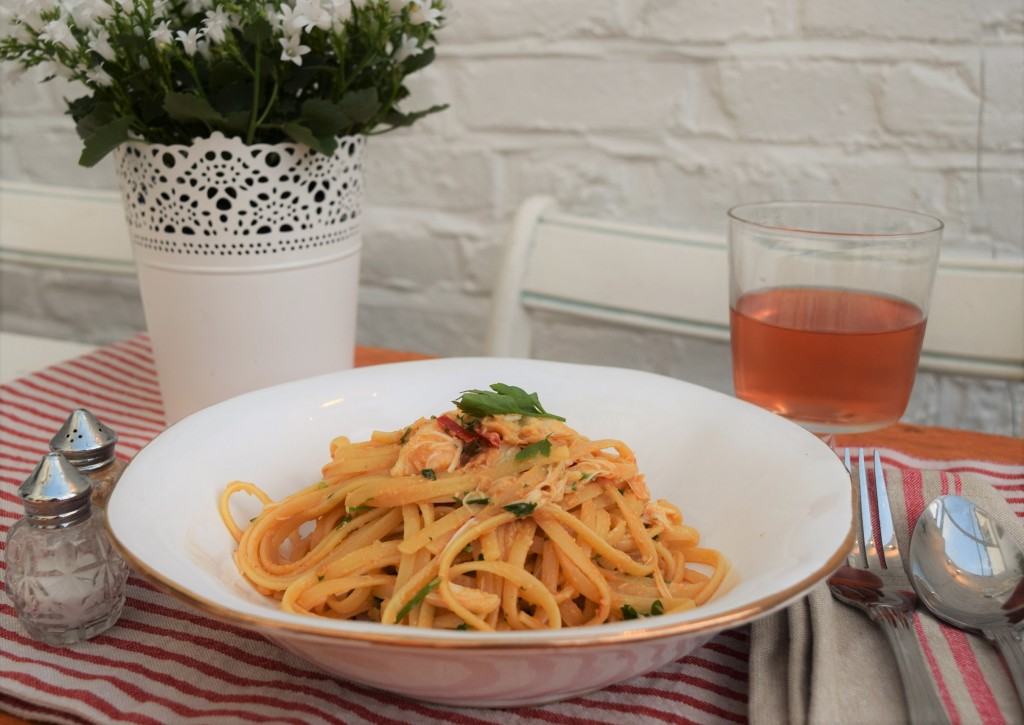 With a big bucket of rosé, before it gets put away for the winter.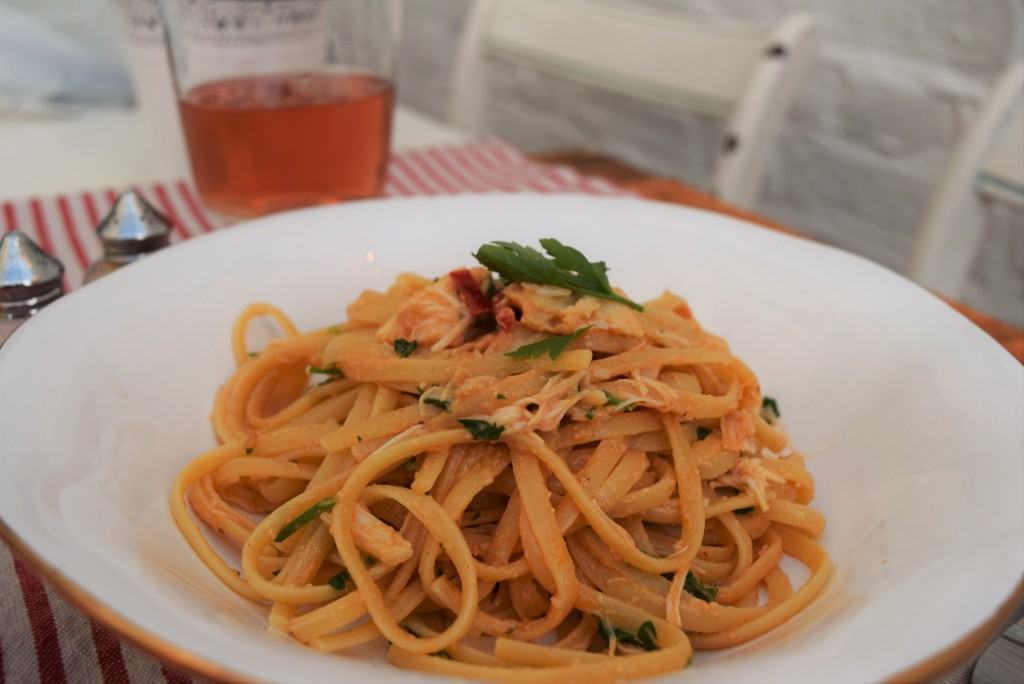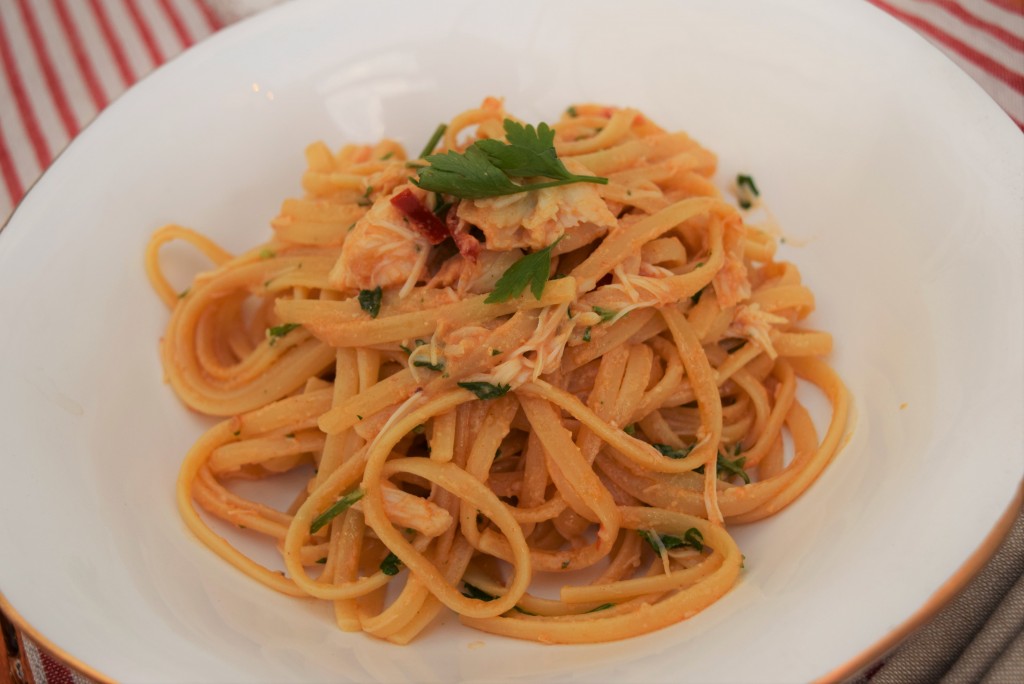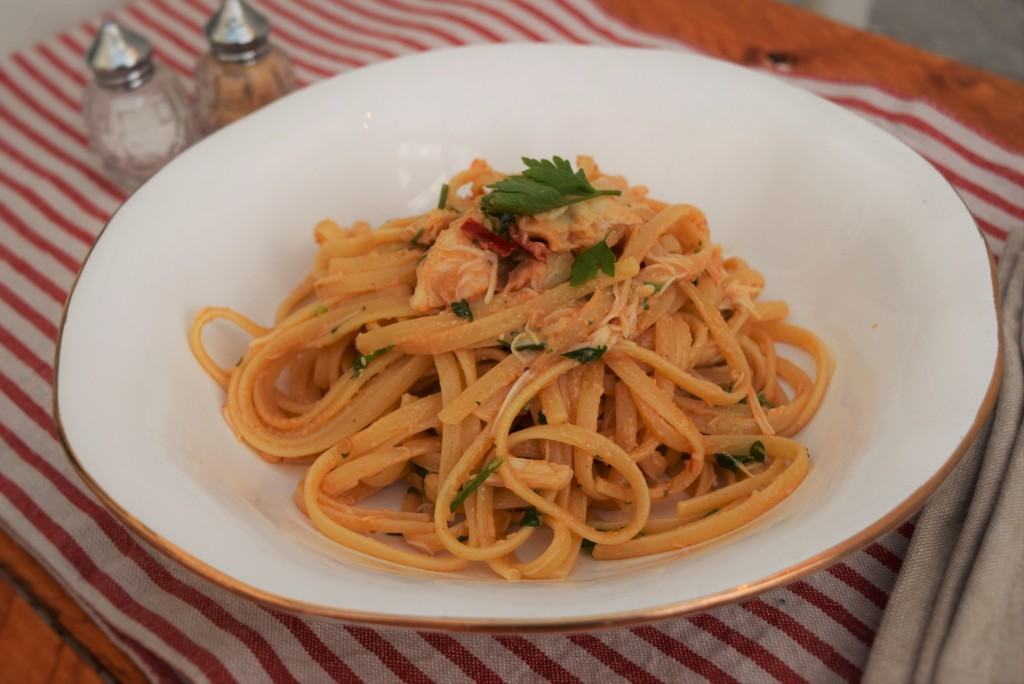 It's good to treat yourself to something delicious and spoiley once in a while, man, or woman, can not live by mince alone, as I am sure the expression goes. And this is a treat, so fresh and tasty, and on the table in less than 30 minutes. That in itself is a treat for me.
Lucy x
Crab Linguine Recipe
Serves 2 to 3 as a main course, or 4 as a first course
300g linguine
3 tablespoons extra virgin olive oil – 2 in the pan, 1 added at the end
1 red chilli, finely chopped and de-seeded
2 cloves garlic, finely chopped
150g brown and white fresh crabmeat – original recipe called for 100g brown and 200g white, but that would have bankrupted me and this was plenty
5 tablespoons white wine
a good squeeze fresh lemon juice
Salt and pepper
finely chopped fresh parsley and a sprig to garnish
Fresh bread, leaves or green veg to serve
Put the linguine on to cook in boiling, salted water. While this is simmering, gently heat 2 tablespoons of olive oil in a large sized frying pan. Add the finely chopped, deseeded chilli and chopped garlic and cook until just starting to colour, just sizzling and softening. Add the white wine, turn up the heat and let the oil and wine bubble for a moment. Take the pan off the heat and add the dark crab meat (don't worry if a bit of white crab gets in here too) and mash this into the sauce with a fork. Once the pasta is cooked, drain, but keep some of the cooking water and then add the linguine to the pan. Stir through the white crab meat, parsley, a big squeeze of fresh lemon juice and some salt and pepper to taste. If the mixture is a little dry, add a tablespoon or two of pasta cooking water. Briefly return to the heat just for a minute or two, drizzle with the last tablespoon of olive oil and ensure the pasta is coated in sauce. Serve immediately with some bread, leaves or a crisp green vegetable.