Giant Cranberry and White Chocolate Hot Cross Bun Recipe
Easter for me this year is proving fairly torturous. It's the time of the year which features some of my most favourite things to eat. Mini Eggs, Cream Eggs, chocolate Easter nests and Hot Cross Buns to name but a few. However, at the moment I am trying to be good, with the summer in mind, so all these tasty treats are off the menu for a while. With dieting, I find it easier to say, I am trying to be good rather than saying I am not boozing, eating chocolate or treats. The minute I start denying myself something only makes me want more.  So, it is with huge diet breaking regret, I bring you today's post, a Giant Cranberry and White Chocolate Hot Cross Bun.
Hot Cross Buns are quite a vice of mine. Back in the day of low fat diets, they were acceptable fare as long as you didn't slather them in butter. So I used to put quite a few away at this time of the year. Sadly, now, being over 40 *by quite some way* and metabolism slowing right down, eating four hot cross buns a day is not the way forward. However, this doesn't stop me treating myself once in a while and my word, this Giant Cranberry and White Chocolate Hot Cross Bun is a huge and oh-so-worth-it treat. Why have one HCB when you can have a huge one studded with dried cranberries and white chocolate chips. This loaf-like bake slices up into soft slabs, flavoured with cinnamon, perfect covered in butter or toasted until golden and warm. Social media is full of pics of hot cross buns filled with crisp bacon to make seasonal bacon butties. Slices of this Giant Cranberry and White Chocolate Hot Cross Bun would be just perfect to house some crispy bacon, don't knock it until you've tried it. This recipe is a meddled with one from Queen Delia Smith, with thanks to her majesty.
This Easter, some things are just worth devouring and this Giant Cranberry and White Chocolate Hot Cross Bun is one of them. Warm from the oven or toasted the day after or even in a bacon sandwich, a thick slice of this is just what's called for now spring's here and Easter's just round the corner.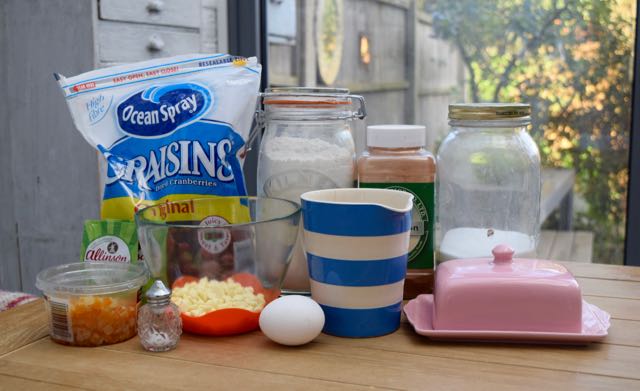 Here's the line up for my Giant Cranberry and White Chocolate Hot Cross Bun. It's quite flexible, however, I included all my favourite things and avoided mixed spice, as it's not a fave with my family. But add or omit the things which you and your family love. Raisins and dark chocolate chips would be as amazing in this.
My recipe creating was made all the easier this week by my friends at Aldi and their beautiful Easter Specialbuys bowl set. They are super cute looking, practical as they are dishwasher and microwave safe and they have nifty little removable silicone bottoms to stop them slipping while you are mixing. Ingenious and only £9.99 for three, so also a bargain.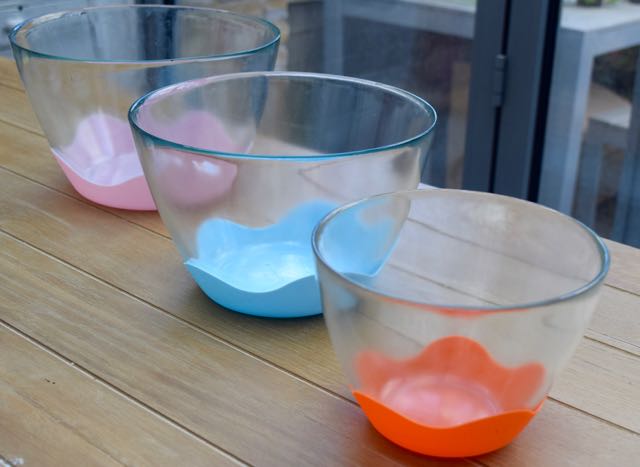 Sales pitch aside, this is a no knead recipe, making it simple as well as delicious. Make a start by taking a lovely big bowl, I chose the biggest one with the pink bottom. Add the flour, 2 sachets of yeast and the salt. Keep the salt and yeast on opposite sides of the bowl at this stage as the salt can kill the yeast if it makes direct contact too early.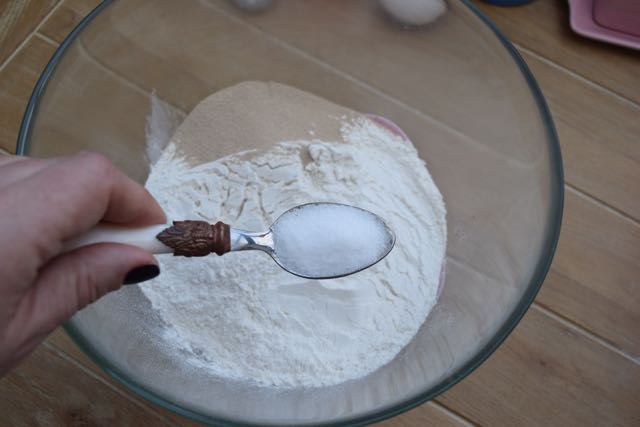 Give this a little mix then tip in your choice of dried fruit and chocolate additions. Mine were my beloved Craisins and white choc chips, the combination of which I love love love.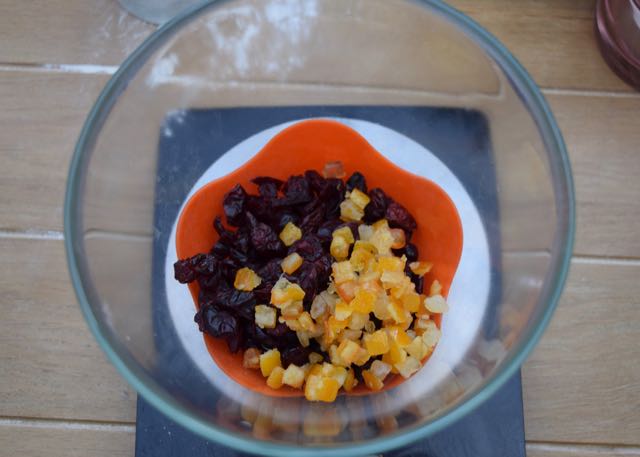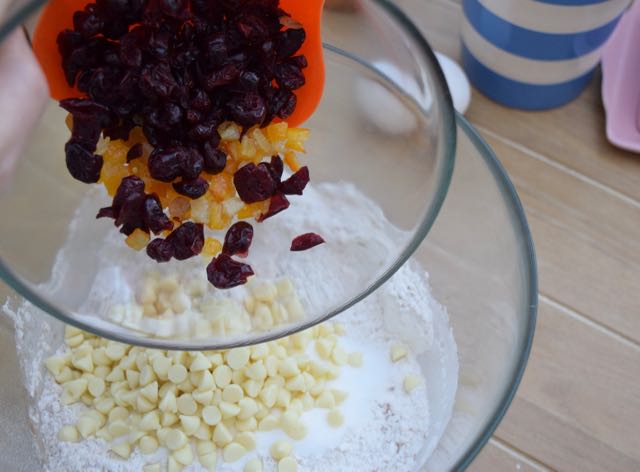 Stir again then make a well in the centre of the mix to take delivery of the super soft butter, egg and warm milk and water. The milk and water should just be hand hot, i.e. hot enough to stick your finger in without scalding yourself.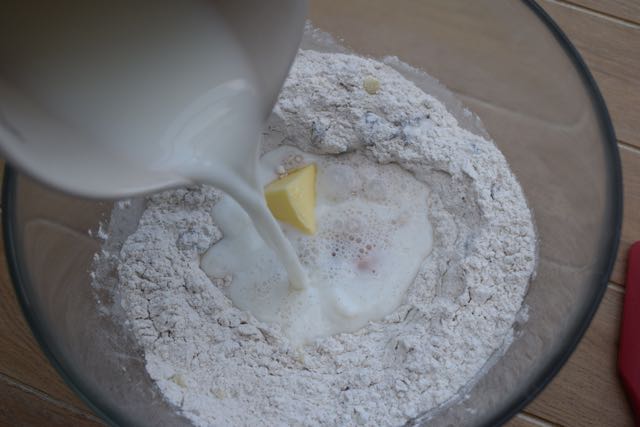 Go in with a spatula at first then go hands deep to fashion this into a soft dough. No knead to need this, hooray for that.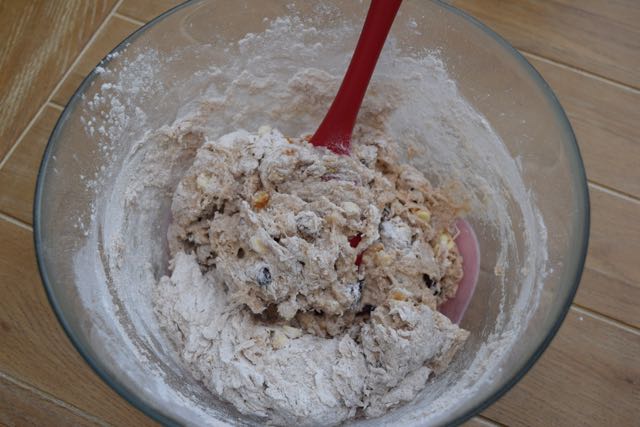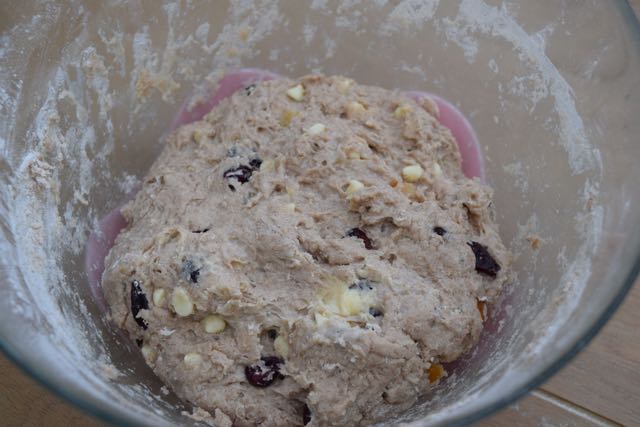 Cover in cling film then top with a clean tea towel then leave, in a draft free warm-ish place, for at least an hour and a half if not two hours to double in size.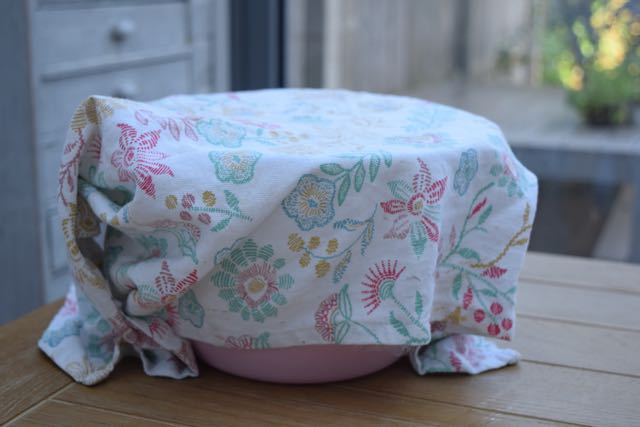 When the time is up, remove the soft dough from the bowl and knock it back/knead for a moment on a floured board then fashion into a giant hot cross bun sort of shape and place on a lined baking sheet.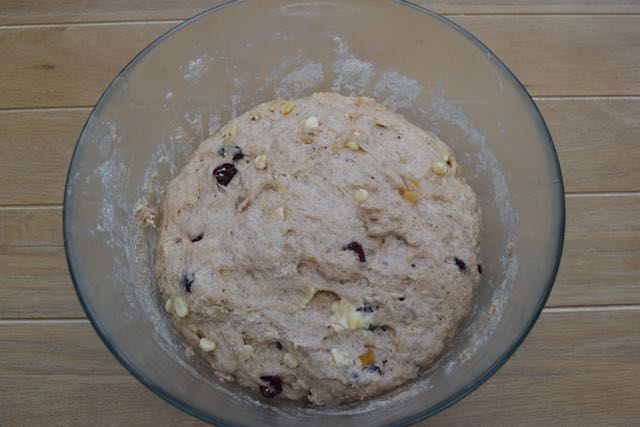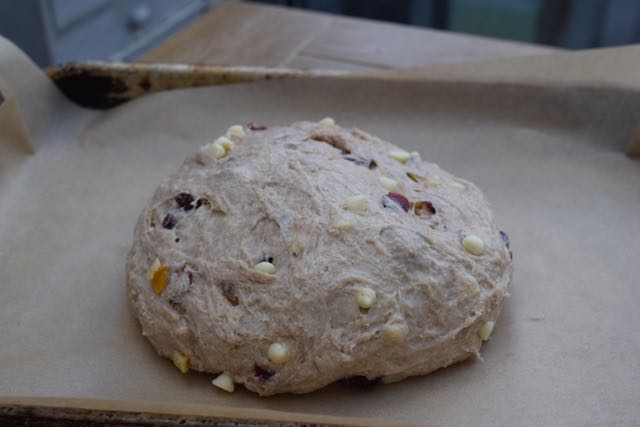 Cover this in the cling film and tea towel combo for a second time then leave for another 45 minutes or until risen again.
While the magic happens, make the paste for the Giant Hot Cross Bun cross. Take another lovely bowl and mix together 2 tablespoons of flour, water and milk until you have a smooth paste.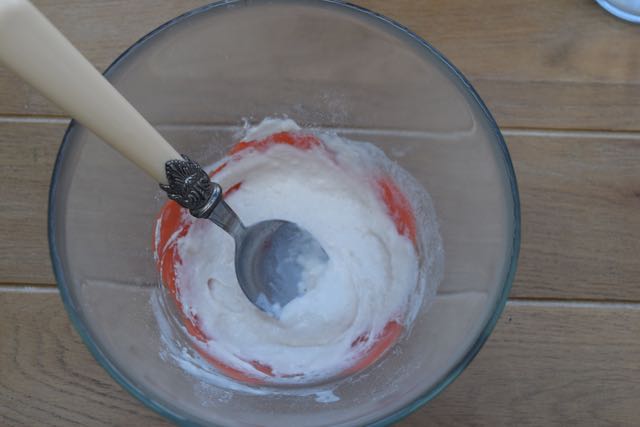 Spoon this into a tiny piping bag or a food bag with the corner cut off, ready to pipe onto the risen giant bun.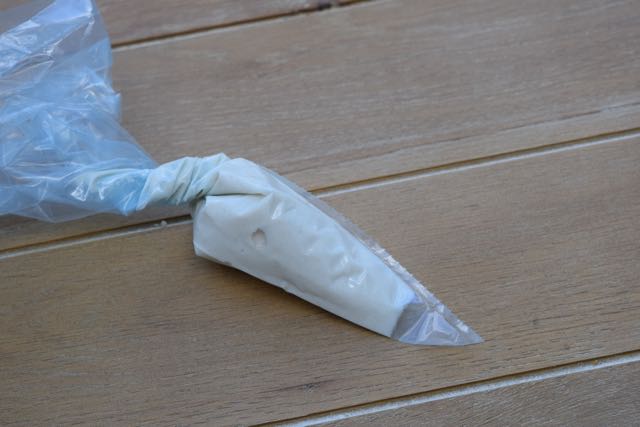 Once it's risen, pipe a lovely big cross on the top of your bun.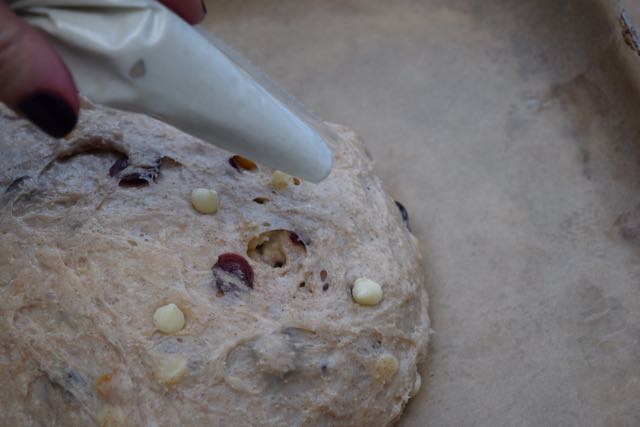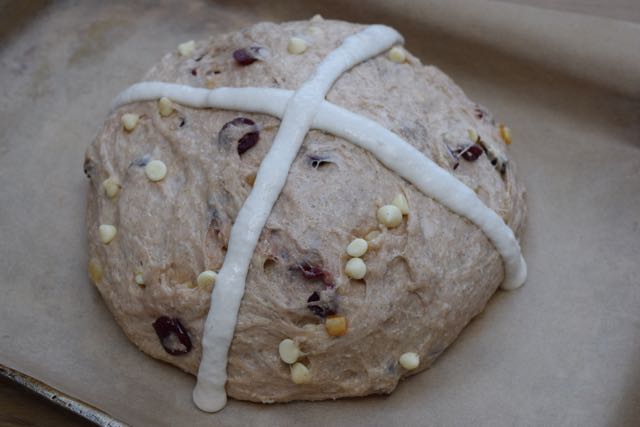 Bake this huge ball of all things delicious in a pre heated oven for 35 to 40 minutes or until hollow when tapped on the bottom, golden brown and smelling divine.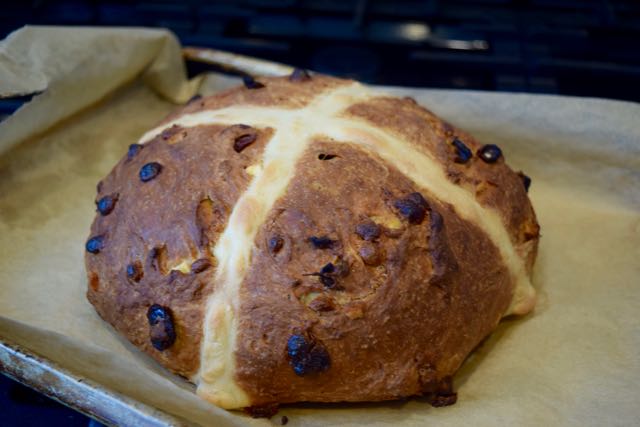 For the glaze, mix together water and caster sugar and drizzle over the still hot bun for extra shine.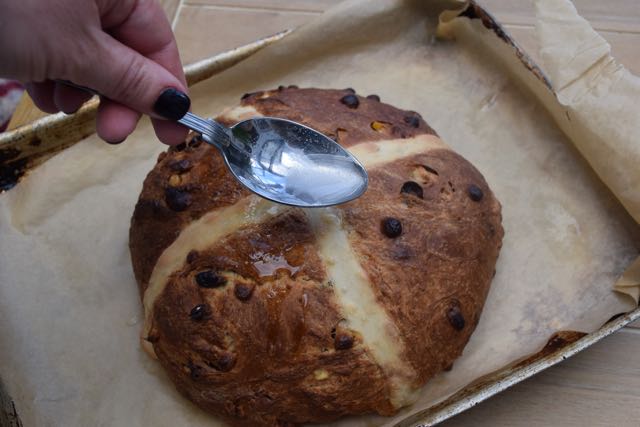 Leave this to cool for as long as you can bear then serve in fragrant slabs, with a good slathering of butter.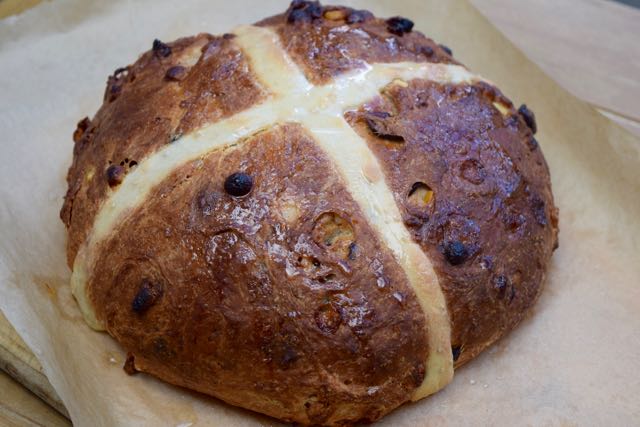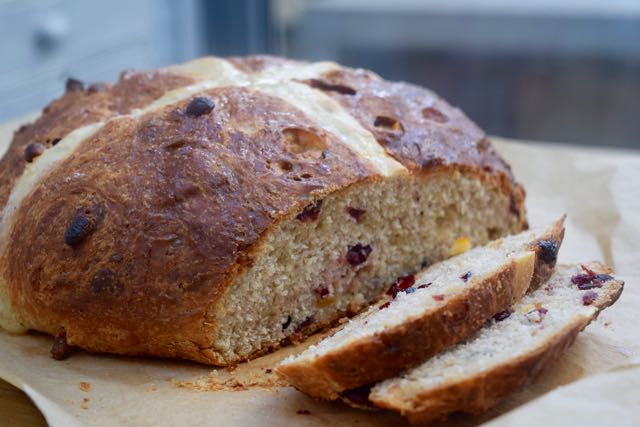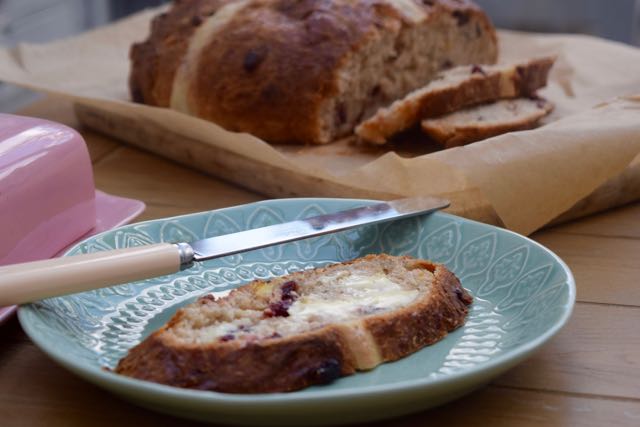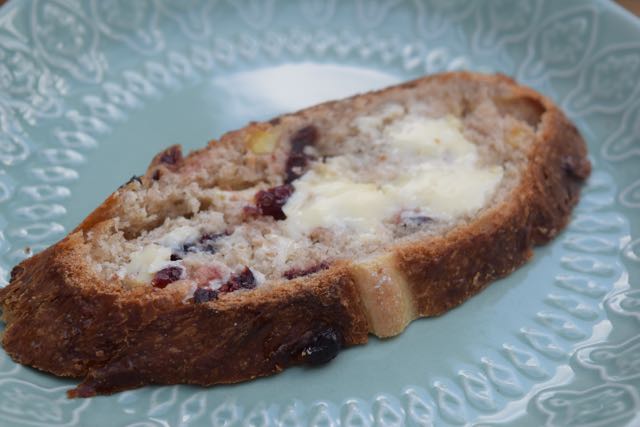 I didn't get round to toasting this batch and trying it with bacon for the ultimate Easter breakfast treat. However, this will definitely be on the menu when I make a couple of these giant buns to amuse my family over the long Easter weekend.
Lucy x
Aldi kindly provided me with the mixing bowls in this post, however, all rambling and opinions are, as always, my own.
Giant Cranberry and White Chocolate Hot Cross Bun Recipe
Makes 10 to 12 slices, either thin or doorstep
Bun
450g strong white bread or plain white flour
2 sachets dried yeast, around 4 teaspoons
50g caster sugar
1 teaspoon salt
1 teaspoon cinnamon
3 teaspoons mixed spice, optional
75g dried cranberries, or raisins or sultanas if you prefer
25g mixed peel, optional
100g white chocolate chips, or dark or milk
50g very soft butter
1 egg
150ml hand hot milk
75ml hand hot water
Crosses
2 tablespoons plain flour
2 tablespoons milk
2 tablespoons water
Glaze
1 tablespoon caster sugar
2 tablespoons water
Take a large bowl and add the flour, salt, yeast and cinnamon and mixed spice if you are using. Give this a little mix.
Tip in the dried fruit, chocolate and sugar, mix again then make a well in the centre of the bowl. Add the soft butter and egg to the well then pour in the hand hot milk and hand hot water. Mix with a spoon then go in with your hands to create a soft and well mixed dough. There's no need to knead this, just mix well.
Fashion into a ball then put back into your bowl covered in cling film. Cover the bowl in a tea towel then leave in a warm, draft free place for an hour and a half to two hours until the dough has doubled in size.
Once the dough has risen, turn it out, give it a little knead then fashion into a large bun shape. Place this onto a lined baking sheet then cover in cling film. Cover this in a tea towel then leave for another 45 minutes to rise again.
For the crosses, take a small bowl and spoon in the flour, milk and water. Mix into a smooth paste then spoon into a small piping bag or a food bag with the corner cut off.
Pre heat the oven to 170 degrees fan assisted. Once the second rise has finished pipe the cross onto the top of the bun and put into the pre heated oven for 35 to 40 minutes. The giant hot cross bun is cooked when the bun sounds hollow when tapped on the bottom, is golden brown and firm. While still hot mix the water and the sugar and spoon/brush this over the bun.
Leave to cool slightly before serving in thick slices slathered in butter. This will keep, well wrapped, in your bread bin for 4 to 5 days. It makes wonderful toast.