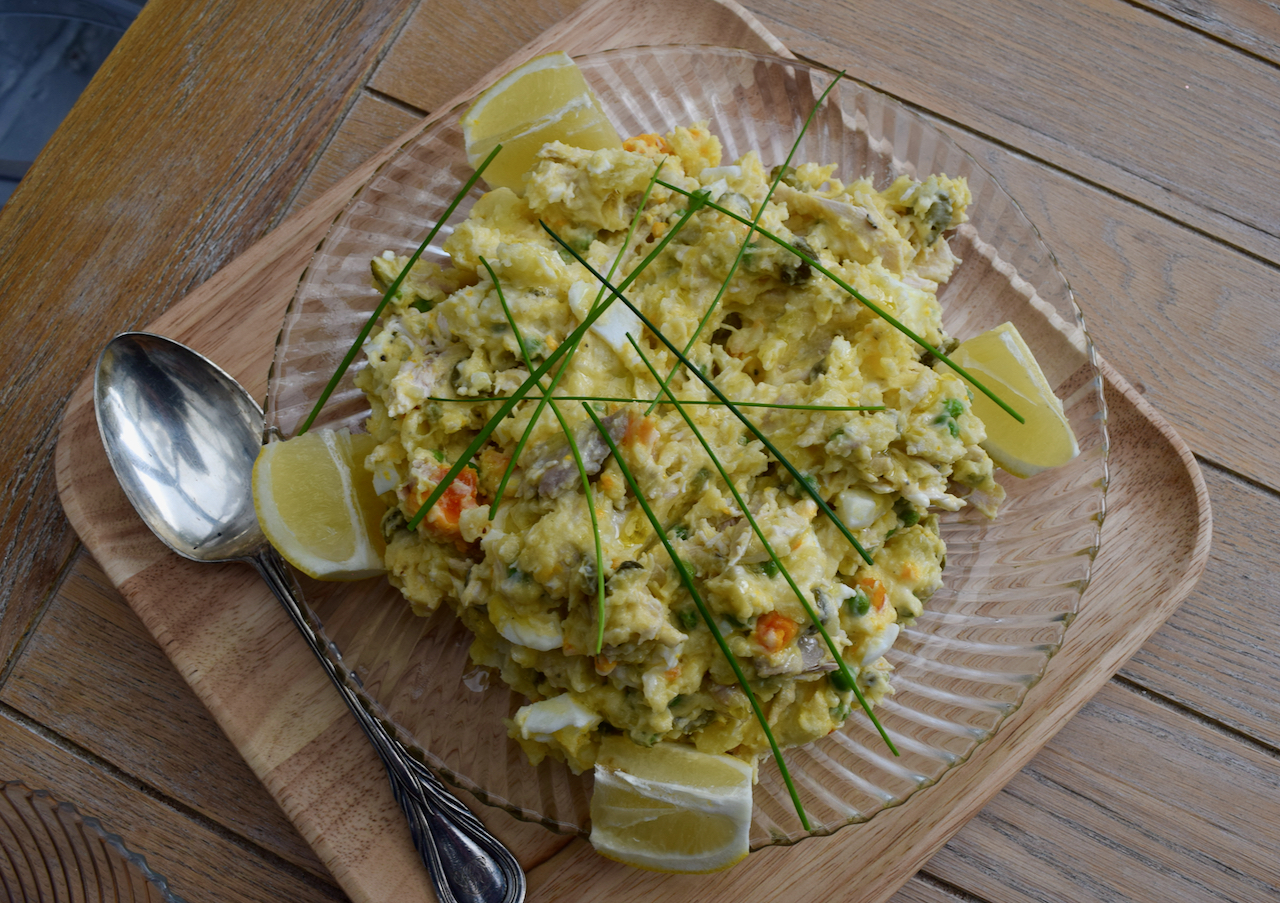 Persian Potato Salad recipe
Throughout lockdown we have treated ourselves to a weekly takeaway. The struggle to choose a restaurant we could all agree on was very real, based on several key pointers. a) George is fussy b) I only ever really wanted a burger or fried chicken and c) we didn't have much money to spare. All these factors led to our local Persian restaurant on more than one occasion for their amazing chicken kebabs and fragrant rice. But for me, there really was only one dish I wanted and that was their Salad Olivieh. Such is my love for this Persian Potato Salad, I've learnt to make my own.
Thankfully, I didn't have to go cap in hand and ask Fanoos for their recipe as the lovely Suzanne, via Food 52, had done all the hard work for me. Her recipe is just amazing, the perfect mixture of potatoes, cooked chicken, eggs, and cornichons. The tart dressing is a mixture of lemon juice, olive oil and mayonnaise, making it not too sickly and desperately moreish. This is a main course salad, filling and packed with everything you could wish for in a summer lunch. The potatoes are lightly smashed, the chicken is shredded and the eggs are chopped, this recipe is all in the preparation. Get it ready, pop in the fridge then whip it out as part of a spread or just with some homemade flatbreads or my no knead focaccia *I know it's Italian, but I love it*.
Summer is the time for keeping the oven off, getting out into the garden to eat and for devouring large bowls of Persian Potato salad. And now I don't have to order it from a restaurant, I will be eating this a lot.
This is such a delicious line up, so full of flavours, all complimenting each other beautifully. I bought one of those herb and garlic chickens you roast in a bag for this and it was just perfect, but you could just roast some chicken breasts or use chicken from a leftover roast. My peas were frozen, which I defrosted by pouring a kettle of water over them and leaving them to drain.
Start my favourite potato salad of all time with the potatoes. I used a Charlotte variety, which I wouldn't ordinarily peel, but I did for this as I didn't want potato skin in my salad. Boil them until they are almost cooked through, for around 15 minutes, size dependent.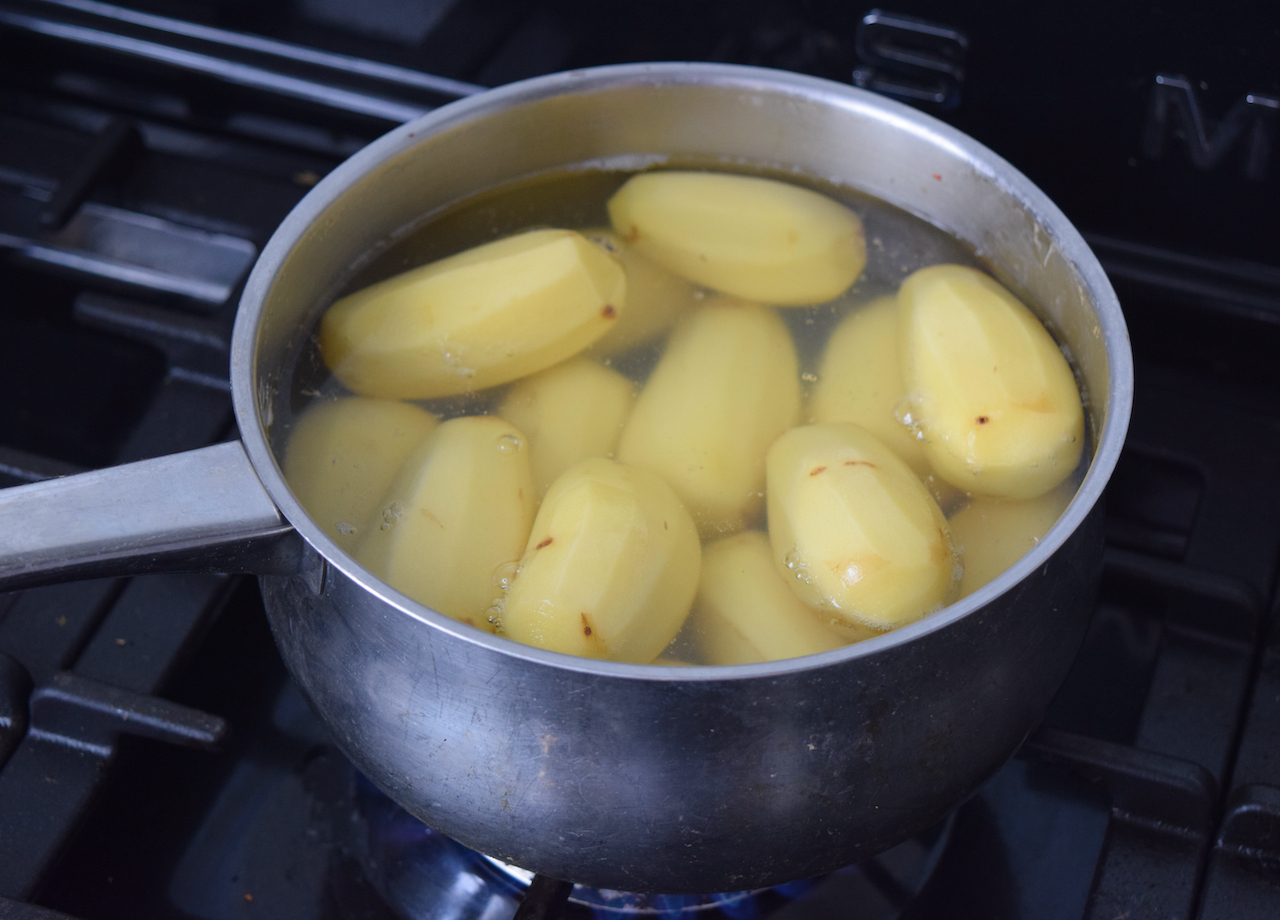 Drain them then run under cold water to stop them cooking any further, then drain again. Tip them back into the pan then, using a potato masher, give them a bit of a mash. Think crushed rather than total puree.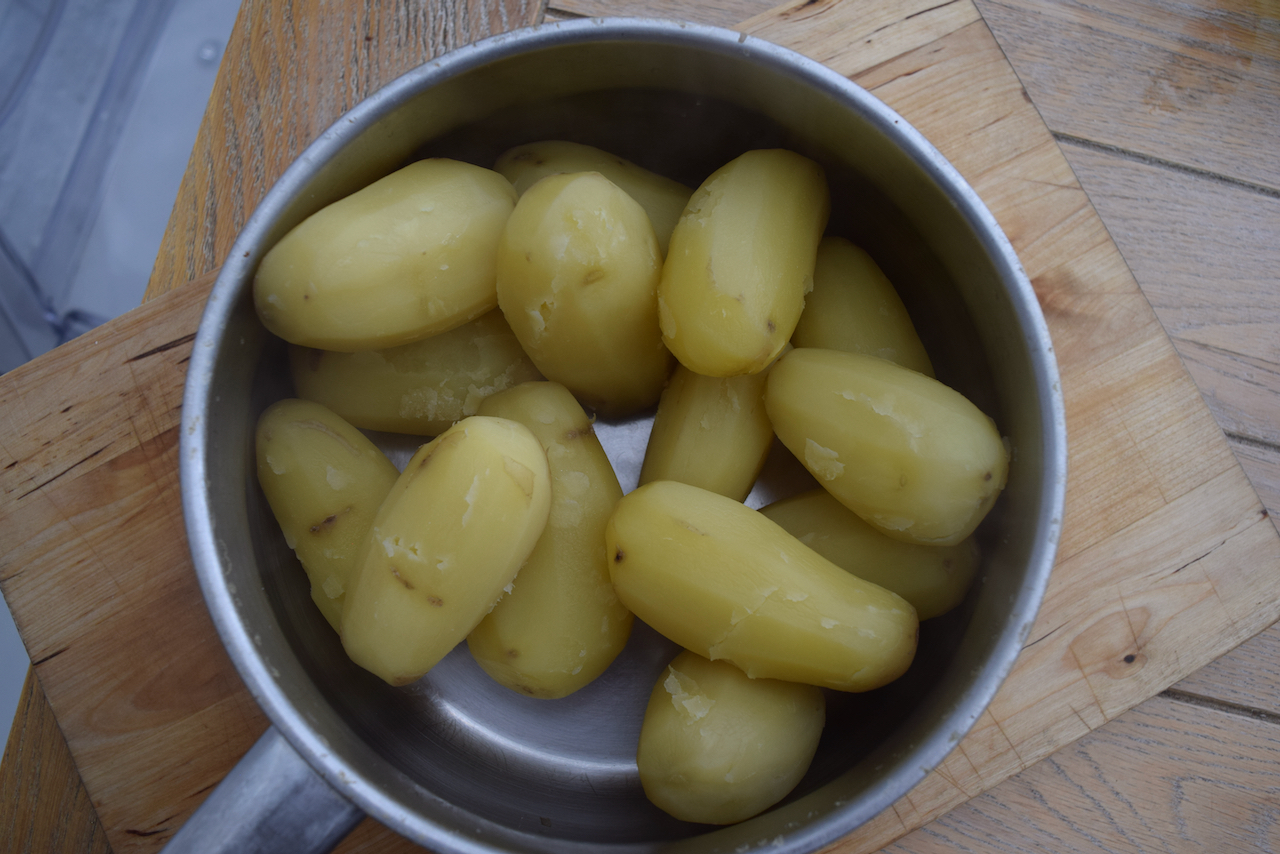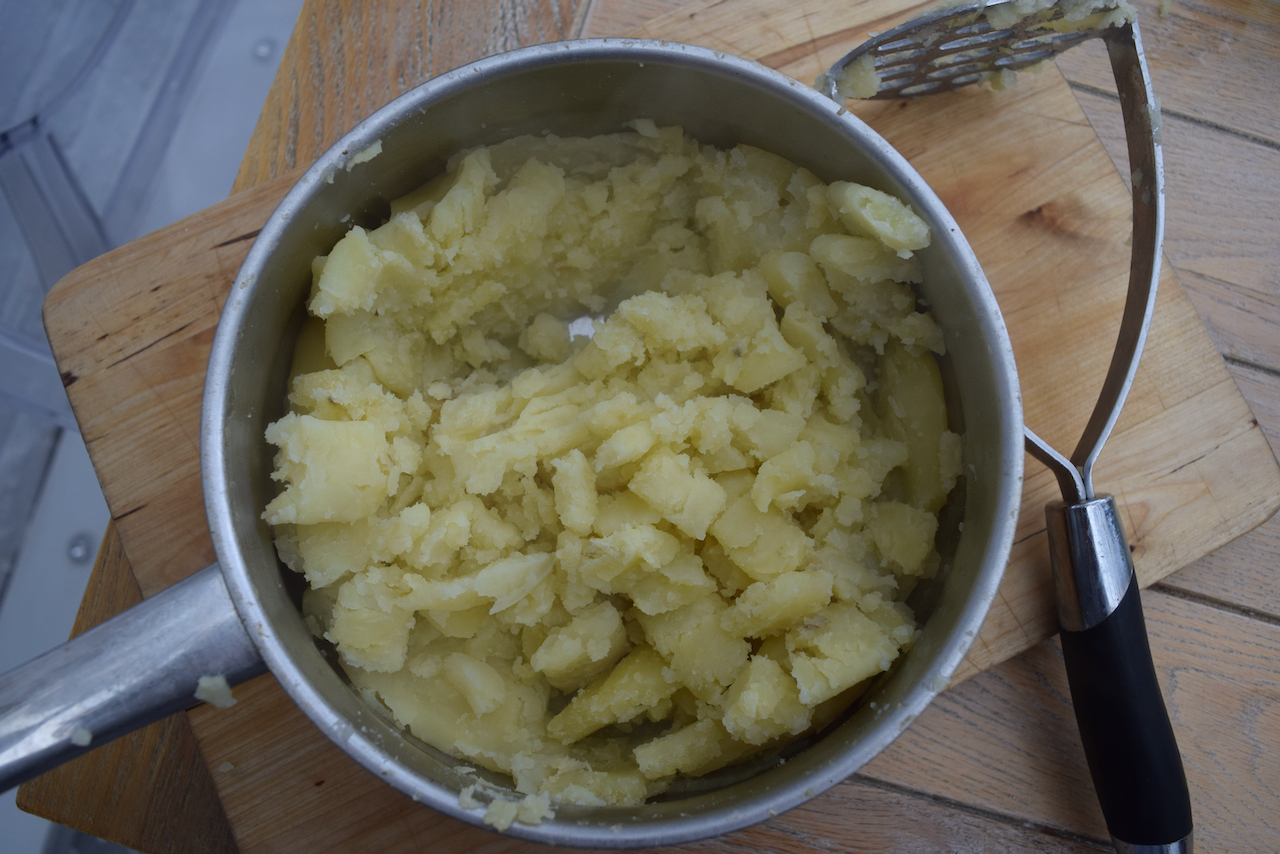 Leave them to one side while you chop the cornichons then add them to a large bowl with your peas.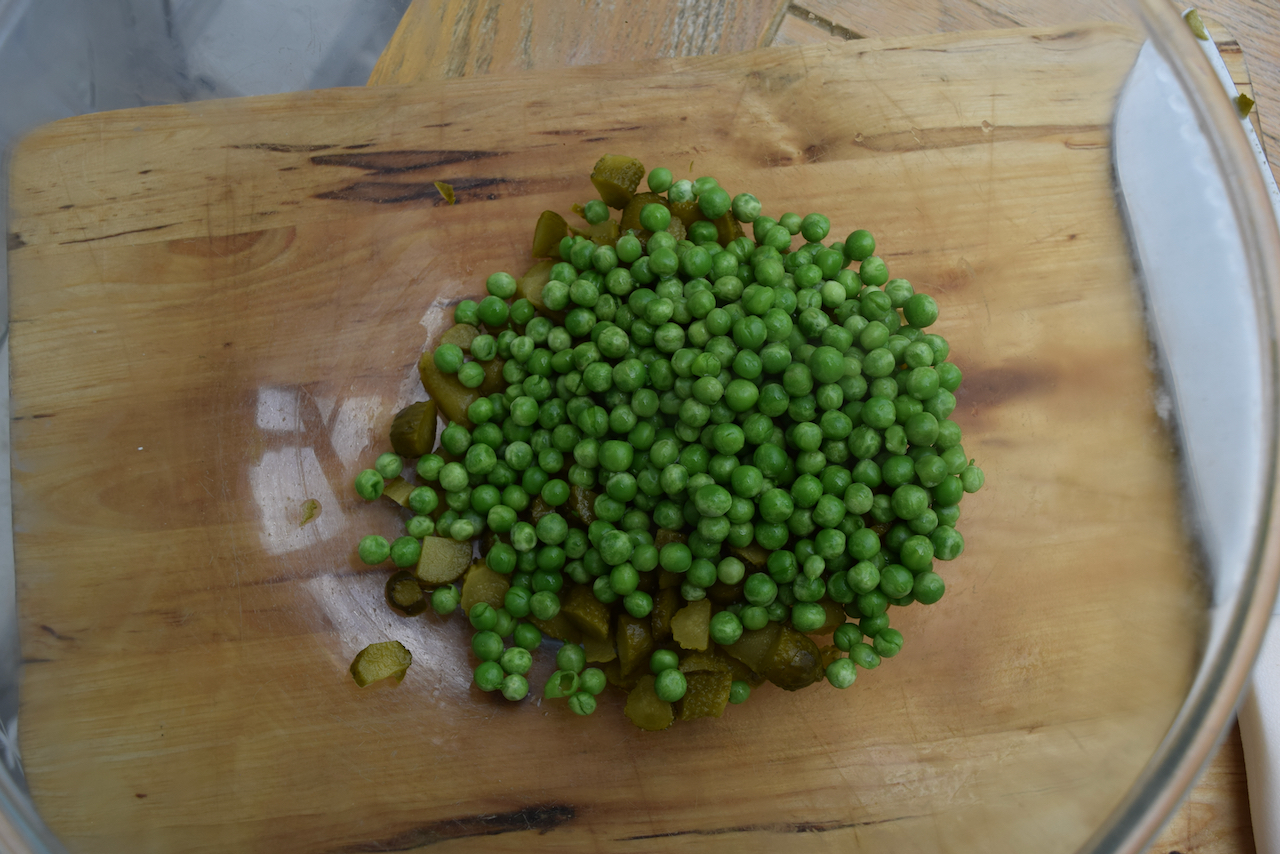 Add the cooked chicken and your hard boiled egg.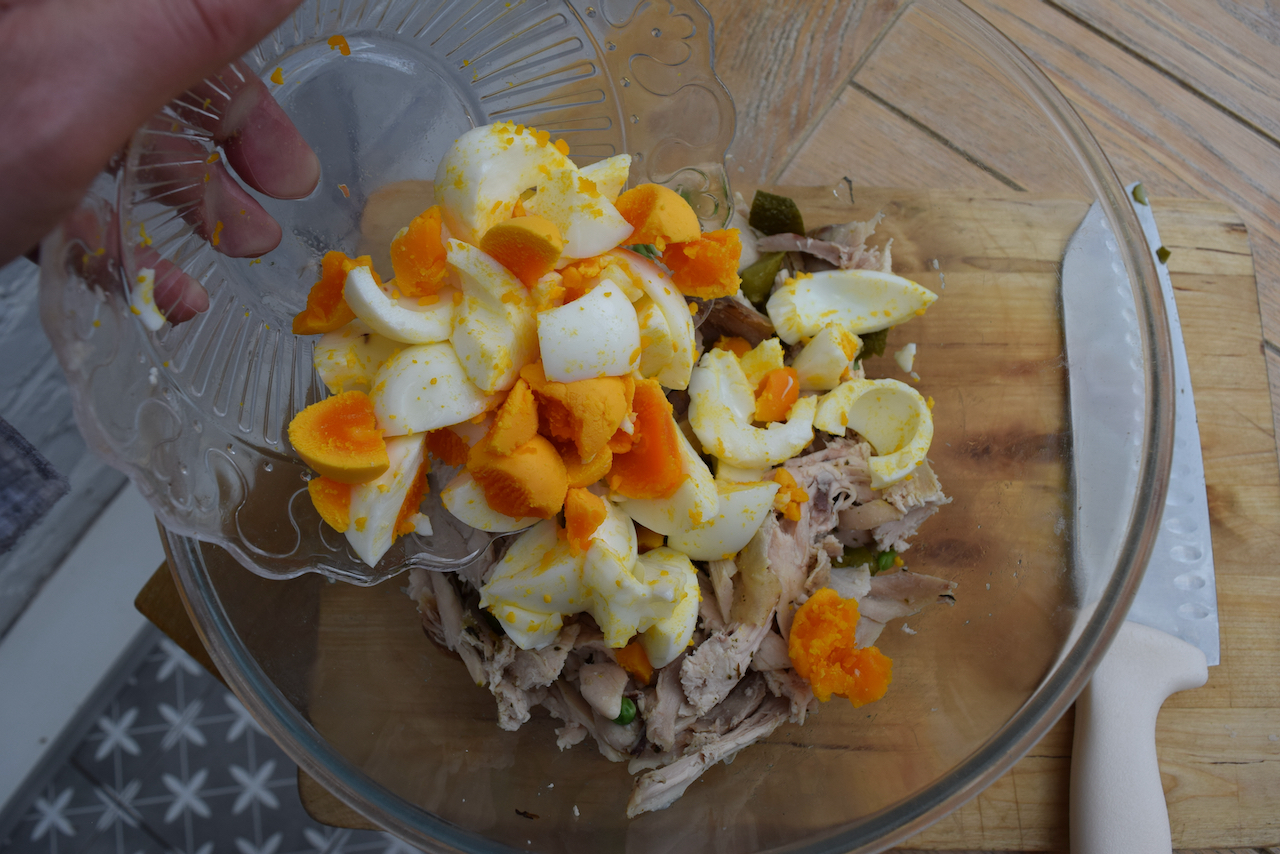 Look at those yolks. I treated us to some beautiful Black Farmer eggs especially for this dish. TIp in the crushed potatoes and, gently, stir the whole lot together. Now for the dressing, pour on the fresh lemon juice, olive oil then 300ml of mayonnaise.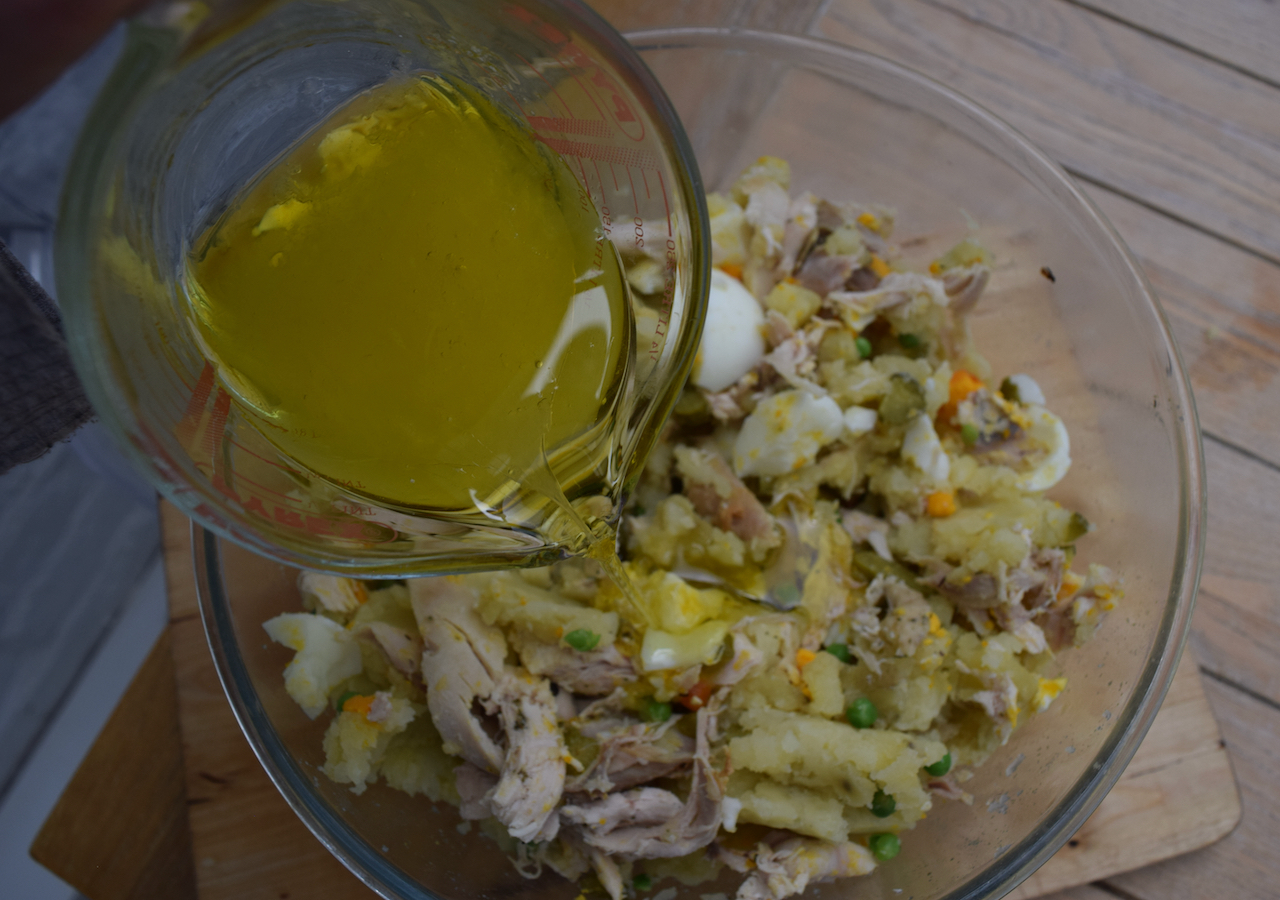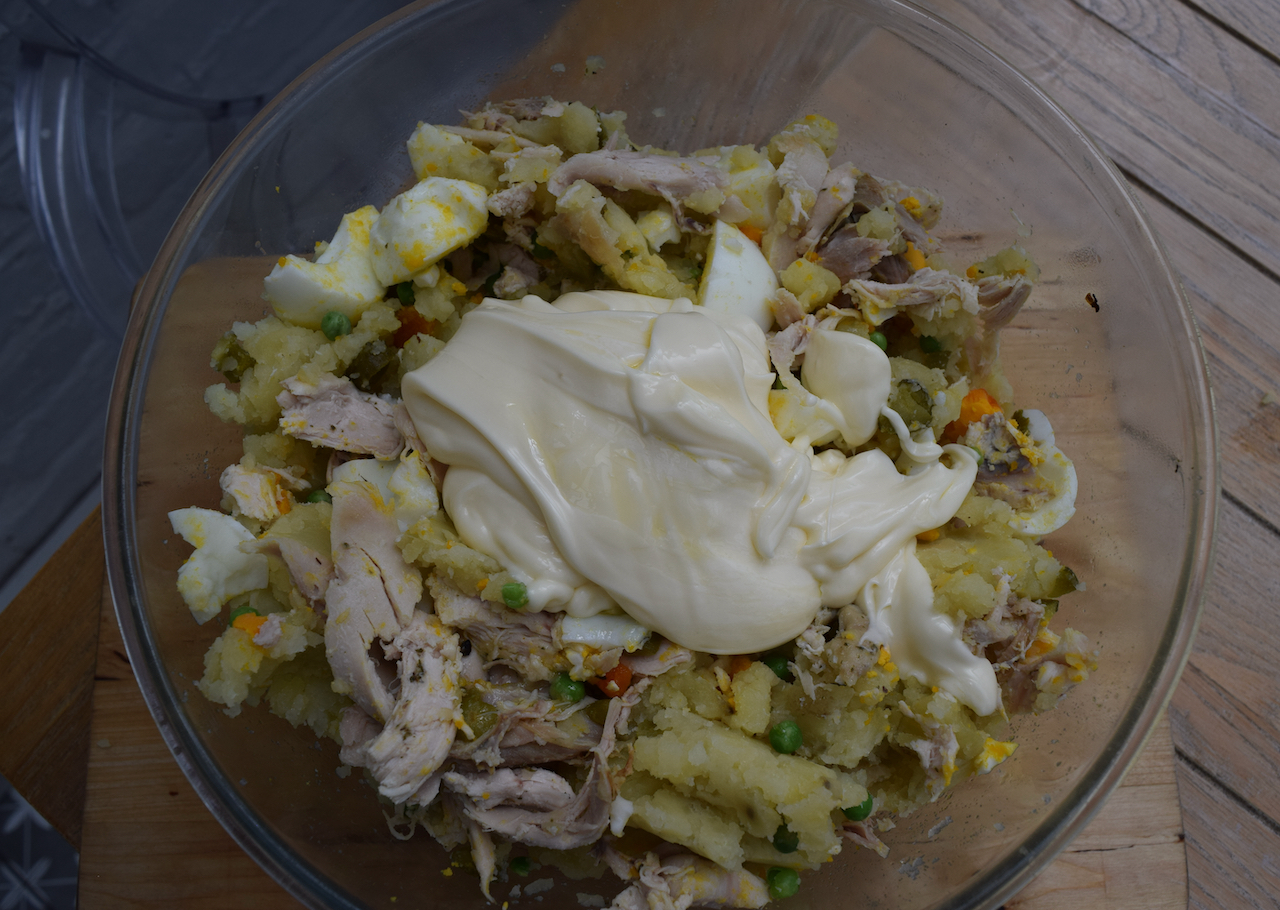 Carefully, fold the dressing into the rest of the salad. Now, as a cooks perk, have a big forkful to check for seasoning, then add salt and pepper.
And that's that. You're all set and ready to serve. Some chives and lemon wedges will complete the dish. Some sort of lovely bread for scooping is imperative.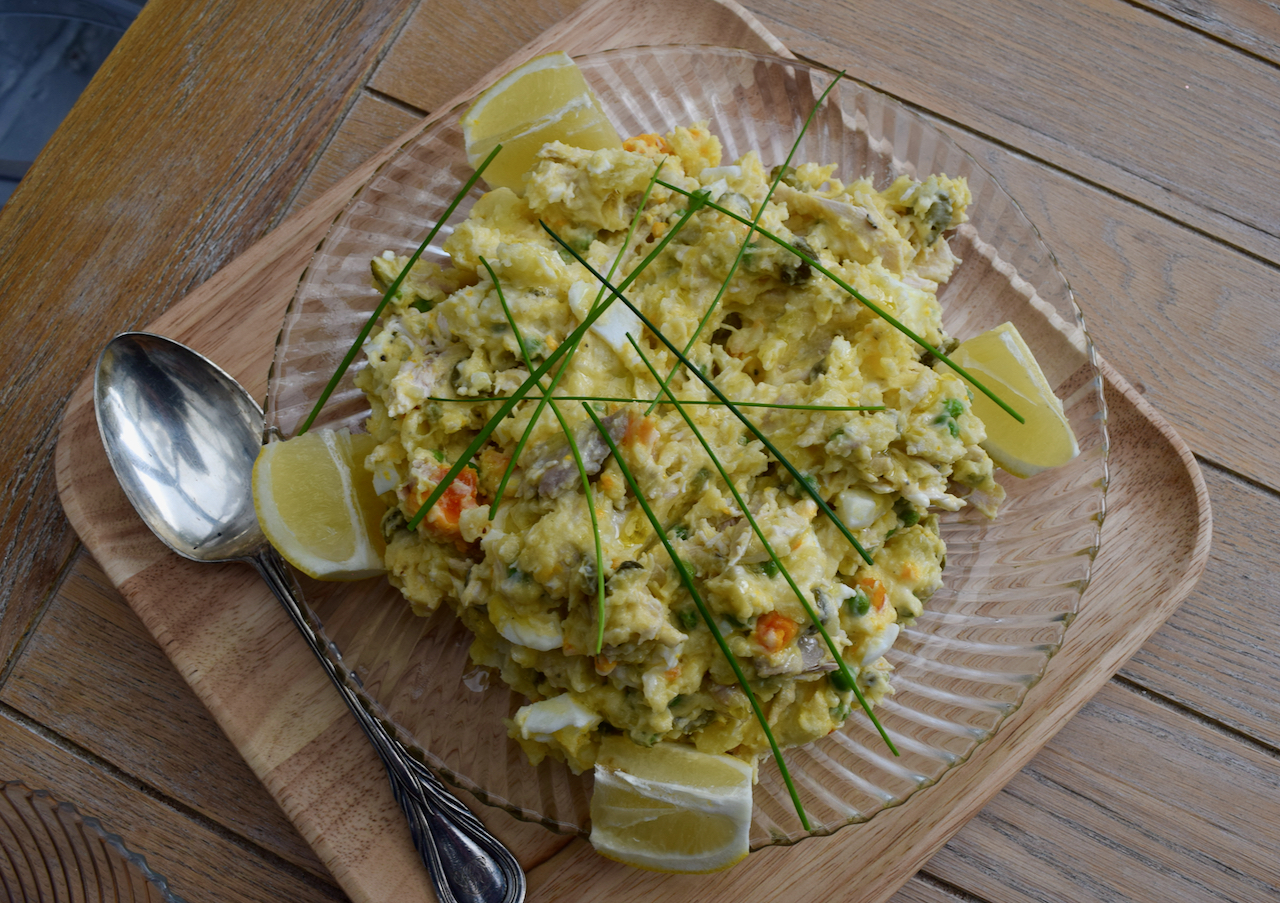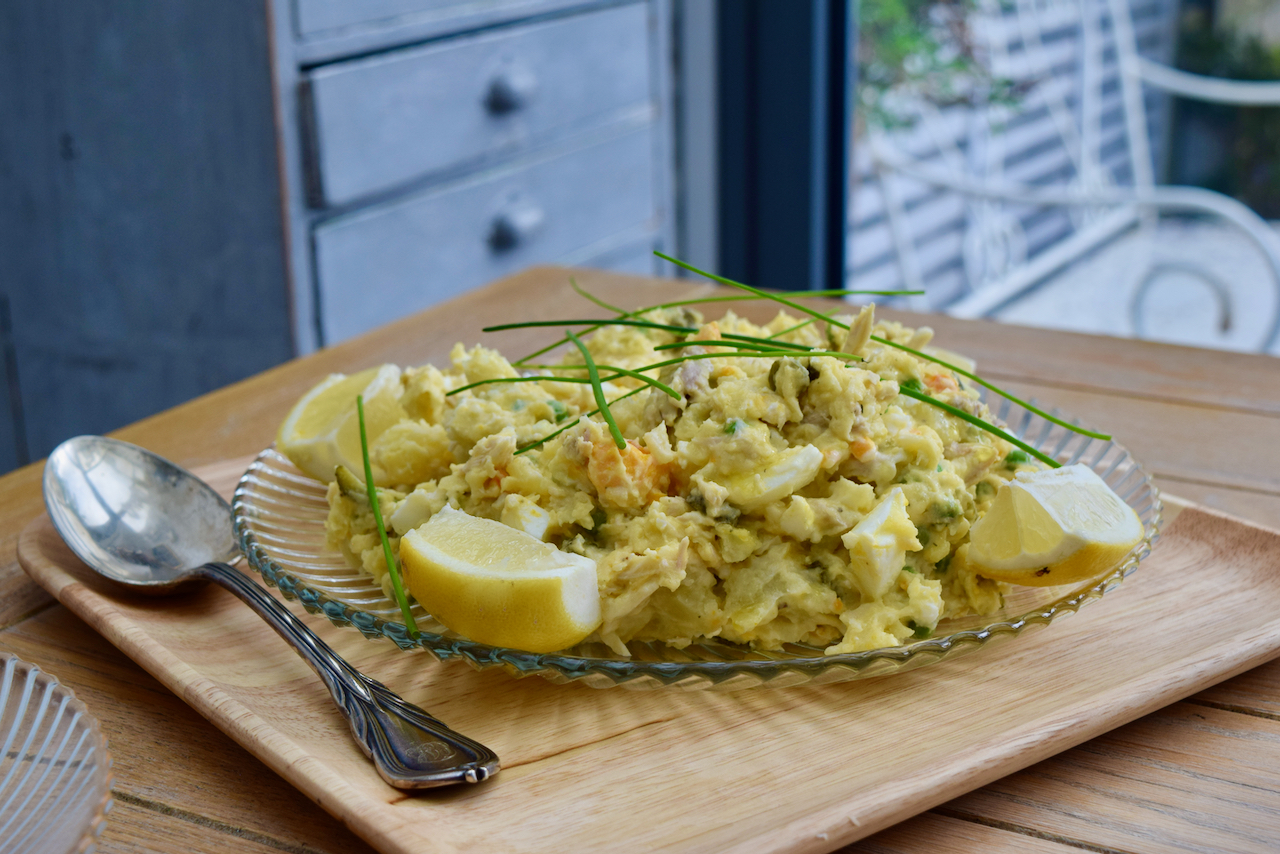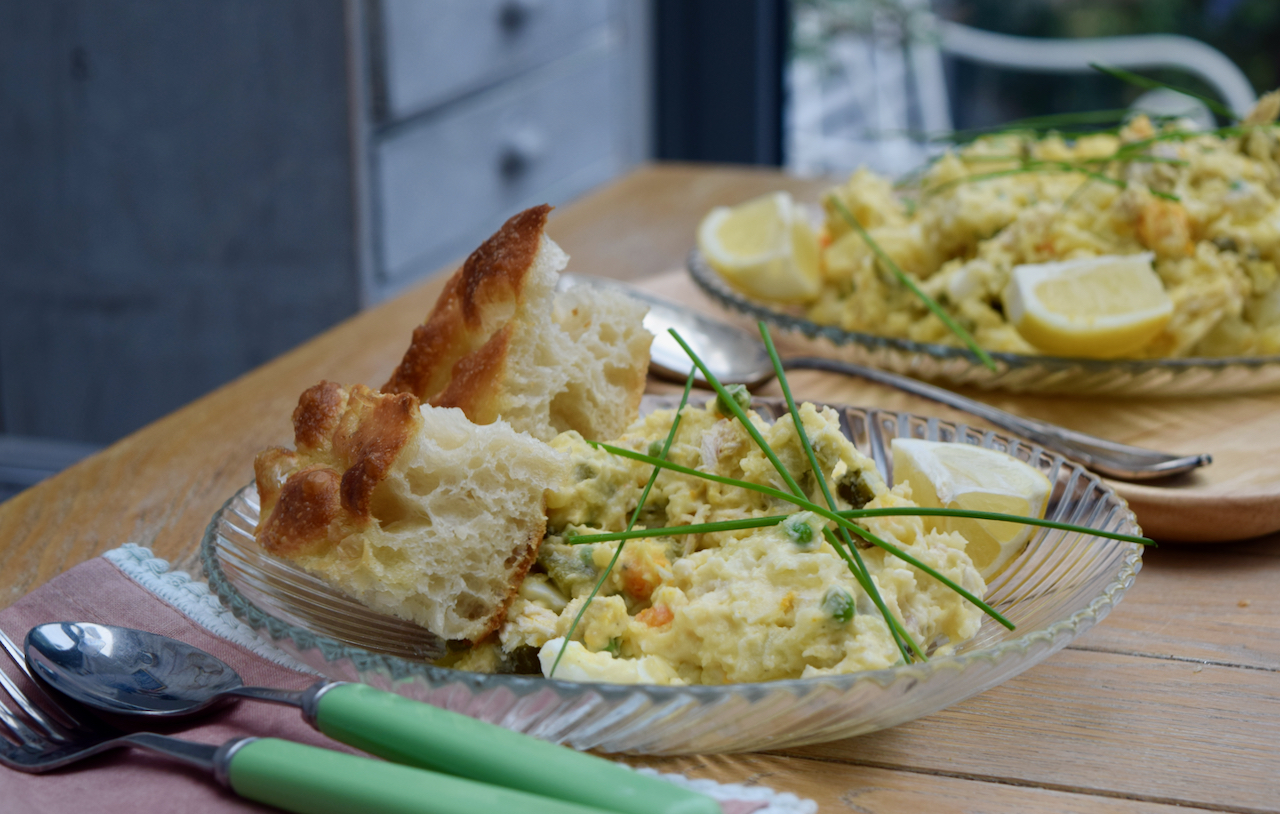 If you're picnicking over the next couple of weeks, while is lovely and warm and you want to get out of the house to avoid the football, taking a tub of this Persian Potato Salad with you would be one of the best ideas you've had all year.
Lucy x
Persian Potato Salad recipe
Serves 4 to 6, generously as a main course
You won't need any exciting equipment for this, just pans and bowls
750g new potatoes, peeled, I used the Charlotte variety
150g cornichons, chopped
Cooked chicken meat, chopped, from a small roasted chicken
4 eggs, hard boiled, chopped
60ml lemon juice
60ml good olive oil, plus extra for drizzling
300ml good quality mayonnaise
150g peas, frozen and defrosted or from a jar
Salt and pepper to taste
Chives and lemon wedges to garnish, warm bread to serve
Make a start by peeling your potatoes then cooking them in boiling salted water until they just cooked. Don't over cook them. Run them under cold water to stop them cooking any further then drain and leave to cool.
Chop the cornichons into a rough dice then add to a large bowl along with the peas. If your peas are frozen, defrost by pouring a kettle of boiling water over them then draining. Add the chopped cooked chicken, roughly chopped hard boiled eggs and give everything a good, but gentle, stir.
Take a potato masher and roughly mash the new potatoes. You want them to still be chunky, so don't go for a total puree. Add the potatoes to the bowl then pour on the lemon juice and olive oil. Add the mayonnaise then stir the whole mixture together. Taste, then season accordingly with salt and pepper. Refrigerate until serving.
Serve in bowlfuls, garnished with fresh chives and lemon wedges with warm bread. Leftovers will keep in the fridge for 2 to 3 days.