Grilled Fish with Spinach and Beans Recipe
Sometimes I feel as though I just churn out the same meals week in week out. We have a standard repetoire on rotation and this cycle only gets broken when I find an exciting new recipe to tempt us all. And this Grilled Fish with Spinach and Beans is one of those recipes. To be fair, George picks out the spinach, but all the other ingredients meet with the family's varying eating requirements.
This is a rustic, simple supper dish, but it has a certain charm and elegance and looks so tempting on the plate. The fish of your choice is lightly grilled with just a fragrant dusting of smoked sweet paprika. This tops a sautéed selection of chorizo, white beans, chilli and spinach. This dish is embarrassingly easy and on the table in around 25 minutes, dependent on how good your chopping skills are. The paprika based chorizo juices coat the beans and spinach to bring the whole affair together.
This super flavour filled dish comes care of the brilliant BBC Good Food website, with thanks to them. And just in time too, as it is suddenly bloody freezing. Having been unseasonably mild for months now, I had forgotten how important it is to have a good rib sticking dish in your weekly suppers. The combination of warming chilli, chorizo and beans will certainly keep the chill away and fill a much needed meal sized gap.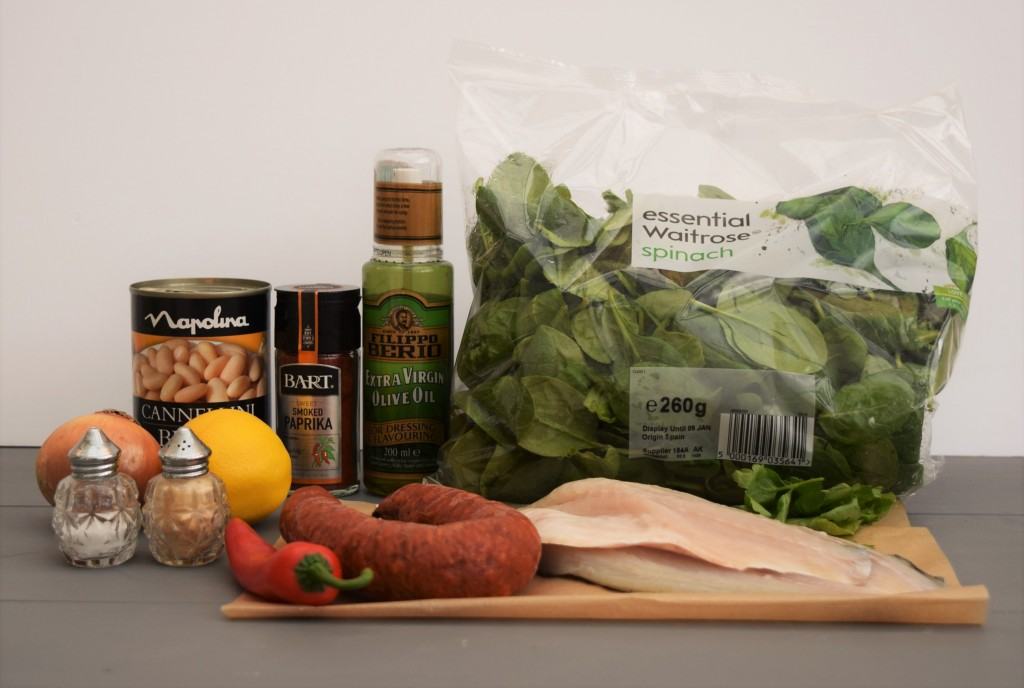 Here's the ingredients for this warming fish supper. It's a wonderful colourful display. I used some elegant sea bass fillets, because they were on offer, of course. I had four pieces, which was perfect for two really hungry people or four as a first course, or 1 hungry person and 2 less hungry people. You know your own family's appetites better than I do, and you could always just cook more fish as there is plenty of beans and spinach for at least 3. Enough with the maths now. Re beans: I used Cannellini beans, but any white beans would work, I imagine. I have a bit of a thing for butter beans, and am going to try this with those next time.
Make a start with this no effort supper by pre heating your grill to medium high. Next, line your grill pan with foil, oiling it then laying the fish on the foil. Drizzle with just a touch of olive oil, a pinch of salt and pepper then shake on just a dusting of smoked paprika.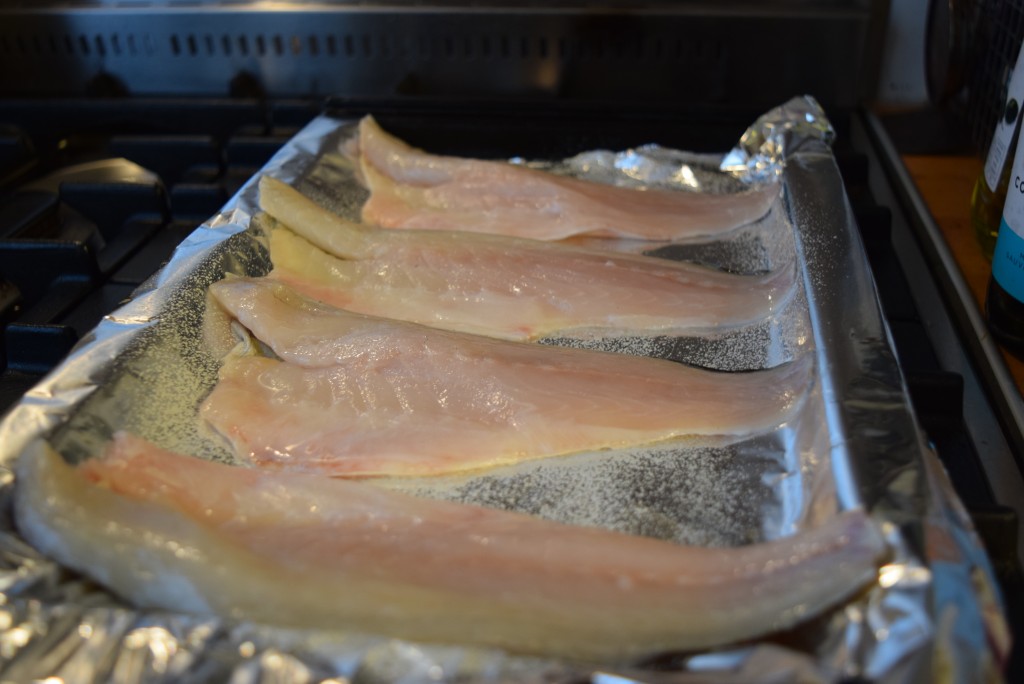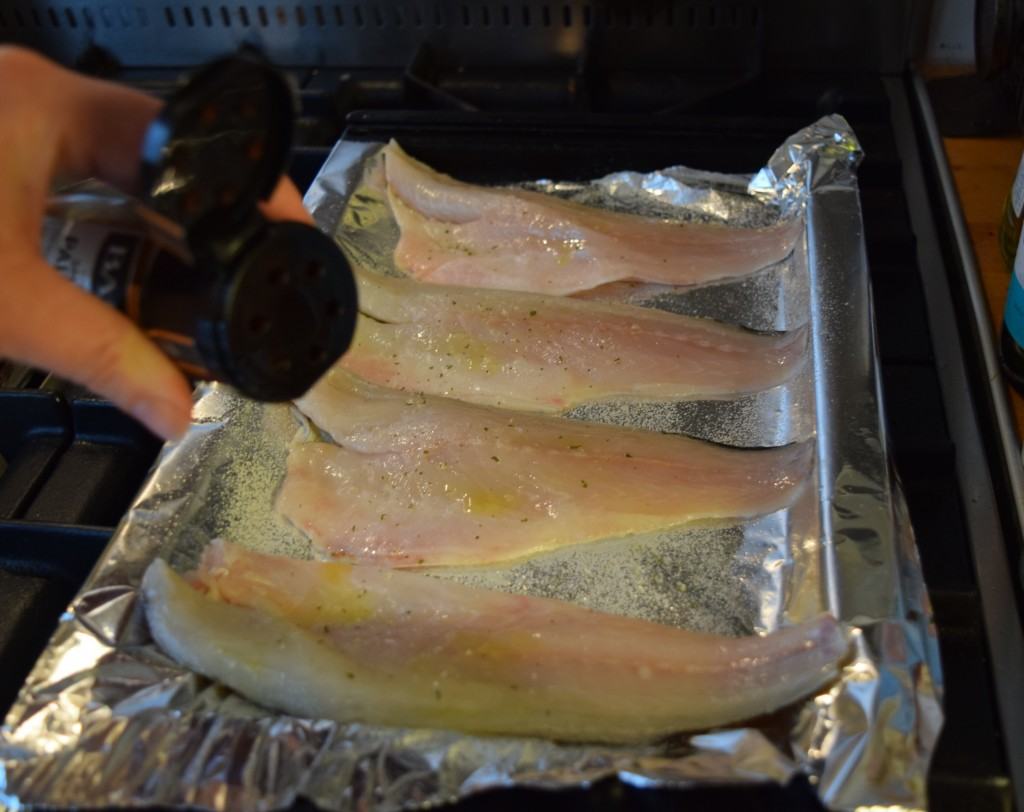 Leave this to one side for a few moments while you crack on with the beans.
Take a very large frying pan and heat a tablespoon of olive oil over a high heat. Chop the chorizo as finely as you can be arsed, mine was rather rustic, then add this to the hot oil.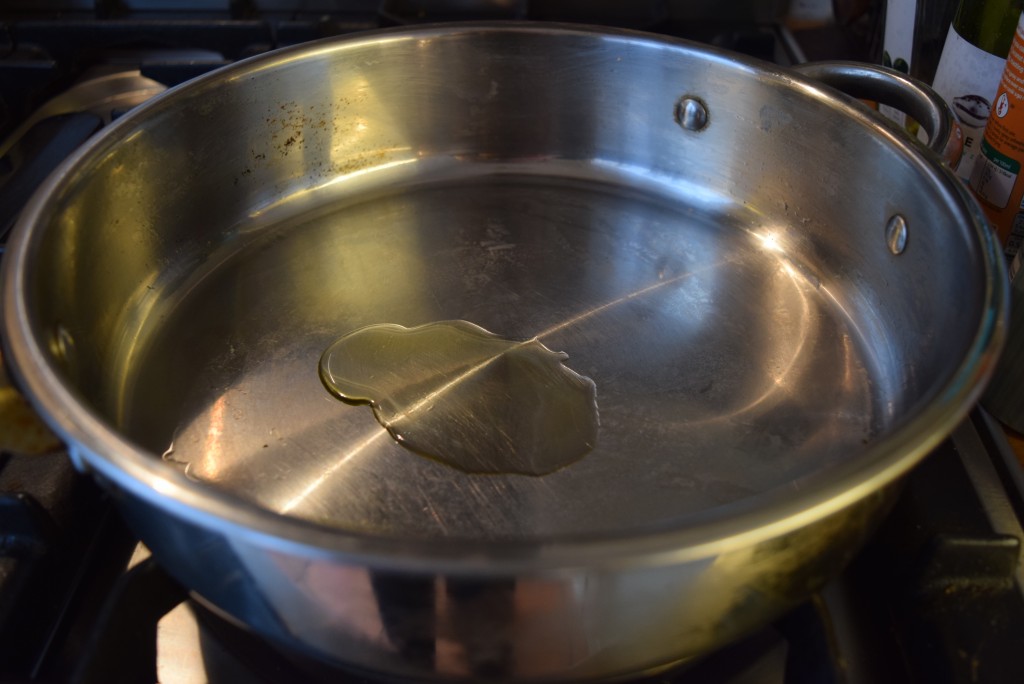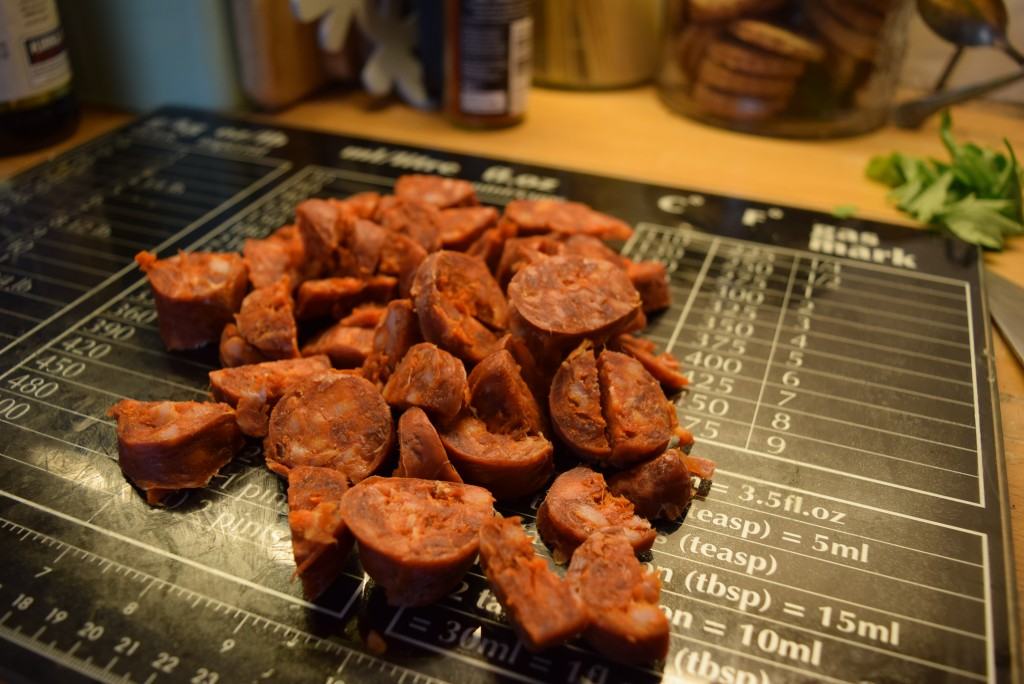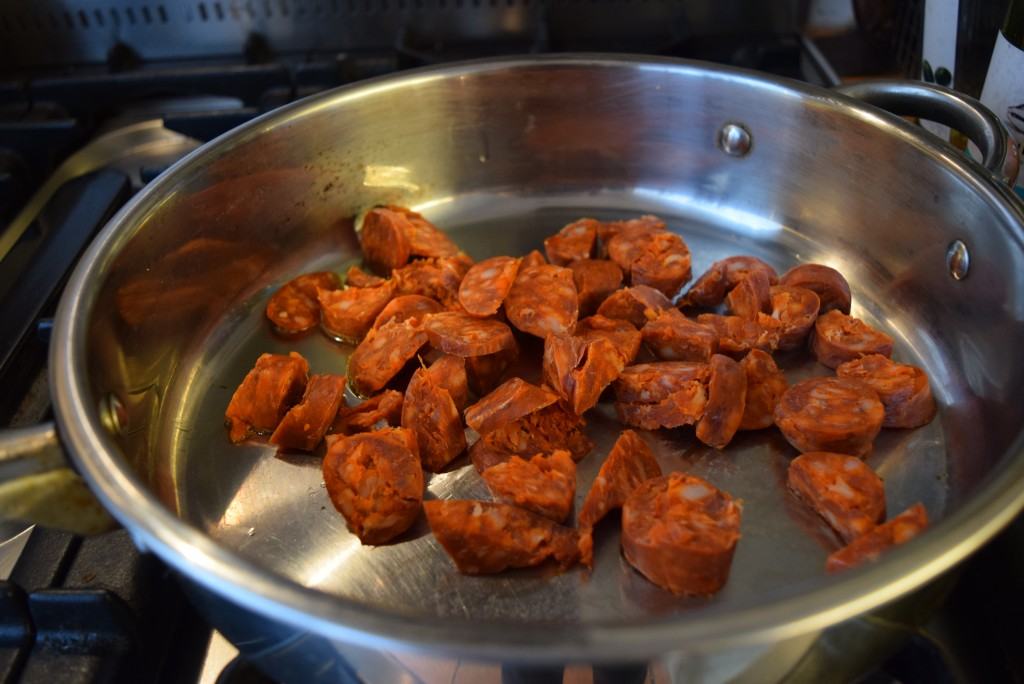 Inhale the sizzling chorizo fragrance. Then pull yourself together and finely chop an onion, add this to the pan and cook until softening and starting to brown.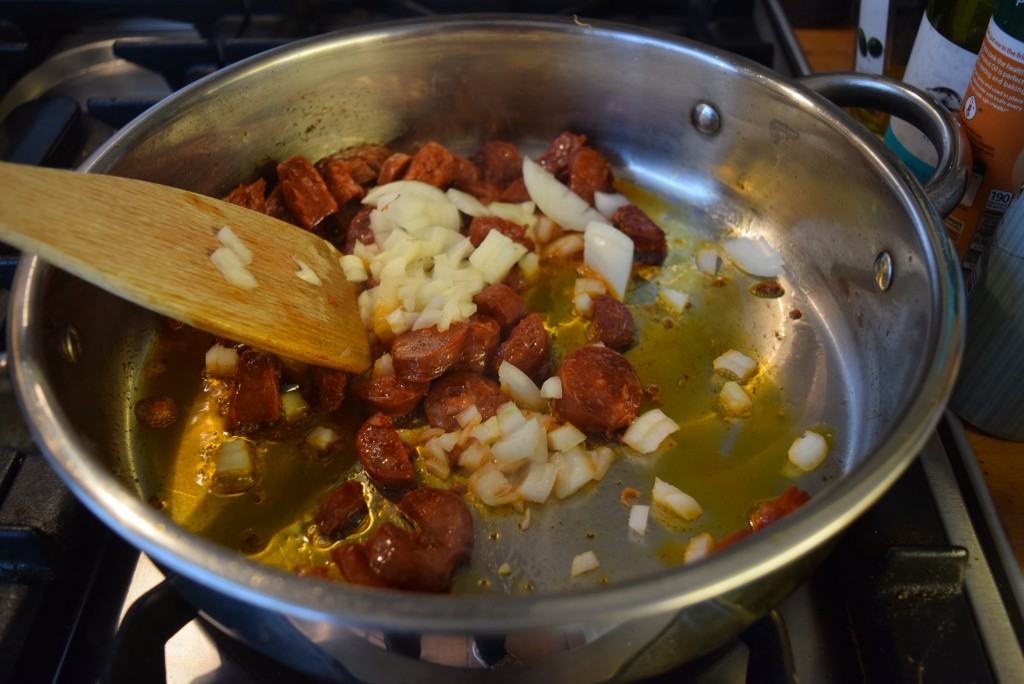 While this is doing it's thing, rustically chop your chilli and then add this to the pan to join the party.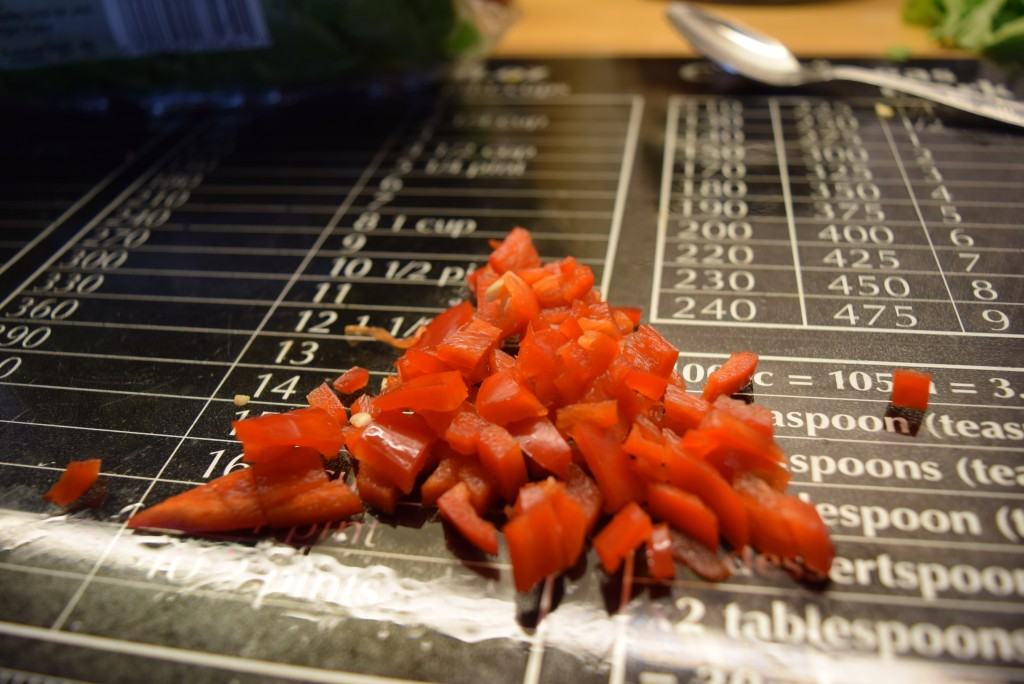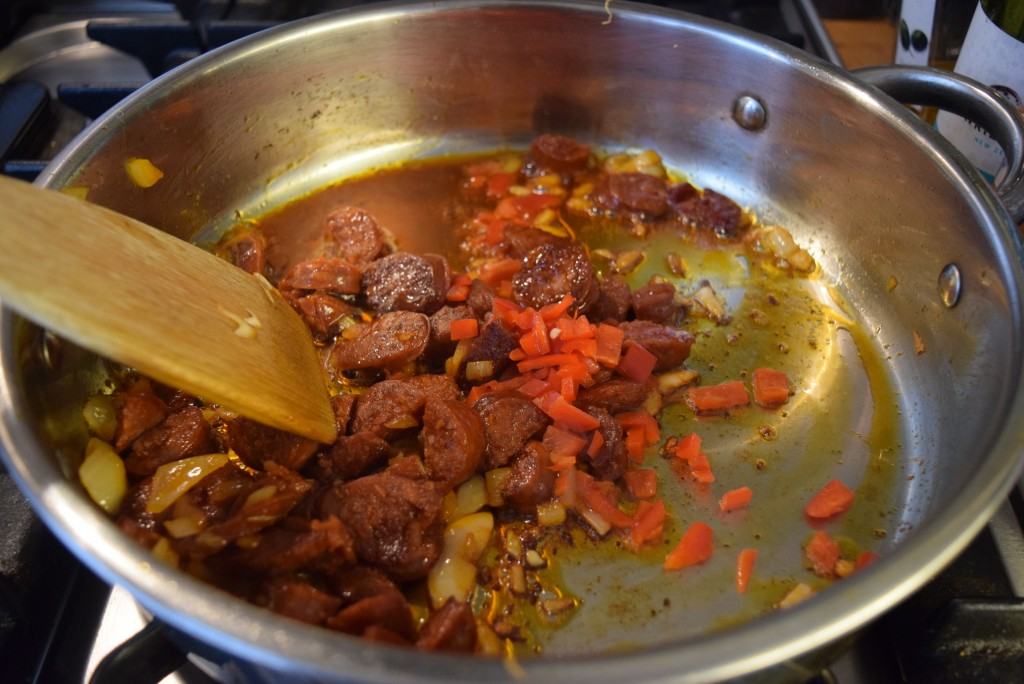 Drain your chosen beans and give them a rinse in a colander. Toss them into the pan along with a good squeeze of lemon and give the whole thing a jolly good stir.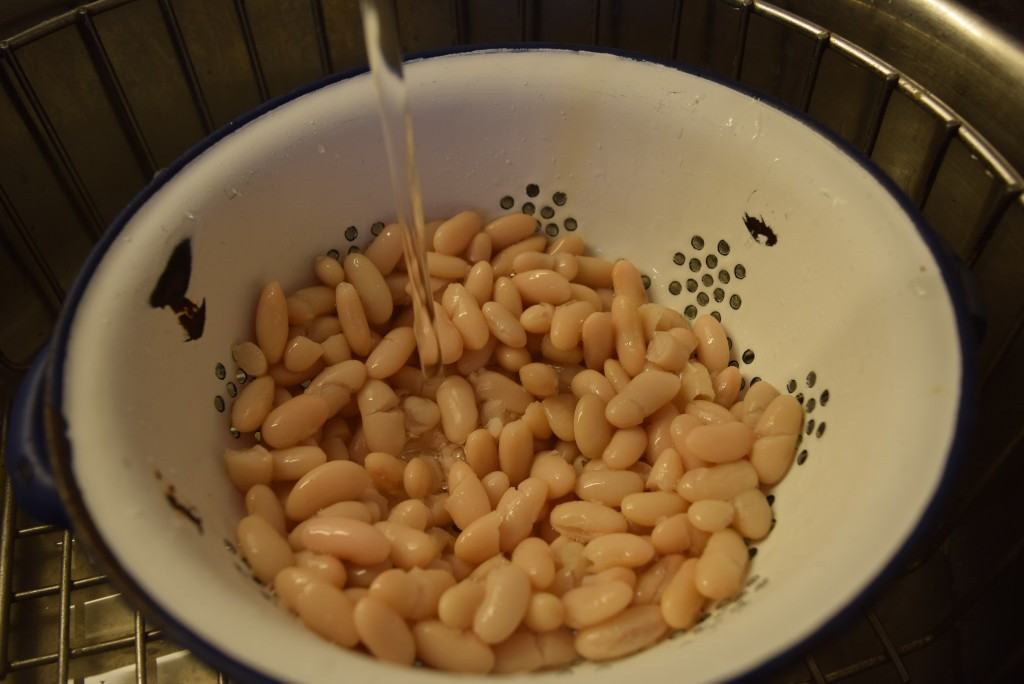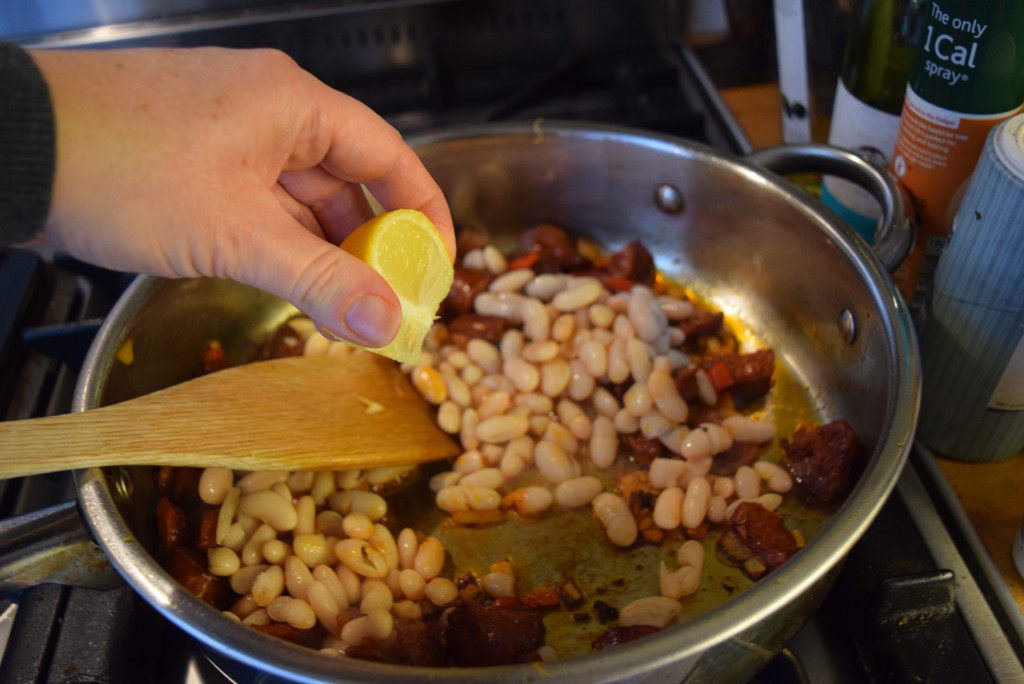 At this stage, pop your prepared and waiting sea bass, or other fish fillets, under the grill. This, dependent on their thickness, should take no more than 5 to 7 minutes.
Next, to this pot full of flavour, add the whole bag of spinach. Admittedly this does look like an alarming amount at this stage, but give it a moment of stirring and tossing and the whole lot will wilt down to a more manageable level.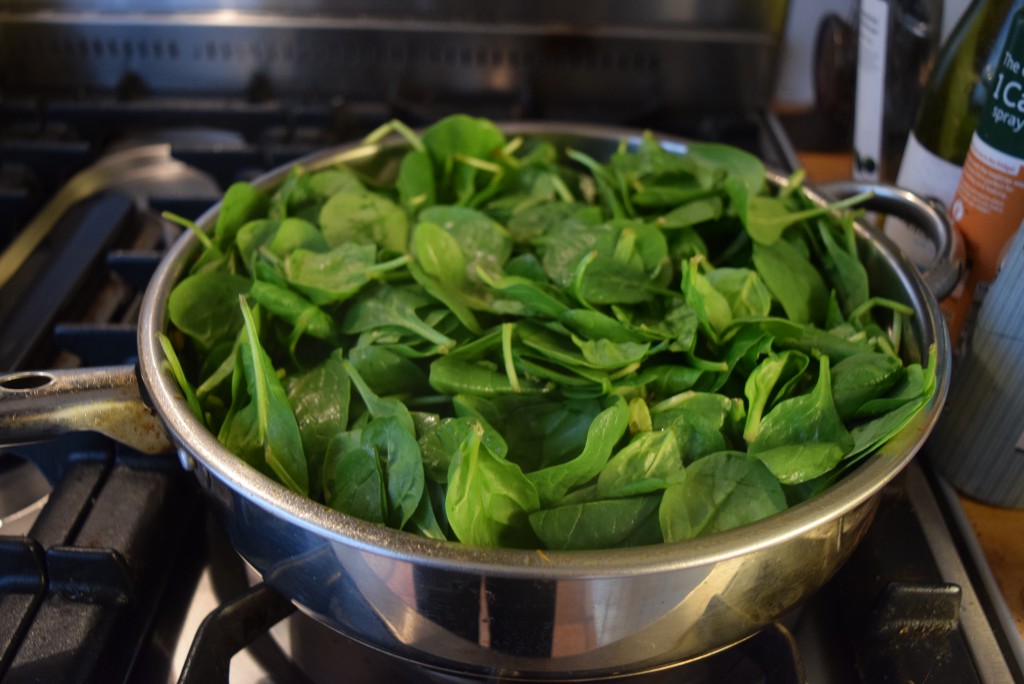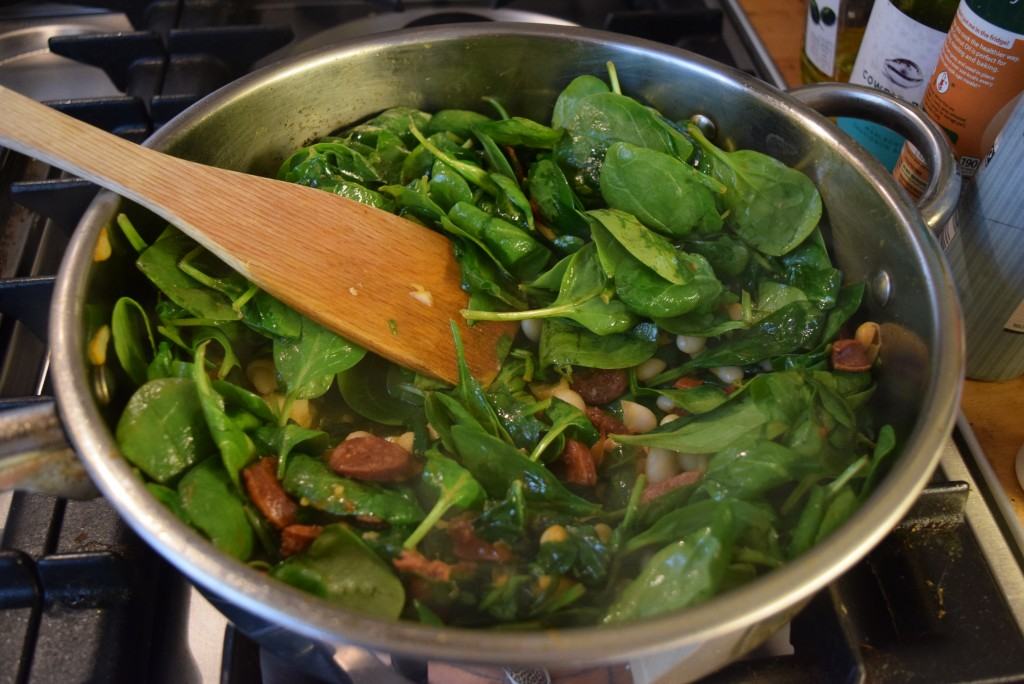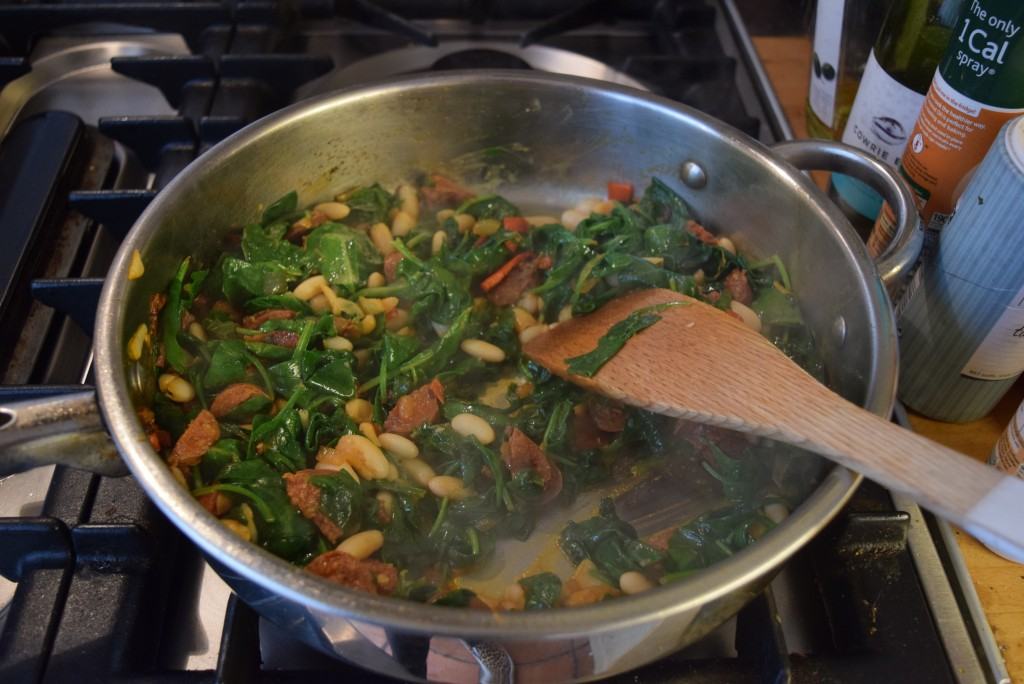 When your fish is starting to brown and is cooked through this is all now ready to serve.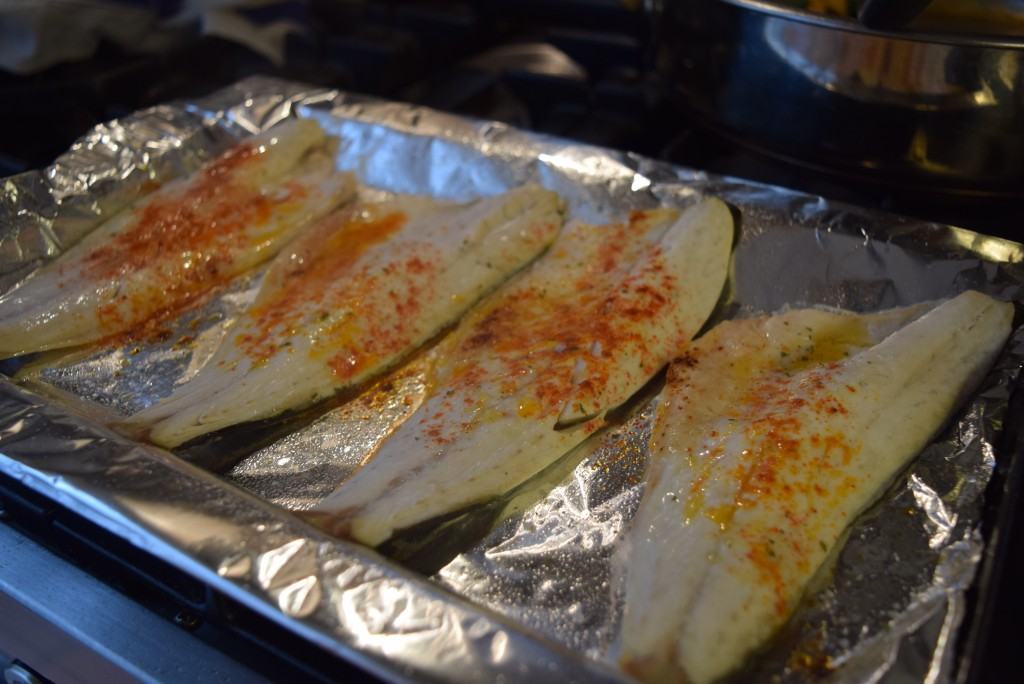 Ensure everything is warmed through, then add a large spoonful of the spinach and beans affair to your plate then position your fish artistically *plonk it* on top. Then take a trip back in time and garnish with a sprig or two of chopped parsley and a further drizzle of olive oil and a squeeze of lemon for additional shine and flavour.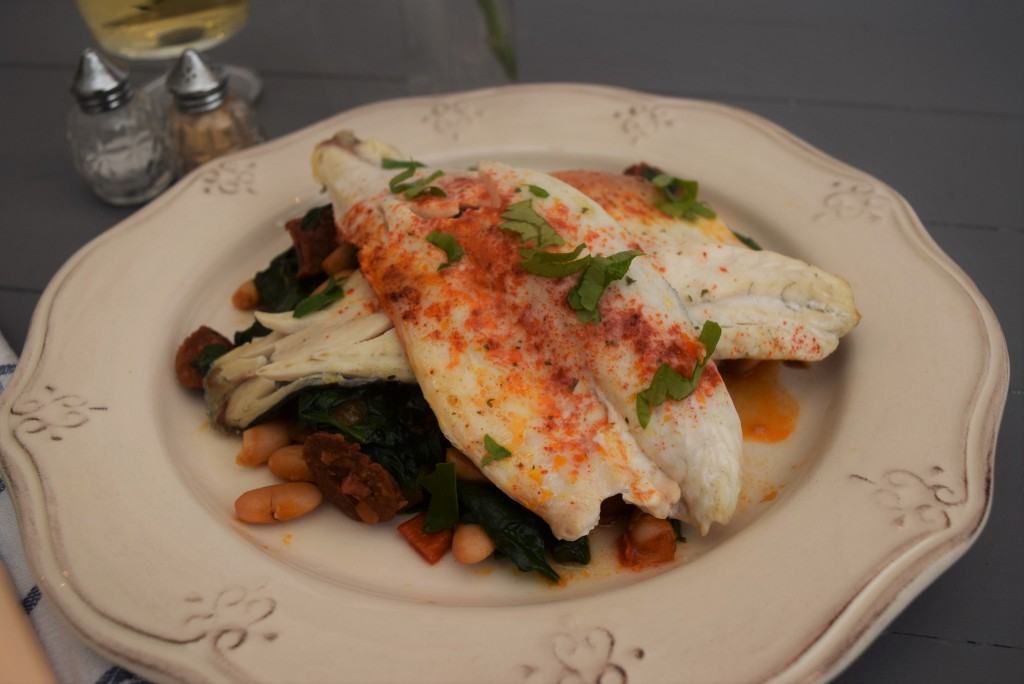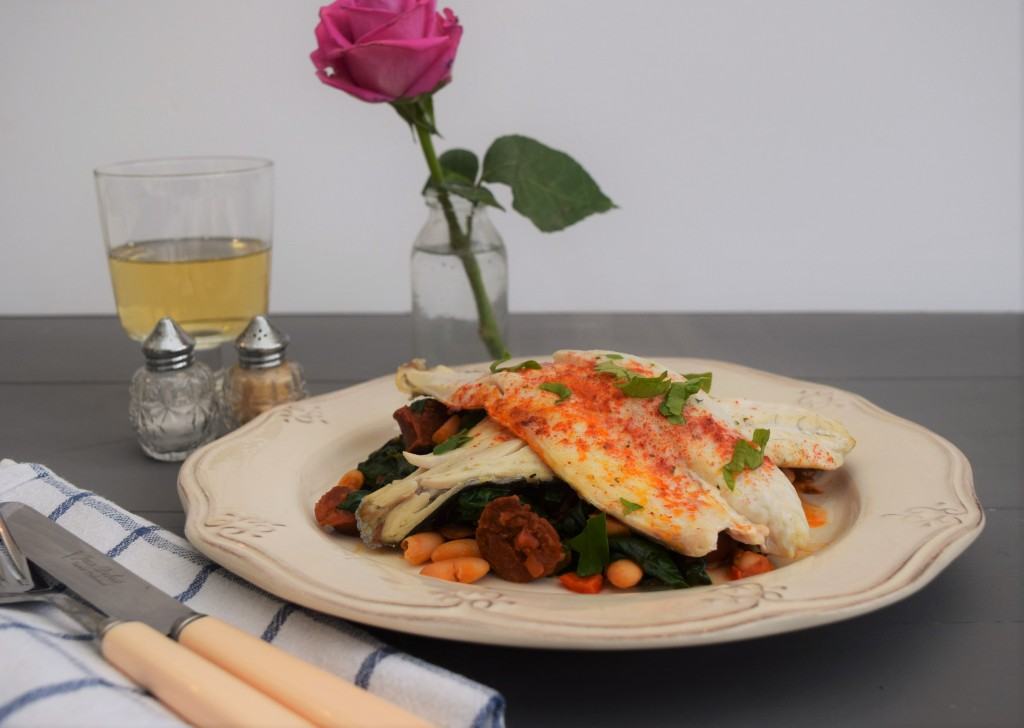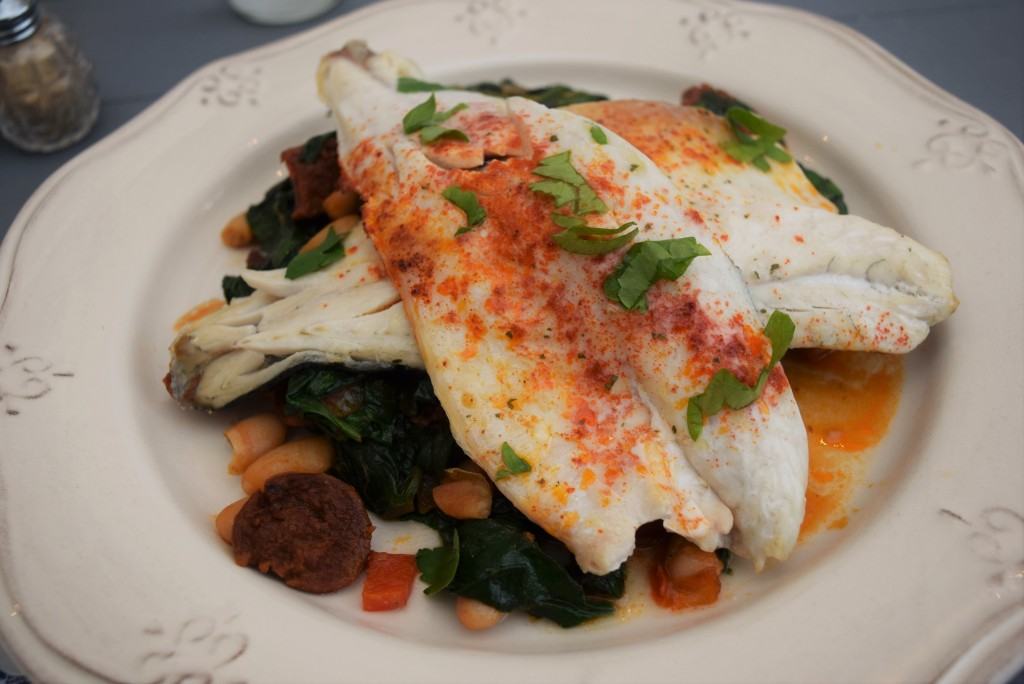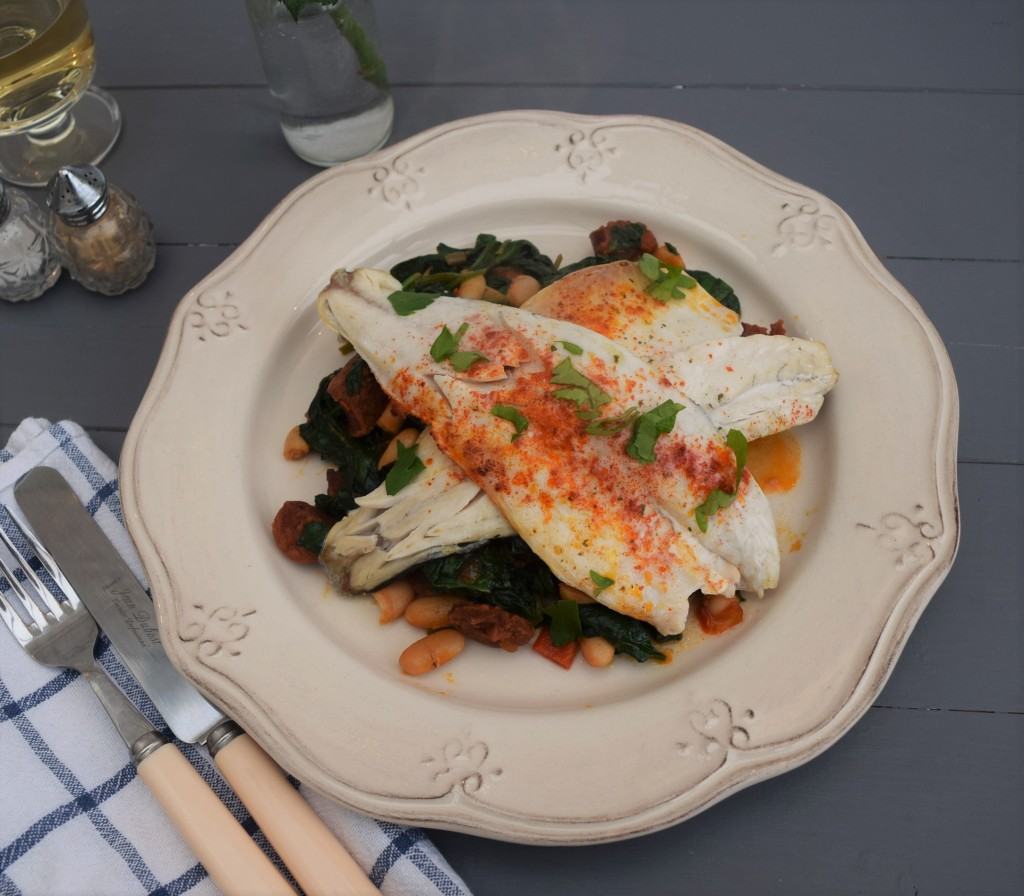 Warming, spiced, with a whiff of health and as pretty as a picture. It looks almost too good to eat. But do eat it. I would hate for you to miss out on such a satisfying, simple, spirit lifting supper.
Stay cosy.
Lucy x
Grilled Fish with Spinach and Beans Recipe
Serves 2 to 3 – see the ramblings above regarding hungry or not so hungry people

You will need no particularly interesting equipment
Approximately 400g fish fillets, Sea Bass, Sea Trout, Haddock, cod, you choose
Olive oil
A sprinkling of sweet, smoked paprika
Salt and pepper
1 tablespoon olive oil
150g chorizo, chopped
1 onion
1 red chilli
One tin Cannellini beans, around 400g, drained and rinsed, butter beans would also be good
A bag of spinach, washed if need be, around 260g
Salt and pepper
A squeeze or two of lemon juice
Freshly chopped parsley garnish, because I am a child of the 70's with an additional drizzle of olive oil and lemon juice

Pre heat your grill to a medium hot temperature. Line your grill pan with foil, brush with oil then lay your chosen fish fillets on the foil. Drizzle with olive oil, season with salt and pepper and sprinkle with smoked paprika, then put to one side for the moment while you cook the beans.
In a large frying pan heat a tablespoon of olive oil. Add the chopped chorizo and cook until starting to brown. Add the finely chopped onion and cook for 5 minutes or so until it has softened and the chorizo is crisp. Finely chop the red chilli and add to the pan. Cook this for around a minute then add the rinsed and drained beans, stir well then add the bag of spinach. This looks like a lot of spinach, but it will wilt down after a couple of minutes. Squeeze some lemon juice over the dish and leave to heat through. While this happens, put the fish under the grill for 5 to 7 minutes or until cooked through and starting to brown.
Spoon a large serving of the beans, topped with the fish. Garnish with chopped parsley, a drizzle of olive oil and a spritz of lemon juice.