Keema Curry and Naan Breads Recipe
Sometimes my recipe choices are perfectly timed to suit a celebratory holiday, the seasons or even a change in the weather. Not this week. I am sharing this Keema Curry and Naan Bread recipe just because I feel like it and it's bloody tasty. Quite some time ago, a lovely friend invited us for dinner and cooked this unbelievably delicious curry. I had seconds, as did most of the other guests, and I have been meaning to replicate this scrumptious dish ever since. To add to the flavour filled curry, I have fashioned a super easy homemade Naan Bread recipe. This makes the perfect vehicle for mopping up the fashionable turmeric tinted curry sauce.
We love a curry in our house, it's a collective favourite and is always received with a smile. Add a batch of warm, homemade naan breads to this dish and suddenly you will be everyone's new best friend. This Keema Curry is lightly spiced, fragranced with garam masala and studded with peas and fresh tomatoes. The naan breads are warm, soft and ridiculously easy to make. I have used traditional lamb mince for my Keema but if you have a rogue pound of beef mince to hand, this would work just as well. This wonderful recipe is based on one from my good friend Ross and from the BBC Good Food website, which I have rather been stalking recently.
Despite the weather warming up a degree or two this week *that's jinxed it*, there is always time for a curry. Quick, easy and far, far cheaper than a take away, this Keema Curry and Naan Bread is sure to impress your friends and family, as much as it impressed me and my friends.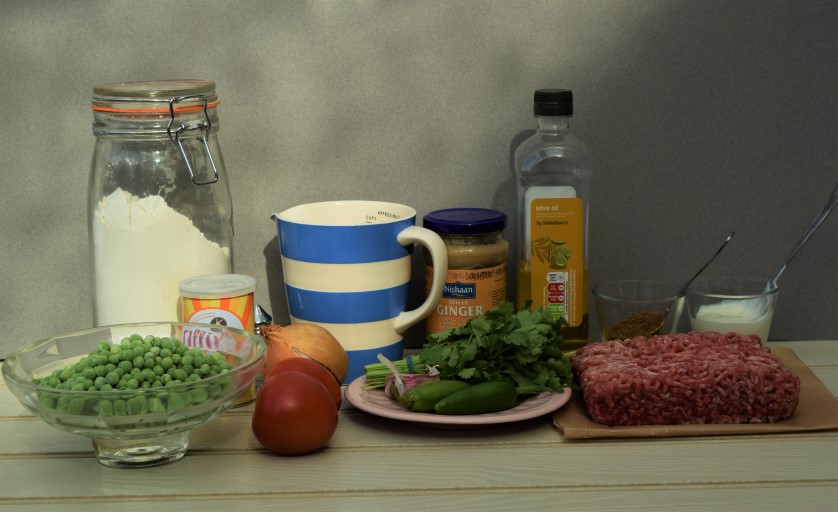 Here's my line up for this recipe rather bathed in sunlight. Which was lovely, if not rather annoying from a photography point of view.
This looks quite a weighty list but it's not, given it's dinner for four including handmade naan. Speaking of which, let's make a start on the breads. Pour the hand warm water into a large bowl. Sprinkle the active dried yeast onto the water and then leave for 5 minutes for it to bloom *professional speak*.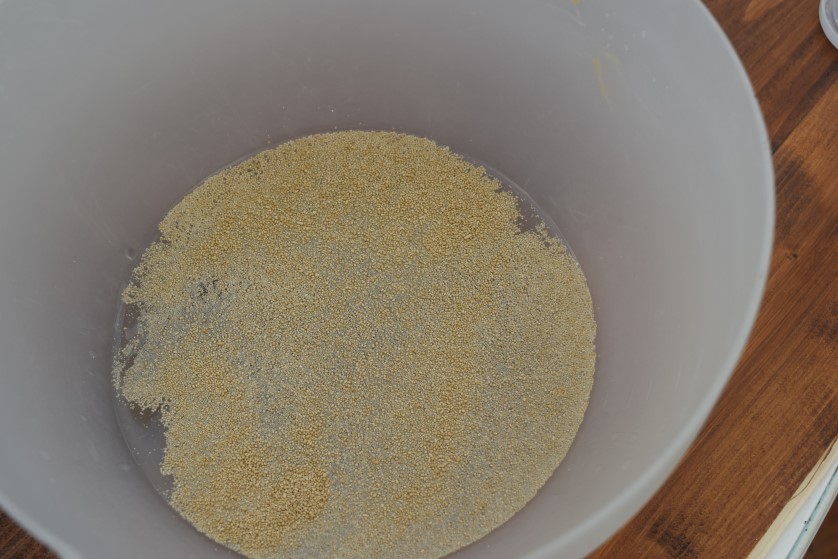 Weigh out the flour and the salt then plop *not professional speak* this into the yeasty water. Mix together with a spatula or your hands until you have a soft, wet, shaggy ball of dough.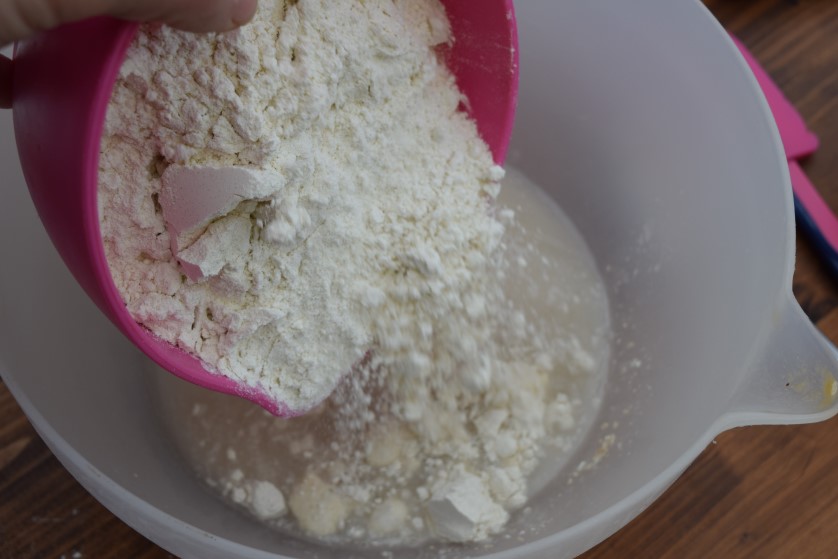 Cover the bowl in a tea towel and leave somewhere draft free for 30 minutes. Which is the perfect time for you to make a start on the curry. For this, heat up a couple of tablespoons of oil in a medium to large sized frying pan. While this heats, pop your garlic, green chillis, ginger and onion into a tiny chopper or chop finely by hand. Blitz/chop until you have a rustic looking paste.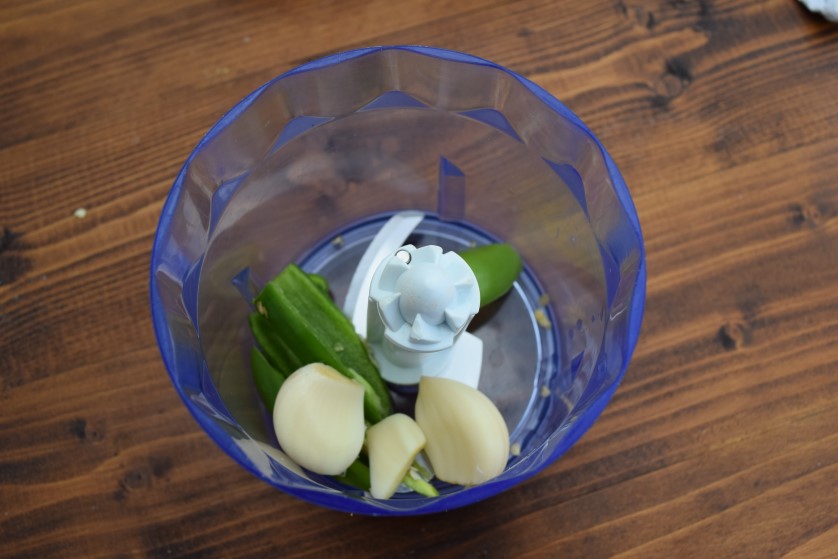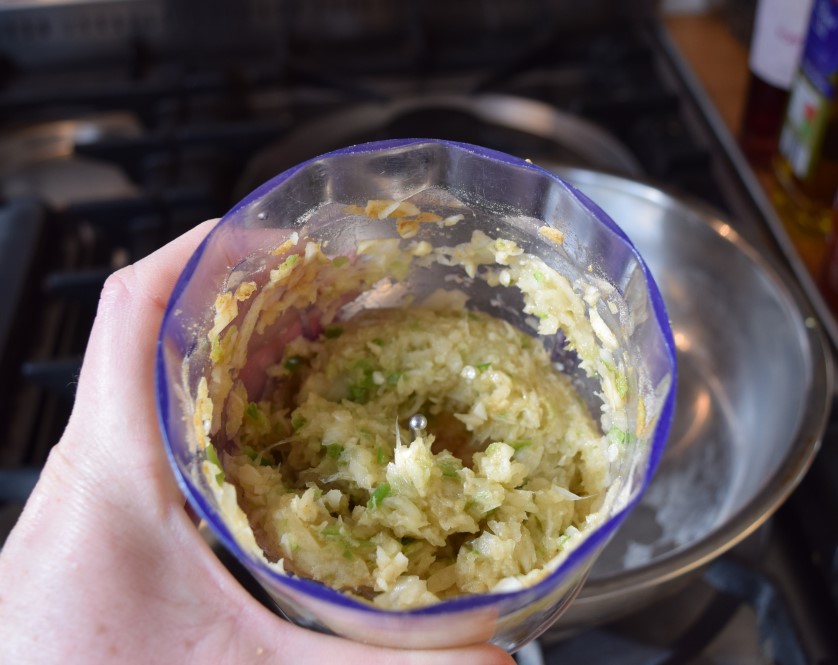 Don't let my hand put you off your supper. Add the super fragrant spice mixture into your hot frying pan and cook for a minute or two until softening and starting to brown.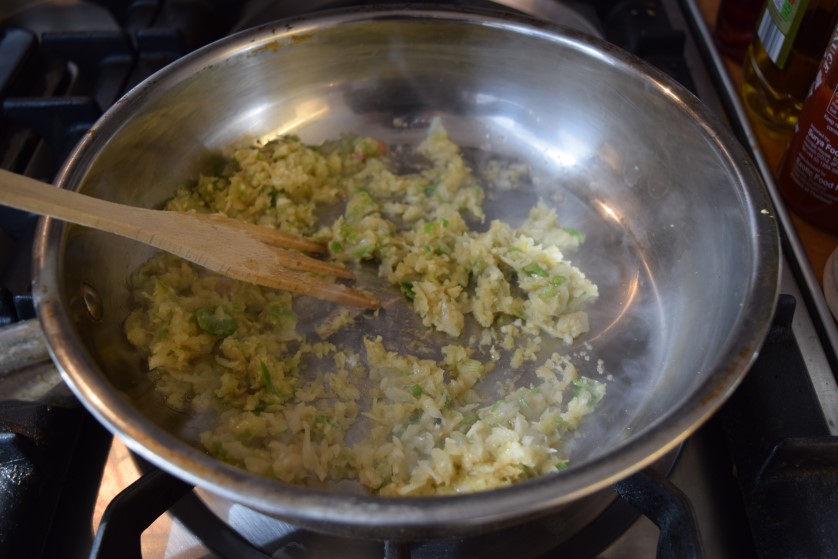 Add the mince, lamb is delicious, but beef would be just as good, and cook until the meat is no longer pink.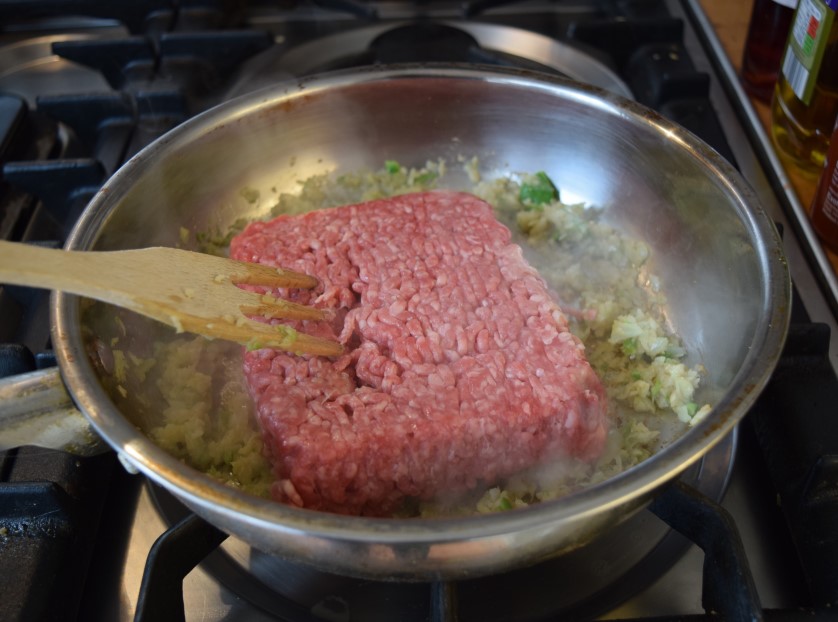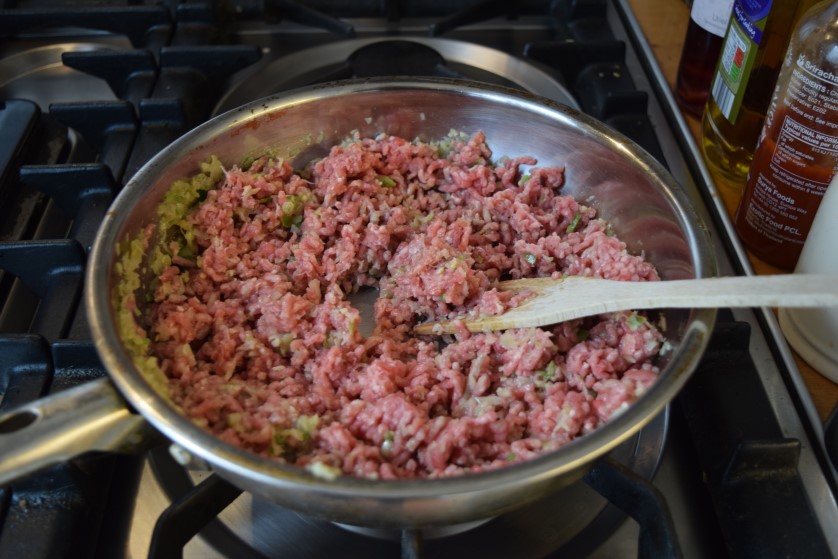 If your lamb is particularly oily, spoon or drain some off at this stage. Next into the pan add the garam masala and turmeric and give it a good stir.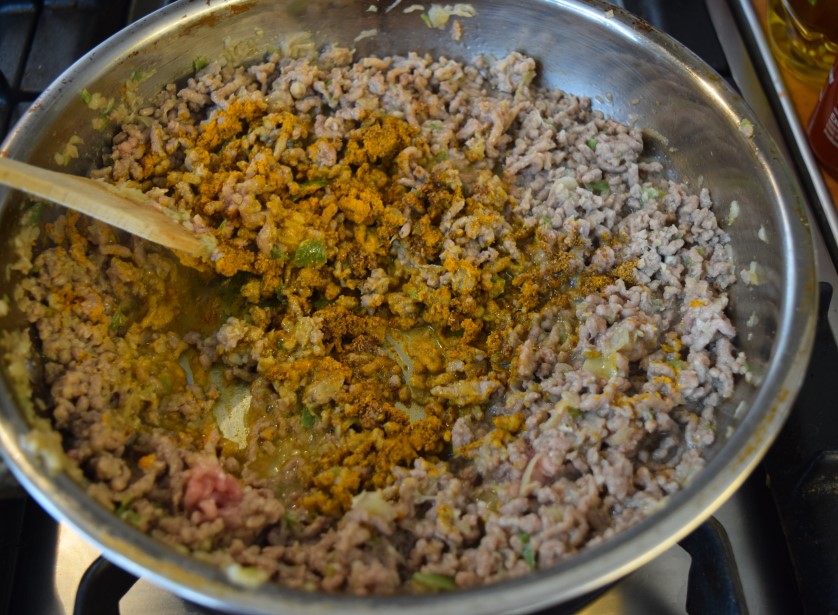 The wonderful curry scent coming from the pan now will be mouth watering. But it's not ready just yet. Add in your chopped and de-seeded tomatoes or half a tin of chopped toms and the yoghurt and give the curry another great big stir. Check for seasoning and add salt and pepper as needed.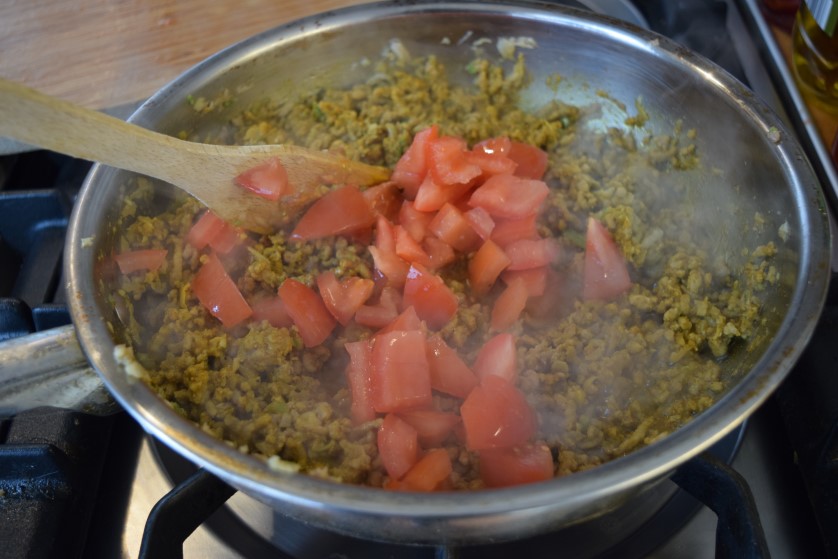 Pop the lid on and let this beautiful curry simmer for 30 minutes. This gives you the perfect time to cook your naan breads. Pre heat your oven to low to keep the cooked breads warm, then heat a heavy bottomed frying pan with a splash of oil and a tiny knob of butter.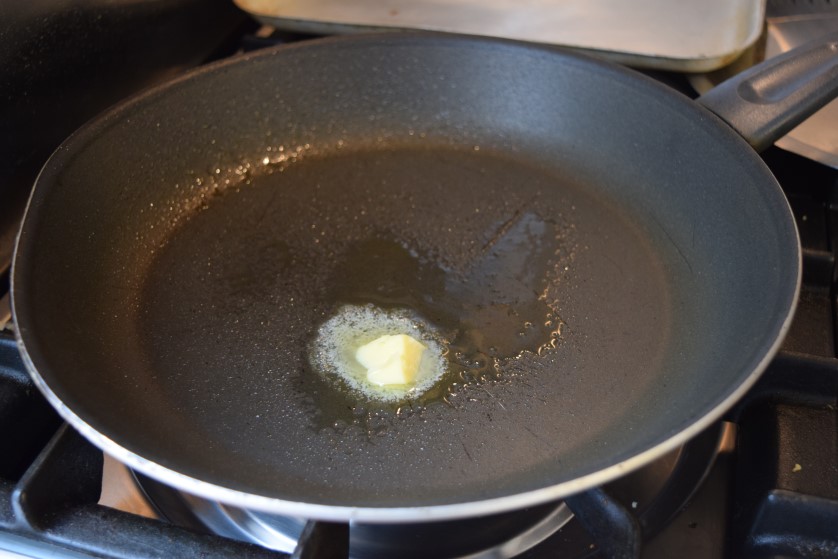 Take your naan dough and scoop out an apple sized handful. It will be super sticky so excessively flour your hands and your work surface or it will be up to your elbows before you know it.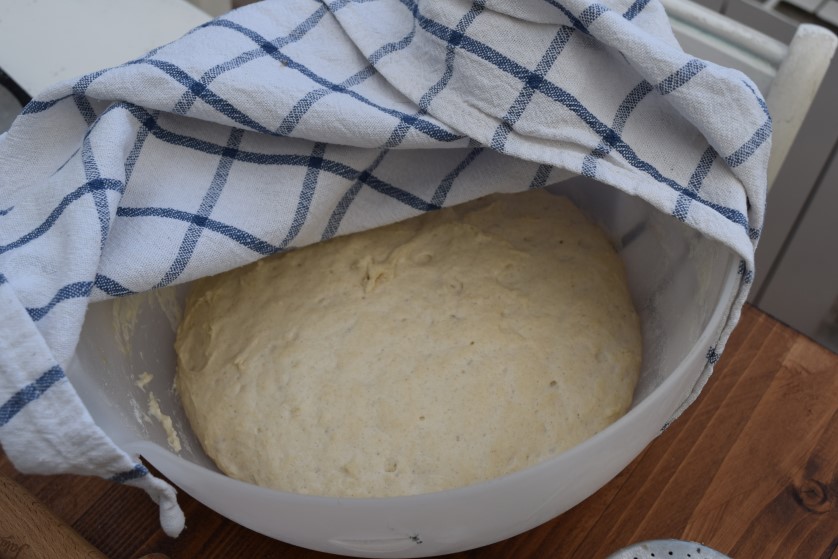 Fashion your piece of dough into a naan shaped affair. Luckily this gives you carte blanche to be as rustic and as sloppy as you like.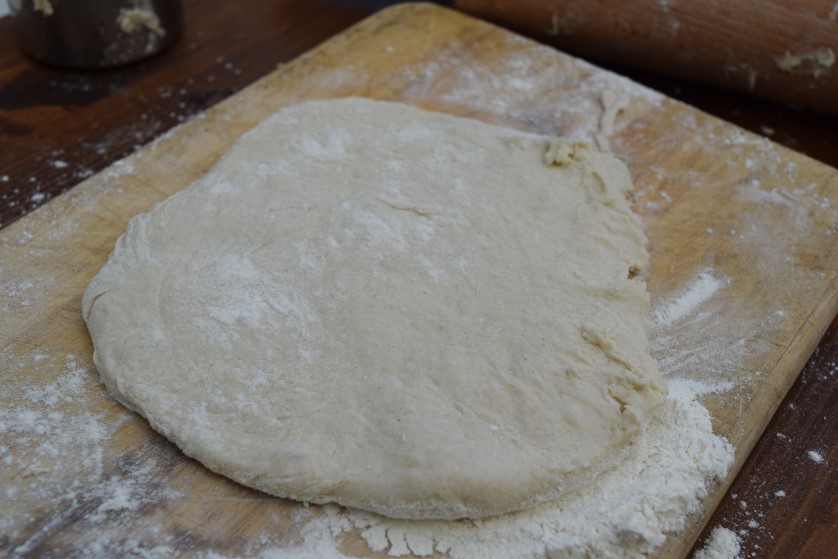 Carefully slide your bread into your medium hot pan and cook for two minutes on the first side.
Then two minutes on the other side.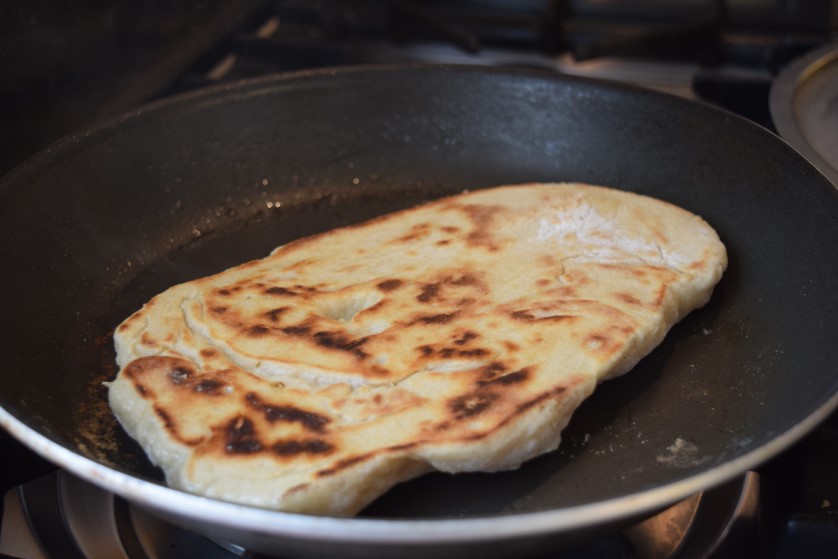 Pop a large lid on the pan for a final minute to ensure this soft, light bread is cooked through. It will be puffed up with a slightly singed top and bottom. You have no idea how much of this naan I ate during the making of this post. I had quite the bloat on by the time I'd finished, and not a great deal of bread left to photograph.
Pop your cooked naan on an oven tray in your warm oven while you repeat this pan frying process with the rest of the dough. You should have 4 to 6 naan, dependent on their size and how many you ate. To finish off your curry add the peas, fresh *really?* or frozen and then pop the lid back on for a final five minutes.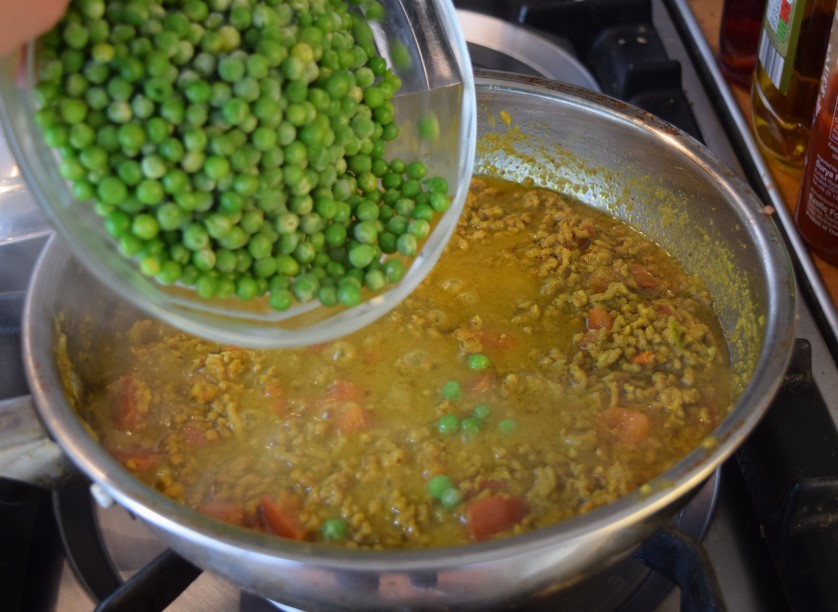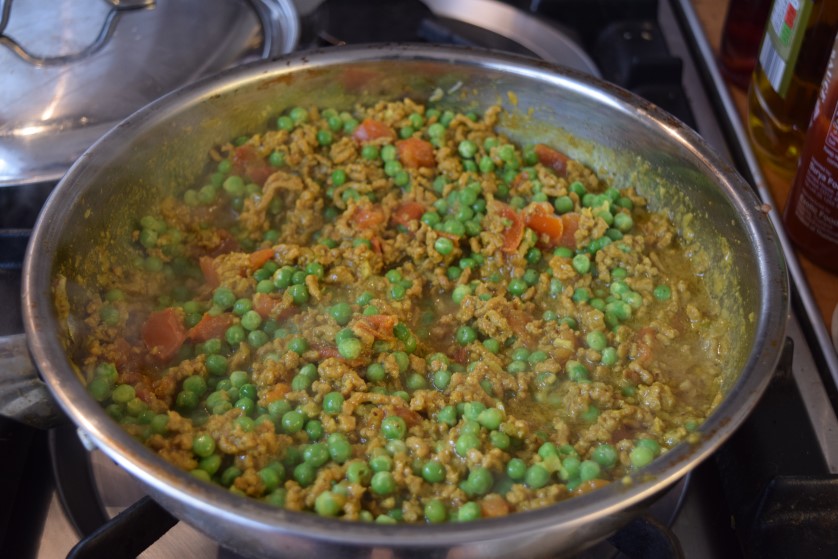 In a final flourish, stir in a handful of chopped fresh coriander for wonderful fragrance and colour then you are ready to dish up. Sprinkle the warm breads with sea salt and more fresh coriander.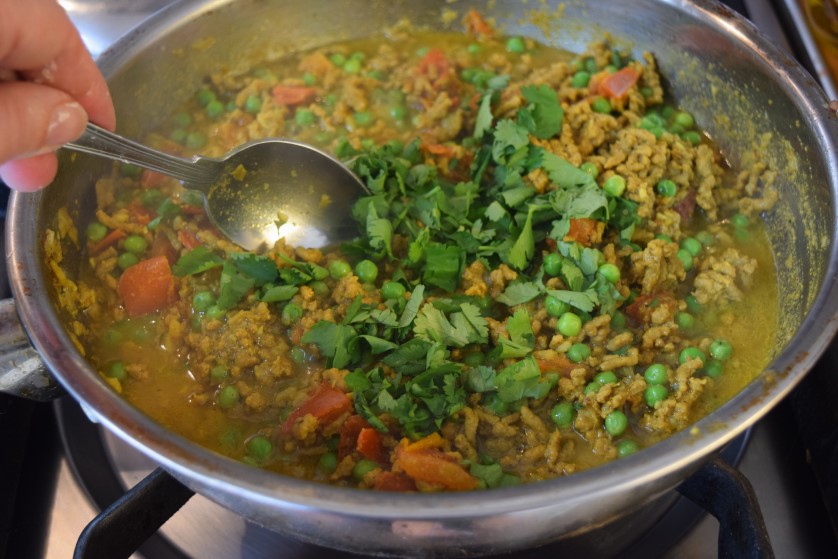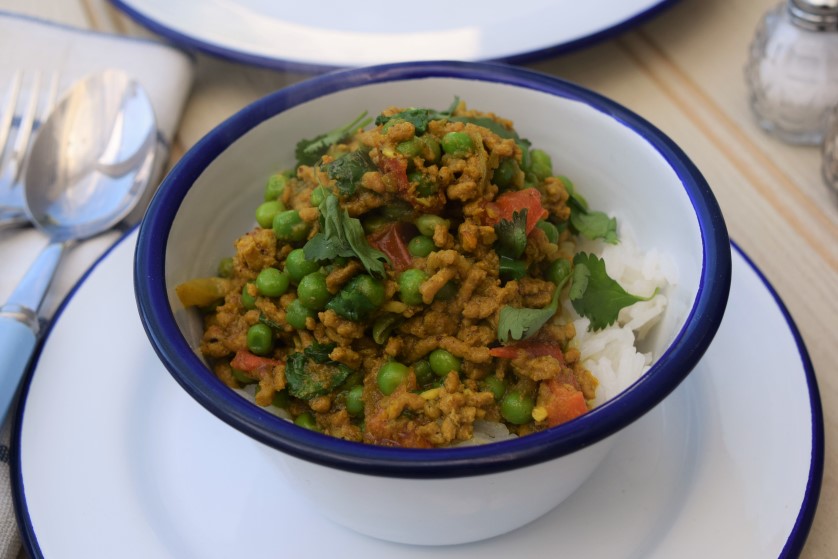 Then inhale this tasty fresh flavoured curry with the soft, crisp naan breads.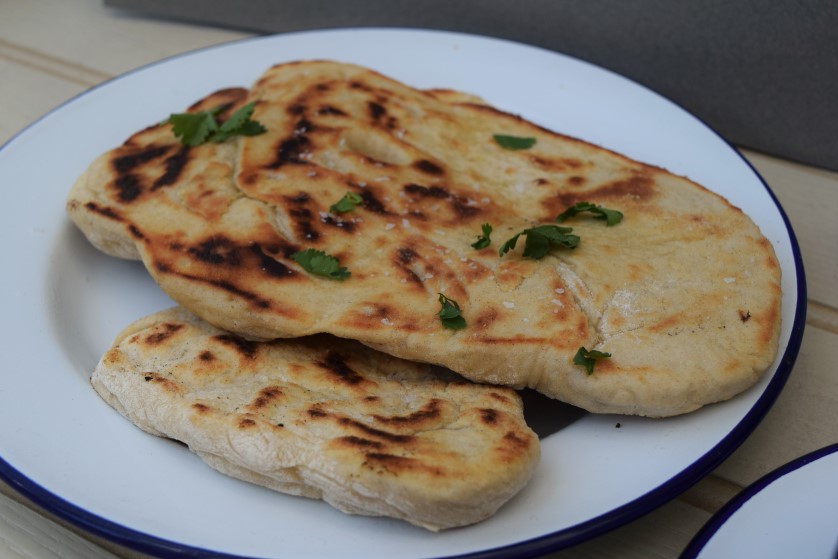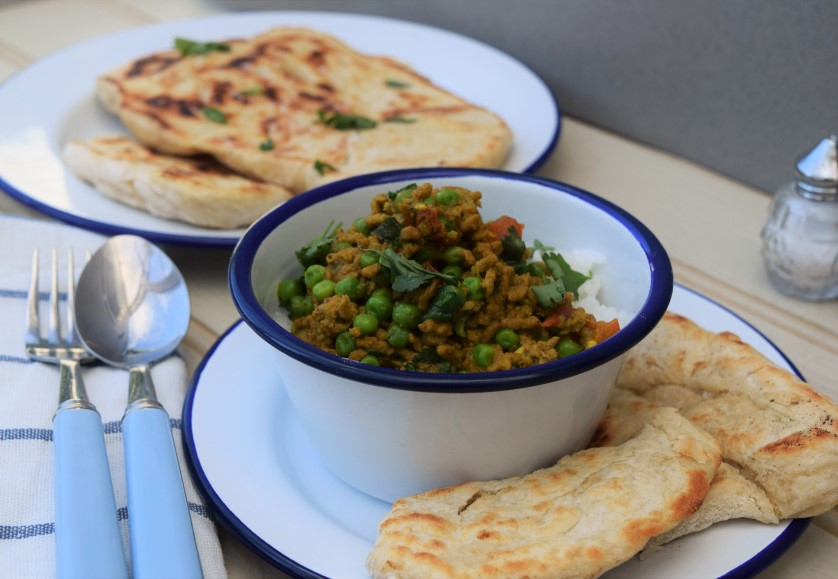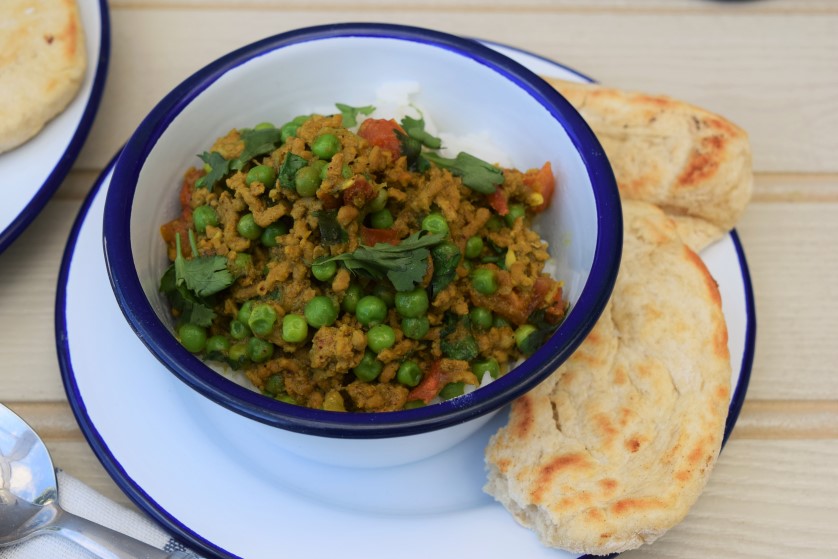 This is beyond tasty. It doesn't matter how many times I write fragrant, warm, soft, spiced, you really do have to taste this curry and it's accompanying naan to experience just how brilliant it is. This Keema Curry stands alone as a brilliant family dinner or as a supper party favourite. Or just make a huge batch for yourself and eat it every night this week. I'm not judging.
Lucy x
Keema Curry and Naan Breads Recipe
Serves 3 to 4, depending on how hungry/greedy you are
You will need two frying pans, one for the breads, one for the curry
Naan Bread
350ml water, hand hot
425g strong bread flour, or just plain flour
3/4 tablespoon active dried yeast, the kind you add to water
1 teaspoon salt
oil/butter for frying
Keema
2 tablespoons oil, vegetable or olive, or what you have to hand
1 onion, finely-ish chopped
2 cloves garlic
A knob fresh ginger, grated, or a tablespoon lazy ginger from a jar
2 green chillies, deseeded for less heat
500g lamb mince
2 tablespoons garam masala
2 teaspoons turmeric
2 tomatoes, chopped, or half a tin of chopped tomatoes
2 tablespoons yoghurt, I used Greek
200g peas, fresh or frozen, who ever has fresh peas?
half a small bunch of coriander, roughly chopped
generous amounts of salt and pepper
Extra fresh coriander to garnish, rice to serve
Make a start with the naan bread. Take a large bowl and pour in the warm water. Sprinkle on the yeast and leave for 5 minutes. Tip in the flour and salt and stir well until a soft dough has formed. Cover with a towel and leave for 30 minutes.
Make a start on the curry by finely chopping or chopping in a food processor the onion, garlic, ginger and chillis. Heat up the oil in a medium to large frying pan then add the onion/chilli mixture and cook until starting to soften and just turn golden. Add the lamb and fry until no longer pink. If your lamb is particularly fatty, spoon off/drain some of the fat at this stage. Stir in the garam masala and the turmeric, stir well then add the tomatoes and stir again. Add the yoghurt, season with salt and pepper then put on a lid and cook for 30 minutes.
While this is cooking, crack on with the naans. Heat up a solid frying pan with just a touch of oil. Using well floured hands, take an apple sized lump of dough and put on a very well floured work surface. The dough is really soft so be prepared to have it stick to your hands, use more flour if necessary. Fashion the dough into a flat naan shape with your hands or a rolling pin then add this to the medium hot frying pan. Cook on one side for 2 minutes then turn over and cook on the other for 2 minutes. Place a lid on the pan for a final 1 minute or so, check the bread is cooked through, then place on a baking sheet and pop in a low oven to keep warm while you cook the other breads. The mixture makes 4 to 6, dependent on how big they are.
Back to the curry, after the 30 minutes is up, add the peas, bring back to the simmer then cook for a further 5 minutes before adding the roughly chopped coriander and serving whilst piping hot with rice. Serve the warm naans sprinkled with sea salt and more chopped coriander for dipping.