Easy Peanut Butter Fudge Recipe
This Easy Peanut Butter Fudge Recipe is brought to you by Lucy Loves and my addiction to all things peanut butter based. I have been trialling other easy fudge recipes, but none of these quite hit the mark like this one. I fancy myself as quite the fudge aficionado having been brought up eating some of the most crumbly, delicious fudge from a wonderful shop in Rye in Sussex. They specialised in all sorts of different flavours, all of them golden and light, all of them so tasty.
This Easy Peanut Butter recipe comes close to the perfect fudge from Rye. It has a light texture, not too sweet, despite the amount of icing sugar, and just the right amount of butteriness. And good Lord, it's easy to make. If you have a microwave it's all over in less than two minutes. This recipe originates from one of my all time favourite websites The Joy Of Baking, pop over and see just how brilliant it is.
This recipe is also perfectly timed to share with you on two fronts. 1) I am exhausted and expect you are too. The end of term and start of the summer holidays are looming and I need all the boosts I can get – this delicious fudge being one of them. And 2) you may be required to make a teachers gift to mark the end of term, and this makes a wonderful treat for a well deserving teacher, in fact the recipe makes such a good quantity of fudge you could gift it to a couple of teachers. Or just one, and boost your energy levels with a tasty sugar rush with the rest of it. Either way, and whoever the lucky recipient, they will be eternally grateful for such a tasty treat.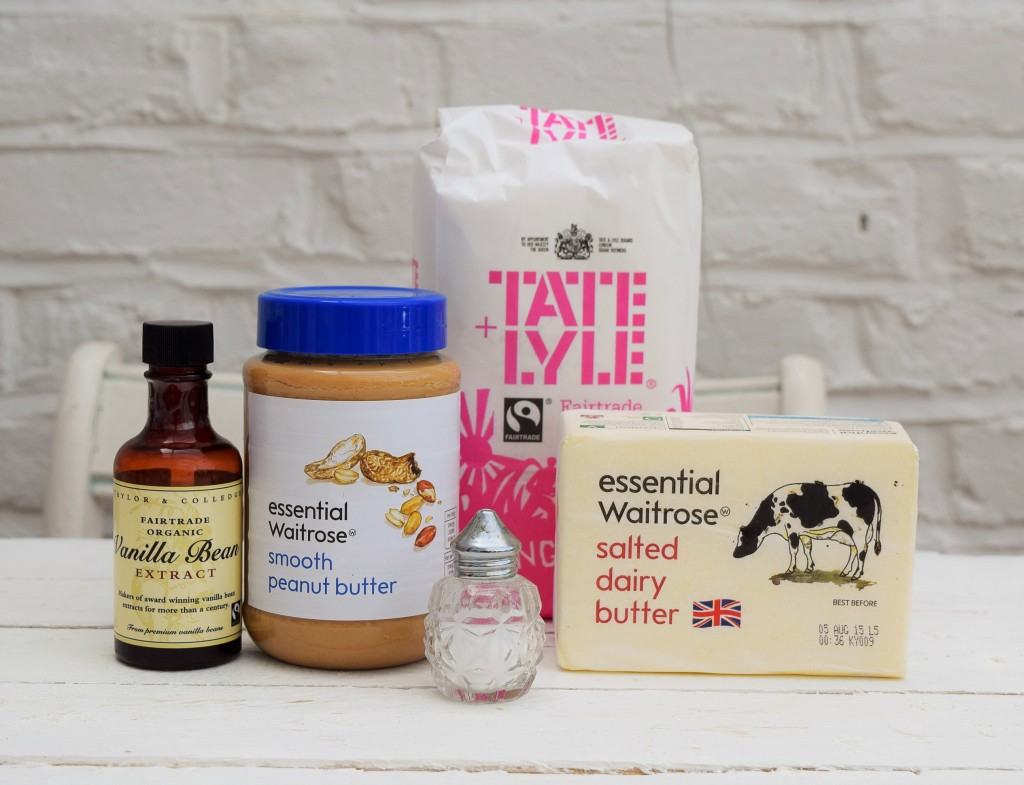 Here's the line up – it couldn't be much simpler, and choc full of handy store cupboard ingredients. And made all in one bowl – no dish-pan hands for you.
And here's that aforementioned bowl. Weigh out the butter and peanut butter with the salt and microwave or heat in a pan until both butters are melted. This takes around 1 to 2 minutes in the microwave.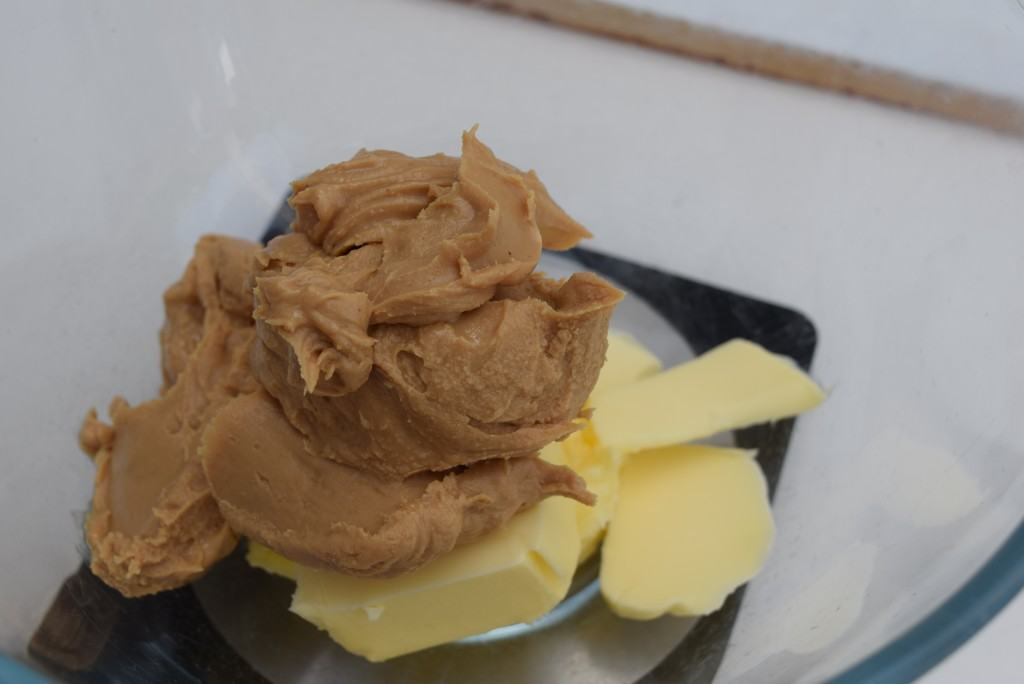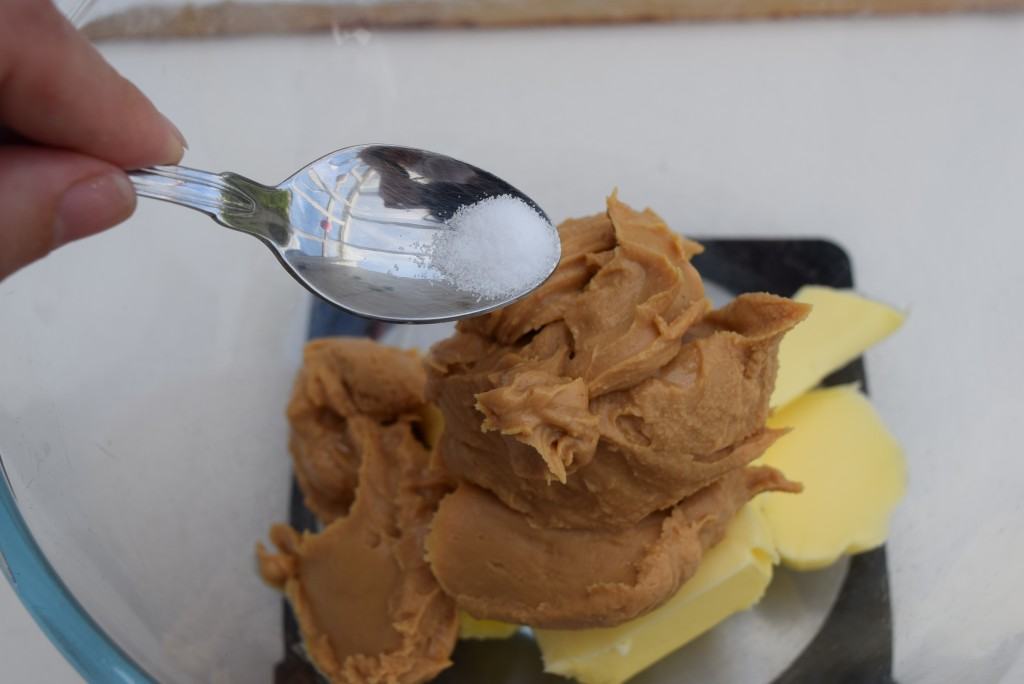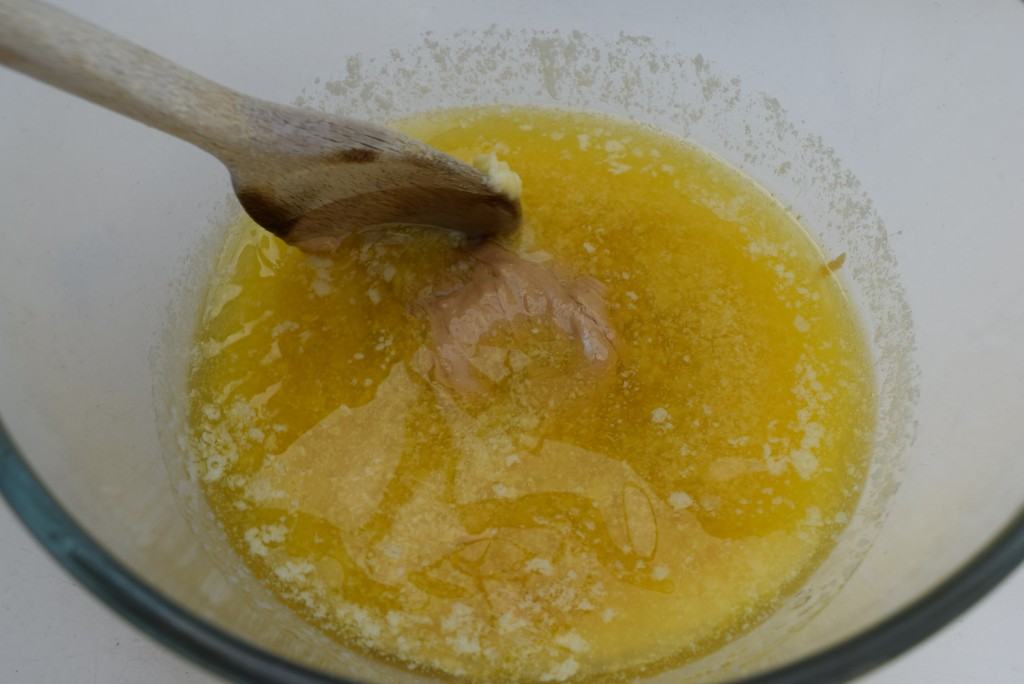 Stir this delicious gloop until smooth then beat in the icing sugar and vanilla extract. The mixture will look a little like hummus. But will taste so much sweeter.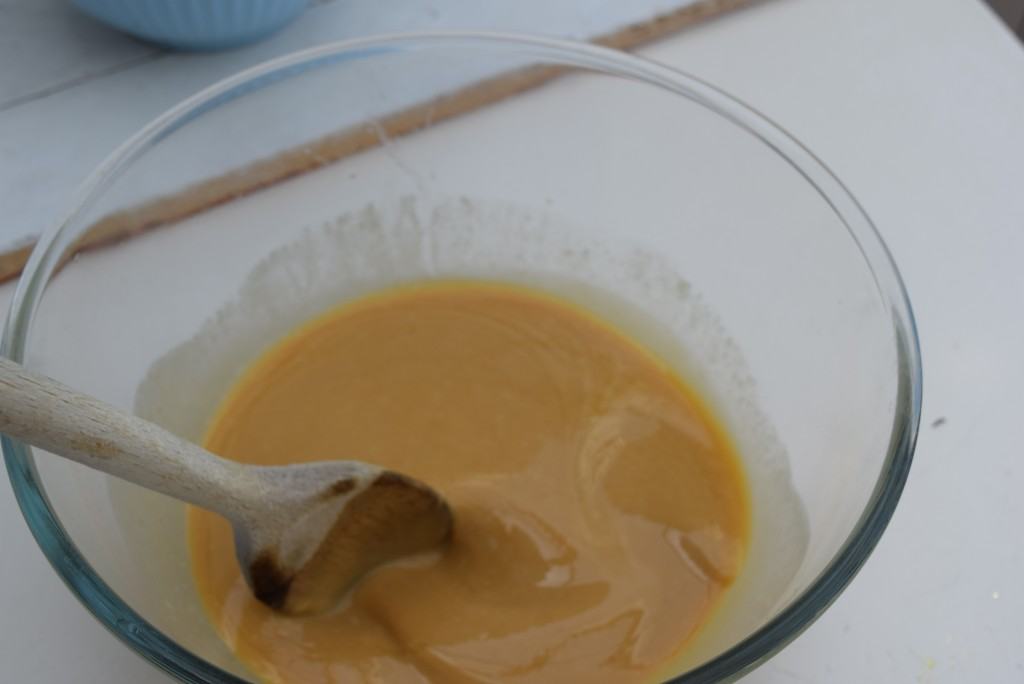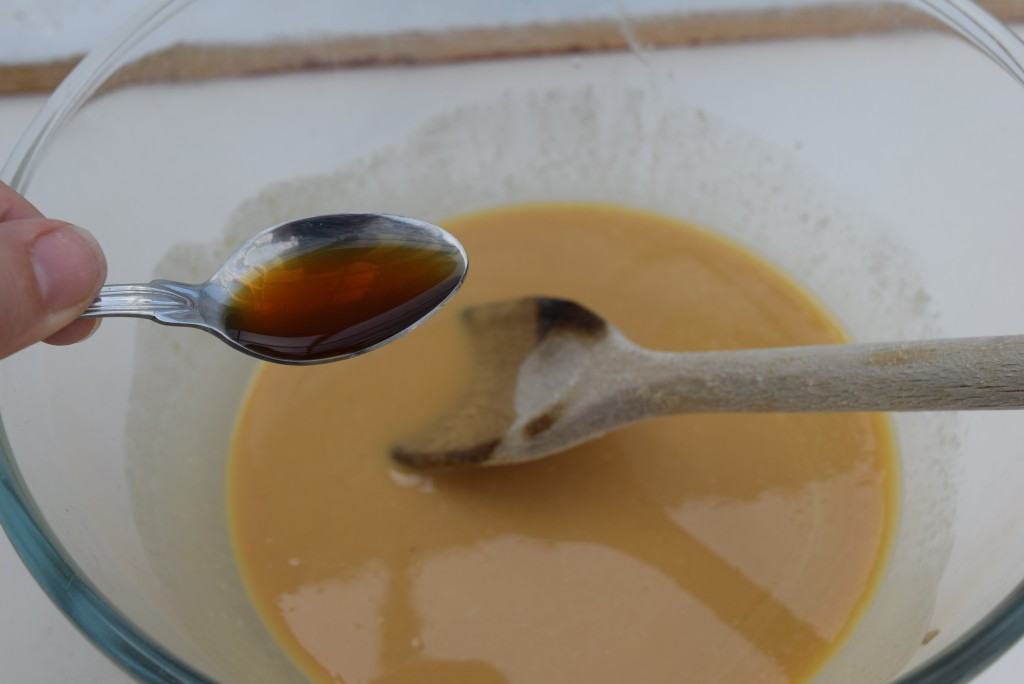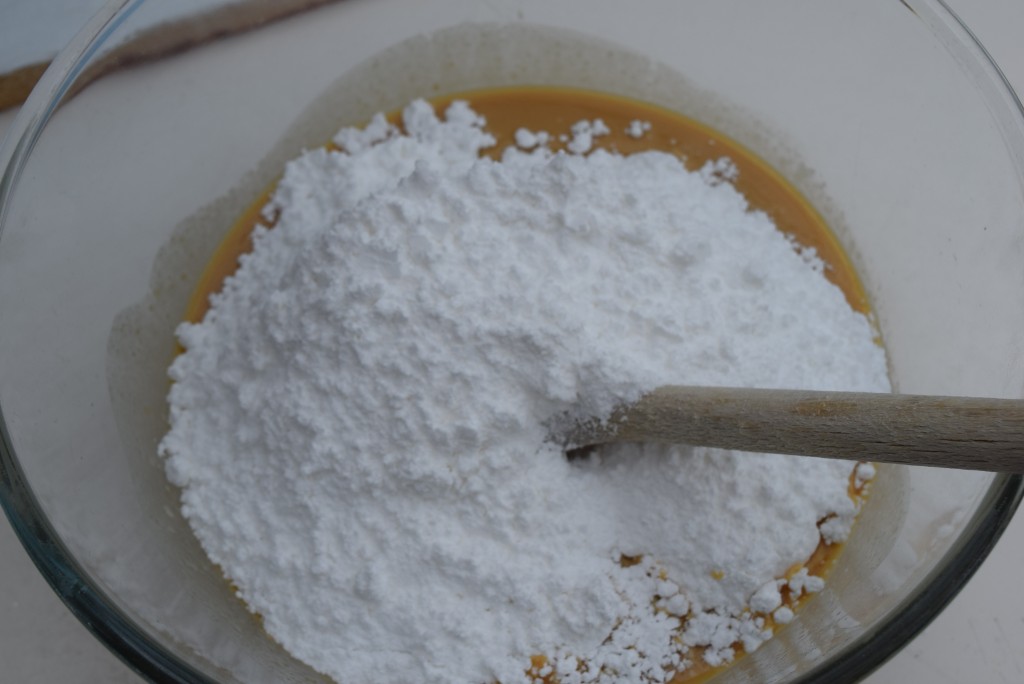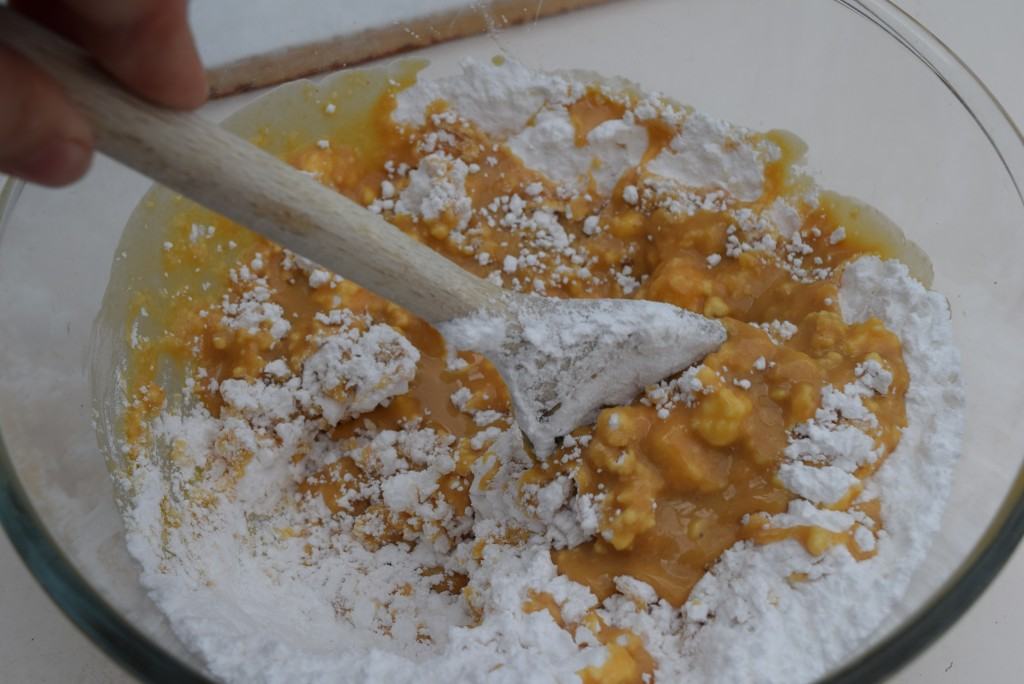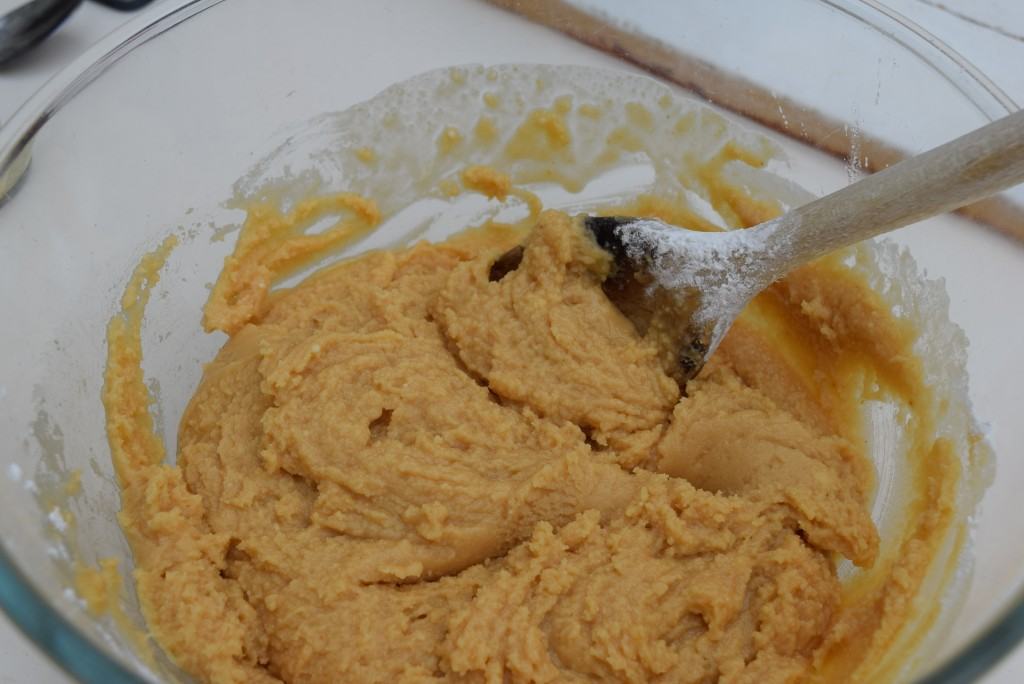 Tip the peanut butter fudge mix into a lined tray, smooth the top and leave to cool before putting in the fridge to set for around 2 to 3 hours.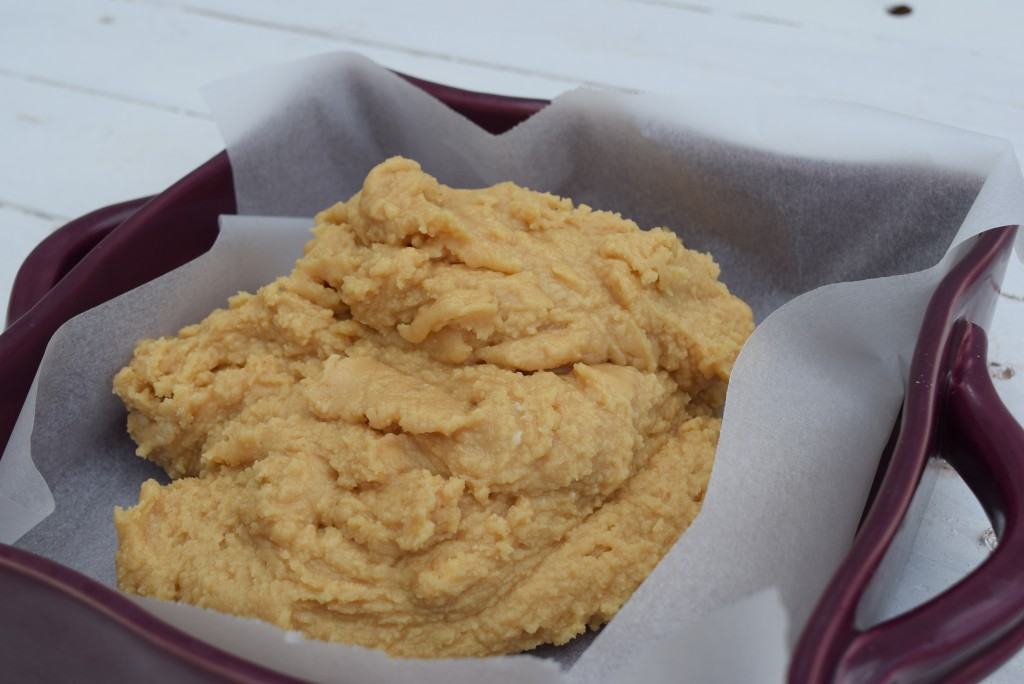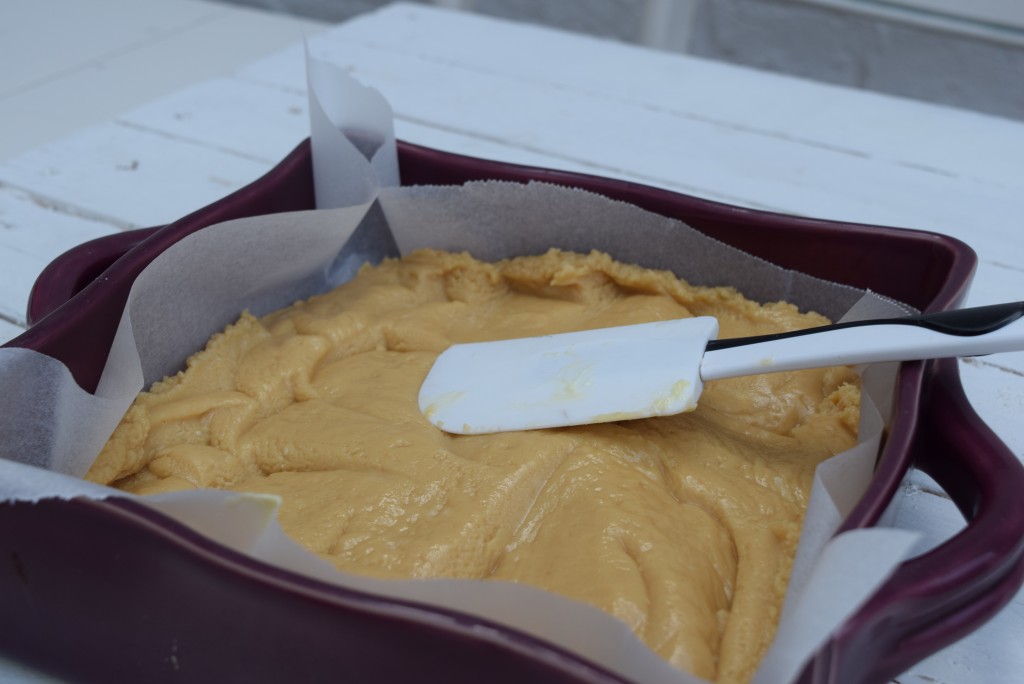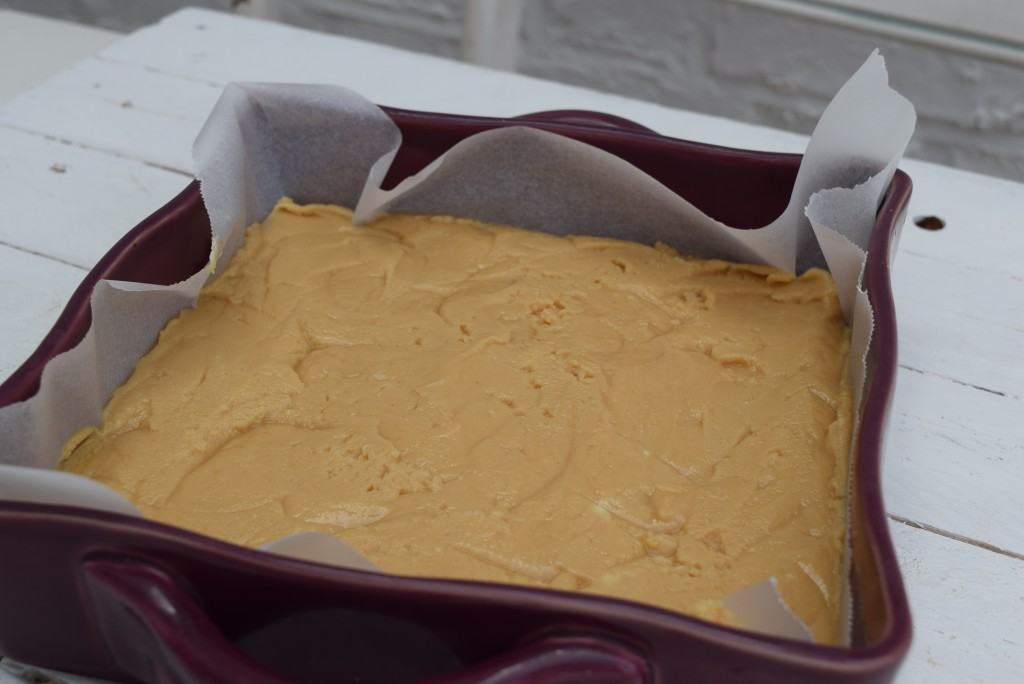 If you have managed to hang on for the allotted time, your super sweet, tasty Peanut Butter Fudge will be ready to cut into bite sized pieces. Bite sized is best, mainly because this is quite rich, but also because you can justify eating more if the pieces are tiny.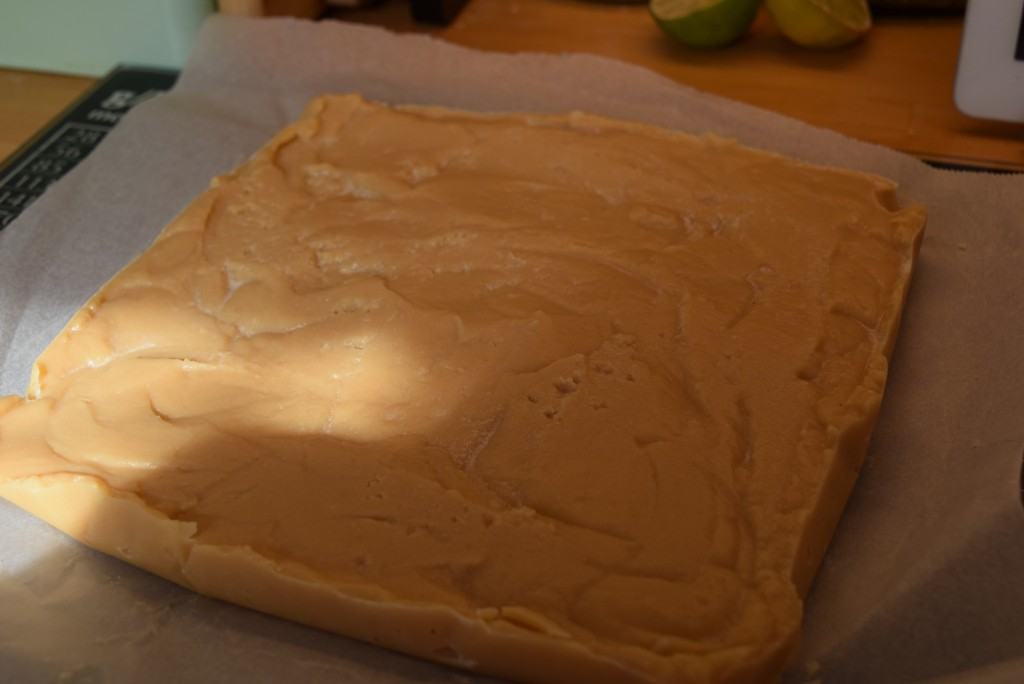 Look how the sun catches on the buttery, peanutty confectionary.
It has the most brilliant soft, crumbly texture. Store in a fancy jar or pop in a cellophane bag and give as a gift to someone you really love.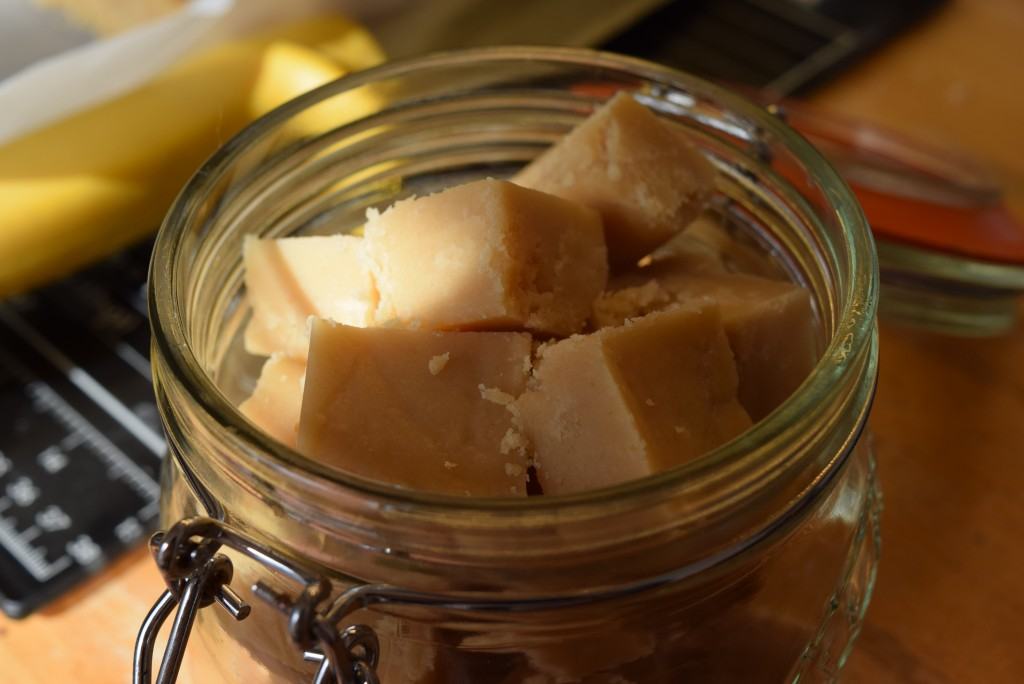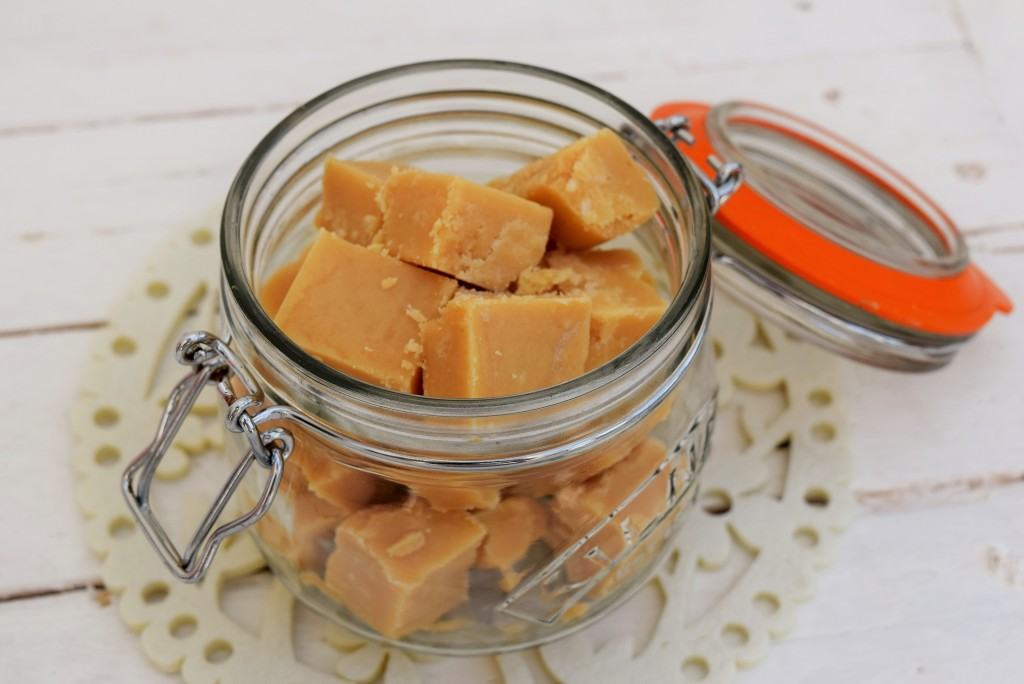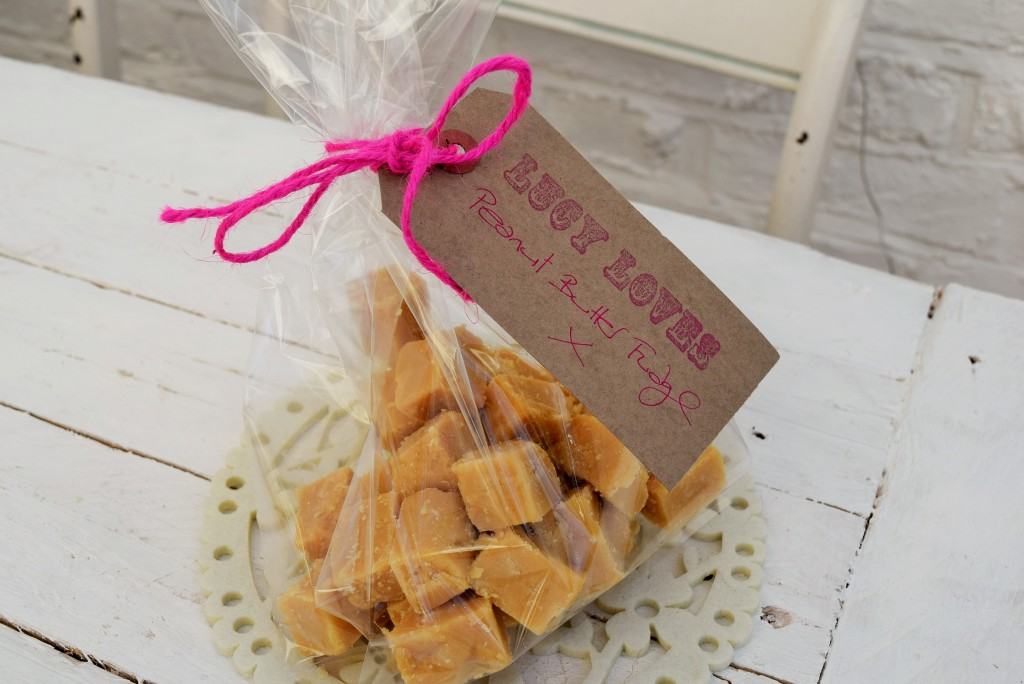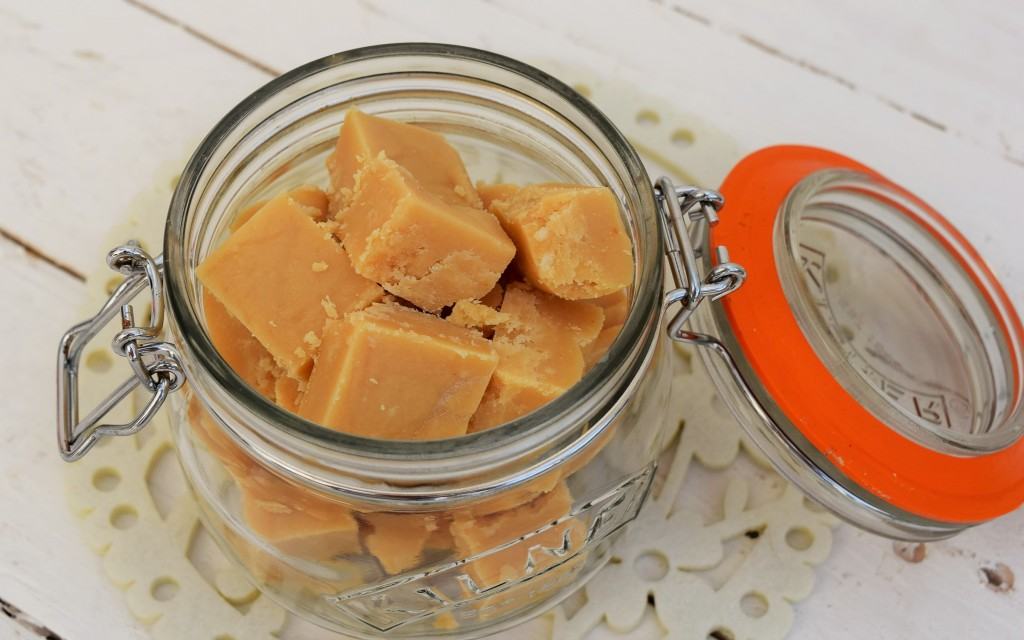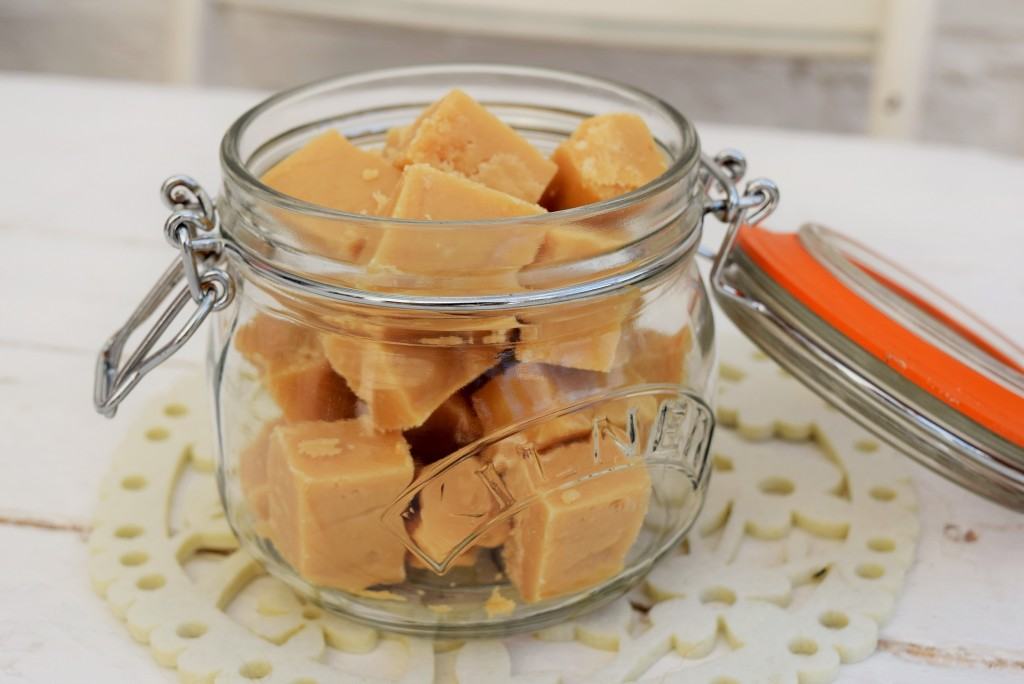 My mouth is watering now. This fudge really is irresistible with it's sweet and salty melt in the mouth qualities. Make it as a gift, an after dinner treat or just as a little pick you up. Who knew fudge was such a brilliant all-rounder.
Lucy x
Easy Peanut Butter Fudge Recipe
Makes a good sized slab
You will need a 8 x 8 inch, lined baking tin or dish
250g peanut butter, original recipe specifies smooth, but I expect crunchy would also work
230g butter
1/2 teaspoon salt
1 teaspoon vanilla extract
450g icing sugar
Take a large bowl or saucepan and add the butter, peanut butter and salt. Microwave or heat until these ingredients have melted together. This took around a minute and a half in my microwave.
Stir well until smooth then beat in the vanilla extract and icing sugar. Tip into your lined dish or tin and smooth the top with a spatula. Once cooled a little, put into the fridge to set for around 2 to 3 hours. When set, cut into bite sized squares and store in the fridge or a cool place for up to a week.