Korean Beef Recipe
Mince, what a suppertime saviour it is. I was pretty much brought up on mince, it was, and still is, such a great 70's staple. I can guarantee my Mother had at least 4 brilliant standby mince heavy recipes on hand at all times. Well now, I am about to add another to that list. My Korean Beef has taken the Lucy Loves household by storm and is definitely here to stay.
I cannot vouch for the authenticity of my Korean Beef. It came to me via Love Bakes Good Cakes, with thanks, which doesn't sound terribly Korean to me. However, my Father used to visit Korea and had Korean business contacts some years back and he did always say their food was quite garlicky and this recipe has 3 to 4 large cloves, so it may have a whiff of Korea to it. What I can vouch for is it's a bloody brilliant recipe and so quick, it will be on the table and inhaled before you know it. This effortless dinner involves nothing more than a bit of stirring over a high heat and the taxing task of cooking some rice as an accompaniment *see my note below regarding rice cooking*. I reckon in 20 minutes, tops, this is done and dusted and the licked-clean plates are in the dishwasher.
The resulting dish is sweet, lightly spiced and tasty. It's warming, comforting and there's nothing in there to offend a single member of the family. This is loved by us all, so there's a huge tick and a gold star beside this recipe.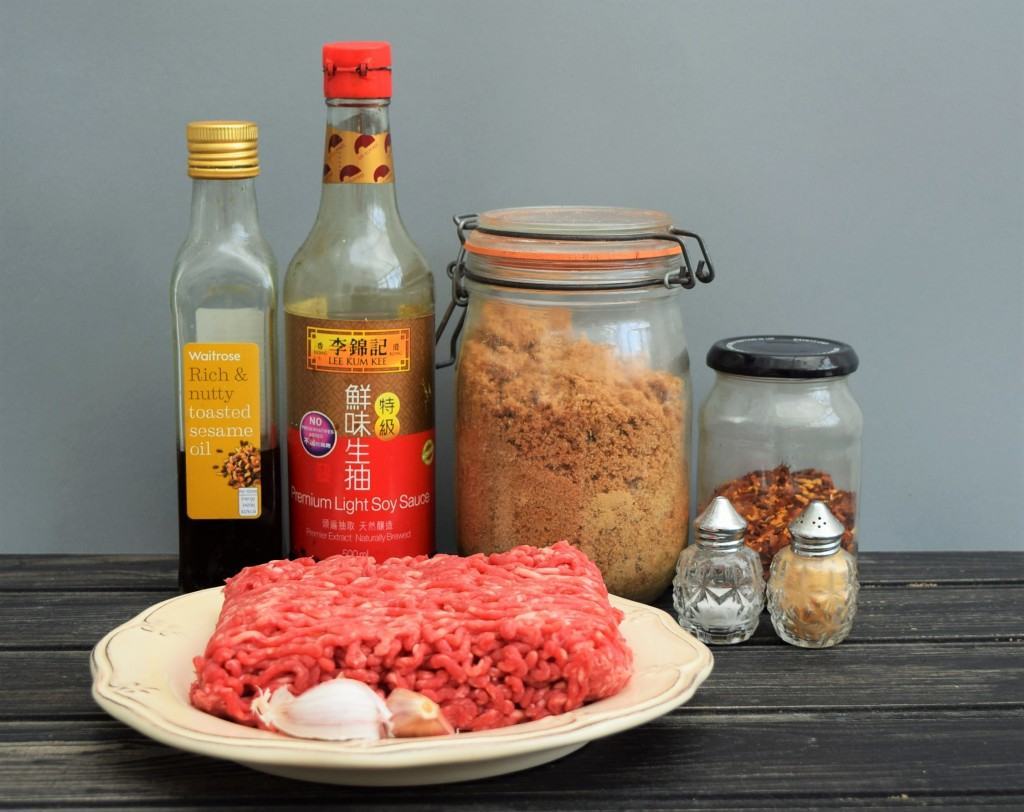 Here's the line up for this super quick Korean Beef. Minus the ginger, because I am truly hopeless, and if I'm honest, I made this with quite a fearsome hangover. I can confirm, however, this is a world class hangover cure, eaten in large quantities. You can use lazy ginger from a jar, grated fresh ginger or ground ginger, just don't forget it like I did.
Before you start, put your rice on to cook so it's ready to serve up when you are. Then, if you are using them as a garnish, toast a tablespoon of sesame seeds in a hot, dry frying pan until just starting to brown. This only took around 30 seconds.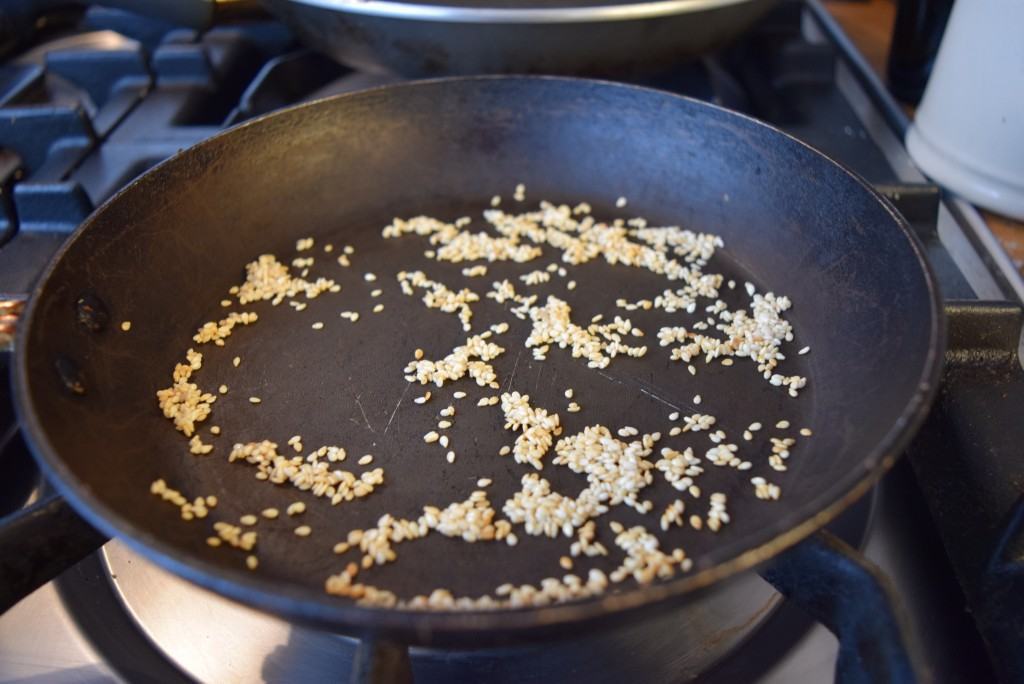 For the beef you will need nothing more exciting than a large frying pan. Heat it over a medium to high flame, I didn't add any oil as there is plenty of fat in the beef, but if your mince is lean, just add a tablespoon to the pan whilst heating. Pop the beef into the hot pan and start to break up and brown evenly.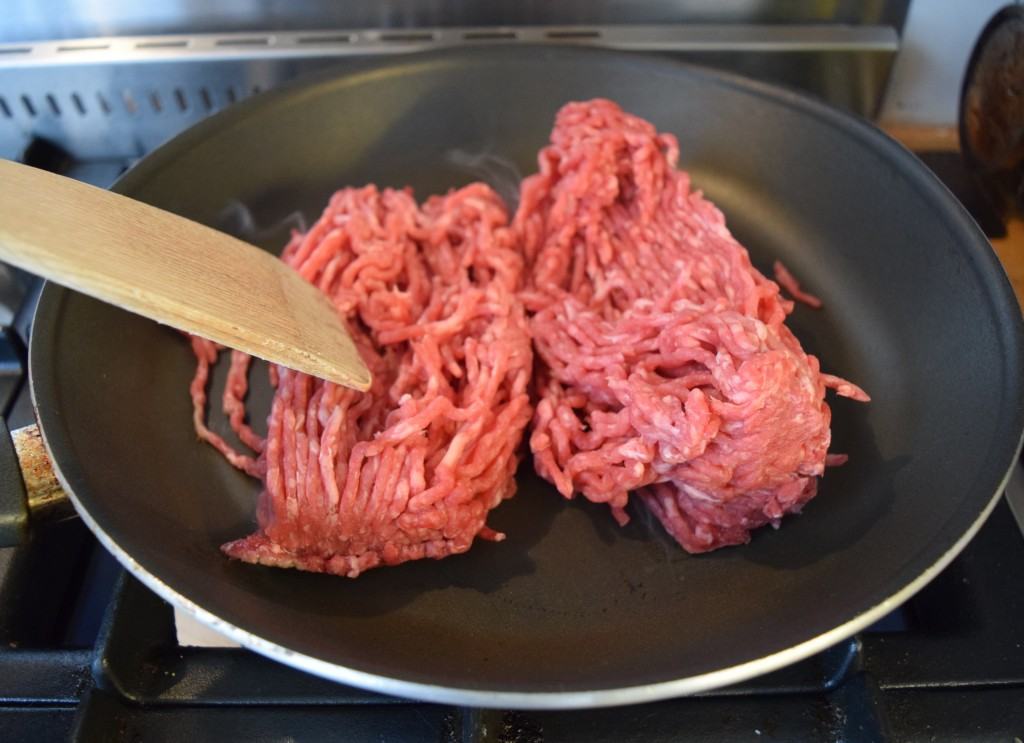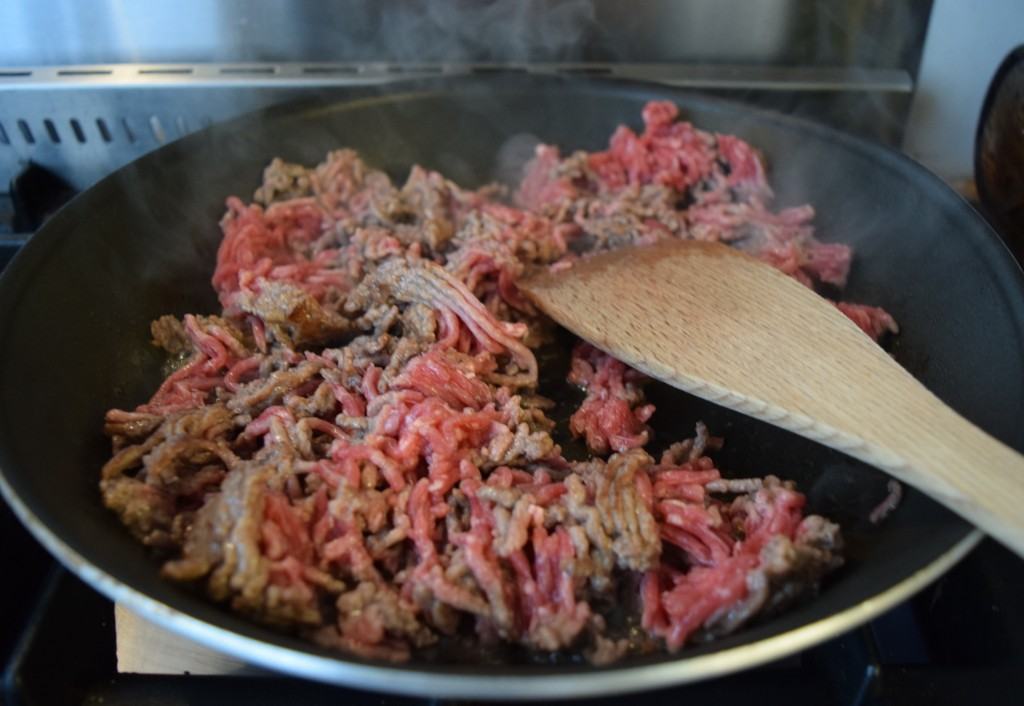 Crush the garlic cloves, all three of them, and add to the browning beef, stirring it through.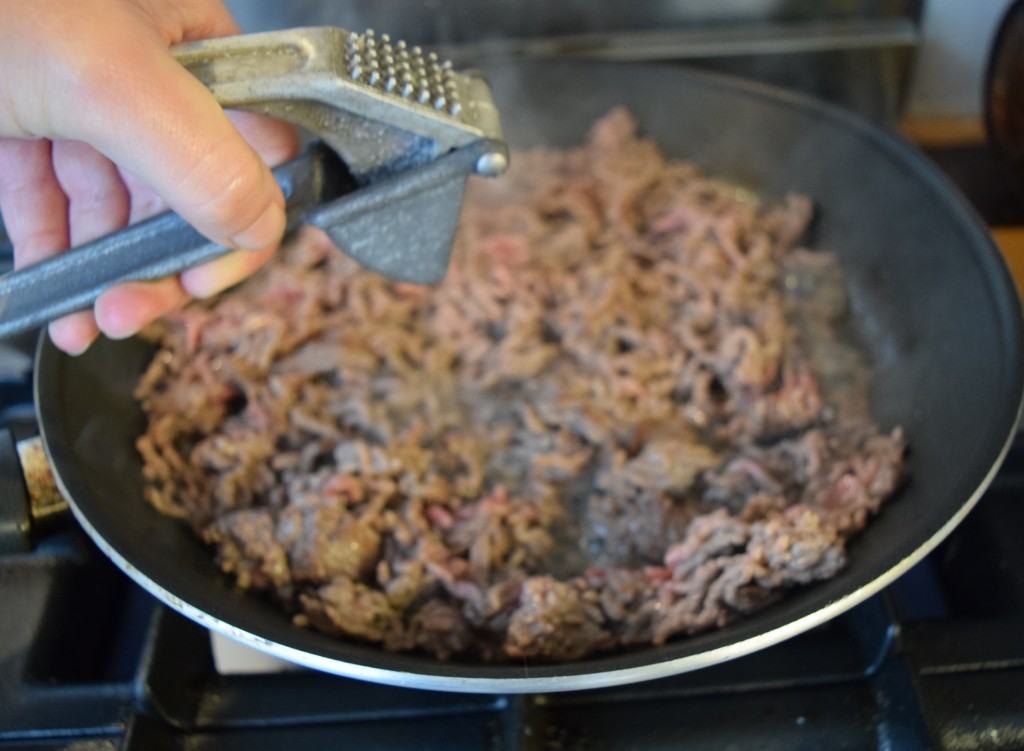 While this continues to brown, mix the dressing ingredients together. Place the brown sugar, soy sauce and chilli flakes into a small bowl.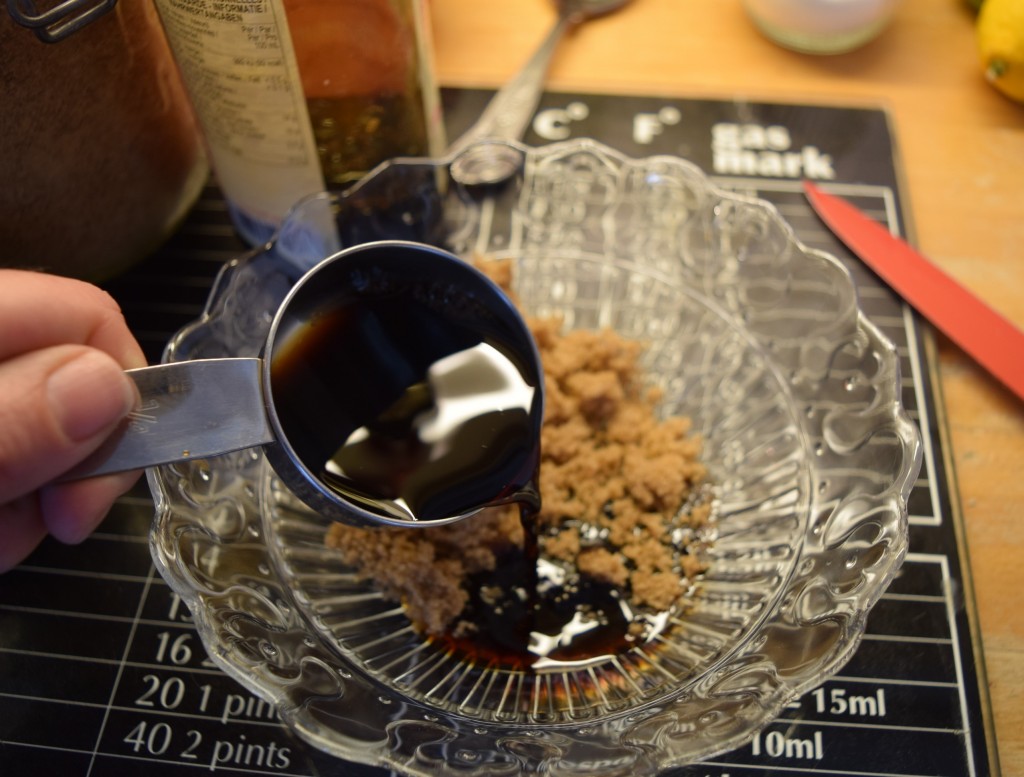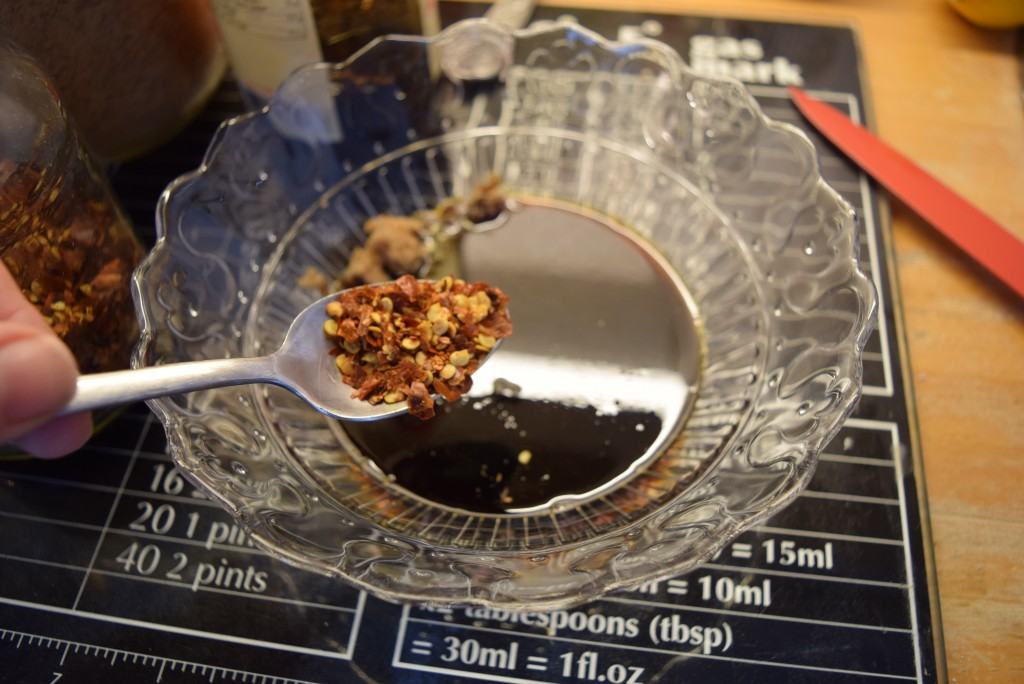 Add in the missing ginger and sesame oil then stir well.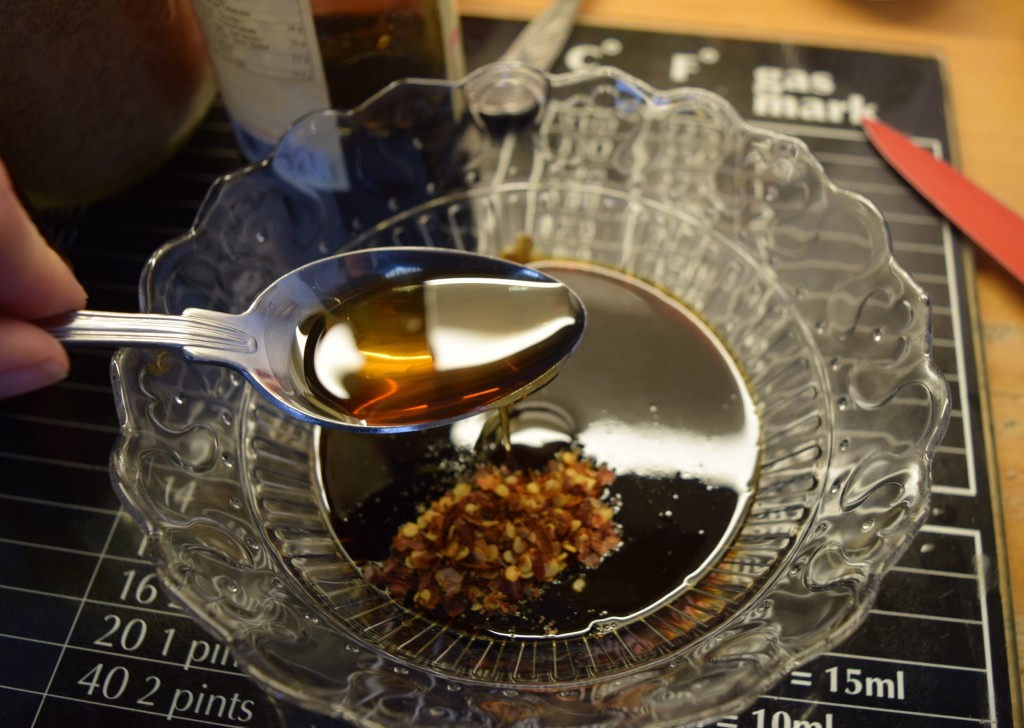 Once the beef is cooked through and no longer pink, pour this fragrant mixture into the pan and stir through, coating your mince.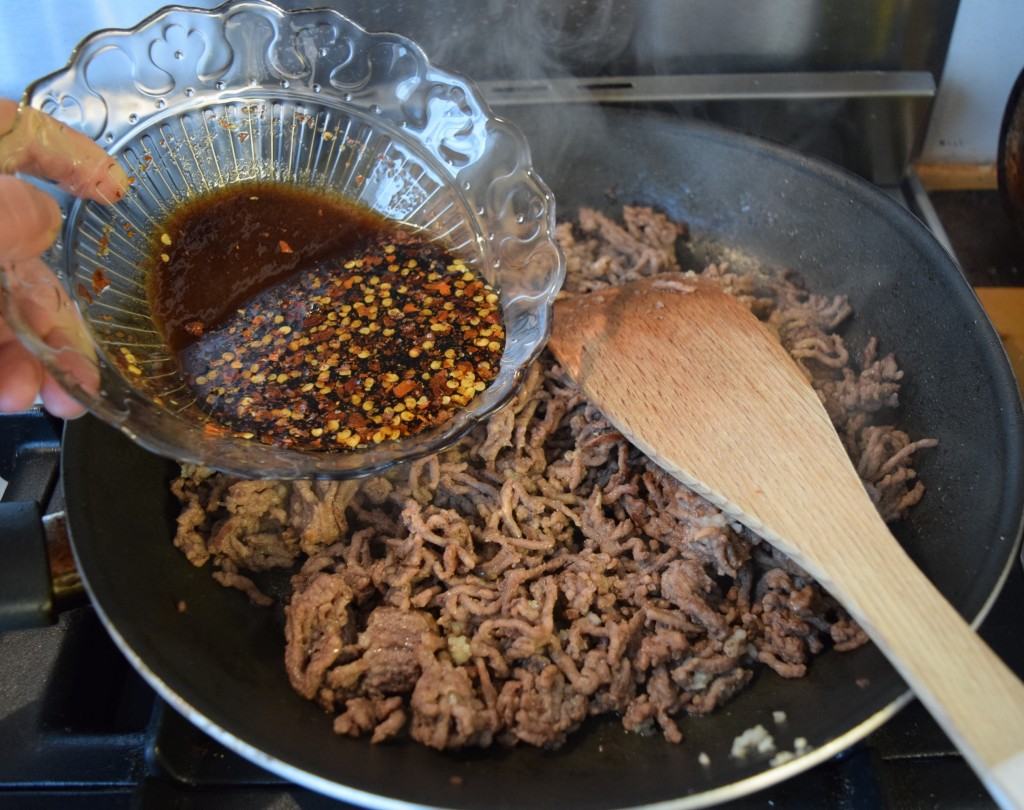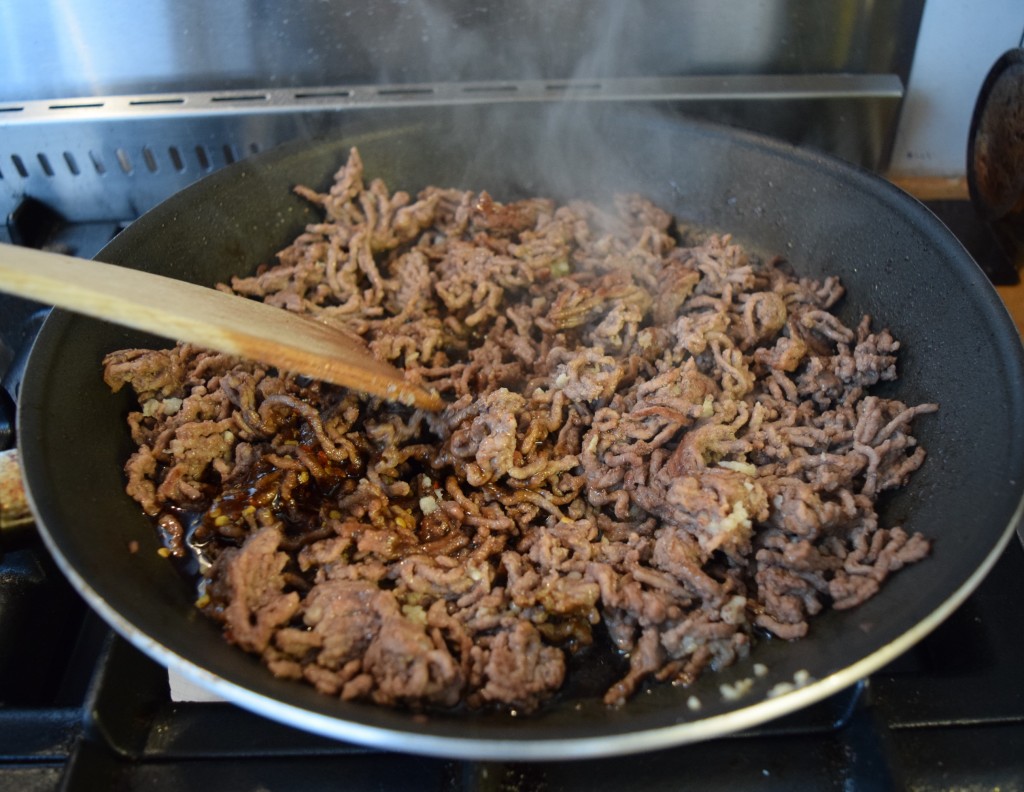 Add a splash of water then let the beef cook away for a further 2 to 3 minutes while you strain your rice and prepare your chopped spring onions for a garnish.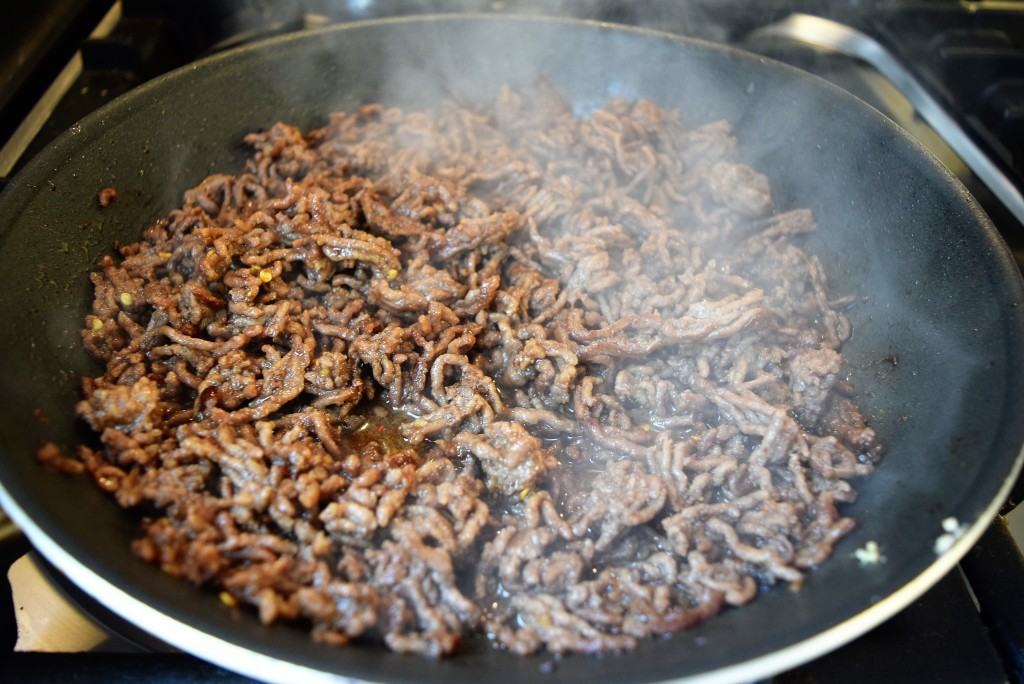 And that's your Korean Beef ready to serve. Spoon large portions onto your rice, sprinkle with toasted sesame seeds and the spring onions then devour whilst steaming hot.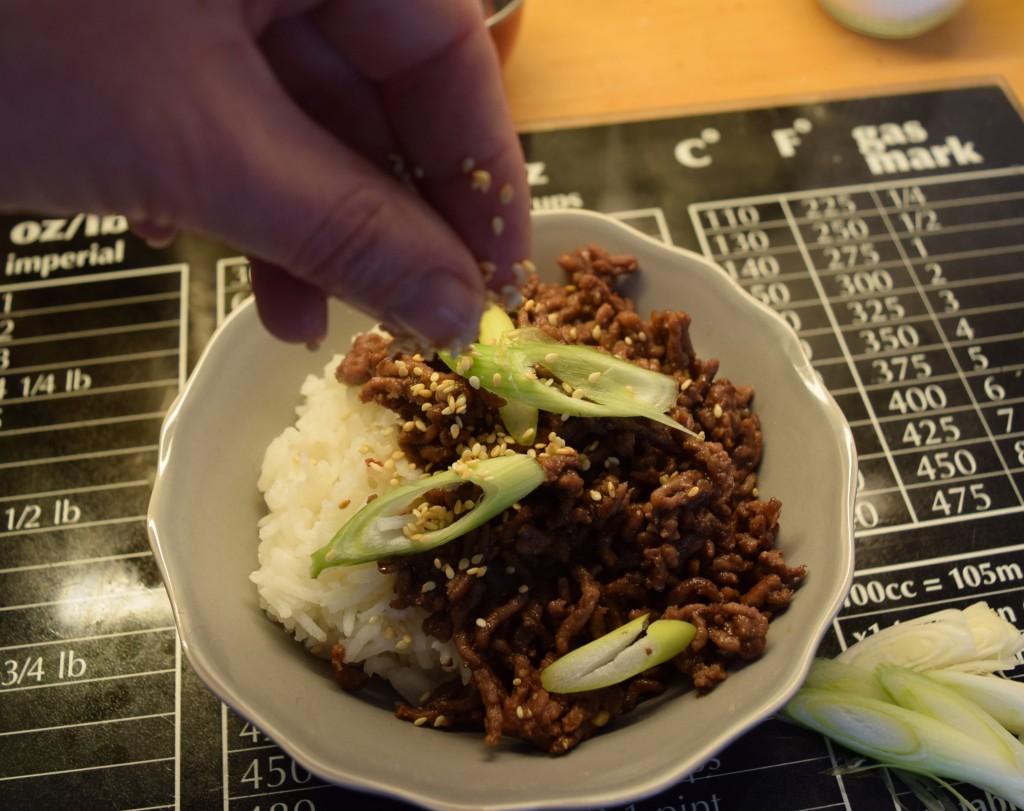 This is mouthwateringly good, I could have eaten the whole batch myself with my fearsome hangover.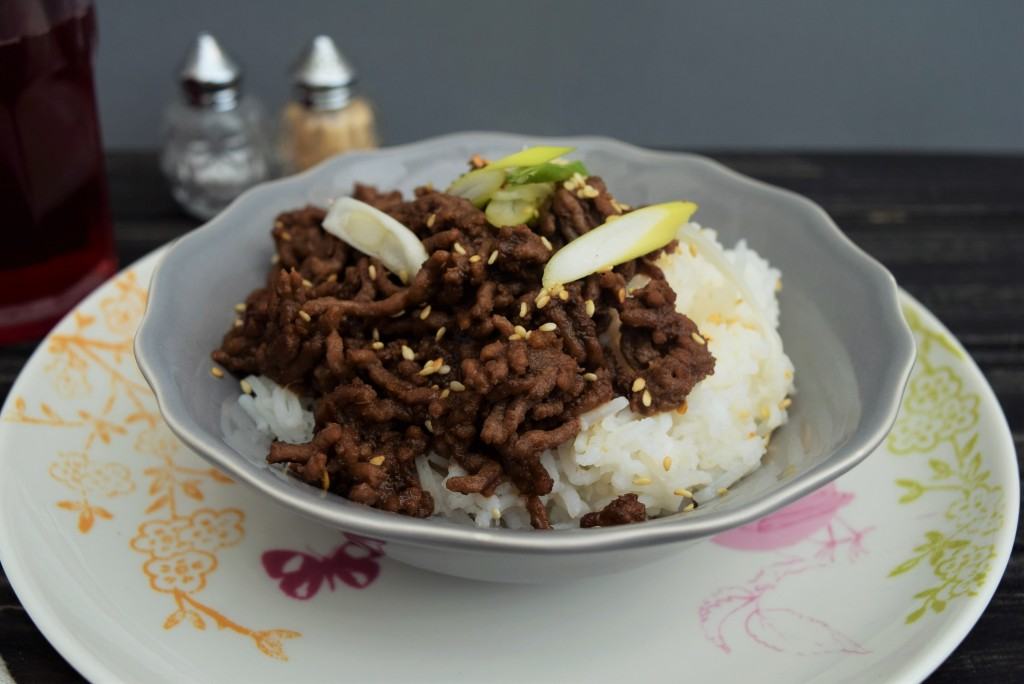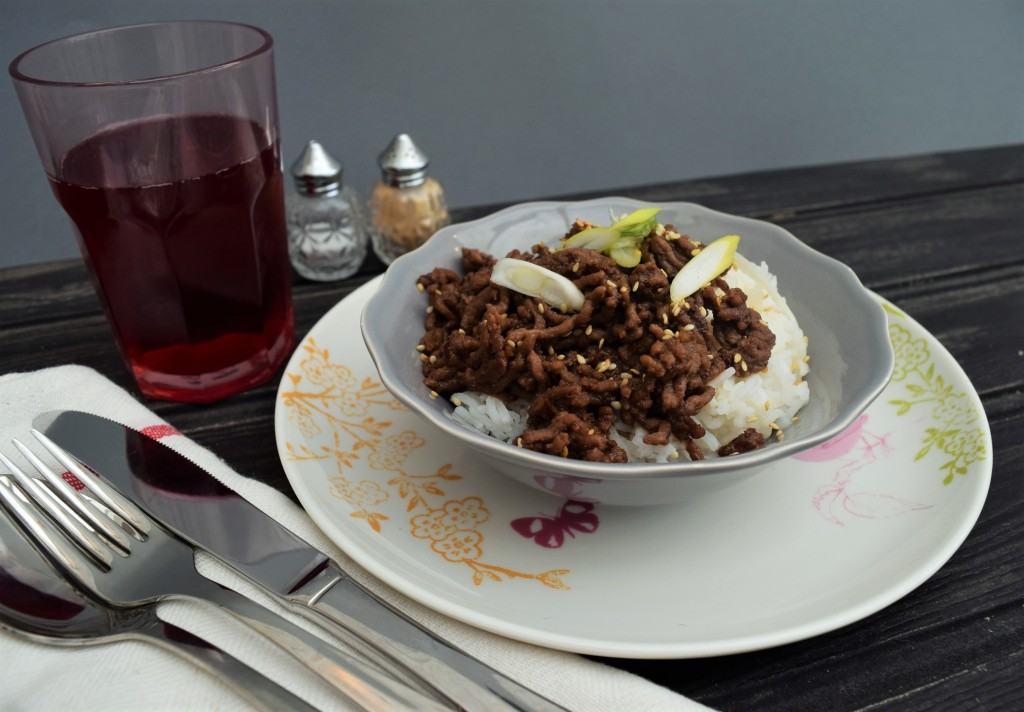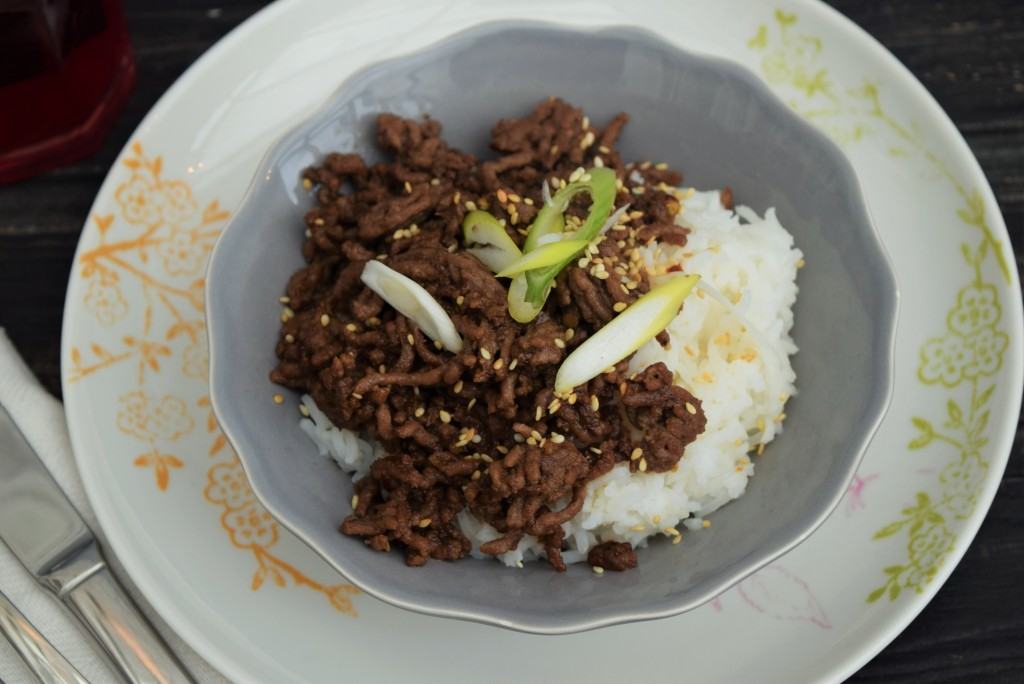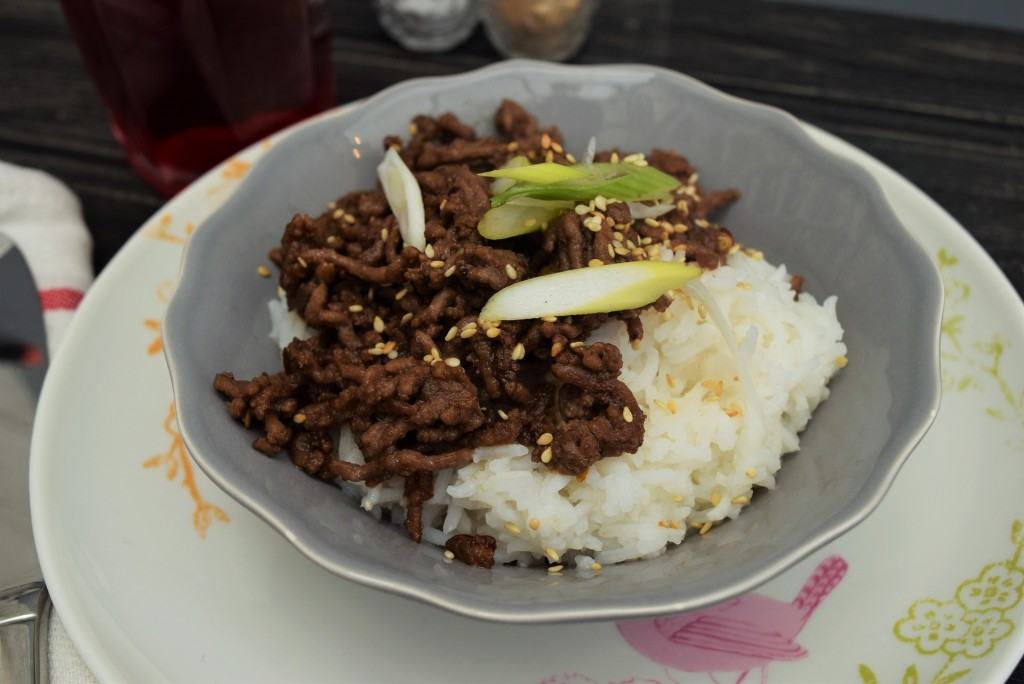 This is just the kind of dish I love. It's so quick, you can whip this up as you walk in the door with your handbag still on your arm. Another gem in your mince based recipe arsenal, what's not to love. Now you can give your chilli, bolognese or shepherds pie the week off and trial Korean Beef on your expectant family. Those lucky, lucky people.
Lucy x
Korean Beef Recipe
You will only need a large frying pan
Serves 3 to 4, or two larger members of my family, or me with a hangover
500g beef mince
3 or 4 cloves garlic, crushed
70g soft brown sugar
60ml soy sauce
1 tablespoon sesame oil
1/2 teaspoon ginger, ground, freshly grated or lazy from a jar
1/2 to 1 teaspoon dried chilli flakes
a splash of water, about 50ml
Toasted sesame seeds, chopped spring onions to garnish, rice to serve
Put your rice on to cook *see below* and toast a tablespoon of sesame seeds in a dry frying pan for around 30 seconds for your garnish. When you can smell the seeds toasting they will be almost ready.
Heat a large frying pan until good and hot. Add the minced beef, break up and stir so it browns evenly. Squeeze in the crushed garlic and continue cooking the beef until no longer pink and cooked through, this should take between 5 and 10 minutes in total. In a bowl combine the brown sugar, soy sauce, sesame oil and chilli flakes, stir well. Pour this onto the beef and stir well so everything is well coated. Pour in a splash of water to loosen the sauce then leave to bubble away for a couple of minutes.
Serve, piping hot, with rice, toasted sesame seeds and chopped spring onions.
* A note on cooking rice. Everyone has their own way of cooking rice, I have had most success cooking it this way. Unless specified I use white or brown basmati rice. The method is to bring a pan of water to the boil, add your rice and turn down to simmer for 10 to 12 minutes, or until cooked. Strain through a colander or sieve and leave the rice in the colander for a couple of minutes, covered with a clean tea towel to absorb excess steam. Fork the rice up and serve.